One of the questions I most frequently get asked is which is the best white paint color for trim. While there's many great whites, I'm sharing my tried and tested favorites that are winners every time.
If you follow me on Instagram, you may have seen in my stories that I'm in the middle of repainting my Master Bedroom. I'm going from a blue/gray color (Behr's French Light Gray) to an almost-white, very pale gray (BM Paper White). I also have some trim and doors to touch up, which got to thinking about one of the most common questions that I get asked – what is the best shade of white paint for trim and doors.
Decorator's White – Benjamin Moore
My personal preference for white trim paint is Benjamin Moore's Decorator's White.
This shade of white is lovely and bright and has the tiniest touch of a gray undertone that really is not at all discernible. In fact, in person, Decorator's White really has no undertone and works incredibly well alongside both cool and warm wall paint colors. If you're looking for a white that works everywhere, this is a great choice!
Simply White – Benjamin Moore
Another very popular white, especially for cabinet doors is Benjamin Moore's Simply White. This is decidedly warmer with a slight yellow undertone that makes it warmer (creamier) than your basic white.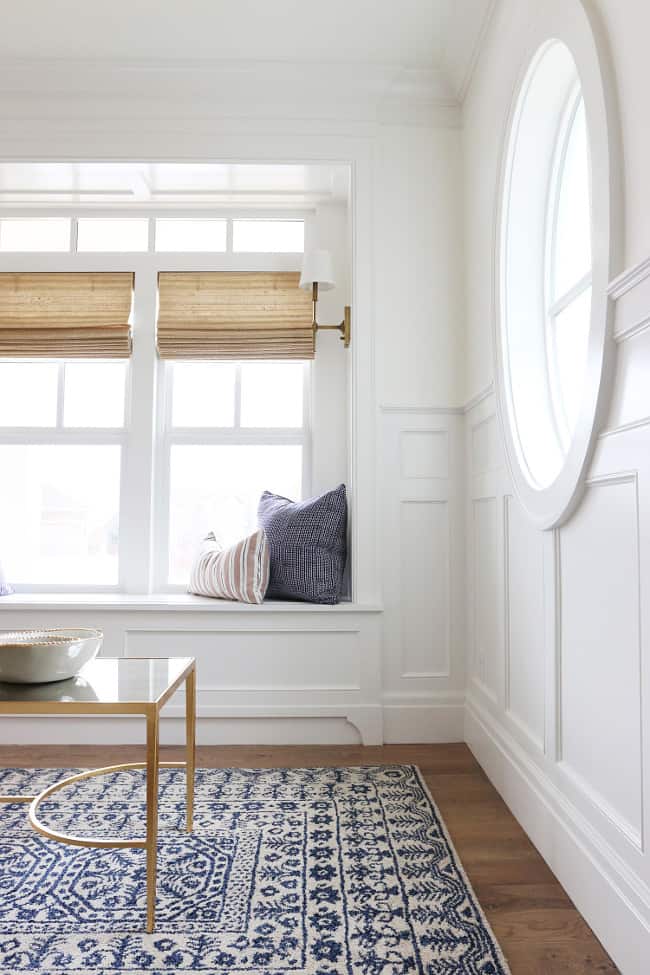 Benjamin Moore Simply White Interior via Interiors By StudioM
If you have a lot of northern exposure or want to counteract a lot of cool colors, this may be a good choice.
Benjamin Moore Super White
This guy is white. Very white. It's pretty neutral with no real undertone. If you want a bright white that doesn't lean towards either cool or gray, this is a very safe choice!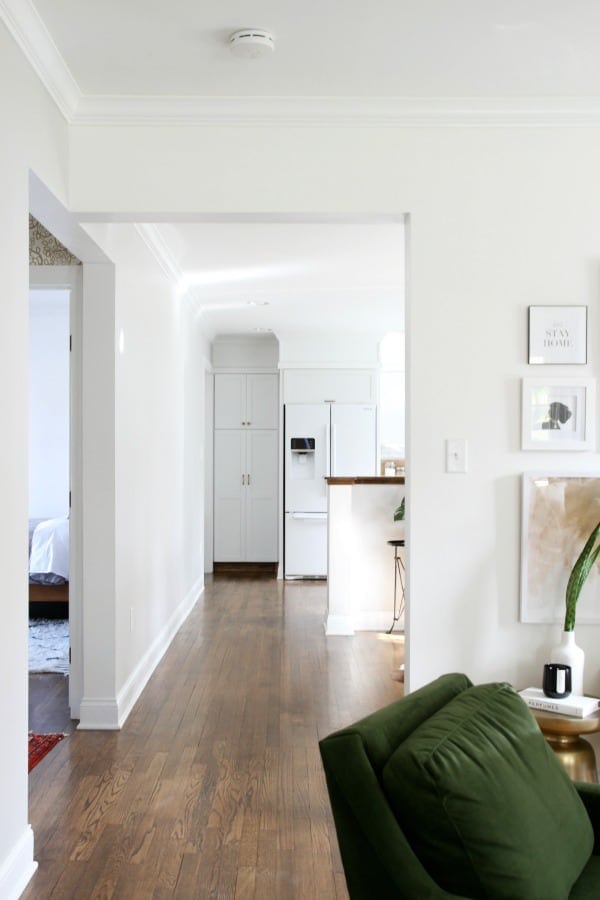 Wall Color: Benjamin Moore's Super White via House Tweaking
If you're trying to match existing trim paint that's probably just an off-the-shelf white, this is probably a safe bet, too!
Sherwin Williams Pure White
This is an incredibly popular color for trim since it works well alongside all paint colors.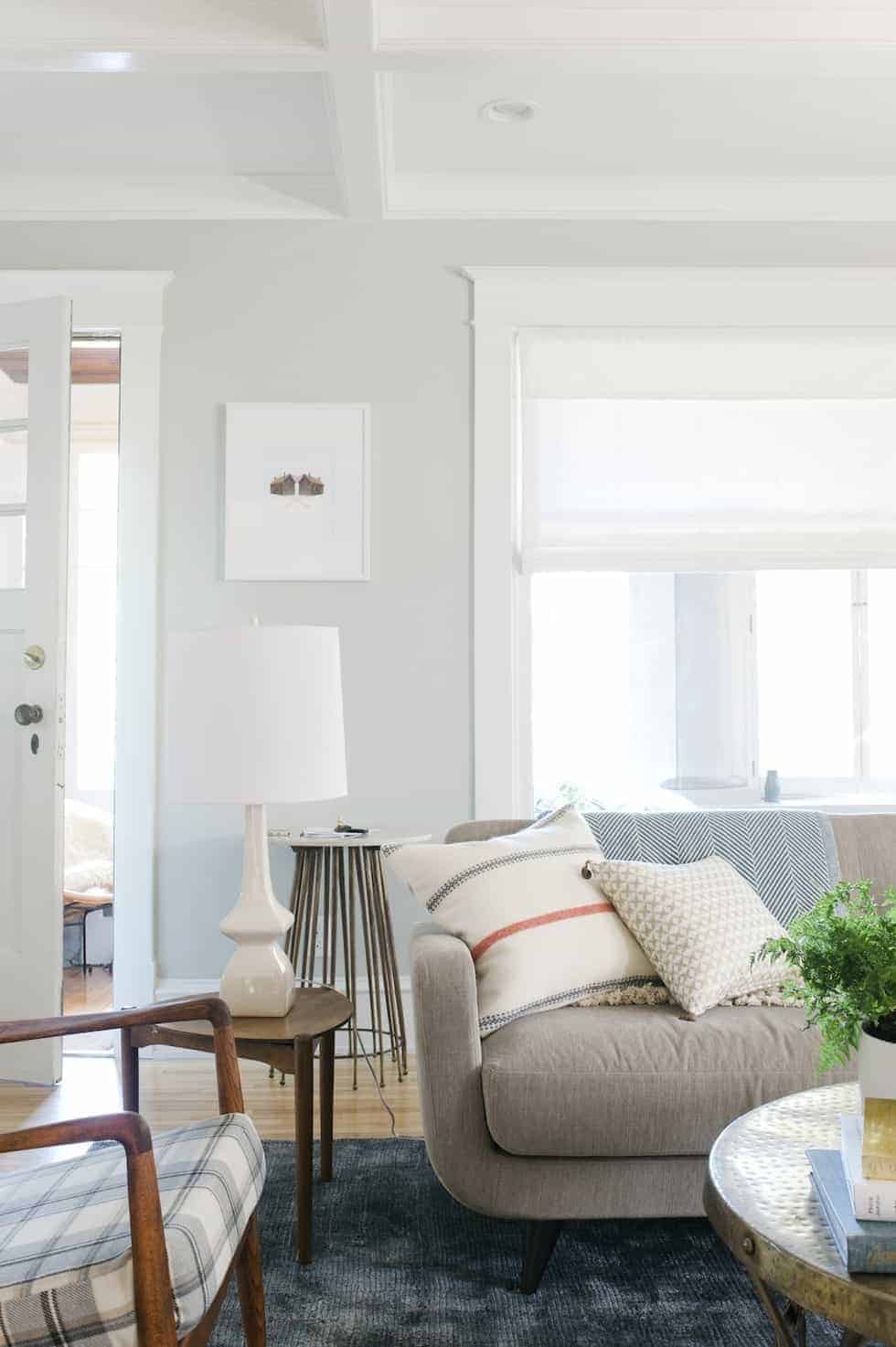 Trim Painted Pure White by Sherwin Williams via Curbly
It's very similar to Benjamin Moore's Decorator's White in that it has the tiniest bit of gray but it doesn't read cool at all, just a nice white with minimal undertones.
Sherwin Williams Extra White
Any time a color is called "extra" white, there's usually a blue undertone that will give it that super super white effect. A color this white can read a little cold in a north facing room but will be really bright and clean in rooms with warmer light.
Extra White Built-ins via Sand and Sisal
I personally find that this white works best with cool toned walls…such as grays and blues. It's not the best choice if you're going for warmth on your walls.
So there you have it. Five beautiful white paint colors for the next time you need to paint trim, doors or casings!
On a final note, let me briefly mention paint sheen. In the past trim was always painted semi-gloss. More and more, you will see trim actually painted with a satin finish. I did this when we repainted our home and it has made such a difference. Why? Well, it looks more modern for one. But the most important reason is that in an older home, where the trim needs to be spackled and fixed up a bit before it's painted, a satin finish hides imperfections MUCH better than semigloss. So in the end you get a much more uniform looking finish, which is of course what we all want :-)