This DIY tutorial for easy closet shelves will transform that empty corner of your closet into the most organized space in your home! Double your closet shelving space with this simple project that you can do in a few hours.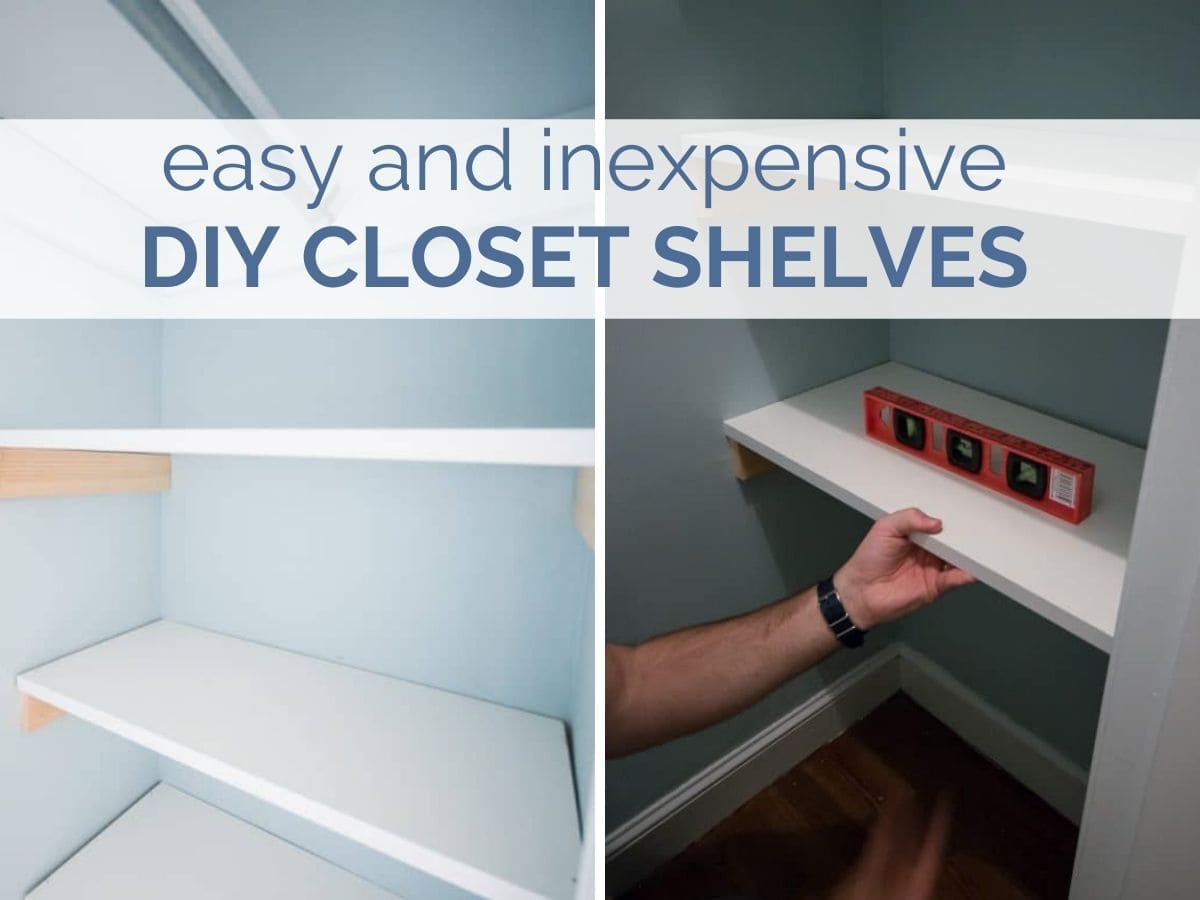 Last weekend we added some simple melamine shelves to the baby's nursery closet to make it more functional. There's only so much baby stuff you can hang, so shelves are a must-have. These DIY Closet Shelves are probably the easiest DIY you will ever do – only take about 20 minutes to complete once you have everything cut – and add so much functionality to a basic closet.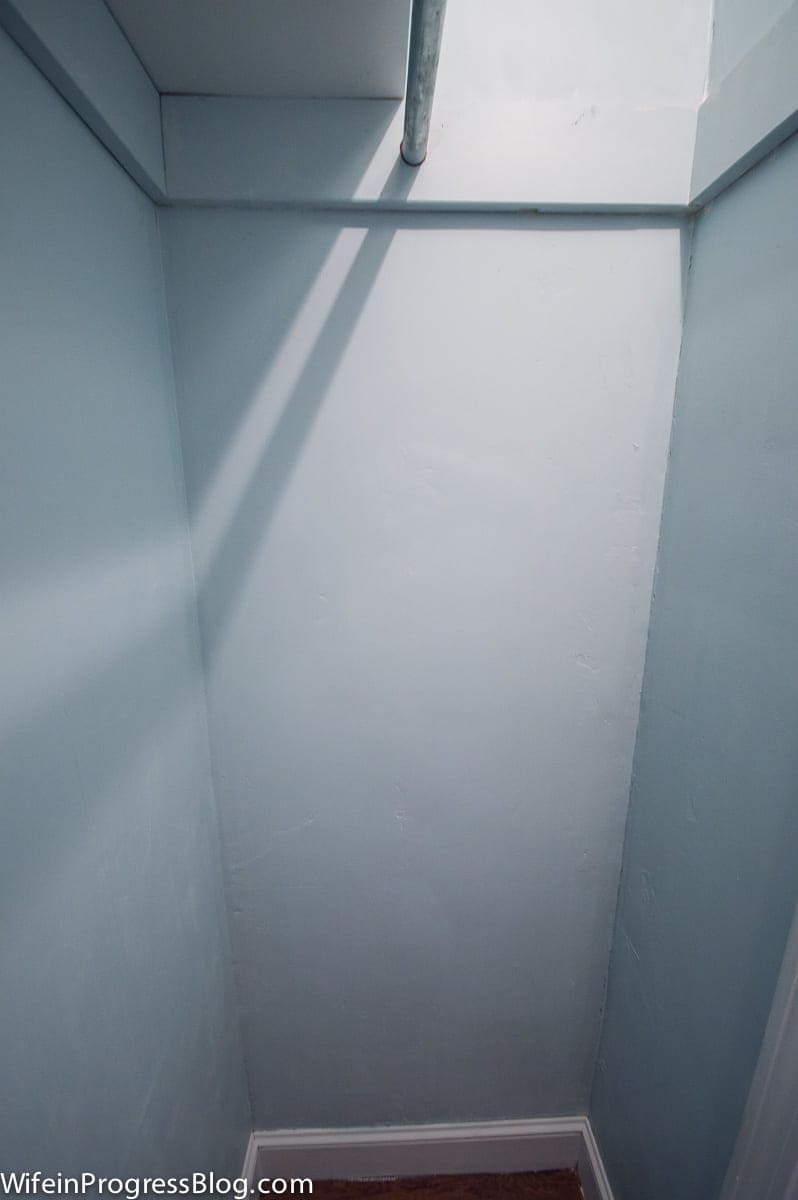 All of the closets in our house are very basic – they have one door and the closet spans behind the bedroom wall. There's 1 rail that spans the width of the closet and one shelf above that. Definitely not enough shelving for all baby's stuff.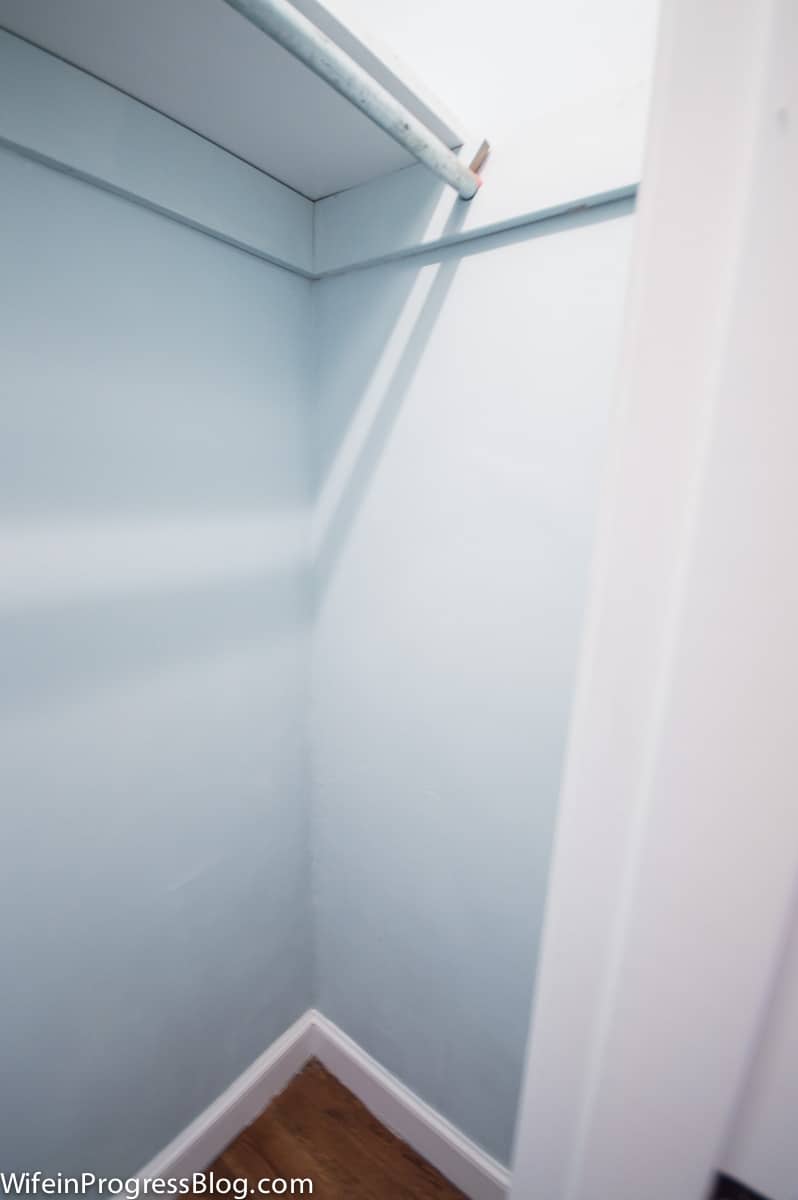 I've added these simple DIY closet shelves to several of the closets in our home, and they are both a quick and budget-friendly way to get some additional storage space. While I like to use melamine because of the veneer and its ability to be wiped down, MDF works perfectly too, and is usually more readily available. I've used both throughout our home with great success.
What You'll Need:
1×2's or 1×3's to act as supports (braces or cleats)
Nail gun (or a good old fashioned hammer and nails)
Level (to make sure everything is as straight as possible)
Miter Saw (or have everything cut at the store for you)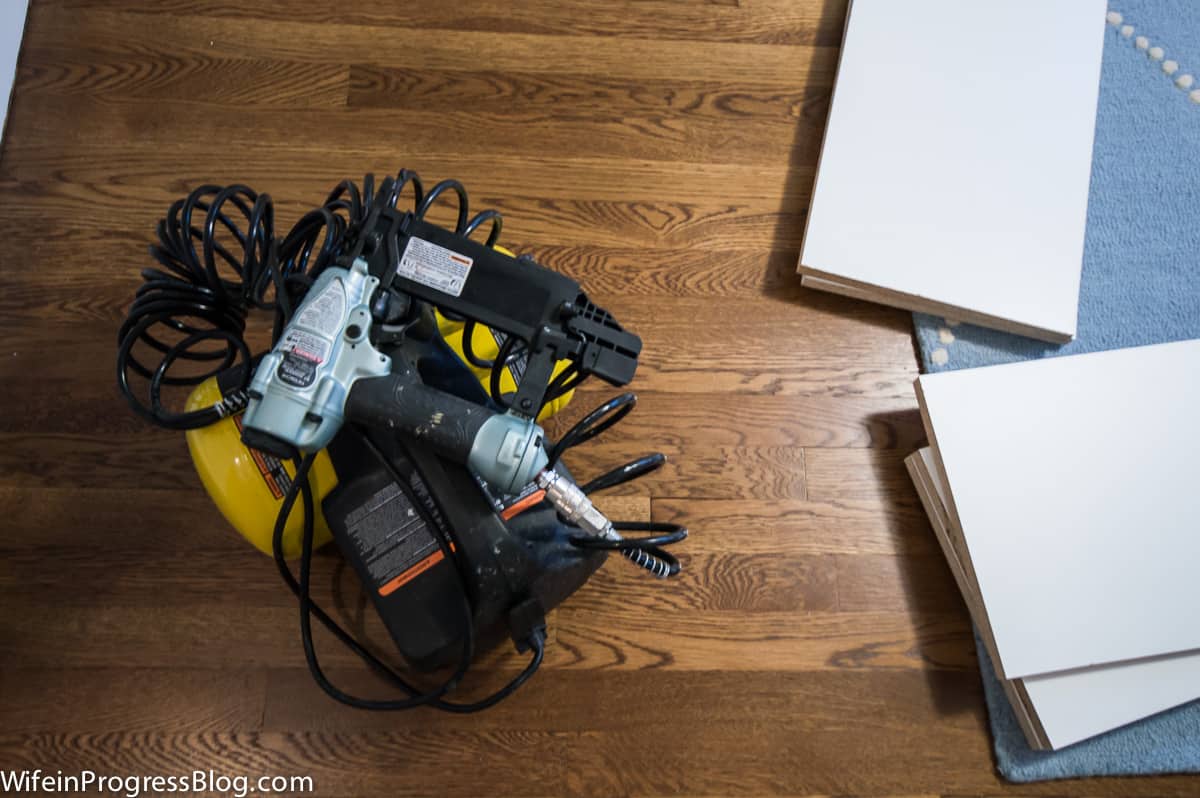 If you are looking to invest in new tools this year and you already own the basics, I can't recommend a nail gun enough. We use ours all the time and love it.
How to Make The Closet Shelves
Locate Where Each Shelf will be Placed
Start by figuring out exactly where you want your shelves. Using your level, draw a straight line with a pencil so you know where to nail your first support. We chose to just attach the supports to the side walls since the shelves aren't too large. If you have a bigger space you may want to run a support along the back, too.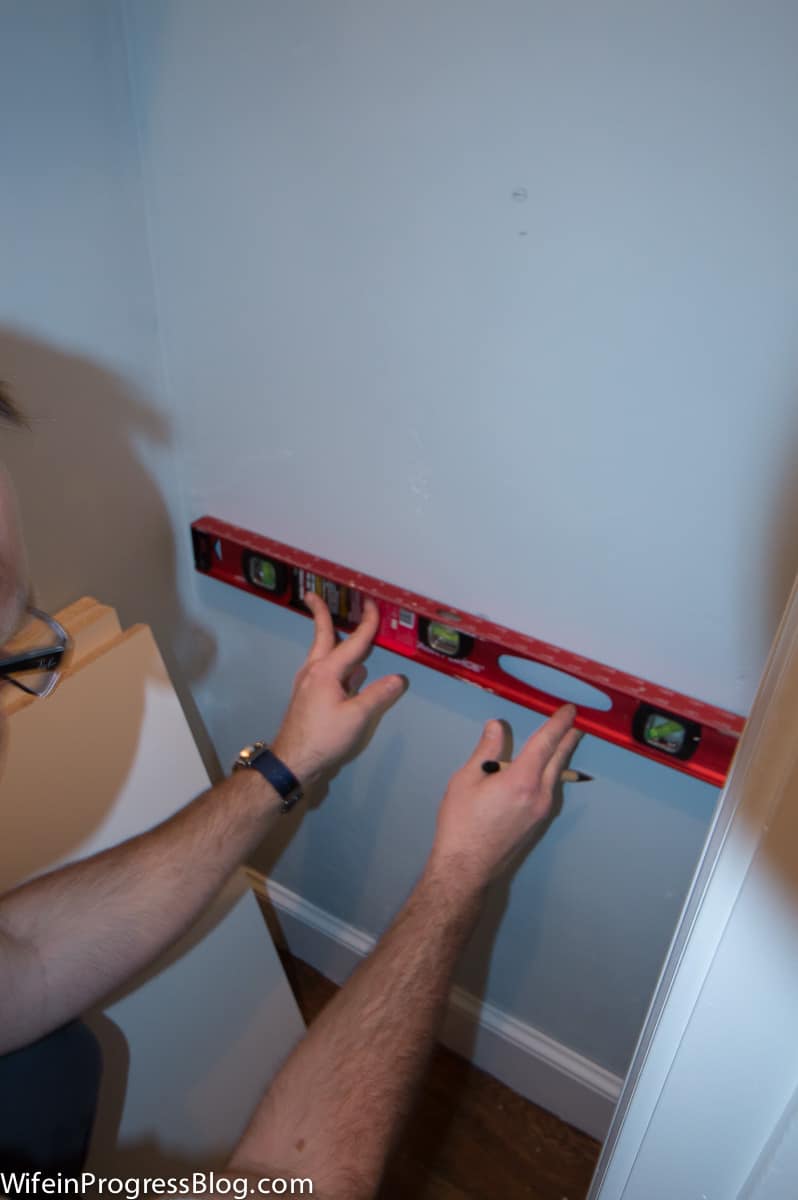 Cut the Melamine Boards
We had our melamine cut to size at Lowe's so that was one less step to have to do at home. If they offer it as a free service you may as well use it, right?!
Cut the Braces/Cleats
Using 1×2 or 1×3 pieces of wood, cut them to the depth of the shelf. For a cleaner look, cut the end piece at a 45 degree angle. Sand the edges for a smooth edge.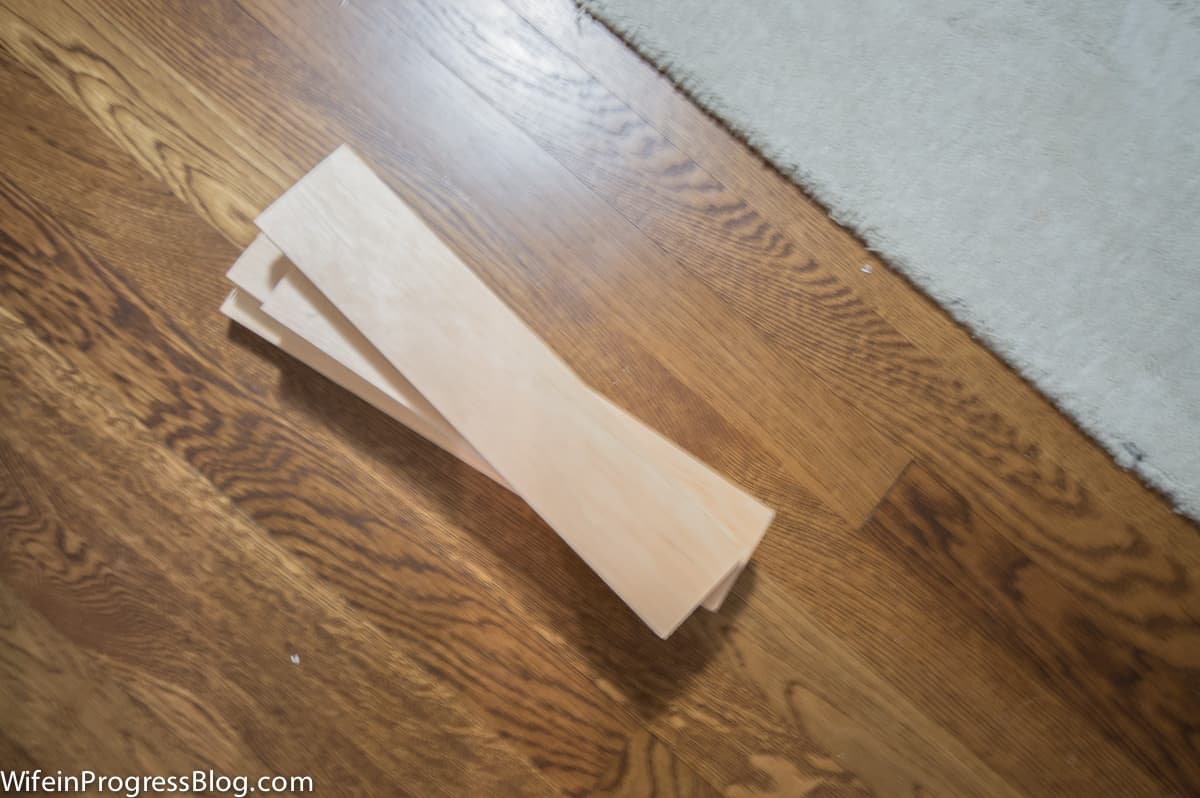 Nail Braces to the Wall
Ensuring the pieces of wood are level, nail them into the wall. Alternatively, screw them into the studs if you know your shelves will need to hold heavier items. We've never had an issue with a few nails, though.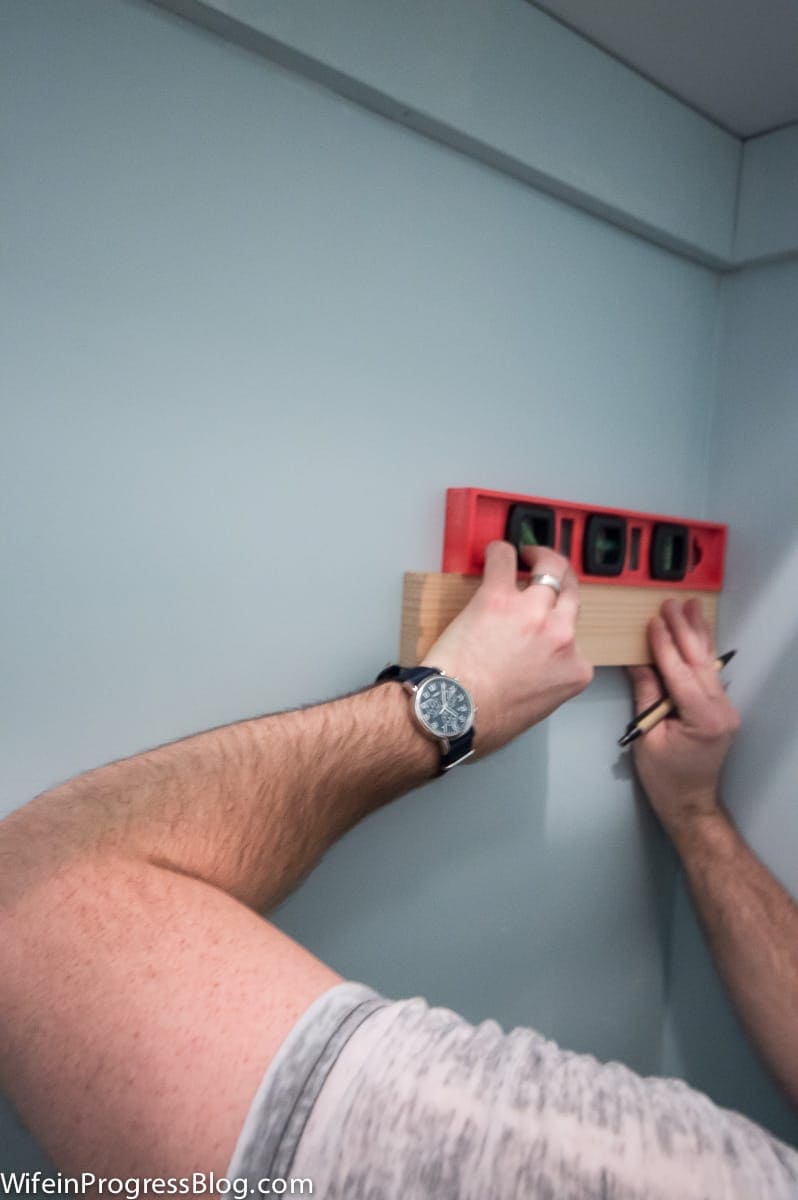 Check for level a last time before nailing in place.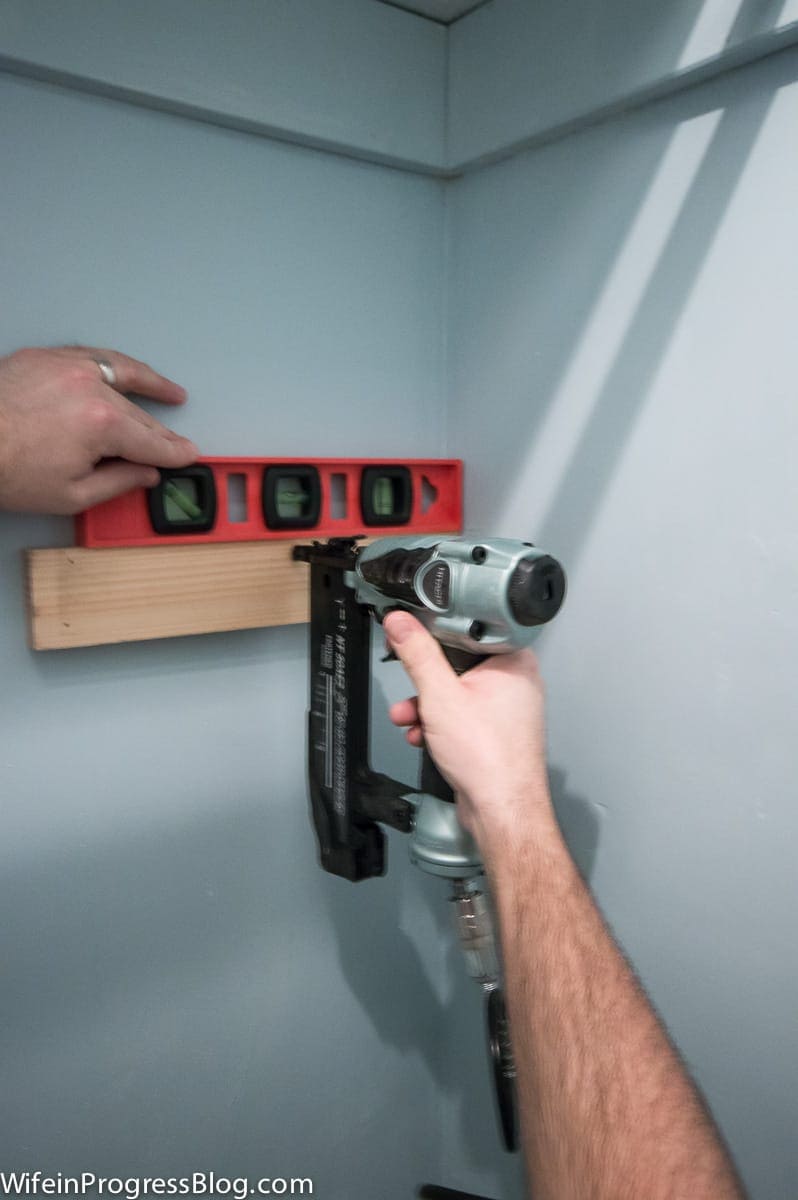 Attach Melamine Shelves
Once the supports are in place, pop your melamine boards on top. You can let them simply rest on the supports or nail them in place. We nailed them down so that the kiddos don't accidentally pull them out one day.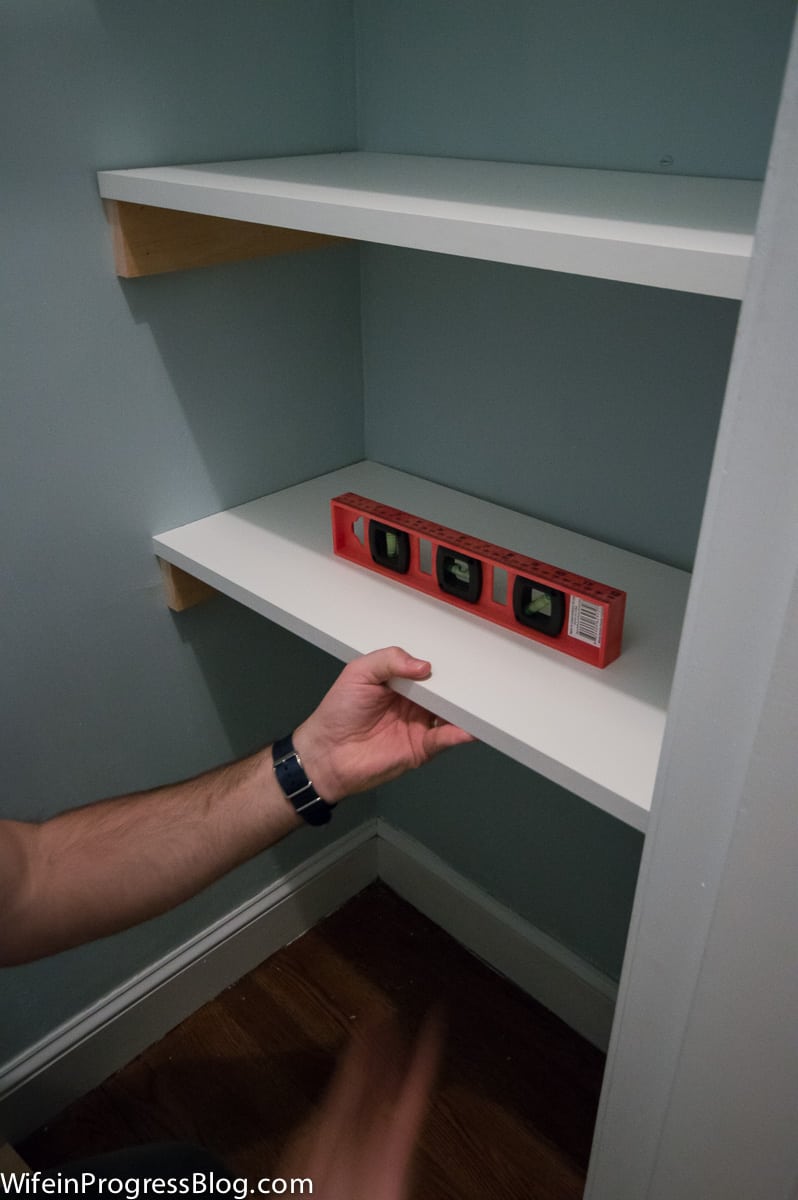 That's it! So easy, right? You can paint the supports before or after they are installed, of course. That's still on my to-do list :-)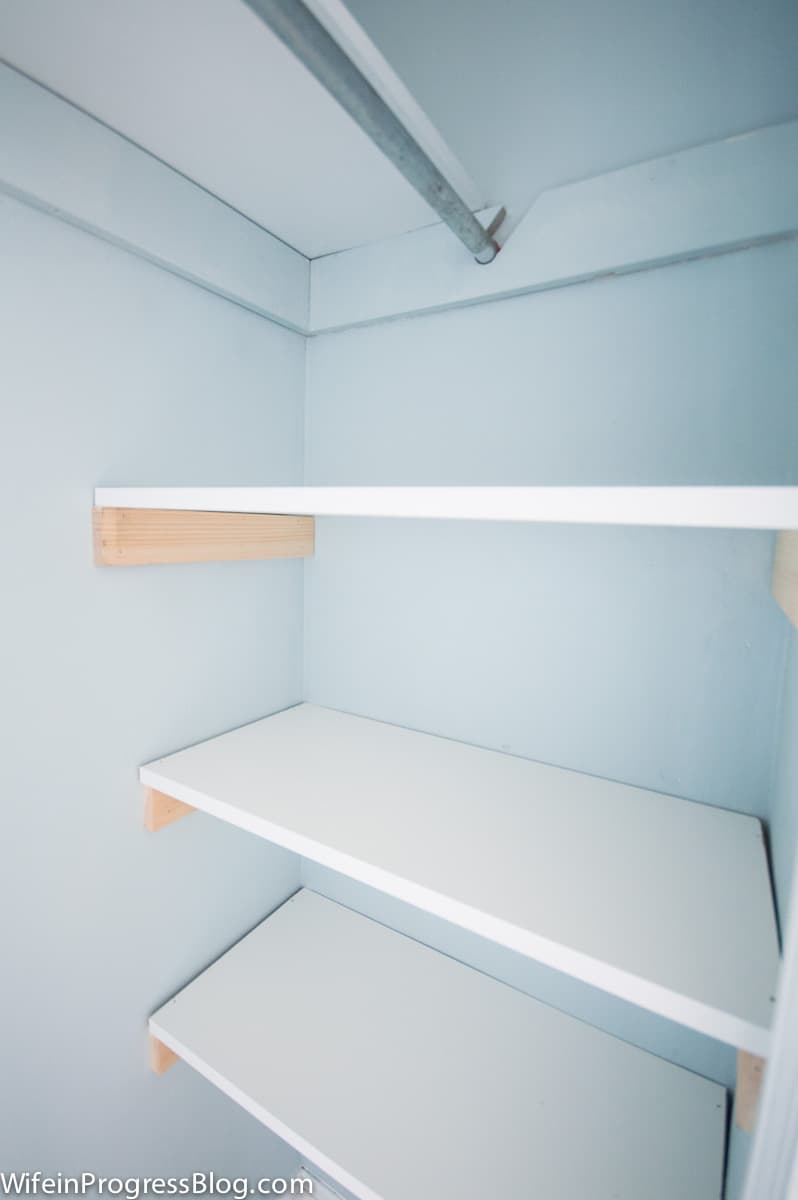 The extra shelves make this closet so more functional! Unfortunately, our walls are not even remotely level so there's minute gaps. But as long as the shelves are well supported it won't be an issue.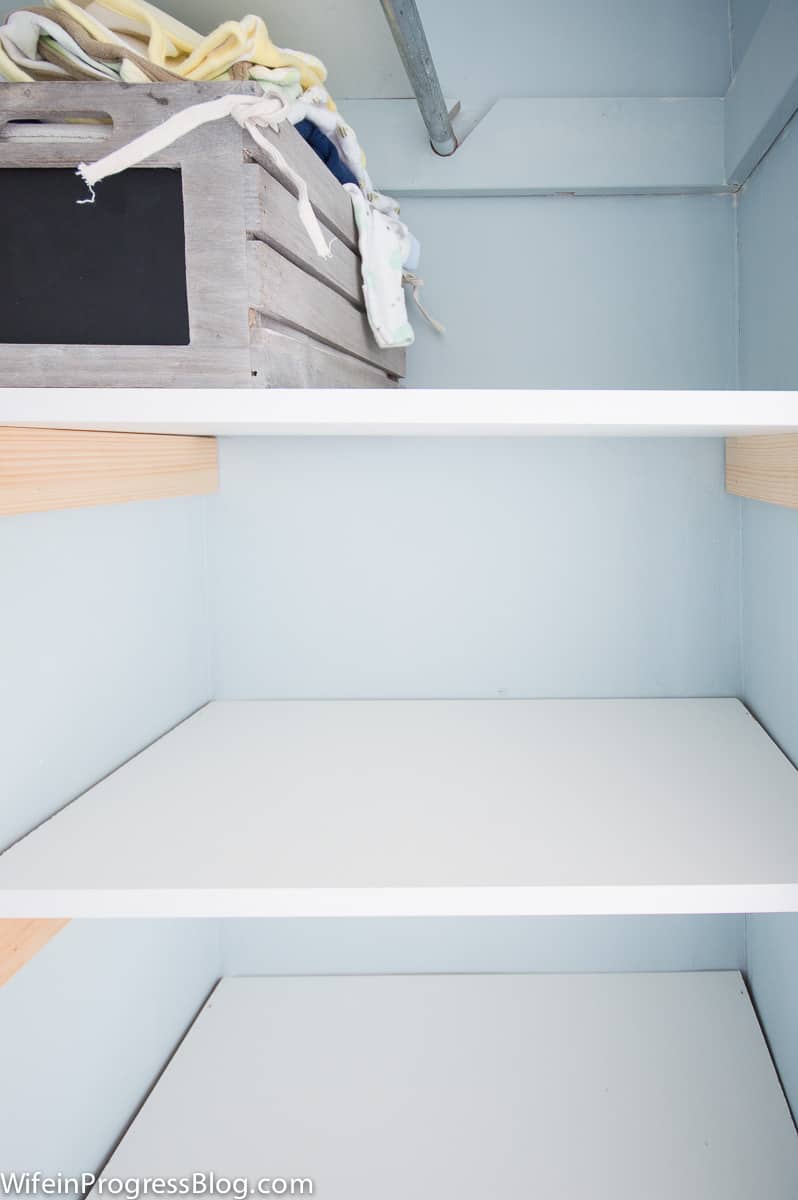 I've just started going through all Cian's baby clothes and washing them. I can't believe he was ever that small…but it's so nice to have all these clothes ready to go!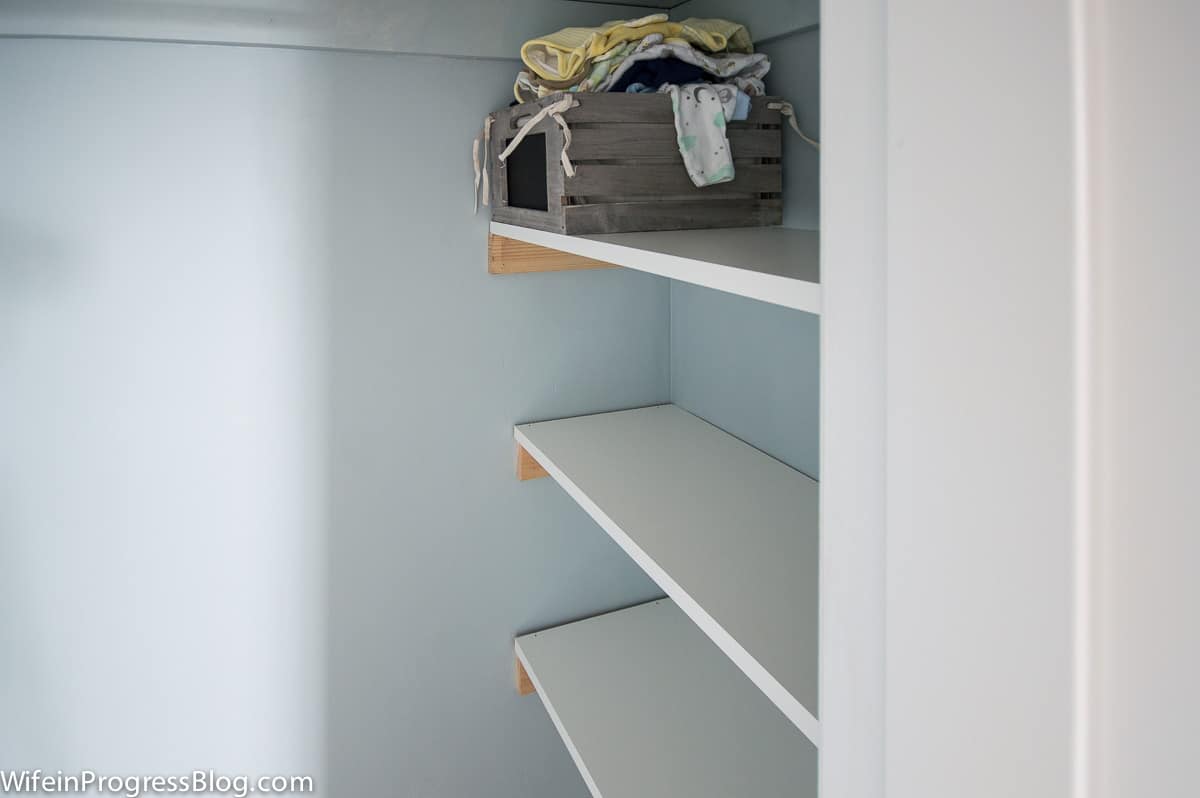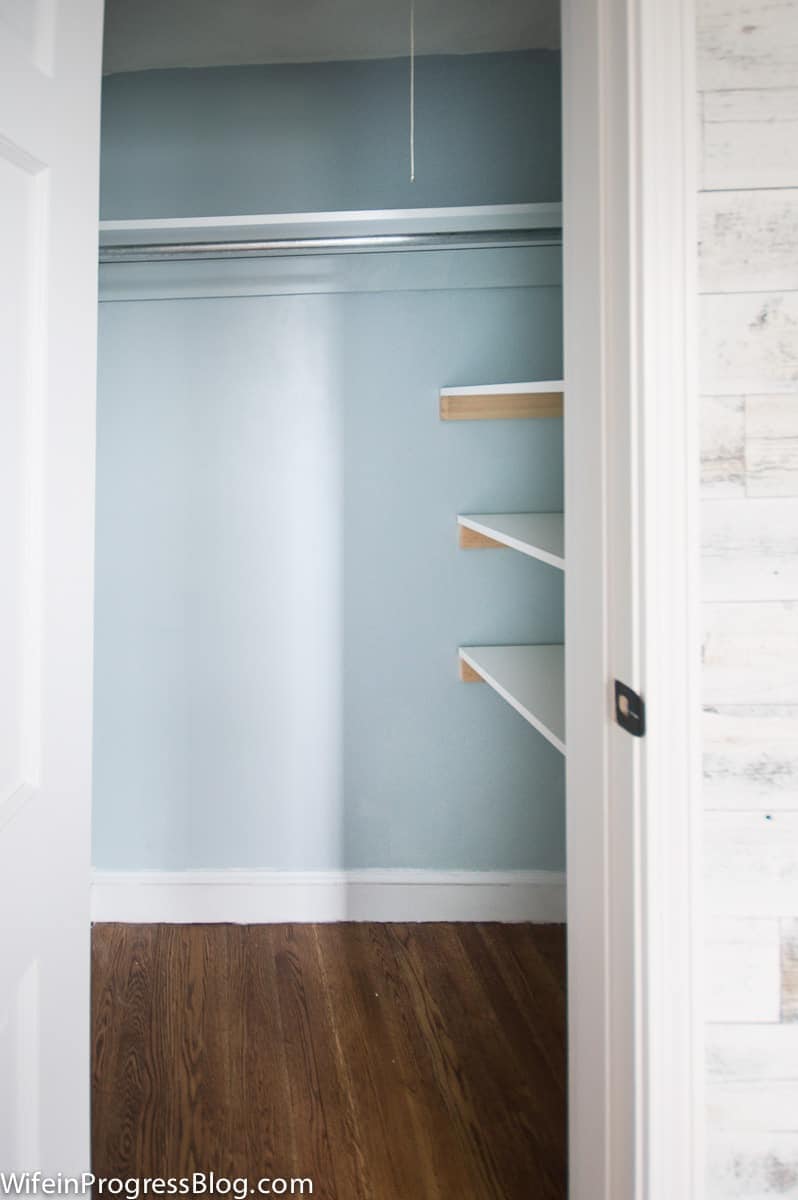 Most of the furniture for this room will be delivered by the end of this week so I'm super excited to really get everything organized and finished in here. The little man will be here before we know it and I want everything perfect for him!
Other Posts You'll Like