Create this nature inspired fall centerpiece with candles with just a few simple materials. It's an easy way to dress up a table, console or buffet with minimal effort.
With fall finally upon us, there can be a mad dash to start decorating everywhere. Whether you favor the all-in decorating approach or a more minimalist style, it certainly is fun to add a few touches of the season here and there.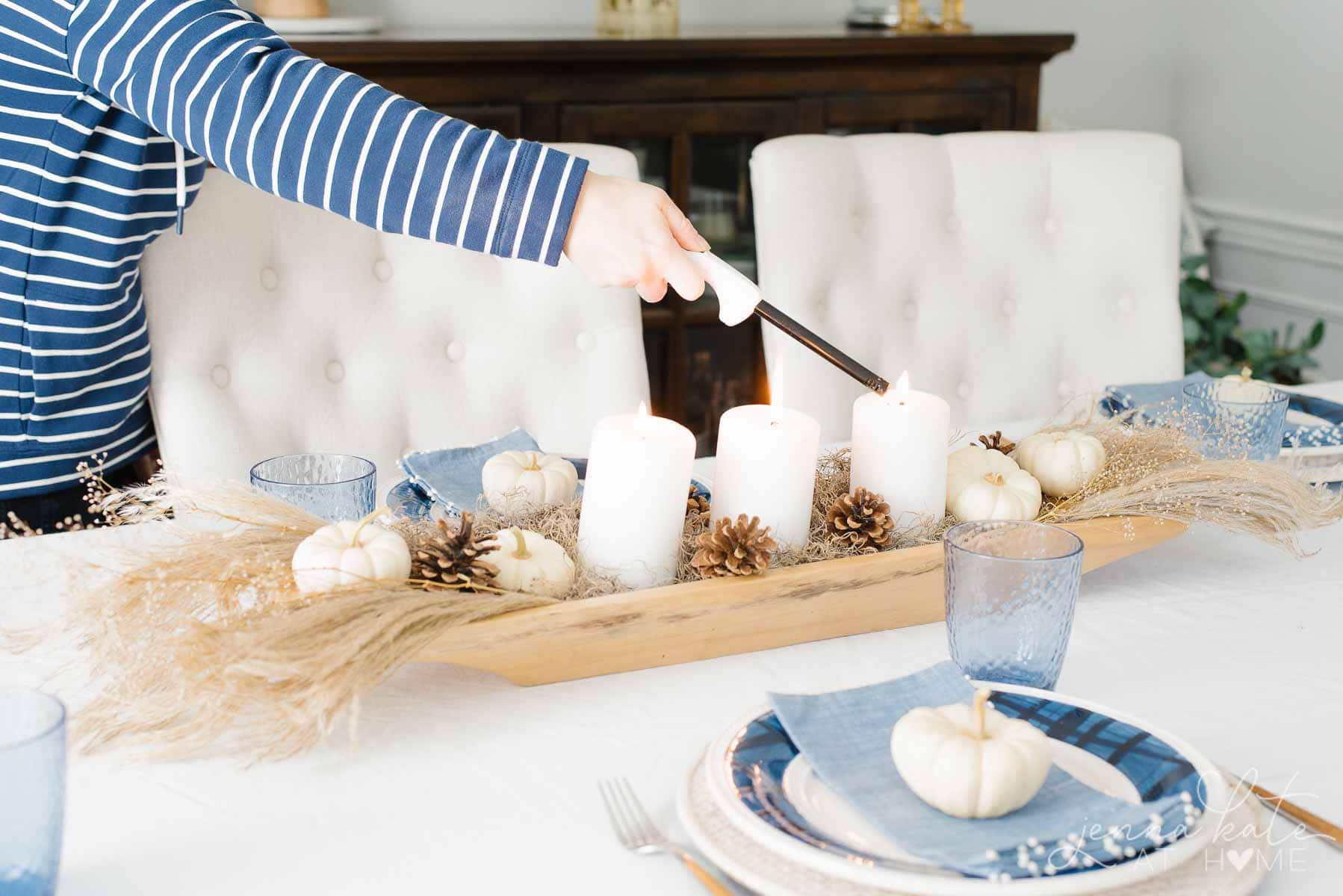 Fall Decorating Inspiration
This year, I'm taking inspiration from Mother Nature and decorating for fall with what I can find in my yard, but I have lots of other fall decorating ideas for the home that I know you'll love, too.
This simple fall centerpiece works with any style of decor. Pair it with beachy blues and whites, like I have done, for an instant coastal feel. Keep the color palette neutral with lots of wood-tones for a more farmhouse look. Whether your style leans modern or traditional, this fall centerpiece will work in your home!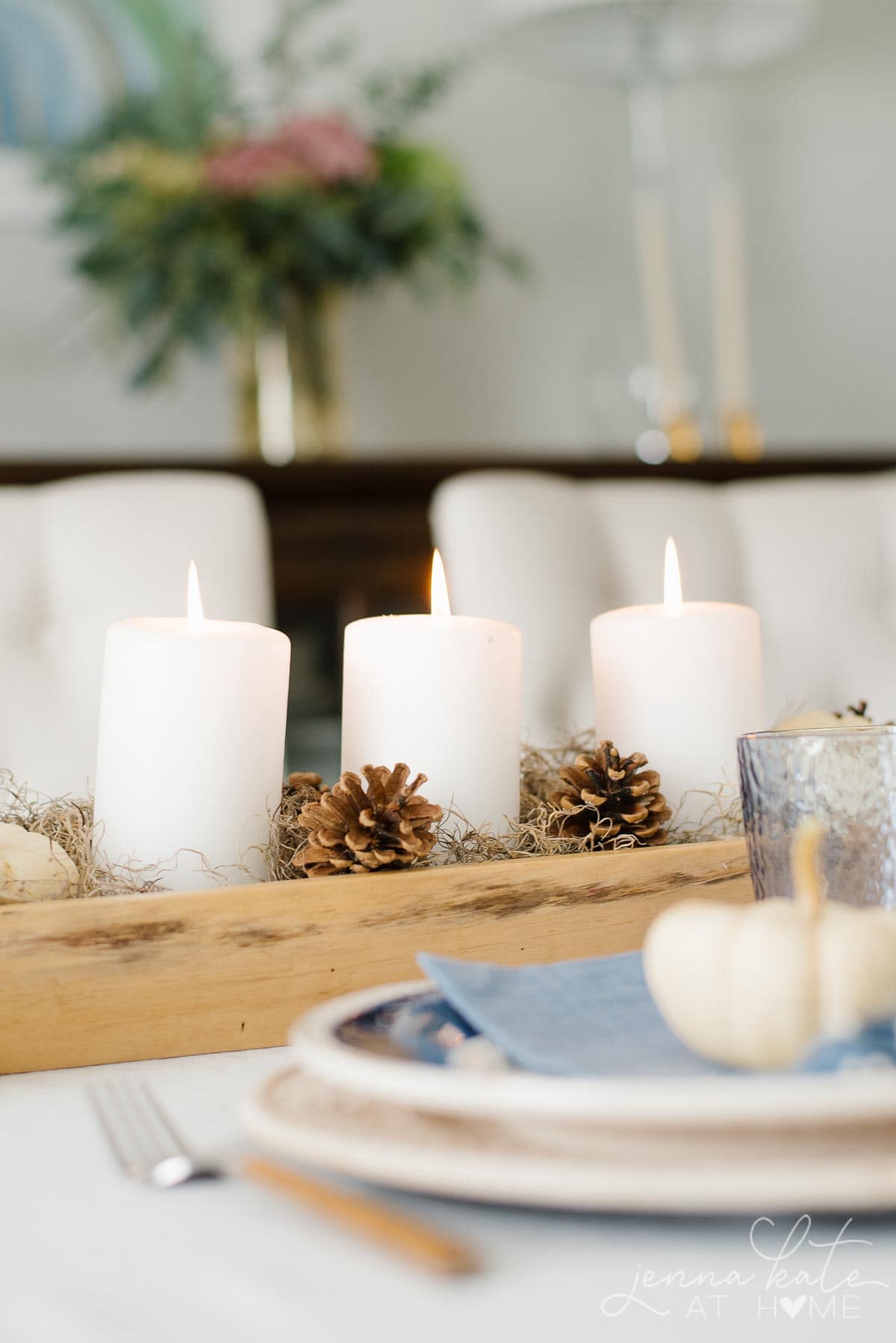 I love adding candles to my table settings, as it creates instant ambience. For this centerpiece, I have used real candles. However, I use faux flames a lot (especially since I have young kids) and with dried grasses like this one has, you need to be extra mindful of watching a real flame.
What You'll Need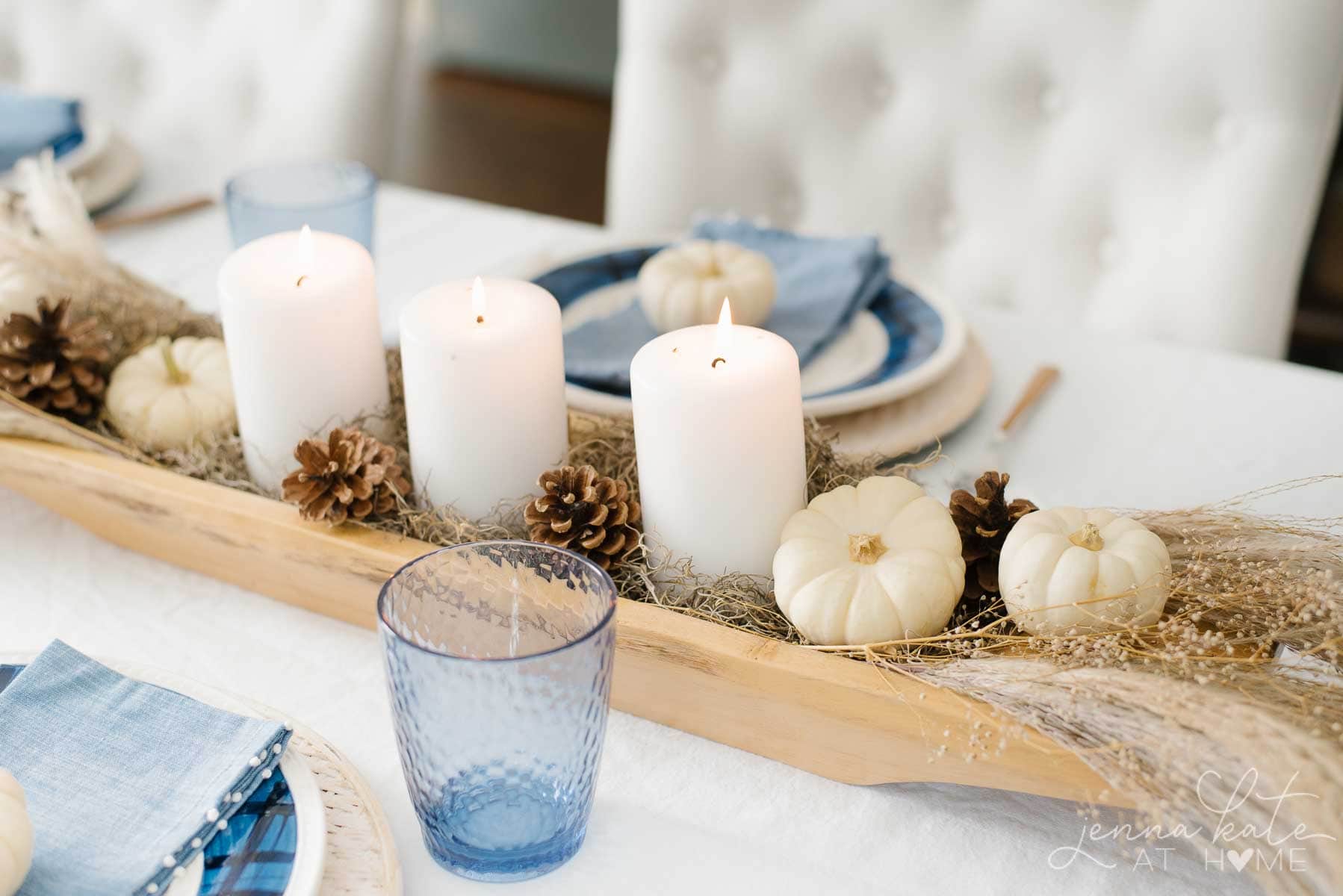 4 miniature white pumpkins
Pampas or other similar dried grass
How to Make The Centerpiece
There's no right or wrong way to assemble a centerpiece like this. Add or subtract items and move them around to suit your taste, and see how they best fit depending on the shape and size of your vessel.
Saying that, this is how I assembled mine:
Place the pillar candles in the center of the dough bowl, spacing them out evenly.
Fill the bowl with moss, ensuring no visible gaps and that the candles sit securely.
Place pampas grass on both sides of the dough bowl, inserting the stems into the moss to hide them. Fan out the grass so that it spreads over the sides.
Place miniature pumpkins on each side, and if your vessel allows for it, on the rim.
Finally, place some acorns in along the front and back of the centerpiece.
Note: Never leave a candle with dried moss or grasses unattended. Replace the candles as soon as they start to melt down low. Alternatively, use faux flame candles for peace of mind!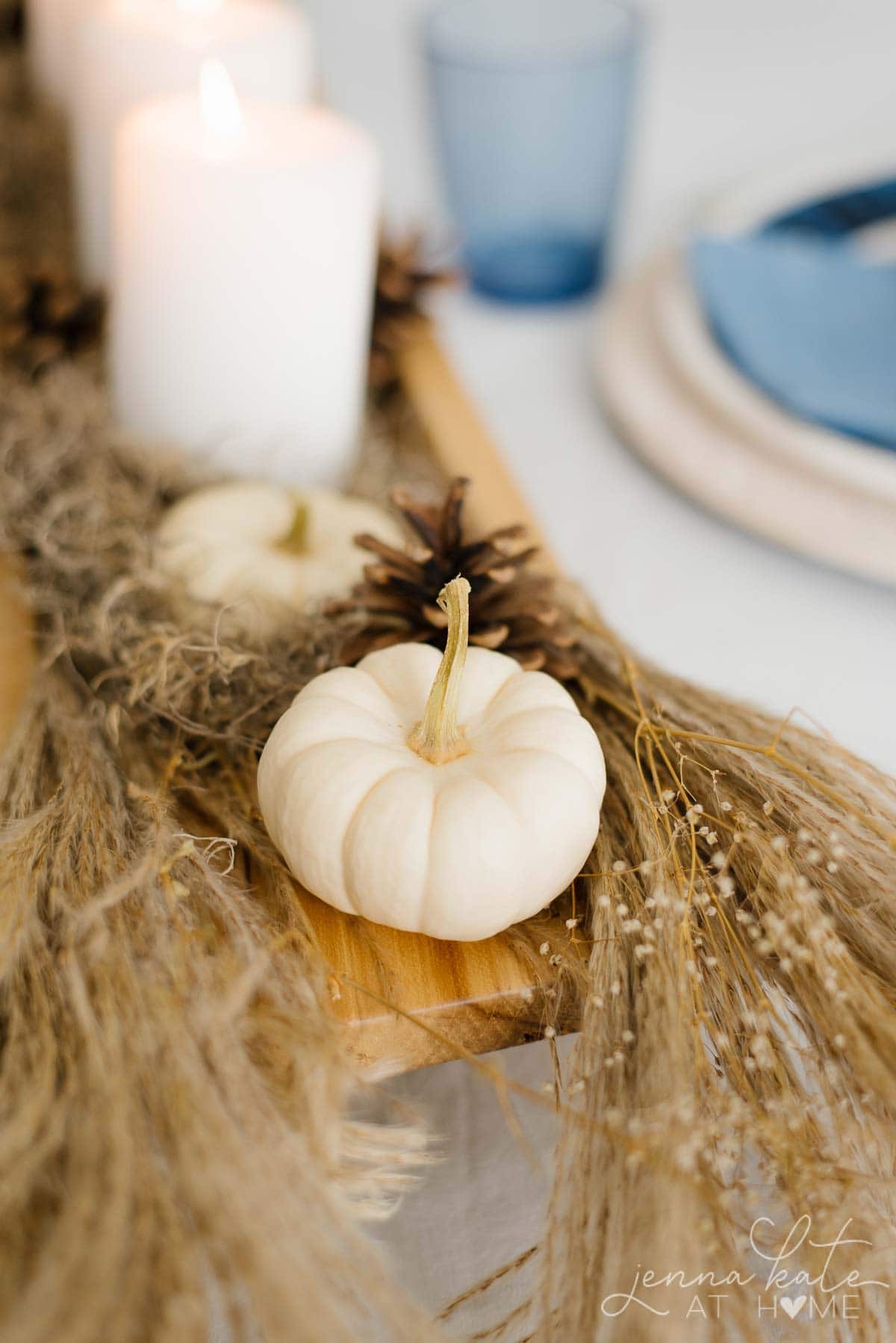 Table Setting Details
For the rest of this tablescape, I started with a simple white tablecloth. The white keeps everything looking light and bright, and ensures that the other colors really pop.
Each place setting consists of white rattan chargers, blue plaid plates, rustic wood effect flatware and blue glassware. Each pretty blue cloth napkin is topped with a miniature white pumpkin.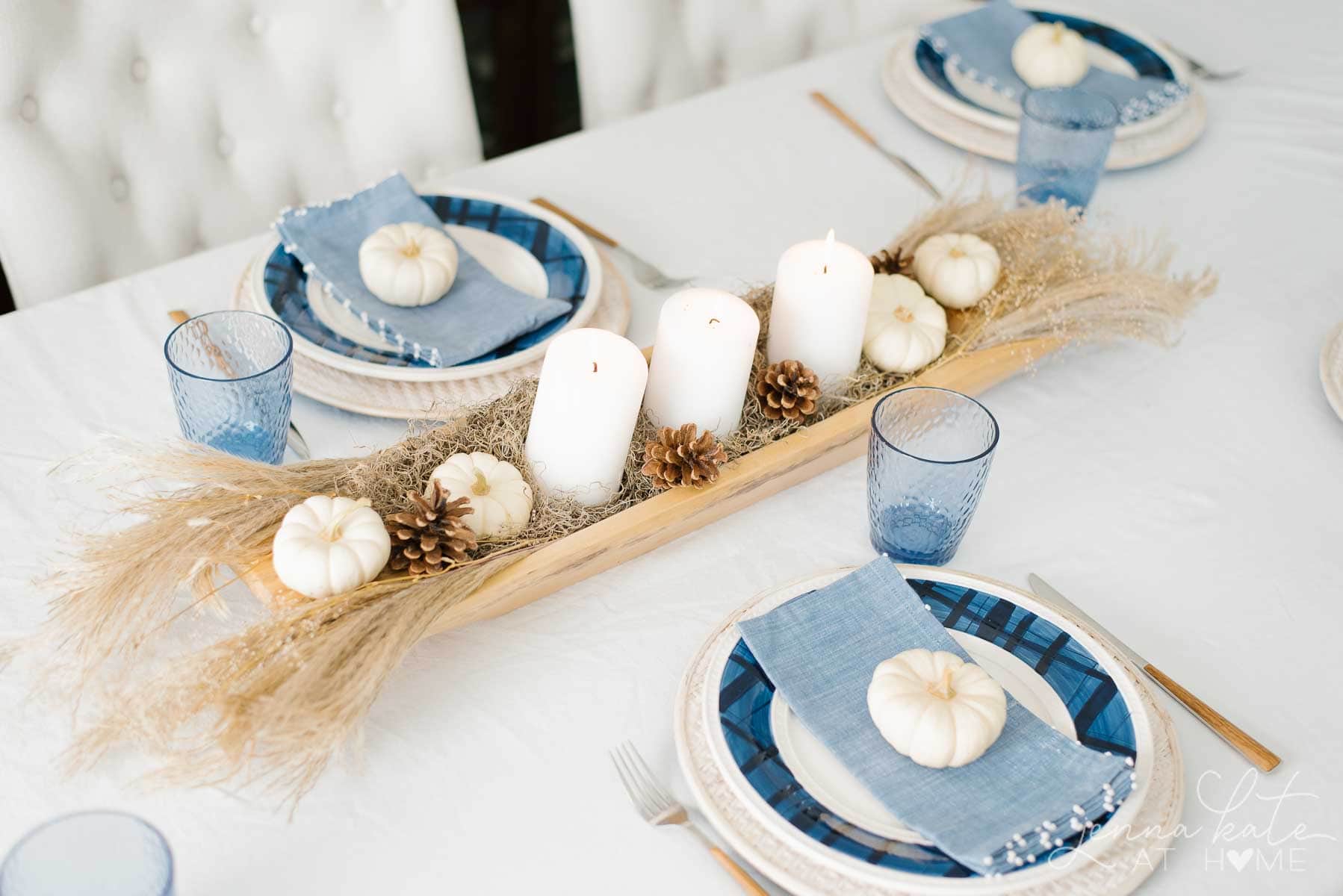 It's certainly a coastal look, but by switching out or adding in different colors, it would completely change the vibe.
This centerpiece does not have to be part of a table setting, either. It would look wonderful on a fireplace mantel, behind a couch on a console table or part of a pretty vignette on your living room credenza. I've been moving it around to different spots in my house to see where I like it best, and it look great everywhere!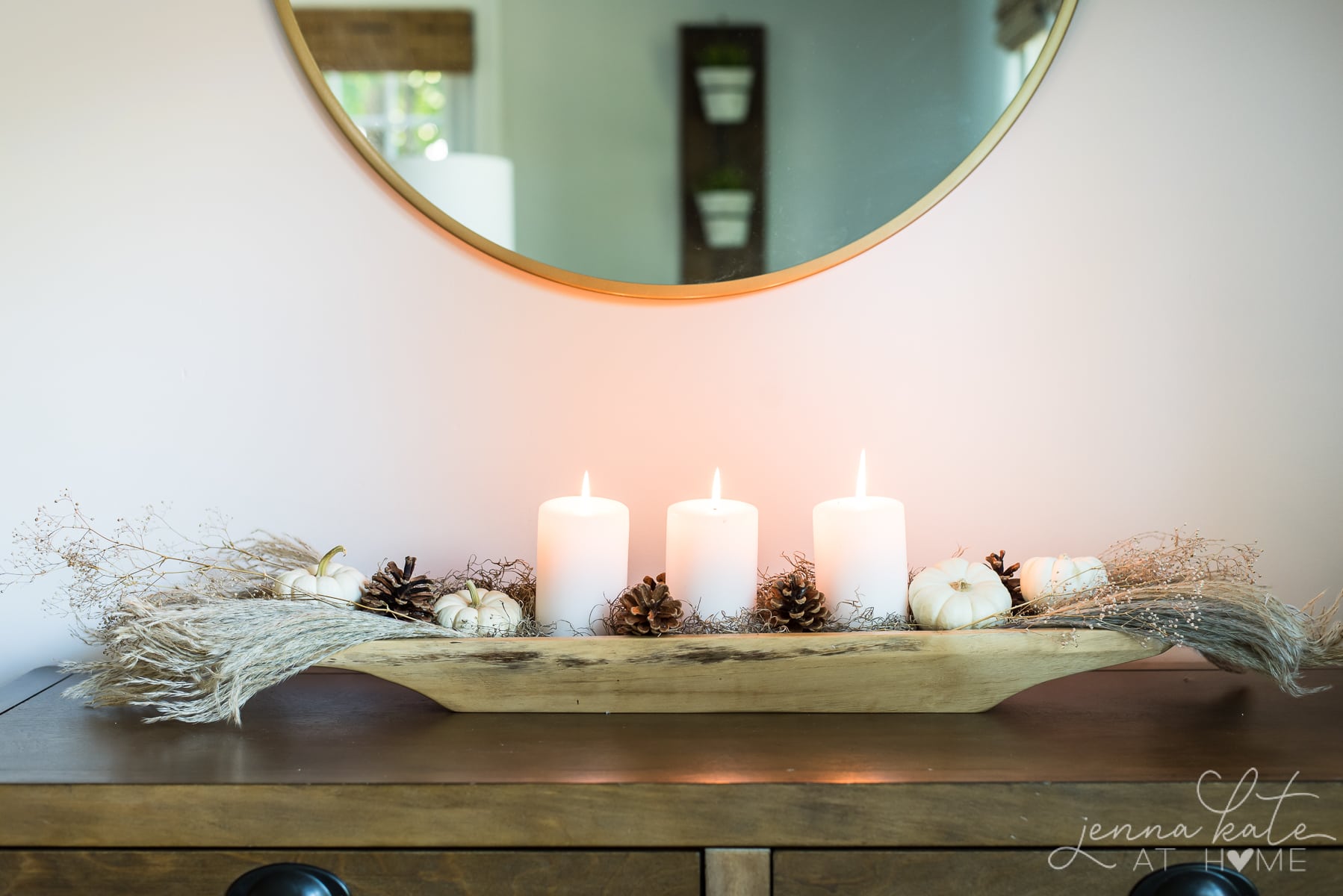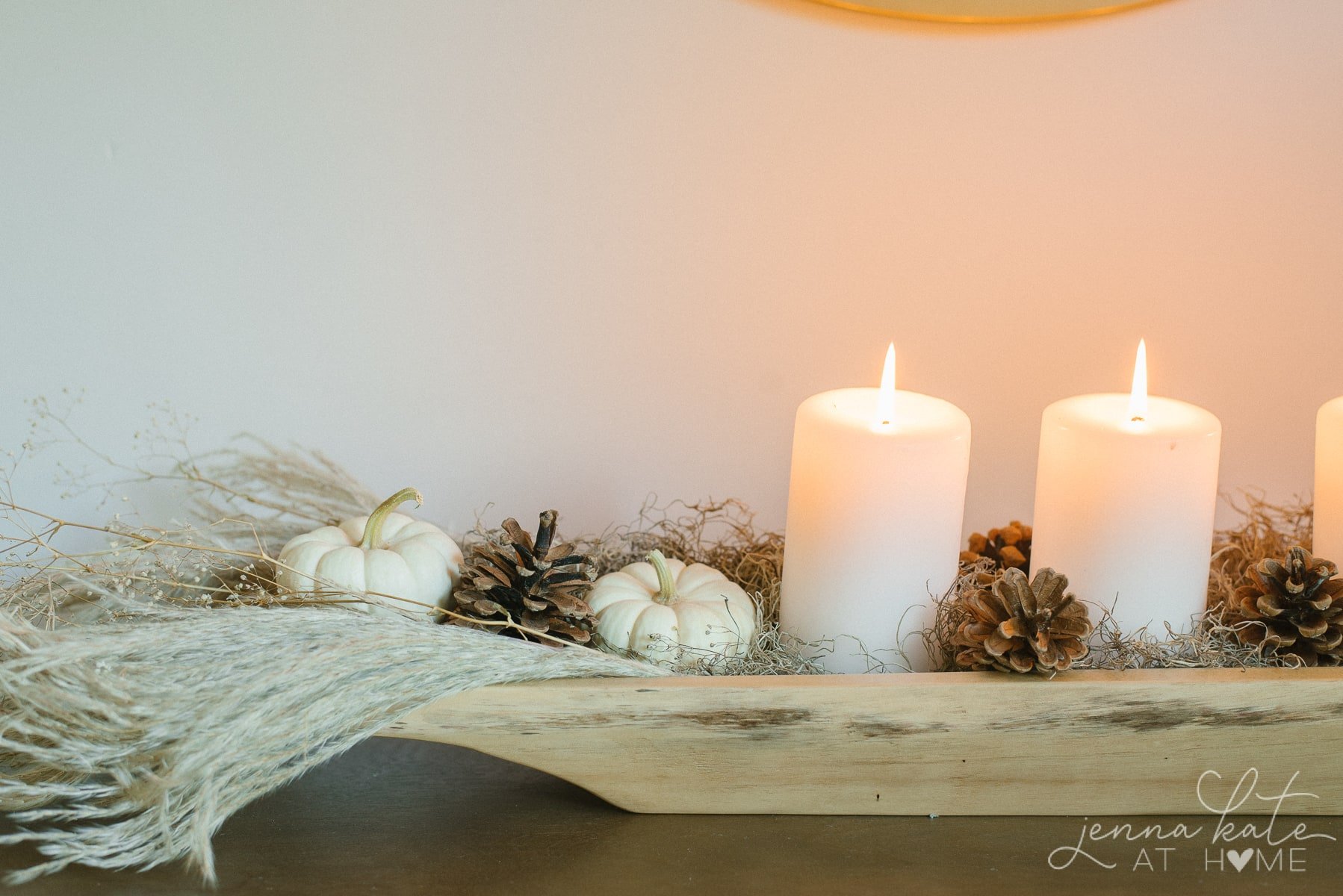 You could switch out the natural colored moss for green moss, use orange miniature pumpkins or even use colorful candles for an entirely different look. Black candles, natural moss and orange pumpkins would even work for a Halloween version!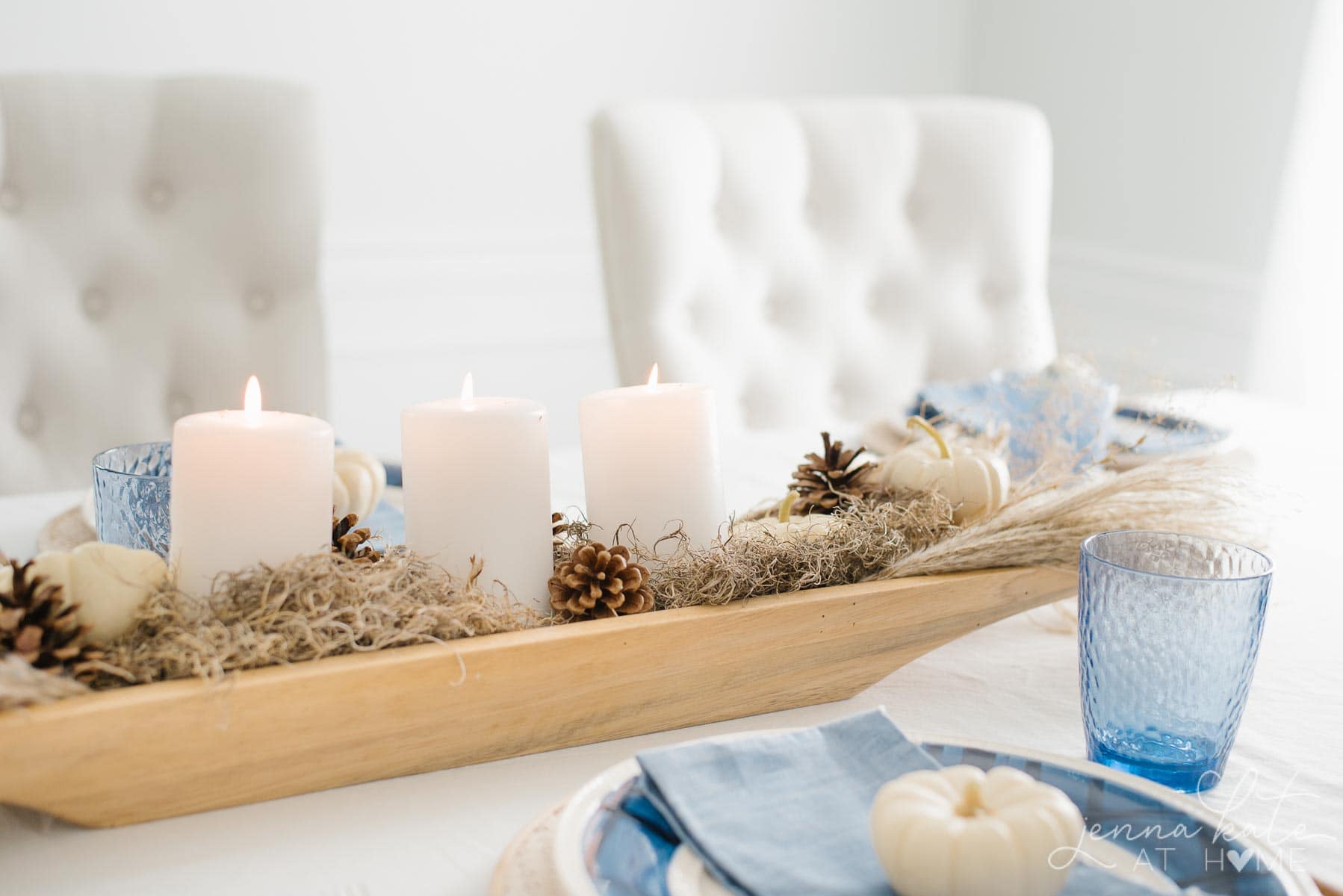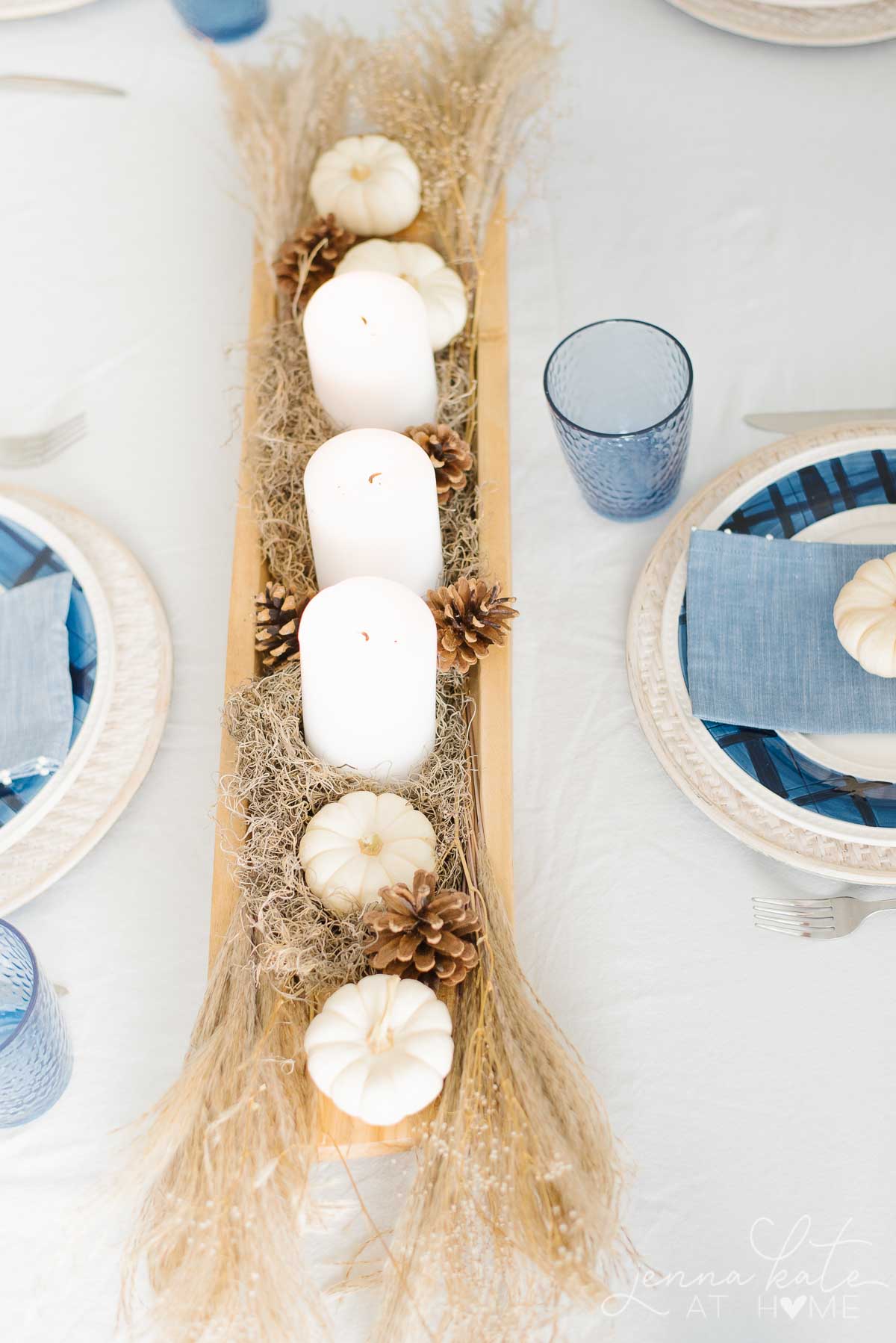 Whatever you do, have fun! This is such a simple fall centerpiece DIY that will only take 5 minutes to put together and looks so pretty.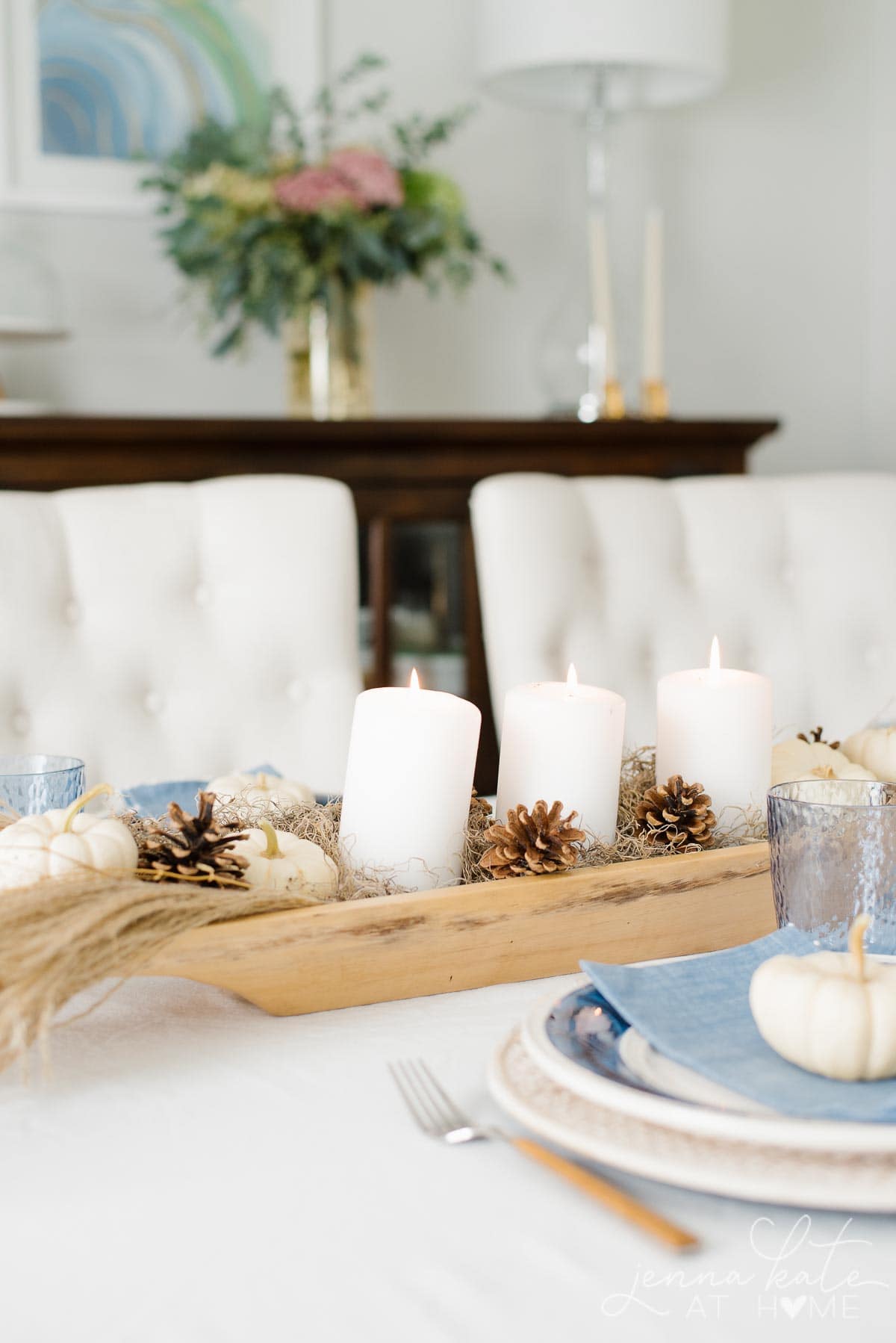 If you've made this fall centerpiece with candles, I'd love to see it! Tag me on Instagram and I'll share it with my followers!
[jkah-related title="other posts you may like" posts="26816,21168,26491,21384″]