Looking for an easy way to spruce up your home decor this fall? Your fireplace mantel is a great place to start! With just a few simple decor touches, you can transform your mantel into a cozy and inviting focal point for the season. From a modern to farmhouse fall mantel, there are so many beautiful fall mantel decor ideas to suit just about any style you're imaging.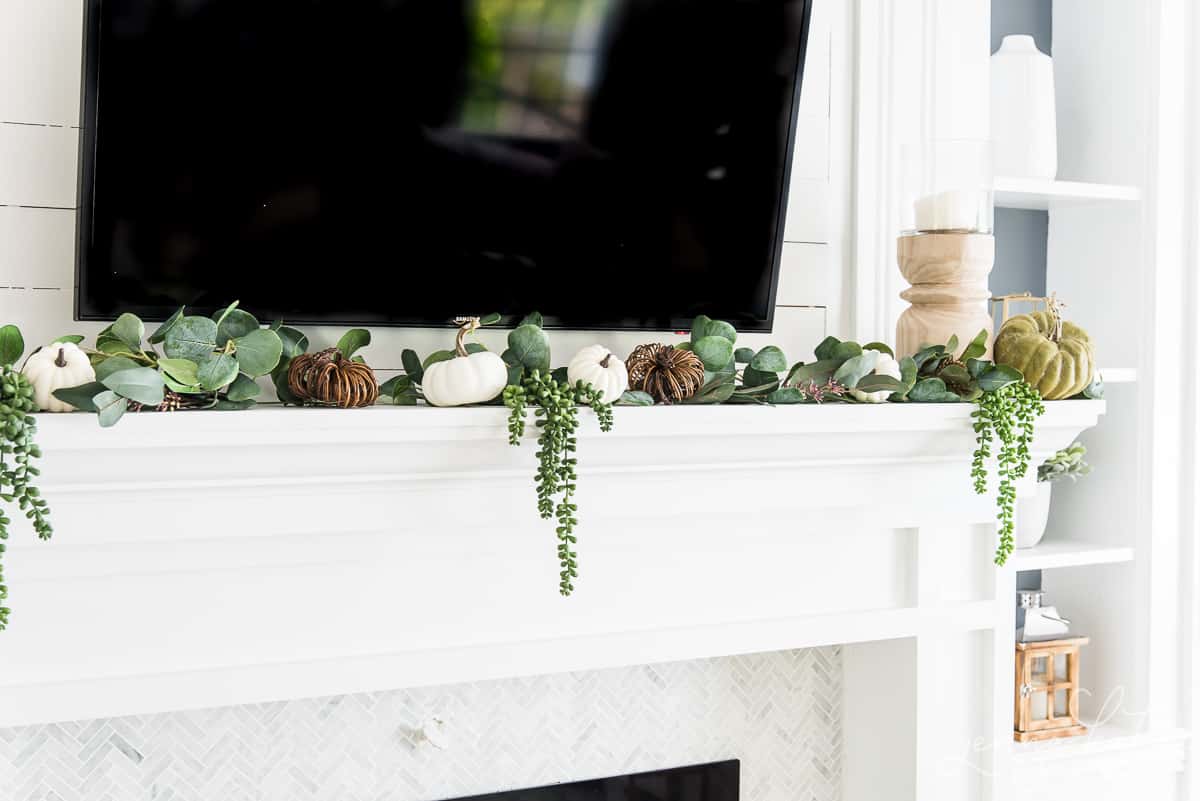 1. Use Faux Leaves to Create a Simple Fall Mantel
Fall leaves are a great natural element that can add classic fall colors and texture to your fall mantel decor. You can use faux branches and faux leaves to create a beautiful fall display with very little upkeep.
Here's a few of my favorite ways to incorporate faux leaves:
Use a garland of fall leaves to drape across your mantel like I've done below!
Sprinkle fall leaves around your mantel and mix them in with other natural elements like faux pumpkins.
Use a leaf-shaped wreath as a focal point on your mantel surrounded by white pumpkins or wood accents.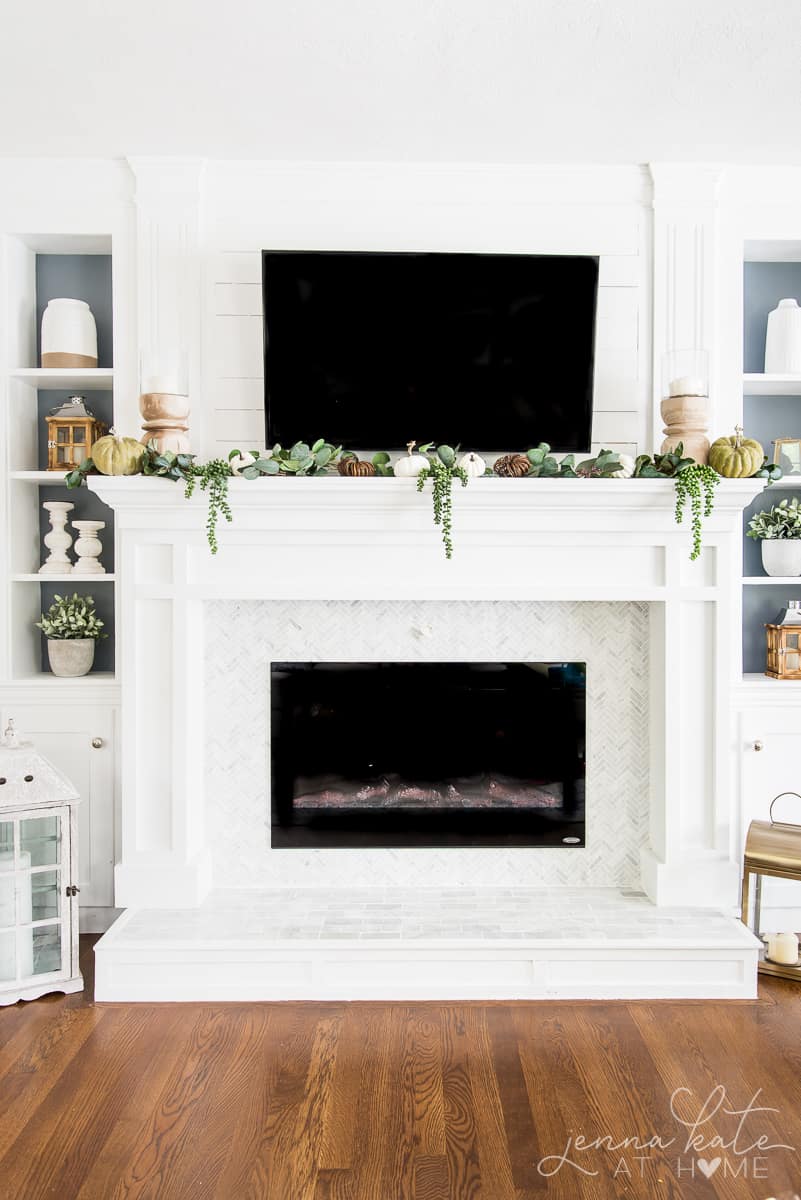 Here you'll see the garland draping down the mantel to create a beautiful fall mantel to add a main focal point in the living room. I love the neutral colors for a classic, timeless look.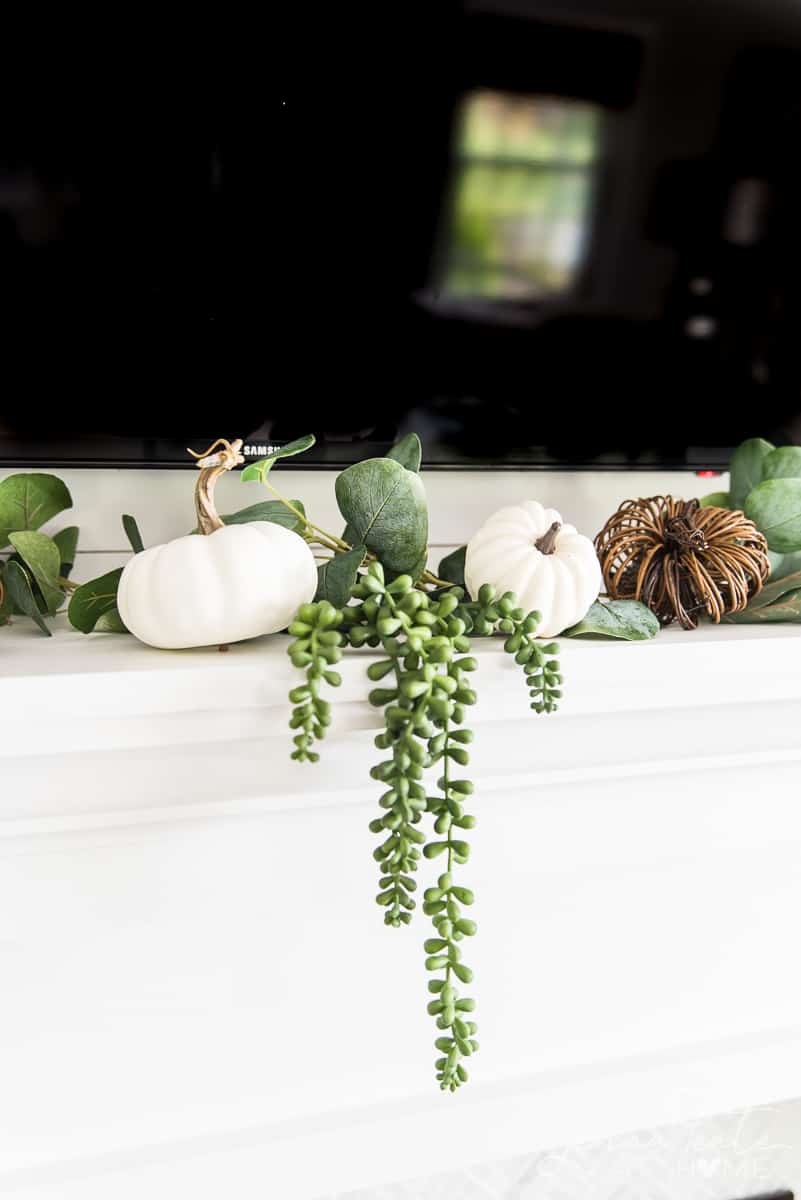 If you have a Trader Joe's nearby, you will have to stop by and get some of their eucalyptus like I did last year. I use it every fall, from mantel decor, to fall centerpieces and table settings, it looks pretty and smells amazing.
2. Add Candle Holders
Candle holders add that extra "oomph" to creating the best fall mantel! They come in a variety of shapes, different sizes, and scents, so you can choose ones that fit your style and preferences. You can also mix and match different types of candles to create a unique and personalized look for my favorite time of year!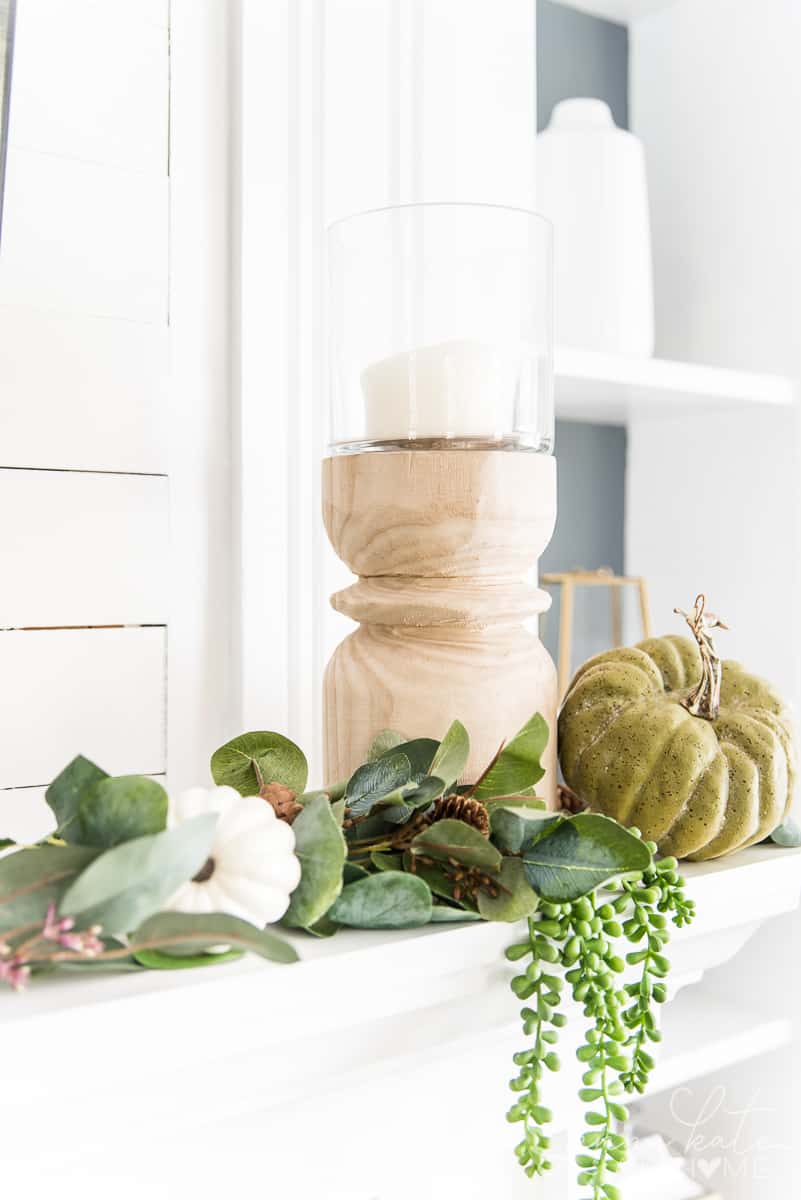 One way I love to incorporate candle holders is to group candles of different heights and sizes together on your mantel. You can also add faux leaves or garland surrounding the candle holders to display some extra visual interest.
Candles also add ambiance which will create a cozy living room for the fall season.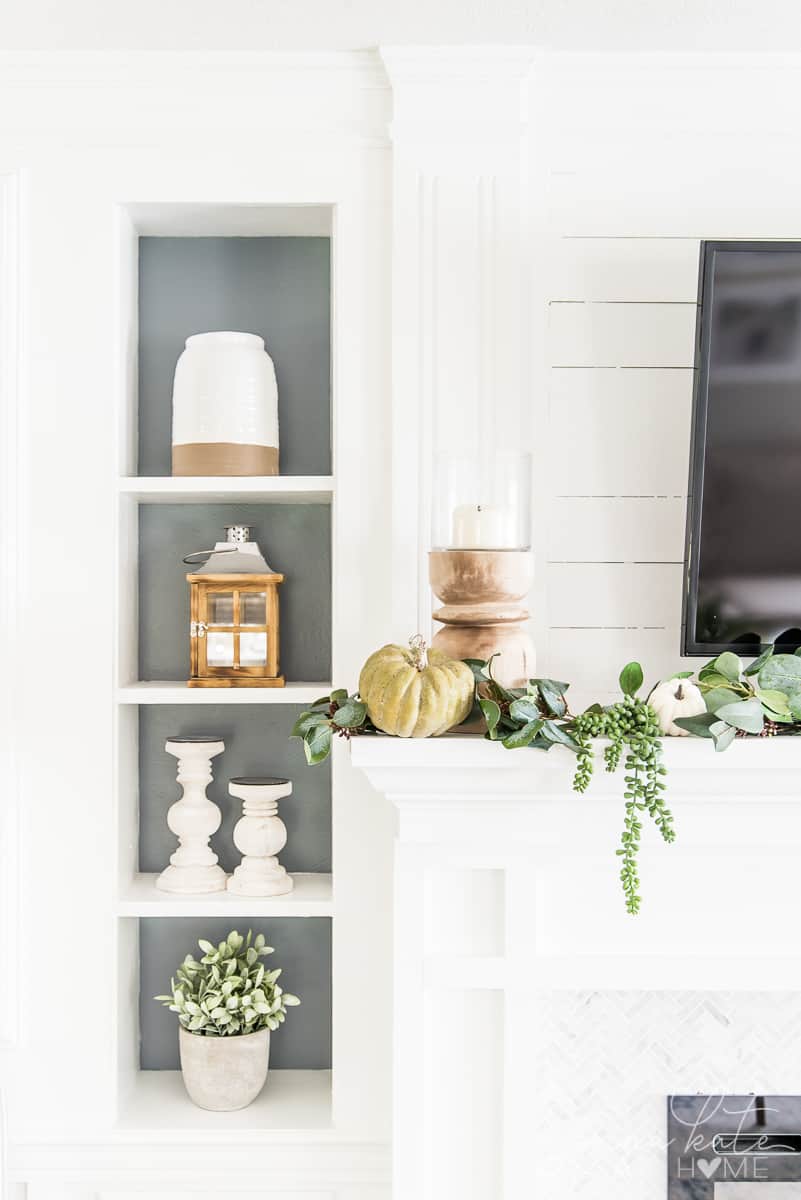 3. Incorporate Pinecones
Pinecones are a versatile natural element that can add texture and interest to your fall mantel decor. You can use real or faux pinecones in different sizes and colors to create a beautiful fall display.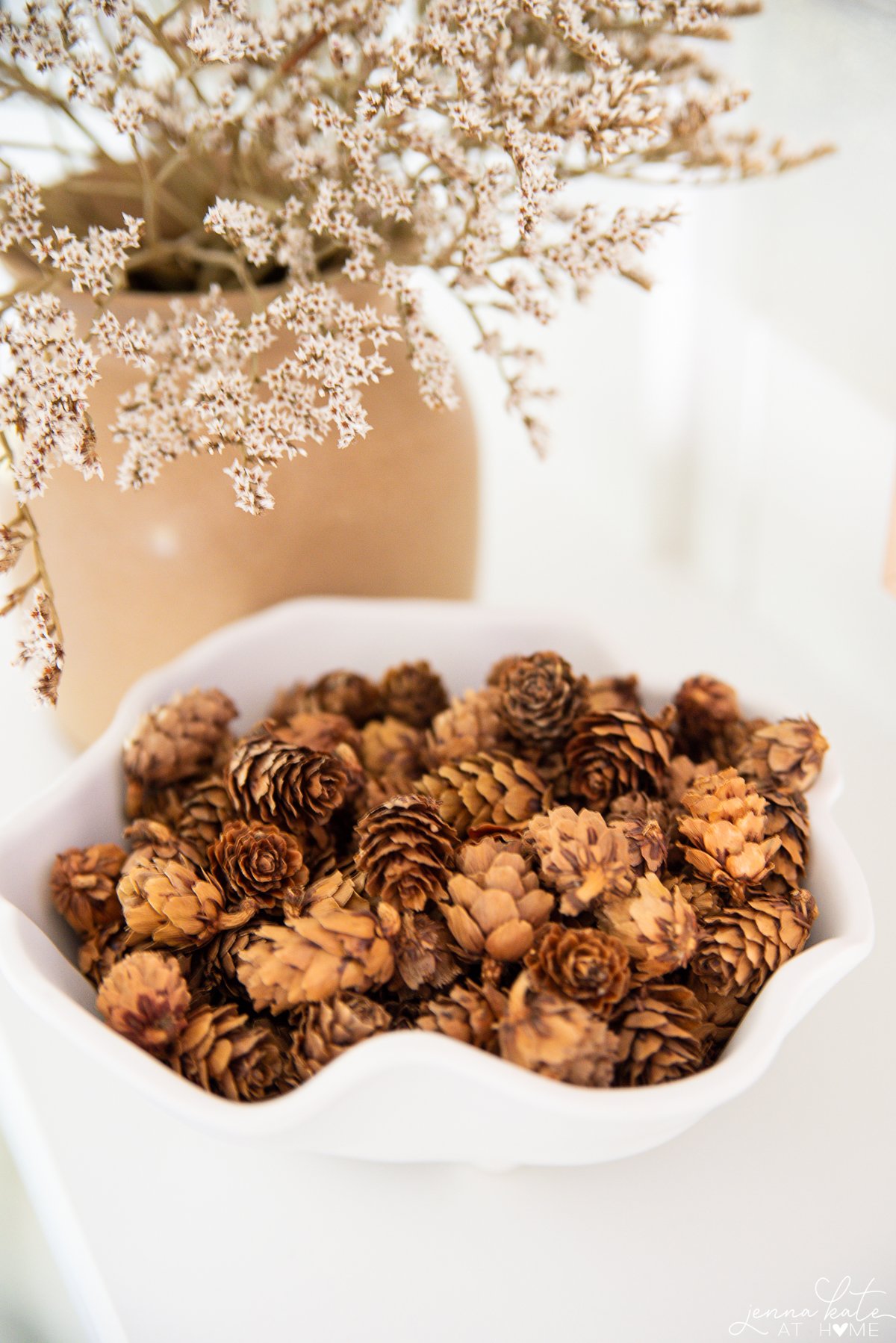 Here are a few of my favorite ideas using pinecones:
Use a bowl of pinecones as a centerpiece on your mantel.
Add pinecones to a garland or wreath to add texture and interest.
4. Display Real or Faux Pumpkins
Pumpkins are a classic fall decoration that can be used in many ways. You can use real pumpkins or faux pumpkins in different sizes, shapes, and colors to create a beautiful fall mantel display. Personally, I think mini pumpkins have the most potential for variety!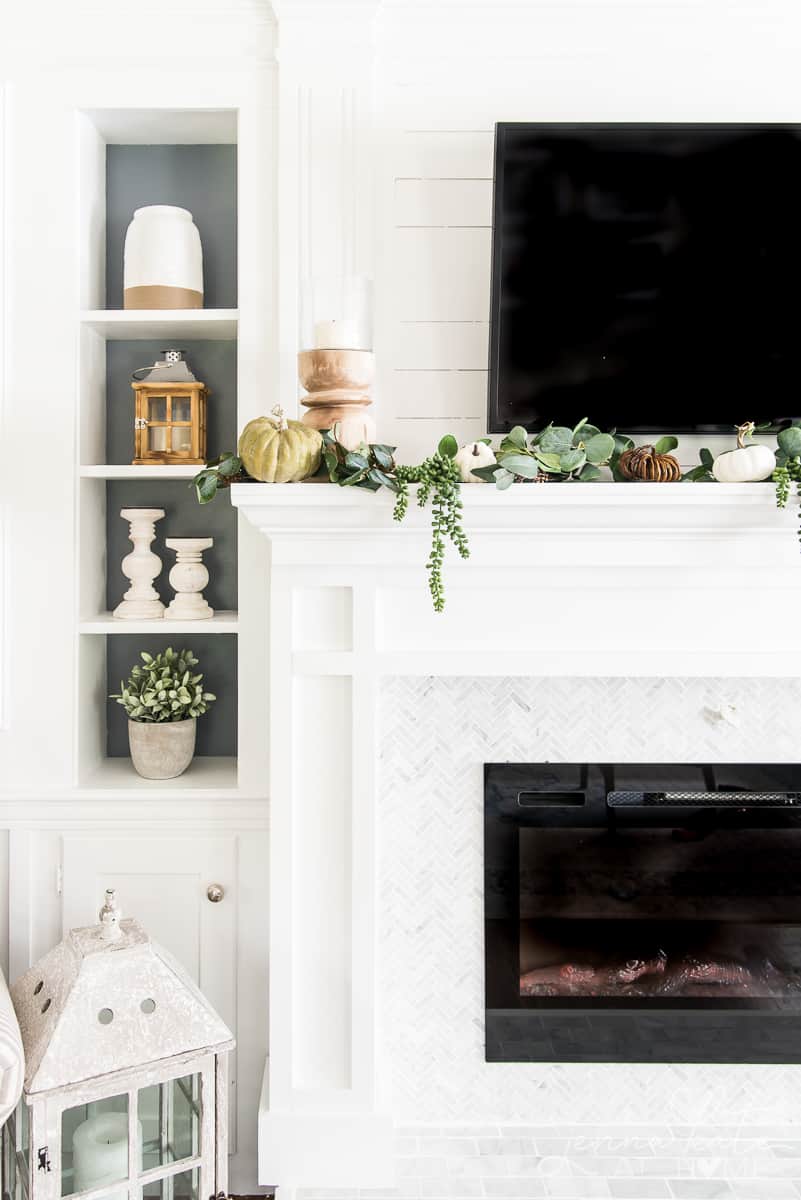 Here are some pumpkin styling ideas :
Use a variety of pumpkins in different sizes and colors to create a layered look.
Arrange small pumpkins throughout garland for added color and interest.
Place petite pumpkins in a vase for a clean look.
As you can see, neutral pumpkins fit easily into a modern home! They are also easy to store year-round and pull back out each fall season.
5. Choose the Right Color Palette
Deciding which color tones to incorporate doesn't have to be difficult. Neutral tones can be perfect for creating a natural look and rustic feel. Warmer tones could be used if your goal is to create an inviting atmosphere that is cozy and reminiscent of fall foliage.
If you're up for it, combining both warm and neutral colors can create a fun and visually interesting look. Consider pairing warm-colored pumpkins with neutral-colored candles or a neutral-colored garland with warm-colored pinecones. You can also add a pop of color with a bold accent like bright red apples or an orange pumpkin.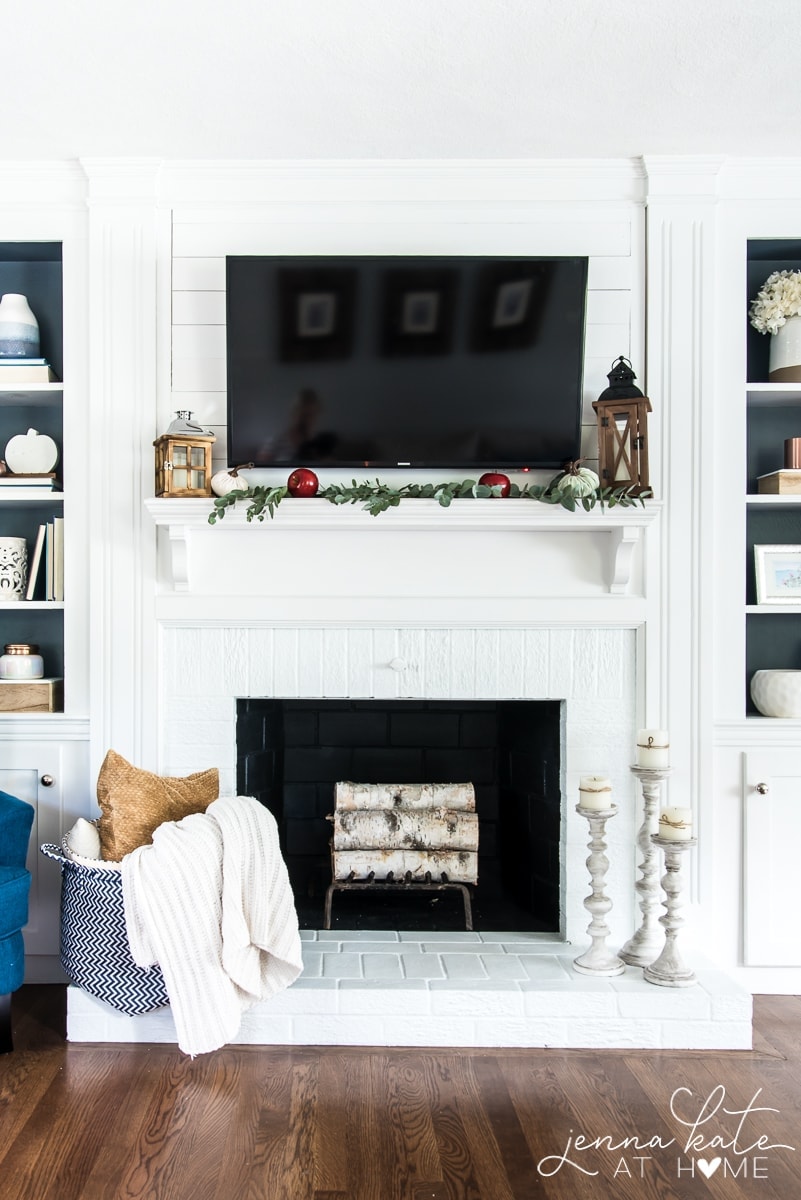 These fall apples sprinkled into the faux leaves add a pop of color and a focal point to the mantel! Go for easy to grab decor pieces like this for a simple look.
Remember, when choosing your color palette, it's important to consider the overall style of your home and your personal preferences. Don't be afraid to mix and match colors and textures to create a unique and personalized look for your fall mantel.
6. Add a Favorite Piece of Artwork
Especially if you do not have a TV hanging above your mantel, artwork is another great way to create a focal point on your fall mantel. Whether you choose a large statement piece or a collection of smaller pieces, artwork can add color, texture, and personality to your mantel display. If you have a frame tv like me, you can set different fall frame tv art to display.
(can we add a photo of some artwork in the middle of the mantel here)
Here are some ideas for incorporating artwork into your fall mantel decor:
Hang a large fall-themed painting or print above your mantel
Create a gallery wall of fall-themed artwork in the center of your mantel
Set your frame TV to showcase different fall themed backgrounds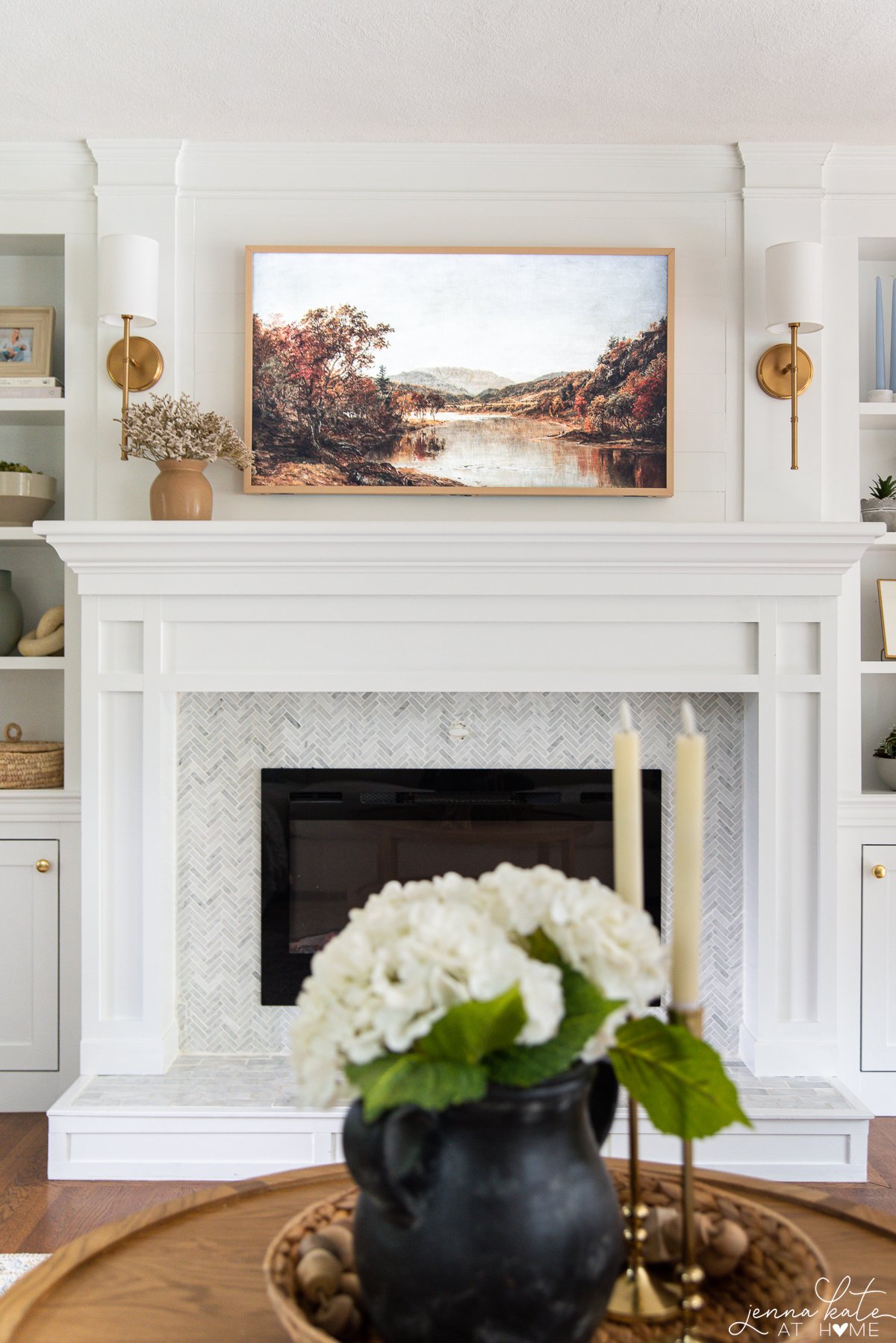 By incorporating artwork into your fall mantel decor, you can create a focal point that adds interest and personality to your space.
7. Add Interest with a Mirror
Mirrors are a great way to add visual interest and depth to your mantel display. If you aren't a fan of using artwork as the focal point, try hanging a mirror instead! A large mirror can reflect light and create the illusion of more space, while a smaller mirror can add a touch of elegance and sophistication.
Here's a few easy ways to use a mirror for fall:
Place a large mirror in the center of your mantel
Hang a small mirror above your mantel and surround it with fall-themed artwork and decor
Set a mirror as a backdrop to reflect fall-themed candles, lanterns, or other decor pieces
8. Bring in Wood Elements
One way to add texture to your mantel decor is by incorporating wood elements. Consider using a wooden mantel or adding wooden accents like candle holders, picture frames, or small wooden signs. You can also add natural wood elements like birch logs or branches for a more organic feel.
Using wood brings a very modern and clean feel to the fall decor and is easy to style year after year. It's also easy to paint white, brown, or any other neutral color you were hoping to add into your fall mantel.
9. Keep it Simple and Minimalistic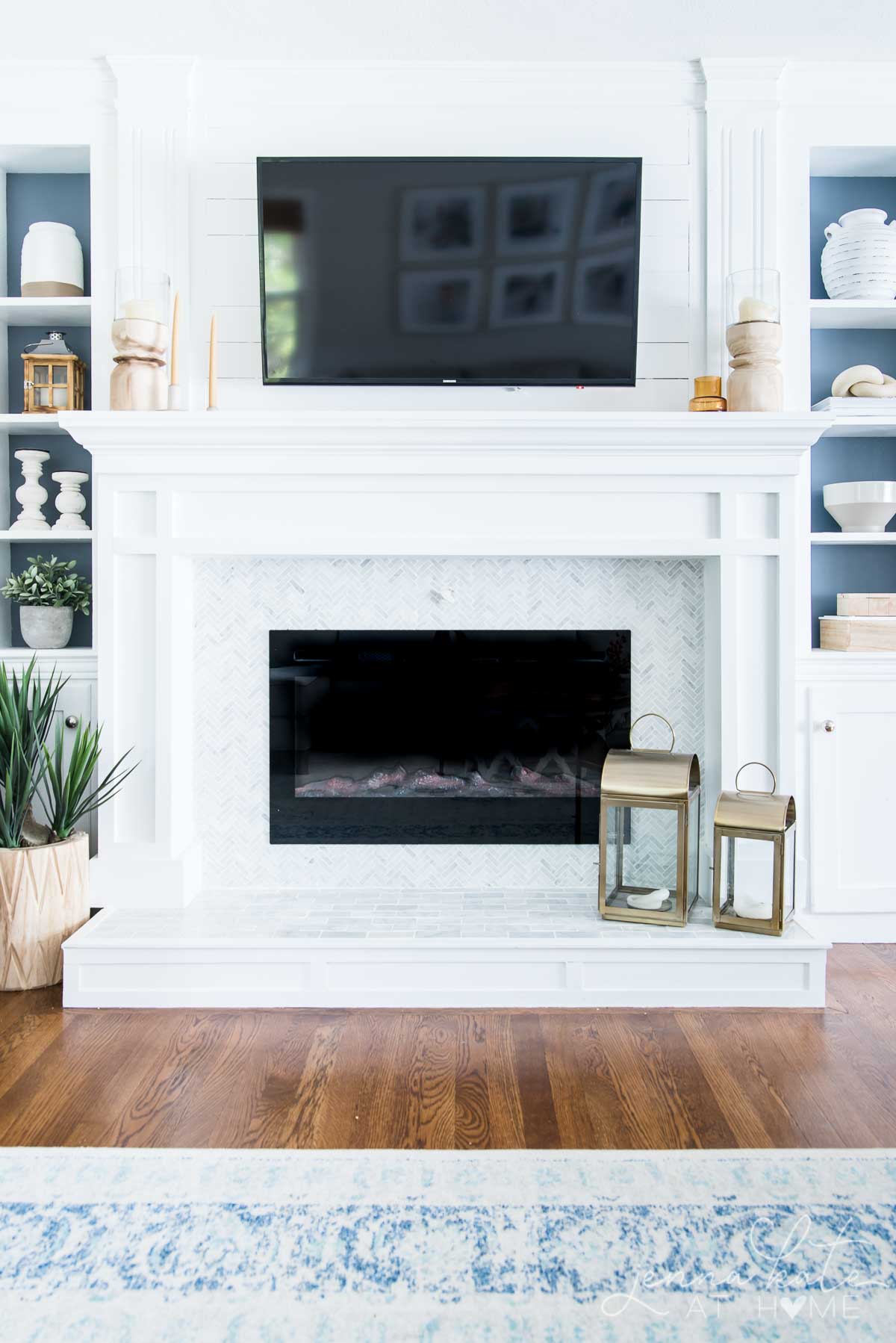 If you can't decide what fall mantel decor to go with, follow the simple rule this autumn season. This beautiful styled mantel is sleek and clean for a simple mantel look. It's easy to clean up and change out later, but includes classic fall colors for a cozy feel. Sometimes, less really is more!
10. Don't Forget the Hearth
For added fall decor, don't forget about the hearth! Baskets with blankets, a basket of mums, a planter, candle sticks, lanterns or even a stack of pumpkins would look wonderful as part of your fall fireplace decor.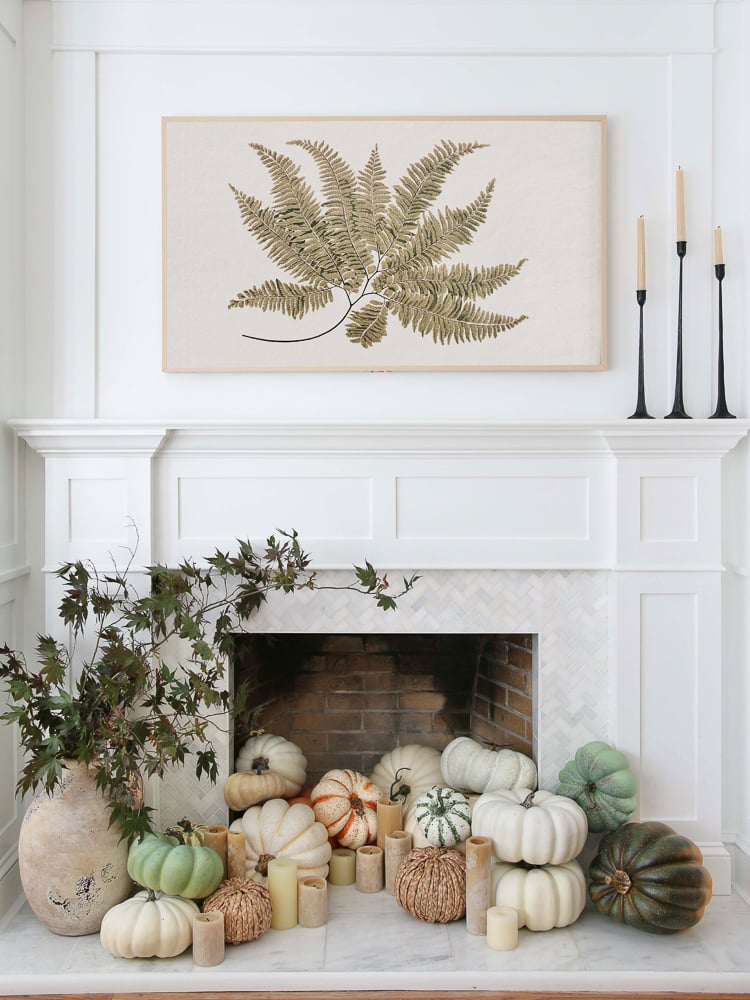 My favorite hearth styling tips for an elegant mantel include:
Adding a basket with a blanket for a cozy feel
Incorporating a statement piece like a lantern
Wood accents like these hearth candlesticks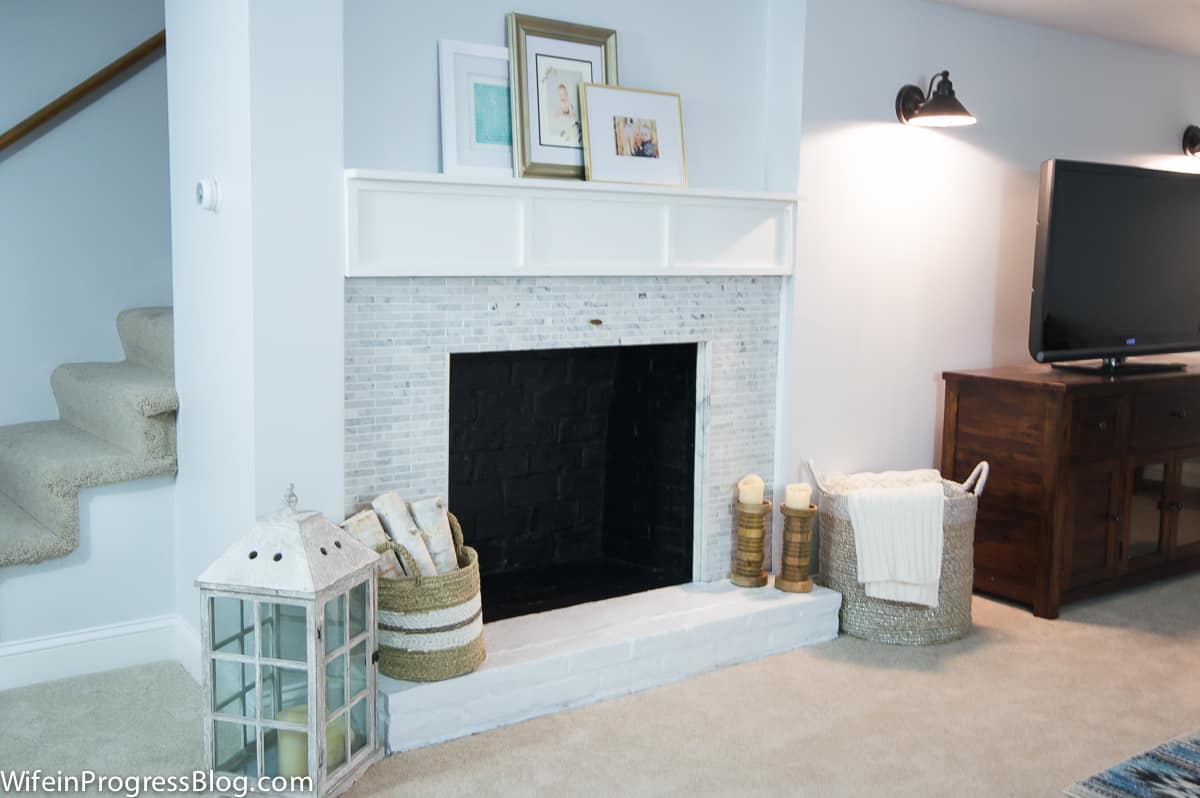 Final Thoughts
Now that you've seen some great Fall Mantel Decor Ideas, it's time to start decorating your own mantel! Remember to keep things simple and incorporate fall touches, and don't be afraid to add your own personal spin. I hope you found a new fall mantel idea to try and enjoy sprucing up your home for fall!
Here are a few last minute tips to keep in mind as you decorate:
Start with a neutral base and add pops of color using seasonal natural elements.
Use varying heights to create visual interest.
Mix and match faux pumpkins for texture and dimension differences.
Include candle holders for a cozy ambiance.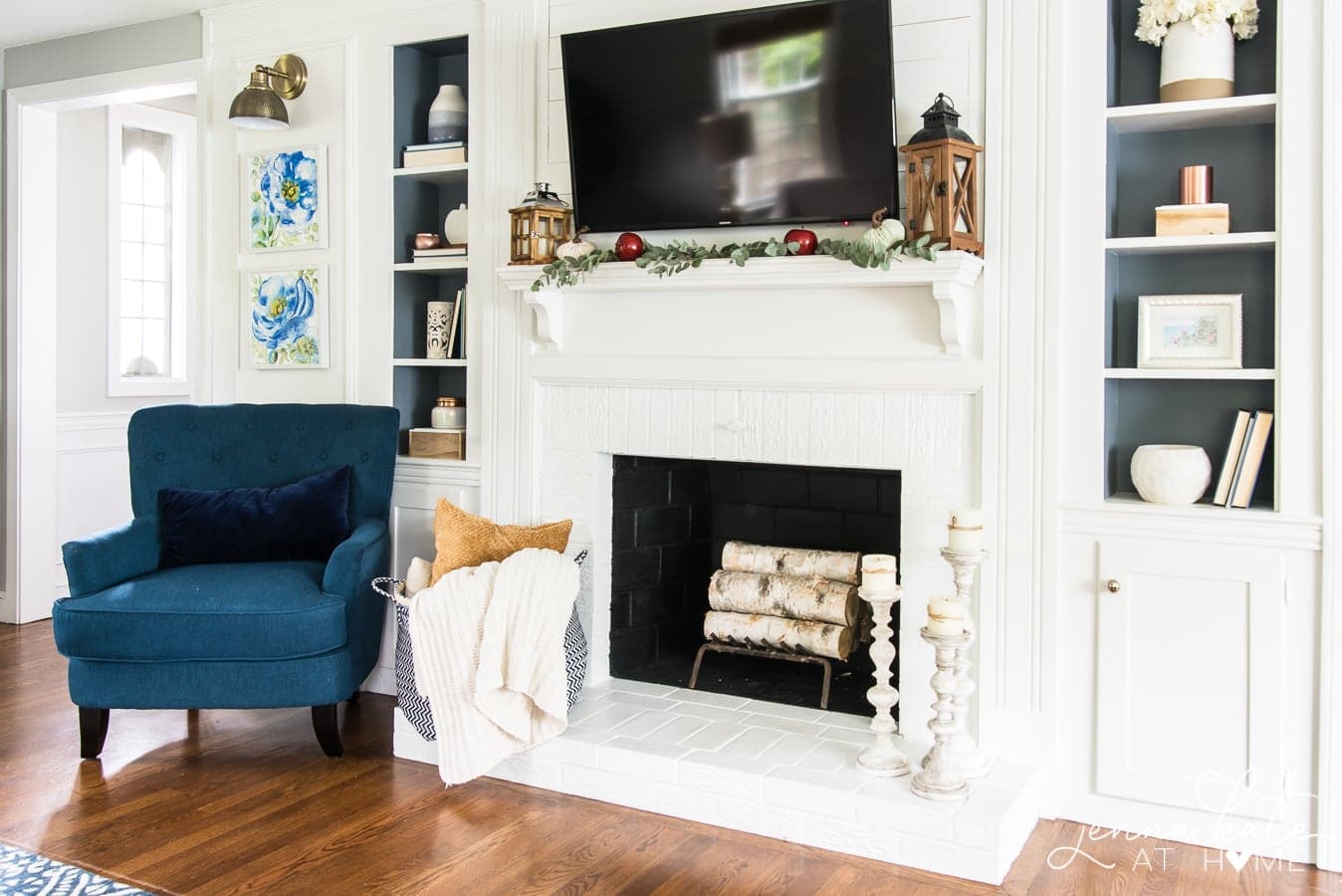 By following these tips, you can welcome the new season with a beautiful fireplace mantel that will make your home feel warm and welcoming. So get creative this fall season and have fun with your decor!
Hopefully, these simple fall decorating ideas will help you find some great looks for your home to carry you through to the holiday season!
I hope these fall mantel decorating ideas have given you inspiration during the changing of the season to help you keep your own fall decorating simple, inexpensive, and stress-free this year!