DIY Wood Slice Holiday Wreath
This rustic holiday wreath made from real wood slices is an unexpected Christmas gift for for friends or family. It's easily customizable and also makes for a great item to sell at seasonal craft fairs!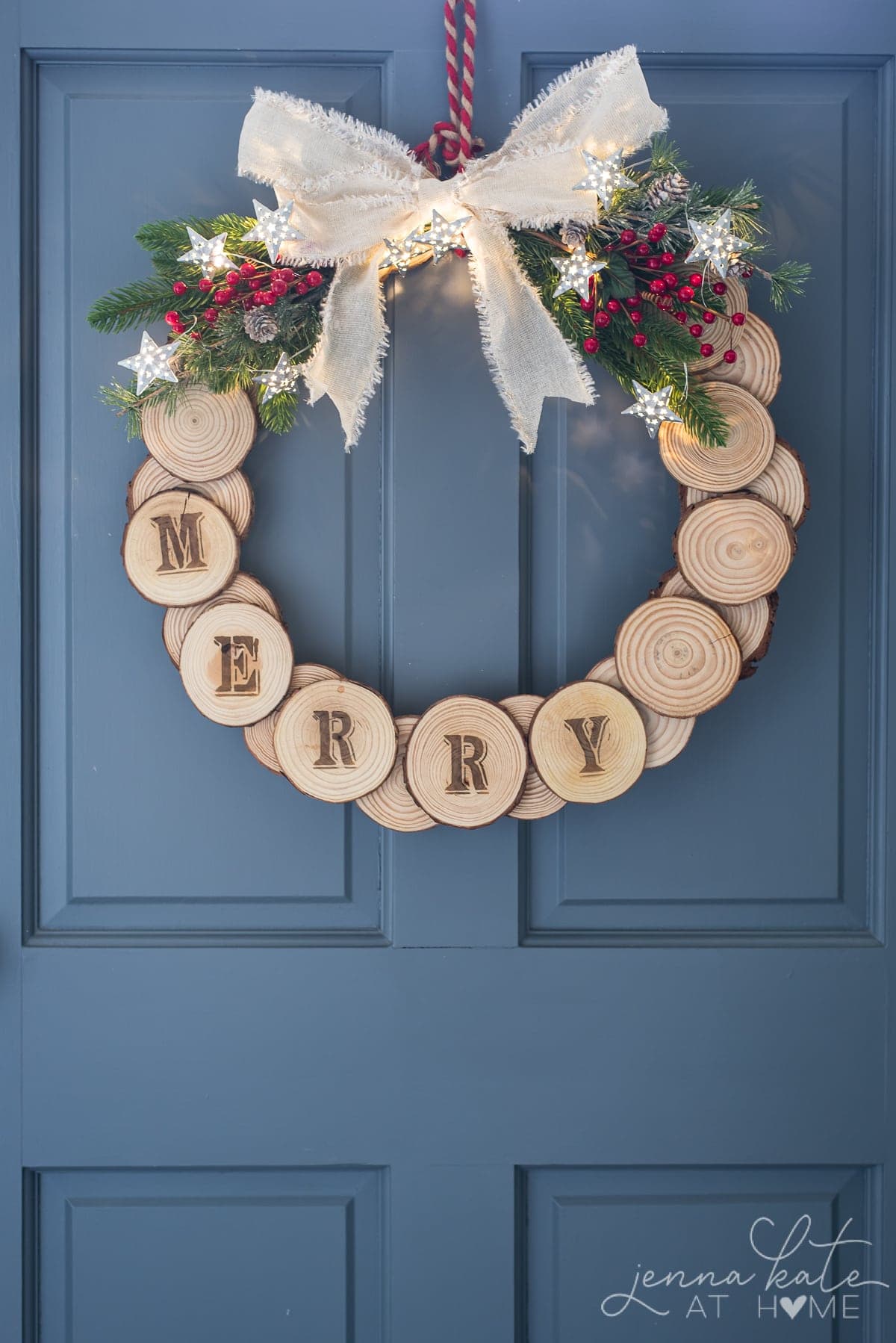 This wood slice wreath looks pretty impressive, right? Would you believe that it only took me 40 minutes to make?! That's quicker that baking a batch of cookies to gift to your next door neighbor!
I'm always looking for new and creative homemade ideas to gift during the holidays and I think this wreath is definitely unexpected!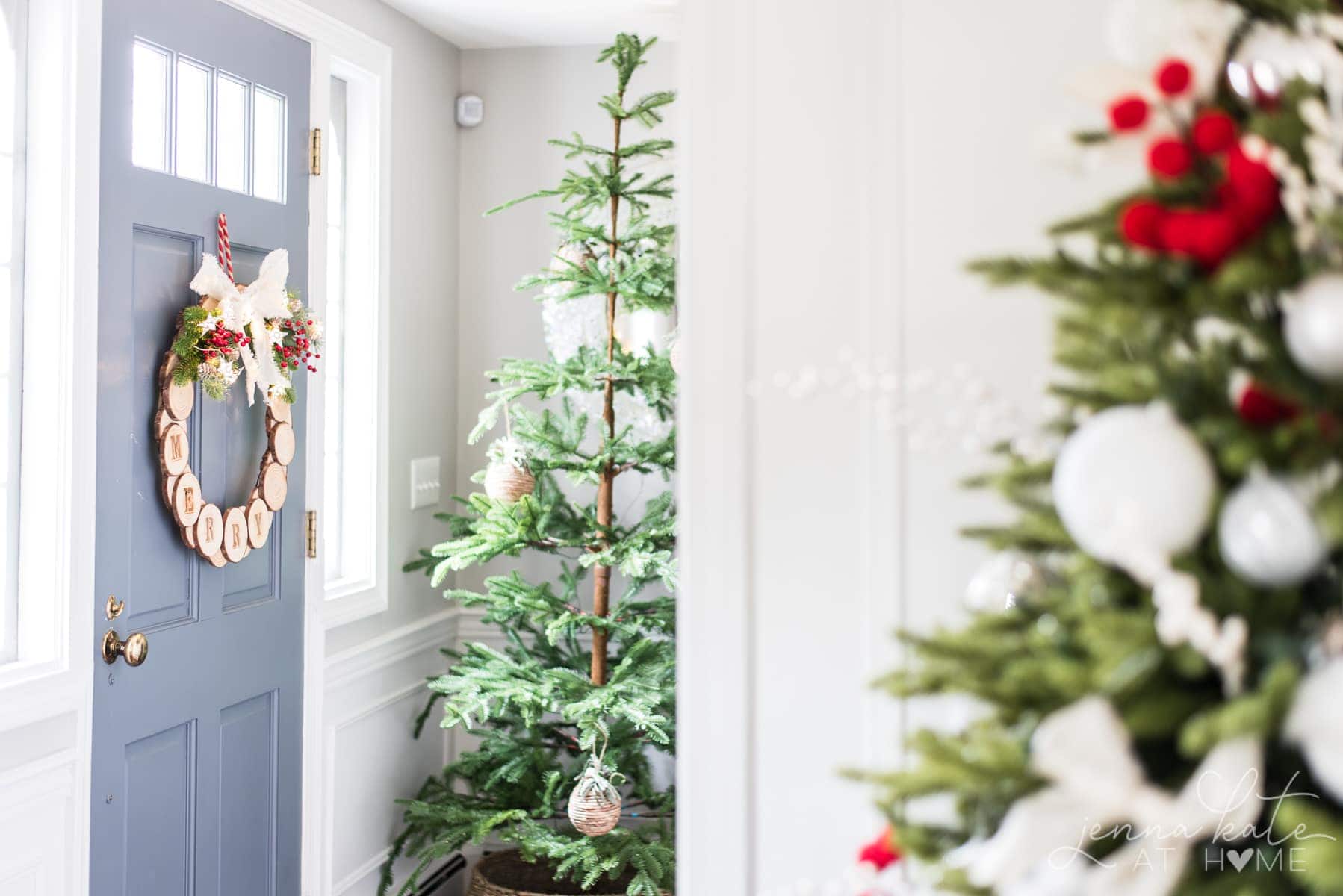 OK – being transparent here, there's no way I'm giving this to anyone. It looks WAY too cute on my front door. But if I WAS looking for a cute gift for my mother in law perhaps, then this would be it. But yeah, I'm keeping this one for myself!
Ready to see how easy it is to make? I filmed the whole tutorial so you can easily follow along but if you're at work at can't turn the sound on, then you can also follow along with the directions below!
What You Need to Make The DIY Wood Slice Holiday Wreath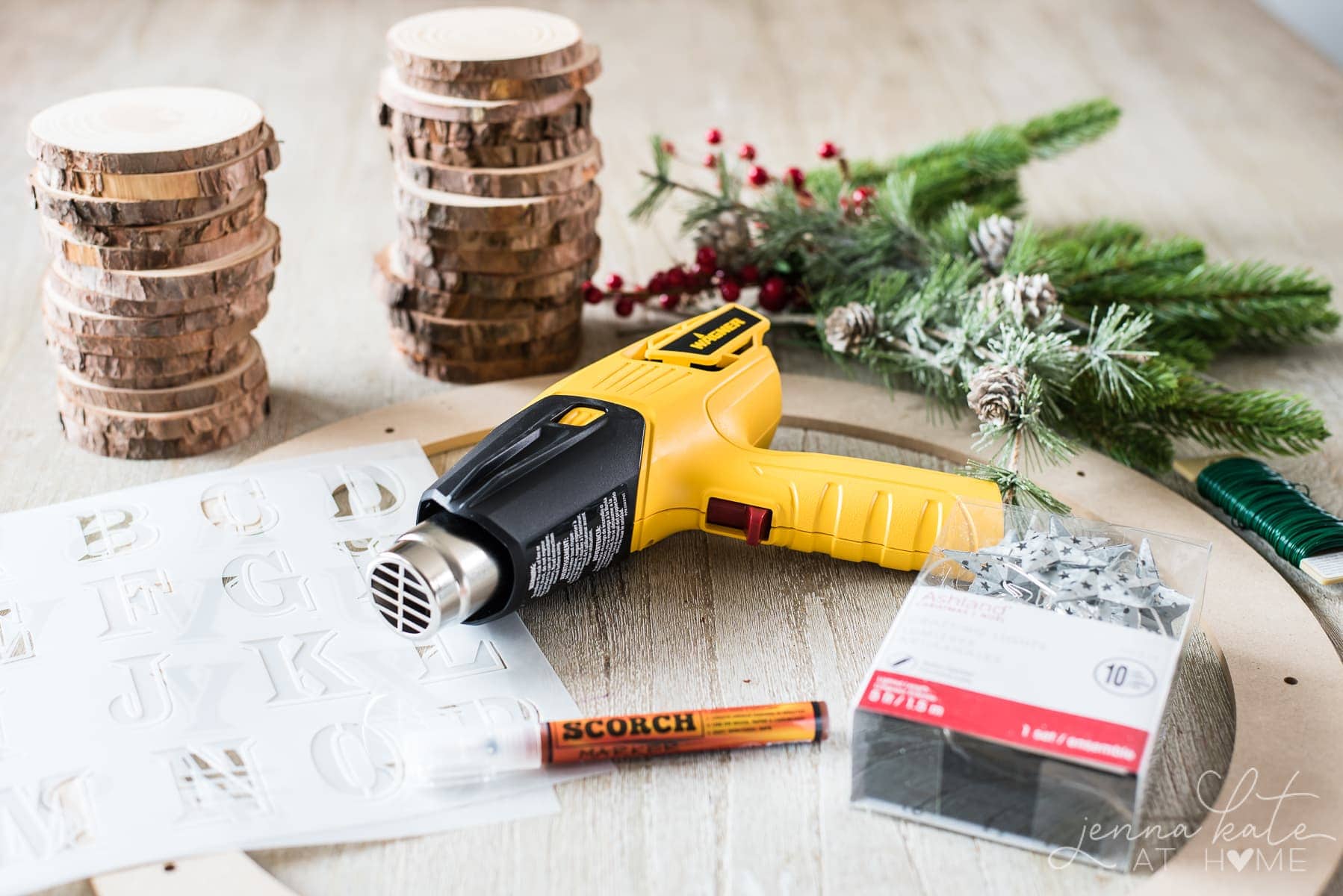 How to Make a Wood Slice Wreath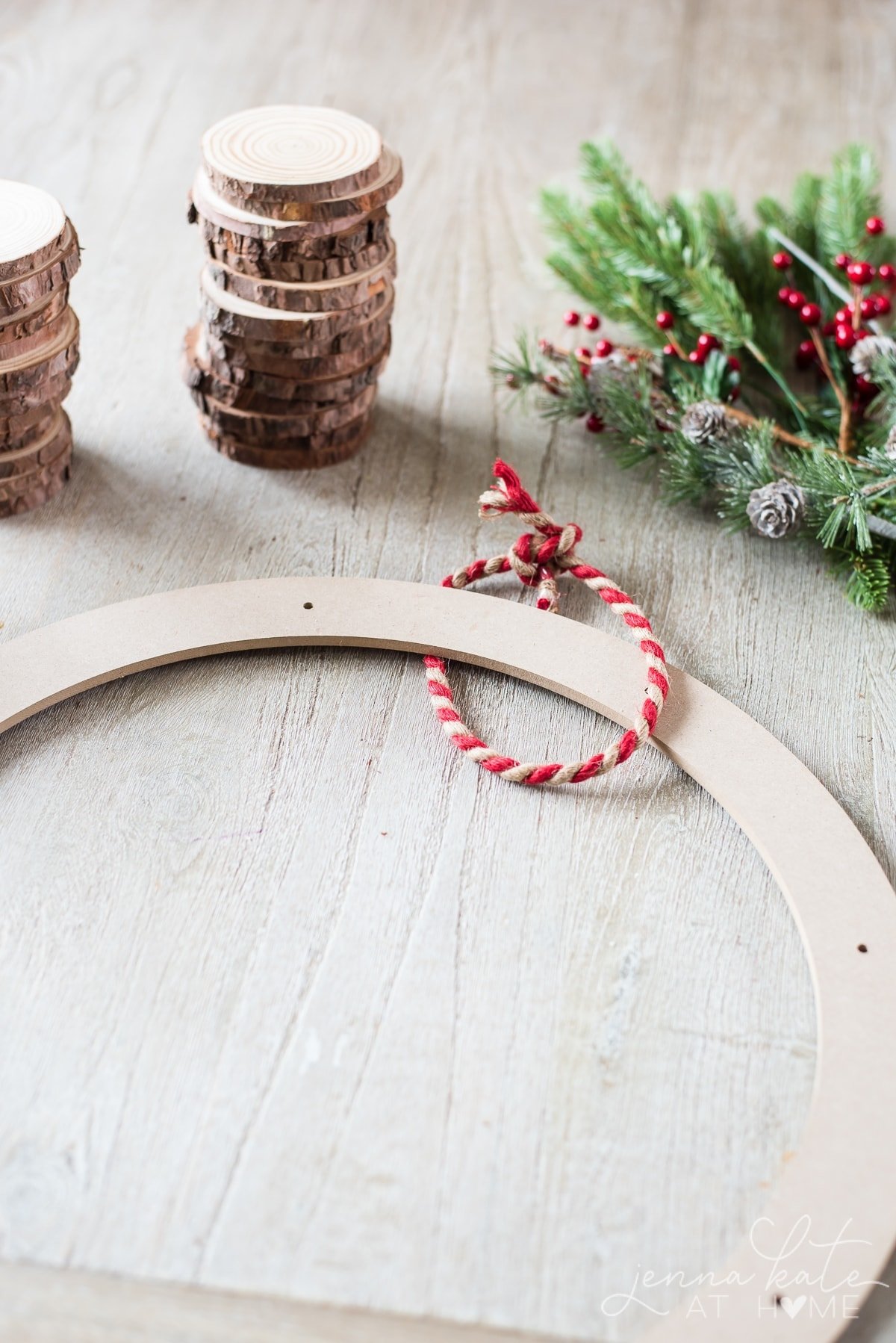 I started by adding some string to my wreath since I know I can't add a hanger to my front door. You can also add this after-the-fact but I wanted to make sure I could fit everything on the wreath correctly.
Start by arranging the first layer of wood slices around the wreath. You may need to turn them and move them around to get the best fit. Then glue in place.
Next, place the second layer of wood slices on, staggering their placement so that they cover the gap with the first layer meet. Don't glue them down yet.
Decide on whatever word you want to burn into the slices. I chose the word "Merry" since this is a Christmas wreath. You could do "Joy", "Peace", a name, greeting…anything! Pull aside enough of the wood slices for each letter of the word.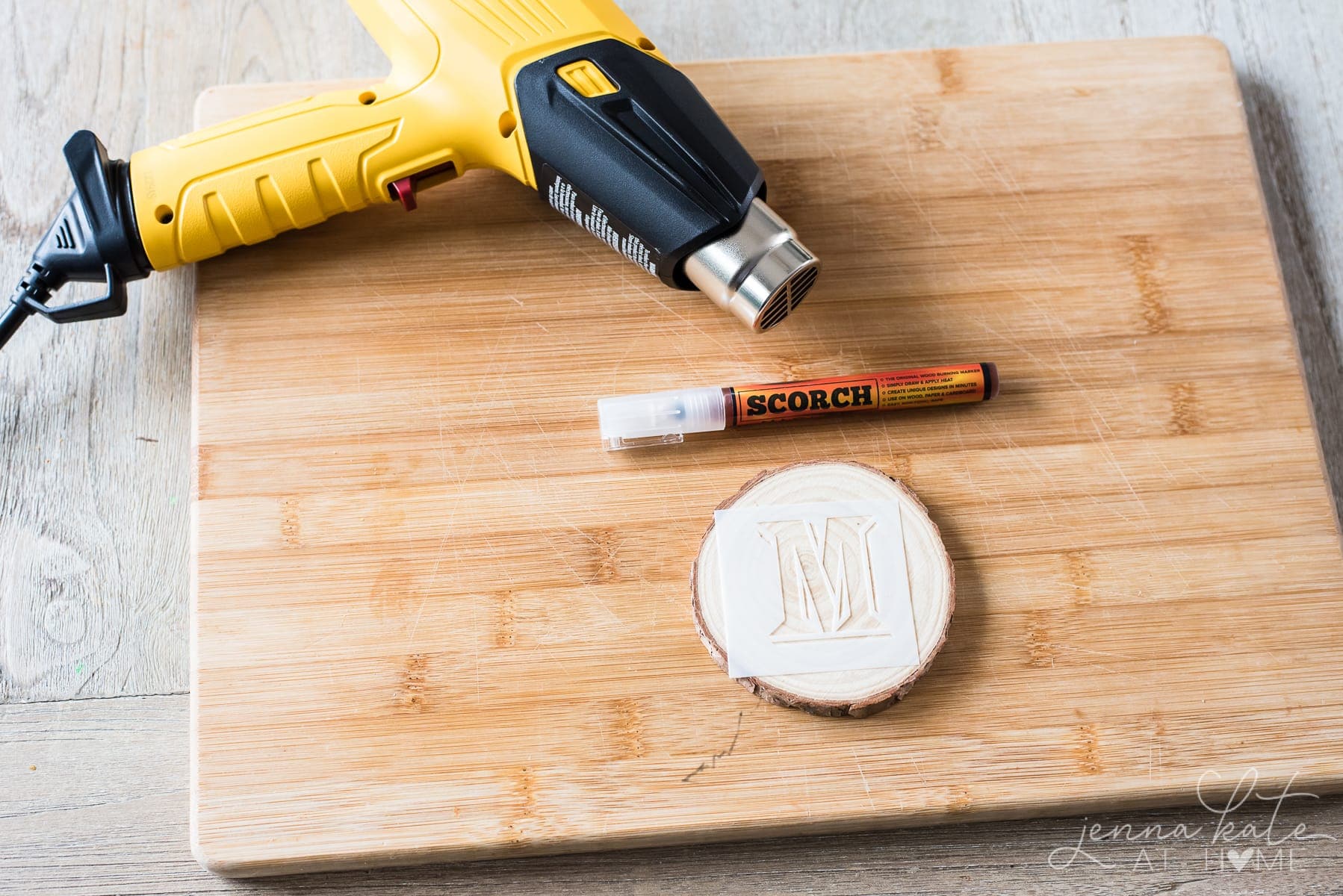 Cut out the letters from your stencils. Secure your first letter with some painter's tape so that it doesn't move around. Color in the letter with the scorch marker.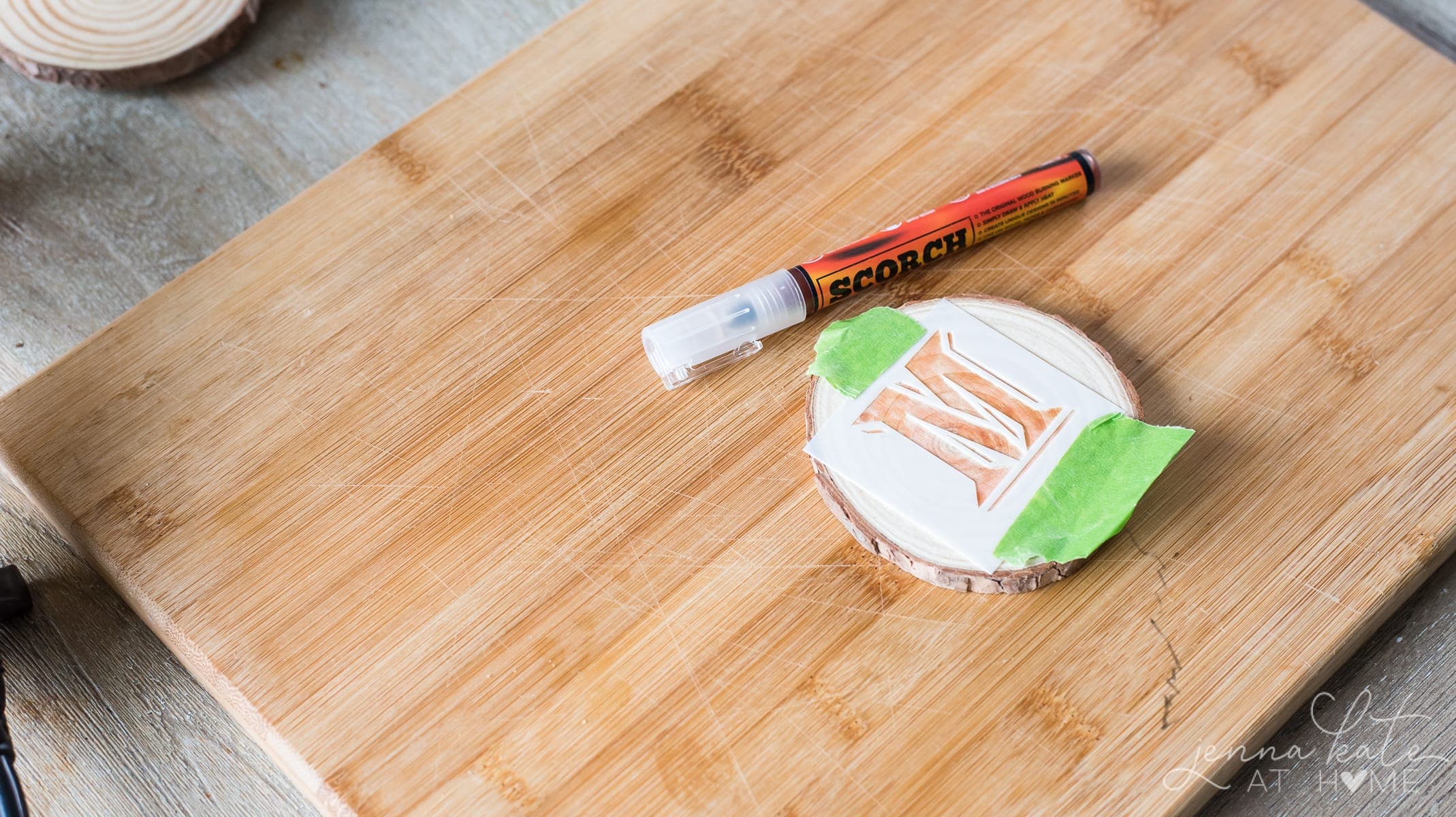 Turn the heat gun on. Hover it over the wood slice, keeping it in constant motion until the color starts to appear on the letter. Keep burning it until you get your desired color. I like mine pretty dark for contrast.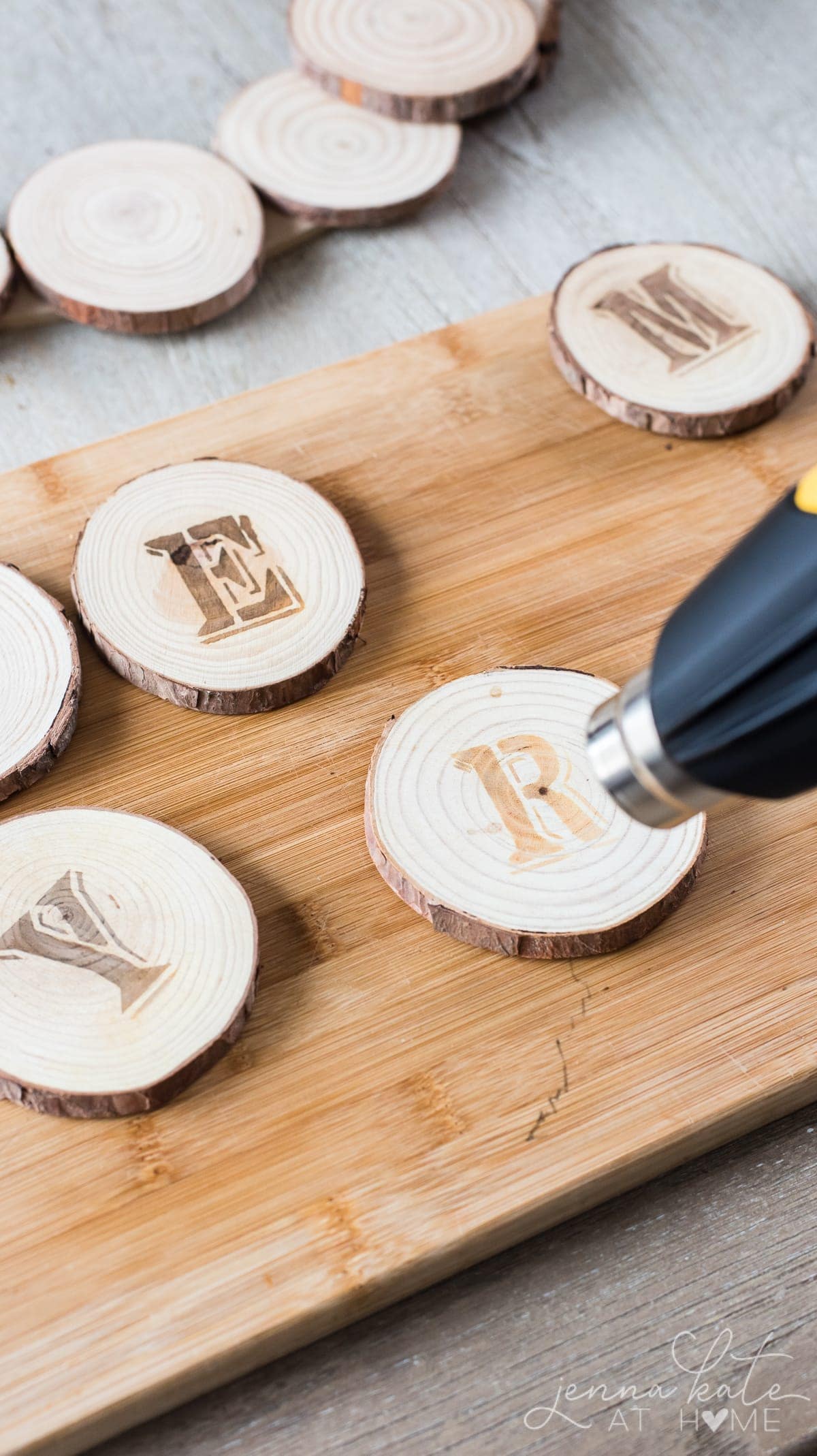 Repeat this process for all the letters in your word.
Allow the wood slices to cool down.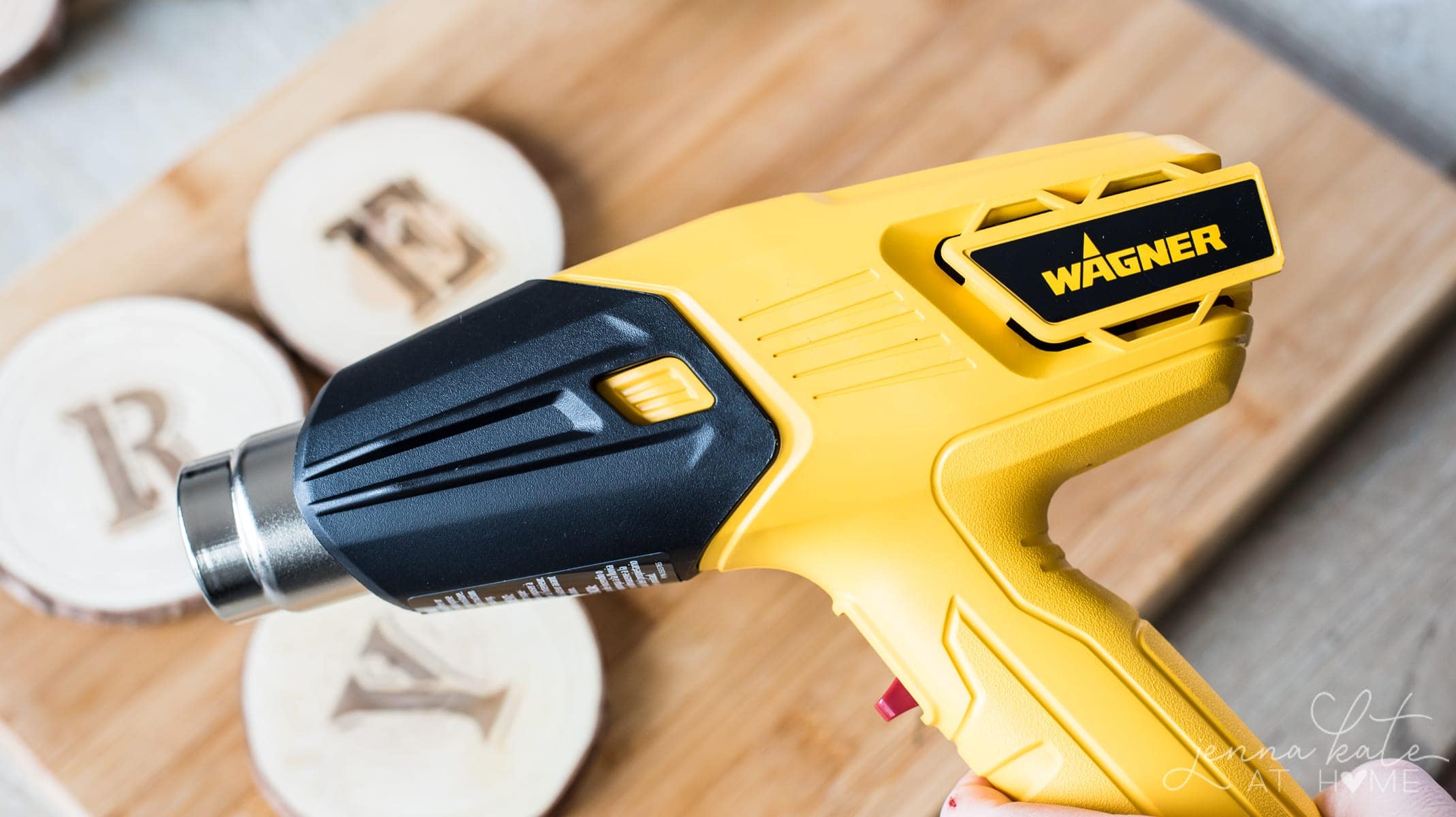 Put the "letter" wood slices back on the wreath and arrange everything until you're happy with how it looks. Glue them in place.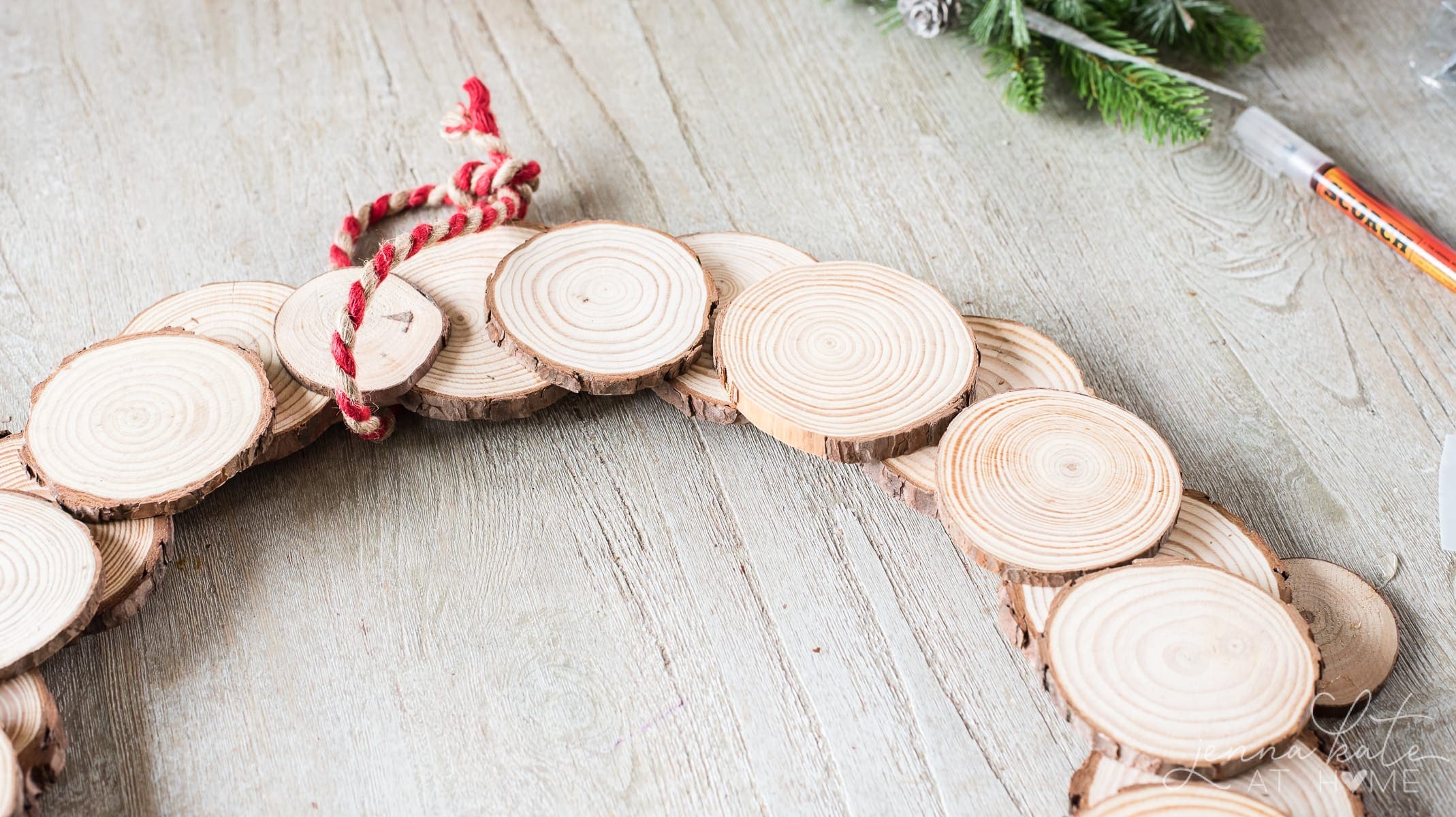 Gather up the greenery and picks and secure with floral wire.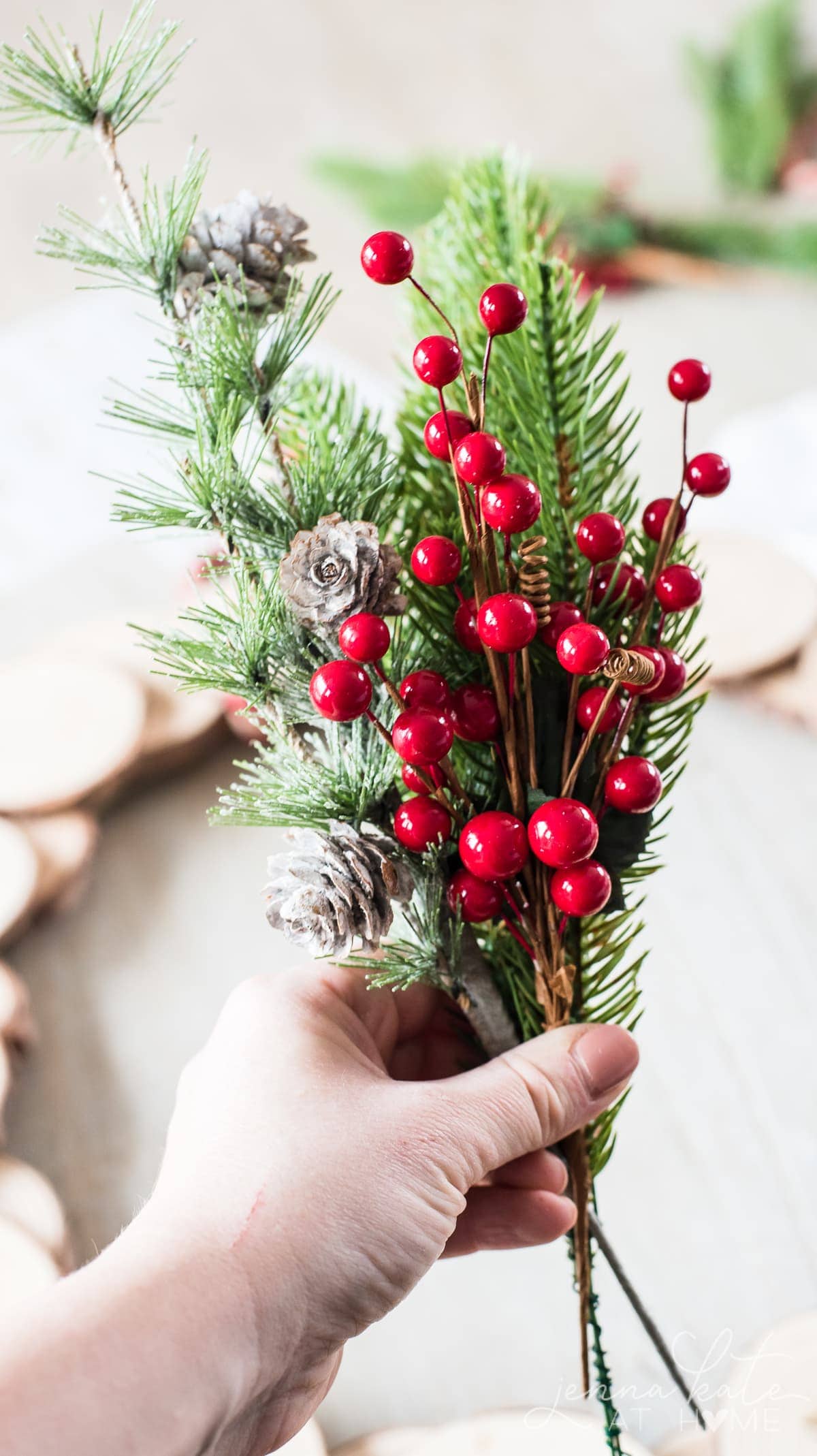 Then attach to the wreath by wrapping the wire around to the back of the wreath.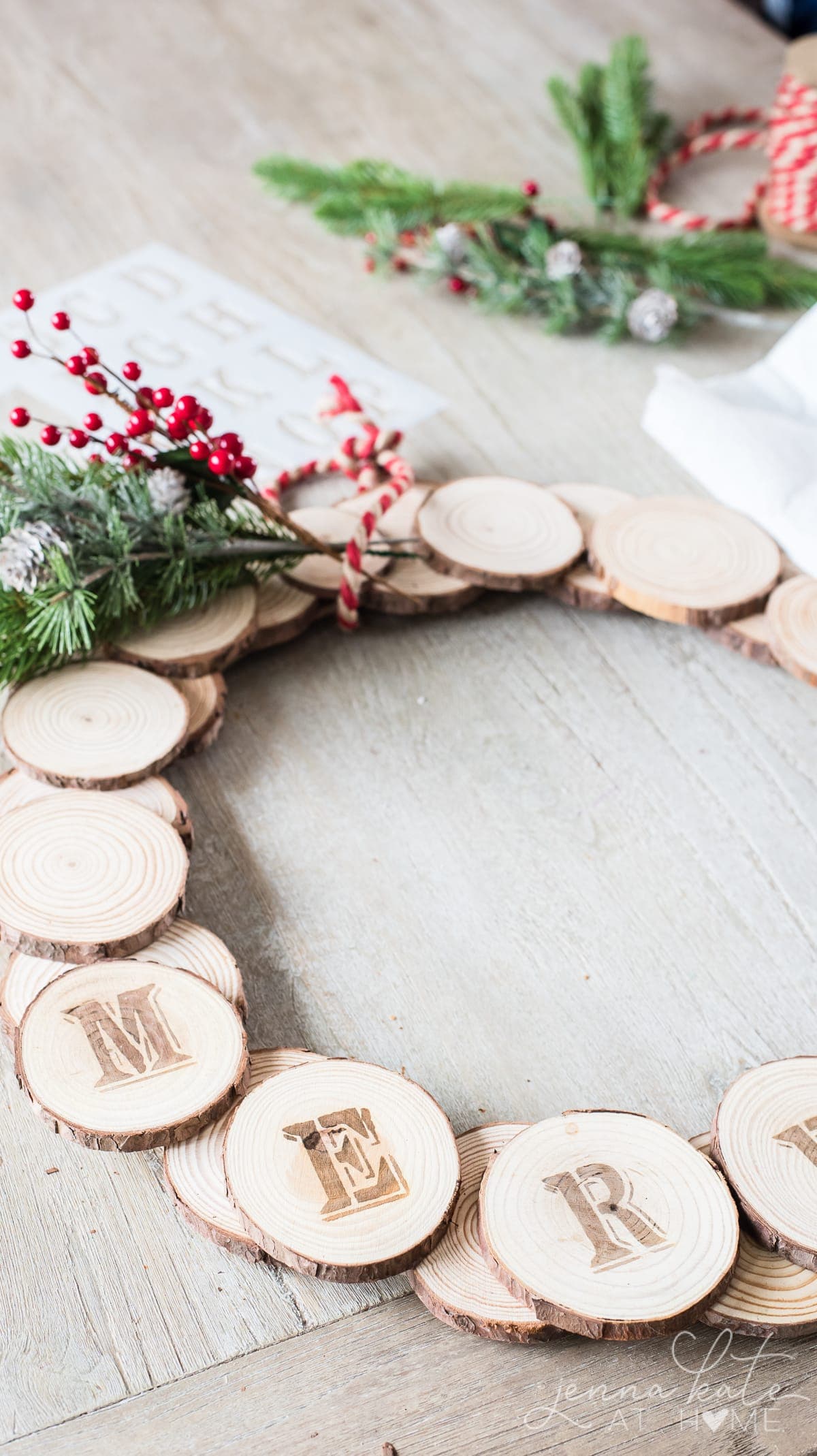 Make a ribbon to cover the wire and glue it in place.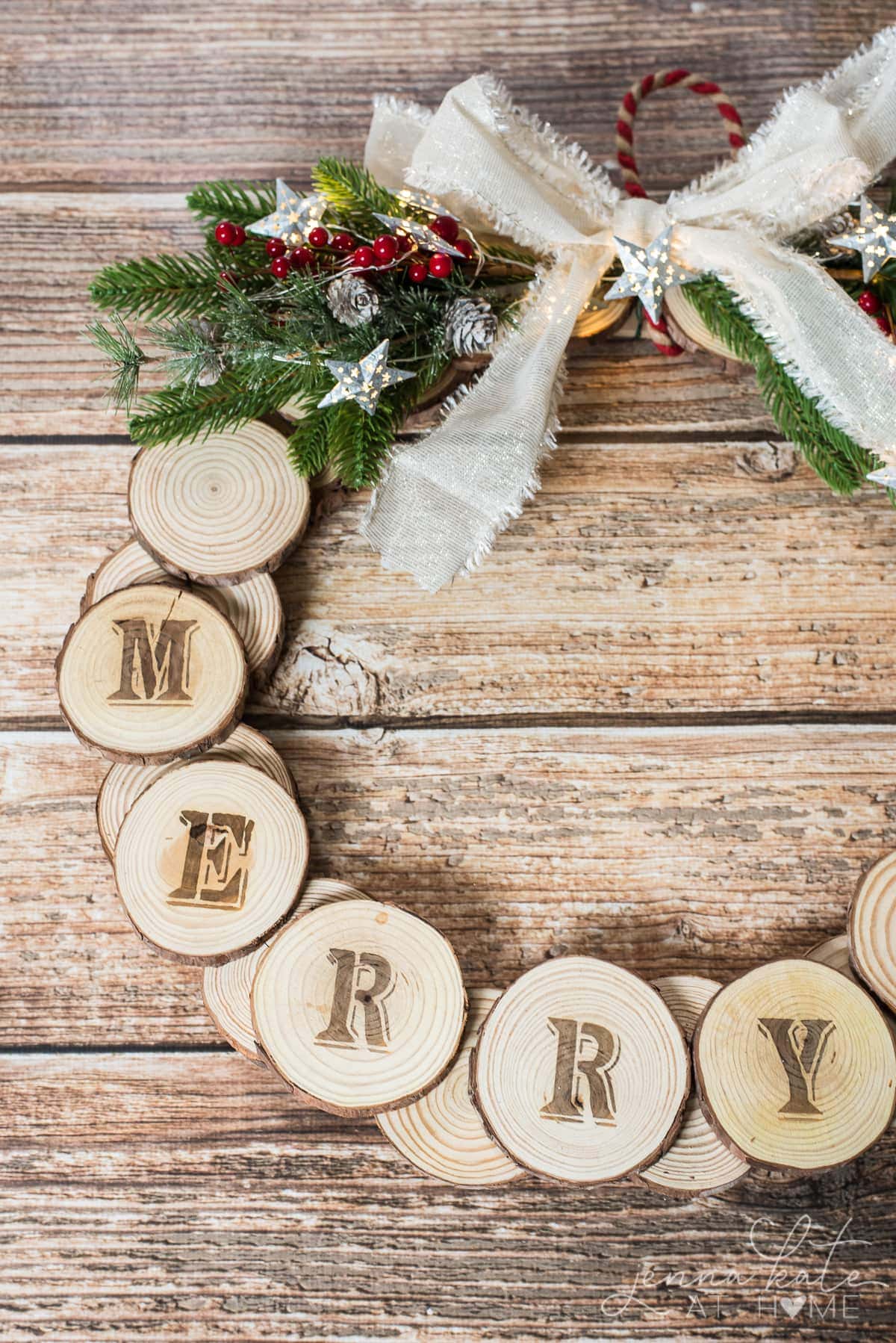 Wind the twinkle lights around the picks and ribbon, hanging the battery pack on the back of the wreath with some tape so that it's easy to access the on/off switch and batteries.
Allow the glue to dry for 24 hours before hanging the wreath upright.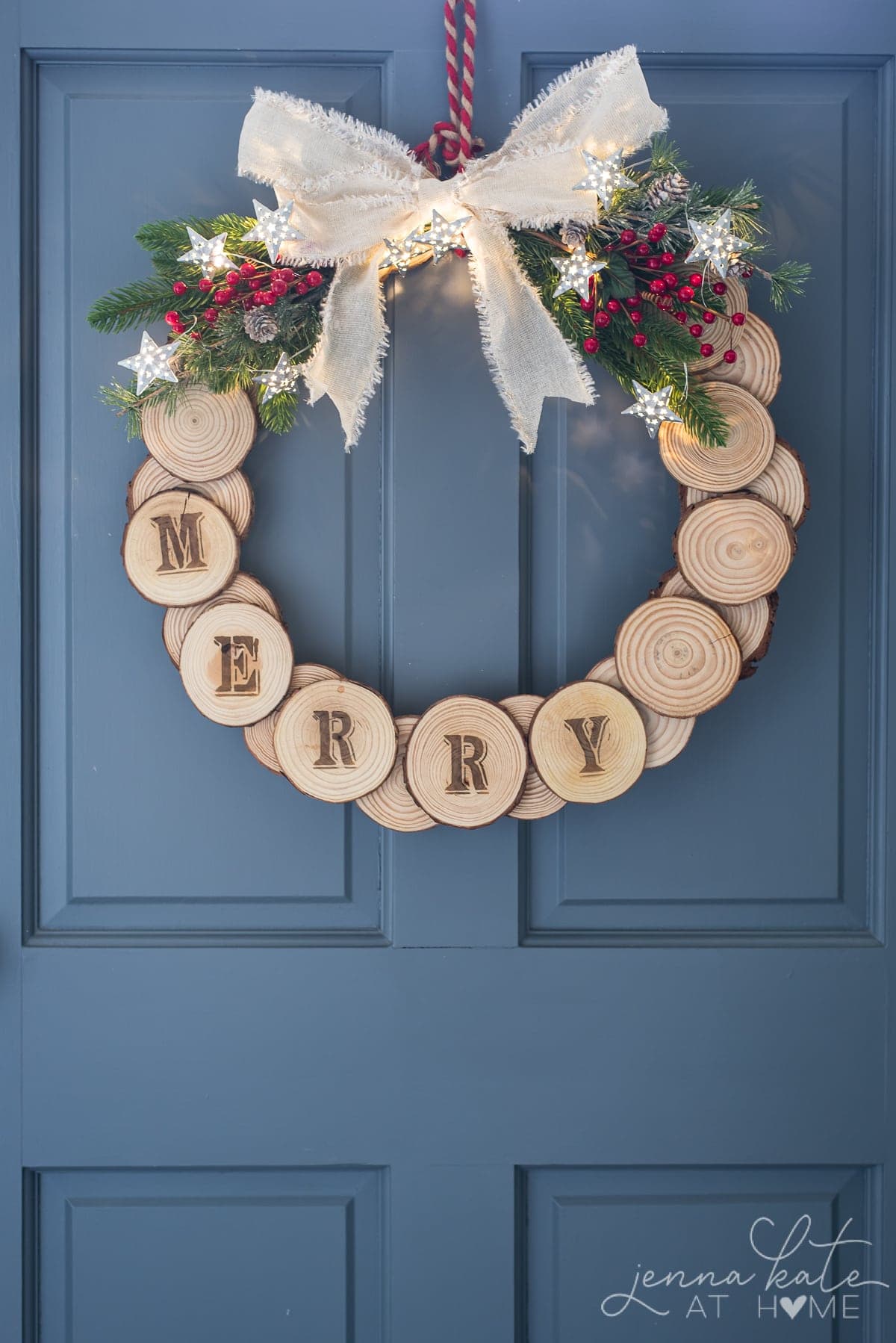 Pretty, right?!