Right now bedrooms, living rooms, kitchens and bathrooms all around the world are getting makeovers thanks to all the free time many of us suddenly have on our hands.
And while I wish I could say that I'm suddenly flush with free time – I would love to have nothing to do – keeping 2 toddlers and a 6 month old baby entertained while my husband is still working has been pretty exhausting.
I'd be lying if I said I haven't been enjoying morning snuggles and not having to rush out to door for school 5 days a week, though!
And while I don't have much free time on my hands, I did manage to whip out a quick bathroom makeover during two naptimes last week.
You might remember my bathroom makeover from a a few years ago…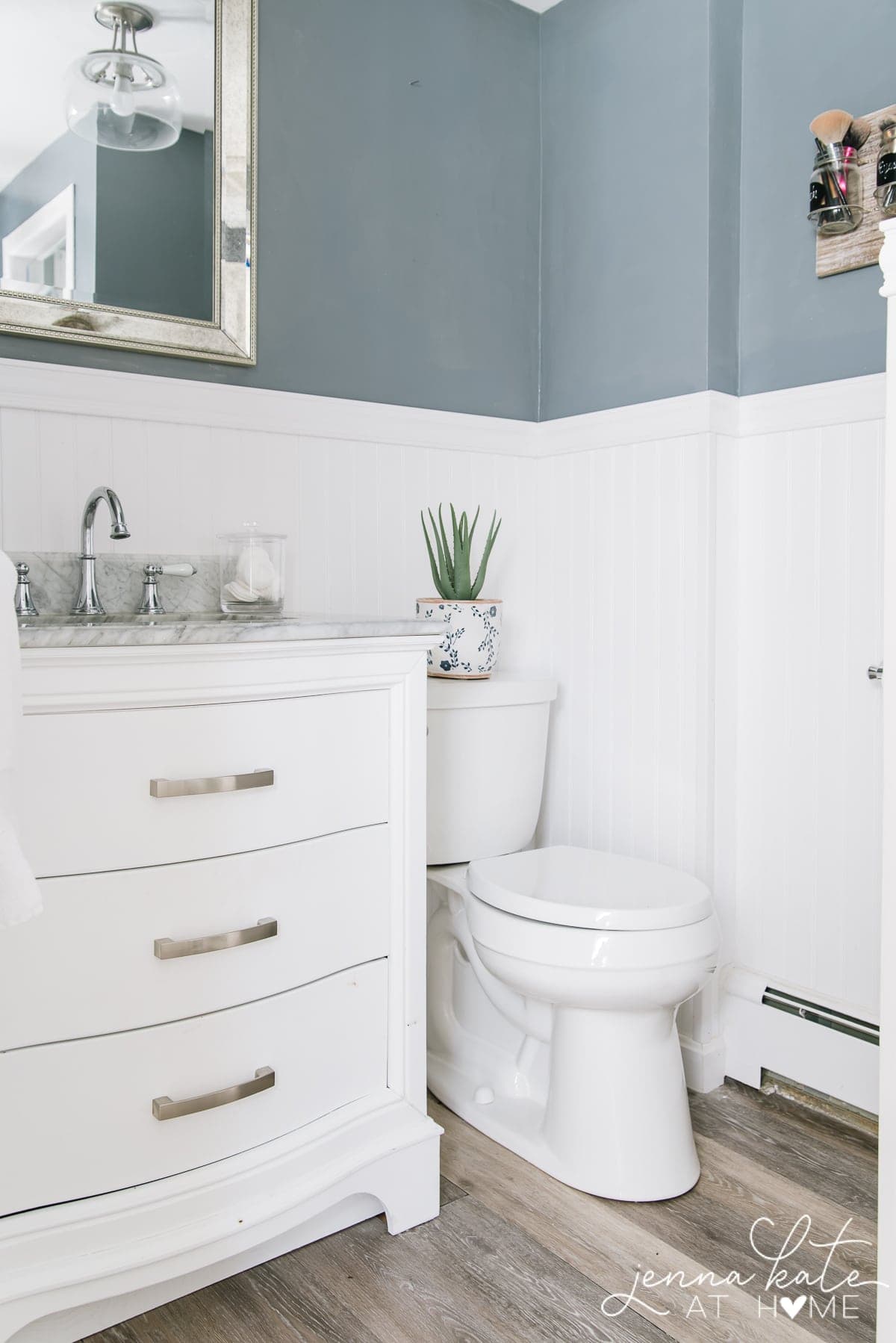 We installed LVP flooring, added a new toilet and marble-topped vanity and some DIY beadboard wainscoting. It was such a huge transformation on a budget and I loved how it turned out.
The contrast between the crisp white and the bluish gray walls (SW Serious Gray) was my favorite for a long time, but I've been craving something brighter for this tiny master bathroom.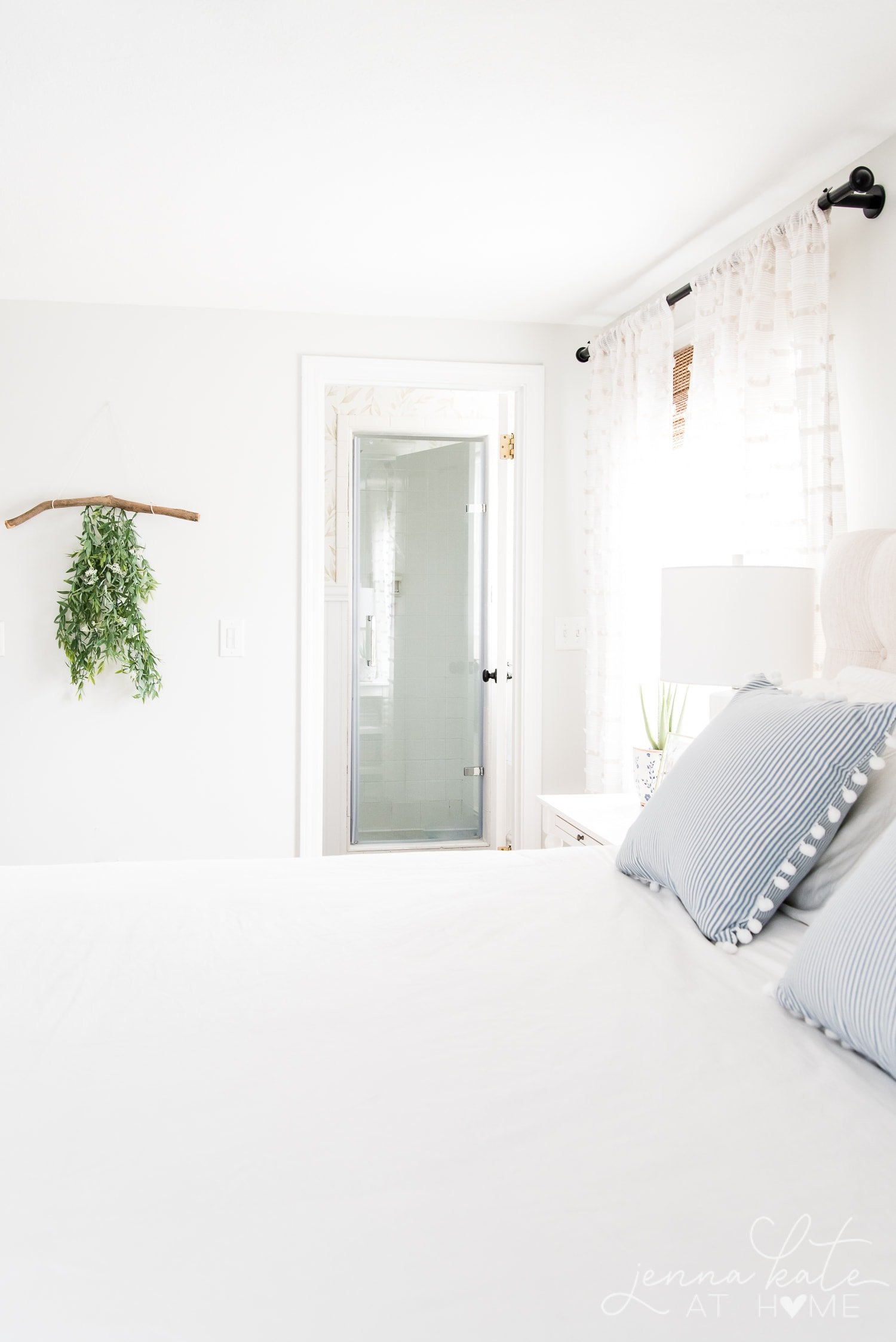 After falling in love with this wallpaper a couple of months ago, I purchased a couple of rolls, not entirely sure where I would end up putting it. In the end, my bathroom seemed like the perfect spot since I've been antsy to change the color for some time now.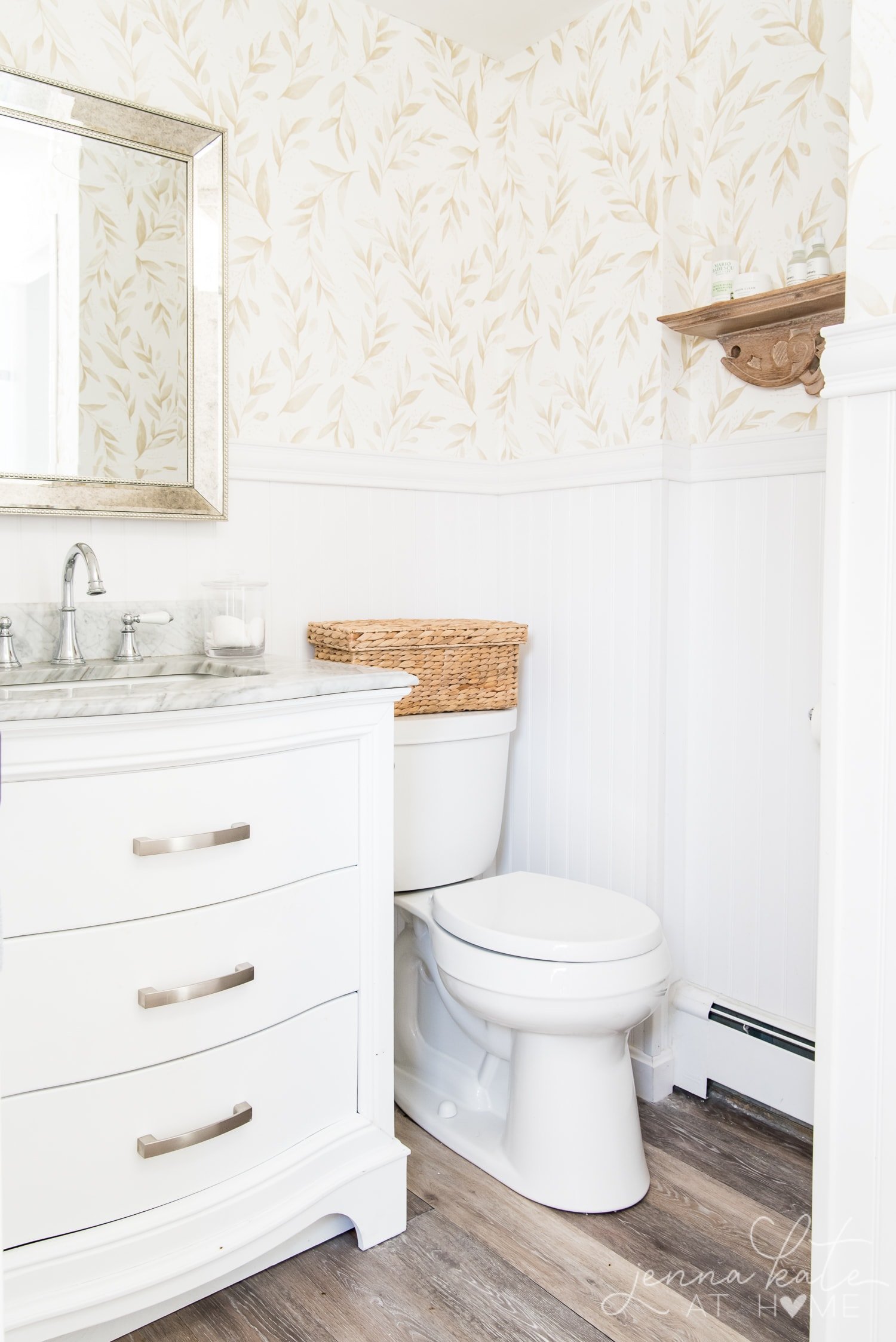 While I wouldn't usually recommend wallpaper for a full bath, my shower is completely enclosed so the humidity level is low in here. However, if you have a powder room, this wallpaper would also be perfect in there.
[jkah-related title="other posts you may like" posts="6369,23021,20937,13069″]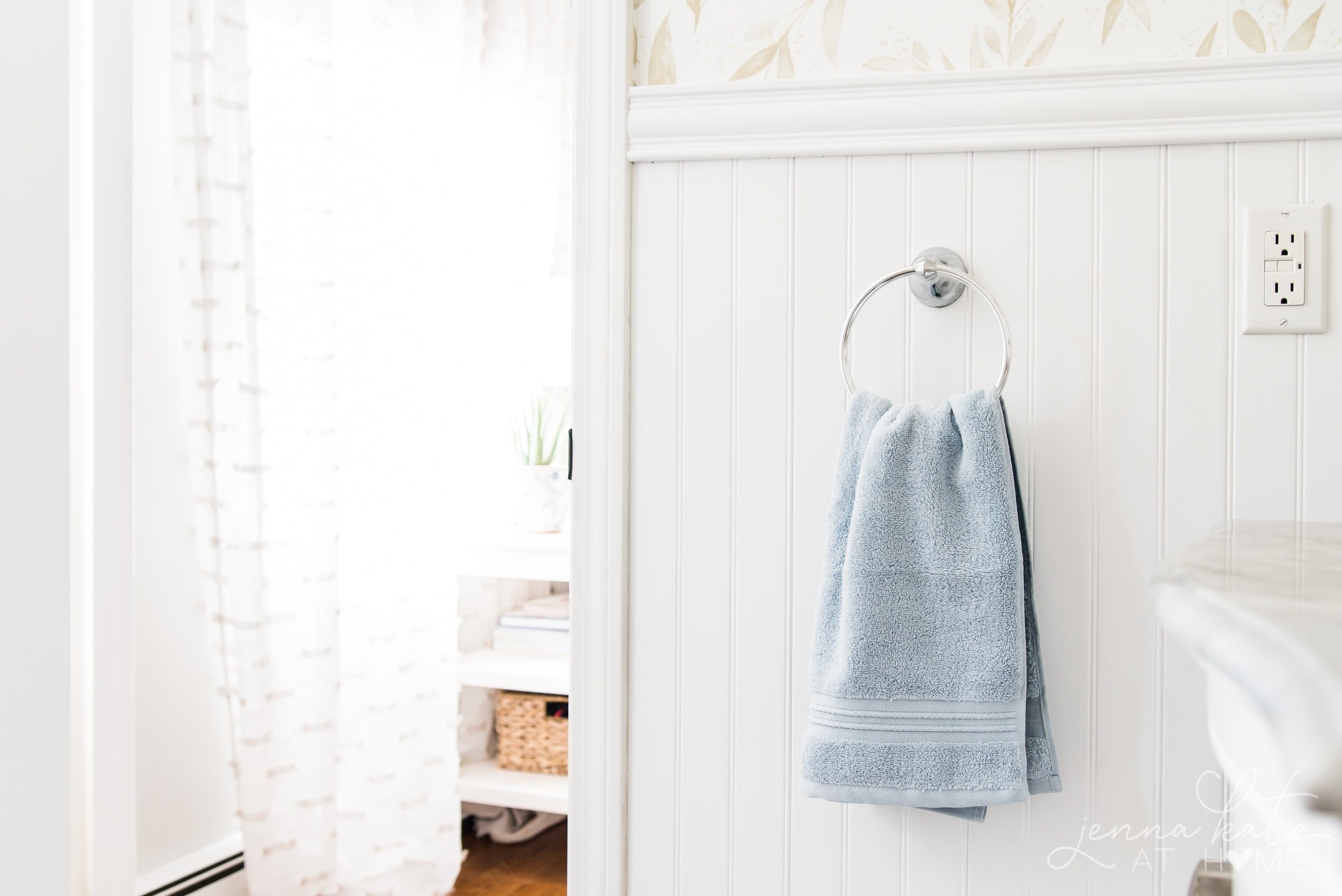 The neutral tone of this wallpaper is a departure from my usual blues but don't worry, I still accessorized with my favorite color!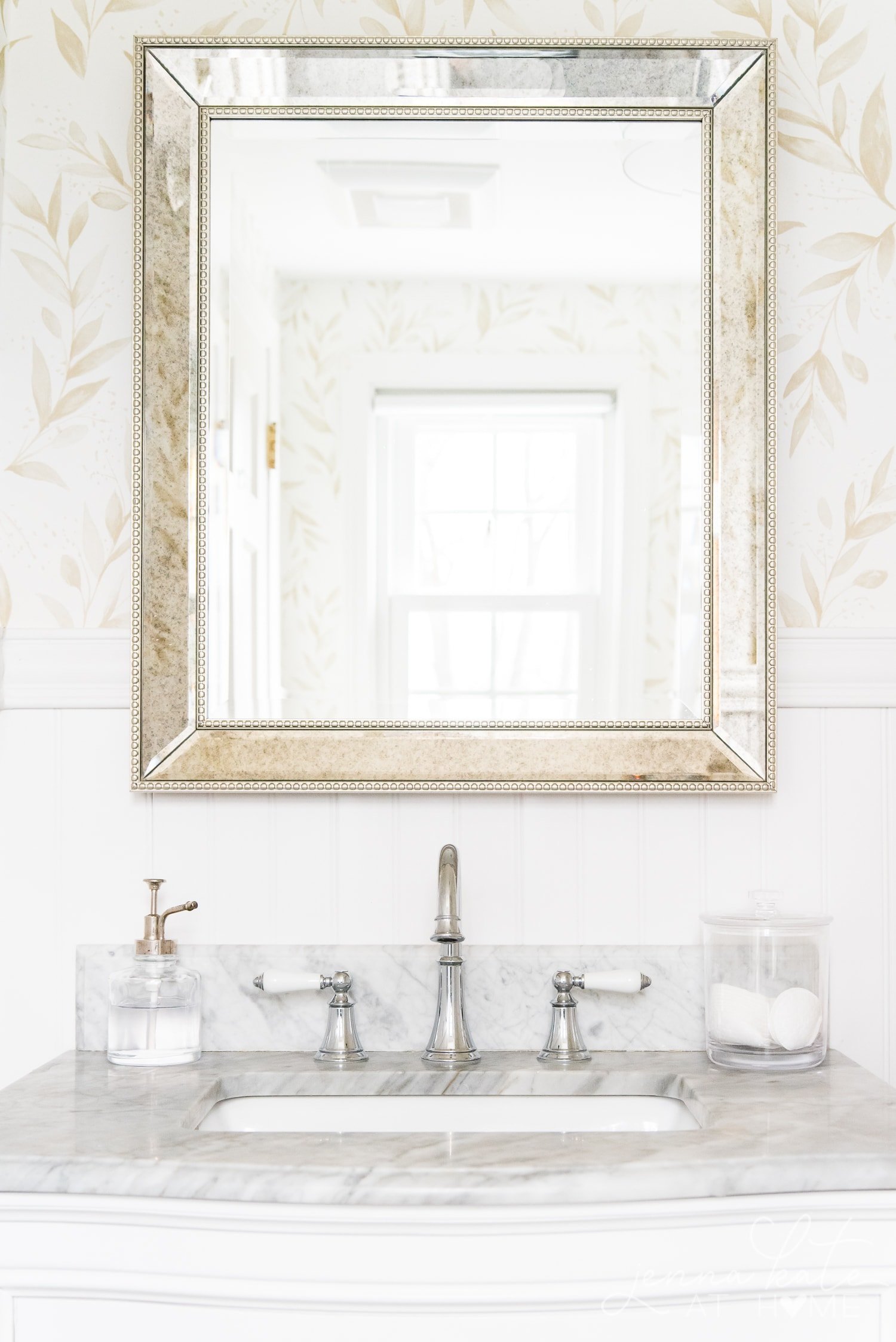 My mirror finally got hung down over the chair rail so that my miniscule self can see in it. Prior, it was several inches above and I had to stand on my tip toes to do my hair and makeup.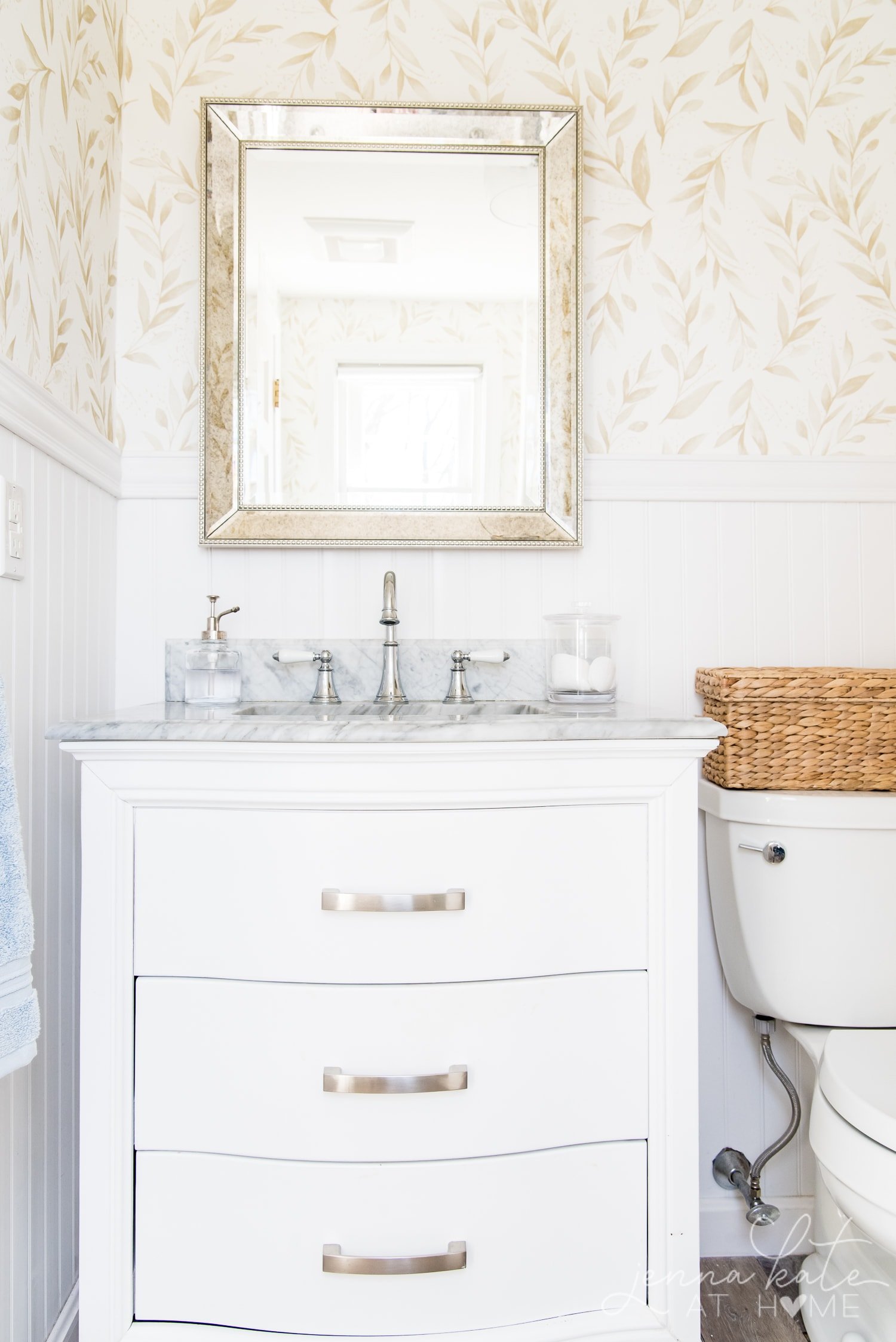 Because of the protruding chair rail, we screwed a piece of wood into the studs in order to bring the mirror out flush. Simple solution to a little problem!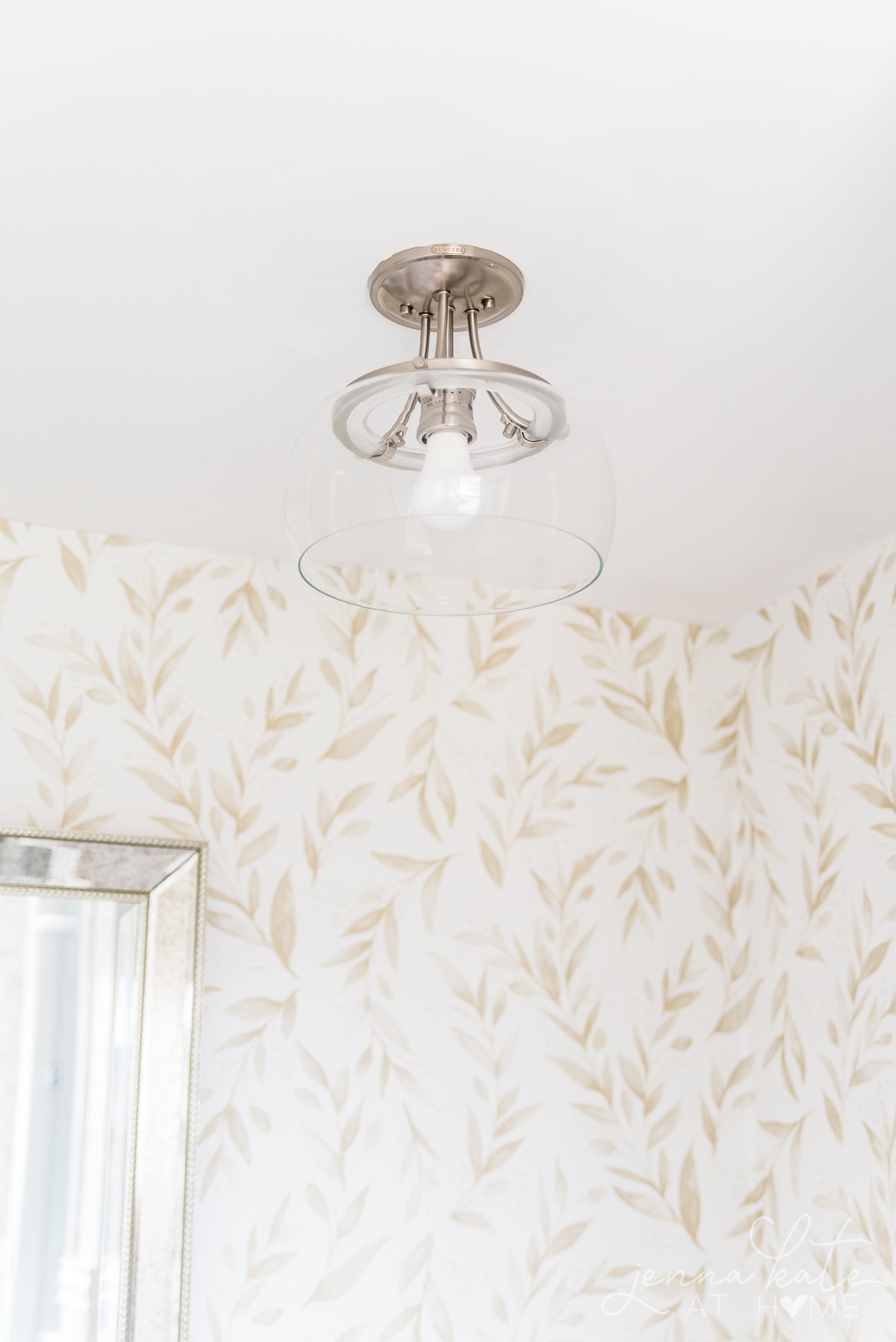 An added bonus of lighter walls? The glass light fixture no longer shows the inch thick of dust that constantly accumulates on it 🤣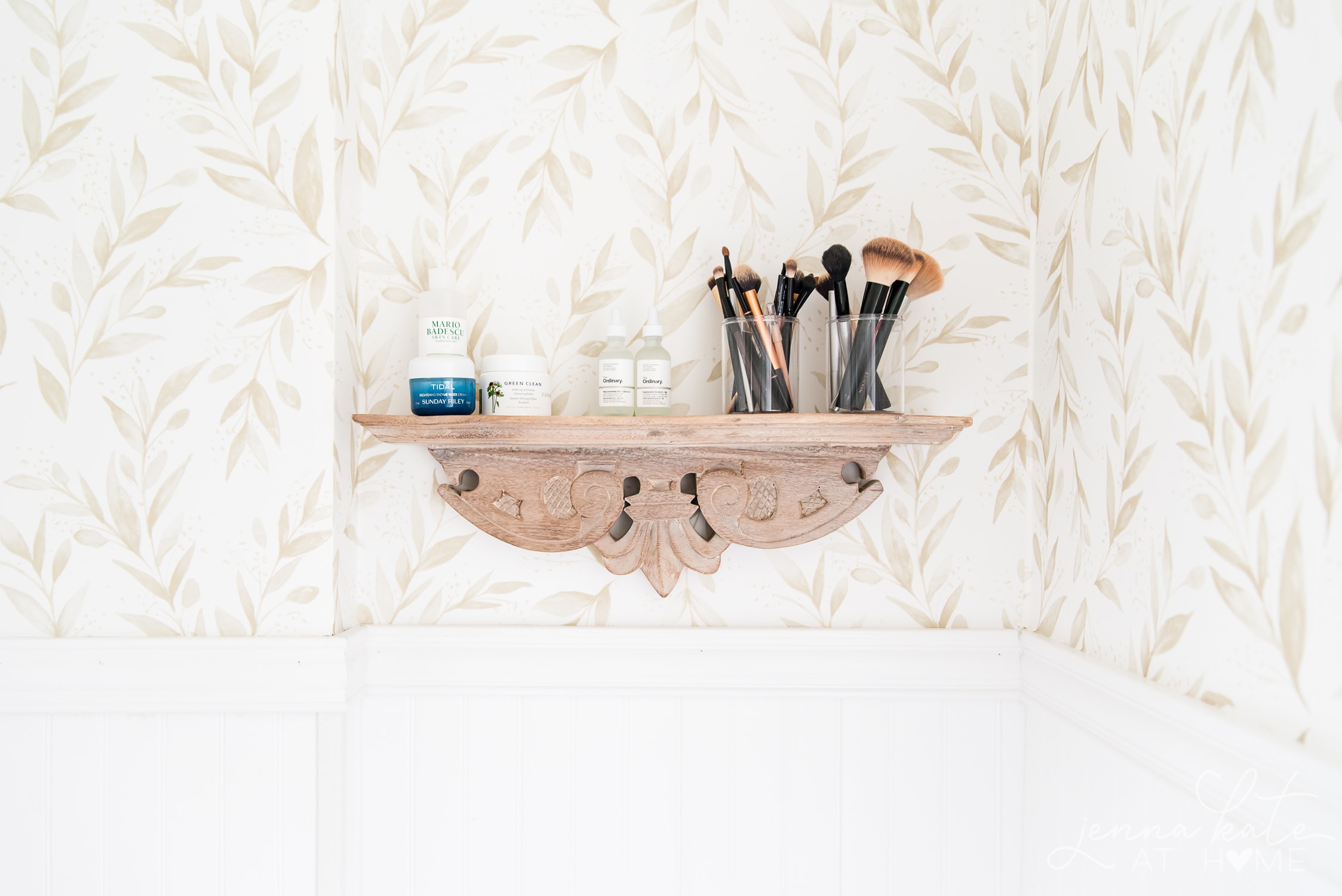 I took this wooden shelf from my bedroom and moved it in here because I thought the natural wood would complement the soft tones in here.
The shelf is from HomeGoods from..oh, about 10 years ago. They have similar ones every so often so keep an eye out for them.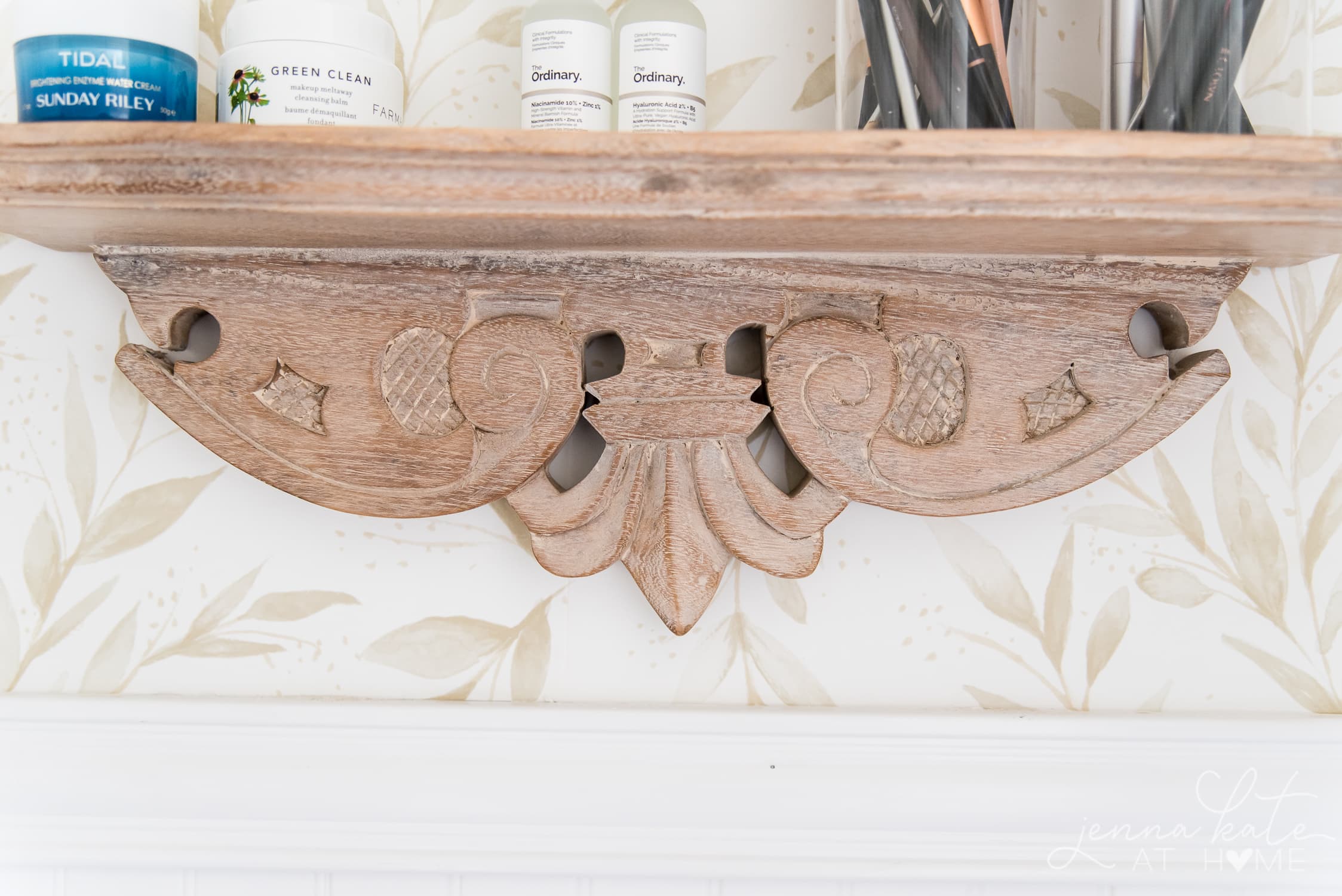 By the way, if you're on the hunt for some new skincare products, I can't recommend these highly enough. The green clean cleanser is my all-time favorite and I've also been using the Tidal moisturizer for several years now. The serums from "The Ordinary" are cult favorites that I've just started using and I'm impressed so far!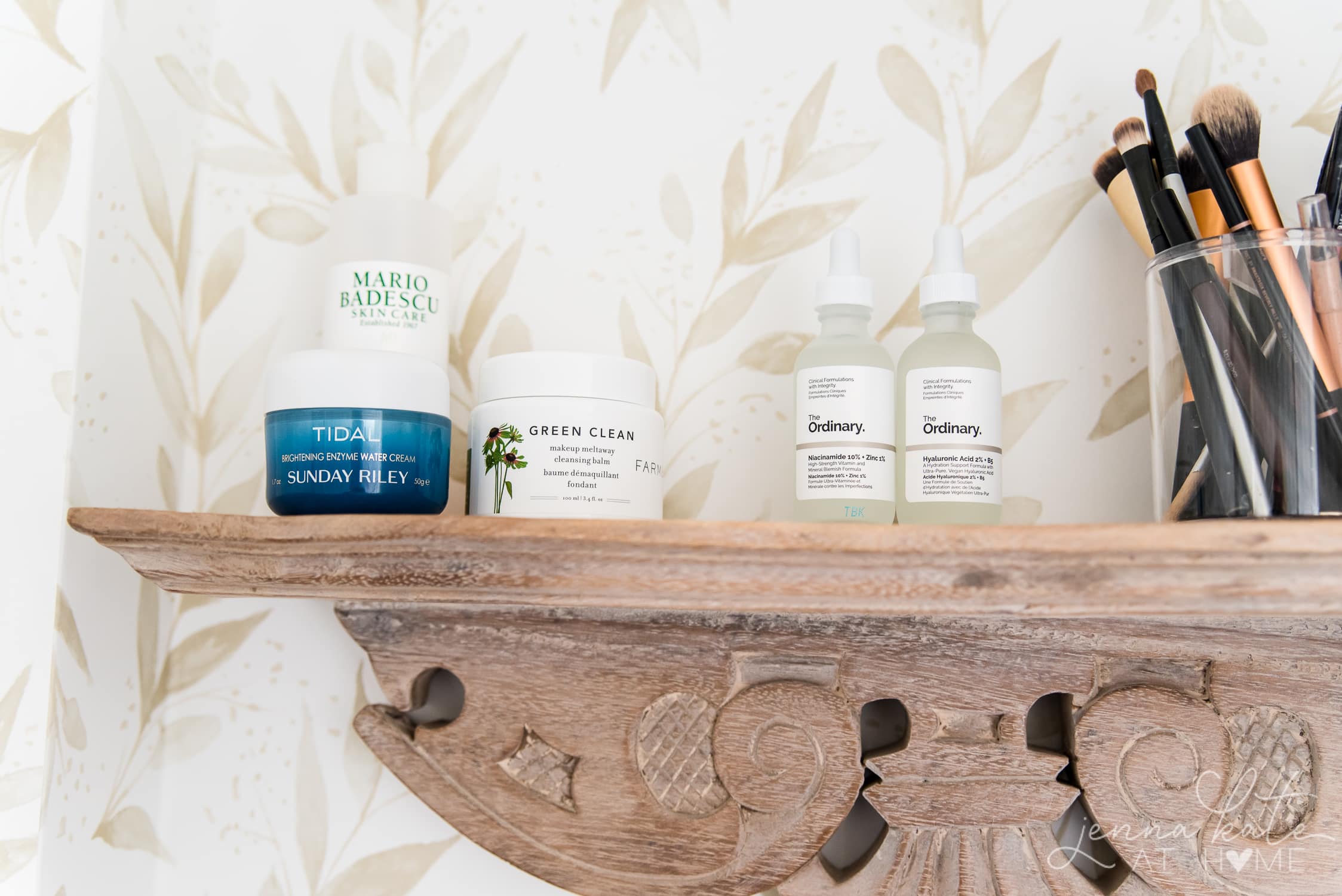 I love how it not only beautiful but serves as the perfect spot to park my moisturizers, cleanser and makeup brushes.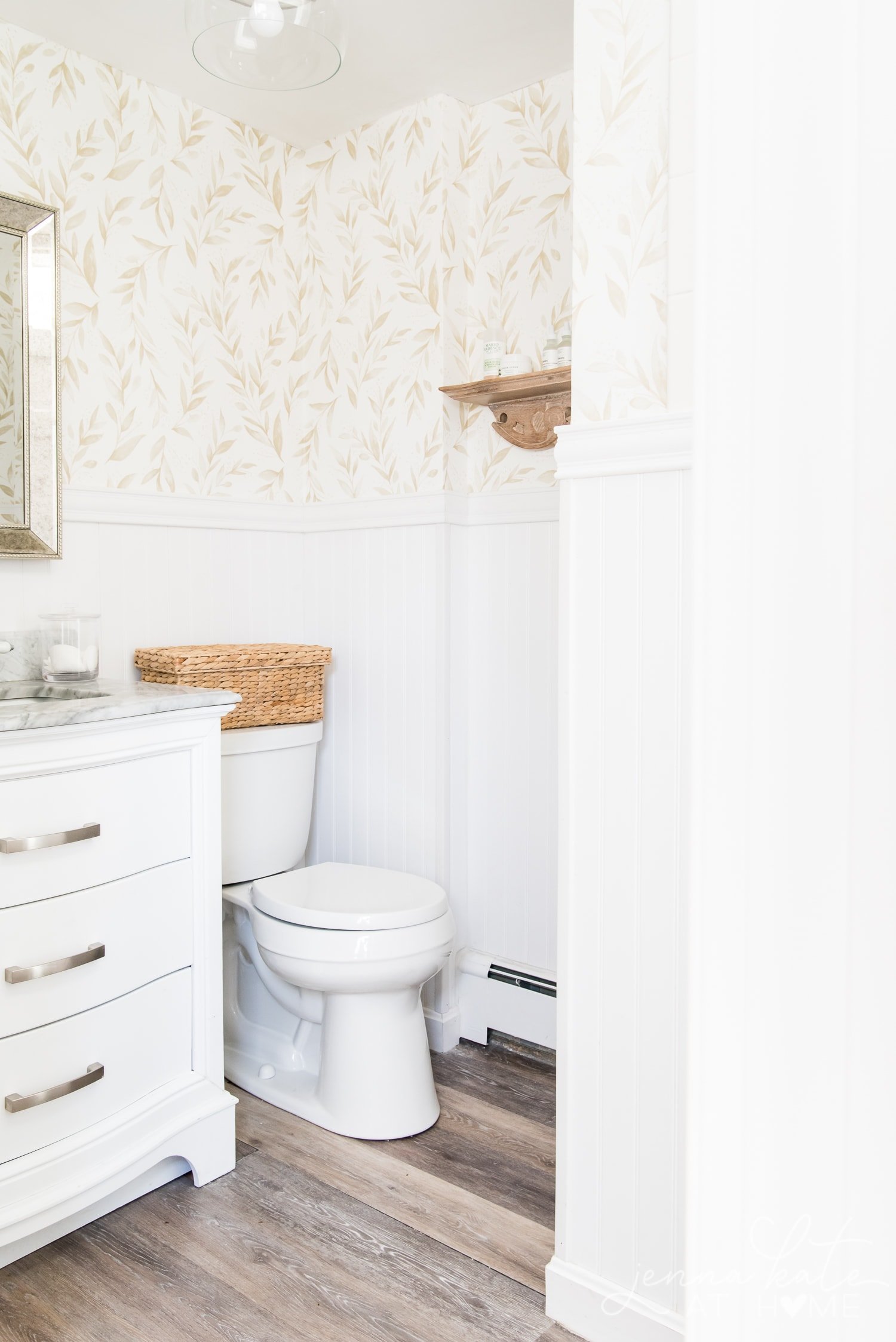 Isn't it amazing how changing the color on your walls can make such a drastic difference? This bathroom feels so bright and elegant now. And while I loved the coastal feel it had before, this feels decidedly softer and more feminine – which is perfect since I'm the only one that uses this bathroom!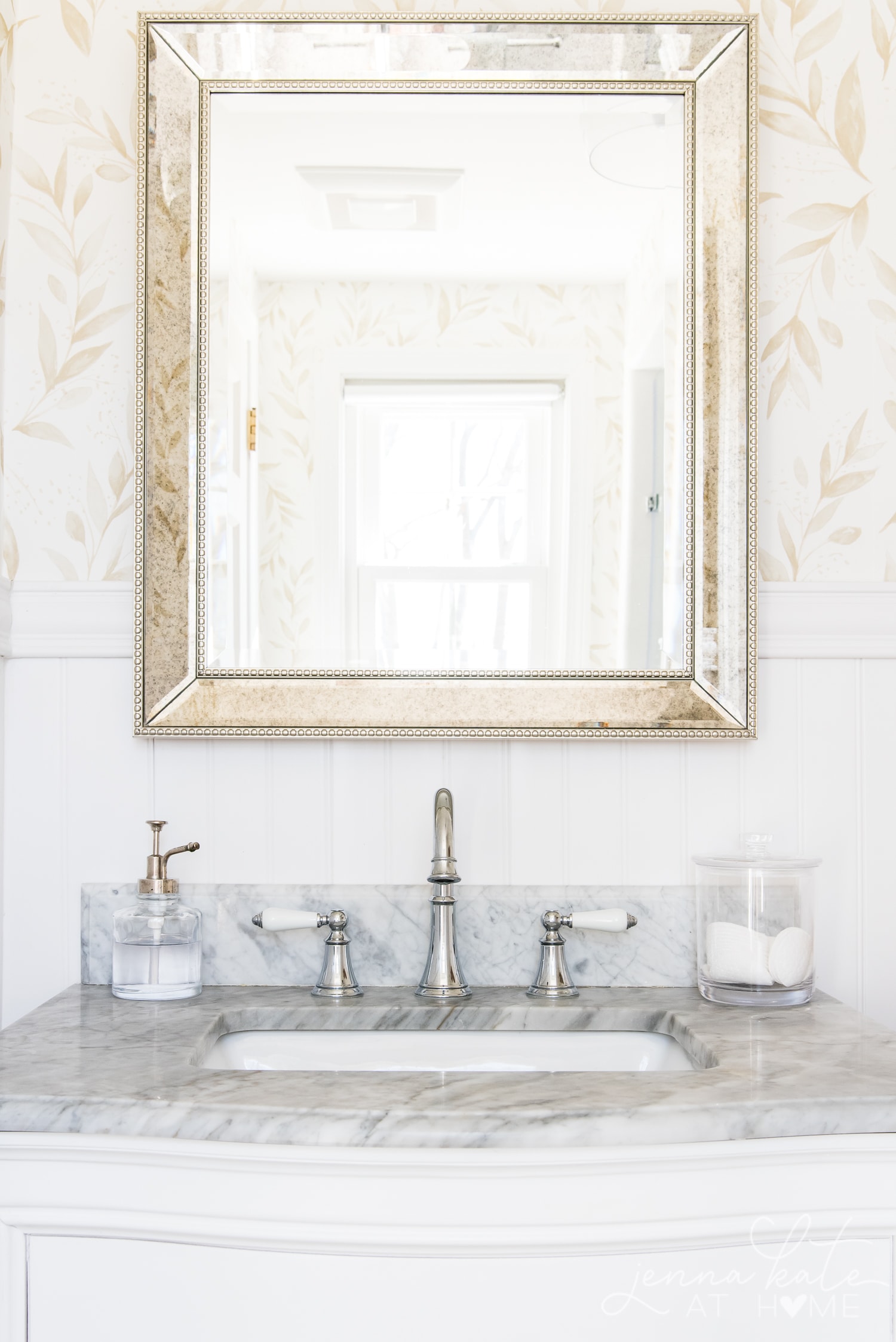 I'd love to know what projects you are working on around the house during this time? If you are interested in purchasing this wallpaper, it can be bought online and comes in several colors (I love the teal version, too!).
If you give your room a makeover using it, tag me @jennakateathome on Instagram and use the hashtag #DecorateWithJennaKate and I'll share your makeover!