This post may contain affiliate links | For further details, please read our privacy policy
There's something about the right color paint that can turn even the most boring bathroom into a spa-like retreat. Whether you're renovating or just need a fresh look, these bathroom paint color ideas will help you create the bathroom oasis of your dreams.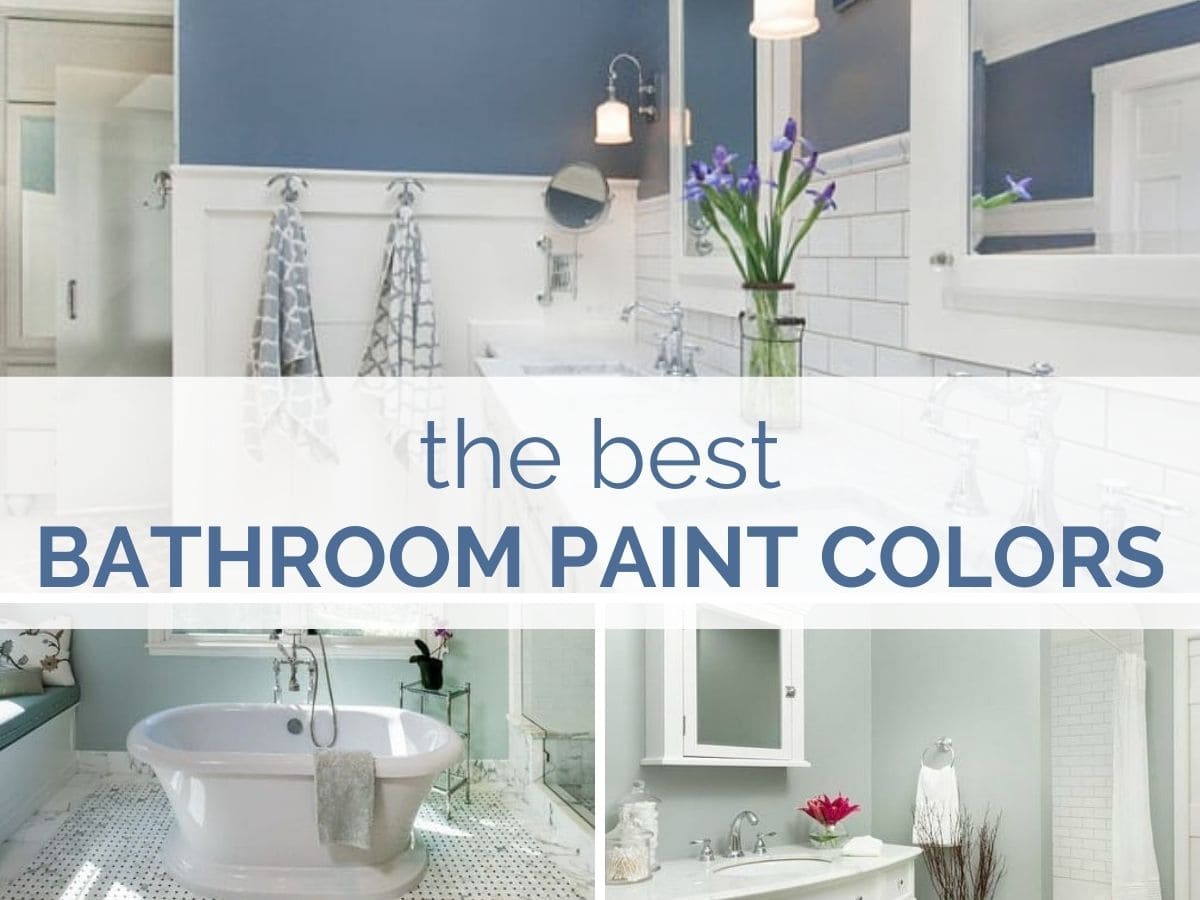 If you're looking to transform your bathroom into a spa-like retreat, or simply looking to give it a refresh, you're going to love these top paint colors.
Painting your bathroom is an afternoon task that anyone can do themselves, and it's such an easy way to totally transform the look and feel of any bathroom.
While you can of course paint your bathroom any color you like, the best paint colors for bathrooms are generally soft muted shades of green and blue. Why? They are calming, and relaxing, and lend themselves to a nice clean look.
However, small bathrooms can sometimes benefit from a bolder color to bring some design flair. In a small space, a bold color won't be as overwhelming as it would be in a larger space.
I've painted our bathrooms multiple times over the years and suggested countless paint colors to my readers for their bathrooms.
Without fail, these paint colors have remained the tried and true favorites for about the past 6 years…and for good reason! So get ready to pick one of these popular bathroom paint colors and give your bathroom the fresh coat of paint it deserves!
Green – light, muted shades of green are calming and relaxing. They have a sense of bringing the outdoors in.
Gray – soft grays are fresh, modern, and don't need to feel cold. Choose warmer hues (like greige) to offset lots of white in a bathroom.
Blue – you can't help but feel relaxed when surrounded by blue. Shades of blue-gray or blue green are the perfect choice for a real spa-like feel.
Light Beige – Warmer than gray, but still has that neutral, yet cozy feel that is classic.
White – paired with warm wood tones or a blue vanity is truly stunning.
Don't Forget…
Don't forget – no matter what you've read or photos you've seen online, it's really important to sample paint colors in your home before committing!
Samplize provides real paint samples that are easy to move around your home, and cheaper than buying a gazillion paint pots! It's the only way I buy paint samples.
Use code JENNAK10 at checkout and get 10% off your order
Coupon entitles all customers to 10% off the entire order with no minimum purchase requirement. This is a one-time use coupon and it cannot be combined with other discounts.
Whether you favor a neutral color, greens, grays, or blues, pick a paint color for your bathroom that flows with the rest of your house, energizes the space without being too bold, and yet also creates a sense of calm.
With these colors in mind, here are some specific paint colors that will work in your bathroom:
1. Sherwin Williams Sea Salt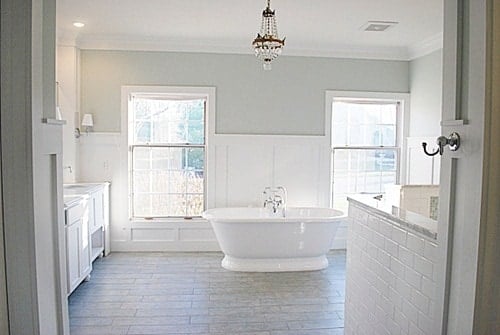 Sea Salt is one of the most popular bedroom and bathroom colors of the past few years. It makes the room feel very tranquil and beach-like, and works wonderfully well alongside lots of bright, crisp whites.
The popularity of Sherwin Williams' "Sea Salt" as a bathroom paint color can be attributed to several factors:
Versatility: The color has a unique blend of green and gray undertones, which allows it to adapt to various styles and settings. It can look more green, gray, or even slightly blue depending on the lighting and surrounding colors.
Soothing Nature: The color evokes feelings associated with the sea and nature, offering a sense of calm and relaxation—qualities often desired in a bathroom setting.
Neutral, But Not Boring: "Sea Salt" is neutral enough to pair well with a wide range of other colors but still offers enough depth to make a space interesting. This allows for more flexibility in decorating and accessorizing.
Timelessness: While trendy colors come and go, the soft, muted quality of "Sea Salt" gives it a timeless appeal. This makes it a long-lasting choice that homeowners are less likely to tire of quickly.
Natural Light: In bathrooms with natural light, "Sea Salt" can bring a bright and airy quality, enhancing the light and making the space feel larger.
Compatibility: The color pairs beautifully with popular bathroom materials like white porcelain, chrome fixtures, and natural stone, making it an easy choice for many people.
Spa-Like Feel: The calming hue easily lends itself to a spa-like environment, especially when paired with other natural elements and soft textiles.
Broad Appeal: Because of its versatility and universally pleasing qualities, "Sea Salt" is often recommended by designers and is a popular choice for people looking to increase the resale value of their home.
Gender-Neutral: Its balanced tones make it suitable for bathrooms used by people of all ages and genders.
Because of these factors, "Sea Salt" is often seen as a go-to choice for those looking to create a peaceful, stylish, and functional bathroom space.
2. Behr Reflecting Pool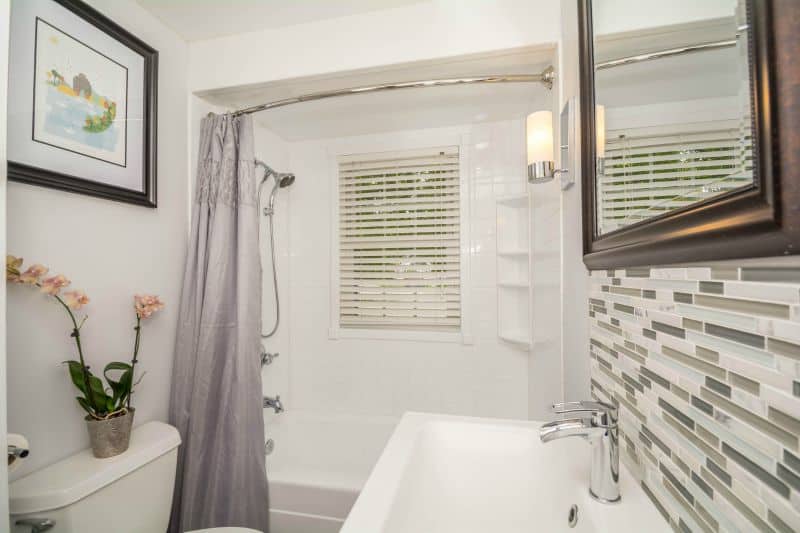 One of my personal favorite paint color choices of all time, Behr's Reflecting Pool is a very soft blue-gray color.
It works just as well with dark wood tones as it does with bright whites, and is a wonderful color to brighten up a dark space.
In fact, we even used it in our basement playroom and living room. It's a perfect paint color that will work in any space in your home as it doesn't read too blue, and feels fresh and modern thanks to the gray.
3. Benjamin Moore Boothbay Gray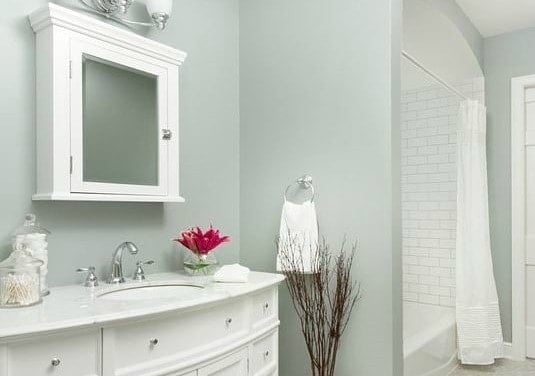 Boothbay Gray is a lovely blue-gray with (at times) a light green undertone. More often than not, it will lean into the blue side of things.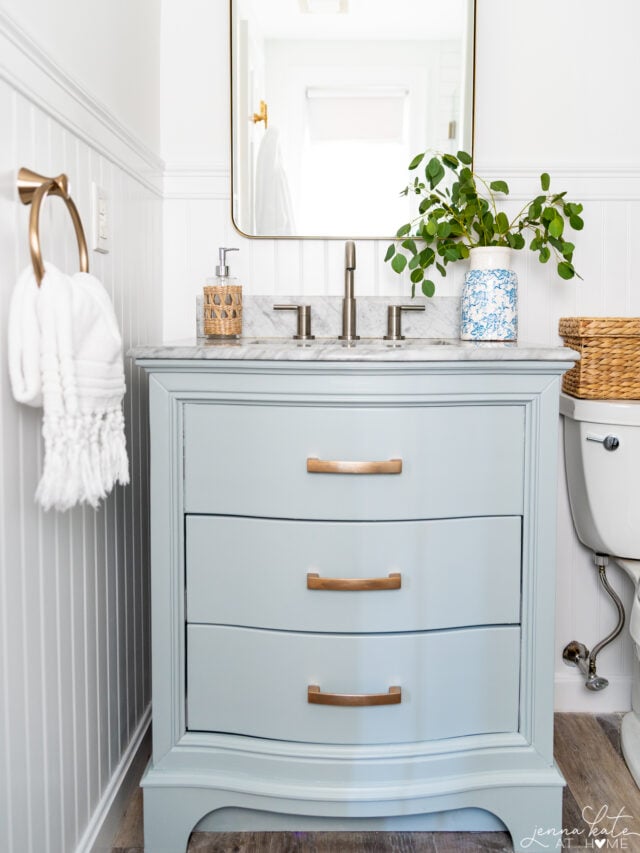 It looks just as good on a bathroom wall as it does on a vanity or kitchen island (we used it on ours!), so it's a great color choice to reflect in different spaces throughout your home.In fact, it's one of the best blue gray paint colors and has been popular for many years.
4. Sherwin Williams Rainwashed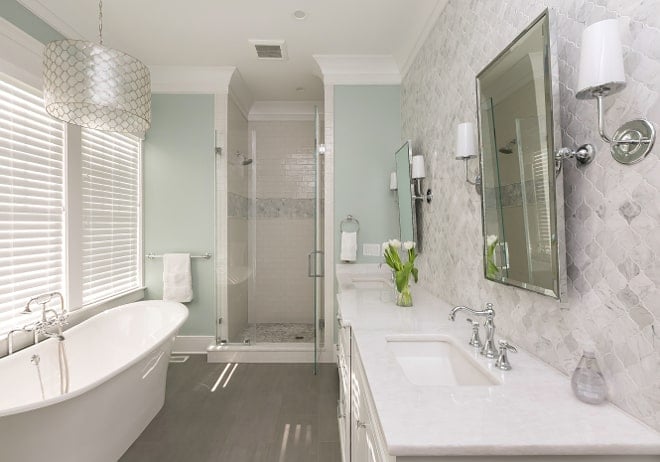 If Sherwin Williams Sea Salt is my number 1 bathroom wall color with clients, Rainwashed certainly comes in a close second.
It's significantly more green than Sea Salt with a lot less gray. A lot of people are surprised by how bright it looks on their walls, so I would use it sparingly or cool it down with lots of white and marble as pictured above for best results.
It's a beautiful color, though, with a really tranquil, spa-like feeling to it.
5. Sherwin Williams Serious Gray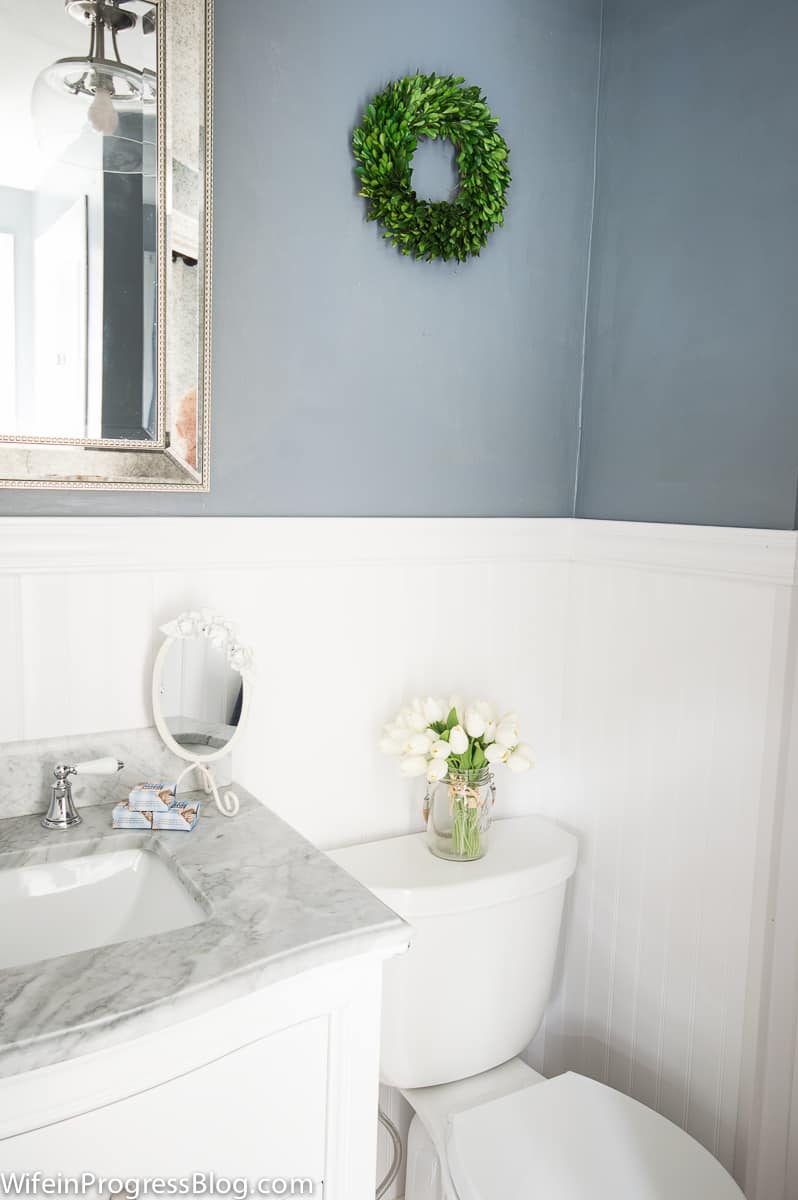 Is it a dark blue or dark gray? Serious Gray is one of those fun paint colors that can go either way depending on the light.
It's a stunning dark and moody color that really pops against a bright white. In my home, it mostly leans into the blue side of things, that is until the sun goes down and it looks dark gray!
6. Benjamin Moore Healing Aloe
Healing Aloe is a very light green-gray with the tiniest bit of blue thrown in for good measure.
It gives a wonderful fresh feeling to a bathroom, almost like a breath of fresh air. It's a great choice for taking a boring white bathroom and breathing in some life and color. In darker spaces, or those with no natural lighting, it will look substantially greener – but still beautiful.
7. Benjamin Moore Gray Wisp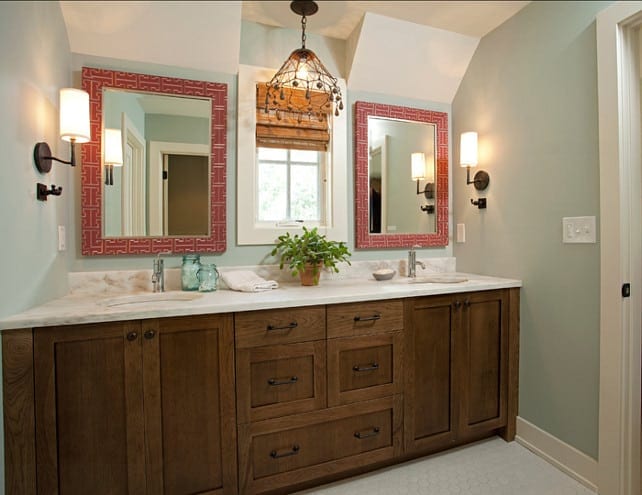 Benjamin Moore Gray Wisp via Home Bunch
If you're looking for the perfect green-gray to blend with warmer wood tones, then Gray Wisp is a really great choice.
While it still works well with cooler tones, I particularly love this shade when paired with medium woods and earthy colors. It's also a great color to work with honey oak.
8. Sherwin Williams Storm Cloud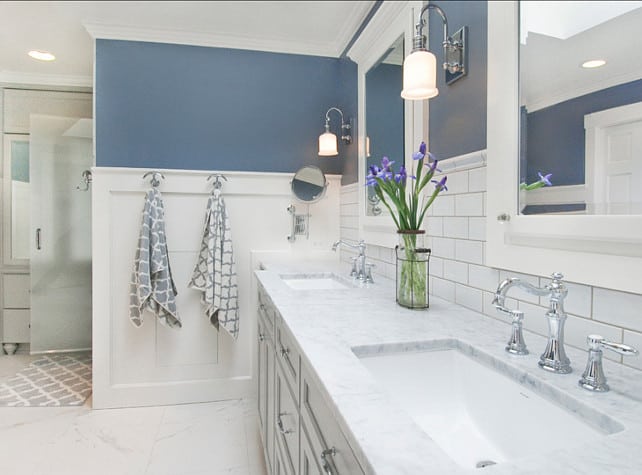 Go full-on coastal with this bright pop of blue in your bathroom, especially paired with white tiles and cool whites.
9. Benjamin Moore Quiet Moments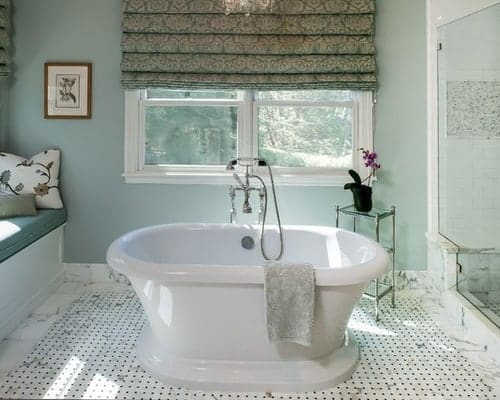 The popularity of this paint color has never wavered over the years.
Quiet Moments is the perfect blend of gray, green, and blue that instantly evokes a sense of relaxation. It has enough green that it works with both warm and cool color palettes, while always looking clean and fresh.
10. Sherwin Williams Krypton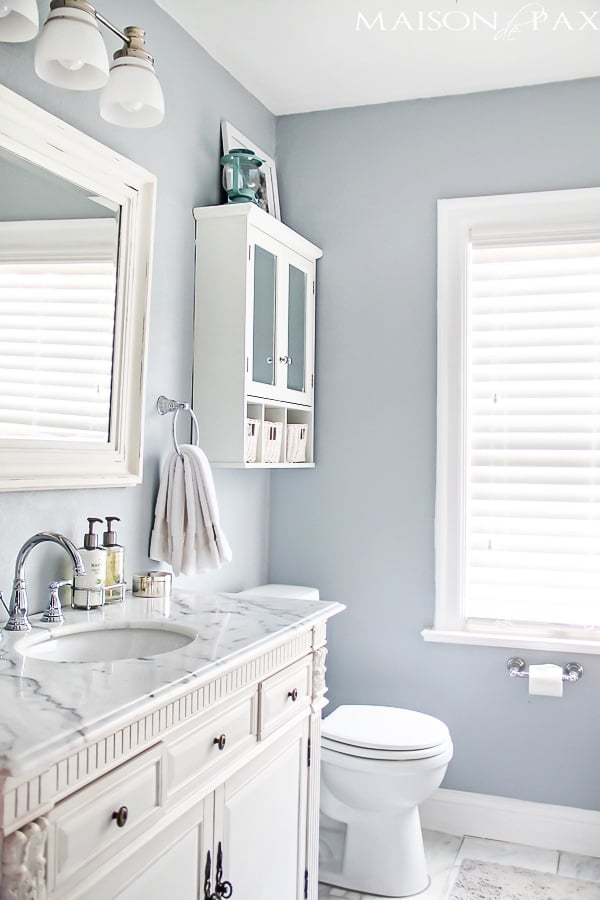 Krypton is another popular blue-gray paint color that leans heavily into the blue side of things. It pairs really well with cooler-toned tile and finishes, especially marble.
11. Benjamin Moore Paper White
Paper White is what I like to call a unicorn paint color. It's one of those rare colors that seems to work everywhere.
Whether your bathroom is flooded with natural light, or dark and windowless dependent on artificial light, Paper White is the perfect light gray that has enough warmth that it never feels cold – yet still looks like a fresh, modern gray.
It works with cool and warm finishes (so marble and all things white AND wood tones) and is just overall a perfect color!
Bathroom Color Schemes
You've picked a paint color for the wall, but now what? Here are some ideas on how to pair these popular bathroom paint colors with accent and trim colors that coordinate.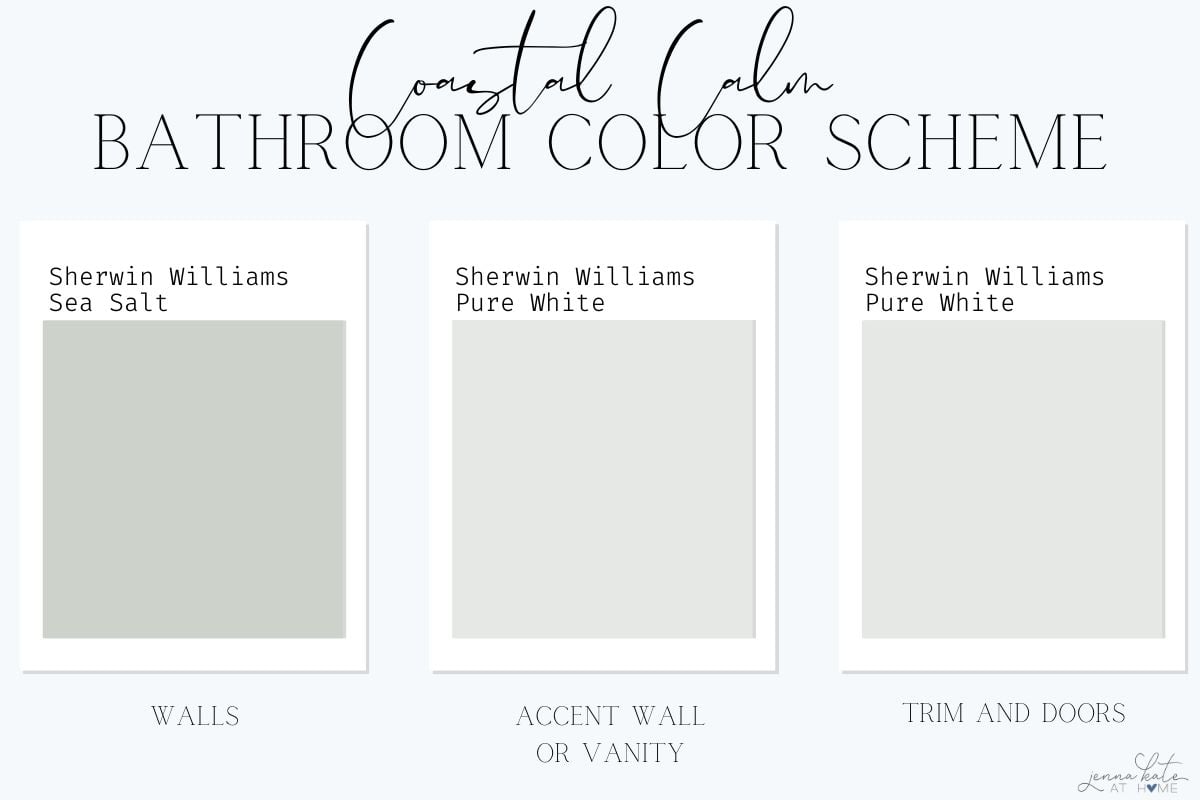 The Coastal Calm bathroom color scheme pairs Sherwin Williams Sea Salt walls with a Pure White vanity and Pure White trim and doors. This pairing allows Sea Salt to be the star of the show and create a serene, spa-like bathroom.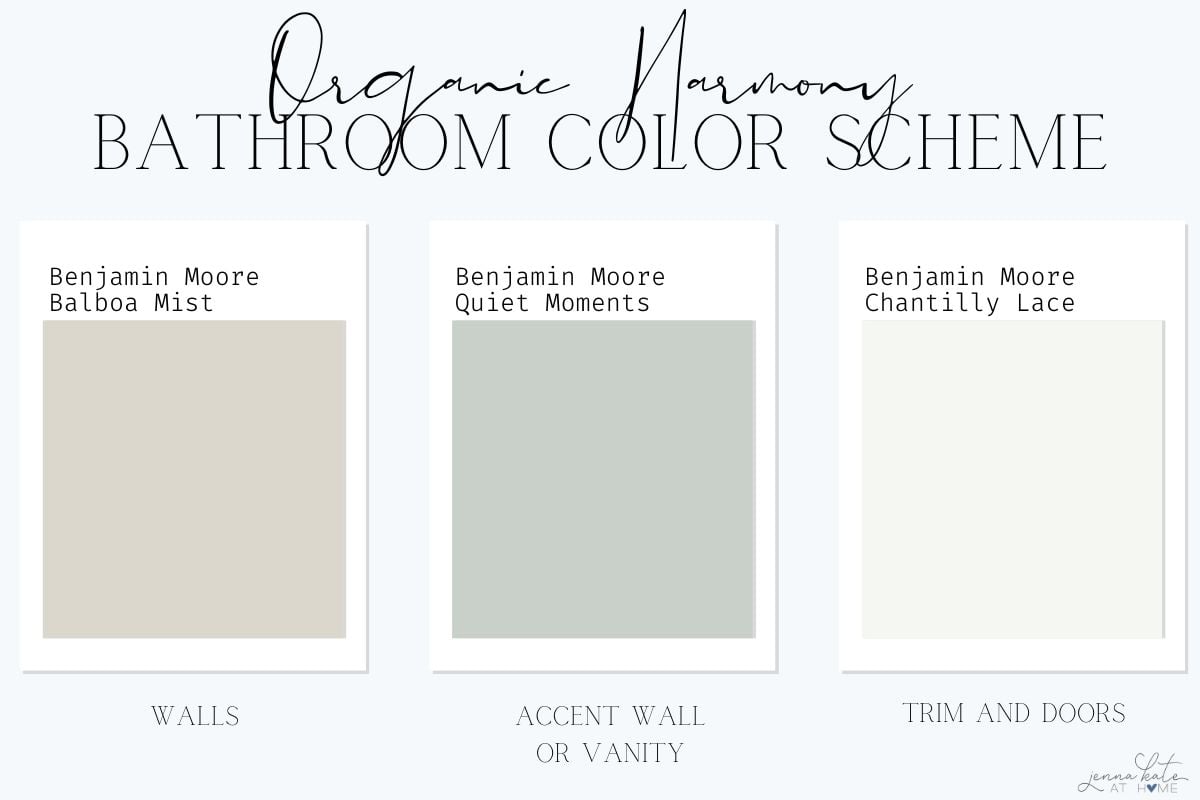 The Organic Harmony bathroom color scheme brings in the warm tones of Benjamin Moore Balboa Mist for the walls, with the soft blue green of Quiet Moments as an accent color for the vanity. Finally, Chantilly Lace is the perfect bright white to make both these colors really pop.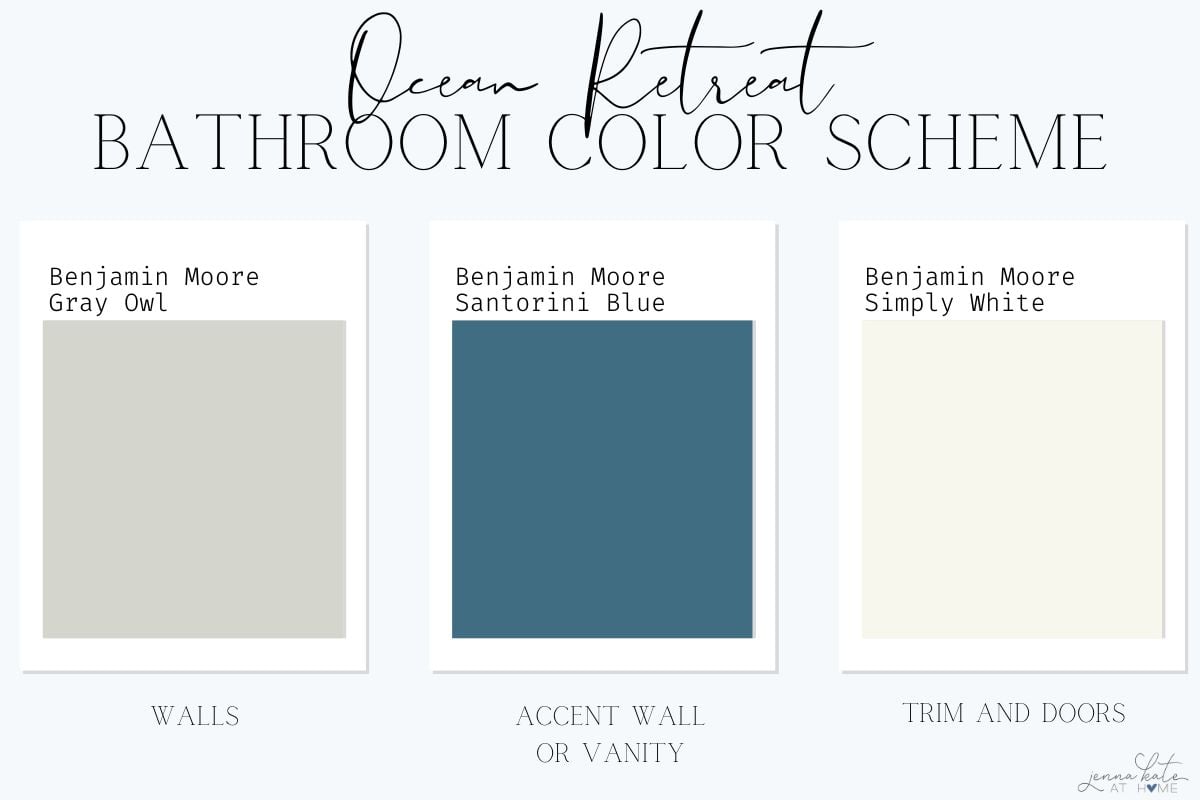 Looking for a bold pop of color? Use a strong blue like Benjamin Moore Santorini Blue for the vanity and a soft light gray like Gray Owl on the walls. A warm white like Simply White and satin nickel accents will add the perfect compliment to the blue and gray tones.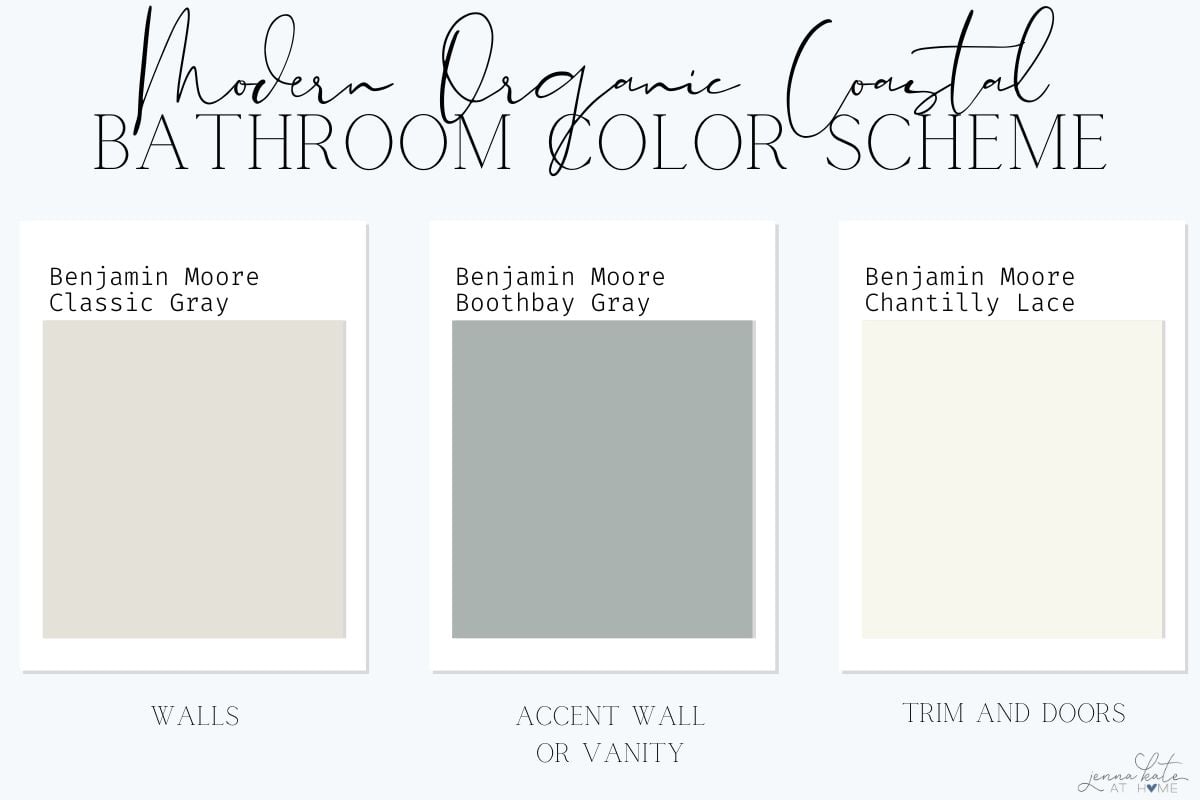 My personal favorite, Modern Organic Coastal pairs the warmth Benjamin Moore Classic Gray with the soft blue gray of Boothbay Gray. I would actually pair this with Sherwin Williams Pure White for the trim, but if you're sticking to BM, go with Chantilly Lace. Bring in white oak tones and warm brass for the perfect finishing touch.
Consider How You Spend Time in Your Bathroom Before Choosing a Color.
The answer to this question may partially dictate the right bathroom color for your room.
If you are simply looking for a paint color for a small powder room, you can afford to go with a bold color or add an accent wall.
If it's a kid's bathroom, maybe a more saturated color would be fun. However, if this bathroom is your personal space to relax, take a bath or long shower and unwind at the end of a long work day, then you'll want to choose colors that help evoke that mood.
Don't Forget…
Don't forget – no matter what you've read or photos you've seen online, it's really important to sample paint colors in your home before committing!
Samplize provides real paint samples that are easy to move around your home, and cheaper than buying a gazillion paint pots! It's the only way I buy paint samples.
Use code JENNAK10 at checkout and get 10% off your order
Coupon entitles all customers to 10% off the entire order with no minimum purchase requirement. This is a one-time use coupon and it cannot be combined with other discounts.
Summary
Hopefully I've introduced you to some new and inspiring paint colors to paint your bathroom! The only problem is that there's so many beautiful shades to choose from! Which is your favorite?