I'm embarrassed to say that my Master Bathroom makeover has been at a stage of 99% completion since March. With Conor being born, launching my eBook and just sheer exhaustion, it has taken me until now to touch up some paint, fix a few broken tiles and take photos.
But at last, the reveal is here. Let's take a look at some of the reasons this 1960's bathroom needed a makeover…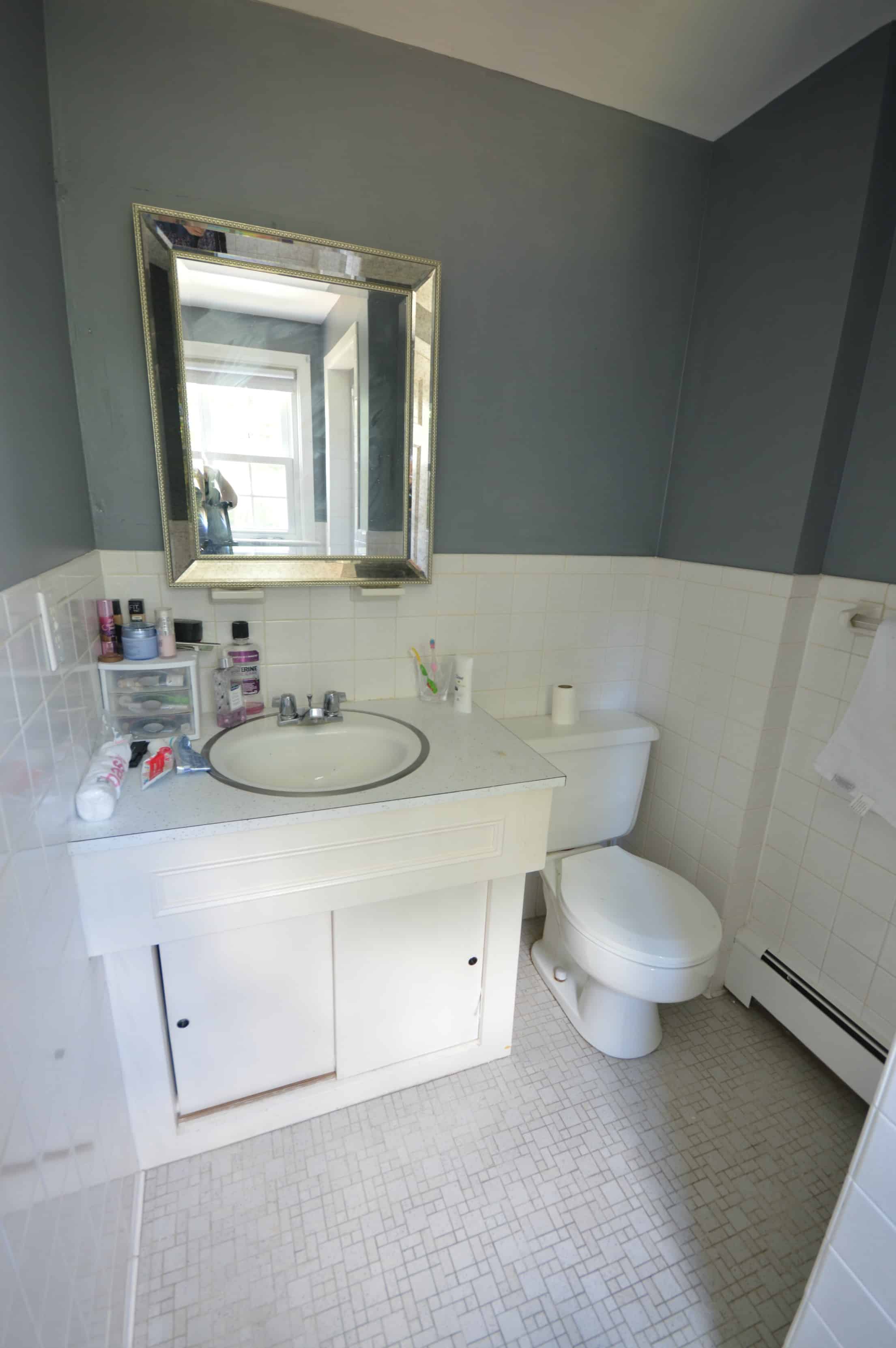 A rusted old toilet, ugly vanity, worn floors and yellowish grout were just some of the reasons. The built in vanity had no storage (just cobwebs!) and the shower curtain hung by a tension rod.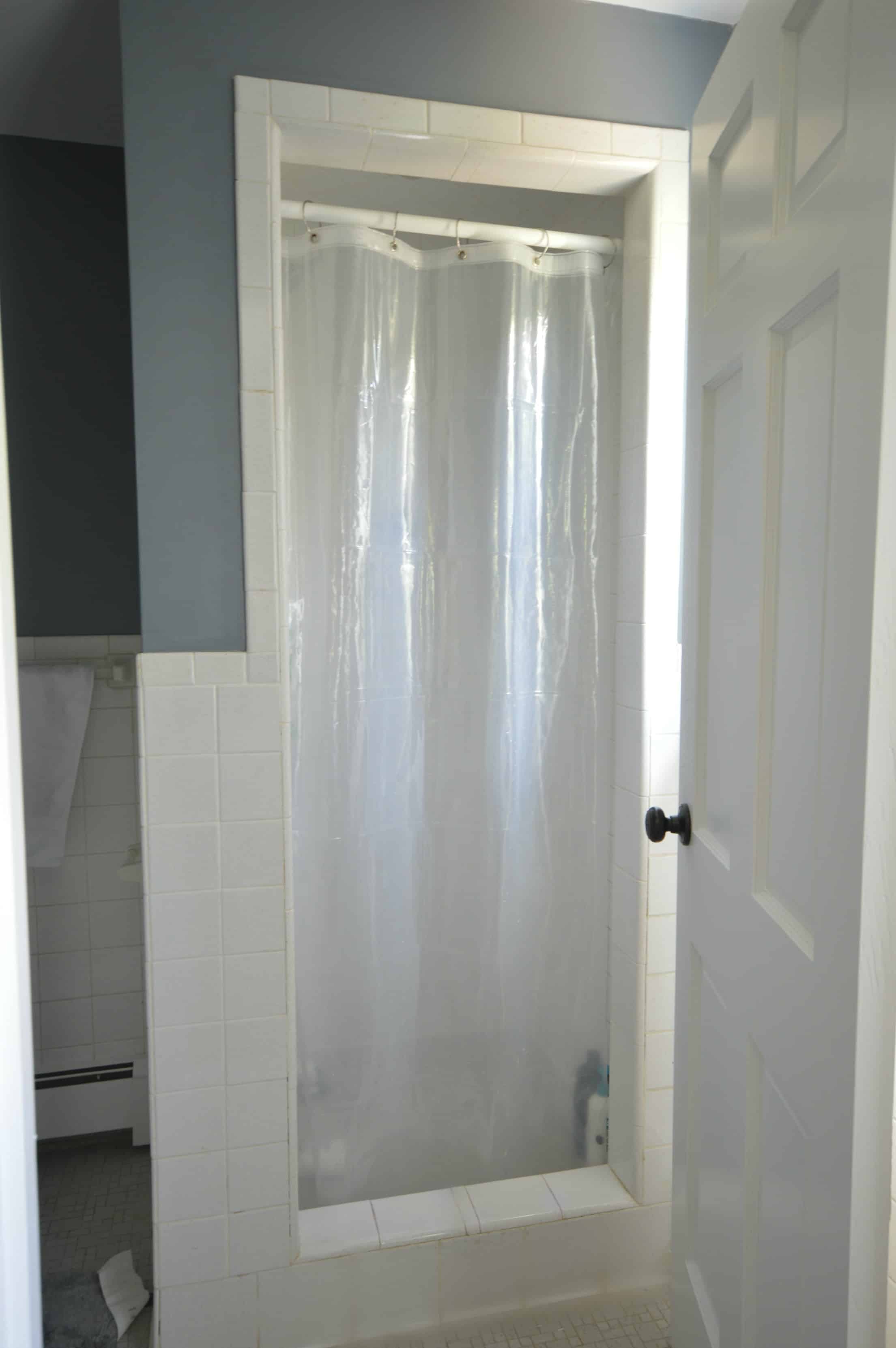 I didn't exactly love using this bathroom. In fact, it really grossed me out.
A complete gut job was not in budget but I'm happy to say that we did end up completely transforming the space for just $1800 and it only took 2 weekends (technically!).
Our New Coastal Style Master Bathroom Makeover Reveal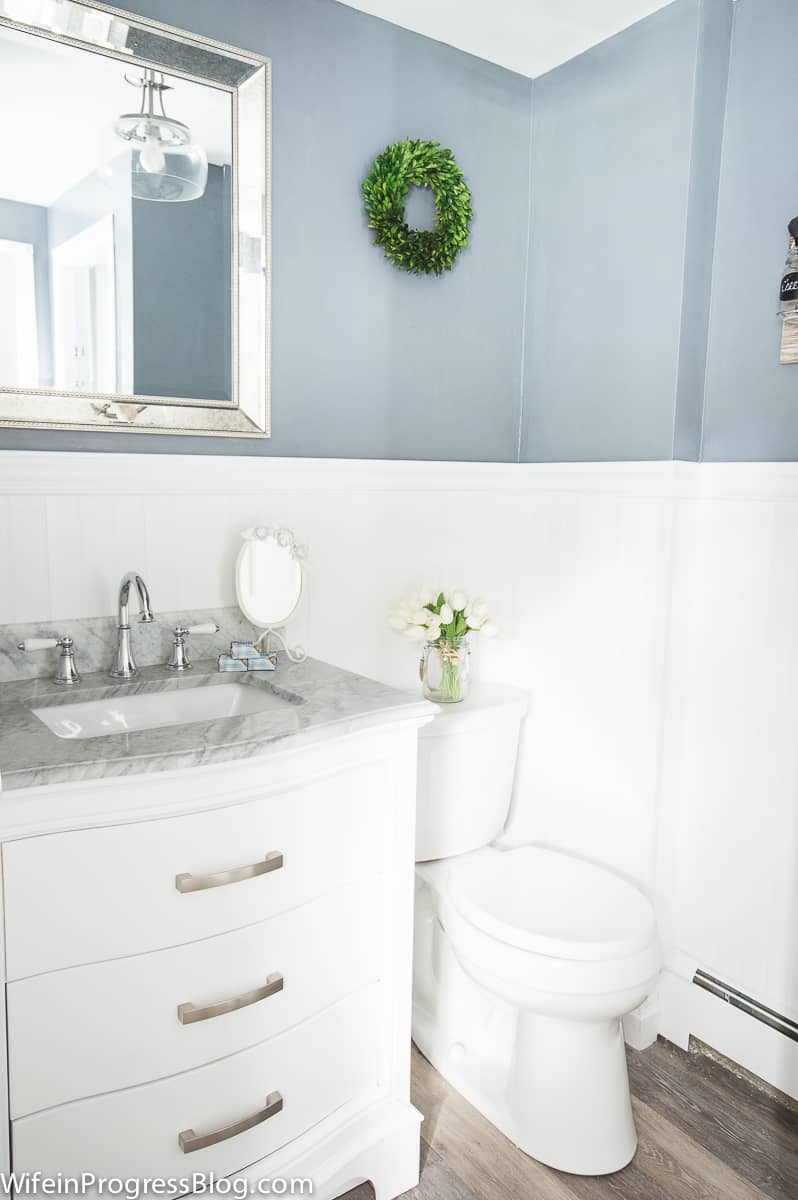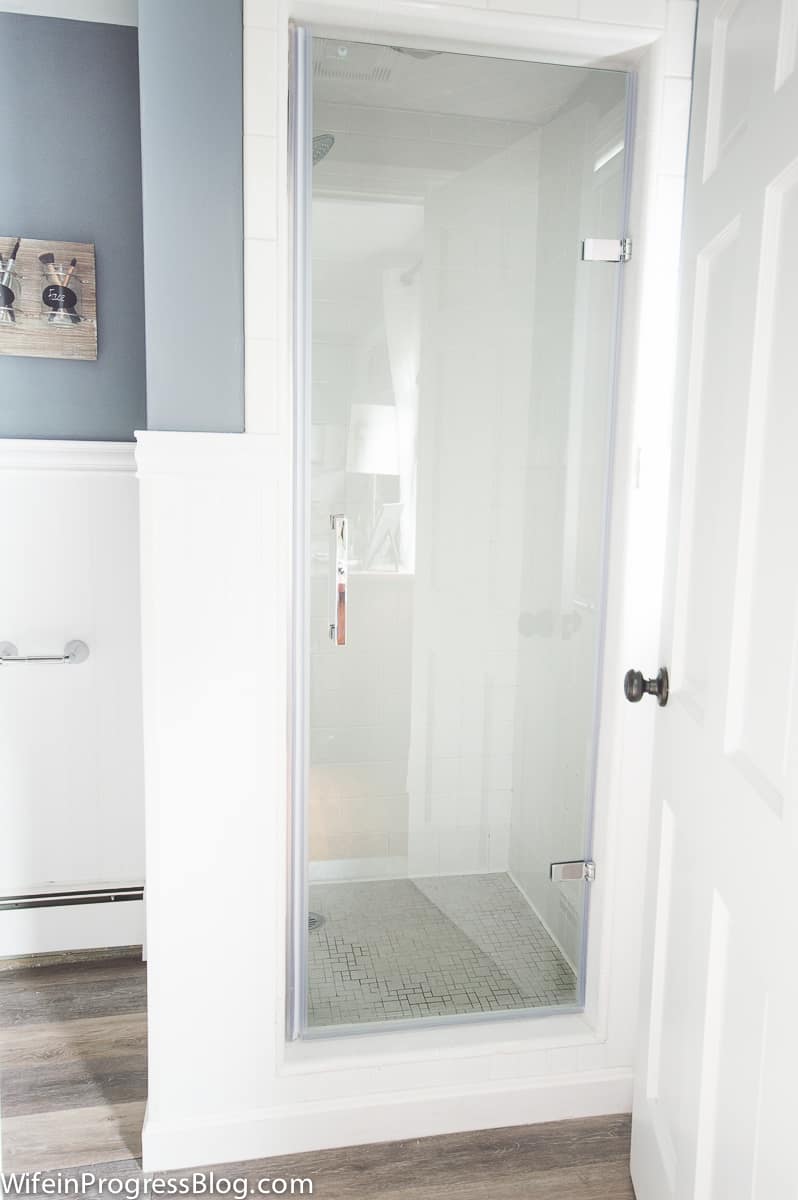 So much better, right? It's so bright, CLEAN, fresh and most of all – functional! I'm thinking this is a pretty traditional, almost kind of coastal look. It's perfect for our New England home and fits in well with the character already existing in the house.
New Marble and Chrome Bathroom Vanity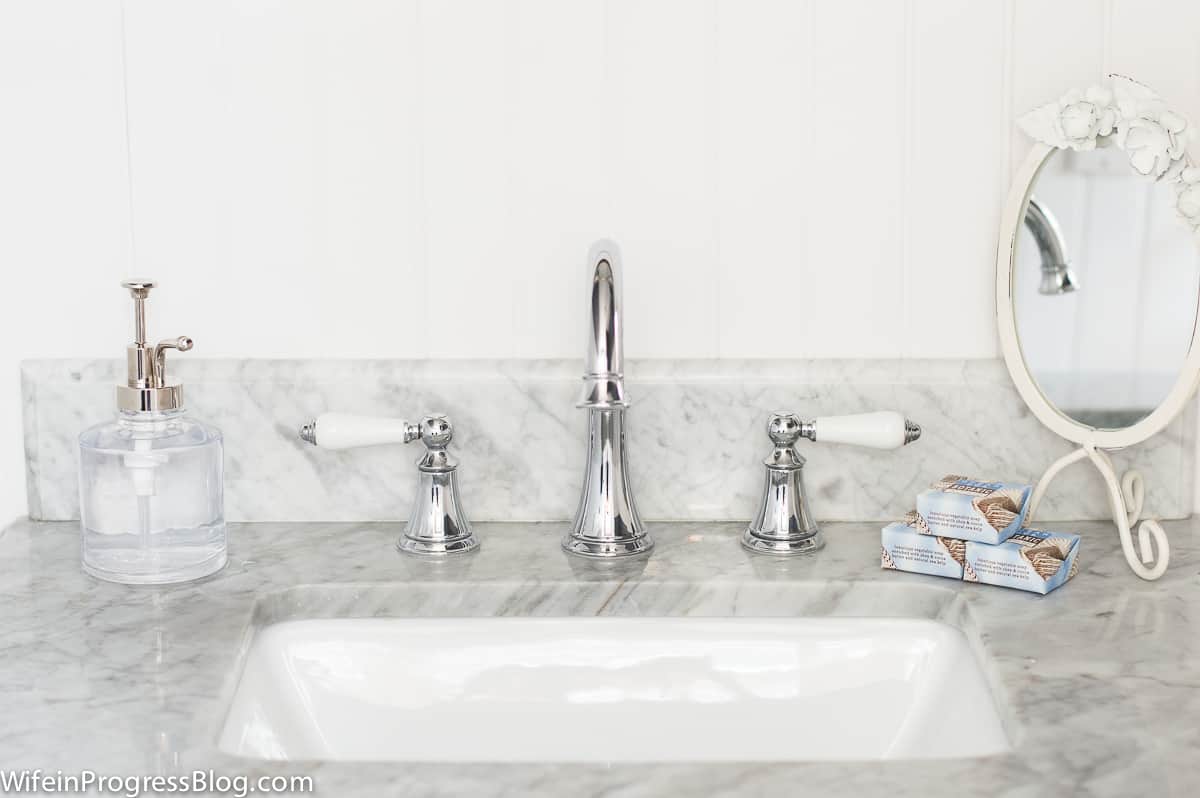 We stuck to a clean color palette of white, marble and chrome and I just adore it.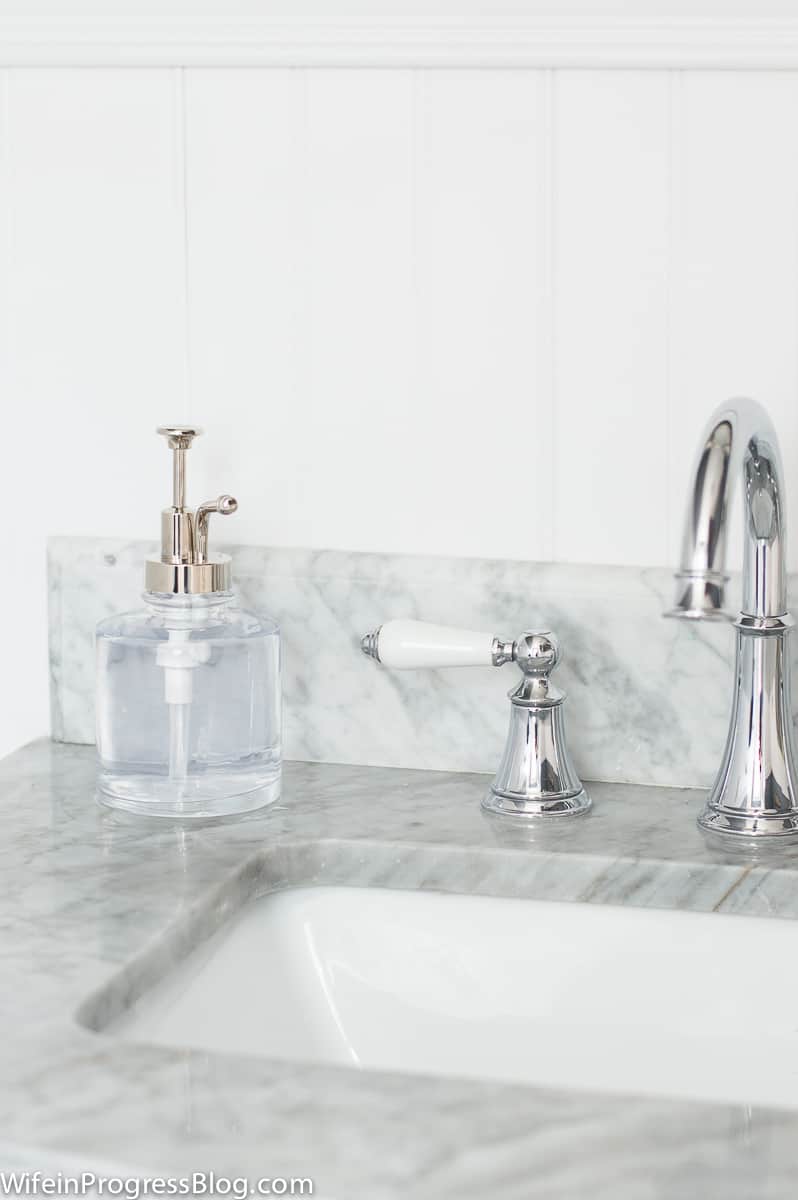 The vanity was a purchase from Lowe's and has a real marble top. It has two functional drawers with plenty of storage for my makeup and other products.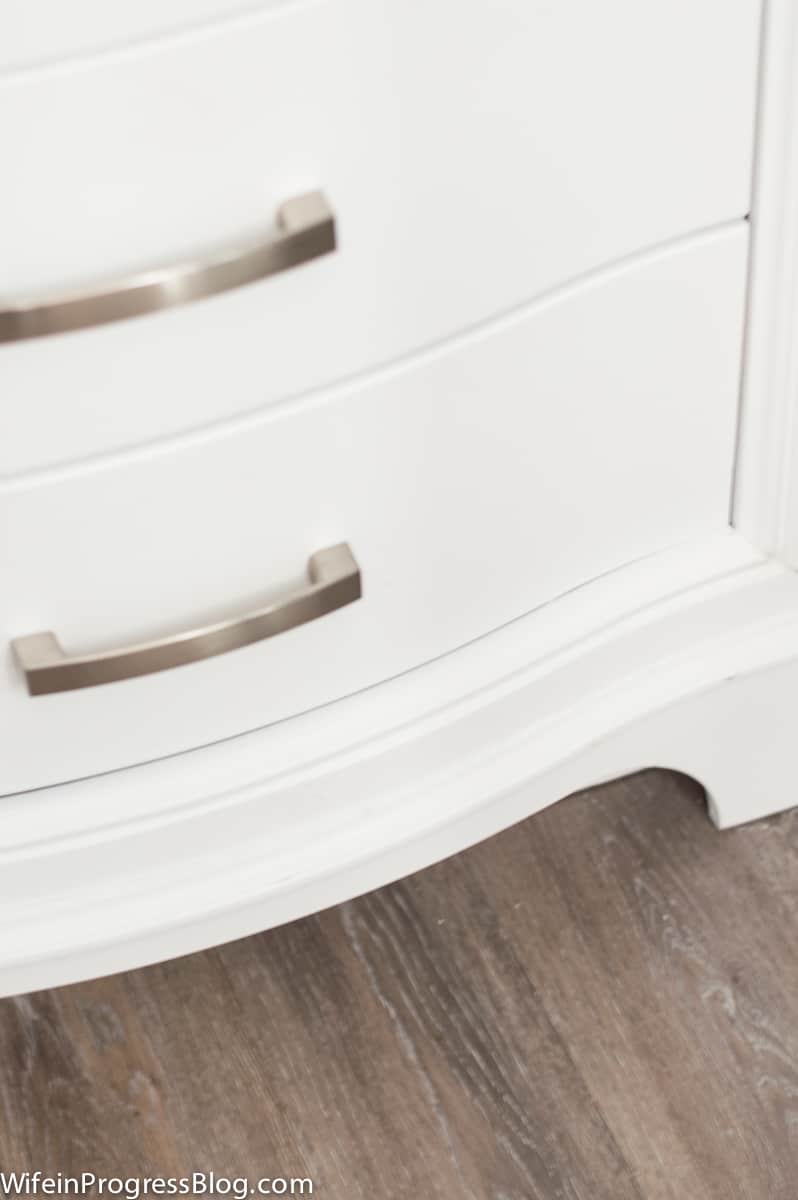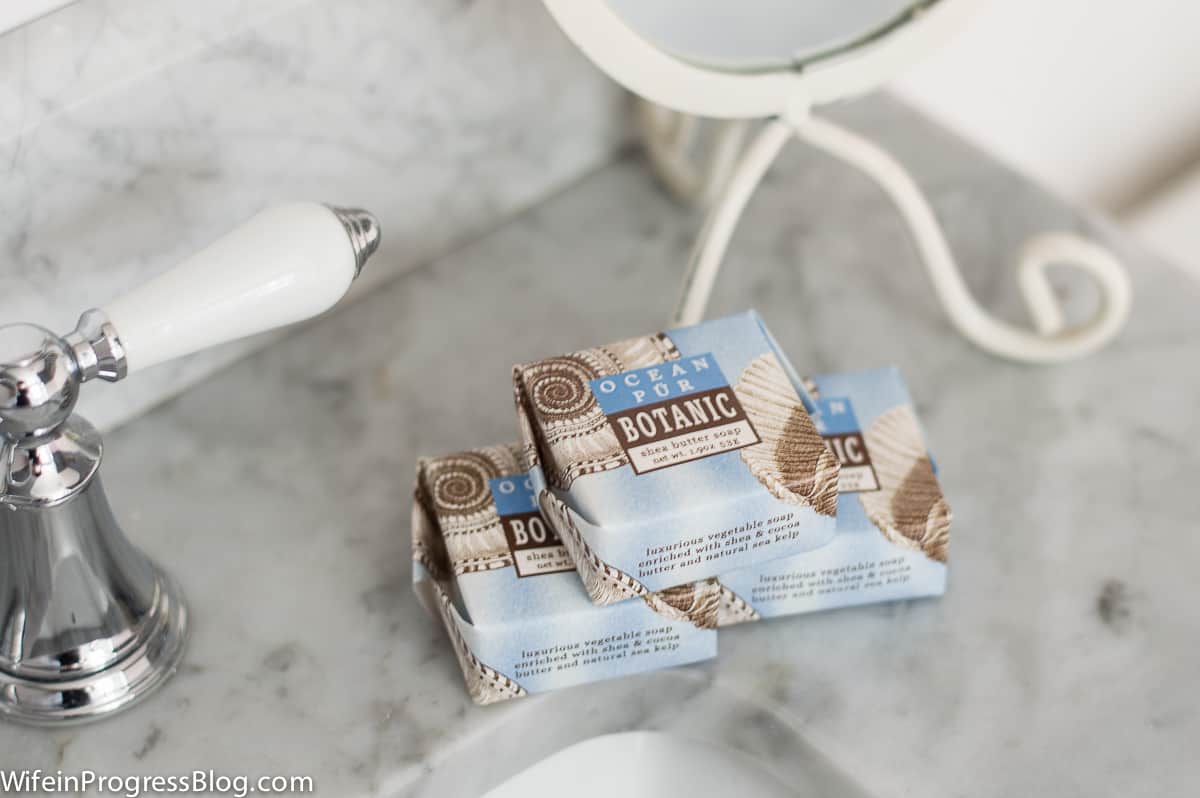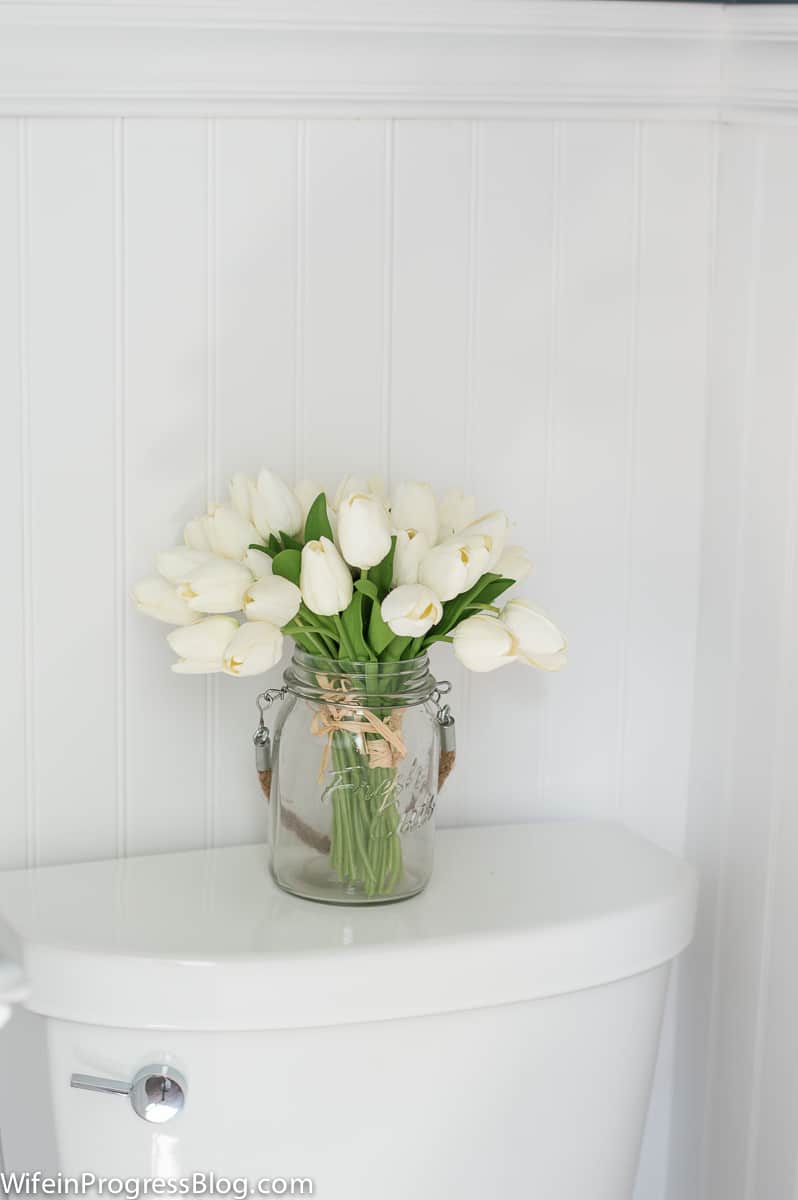 After taking all the old tiles off the wall, our walls were not in good shape. Instead of cutting out the old drywall and replacing it ($$$!), we installed vinyl beadboard directly over it. The vinyl is great because it's moisture resistant, doesn't need to be painted and I can just wipe it down if it ever gets dirty.
Coastal Style Master Bathroom Accessories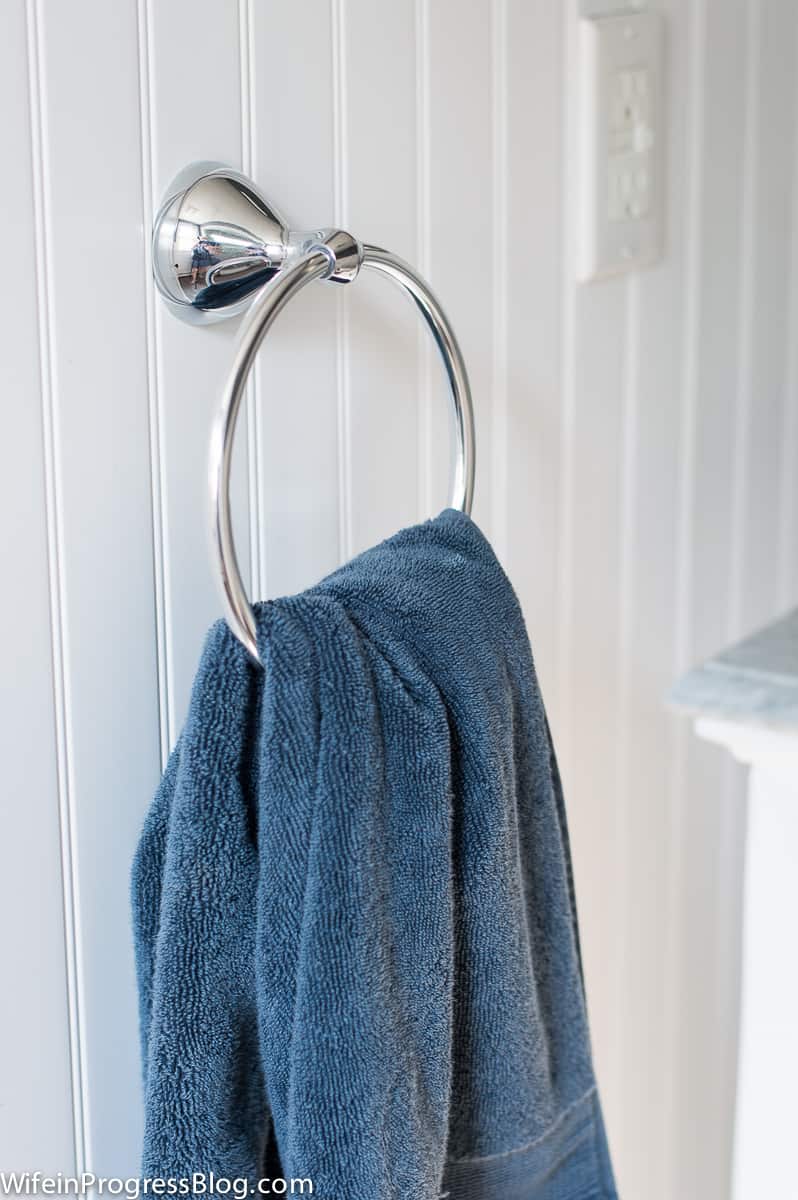 Get all the details on installing the beadboard as well as the flooring here.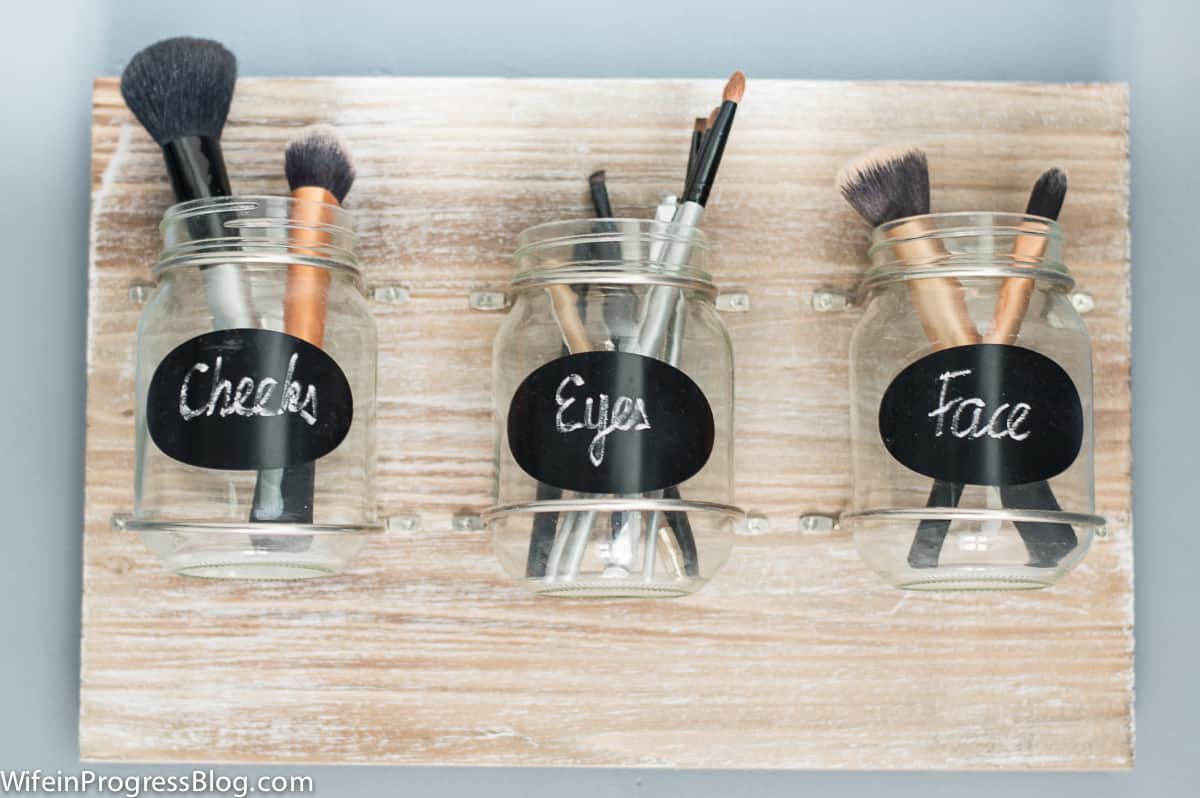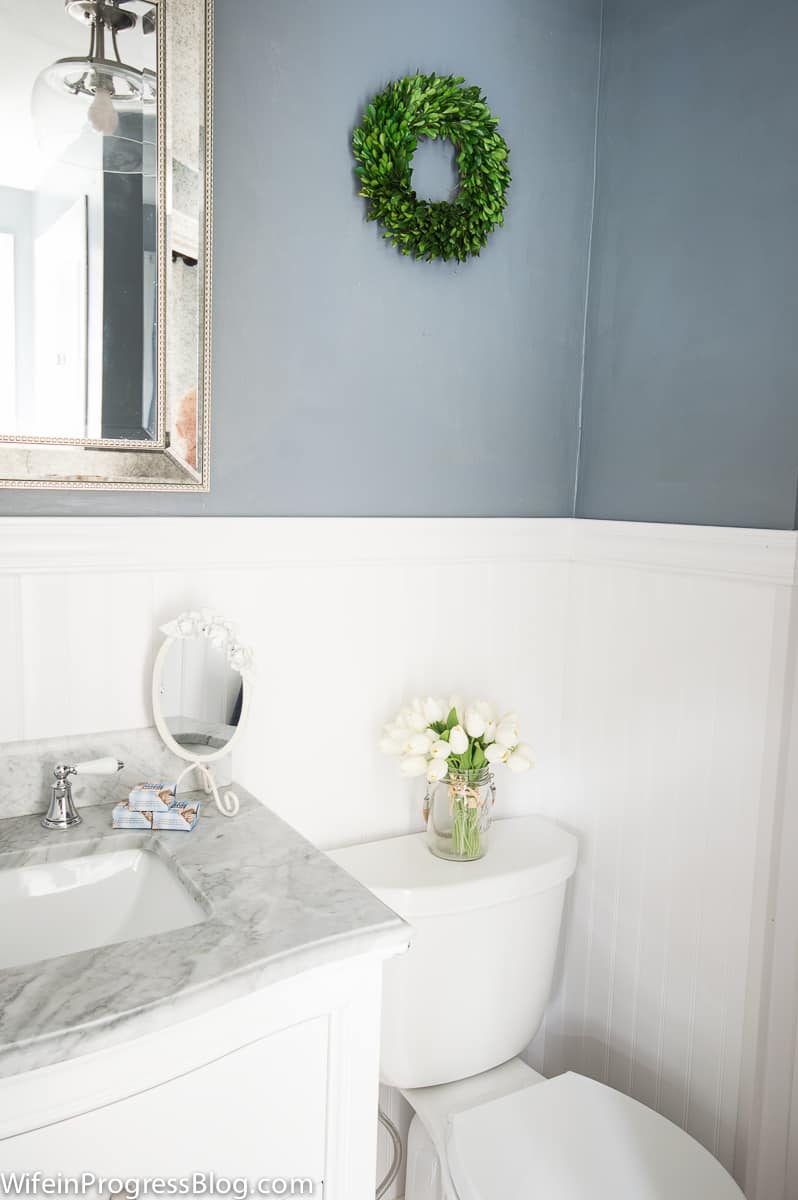 Apart from a few touch ups – I didn't even have to paint this room as I already loved the paint color that I chose when we moved in. It's the same color as our front door, Serious Gray by Sherwin Williams. It's one of those fun colors that looks completely different in the morning to the afternoon. One minute it's gray, the next it's blue. Love it!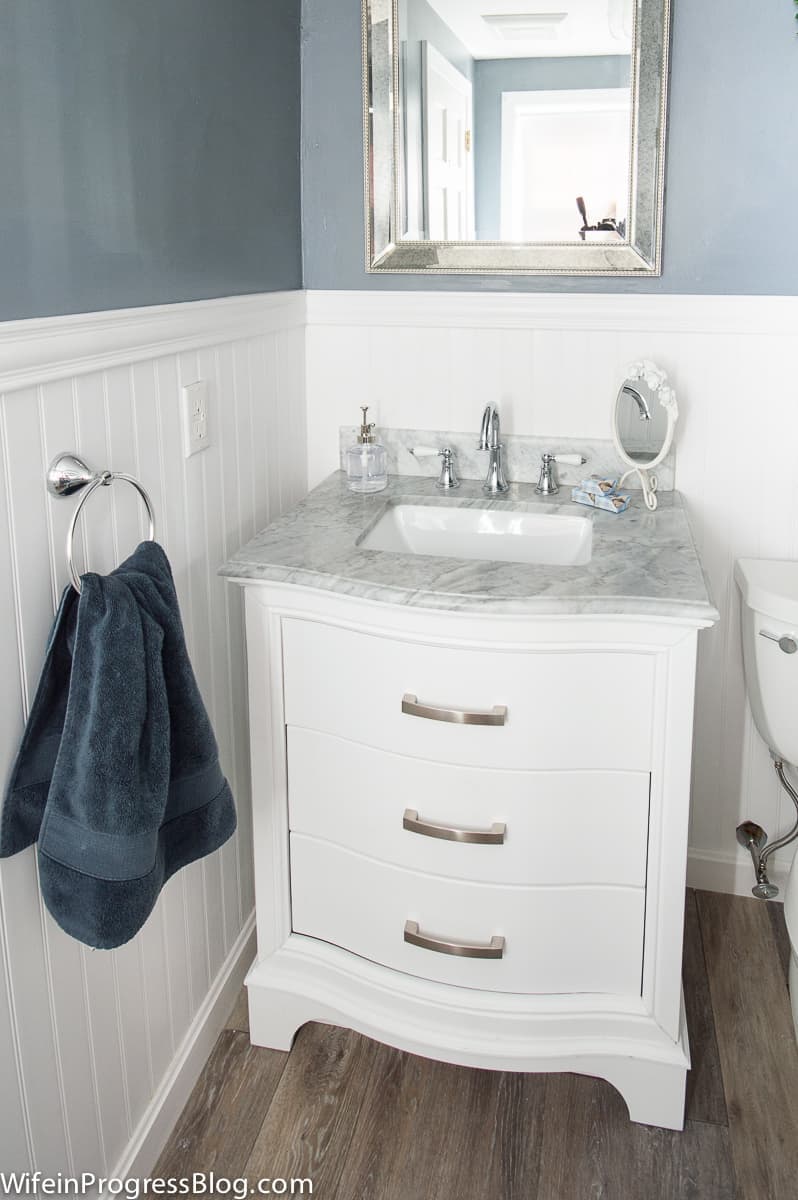 If I had to pick my favorite part, I think it's the shower door. It's a simple frameless door with chrome hardware and it has totally transformed my shower. Now I don't have to look at that stupid shower curtain that kept falling down because it was only hanging on a tension rod. I also don't have to worry about water leaking out of the shower as this door has a nice tight seal.
The nasty yellow/brown grout inside the shower looks much better too. All I did was paint out the grout using some white acrylic paint, let it cure for 48 hours and it looks as good as new!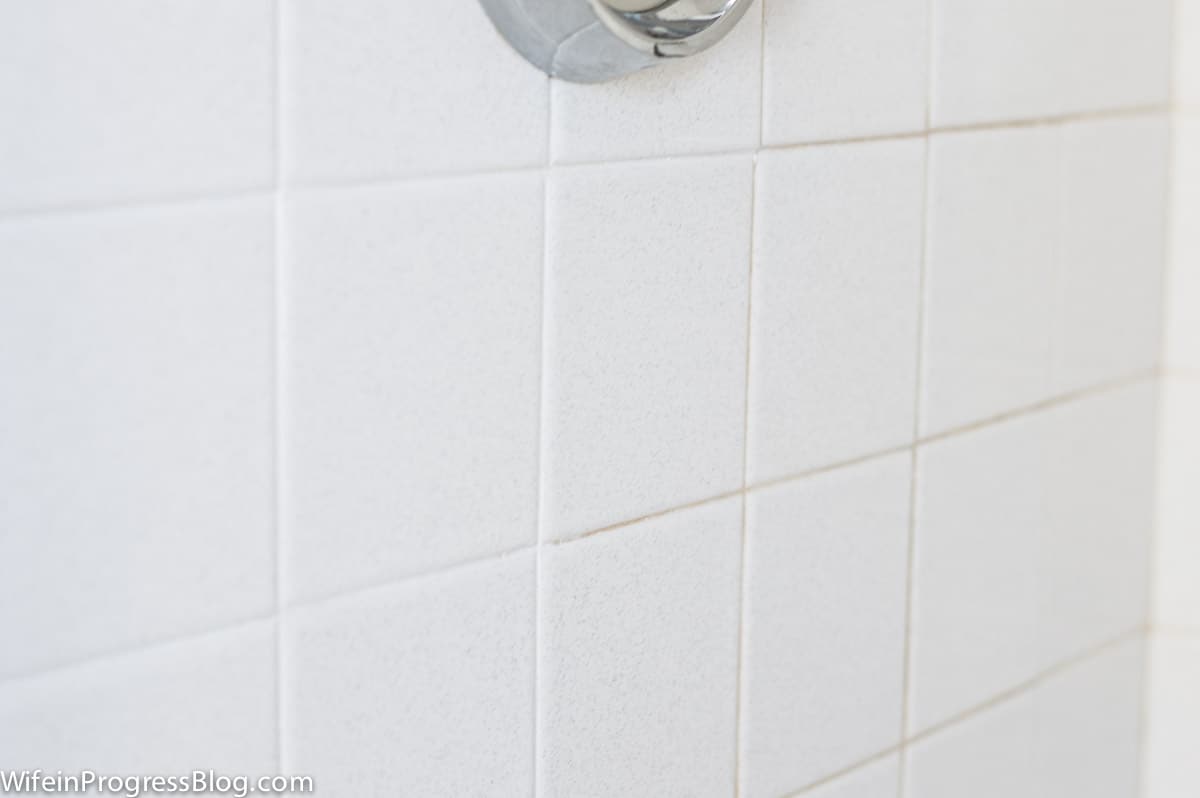 On the left is painted, the right is the old color. Amazing, right?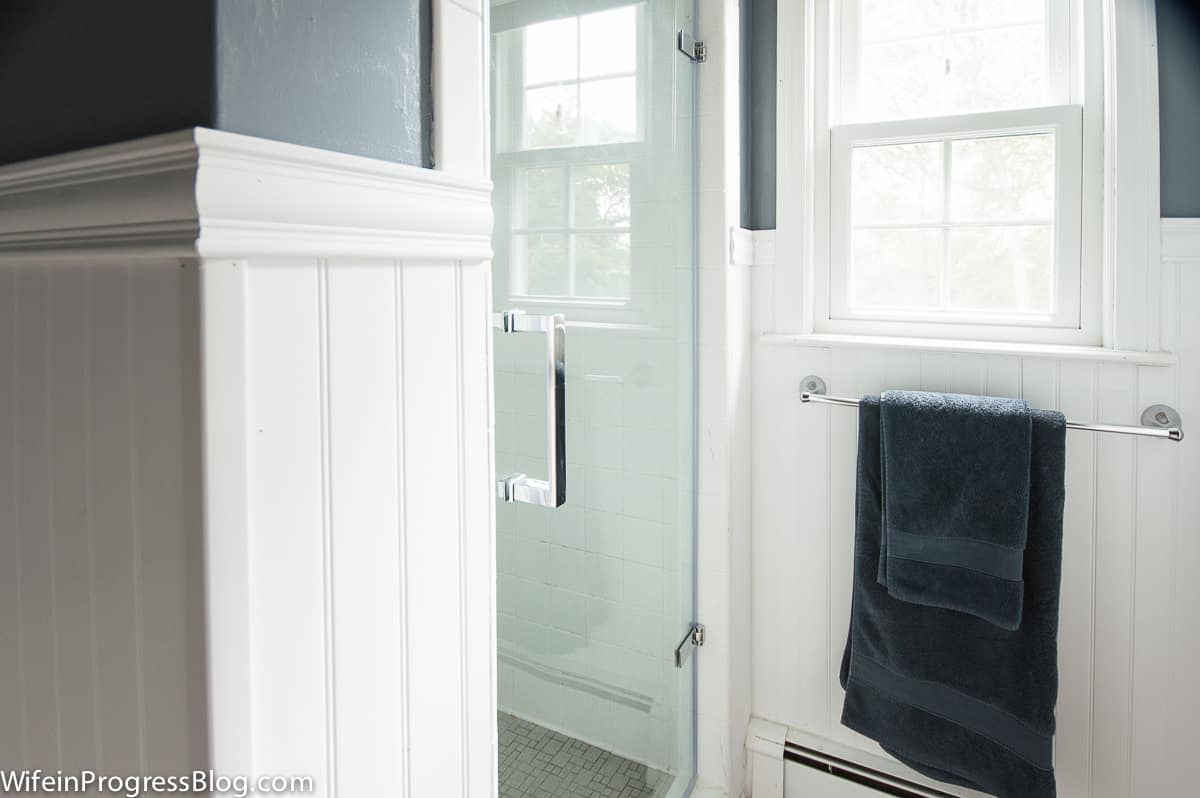 My dad and Brian installed the door right after Conor was born and it was pretty easy. Heavy duty anchors were drilled right into the tile and the door was attached. It seals on the other side thanks to a magnetic catch.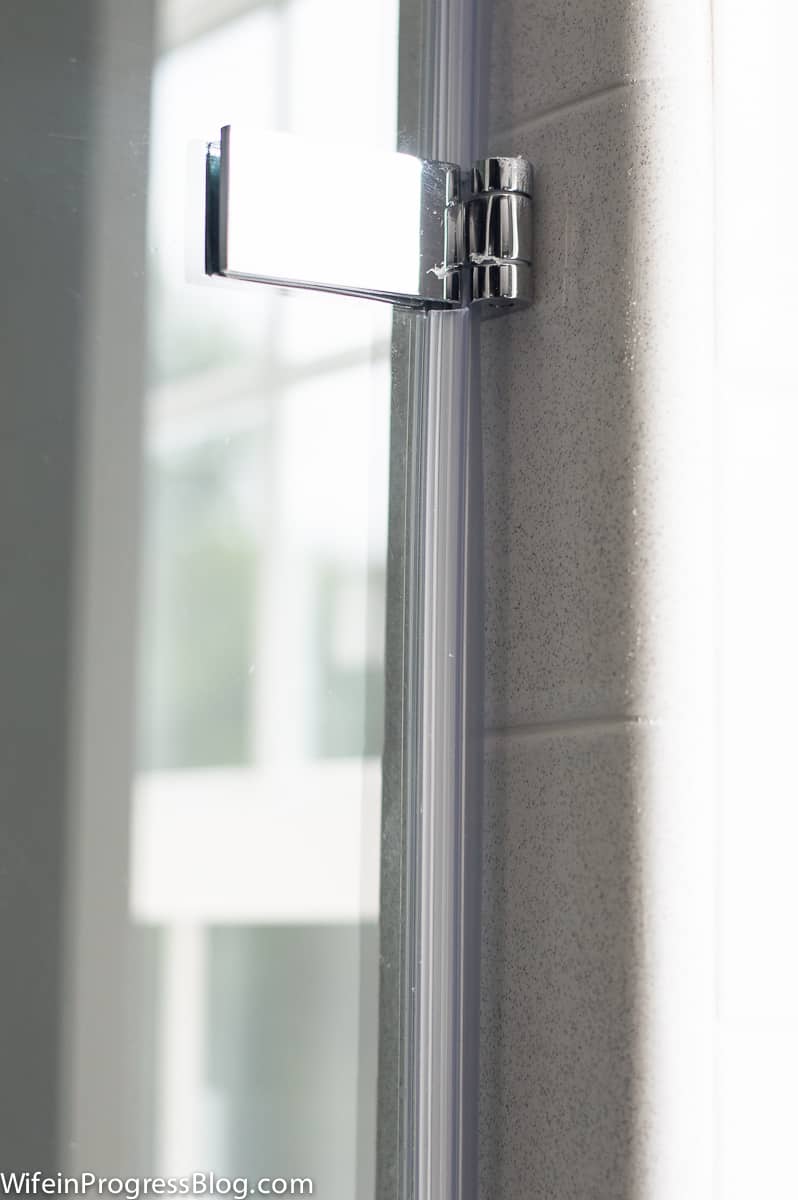 Updated Master Bathroom Vinyl Plank Flooring
My new floors are a close runner up when it comes to favorites. The thought of demo-ing the floor tile and dealing with the same lack-of-subfloor issues that we dealt with in our powder room meant we needed to opt for a waterproof floating floor. The solution? Luxury vinyl plank flooring.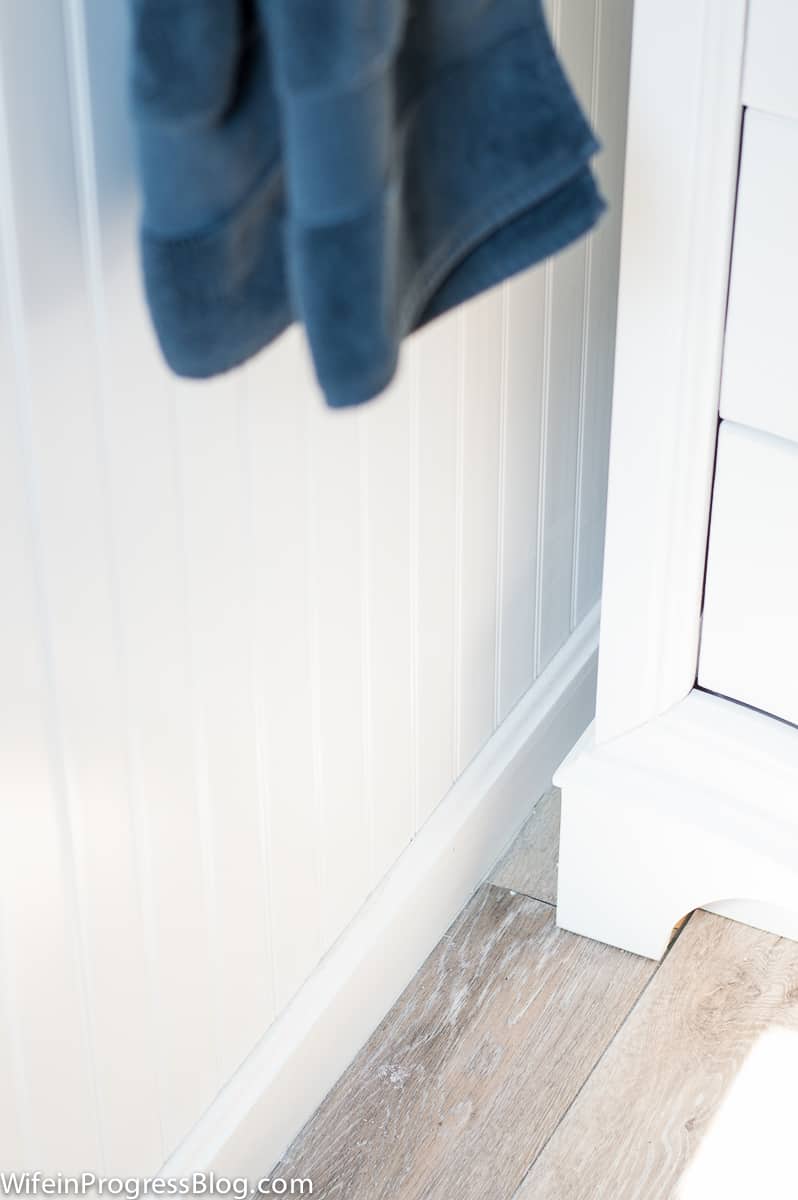 This stuff is a breeze to cut and install and looks amazing! It's really thin so transitions are not an issue and it comes in a ton of different colors. We chose the Stainmaster brand in the color Washed Oak/Dove Gray and couldn't be happier with the end result.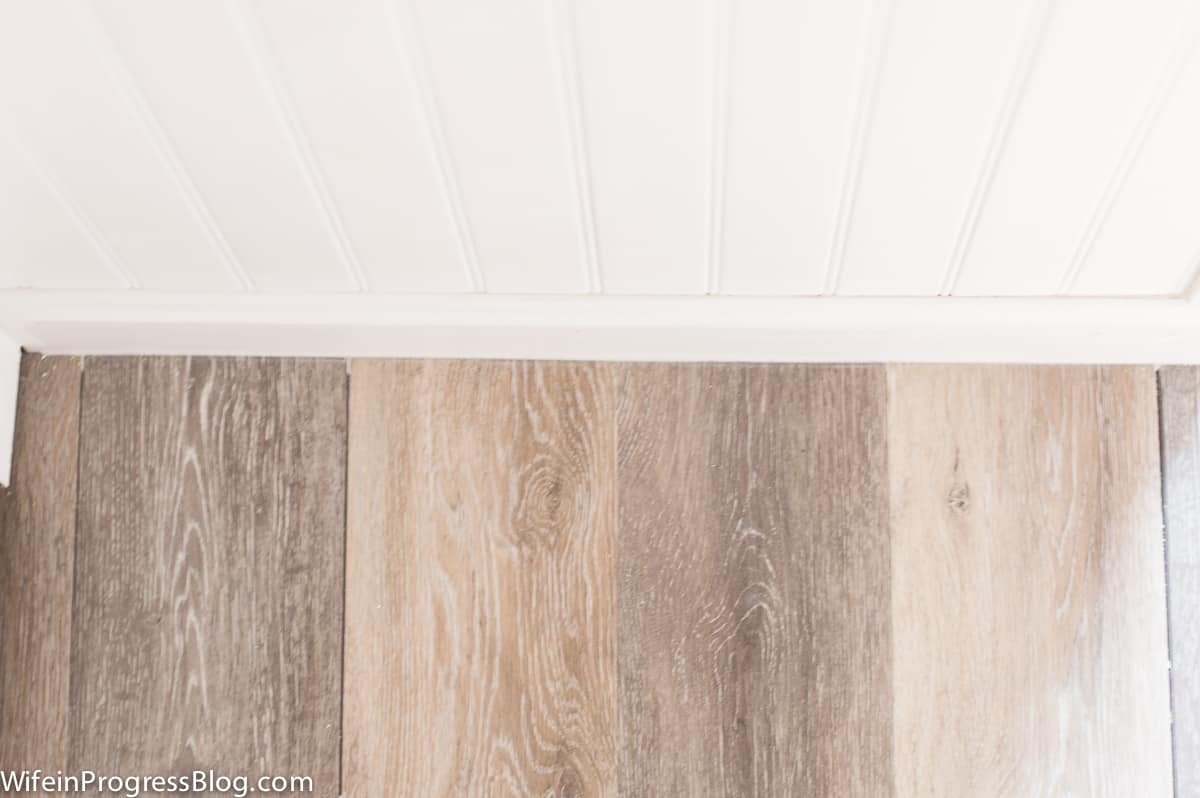 The floating floor is kept in place by baseboard but if you didn't want to pull your baseboards up, you could just add quarter round the entire perimeter of your floor to secure it in place.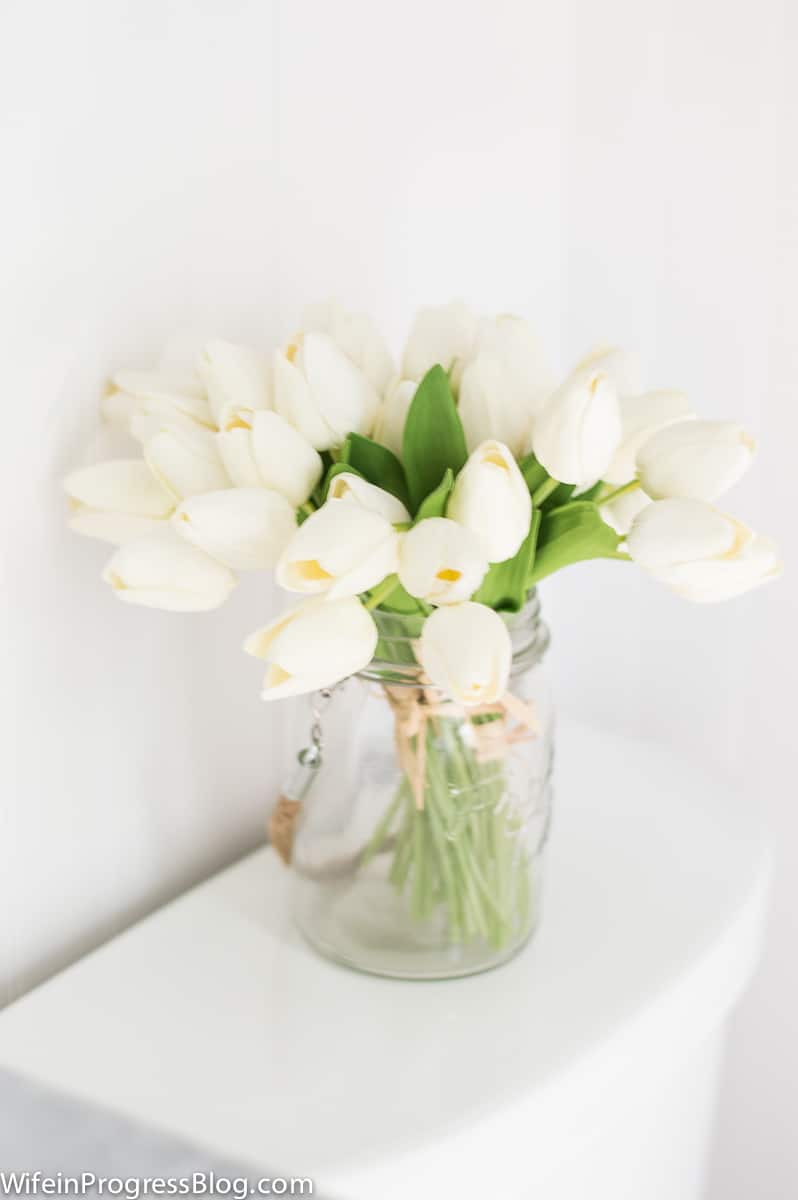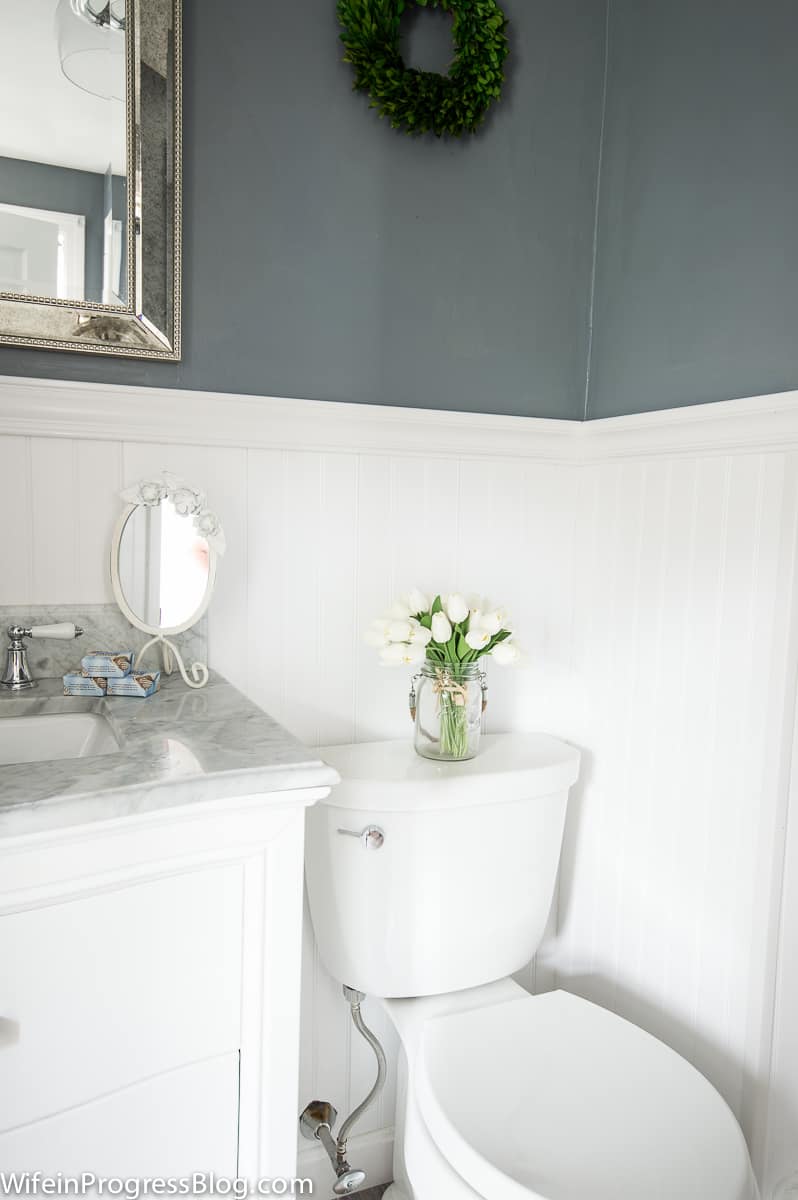 Oh – we got a nice new toilet, too! :-)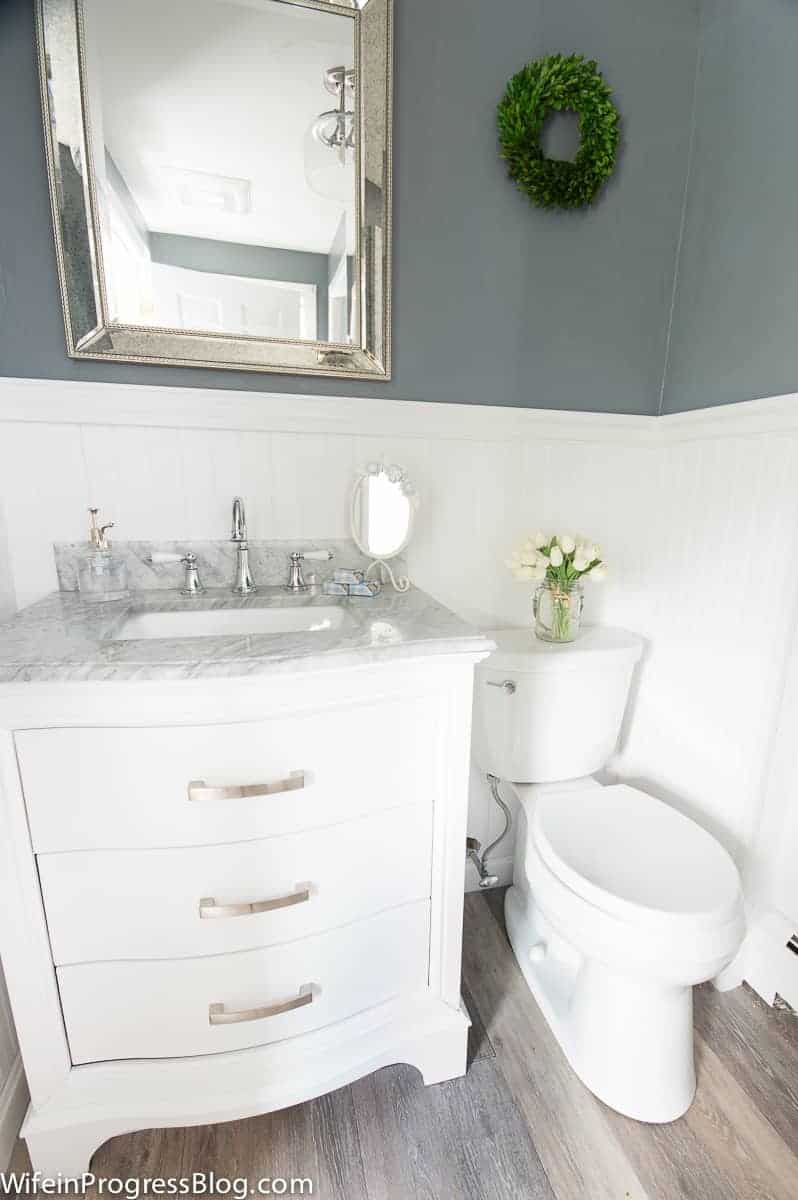 Our New Coastal Style Master Bathroom Update Was Budget-Friendly
Interested in how much everything cost? I'm proof that you can totally transform a bathroom without spending insane amounts of money!
Cost Breakdown
Vanity: $499
Faucet: $79
Toilet: $179
New baseboard: $30
Beadboard & chair rail: $250
Shower door: $315
Light fixture: $69
Bathroom accessories (towel racks, toilet paper holder): $30
Plumber: $250
Total Cost: $1800
Quite the improvement don't you agree? And I'm so happy that we were able to do it all for $1800!