This post may contain affiliate links | For further details, please read our privacy policy
Learn why we chose white quartz countertops for our kitchen remodel, the pros and cons for our busy family as well as the best cleaning tips to keep them looking perfect.
White quartz countertops have become increasingly popular in recent years, thanks to their durability and beauty. If you're currently deciding on countertop options for your kitchen or bathroom, you may be drawn to this versatile material.
But, like any other choice, there are pros and cons to consider when selecting white quartz countertops for your home.
Spoiler: The pros greatly outweigh the cons for my family of 6.
Related: DIY Countertops That Will Blow Your Mind.
What are White Quartz Countertops?
Quartz us an engineered stone, it is not a slab pulled from nature (like marble or quartzite). Quartz is a well-known natural mineral found in various parts of the world, and when combined with resins, pigments, and other materials, it forms a durable and attractive countertop surface.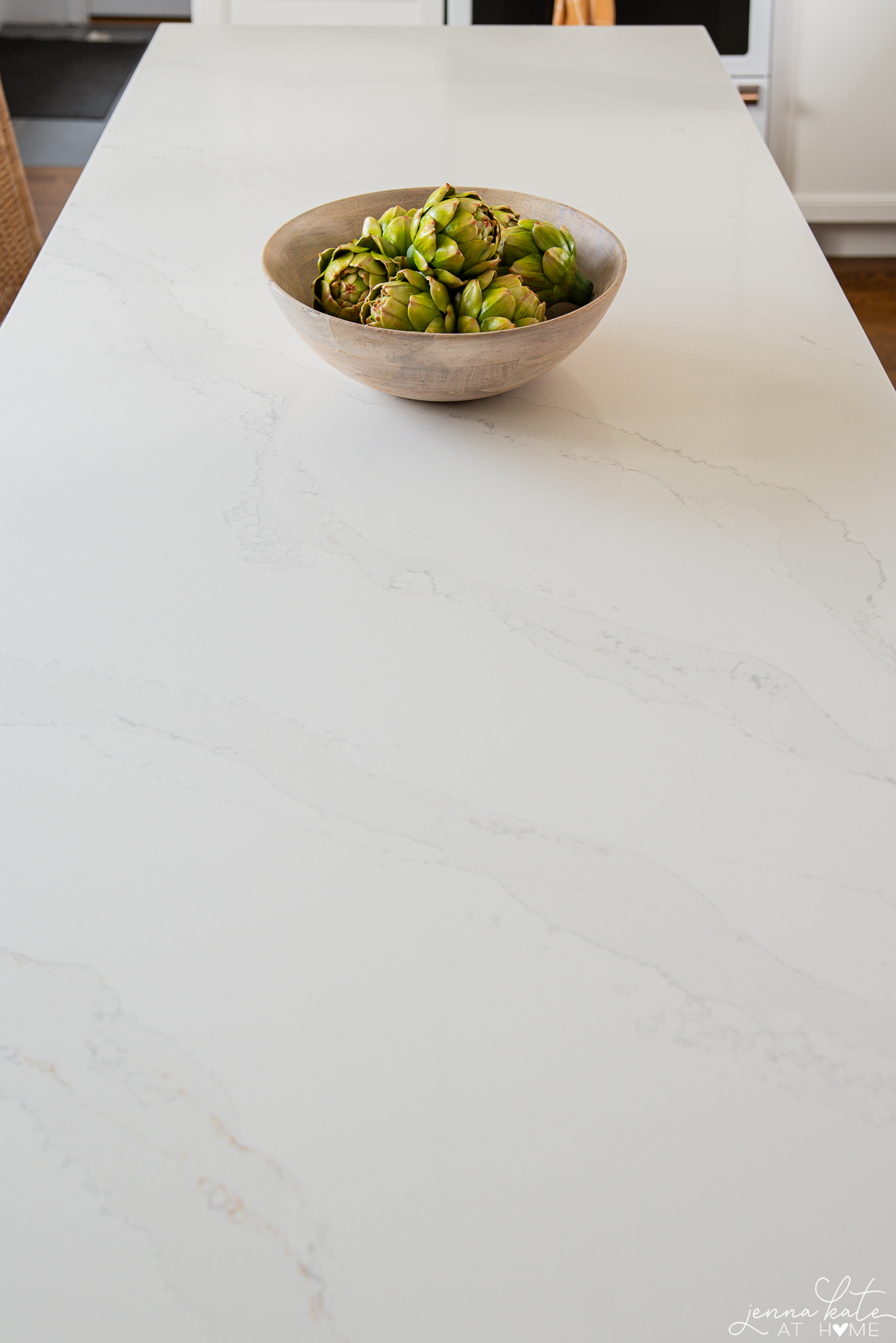 When you choose white quartz countertops, you'll enjoy a clean, stylish look that complements many different design schemes. The white tone is achieved by using fine white pigments during the manufacturing process, which results in a beautiful and consistent appearance.
Because white quartz countertops are engineered, they offer a great deal of customization in terms of patterns and colors, giving you additional flexibility in your design process.
Pros of White Quartz Countertops
Why is white quartz such a popular option for kitchens and bathrooms? Here's several reasons why:
1. Quartz is extremely durable
One of the main reasons you might choose white quartz countertops is because they are very durable. Quartz is harder than many other countertop materials, such as granite and marble, which makes it resistant to scratches, chips, and dents.
I've been told you can cut right on your quartz surface, but I definitely still use a cutting board as I don't want any scratches on the polished finish.
2. Easy to clean and non-porous
Quartz is easy to clean, thanks to its non-porous surface that prevents the growth of bacteria and mold. This also means that it is resistant to staining, ensuring your countertops maintain their pristine appearance for years to come.
3. Consistent appearance
Unlike natural stone, which can have inconsistent patterns and coloring, white quartz countertops offer a consistent, uniform appearance. So if you have your heart set on Calacatta Gold (the quartz I have in my kitchen), you can rest easy knowing that if you pick 3 slabs, they'll all look the same.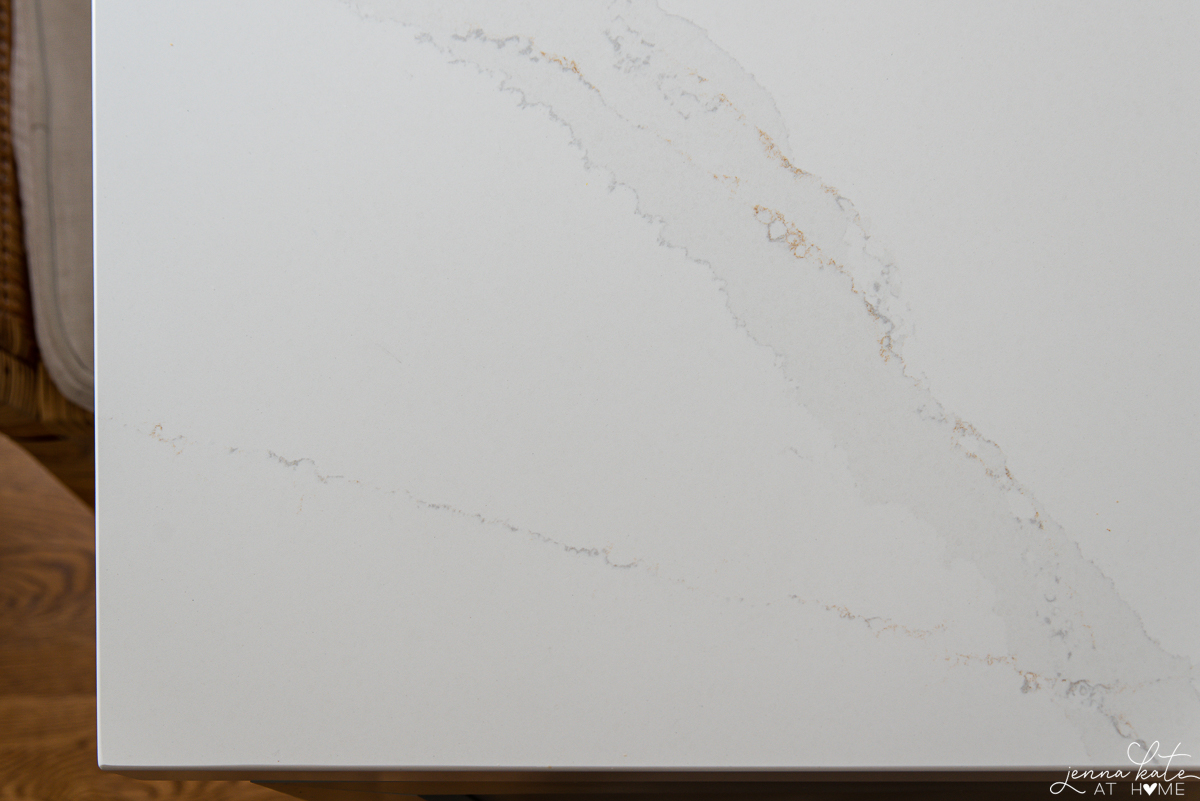 4. No maintenance needed
Unlike natural stone slabs that need to be periodically sealed, quartz has zero maintenance as it never needs to be sealed.
Potential Drawbacks of White Quartz Countertops
Of course, every type of countertops has some drawbacks. Here's a few potential negatives of white quartz:
1. Not high heat resistant
People make this out to be a bigger deal than it is. While you cannot place hot pots directly on your countertop, a cup of hot tea or coffee is just fine. I have always used hot pads or trivets, so this has not been an issue for our family.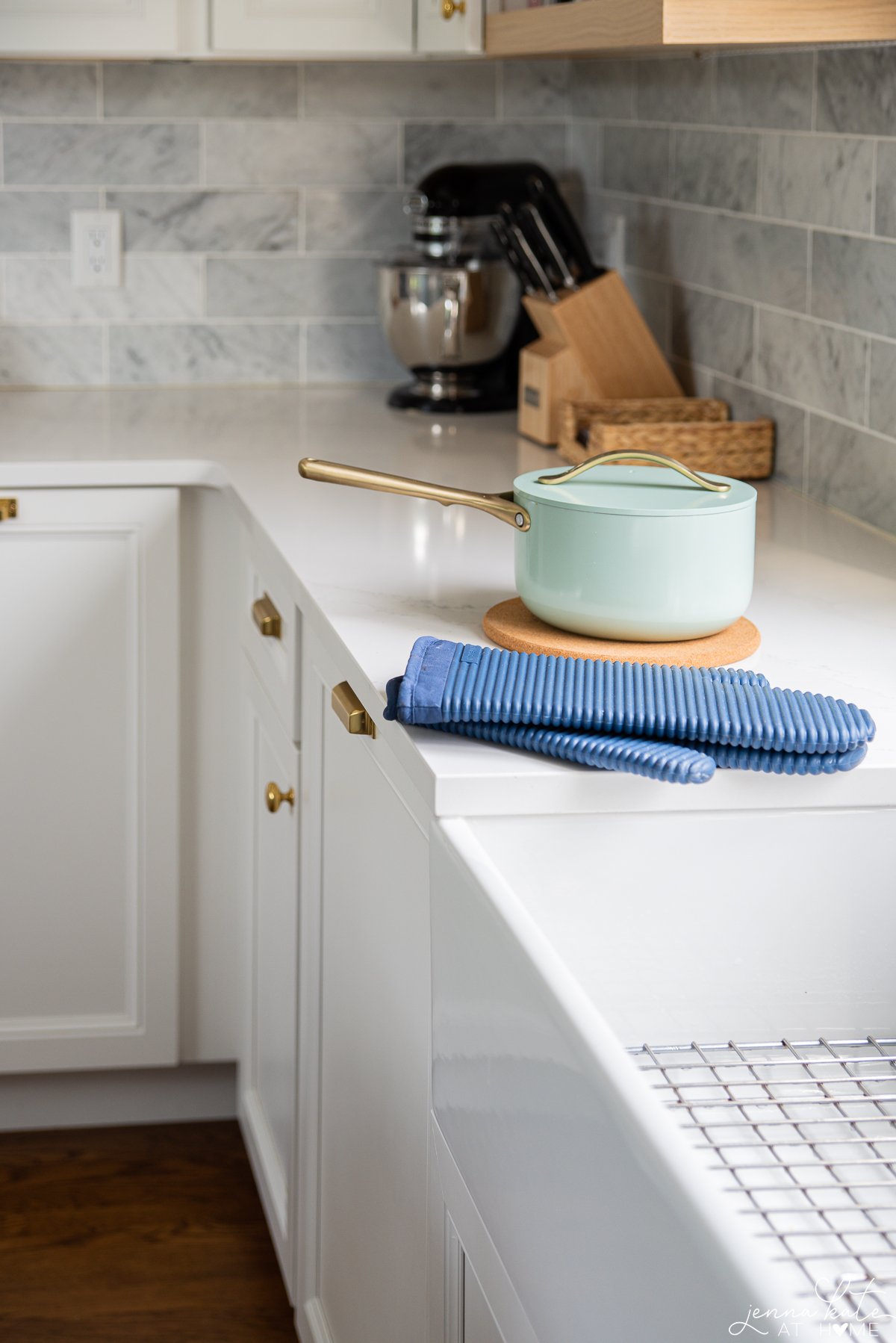 On the other hand, Granite and marble can withstand high temperatures, making them a good option if you feel like you need to be able to put hot pans directly on the countertop.
2. Lack of natural variation
Quartz is an engineered stone, so it doesn't have the same organic variation that natural stone does. If you love natural stone, the uniform look of Quartz may not suit your tastes.
Choosing Quartz Countertops with White Cabinets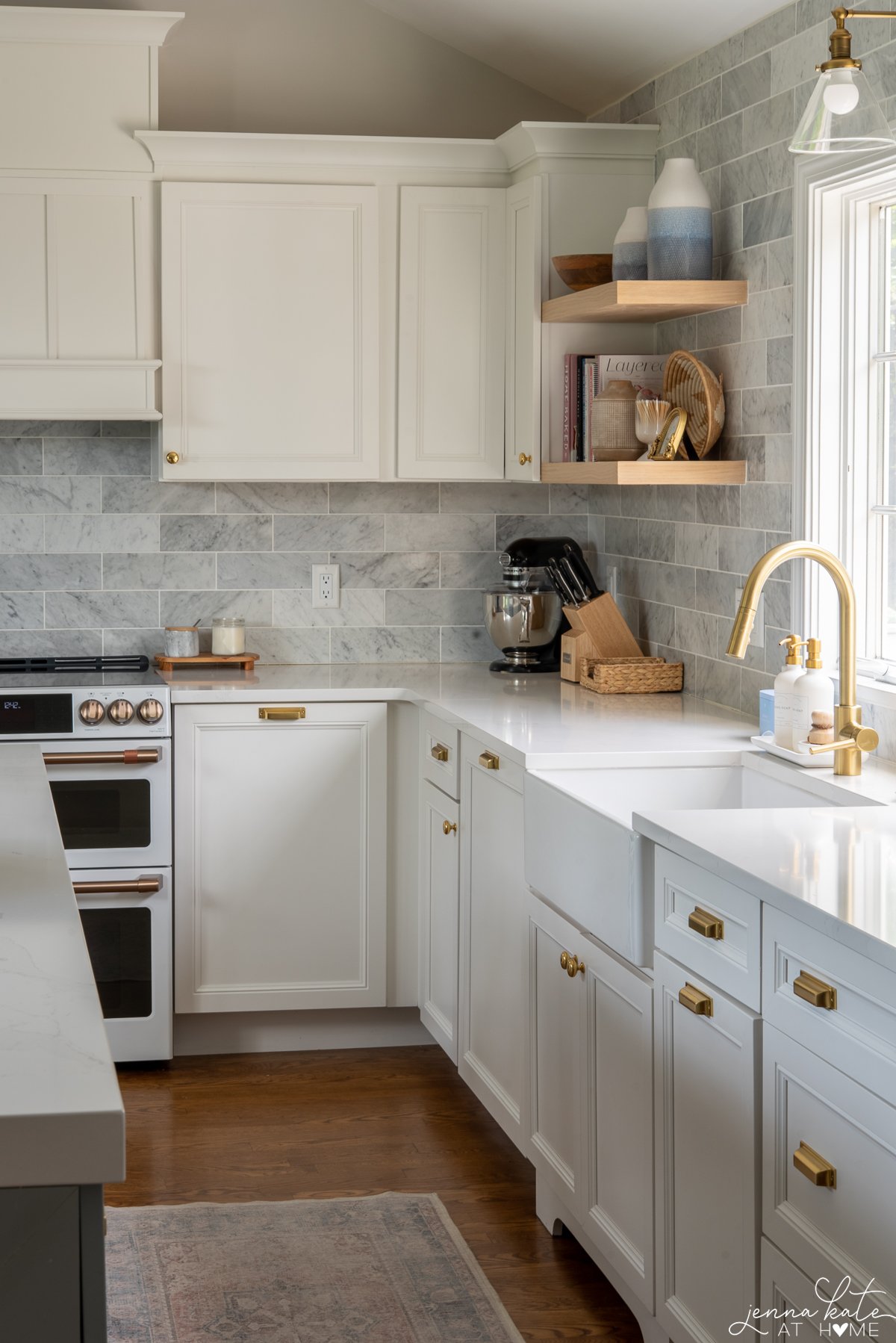 When choosing quartz to match your cabinets, it's important to bring either a cabinet sample to the showroom or bring a sample of quartz back to your kitchen so you can really see how the two shades of white work together.
The quartz we ultimately chose for our kitchen remodel was Silestone Eternal Calacatta Gold. I chose this one because it had soft gray veining that wasn't too dramatic, but also had some warmth (hence the gold in the name) that tied in with some of the warmer aspects in the kitchen.
We used the same white quartz on the perimeter as well as the island, but chose to miter the edges of the island to give it a beefier look.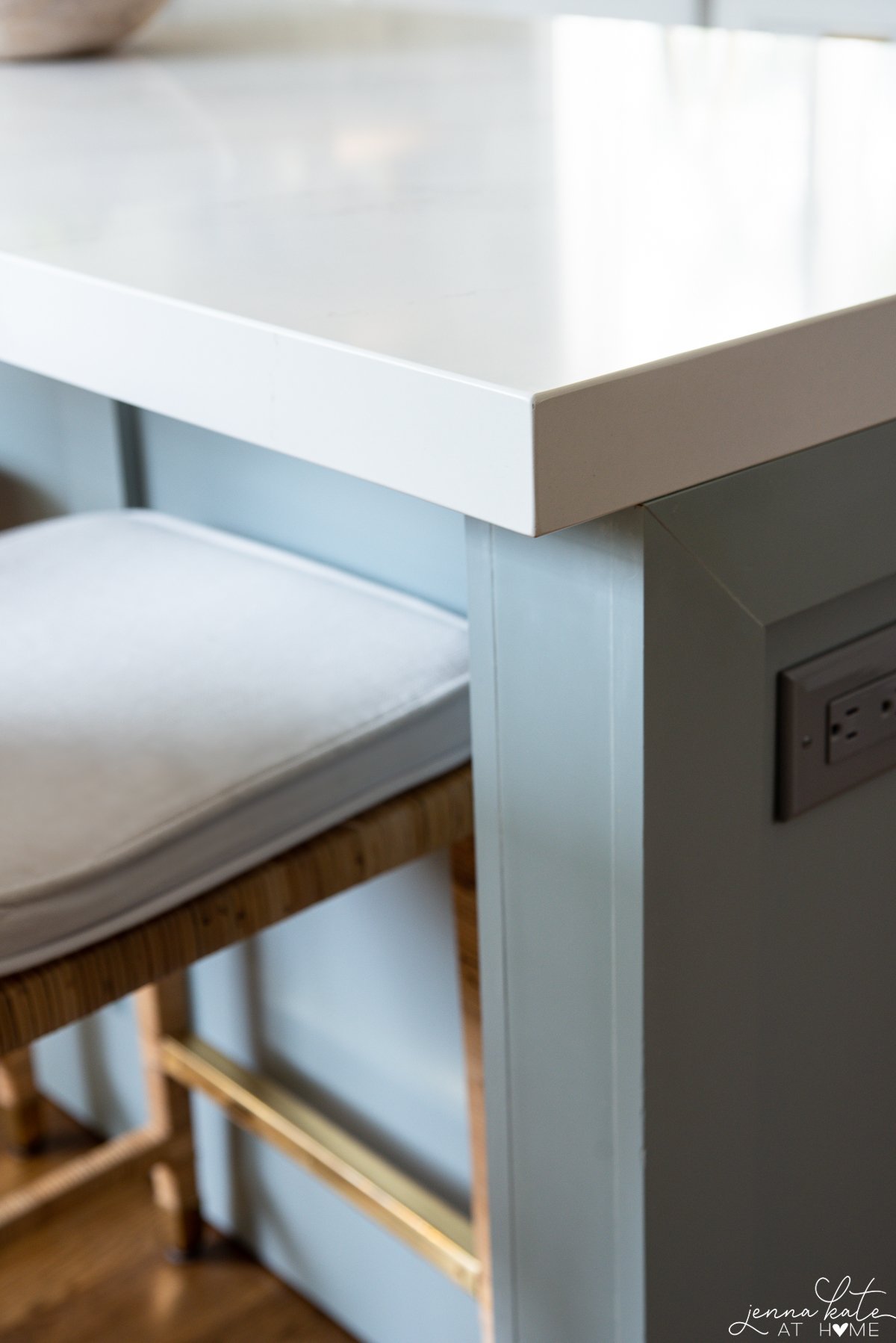 This gives the look of a double thick slab, but it's actually just an edge that's added to give that appearance. It does cost more, but I find that islands look wimpy without it!
How to Clean White Quartz Countertops
Quartz counters are very easy to keep clean. Just wipe down with a damp cloth or paper towel, then buff dry with a soft cloth using circular motions.
You don't need to use any special cleaners, but I choose to clean mine with Force of Nature Cleaner, which is my favorite all surface cleaner for my entire home. It's gentle and safe for Quartz, disinfects like bleach but is safe enough that a baby can eat directly off the surface without rinsing it off.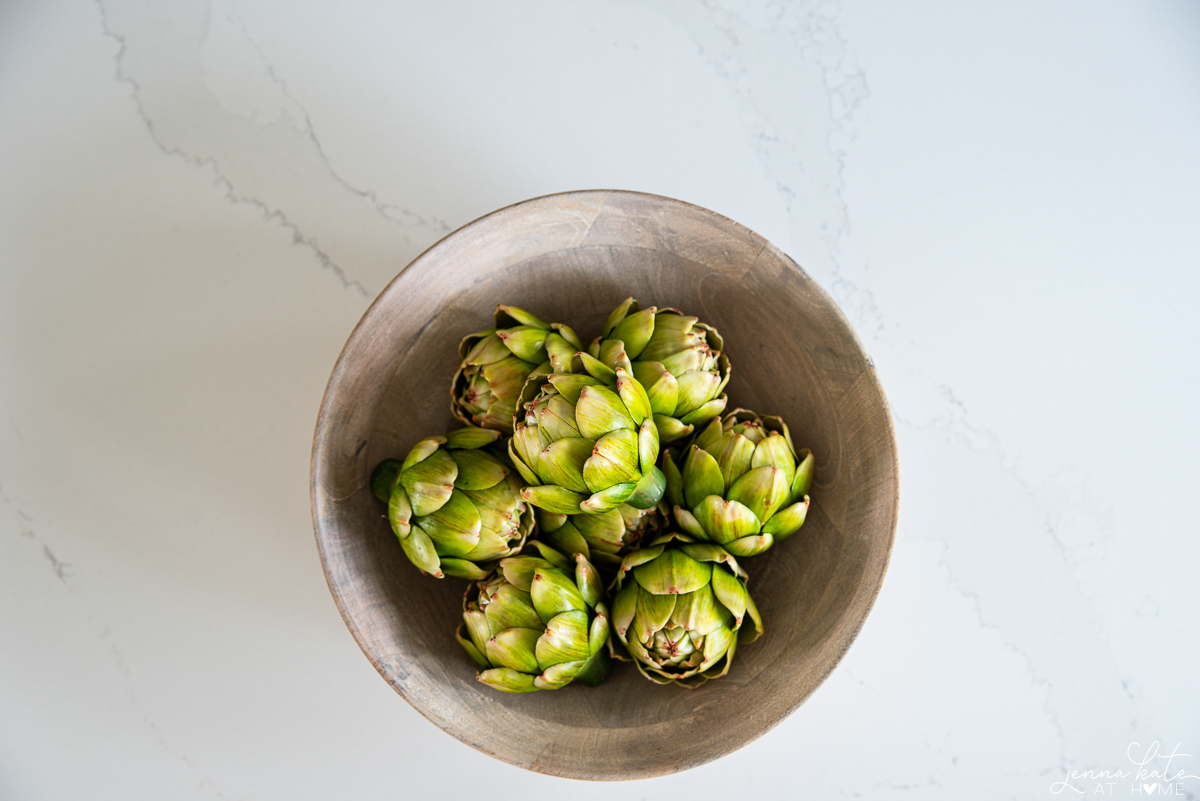 How to Remove Stains From White Quartz Countertops
Most things the drip and spill on quartz will clean right up, as quartz truly is low maintenance. However, in my experience, there's a few things that will "appear" to stain, but just need a little something extra:
Pencil Lead Smudges: My kids use our kitchen island for their homework as well as arts and crafts. As a result, there always seems to be pencil marks. The first time this happened, my trusty all purpose cleaner didn't remove the marks. However, a little sprinkling of Bar Maid's Keeper (or make your own cleaning solution with baking soda & warm water) got the stains right out.
Permanent Markers: I nearly lost my mind when my 4 year old drew with a Sharpie and it went right through the paper onto the island. But, all that was needed was a little isopropyl rubbing alcohol and it came right off.
Don't ever use acidic or abrasive cleaners, and certainly don't use a Magic Eraser, which is basically microfine sandpaper and can cause permanent damage to the finish.
Final Thoughts
Would I choose quartz again? Absolutely! It's not as beautiful as marble, but for a young family who wants a care-free approach to kitchen countertops, quartz was a no-brainer. It has been maintenance-free and 2 years in it looks exactly the same as the day it was installed.