This post may contain affiliate links | For further details, please read our privacy policy
Looking for a fun new halloween craft idea? Look no further than a mummy mason jar luminary! This simple DIY project is perfect for kids and adults alike, and requires only a few basic craft supplies found at the dollar tree. With just a few simple steps, you can create spooky and festive halloween lanterns that are sure to impress.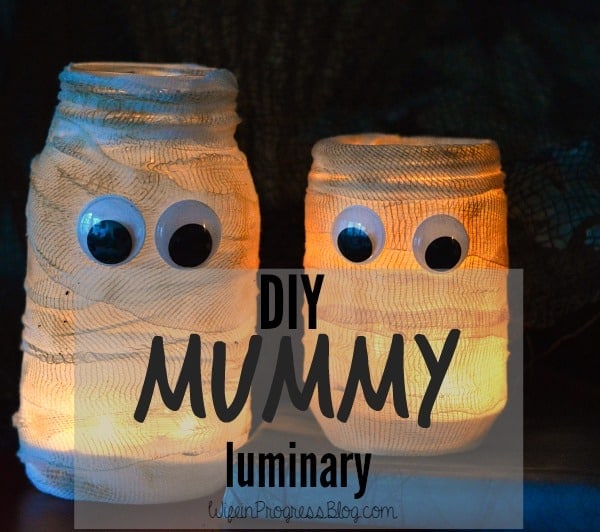 Happy Halloween
Since I was a kid, I've loved Halloween. My birthday is November 1st but I would always try to celebrate it on Halloween with a big "fancy dress party" (also know as a costume party!).
Costumes in Ireland in the 1990's usually had to be handmade and inevitably I dressed up as a witch every year. How did I make my costume? A black trash bag and a witches hat made from craft paper of course. I've always been inventive and crafty :-)
I still adore Halloween. I'm less about costume parties and more about fun decorations and horror movies these days. Although, and you're going to be all heart eyes and giggles when you see this – Cian is dressing up as a lobster for his first Halloween. A LOBSTAH, KID! I'm dying already. haha
Last week, while perusing costumes on Pottery Barn Kids, I took a look at their Halloween decor and came across their Gauze Mummy Luminaries. They're cute but who pays $24.50 for a mason jar with some gauze wrapped around it? Pffft!
Instead, I made my own and they turned out adorable. Plus, your kids will love being creative and participating in some fun halloween crafts! You'll be itching to try this easy project in no time.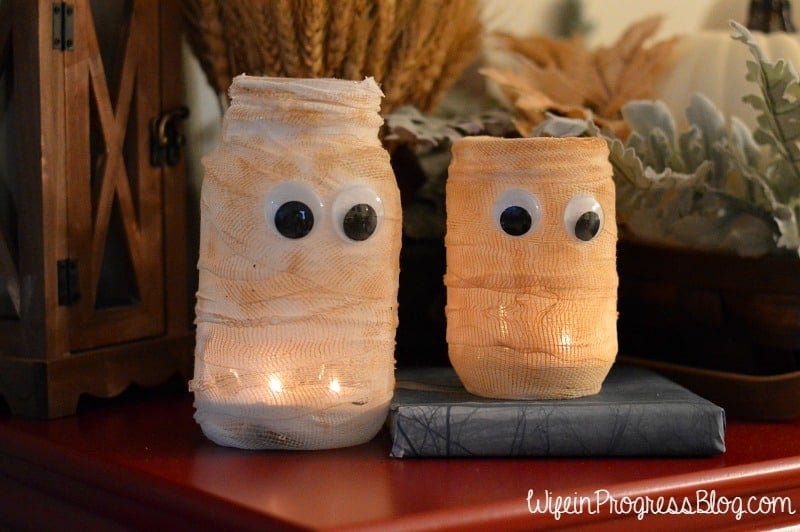 What You Will Need:
To make a mason jar mummy luminary, you will need a few materials that are easy to find. Let's dive into what you need to make these DIY halloween luminaries!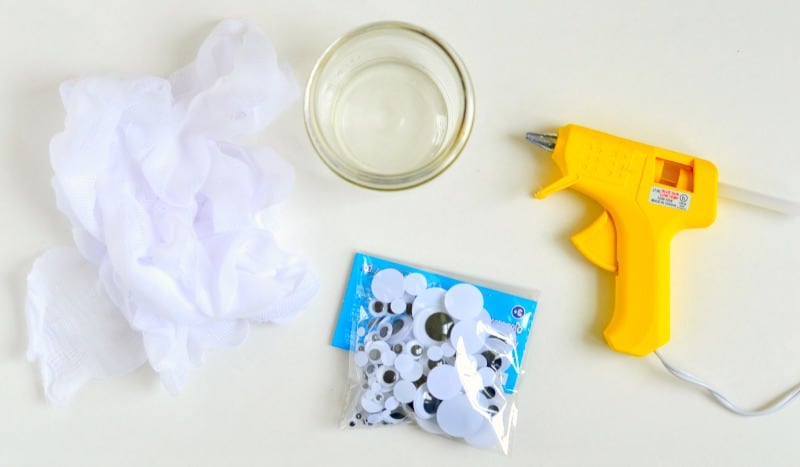 The first thing you need to do is select a mason jar that you want to use for your luminary. You can use any size of jar, but a quart-sized jar is what I'd recommend. Make sure that the jar is clean and free of any labels, stickers, or residue.
Also consider how many bandages you might need to cover the entirety of the jar if you opt for a larger size mason jar. Pay attention to the color of the jar as well, since not all mason jars are clear. However, any empty glass jars will work as long as you are up for the challenge!
If you don't have bandages, you won't have a mummy luminary! You can use any type of bandages, but gauze bandages work best.
White bandages would give the traditional mummy look, but you can certainly spice things up and use a colored bandage.
Any hot glue gun will work, but if you're letting the kids help out with this project, be sure and supervise! Hot glue or even glue dots would work in securing the bandages to the mason jar.
For a more subtle look, opt for smaller googly eyes. For a goofy, bubbly mummy the bigger eyes are perfect. You won't need many, just enough to form a pair of eyes on each mason jar.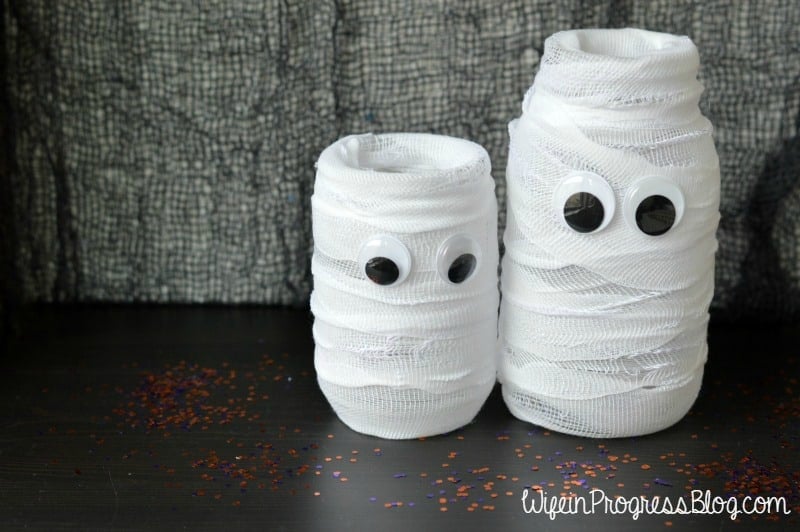 Of course, you'll place tea lights or a small candle at the bottom of the mason jar to sparkle through the halloween night! Opt for a flameless candle if you'll be leaving it unattended to go trick or treating or leaving it next to the front door.
Step-By-Step Guide
Stretch out the end of the gauze and pull some of the fibers apart to give it an old and worn look.
Glue the first piece of gauze to the bottom rim of the mason jar. Tightly wrap it around the jar, from the bottom upwards. You'll want it to have a mod podge look – don't overly perfect it! It's importantly to wrap it tightly so that the gauze stretches out and becomes semi transparent.
When you get to the top, tuck the end of the gauze under a wrapped piece. If you've pulled it tightly enough it should stay. You can also add another dab of glue.
Hot glue the eyes on.
At this point you can stop or you can go one step further to make the gauze look really old and yellowed like a mummy – tea stain it. Run a teabag under some hot water and dab it onto the gauze. Rub it in with your fingers to help smooth the color out.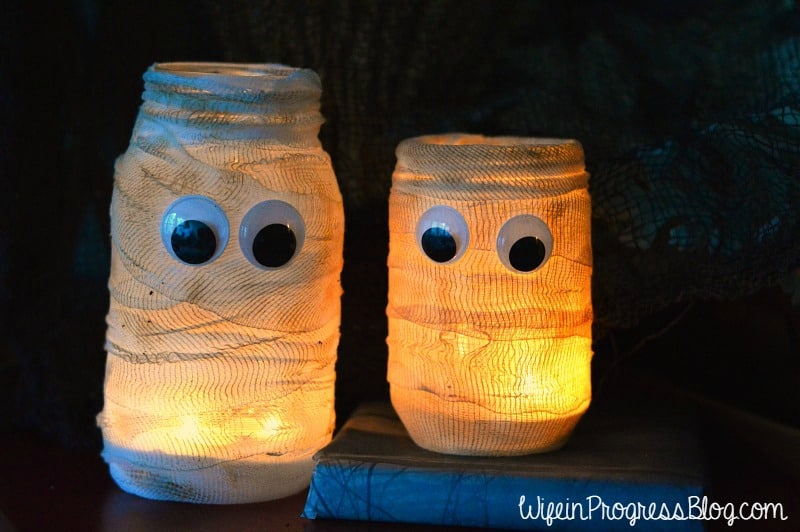 Creative Variations
Once you've mastered the basic steps of making a mason jar mummy luminary, it's time to get creative and experiment with different variations.
Here are a few ideas to get you started:
1. Play with Colors
You can switch out different color gauges, mason jars, and googley eyes. This will bring character to your mummy and allow your kids to let their creative juices flow. Take a whimsical approach and mix and match colors throughout your time making mummies.
Create a dark and spooky black mummy by using some black paint along the gauge. For a cheerful mummy, use orange acrylic paint to resemble classic fall colors.
2. Size Differences
Not all DIY Halloween luminaries need to look the same! Experiment with large glass jars, miniature jars, and petite mason jars. Especially if you will be arranging them together, the height differences will enhance the texture and tone of the display.
3. Experiment with Different Bases
Who says you have to use a mason jar? Utilize different containers – like vases or bowls. You can have fun creating mummy luminaries with a variety of bases! This is an easy way to create a centerpiece for your Halloween table, too.
Final Thoughts
Once you have finished making your Mason Jar Mummy Luminary, be sure to display it in a prominent place where everyone can see it. You can use it as a centerpiece at your Halloween party, or simply place it on a shelf or table for a spooky touch. And when Halloween is over, you can store your mason jar mummy luminary away and bring it out again next year.
We hope you have enjoyed learning how to make a mason jar mummy luminary. This is just one of many fun and easy craft projects that you can do at home to spruce up your Halloween decorations.
Why not try some of our other craft tutorials and unleash your creativity today!