Spring is a wonderful time to refresh your bedroom and add a few 'trendy' touches to your home.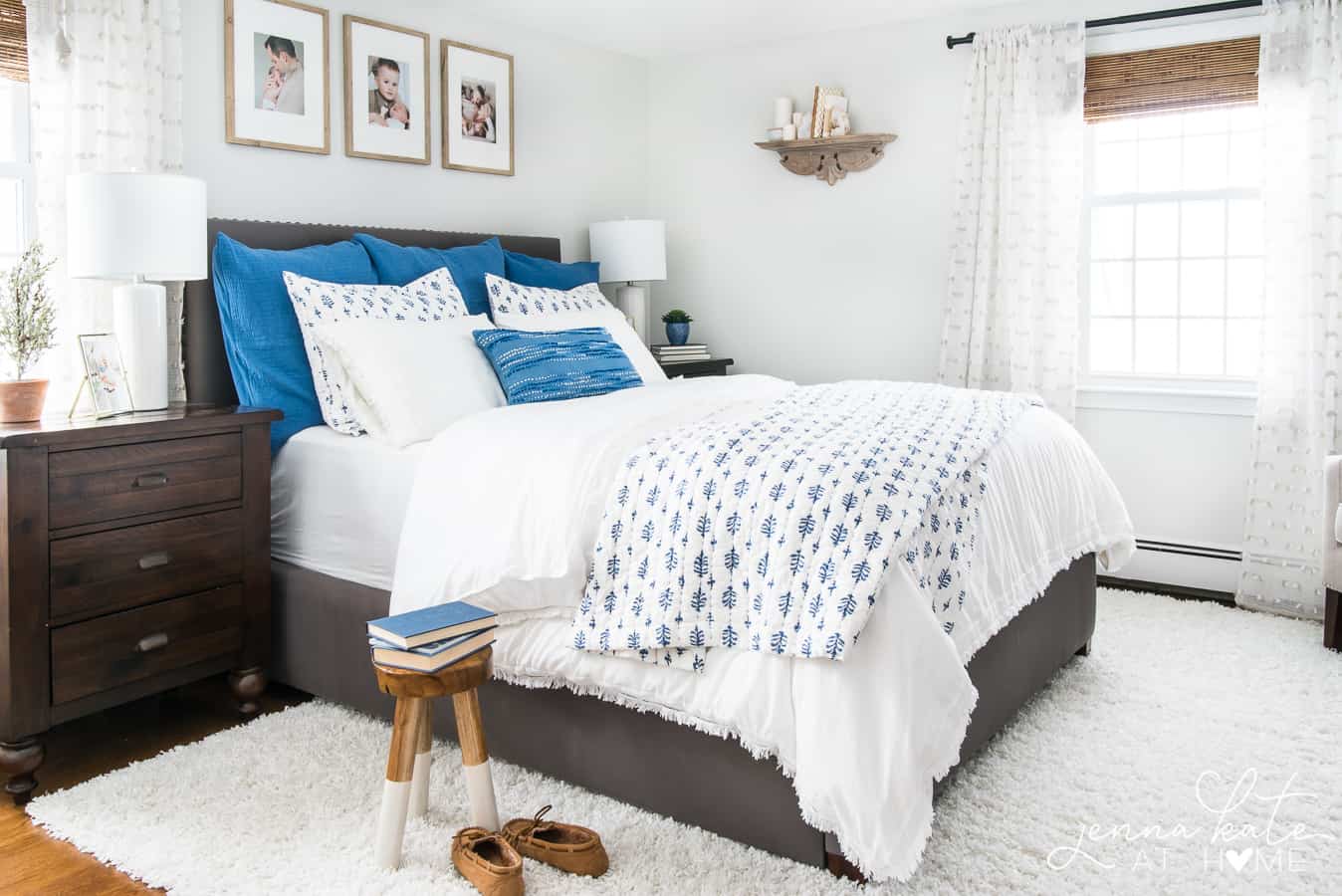 Each season brings with it a huge desire to change the look of my home but let's face it – not everyone has the time or money to be doing this completely every year, let alone multiple times of the year!
Honestly though, money or time doesn't stop me craving a change so I have devised a wonderful method of transforming my bedroom that is both budget and time friendly.
Each season I love to change up my bedding, which I find to be a quick, budget friendly and versatile way of completely transforming the look of my room, while updating my space to mirror some of the year's trends.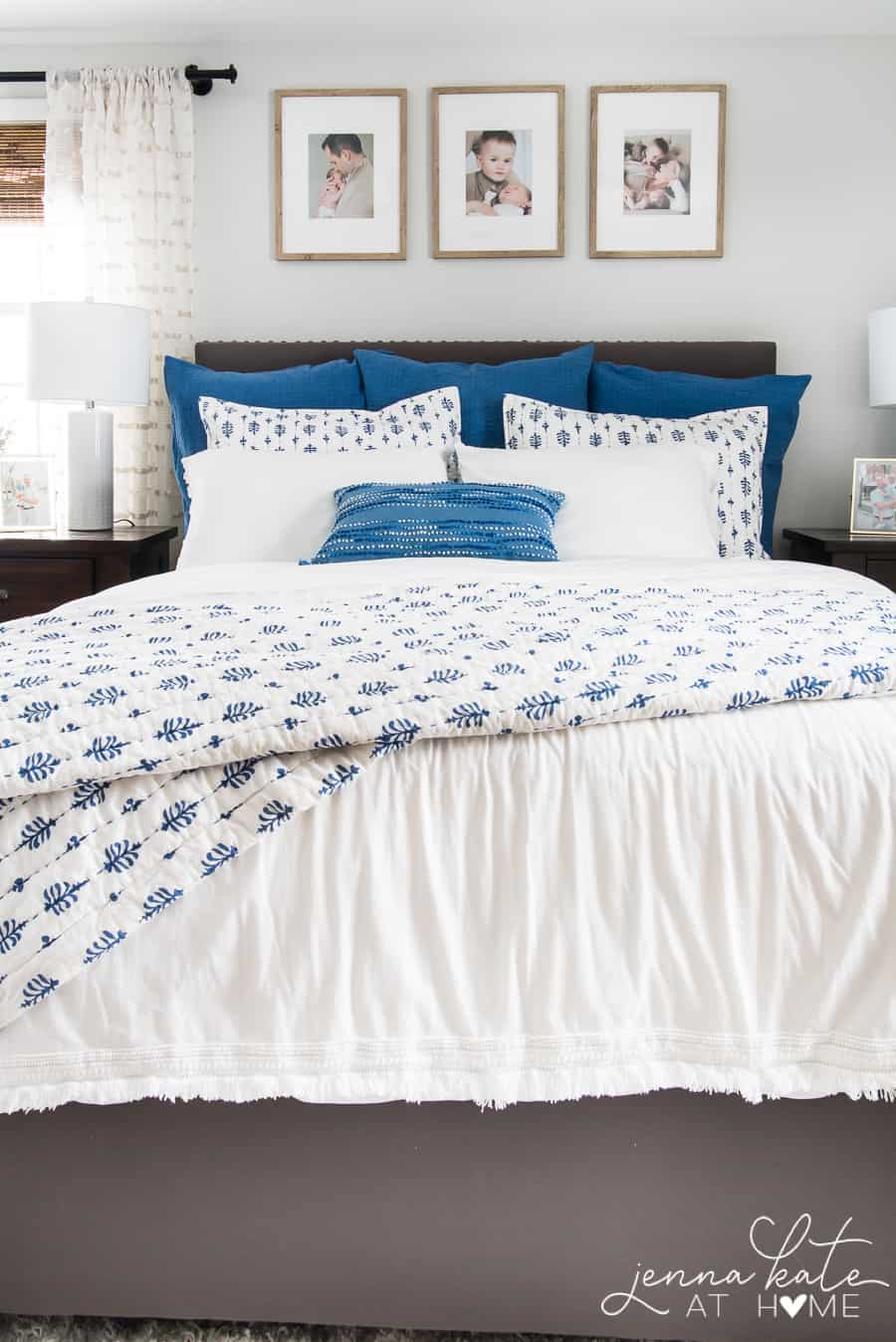 A year ago, I wrote about how I originally planned to change the look of our guest bedroom, however when the Serena & Lily bedding that I chose arrived, I could not part with it, so in it went to my master bedroom!
I love keeping the feeling in here light and bright, especially since the bed itself is quite dark. The beautiful white duvet cover and sheets, paired with the french blue of the quilt and shams really speaks to my blue-loving heart!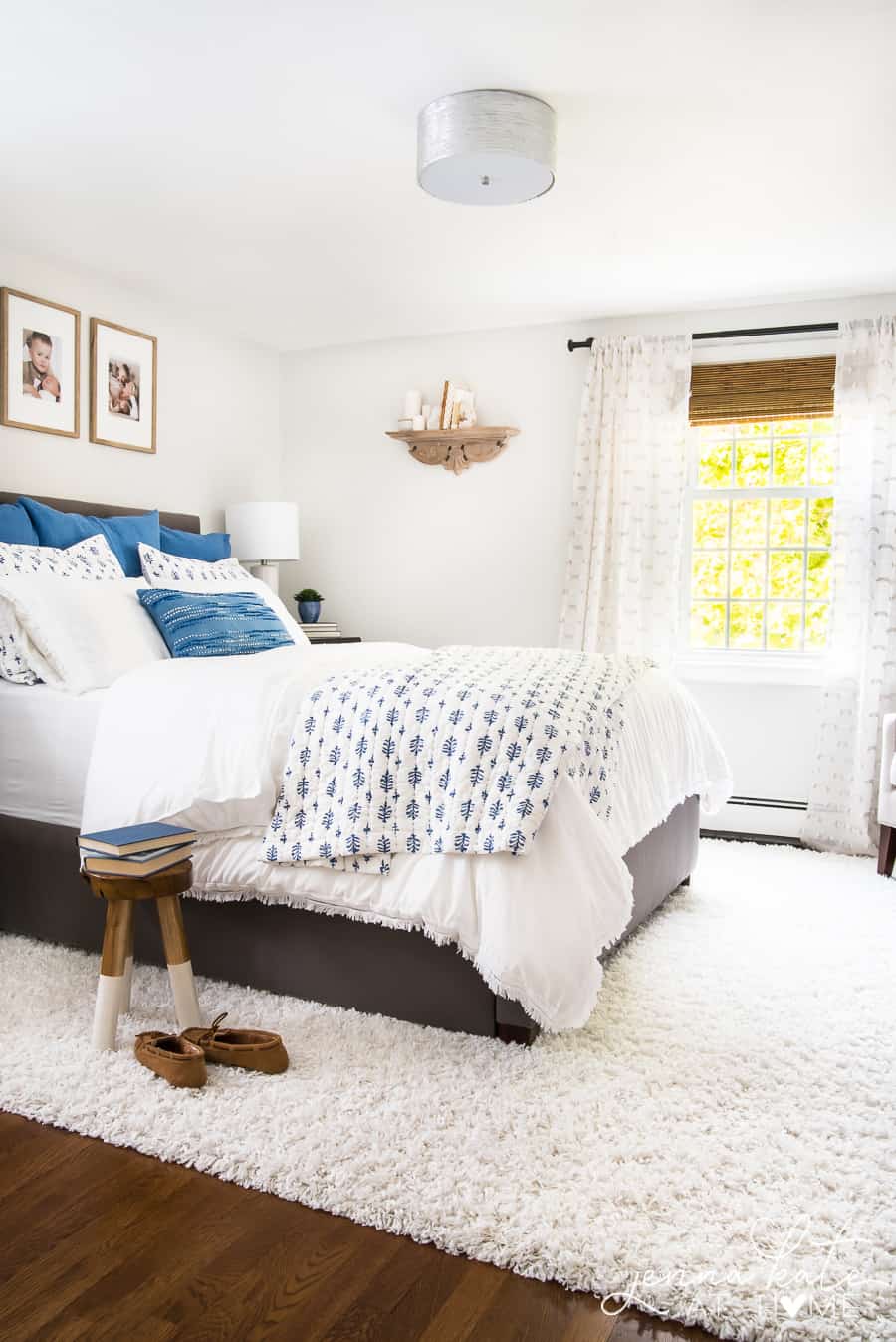 As of late, I have been lusting over more subtle, earthy and rich tones. Warm beiges, burnt oranges, deep browns and vibrant greens are all amazing neutral tones which are very trendy for 2021.
They are such fun to work with and really transform any space into a warm and earthy dwelling. 2021 decorating trends are all about bringing the outside in, honoring our green spaces and going back to basics.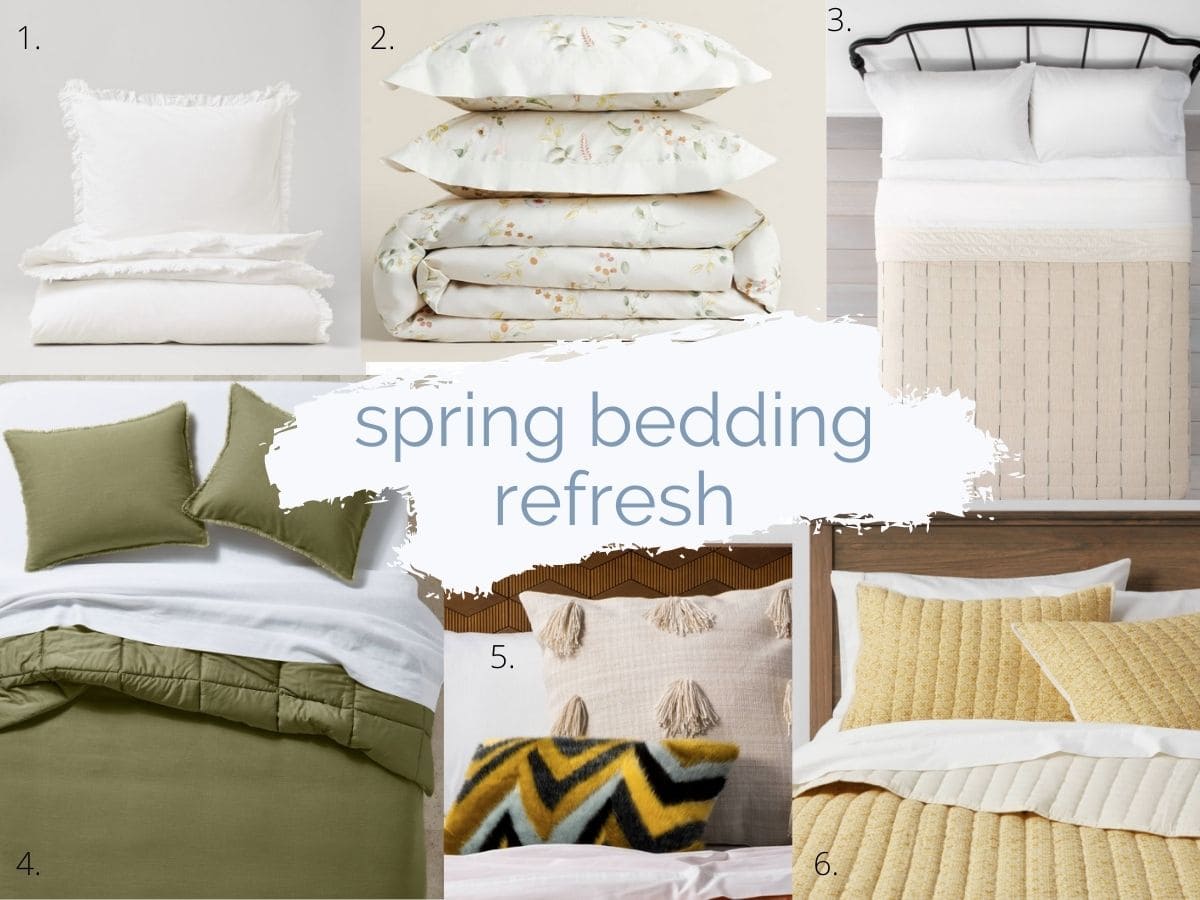 This flounced duvet cover set (1) from H&M Home is pure heaven – and what better way to start off spring with a crisp white bedding set? Pair this with a warm toned chunky blanket and you have a modern, cool and insta-worthy bedroom in no time.
If you are on the search for some bedding which is a little more on the feminine side, instilling vibes of english country garden then I have two perfect choices for you!
The multi-colored floral duvet cover (2) from Zara Home would be a beautiful addition to any bedroom and is very on point in regards to 2021 trends. It essentially pulls from two trends – bringing outdoors in and inspiring vintage textures.
I especially love this duvet cover for a guest bedroom as it lends to a clean, minimal yet aesthetic feel.
Hearth and Hand with Magnolia at Target have created some beautiful home decor items and their textiles are some of my favorites.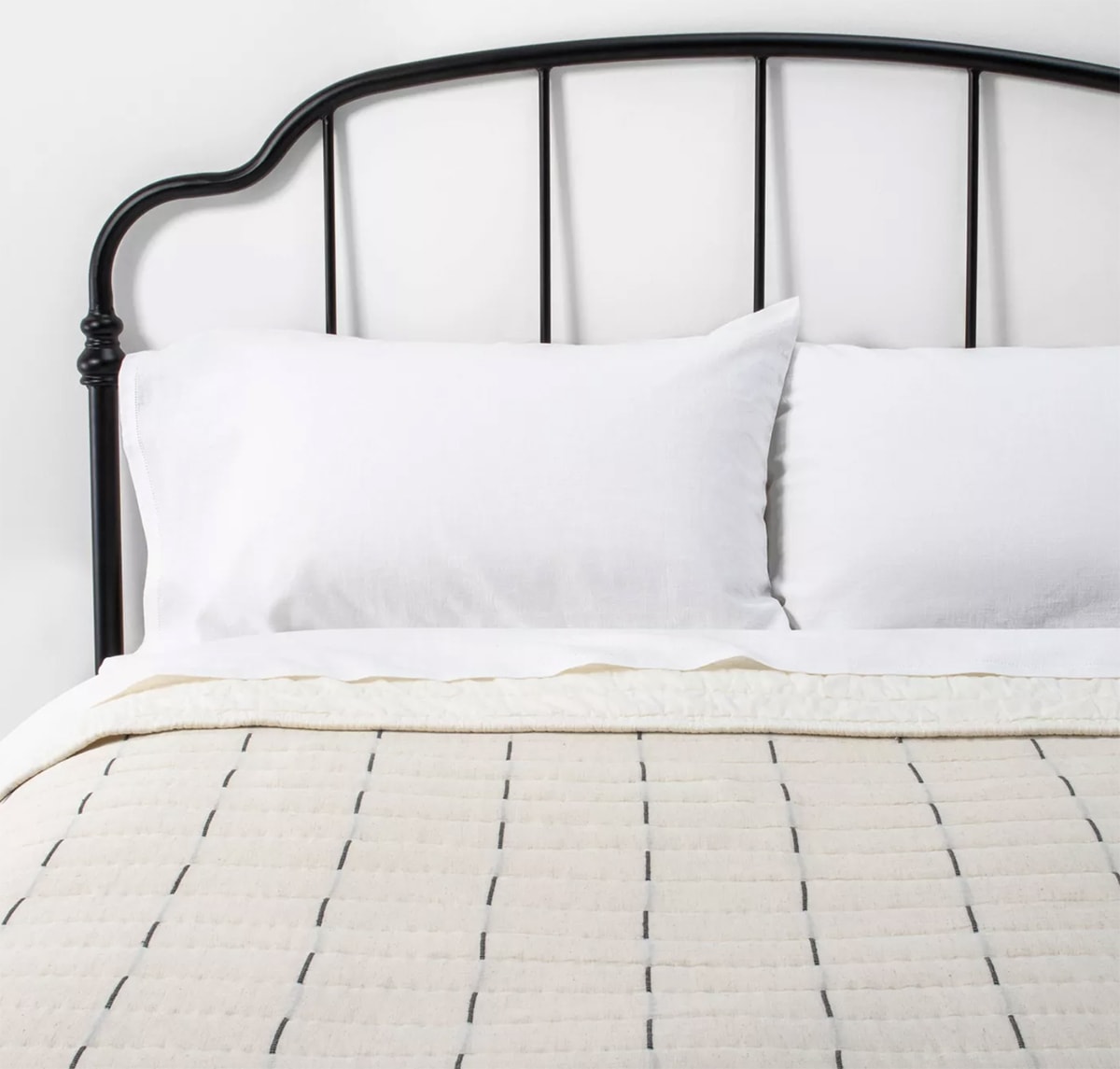 The broken stripe quilt (3) is a wonderful choice as it can work well over your existing bed linen as well as acting as a welcome update to any bedroom. I love the unique pattern – we see stripes commonly in bed linen however this broken stripe is far more modern and quirky.
I'm obsessing with all shades of green for 2021 but olive green in particular is proving very popular and trendy. Again, it's all about lending out interiors to nature's call.
The Casaluna heavyweight linen blend comforter and sham set (4) is a wonderful high quality choice if you are looking to refresh your bedding with a beautiful rich green tone. This color will add so much character and warmth to your room.
I would choose to pair it with some throw pillows such as the tasseled woven textured throws (5) to add extra visual interest and texture to your bed.
Last but by no means least, the Threshold Pick Stitch Medallion Quilt in yellow is a wonderful choice if you are looking for vintage vibes inspired by this year's Pantone Color of the Year – Illuminating.
Yellow is a wonderful color choice to inject warmth into a room and this quilt will really add a touch of vintage to your home. Pair it with some gray throw pillows and you are good to go!
Sometimes even if you're not wanting to completely change a bedding look but just looking to add some texture, dimension or interest, it's worth investing in a few different throw blankets that you can swap in and out as you see fit. I absolutely adore these two throw blankets from Zara Home.
The waffle knit effect blanket is a wonderful choice if you are looking for something in those trendy earth tones and I adore the waffle effect which adds some beautiful texture and interest to the eye.
If you are looking for a more classic blanket to dress your bed – I would recommend the ruffled blanket in white which is so timeless and beautiful and will match most bed linen.
The Takeaway
Changing up your bedroom doesn't have to cost the earth in terms of money or time – I'm sure you will agree with me that just by changing and refreshing some of your bed linen and decorate bed items that it provides an instant dramatic transformation. I hope you all have fun changing things up this spring!