Scalloped home decor has seen a resurgence in popularity recently, and for a good reason. These charming and whimsical designs add elegance and playfulness to any space, whether it's a traditional, coastal, grandmillennial, or even more modern design styles.
As the design world brings this trend into focus, there's been an increase in scalloped decor available in various home stores, making it easy to incorporate this trend into our homes.
With its sweet curved details, scalloped home decor adds extra interest, texture, and dimension to everything it touches. From furniture and accessories to linens and dishes, the possibilities to introduce this stylish element into our home are truly endless. We're excited to share some of our favorite finds with you in this article.
We've scoured the internet for the most beautiful scalloped home decor finds and discovered pieces suitable for every budget. From affordable options at Target to more luxurious items from Serena & Lily, Ballard Designs, and Pottery Barn, there's something for everyone who wants to add a touch of sophistication to their living spaces.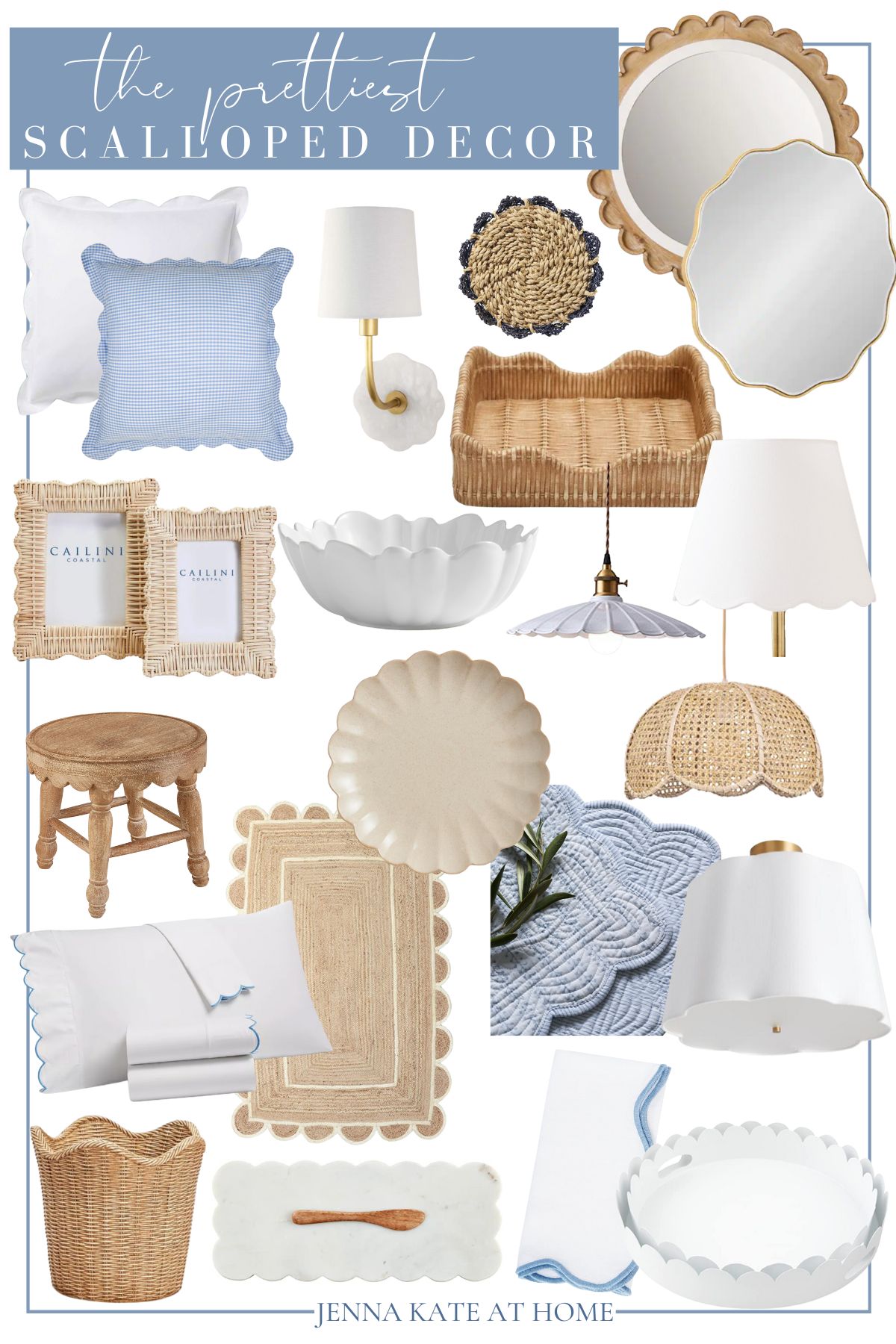 Understanding Scalloped Home Decor
Essence of Scalloped Design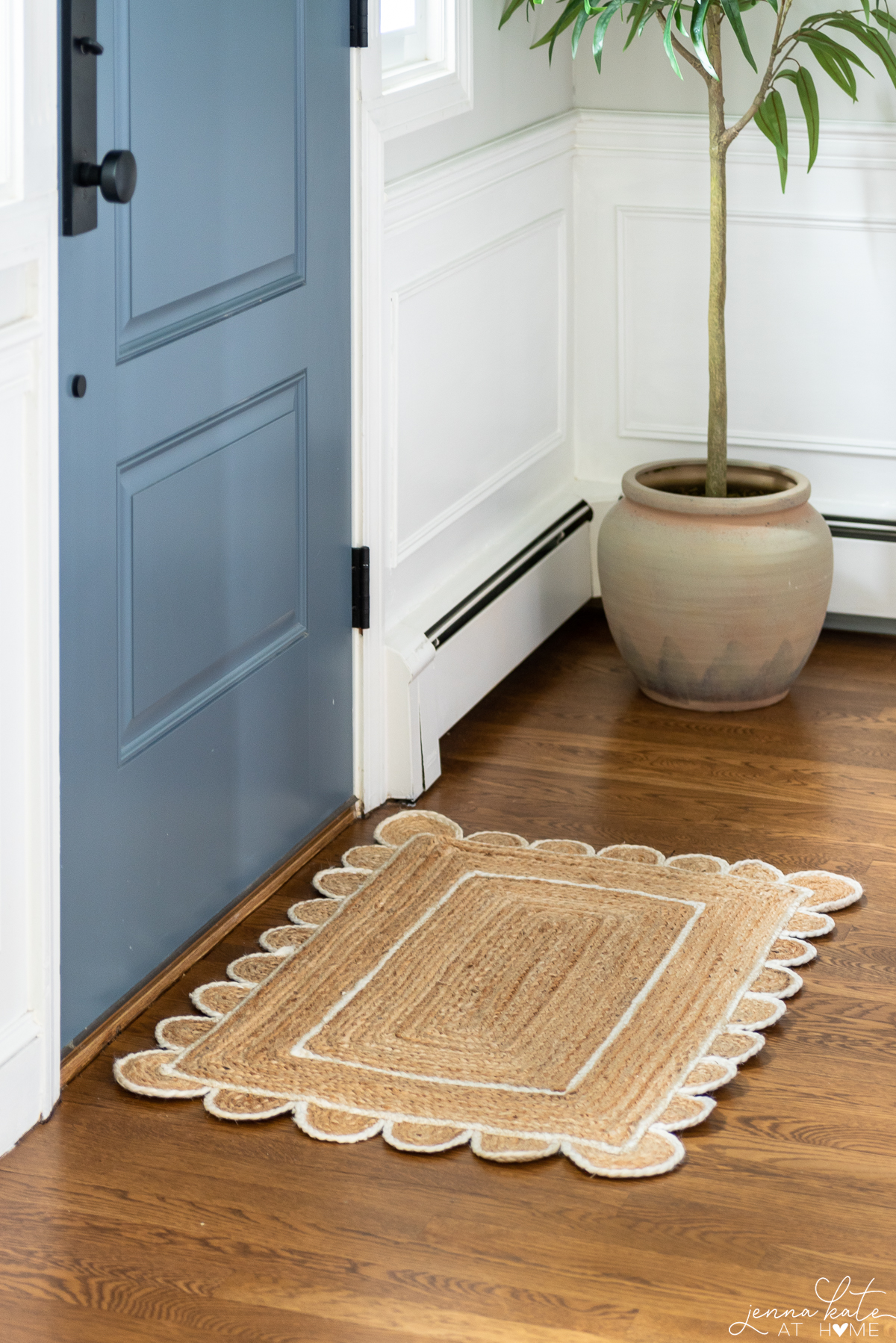 We love the scalloped design because it is a beautiful and versatile pattern that can be seen in many aspects of home decor. Scalloped design features a series of curved, semi-circular edges, creating a charming and unique look. This lovely design element can be found in various home decor items, such as furniture, textile, and accessories.
Classic and Timeless Appeal
The scalloped design has a classic and timeless appeal that never goes out of style. The soft curves and elegant lines give it a sophisticated touch, making it perfect for various interior design styles, including traditional, coastal, and even grandmillennial.
Scalloped home decor is a particularly great idea to include in a summer refresh because it adds a playful and light-hearted touch to any space. The curved edges of scalloped designs evoke a sense of whimsy and charm, which is perfect for summertime when we often want our homes to feel bright and cheerful.
Incorporating Scalloped Elements
When incorporating scalloped home decor into our living spaces, there are many ways to make it shine. Some of our favorite ideas include:
Furniture: Scalloped coffee tables, side tables, and headboards are just a few examples of furniture that can feature this lovely design.
Textiles: Using scalloped edge linens, napkins, and pillow covers can add a subtle touch of coastal charm.
Wall decor: Scalloped mirrors, wallpaper, and artwork can add visual interest and a sense of playfulness to living spaces.
Accessories: Scalloped trays and baskets are perfect for stylish storage and organization.
Lighting: Lampshades with pretty scallop detail add a soft touch to bedrooms.
Bathroom accents: A scalloped bath mat can be a practical and attractive addition to any bathroom.
Incorporating scalloped home decor can be done in both small and big ways, and with so many options available, you can easily find the perfect scalloped elements to transform your living spaces.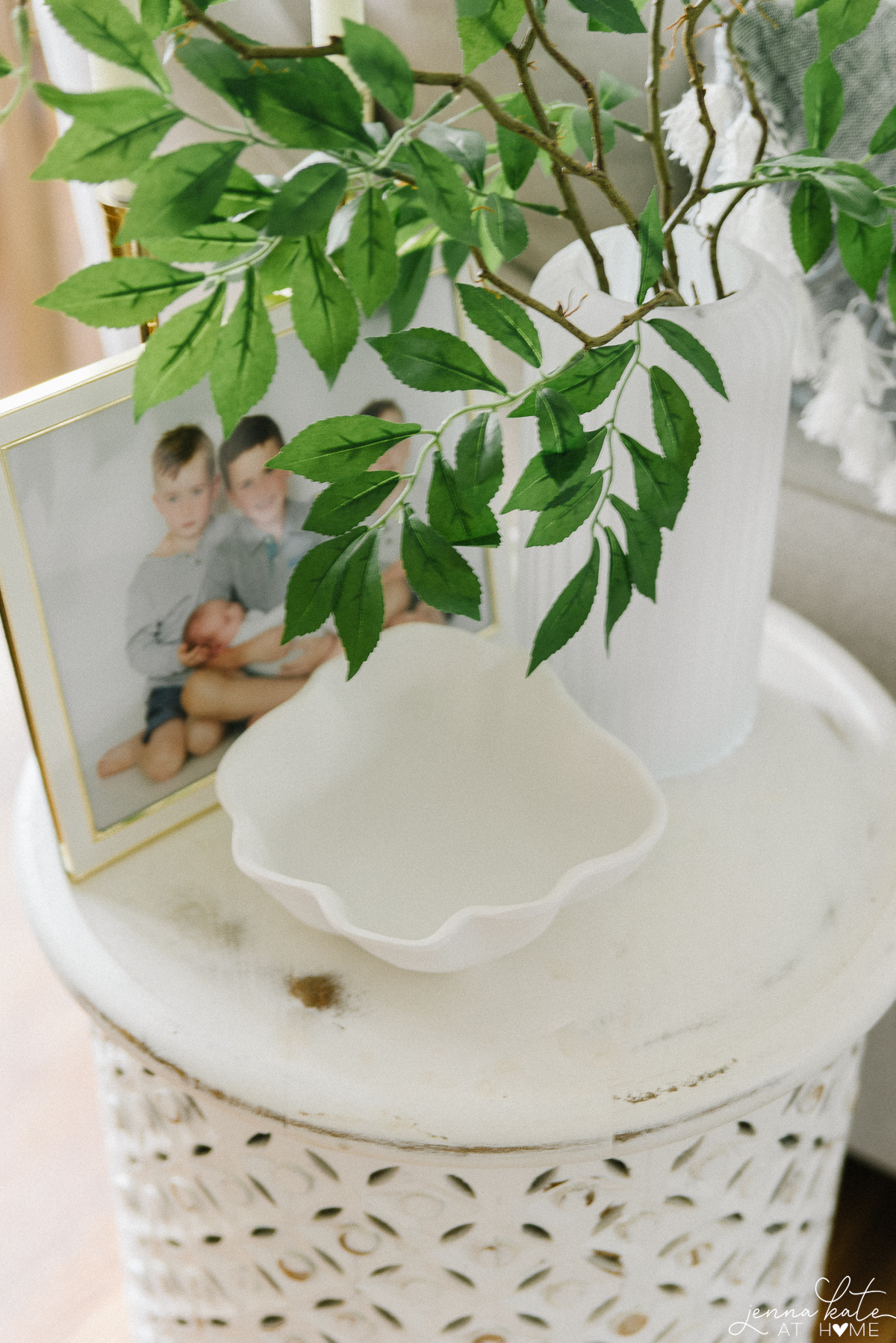 Recently, I've found myself drawn to the scalloped trend as I start to refresh my home post winter. Whether you want to add simple accents like photo frames, decorative bowls or a pretty sham, or go all-in with light fixtures, furniture or large mirrors, there's something that will work for your home and tastes.
Kitchen & Dining Decor
I'm loving the touch of whimsy that scalloped decor brings to the kitchen. From scalloped dishes to trim on linens, these details add a lovely softness and charm to this essential space.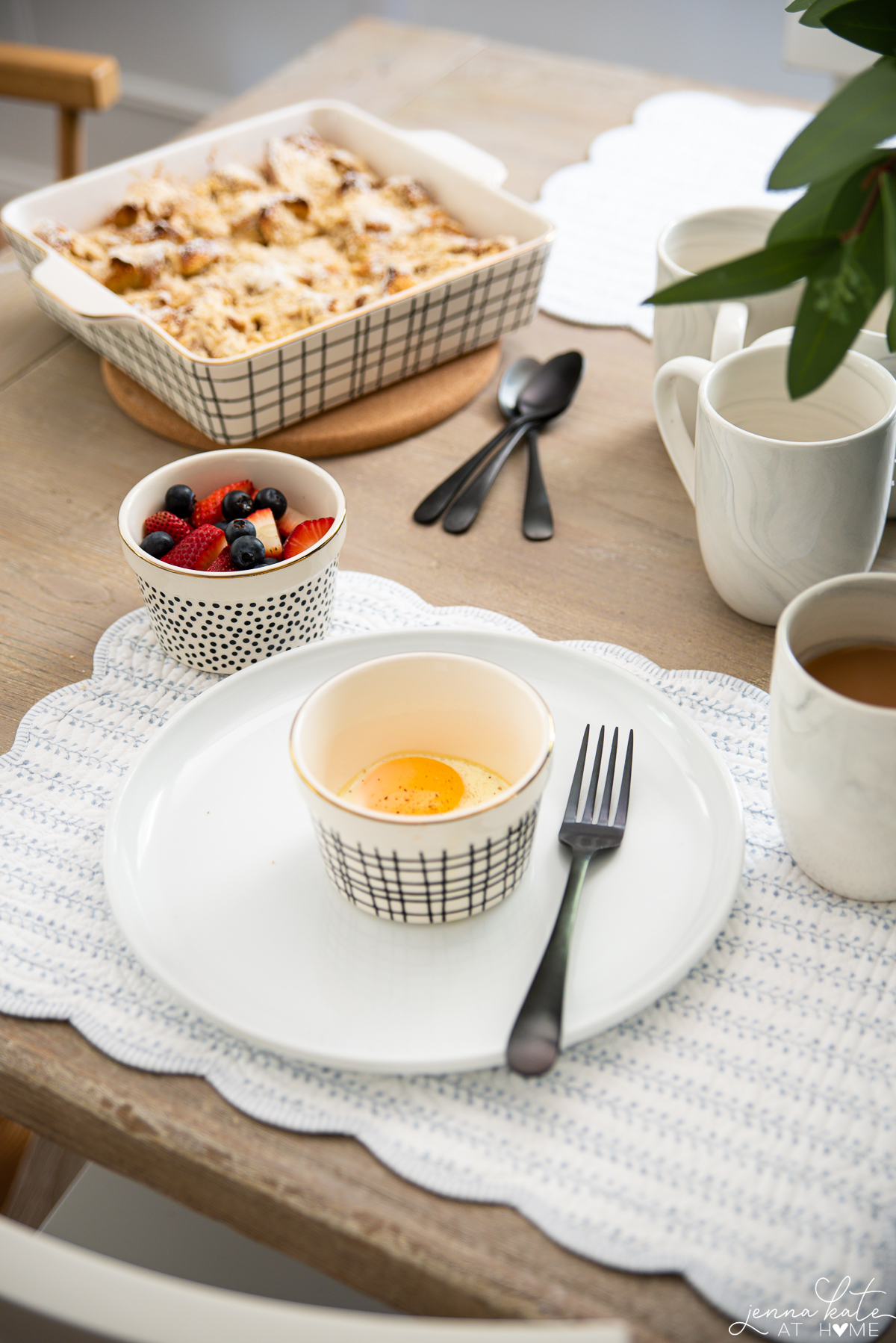 One of my favorite finds is a scalloped edge serving tray, perfect for showcasing delicious appetizers or desserts. And don't forget about adding some scalloped edge placemats for an extra dose of style during mealtimes.
Jenna's Pick: Blue Reversible Placemats
More Scalloped Decor For The Kitchen

Bathroom Accessories
The bathroom is often overlooked, but it's a prime location for adding some scalloped accents. This organic cotton bath mat from Pottery Barn has a delightful scalloped border.
The blue and white color combination is classic and timeless, and the mat adds just the right amount of texture to the space. You could also consider adding a scalloped mirror to the powder room for an elegant touch.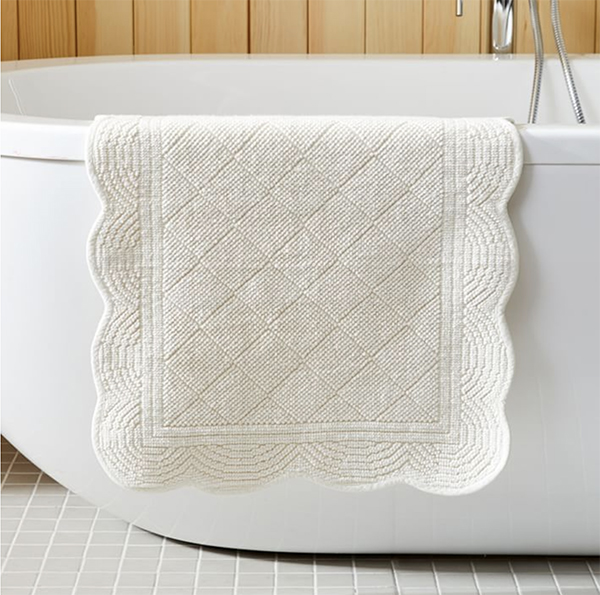 Jenna's Pick: White Scalloped Edge Bath Mat
More Scalloped Decor For The Bathroom

Bedroom Accents
When it comes to bedroom decor, incorporating scalloped designs can add a soft feminine touch. We've spotted some beautiful scalloped bedding that adds a layer of sophistication while also keeping things cozy.
Looking for a budget-friendly option? Grab this set before they sell out! Adding some scalloped pillows or even a scalloped headboard can also elevate the overall look of your sleeping space.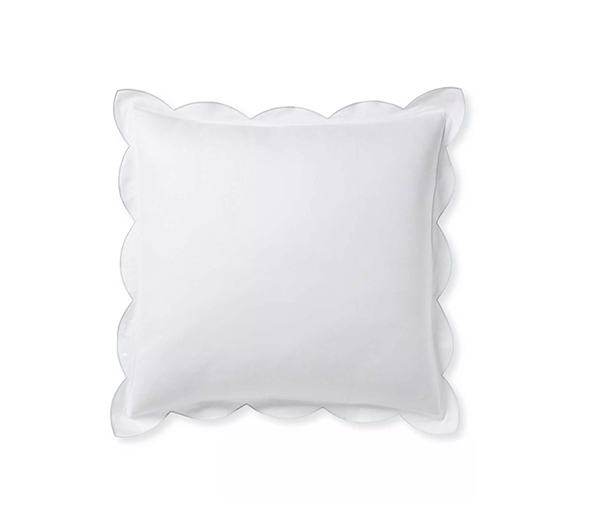 Jenna's Pick: Scalloped Edge Shams
More Scalloped Decor For The Bedroom

Kids' Rooms
I really love this trend for little girls' bedrooms, as the whimsical nature of scalloped edges works perfectly. With 4 little boys of my own, my imaginary little girls' room will have to stay in my imagination! However, if you're designing for the little lady in your life, this scallop trim bed paired with some pastel bedding would be so darling!
This type of detailing is also perfect for a nursery or playroom. Consider incorporating details such as floating shelves, a bookcase or even a rug with scalloping.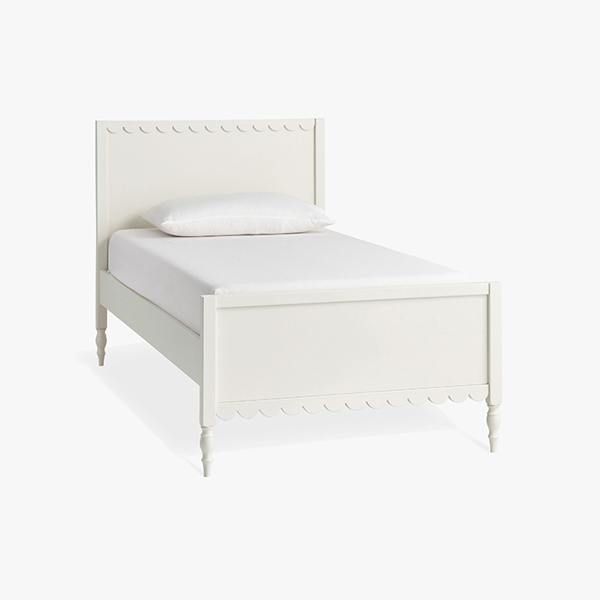 Jenna's Pick: White Twin Bed
More Scalloped Decor For Kids' Rooms

Living Room Touches
Finally, we can't ignore the living room when searching for pretty scalloped finds. A well-placed scalloped coffee table or side table adds a unique twist while keeping things functional.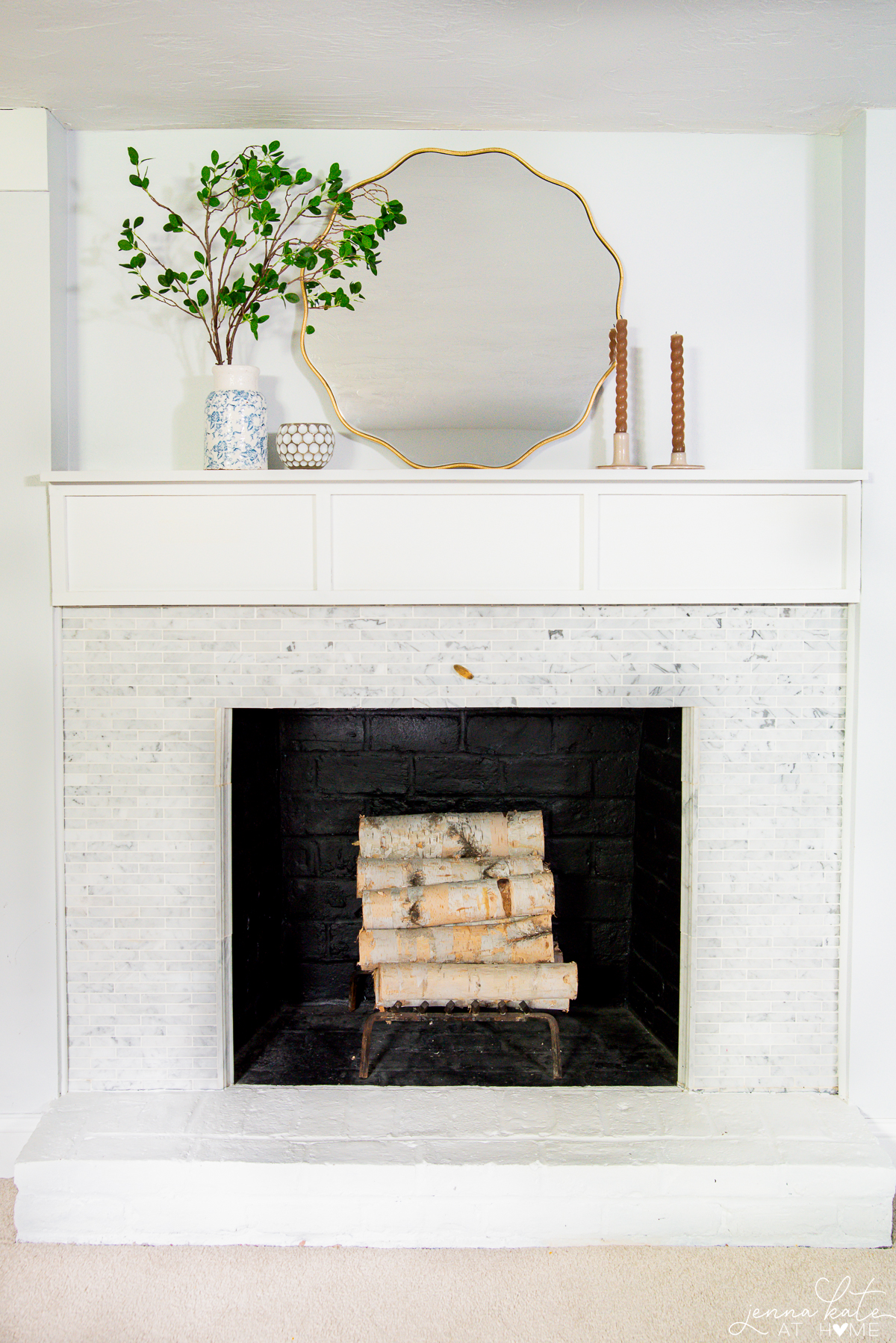 For a more subtle touch, consider adding some scalloped edge throw pillows or a scalloped accessories to your shelves or tables.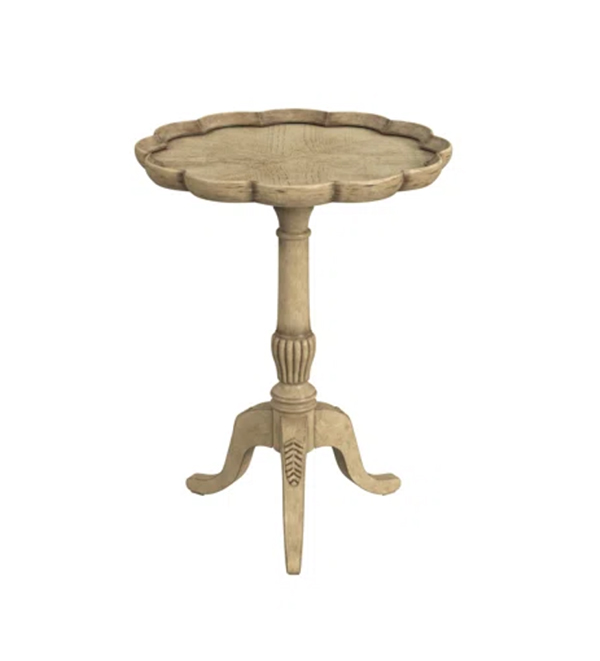 Jenna's Pick: Scalloped Side Table
More Scalloped Decor For The Living Room

Scalloped Furniture and Accessories
Scalloped Edge Furniture
We've noticed a rising trend in scalloped edge furniture that brings a touch of elegance and sophistication to any room. Pieces with scalloped trim can include beds, desks, chairs, nightstands, and even dressers.
The scalloped detailing provides a soft, feminine touch while still maintaining a classic and timeless appeal. Many popular retailers, such as Etsy, offer a variety of scalloped furniture options that can suit any style and budget.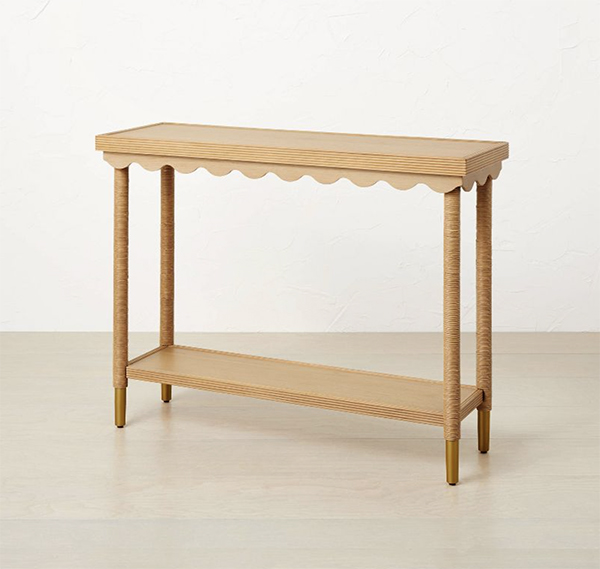 Jenna's Pick: Scallop Edge Console Table
More Scalloped Furniture

Lighting and Lampshades
Lighting is another area where the scalloped trend is making an impact. Beautiful scalloped flush mount lights, pendants and lampshades can add an air of whimsy and charm to any space.
Scalloped lampshades, available in various materials like fabric or rattan, provide a lovely way to further embrace the scalloped motif. Plus, they are easy to incorporate into any room in your home.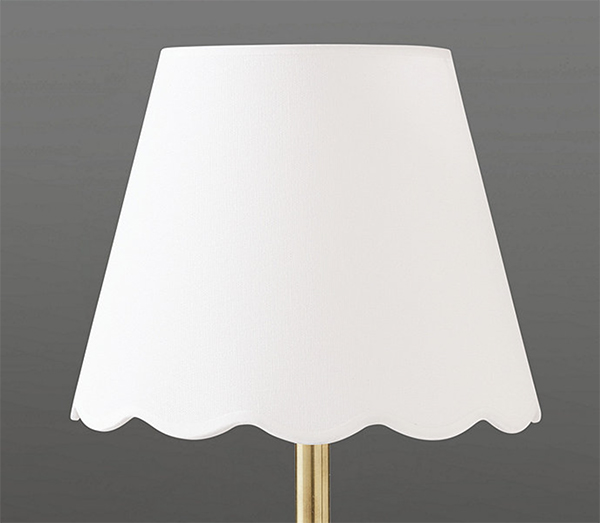 Jenna's Pick: Scalloped Linen Buffet Shade
More Scalloped Light Fixtures

Scalloped Rugs and Mats
Scalloped rugs and mats are another way to incorporate this trend into your home. The soft, rounded edges of these floor coverings can beautifully contrast with the straight lines commonly found in home furnishings.
More Scalloped Rugs

Frames, Mirrors, and Planters
Lastly, we want to highlight some smaller home accessories that also feature scalloped edges – picture frames, mirrors, and planters. These charming touches can elevate even the simplest of items and add character and personality to your space.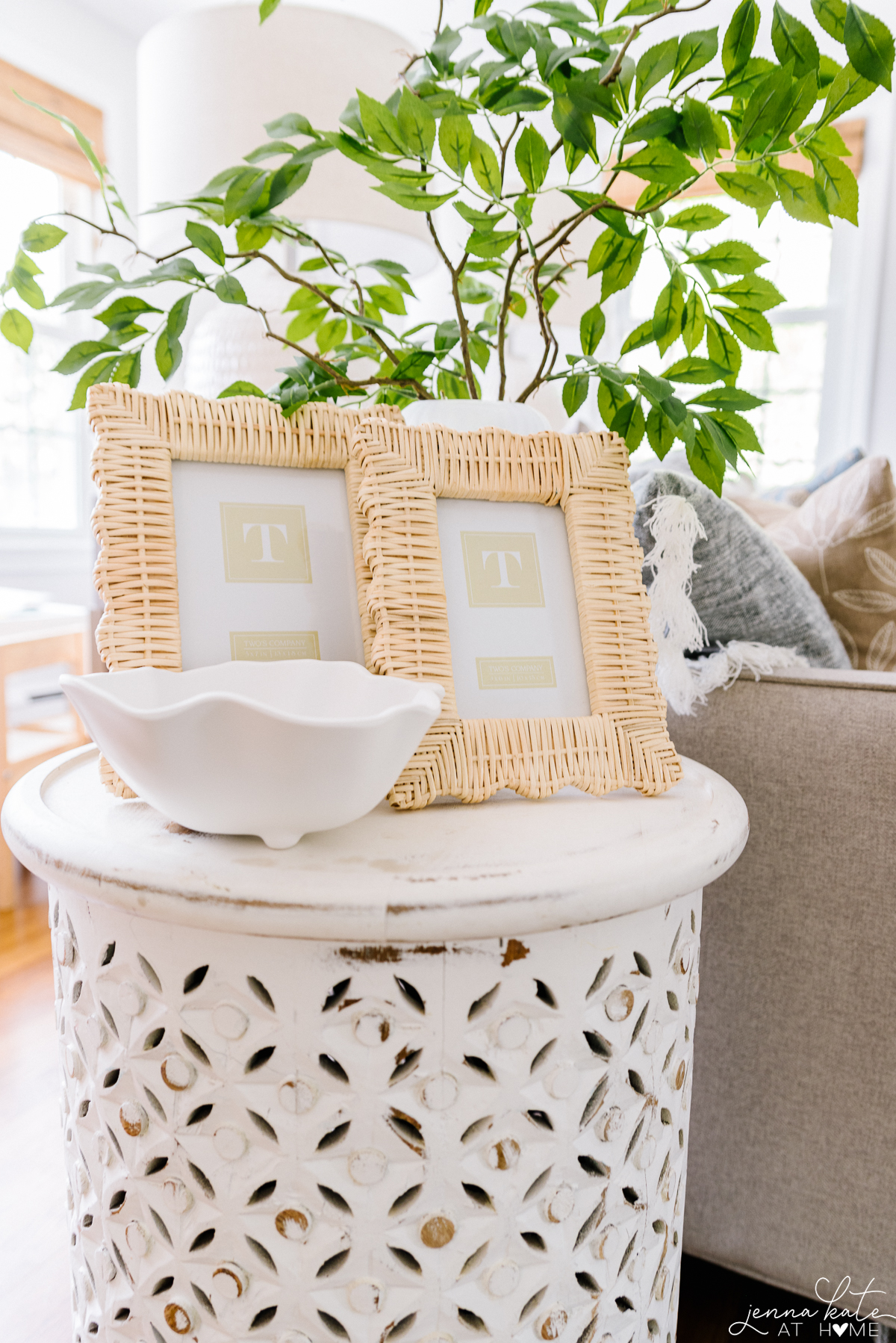 They are also the easiest items to incorporate in your home decor and can be quickly replaced if your tastes change.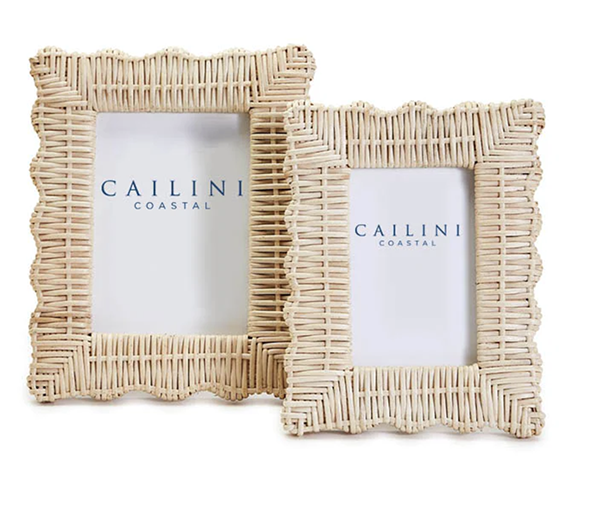 Jenna's Pick: Scalloped Woven Frames
More Scalloped Frames, Mirrors and Planters

Trays and Baskets
Trays and baskets are simple to include in many rooms of your home. Simply place a tray on your kitchen island to corral items or use it to serve guests. The same tray can be styled on a coffee table with some books and a sweet plant.
Baskets can work in probably every room of your home and are an attractive way to hide toys and extra throw pillows in the living room, playroom, bedroom or even to ground the bottom of your console table decor.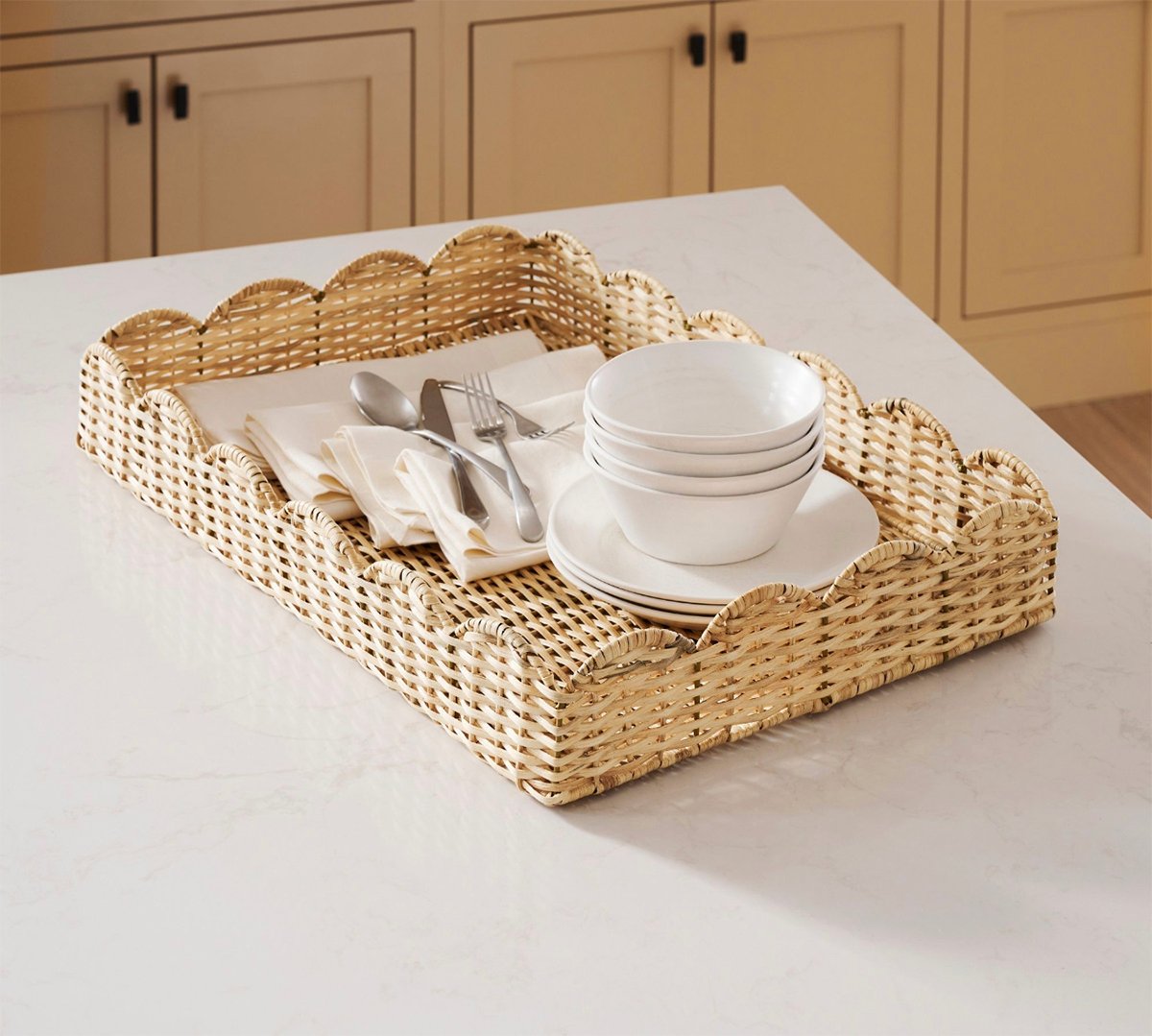 More Scalloped Trays and Baskets

Have I made you excited to start incorporating some of these scalloped items into your home this season? There's such a variety of scalloped items available, that whether you choose to include a little nod to the trend (such as a picture frame) or go all in on furniture, there's something for every taste and budget.