Refresh your patio this season with these stylish outdoor pillows that will elevate the look of your outdoor furniture.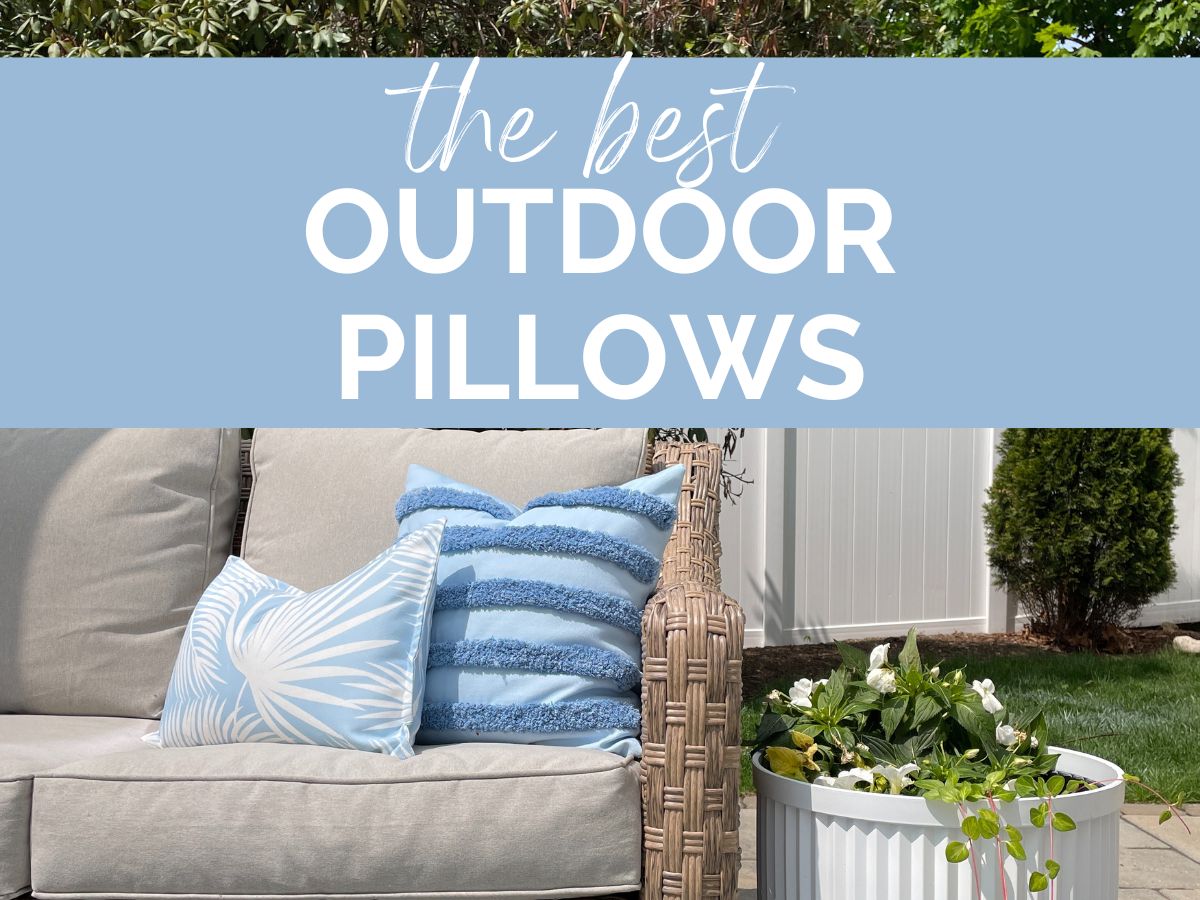 Outdoor throw pillows are a fantastic and budget-friendly way to give your patio furniture a fresh new look. These pillows, available in various colors, patterns, and sizes, can make your outdoor space feel warm, inviting, and stylish.
They're not only comfy for lounging and chatting, but they also add an instant splash of personality to even the most basic furniture.
So, if your patio furniture is starting to look a little dull or worn out, don't worry about buying new pieces. Once you know how to clean patio cushions, then all you need to do is add some pretty outdoor throw pillows, and voila! It's like having a whole new set.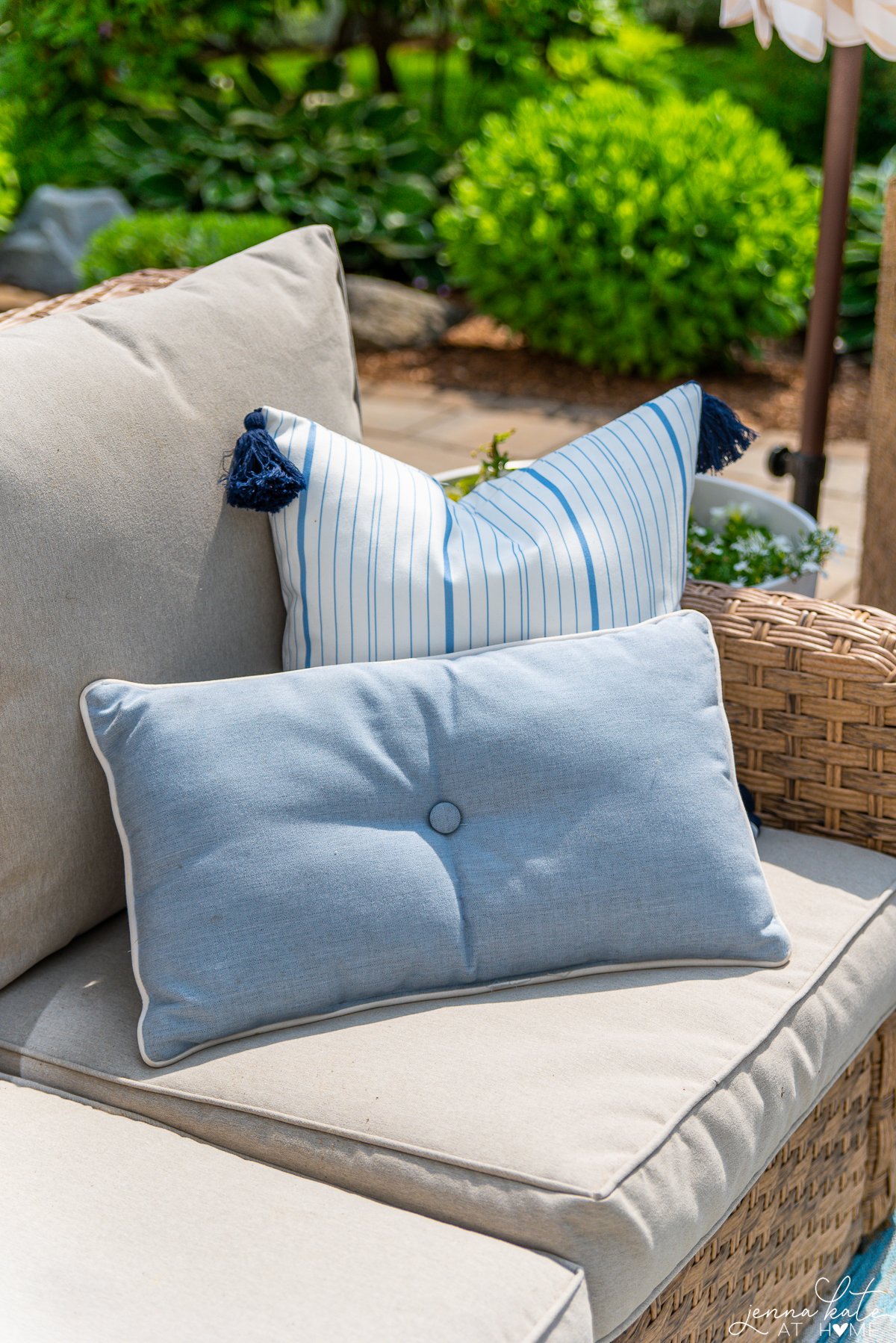 Another great thing about outdoor throw pillows is their affordability. They cost much less than buying new patio furniture, yet they have a huge impact on the overall design of your outdoor space.
Plus, they're easy to switch out whenever you feel like changing up your style. You could have bright and summery patterns for warmer months and then switch to more subdued, cozy designs for the cooler season.
This flexibility means you can continually update and refresh your patio's look without spending a lot of money. It's a smart, easy, and affordable way to keep your outdoor space looking fantastic all year round.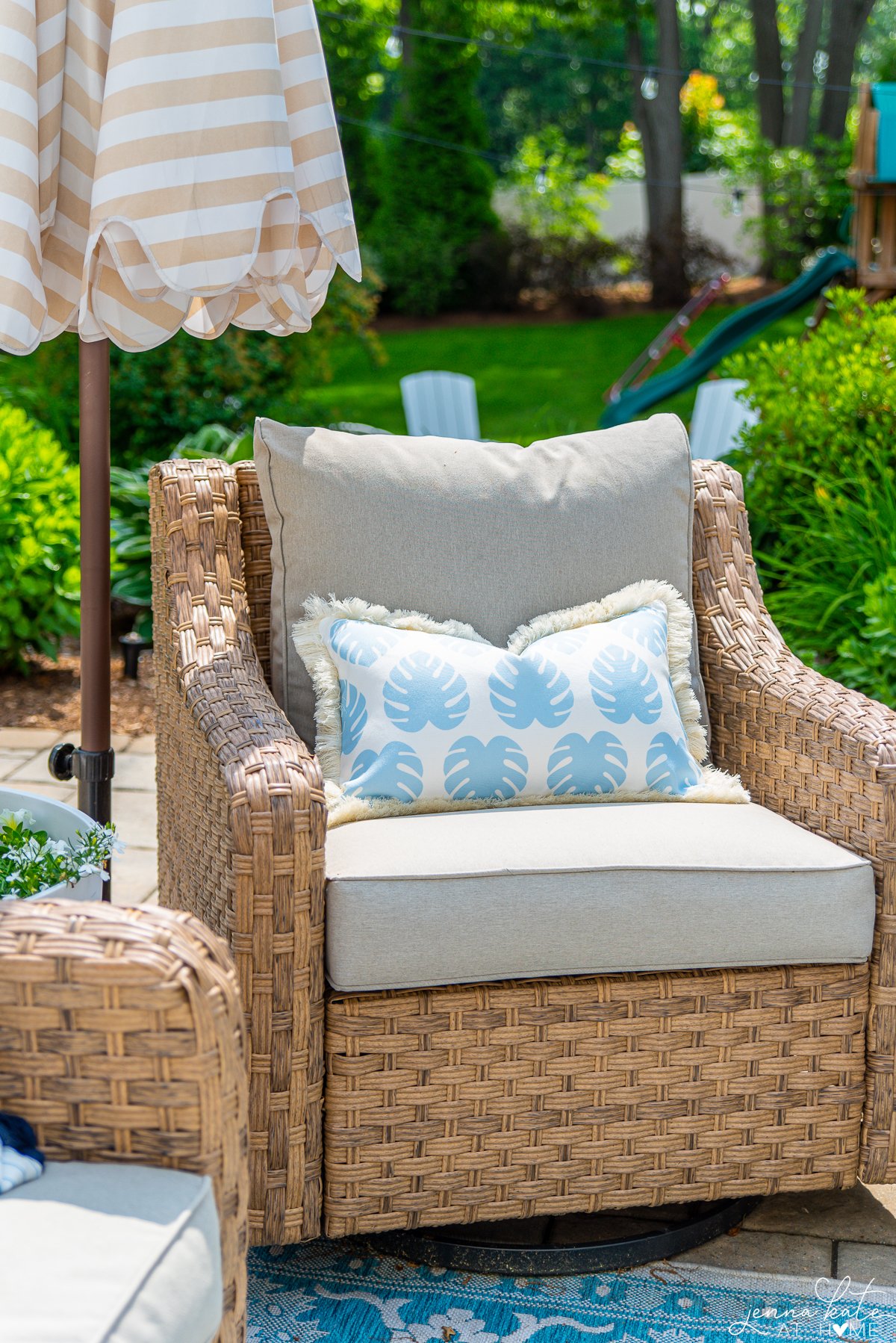 How To Choose Outdoor Pillows
As you begin your search for the best outdoor pillows, consider factors such as durability, design, and materials.
Material and Weather Resistance
When choosing outdoor pillows for your patio, pay attention to the material and its weather-resistant properties. You cannot just any pillow outdoors. Indoor pillows are not ideal to use in your outdoor living space as they are not designed to withstand the elements. Instead, opt for pillows made with materials like polyester or Sunbrella fabric, as they provide durability and resistance to various weather conditions.
These materials can handle mildew, water, and UV rays, ensuring that your pillows, including the pillow covers and inserts, stay fresh and vibrant for longer periods of time.
The correct insert for your outdoor pillows will be 100% polyester batting which will allow water to quickly drain out.
Color and Design
Like any design choice, it's a good idea to think about the color and design of your outdoor pillows. You have an opportunity to let your personal style shine through the different patterns and hues available. Choose pillows that complement your existing outdoor furniture or take the opportunity to add a splash of color and create an eye-catching space.
While it's great to have exciting colors and designs, remember that affordable and stylish options are accessible as well. There's no need to break the bank to achieve the perfect patio look.
As you shop for outdoor pillows, keep these essential factors in mind: material, weather resistance, comfort, durability, and color and design. Your patio will quickly become an inviting and stylish space to enjoy with your friends and family.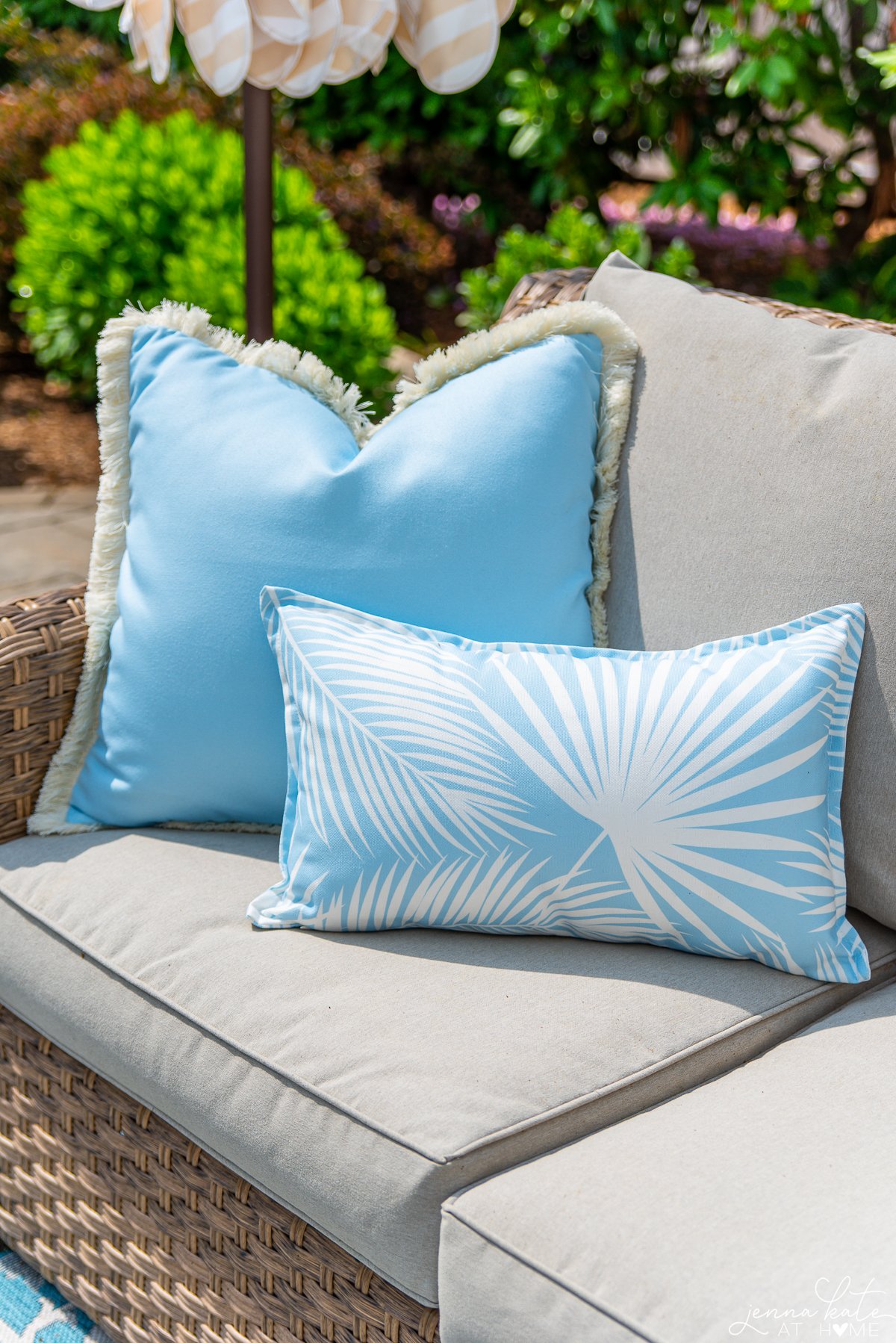 Highly-Rated Outdoor Pillows
Take a look at these highly-rated outdoor pillow options to give your patio a fresh new look.
These Amazon pillow covers are amazing quality and look very similar to a much higher-end brand that we all known and love (they are an excellent Serena & Lily look for less!). I own several of these in different sizes and very much recommend them.
Don't forget to get inserts to go with your covers! I have these outdoor inserts and they are incredibly comfortable and durable.
Just like on a regular sofa, I recommend varying the sizes of your pillows and adding at least one lumbar pillow to your outdoor sofa. Mix and match colors and textures for the best overall look.
Care and Maintenance
Cleaning Methods and Tips
To keep your outdoor pillows looking fresh and inviting, you'll want to clean them regularly. For spot cleaning, simply mix some mild detergent with water and gently scrub the affected area with a soft brush or cloth. If your pillows are machine washable, make sure you follow the care tag instructions to avoid damaging the fabric or stuffing.
It's important to address stains as soon as you notice them. For tougher stains like bird droppings or tree sap, use a diluted bleach solution to clean the area, taking care to rinse thoroughly afterwards.
After cleaning, allow your pillows to air dry completely—this helps prevent mold and mildew growth.
Don't forget to give your outdoor pillows a good spring cleaning when the warmer weather arrives. Dust them off, vacuum the cushions, and tackle any lingering stains.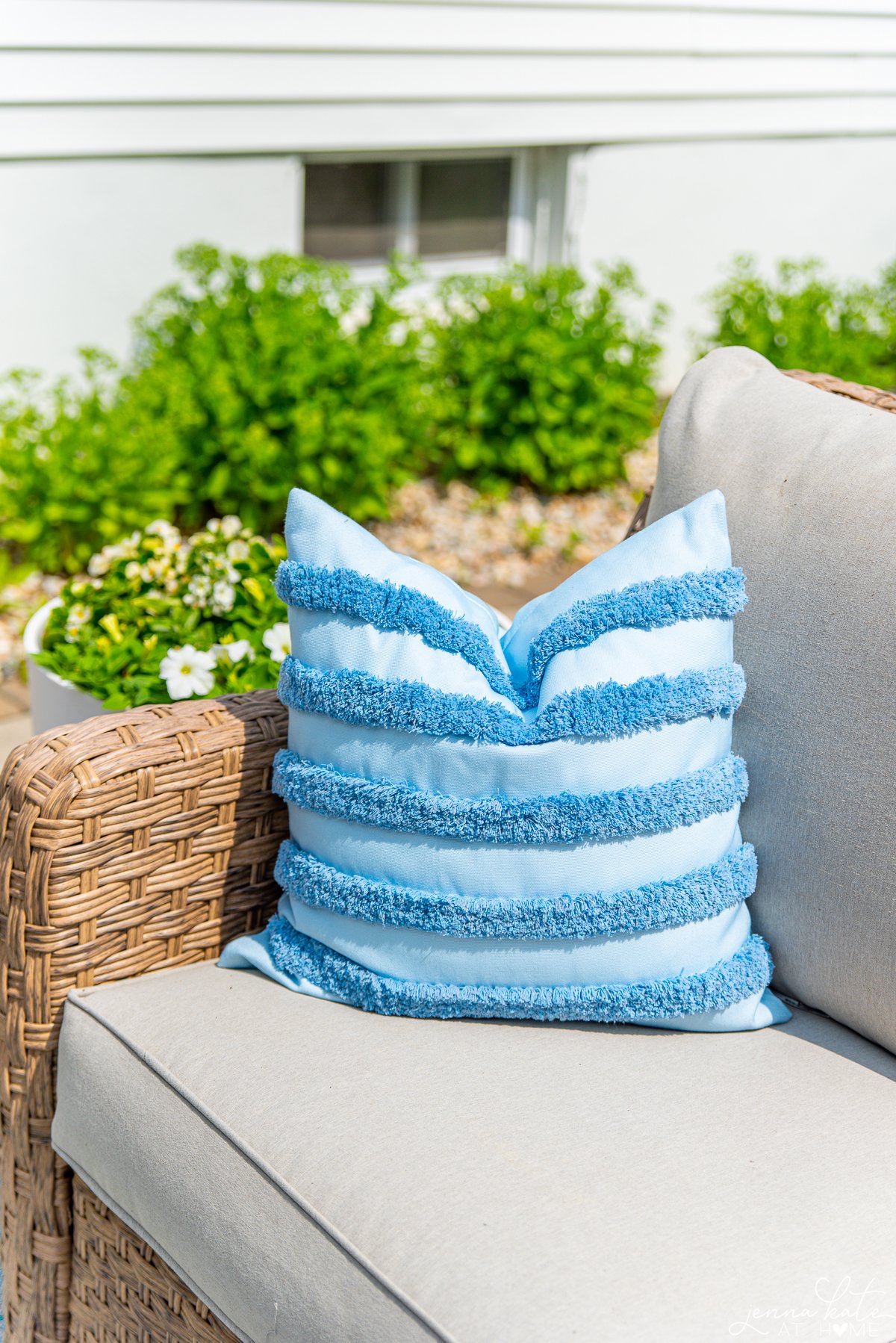 Ensuring Longevity and Durability
Investing in pillows made with UV-resistant fabric and water-resistant materials will help extend their life, especially in sunny or damp climates. Always check the fabric tag before purchasing to ensure the pillows have these features.
Another way to prolong the life of your outdoor pillows is to store them properly during off-season months or periods of inclement weather. Organize your cushions in vacuum-sealed bags or a designated storage area like an organized garage. This keeps them clean and protected from tough weather conditions such as rain, snow, and harsh sunlight.
Lastly, be mindful of exposure to chemicals, like chlorine from a nearby pool, which can damage the fabric. Move the pillows to a safer location or cover them when not in use to minimize wear and tear.
By following these best practices, you'll be able to enjoy your comfortable, vibrant outdoor pillows on your patio for years to come.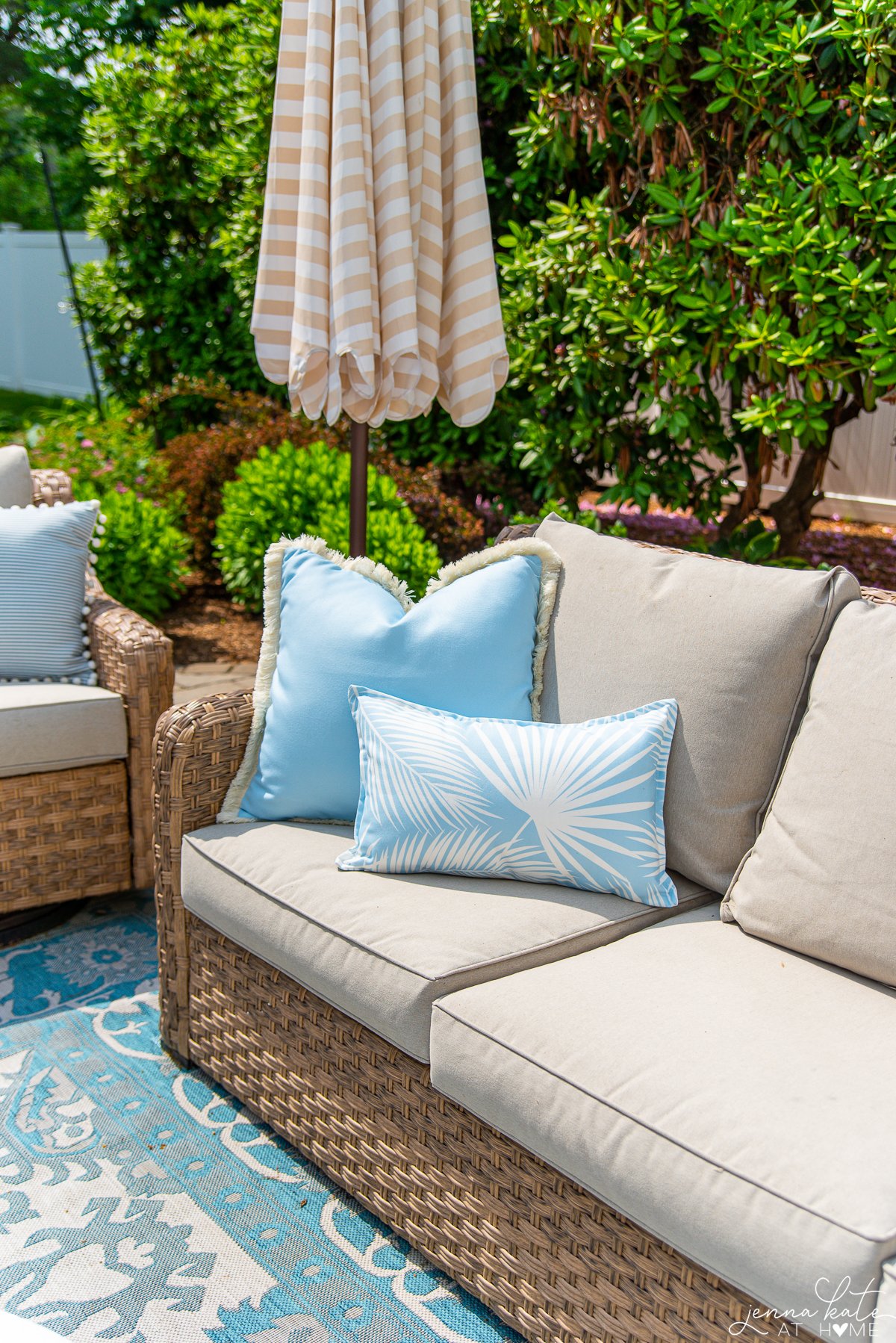 Frequently Asked Questions
Outdoor pillows are designed to withstand various weather conditions, including sunlight, moisture, and temperature fluctuations. Most outdoor pillows feature durable, weather-resistant materials like polyester or acrylic fabrics that typically resist fading, mildew, and water damage. Look for pillows with UV-resistant and water-repellent treatments to ensure their colors stay vibrant and they remain comfortable throughout the seasons.
I highly suggest buying a deck box and storing your outdoor pillows when not in use. This will keep them looking their best for the longest. Alternatively, you can opt to cover your entire outdoor sofa with a cover if that's easier.
My Walmart patio furniture came with covers that are easy to take on and off, but I personally find it quicker to just grab all my pillows and throw them into the deck box that we keep behind the outdoor sofa.
Proper off-season storage is essential for extending the lifespan of your outdoor cushions. Clean them thoroughly before storing them, and make sure they're completely dry to prevent mildew growth. Store your cushions in a cool, dry, and well-ventilated area, like a garage, basement, or storage shed. If possible, invest in a deck box to keep them organized and free from dirt, dust, and pests.