If you're decorating your house, you'll know how expensive rugs can get. But you don't need to spend a fortune to have beautiful, high quality rugs in your home. I've done the research for you and these are the best online sources for affordable rugs.
One of the questions I get asked frequently is where to buy affordable rugs online. People often think that finding an inexpensive rug is like a treasure hunt, but I've found a few go-to sources with gorgeous, well-made, and affordable options.
A rug is a sound investment. It's such a simple way to completely transform a room. It can add color, warmth, and contrast. In fact, a rug can make or break a room design. So, there's no shame in spending money on a nice rug.
But of course, we all like a great bargain, and affordable rugs give you the opportunity to change up your room décor and restyle the look and feel of your home.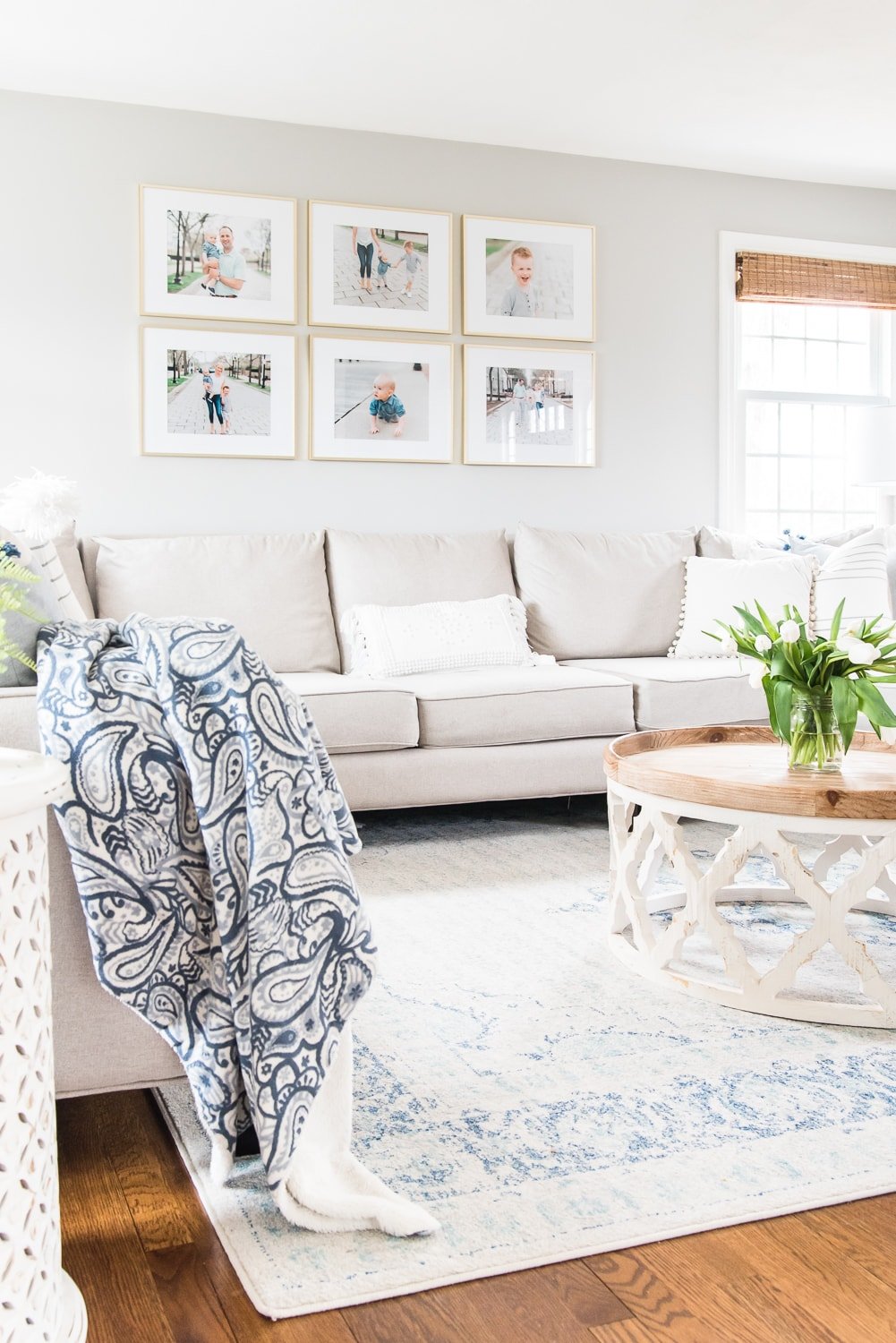 So if you're thinking of a rug upgrade, or you just want to refresh your space, I'm sharing all the best places where you can buy affordable rugs online.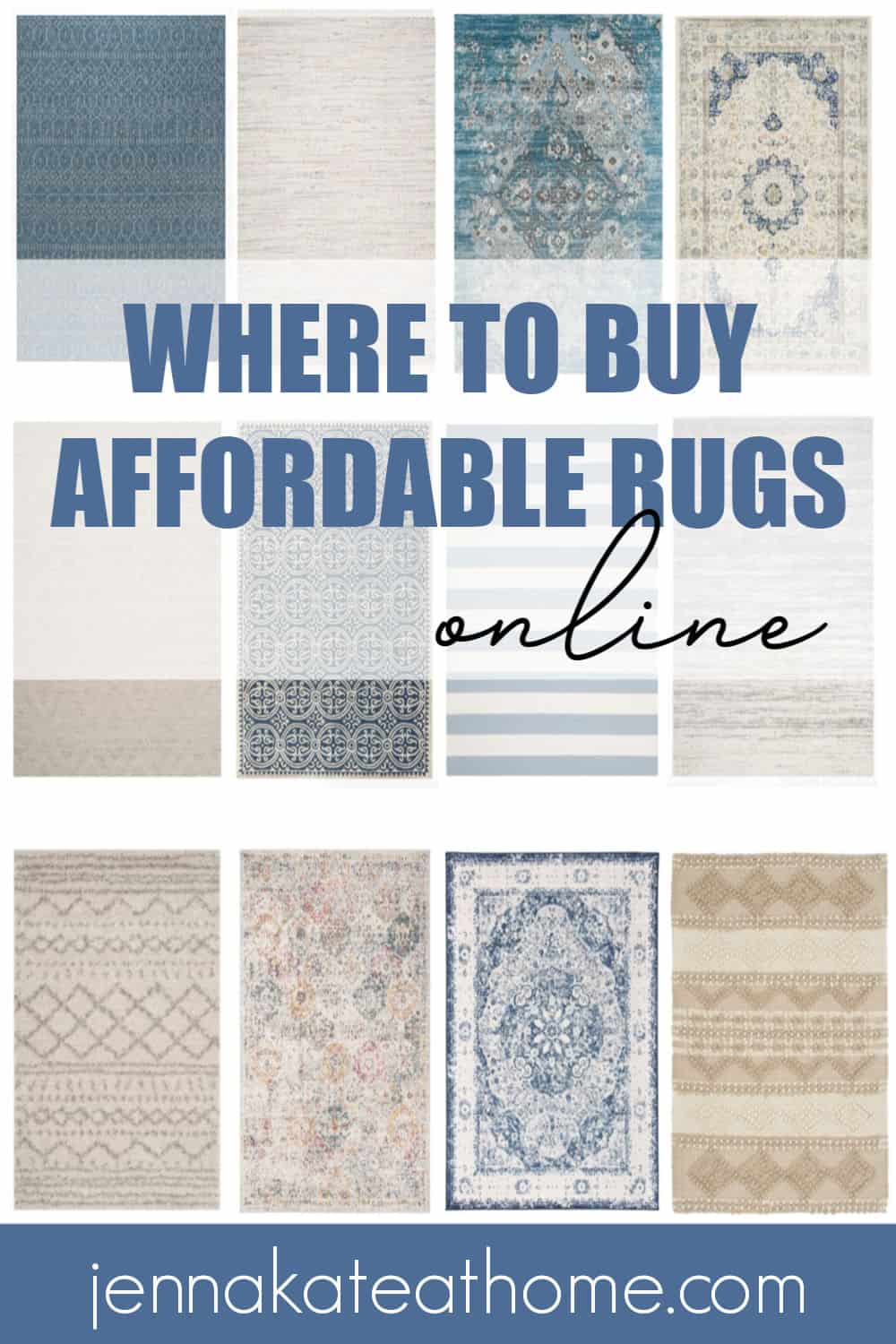 Finding a Rug that Works with Your Style and Budget
Nice rugs can be REALLY expensive. Yes, there are many rugs out there that are probably worth a serious investment, but why spend so much when there are quality options available for much less?
Anyone who knows me knows that I'm super cheap. I rarely spend large dollar amounts on anything besides major furniture purchases like a couch, dining table, and that sort of thing. Why spend a lot of money on floor coverings?
Plus, an expensive rug doesn't really fit our lifestyle these days. I absolutely refuse to shell out vast sums of money for a rug that will probably have stains on it within a week (the reality of life with three kids!).
Speaking of stains, check out this post if you need some specific kitchen runner rug ideas.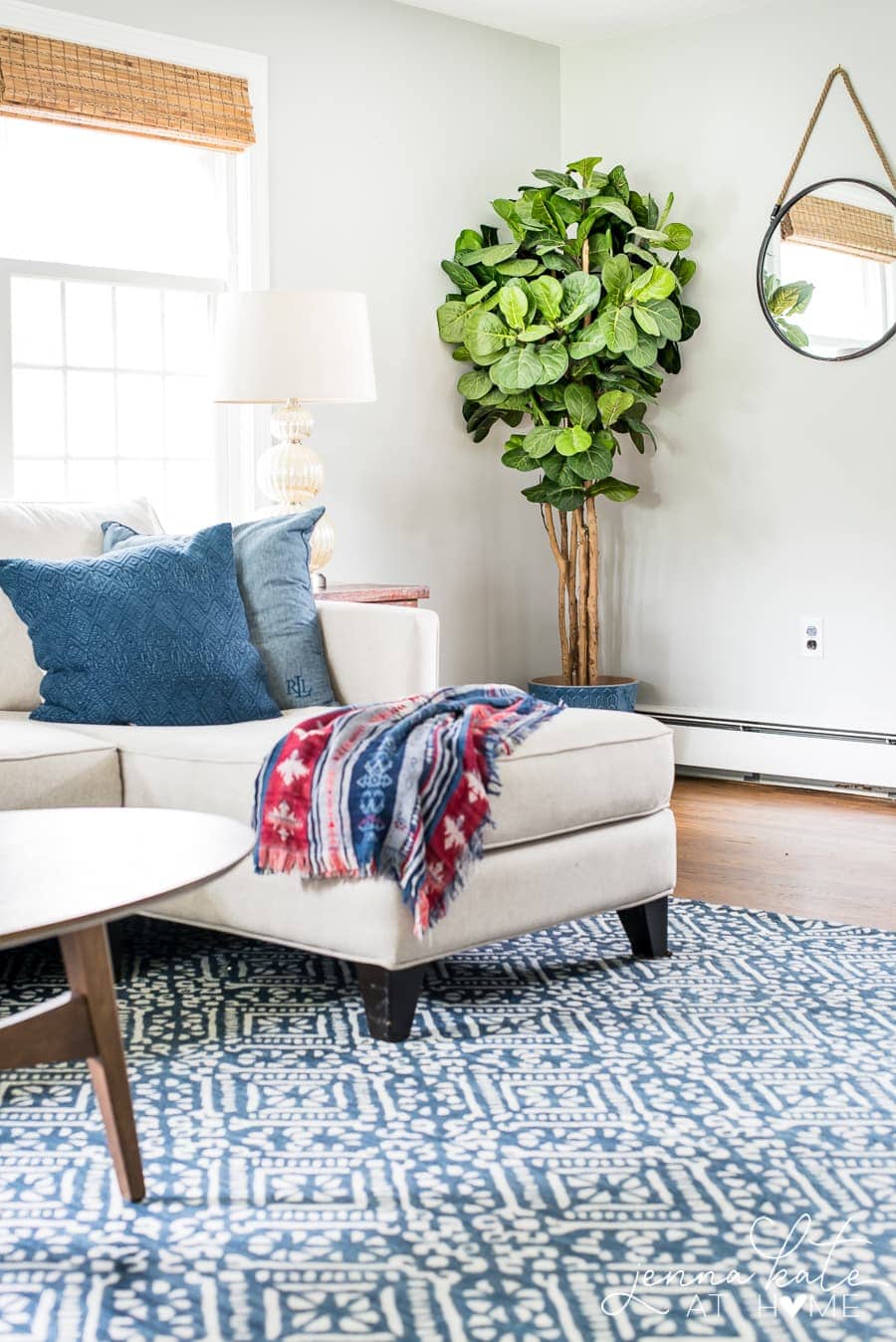 So, I've become a pretty big bargain hunter when it comes to home décor (like affordable lighting), and rugs are no exception. I've been lucky too! So far, I've never paid more than $250 for a rug—and the largest rug I own is 7′ x 11′.
Once I spy a rug I love, I have no issues waiting for a coupon code or sale to roll around. There are a LOT of wonderful choices out there, especially if you're shopping for a rug online. I recommend holding out for sales whenever you can. If you miss your window, another great rug will come along soon.
Now, you may worry that you won't find the perfect rug from a tiny picture on the internet. But many websites allow you to view the rug from many different angles. Some new website features can even let you view the rug in your room using your smart phone.
This is a super helpful tool you can use with furniture and wall hangings as well. It really takes the guess work out of shopping for home décor online.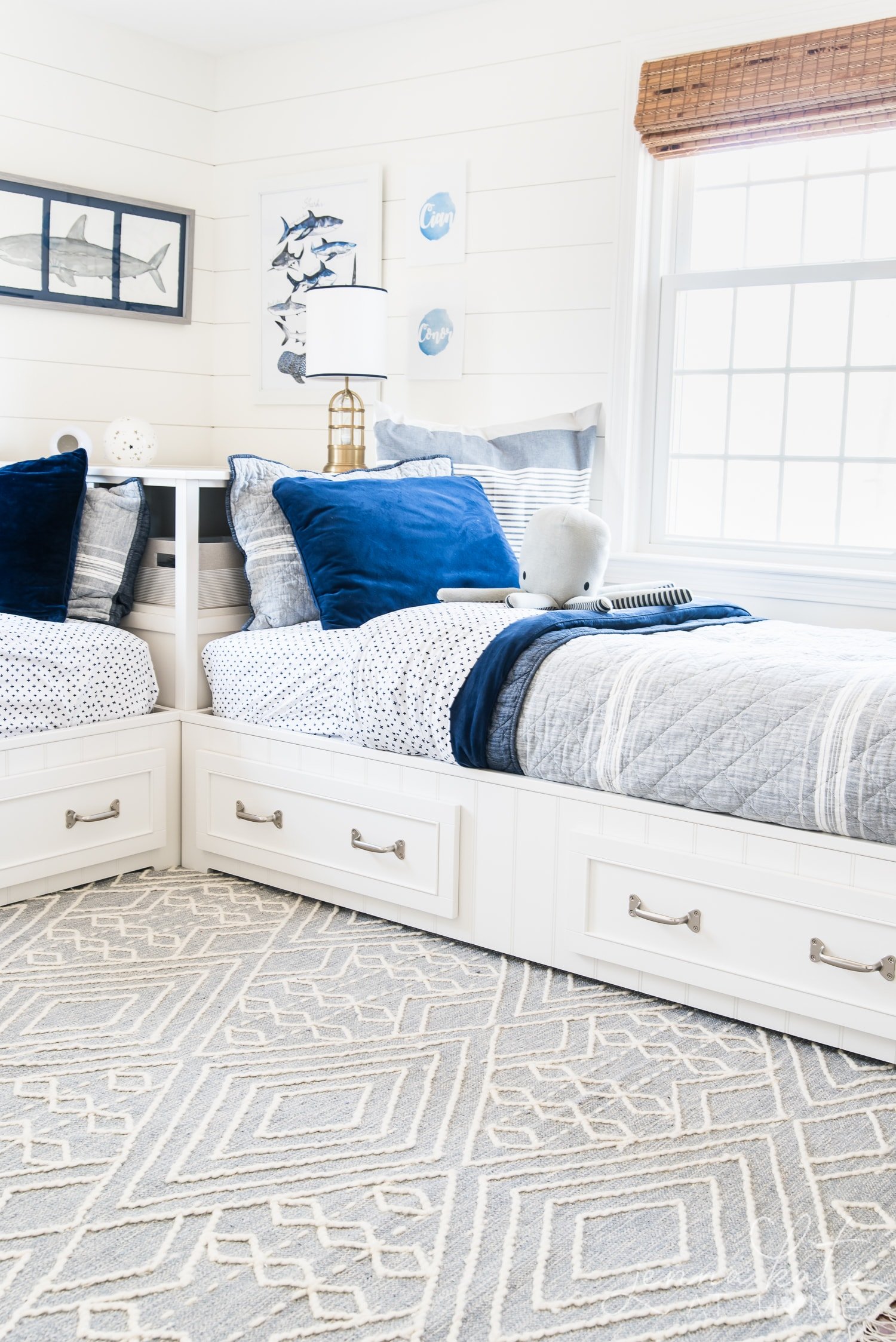 Read reviews so you get insight into the quality and durability of the rug you're considering. I've found that online reviews are often very useful (and have helped me steer clear of some regrettable purchases).
Some companies will allow you to ask questions about the item before you buy, in case there's something that's unclear in the description or photo of the rug.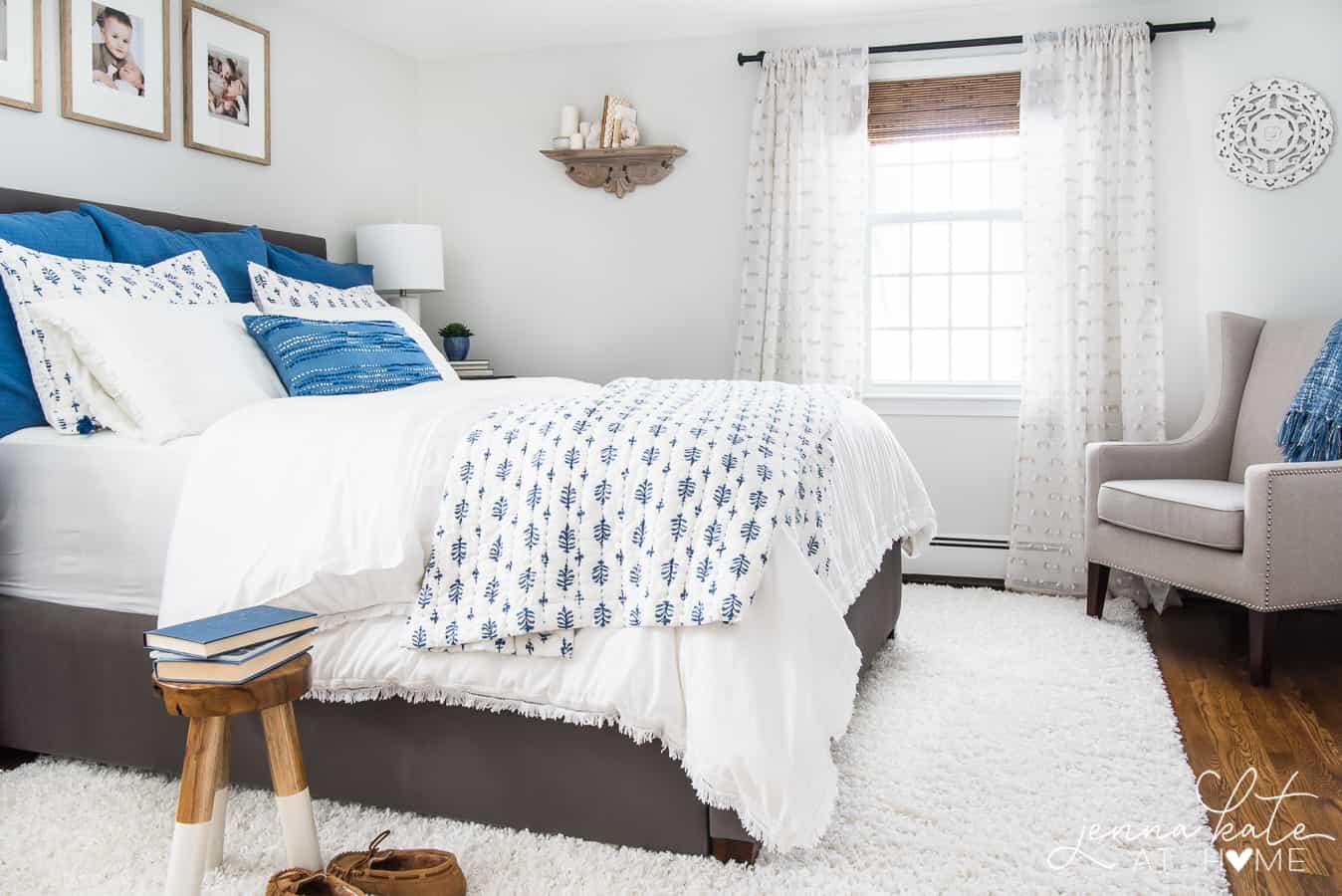 It's also important to note that every area rug in my home was purchased online, so I've come across some pretty good deals over the past few years. I've learned which websites are the best go-to spots to find affordable rugs online, and today, I'm going to share all my sources with you!
The Best Online Sources for Beautiful & Affordable Rugs
I know you may think, "Walmart? Really?" But Walmart is my newest and most favorite source for all things home decorating. Their prices are amazing, and they offer next day delivery on thousands of items. I've found many items from my home on sale at Walmart for much cheaper than other online sources too!
As far as affordable rugs go, Walmart's selection is excellent. They offer plenty of options for under $100, and the quality of their rugs is surprisingly good. If you're looking for affordable rugs online, Walmart should be your first stop. If you find that your new rug doesn't work for your home, Walmart also offers a reasonable return policy. In most cases, you can return the items to your local store, which is very convenient.
Check out some of the gorgeous rugs from Walmart, below:
---
I know Amazon will come as no surprise as a source for affordable rugs online, but I think that many people forget about Amazon when it comes to home décor. I buy almost everything at Amazon. I swear I keep them in business, but I hadn't really thought of them for home goods before. Recently, a new rug caught my eye, and I decided to go for it.
I couldn't be happier with the rug I purchased from Amazon. The quality was impressive and it came in under $100, which is a great price! With Prime, I got it fast and shipping was free (bonus)! Amazon also offers product protection and easy returns, even on their home décor items. You can often return them to a local Kohl's store (or ship them back, of course).
Some of my current favorite rugs from Amazon are below:
---
Target is my second home. My local store staff actually knows me. Yikes! Now, I realize like Walmart, most people don't think of Target as a spot for online shopping, but don't dismiss the idea! Target has some fantastic affordable rugs online.
Target sells rugs both in-store and online (but as with many of their home décor items, the online selection is better). On the Target website, they have some fantastic prints that you won't find anywhere else. I'm particularly drawn to their Aztec styles, and I'm dying to find a space in my home for one! Don't miss their selection of indoor/outdoor rugs, as well as their exclusive designer collaborations that they offer from time to time. When it comes to affordable style, Target's got you covered.
Here are some of my favorite rugs from Target:
---
Wayfair is super popular with many bloggers. After all, they have a considerable array of furniture and home décor items on their website, and you can find something for almost any style. You can narrow the selection by price (as well as style, color, and other filter options) and quickly find rugs within your chosen range.
I've only purchased one rug from Wayfair, but the price point was great, and the quality was excellent too. Again, keep an eye out for sales as they often run good discounts, including great deals on beautiful room-sized rugs. If you sign up for their email list, you'll receive sale notifications and special offers. Don't miss their guide to help you select the right sized rug for your room.
---
OK, I'm going to be very honest for a minute. I have a love/hate relationship with Rugs USA. I love the fantastic online selection of rugs and how cheap their rugs are. Rugs USA also generally ships really quickly, so you'll get your rug right away.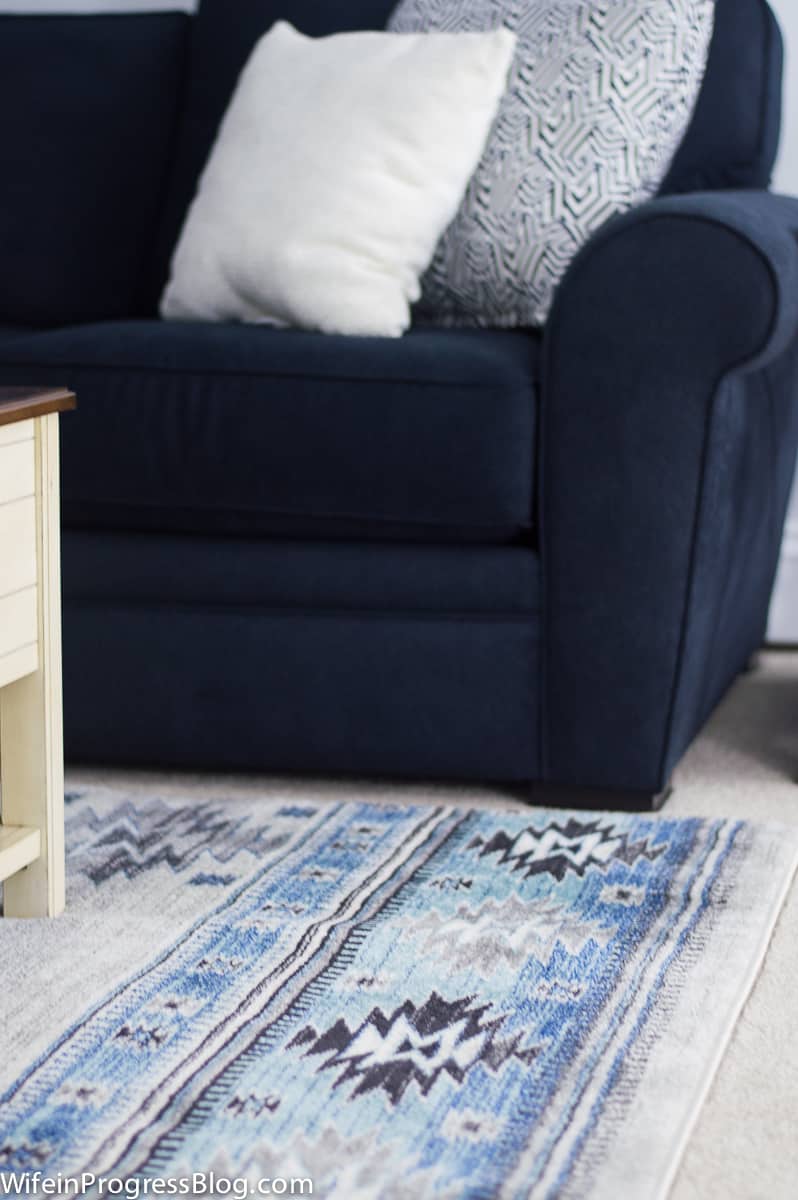 However, you really have to make sure that you read a bunch of reviews before you commit to buying one of their rugs online.
Believe me; I'm an expert. I've purchased EIGHT of their rugs over five years, and I've had to return three of them.
Two of those three rugs were not true to the pictures online, and the third was frayed upon delivery. So, make sure you look at the item very carefully when you get it and do your research!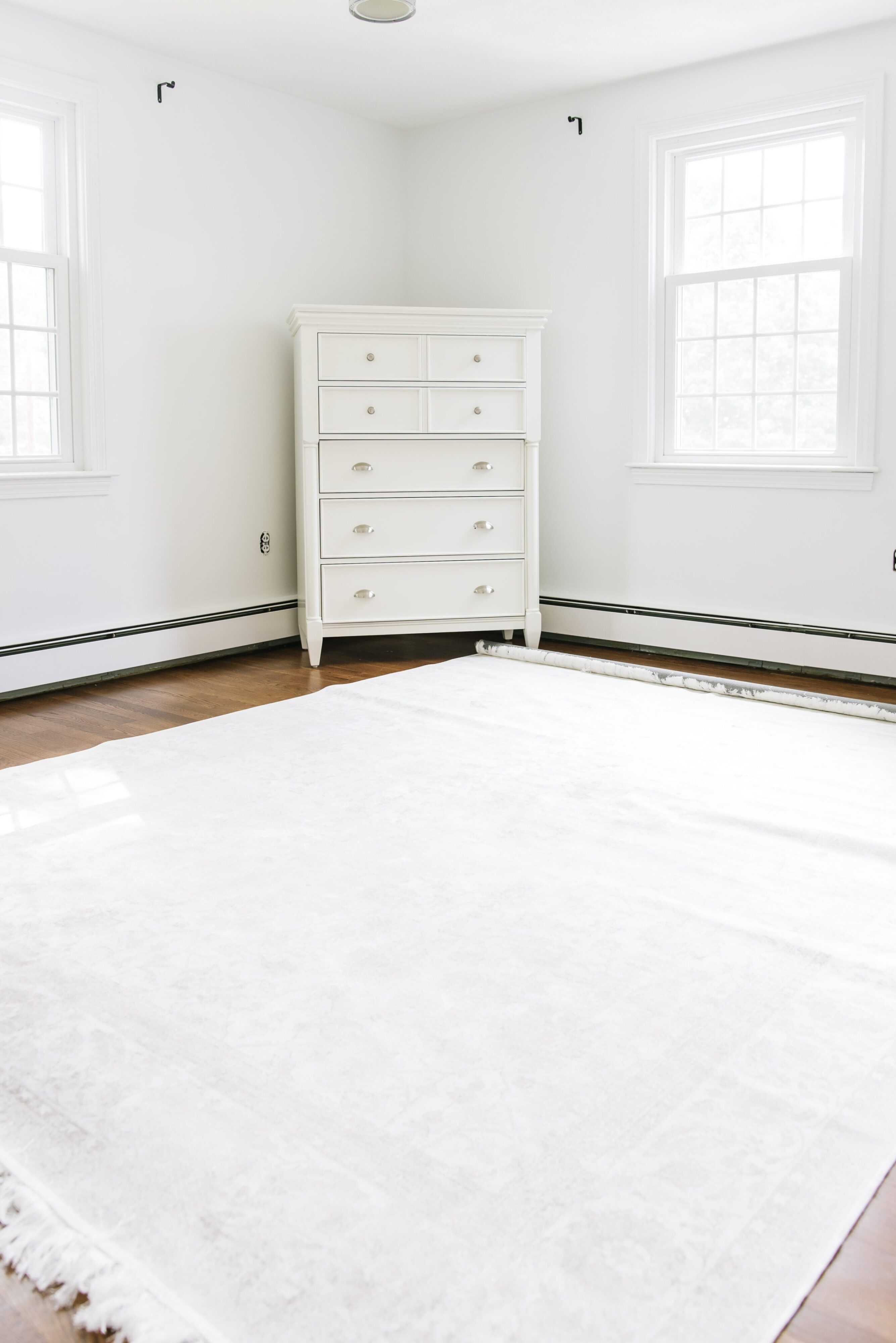 That said, you can get a really great deal on some affordable rugs online from Rugs USA. Despite their shortcomings, I've had a lot of good luck with the company. Most of the rugs in my home are from Rugs USA, and I love them.
Here are some of my favorite rugs from RugsUSA. Many of which I own!

---
Hopefully, that gives you a few great ideas of places you can find affordable rugs online. Don't dismiss the idea of hopping on the computer and shopping for rugs. You'll find a huge selection out there and you can find many inexpensive rugs that will look great in your home. You don't need to spend a lot to get a beautiful, durable rug!
Don't Forget The Rug Pad
No matter how soft your rug is, don't forget the area rug pads. They are important for several purposes:
Prevent rugs from slipping and sliding
Prevent scratches on your floors from the underside of the rug rubbing against them
Most importantly (to me!) provide extra comfort, softness and warmth.
The type of rug pad you opt for will depend on the rug you have purchased. If you just want a thin protective pad that will stop your rug from slipping, then these rug gripper pads from Amazon are a great, choice. If you need additional softness because your rug is on the thin side, then this cushioned pad, also from Amazon, may be a better choice.