One of the questions I get asked frequently is where to purchase affordable rugs online. A rug is such a simple way to completely transform a room. It can add color, warmth and contrast. In fact, a rug can make or break a room design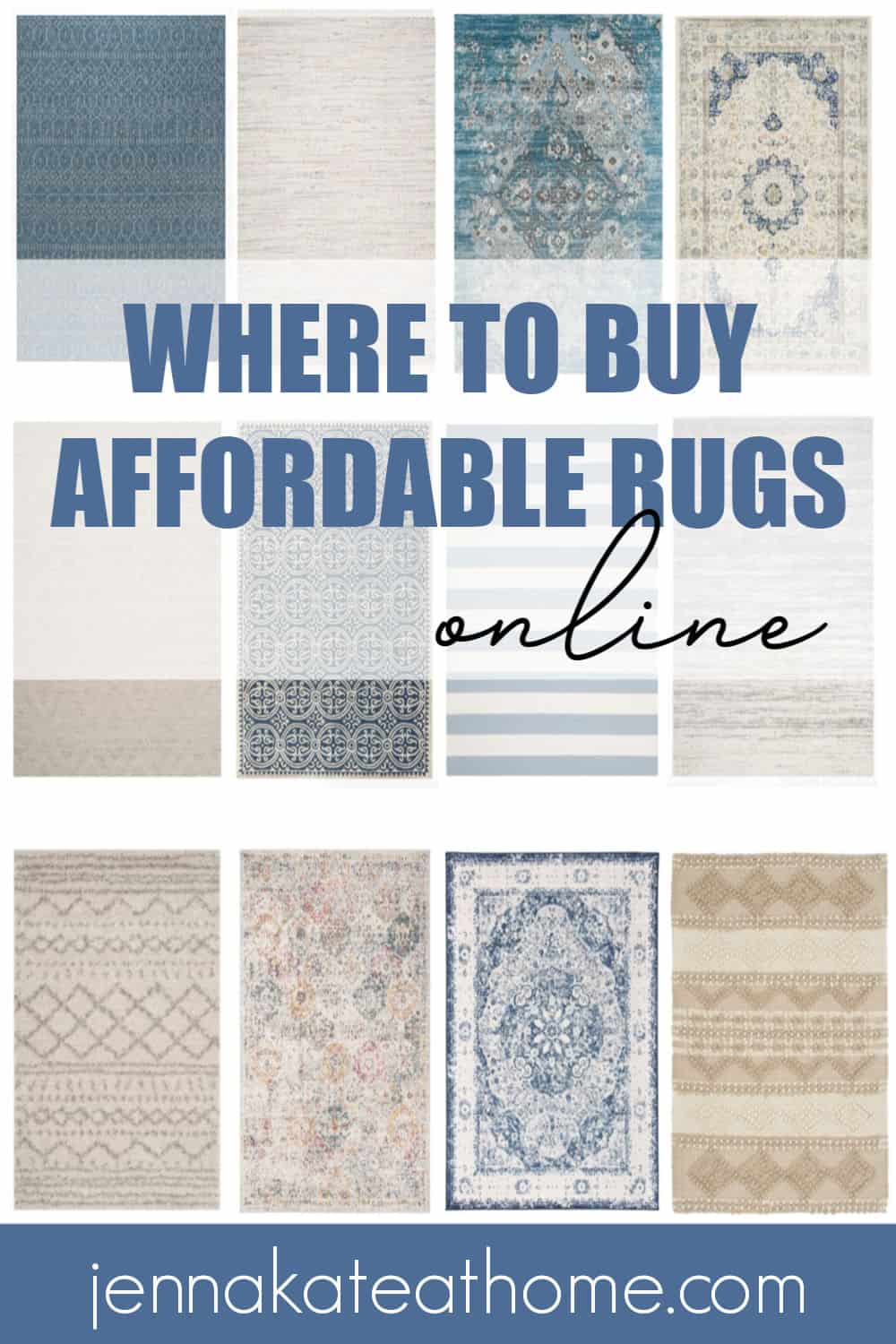 Nice rugs can be REALLY expensive. Anyone who knows me know that I'm super cheap. I rarely spend large dollar amounts on anything besides major furniture purchases (couch, dining table, that sort of thing!). And I absolutely refuse to shell out huge sums of money for a rug that will probably have stains on in within a week (reality of life with 2 kids!).
So far, I've never paid more than $250 for a rug – and the largest rug I own is 7′ x 11′. Once I spy a rug that I love, I have no issues waiting for a coupon code or sale to roll around.
Every area rug in my home was purchased online so I've come across some pretty good deals over the past few years. Today, I'm going to share all my sources with you!
The Best Online Sources for Beautiful & Affordable Rugs
Affiliate links included for your convenience.
Click on each image to be taken to the respective product page.
Walmart
Walmart is my newest and most favorite source for all things home decorating. Their prices are amazing and there's next day delivery on thousands of items. I've found many items from my home on sale at Walmart for much cheaper than other online sources, too!
Amazon
I buy almost everything at Amazon. I swear I keep them in business. Recently, I purchased a new rug from Amazon – something I had not previously purchased. The quality was awesome and it came in under $100, which is a great price! Some of my current favorites are shown below.
---
Target
Target is my second home. My local store actually knows me. Yikes! Target sells rugs both in store and online (but the online selection is better). They have some amazing prints that you won't find anywhere else. I'm particularly draw to their Aztec styles and I'm dying to find a space in home for one!
---
Wayfair
I've only purchased one rug from Wayfair but the price point was great and the quality was great, too. Again, keep an eye out for sales as they regularly offer good discounts!
---
OK I'm going to be really honest for a minute. I have a love/hate relationship with Rugs USA. I love how cheap their rugs are and the amazing selection they have. They also generally ship really quickly. However, you really have to make sure that you read a bunch of reviews before you commit to one of their rugs. I've purchased 8 rugs from them over a 5 year period and had to return 3 of them. Two of those three were not true to the pictures online and the third was frayed upon delivery.
With that being said, you can get a really great deal. Most of the rugs in my home are from Rugs USA and I love them.