This post may contain affiliate links | For further details, please read our privacy policy
Learn how to decorate a living room that you'll love! From furniture and rug placement to accessories and art, this is everything you need to know to design a space you'll enjoy for years to come!
While a living room is a space where you spend a lot of downtime in, it is also the first place that many visitors will see and interact with.
It's an area that needs to set the tone for the rest of your house – the color palette and the style seem to grow from this room outward, so the living room should be the focal point of the rest of the house and the place you should begin when deciding to re-decorate.
Choosing a the right paint color can have a major impact on the look and feel of your room. If you're having trouble with this, these living room paint ideas will help.
Creating Zones in a Large Living Room
With newer, modern homes, the living room tends to be longer and narrower than the older styled counterparts. This style can confuse new home decorators and can often lead to areas looking out of proportion.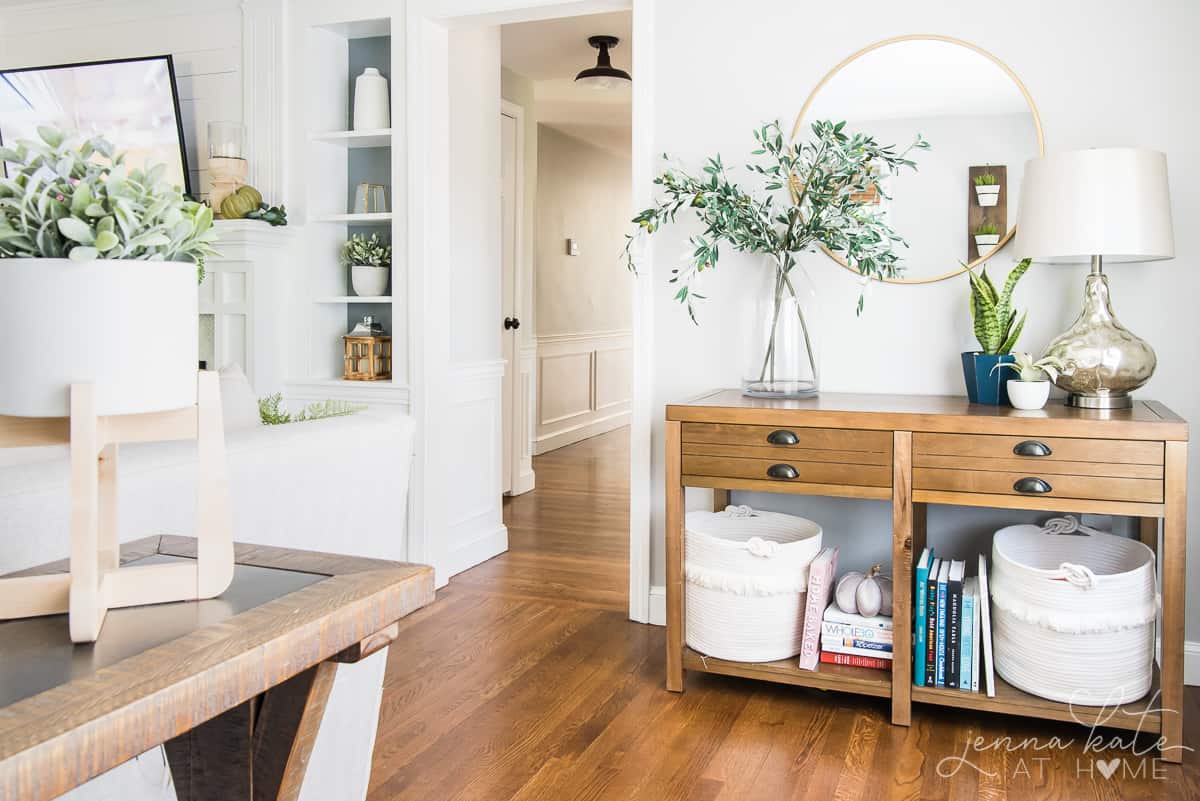 For an area like this, consider breaking it up into separate spaces or zones. It's possible to turn one half into a television area and the other into a conversational area or a reading area. It's always a good idea to keep the furniture in a similar style, but they don't have to completely look the same.
Consider The Function of The Room
Does your living room need to serve multiple purposes? A space to relax in front of the TV, a play space for the kids or maybe an office or homework space?
It's important to think about how the room needs to function before decorating, and if need be – figure out how to create distinct zones to serve those additional purposes.
Decorating Style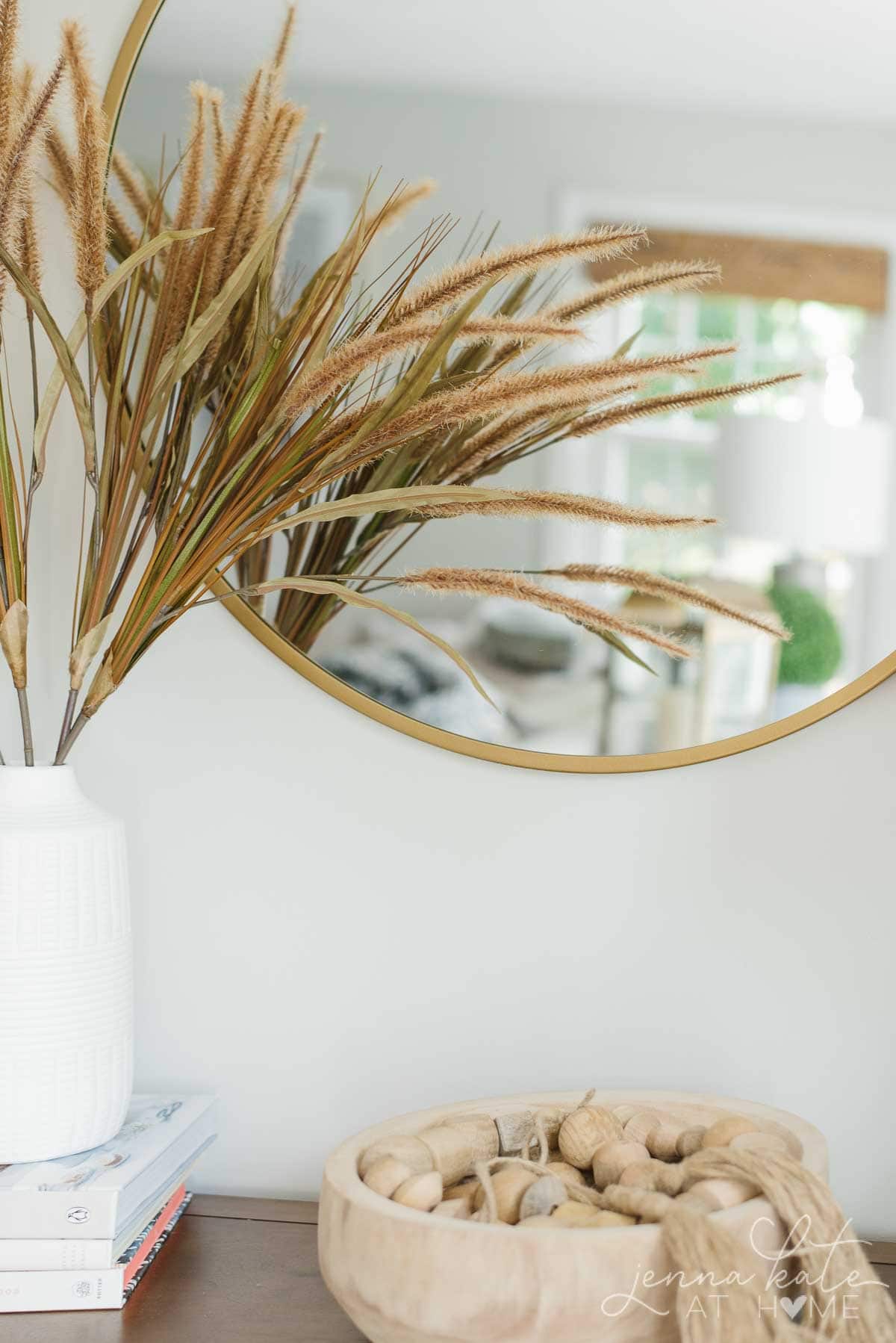 Decorating style is where your personality comes out and should be entirely up to you.
You could be minimalist and modern and want clean lines, muted tones and no fuss.
You could prefer a more traditional style with ornate cornicing, rich wood accents and heavy furniture. Maybe you like to mix different design styles together for your own unique take on it.
Whatever your personal decorating style, stick with it throughout your home for a cohesive look.
If you don't know what your decorating style is, I have 5 simple ways to find your personal decorating style.
Color Scheme
Once you have a clear understanding of your personal decorating style, the next step to decorating your living room is to decide on a color scheme. The best designed homes have a whole house color scheme, where the colors naturally flow from one room to the other, and never feel jarring or out of place.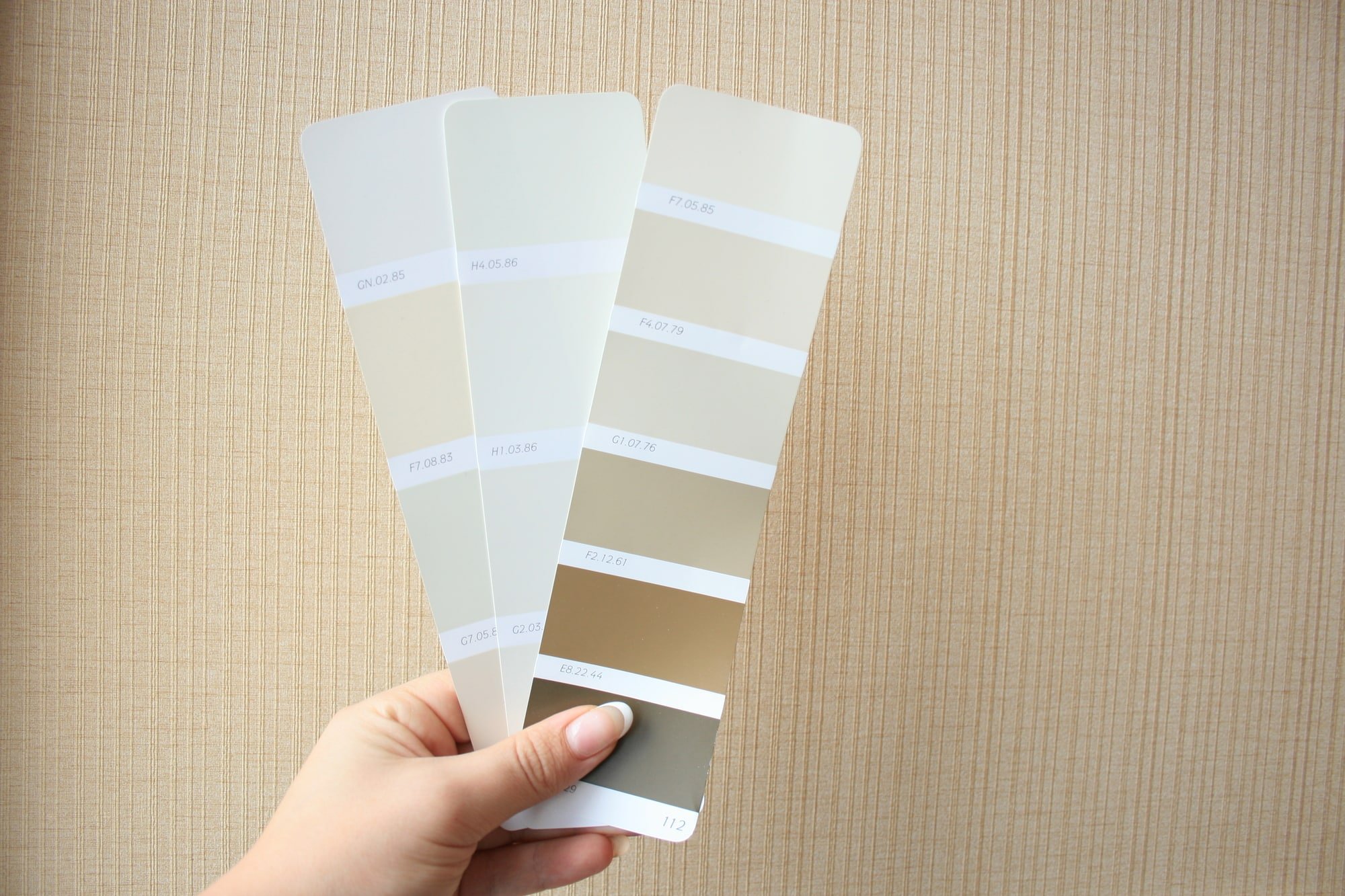 It's important to consider what colors you will be using throughout your home when picking a color scheme for you living room.
I personally subscribe to the notion of keeping walls neutral and then using rugs, pillows and blankets to bring color into the space. This has the added benefit of being easy to switch up color schemes and accent colors as you want, because the walls are a neutral canvas.
Furniture Layout
The major difference between a living room that is decorated and a living room that is thrown together out of necessity is the way it is laid out.
You may be tempted to push a couch against the wall opposite the television stand and declare that the living room. However, putting some thought into space planning will ensure that your living room doesn't feel too small or overwhelmed with furniture.
If you are starting out with pieces that you already own, the decorating process can be a little trickier, but not impossible. Start off with those pieces that you have to keep in your living room and build the area around those.
However, if you have mismatched furniture pieces, you may have to have a serious conversation with yourself about whether or not to keep them in the area or to get rid of them.
There is always the option to reupholster or paint furniture to match your vision for the style and color palette.
Of course, many pieces of furniture can be used in other spaces in your home, too. Accent chairs are great for bedrooms and console tables are perfect for hallways and entryways.
Select a Focal Point
Consider what the focal points of the room are, or what you would like them to be.
Do you have a fireplace that will work well as a centerpiece of a conversational area? Or beautiful views to the garden from one of the windows? Starting with the area that you would like to accentuate is the best place to begin with your layout plans.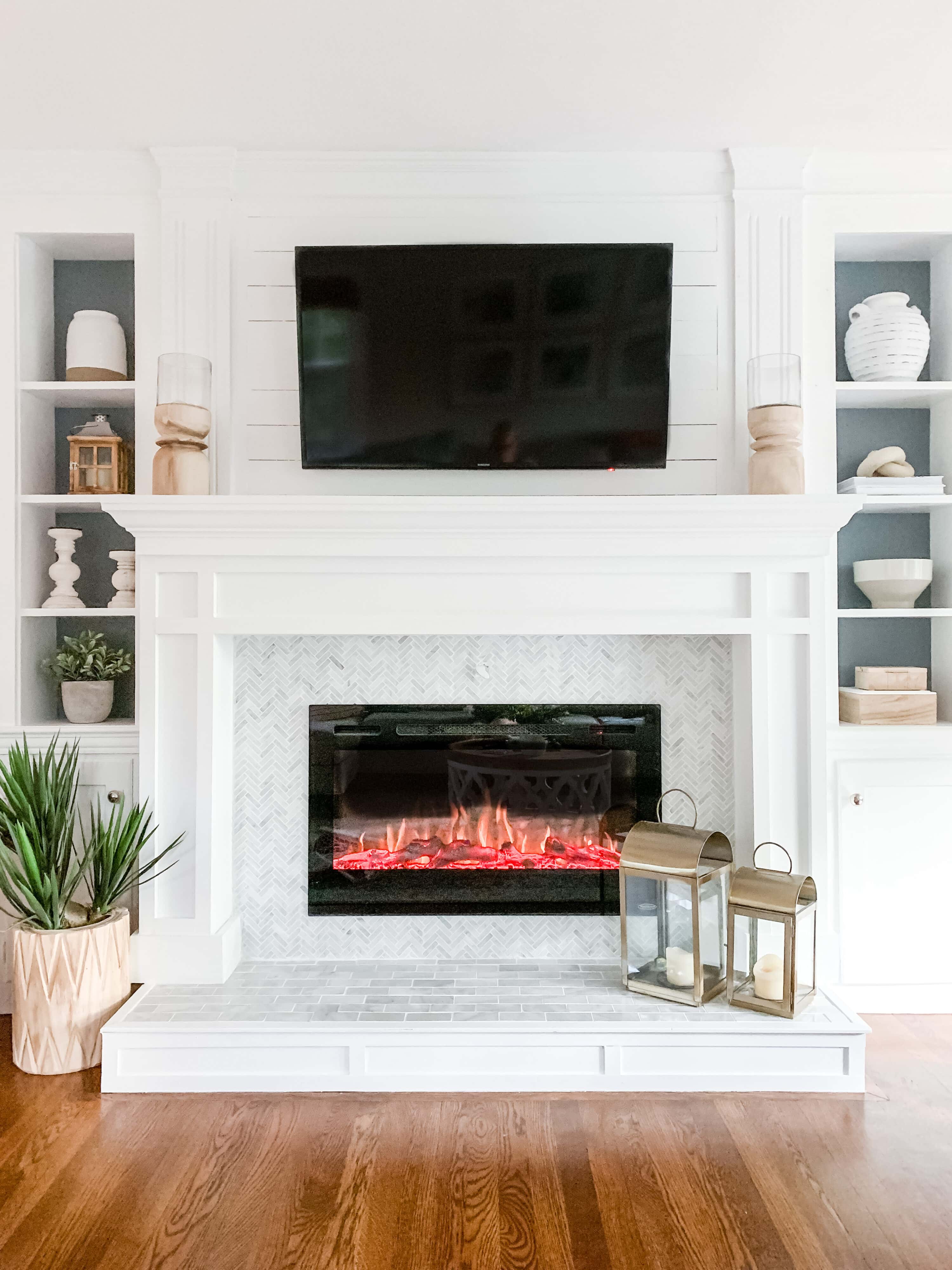 If you do not have a natural focal point in the room, create one with an accent wall, hanging bold art, selecting a grand piece of furniture to accentuate or some large, beautiful plants to draw the attention of the eye.
In my living room, the natural focal point is the fireplace with the TV over it, and built-ins on either side.
Even though the fireplace itself is a beautiful feature, the big black box over it is not.
While this cannot always be helped, you could always consider purchasing a Frame TV (it's a TV that looks like art!) or having doors made to cover the TV when it's not in use.
Area Rugs
Rugs are one of the most noticeable aspects of a living room. If your rug is too small, you run the risk of everything else in the room looking like it is out of place.
A well thought out rug will tie the area together and give it the correct "flow," grounding the furniture pieces around it.
Rugs don't have to be a costly investment, there are many beautiful and affordable rugs available that won't break the bank.
But getting the right rug for your living room will make all the difference in the long run.
Rug Size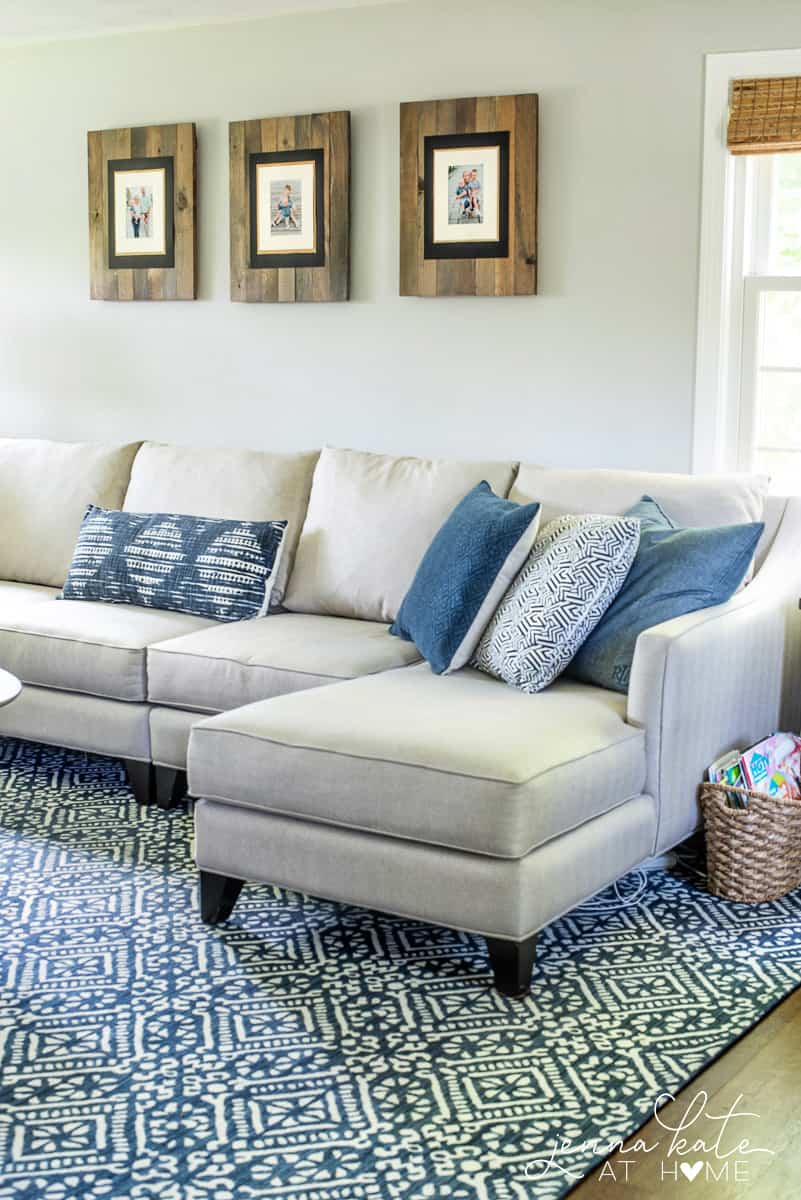 The rule of thumb when it comes to rug size in a living room area is that all of your center furniture should be sitting on the rug.
Additionally, there should be a border between the rug and the wall.
One of the biggest mistakes I see from novice decorators is a rug that is floating in the middle of the room. The front legs of the couch (at a minimum) should always be on the rug.
In the case of my living room, we have a very shallow space so our couch is pushed against the wall. Our rug extends a few inches under the couch and extends a few inches on either side of the couch.
Any furniture that you plan to have on the outskirts of the room such as bookcases, television units, etc. should be considered in the "border area", with floor space between them and the area rug.
Hanging Art
Choosing art for your living room can be difficult for many people, but do not let that put you off of the task. Choosing art that compliments both the vision for the room and your personality will make a huge difference to the living room.
Choose pieces that resonate with you, as you will be the one spending the most time in your living room. Try to go with a central theme with the art – I personally like to have art with colors in it the reflect the color scheme of the room.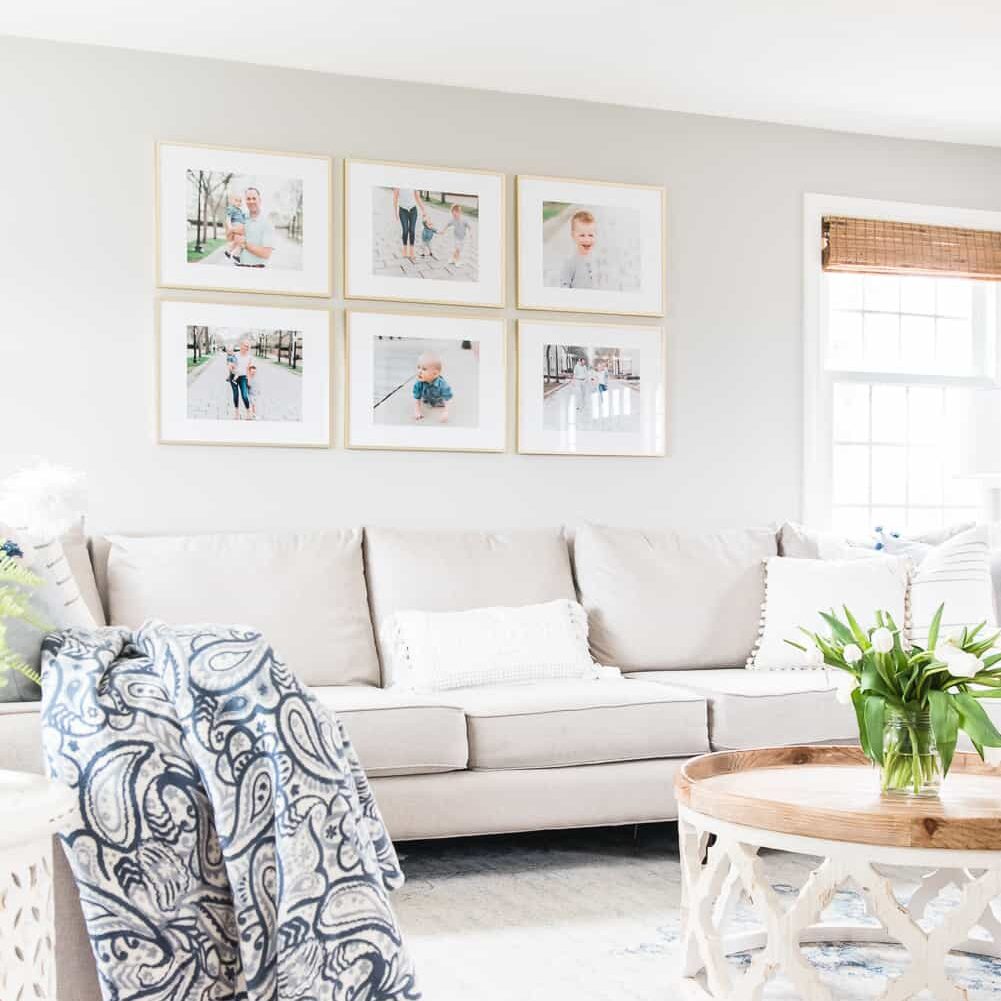 If you choose one theme, stick to it. For instance if you choose to go with abstract, keep all the pieces abstract, too.

Art also does not need to only be paintings. The living room is the perfect space to hang beautiful family photos.
You won't see many family photos hanging in the living rooms of bloggers and designers, because those rooms are made to be photographed. I have family photos all over my home and I love the personal touch it adds.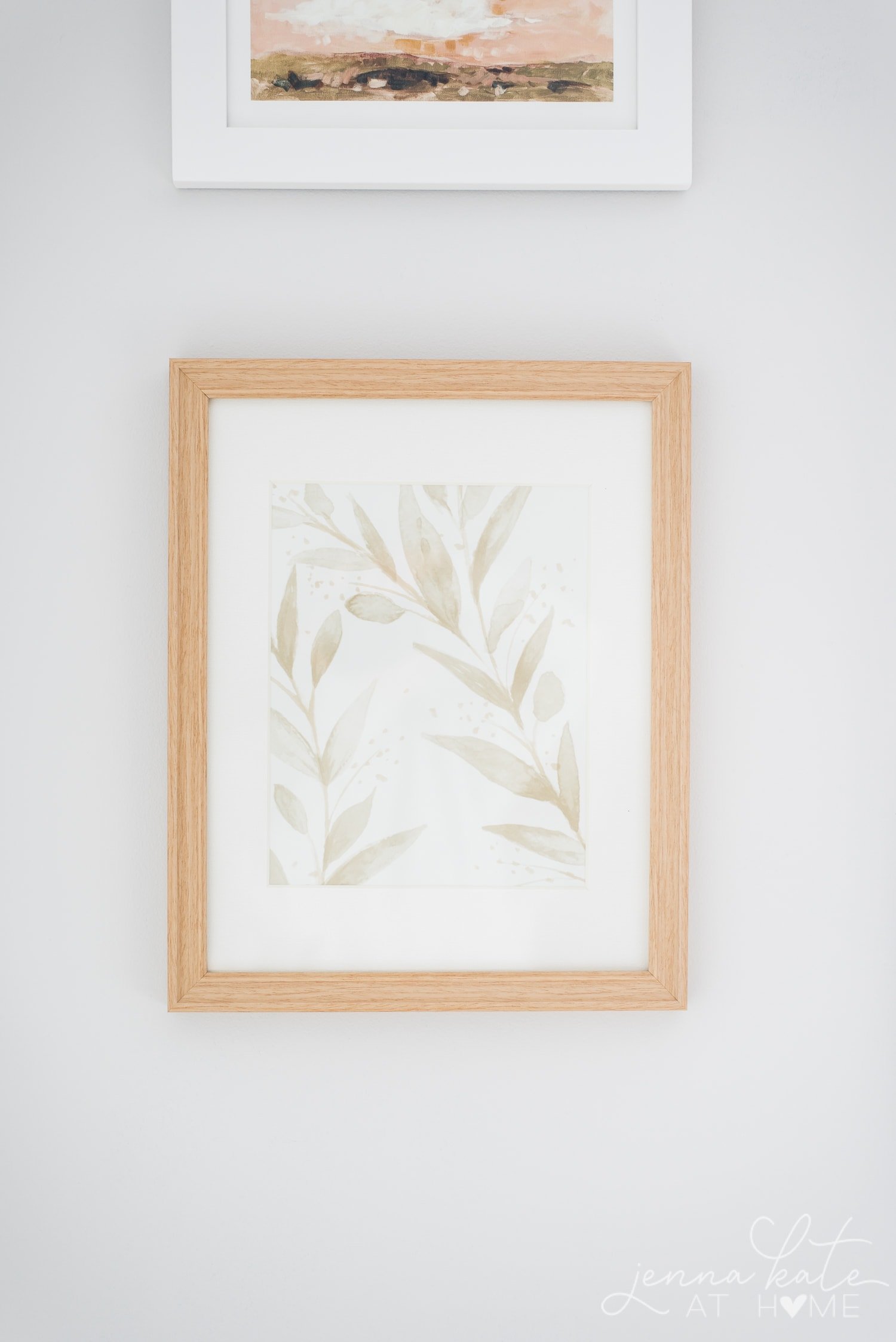 Don't be afraid to use items from around your home to create your own DIY artwork. You'll be amazed at what you can frame to create beautiful pieces for your living room walls!
Like artwork, consider grouping the photos so that they have a similar color scheme. If they don't, consider having them printed in black and white so that they work together more cohesively.
How High To Hang Art
The general rule for hanging art is the place it at eye level. Most novice decorators hang art and photo frames too high. If you're in doubt, always go lower! The same applies for mirrors.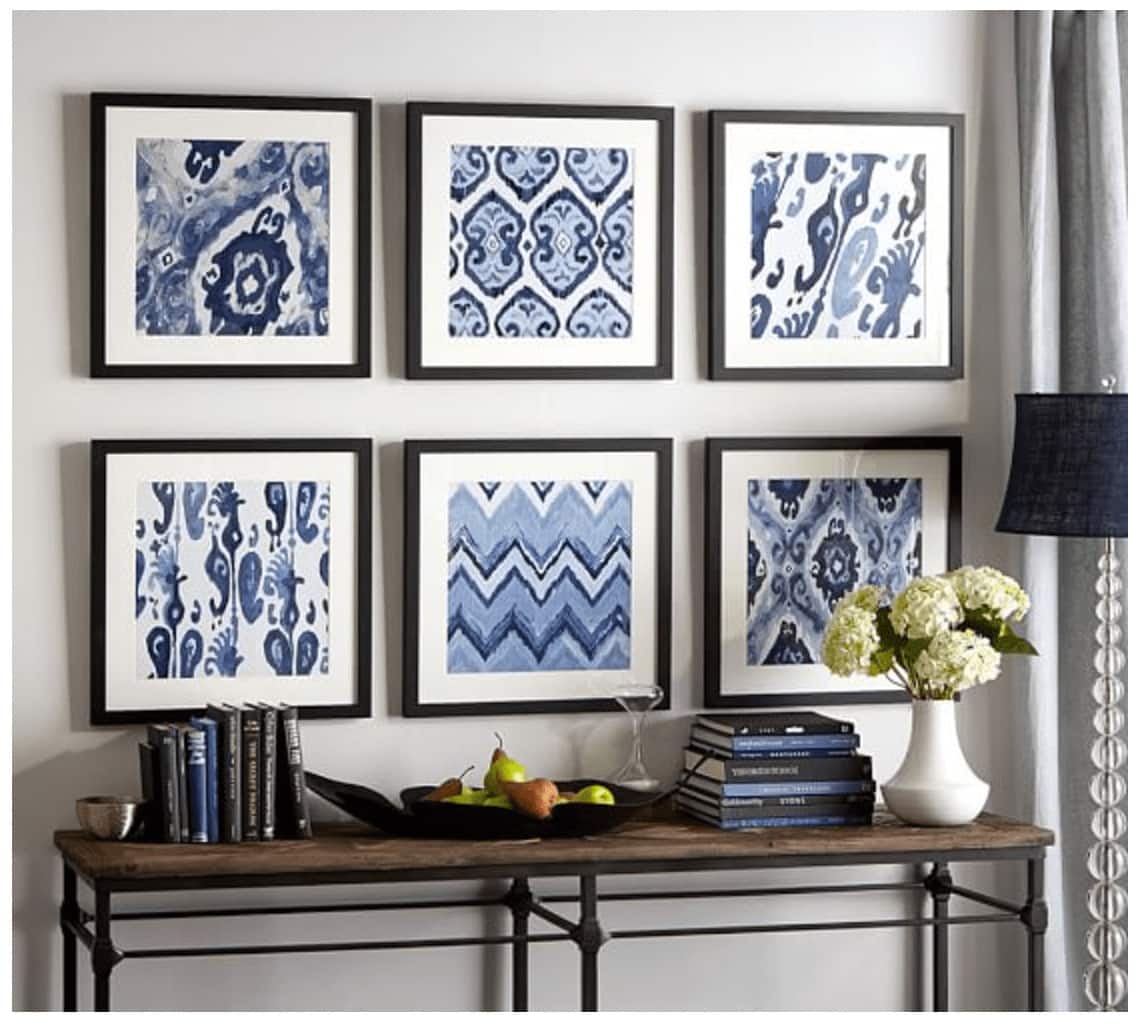 Accessorizing with Pillows and Blankets
The best part of decorating any room is having fun with the accessories. Layering in pillows, blankets and decorative objects is what will really bring your living room to life.
Seasonally, you can change these up without disrupting the flow of your living room. Incorporate items with different textures, sizes and colors to achieve a stylish look.
Richer colors are perfect for fall and winter, while lighter, more airy tones or patterns work for spring and summer.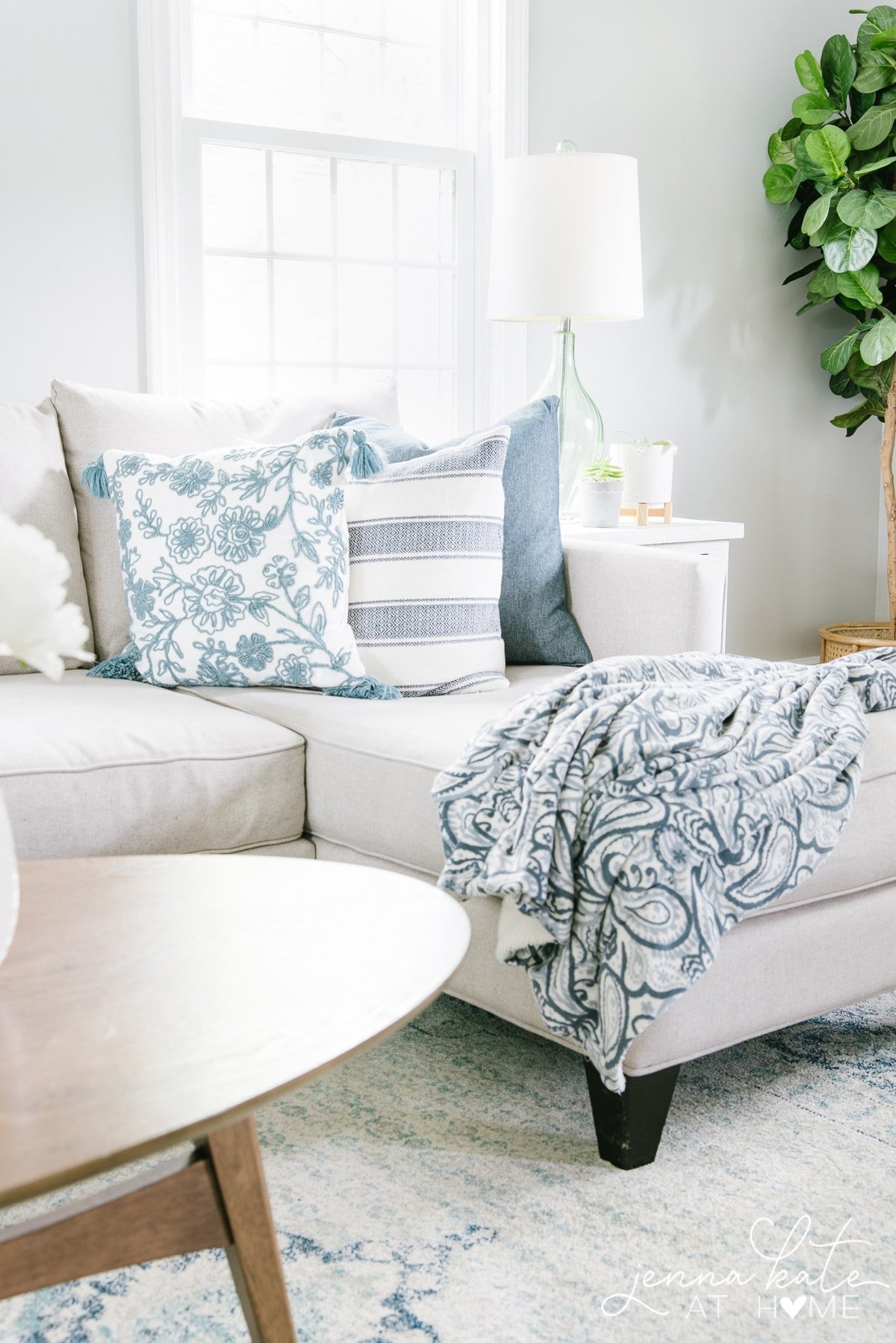 Soft, fluffy blankets or throws over furniture make a room feel more comfortable and cozy and are another easy way to bring color into a space. Tonal changes with pillows can also lead to a complete change in a room.
For instance, if you have a theme of soft, soothing whites and greens in your living room, add some mint colored pillows and break it with a soft blue or pink between them.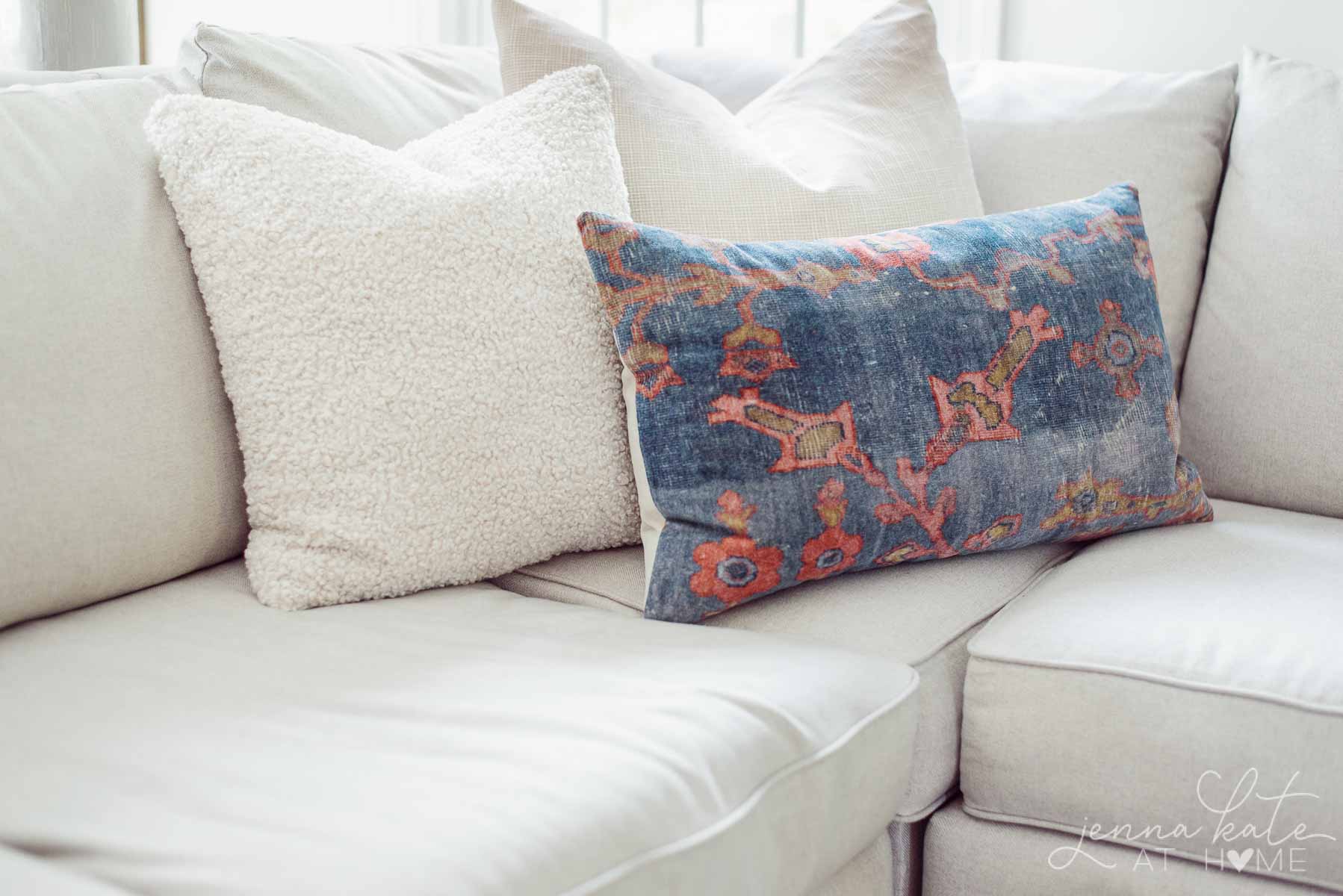 Seasonal changes can also be achieved by changing these small items. These sort of changes make all the difference to a room that either looks decorated or one that is built out of necessity.
Lighting Considerations
Lighting is often overlooked in decorating. It's an important part of the way any room is structured, yet many times we don't always understand or comprehend the impact it can make.
Not only does strong, harsh lighting wash out a room's design and palette, but lighting fixtures can become another way to add life and character to a space. Creating layered lighting is the best way to overcome this.
The lighting in a living room should focus primarily on overhead lighting (example: a pendant light or can lights), as well as ambient lighting like wall sconces, floor lamps or table lamps.
Final Thoughts
Enjoy decorating your living room and making it a comfortable space that you enjoy relaxing in. Having a functional and livable space does not mean that you need to let go of having an area that is also stylish and chic. They can go hand in hand!
Many of us want to have an area that shows off our personality and style, while looking effortless at the same time. By using the key elements of design in a living room, you can create a space that you will want to spend more time in and enjoy.
More Decorating Posts