This post may contain affiliate links | For further details, please read our privacy policy
If you're looking to give your house a little refresh but don't want to spend too much money, simply changing out the light fixtures in each room can give you a completely different look that won't break the budget.
Lighting plays a crucial role in creating the perfect atmosphere in your home. Choosing the right light fixtures can not only enhance the aesthetics of your space but also help you save some money in the process.
When it comes to selecting affordable light fixtures, it's essential to remember that you don't have to compromise on style or quality. There are numerous options available that cater to various tastes and needs, ensuring that you find the perfect lighting solution for your home. From chandeliers to pendant lights, you are sure to discover a wide range of stylish and functional choices, including designer dupes for less than $120!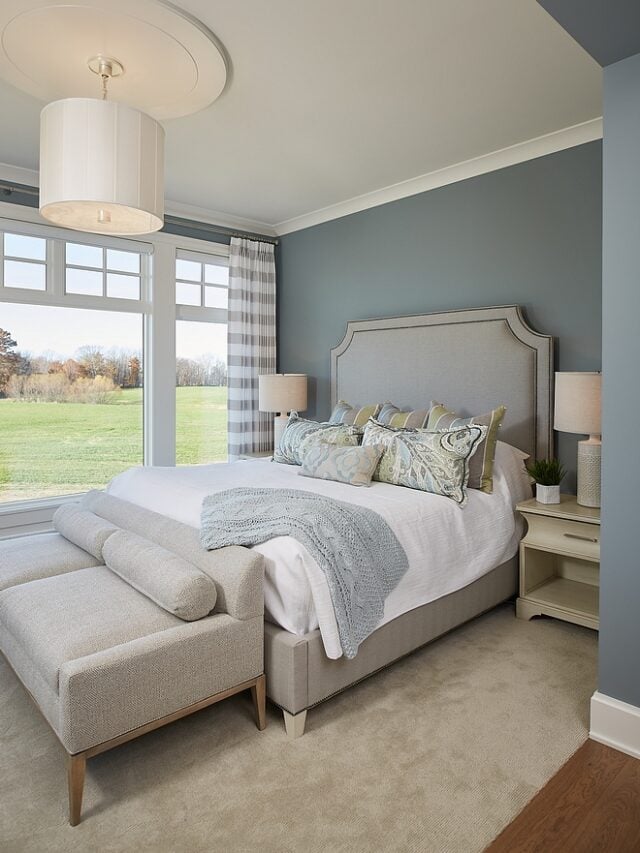 Types of Popular Light Fixtures
Pendants
This type of accent lighting is a simple yet versatile and budget-friendly option to brighten up your space. You'll find these fixtures usually over kitchen islands or dining room tables.
These kitchen pendants come in all shapes, sizes, and various materials. They're a much more updated option to the track lights that you used to see in the 80's and 90's.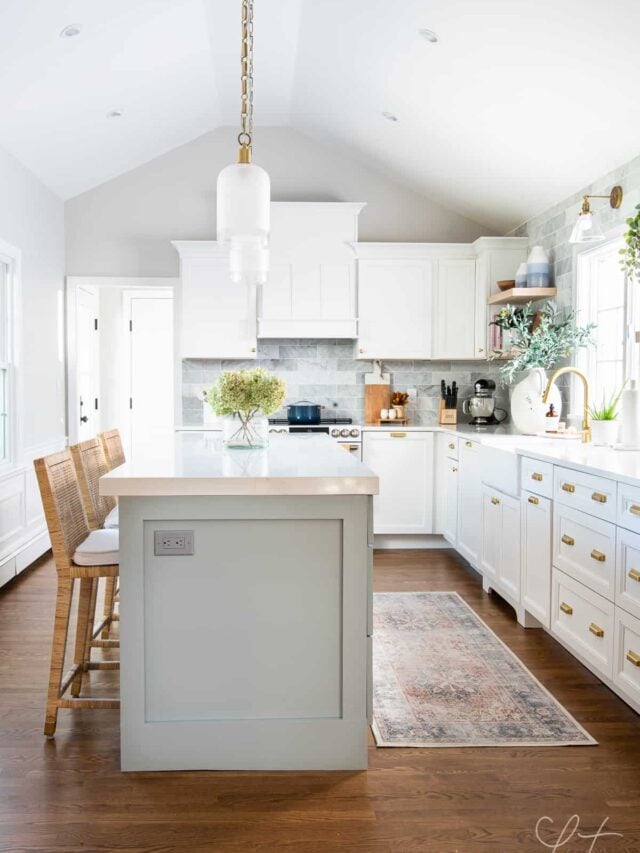 Chandeliers
Who says that chandeliers have to be an expensive splurge? You can find a range of affordable options that give your space a bit of drama and glamour. Now a days, there are so many styles available, from modern to rustic, and even small-sized options.
I've been seeing a lot of beautiful chandeliers popping up in bathrooms, closets, and more simple designs over dining room tables. They're definitely a great option if you're looking for a light fixture that takes center stage.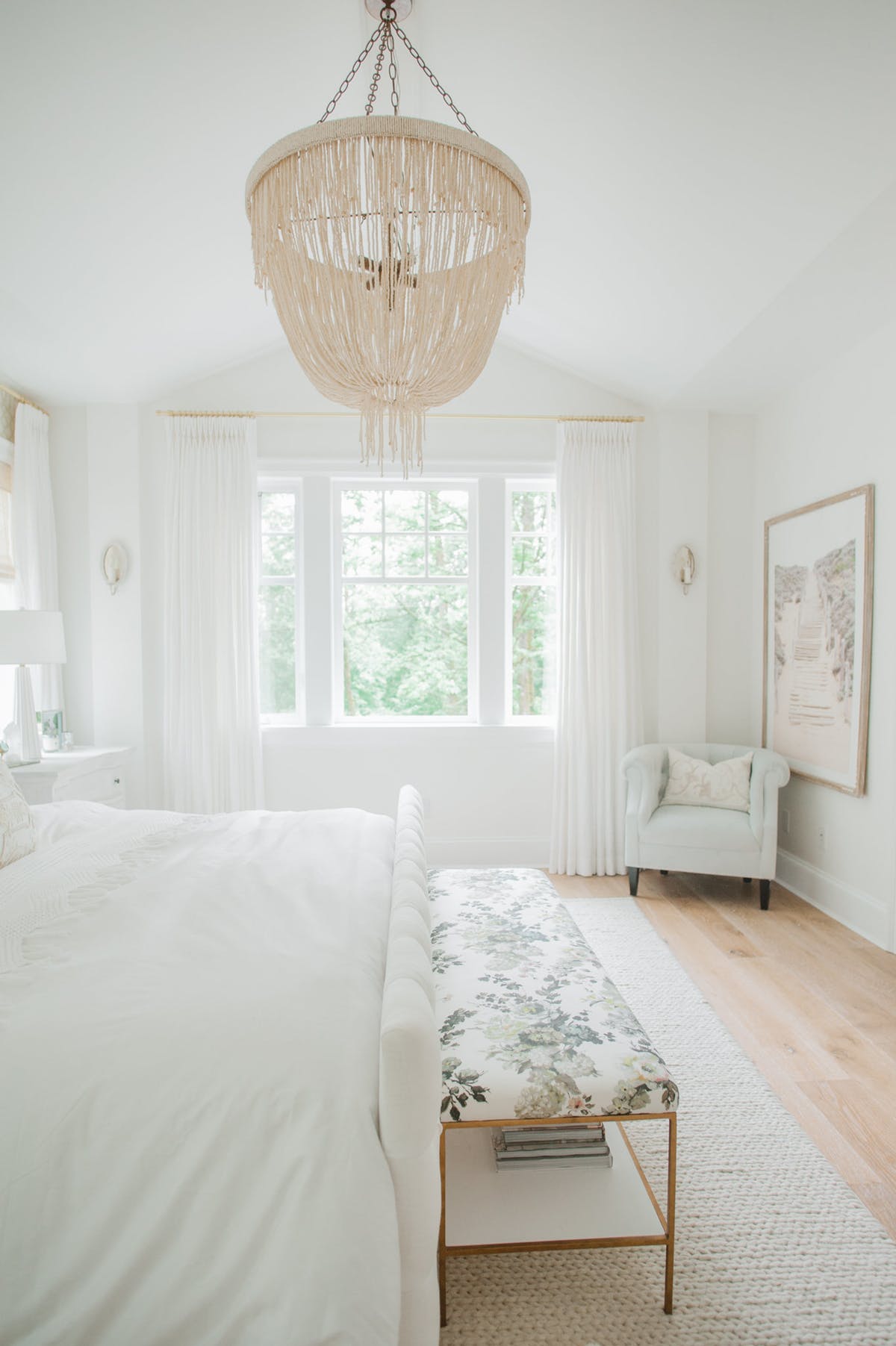 Flush Mounts
These are fixtures that sit close to the ceiling, providing ample illumination without consuming too much space. When taking down our ceiling fans, we replaced a lot of them with flush mount fixtures, due to our below-average ceiling height (less than 8 foot ceilings!).
In most houses, especially the newer construction, you'll find those builder-grade boob light fixtures throughout the hallways and bathrooms. Thankfully, there are tons of better options out there to fit your home decor.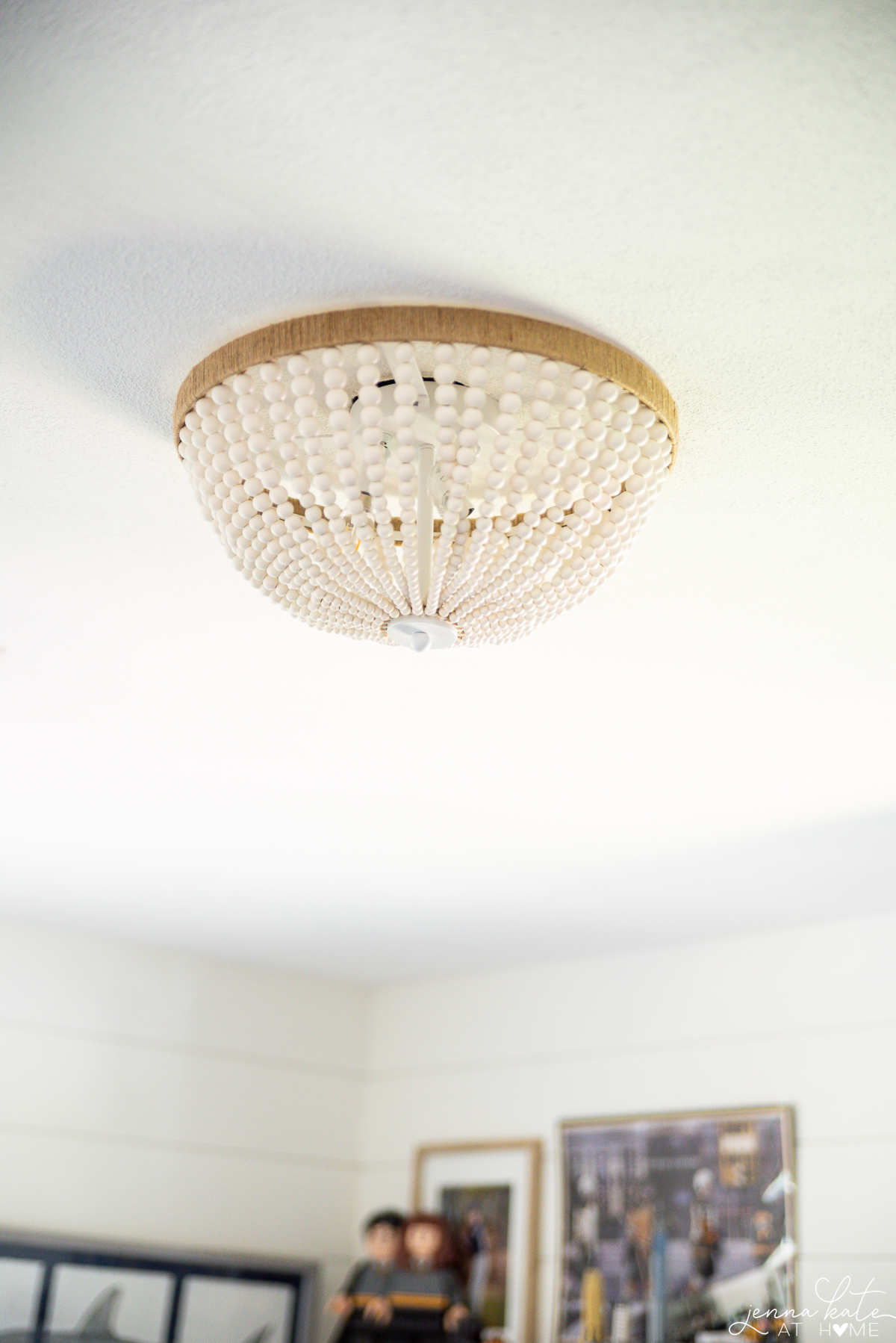 Sconces
Lastly, sconces are both decorative and functional that you can add to just about any room in the house including hallways, bedrooms, dining rooms, and even used for outdoor lighting.
They make affordable lighting options that also take up little space but create the perfect atmosphere when placed in the right areas. I even used them as reading lights in my third kiddo's new bedroom—I just screwed the sconce to the wall, and instead of hardwiring it, I just screw in a rechargeable battery-operated bulb!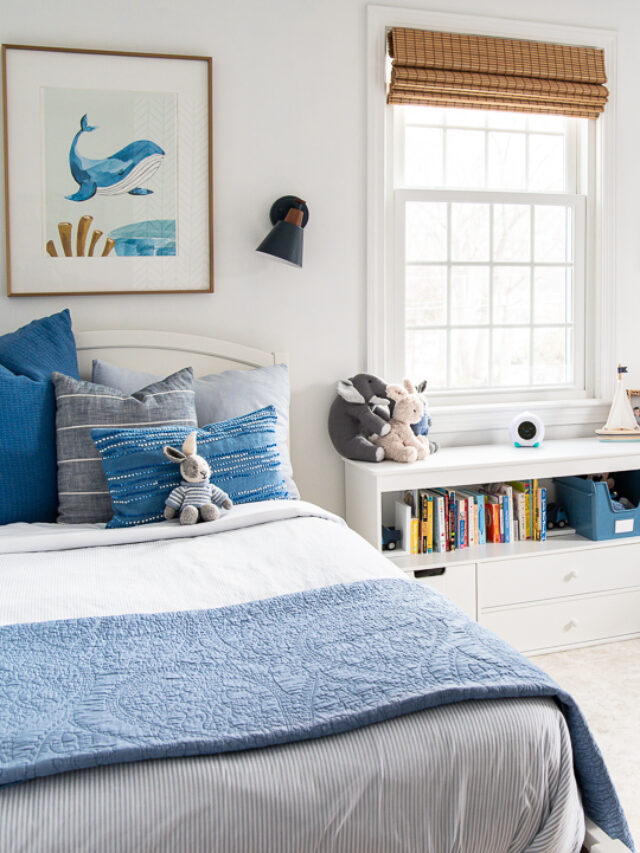 I've picked out a range of chandeliers, pendants, and flush mount lights that work great for the entire house within price range—$120 and less.
Kitchen Island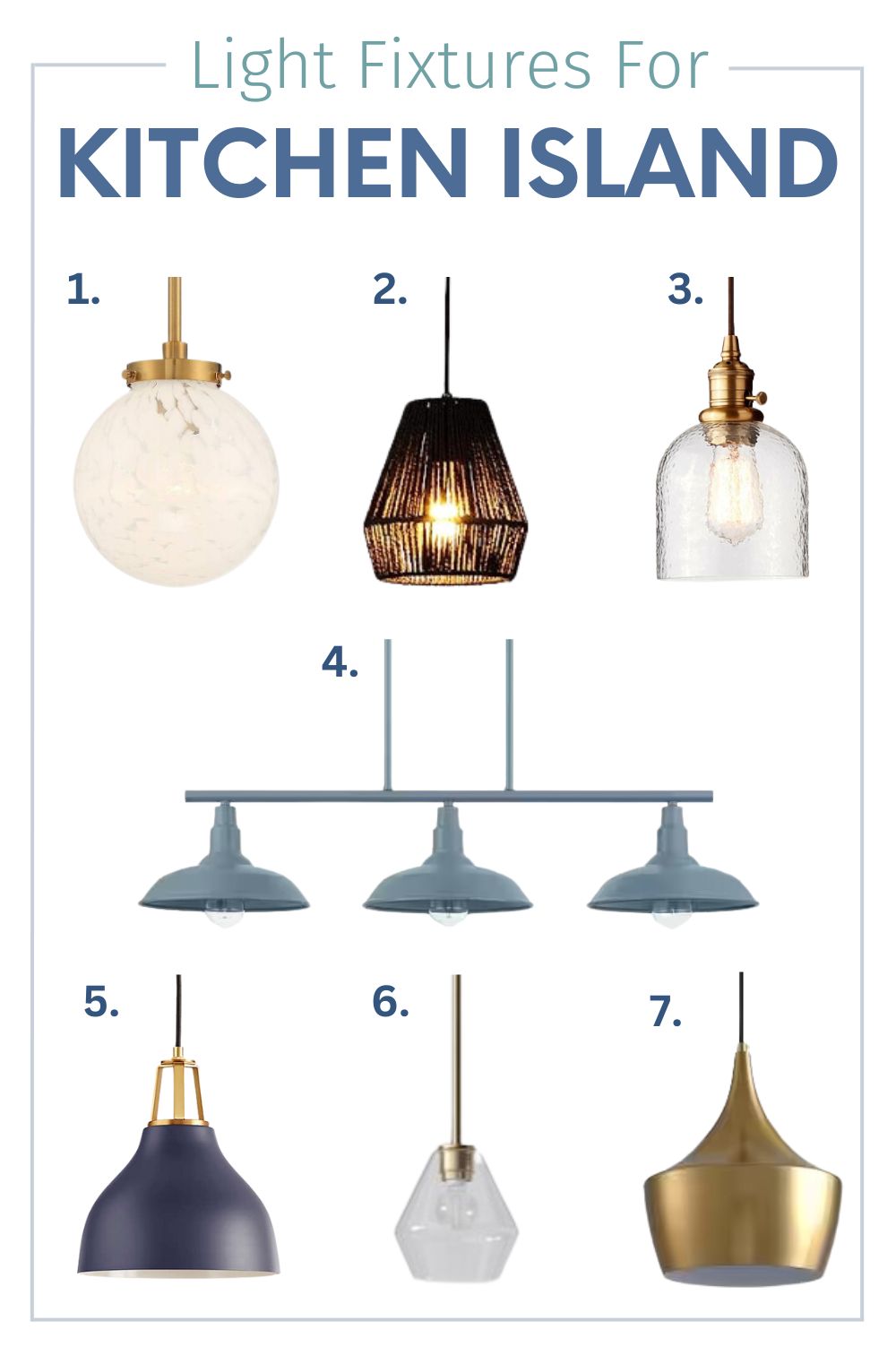 Product links: 1 // 2 // 3 // 4 // 5 // 6 // 7
Second to the kitchen table where everyone gathers to eat, the kitchen island, for most, is the focal point of the kitchen. One great option for affordable kitchen island lights is pendant lights. These suspend from your ceiling shining directly down over your island and come in a variety of styles and finishes.
Another popular choice for kitchen islands are linear chandeliers. Generally, these fixtures feature multiple lights arranged in a row. Farmhouse-style lighting is usually one that comes to mind, with it's rustic or industrial aesthetic. No matter the style, this type of lighting provides ample illumination over your kitchen island.
Dining Room
If you have a kitchen island you'll want to find a light fixture to place over your dining table that compliments the other lights. Choose something a little more dramatic or on the larger scale if you went with simple pendant lights over the island to help balance it out.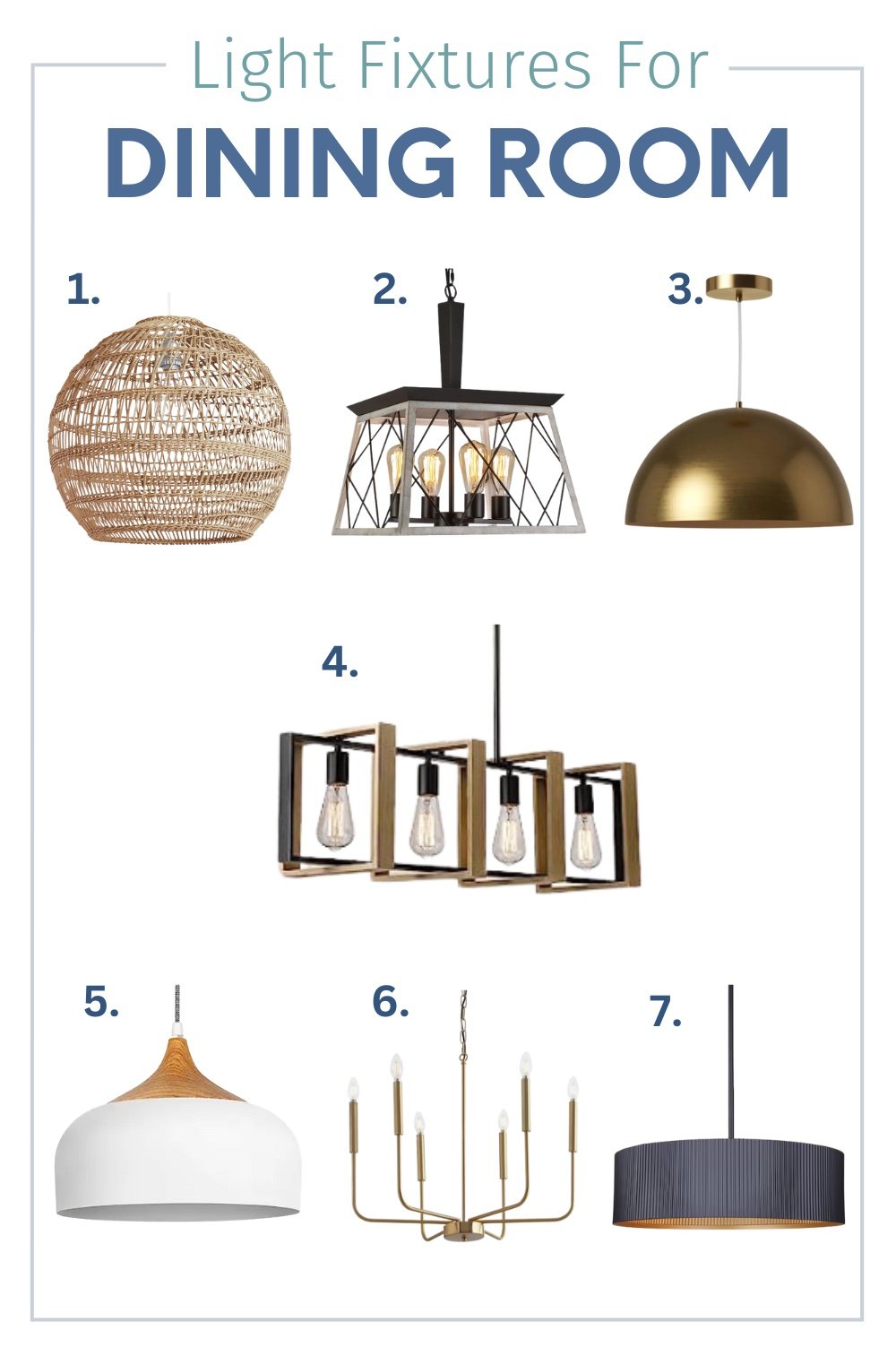 Product links: 1 // 2 // 3 // 4 // 5 // 6 // 7
Hallway and Bathroom Flush Mounts
The most popular and budget-friendly choice when selecting light fixtures for your hallway and bathrooms are those that are flush mount.
Consider the overall design, brightness, and style that will best suit your space. Flush mounts have come a long way, so there are plenty of different styles that give that high quality look on a small budget.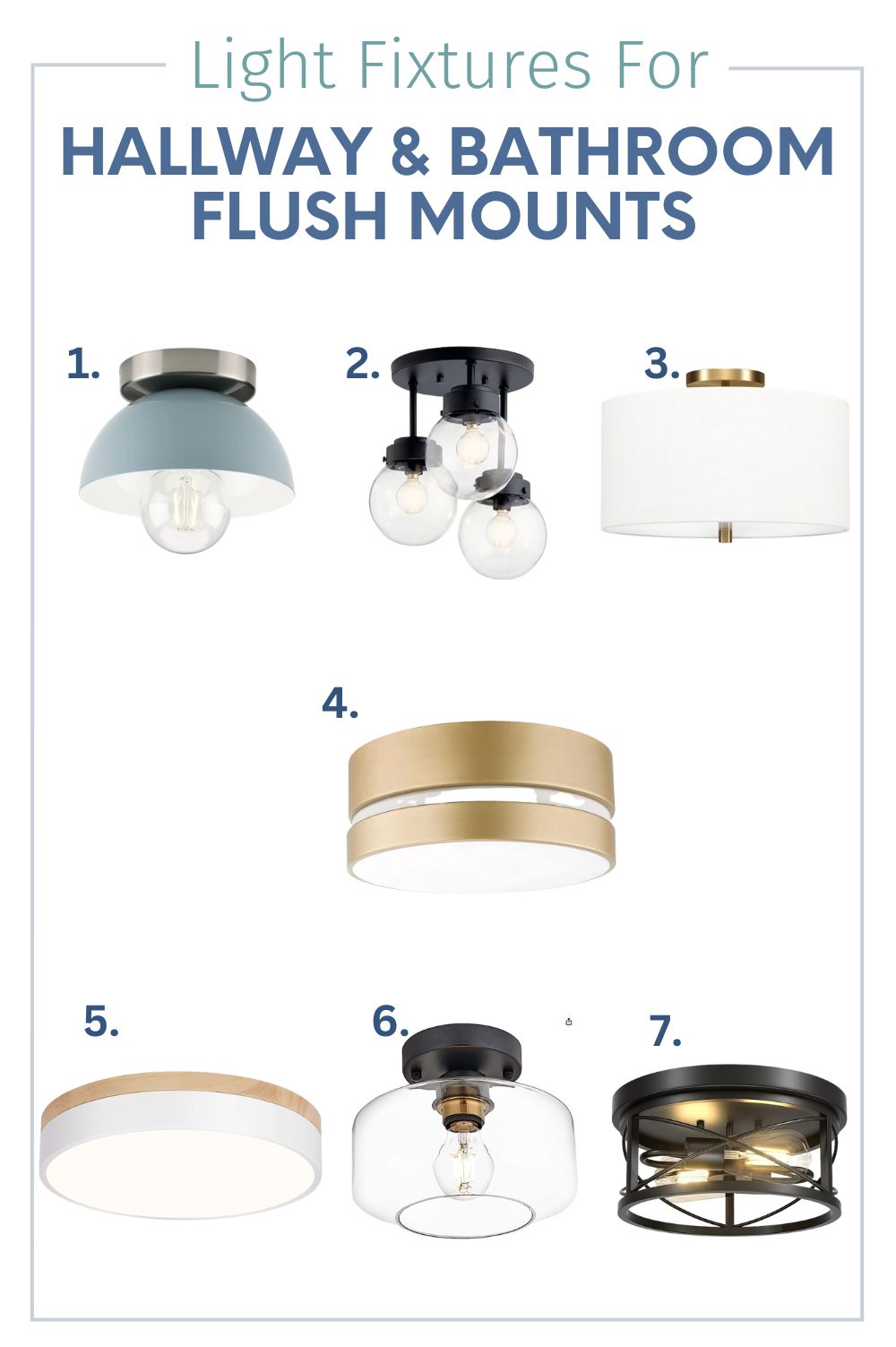 Product links: 1 // 2 // 3 // 4 // 5 // 6 // 7
Bedroom Lights
Like I mentioned before, we replaced all the fans in the house with light fixtures, including the bedrooms. You won't believe what a difference it makes in the whole design.
You can create different types of ambiance in this space by including table lamps, ceiling lights, and even wall scones—all at budget-friendly prices.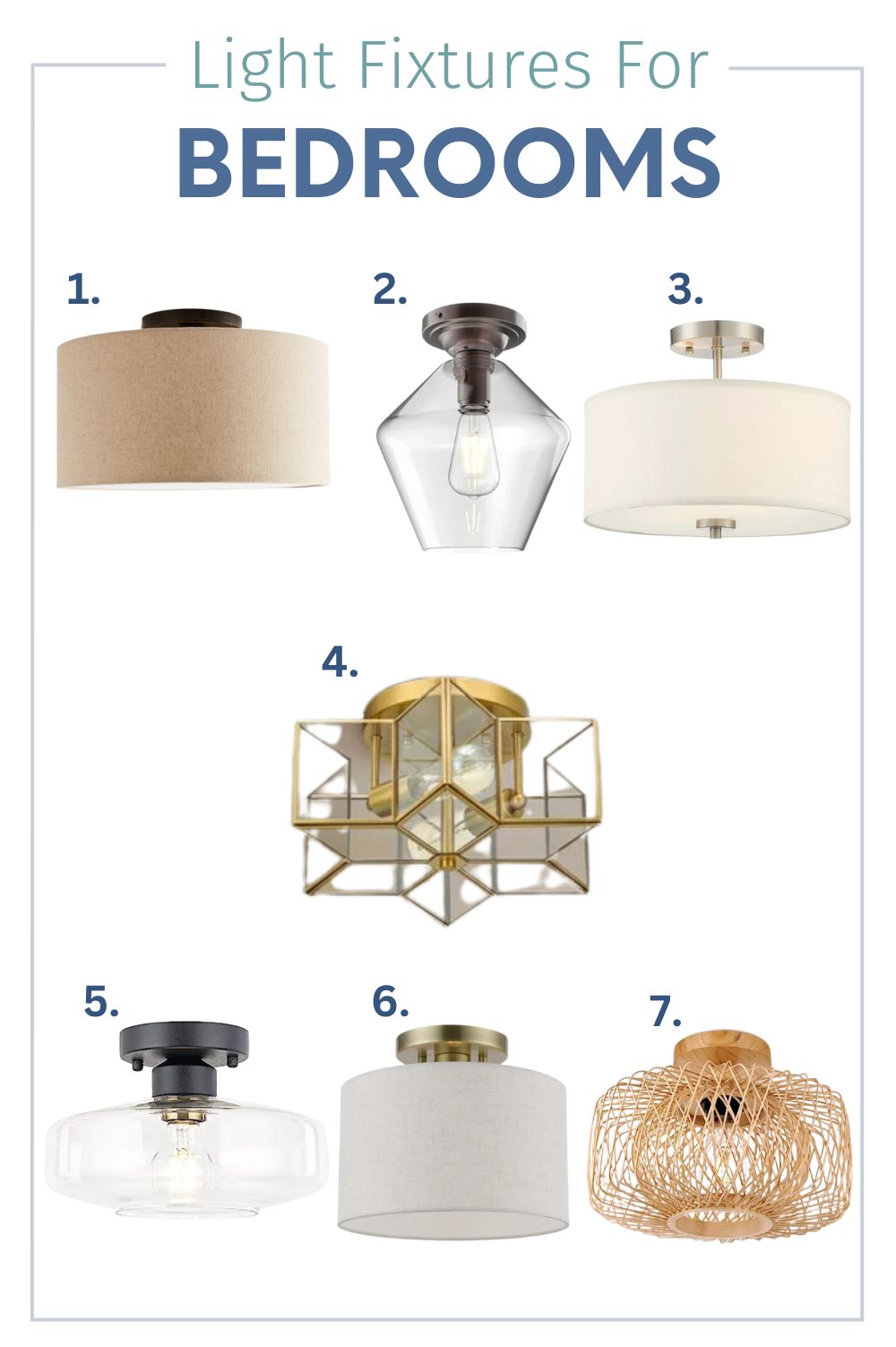 Product links: 1 // 2 // 3 // 4 // 5 // 6 // 7
Frequently Asked Questions
The cost of light fixtures varies greatly depending on the size, material, brand, and type. On average, expect to pay anywhere between $150 – $900 for the perfect lighting, however, I these options I've shared are all under $120!
You can find affordable light fixtures at various online stores and local retailers such as IKEA, Target, Walmart, and Home Depot. While stores such as Pottery Barn, West Elm, Serena & Lilly don't usually have budget-friendly lighting, you can always shop their selection when they have huge sales. Also, check out discount sites like Overstock and Wayfair who usually have decent sales.
Just like there's a wide range of light fixtures, there are also tons of lighting accessories, including bulbs. I would stick to LED bulbs, as they are much more energy efficient. Depending on the look you are going for, edison bulbs can really take your light fixture to the next level, too.
Aside from sconces and flush mounts that I mentioned, try adding bedside lamps, floor lamps, or even string lights.
I recommend shopping around stores such as IKEA, Target, and Walmart, as they'll have a variety of affordable lighting options for all the rooms in your house under one roof. Additionally, online retails like Amazon are a great place look.
Absolutely! As long as you have basic electrician knowledge and are cautious while installing, you can do so without paying for labored help.
Follow these steps to install a simple light fixture. Always turn off the power at the circuit breaker before attempting any electrical work.
However, if you're unsure or uncomfortable handling electrical jobs, it's best to hire a professional to ensure your safety and meet any local electrical code requirements.
Final Thoughts
Remember, there's no need to splurge on expensive lighting to make your home look amazing. With these affordable options, you can transform your space with both style and functionality while staying within your budget.