Is there anything prettier than a festive window box at Christmas? Maybe one thing – a festive window box at Christmas covered in snow!
Assembling a Christmas window box arrangement is really easy to do. Once everything has been gathered, it's simply a matter of layering them into the box.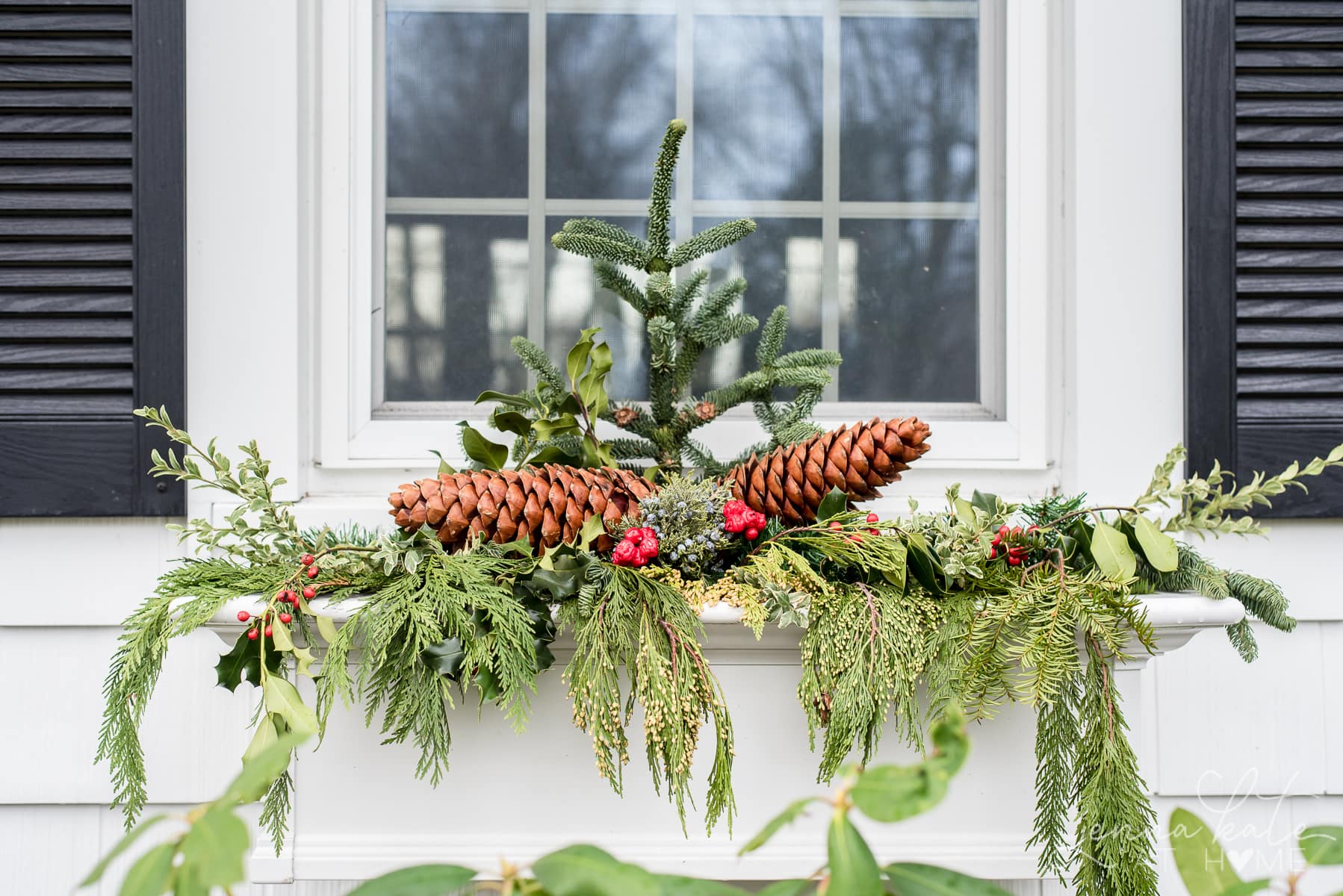 What You'll Need
These are not hard and fast rules, so pick and choose your greenery based on what's available at your local garden center or what you can clip from your own yard. For mine, I used a $7 swag bundle from my local Farm Stand as well as some large pinecones, holly with berries and some other clippings from my yard to fill it out.
As a base, you'll want to use some cheap artificial greenery, like the type used for swags or garland. This bulks up the bottom of the window box so that you don't need nearly as much greenery.
Side note: The window boxes I'm using are attached to my house with brackets, so they are removable. They are heavy with the dirt in, so we actually leave them up year round and just swap out the plantings as needed. They are self-watering, vinyl and very sturdy. We've had them for 4 years and have been very happy with them.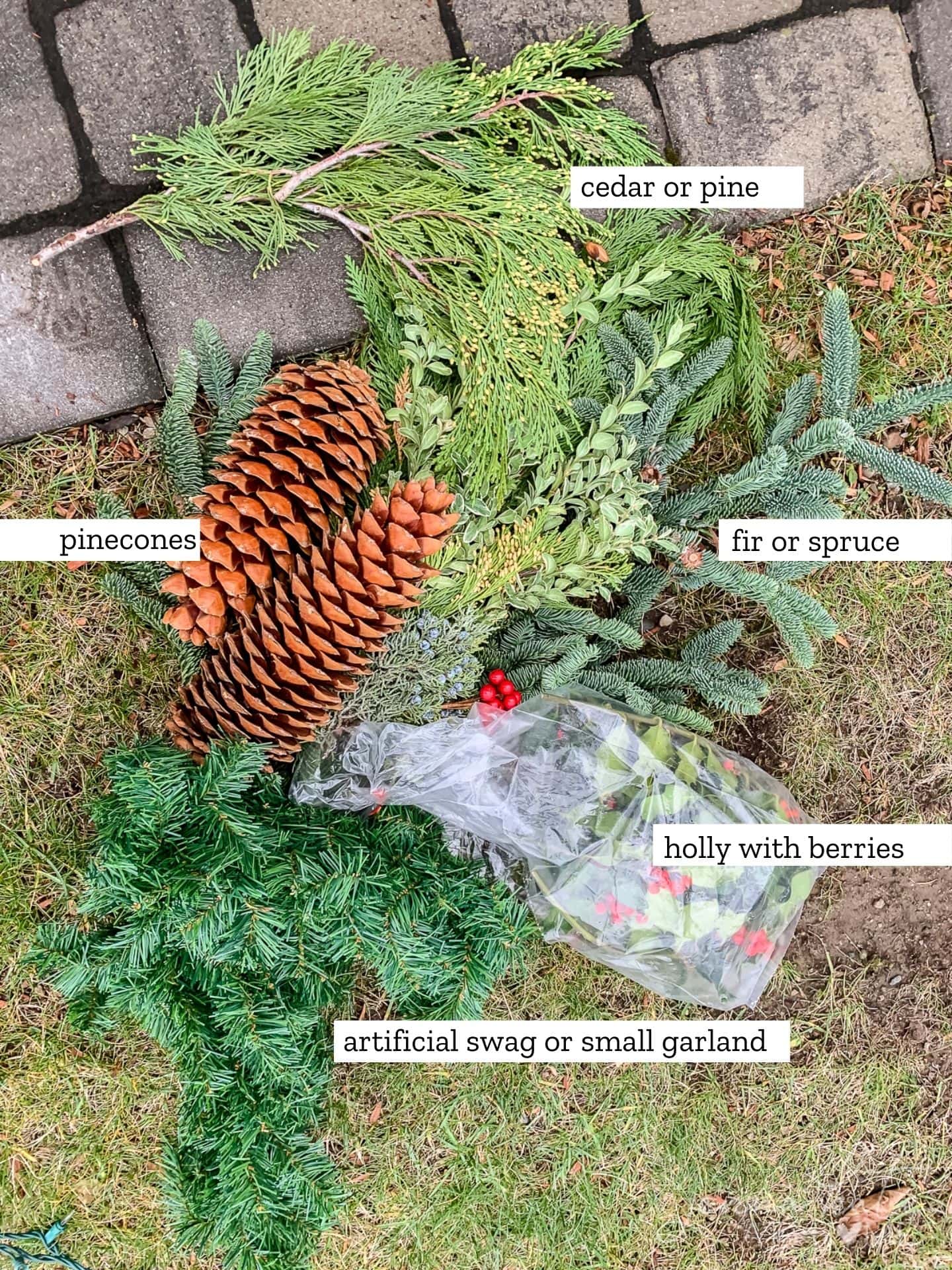 Assembling the Christmas Window Box
Remove any fall flowers or plantings, keeping the dirt in.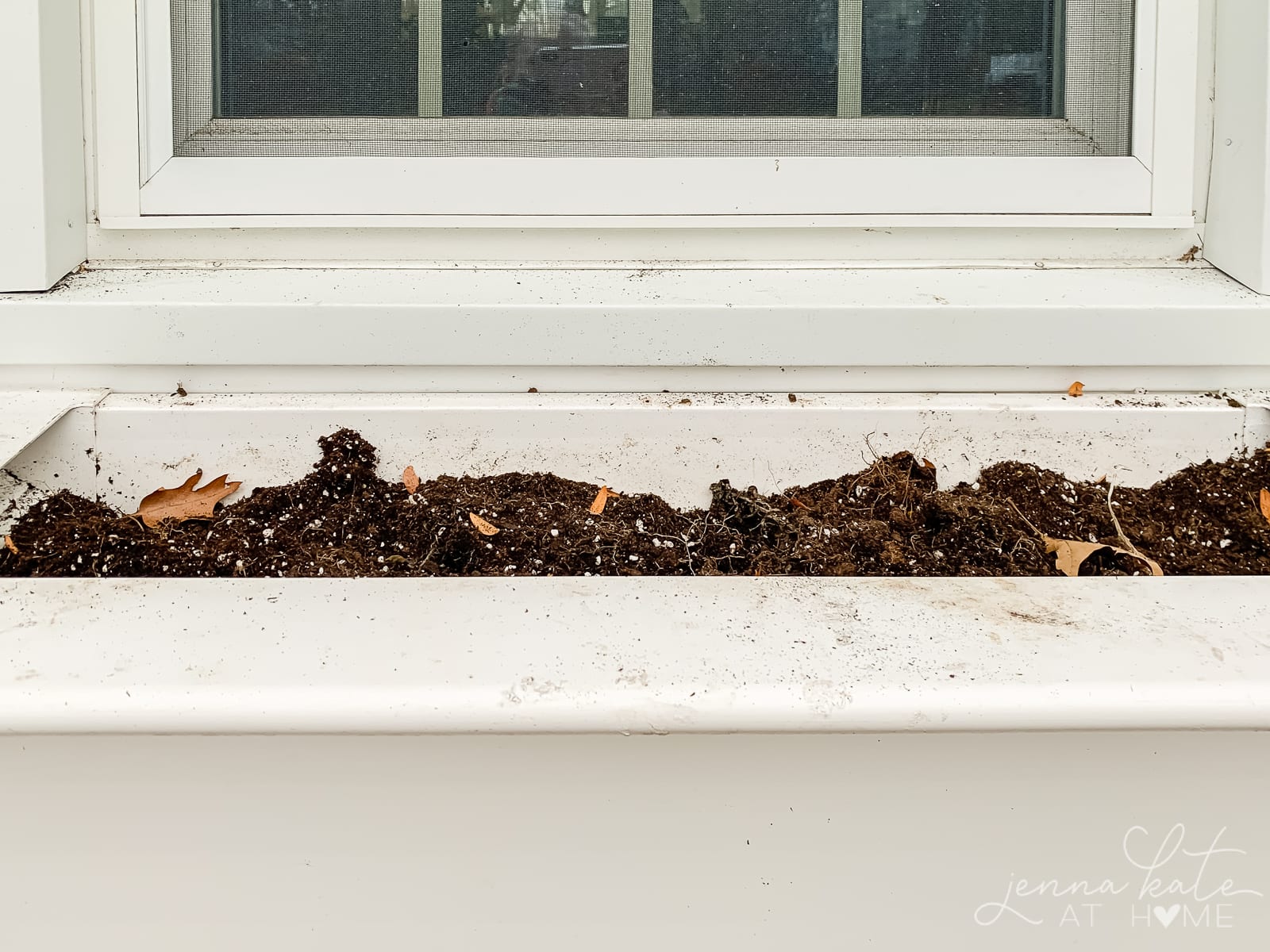 2. Put the base layer of artificial greenery along the bottom, fluffing and shaping it so that it's not completely flat.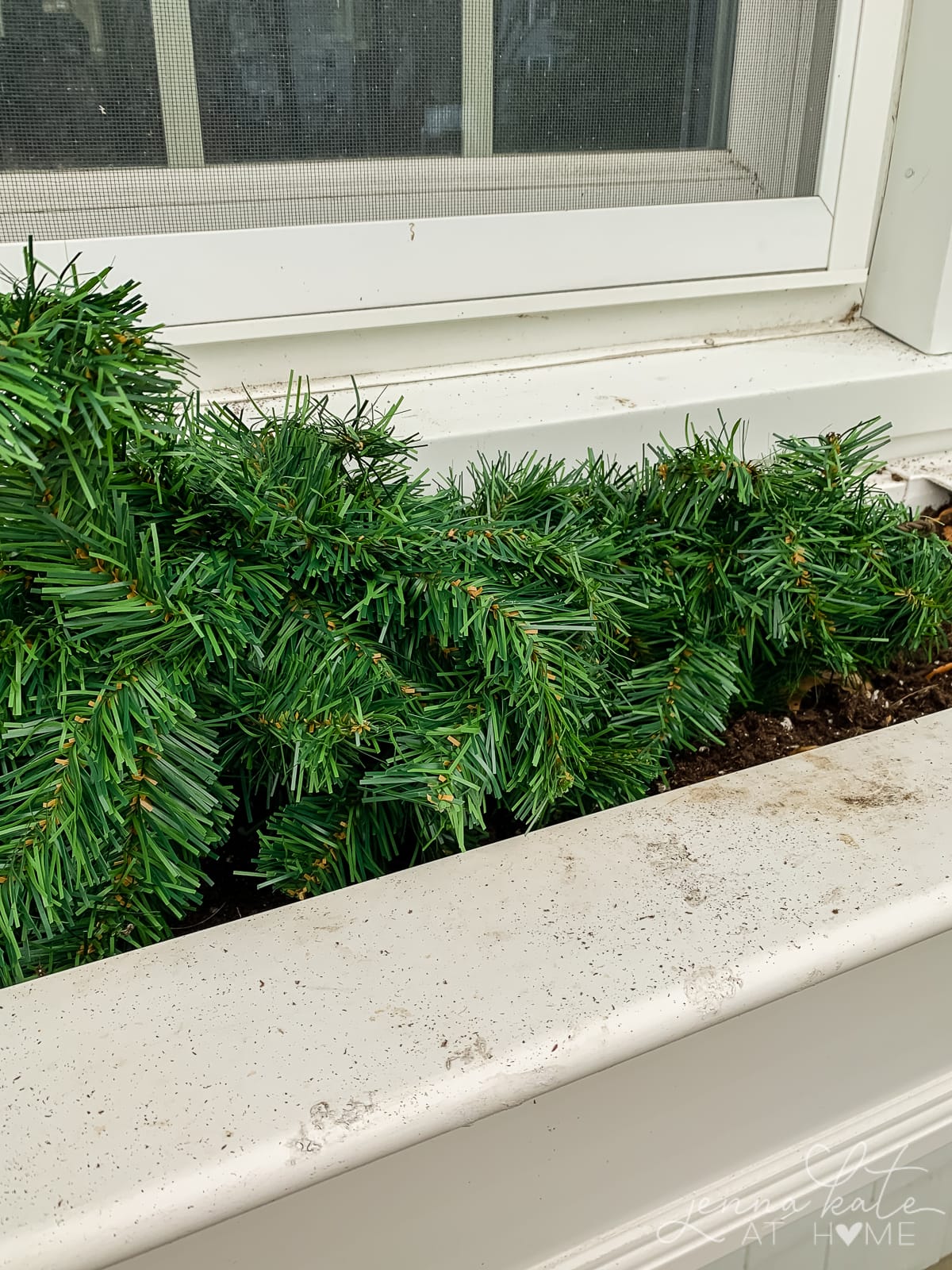 3. Start with the drapey greenery first ,right at the front. Cedar or pine work well to get this pretty draping effect over the front of the window box. Stick the branches right into the dirt so that they are secure.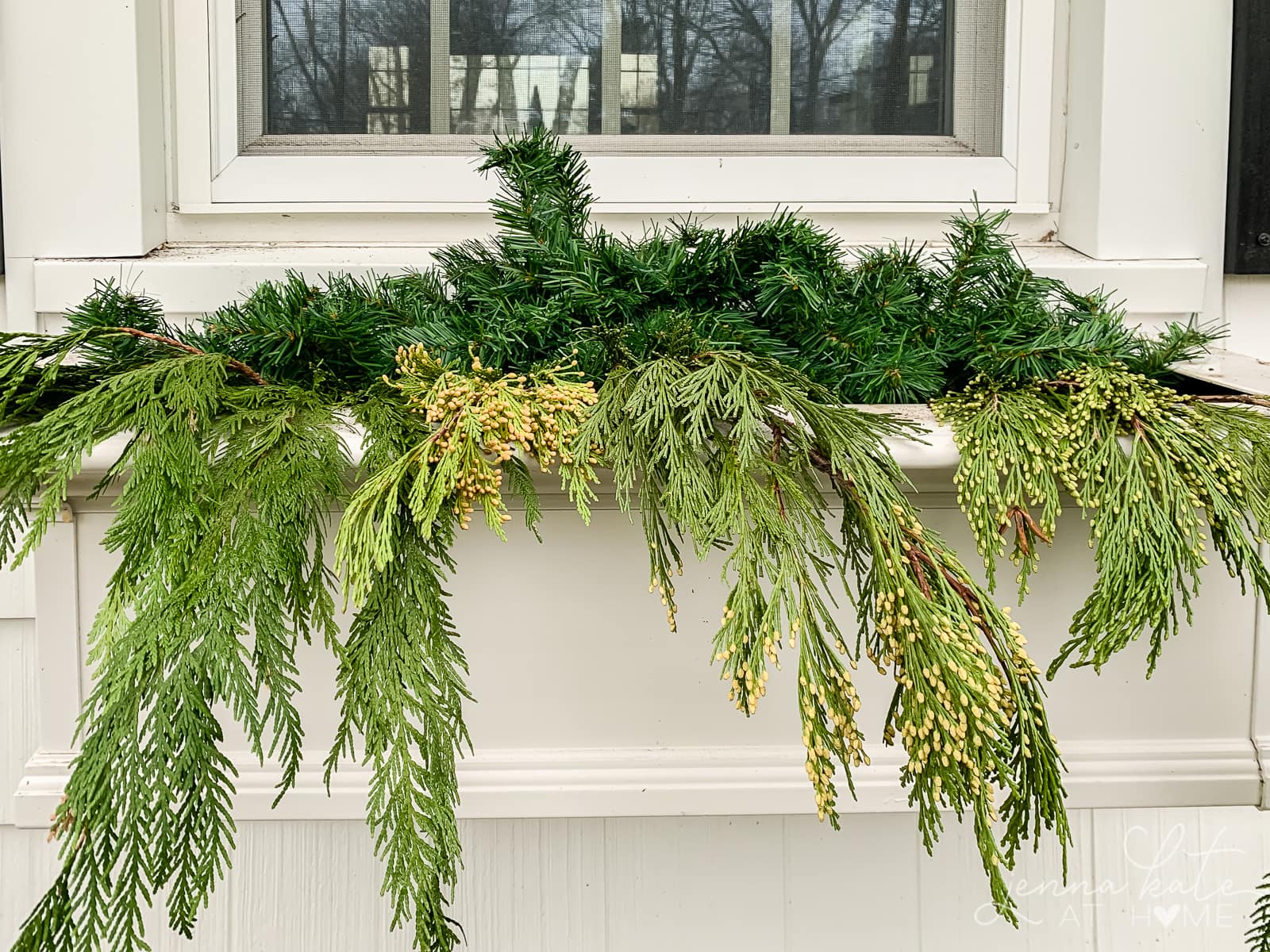 4. Next, add height with a stiff branch like a piece of fir or spruce. Basically a piece that looks like the top of a Christmas tree. You could also add in 2 – 3 skinny birch logs in front of this, but I couldn't find any that were small enough.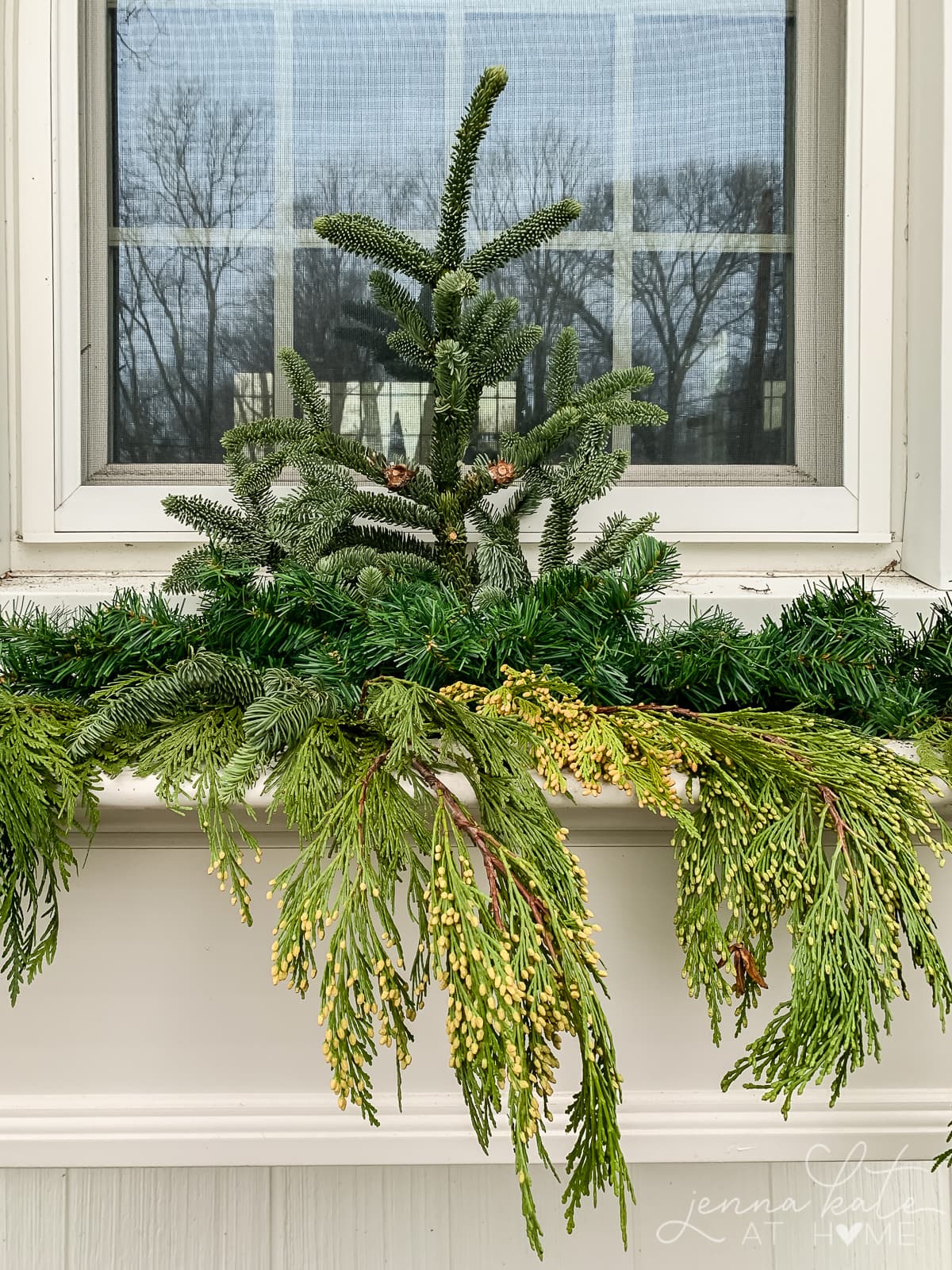 5. Layer in the large pinecones and berries to add color. My swag bundle came with faux red berries as well as juniper berries. If you don't have any, the holly with berries works for this step, too.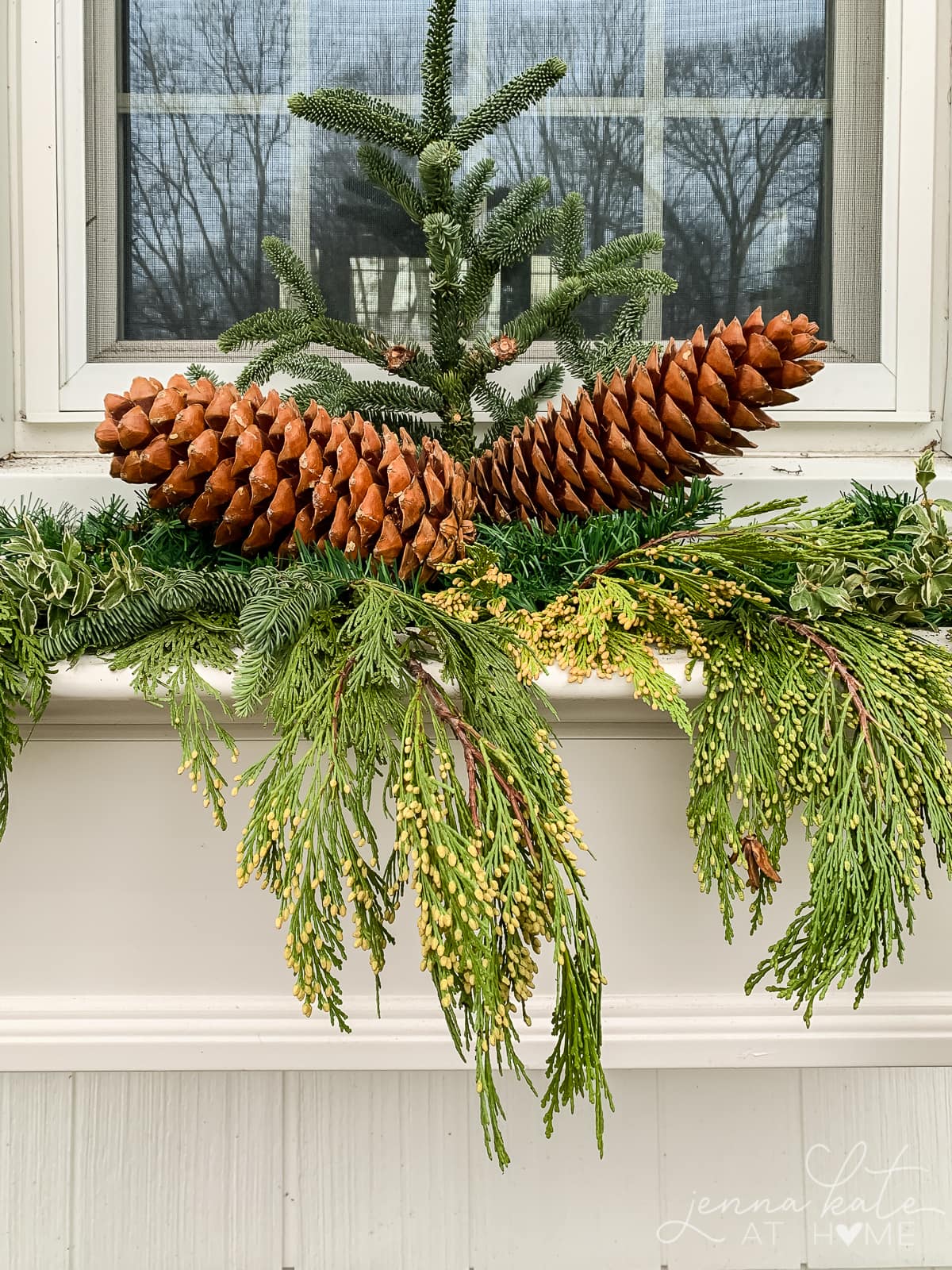 6. Fill in any gaps with the holly and any other evergreen clippings you might have, until the window box looks full.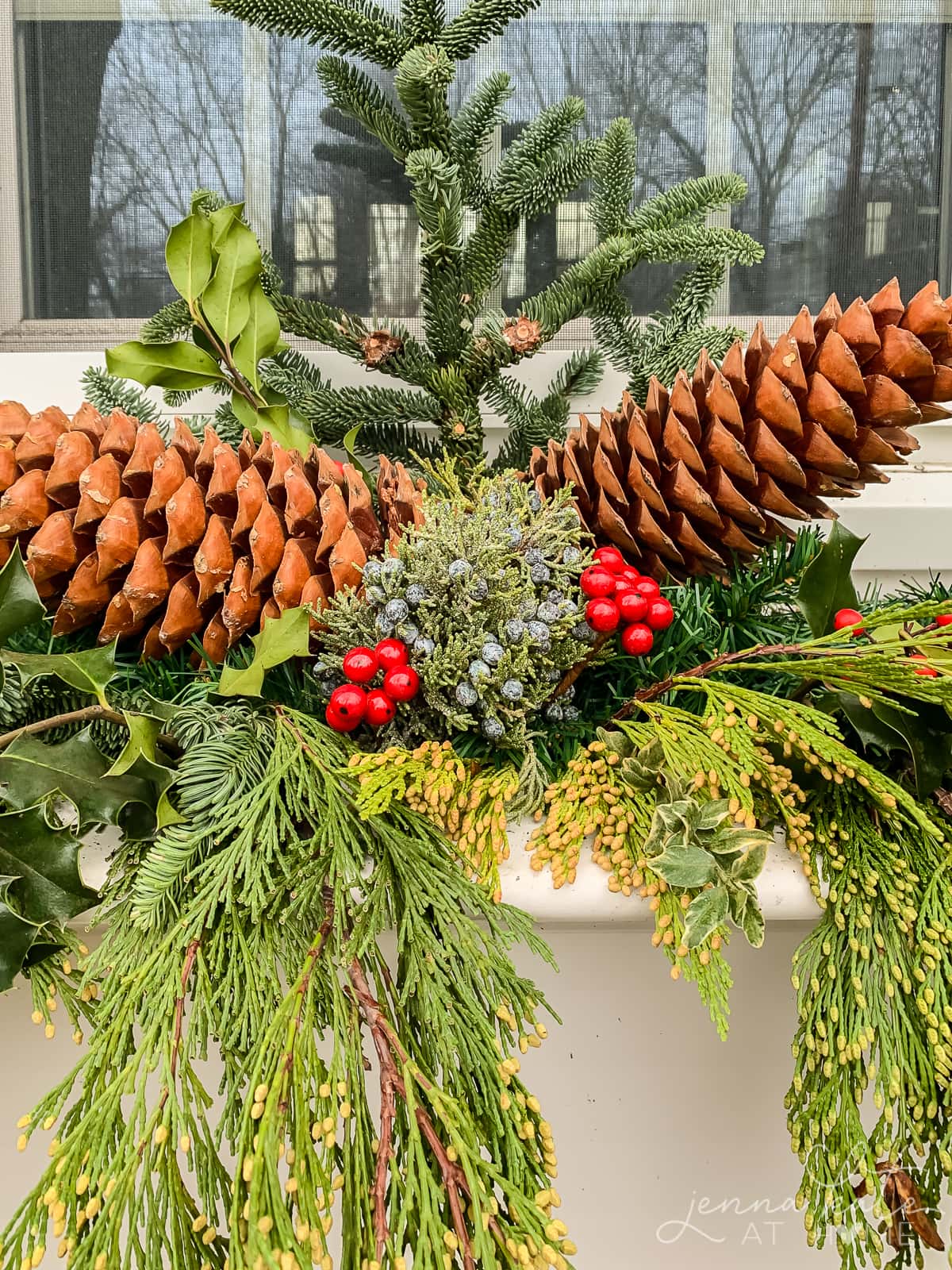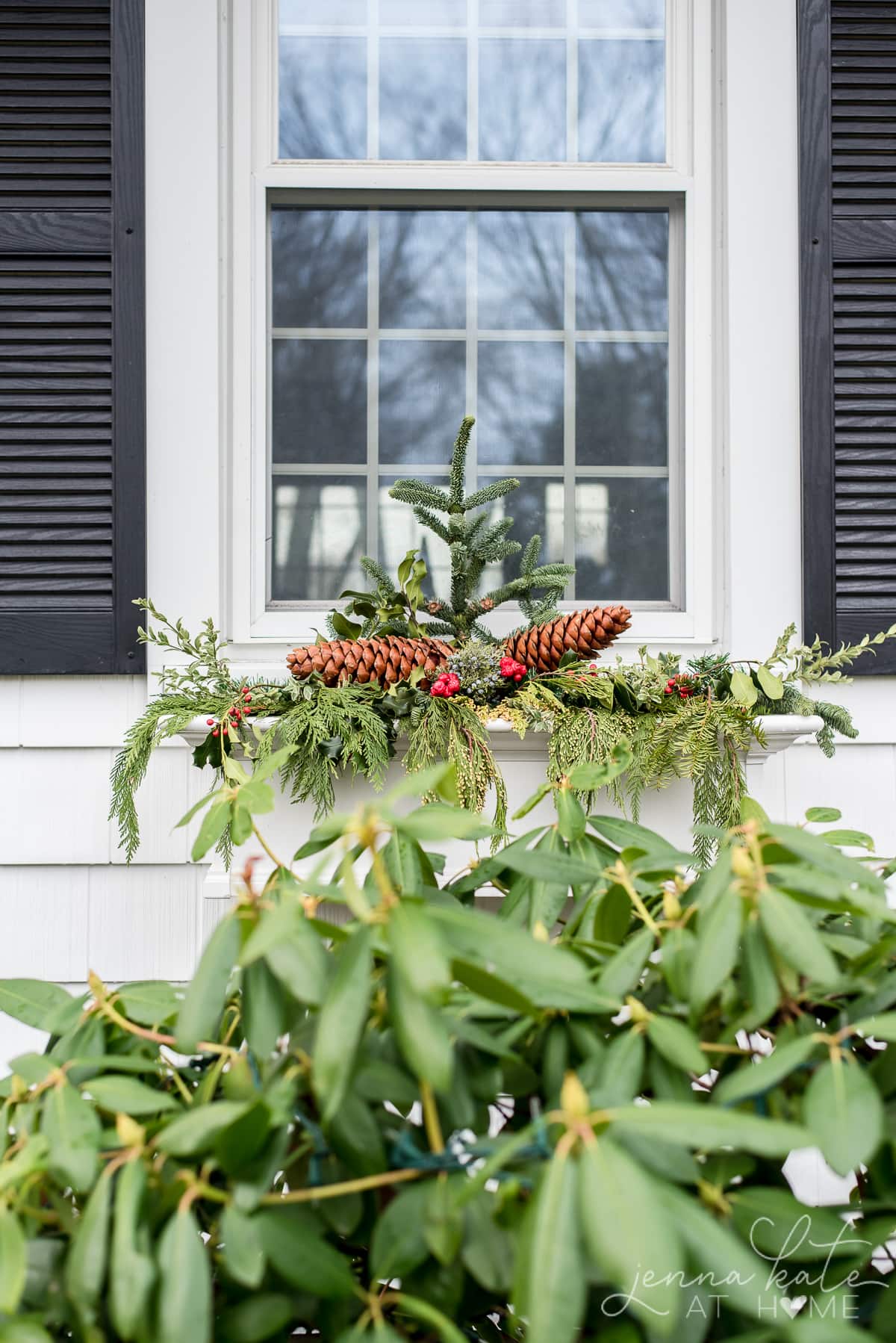 These Christmas Window Boxes add such a lovely dose of color to the front of our house, especially in the dead of winter. As beautiful as all the green is, I can't wait for it to be dusted with snow!
I haven't added lights to my window boxes, but a string of battery operated outdoor twinkly lights (on a timer) would also be a really beautiful finishing touch!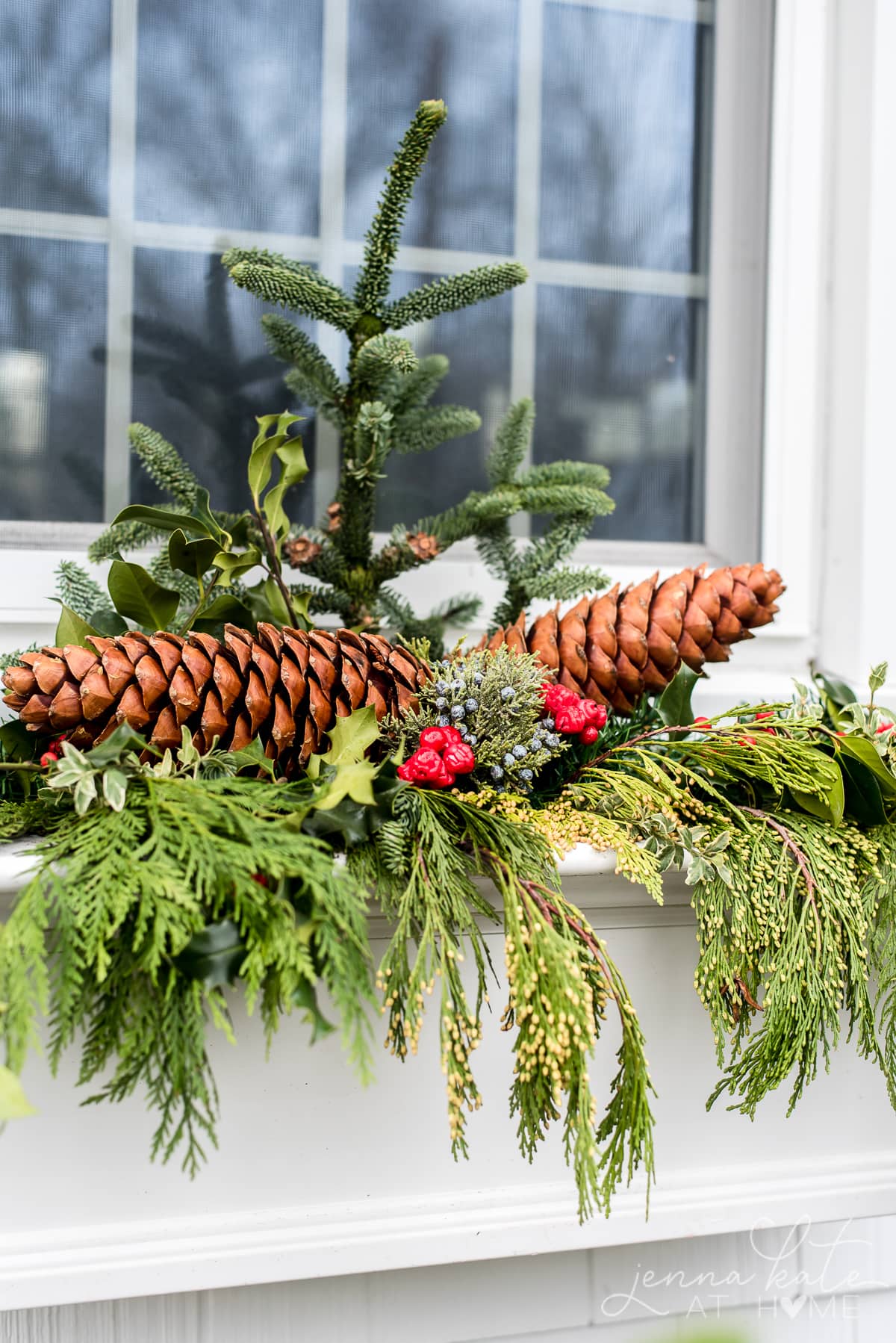 Has this inspired you to decorate your window boxes for Christmas? Don't leave the sad looking, frost-bitten mums in any longer! Swap them out for something festive like this and your curb appeal will thank you!