This post may contain affiliate links | For further details, please read our privacy policy
Planning your dining room table for the Christmas season? A traditional Christmas table setting gets an elegant twist thanks to dark green velvet pillows, wood accents, and a minimal centerpiece.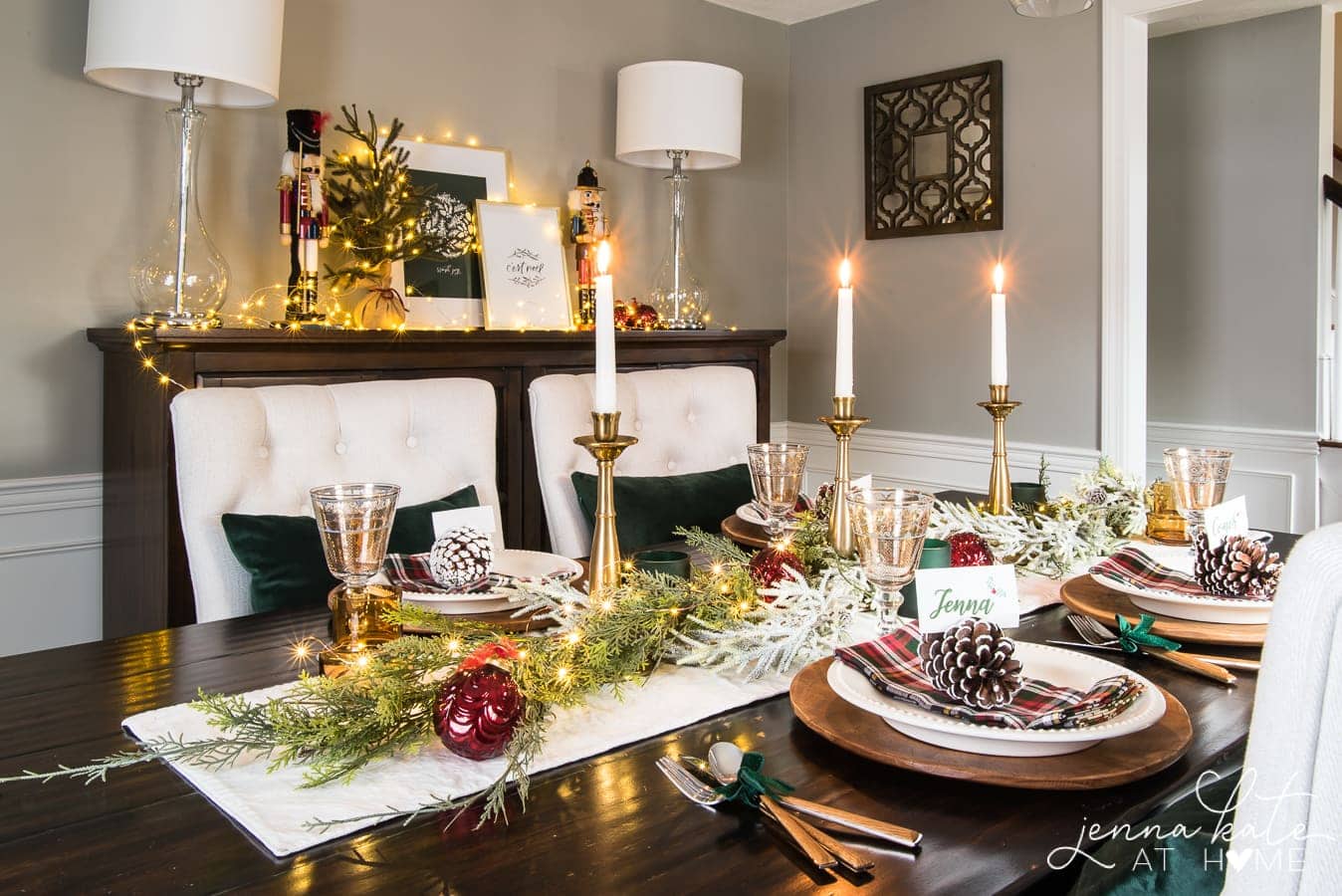 Today I'm sharing how I've transformed my dining table into an elegant but traditional Christmas tablescape. It will get you into the holiday season in no time!
From the rich green color scheme to the centerpiece, these ideas are sure to inspire you to put your own personal touch on a classic Christmas tablescape.
1. Choose a Traditional Color Palette
If you are hoping to maintain a classic feel, even with your own spin on things, opt for traditional Christmas colors. You can however play with the shades of colors in the Christmas table setting.
You may have seen how green velvet ribbon from this post inspired my entire color scheme this season. While it still resembles the classic Christmas green, it is slightly cozier and more inviting.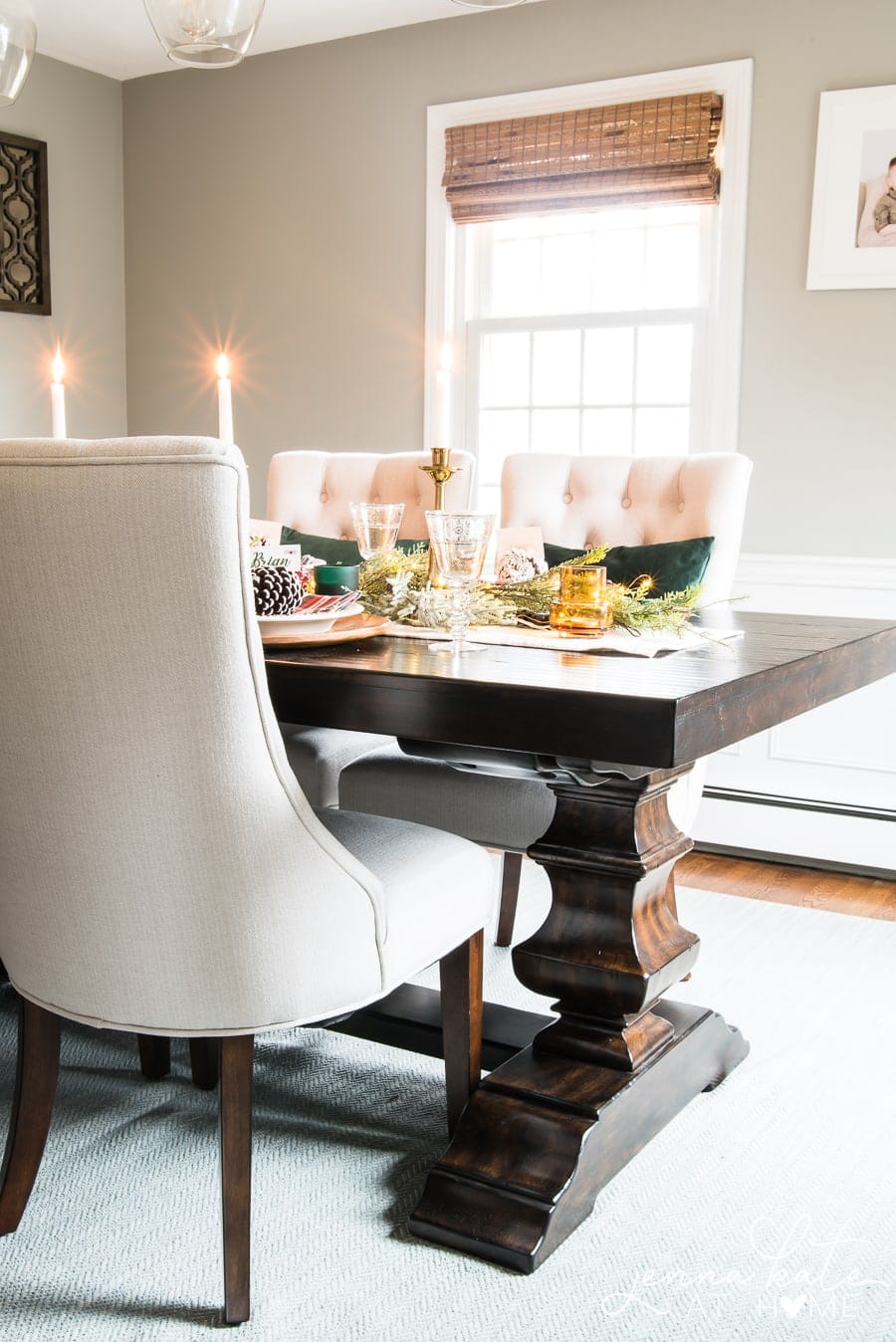 I found these matching pillows (only $13 a pair!) and I'm totally smitten with how buttery soft they are – and the dark green is just perfect!
Other ways to play on traditional Christmas colors could include deep burgundy instead of bright red or a light, soft green mimicking sage.
2. Add Minimalist Seasonal Prints
I'm not into over-the-top decorating. I want to scale back on the "stuff" in my home as much as possible and I think my decorating is reflecting that this year.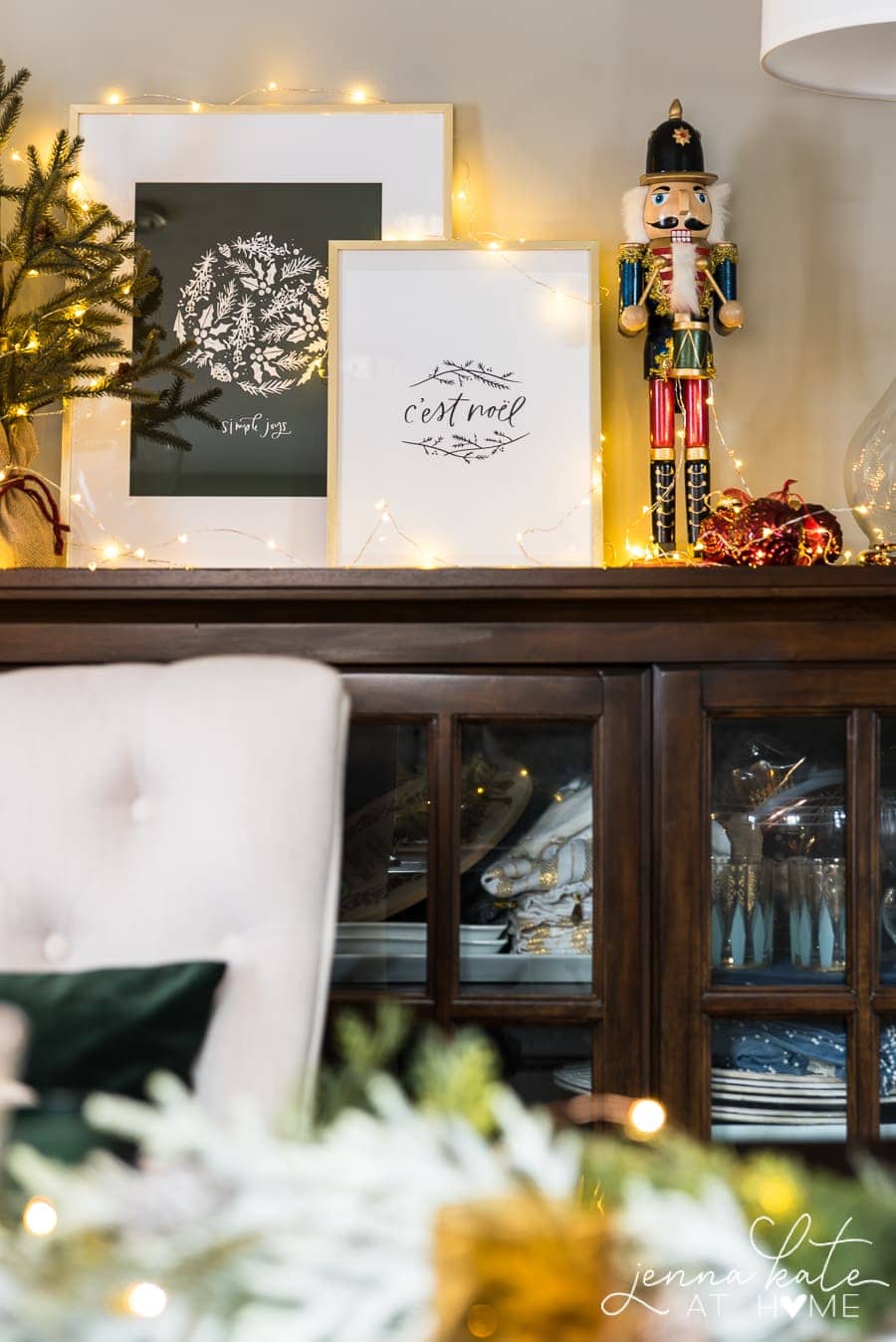 Of course I have added some pretty seasonal touches like these two pretty prints from Lindsay Letters and a couple nutcrackers. I think it's pretty traditional but a little more elegant with the darker colors, right?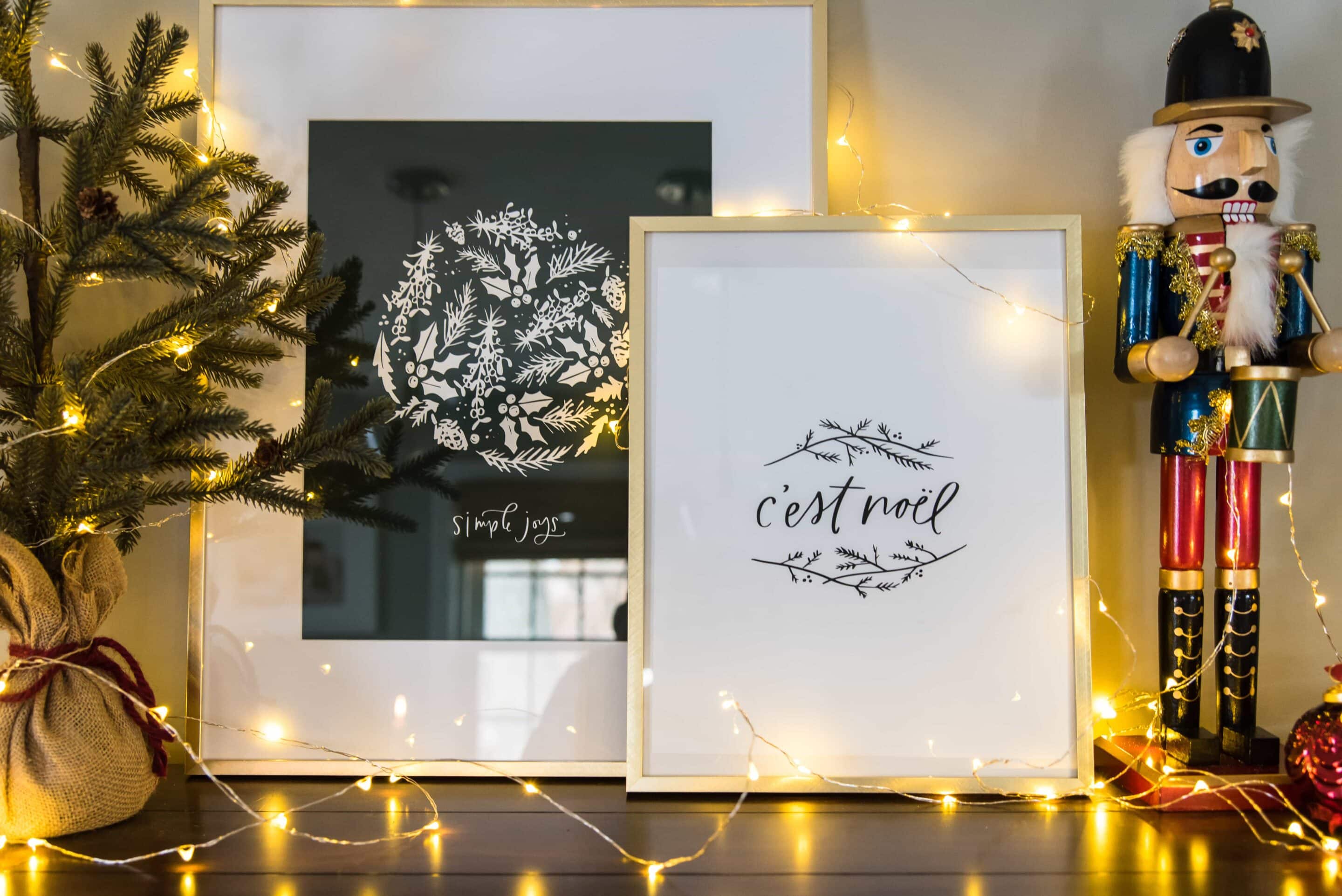 3. Coordinate Dinner Plates, Chargers, and Silverware
My place setting includes a charger, dinner plate, plaid napkin and silverware bundled in velvety ribbon. Explore how I kept it simple but seasonal!
Starting off, one of few new things I purchased is these chargers that I bought for myself as a birthday present. They will work with any decor – whether it's Christmas, fall, spring or summer and they are made of real wood. Gold charger plates would also look great with holiday decor.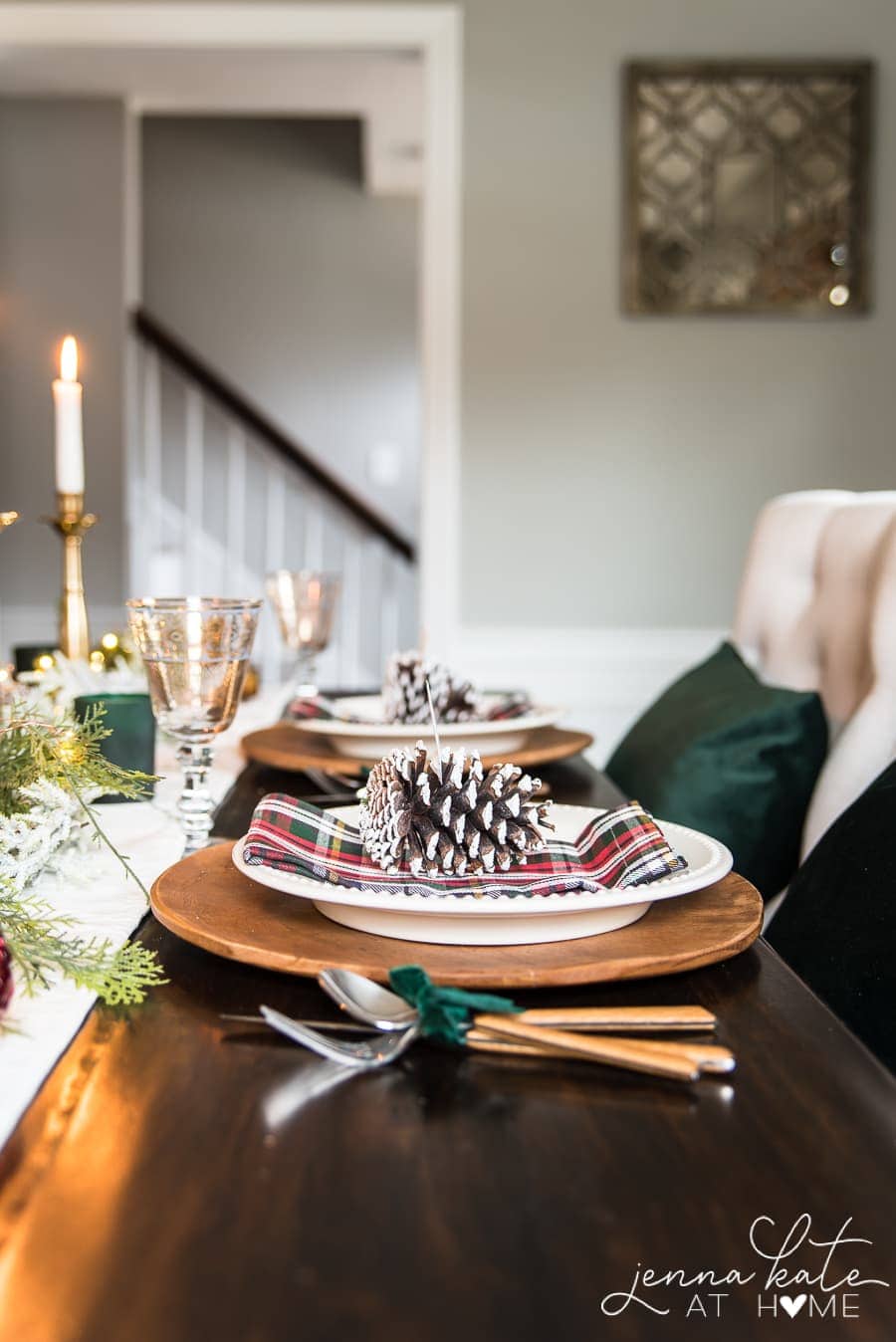 I brought out my wooden cutlery that matches perfectly and just wrapped them with some of the extra velvet ribbon that was leftover from the Christmas tree instead of purchasing napkin rings. I love how the ribbon makes the green from the plaid napkins pop.
Bringing in small elements of a plaid pattern will add to the traditional tone of the display. I think the napkins are just enough without being over the top.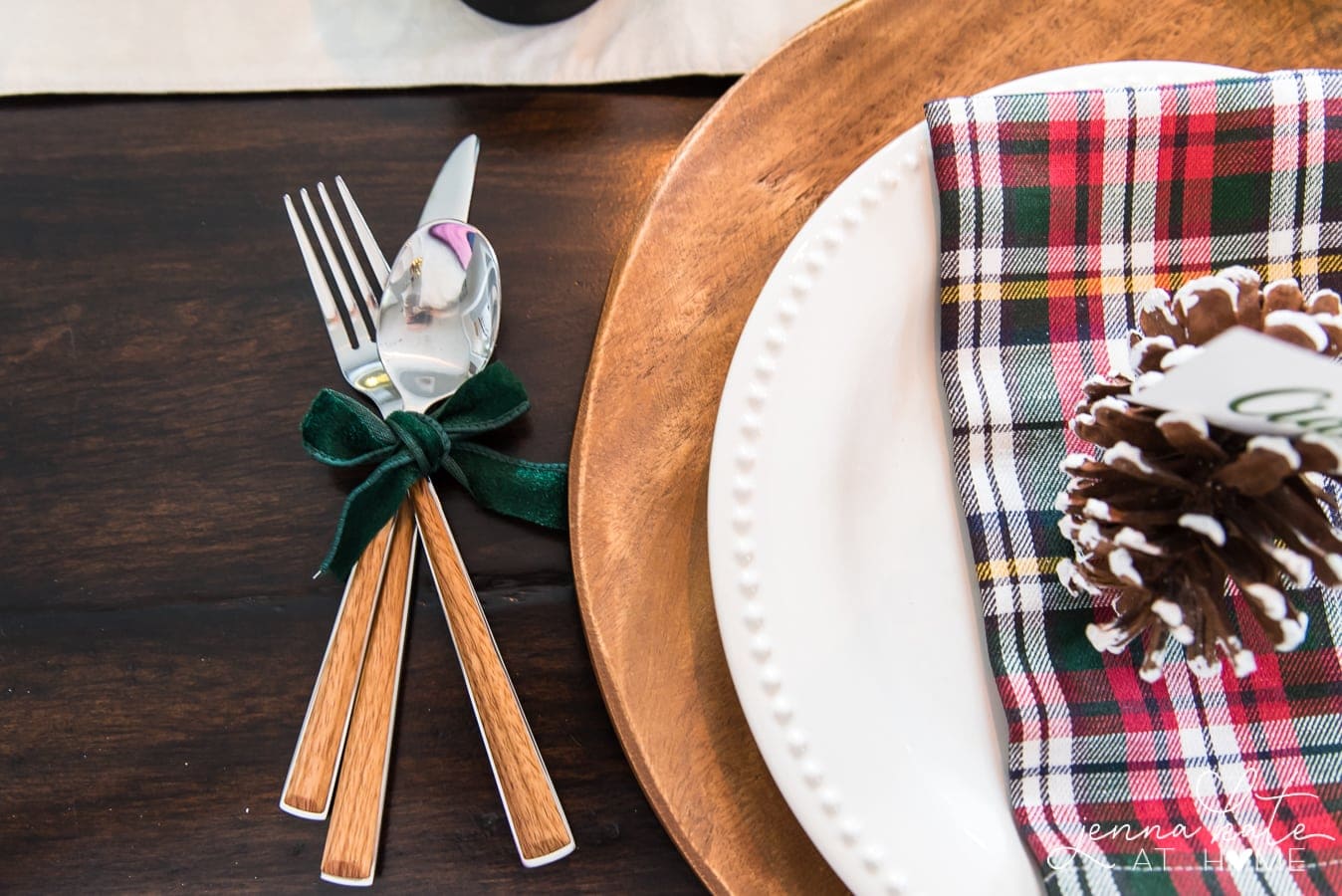 For the plates I opted for a clean white instead of a pattern, to emphasize the napkins and stay consistent with the elegant, minimalist look.
That's it! See how simple it is to incorporate the little details of plaid and green into an otherwise year-round appropriate setup?
4. Make Homemade Name Cards
You don't have to spend a fortune on name cards to have elegant pieces. I love bringing in natural elements like pine cones to create a gorgeous table.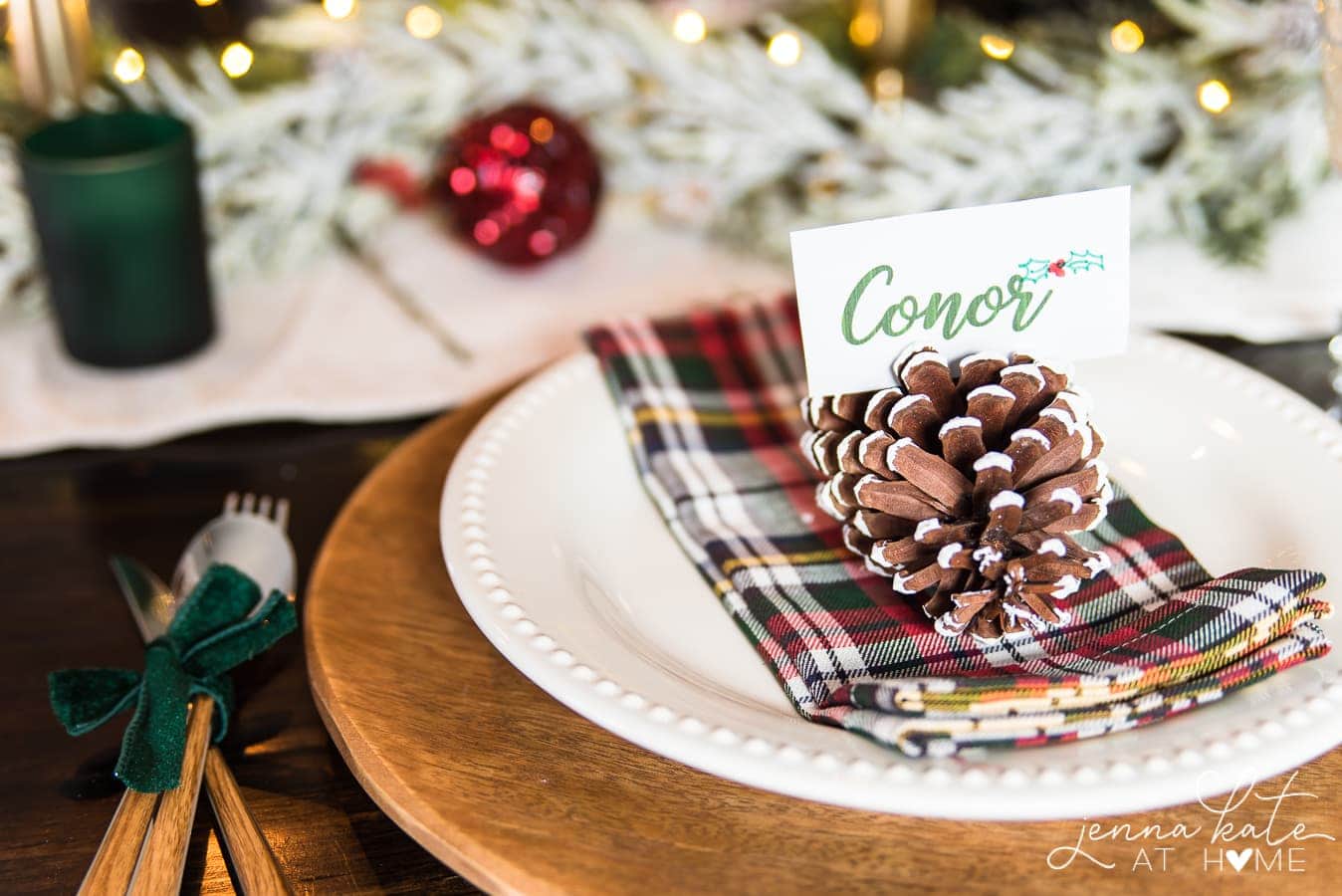 The place card holders I used this year are giant pinecones that I got at the Dollar Store last year. Super affordable! Then I just printed names up on cardstock and cut them out. Easy peasy!
5. Simplify Your Christmas Table Centerpiece
You have so many options when it comes to a traditional centerpiece. But, I tend to think less is more. In this display I stuck with a classic green garland, red accents, and a few twinkle lights.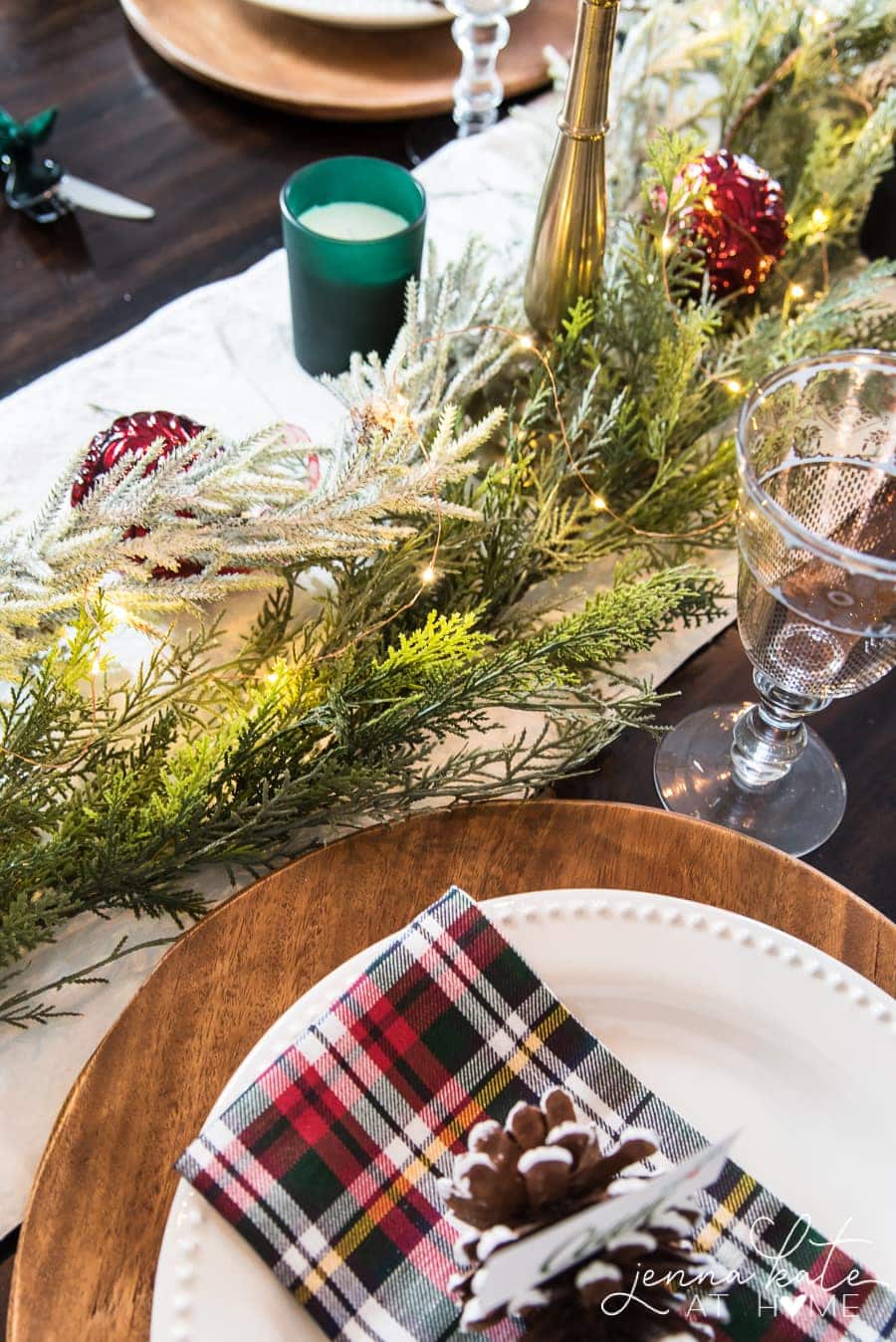 Fresh garland would be stunning and smell of true Christmas scents, too! Is there anything better than fresh greenery during the Christmas season?! While you run the risk of it drying out if left too long, it could be fun to use on Christmas Day.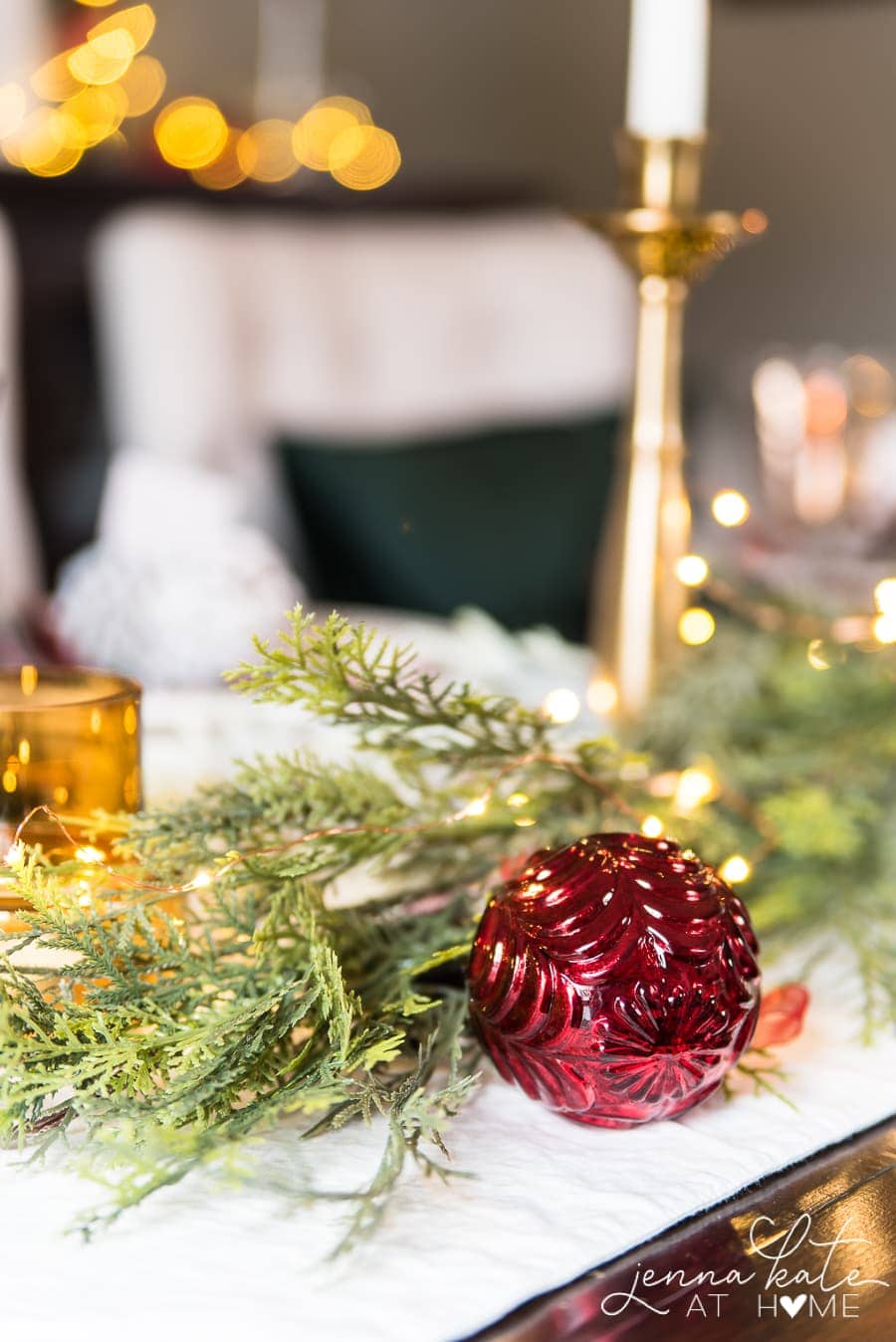 Those red Christmas ornaments are beautiful glass ones that I picked up at HomeGoods last week. They are really stunning and perfect to add to a bowl, a tablescape like this or of course, a tree!
Twinkle lights always make everything feel Christmassy, too. For the most part, I tried to keep the room simple and the center of the table free of too much stuff. At the end of the day, I need space for the food that will be here on Christmas day!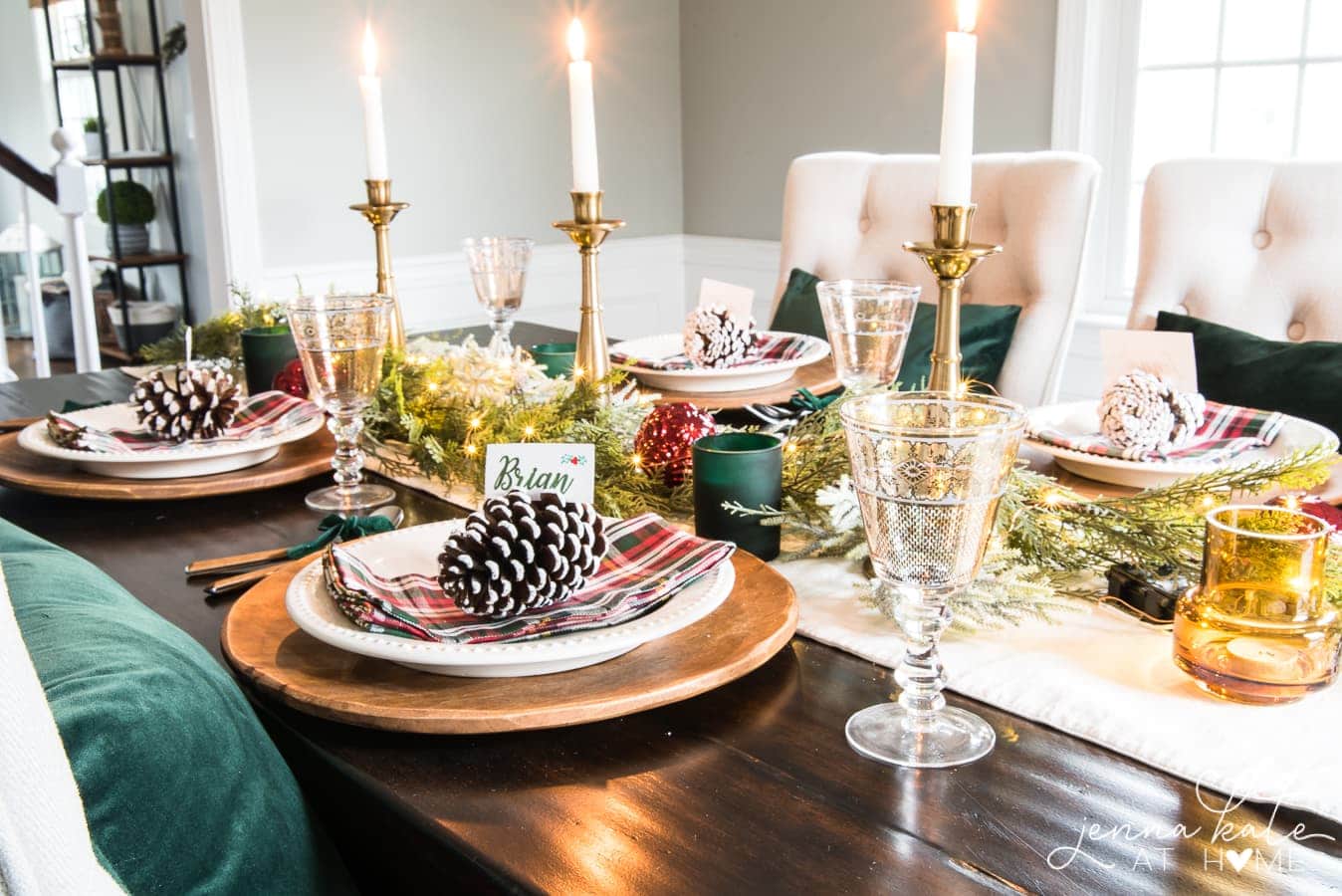 I can't forget to mention the little green votives that I found at the Target dollar spot. I bought a bunch of them and they are scattered all over the house. They are the exact same shade of green as my pillows and ribbon! What a perfect find!
A Few Other Centerpiece Ideas:
Mini Trees
Candy Canes
Red Berries
Fresh Flowers
Gold Bells
6. Add Gold Candlesticks
Gold has become a very popular color in recent years and I am loving the way it compliments Christmas colors, too. Include a few gold candlesticks in your holiday tablescape for a warm ambiance and festive touch.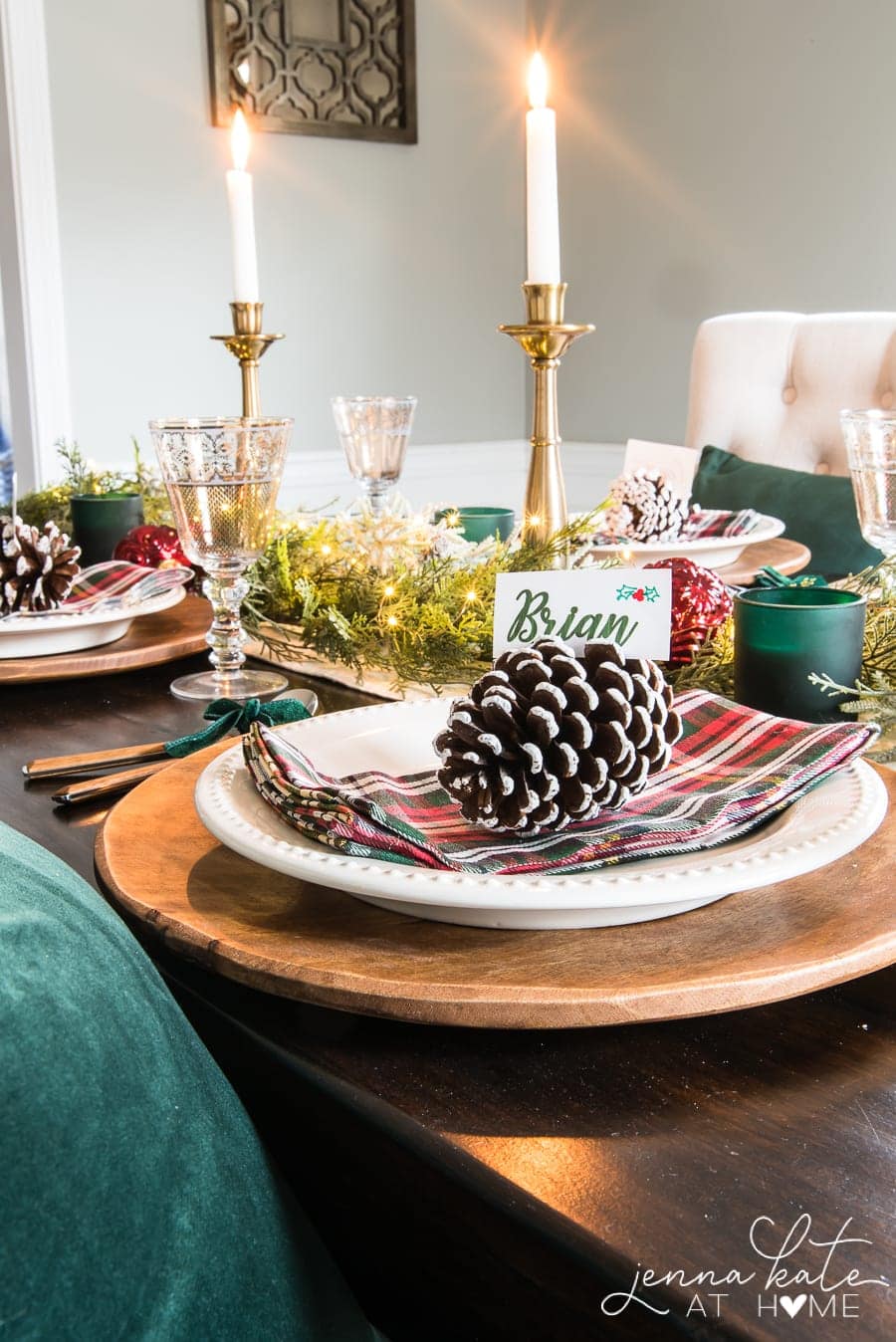 Plus, you will find many other opportunities throughout the year to incorporate these in your home.
7. Opt for a Neutral Table Runner
Of course you can use the ever popular plaid table runner for Christmas, but instead of letting the print over power your display consider a muted, neutral table runner. This will definitely add to the elegance!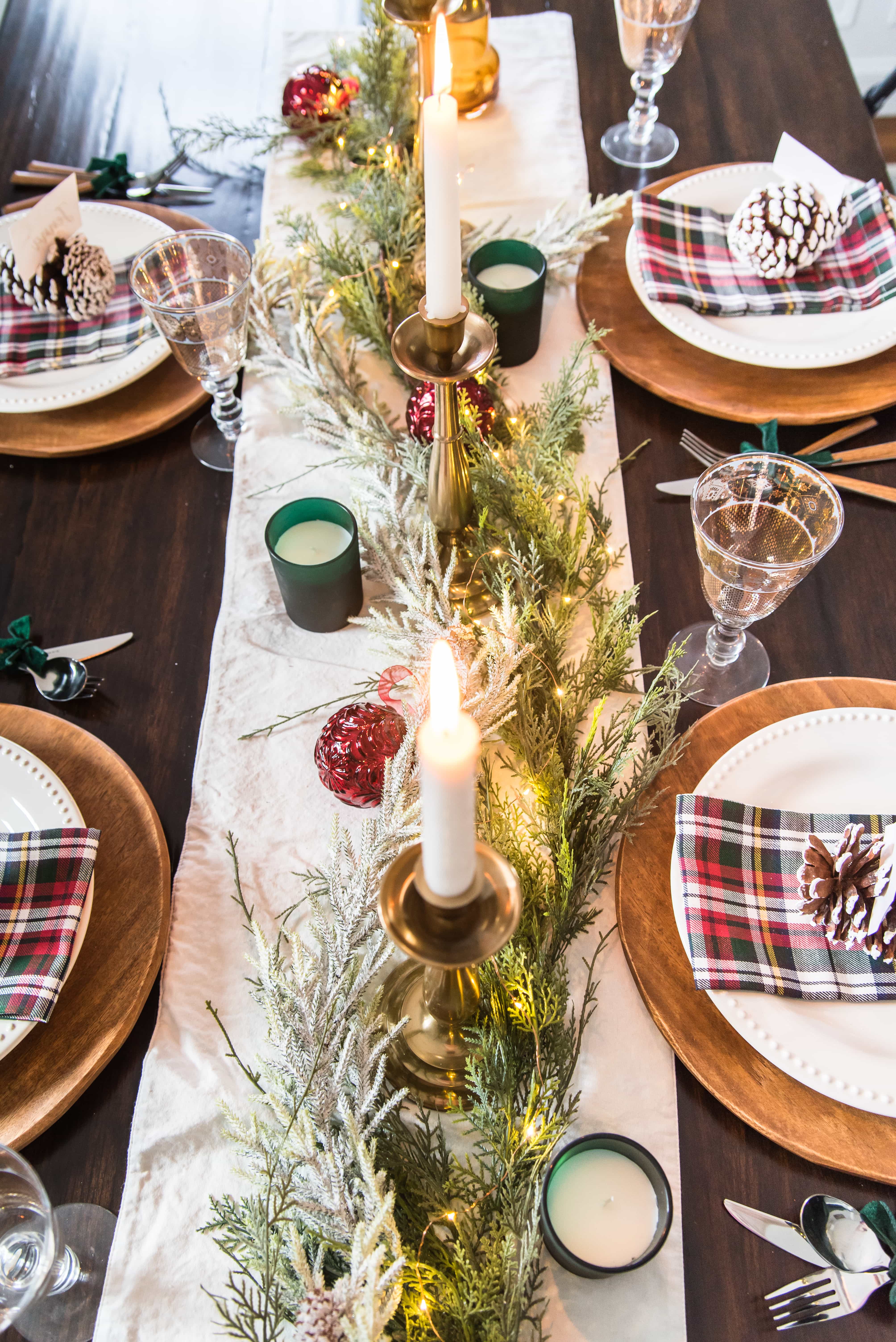 Is there anything worse than someone stepping on your table cloth or runner? Instead of the traditional full-length table runner, opt for one that doesn't quite reach the end of the table. This will add to the centerpiece but keep things minimal and stress free.
Final Thoughts
So there you go. That's my take on a traditional Christmas tablescape. What do you think? I know your family members will enjoy the warmth of these tablescape ideas while admiring your beautiful centerpiece.
Just remember, you don't need a lot of money to design a home you love. With these simple steps, you too can incorporate a few everyday dining table items with pops of seasonal elements to recreate this festive Christmas tablescape!