My third kiddo, Aidan, recently transitioned (at age 3.5) from a crib to a twin bed. To celebrate this big occasion in his life, his nursery got a big boy makeover!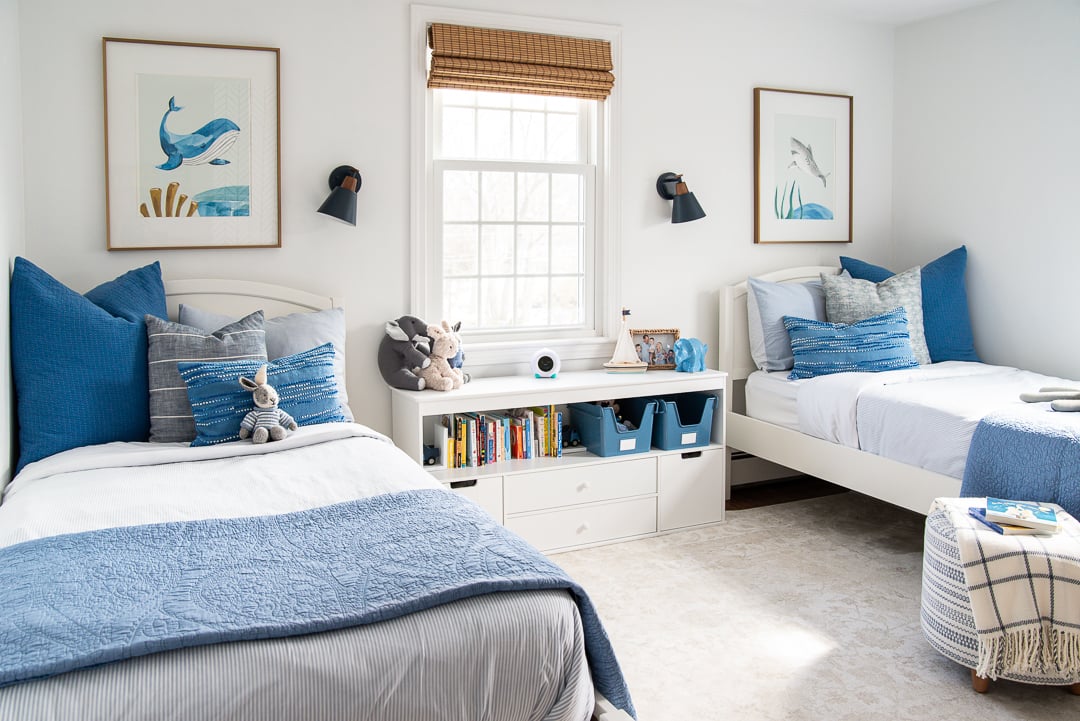 My aim with this room makeover, was to keep all the original elements of his nursery in place, and just update the room with some new furniture and a few decorative pieces. The white walls had to stay, the rug had to stay as well as the accent wall with the wallpaper.

The Original Nursery Space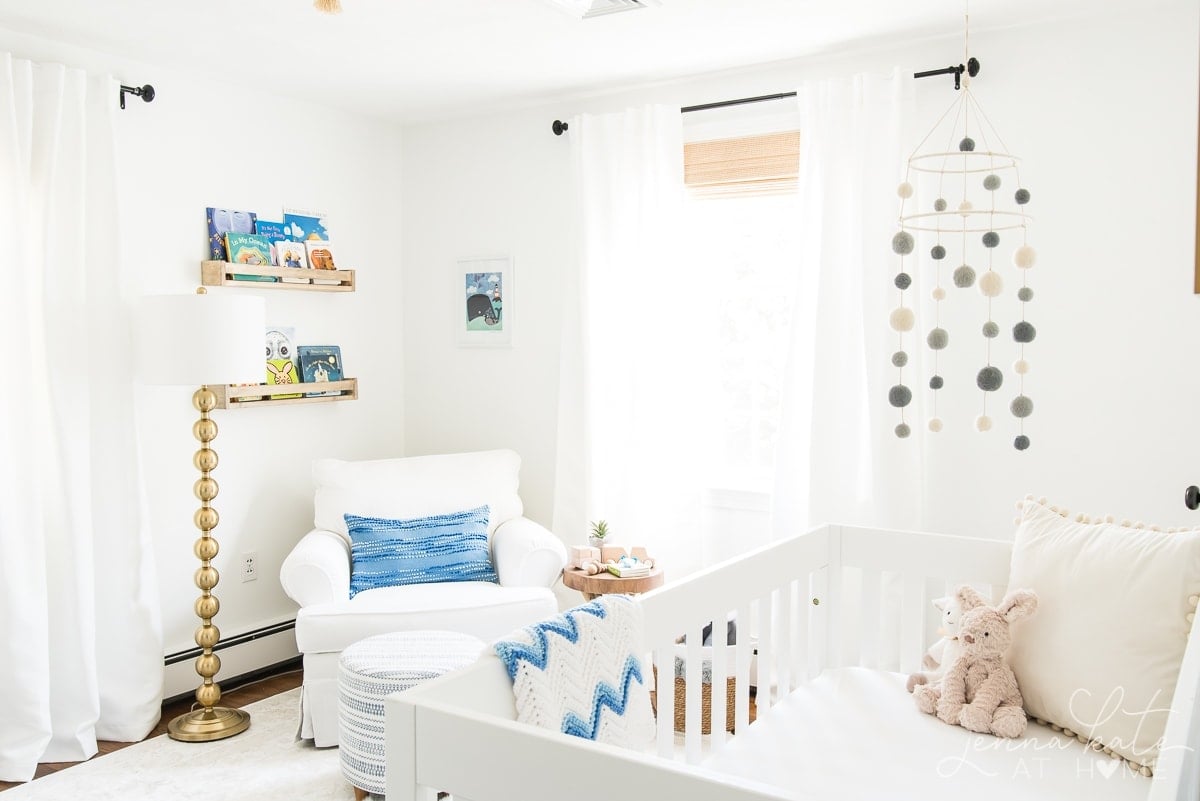 Aidan's room did not change at all from when I originally designed his nursery, apart from moving the changing table into the new baby's nursery.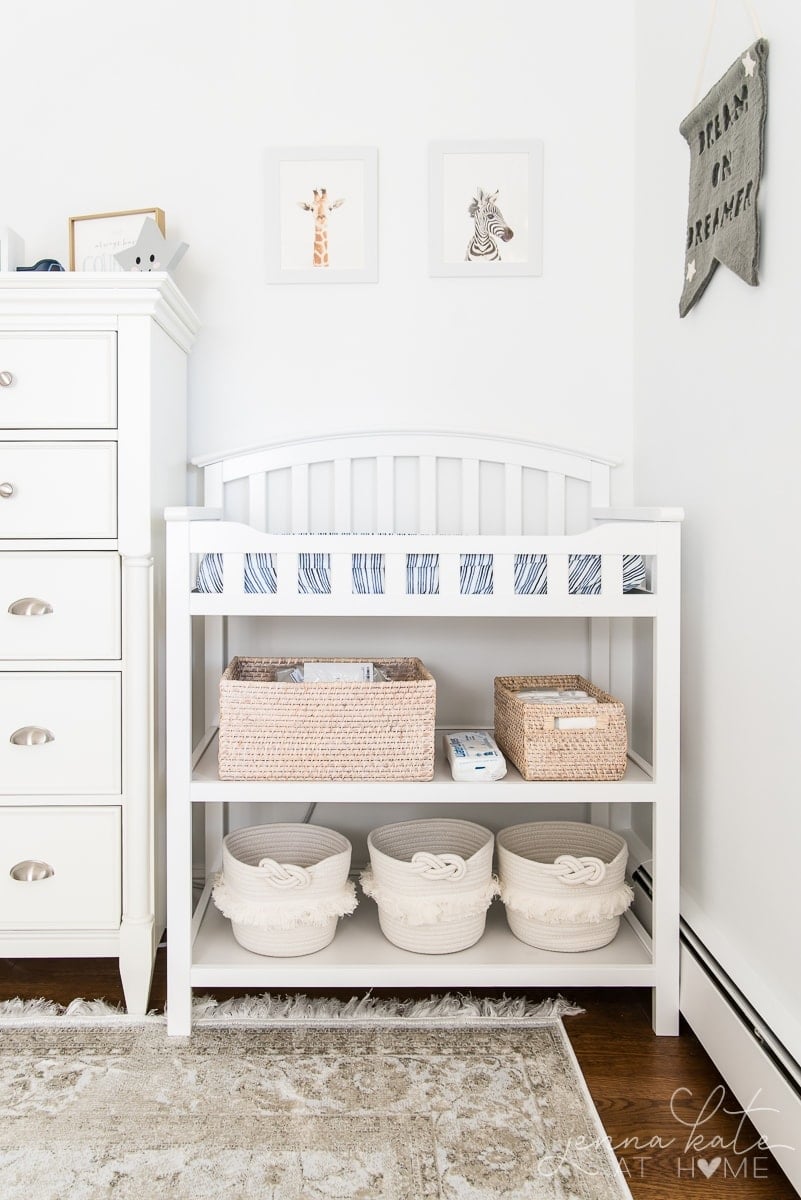 I absolutely still loved the space, but with beds coming in, things need to be rearranged and the original focal point (the wallpaper accent wall) where we had the crib, would no longer work.
Like every room makeover, I started with a mood board. This helps me visualize the space before committing to any purchases.
Big Boy Bedroom Mood Board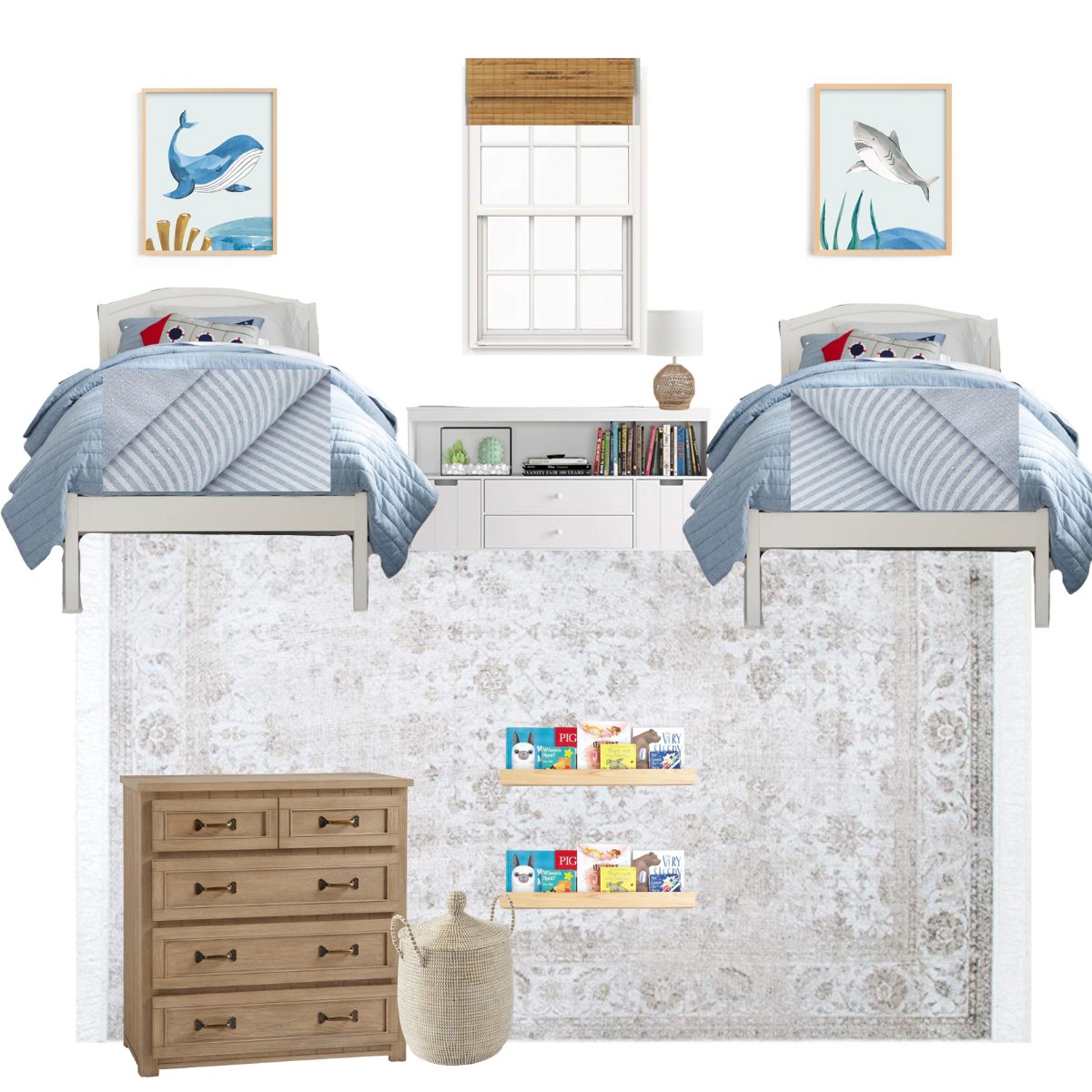 Originally, we were just going to put a single twin bed in his room, but since we no longer have a guest room (after having baby number 4 last year), I really need this room to function as a guest room when the grandparents come to visit. So, instead of one twin bed, we have two.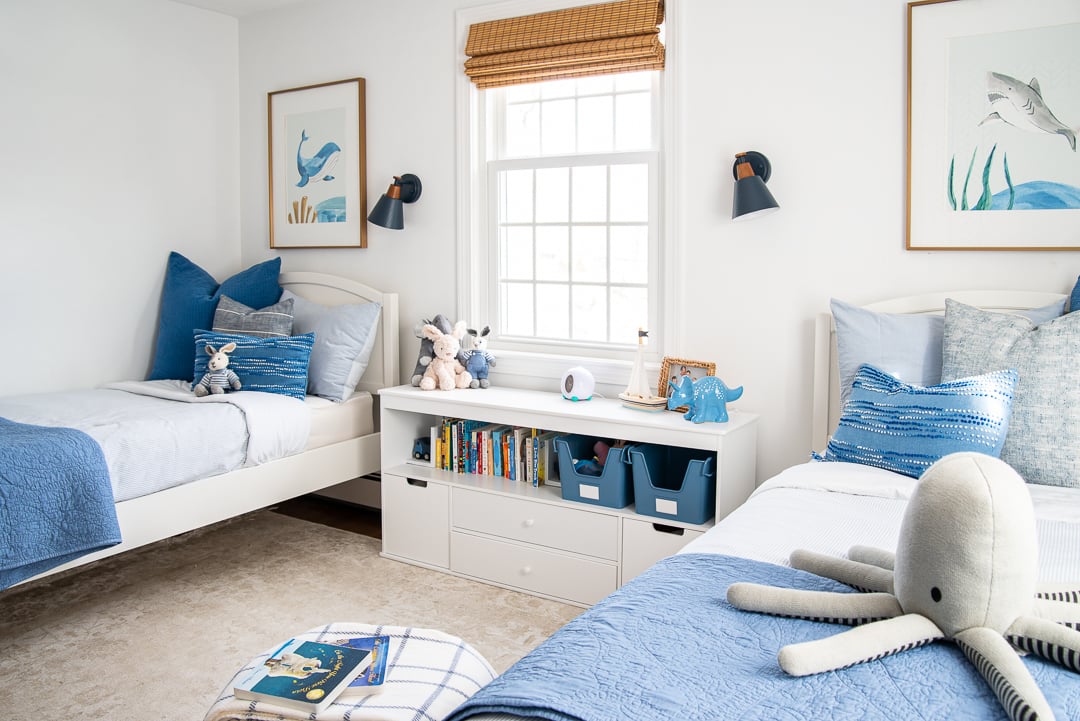 The second bed also works really well for instances when one of my older two boys are sick and need to be separated to stop from spreading the sickness.
Case in point, my 8 year old had a tummy bug during February vacation so we were able to quarantine him in his room and move the 5 year old in with my 3 year old for a few days and avoided him getting sick, too.
I chose white beds for the simple reason that they were in stock and affordable. If you've tried getting furniture recently, you know how difficult it can be.
I already had one of the blue chambray striped duvet covers, so incorporating another made perfect sense (no point in buying new stuff when what you have works fine!).
The dresser I picked up from the Pottery Barn outlet last summer, since I took the white dresser that was originally in the nursery and put it in my own bedroom.
The rug is what was already in the nursery.
The book ledges were already in the nursery.
Artwork over a bed is always a nice idea, and I used it as a way to bring some color to the space. A little kid's room should be fun and playful, not sterile white, right?
Finally, instead of one or two nightstands, I purchased this low storage unit that fits right under the window and acts as a bookcase and extra storage for the bedroom.
Unfortunately, due to the positioning of the beds and the windows, I had to lose the curtains. Not my favorite decision to have to make, but I couldn't make them work. I replaced the existing shades with new blackout bamboo shades.

Adding More Color
Once I started to get everything in place, I quickly realized it was all looking a bit too white. Luckily, it's so easy to bring color into any room through accessories!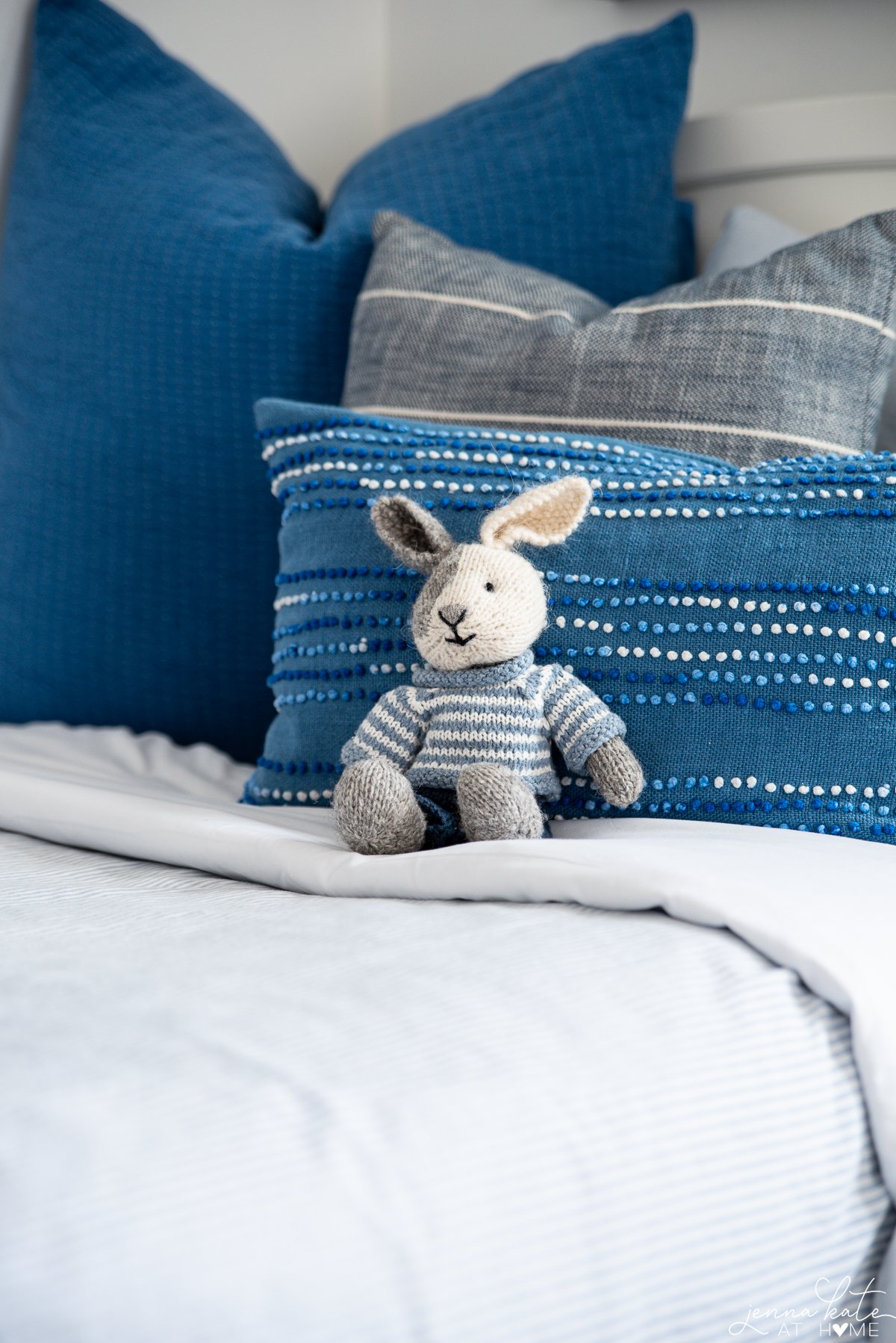 I got some throw pillows and euro shams (that I already owned) and that really brightened up the bed area.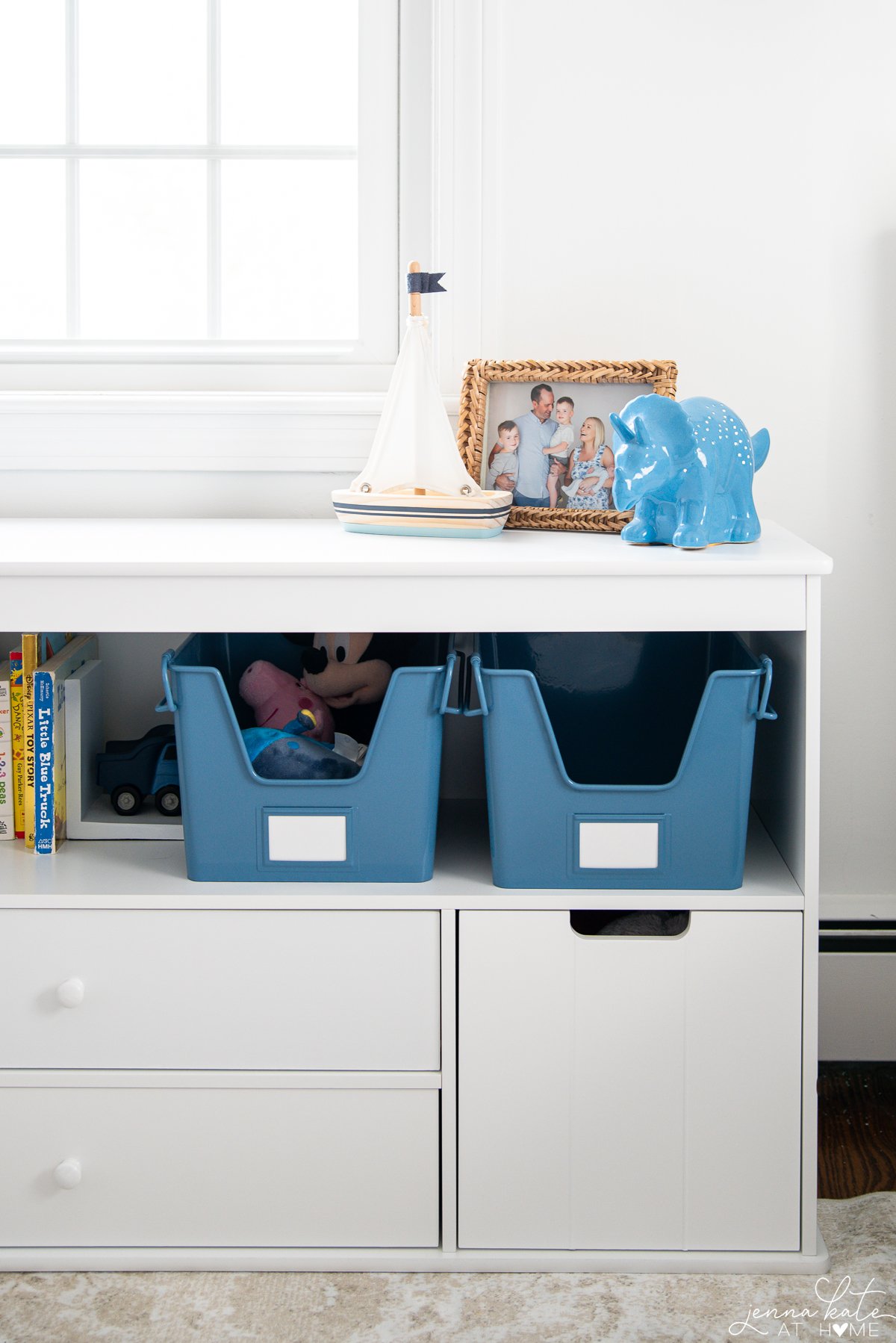 Finally, I broke up the white of the low bookcase storage piece with some blue bins (more functional storage!) from Target.
Reading Lamps
To keep the little bookcase/nightstand area uncluttered, I chose to add sconces on the wall over the bed. These are great lights for reading in bed or just for extra light in the room.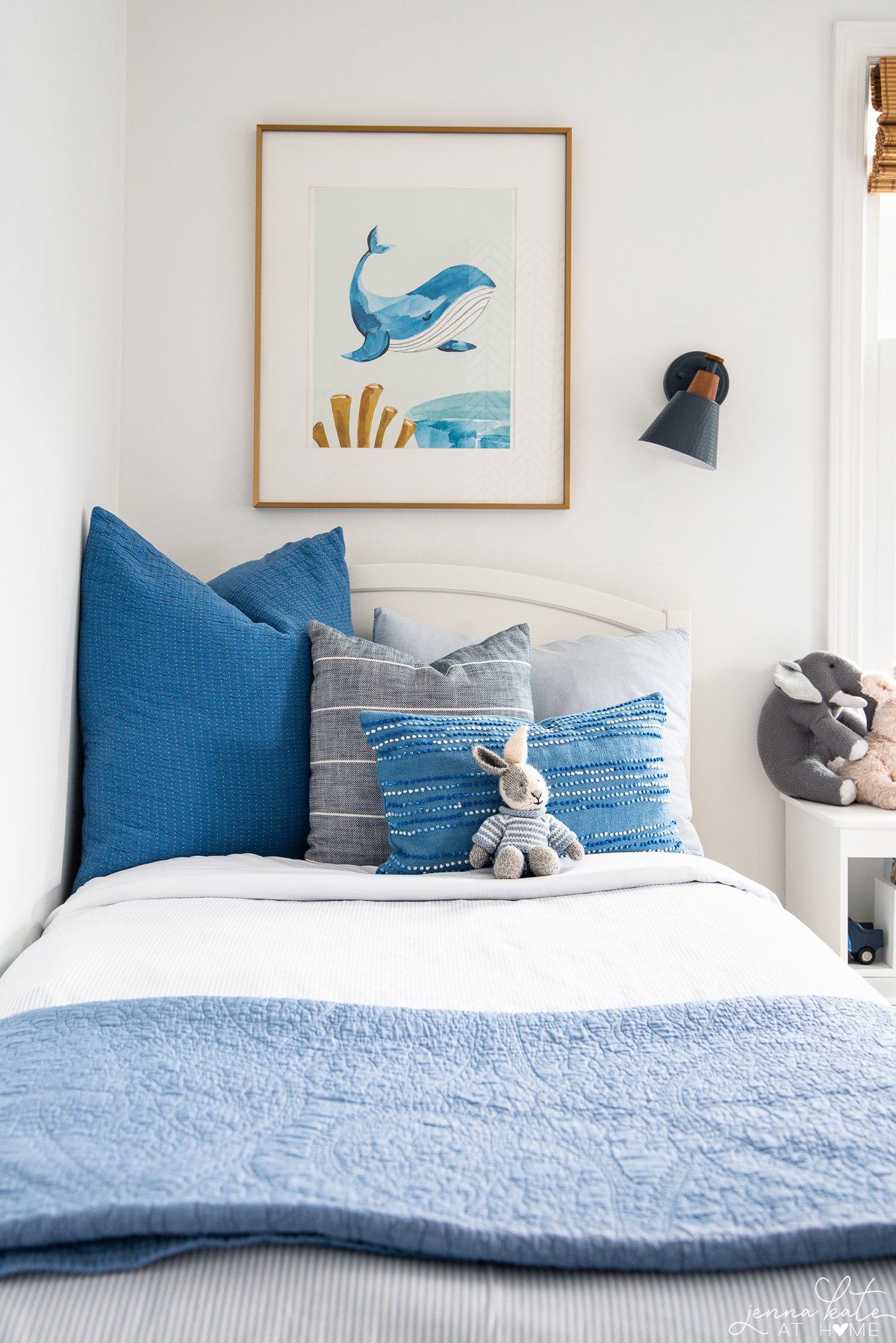 The fun thing about them is that they are NOT hardwired! I basically just screwed the metal plate to the wall, attached the sconce and popped in a rechargeable battery-operated bulb.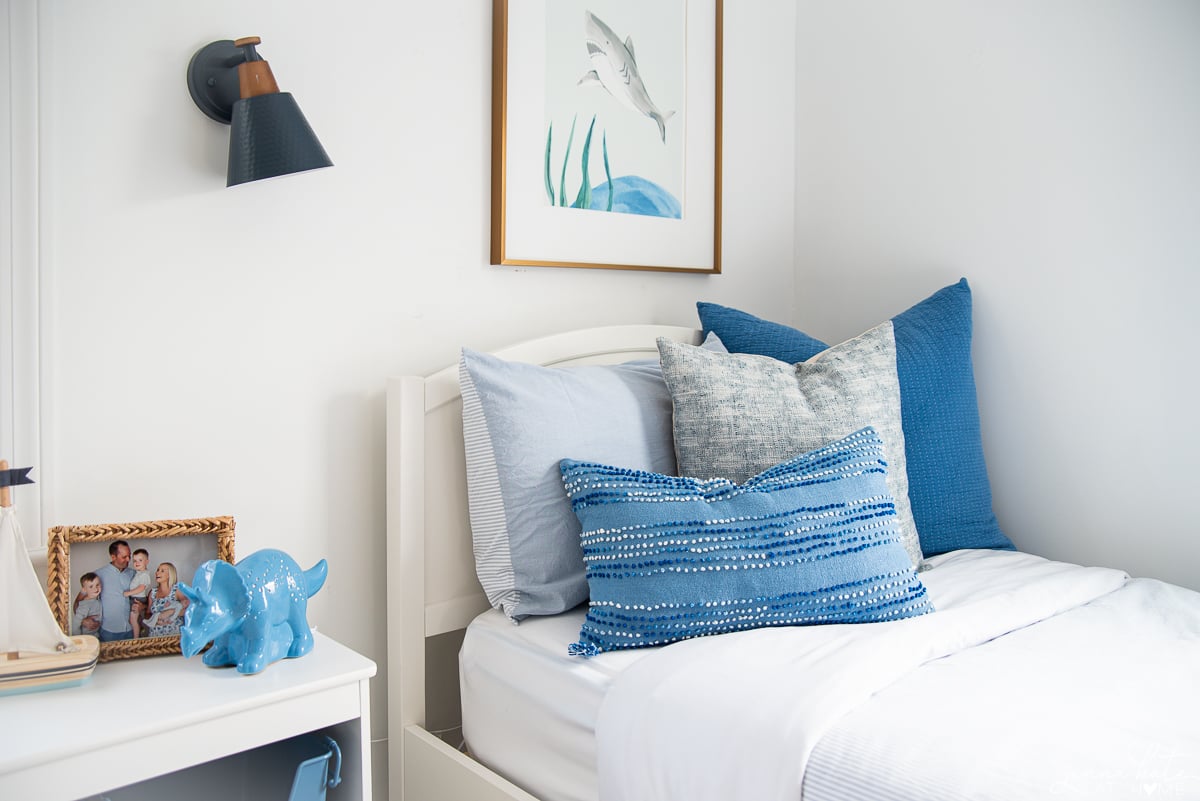 I didn't want mess with getting an electrician in to hardwire lights that we may want to remove again in a few years. This is the perfect compromise and the lights function as I need them to!
You can see a video tutorial on how I installed them on my Instagram profile.

Storage
I already touched on this, but storage is so essential in any room. Our bedrooms are a decent size, but the closets are tiny.
I try to have my kids be as independent as possible, so having storage that functions well for them is important, too.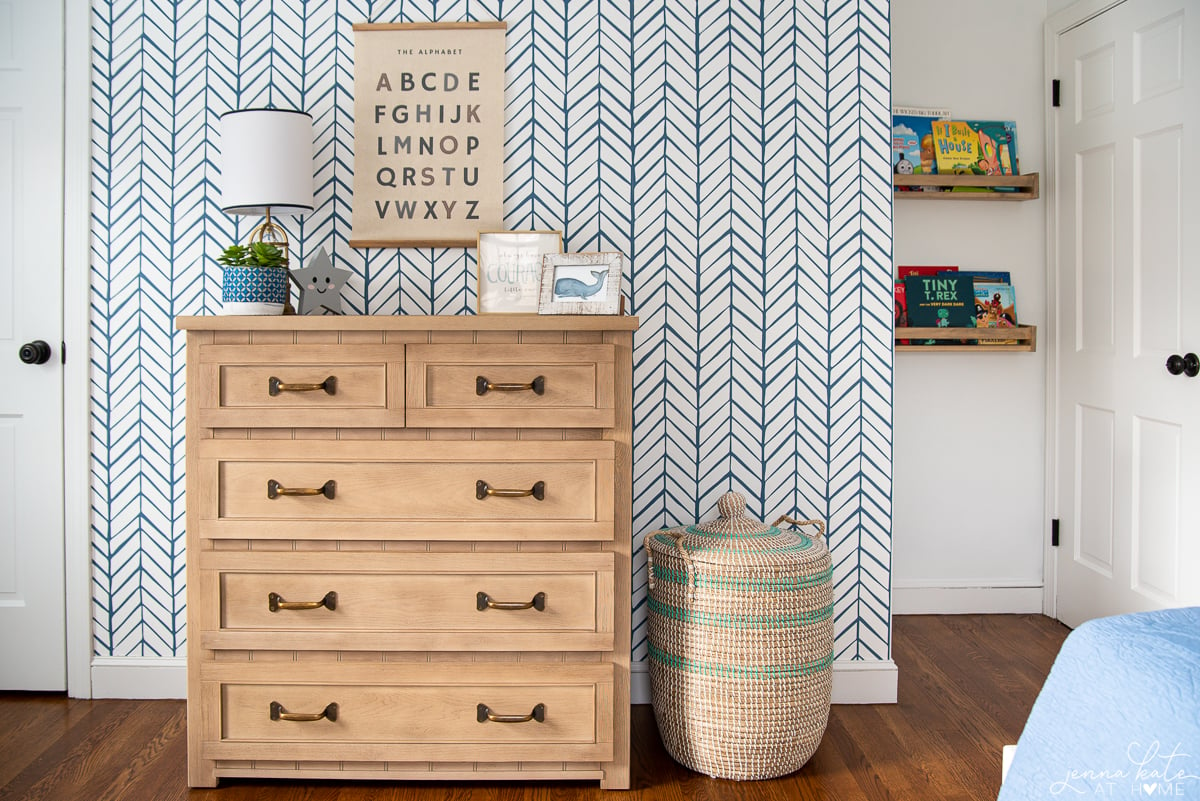 In this bedroom, my 3 year old can put away his stuffed animals in the little bins under his window. His socks and underwear are in the drawers, and he can get clean clothes out of his dresser. His laundry basket is also there for dirty clothes.
His books are visible on the book ledges that I moved to this nook behind his door, and he can visually pick out what he wants to read every night before bed.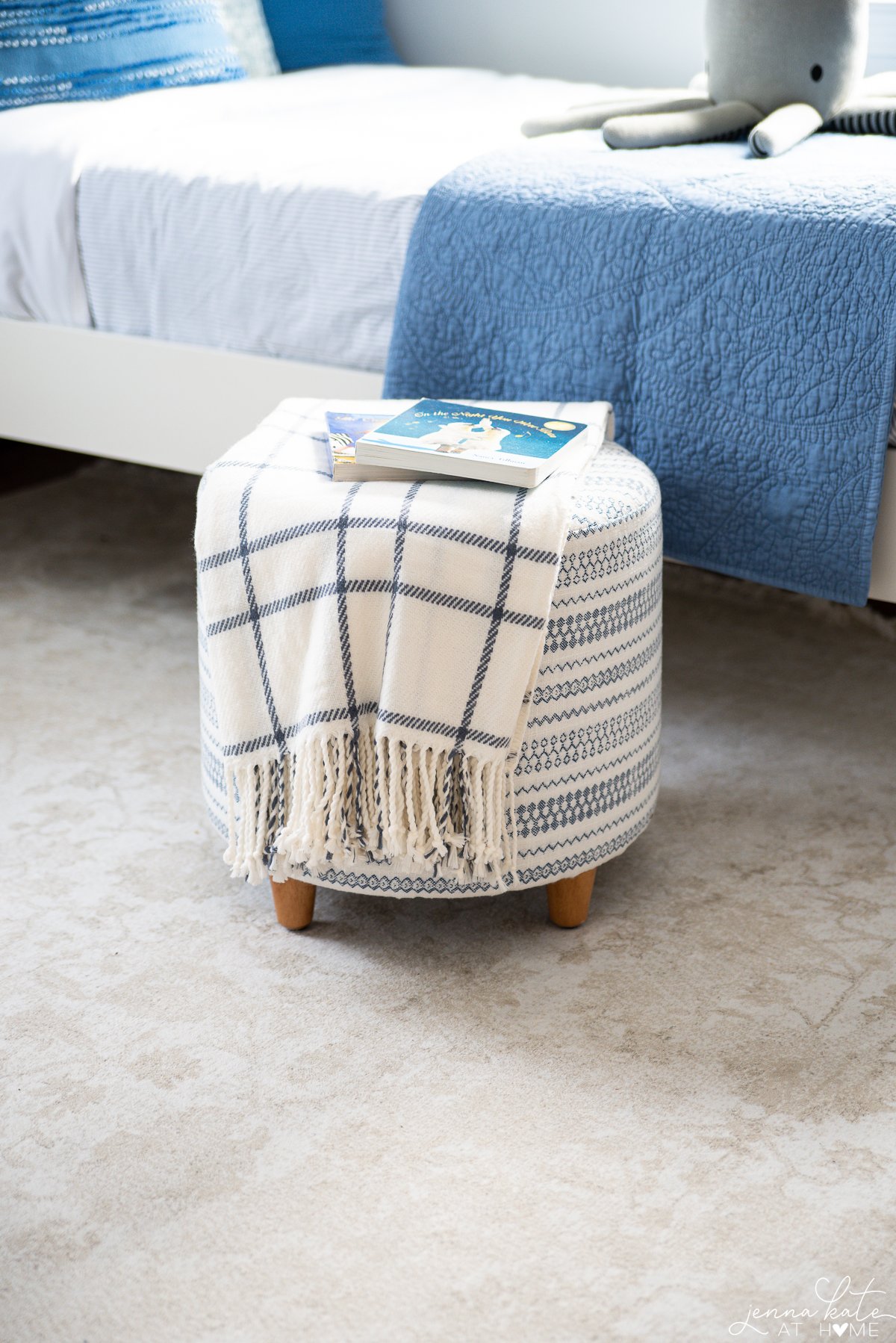 The glider chair that was in the nursery got moved into baby brother's nursery, but the sweet little footstool remains. My husband or I sit on when we're reading bedtime stories (or sometimes we snuggle in bed with Aidan, depending on the night!)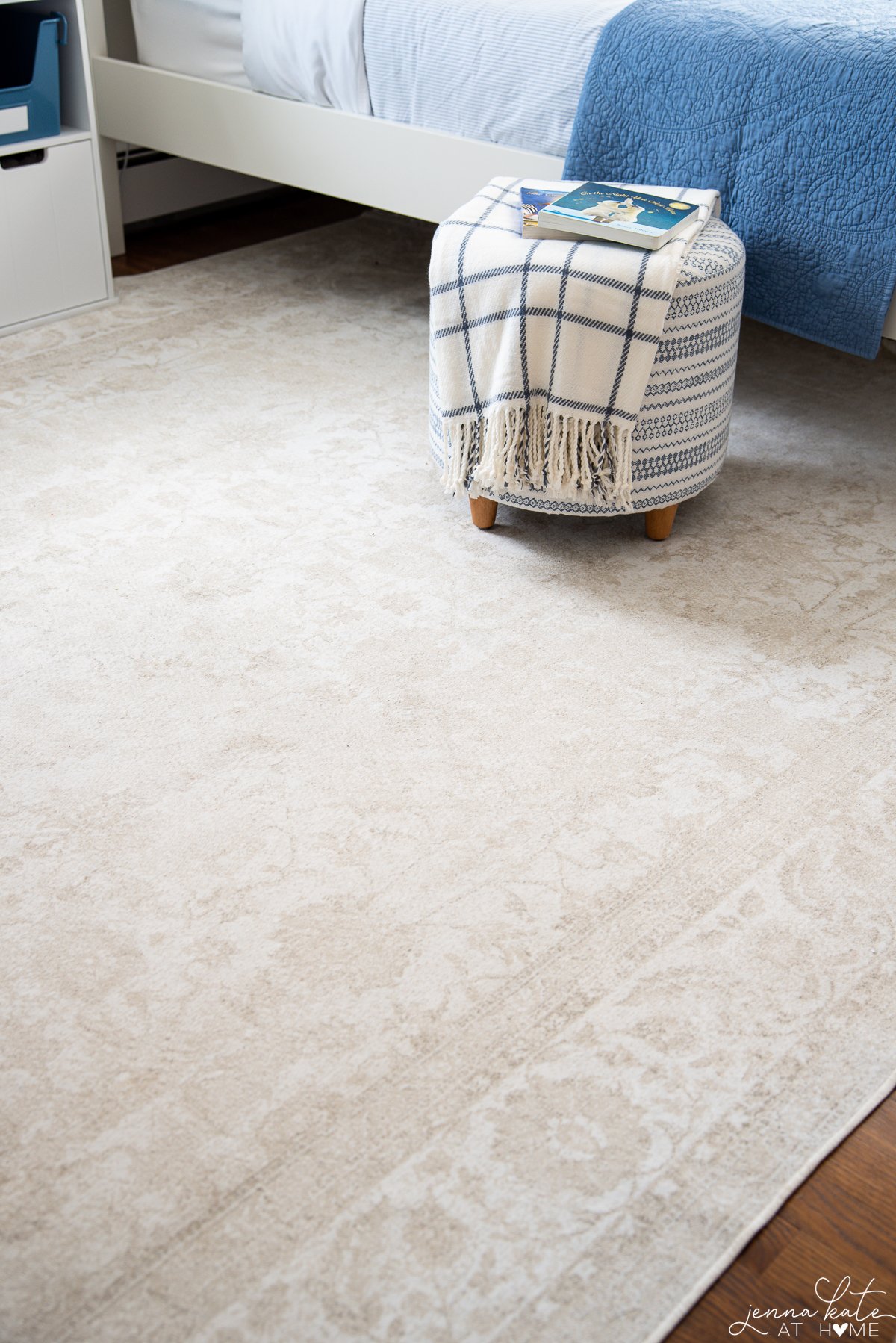 I mentioned before that I kept the same rug. I absolutely love this rug and definitely recommend it. It's paper thin, so you may want a rug pad underneath – but it's so soft and a really muted neutral color that will work anywhere.
I hope this big boy bedroom makeover will give you some ideas if you're looking to transition your son or daughter's nursery to a more appropriate "big kid" space!
Room Sources
Looking for product sources? Everything is linked directly below!