Linen Closet Organization
Let's start with my mess of a linen closet. Since moving into our home 3 years ago, I haven't given it any attention. It's not huge but does the trick. After all, all that needs to be in here is some towels, wash cloths, extra bed sheets/pillow cases and other spare linens.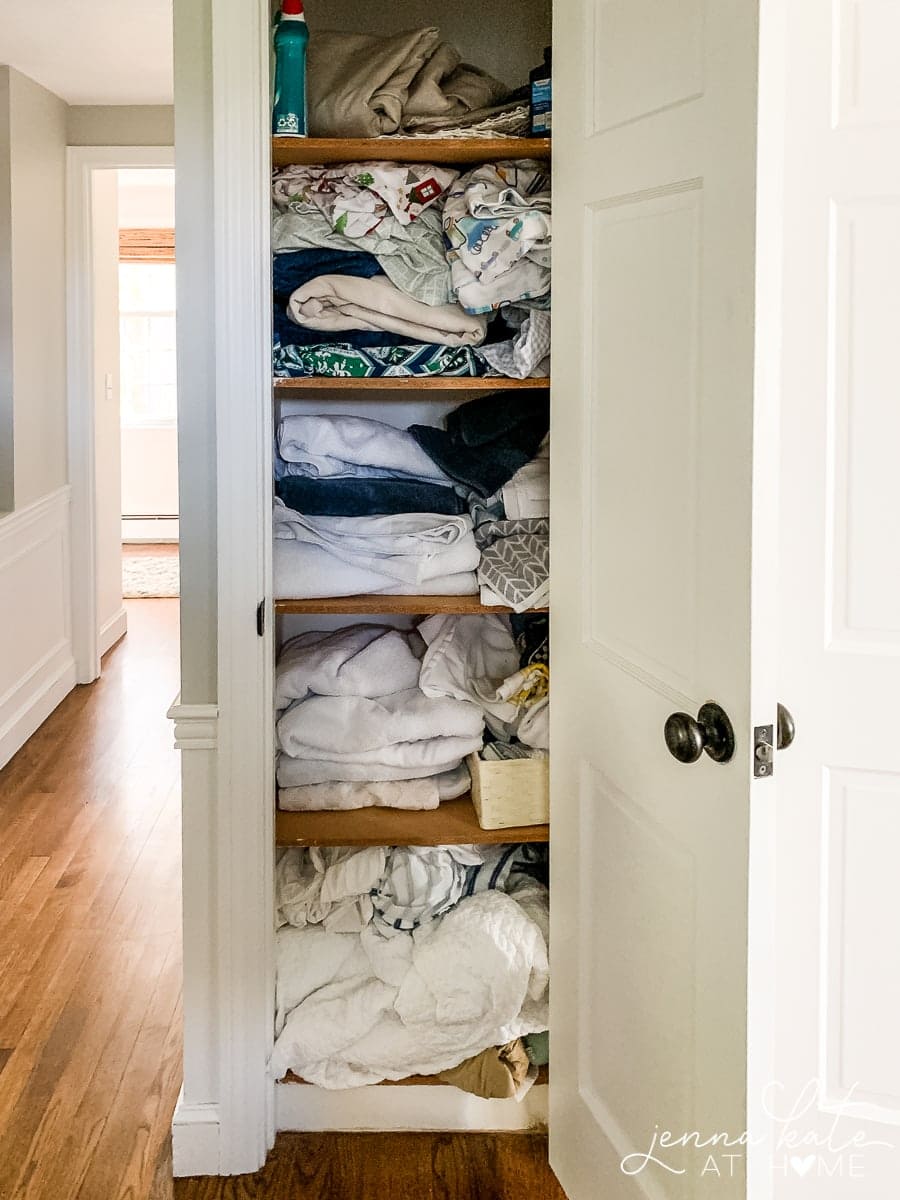 As you can see, we have taken the "extra linens" a bit far. A family of 4 does not need 20 bath towels, 15 hand towels and enough extra bedding for 5 guests at all times.
The first step in this organization process, like most, was emptying out the closet and evaluating what we had. This meant using bedding storage bags to store away all the extra bedding that only gets used every couple of years when our house is full of guests (we rotate holidays!). Extra guest towels were moved to the guest room closet and towels that were starting to look tattered got added to my bag of rags in the garage.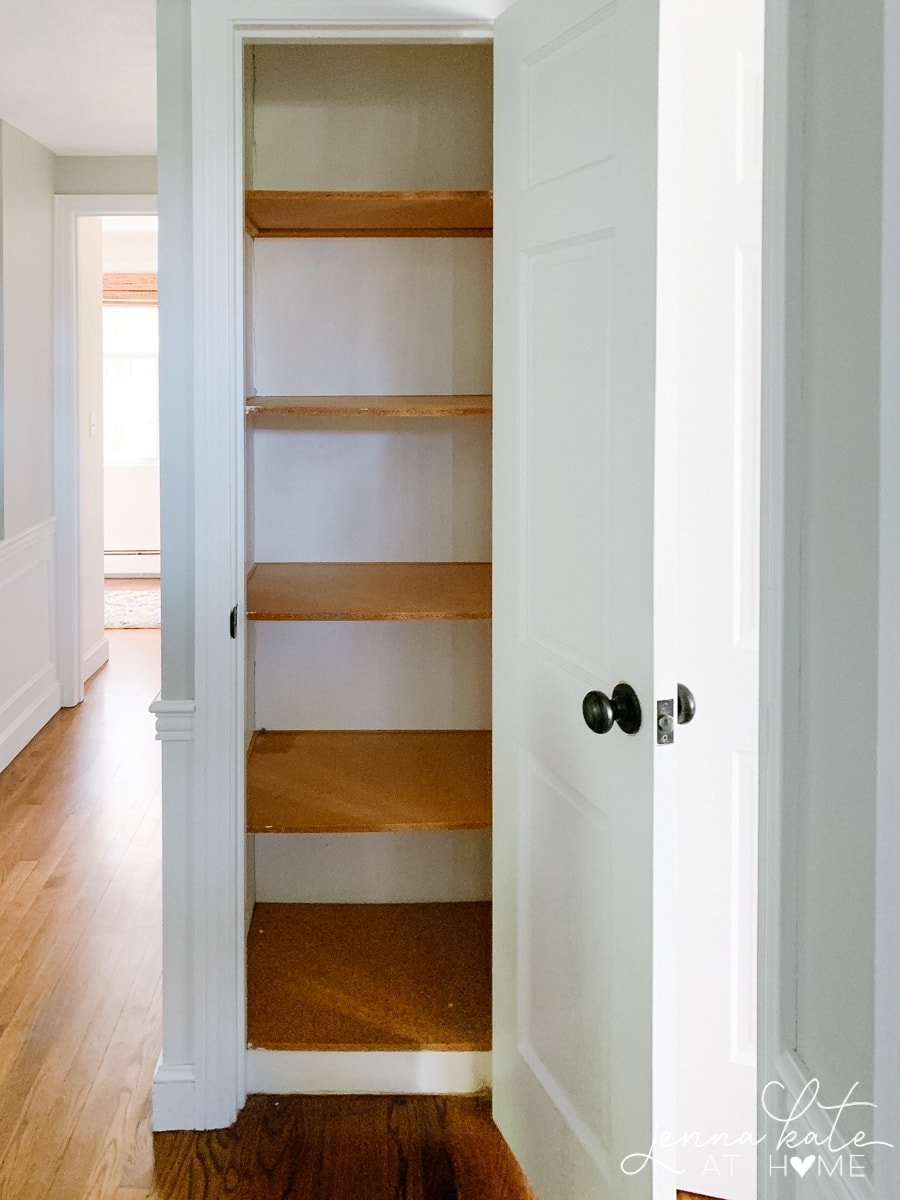 I lined the chipboard shelves to not only make them look better, but because the towels always got caught on the pieces of chipboard.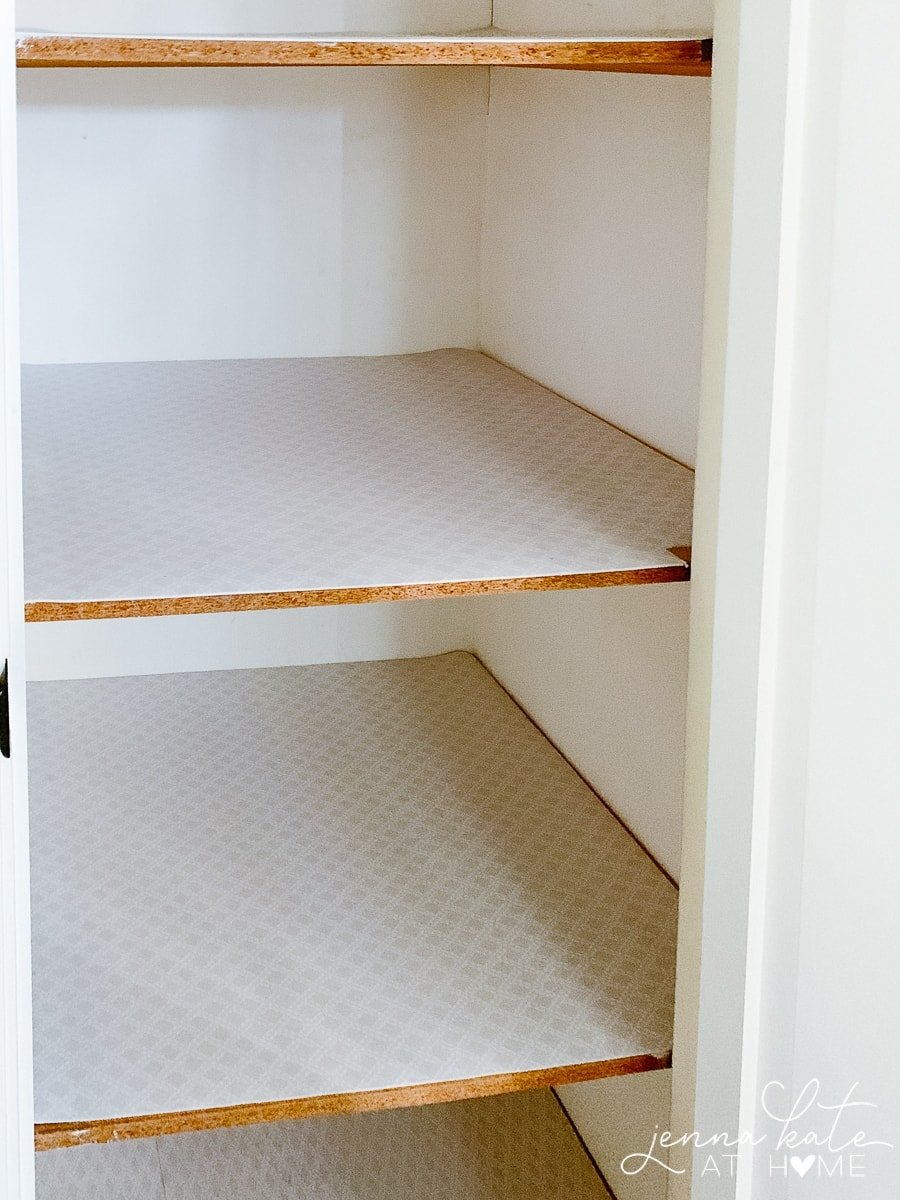 I decided to keep only white towels in the closet since they are easy to bleach, in addition to one extra set of queen sheets, one extra set of twin sheets and one extra crib sheet in case we should need them. Additionally, I kept two throw blankets for easy access.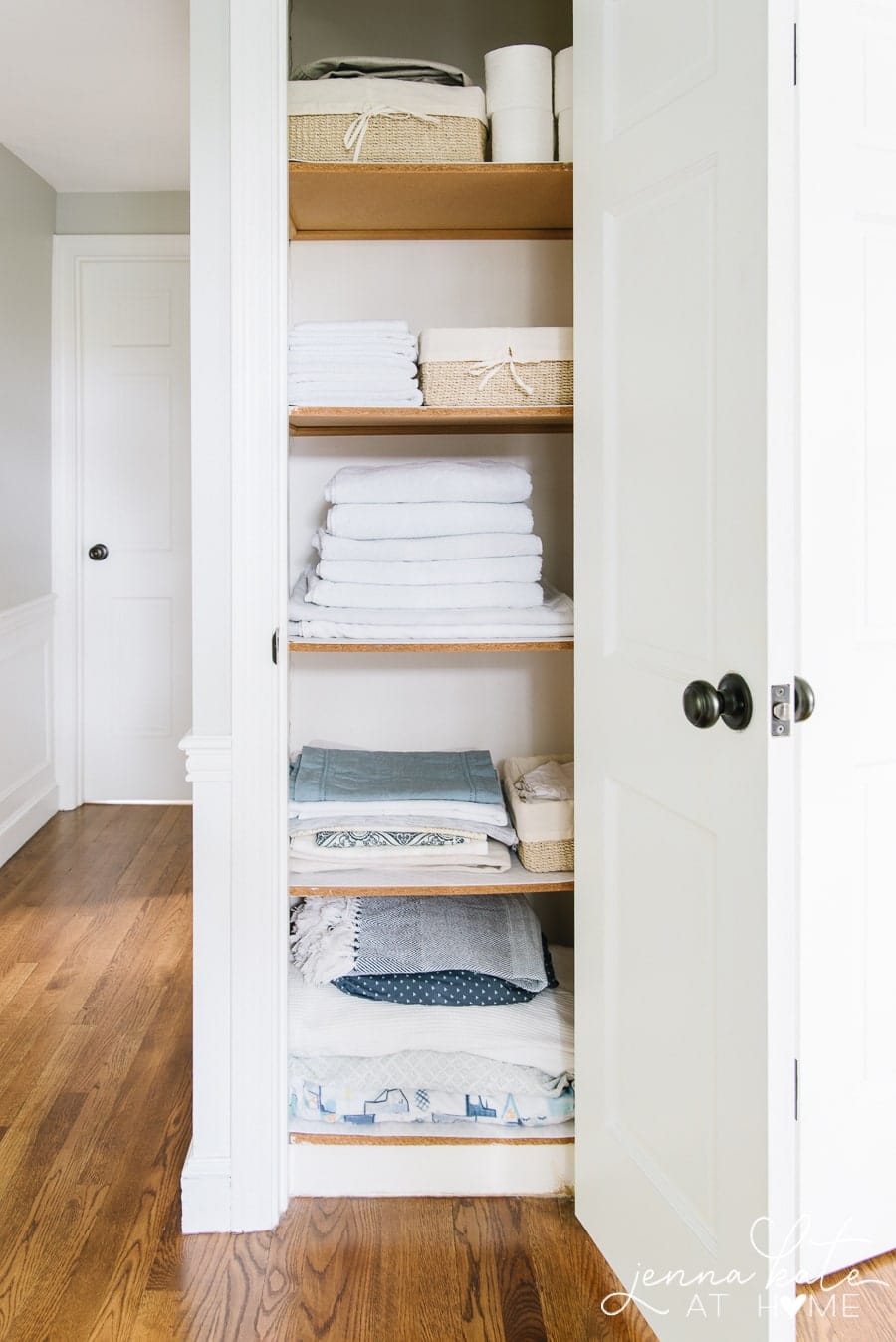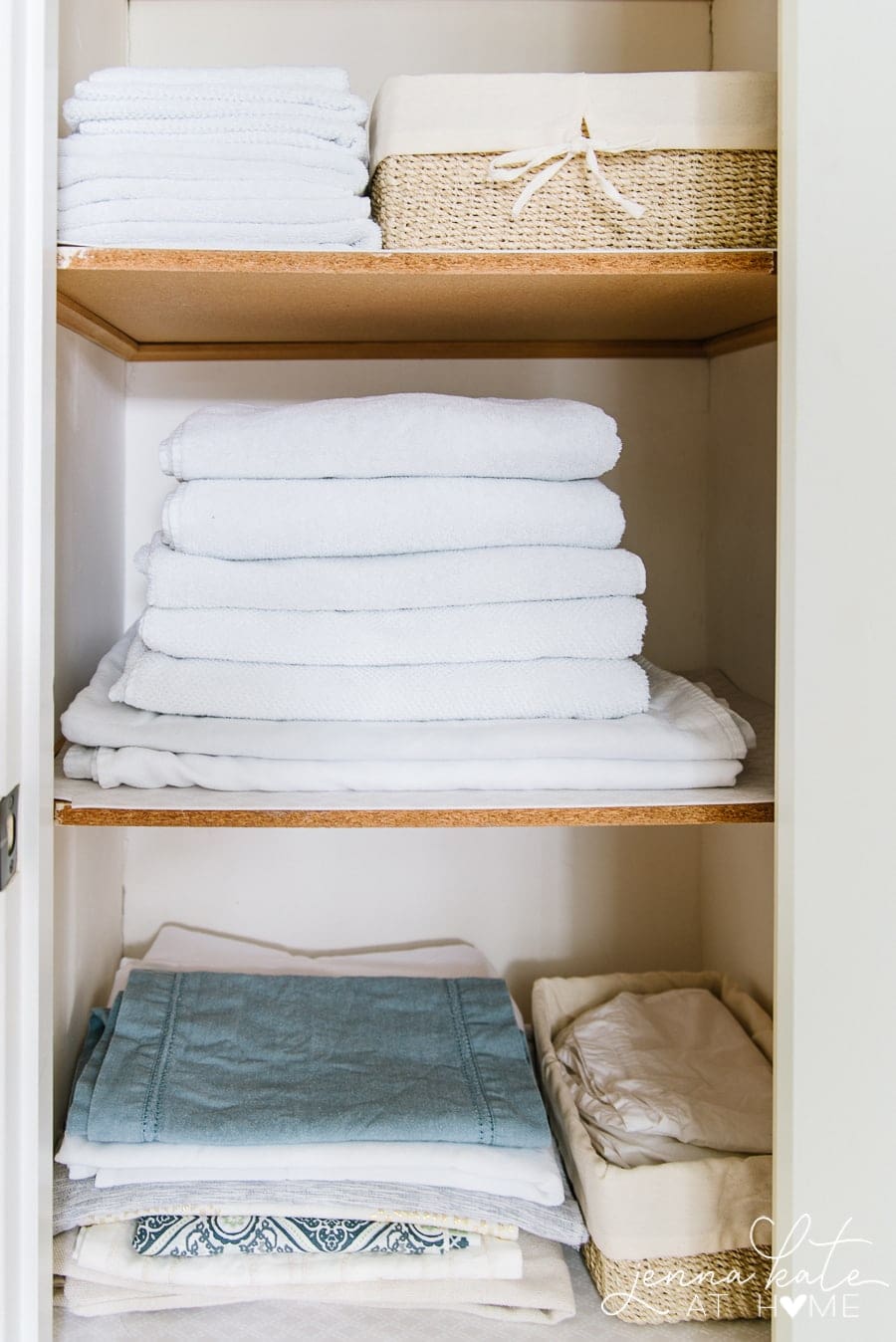 Once neatly folded, the hand towels only took up half a shelf which left space for a basket to corral the wash cloths.


And by removing extra towels, I opened up an entire shelf where I could keep extra table cloths and runners, in addition to a basket for pillow cases.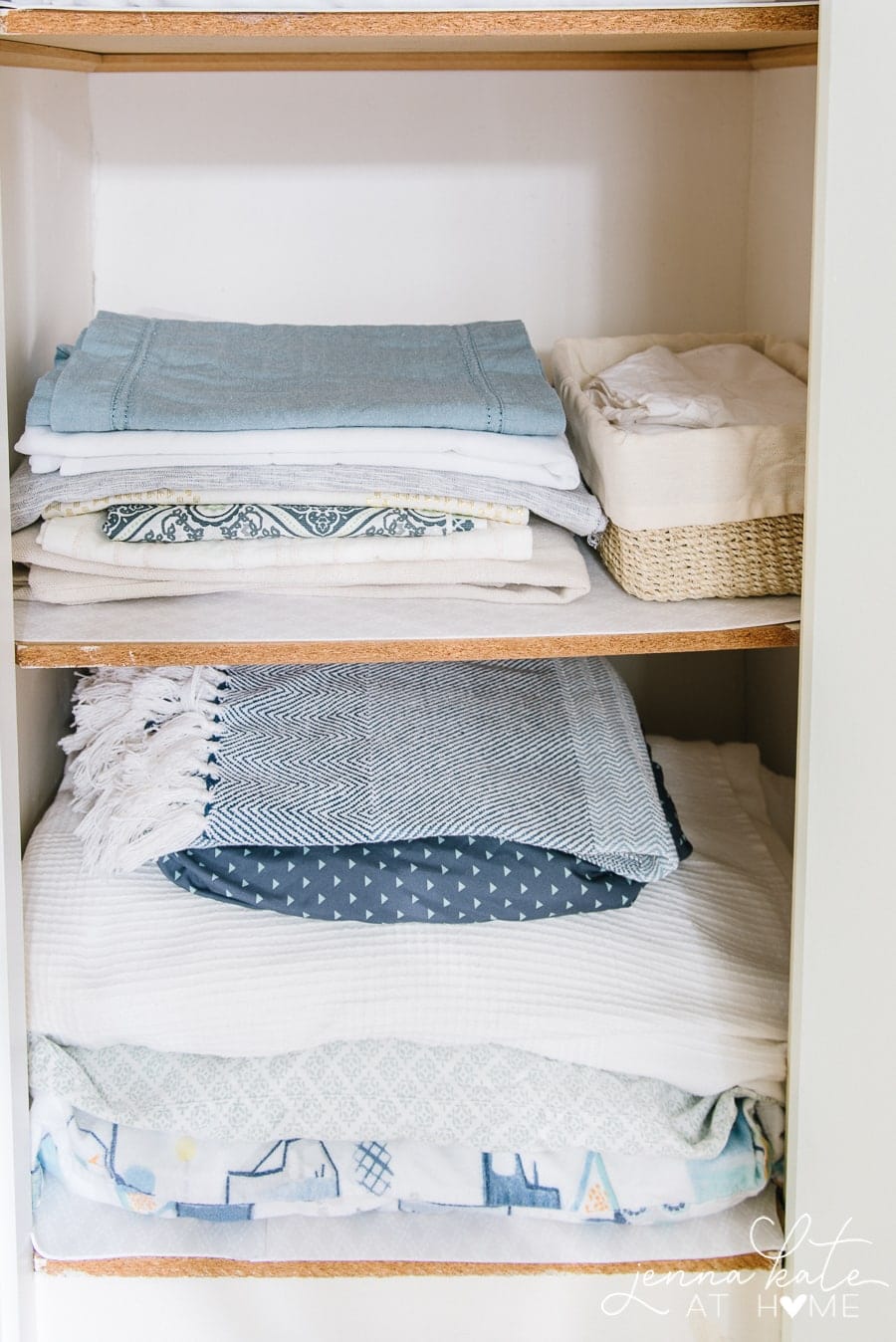 Finally, all the bathroom cleaning products were moved downstairs, making space on the top shelf for a basket where I keep our extra couch covers as well as a spot for toilet paper.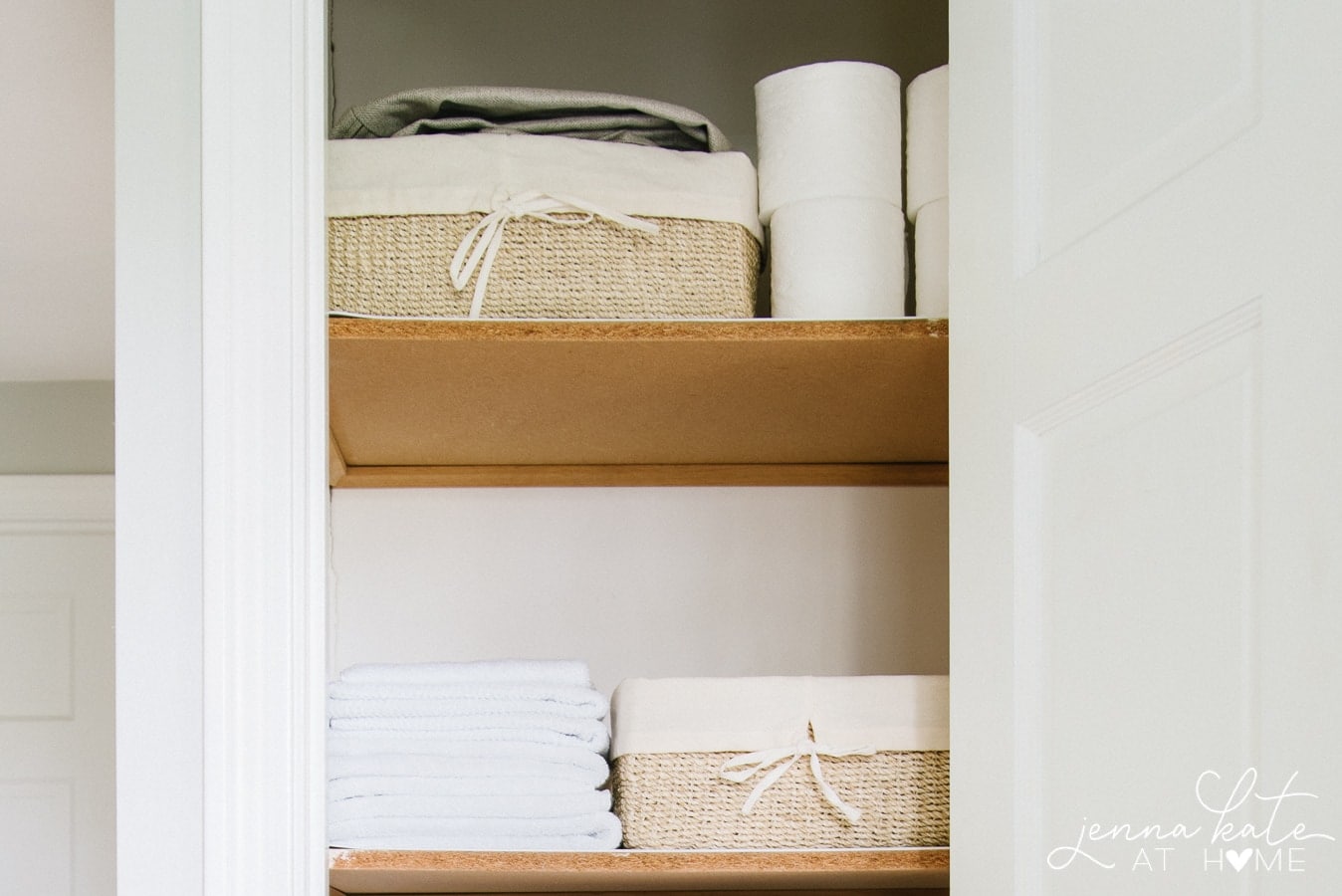 It's so much better now, don't you think? The less stuff in there makes it easier to grab something when we need but it also makes it easier to keep it organized! Plus, my keeping the color scheme neutral (sorry blue towels!), it's visually more pleasing – or at least as pleasing as a linen closet can be!


Broom Closet Organization
Our broom closet was another area of our home that needed not only to be organized but also freshened up. When we originally moved into our house, our living room had no cable (so weird, right!?) so we had to run a connection as well as power over the fireplace. This closet was what the electrician used to achieve that. Unfortunately, he made all sorts of holes and did an atrocious job of patching them up. That, combined with lots of dirty marks on the walls and the fact that the brooms and vacuum are always in there, made for a very dirty closet (you can check out my Instagram highlights to see just how bad it actually was!).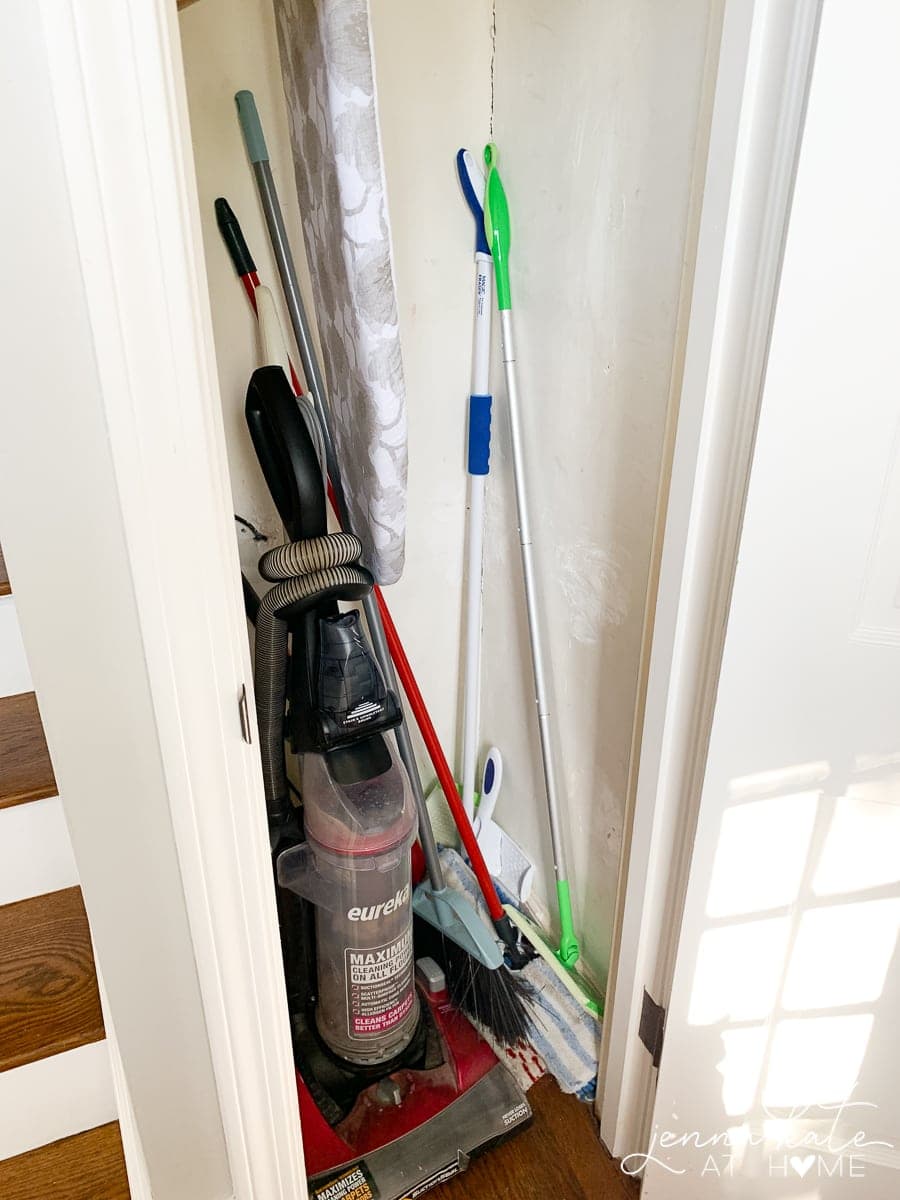 You can probably tell that this broom closet was in fact meant to be a coat closet. But since we don't enter through our front door, instead we chose to create a mudroom by the garage door that we do enter through.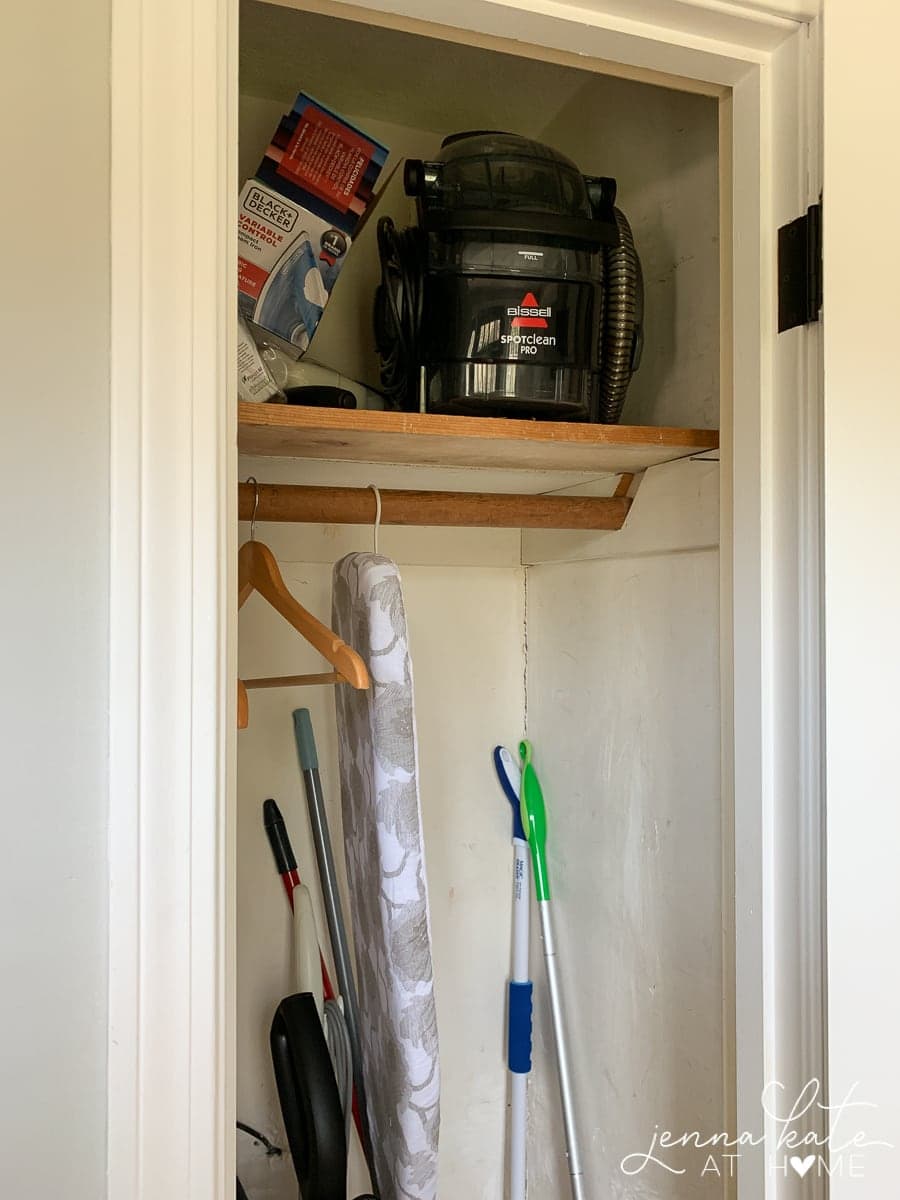 Just like the linen closet, the first step was to clean everything out. I then properly patched up all the holes and sanded them smooth. The walls got a fresh coat of paint (BM Paper White because it's what I had on hand) and I painted the trim white.
That alone was enough to make the closet look presentable.
But I didn't want to just throw everything back in. So I attached 3m broom holders to the wall for both our Bona sweeper and our Swiffer.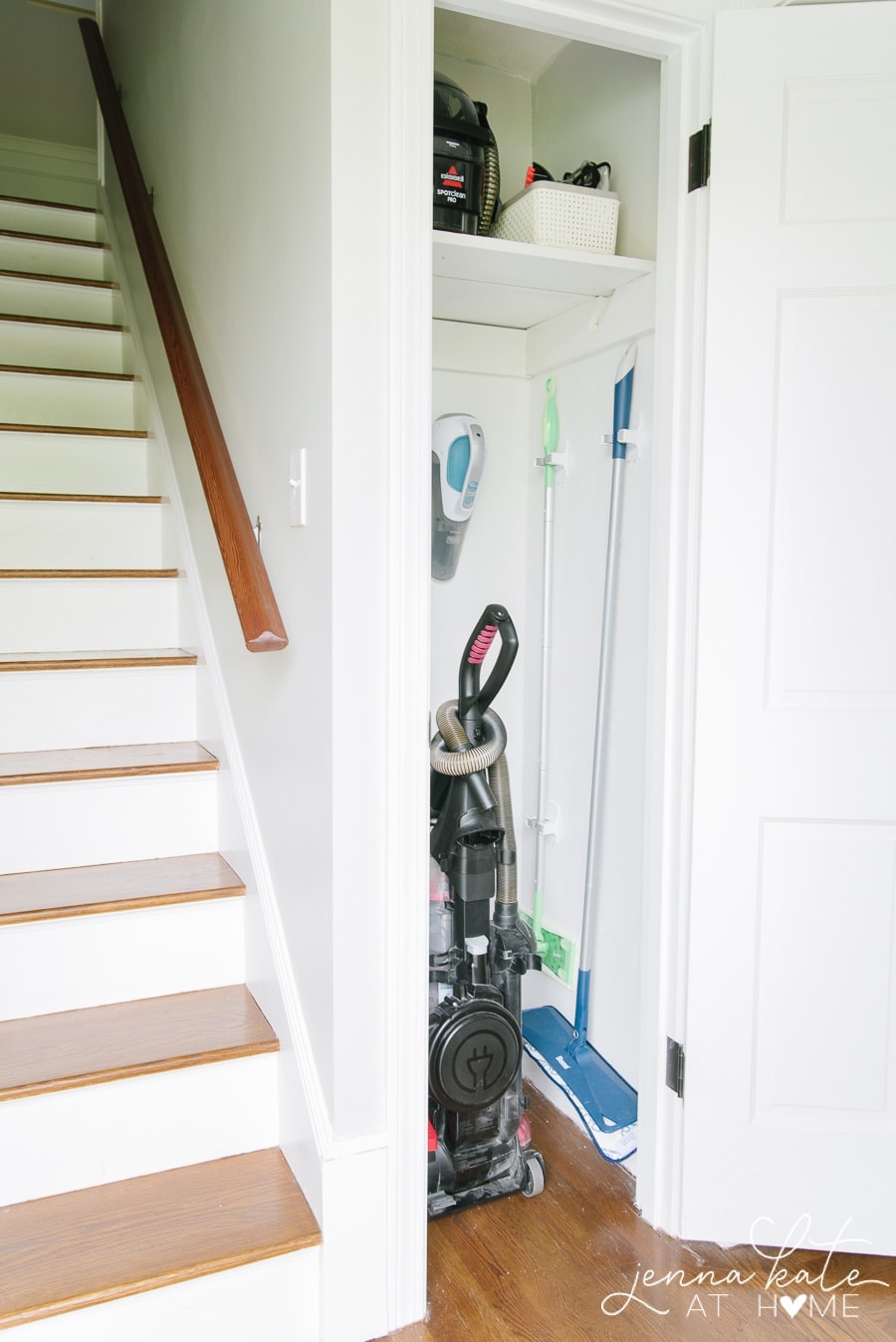 Ignore the paint splatters on the floor. In my haste to take photos, I forgot to scrape them off ????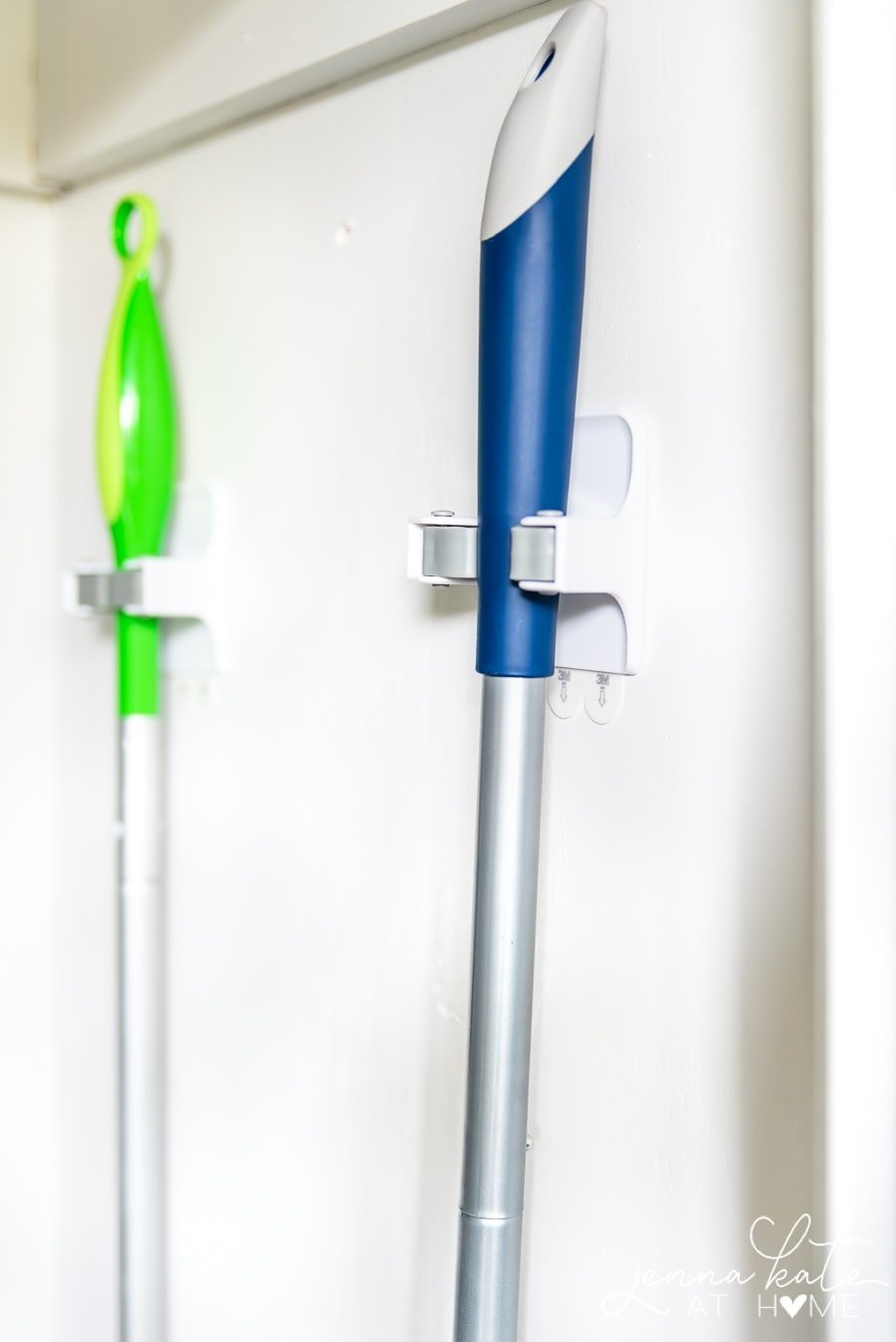 The hanging attachment that came with our handheld vac finally got attached to the wall and this handy iron and ironing board storage holder got our iron off the top shelf (where I could barely reach it!) into an easily-accessible spot.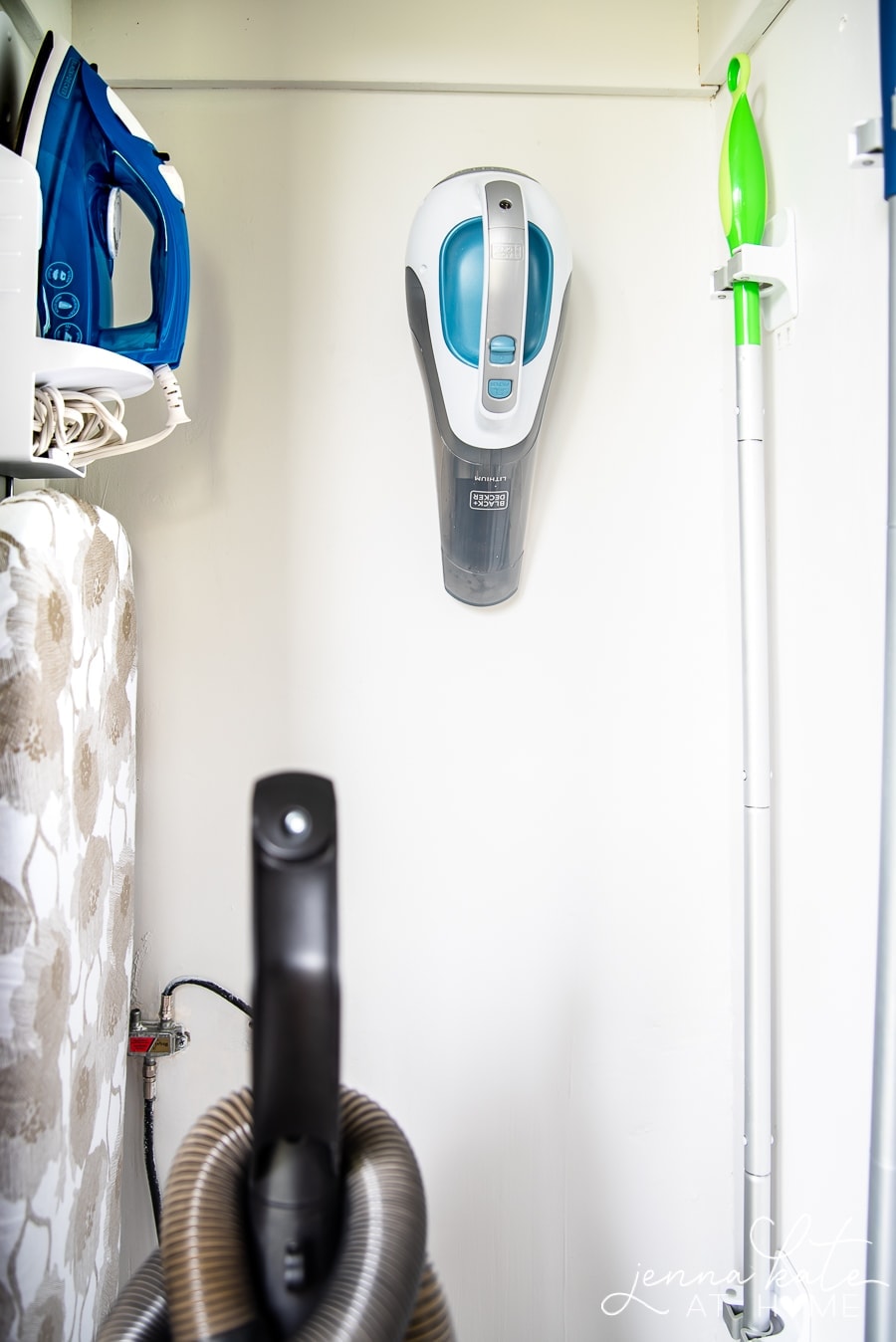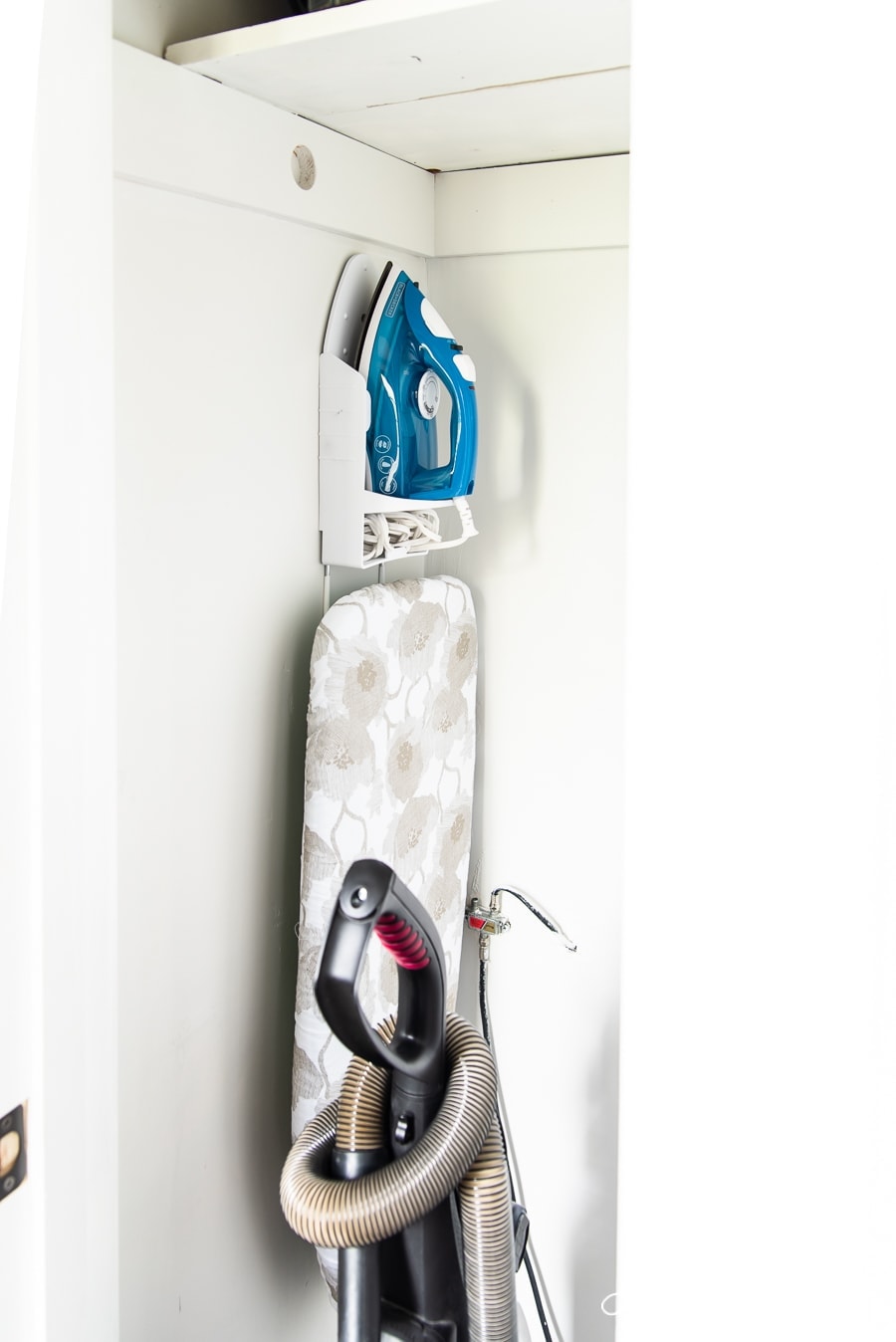 Finally, our upholstery cleaner stayed on the top shelf and a new bin enabled me to corral all the various attachments and other tidbits that we needed to keep.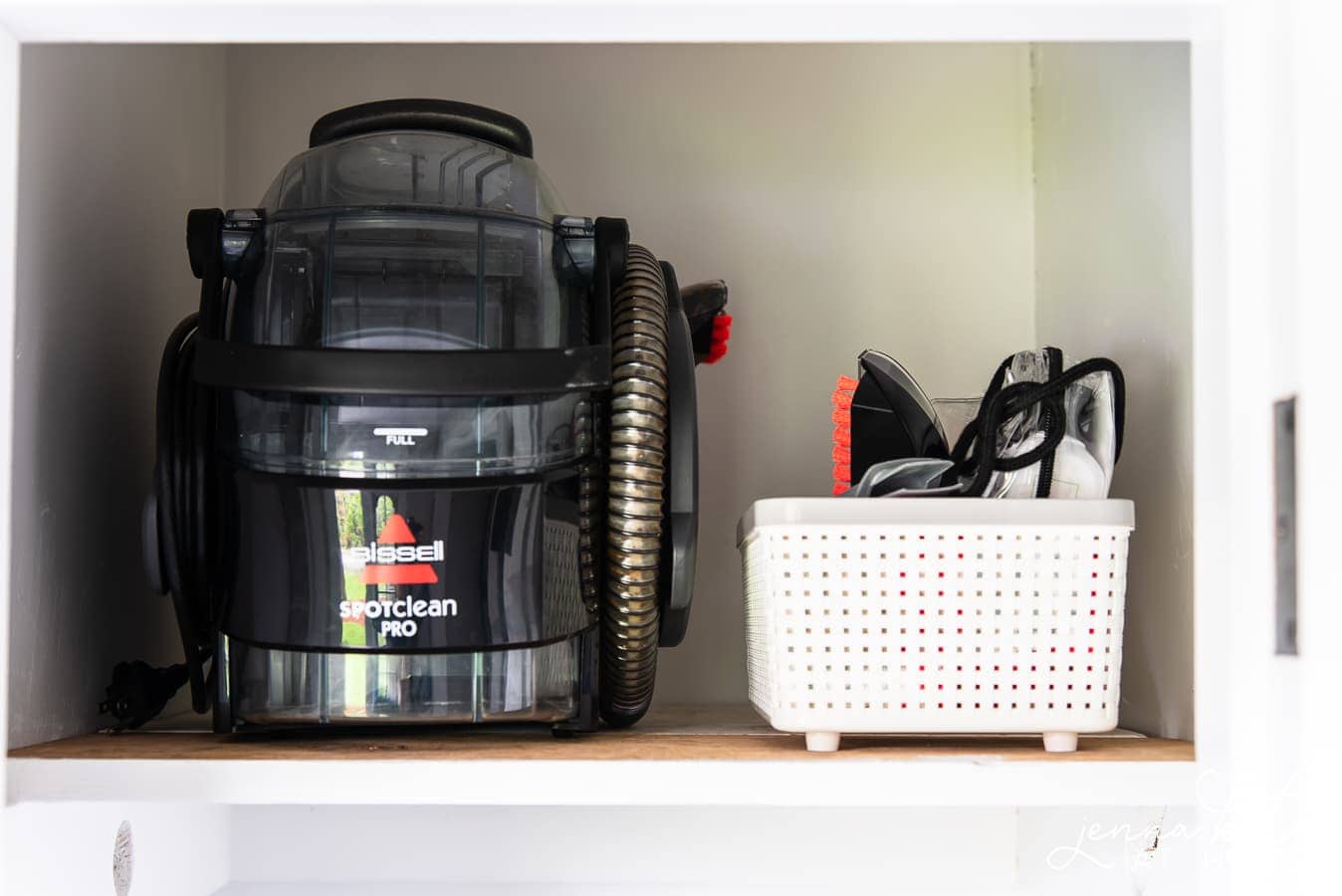 Again, simple changes but such a difference!


Laundry Room Organization
While we're on the subject of cleaning and organization, I thought I should also share my laundry room with you. This space got a makeover a few months ago but I never really delved into the topic of organization and cleaning products in that post.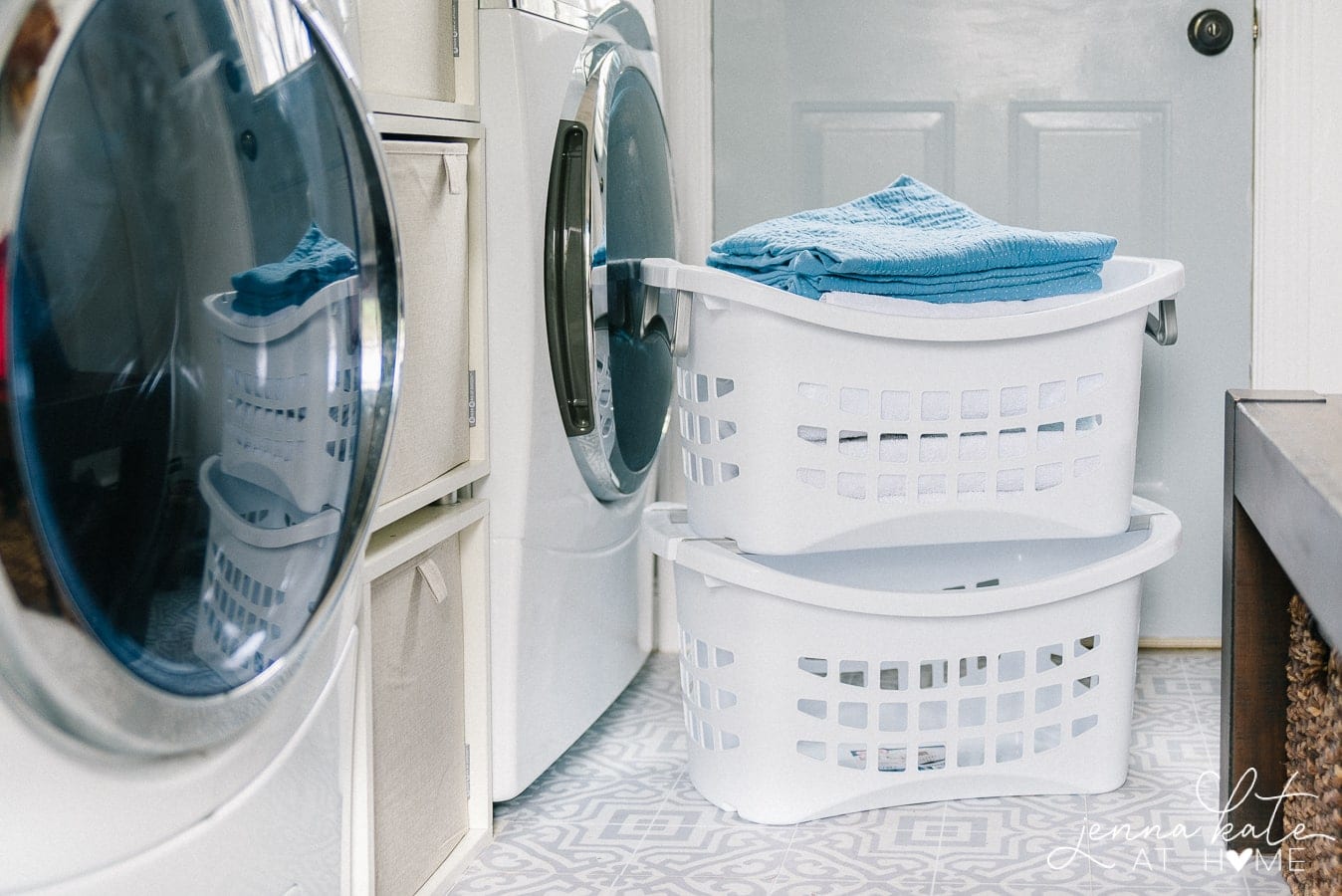 My laundry room is not huge, especially since it doubles as a mudroom. And while the DIY counters have helped tremendously, a product that really helps me keep it clean and organized are these stackable laundry baskets.
We do have cabinets over our counters, but they are high over the counters and my 5'2″ self can barely reach them, so all our laundry products are stored in the stackable storage cube unit that we have in-between the washer and dryer. I like that they fit perfectly under the counters and eliminated the dead space between the washer/dryer. We actually only use the top one for laundry detergents, etc. and then the other two and used to store hats and gloves so that they don't even up on the countertop!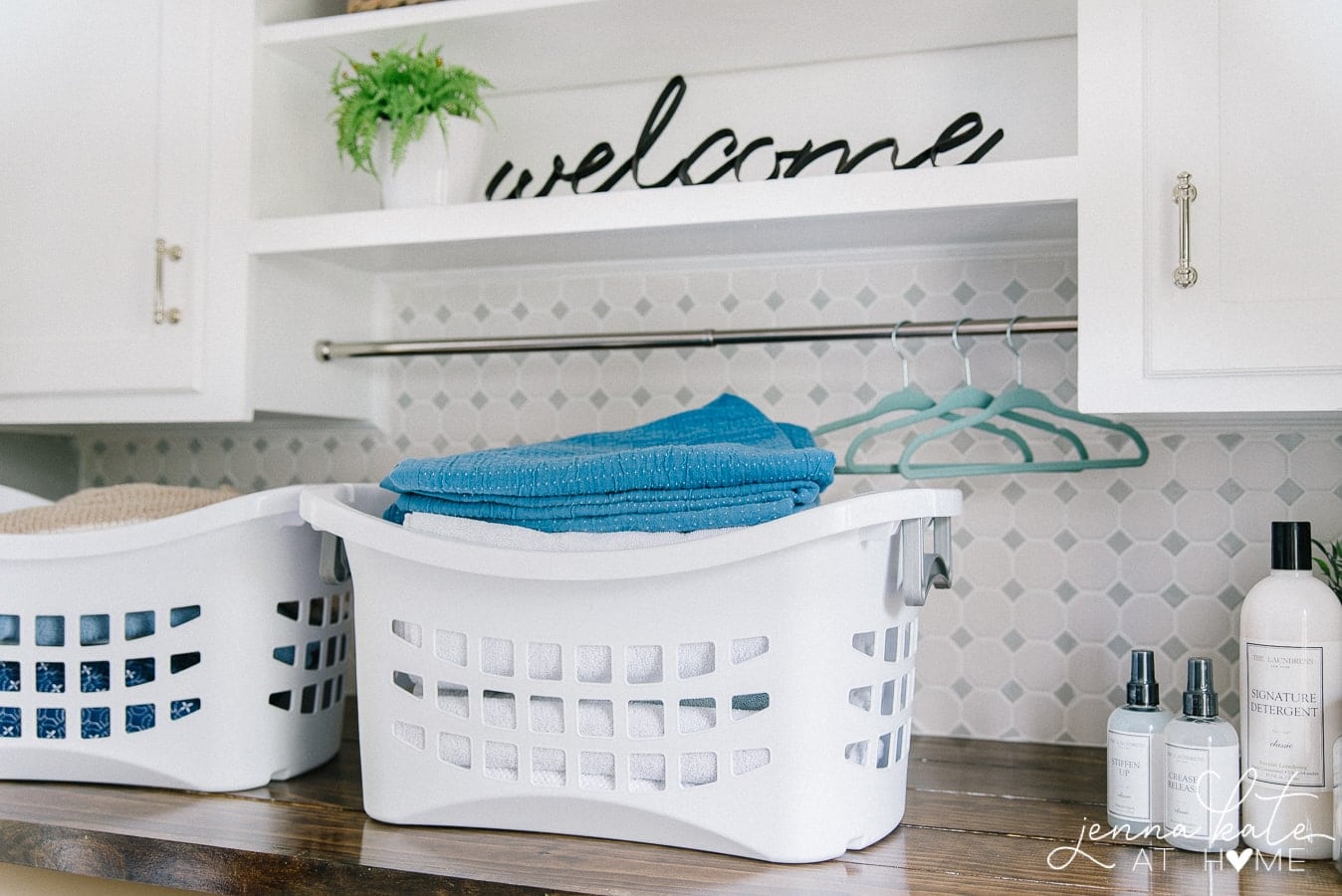 Did you know that The Container Store also sells detergent and other laundry essentials?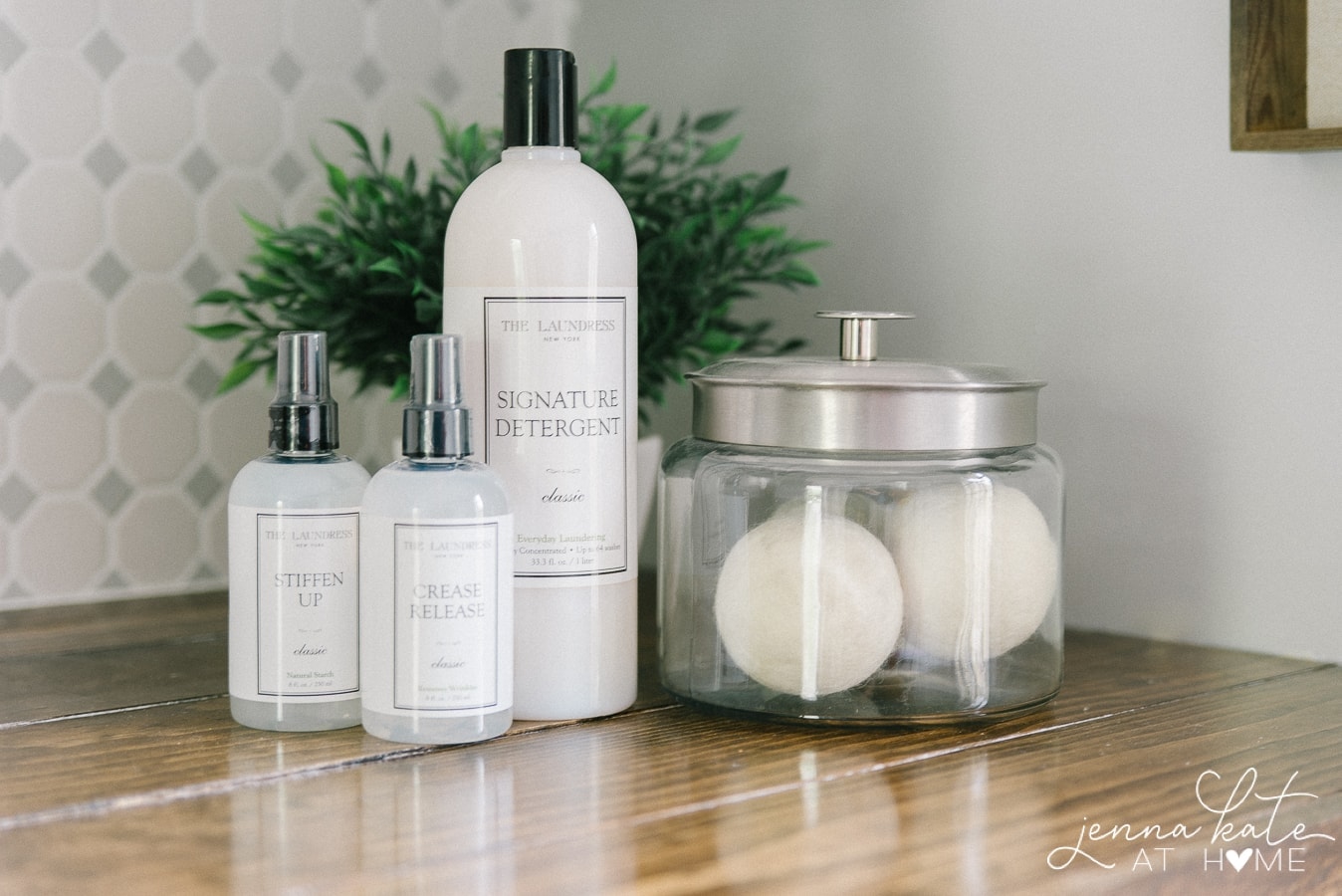 Products that look pretty as well as perform well are a win-win for me! I personally love their crease release spray since I have a bad habit of leaving things in the dryer for far too long!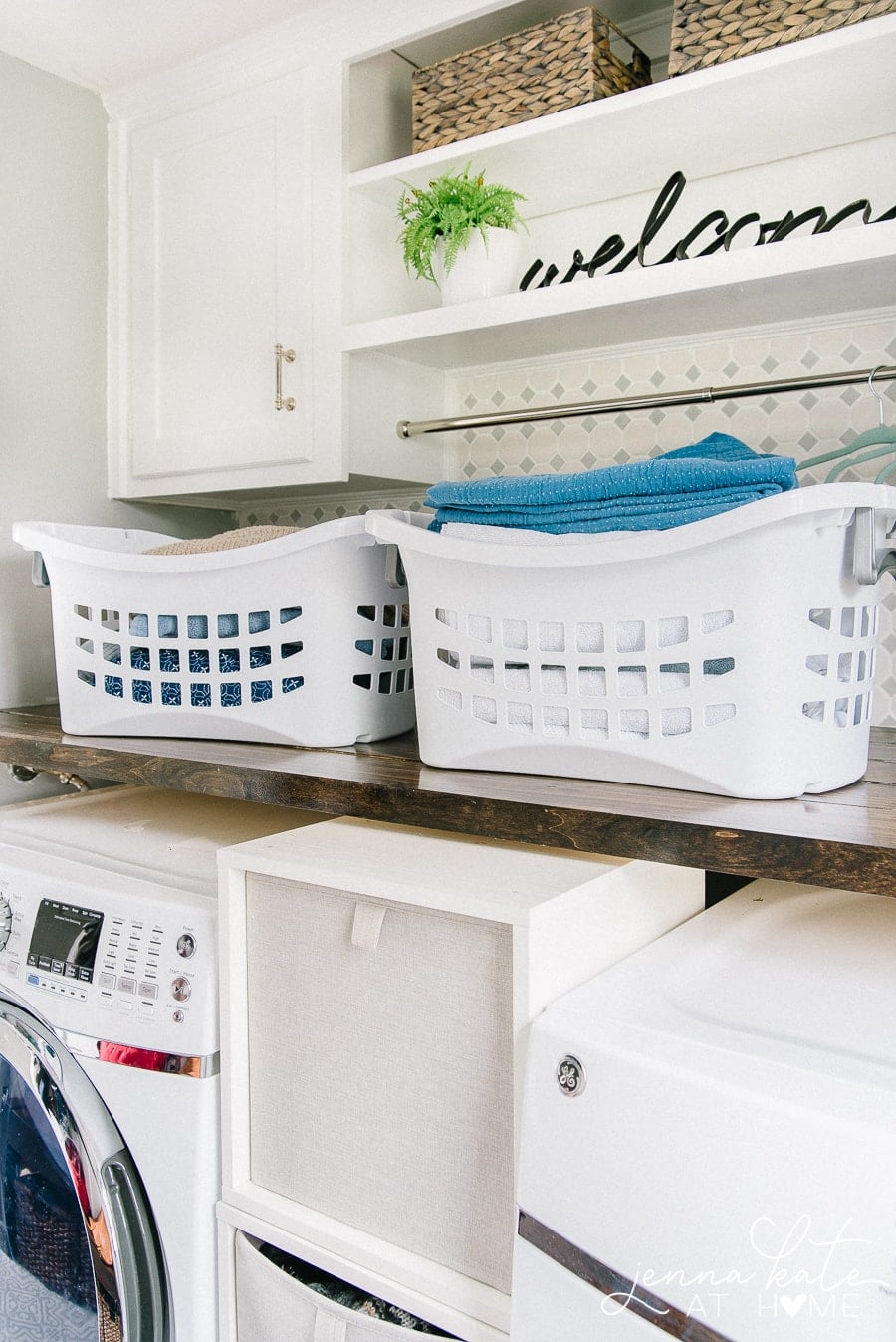 Last but not least, I want to share another two of my favorite cleaning products from The Container Store. I'm trying to eliminate as many chemicals from my cleaning routine as possible, and these two items have been a huge help in that effort.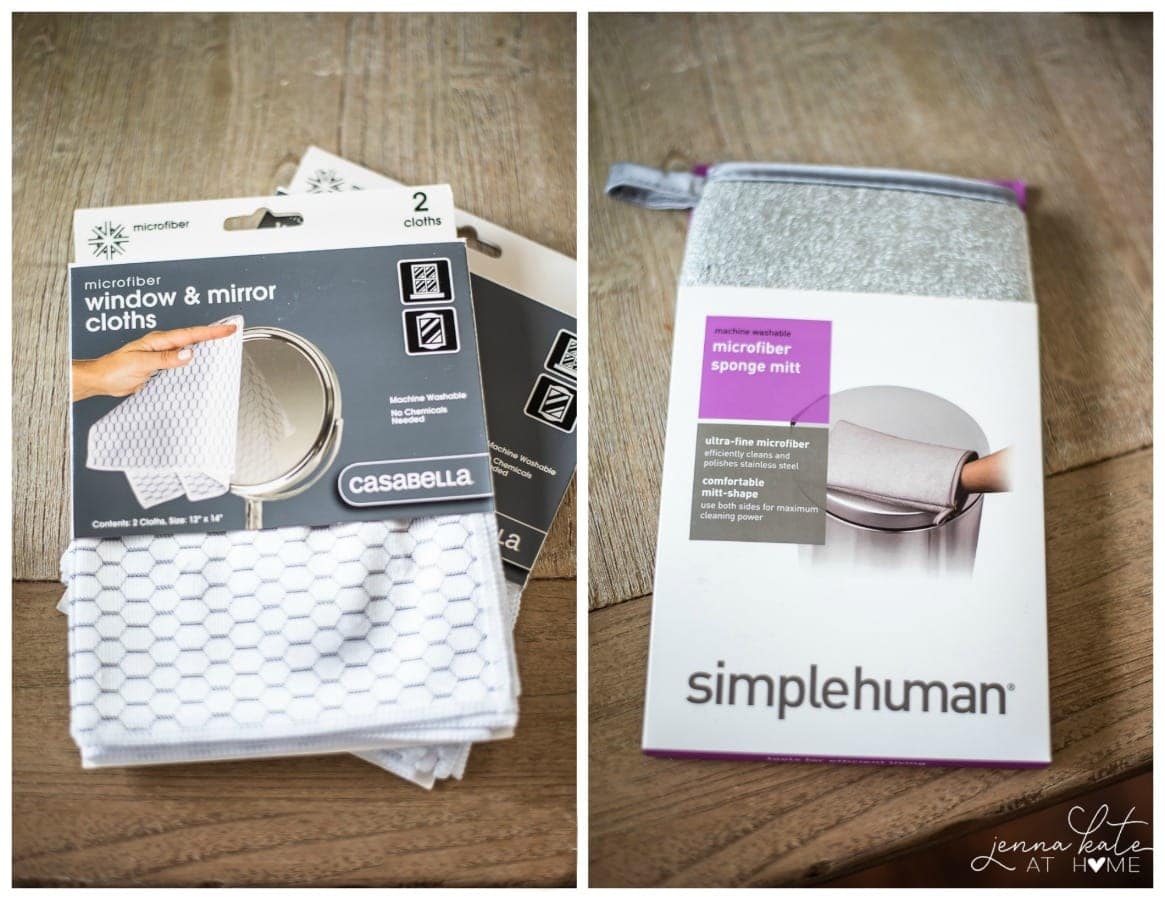 The microfiber window and mirror cloths clean glass so easily. Any smudges are gone with those. They are machine washable, too, so you can use them over and over again.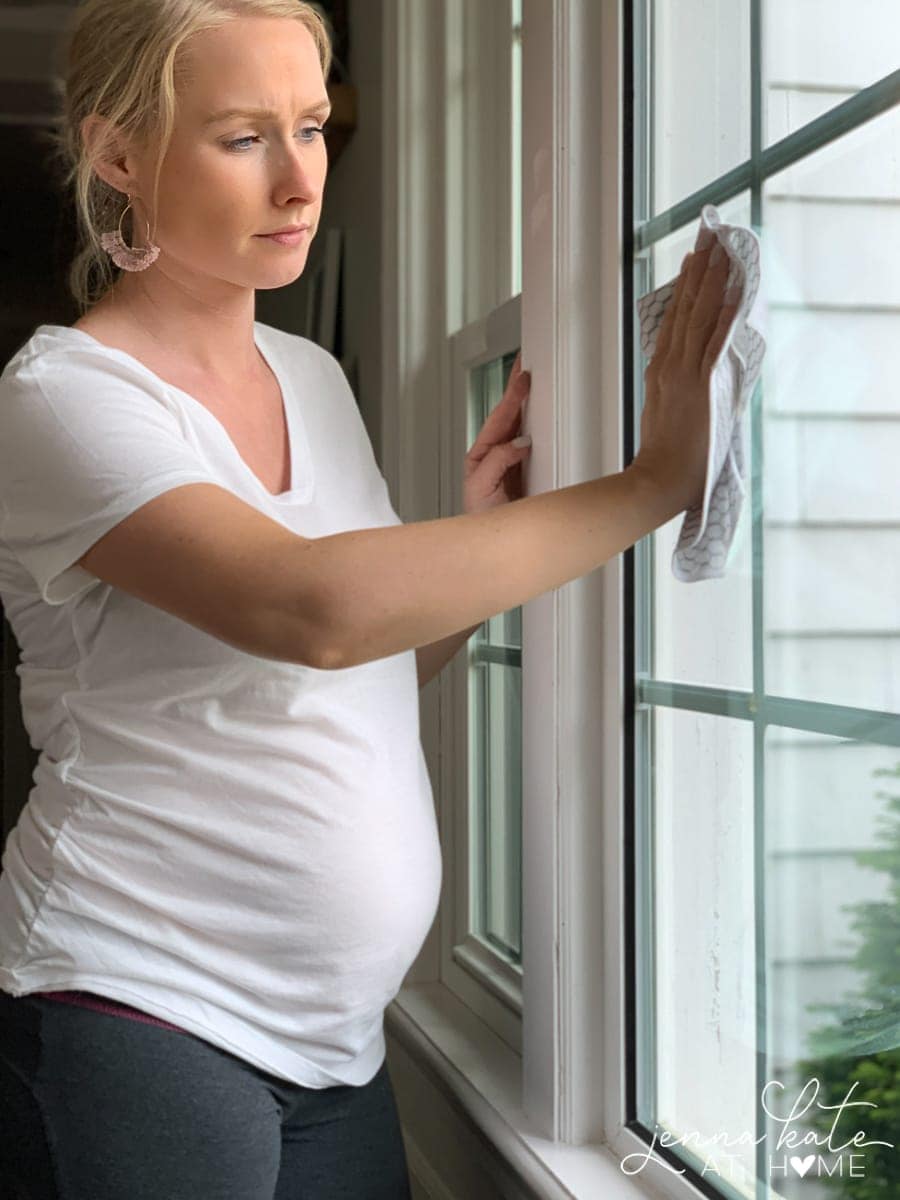 The microfiber sponge mitt has been a game changer for all the stainless steel in my kitchen. I use it daily to wipe the smudges off our fridge, dishwasher, toaster and oven. And it works really well as long you give it a little elbow grease!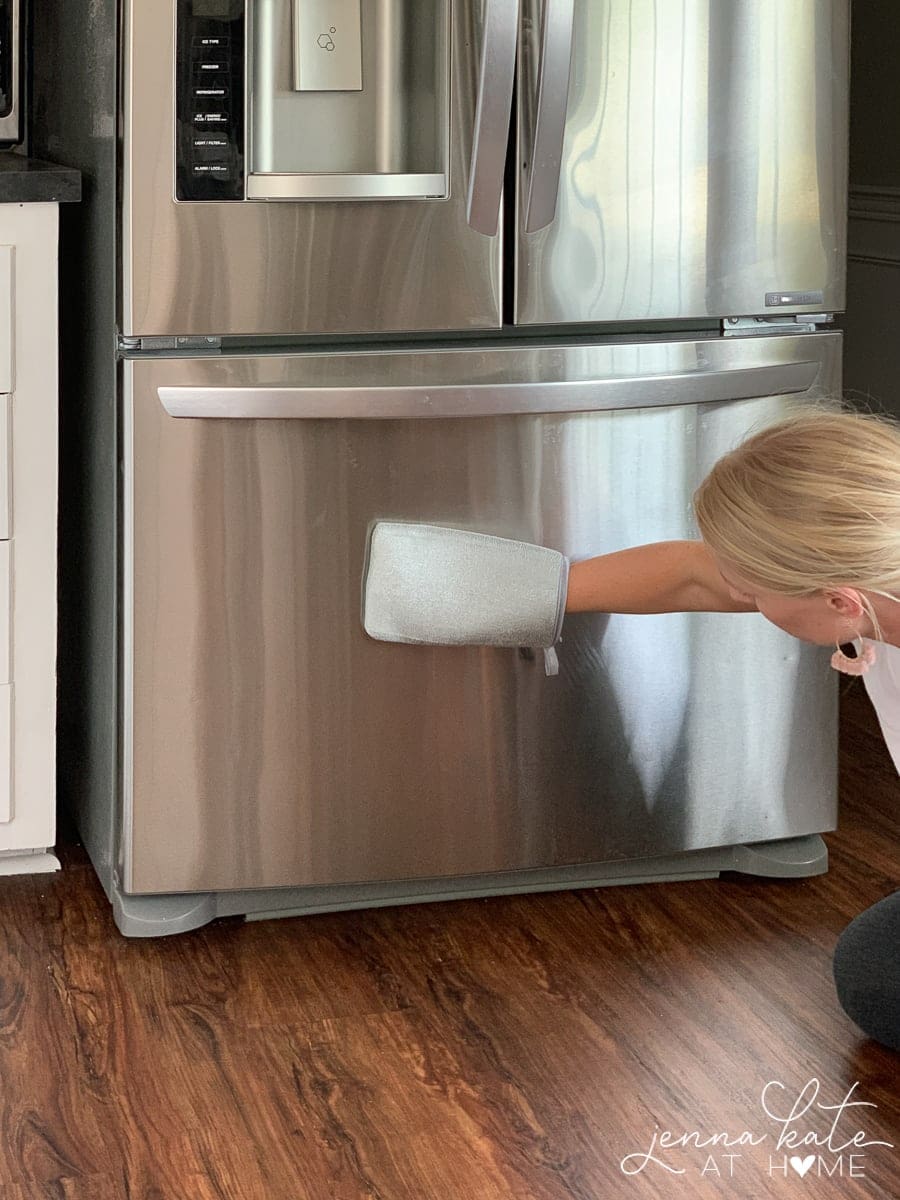 Did you guys spot that big baby belly? Can you believe I'm only 20 weeks along! ????
I hope these series of posts that I've done with The Container Store have been helpful for you. I've pretty much got my entire house organized at this point and it really has made our quality of life better. Once everything is organized, it's easier to find things and to keep everything organized to begin with. I no longer waste time looking for things and both my husband and kids know where to put everything back! It really has been such a worthwhile task to do. Next month, I'll be back with bathroom organizing essentials but until then, catch up on all my other organizing posts, below.
Want to catch up all my organizing posts with The Container Store? I've listed all the posts for you below!