If you may have the hype on social media about the River Oaks patio set from Walmart. Not only is it beautiful but it's affordable too. After owning it for over a year, I'm here to give my honest review of my new patio furniture and whether I think it's worth your money.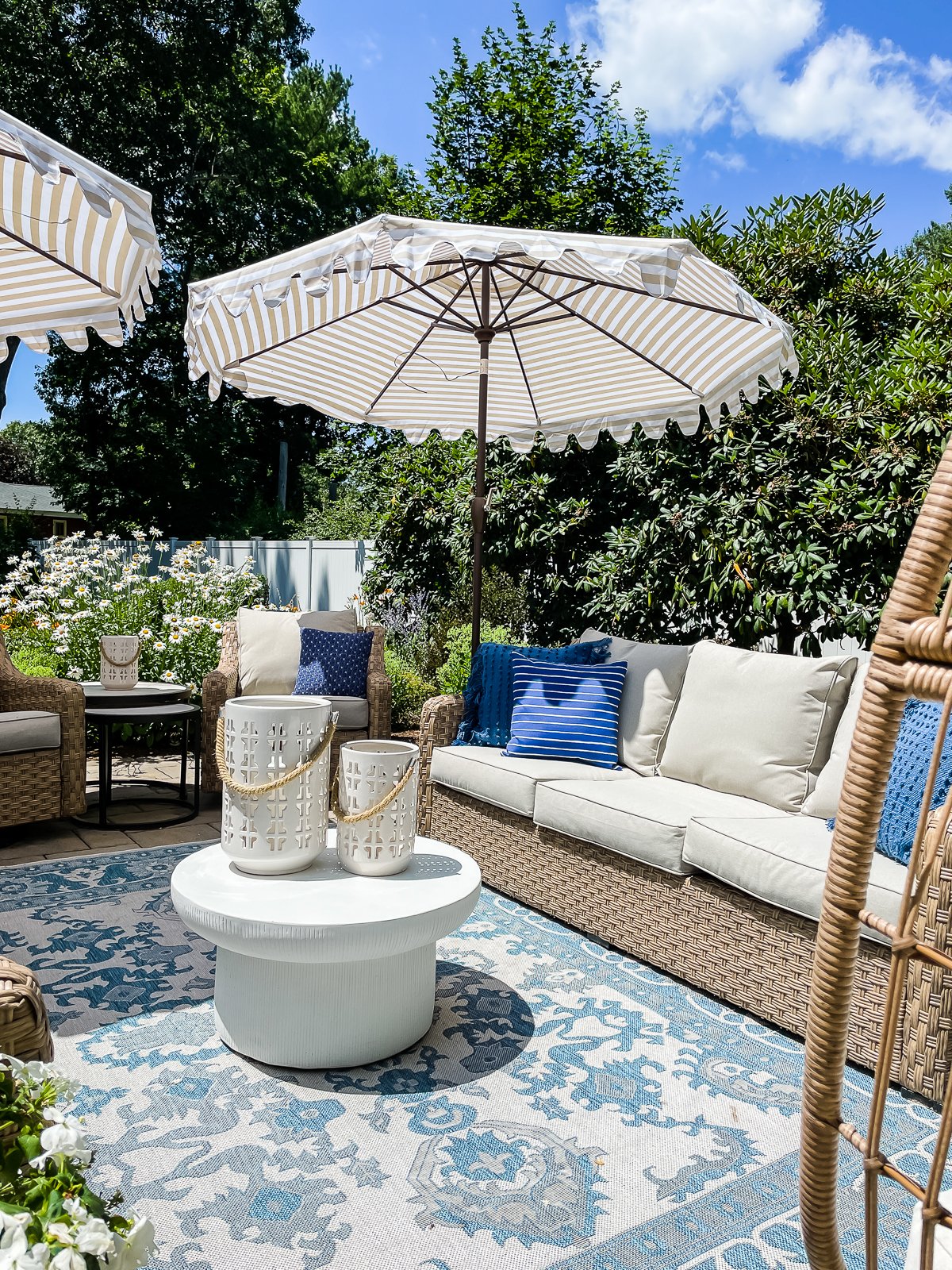 Walmart River Oaks Patio Set
I never thought I'd be the type of person to write a review on patio furniture, but here we are. My husband and I purchased the Better Homes & Gardens River Oaks Wicker Patio Furniture Set from Walmart over a year ago, and I have to say, it's held up extremely well.
We were on the hunt for affordable outdoor furniture that wouldn't break the bank, and this set fit the bill. It was easy to assemble, and we were able to get it shipped right to our door, which was a huge plus. In fact, I think it must have been picked up and delivered from our local store, because it arrived by freight delivery the day after I ordered it!
Now, a year later, I'm happy to report that the cushions are still comfortable and the wicker has held up against the elements. We've had some pretty intense rainstorms and hot summer days, and the set (minus the cushions) remained outdoors with the custom covers on all winter long, but the furniture still looks as good as new.
Overall, we're very happy with our purchase and would recommend it to anyone looking for an affordable patio set that can withstand the elements.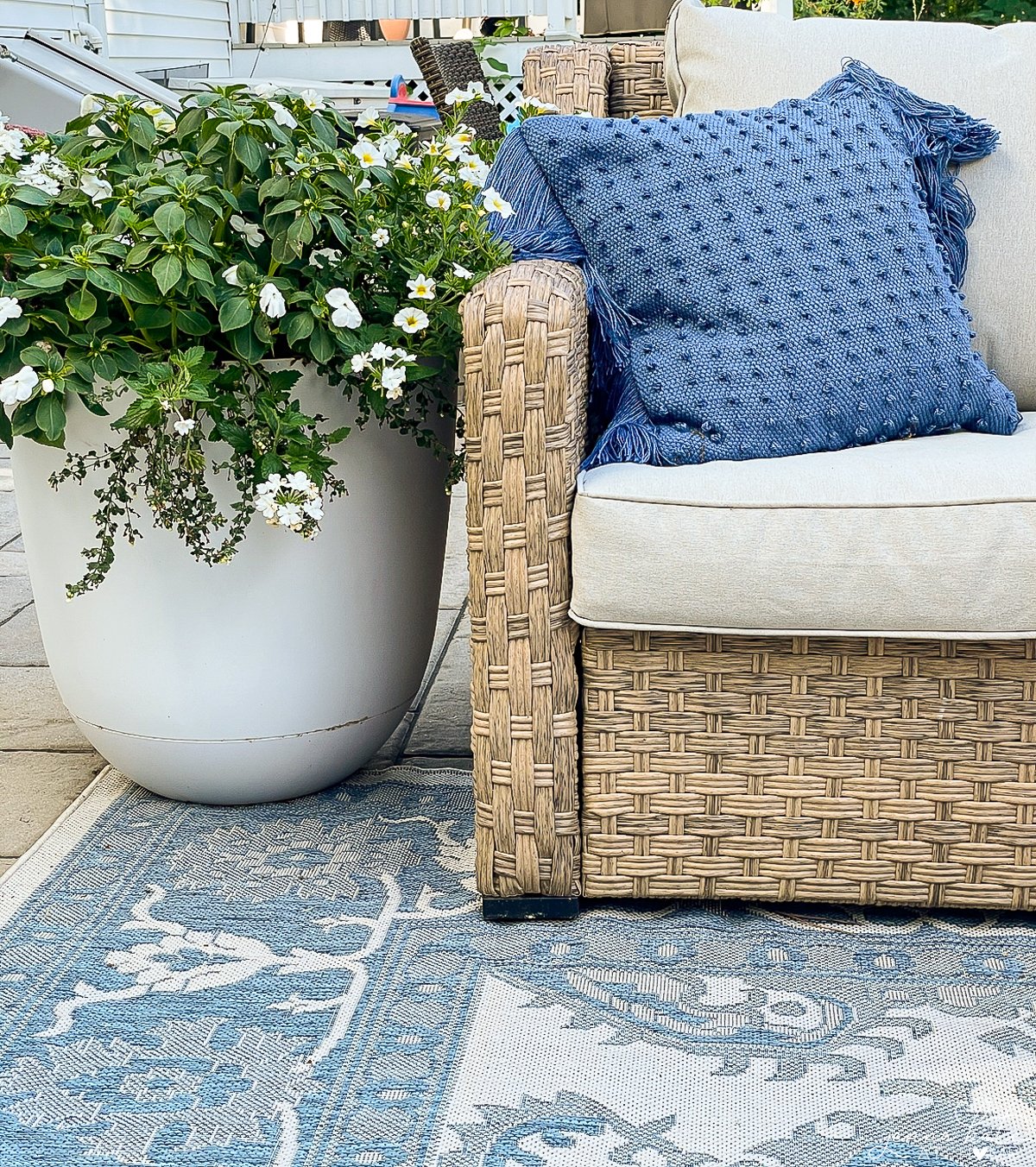 Unpacking and Assembly
When the River Oaks patio set arrived at my doorstep, I was excited to unpack it and start assembling it. At the time, the 5 piece set was out of stock, so instead I ordered two of the 3-piece sofa and nesting table sets and 1 pair of swivel gliders.
It came in four extremely large boxes, hence the freight delivery. Unless you have a truck, you won't be getting this home in the back of a regular SUV or car.
Assembly Process
The assembly process was straightforward, but it took me and my husband a few hours to complete. The instructions were easy to follow, and all the pieces were labeled, which made it easy to identify them.
The couches basically just needed the back and seat attached together, which was quick. The armchairs needed the most assembly, with both the back of the chair and the swivel mechanism needing to be installed.
Finally, I assembled the nesting tables, which was the easiest part of the process. All I had to do was attach the legs.
Design and Comfort
Sofa and Swivel Glider Chairs
I must say, the design of the Walmart River Oaks patio set is absolutely stunning. The wicker material gives it a classic yet modern look that perfectly matches our outdoor space.
Both the look and the quality of the set match what I've seen in several high-end stores, but this set is thousands of dollars less. The all-weather wicker is thicker and stronger than what we've had in previous outdoor furniture, and I could tell immediately that it wouldn't start to fray quickly as our previous sectional and dining set did.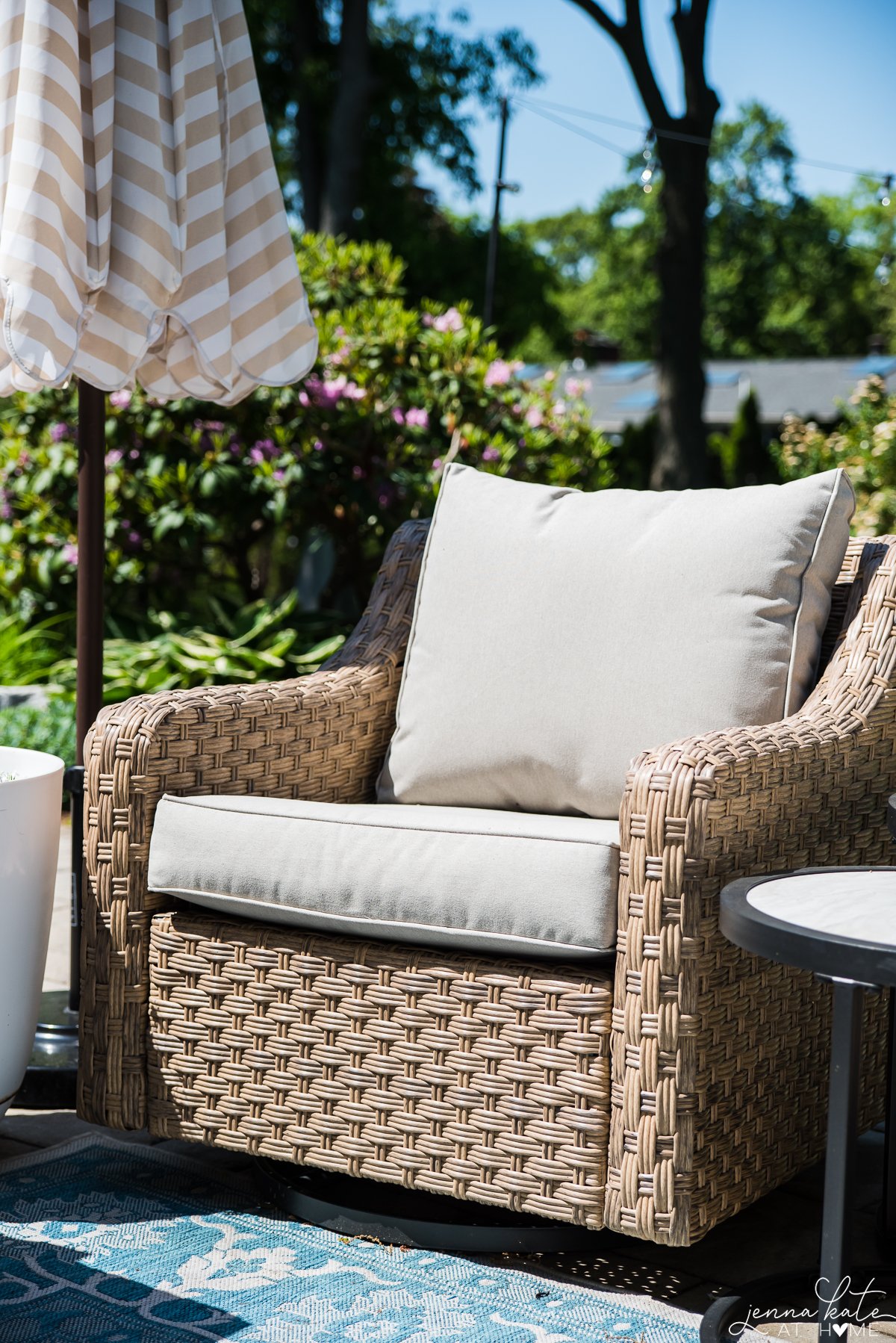 The sofa and swivel gliders are both incredibly comfortable, which is important when you're spending hours lounging outside.
The cushions are thick and soft, and the covers are easy to remove and clean since they have zippers. Water beads right off the cushions, but we have had a few spills (hello s'mores and ice pops!) that needed just a little warm water and dish soap to clean them off.
The cushions attach to both the couches and chairs with a little elastic toggle, which is a nice feature that keeps them securely in place. The fabric is a little thin, but not so much that I think it will start to rip or tear.
The sofas, chairs and nesting tables also have powdered coated steel frames that will ensure that they last a long time.
I also appreciate that the set comes with covers (which are expensive to buy separately!) which have kept our furniture looking like new even after a year of use and heavy snow during the winter months.
The only negative for me is that one of our swivel chairs seems to have an issue with its swivel mechanism and always swivels in the wind. I just fixed it by kind of wedging it against the nesting tables, but it is a little annoying.
Nesting Tables
The nesting tables are both functional and stylish. They provide plenty of surface area for drinks, snacks, and decorations, and the ceramic top with faux marble finish adds a touch of elegance.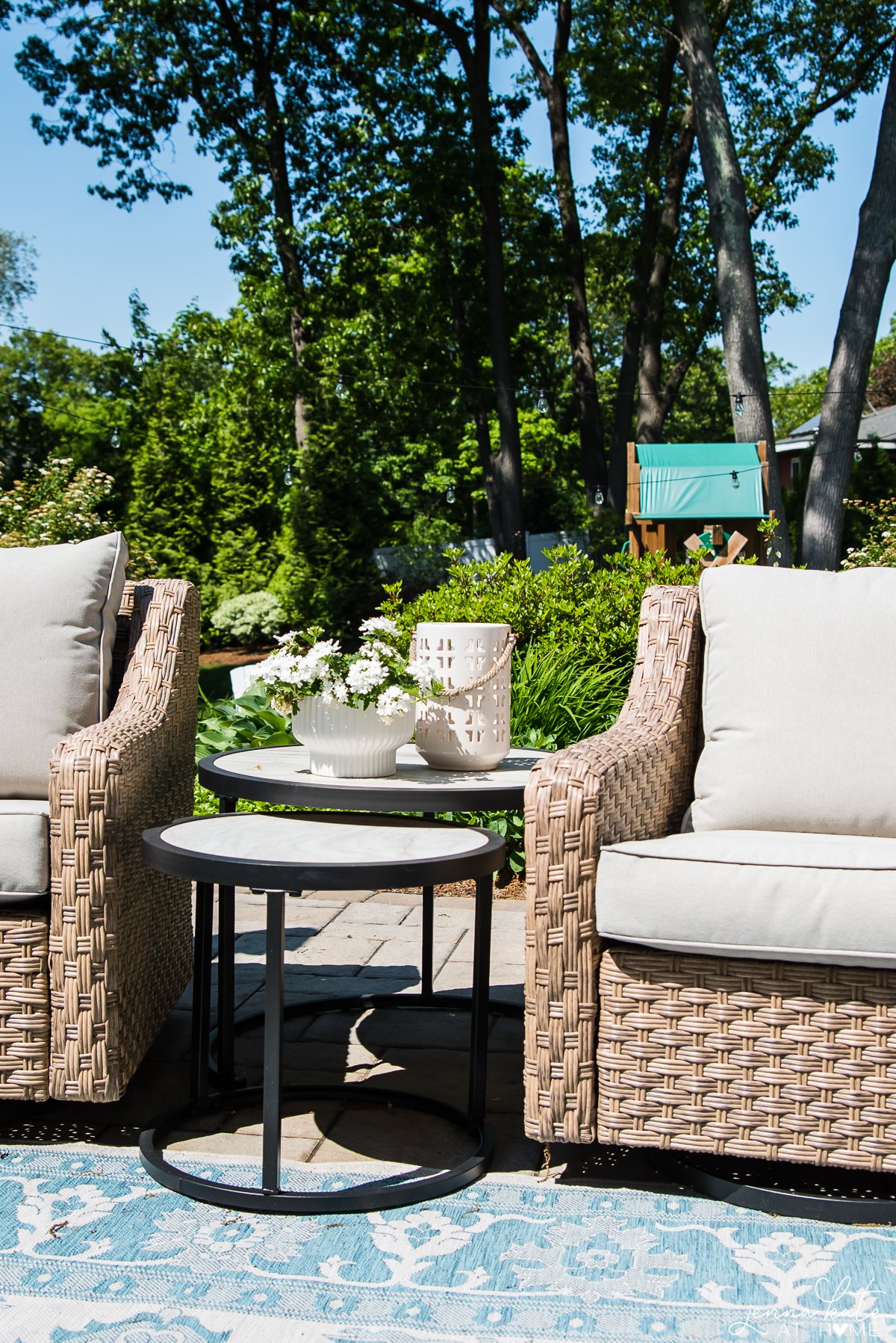 The tables are also lightweight and easy to move around, which is great when you want to rearrange your outdoor space. They work equally well as a side table or a coffee table, depending on your setup.
Other Design Options
The set is available in a few variations; the 5 piece conversation set which has one sofa, a pair of swivel gliders and a set of nesting tables, 3 piece set with just one sofa and a set of nesting tables, a sectional version with a built-in corner unit and then, of the course, you can just buy the pair of swivel gliders.
New for 2023, there's also an option to purchase either the natural/beige color (what I own) or a new dark brown/beige combo.
Durability and Maintenance
Weather Resistance
I'm impressed with how well it has held up over the past year. I was initially worried about how it would fare in the unpredictable New England weather, but I'm happy to report that it has exceeded my expectations.
The wicker material has proven to be incredibly durable, and it has not shown any signs of fading or cracking despite being exposed to the elements. The nesting tables have also held up well, and they still look as good as new.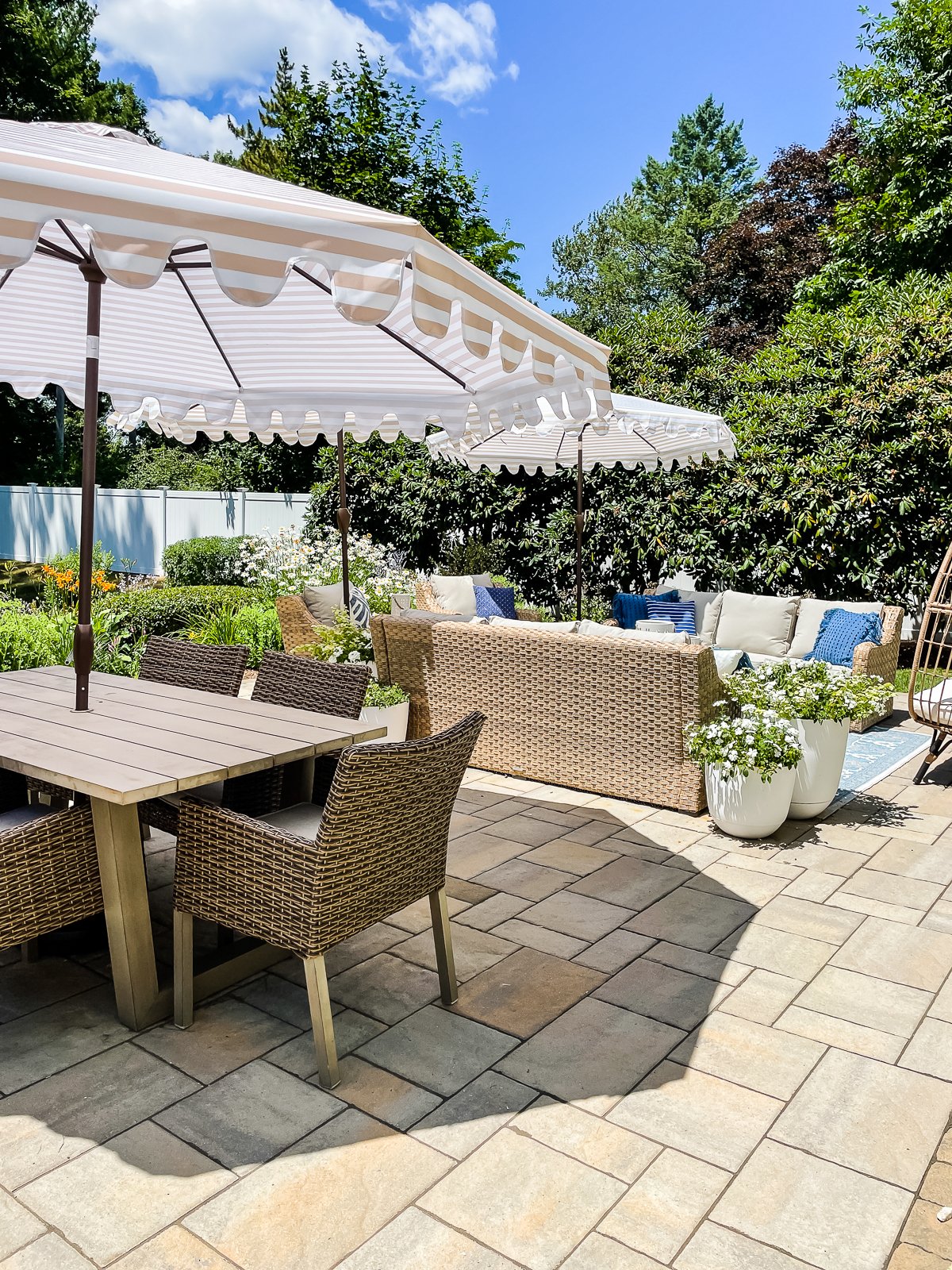 One thing to note is that the cushions are not completely weather-resistant. While they are water-resistant and have held up well in light rain, I would recommend storing them indoors or under an umbrella during heavy storms to prevent any potential damage.
Cleaning and Maintenance
Maintaining the Walmart River Oaks patio set has been a breeze. The wicker material is easy to clean with a damp cloth and mild soap, and the tabletops can be wiped down with a standard household cleaner.
As for the cushions, they are removable and have zippers, making them easy to clean. I have found that spot cleaning with a mild detergent and warm water is usually sufficient, but they can also be machine washed on a gentle cycle.
Both the sofa and swivel chairs come with custom-fitting covers, so it's quick and easy to cover them during an impending storm, or over the winter.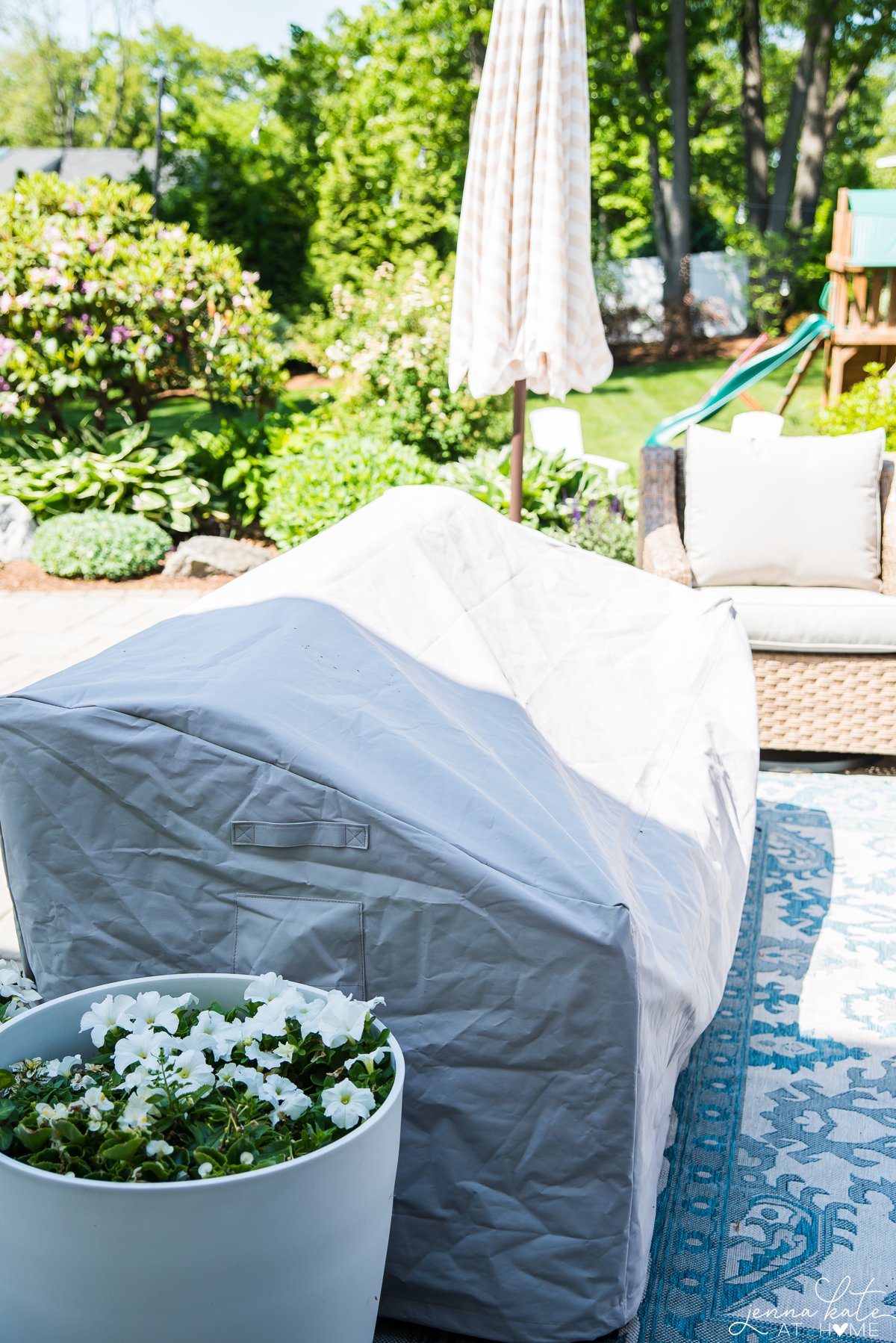 Overall, I have been pleasantly surprised by how low-maintenance this patio set has been. It has required very little upkeep over the past year, which has allowed me to spend more time enjoying my backyard and less time worrying about cleaning and maintenance.
Availability
This set (and all different variations that are available) come in and out of stock frequently during the spring months. However, once summer hits availability becomes sporadic and you may have to wait until next year to order. So if you're on the fence, keep that in mind!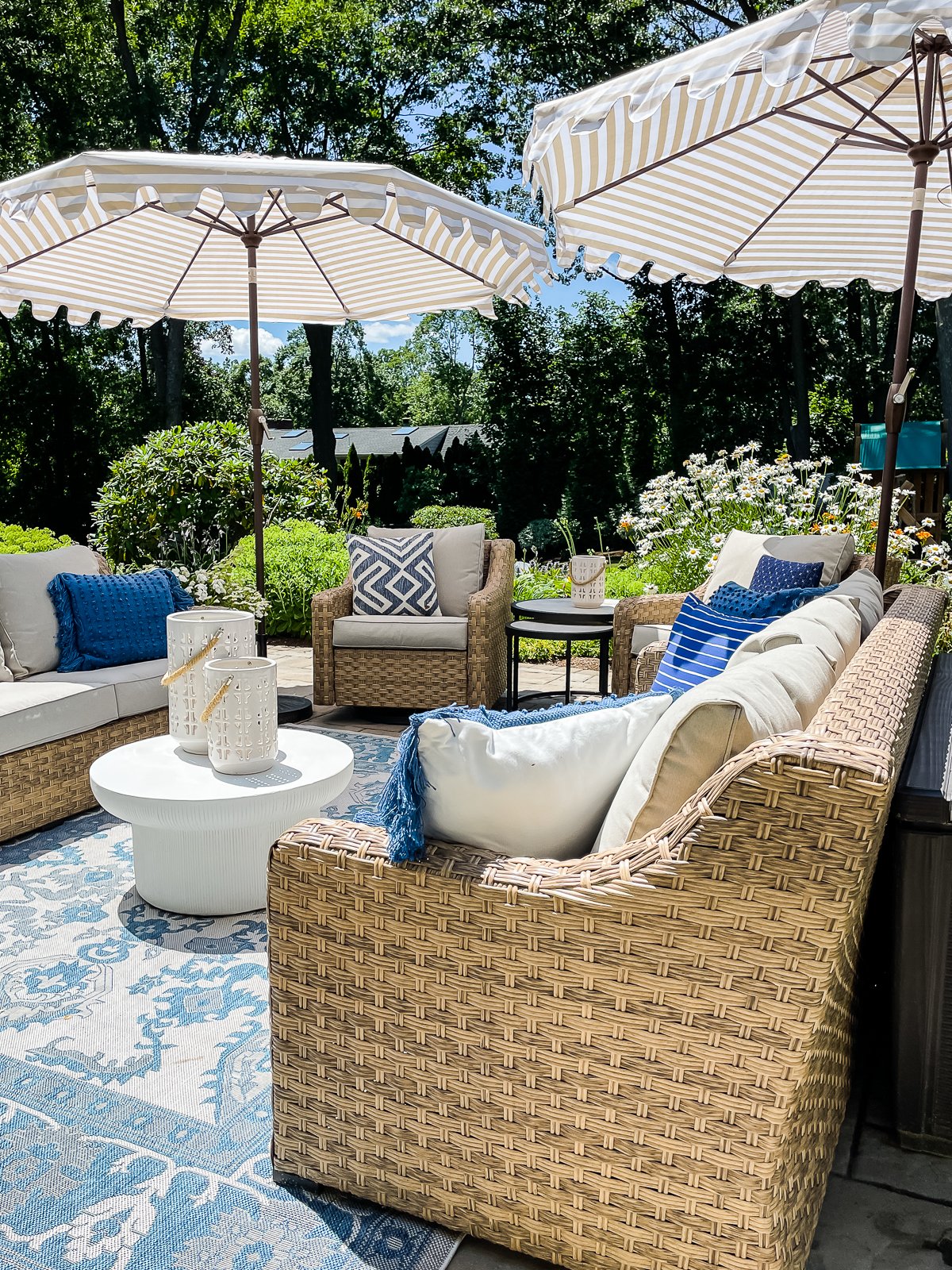 Final Verdict
After using the Walmart River Oaks Patio Set for a year, I can confidently say that I am still in love with it. The swivel chairs are still smooth and comfortable, and the wicker material has held up well against the elements.
One of the best things about this patio set is what great value it is. Compared to other patio sets, the River Oaks set is a steal. And even after a year of use, it still looks just as good as the day we bought it – without breaking the bank.
The cushions have also held up well, with no signs of wear and tear. They are still comfortable to sit on, even after a year of use. And the covers that came with the set have been a lifesaver, protecting the cushions from rain and sun damage, and protecting the wicker all winter long.
Overall, I would highly recommend the Walmart River Oaks Patio Set to anyone in the market for a new patio set. It's affordable, stylish, and durable – what more could you ask for?
WE'VE BEEN WORKING ON SPRUCING UP OUR OUTDOOR AREAS FOR SEVERAL YEARS AND WE'VE COME A LONG WAY!