Decorating for Christmas can be so much fun, but when it comes time to put them away, it can be a bit chaotic.
After the festivities of Christmas, many of you are eager to get back to a clean and uncluttered house for the New Year.
Luckily, I've developed a system that's simple and works.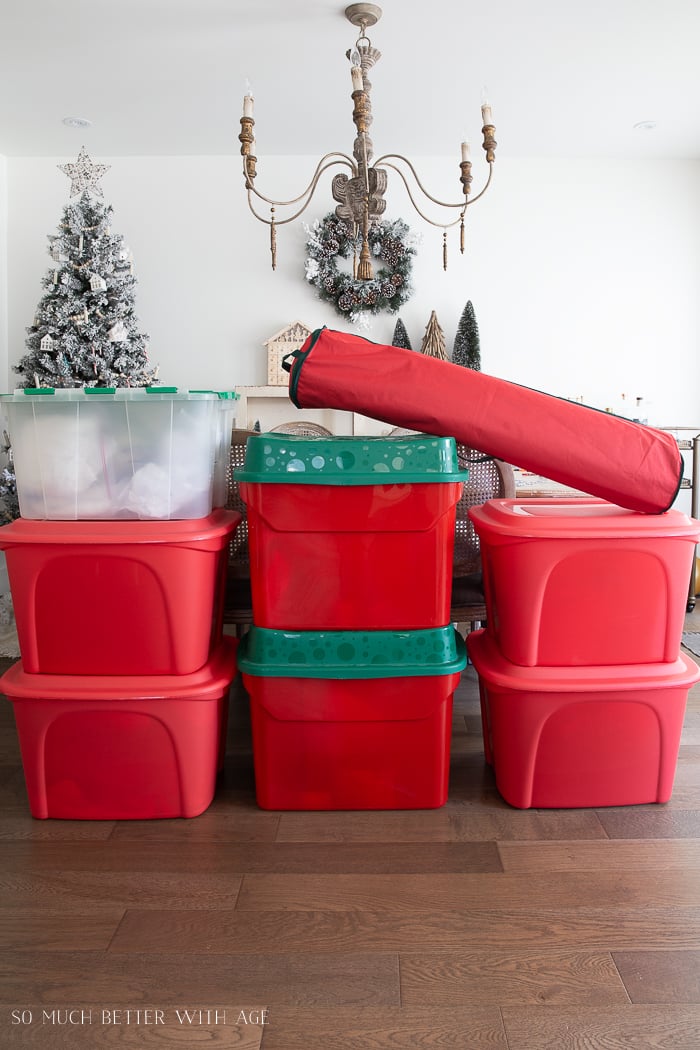 I need to quickly get all my Christmas decorations stored away neatly, so that they are organized and ready when I need to start decorating again the following year.
Getting all those tree ornaments - and not to mention the tree itself - organized and stored away, does not need to be a daunting task.
So we have found some ways to help you get organized and spend less time on holiday organizational chaos.
Let's Organize Christmas Ornaments
I like to organize all my decorations and ornaments by color where possible.
Using these clear tote bins makes it easy to see what's inside without having to go crazy with labels.
Shatterproof ornaments can just be thrown into the box, but I if you plan on storing glass ornaments this way, I suggest storing them in their original box, egg cartons (for smaller ornaments) or wrapping them in tissue paper.
As you can see, I have a bin with red ornaments, white ornaments and gold ornaments. When they put away in our garage after the holidays, it's really easy for me to see all the colors.
This is especially important since I have many bins of ornaments, and I like to switch up my color scheme every year.
So now, instead of pulling out every single bin, I can just pull the bins with the colors that I need for that year.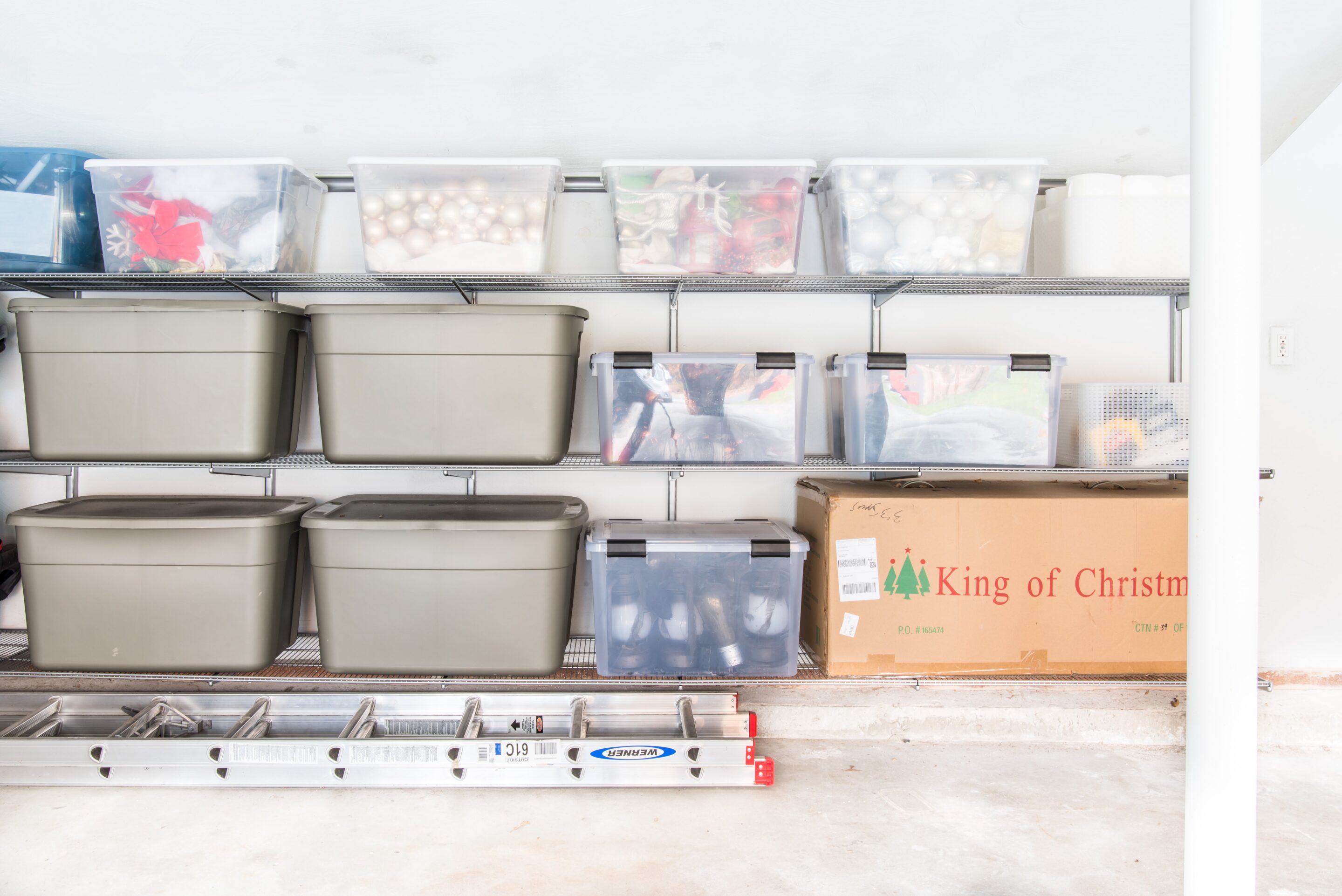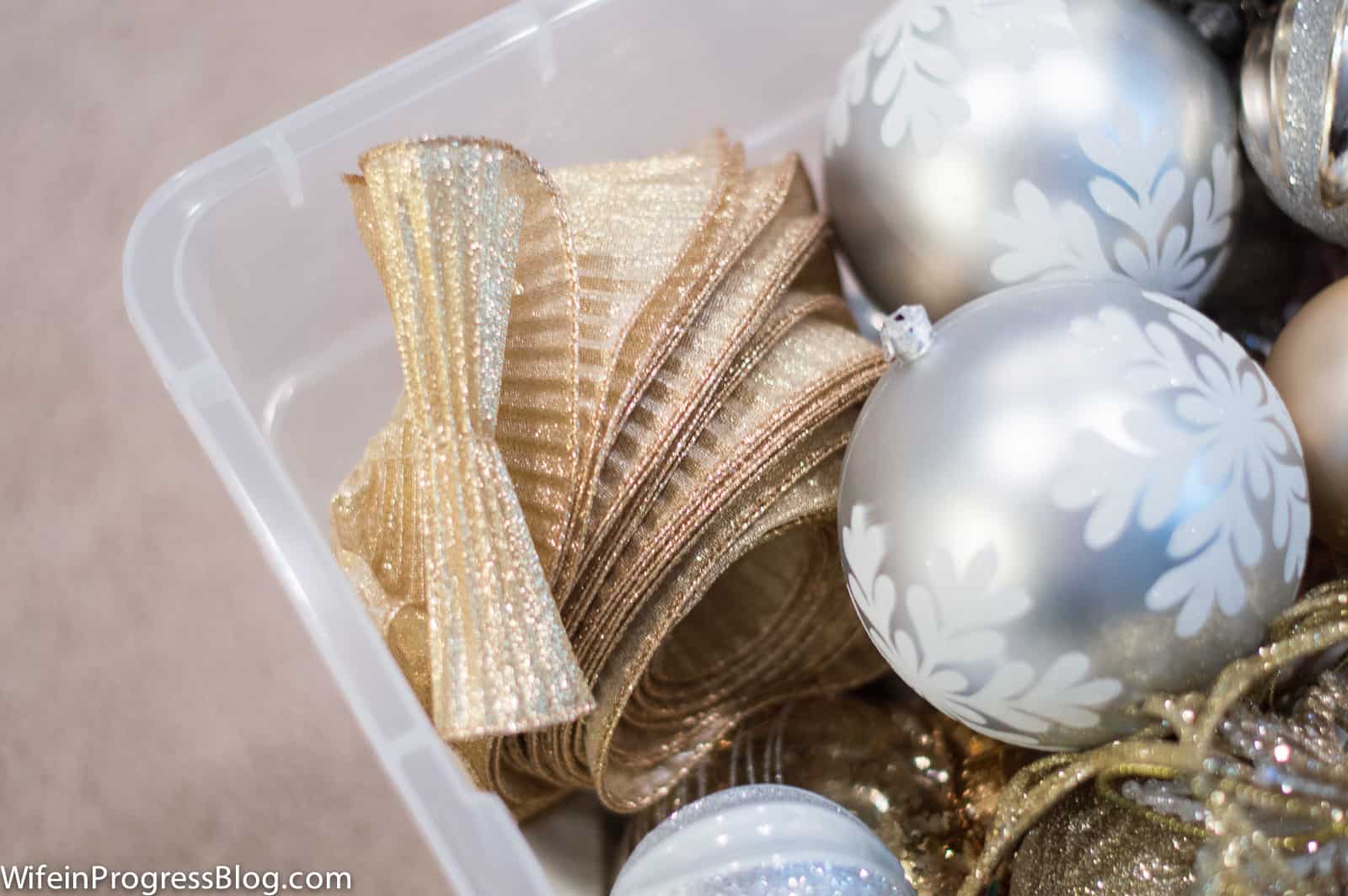 For ribbon, I just wind them around my hand, then slide them off and wedge the ribbon into a corner so that it stays together.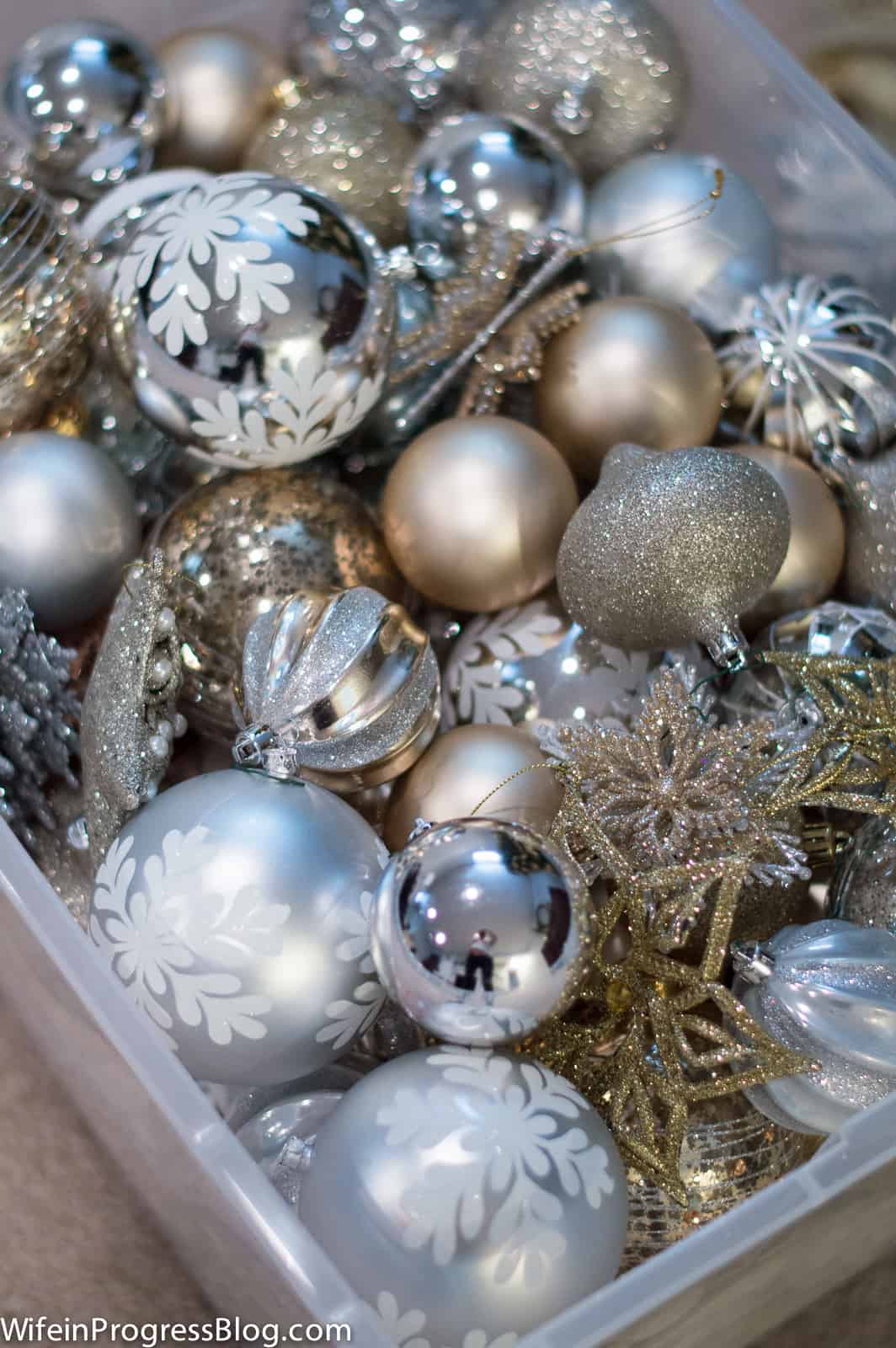 You can also purchase bins that are specifically made to separate and organize tree ornaments.
They come with little cardboard dividers or individual pouches. Unless you have fragile ornaments, I personally wouldn't go to the extra expense of these storage options.
Storing and Organize Christmas Tree Lights
Don't throw out those Christmas light reels! They are perfect for rewind lights on so that they don't end up in a tangled mess.
The reels fit nicely into a tote box or even a storage basket on a shelf. If you threw out the reel or your lights didn't come on one, they are cheap to purchase.
They are a lifesaver when it comes to keep the lights untangled and mess free.
How to Store Artificial Christmas Trees
In the past, we took our tree apart and returned it to the box in which it was delivered. It rarely ever fit correctly and was always a pain to store.
These days, we store our trees in Christmas tree storage bags, and just pop them up in the attic when not in use.
We've also used Upright Tree Storage Bags that allow you to store it upright, and keep your tree fluffed and shaped for the next year!
All you have to do is pull the bag up and over the tree and you're done!
Those are a good option if you have space in a basement or garage.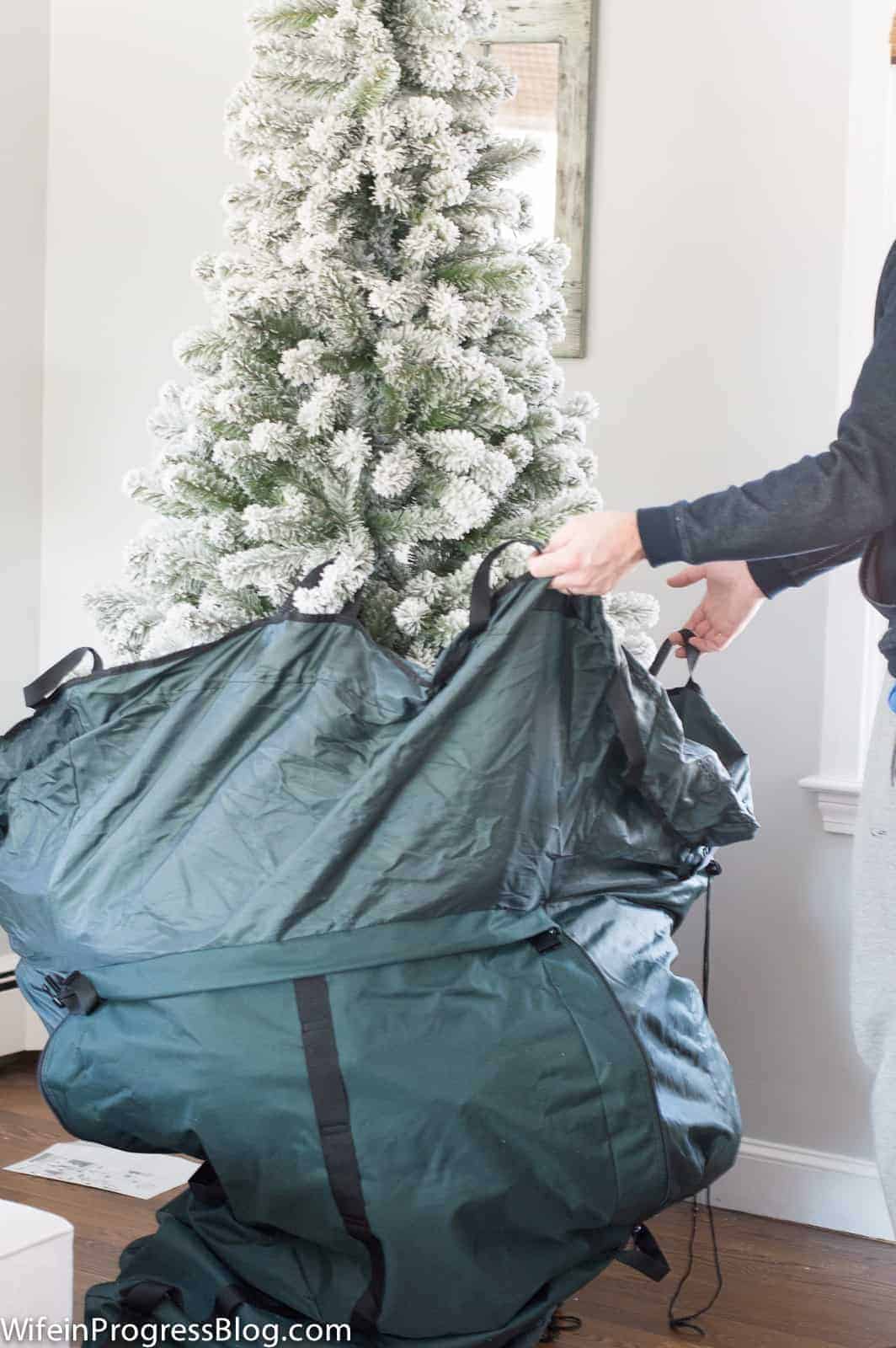 These bags are really heavy duty by the way - so while they are not a cheap option - they will certainly last a long time.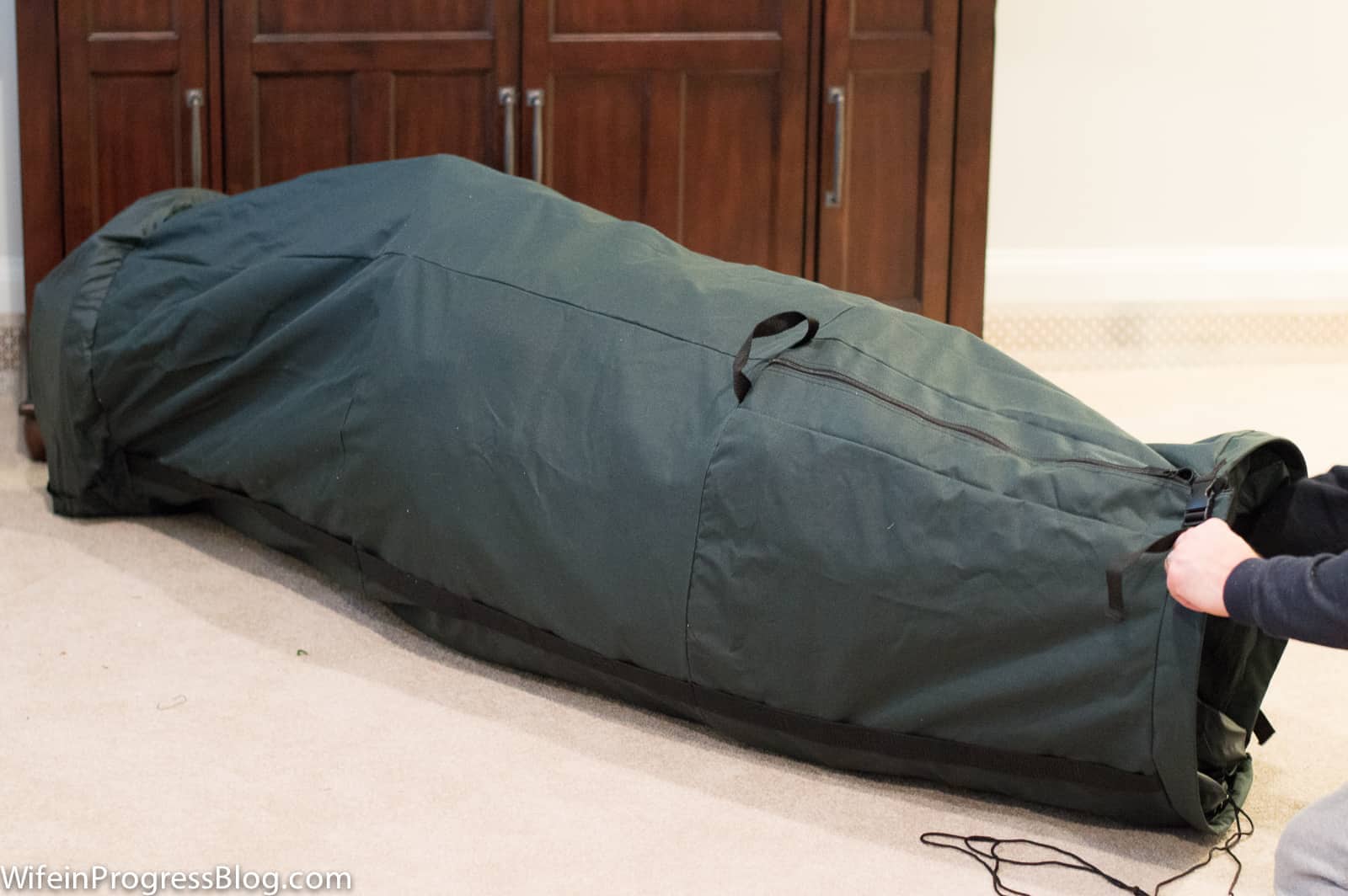 Storing and Organizing Christmas Wreaths
Wreath storage bags or bins or another great option to keep the dust off your festive wreaths (or any other wreaths for that matter!).
You can store them flat or hang them them on a nail to get them off the ground.
Alternatively, you can wrap smaller wreaths in a trash bag to keep dust and bugs away, and then store them in tote bins, stacked one on top of the other.
I've been storing my cheap artificial window wreaths this way for years!
Final Thoughts
So there you have it. You've got the full scoop on how I store and organize my Christmas decorations!
There are many storage options at various price points to fit into any budget.
Spend less time packing and unpacking your Christmas decor, and more time enjoying the holidays and New Year.
More organizing posts you'll enjoy