This post may contain affiliate links | For further details, please read our privacy policy
Accenting your kitchen with a contrasting island color is a great way to inject color into a kitchen, especially a traditional white kitchen. In this post, I'm sharing the best paint colors for your kitchen island as well as the best wood tones to really make your island the focal point of your kitchen.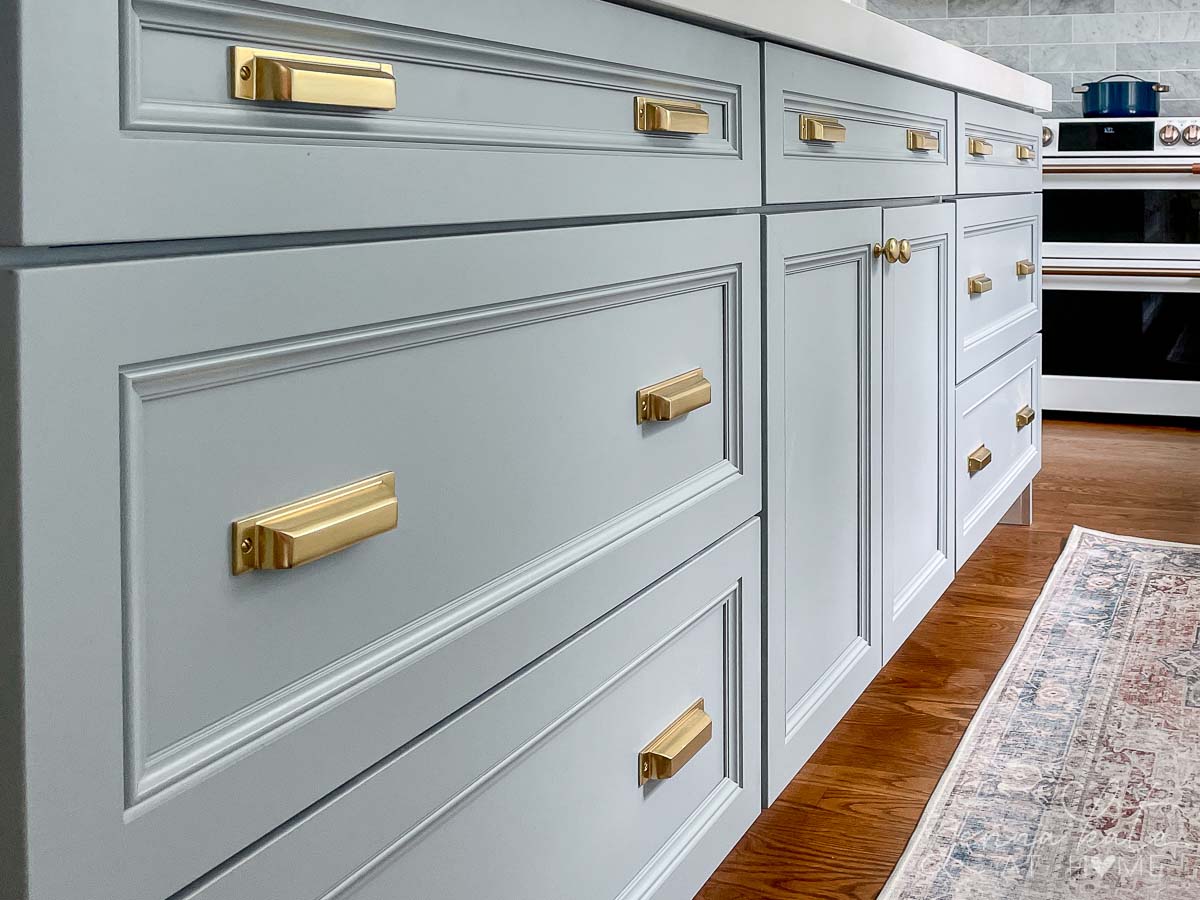 Kitchen Island Paint Colors
Kitchen islands are the workhorse of the modern day kitchen. From prepping meals, to casual breakfasts and even a spot to do homework – they do it all!
Especially for those who are afraid of color, a colorful kitchen island is a great way to inject color and personality into a plain kitchen without going overboard. A bold color on the cabinet doors of o
Painting an existing island a new color is also a totally do-able DIY project, especially when you've done your research and know the best paint for kitchen cabinets. A fresh coat of paint has an amazing way of completely transforming any kitchen!
If you do decide you want to go for a contrasting color, it can create a wonderful focal point and is a great way of nodding to a trending shade without having to repaint your whole kitchen.
If you're entirely remodeling and want to embrace the trend of natural wood tones, a stained or cerused wood island can create a wonderfully natural and cozy feel to a kitchen.
So without further ado, here are my 10 favorite kitchen island colors to help you with your choice.
1. Benjamin Moore Kendall Charcoal
Kendall Charcoal is a rich and luxurious dark gray which works best paired with white walls and natural wood tones. This is a great choice is you are wanting to dip your toe into darker colors but you don't want the massive commitment and cost of painting all your cabinets.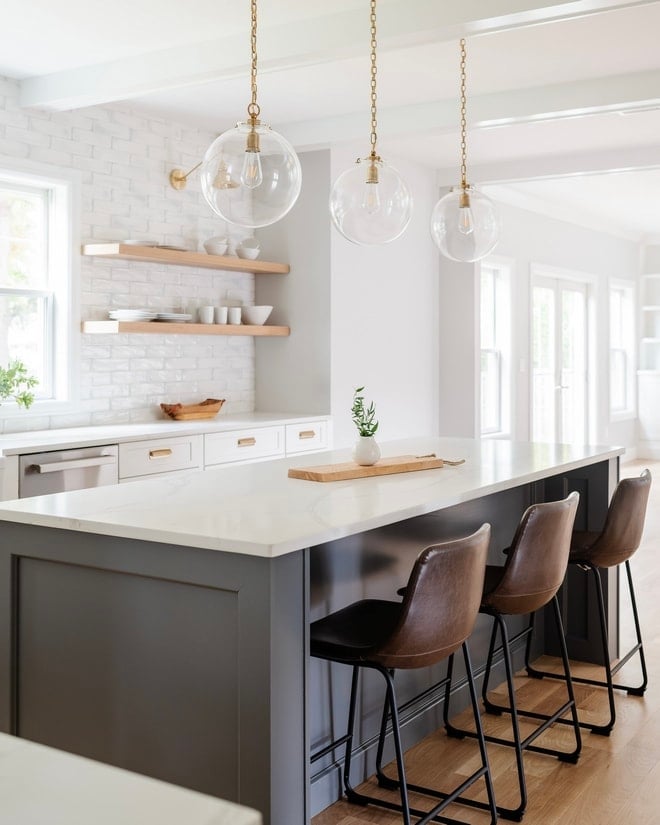 The contrast between white cabinets and a dark color on the island is what really makes this kitchen special. The wood tones and brass hardware help balance out the contrast, tying it all together.
A soft black island like this also works with a variety of white cabinet colors – from warmer whites to cooler whites – making it a versatile choice.
2. Farrow & Ball Green Smoke
Green kitchens are majorly on trend! While you may not want to commit to an entirely green kitchen, a green island adds beautiful warmth, especially when paired with creamy white cabinets and brass accents.
Green Smoke by Farrow & Ball is the perfect green paint color– it's not too dark and has the perfect balance of undertones to make your space really pop.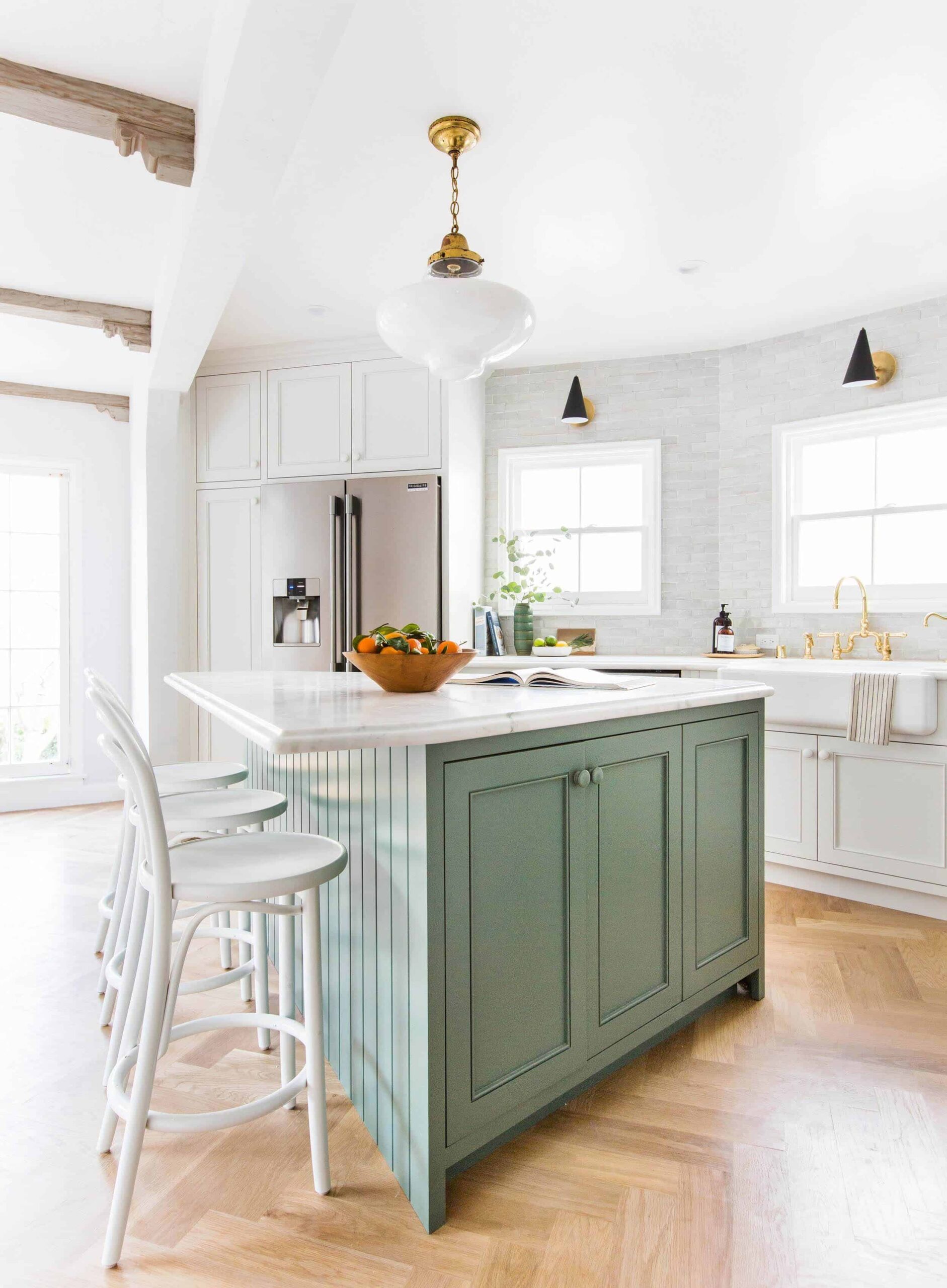 3. Benjamin Moore Boothbay Gray
Isn't this shade of blue gray stunning? I simply love how it's a light-mid tone gray with that gorgeous blue undertone running through it.
A blue island is always a popular choice, whether it be a light blue gray like Boothbay Gray or dark blues like royal blue or navy.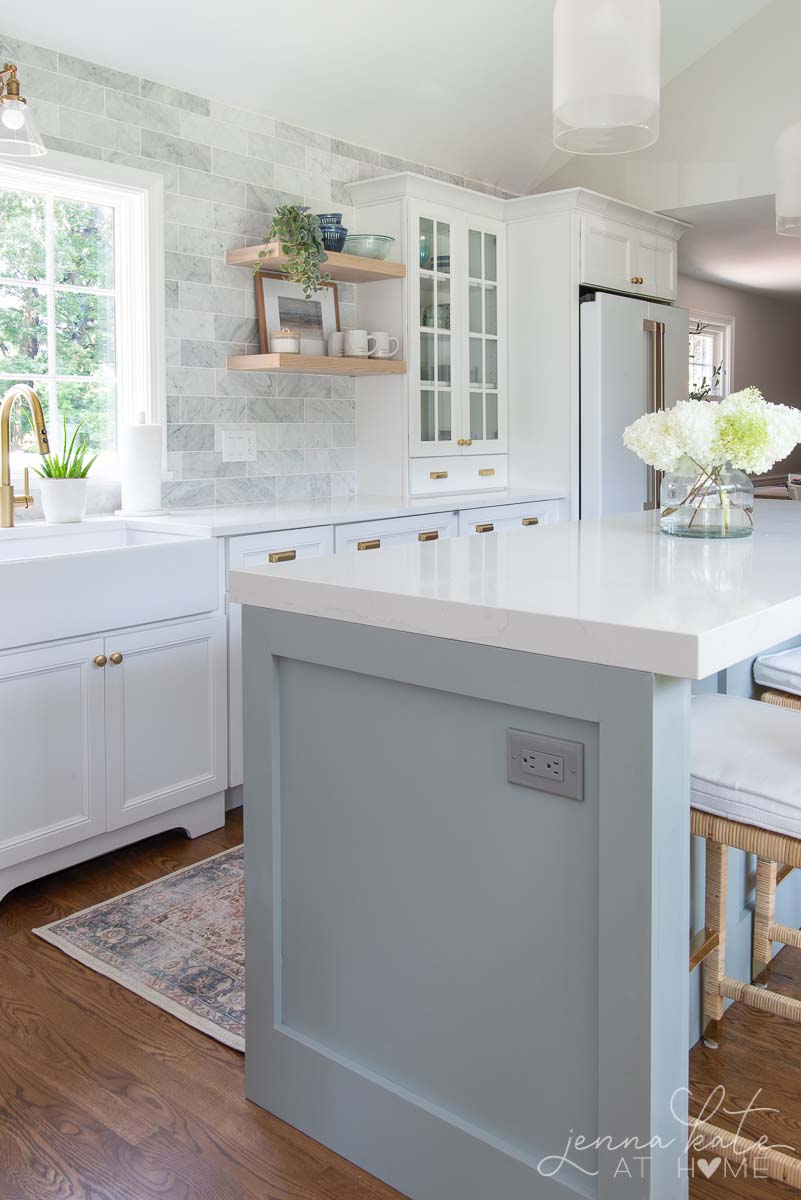 It has enough to depth in it to really inject some character into your space without completely taking over at the same time. It's also a color that pairs well with all colors of kitchen hardware, from nickel to brass and even flat black.
I love it so much that I chose it for my kitchen remodel!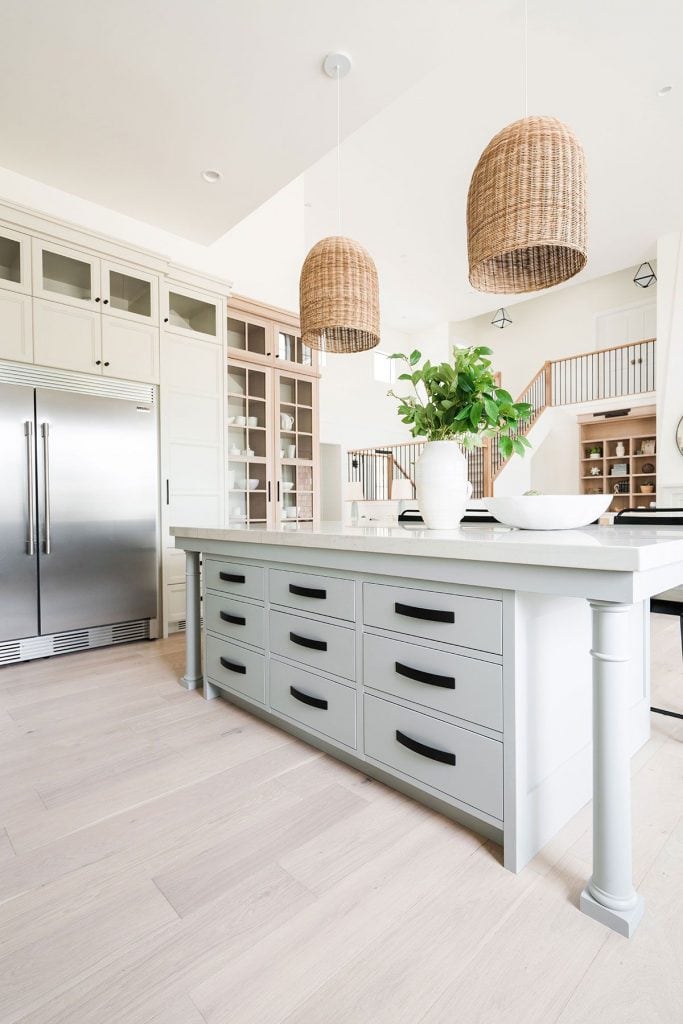 4. Sherwin Williams Krypton
Krypton is a beautiful soft, creamy blue gray and is definitely a little brighter and lighter than Boothbay Gray by Benjamin Moore. Most of the time, it comes across as a light blue which makes it a great choice to pair with complementary brass shades.
Krypton is a stunning shade which looks amazing against white and gold as seen in the photo.
The white provides a wonderful contrast to the blue while the gold accents on the lights and clock work really well to bring out the creamy side of this dreamy color.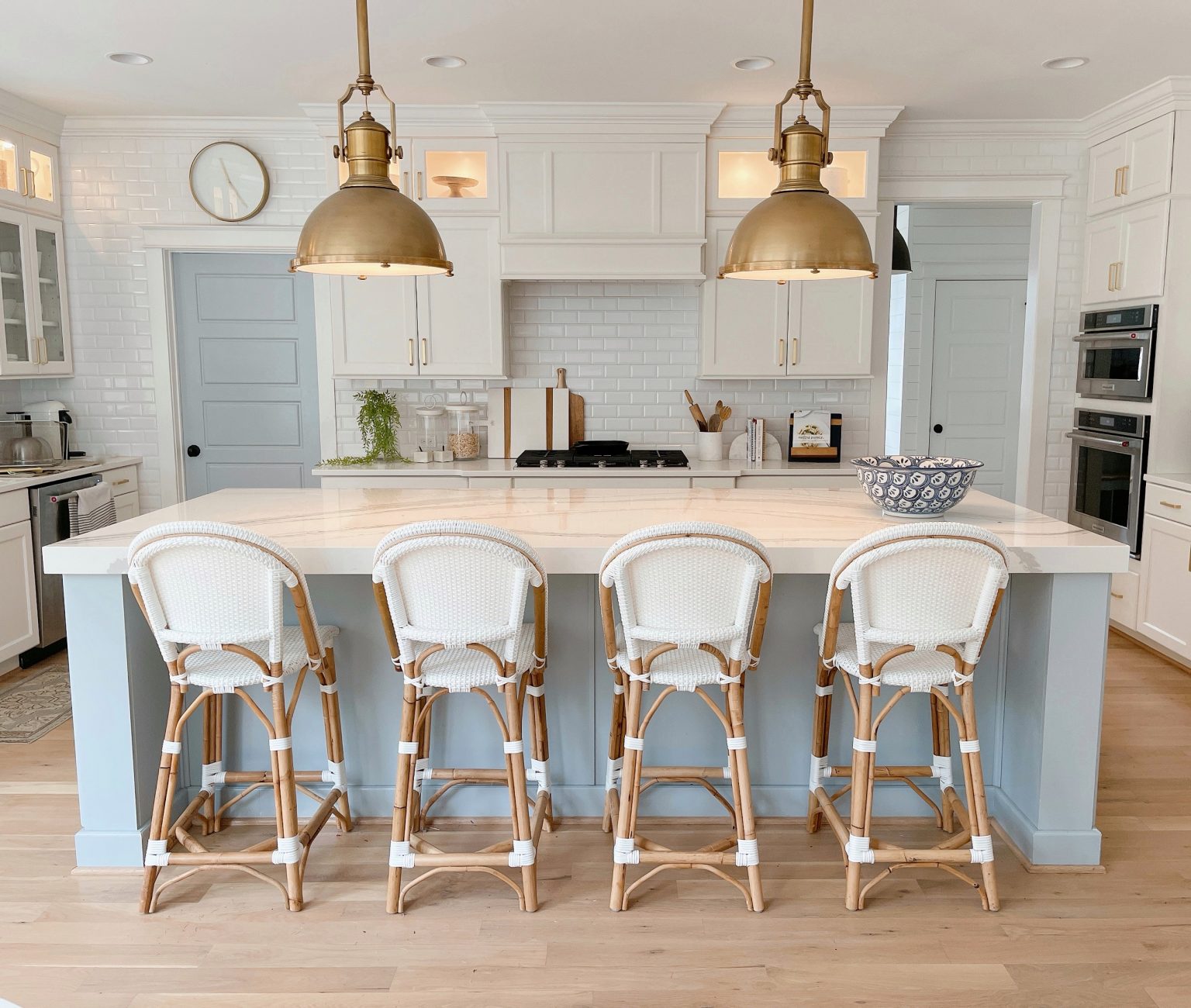 Hale Navy is a wonderful rich dark navy with a gray undertone which will inject a striking pop of color to your kitchen island. Hale Navy looks best paired with light grays and bright whites.
I love this color so much – it really evokes the beauty of maritime and all things coastal!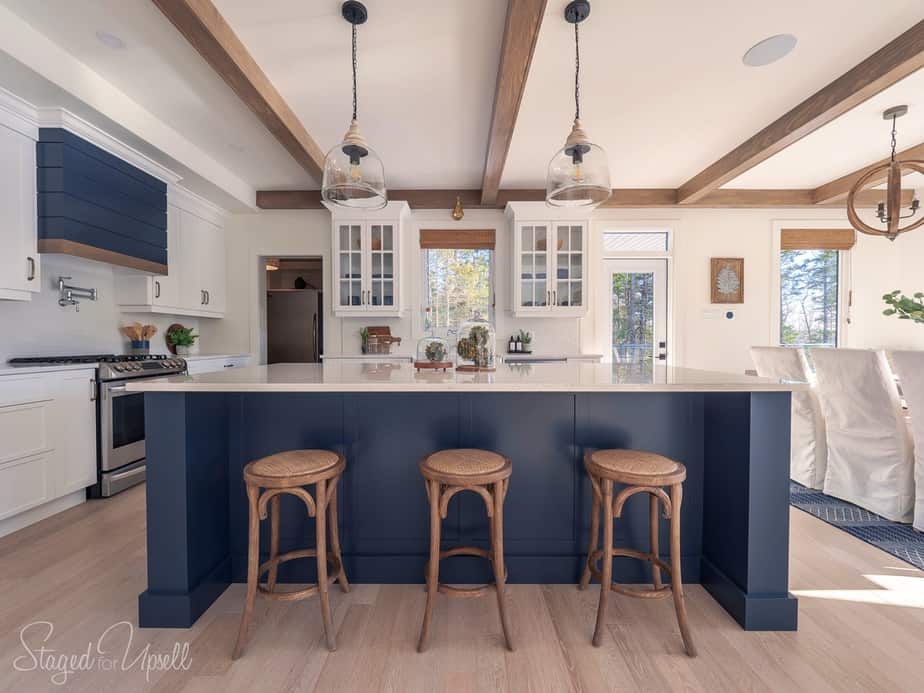 While you may think Naval is pretty similar to Benjamin Moore's Hale Navy there are some subtle differences.
While Hale Navy has that gray undertone, Naval is more of a true blue so if you are looking for a navy which appears a little more colorful and vibrant, this may be the one for you.
In my opinion, you can never go wrong with a navy blue kitchen island. But I'm obsessed with all things blue so I'm a bit biased!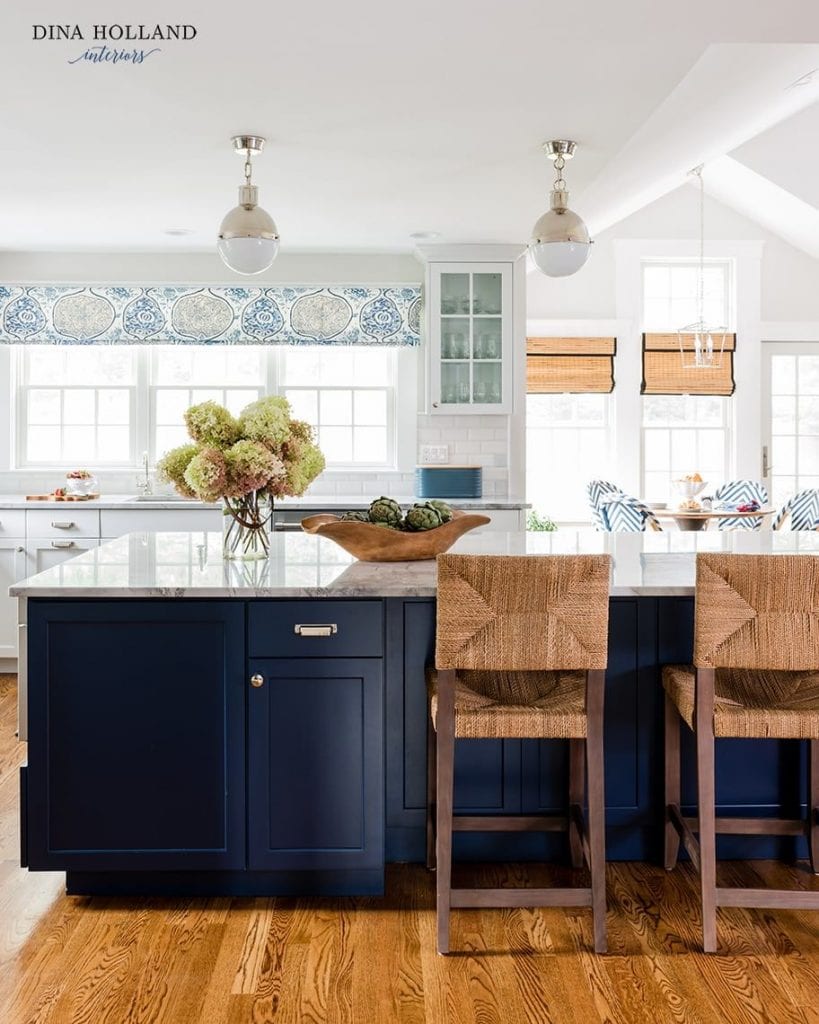 7. Light Ash Wood
Natural wood tones are majorly on trend and I love this beautiful light wood tone for a kitchen island.
In particular, I love how the light ash is the main feature of the kitchen and appears in the doorway, kitchen island and flooring and how the white of the other kitchen cabinets is a subtle contrast.
This is a wonderful choice for an elevated farmhouse kitchen vibe – definitely more modern and subtle than a traditional farmhouse!
I would pair wood tones like this with creamier whites to really embrace the warmth they bring to a space.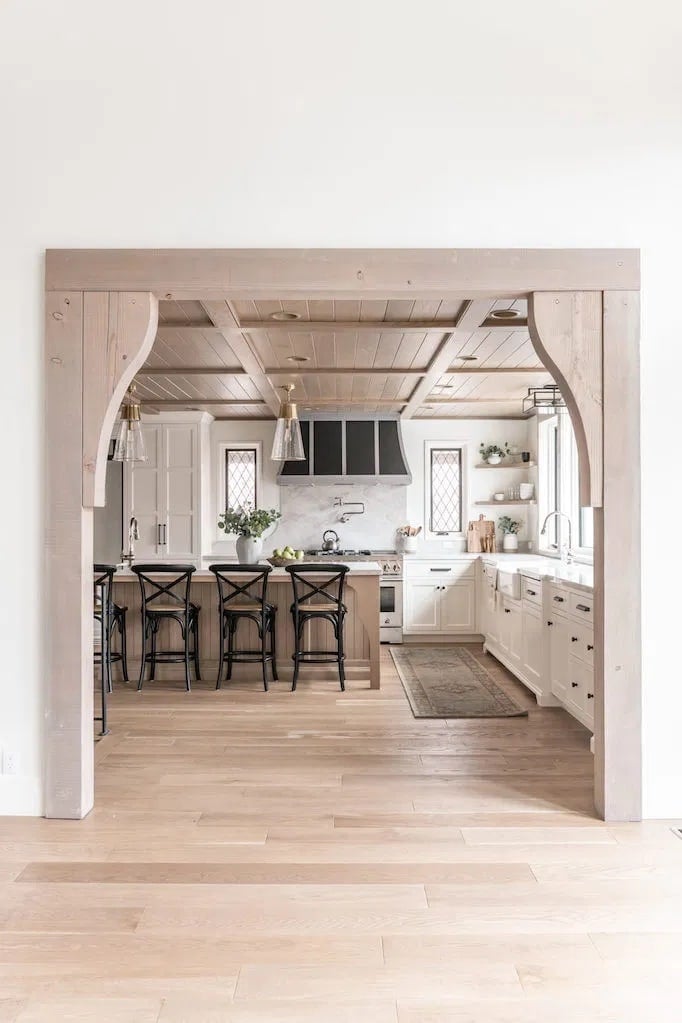 8. Walnut Wood
Walnut wood tones are beautiful and rich and look gorgeous paired with white and blue as seen in this kitchen.
This is such a wonderfully versatile look and paired with the right accents – will keep your home looking fresh and modern, while still maintaining a traditional vibe.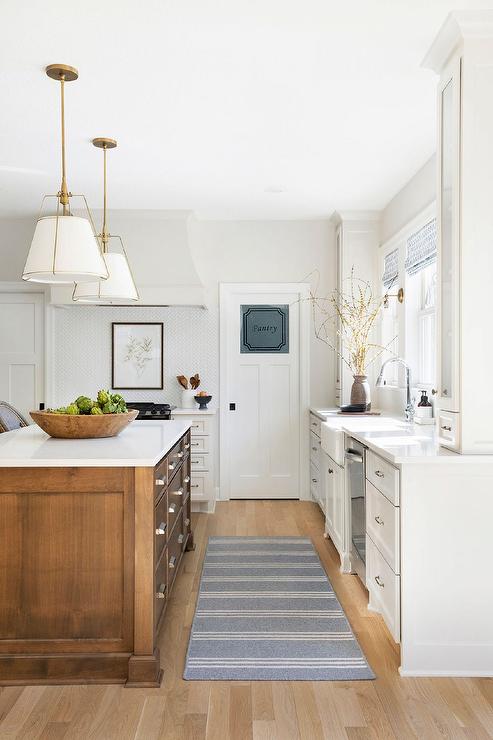 9. Rustic Dark Walnut
If you are on the search for a more traditional modern farmhouse look then a dark walnut kitchen island may be the best choice for you.
Not only is dark walnut a wonderful eye-catching choice – it will look great paired with most colors on cabinets. Pair with white and blue for a more traditional feel.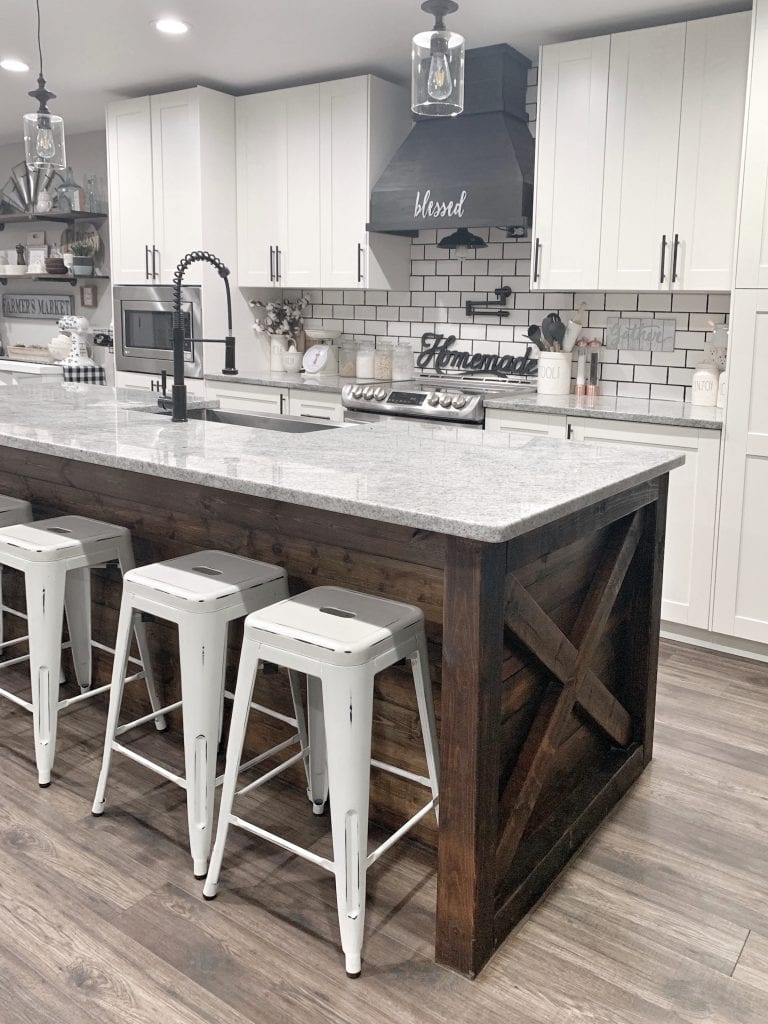 10. Reclaimed Wood
If you are wanting a seriously shabby chic or European farmhouse/vintage style for your kitchen then you need to go to the extra mile and source your own kitchen island.
Or better yet – source the reclaimed wood yourself and create your own bespoke kitchen island. The result? A wonderfully quaint, minimalist yet unique kitchen island that will last the test of time.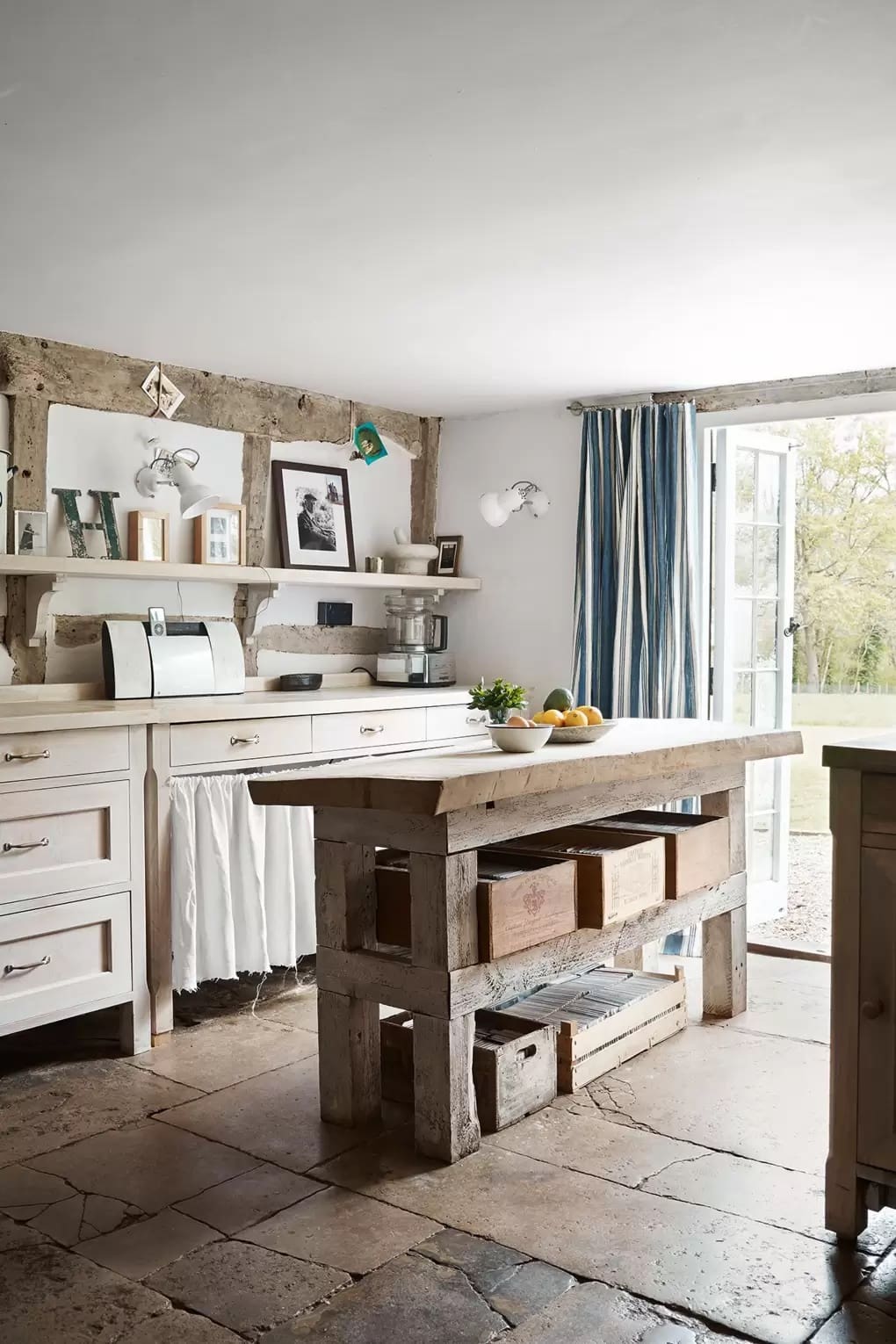 Does The Island Have to Be a Different Color?
No, you don't have to paint your island a different color or have it a contrasting wood tone. However, adding an accent color to your island is a really great way to make the most of your kitchen design, especially when the rest of your cabinets are white.
Final Thoughts
No matter which color or wood type you choose – your kitchen island should be an expression of your personality and flow with the rest of your home.
Bearing that in mind, it's always important to consider the rest of the kitchen and how the kitchen island will impact the visual balance of the room as a whole. Consider hardware choices, countertop materials, as well as the color of the perimeter cabinets to ensure the undertones don't clash.
When all else fails, go with your heart, as the kitchen should always be the heart of the home!
Don't Forget…
Don't forget – no matter what you've read or photos you've seen online, it's really important to sample paint colors in your home before committing!
Samplize provides real paint samples that are easy to move around your home, and cheaper than buying a gazillion paint pots! It's the only way I buy paint samples.
Use code JENNAK10 at checkout and get 10% off your order
Coupon entitles all customers to 10% off the entire order with no minimum purchase requirement. This is a one-time use coupon and it cannot be combined with other discounts.