Does that blank space over your bed have you twitching with the need to add some decor? If you're stumped for ideas on what to do to fill that space, then you'll love this post! I've got so many great ideas to help you get creative and finally put the finishing touch on your bedroom decor.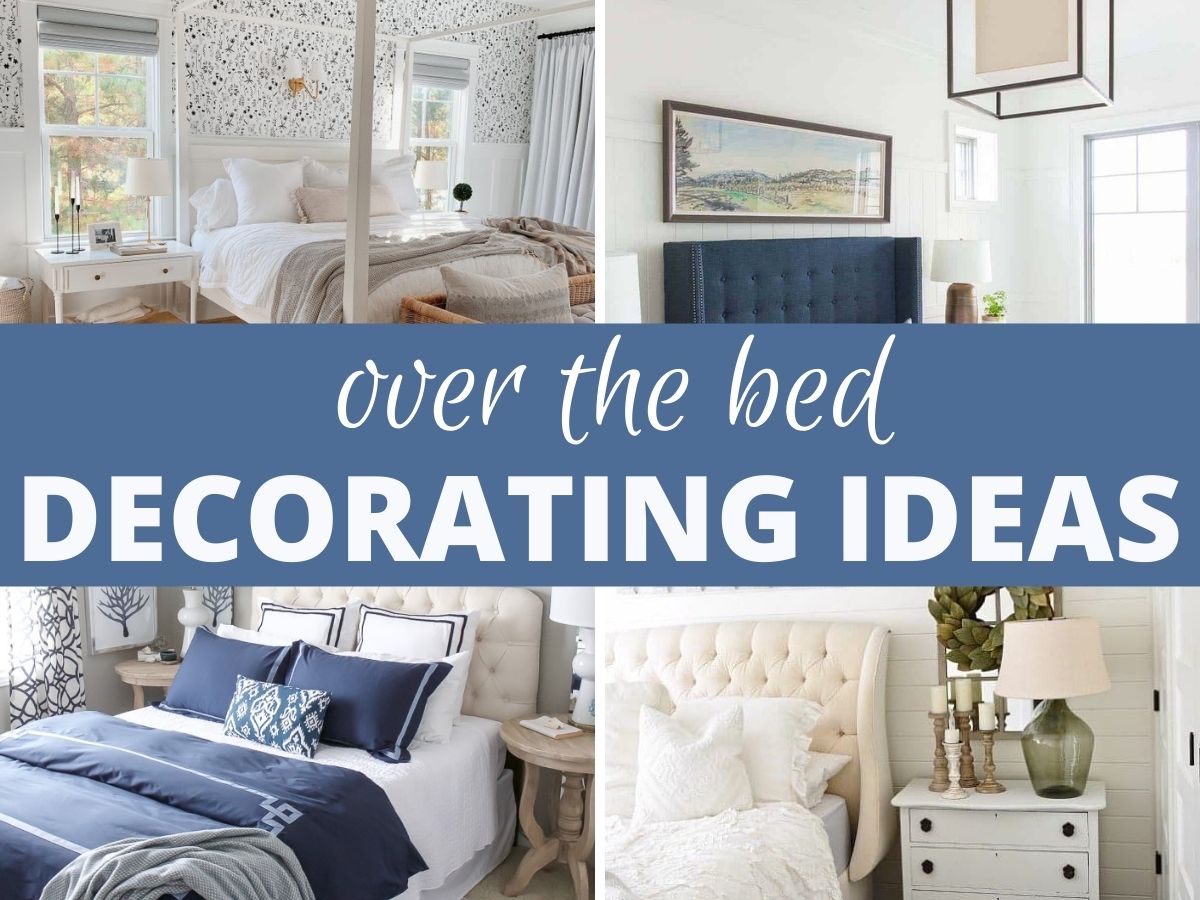 Having a large space right over your bed can leave your master bedroom feeling unfinished. Whether you have a large bedroom or a small bedroom, that black space usually needs something to tie your bedroom decor together.
The good news is that there are so many ways you can decorate that blank space, so let's check out these 10 Ideas for decorating over your bed.
Statement Artwork
If you prefer a simpler, more streamlined look, consider hanging a single large piece of artwork above your bed.
This statement piece can be a painting, photograph, or even a textile. Designers love statement artwork because it provides a focal point and creates a sense of drama in the room.
It's also an excellent opportunity to bring in a bold color or pattern that might be too overwhelming in other parts of the space.
I like to choose a piece of art that's short and wide, mimicking the space over the bed.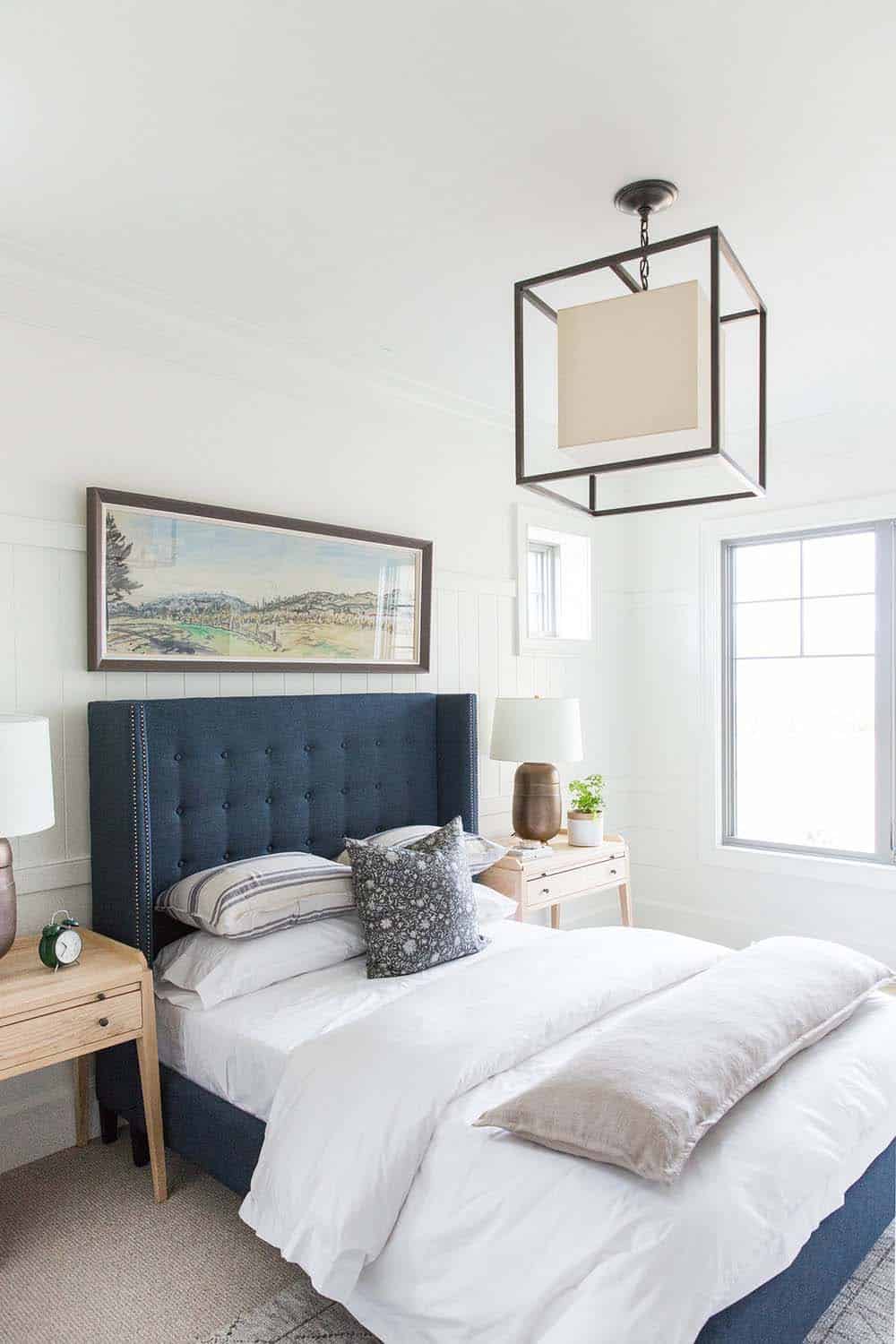 These gorgeous framed prints (above and below) really draw your eye to the bed to create a focal point. While the bedroom would still be beautiful without it, it really does tie the room together.
Shop the look: artwork // throw pillows // duvet cover // blanket // nightstands // lamps
You could also do a gallery wall of art and keep them "themed", like I have in my bedroom with this trio of doodle art.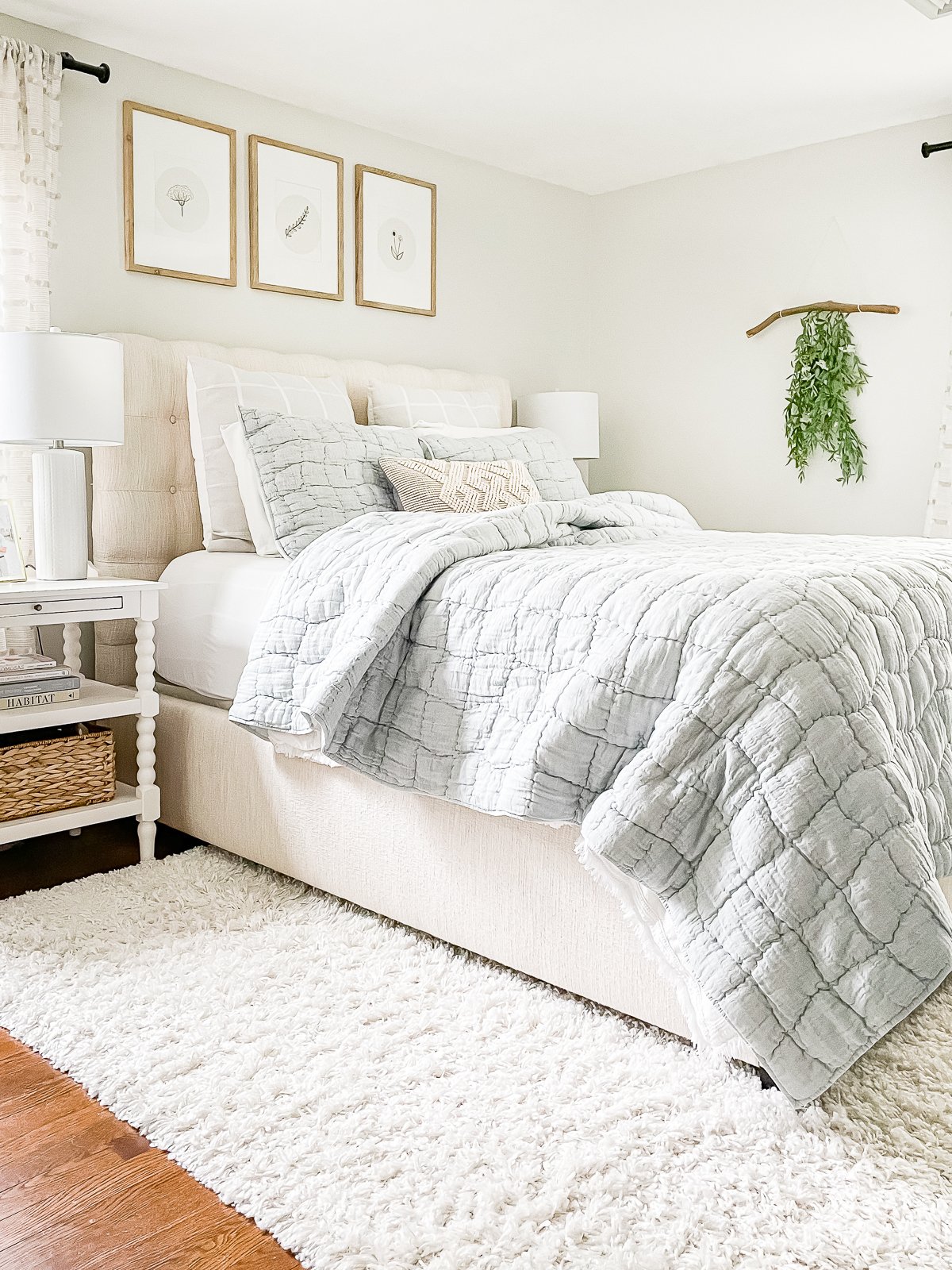 Another popular idea for artwork is a large sign. This is a particularly popular within the farmhouse decorating style.
Ideas for signs might include bible verses, quotes from songs or poems, or a family name.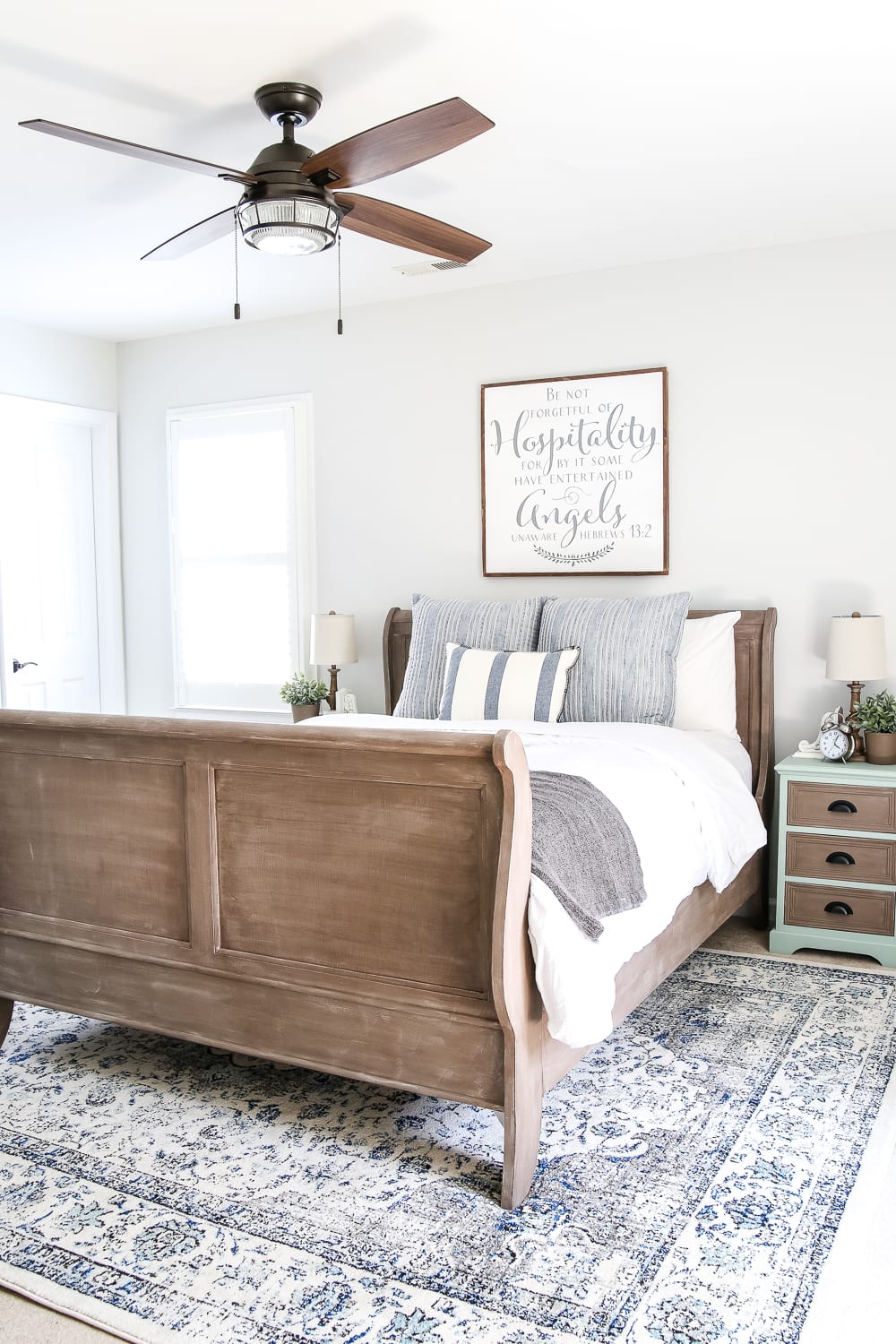 Even kids' and toddlers' rooms can be totally elevated with just a simple piece of art that ties the room's color palette together.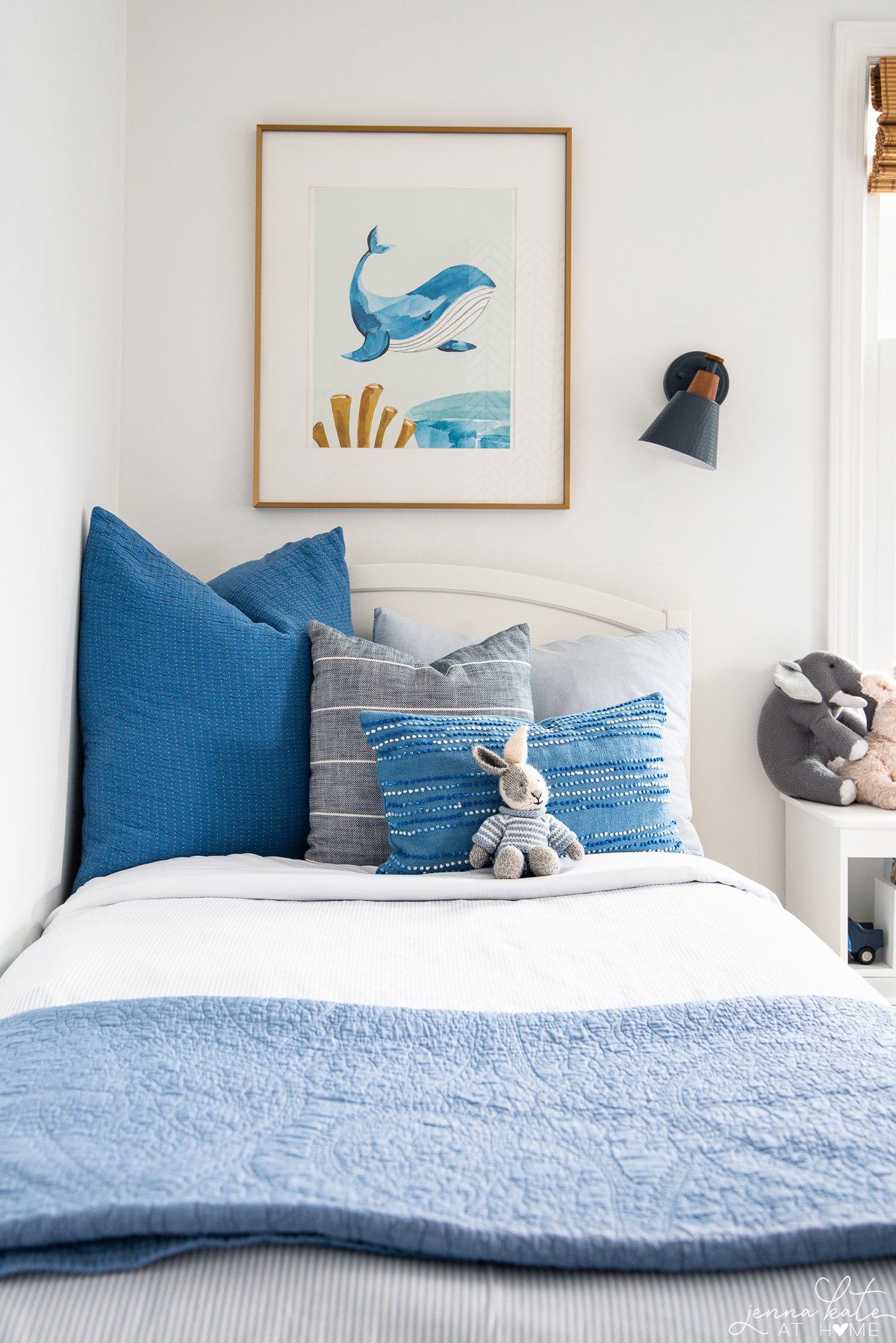 Shop the look: Whale art // sconce // duvet cover // blue quilt // bed
Shop Artwork For Over Your Bed

Textiles – hats, fabric, baskets, etc.
Consider using textiles to decorate the space over your bed.
A tapestry, quilt, or even a grouping of decorative hats or baskets can add texture, color, and pattern to the room.
Interior designer love textiles because they add warmth and personality to a space. They can also be easily switched out to reflect different seasons or moods.
Did you know Juju hats are a symbol of prosperity?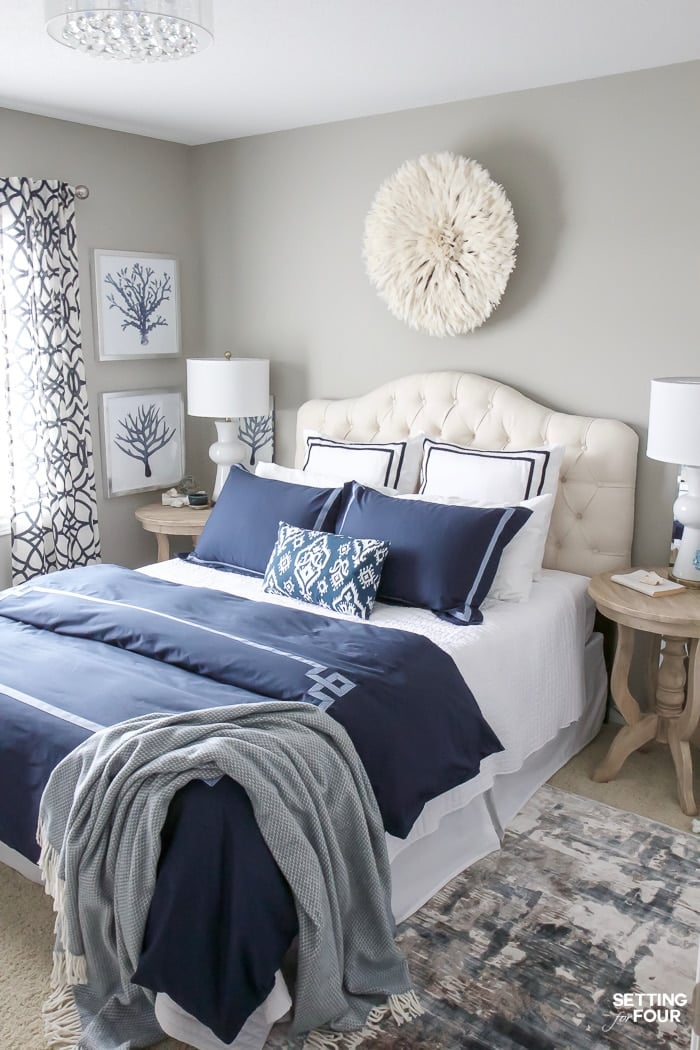 Made from feathers, these are a beautiful item to display as decor on your wall. They add softness, texture, color and are perfect for not only king and queen sized beds, but for over twin beds, too.
This staple piece could be used in any room of your home, but I think they add a feeling of whimsy and become a great talking point when used as guest room decor.
Wall Hanging & Textile Finds

Wallpaper
A classic way to add some style to your bedroom walls is to add wallpaper and wainscoting.
You can add wainscoting half halfway up the wall, and add wallpaper for major impact.
Adding wallpaper can sprinkle just the right amount of drama into your bedroom, without the need for a large piece of art. Whether you do an accent wall (like below) or take the wallpaper around all four walls (the preferred look by designers), you can be sure that it will add a serious wow factor to your room.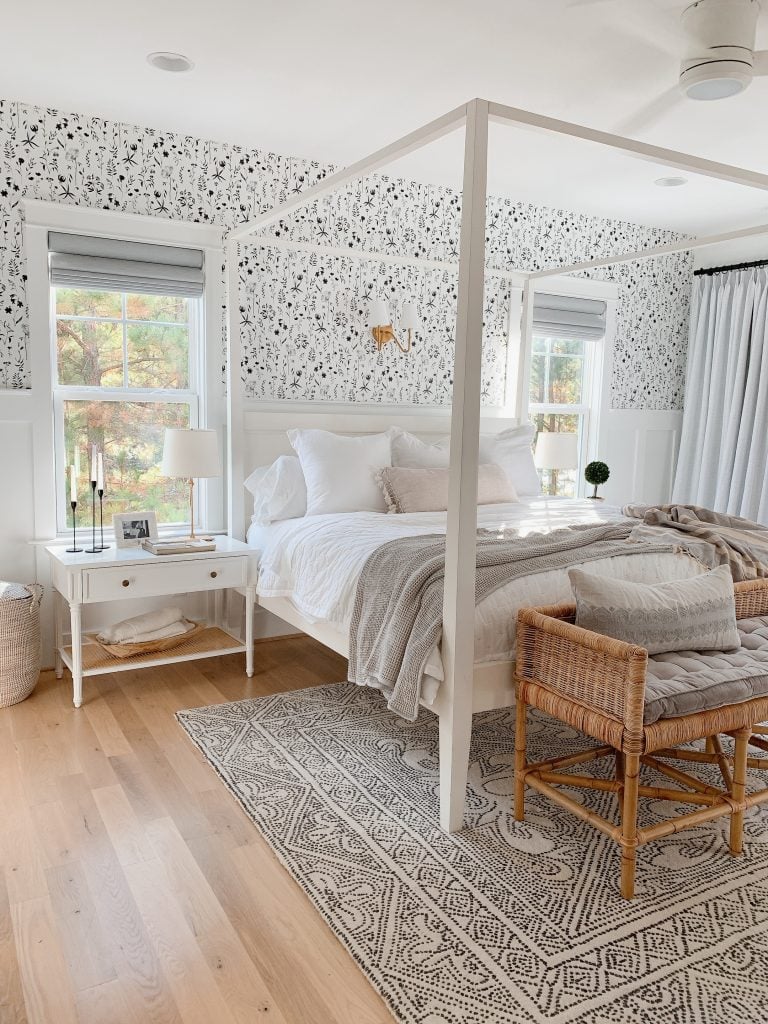 Shop Pretty Wallpaper

Mirrors
Mirrors are a classic choice for decorating the space over your bed because they reflect the natural light and make the room feel brighter and more spacious.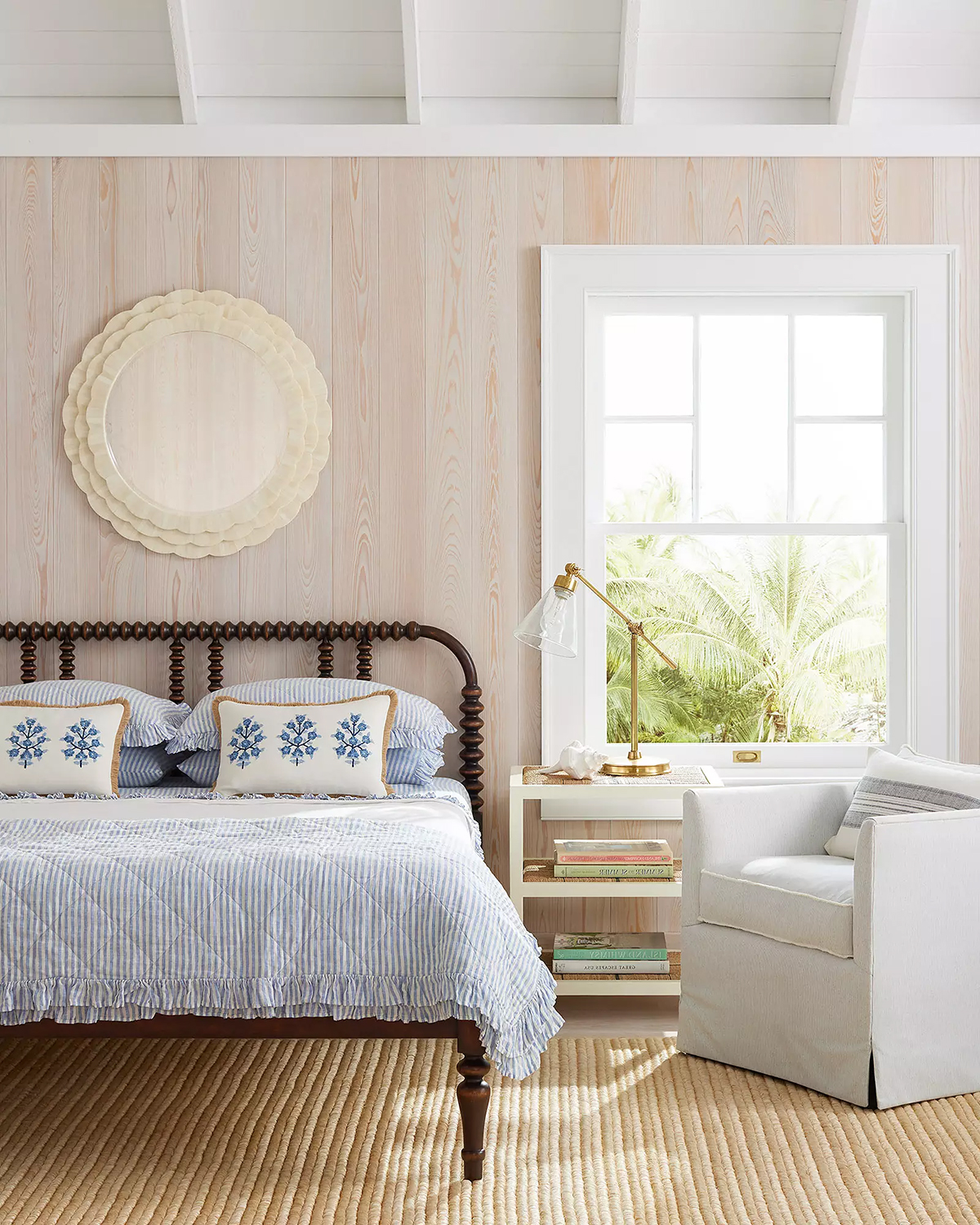 A large, ornate mirror can add a touch of glamour and sophistication to a bedroom.
Designers love mirrors because they can serve both a practical and decorative purpose. They can also be used to create a sense of symmetry in the room.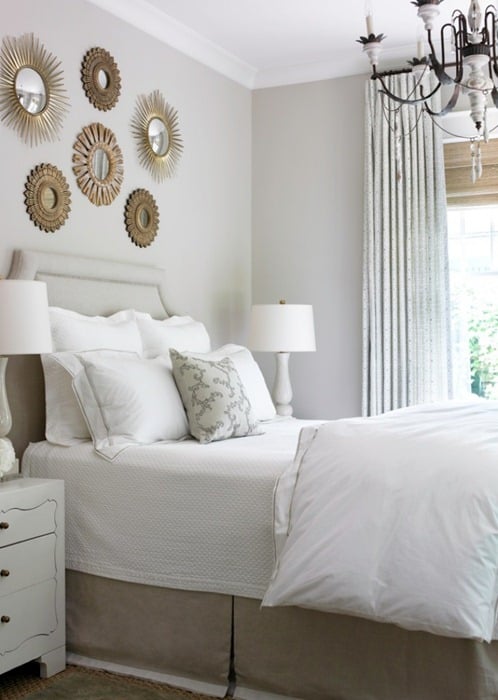 Vintage Doors
Maybe you want to bring more of a vintage farmhouse look to your bedroom. Adding vintage doors as a faux headboard certainly adds big impact.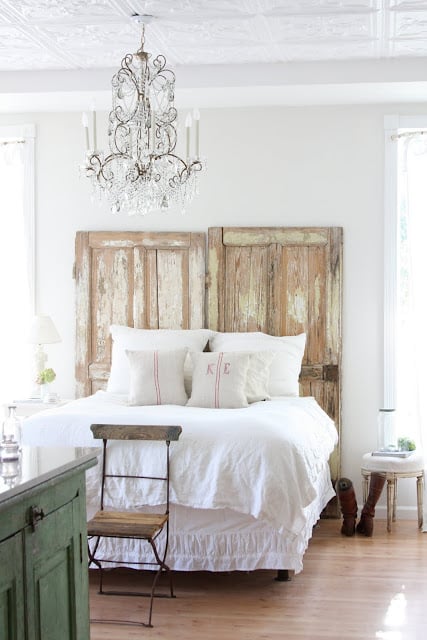 If you like this style, opt to keep the decor on each bedside table minimal so that doors can take center stage.
Shelving
By adding a shelf above your bed you can not only add style, but maximize space as well.
Both stylish and practical! Prop up some art or books, anything to make it fit your style or mood.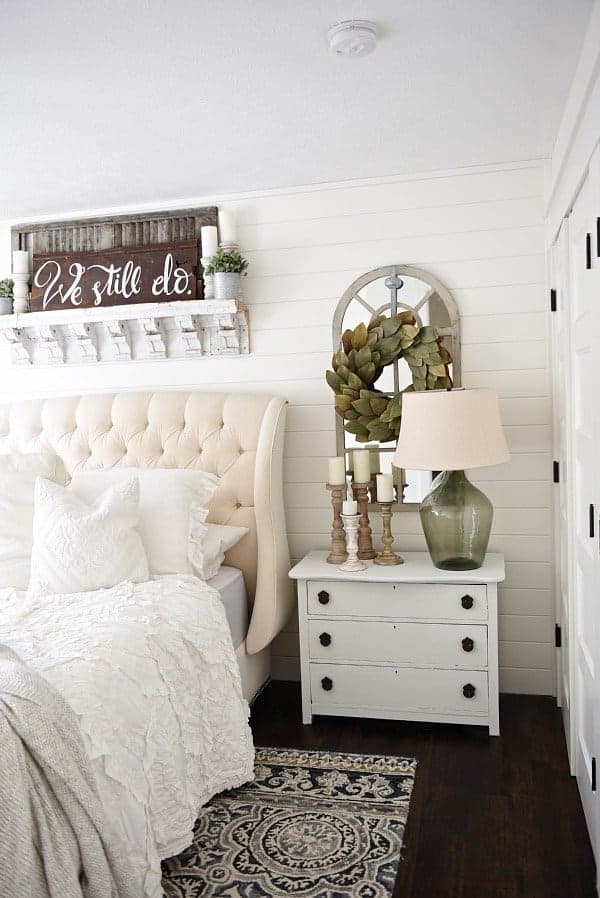 Liz Marie did an amazing job adding this chippy vintage corbel shelf to her bedroom. Not only does it show style and personality, it is a great way to decorate for the seasons.
You can easily swap out decor as you feel the urge to do so!
Plates
We just adore this lovely trend of grouping and hanging plates above your bed. It fits very well into the popular grand millennial style.
It gives the perfect feminine feeling, and you can use colorful or playful plates to add a dramatic pop.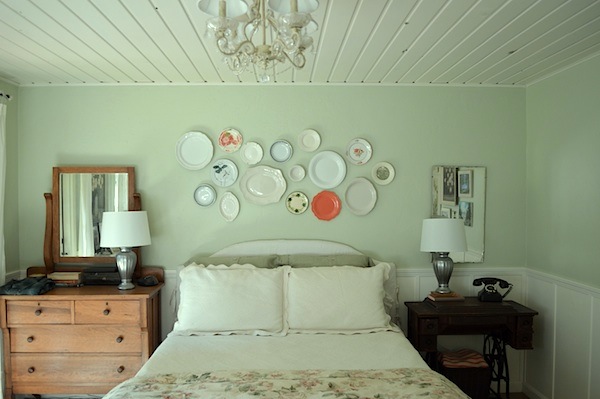 Jami added her vintage plate collection above her bed, and we are loving it. Such a fun and unique way to add some character to her bedroom.
Upholstered Panels
Adding upholstered panels behind your bed can add a feeling of elegance and luxe to your bedroom. It can also make an overly feminine room feel more masculine, if that's what you need.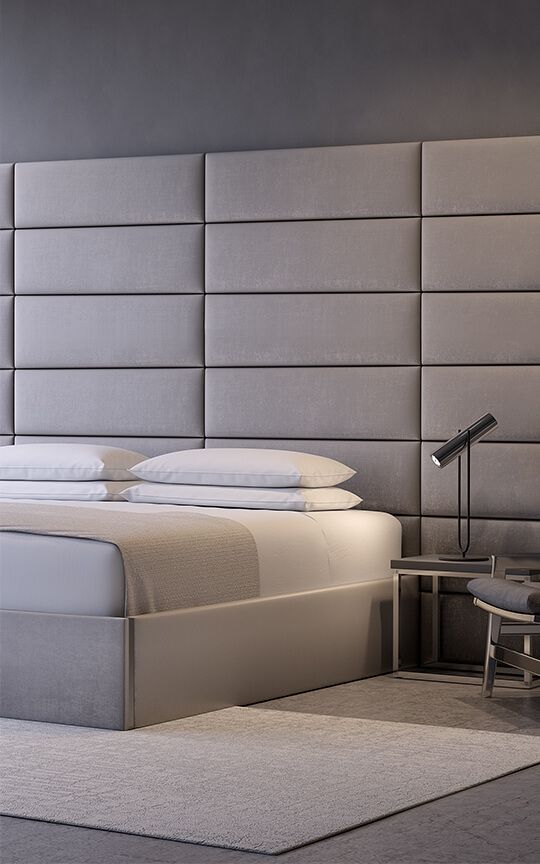 Bonus if you have low ceilings they actually give the appearance of a taller room, as they draw the eye up.
Final Thoughts
The space over your bed is an excellent opportunity to express your personality and style through your decor choices. Whether you prefer a gallery wall, statement artwork, mirrors, canopies, or textiles, there are plenty of options to choose from. Each of these ideas is popular with designers because they add interest and personality to a room while still being practical and functional.
More Decorating Ideas…