This post may contain affiliate links | For further details, please read our privacy policy
Worldly Gray is a beautiful warm gray or greige paint color. It's a bit of a chameleon depending on the light but adds a lovely warmth and softness when used correctly and in the right rooms.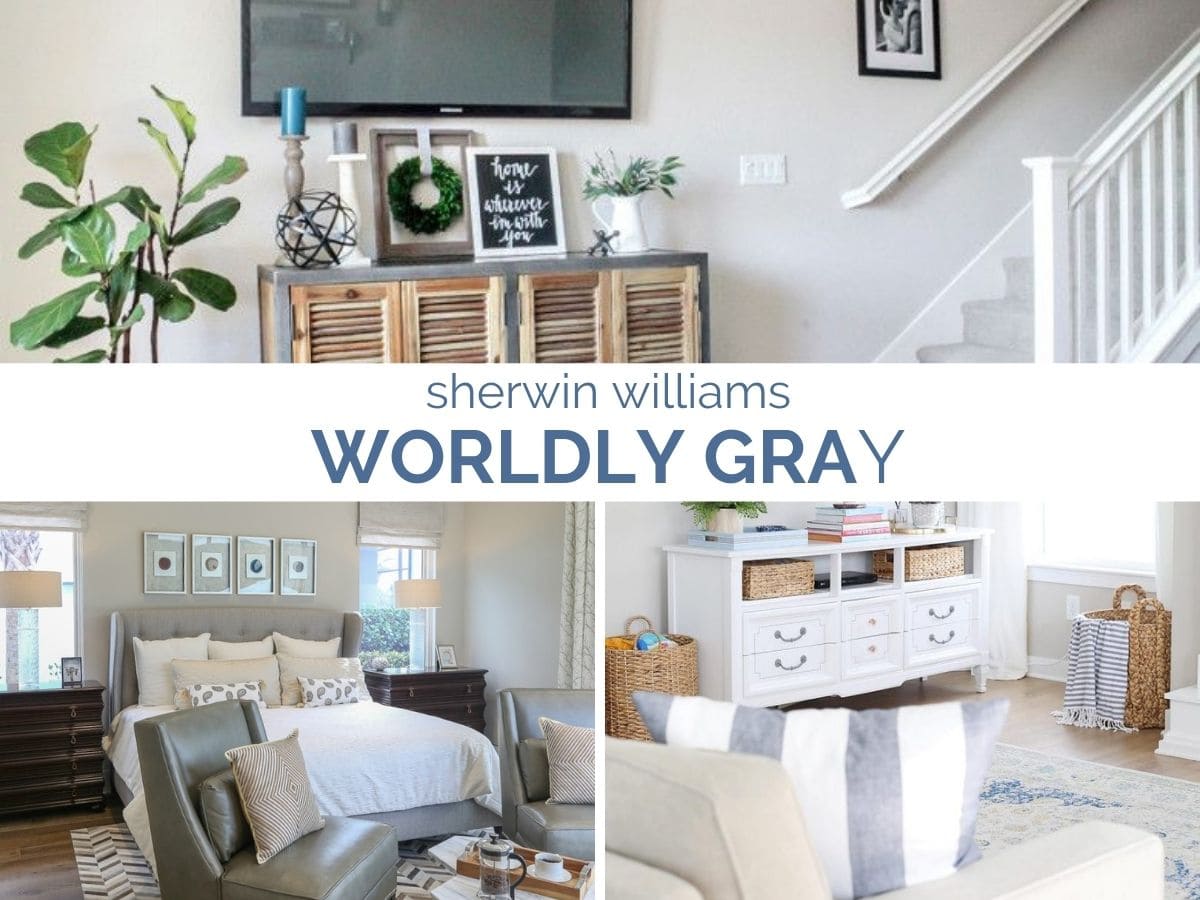 Is Worldly Gray a greige?
Greige has become a new catch phrase in the world of interior design and it simply means a combination of grey and beige. Greige is a way to add a richer color to either the base colors of grey or beige without giving up a neutral tone.
Similarly to Agreeable Gray, Worldly Gray is one of those funny chameleon paint colors that can be either classified as a warm gray OR a greige. It's a complex paint color because it can change slightly depending on the lighting situation. It's slightly darker than Agreeable Gray, which might make it a good choice if you're looking for a little more color saturation on your walls.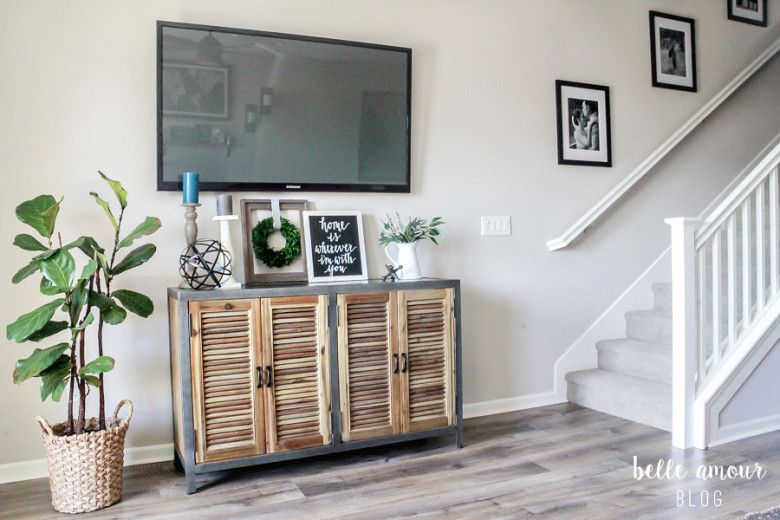 Is Worldly Gray warm or cool?
A warm or cool color in neutral tones is influenced by the ratio of beige to grey. Worldly Gray from Sherwin Williams lends itself to a warm grey
Warm tones in a home create a soft, earthy feel and while many people tend to shy away from a full on beige look, a greige colour feels more natural and can be better paired with other colours in your home.
Many homeowners are moving away from the traditional cool undertones of grey and stepping into warmer color palettes and this is where paint colors like Worldly Gray shine!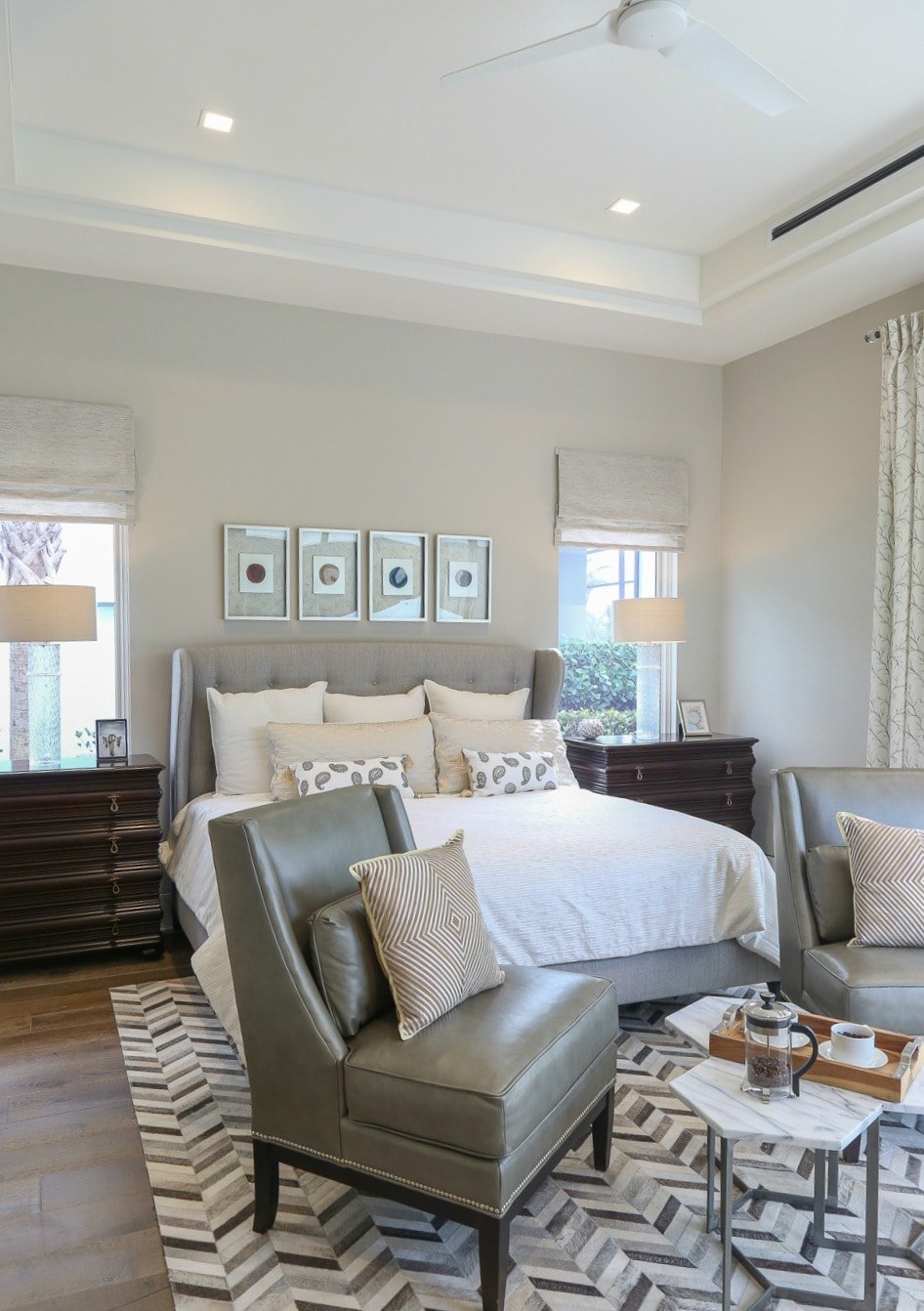 What is the LRV of Wordly Gray?
Light Reflectance Value (LRV) is an indicator of the amount of light that is reflected by a color when it is illuminated by a light source. A higher value (closer to 100) means that a color will reflect more light back at you and a lower value (closer to 0) means that a color will appear darker, or absorb more light.
Worldly Gray has an LRV of 58, so it is a shade or two darker than its closest color, Agreeable Gray (at an LRV of 60).
Worldy Gray will act as a lighter paint color in a well lit room. If your room is darker, you might find it a little muddy.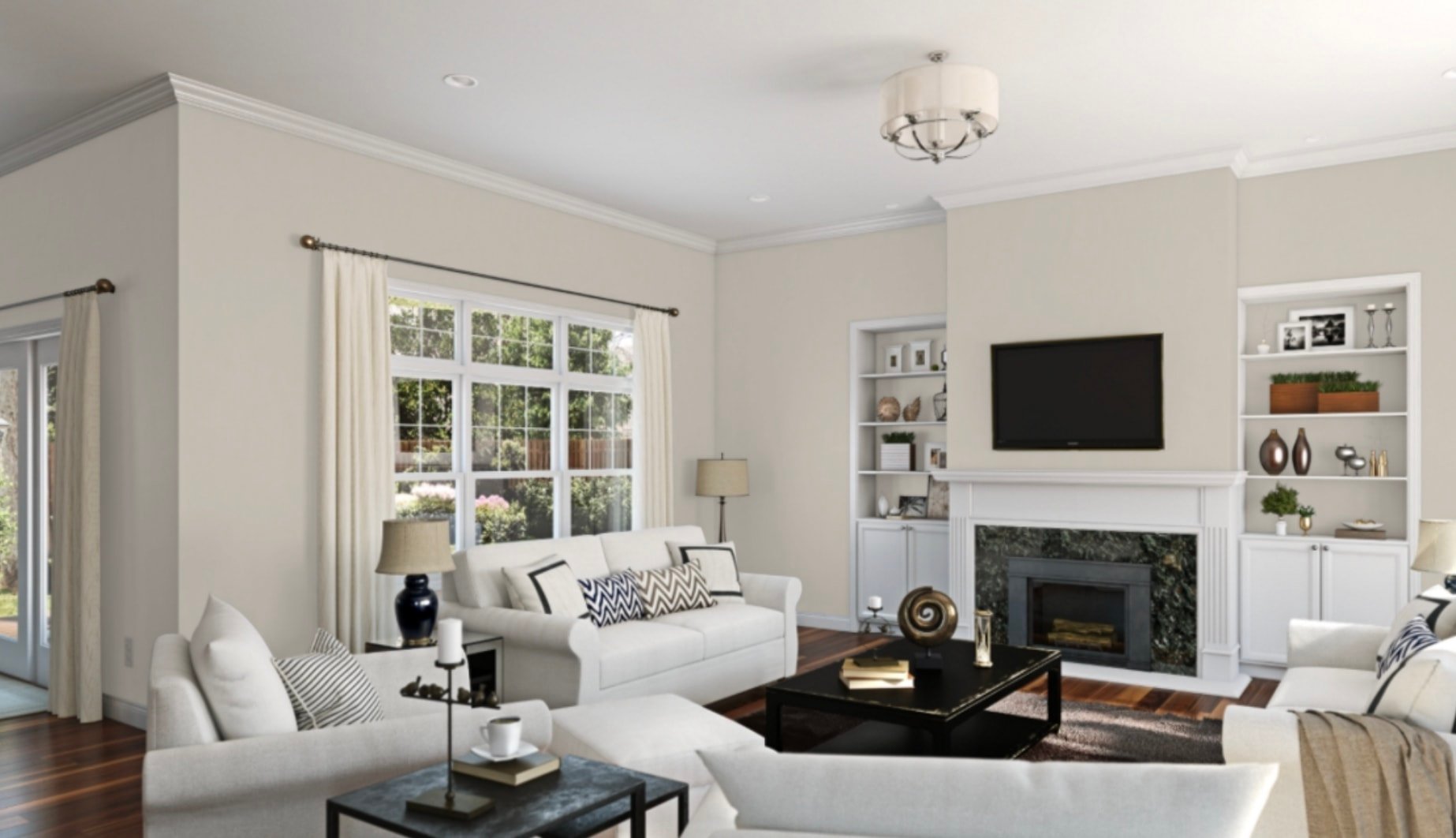 What are the undertones of Wordly Gray?
Worldly Gray can appear as a warm gray or greige, depending on the amount of light in the room and the lighting options you pair with it.
In darker spaces, a slight green undertone may become apparent. Depending on other colors in your home, in terms of the fixtures and furnishings,
In a warm, south facing room, Worldly Gray will act like a warm gray and the slight purple undertone may make an appearance. Don't let that scare you! It will never look straight-up purple, but you may get that slight hint.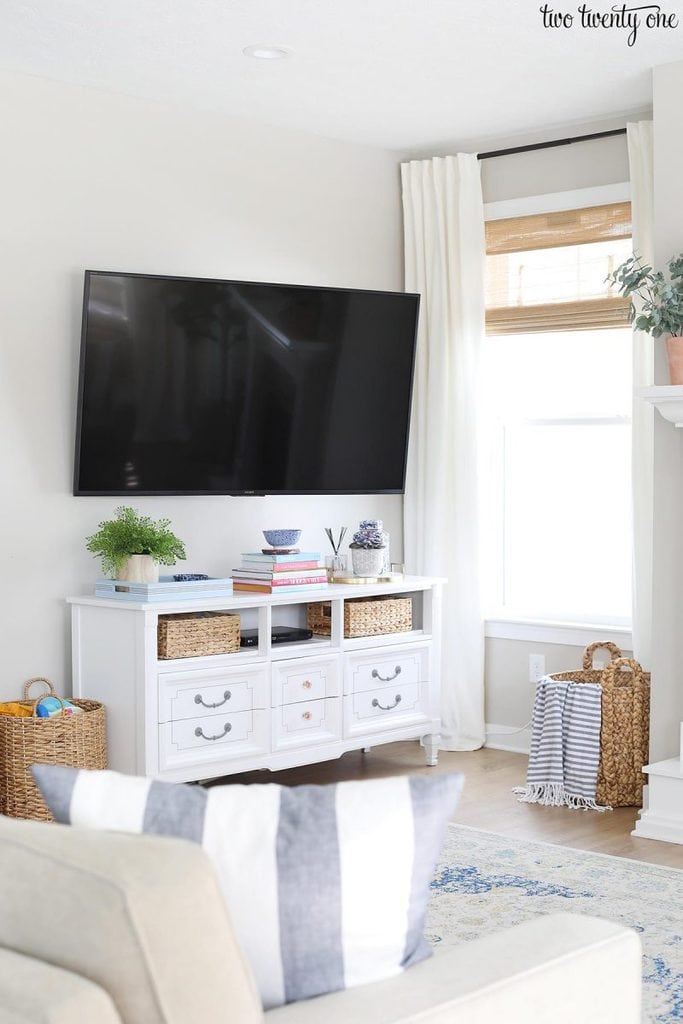 For this reason, it's really important to make sure you are using this paint color in a room that favors it looking like a clean warm gray or greige, and that does not bring out any unwanted undertones.
Wordly Gray vs Agreeable Gray
Worldly Gray is considerably warmer than Agreeable Gray, which leans more into being a gray. Pairing the two together, you will also see that little bit of green poking through,
Worldly Gray is also a touch darker than Sherwin Williams Agreeable Gray. While Agreeable Gray can be used in a darker room and still give the feeling of warmth and light, Worldly Gray is a little darker while still feeling like a warm, soft color.'
How you can use Worldly Gray
When paired with a white, Worldly Gray is a stunning contrast that isn't shocking and extremely pleasant to the eye.
Worldly Gray can be used either as a full wall paint, paired with white trim, or as a feature wall color in a muted area.
When choosing a color palette to go with Worldly Gray, choose warmer tones or undertones, as this really brings out the richness of the colour and it pairs especially well with richer woods.
For a chic contrast,pair Worldly Gray with black and white or deep stone colors such as a dark concrete or marble finish. Plants also look quite striking against this colour, especially those with a rich green colouring.
An interesting colour combination with Worldly Gray is a rich blue. Blue and Greige isn't a natural color palette, yet the result is quite appealing.
Because Worldly Grey can have a slightly green undertone in darker spaces, or when light is limited, avoid pairing it with variants of purple.
If you are looking for a warmer neutral or a sophisticated greige for your home, Sherwin Williams Worldly Gray is a fantastic choice. It does not assault your senses and provides a warm, earthy tone that can be used in any area with good lighting.
Don't Forget To Always Use Real Paint Samples!
Don't forget – no matter what you've read or photos you've seen online, it's really important to sample paint colors in your home before committing!
Samplize provides real paint samples that are easy to move around your home, and cheaper than buying a gazillion paint pots! It's the only way I buy paint samples.
Use code JENNAK10 at checkout and get 10% off your order
Coupon entitles all customers to 10% off the entire order with no minimum purchase requirement. This is a one-time use coupon and it cannot be combined with other discounts.
Other Paint Color Posts You Might Like