This post may contain affiliate links | For further details, please read our privacy policy
The best tips to create a functional wardrobe layout in a small but walk in closet. Who said he can't have the closet of his dreams, too!
My husband is the sweetest, most considerate man. He works hard and long hours. Most mornings he is up at the crack of dawn to shower, eat breakfast and head off to work.
He always worries about waking me up, so instead of getting ready in the master bathroom, he uses the kids' bathroom and gets dressed in a separate room. In our old house, he used to do this in another bedroom.
In this house, we have this weird little closet room that's too small to be anything other than a closet (or a telephone room – which is what it originally was!).
Well, this past month, I decided to surprise him with a complete makeover of the space. Not just a cosmetic makeover with some paint and a new rug. But a proper makeover to give him more space and make his closet more functional.
Before Photos
Before I show off his gorgeous new closet space, let's take a trip back down memory lane to the before photos. Then, I'll share the design elements we implemented with photos of the finished product.
Plus, I'll let you in on a few more ideas that would be great to incorporate into your own smaller spaces!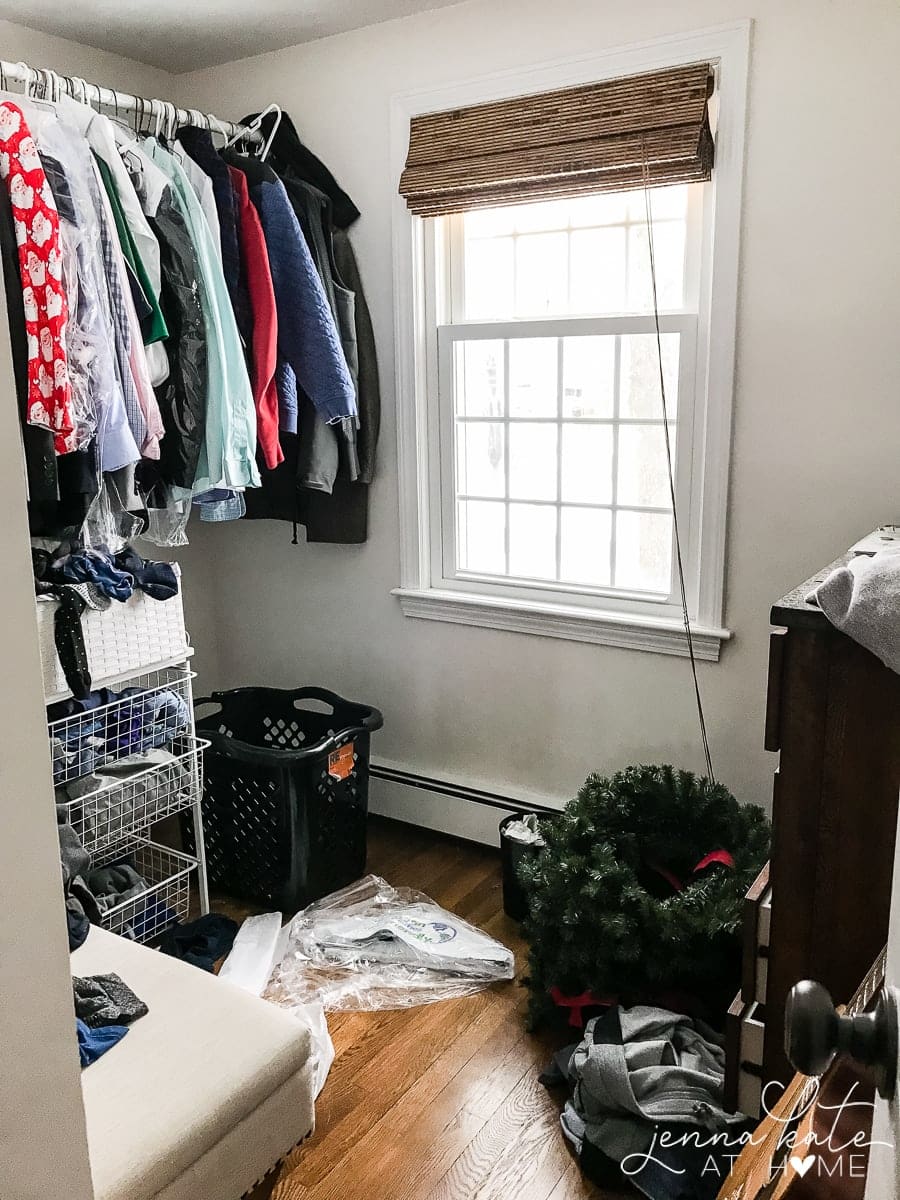 His "walk-in closet" as we call it, was pretty basic. It consisted of cheap closet rods, an old dresser and some slide-out wire baskets from IKEA. But he thought it was great and never complained. Because that's just how he is.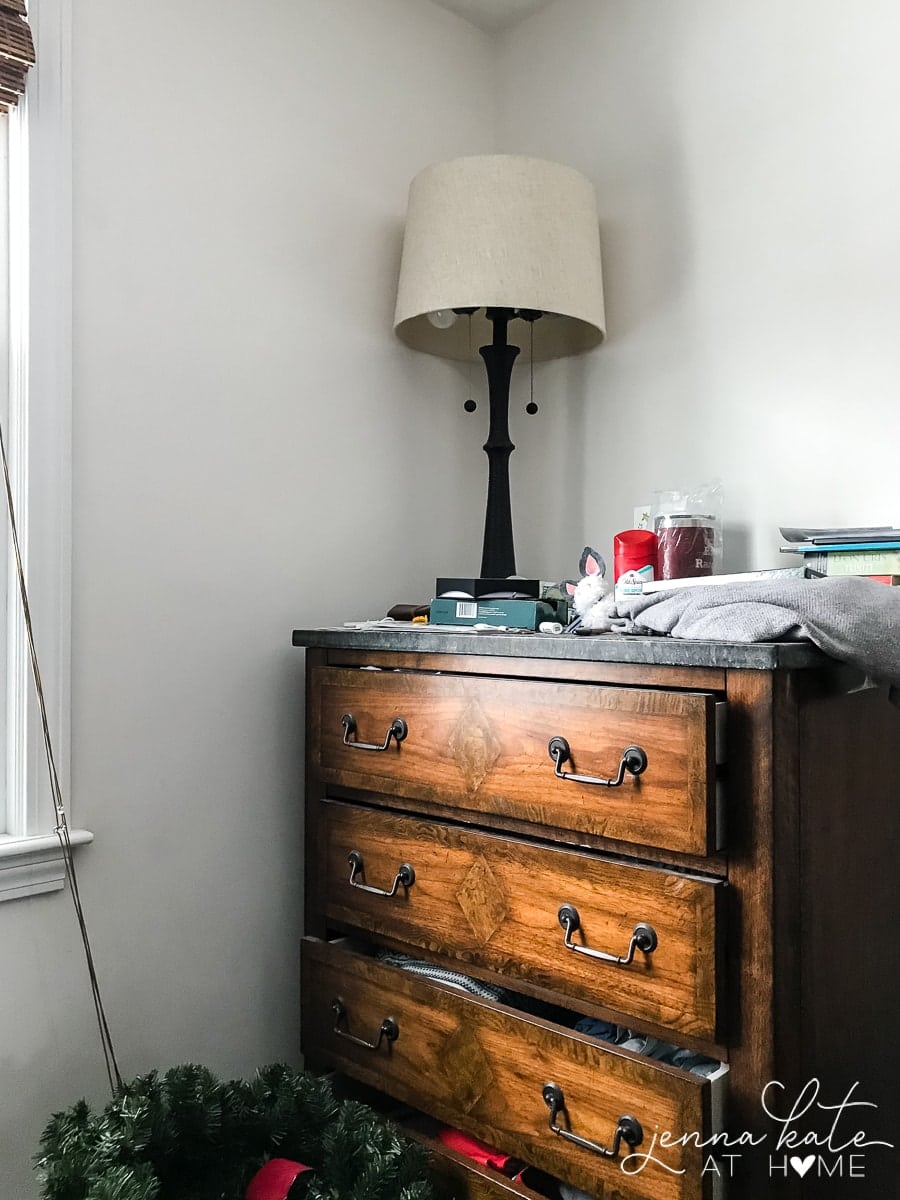 First thing, I wanted to design the new space with the goal of utilizing as much of the square footage as we could, keeping in mind the types of clothes my husband has and the items that would need to be stored.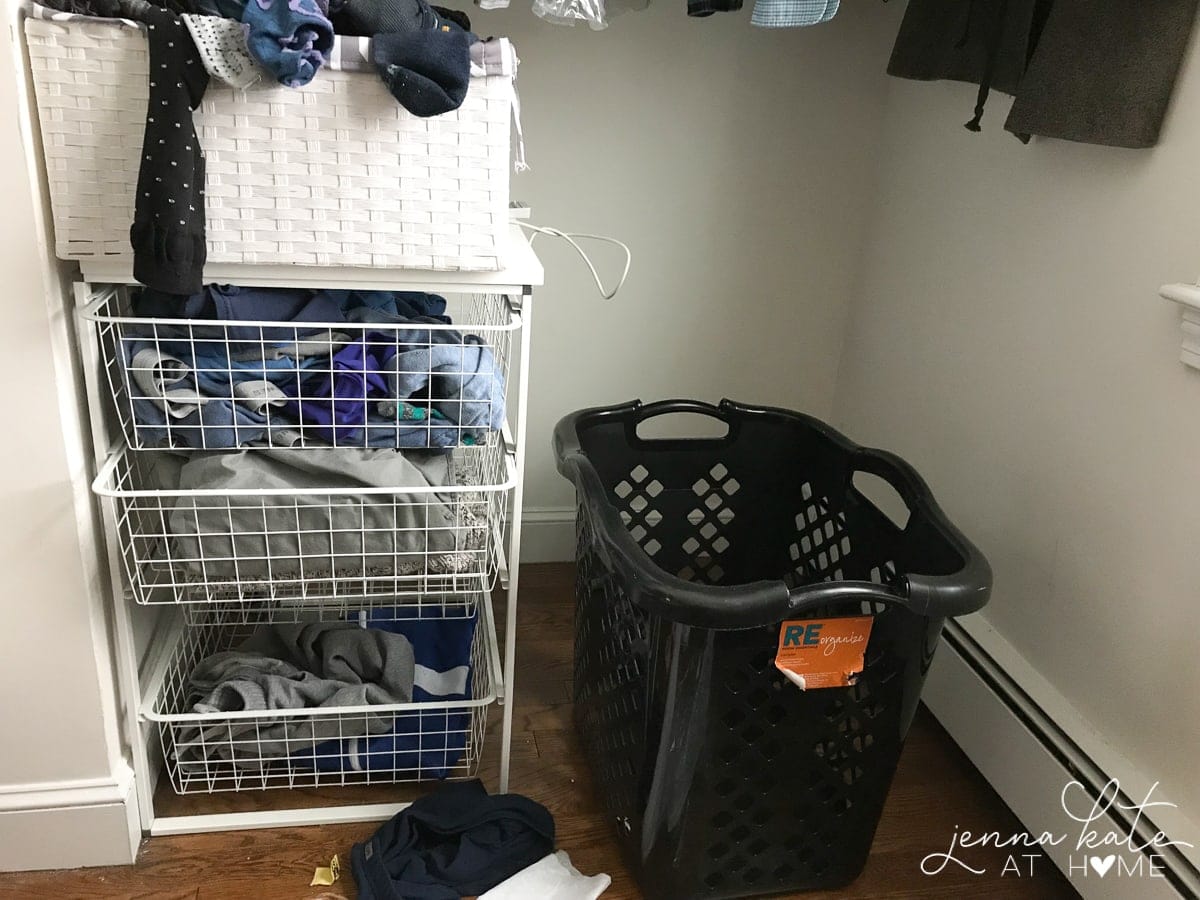 Small Closet Walk In Ideas
Overwhelmed with all of the clothes storage solutions available for your small walk-in closet design? Don't worry! Today we're breaking down the top budget-friendly options.
As I walk you through the entire closet makeover, I'm going to share easy tips for transforming your own space!
1. Add Accents
To create a personalized closet space be sure and include a few things like family photos, memorable items such as a special hat or baseball glove, and some light decor.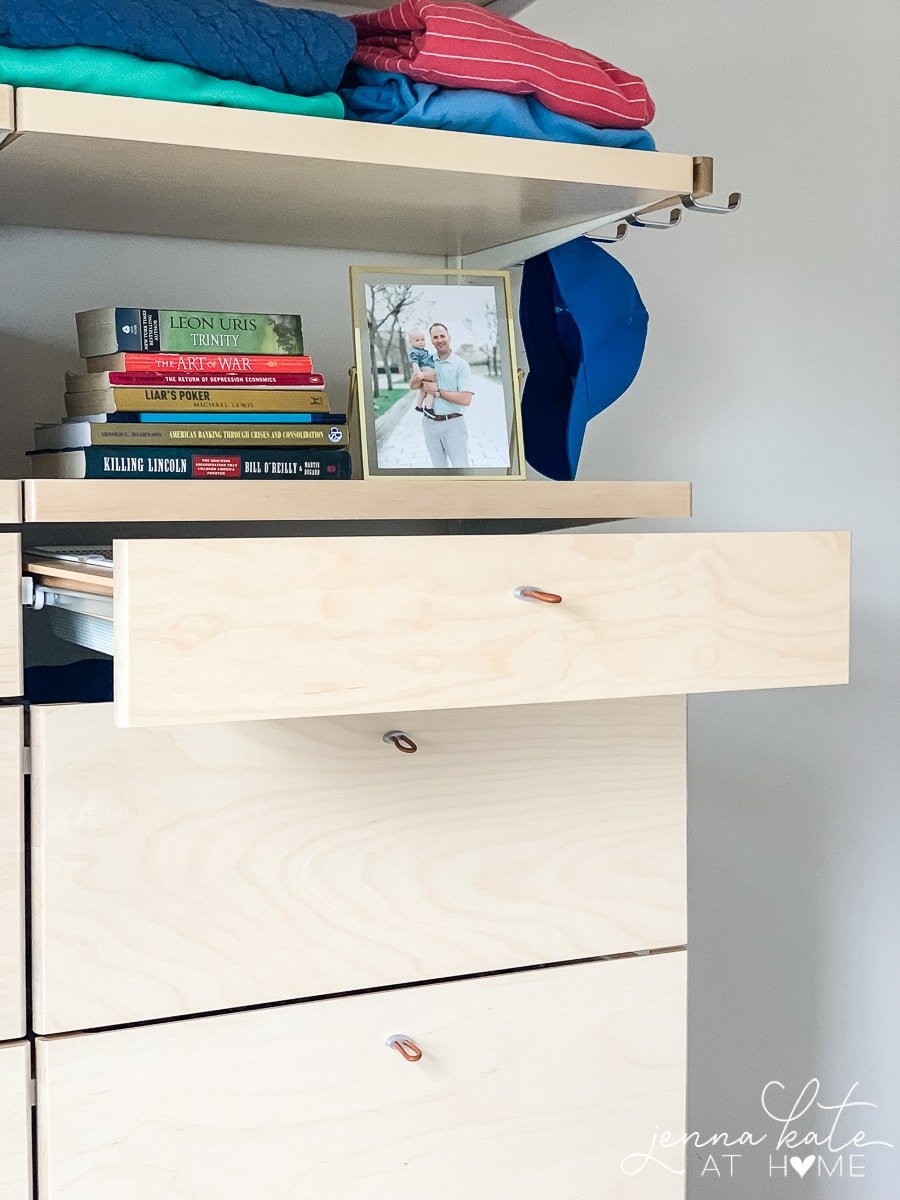 I used a few of my husband's favorite books as a way to make him feel like it was really his. Plus, they double as a decorative element!
2. Decorative Baskets
If you can find some pretty storage baskets with a delicate print, stripes, rattan, or just in your favorite color palette it will go a long way in making a limited space feel more beautiful.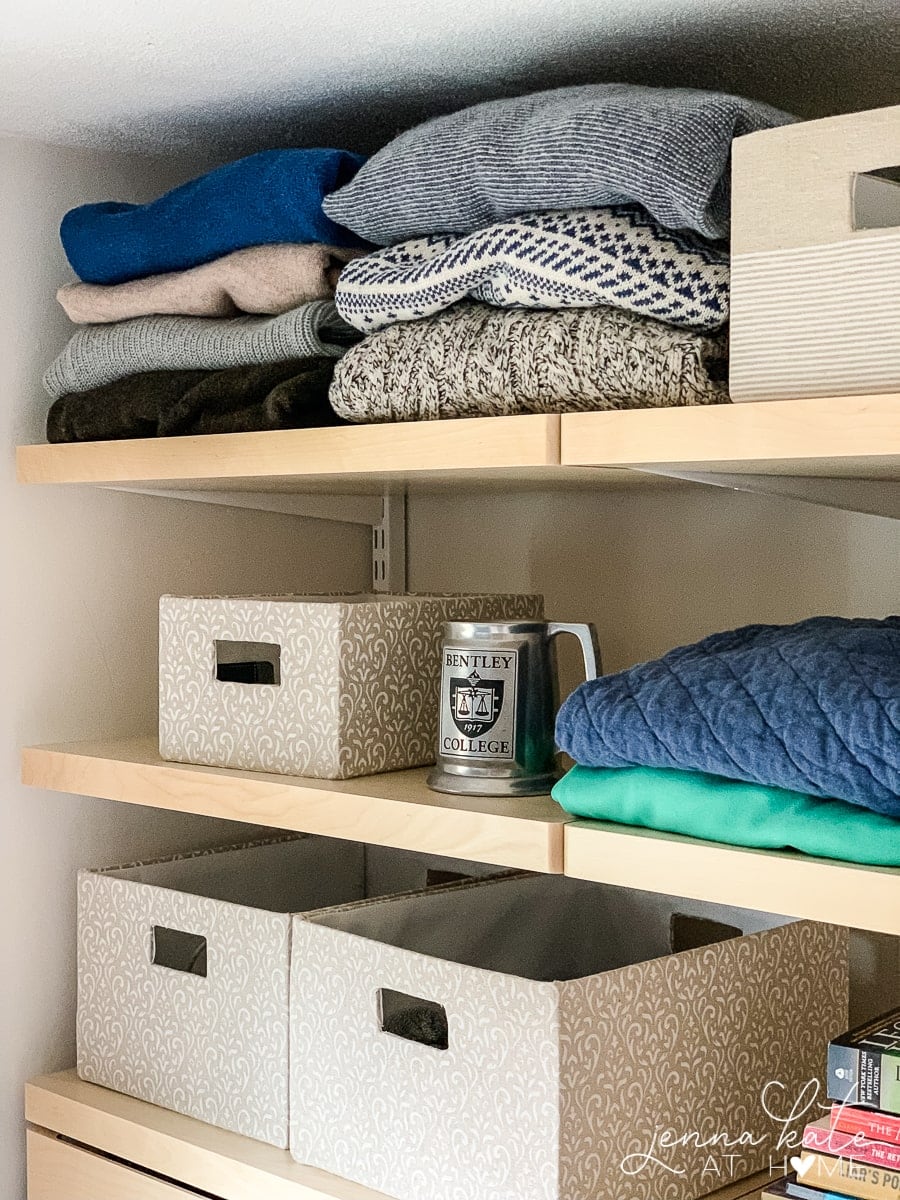 3. Slide Out Pant Rack
Especially if you or your husband has multiple pairs of dress pants like mine does, a slide out pants rack can be a good idea!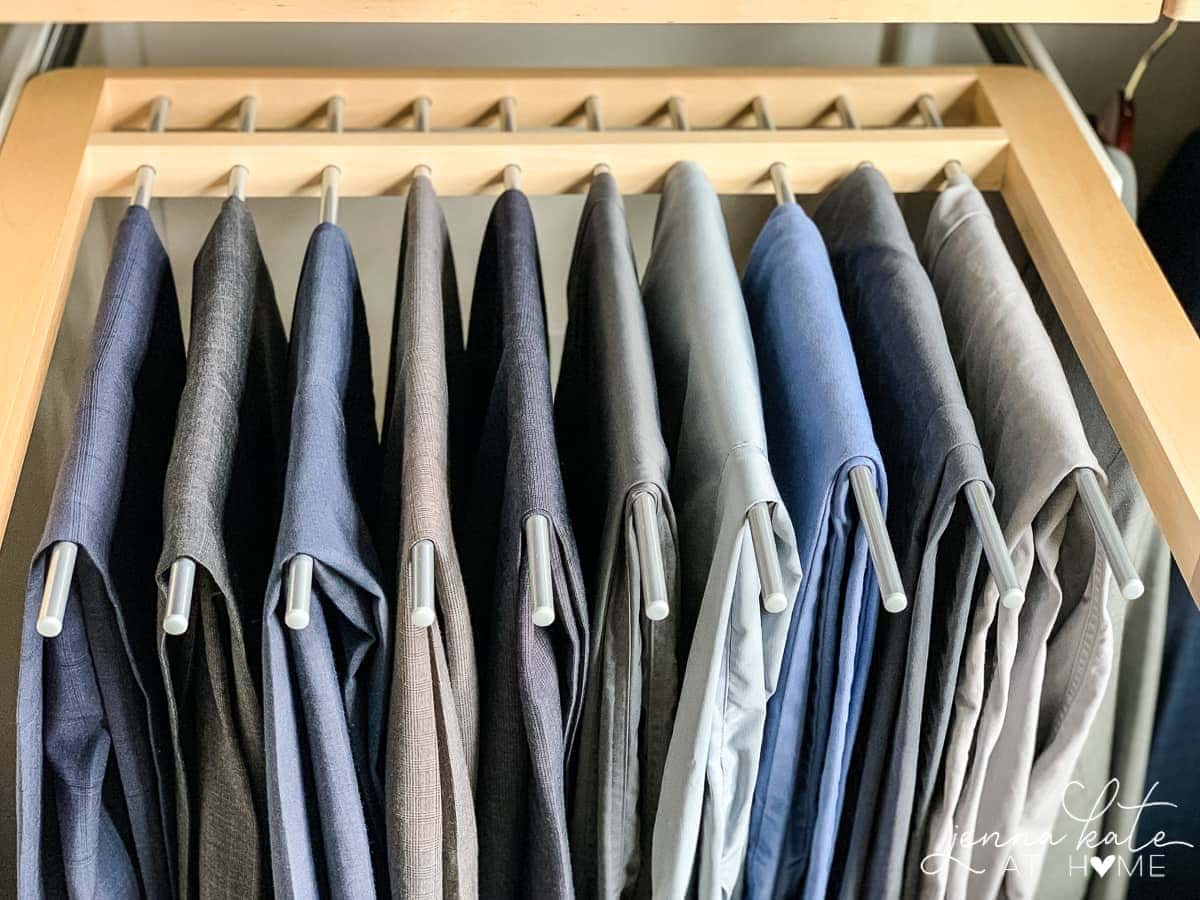 4. Hanging Tie Organizer
Now his ties are no longer draped over a crappy plastic hanger! A great use of space, right?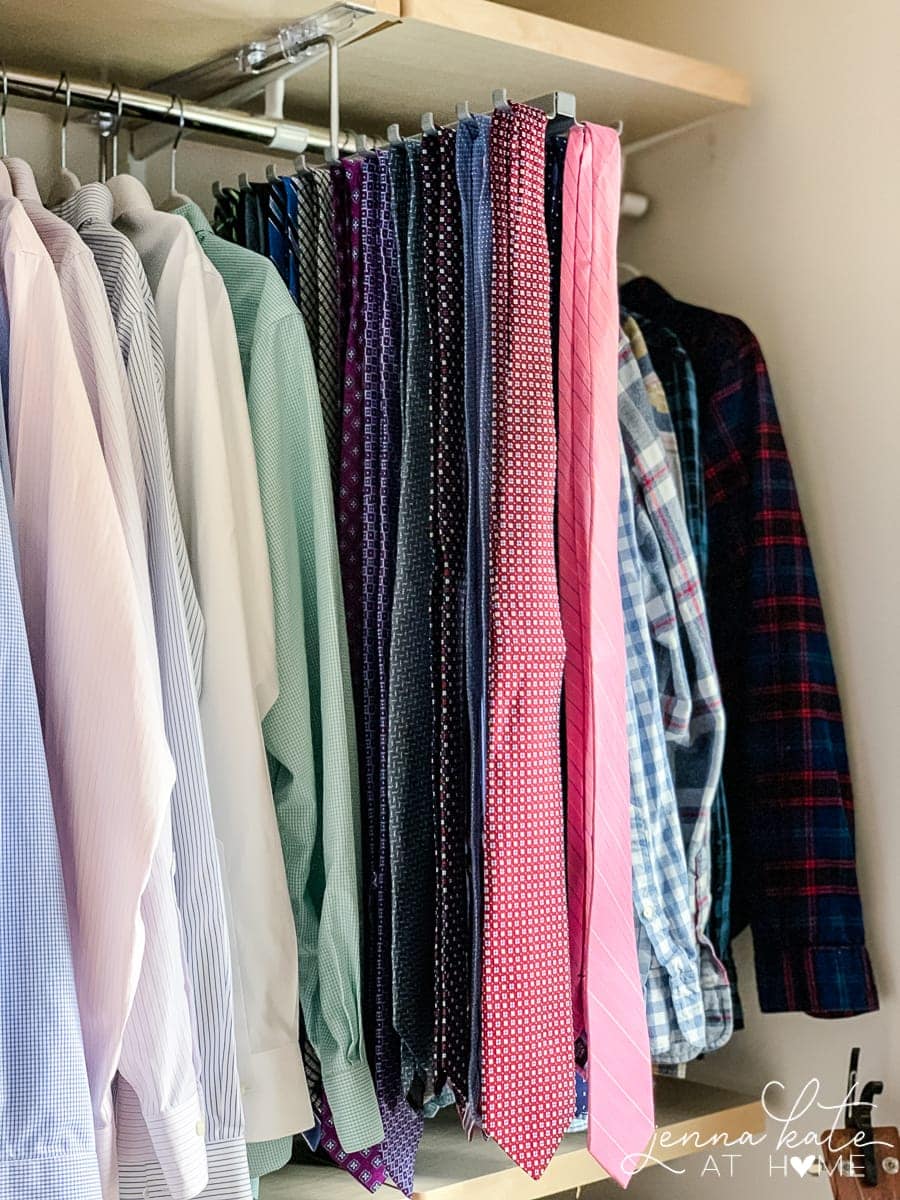 He was so excited when he saw it that he went and bought some new ties to fill up all the hooks!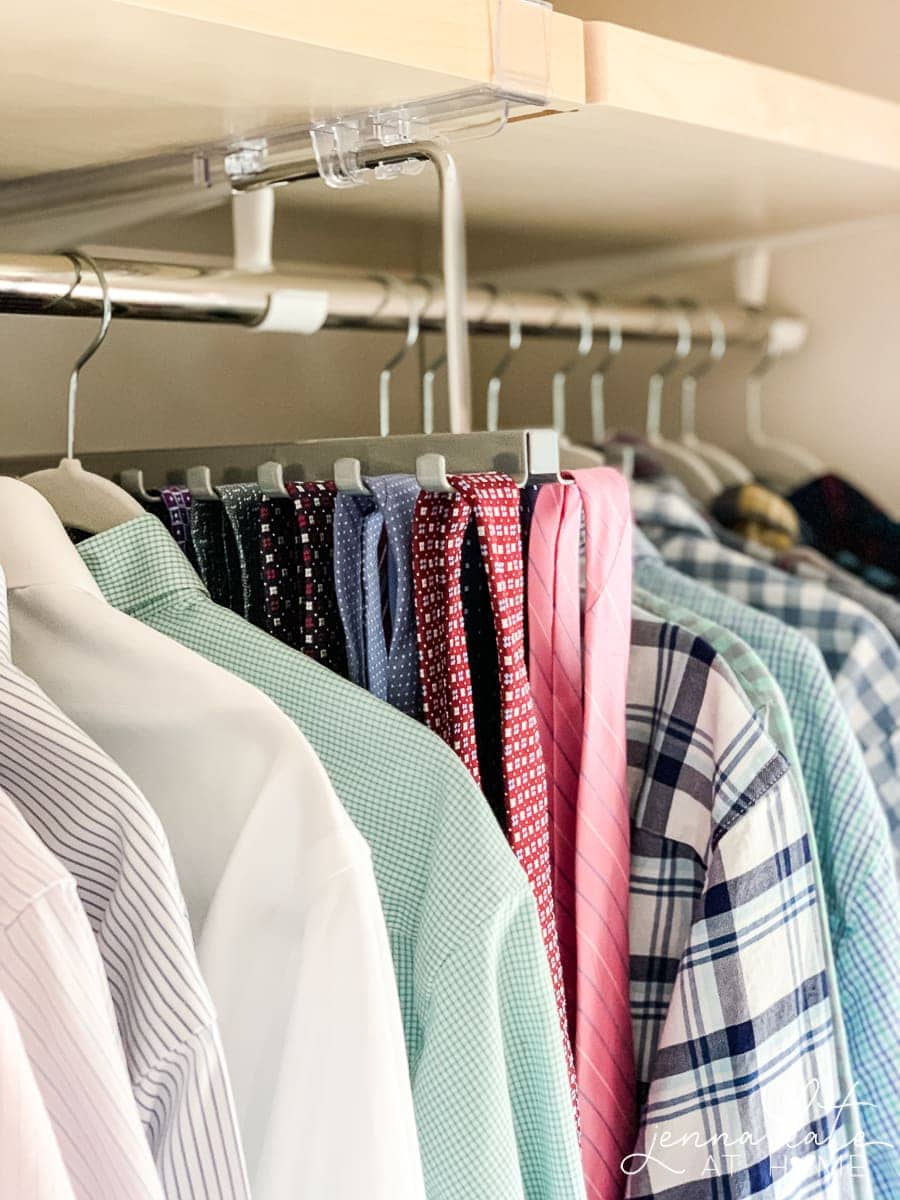 5. Closet Rails
There's three rails in addition to what I've already mentioned, which is ample storage for his work shirts, suit jackets and casual shirts, too.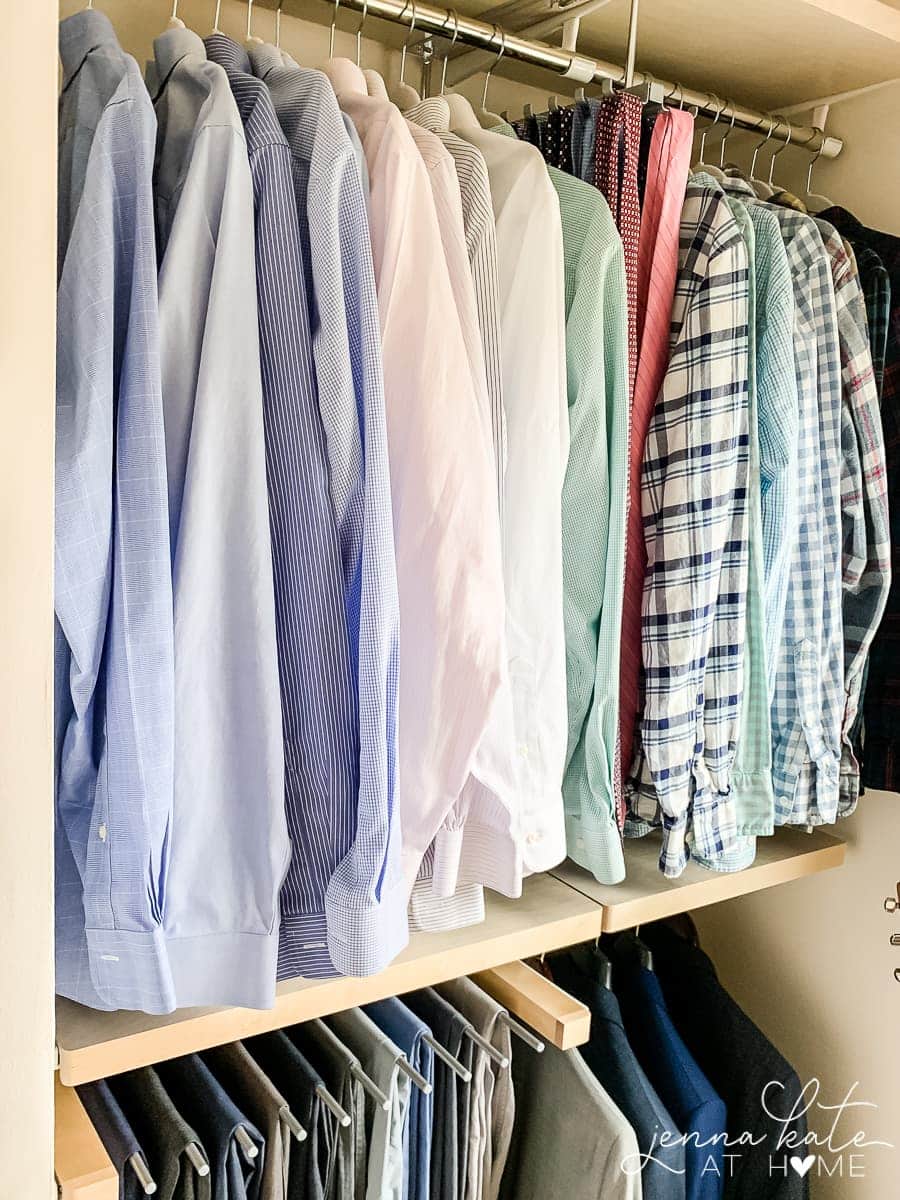 6. Drawers and Shelving
On the opposite side of the room, we focused on adding drawers and shelves for more storage space.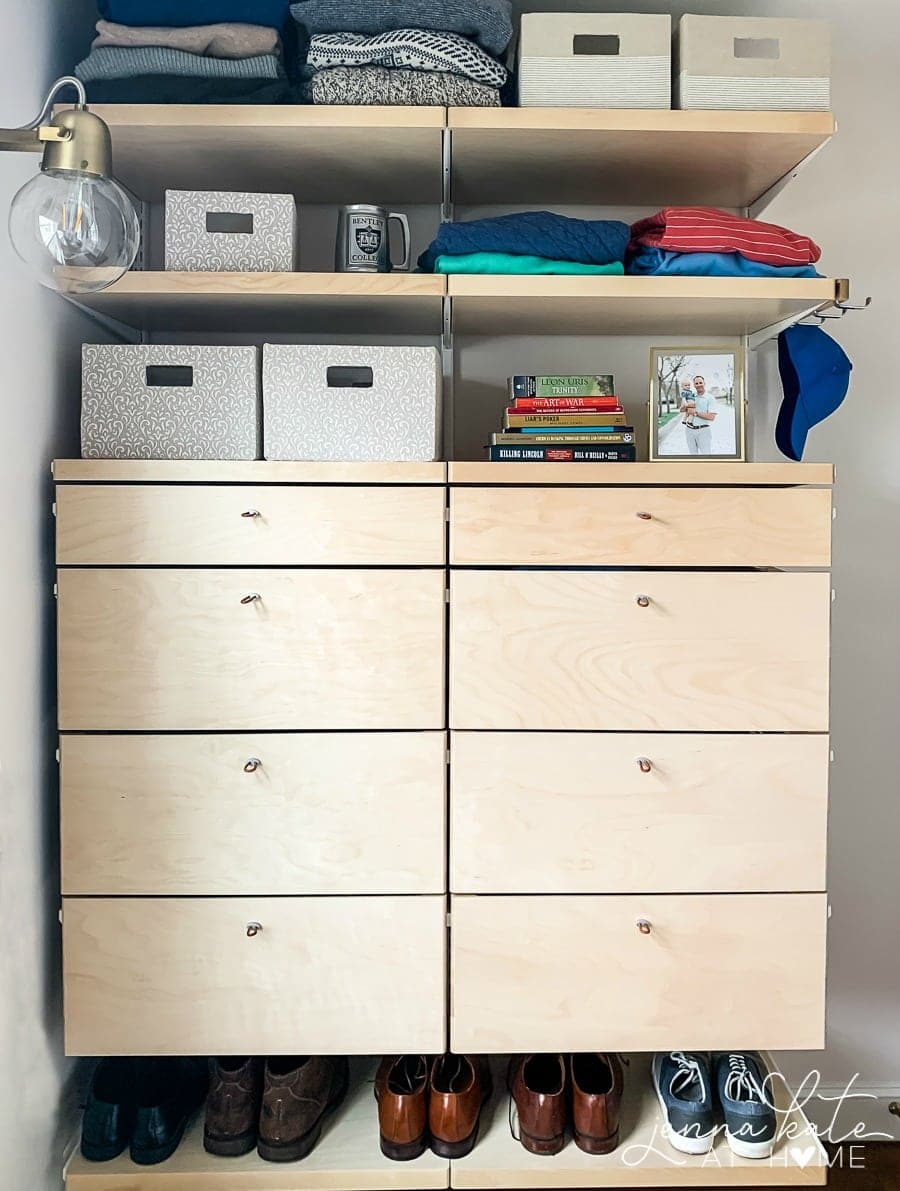 The drawers are home to socks, underwear, undershirts, t-shirts, shorts, sweatpants and sweatshirts. The majority of sweaters have been packed away after the winter but a few remain folded on the shelves.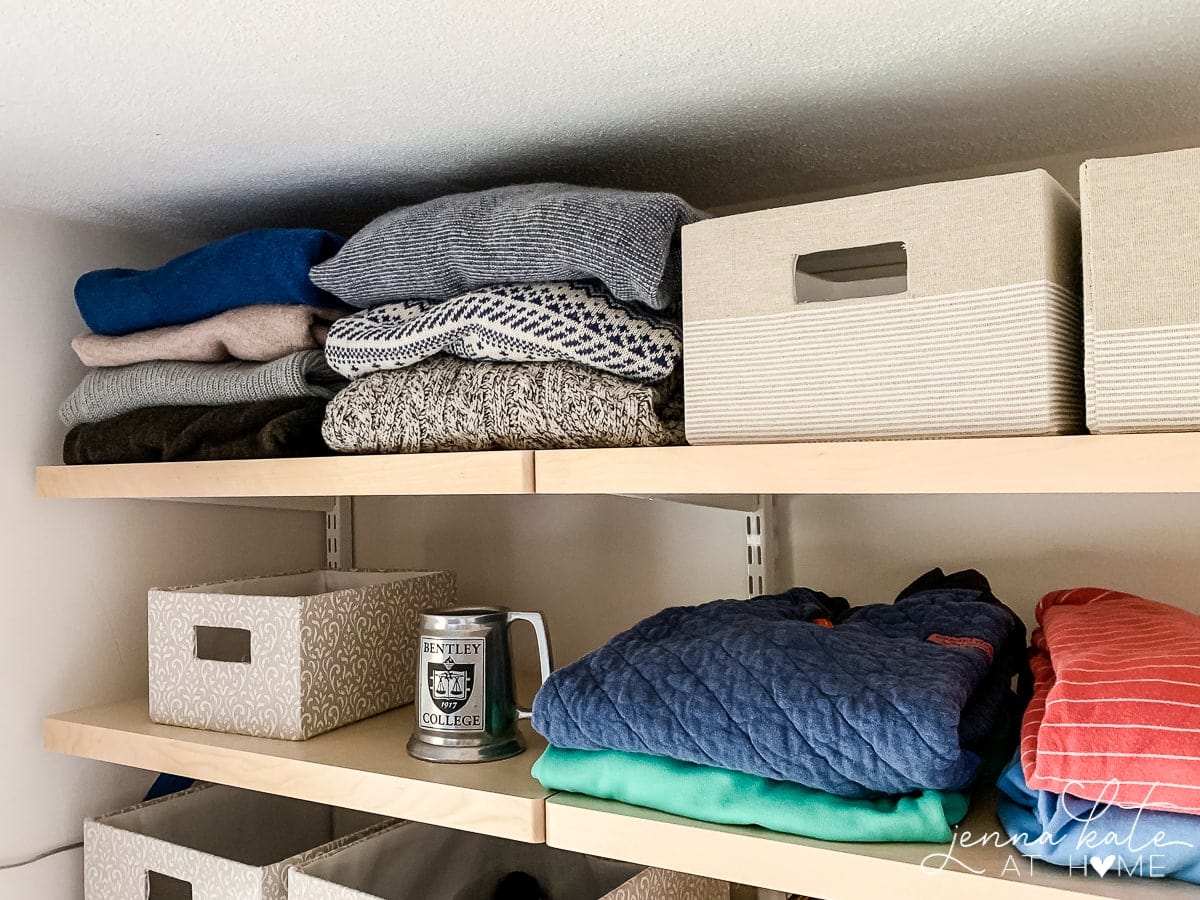 7. Shelf Hooks
Speaking of shelves, adding hooks on the sides of the shelves is a great place to hang extras, like baseball caps or backpacks.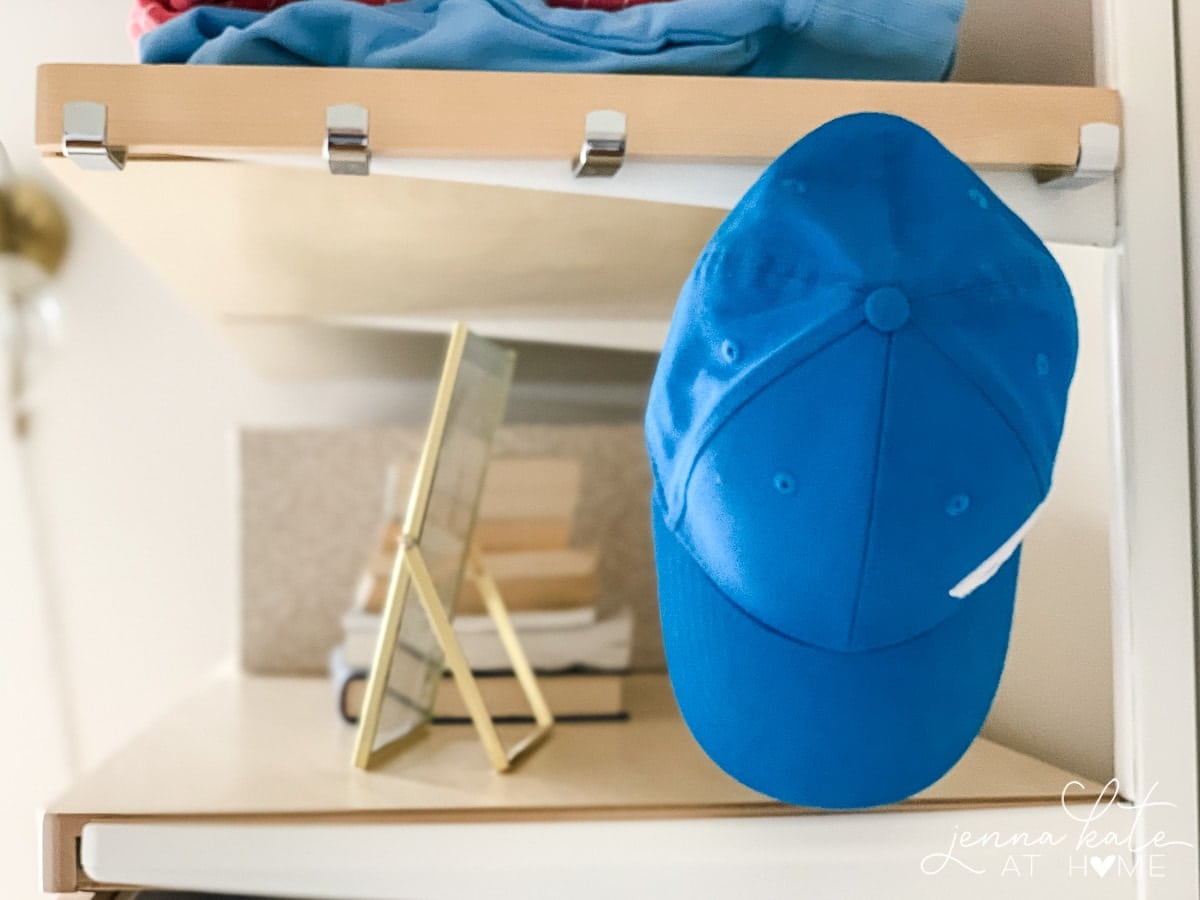 The drawers and shelves have birch wood fascia which really looks so much better than just having standard white wire baskets or plain shelves.
The leather pulls are a fun finishing touch that really elevates this small walk-in closet to a pretty stylish walk-in closet, if I do say so myself!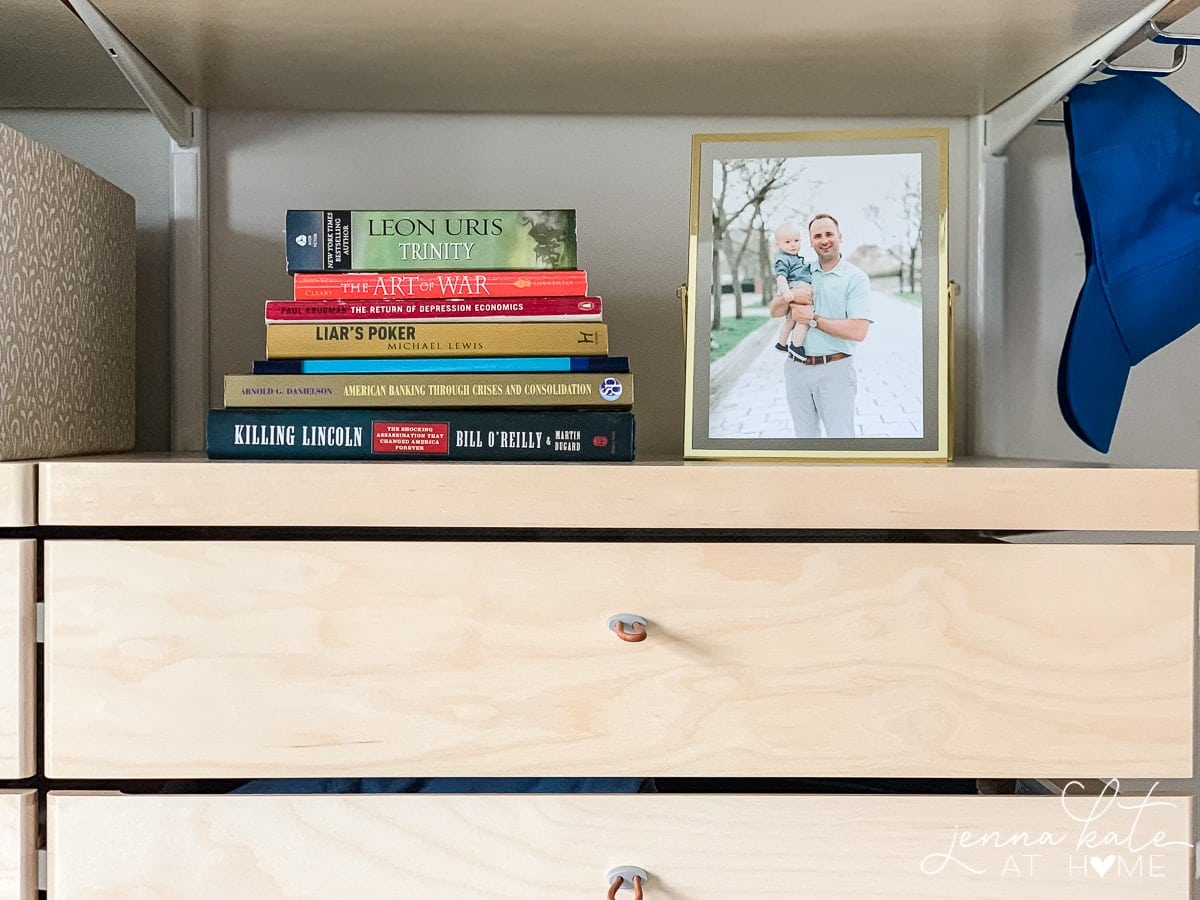 8. Cozy Rug and Bench
In order to add a little pretty to the space – although, it was pretty darn pretty before I did anything – I added a small bench and a soft, cozy rug.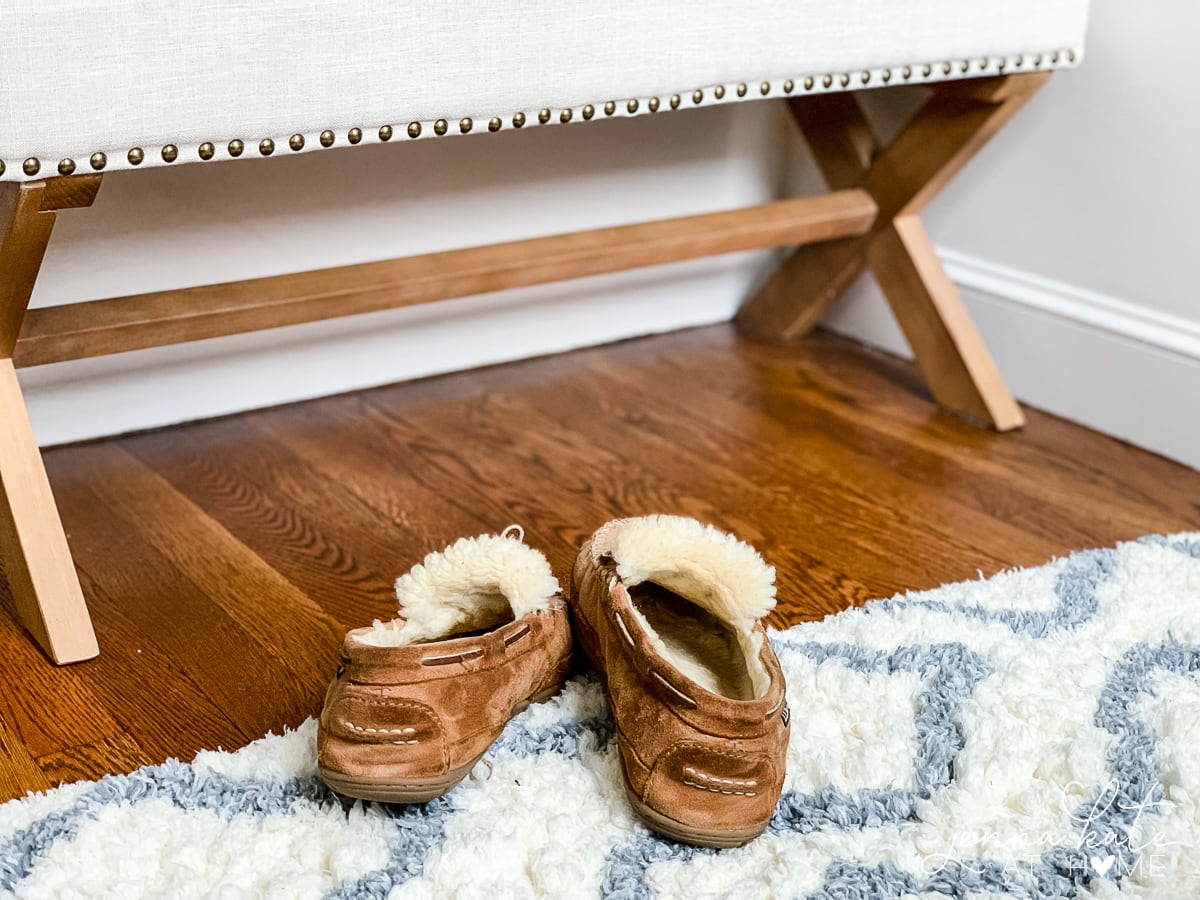 9. Lighting
And while this room is not wired for a light fixture, we solved that problem by installing a plug-in sconce on the wall. The cable is tucked over to the side and secured with command strips for a cleaner look.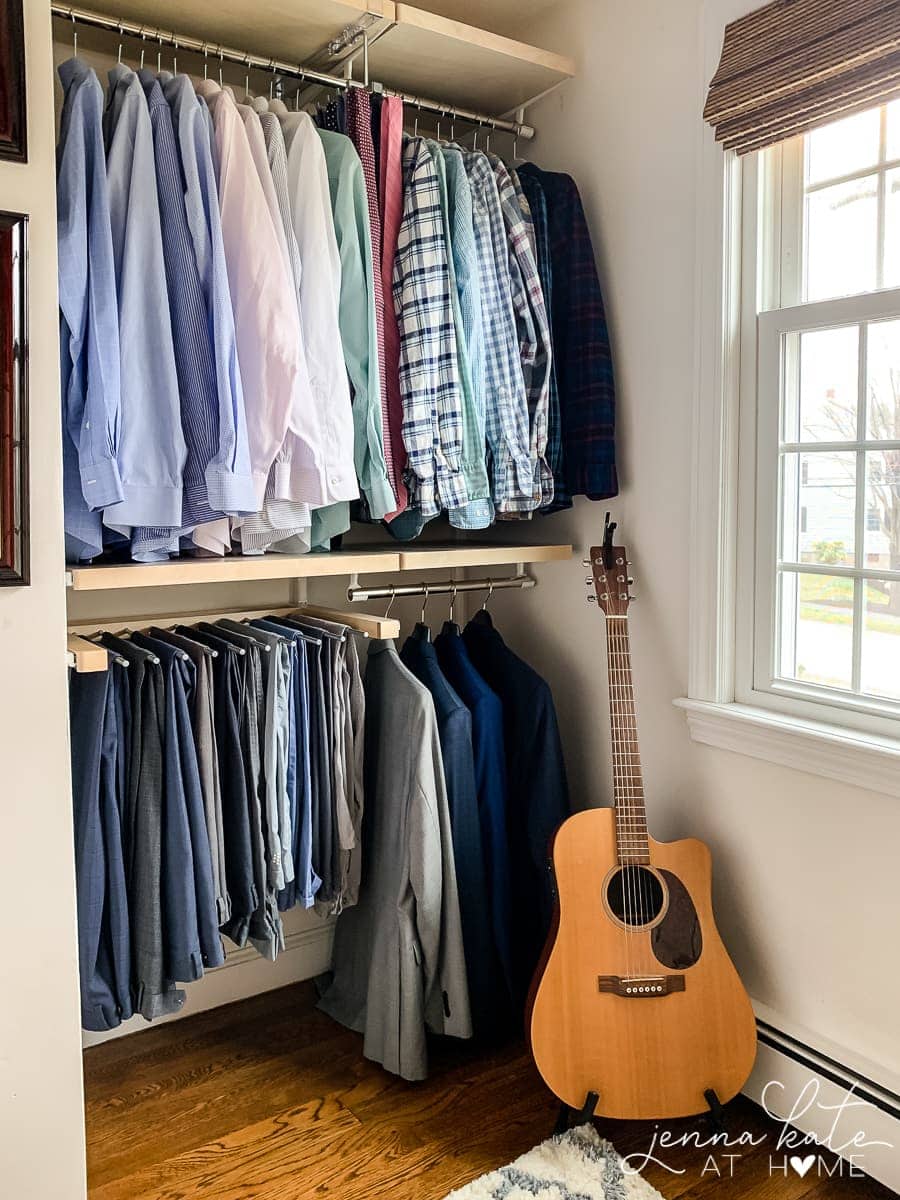 Plus, I wanted the natural light to flood in as well so I left the window pretty open without any huge curtains or distractions.
10. DIY Elfa System Installation
While I had this closet system installed, it's actually a very easy DIY project. You don't have to be an interior designer to accomplish this task! I've installed a bunch of these ELFA systems in the past, and they all work the same. The only thing that's actually secured to the wall is the top right and then the vertical bars hang off that.
So, if you're looking to install something similar and don't want to fork out for installation, know that it's completely do-able as long as you know how to screw some drywall anchors into a wall!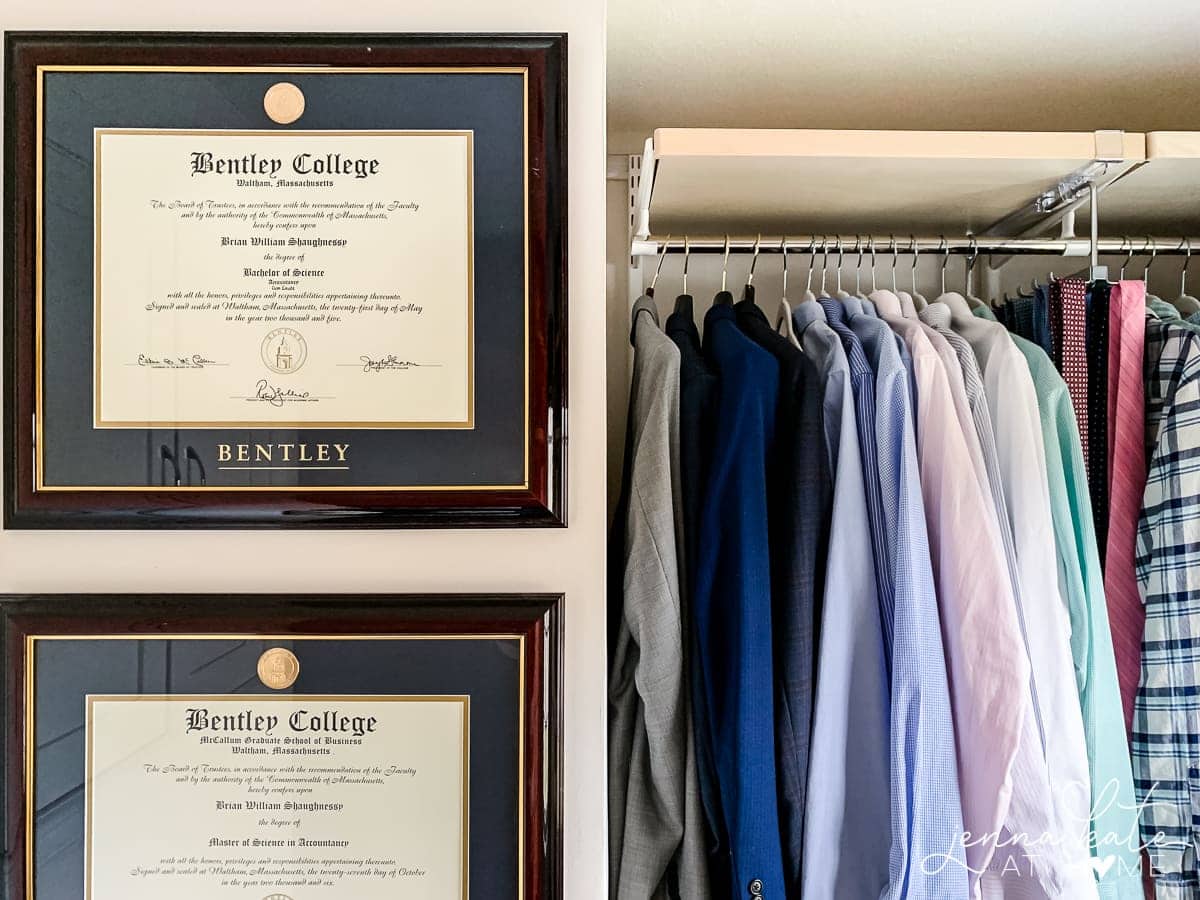 What a transformation, right? Between the added drawers, slide-out pants rack, tie organization, and accent hooks this closet has turned into a functional, elegant, and optimized space.
Additional Small Walk In Closet Ideas
Now, if you're itching for even more ideas on what to do with your small walk in closet, here are a few other good ideas! All of these beautiful closets are by talented DIYers, designers, and everyday bloggers.
11. Shoe Storage Rack
If you're at a loss for what to do with shoes, try finding shoe shelves that will fit nicely in an unused part of the closet. I love how AnnMarie utilizes every inch of this closet makeover to fit shelves, shoe racks, and hooks for hats or scarves overhead.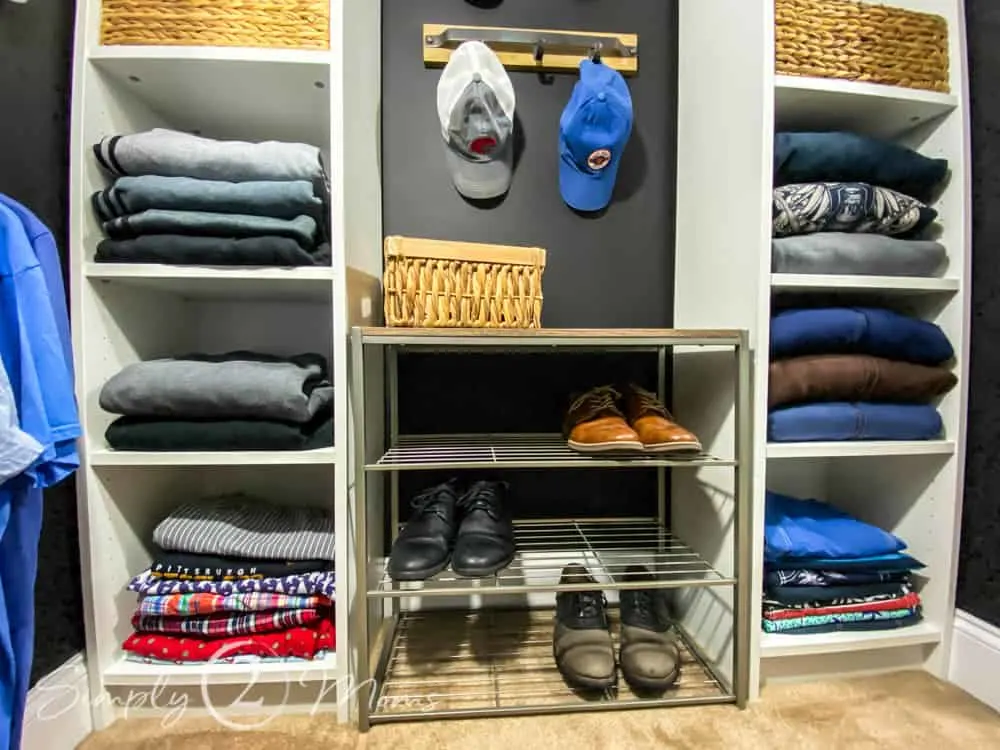 12. Full Length Mirror Door
If you don't have a lot of extra wall space, attach a full-length mirror to one of your storage cabinet doors! This doubles as a mirror and a cover for some of your closet shelves.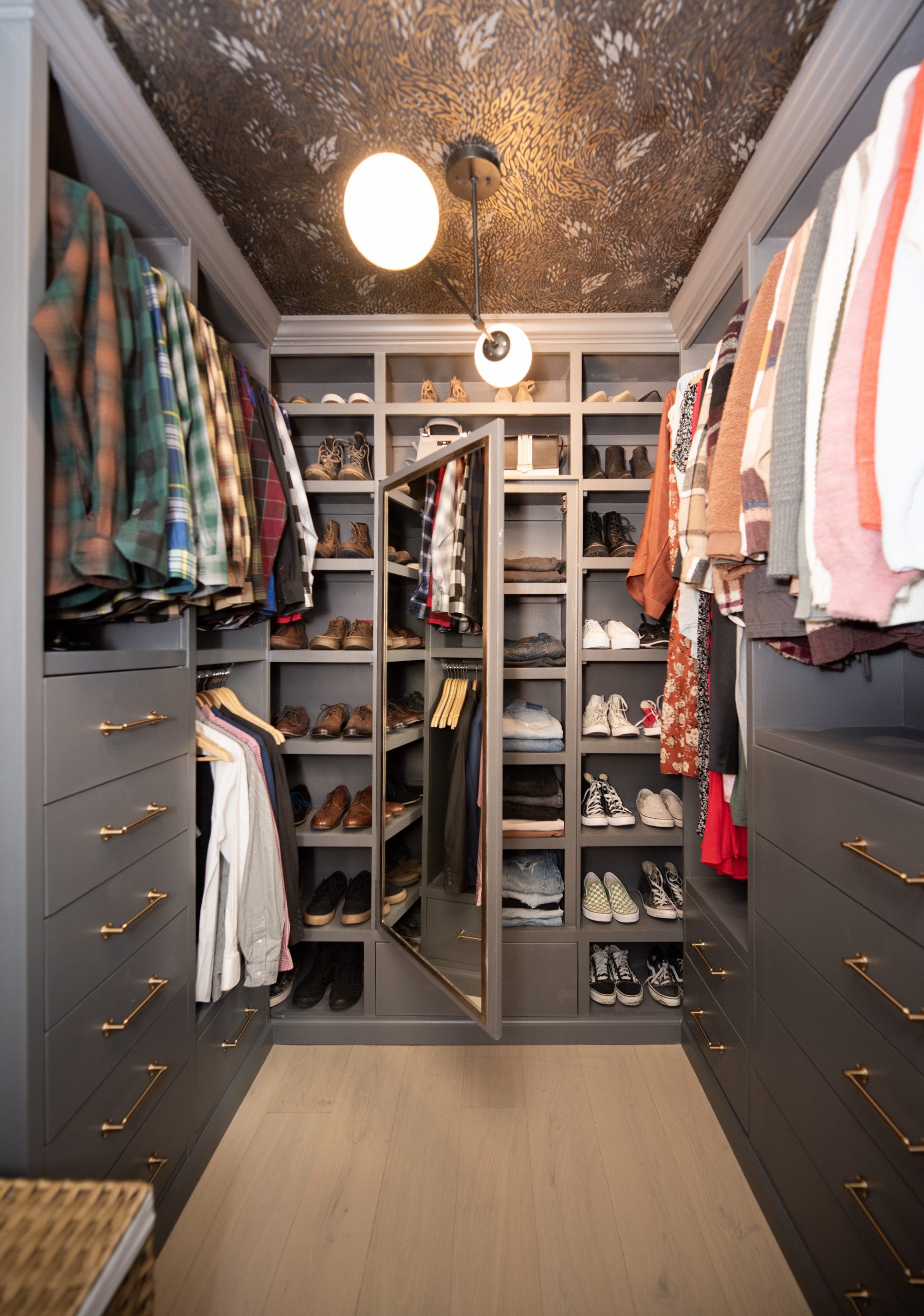 13. Label Baskets
The last thing you want is to be sorting through everything you own just to find that one thing you're looking for. Label as many of the sections or baskets as you can in the closet for easy access!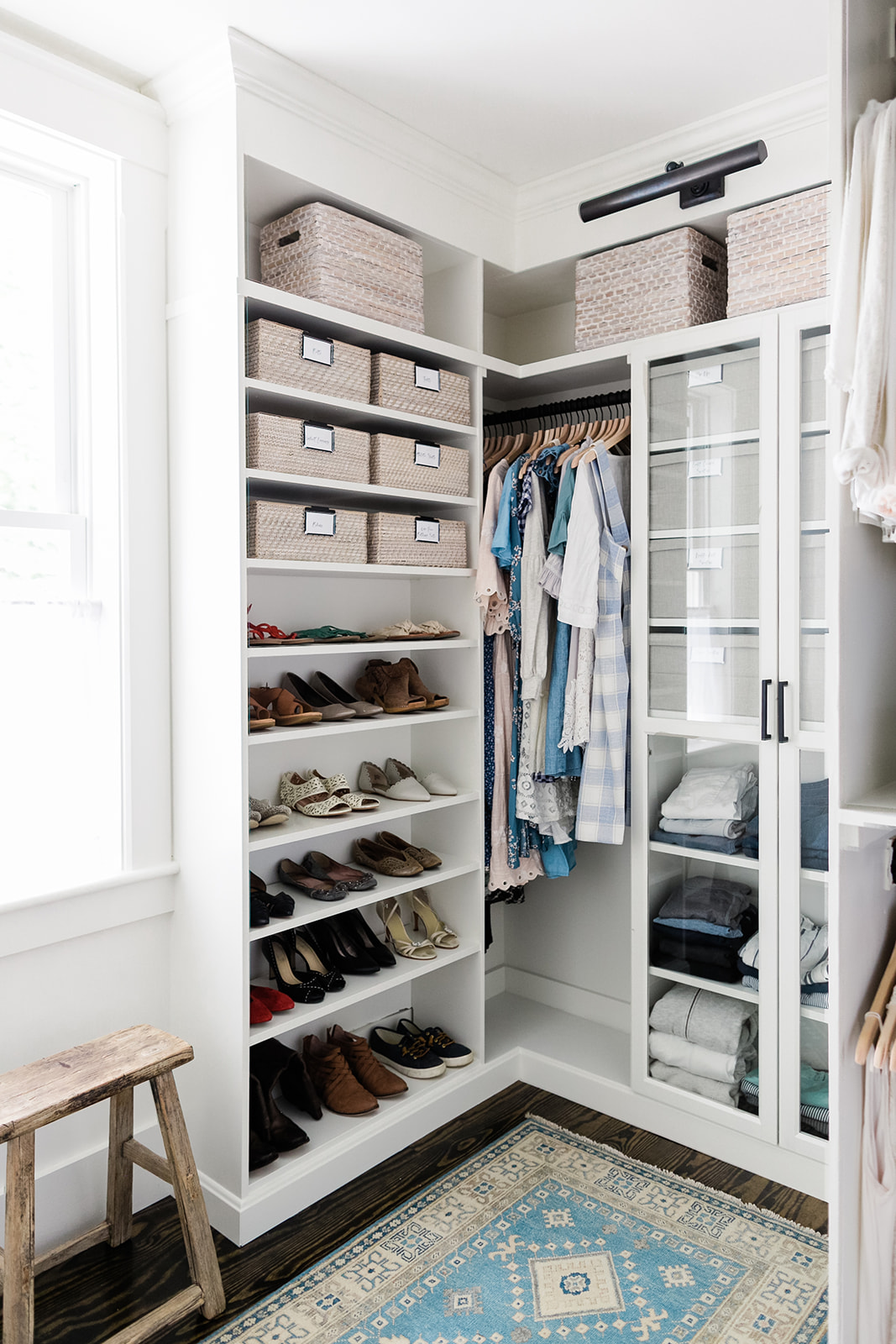 14. Go Vertical
If you can, try to work upwards into your vertical space. As you can see below, there is extra storage that goes all the way up to the ceiling to keep the middle of the closet free of clutter while storing as much as possible.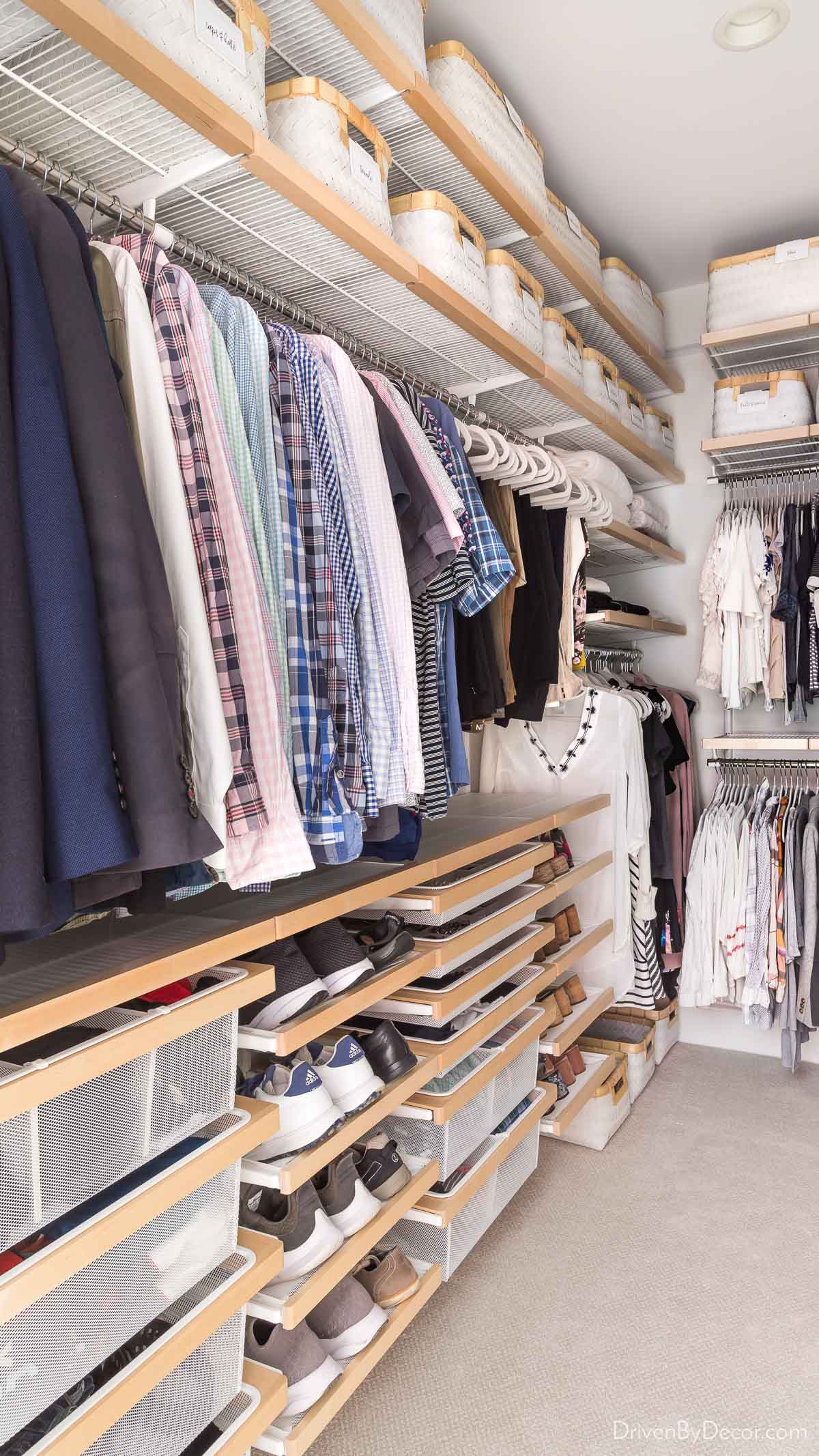 15. Purse Hooks
Use purse hooks to store lots of handbags efficiently. They are also easier to view this way so you can grab your preferred bag each morning quickly!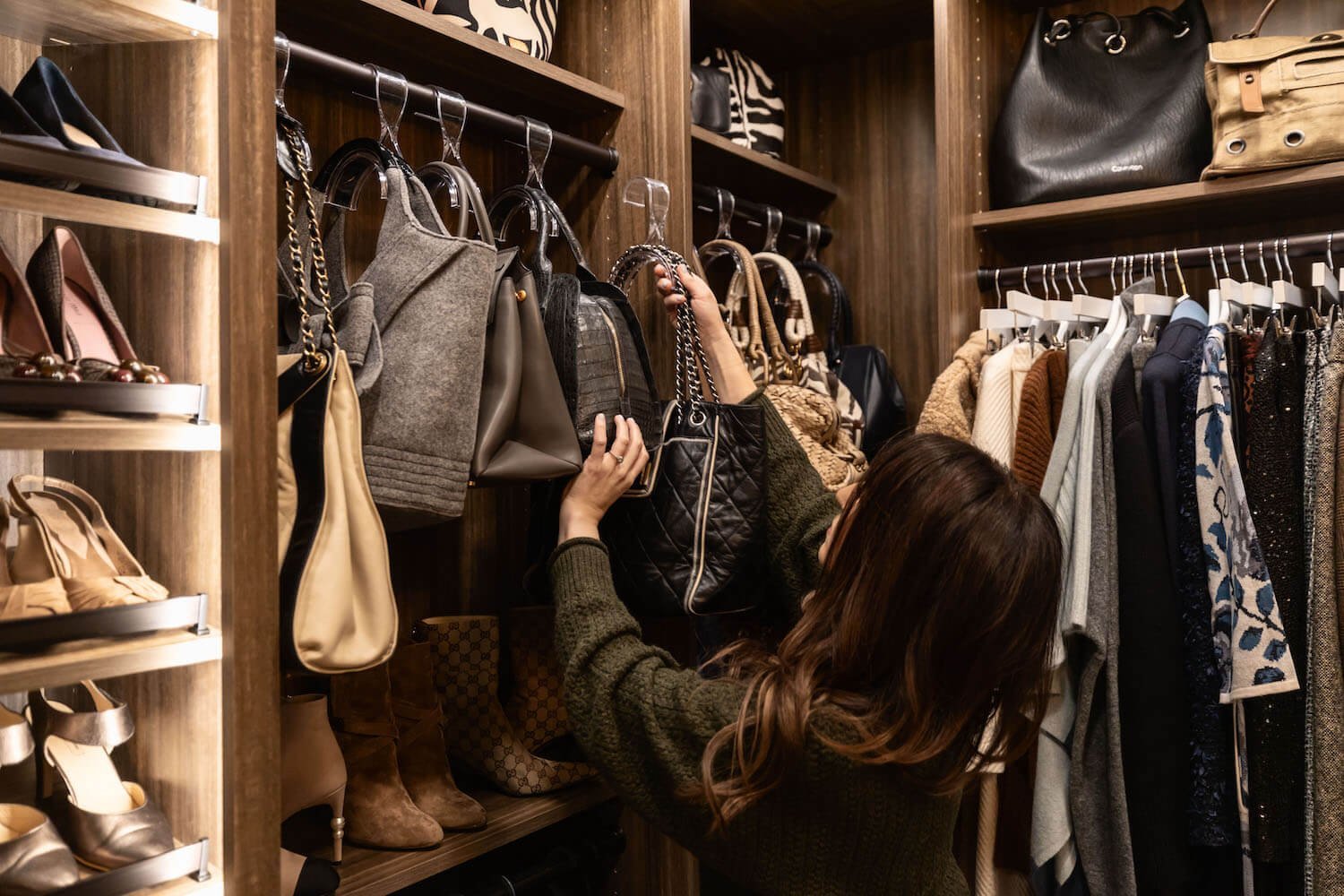 16. Accent Wall
So, you don't have much space or a big budget? Don't worry! Simply adding an accent wall to one side of the closet or the back wall totally changes up your tiny walk in closet.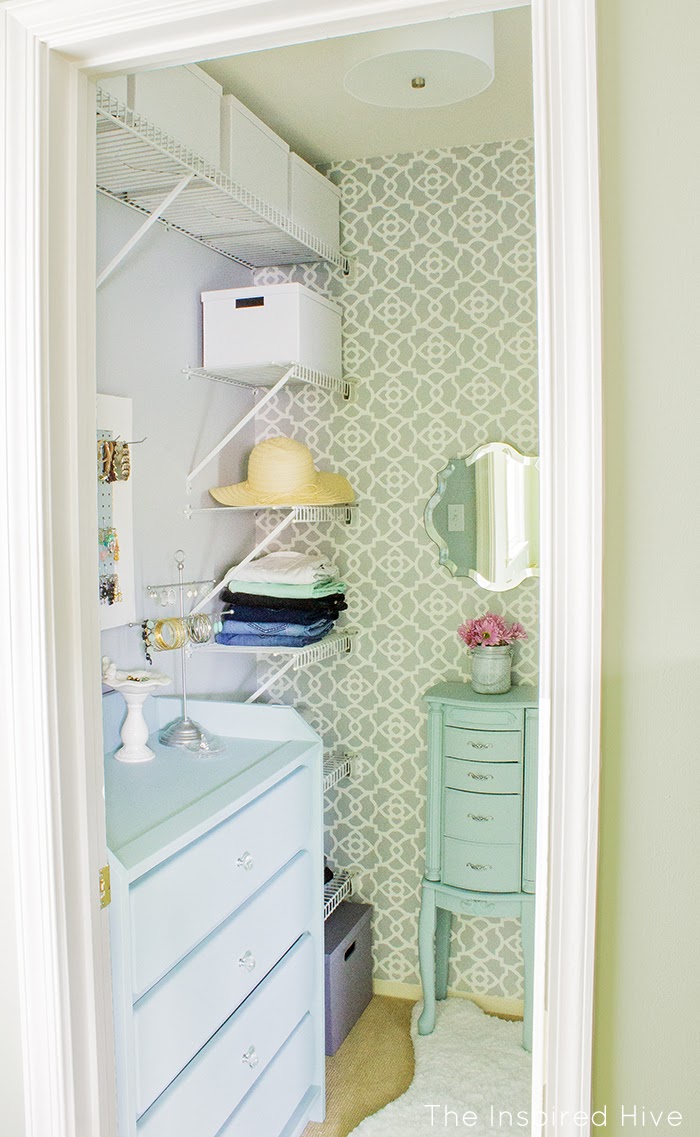 17. Acrylic Dividers
Sweaters, pants, or athletic wear can easily be stored on a shelf and separated with acrylic dividers for an inexpensive way to keep things organized.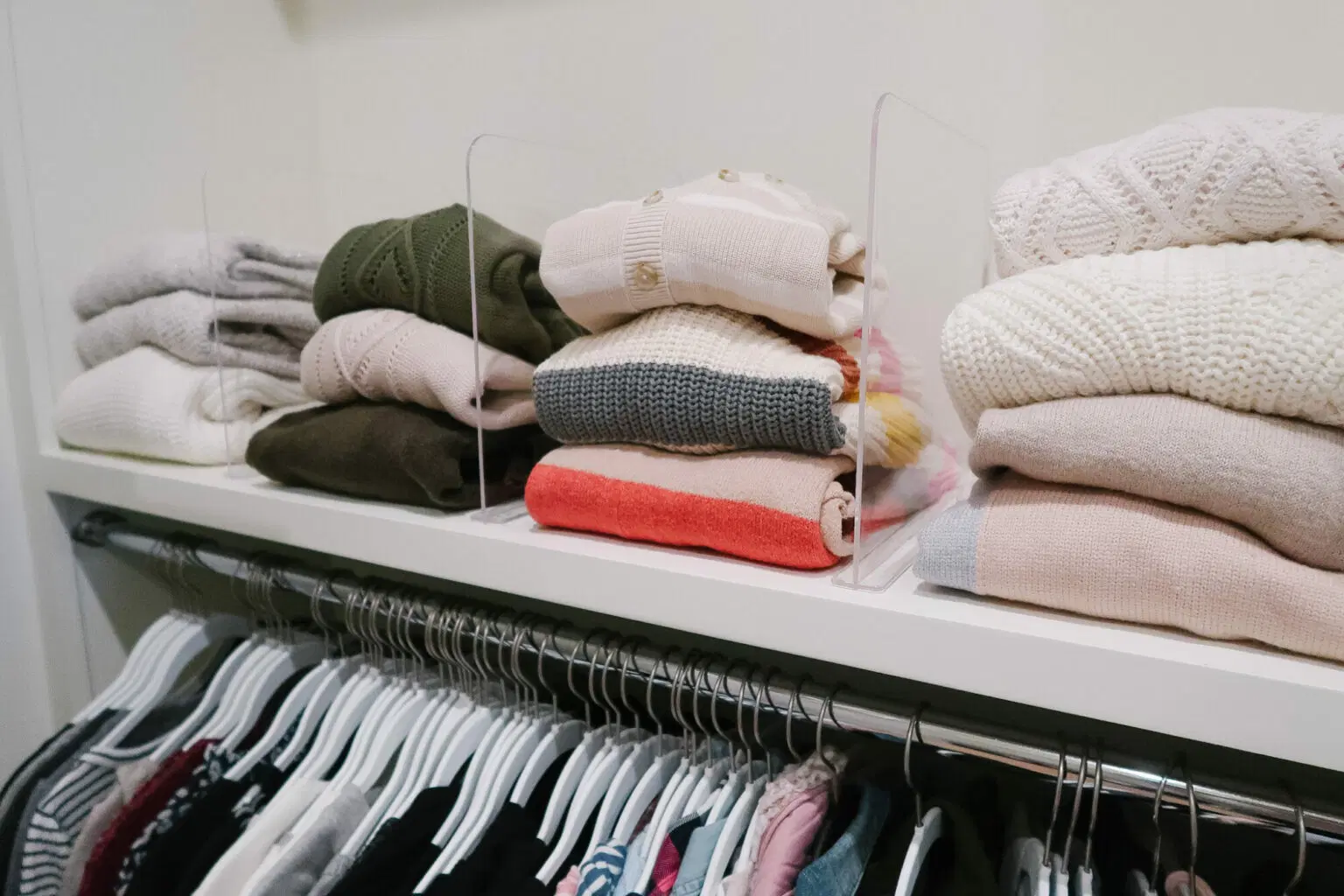 18. KonMari Folding Method
Make the most of any drawers in your walk in closet and fold items using the KonMari Method. I've found this to be one of the best ways to maximize space. This will save you oodles of room!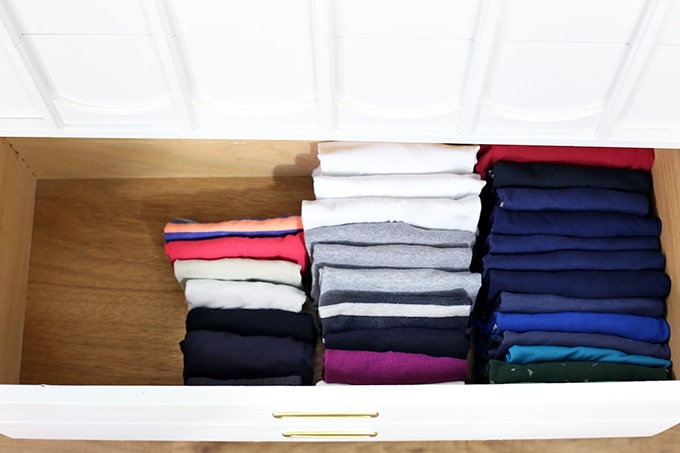 19. Matching Hangers
Upgrade all of your hangers to match. There is nothing more disorganized looking than a billion different style hangers all mushed together in your closet. Donate all the old ones and buy enough of one style for all of your items.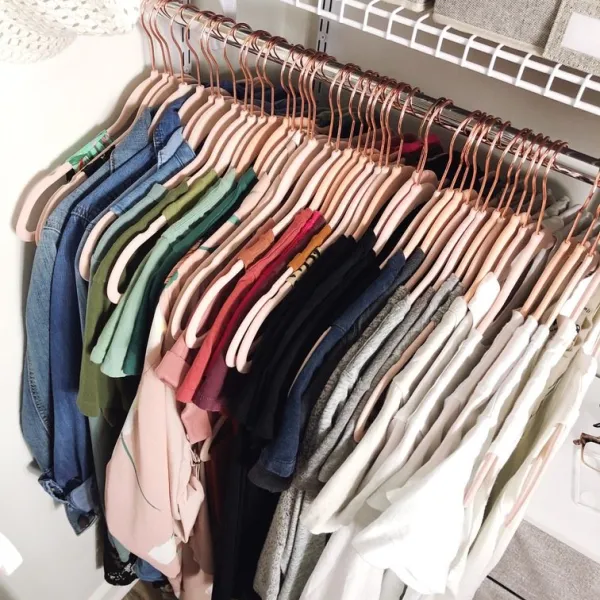 20. Drawer Organizers
If you still don't have enough space, use drawer dividers to further organize the inside of those dressers sitting in your closet.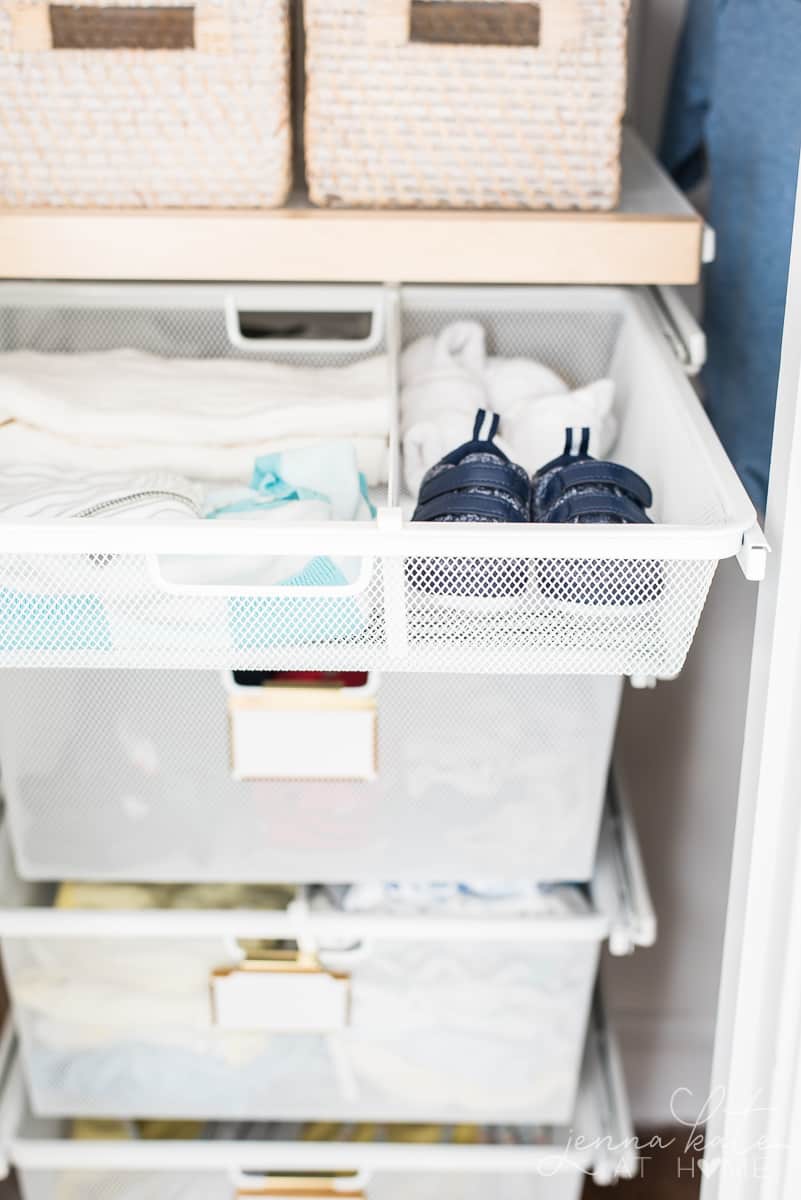 Final Thoughts
Whether you've got a grand master bedroom closet or a tiny, practical walk in closet, you can create a functional space for your and your spouse.
By thinking strategically about the space you have to work with, the types of clothing and extras you'd like to store, and how practical you'd like the design to be, you'll have a beautiful closet in no time.