Sherwin Williams Pure White SW 7005 is considered one of the best white paint colors for interiors. It's bright and clean without being stark and cold – a great white for walls, trim and cabinets.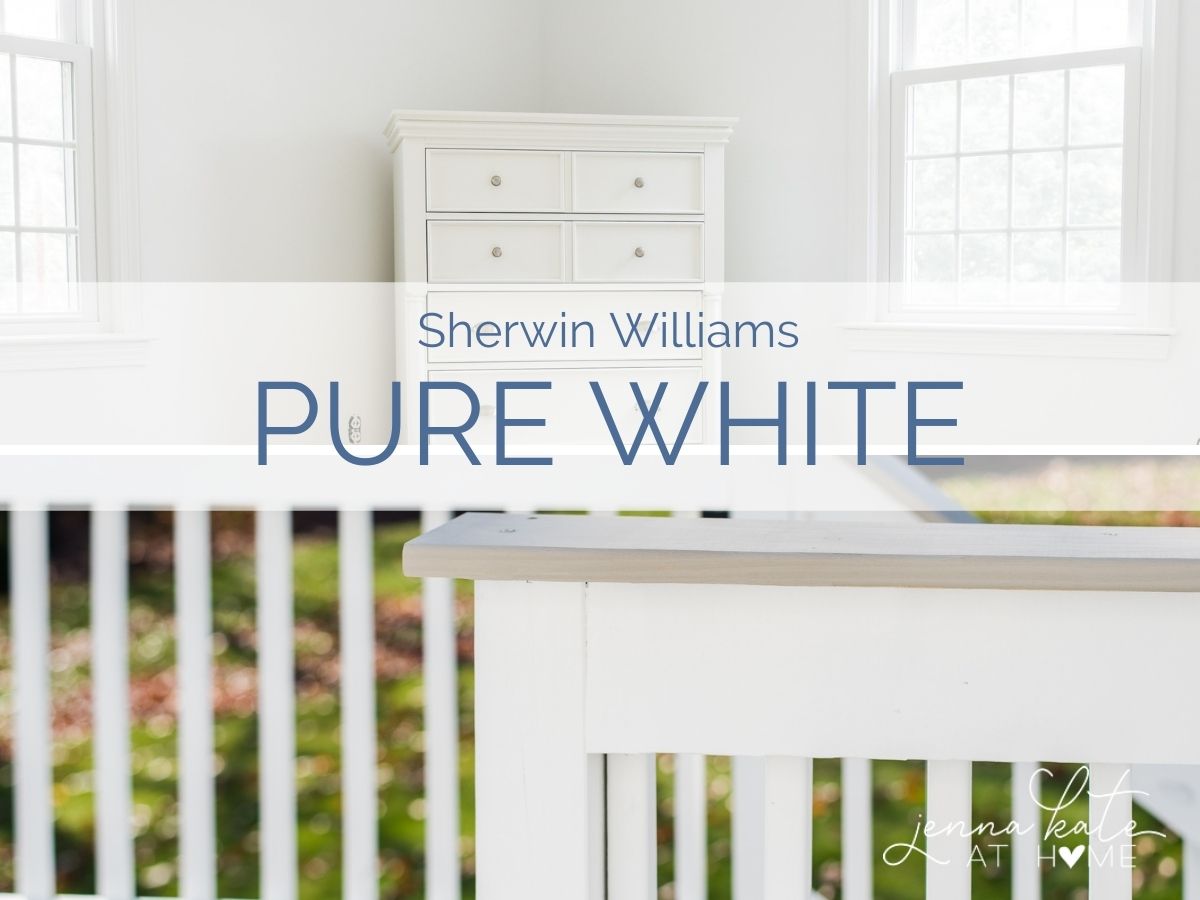 Every day I get questions about the "perfect" shade of white for walls, trim and doors. While there's no perfect color that will work for everyone, Sherwin Williams Pure White comes close to it, thanks to how versatile it is.
If you're looking for a bright white that looks soft and works with both warm and cool colors, Pure White is an excellent choice. In fact, since we remodeled our kitchen a few years ago, we've slowly been repainting all our trim and interior doors this color (which were previously BM Decorator's White and then SW Extra White).
What Color is Pure White?
While pure white is, as the name suggests, a pretty pure white it does not at all feel cold and stark and has barely any undertones.
It's considered the best white paint for interior doors, trim and moldings, and interior walls due to its soft color.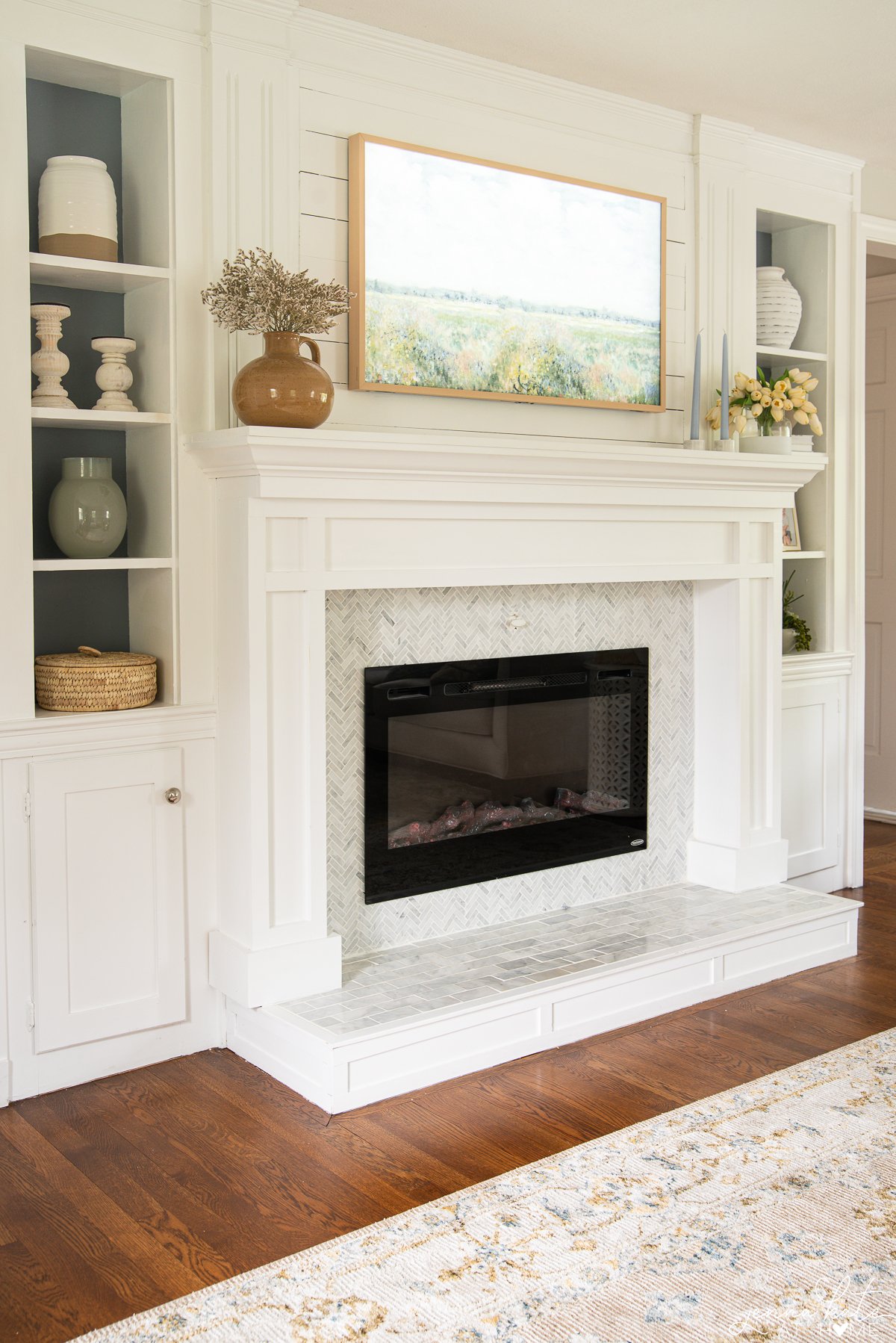 What is The LRV?
Firstly, let's talk about the Light Reflectance Value (LRV) of Sherwin Williams Pure White. LRV measures the amount of light a color reflects or absorbs. On the LRV scale, a higher value (closer to 100) means that a color will reflect more light back at you and a lower value (closer to 0) means that a color will appear darker, or absorb more light.
The LRV of Pure White is 84, which means it reflects a lot of light, which makes it a soft white color, and not an in-your-face ultra-bright white.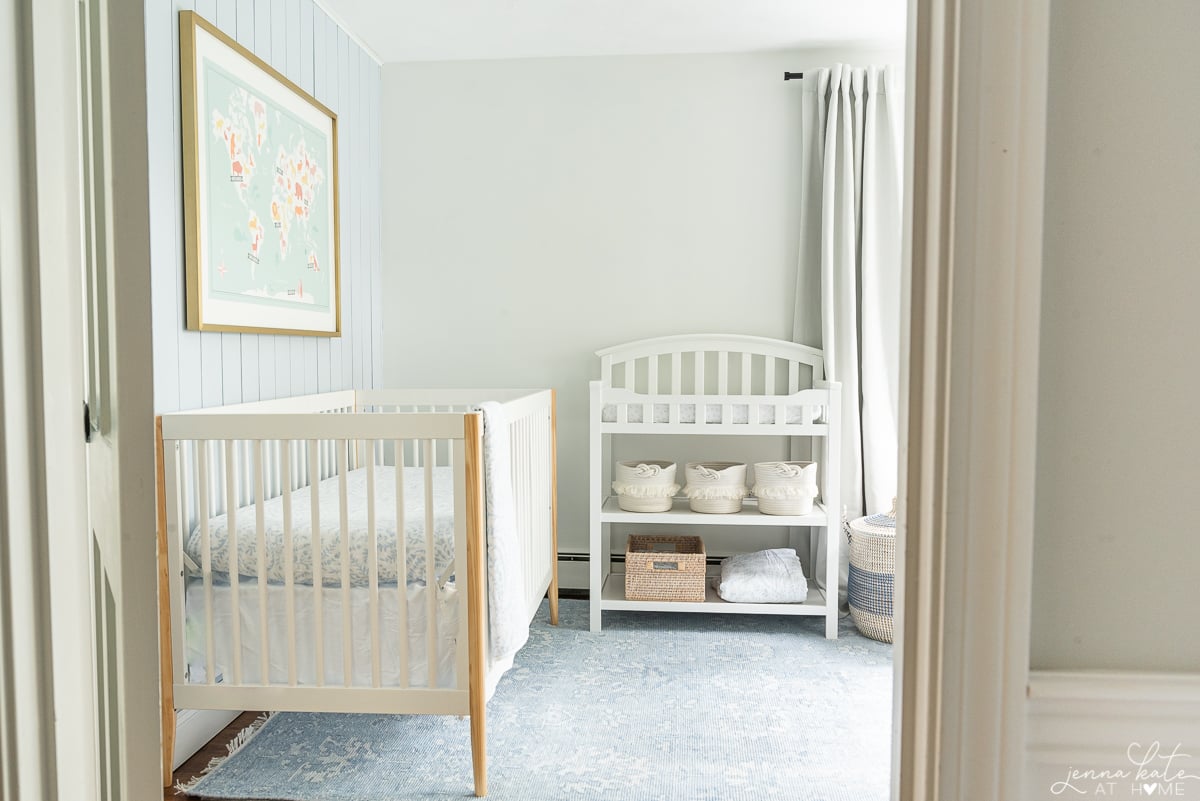 What Are the Undertones of Pure White?
SW Pure White has More has the slightest hint of warmth (touch of yellow) as well as the tiniest touch of gray to offset the warmth.
This slight softness makes it a great option for any design style. It pairs well with cool-toned colors such as blues, greens, and grays and with warmer colors like greige, beige, and tan. This is what makes it such a versatile shade of white.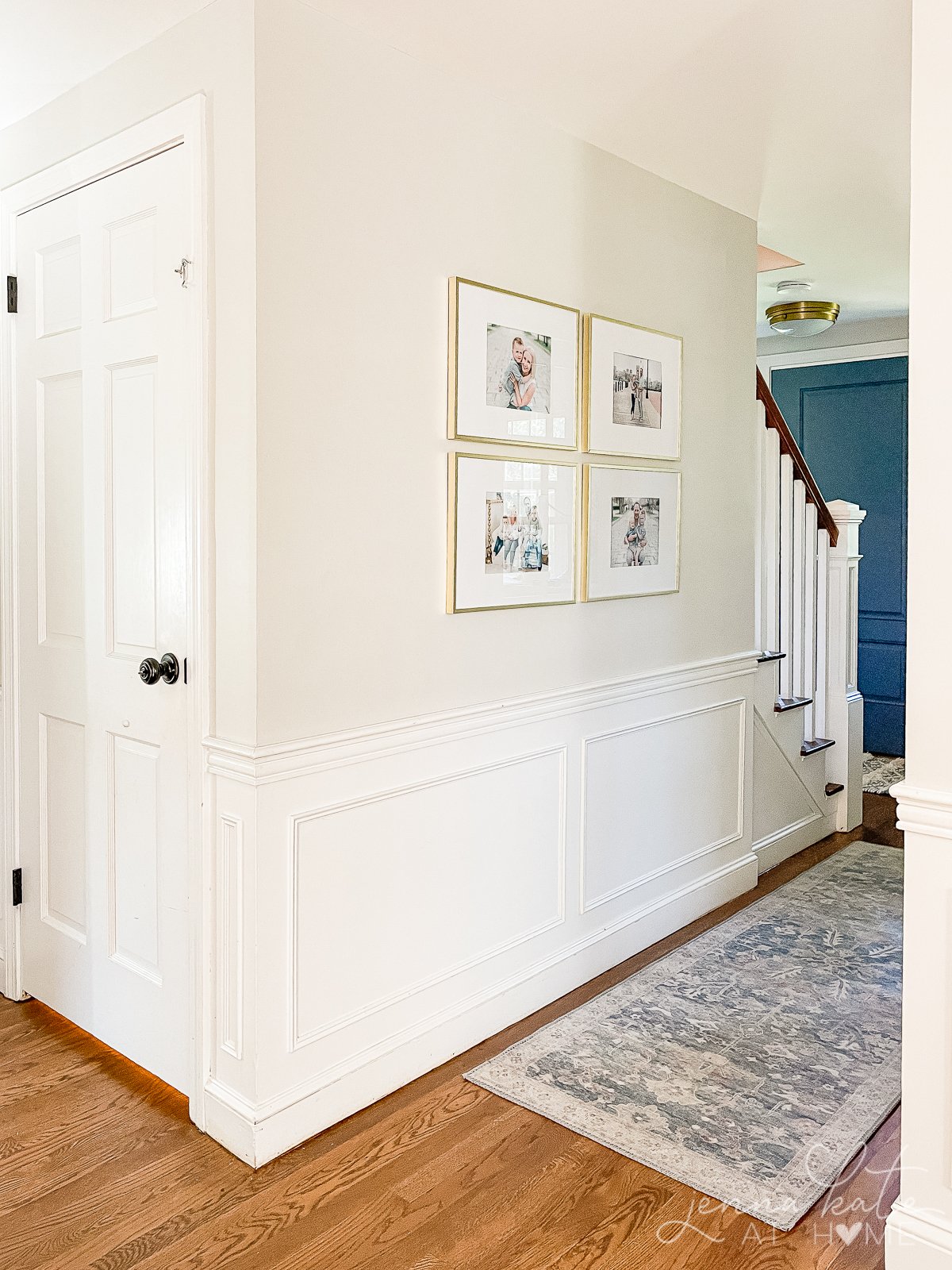 Where Does Pure White Work Best?
Pure White as a trim and door color will work in any room of your home, with any exposure. It doesn't matter whether you have warm south-facing light, only morning light, afternoon light or gray northern light. It's an excellent, versatile choice for a soft warm white.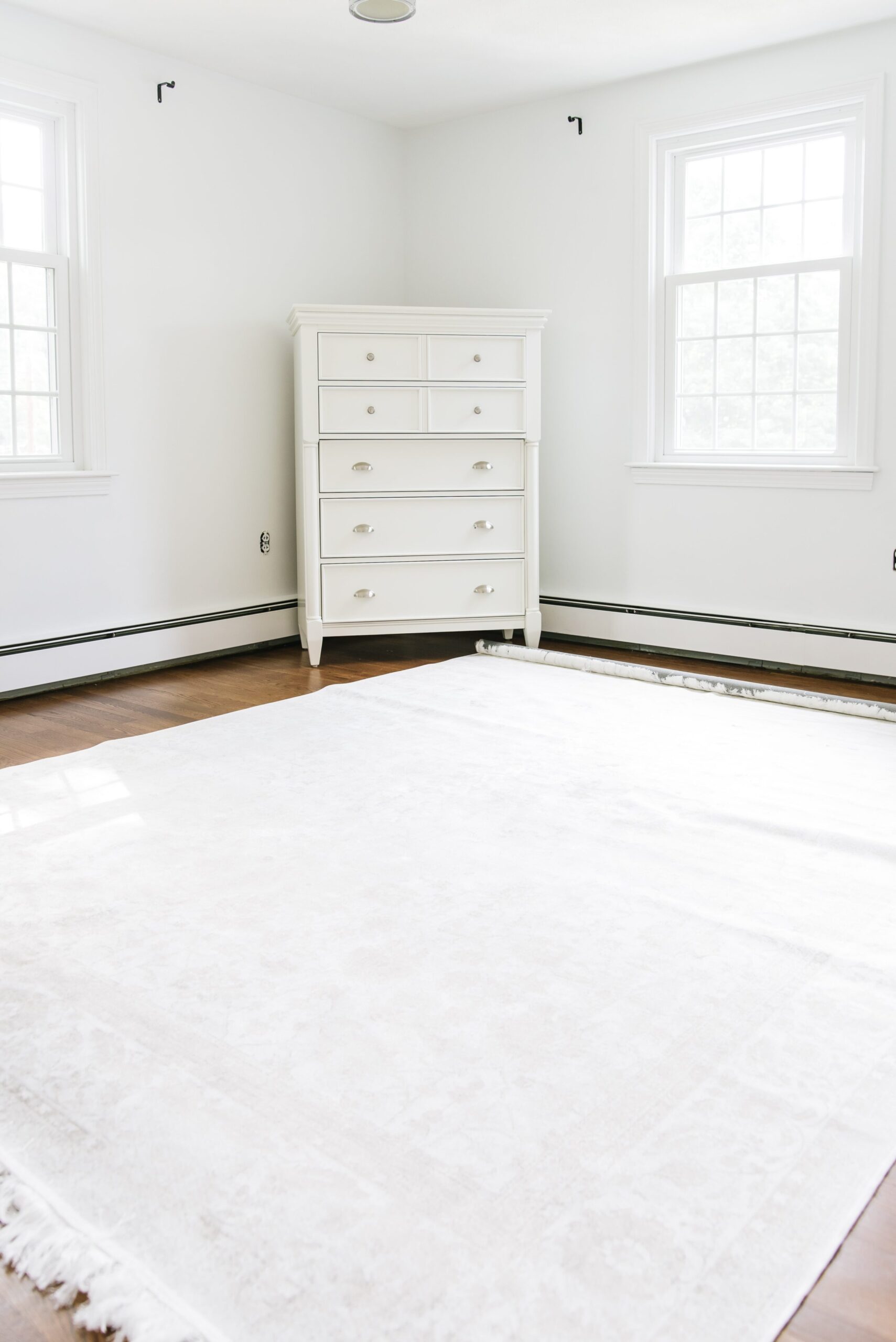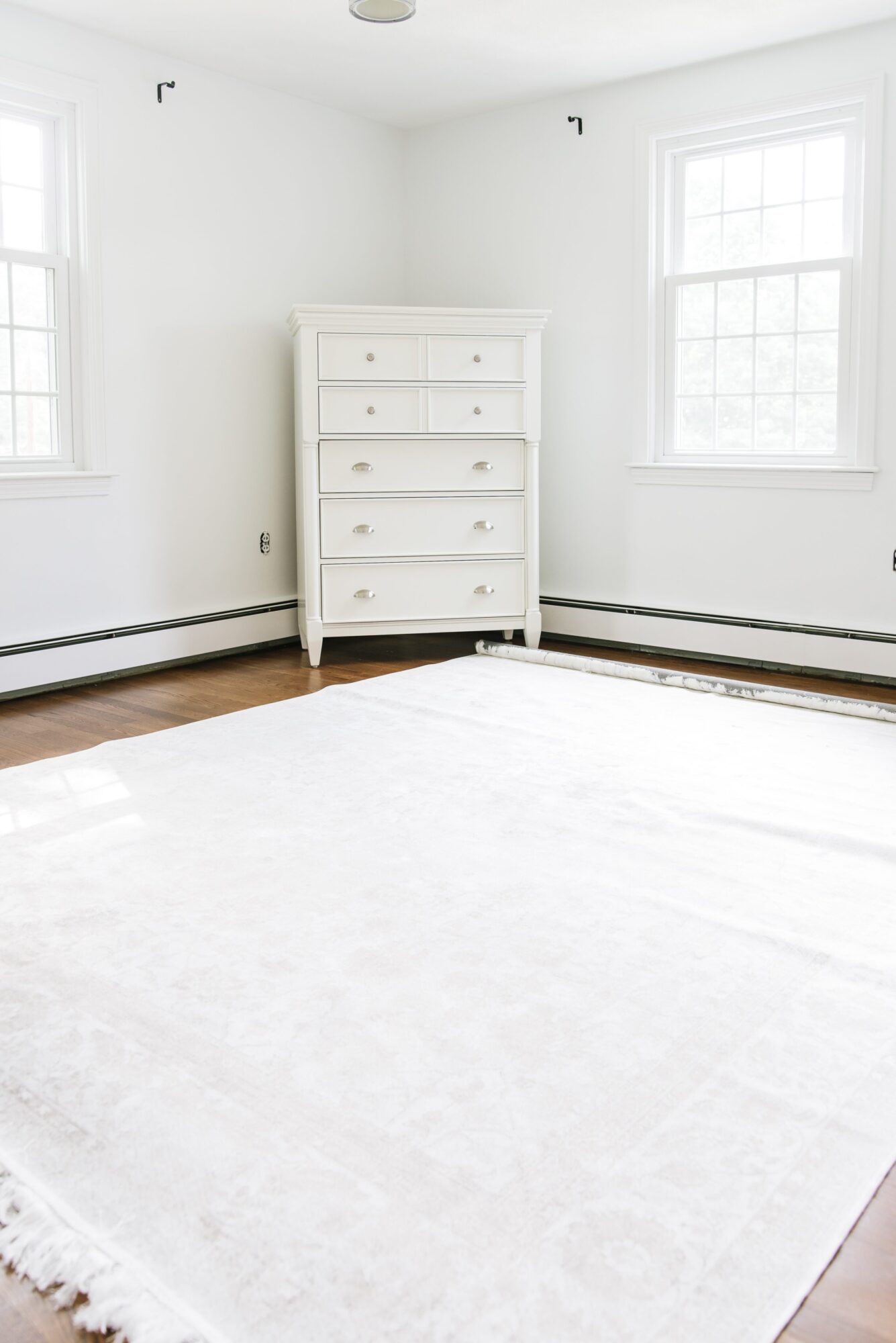 For walls, in a room that gets cool light all day long, Pure White may lean more into its gray undertone, but it will still appear as a soft white. On the other hand, south-facing rooms or ones with a lot of warm western afternoon light will see the warmer undertone become a lot more apparent.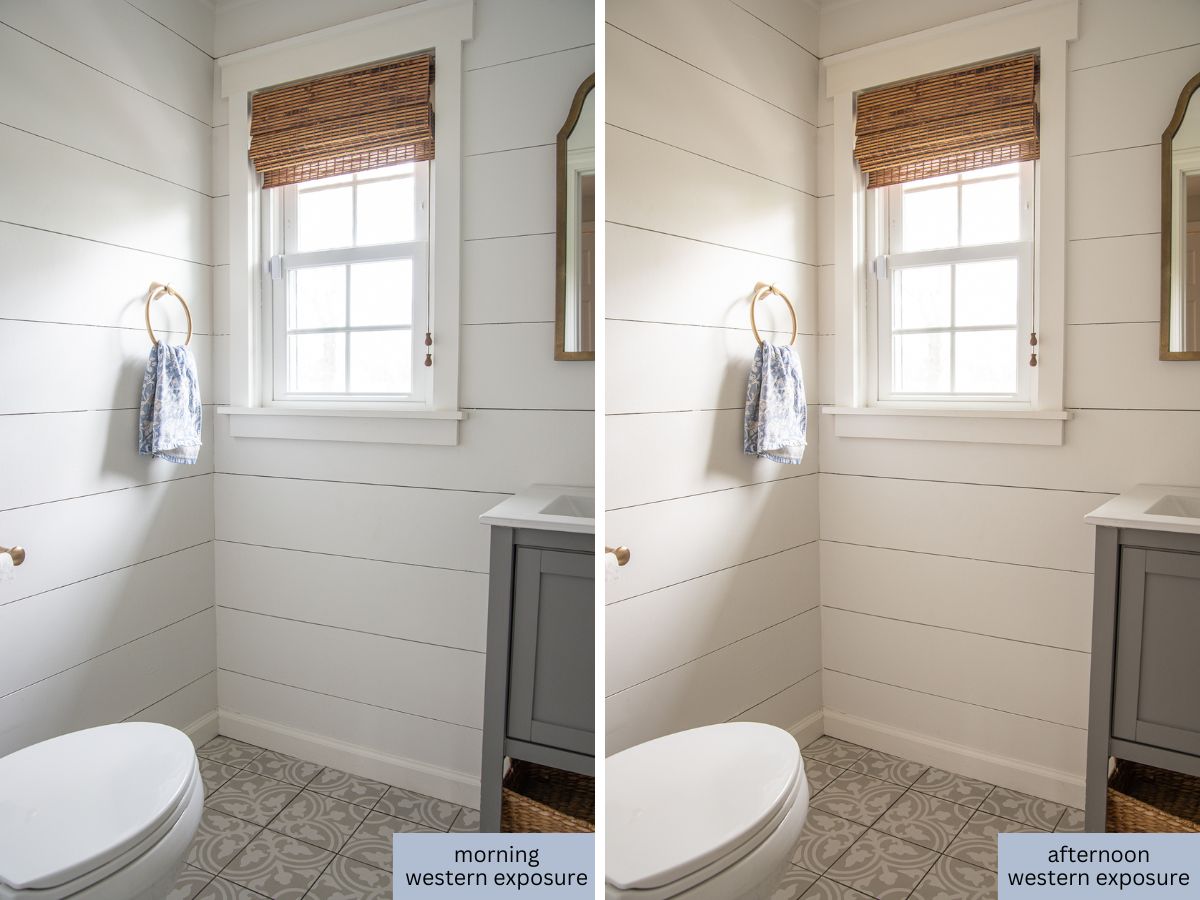 We also used Pure White to spray our deck. It ties in perfectly with our bright white siding, so I know it would also be a great color if you were choosing to paint the exterior of your house a bright white.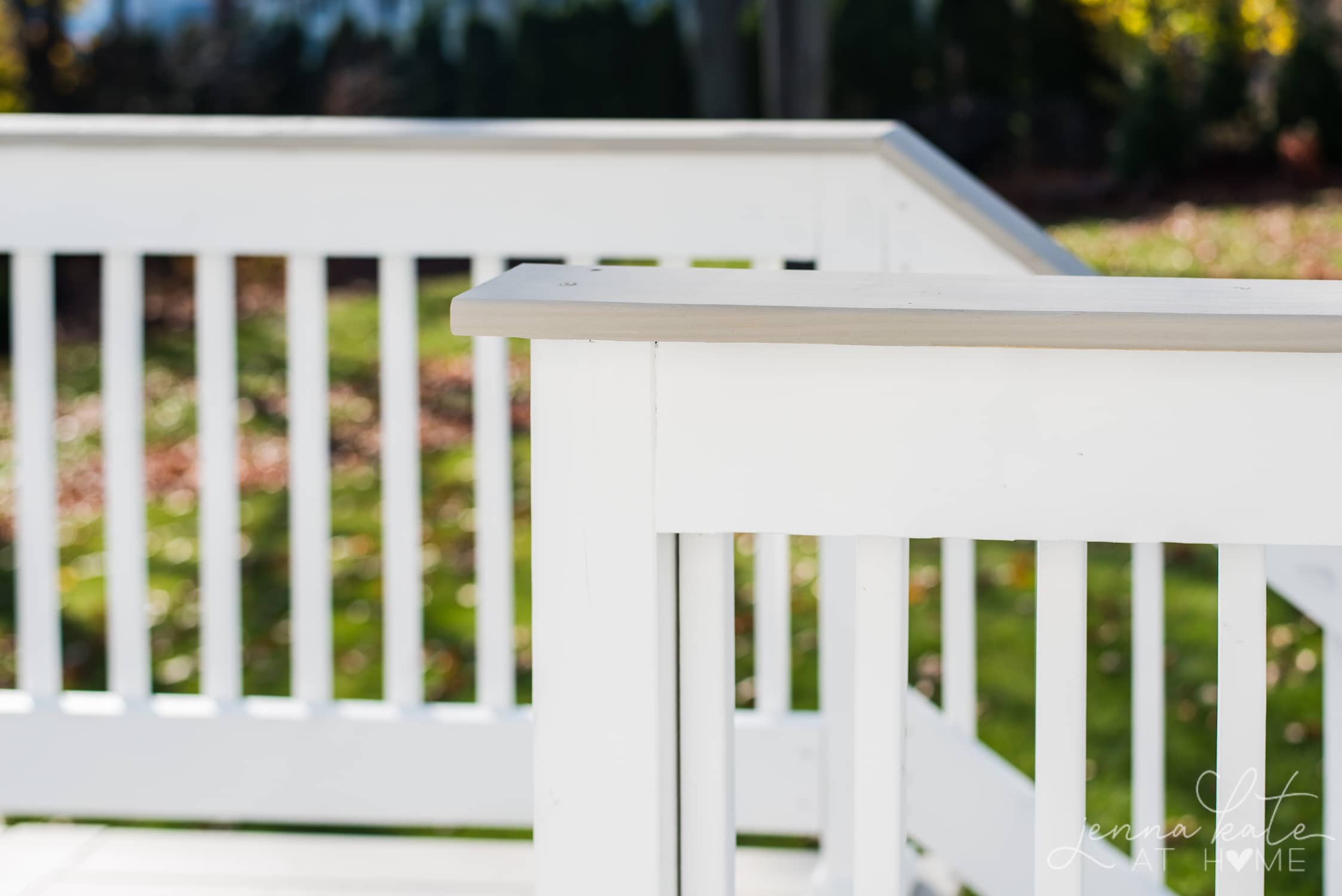 What Paint Sheen Should I Use?
The sheen of paint used on walls, trim, and ceilings can make a difference in the final look of the space.
For walls, a matte or eggshell finish is typically used, while a semi-gloss or gloss finish is recommended for trim and doors. Ceilings should be painted in a flat finish. Using these different sheens will create a subtle contrast and add dimension to the space.
Pure White on Kitchen Cabinets
If you're wondering how this particular color works on kitchen cabinets, the photo below is a great example at how well it works not only on cabinets, but in the whole kitchen—walls, ceiling, and trim! It's a great option if you're looking for a timeless white for your kitchen.
(Photo) – Pure White on cabinets, walls, ceiling, and trim in the kitchen.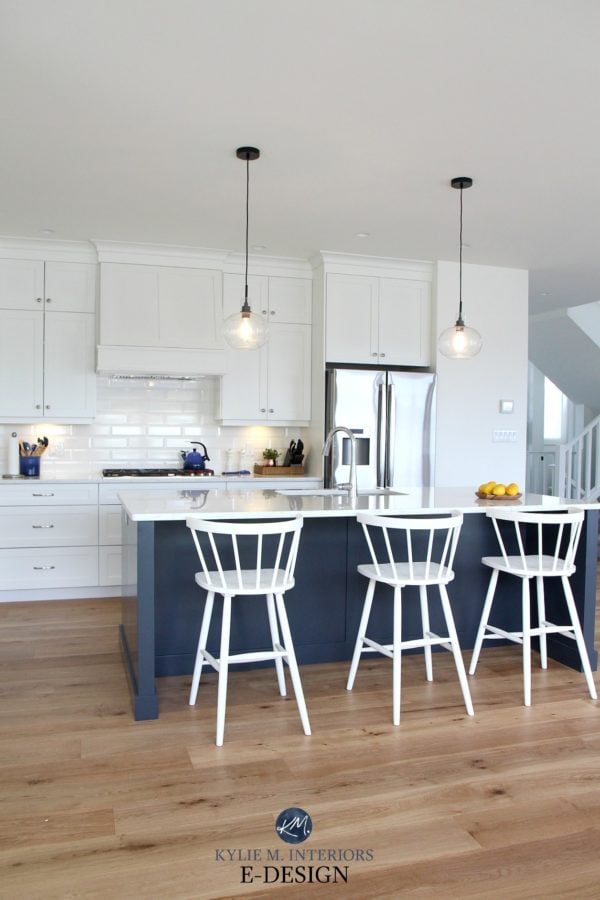 Pure White versus Extra White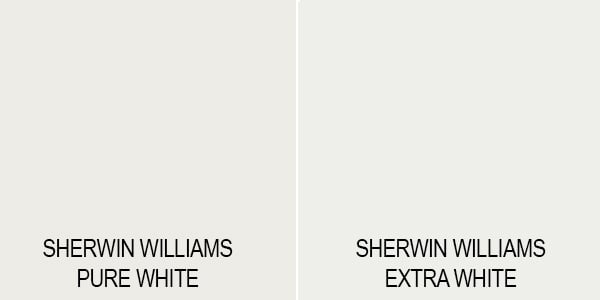 Now, let's compare Pure White to other popular Sherwin Williams white shades.
Extra White (SW 7006) is a brighter, crisper white with a higher LRV of 86. It doesn't have the softness that Pure White has and can appear starker in certain lighting (especially East facing rooms or those with Northern exposure). It has a tendency to flash a little blue, so I usually prefer to use it alongside other cool colors.
If you place Pure White alongside Extra White, it will immediately look a bit dirty, thanks to that little drop of black that gives it the gray undertone.
Extra White is one of those really bright whites, that when placed next to another white, instantly makes them look dingy.
I would not use these two whites together. If you are choosing between the two for doors and trim, Extra White is a really bright, crisp, almost stark white that can turn a little bit blue in cool light. Pure White is less bright and has barely any tendency to show its undertones, making it a great choice.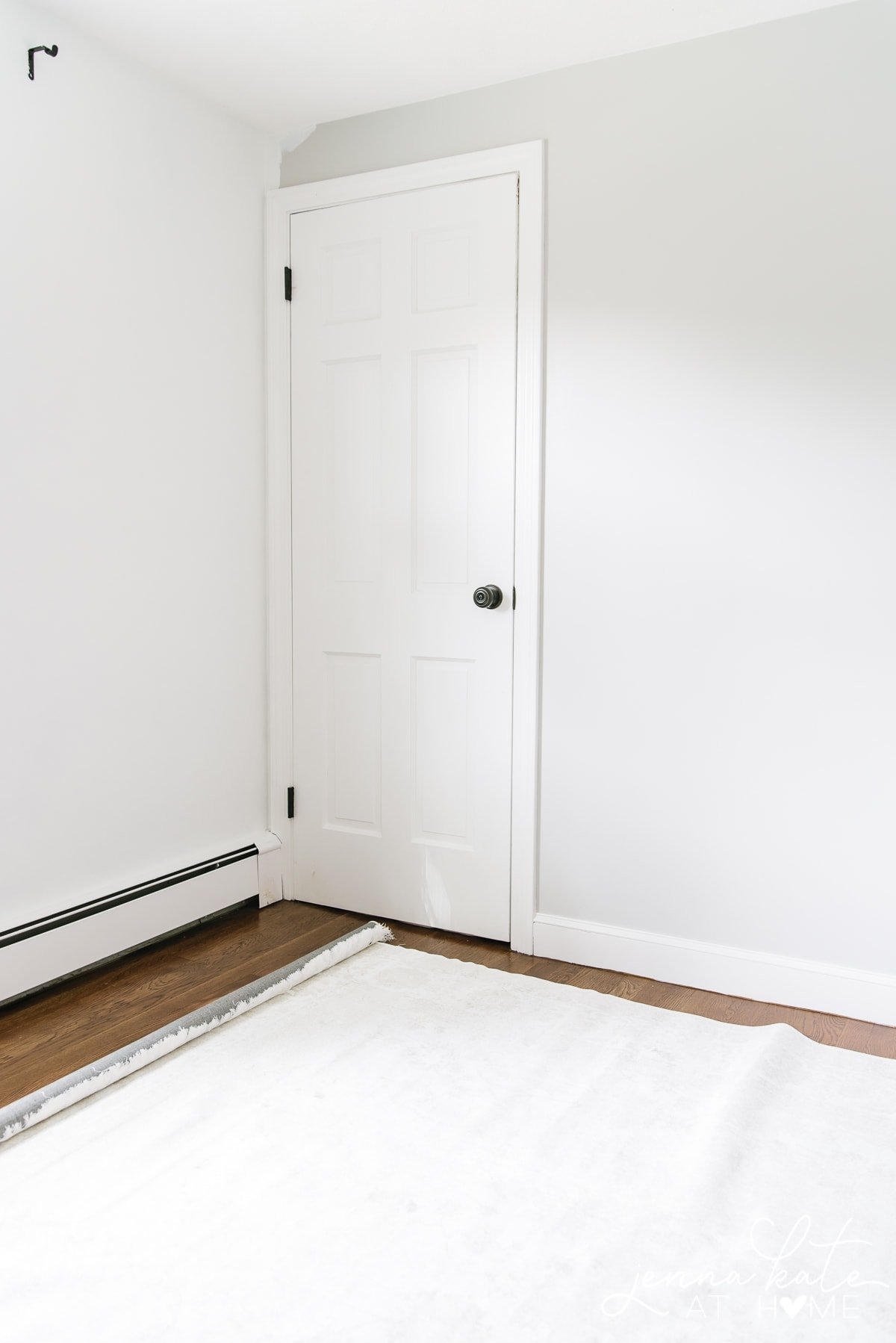 SW Pure White vs SW Alabaster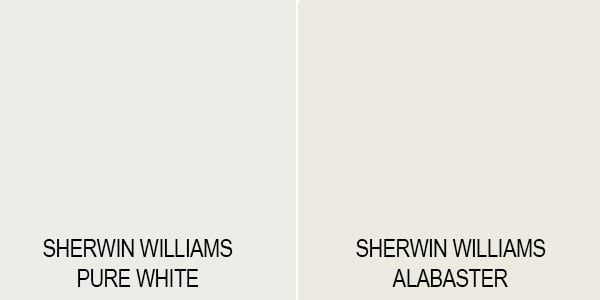 Alabaster (SW 7008) is a warmer white with both a yellow undertone and some gray to help soften it up. It has an LRV of 82, making it a slightly darker option than Pure White. Alabaster verges on feeling like an off-white.
While it's a popular color for walls, trims, and cabinets, it's not what you would want to choose for a traditional "white" trim or cabinet color.
SW Pure White vs SW Snowbound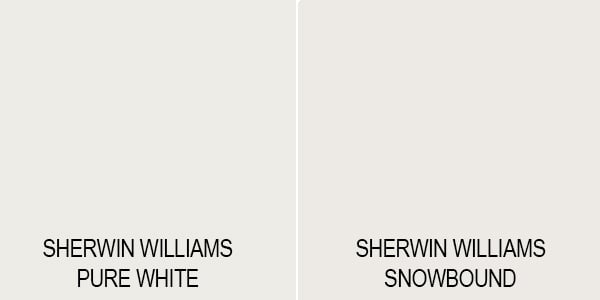 If you're looking for a traditional "white" white, Sherwin Williams Snowbound most likely is not the color for you. It's not a true white and has warmer undertones that make it lean closer to the off-white color range, despite its LRV of 83.
Snowbound has a taupe undertone that can look quite pink in certain lights, while in southern exposures it can even look a bit creamy.
If you're looking for a soft, warmer color for your walls, Snowbound may not be a bad choice, but if you're looking for a nice bright white for your trim and doors, this is probably not the color you're looking for.
SW Pure White vs SW High Reflective White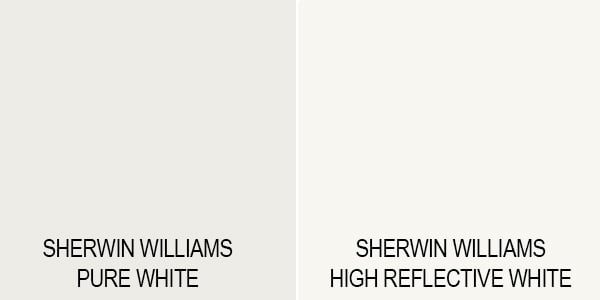 High Reflective White is Sherwin Williams' whitest white, and it's almost a completely true white with no visible undertones. If you want a really really bright white that is neutral (no warmth, no coolness) then High Reflective White is an excellent choice.
High Reflective White is actually the base white used to make other paint colors so it has no tint added to it.
Compared to High Reflective White, Pure White will look a lot softer, and depending on the light, you'll notice either the warmth or that touch of gray. Of course, that's only when they are compared side by side.
What Type of Paint to Use
Sherwin Williams paint is really high quality, but I would definitely stick to their Emerald or Cashmere lines. The cheaper paint does not cover as well, so you just end up using more.
For trim and doors, both Sherwin Williams' Urethane Trim Enamel and their ProClassic formulas are excellent for a tough-as-nails finish on trim, doors and cabinets. The Urethane Trim Enamel in particular, is self-leveling and cures to a finish similar to that of an oil-based paint.
Final Thoughts
Pure White is considered to be one of the most popular whites for many reasons —it shows as a soft, clean white that doesn't come off too stark or cold.
In a north-facing room, the slight gray undertone may become more apparent, while in a south-facing room it will look a bit warmer, especially as a wall color. The inherent sheen used for trim reflects more light, so the undertones are less apparent as the light changes.
It's an excellent choice for all the woodwork in your home, from trim and doors to cabinets, and also works well as an interior paint color. Looking for a nice bright white for an exterior paint job? Pure White is a great choice!
Pure White works with both warm and cool color palettes, making it incredibly versatile.
Don't Forget…
Don't forget – no matter what you've read or photos you've seen online, it's really important to sample paint colors in your home before committing!
Samplize provides real paint samples that are easy to move around your home, and cheaper than buying a gazillion paint pots! It's the only way I buy paint samples.
Use code JENNAK10 at checkout and get 10% off your order
Coupon entitles all customers to 10% off the entire order with no minimum purchase requirement. This is a one-time use coupon and it cannot be combined with other discounts.
Still on the hunt for the perfect shade of white? Then these might do the trick!