Learn how to make a DIY wide plank pine wood countertop that's perfect for that laundry room makeover you've been meaning to tackle!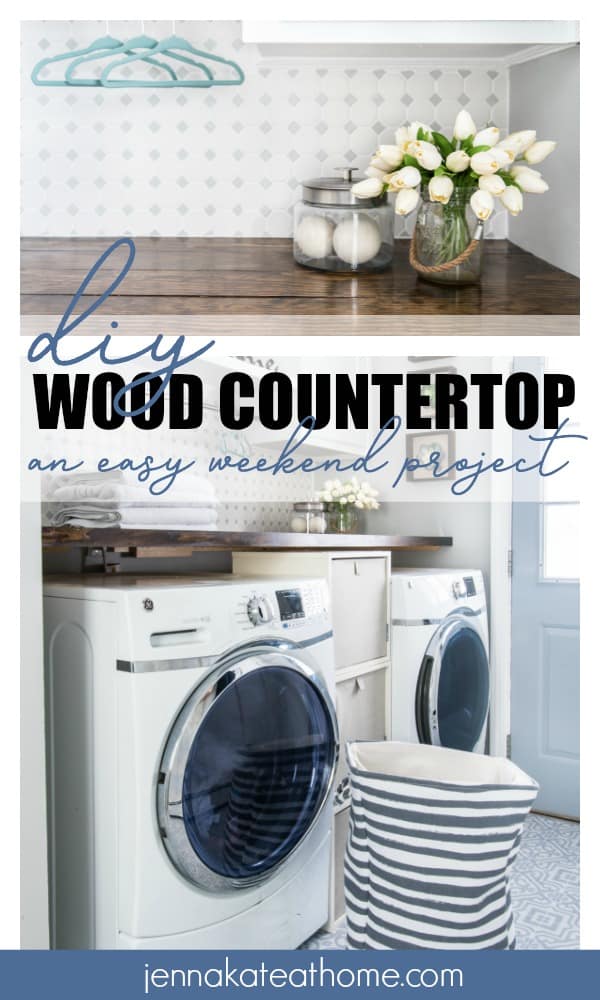 Do you have an area in your house, like the laundry room, where you spend a lot of time in tight quarters, doing mundane tasks? Are you struggling to find space to sort and fold?
The DIY wood countertop was the one addition that pulled everything together in our recent laundry room reveal. Of course, the tile and floors are beautiful improvements but the countertop is what made the space functional and tidy.
When I planned this makeover, all my inspiration images featured wide plank butcher block countertops. But since I had a limited budget for this makeover (and the majority of it needed to go to the flooring), almost every countertop option was out of budget.
Luckily, we had enough experience with sanding, staining and cutting wood to know that building a basic countertop would be a quick and easy project. The same goes for you – if you can cut a piece of wood, then you can build one of the countertops for yourself. Trust me!
I like this project because this pine countertop looks stunning when it is finished. It's also an inexpensive do-it-yourself project that will set you back less than $100.
What You'll Need:
1 x 6 Pine boards – we needed five 8 foot pieces
One 8 ft 1 x 2 board for the front of the countertop and more to create the ledge on which the countertop will sit. We purchased three 1 x2 boards in total, but figure out how much you need based on the length and depth of your wall niche.
Wood Conditioner
Minwax Polyurethane in satin finish
Cotton rags
Sandpaper
Saw
Brad Nails & a nail gun (or just small finish nails and a hammer)
How to Make the DIY Wood Countertop
Prepare the Boards
Start by sanding any imperfections from the wood. You want it nice and smooth.
Using a rag or foam brush, treat the wood with the wood conditioner according the instructions. This makes a huge difference when it comes to staining and the stain will penetrate evenly. Wipe off the conditioner and allow the wood to dry.
Using a rag, apply the stain. Apply in sections and wipe off the excess as you go. Allow to dry for 24 hours.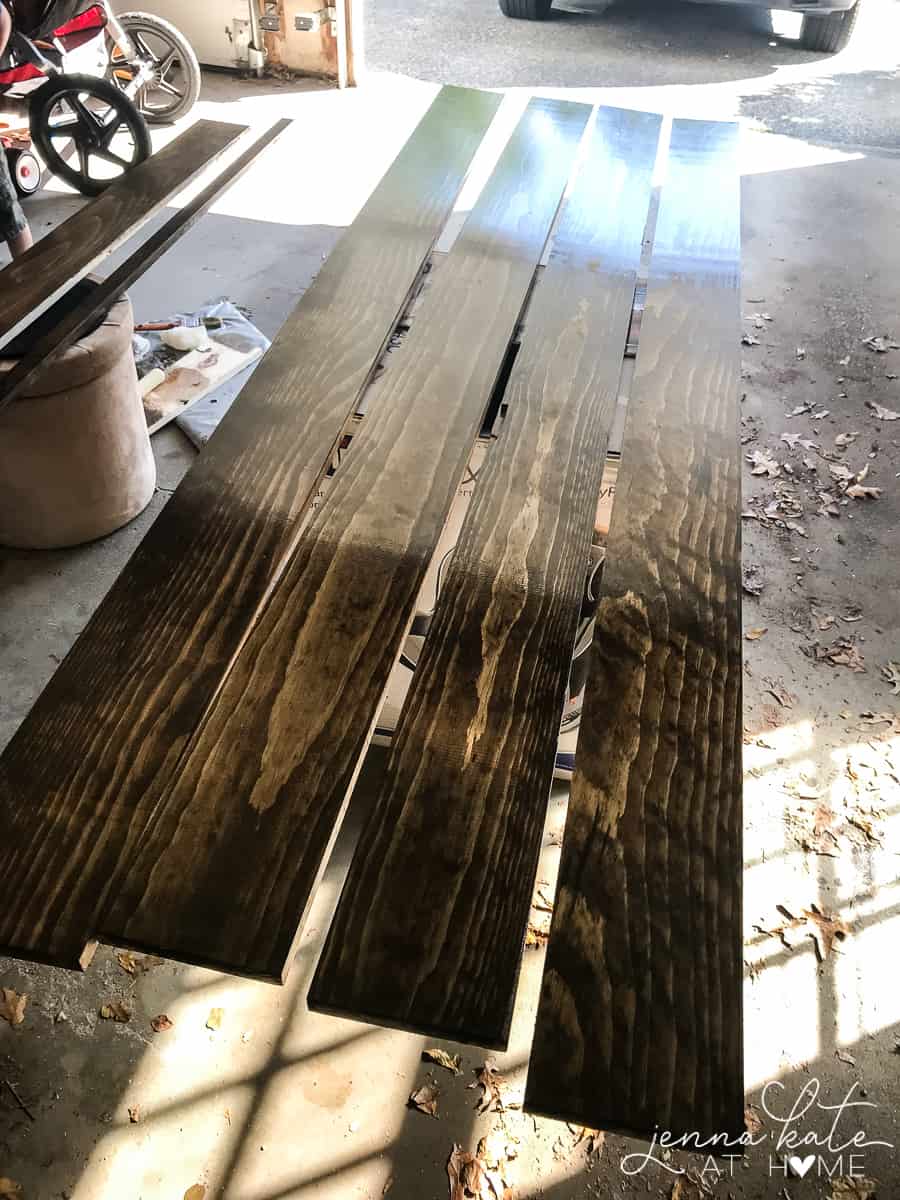 Each board needs a minimum of 2 coats of polyurethane. If you have time for a third, that will make sure that the wood is protected from any moisture. Since I'm only planning on folding clothes on mine, 2 coats was fine. Allow to dry for 24 hours.
When you're ready to install over your washer/dryer pay careful attention to any laundry hookups and sockets. In order to maintain access to our water, we had to install our countertop over the water hookups. It wasn't ideal since the countertop is a bit higher than I would have preferred but we needed to be able to still easily access those, so it is what it is!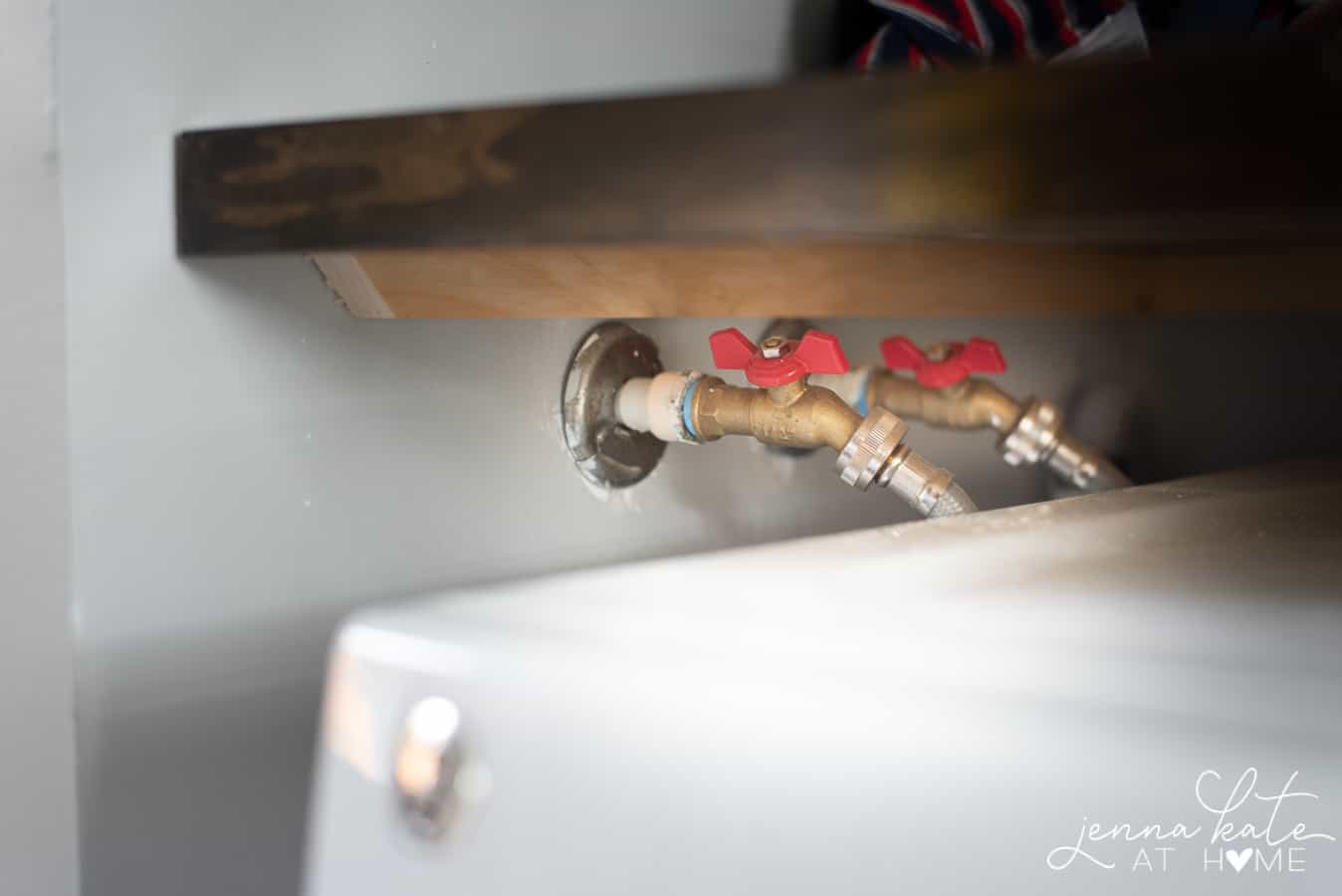 Install the Countertop
The first thing to do is to create a ledge or cleat on which the countertop will be nailed to. We just measured the sides and the back of the wall and cut the wood to fit. Using a stud finder, we found the studs and screwed the wood directly into those to make sure it was secure and that it could handle the weight of the countertop.
Once the ledge was in place, each of the 1 x 6 planks were set down and nailed into place. We cut and measured each piece individually, since walls on older houses are rarely perfect. In fact, there's a full half inch difference between the first piece of wood that was installed and the last piece! Yikes!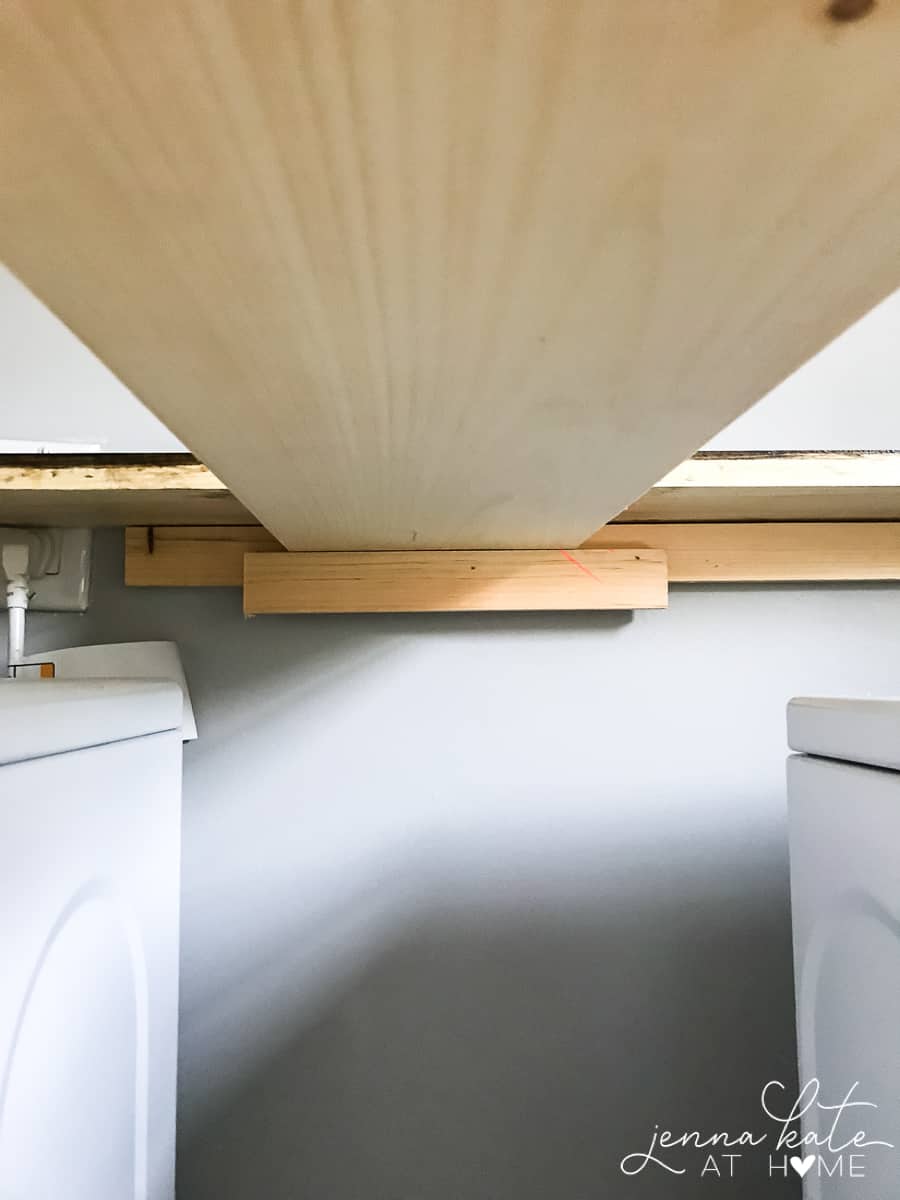 In order to add some support under the middle part of the countertop (since it's not resting on anything other than the side/back ledges), we added a brace directly underneath that we also nailed the boards into. It's just another piece of 1 x 2, attached to the back ledge with another 1 x 6 attached to it so that the countertop boards were fully supported.
If your countertop rests directly on your washer/dryer you may not need this step. We had also talked about building a box underneath it that would in effect be a stacked storage cube but that would also act as a support. In the end, this was just a quicker solution!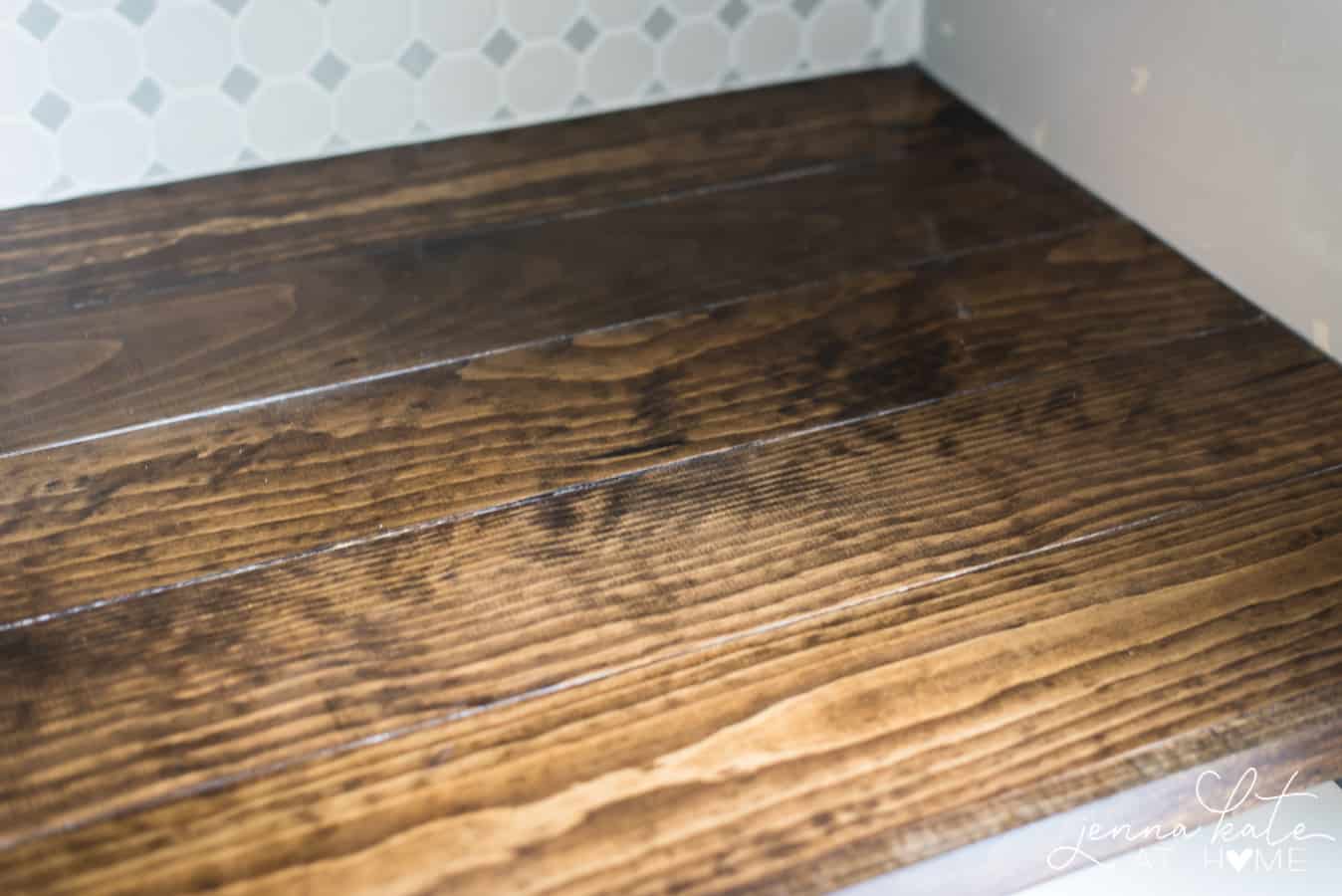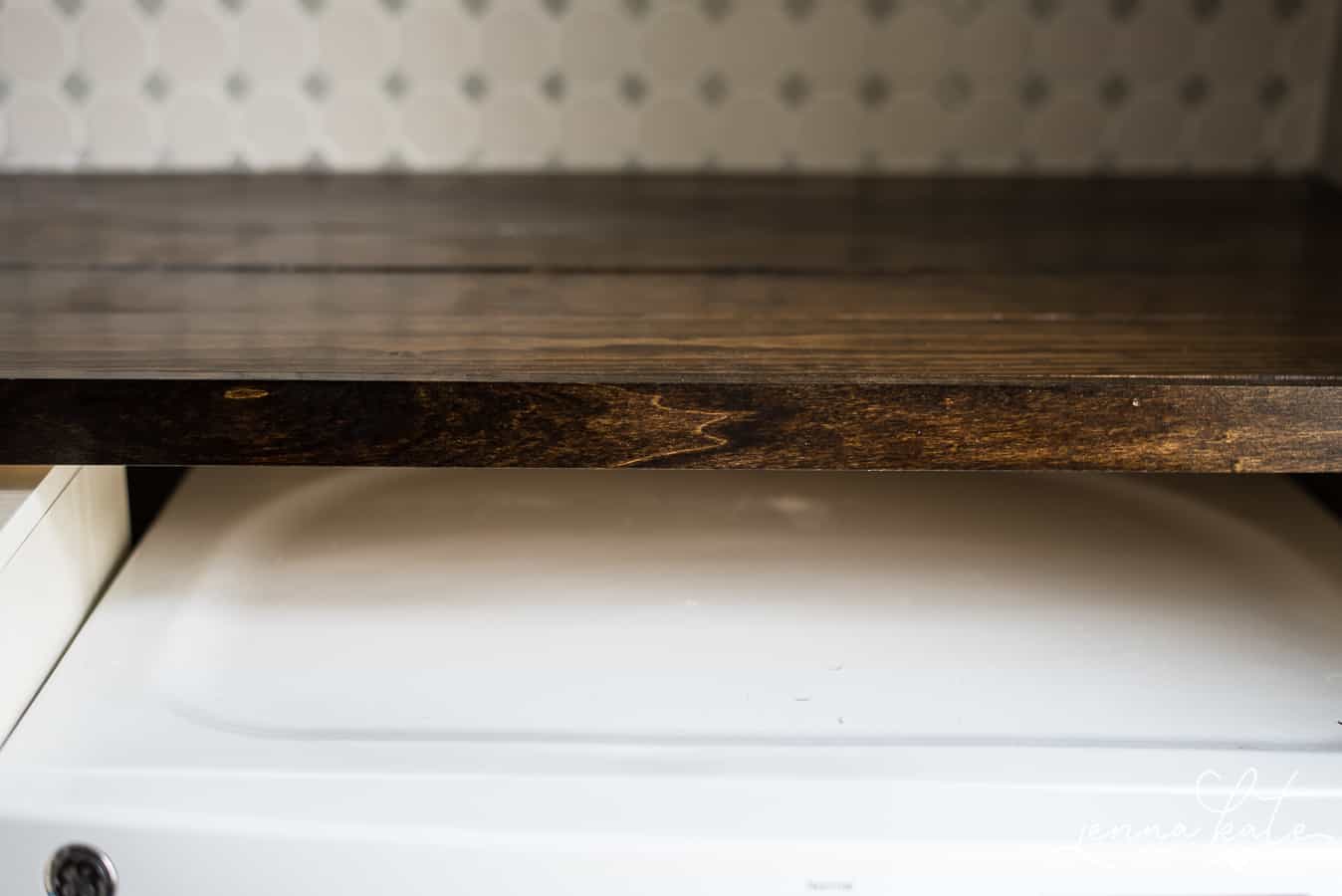 Finally, attach the 1 x 2 board to the front of the countertop to create a finished edge. Then, stand back and admire your DIY wide plank pine countertop that you installed in oh, about an hour.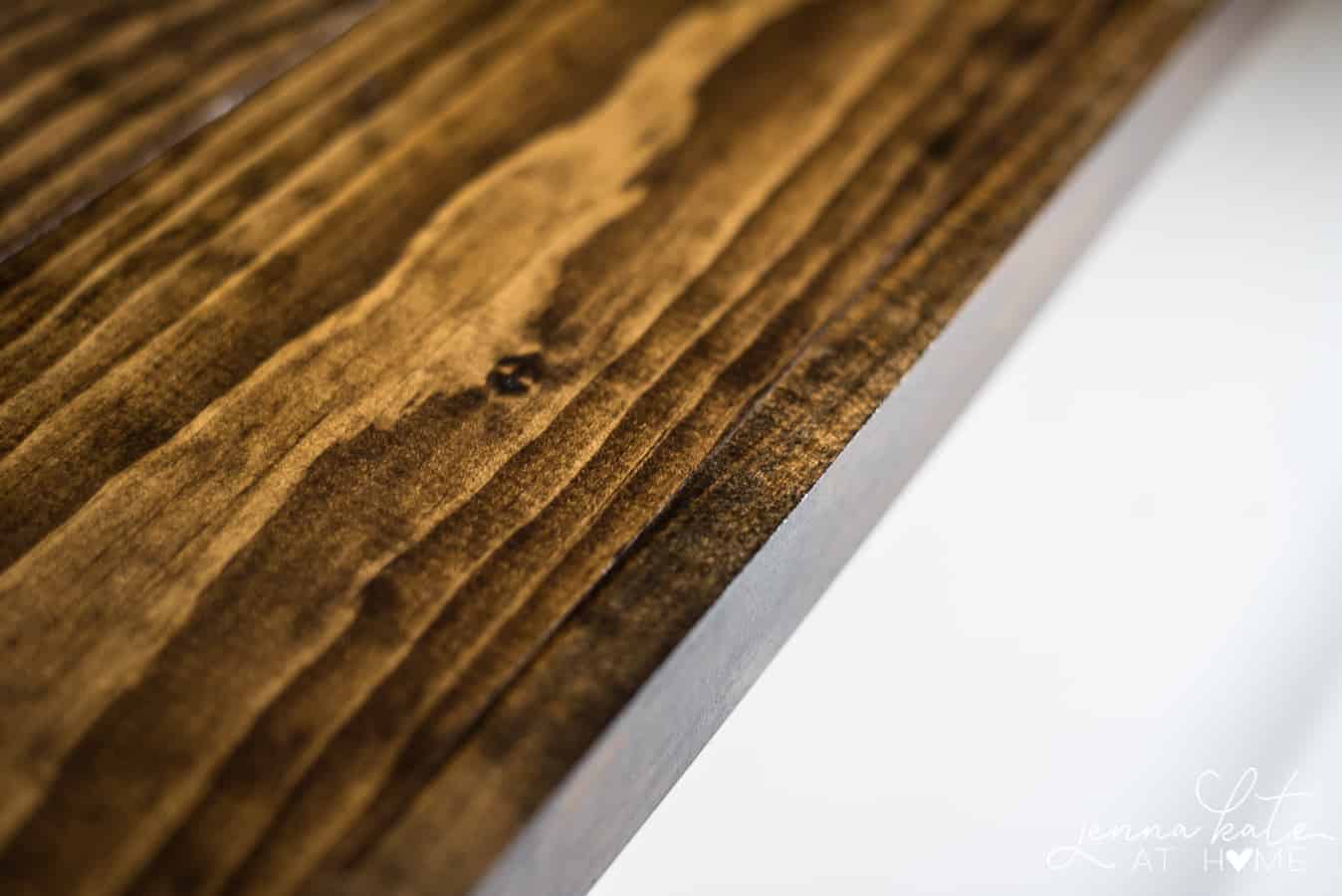 Don't forget to fix any paint that may have nicked on the walls in the process. I know our walls took a bit of a beating when we were maneuvering planks in and out to make them a perfect fit!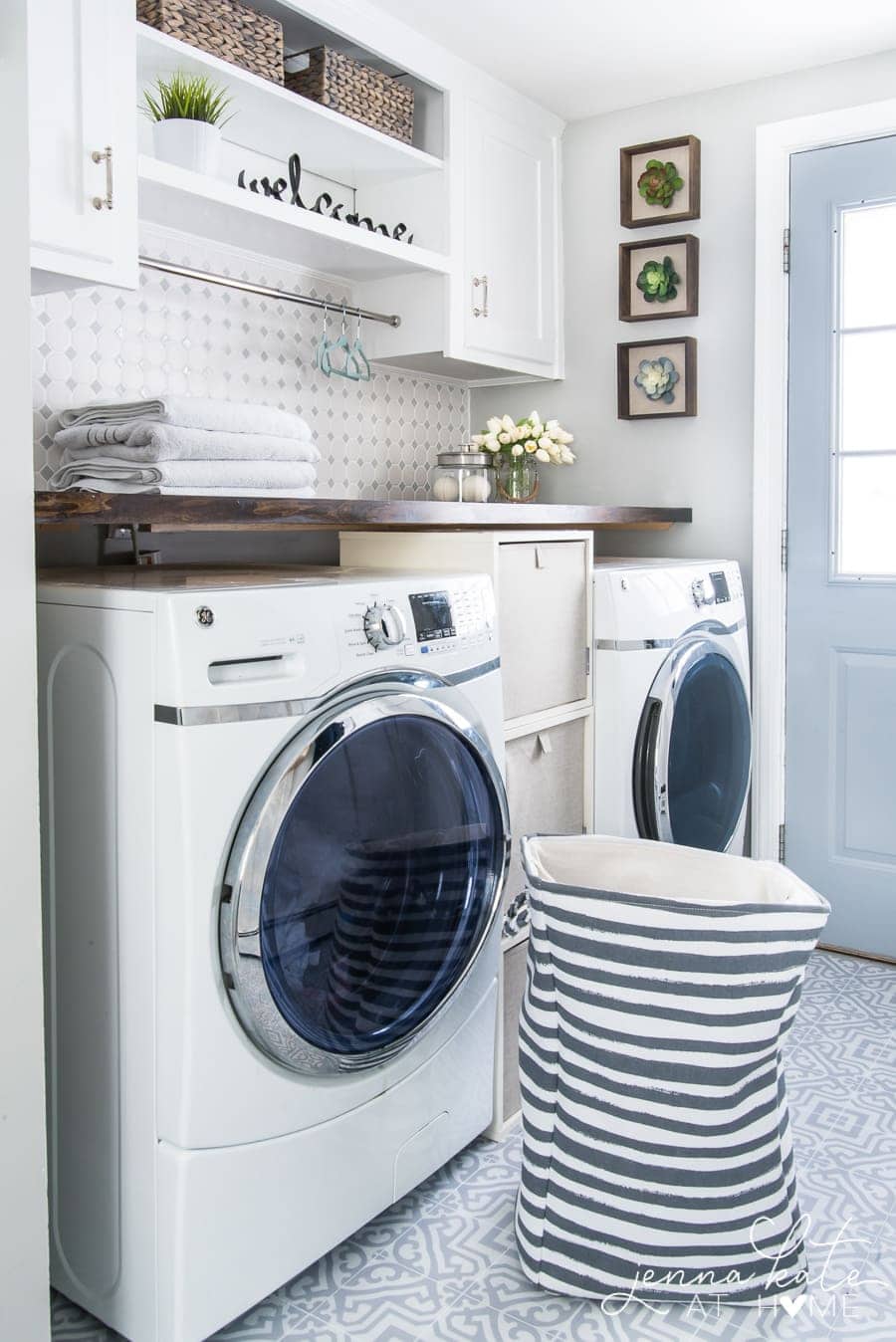 I told you it was easy right? If you think this is something you're going to tackle this weekend (or next!) be sure to save this post for later!
Other Posts You'll Like