I have partnered with Raymour & Flanigan, Minted and Stikwood and received product in exchange for this post. All expressed opinions are 100% my own.
Welcome to reveal day for Baby Shaughnessy's nursery! I'm so excited to finally share the finished space with you! Let's cut right to the chase…
I welcome you to Baby Boy Shaughnessy's new digs!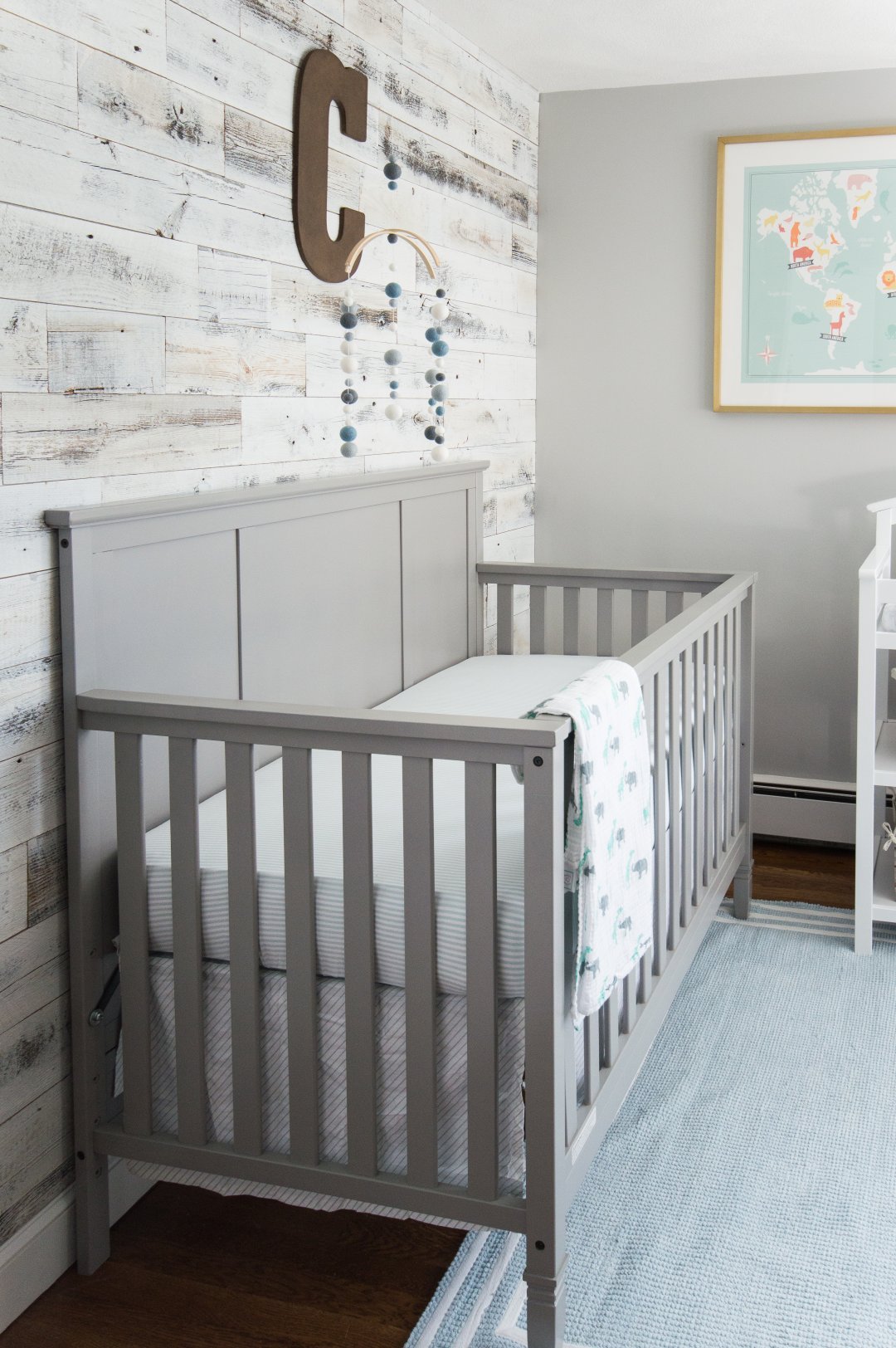 My favorite part about this room is easily the reclaimed wood wall. The whitewashed effect of the look works perfectly in this sun-filled space. I previously posted a full tutorial on using Stikwood if you're interested in learning more.
The mobile is a simple gray, blue and cream felt ball mobile that I purchased on Etsy and was made all the way over in New Zealand. It's simple and monochromatic – perfect for little eyes that only see black and white for the first while!
While I'm not a big "theme" person, I do like to work with a color color scheme. My whole house colors focus on grays and blues, so in keeping with those colors you'll see varying shades of gray and blue in this space accented with some pops of turquoise.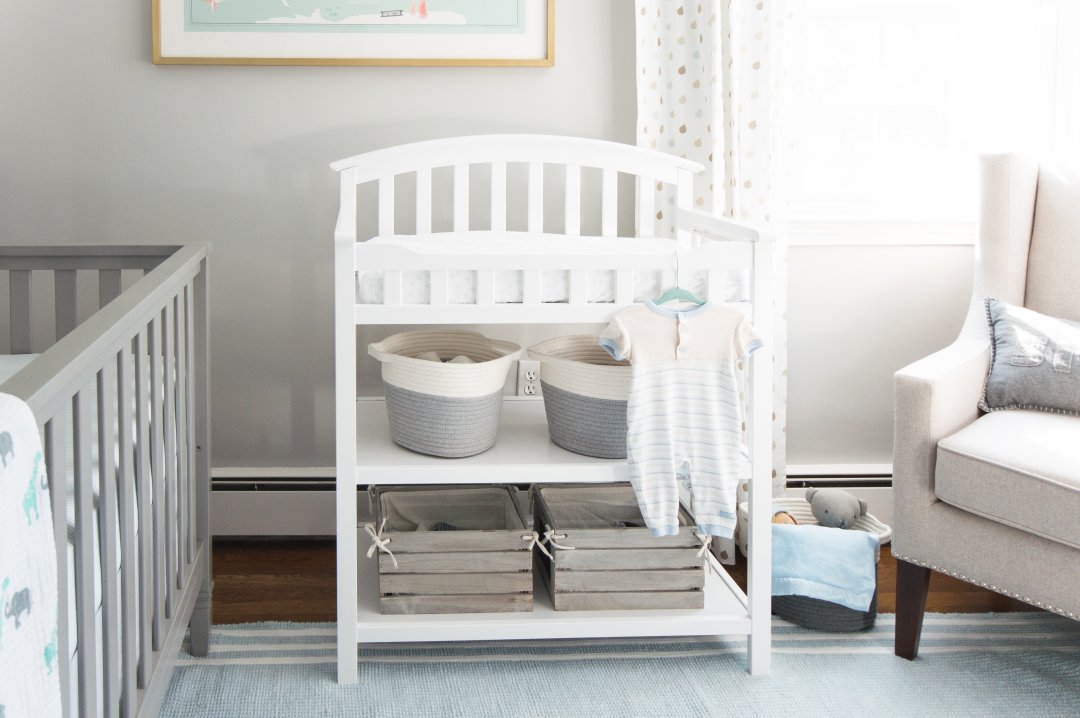 When I was purchasing the furniture through Raymour and Flanigan, the gray version of the changing table was unfortunately out of stock so I opted for white. Even though it's technically "mismatched" I really like the bright white and I think it ties in well with the rest of the decor. Luckily for you, it's back in stock now if you want to purchase it!
All the baby's clothes are in the dresser and other larger items are neatly stacked in his newly revamped closet. But I like to keep necessities such as diapers, burp clothes, bibs and his little socks in the baskets and bins on his changing table. We're planning to cloth diaper this little guy just like we did with Cian – here's hoping it goes as well this time around!
My other favorite thing in the baby's nursery is this giant World Map. My toddler son loves to come into the baby's room and point out all the animals on the map. I love the matte gold frame and the fun pop of turquoise. The rain drop curtains (which are available in a bunch of different colors and lengths!) are equally adorable and keep the space light and bright while adding a cute whimsical feeling.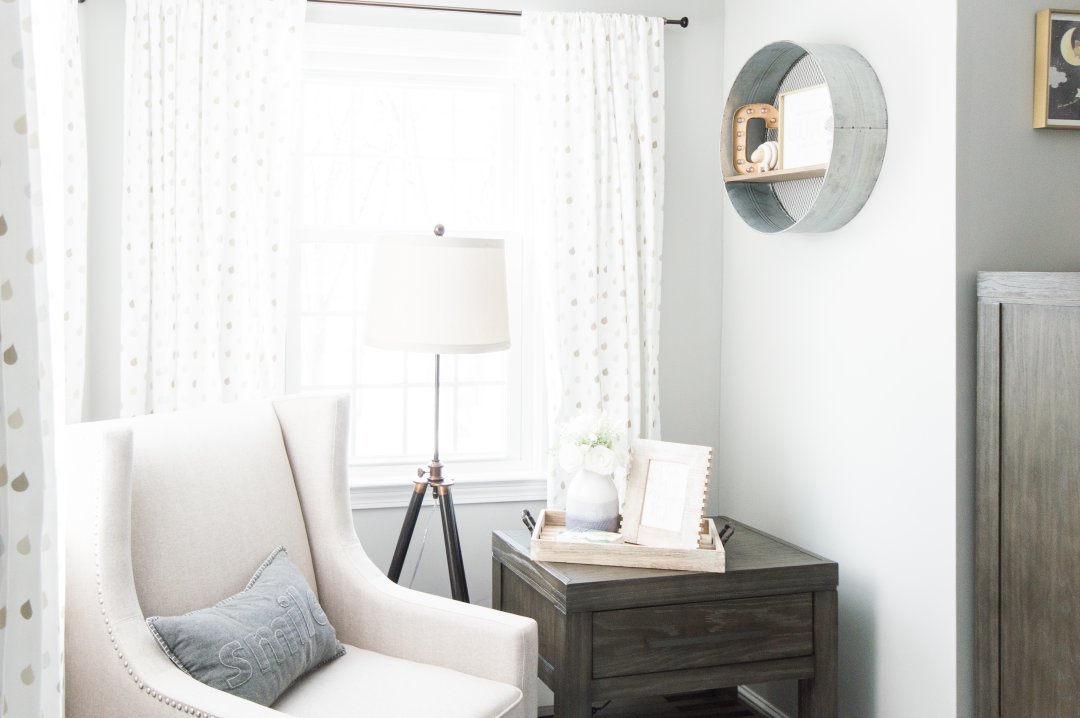 I wanted a slightly industrial vibe for this space and I think the metal accents achieve that perfectly without being cold. The tripod lamp, vintage fan and metal shelf add that industrial feel that stops this space from feeling girly.
Look at that belly! Baby C is on track to be well over 9 lbs…just like his big brother was!
I found this free printable and thought it was darling. It *might* have even made me tear up. Not that that's hard to do these days, since I seem to be crying over every little thing. The frame is from Ikea and I added a white wash treatment to it to tone down the color.
I love this round shelf. It actually came in a set of three and Cian got the other two for his room. To stave off a bit of jealousy, his bedroom is getting a mini makeover, too. Stayed tuned for pictures of that next week!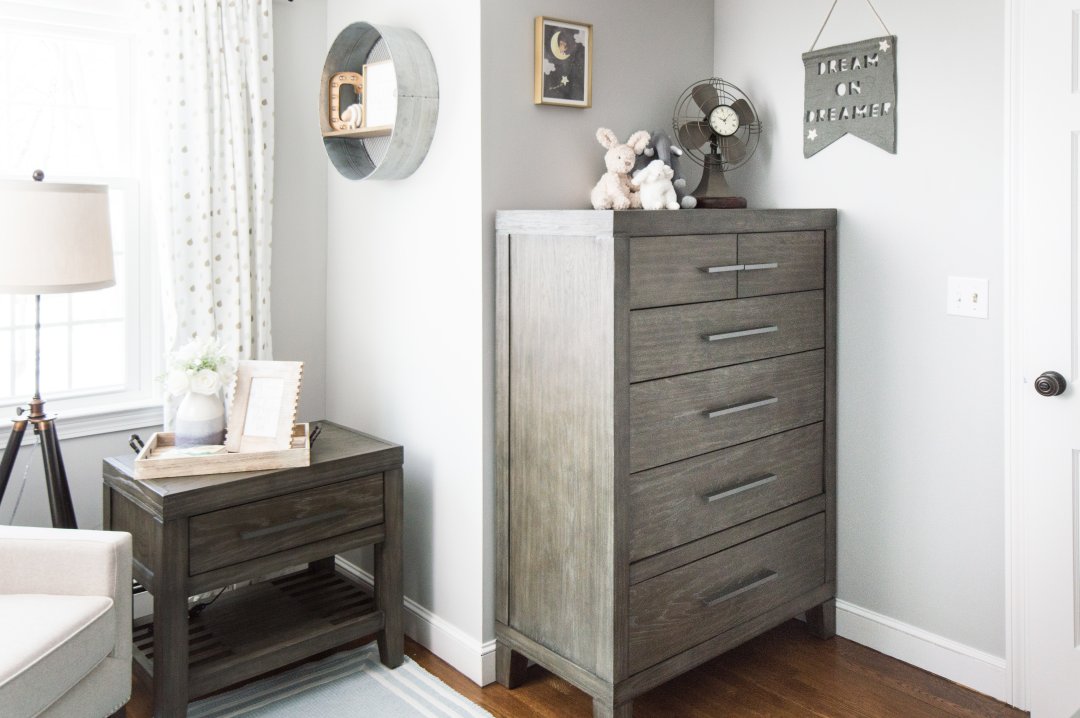 I love how the nightstand and chest of drawers have a nice masculine touch to them thanks to the grayish wood and metal hardware.
Every piece of art in this nursery is so adorable! Minted have such an amazing selection that just picking three prints was really difficult!
I couldn't be happier with how this room has come together!

Brian, Cian and I are so excited to meet the newest addition to our family! Only a month left now…it's starting to feel very real :-)