This post may contain affiliate links | For further details, please read our privacy policy
Benjamin Moore Stonington Gray is a modern and fresh medium-toned gray with a slight blue undertone. It's one of my favorite paint colors and I've used it throughout my home.
Are you searching for the perfect gray paint color for your home? Stonington Gray is a great choice if you are looking for a medium-toned, modern gray paint color.
Read on to learn all about it, as well as whether it's a better choice than the other popular gray, Gray Owl.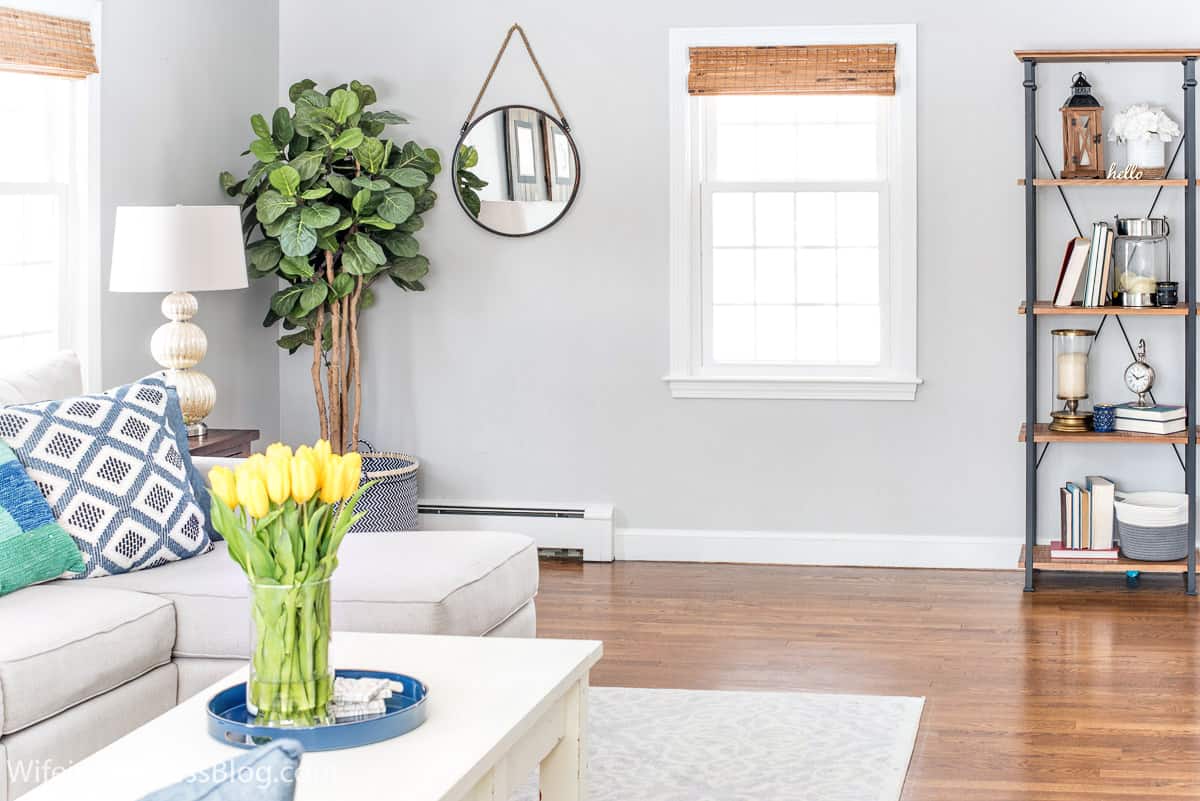 Stonington Gray Undertones
Stonington Gray (BM HC-170) is a beautiful medium gray with cool, blue undertones. It stays perfectly gray in most spaces unless it's paired with a lot of white and cool (north facing) light, where it can look a little blue.
Both the picture above and the one below are really good true-to-life representations of the color and allow you to see how it pairs with both white (the trim) and wood tones.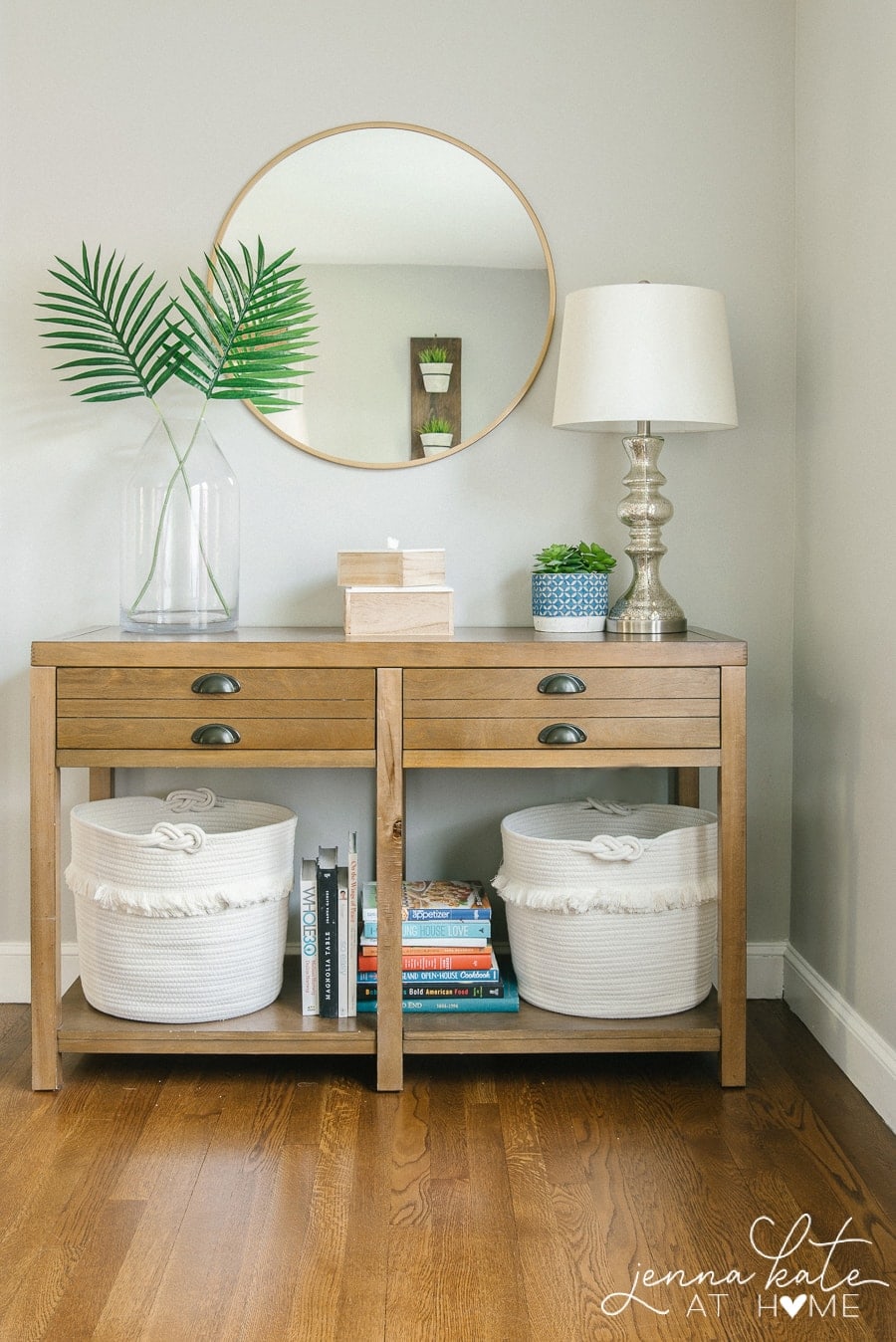 In my home, my living room and most of the bedrooms upstairs are painted with Stonington Gray. It looks lovely paired with crisp white trim but does equally well with stained trim, too.
---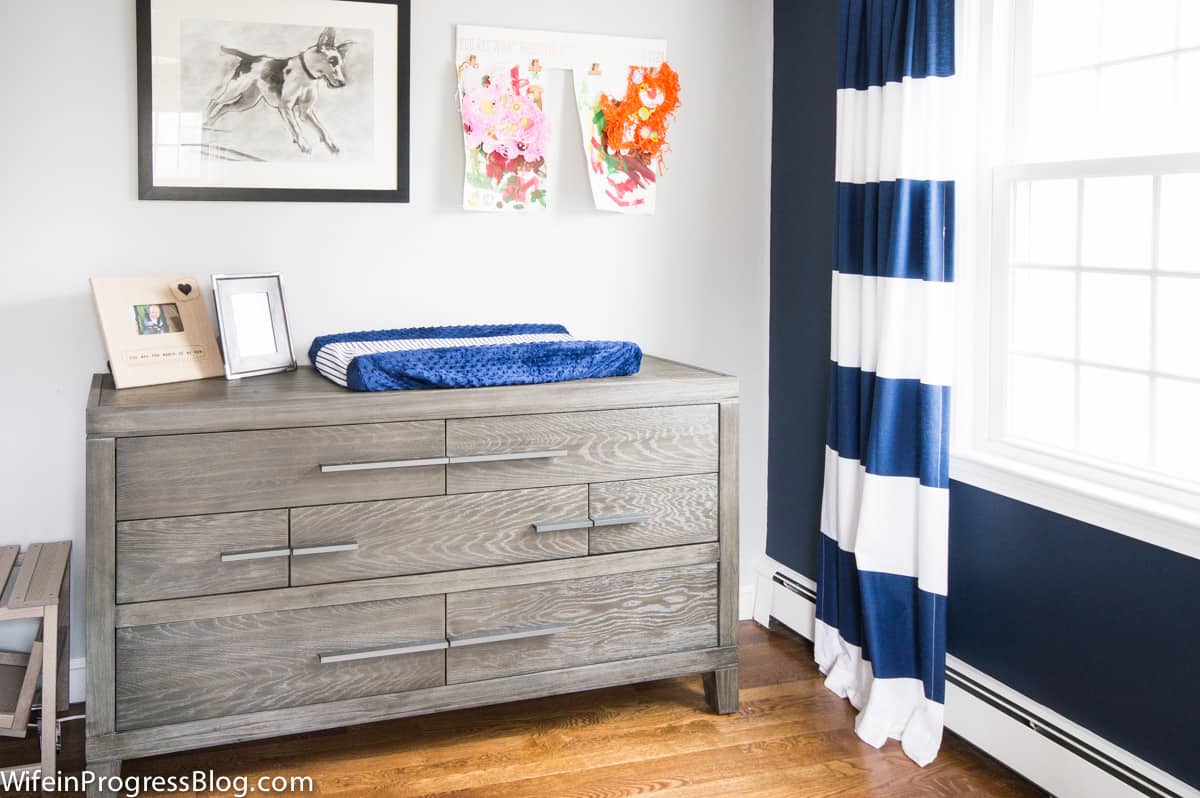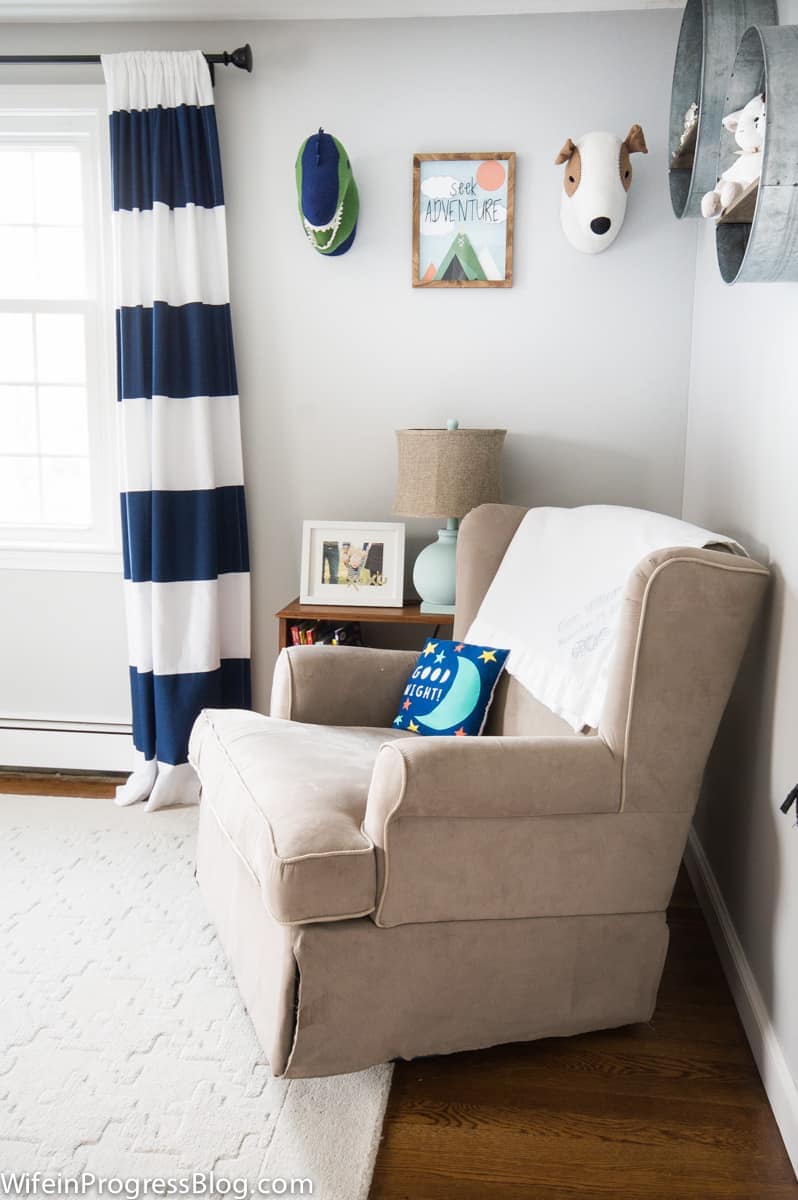 Looking For More Gray Paint Colors?
---
Stonington Gray Accent Colors
In my toddler's room, I have paired Stonington Gray with a navy blue accent wall (Sherwin Williams Naval). Because of its cooler blue undertones, it's the perfect gray to complement this deep navy shade. This room is east-facing, so it's dark for a lot of the day.
While I love the color combination, it's important to keep the rest of the furnishings and rug a lighter color to stop a low-light room from feeling really dark during the day.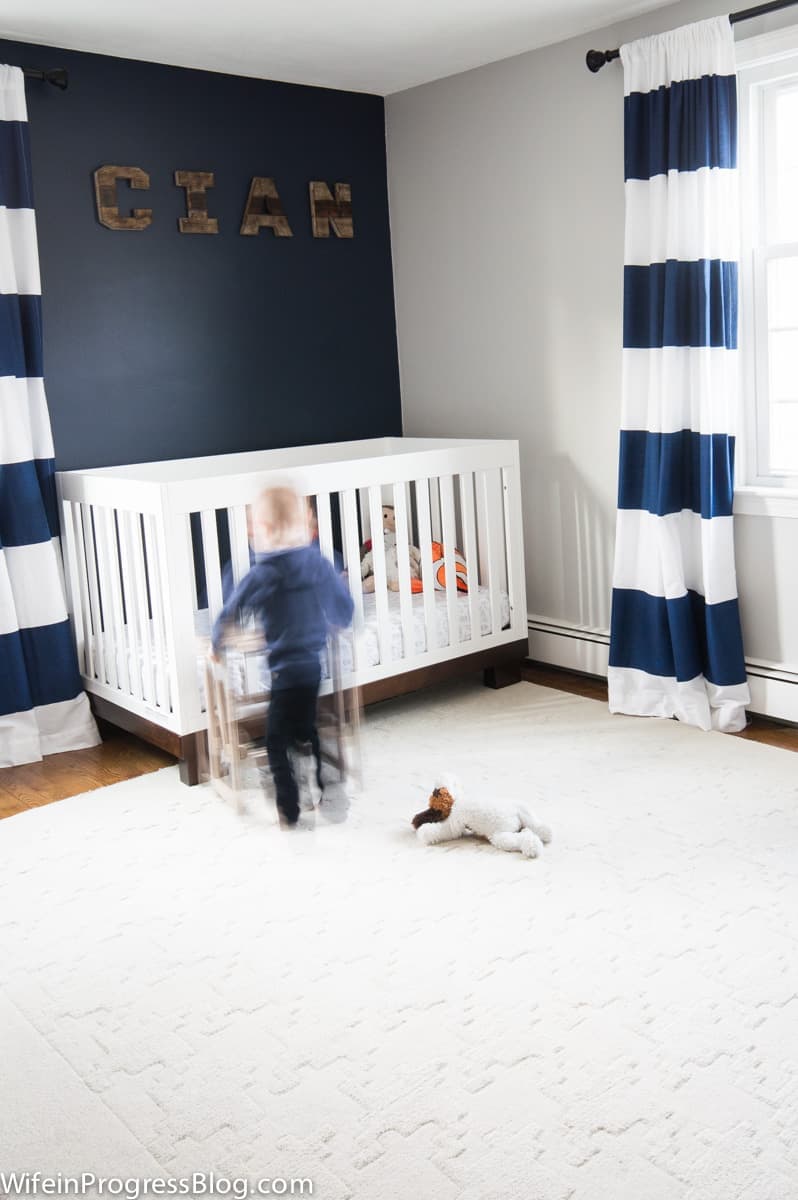 Our guest room is south facing and has a lot of light furnishings. You can see how much brighter and fresher the paint color looks in here, compared to the bedroom above.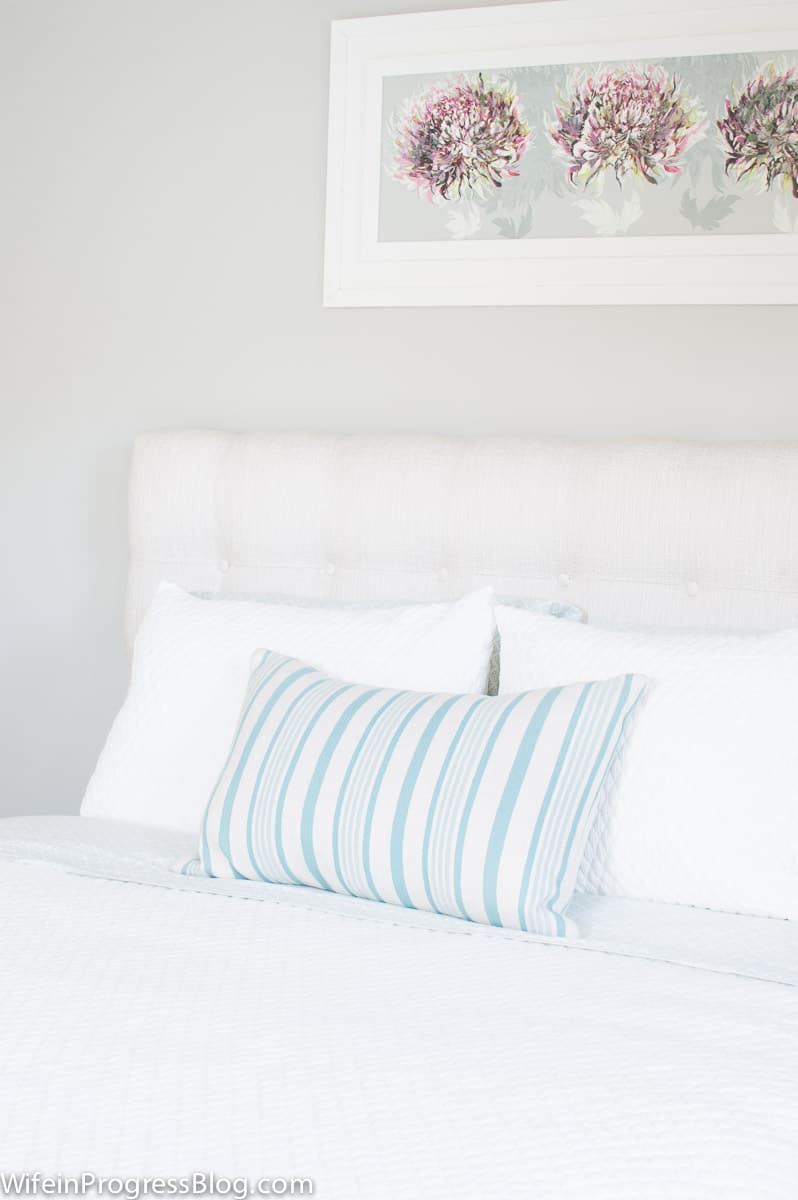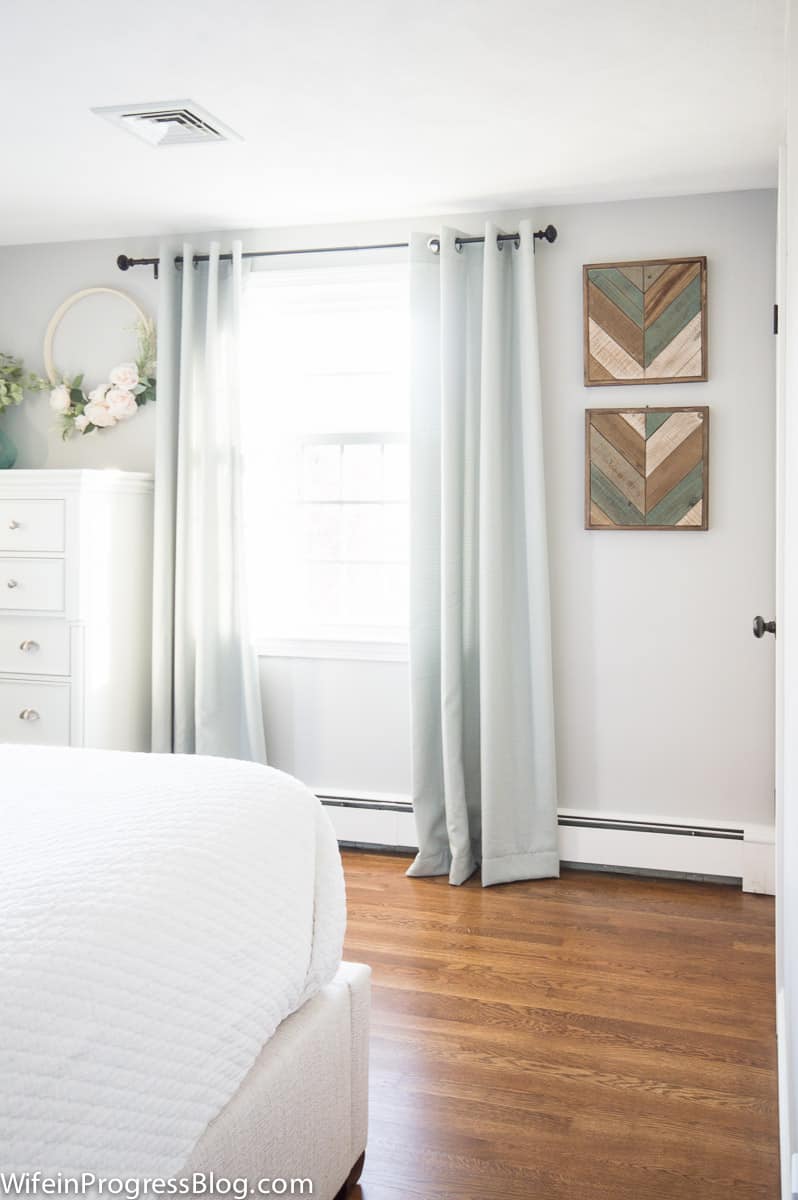 Stonington Gray vs Gray Owl
Both Stonington Gray and Gray Owl are very popular gray paint colors from Benjamin Moore, but they differ in a few important ways.
Grays generally fall into two categories: warm grays and cool grays. Stonington Gray is a cool gray with a stormy blue-purple undertone.
This means it's not a bright, fresh gray but rather one that offers good contrast with white trim or even black accents. It has an LRV of 59, meaning it's not a super bright color but it's still light enough.
On the other hand, Gray Owl has a green undertone that makes it appear warmer on walls, although it's not really a warm gray.
With an LRV of 65 so it's considerably brighter than Stonington Gray, and will reflect more light back into a room.
Stonington Gray is a great choice if you want more contrast and a slightly darker gray in a room. It's not "dark" by any means but it's also not a light and airy color, it has more depth to it.
Remember, it can flash quite blue in rooms with cooler light, so be sure to test it before committing.
Conversely, in my experience, Gray Owl looks like a pretty fresh gray the majority of the time.
However, I have seen it look considerably warm in a southern-facing room (almost as warm as Agreeable Gray) and I've seen it look quite blue in north facing rooms.
Sherwin Williams Equivalent of Stonington Gray
A lot of people ask me for Sherwin William's equivalents of my favorite paint colors, Stonington Gray included.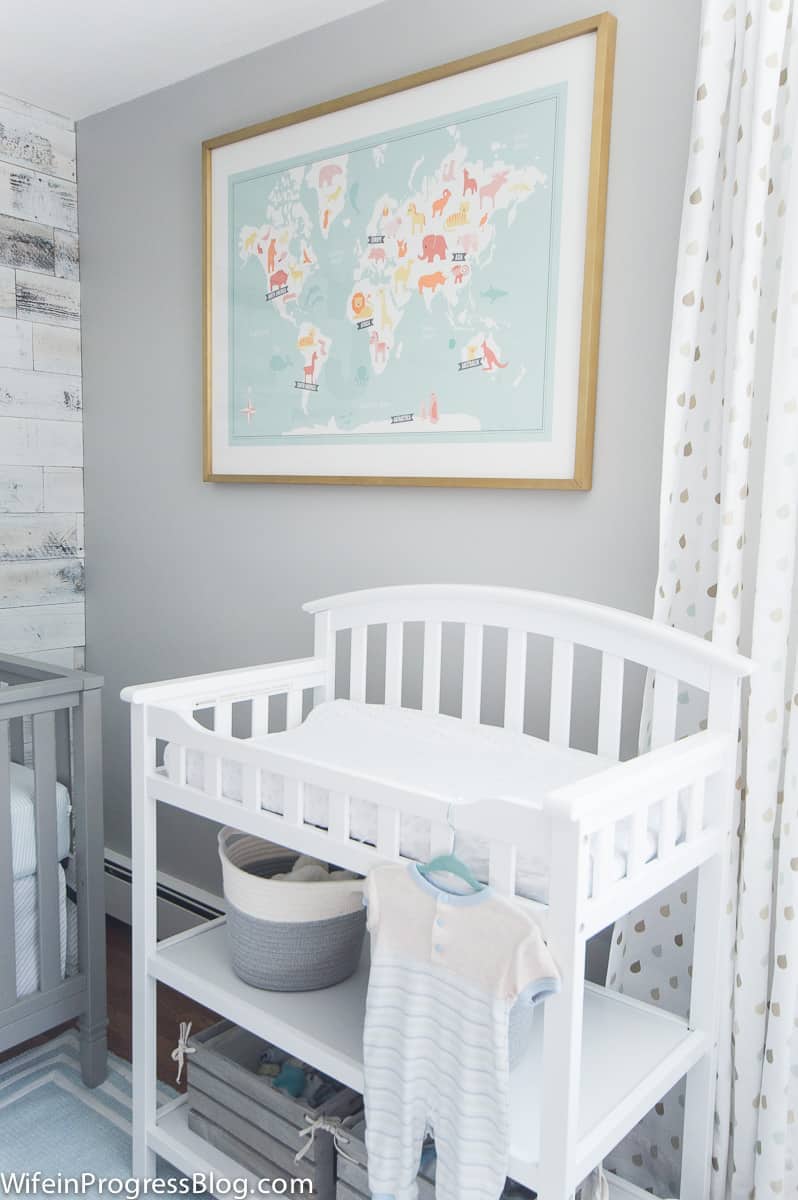 My answer is always to pick the color you like then get it mixed in the brand of your choice.
So, if you want to use Stonington Gray all you have to do is go to the Sherwin Williams store and ask them to mix up Benjamin Moore Stonington Gray for you.
They have access to all the color codes in their computers and can color match to their own brand of paints. I do this all the time!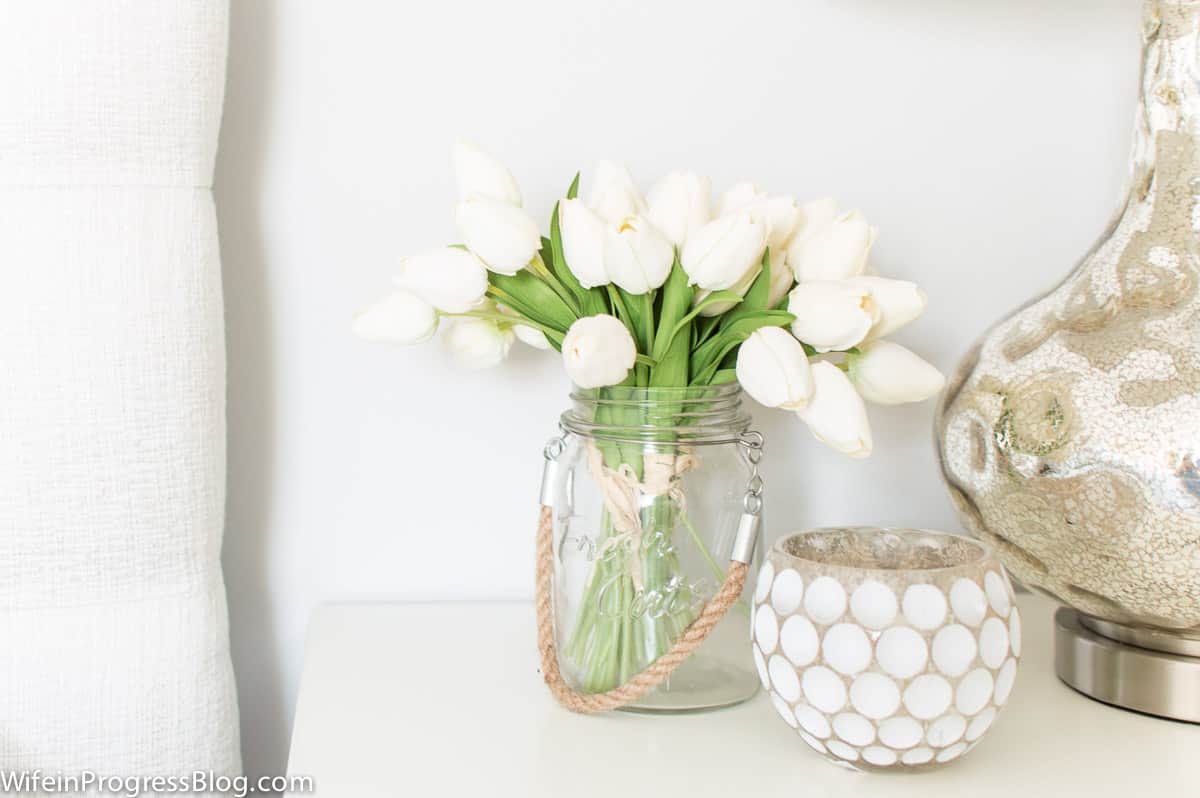 Final Thoughts on Stonington Gray
If you are looking for a modern, medium-toned gray that's a little on the cooler side then Benjamin Moore Stonington Gray is for you. I love it throughout my home and definitely recommend it!
If you're still on the fence, then read more about Gray Owl for a lighter, fresher gray. And for a gray that universally works anywhere, consider Sherwin Williams Repose Gray.
Don't Forget…
Don't forget – no matter what you've read or photos you've seen online, it's really important to sample paint colors in your home before committing!
Samplize provides real paint samples that are easy to move around your home, and cheaper than buying a gazillion paint pots! It's the only way I buy paint samples.
Use code JENNAK10 at checkout and get 10% off your order
Coupon entitles all customers to 10% off the entire order with no minimum purchase requirement. This is a one-time use coupon and it cannot be combined with other discounts.