This post may contain affiliate links | For further details, please read our privacy policy
Choosing the perfect paint color for a nursery can be an exciting yet challenging task for expectant parents.
With so many colors and shades available, it can feel overwhelming trying to envision how the room will turn out.
However, the process of selecting the best nursery paint colors doesn't have to be a daunting experience. In fact, it can be a joyful opportunity to explore your creativity and create a warm, welcoming space for your little one.
There are a variety of factors to consider when selecting the ideal color scheme for your baby's nursery. Whether you desire a calming, soothing atmosphere or a more whimsical and playful environment, it's essential to choose colors that will evolve with the room as your child grows.
By taking the time to explore your options, you can confidently select the shades that will bring warmth, depth, and personality to your baby's space.
The Significance Of Color Psychology In The Nursery
Color psychology plays a significant role in creating a nursery that not only looks beautiful but also promotes a healthy environment for your baby's growth and development. Choosing the right colors goes beyond personal preferences; it's about understanding the impact of colors on mood, behavior, and emotions.
Research shows that different colors can evoke different feelings and reactions. For a nursery, it's essential to select colors that create a calming and nurturing atmosphere. Studies in color psychology have identified several colors that are ideal for your baby's nursery.
White: Often associated with purity and innocence, white walls are an excellent unisex option for a nursery. They create a clean and fresh ambiance, which can make the room feel more spacious and welcoming.
Greens and Blues: Known for their calming effect, these colors bring feelings of tranquility, freshness, and relaxation. They are perfect for creating a soothing environment that helps your baby feel at ease.
Pastel Tones: Soft, muted shades like light pinks, yellows, and lavenders can create a gentle and nurturing environment. These colors are easy on the eye and promote a sense of serenity.
Warm Grays: Grays have been increasingly popular for nurseries, especially warmer tones. These shades offer a modern and elegant look while bringing a sense of warmth and coziness to the space.
When selecting colors for your nursery, consider the size of the room, and take into account the existing furniture and decorations. You can also incorporate colors in accents like rugs, curtains, and wall art to create a balanced and cohesive look.
Boy Nurseries
1. Sherwin Williams Mild Blue
This beautiful, calming color is part of the Sherwin Williams Pottery Barn Kids (Fall/Winter) and West Elm (Fall/Winter) color collection for a good reason. Sherwin Willams Mild Blue will bring a sense of tranquility to your baby boy's nursery for a relaxing space to play and dream.
Mild Blue, despite its name, actually belongs to the purple color family, but don't let that detract you from using it as part of your blue nursery color scheme. It created the perfect accent wall in my son's coastal themed room. Paired with Sherwin Williams Pure White, soft blue decor, and light furniture, Mild Blue brings it all together for a cohesive look.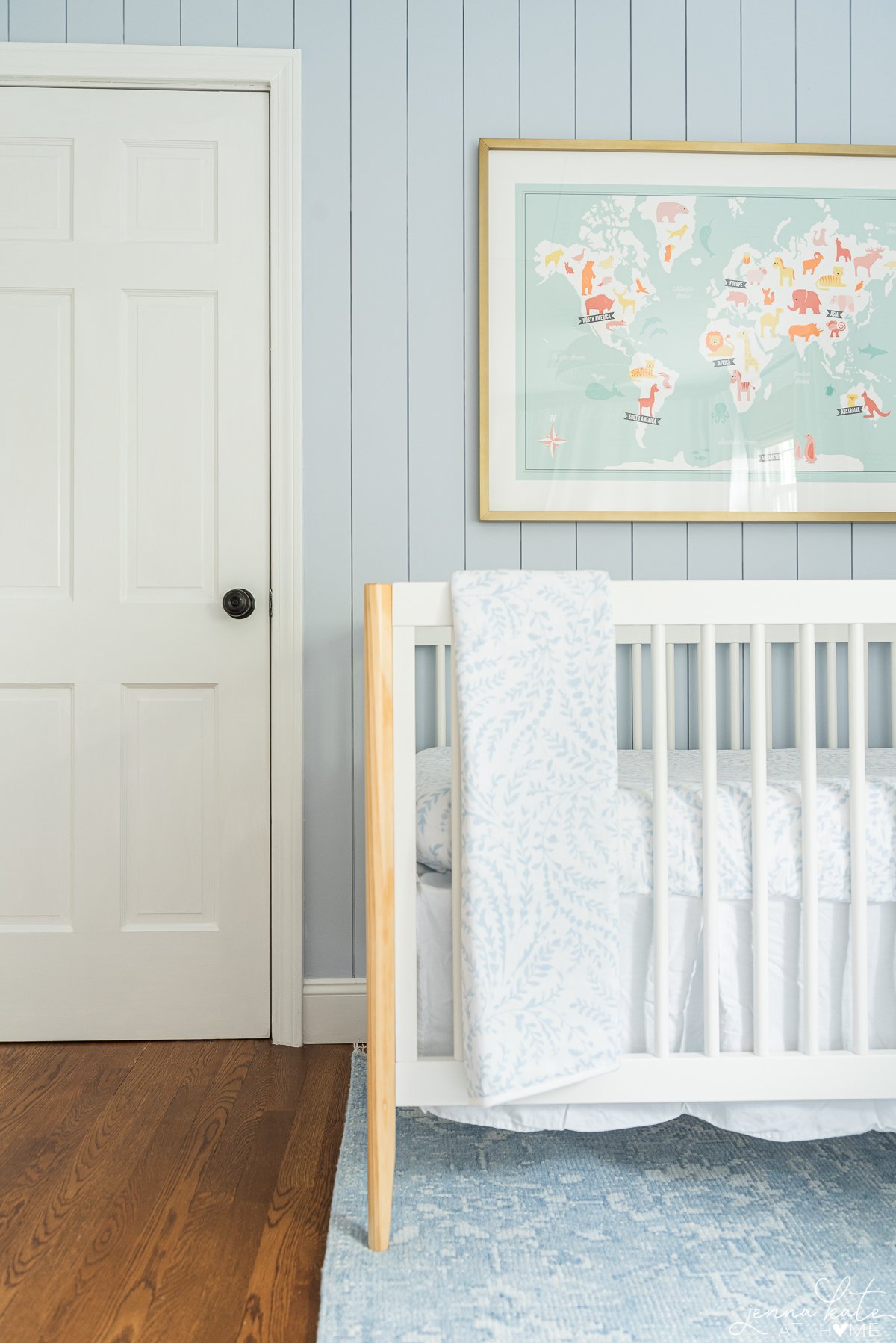 2. Sherwin Williams Pure White
The most popular Sherwin William's white paint color was on the top of my personal list when I was creating my blue & white nursery makeover. Pure White provides a simple and clean look that works perfectly for walls and trim.
It's a classic color that is bright and crisp without being too stark and cold. While it won't necessarily work in every room, due to lighting conditions, in the right space, it's amazing.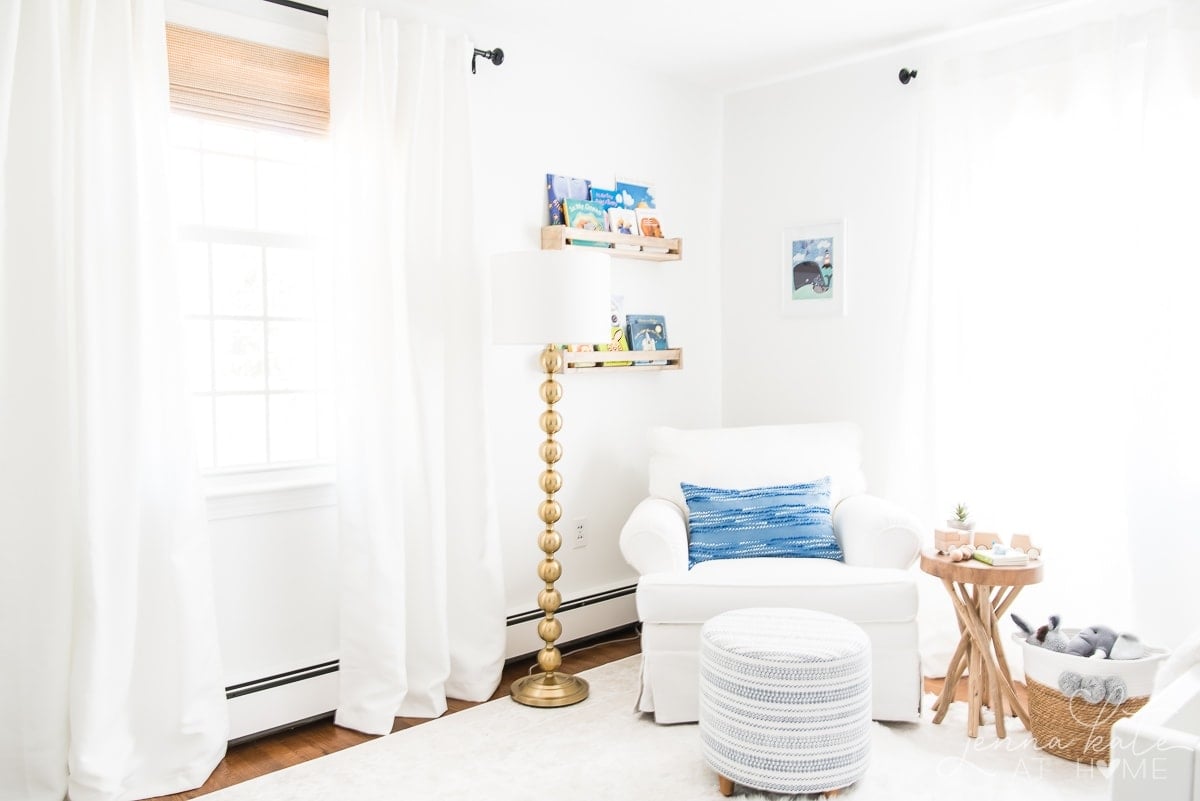 Due to its soft undertone, Sherwin Willams Pure White is considered one of the best white paint color for interior walls and trims. If your nursery gets warm light all day, Pure White is a great option, however, if your room tends to get cool light then it may lean more into its gray undertone, but it will still appear as a soft white.
This crips white paint color is the perfect neutral backdrop for bright and airy nurseries. Add your personal touch through pops of color with your decor and warm it up with natural wood accents for a calming space.
If you've been following me for years, you'll already know my favorite color is blue, so when it came time for a small makeover for my son, Cian, I was excited to use Sherwin Willams Naval as an accent wall.
Naval makes the perfect blue color for little boys' nurseries. It gives a calming oasis feel when paired with bright whites, cool light gray (s), or similar colors. Be sure your nursery provides a lot of north-facing light, otherwise, Naval will appear as a very dark navy blue.
Sherwin Williams Naval works wonders for coastal themed rooms, but can also come off as sophisticated and classic with the right furnishings and decor. If you don't want to commit to a full wall of this beautiful dark blue, try painting a dresser or nightstand for a pop of color. No matter how you use Naval in your new baby's nursery, you will not be disappointed.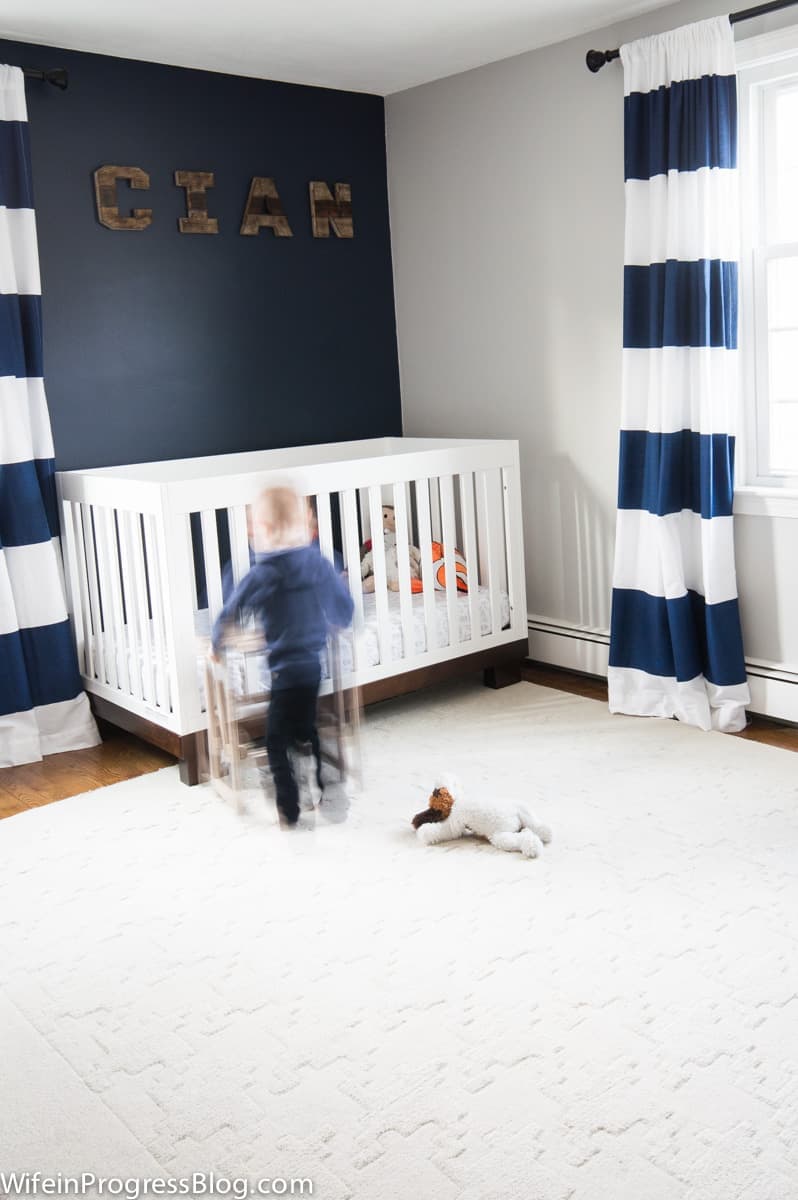 4. Benjamin Moore Stonington Gray
This modern and fresh medium-toned gray will really bring together any little boys nursery, especially paired with crisp white trim and touches of blue decor. It was the perfect gray when I did my son's modern industrial blue and gray nursery.
Benjamin Moore Stonington Gray is a great starting point for any classic baby boy nursery filled with shades of grey, white, and blue. If you're going for light and airy, unfortunately, this is not the gray for you. This neutral color is easy on the eyes, not too dark, and adds some depth to the walls.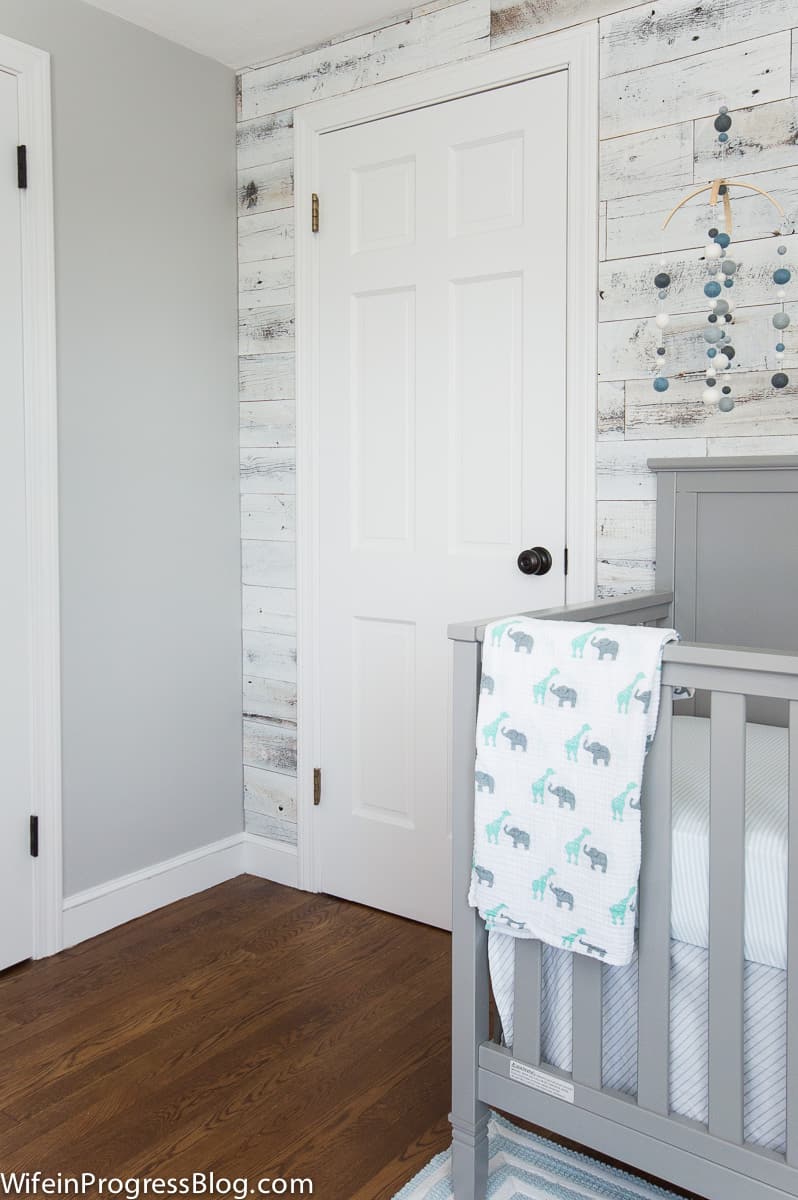 Because of it's stormy blue-purple undertones, it can flash quite blue in rooms with cooler light, so be sure to test it before committing. As long as you don't paired it with a lot of white and cool (north facing) light, where it can look a little blue, Stonington Gray tends to stay perfectly gray.
Girl Nurseries
5. Benjamin Moore Pink Bliss
This quintessential soft pink is exactly what you think of when you imagine a traditional baby girl's nursery. It's soft, pale, sheer, and the perfect color when paired with bright whites.
Benjamin Moore Pink Bliss is subtle but creates a sophisticated, charming feel to the room. This pretty pink paint color will be able to transition with your little girl as she grows into a sweet young lady.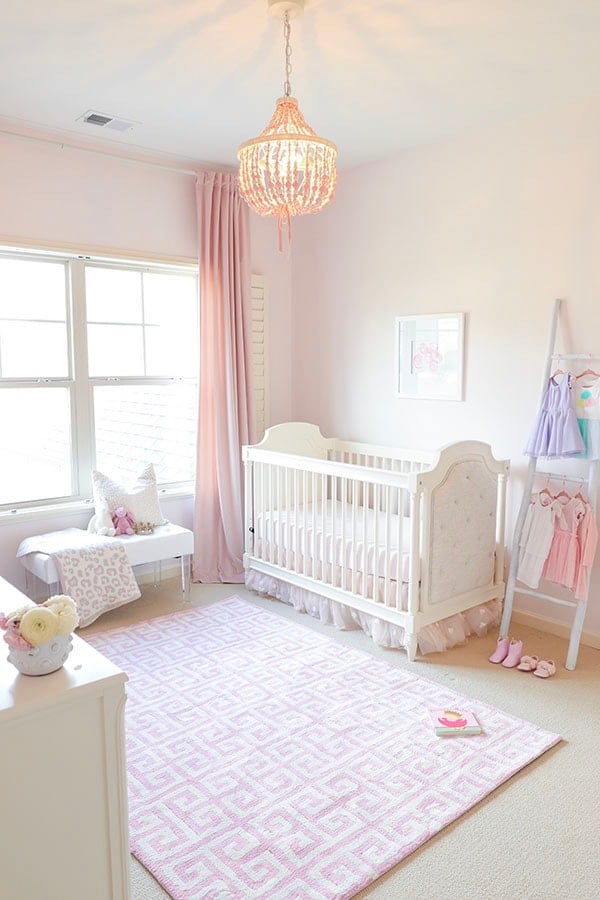 This color works great on all four walls, or add some dimension and fun to your nursery by using it as an accent wall alongside light grays or creamy whites. Don't be afraid to add more pink with your decor since Pink Bliss is very soft.
6. Benjamin Moore Gentle Butterfly
Another popular pretty pink is Benjamin Moore Gentle Butterfly. This soft blush color is another popular choice for your traditional little girls nursery that is calming and easy on newborn eyes. Benjamin Moore calls it as delicate as a butterflies wing, and so it is.
This soft pink is a bit more saturated than Pink Bliss so it comes off a bit more pink with cooler undertones. Pair it with crisp whites, gold accents, and an unexpected pop of black and white for a dainty but fun spin on a little girls' nursery.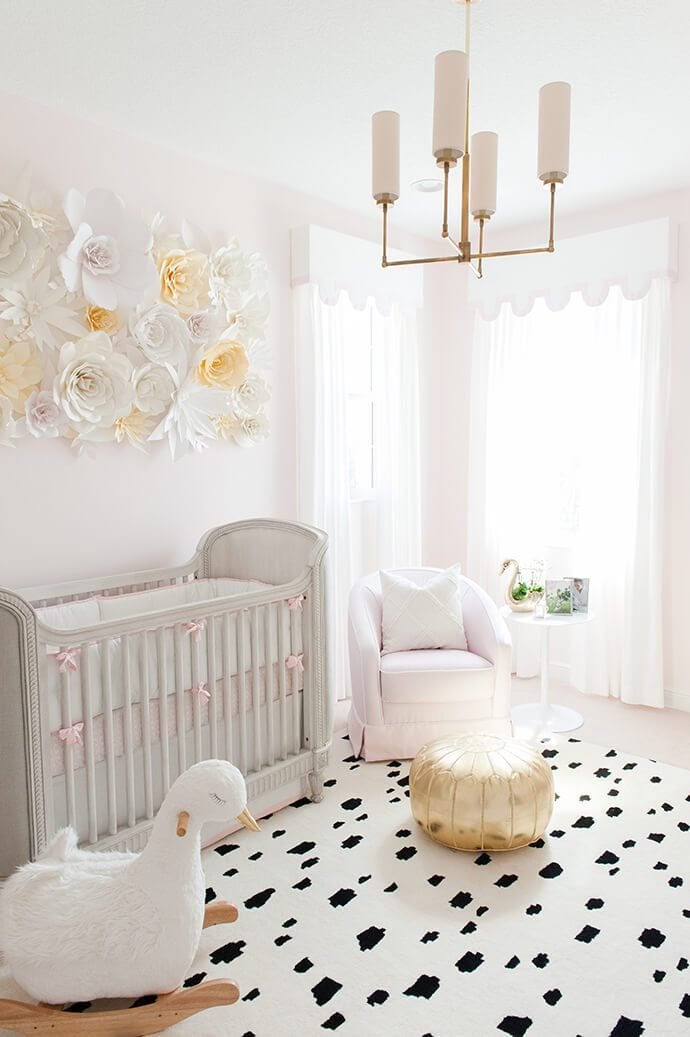 7. Benjamin Moore Chantilly Lace
Chantilly Lace is one of those paint colors that you can use just about anywhere, making it a great choice for your baby girl's nursery. This bright, crisp, white is a what Benjamin Moore states "as delicate and refined as the lace it was named after."
When paired with the pale pinks, light woods, and creamy whites, Chantilly Lace becomes a dreamy combination for any little girls nursery. With slight undertones, it does play against its environment, so choose accent colors that won't lean it towards a cool color in order to keep its bright white look.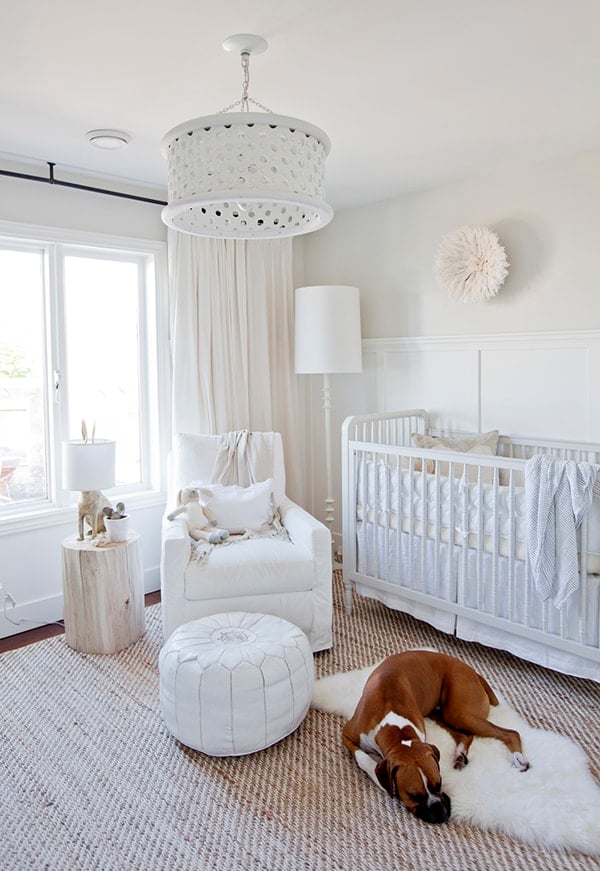 If you're painting the walls in Benjamin Moore Chantilly Lace, I recommend also keeping the trim the same color but using a different sheen. The shinier finish on the trim reflects more light back, making the color look lighter. It provides just enough contrast between the walls and the trim and you never have to worry about undertones clashing.
8. Benjamin Moore Raspberry Ice
For those who aren't a fan of traditional pinks, but still want a paint color that is dainty and sweet for your baby girl's nursery, Benjamin Moore Raspberry Ice is the perfect option. It's a little more saturated than the above pink colors, but not overwhelming at all. It has a touch of grey which softens this pretty purple up a little bit.
Raspberry Ice creates a very calming, serene environment for baby, making it one of the best paint colors for sleep. It's a beautiful paint choice for all four walls, or opt for using it on the top half with a creamy white paneling below to create a darling, airy space for your little girl.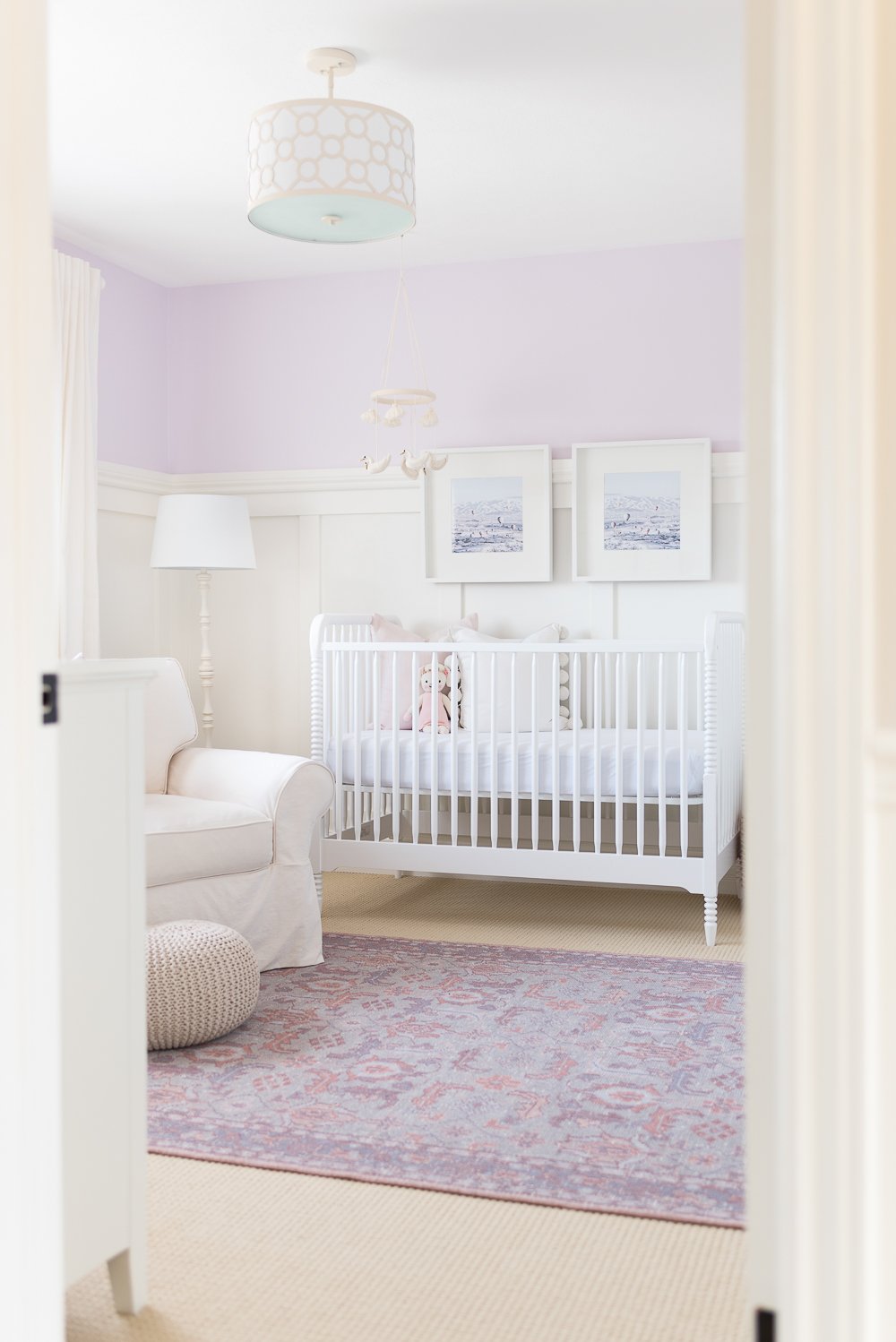 Gender Neutral Nurseries
Creating a gender-neutral nursery can be an exciting endeavor. One of the key elements in designing such a space is selecting the right paint color.
By choosing gender neutral colors, you can create a beautiful and calming environment for your little one to grow up in.
Here are a few great options for gender-neutral paint colors that will suit any nursery.
9. Benjamin Moore Paper White
If you're looking for a neutral color in the grey family for your gender neutral nursery, then Benjamin Moore Paper White is for you. This light grey doesn't lean warm or cool, so it's the perfect backdrop to just about any nursery theme.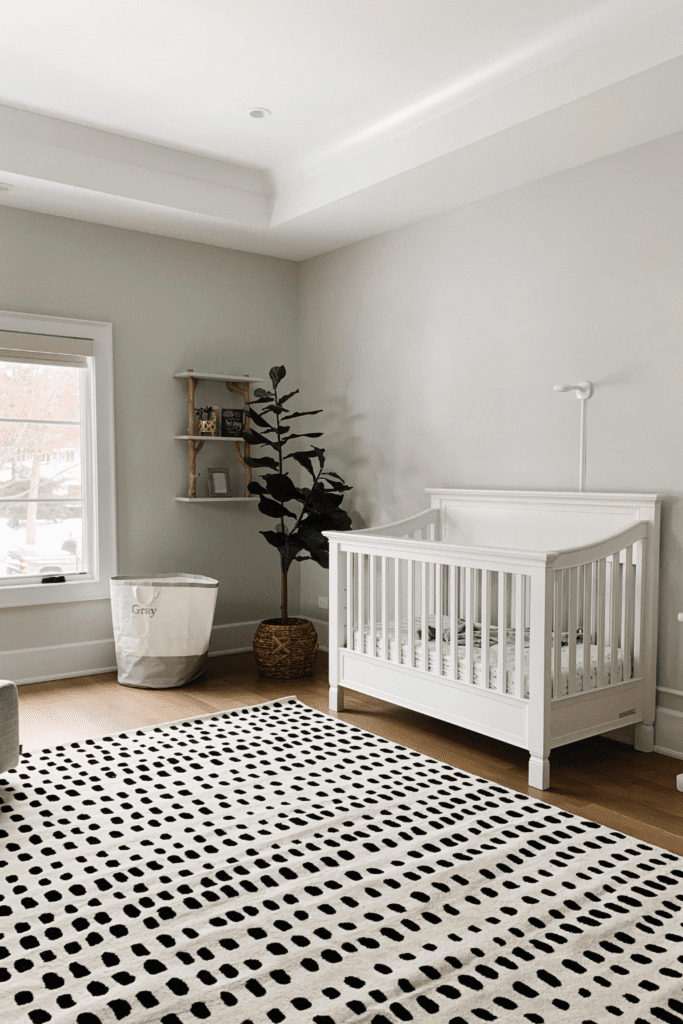 When paired with crisp white trim, it is the most beautiful, soft, almost creamy shade of dove gray. You can also change the appearance slightly with the type of furniture you bring in. Use white furnishings for a bright clean look, while using darker and more contrasting colors to create a moodier vibe for your nursery.
10. Benjamin Moore Big Bend Beige
With earth tones making a huge comeback in paint trends this year, it's no wondering Benjamin Moore Big Bend Beige has become the perfect neutral color for both boy and girl nurseries. Pair it with with dusty rose accents for your little girl or muted greens for a little boy.
This calming beige color is a fantastic choice, no matter what your nursery decor entails, since it's a neutral color. It really comes to life in bright rooms and makes darker ones feel more spacious.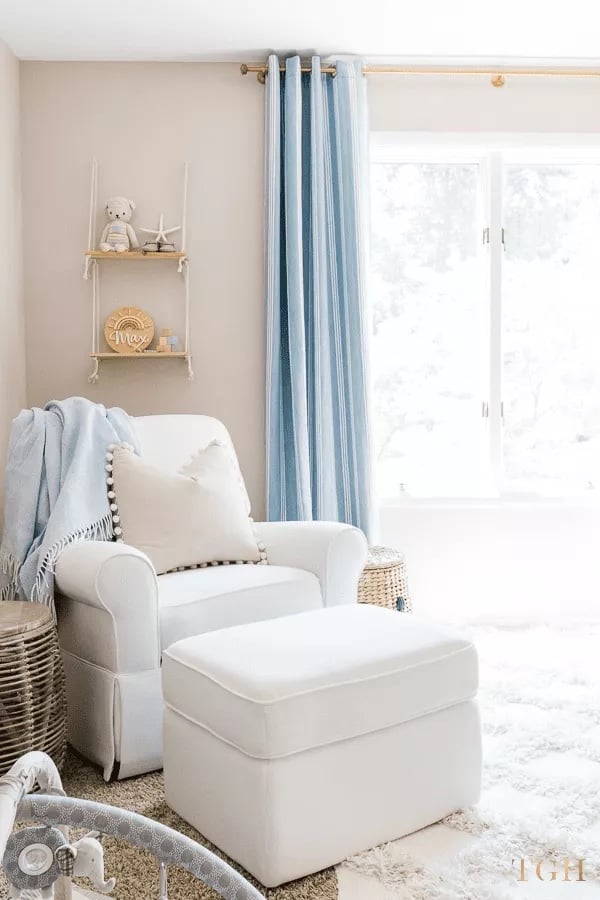 11. Sherwin Williams Alabaster
As Sherwin Williams color the year in 2016, and still being one of their very popular colors, it's a great color option to paint your nursery no matter boy or girl. This lovely soft, creamy white will bring a warm, nurturing feel to your room.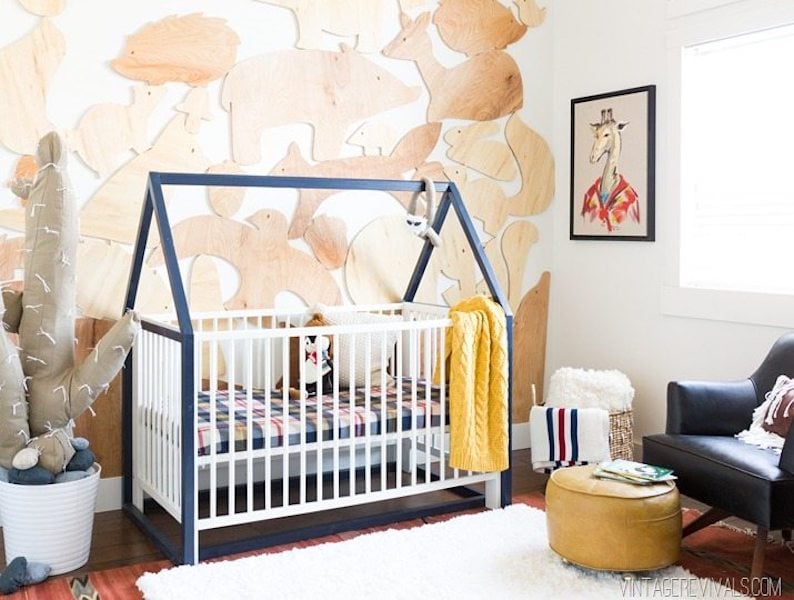 It's off-white appearance gives more depth than many other whites, and if paired with crisp white accents, it's creaminess will become more apparent. Alabaster is a welcoming backdrop for just about any decor or theme you choose.
Sherwin Williams Alabaster is a great option if you want white but also want to keep a cozy, warm feeling in your nursery. It's one of the most popular white paint colors for good reason! It feels fresh and modern, without being too bright or stark, perfect for your bundle of joy.
12. Benjamin Moore First Snowfall
While at first sight you may think this light blue-gray paint color would be best suited for a little boys nursery, while in fact, it's becoming very popular for both boys and girls. Benjamin Moore First Snowfall creates a the perfect backdrop for a whimsical, light and airy, space for baby.
It's a magical combination of icy white and pale blue that that makes a delicate blue-grey paint color. This nursery color creates a calm, soothing space that works will with creamy colors and pops of light blues, pale pinks, and soft yellows.
First Snowfall also helps bring in a bit of sophistication that can transition well to into their young kid years. This color really brightens up the room, especially ones with a lot of natural light.
13. Benjamin Moore Revere Pewter
This timeless and classic greige is a beautiful choice for any nursery—there's a reason it's one of Benjamin Moore's most popular colors. With its earthy and warm undertones, Revere Pewter is on trend for wall paint colors, especially for gender neutral nurseries.
To keep this color from looking too dark and muddy in your room, pair it with bright whites and and light furnishings. For a more fun vibe in your nursery, Revere Pewter pairs lovely with Hale Navy and coral and pinks if you'd like.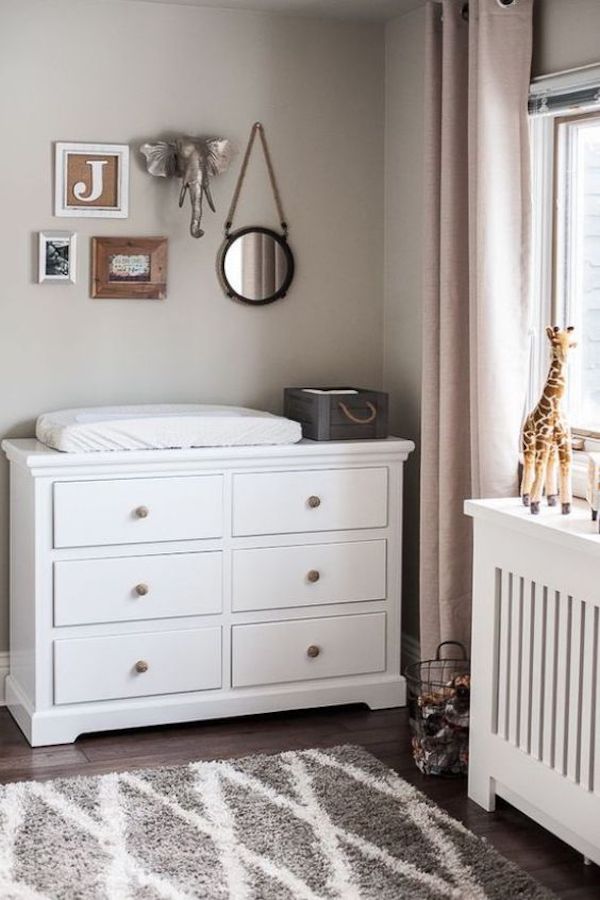 For a more neutral look, pairing it with creams and whites is a winner, while opting for an accent wall in a color like Amherst Gray or Powell Gray (or SW Serious Gray, my fave!) creates contrast while sticking to the same color family for a unifying look.
14. Yellow
If you're familiar with color psychology, you'll know that yellow is associated with happiness and joy, and that's exactly what you want to promote in your little one's nursery. Choose more subtle pale yellows which can improve infants' concentration, or keep the amount of saturated yellow to a minimum.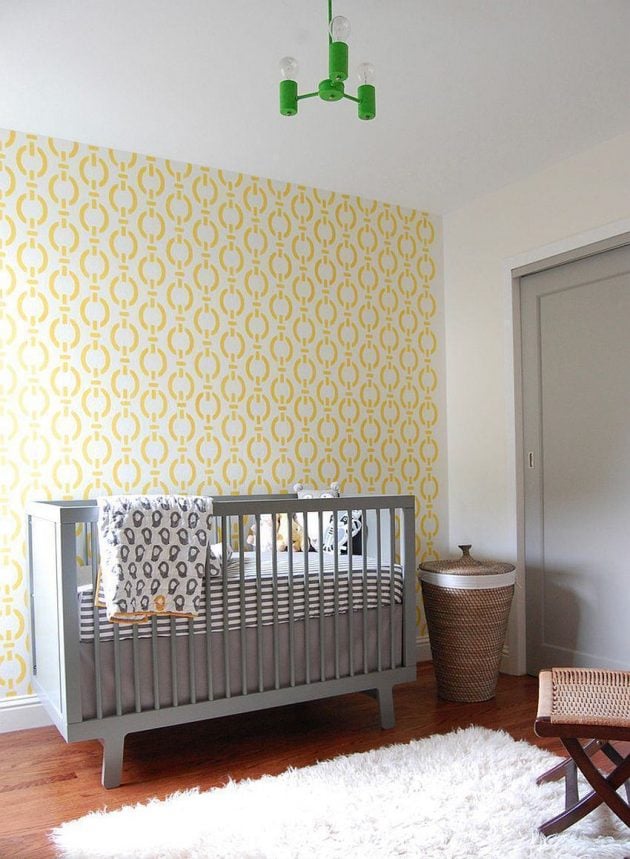 Yellow was a very popular gender neutral choice back in the days, but we're seeing a little bit of a come back in a very modern way. It is now being paired heavily with greys and whites for a clean and fun look. The use of stencils, wall paper, and even painted yellow furniture is trending in nurseries right now.
15. Sage Greens like Benjamin Moore Clary Sage
These earth tone, nature-inspired, colors are extremely calming and beautiful for any nursery. Easily create a soothing space for baby by incorporating creamy whites, wood furnishings, and natural elements to really bring this theme together.
You'll find that these sage colors, like Benjamin Moore Clary Sage pictured below, are mostly used as accent walls because a little goes a long way for making a statement. It helps keep the baby room bright and airy while still creating a more nature, moody vibe.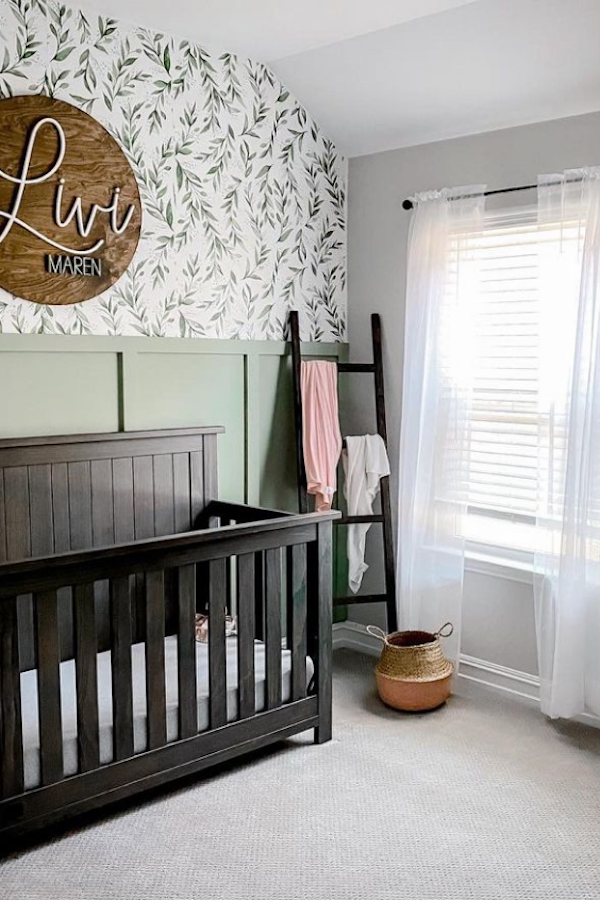 Creating an Accent Wall in the Nursery
Creating an accent wall in a nursery is a fantastic way to add a touch of drama and a focal point, translating the space into a cozy and inviting haven for your little one. With endless possibilities for materials and colors, you can tailor the accent wall to suit your personal style and the nursery's overall theme.
Wood Accent Wall
Adding a wood accent to your nursery is a great way to add interest and texture and fairly easy to do. No matter what your theme is, there are tons of ways to incorporate this into your space. My favorite part of my son's nursery was the reclaimed wood wall we put up. We went with a whitewash effect and it worked perfectly in the sun-filled space.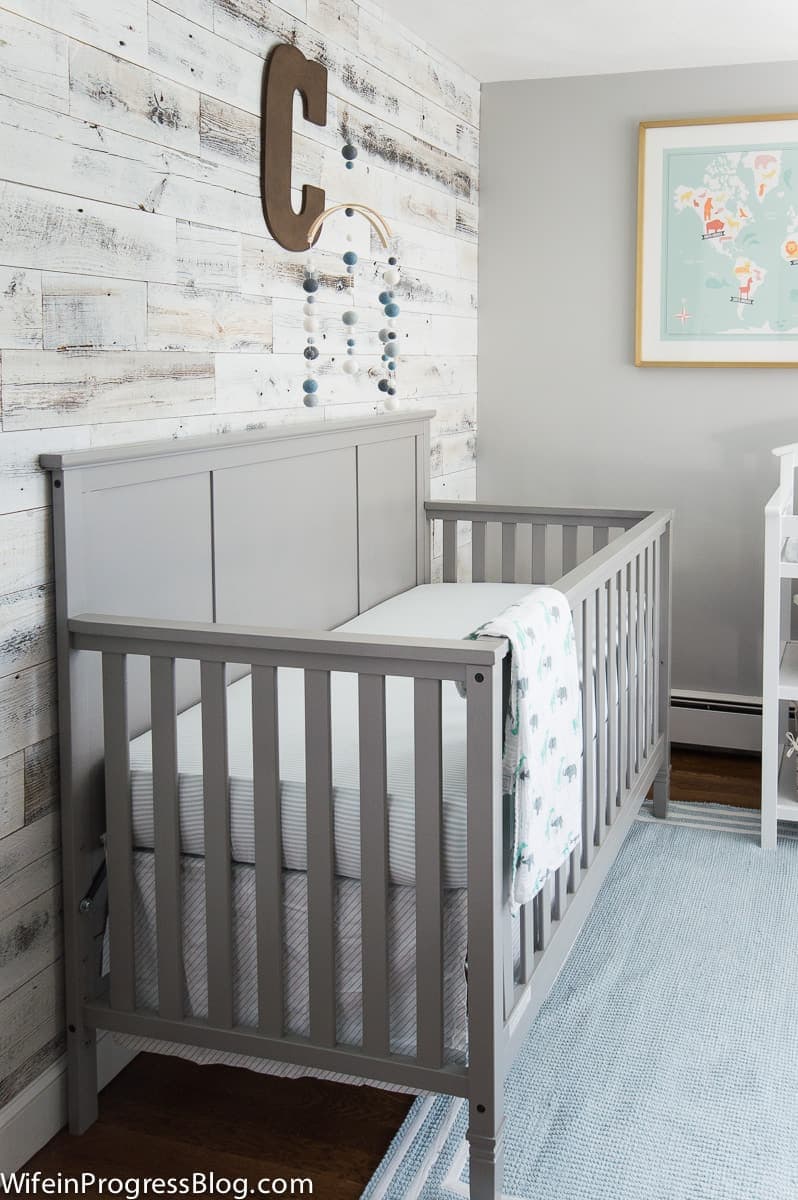 Board and Batten Accent Wall
Another fun way to add a focal wall to your nursery using wood is board and batten, but in a much more modern way. We're seeing all sorts of geometric and unique designs being created on full walls.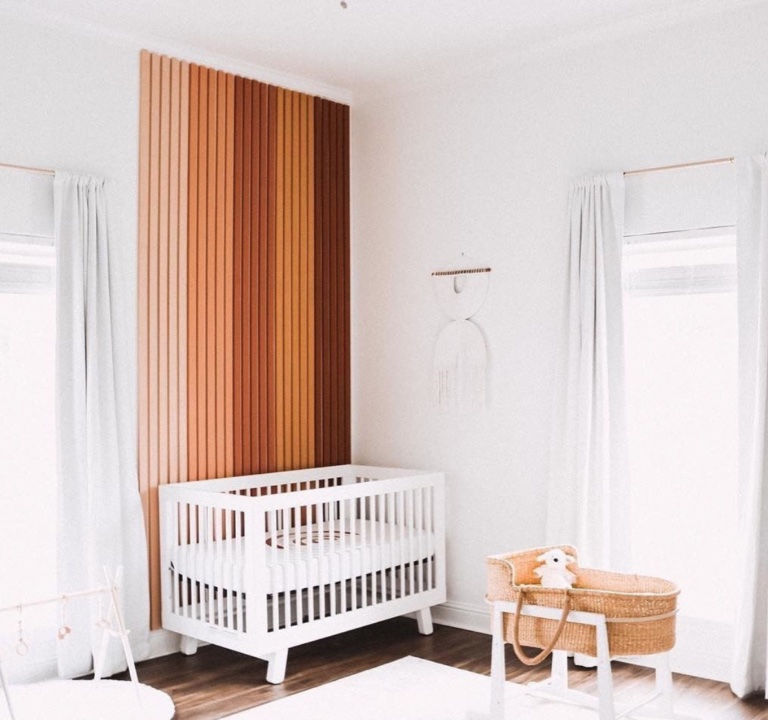 One more trend that is coming back around is the use of thin pieces of batten in a small section – think retro vibes. We're even seeing it extend up on the ceiling for a more dramatic effect.
There are so many options when choosing to use wood as an accent in your baby's room that the possibilities are endless.
Wallpaper Accent Wall
I love a good wallpaper, and this feathered wallpaper was the perfect way to bring some color into my son's all-white nursery. This color and print is not gender-specific (im my opinion) and would loook just as nice in a coastal style baby girl's nursery.
You can read about how I added the wallpaper accent wall and see the full blue and white nursery reveal too.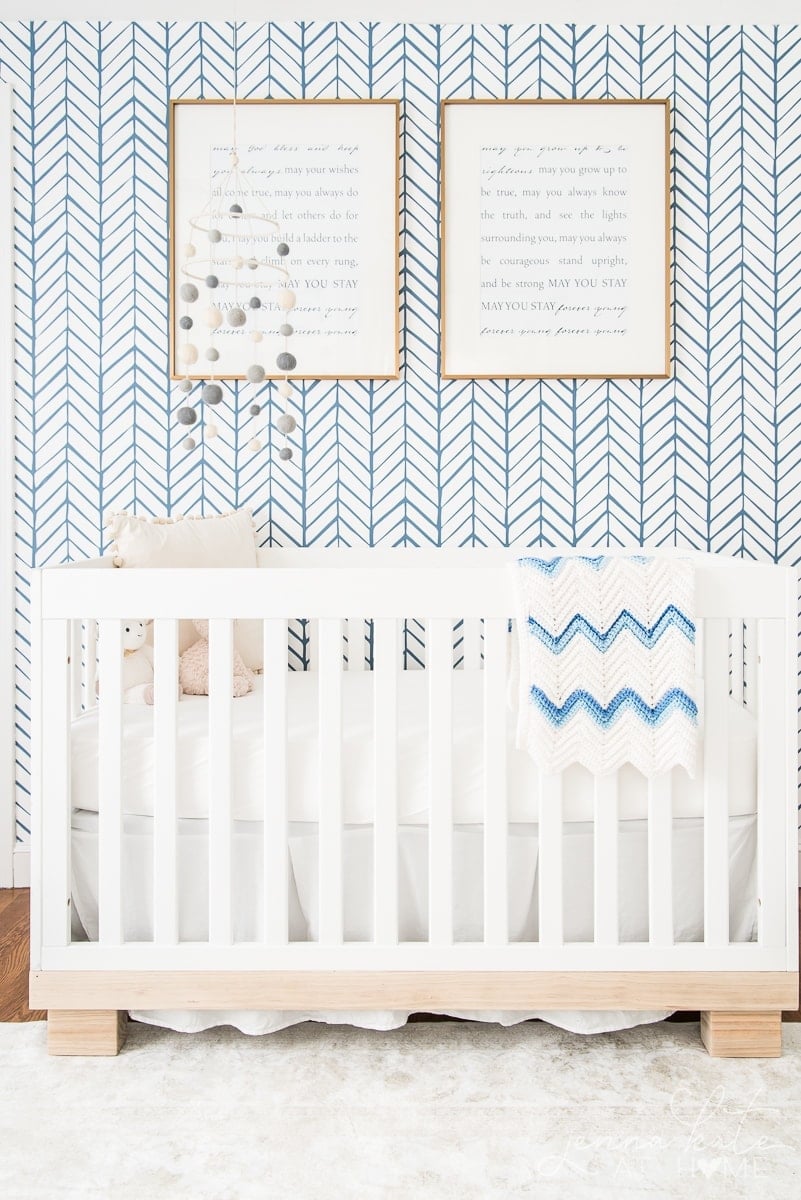 Frequently Asked Questions
Selecting the perfect white paint for a nursery can be challenging due to the variety of whites available. The key is to identify whether you want a warm or cool white, as this will affect the ambiance of the room. Warm whites have yellow, red, or orange undertones, creating a cozy atmosphere, while cool whites exhibit undertones of blue, green, or purple, making the room feel crisp and clean.
Parents often prefer soft pinks, purples, and even pastel yellows for a baby girl's room. However, modern design trends encourage breaking traditional color norms and experimenting with a variety of colors. Coral, mint, and even shades of gray, paired with sweet pinks or lilac, create delightful nurseries for baby girls. Mixing and matching colors can help design a space that reflects the personality of the little one and brings warmth to the room.
For a baby boy's room, traditional color choices include shades of blue and green. Lighter shades of blue, like sky blue or baby blue, create a tranquil environment, while darker shades like navy or teal offer a more dramatic effect. Greens can range from soft and soothing to more adventurous, like hunter green or lime green. Incorporating these colors, along with neutrals, allows for a balanced and visually appealing nursery.