Since summer has finally decided to appear in Boston, it's about time for Brian and me to get our backyard ready for some serious summer entertaining. We have BIG plans to completely overhaul our yard in the fall but for now we have to make do with what we have. And what we don't have – a patio. We do have a small deck, but it's not big enough for a full outdoor dining set.
What's a girl to do? Once again I had the opportunity to partner with my favorite furniture and mattress company, Raymour & Flanigan– this time to bring you a Faux Patio Makeover! Note: if you don't have a patio, you may be interested in these screened in porch decorating ideas instead.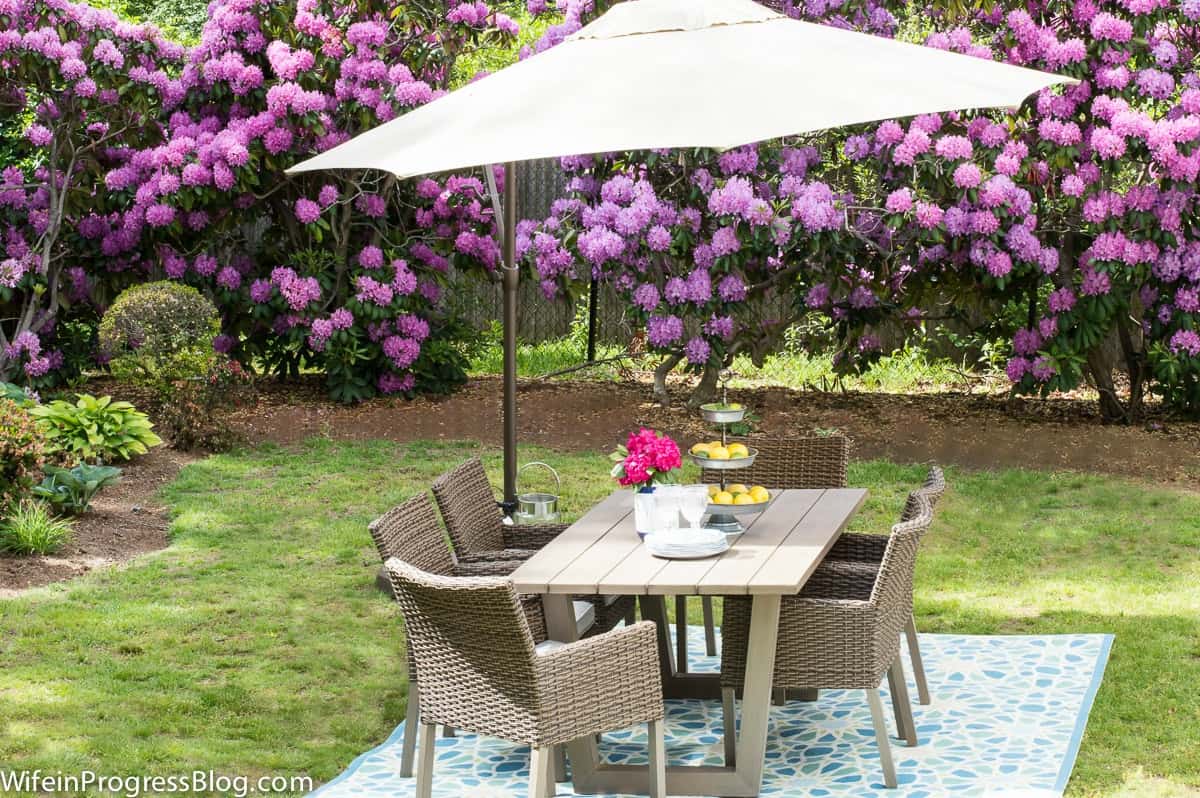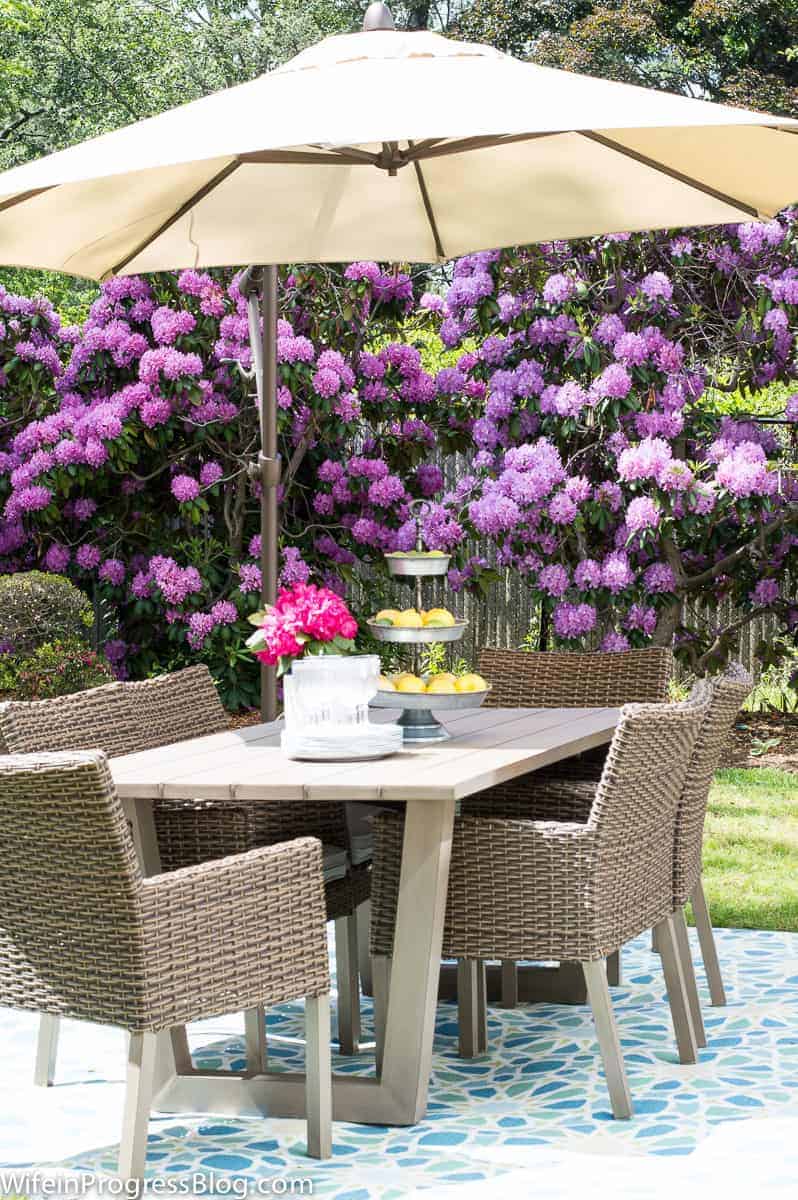 I say "faux" because this is in fact the only level piece of lawn in our entire back yard. It will one day be a patio and so I'm treating it as such right now. By the way – how spectacular are my rhododendrons? I wish they stayed in bloom all summer long!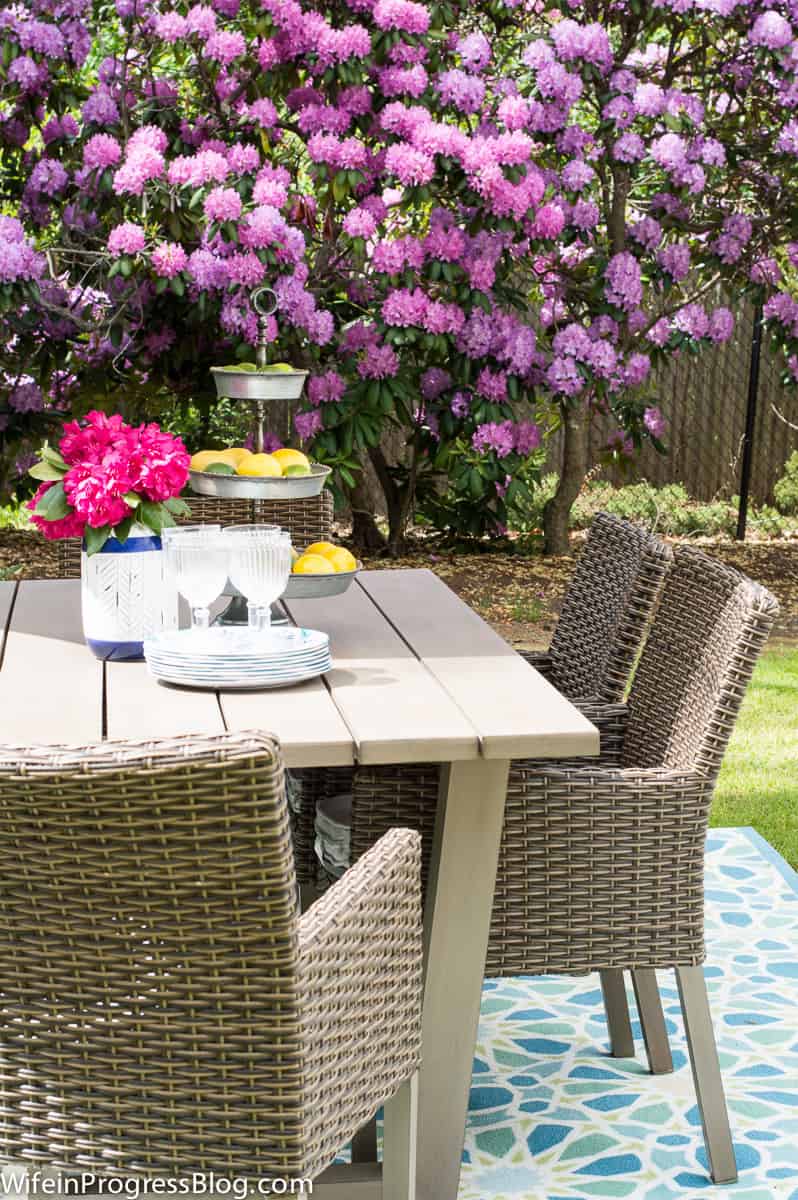 Instead of just plonking my new outdoor furniture on the lawn, I brought in a fun pop of color with this beautiful outdoor rug.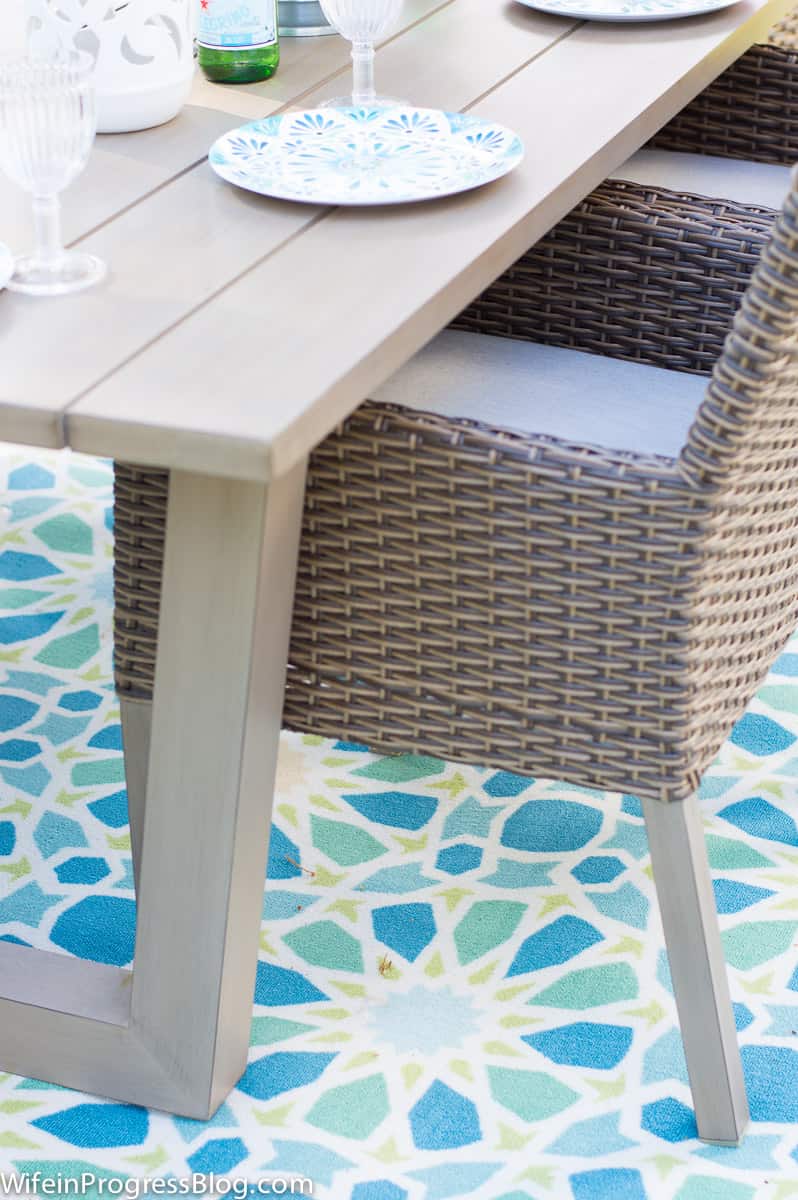 It's perfect for any outdoor area, including a deck or patio. The colors scream summer and really do a great job of designating the entertaining area.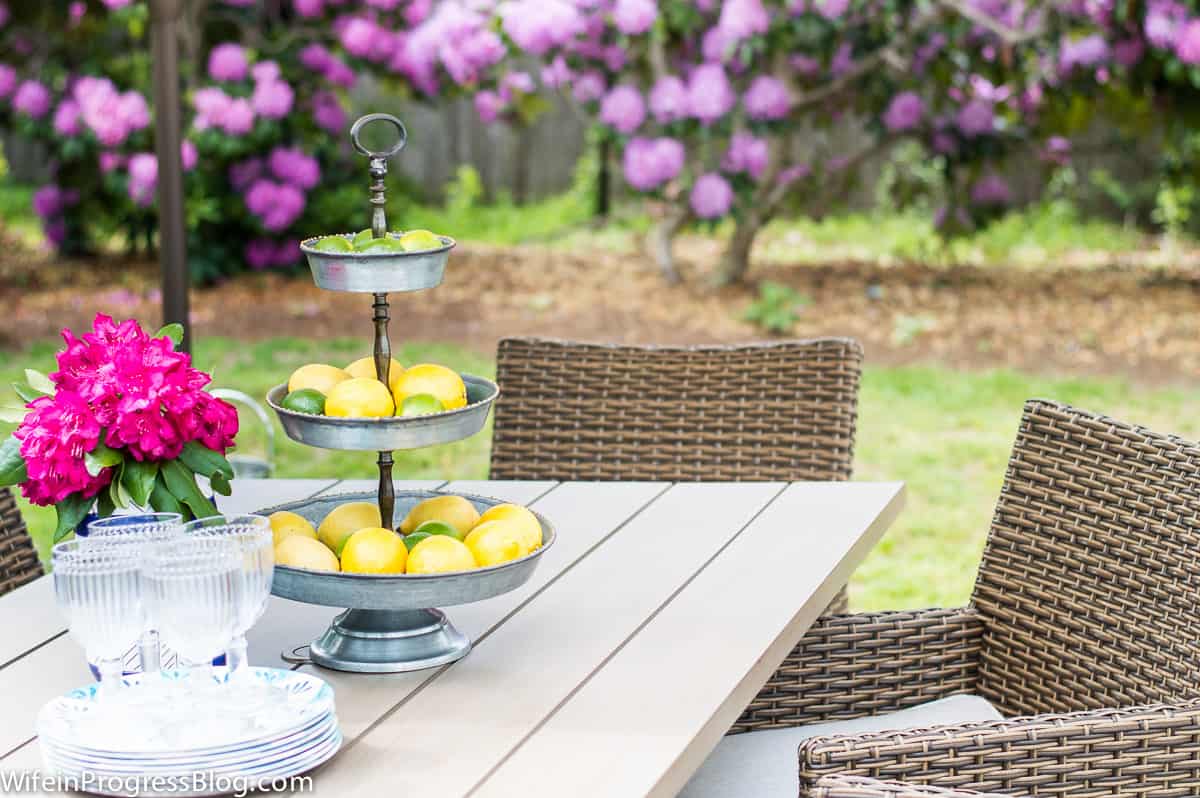 The dining table and chairs are amazing, by the way. The table has this fab reclaimed wood look about it – but it's metal. Despite that, it's really light – which means it's easy to move out of the way when we need to mow the lawn!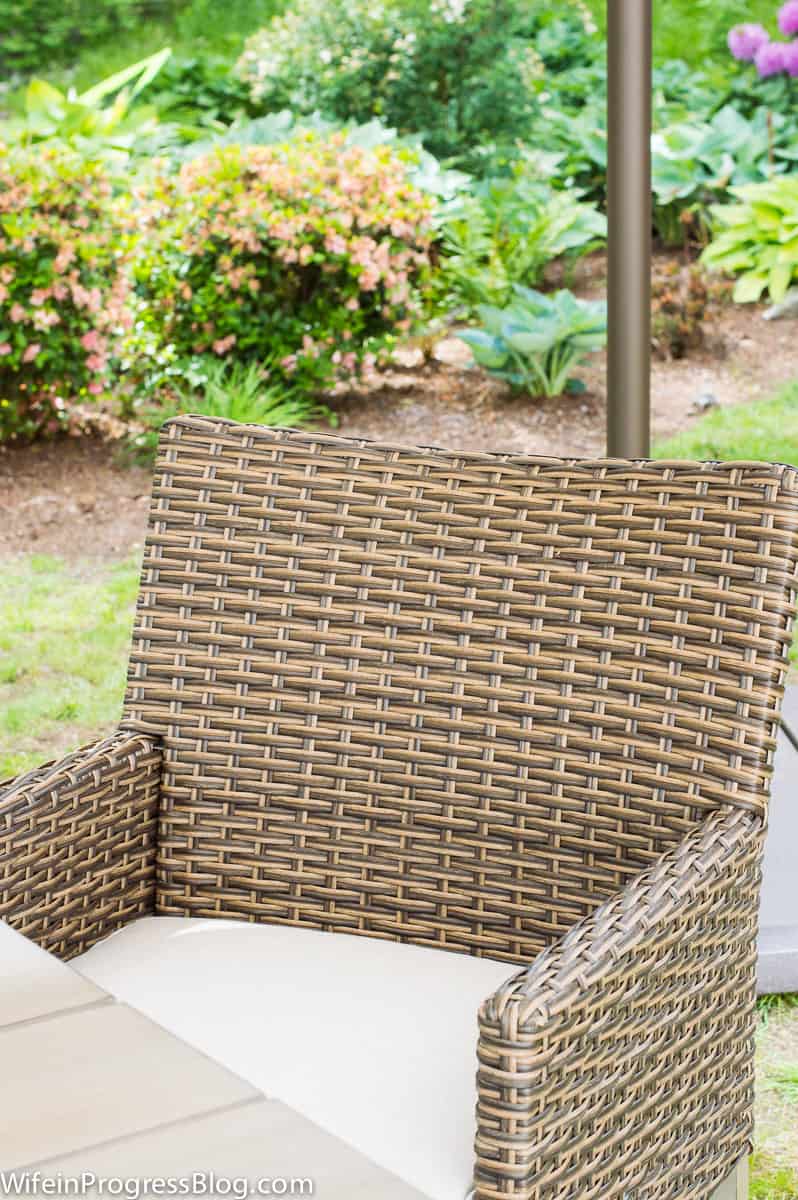 The chairs are really comfortable and have an attractive woven wicker look, while the Sunbrella cushions are the perfect neutral shade. I love Sunbrella cushions, as cleaning patio cushions is not my favorite task and this fabric holds up really well to the weather.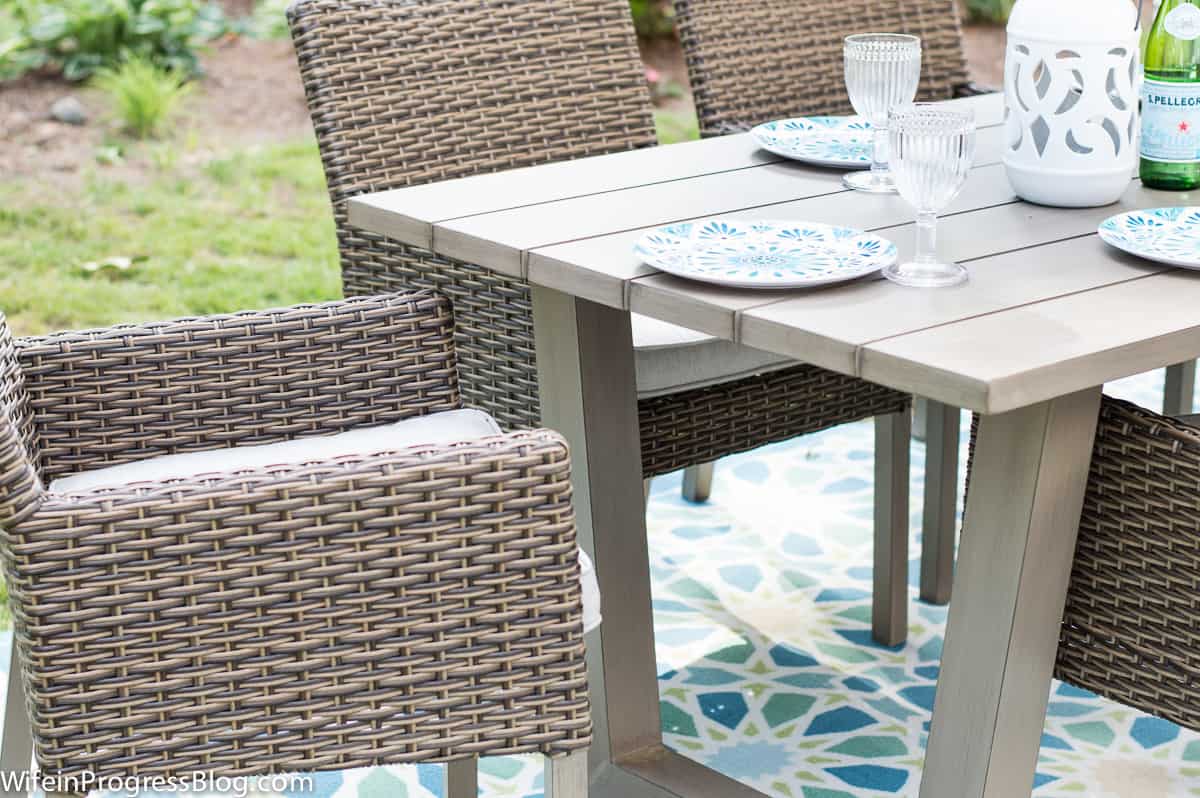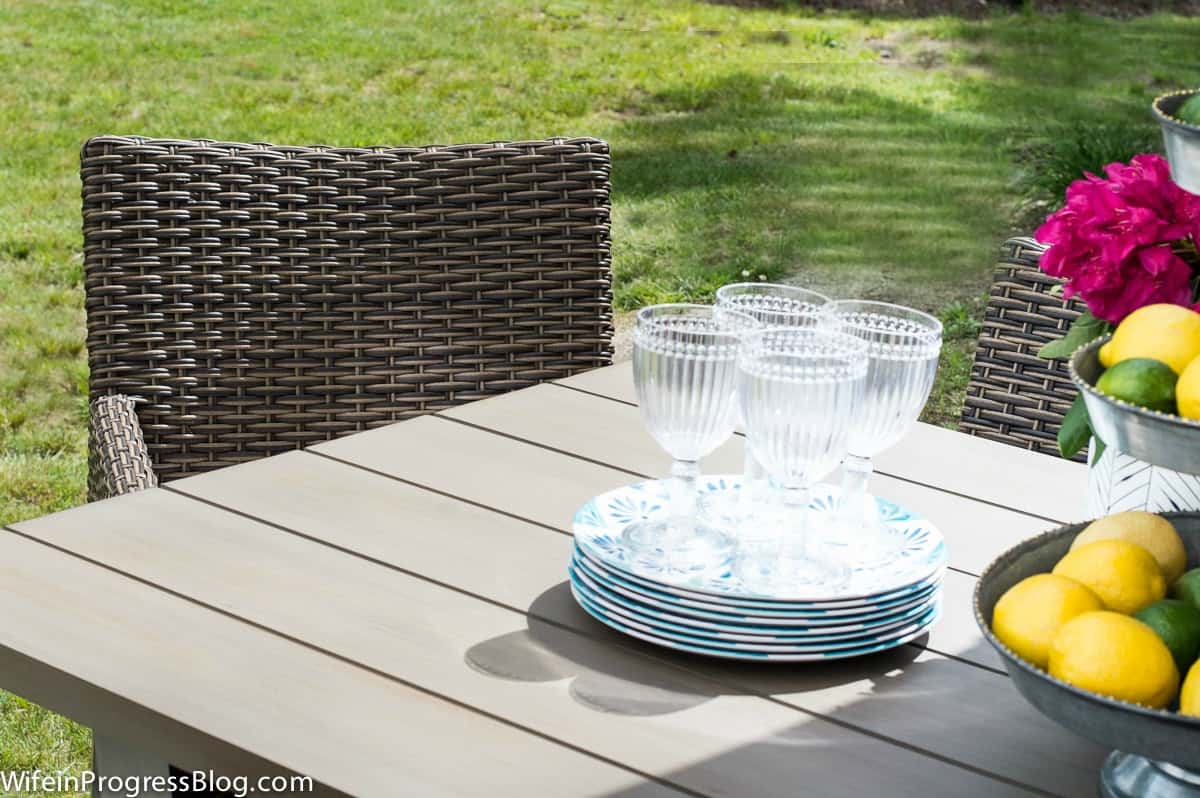 I had so much fun dressing this table up for her big photo shoot! If you're hosting a Fourth of July cookout, or any other summer party, this is such an easy set-up for you to copy…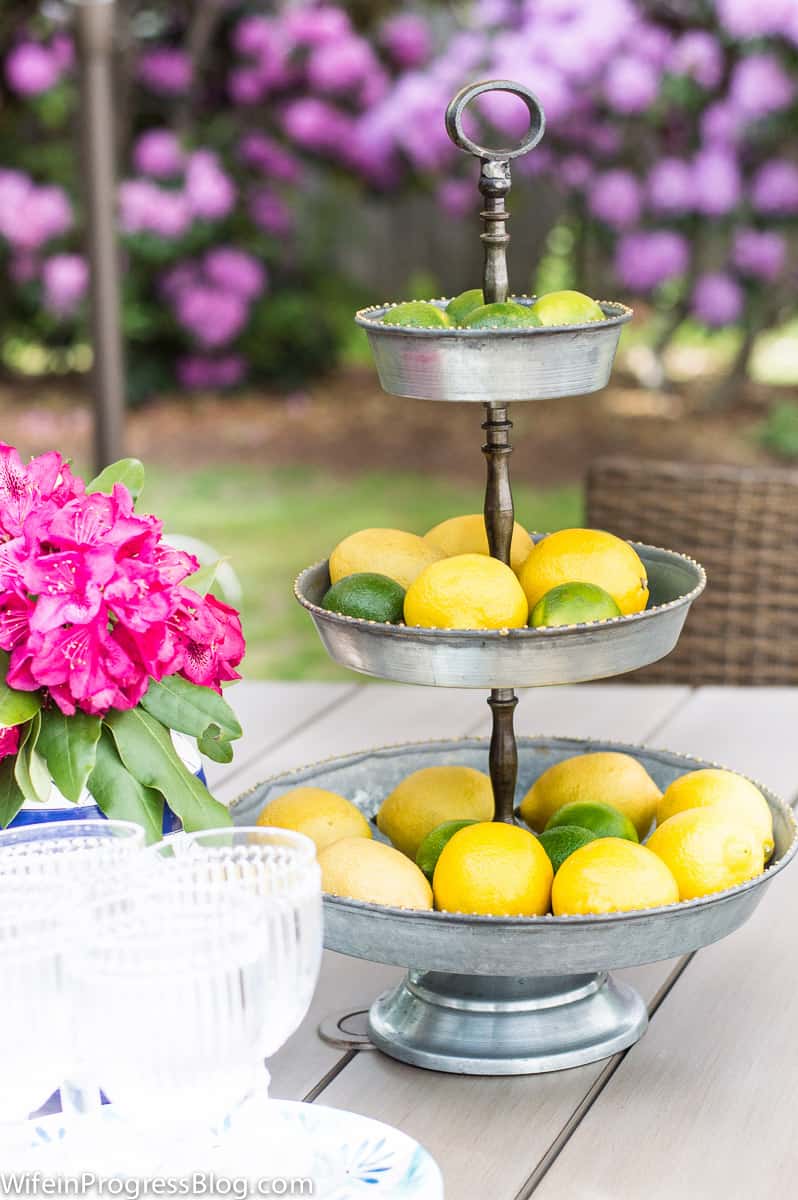 Grab a tiered tray like the one above, fill it with lemons & limes. Then cut some flowers from your garden and plop them in a vase. Finish it off with some pretty melamine dinnerware and glassware.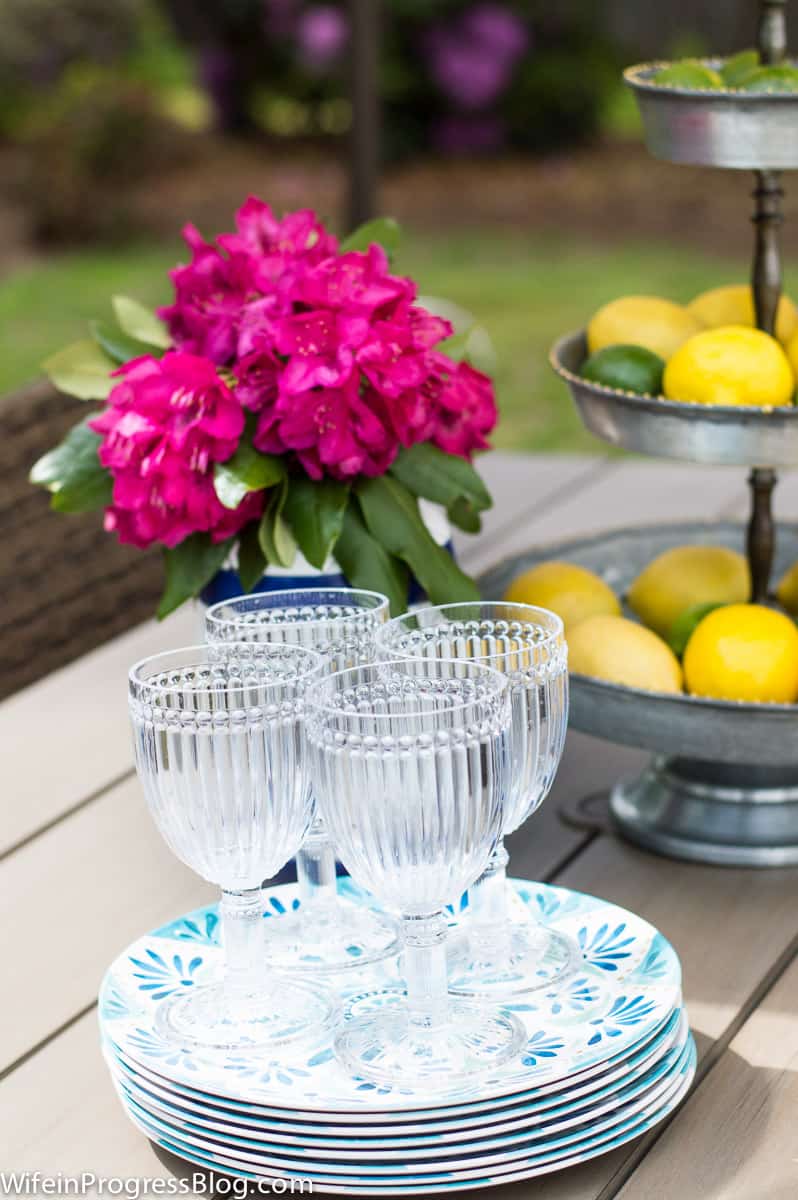 It's so simple but looks pretty!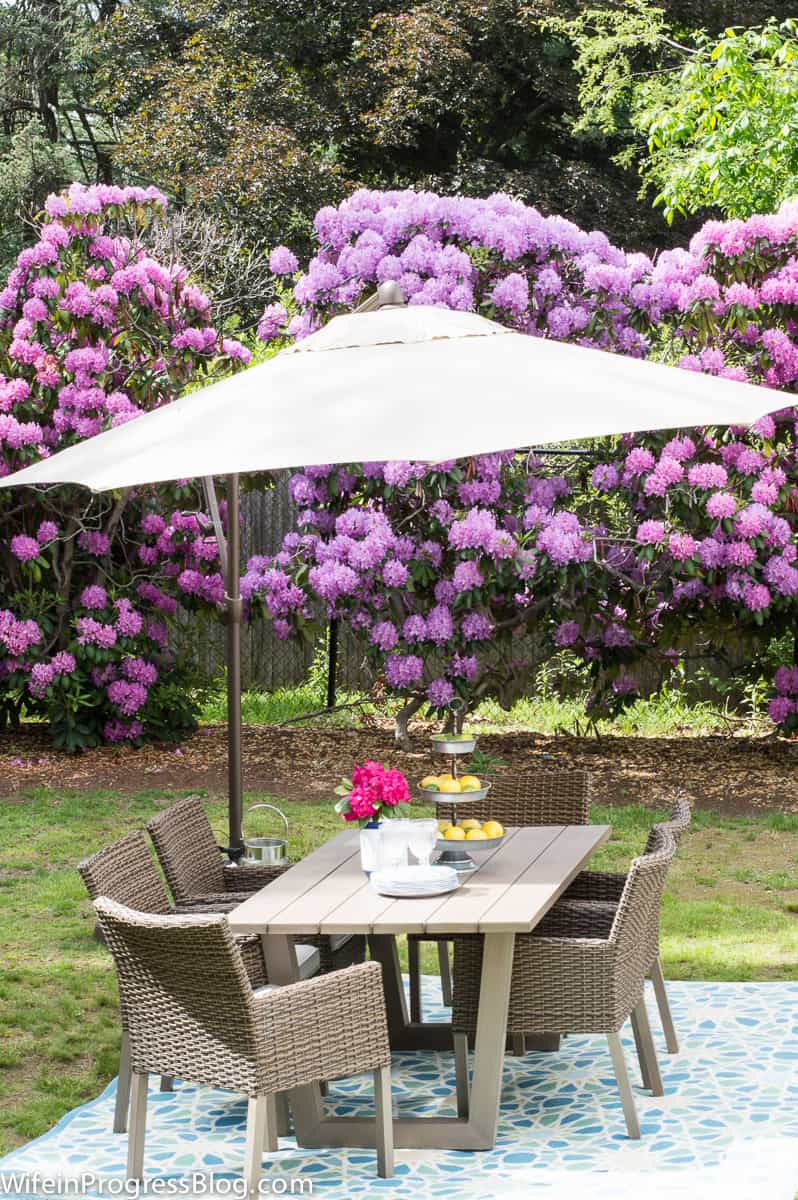 We also got this very large (10 foot!) cantilever umbrella to provide shade in this otherwise very sunny area of our yard. The cantilever is great for a few reasons: You can angle is a variety of ways so that it always blocks the sun, it's an offset umbrella so you don't have a center pole in the middle of your table taking up valuable food real estate, and it folds down really nicely and out of the way!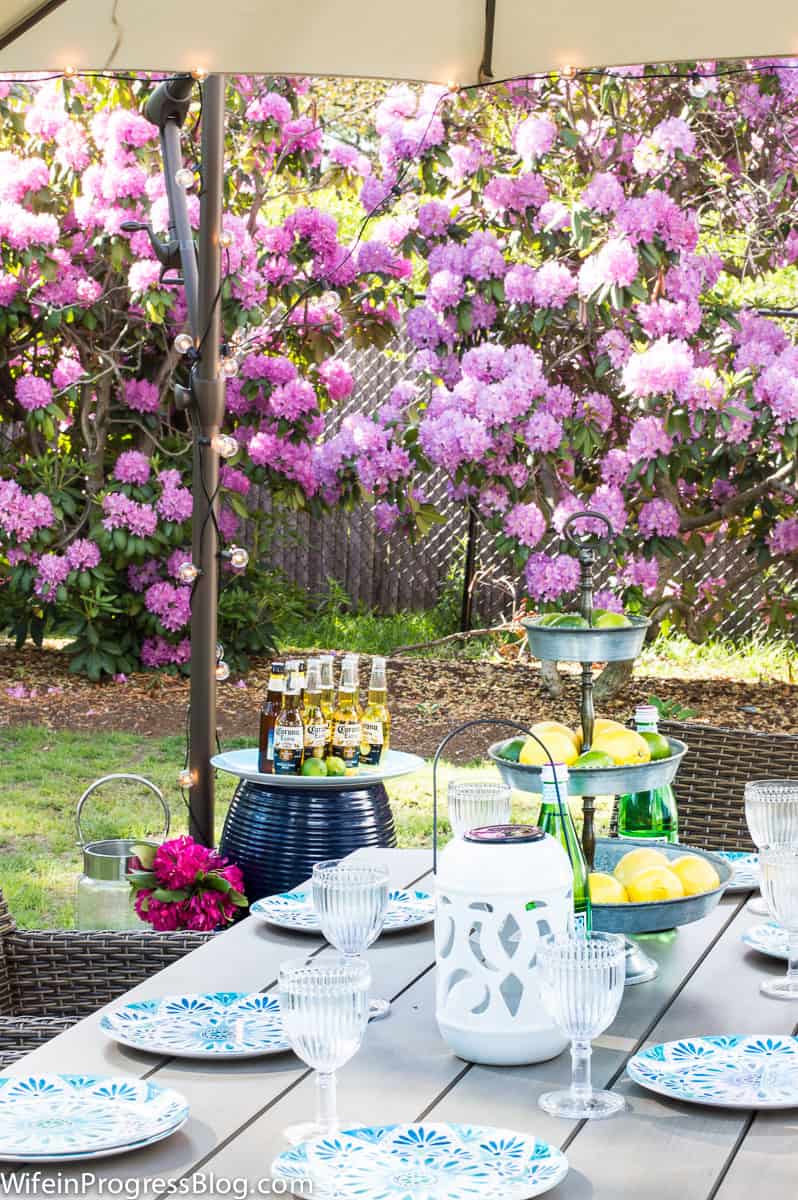 It looks extra pretty when the sun goes down and you add some outdoor lights!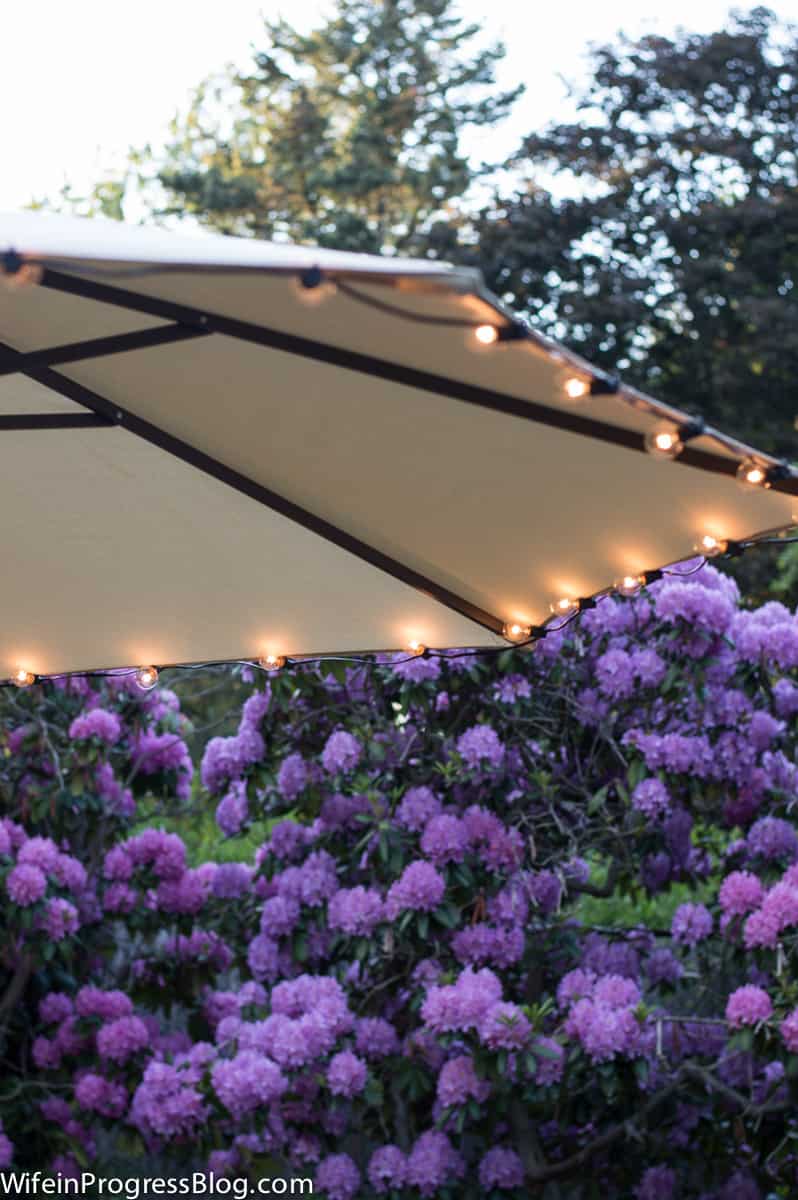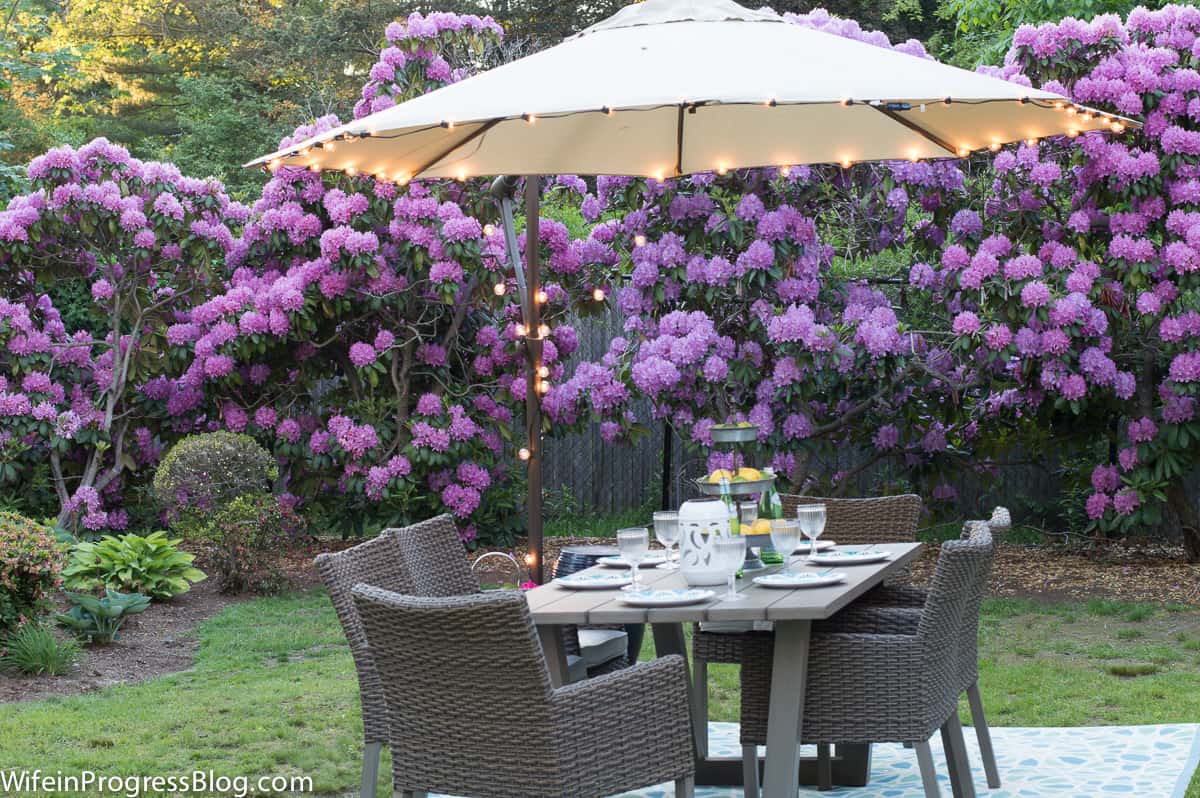 These type of lights are available from any store that's selling outdoor furniture right now but I got mine online. They just clip on to the outside of the umbrella and plug in to an outlet. I bet they also sell battery-powered versions if you don't have an outlet close-by, though.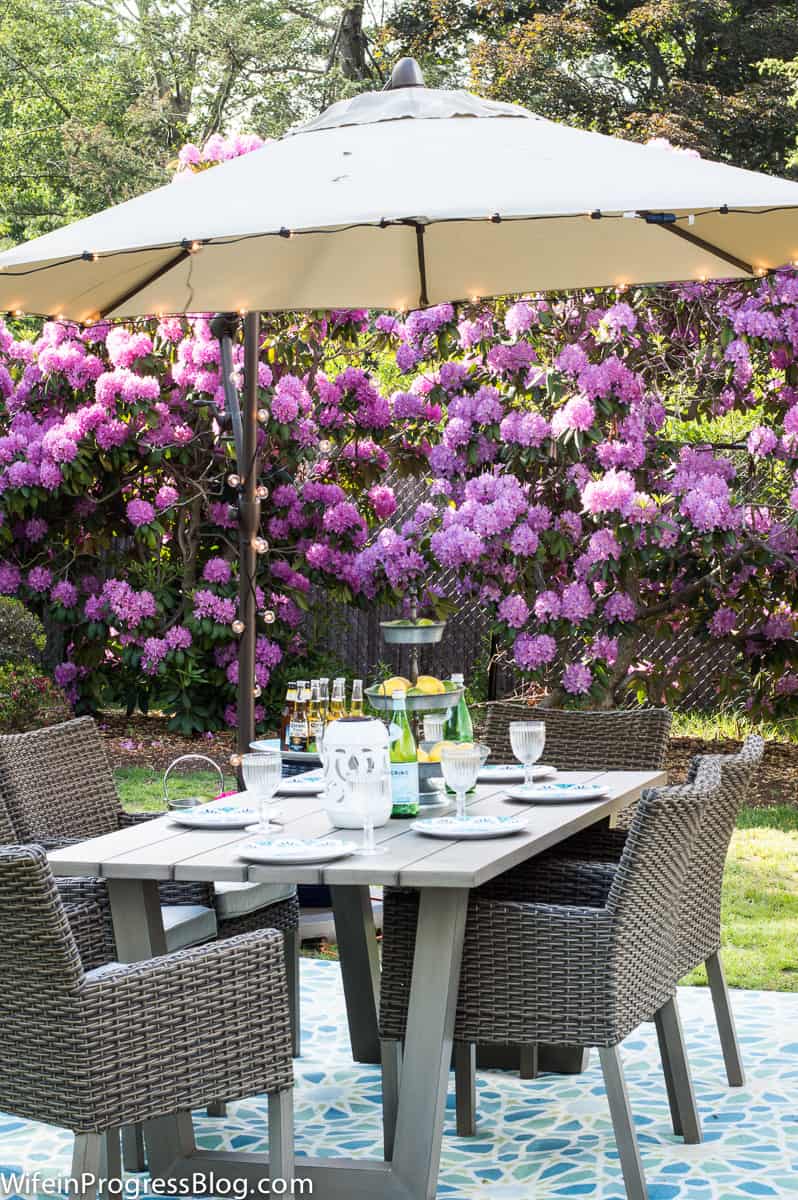 If you don't want to add string lights, another great way to add some ambience once the sun is setting is with a solar lantern like this pretty white one. It has an led light under the solar panel that provides a beautiful glow at night.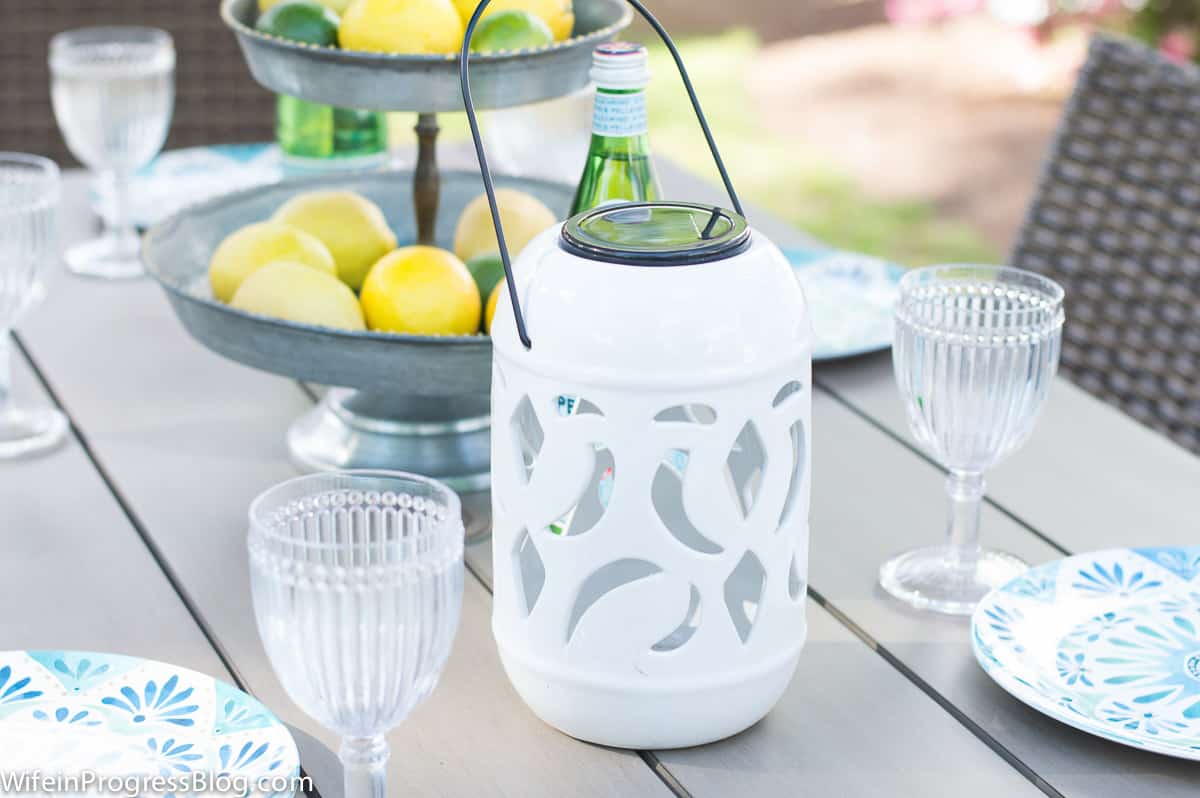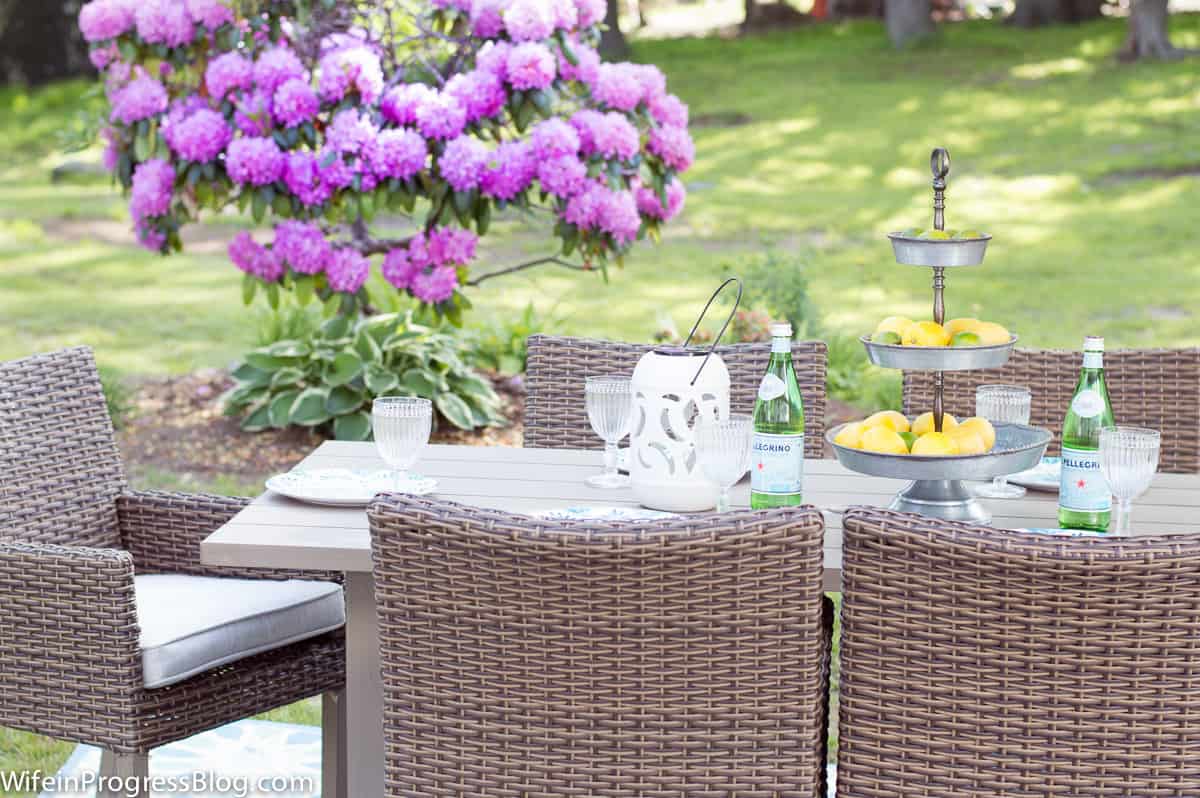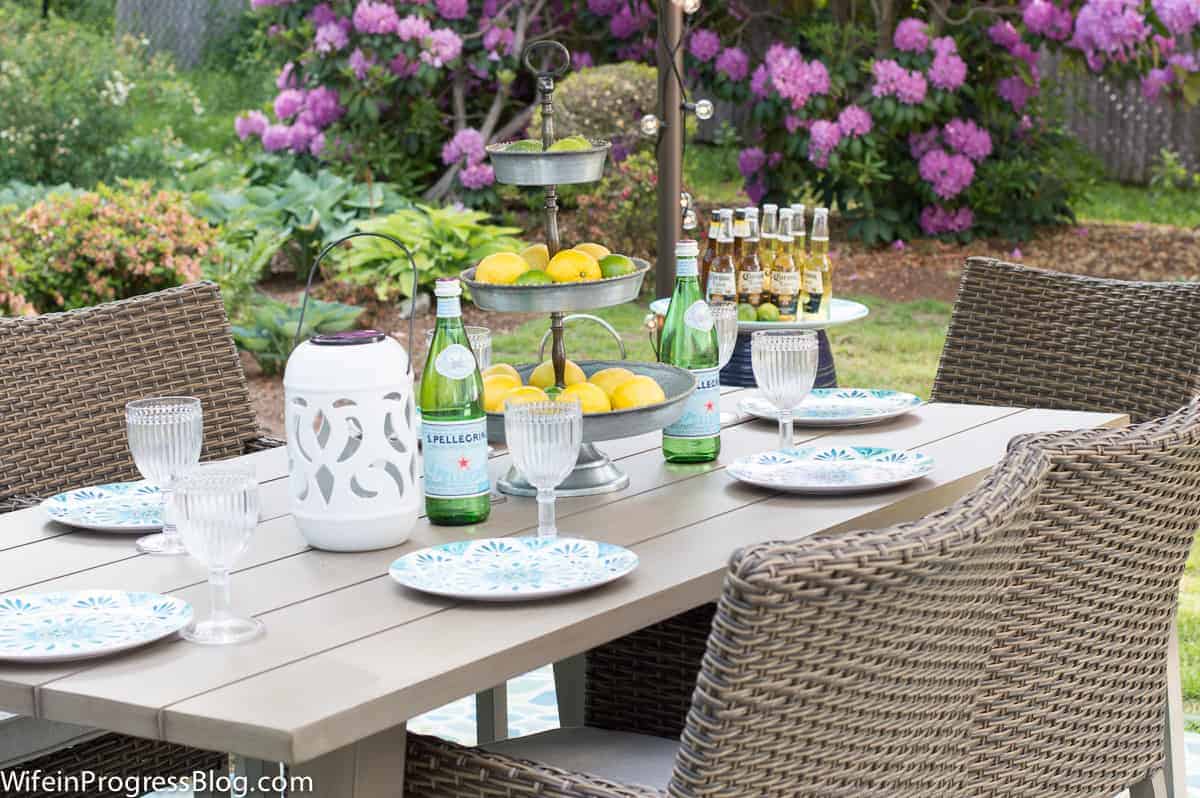 When you have a stockpile of lemons and limes, the beer is essential don't you think?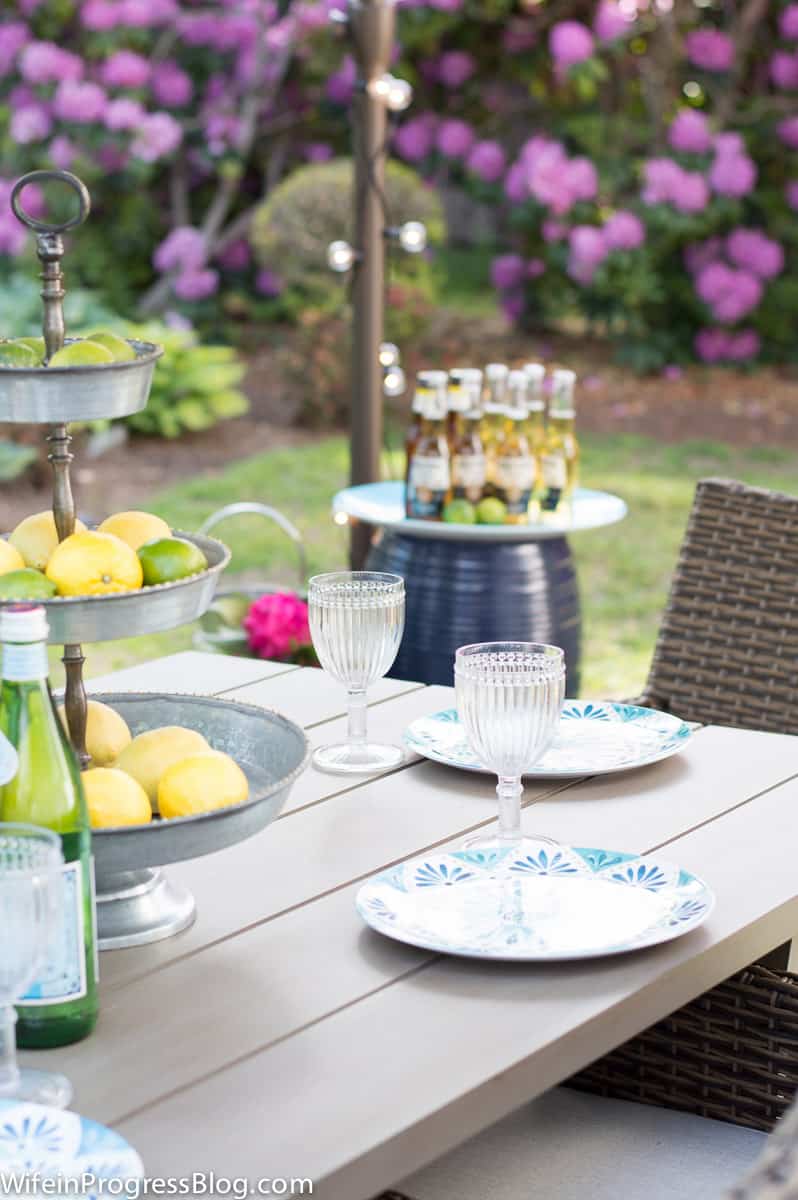 By the way, I picked up the melamine dinnerware at Home Goods and it has the same blues as the rug. I love when everything ties together like that! Plus, you guys already know how obsessed I am with everything blue. These are a nice vibrant change from my usual navy preference, though.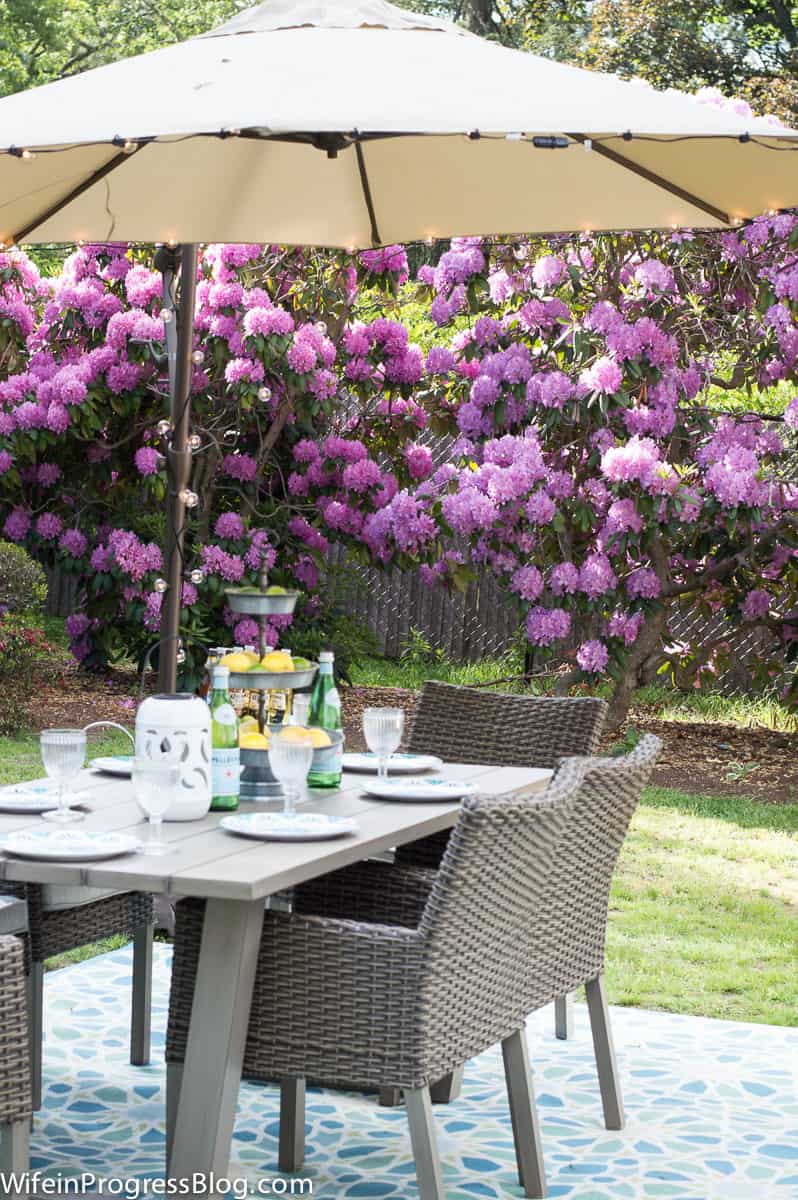 Hopefully I provided you with some inspiration on how to set up a beautiful entertaining space outdoors, even when all you have is a lawn!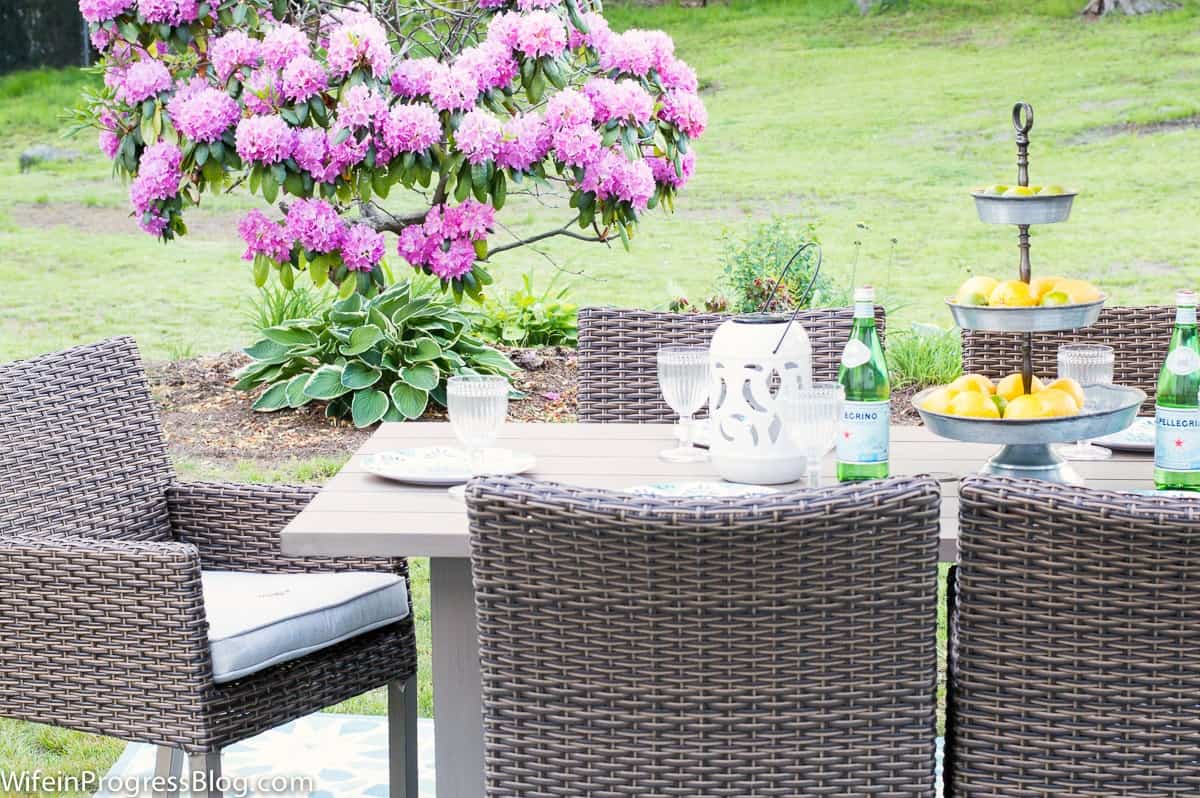 Are you looking to pick up a similar outdoor dining set? I highly recommend heading to your local Raymour & Flanigan showroom, where you will be greeted by an in-store associate who will happily help you pick out the perfect furniture for your home or yard that will work for your budget. The best part? Guaranteed delivery in 3 days or less and no assembly required! WOOHOO!!