If you are looking for gorgeous home decor Serena and Lily is a great choice, but if it's out of your budget we have you covered.
I am excited to share with you some items to get the Serena and Lily look for your home, at a fraction of the price!
La Jolla Basket
Who doesn't loves a good basket, am I right? You may have had your eye on the oh so popular La Jolla baskets from Serena & Lily. They are not only functional but stylish too!
I actually own several that we use as both laundry hampers and toy storage. I will testify that the quality is amazing, and I own one of each size.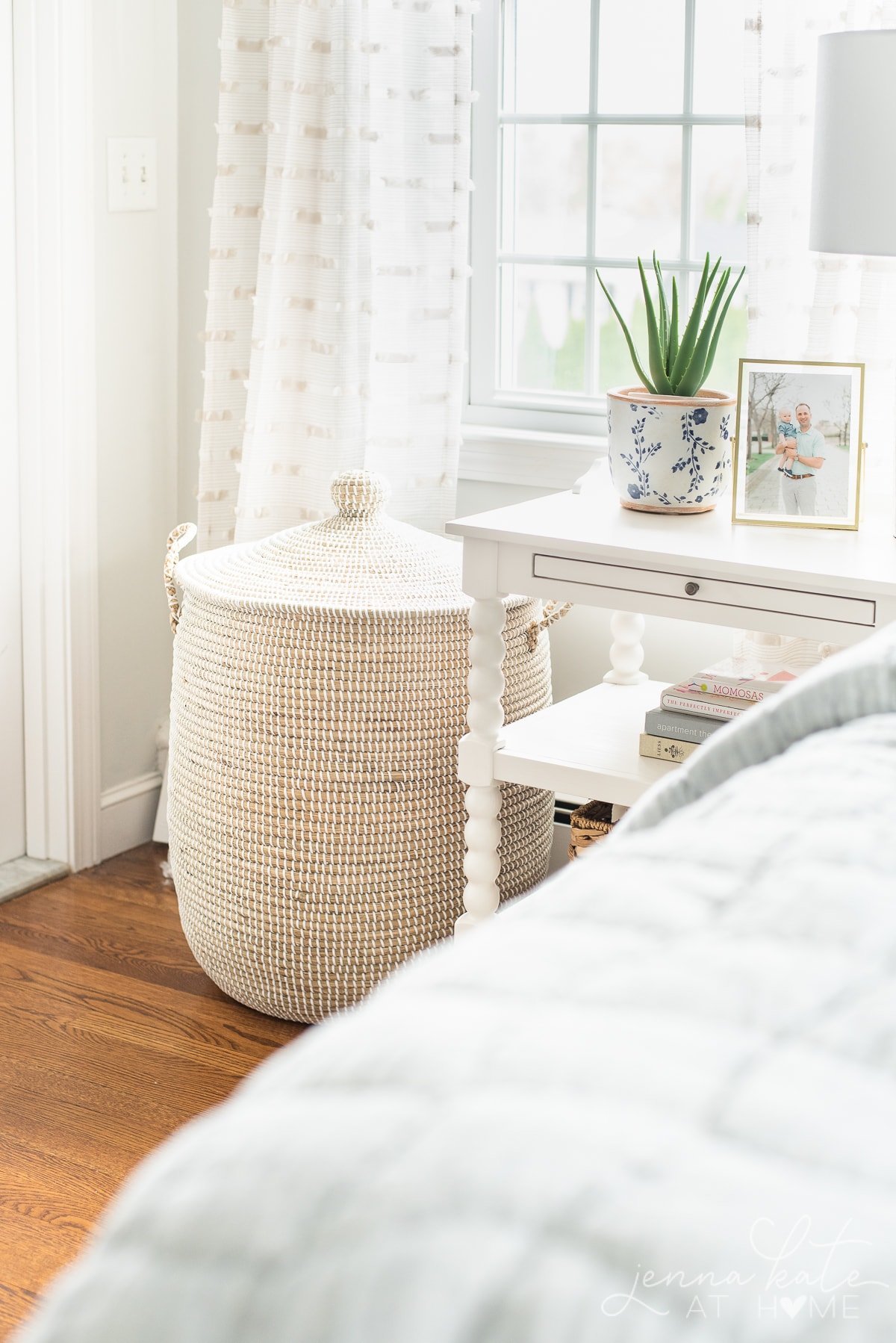 I particularly love the lid on these gorgeous baskets; it means you can hide all your dirty laundry or storage items, and keep your space looking aesthetically pleasing.
What's not popular about these baskets are the price tag. But have no fear, we have the perfect basket with similar style for you!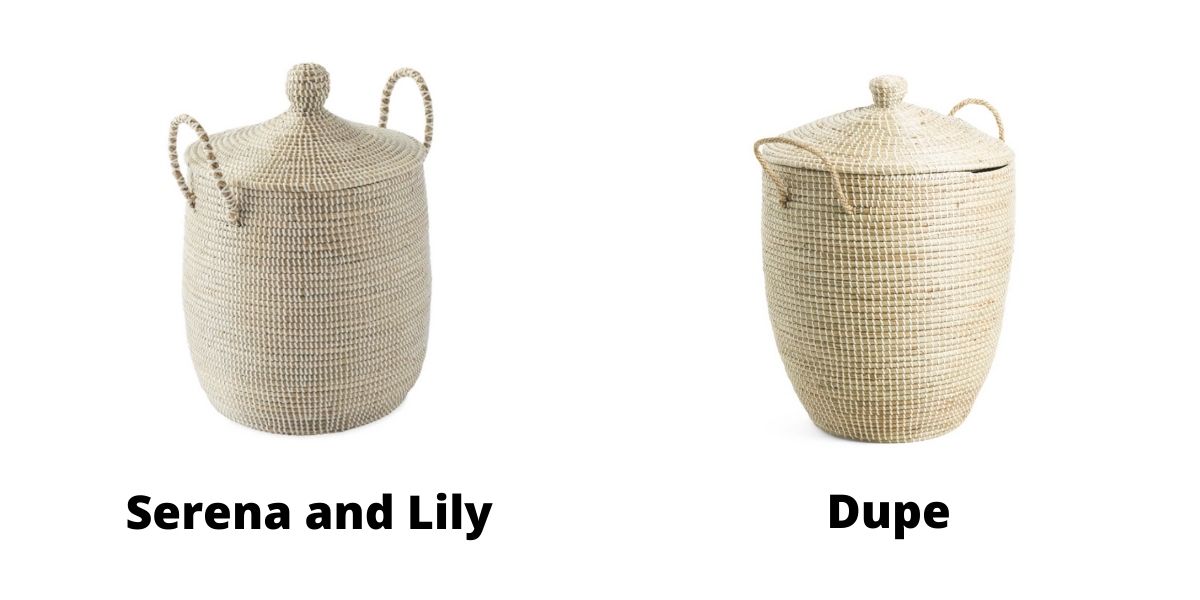 The TJ Maxx and Marshall's version (available in large, medium and small sizes) comes in the same natural color as the original solid La Jolla, but they usually have a green stripe or blue stripe in store, too.
I own a small version of the green stripe and the quality is really good! The lid doesn't fit as well as the S& L version, but for a considerably lower price point, I'll get over it!
If the baskets are currently unavailable online, be sure to check your local HomeGoods and Marshall's stores. I see them there every week!
La Jolla Option #2
Another option, is this set from Amazon which is identical to the S&L La Jollas, but you can get both the small and medium as a set for just over $200. The reviews are awesome so I'm pretty sure it's the same product with a different name!
Balboa Side Chair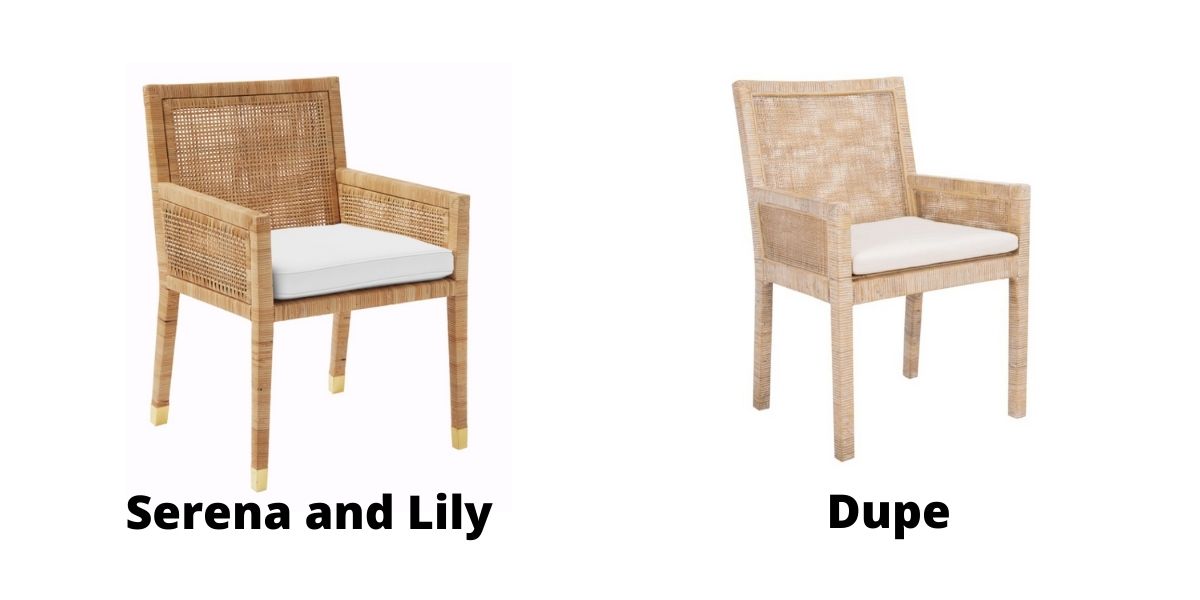 These Serena and Lily side chair lookalike has a very smilier texture and fun rustic look to it. Want to know the best part? You get two of the cheaper chair for less then one S & L Balboa chair.
Balboa Counter Stool
When we remodeled our kitchen, one of must-haves was the Balboa Counter Stools from Serena & Lily. They are stunning - and SO comfortable!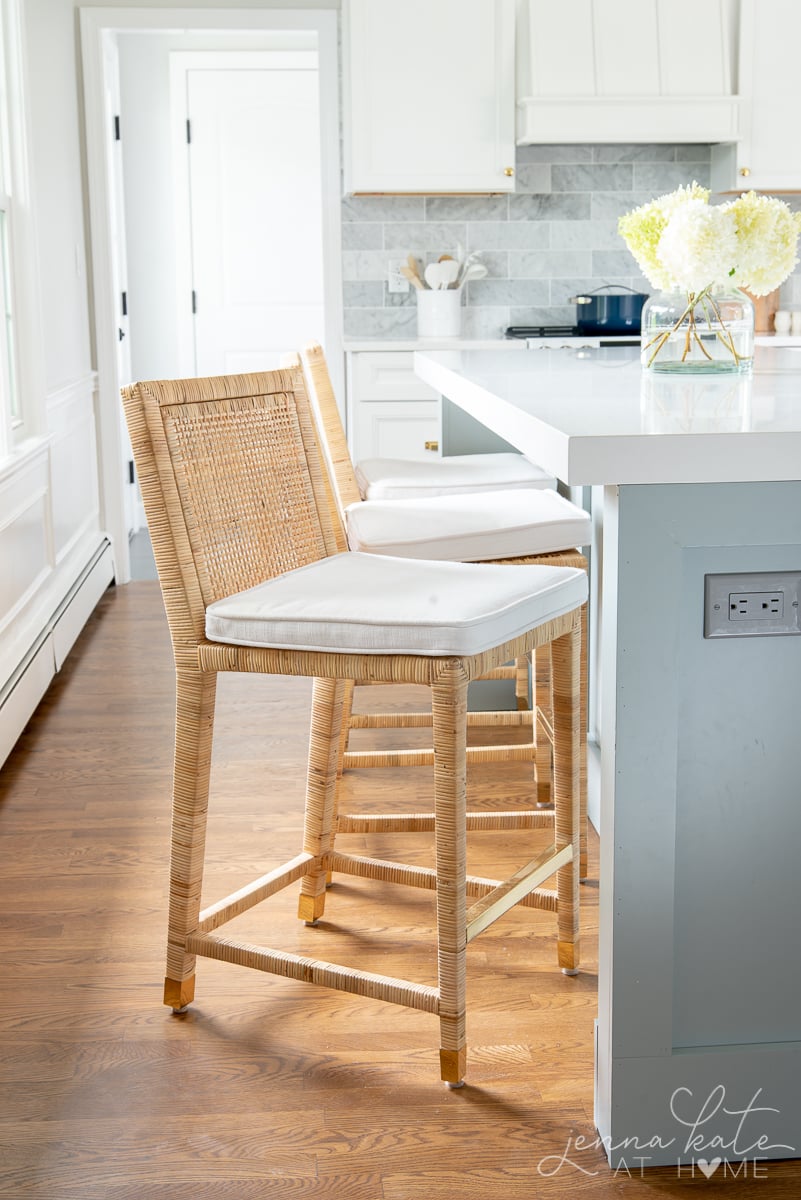 But the hefty price tag was a hard pill to swallow. This similar chair that I found at Wayfair will be back in stock next month and half the price of the S&L version. Enter your email address to be notified as soon as they are back in stock because they will sell out quickly.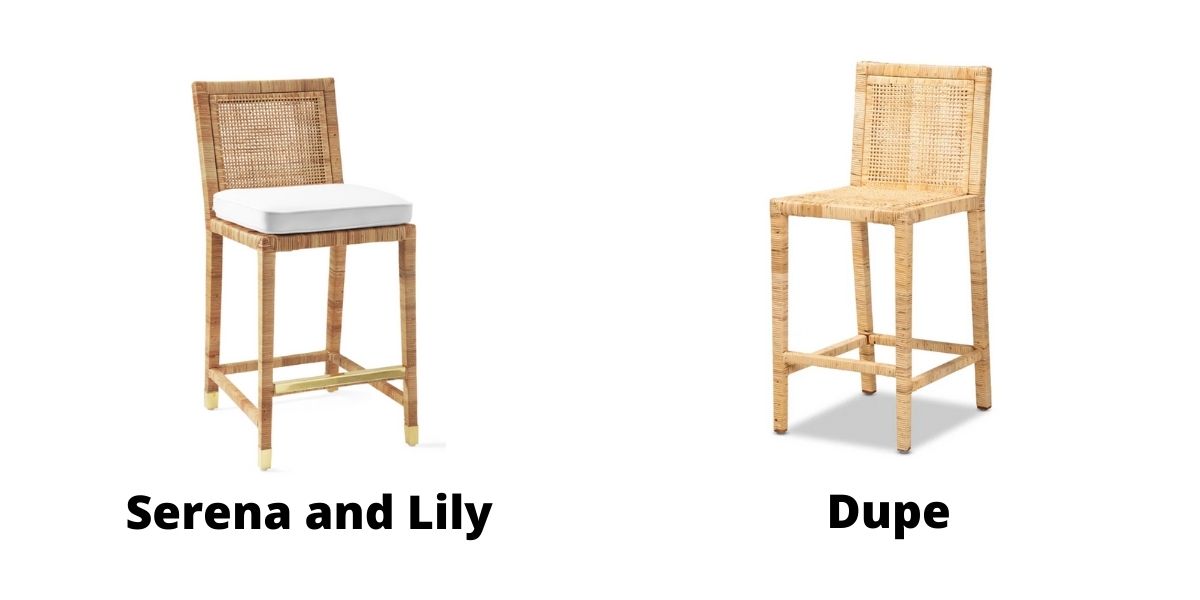 Yes - you will need to buy cushions (cheap fix!) and they don't have the gold details on the bottom, but they are a really great similar style for a fraction of the price.
By the way - HomeGoods has been selling similar ones recently, too! I cannot find them online right now but keep an eye out at your local store. They've had both the natural and gray versions (with cushions!).
Salt Creek Outdoor Dining Chair
The Salt Creek Dining Chair really caught my eye this season as I've been looking for new patio furniture. The rope detailing and white frame have the perfect summery coastal vibe that I love. But at over $800 for one chair, they were definitely not in budget!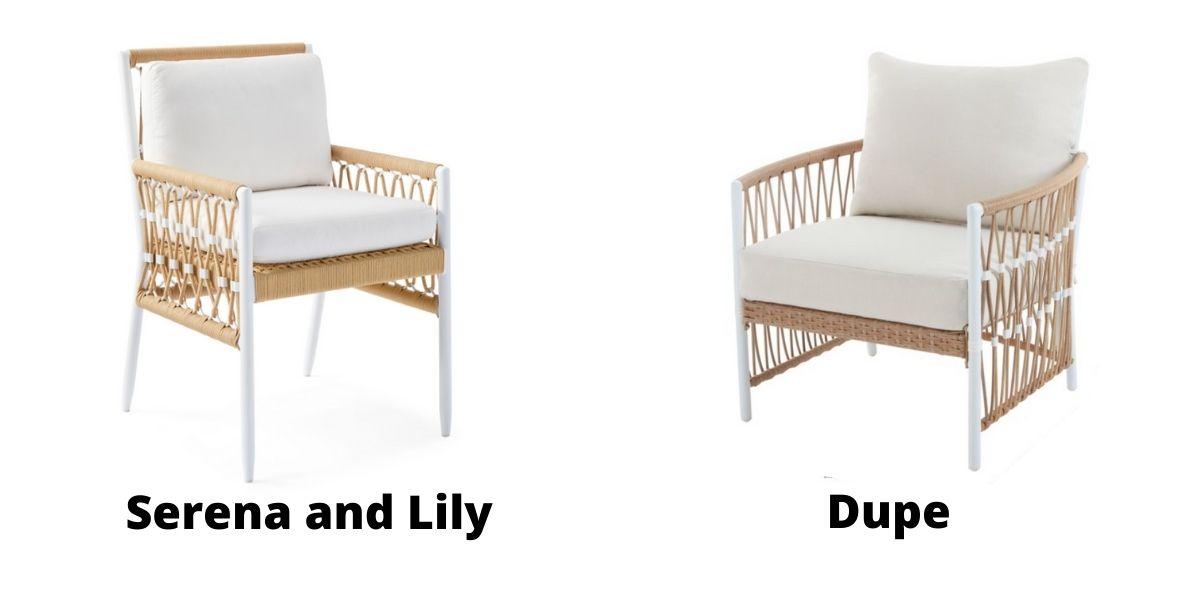 This set from Walmart is a pretty close match and has a price point that I'm comfortable with!
If the individual chairs are sold out, they usually come back in stock. The Walmart Better Homes & Garden version also comes in a 4-piece set for less than the cost of one Salt Creek armchair!
Shore Dining Chair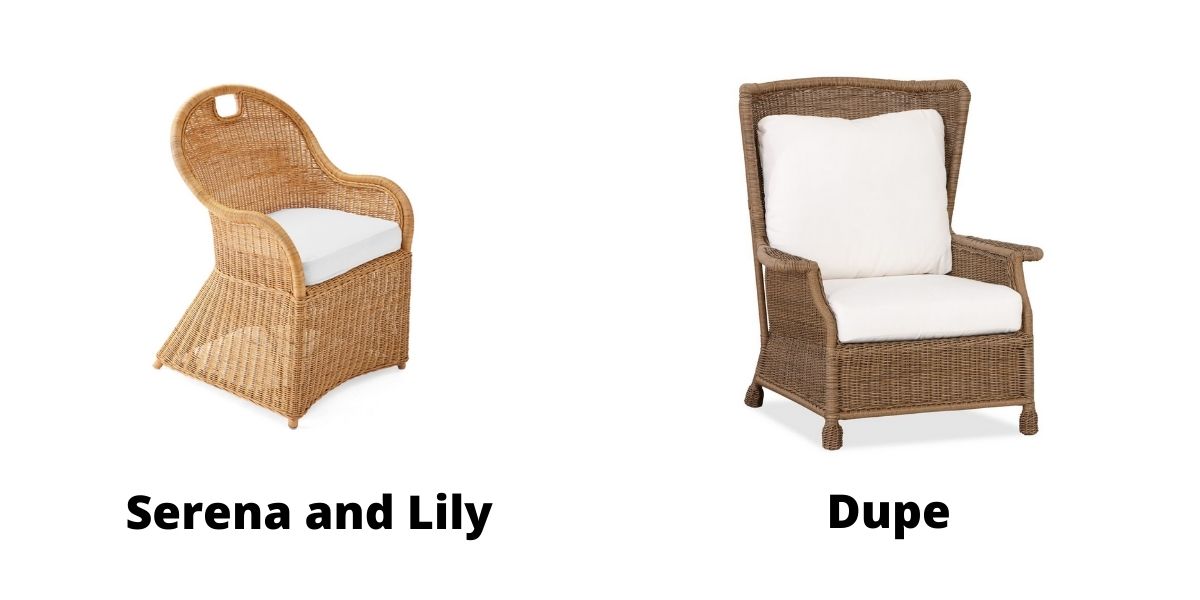 Parkwood Swivel Chair - Coastal Blue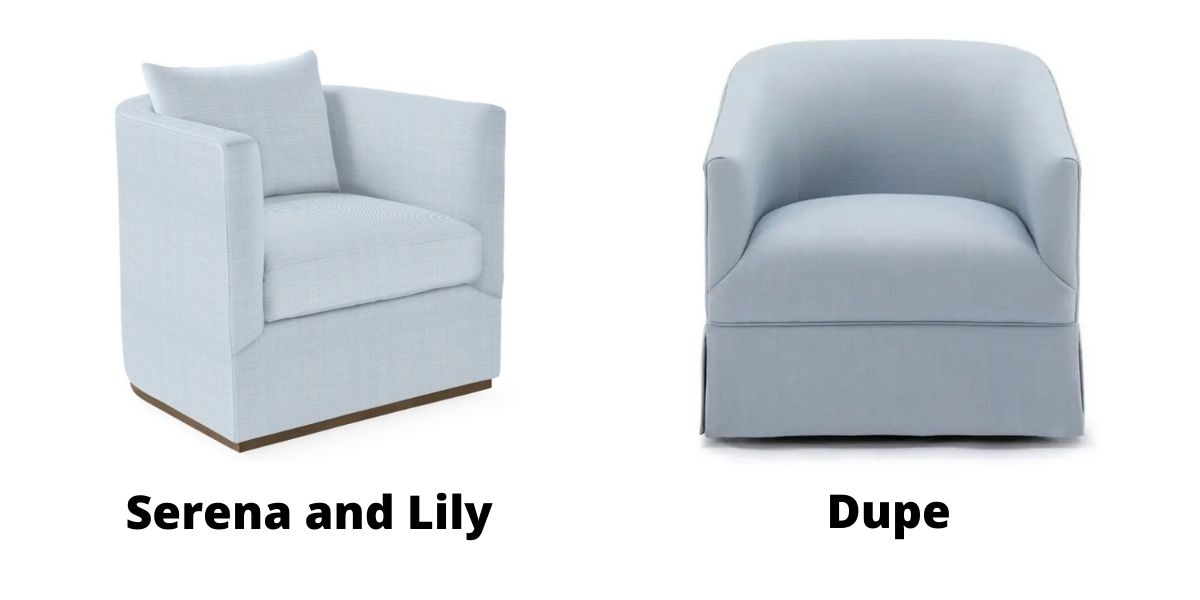 With the similar soft coastal blue fabric and clean lines, you'd be forgiven for maybe preferring the look for less to the original Parkwood Swivel Chair! Both chairs swivel and would make a stunning addition to any room.
Seabrook Swivel Chair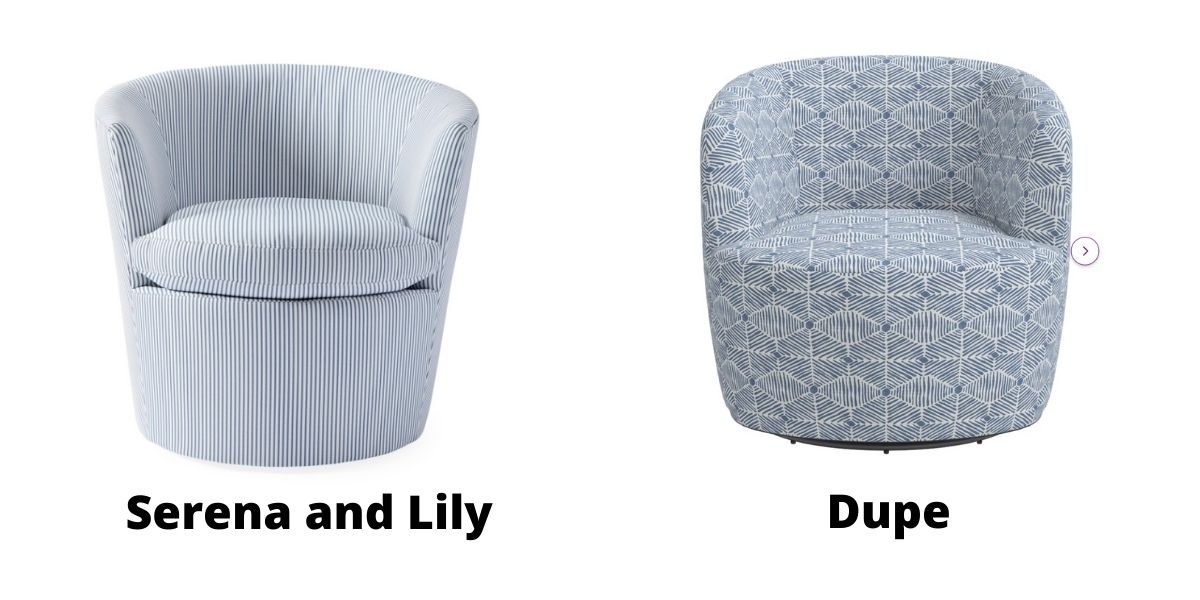 Botht the Seabrook Swivel Chair and Wayfair's look for less have pretty patterned fabric, and a stunning round silhouette that makes both of these swivel chairs a great choice if you're short on space.
Tucker Dining Chair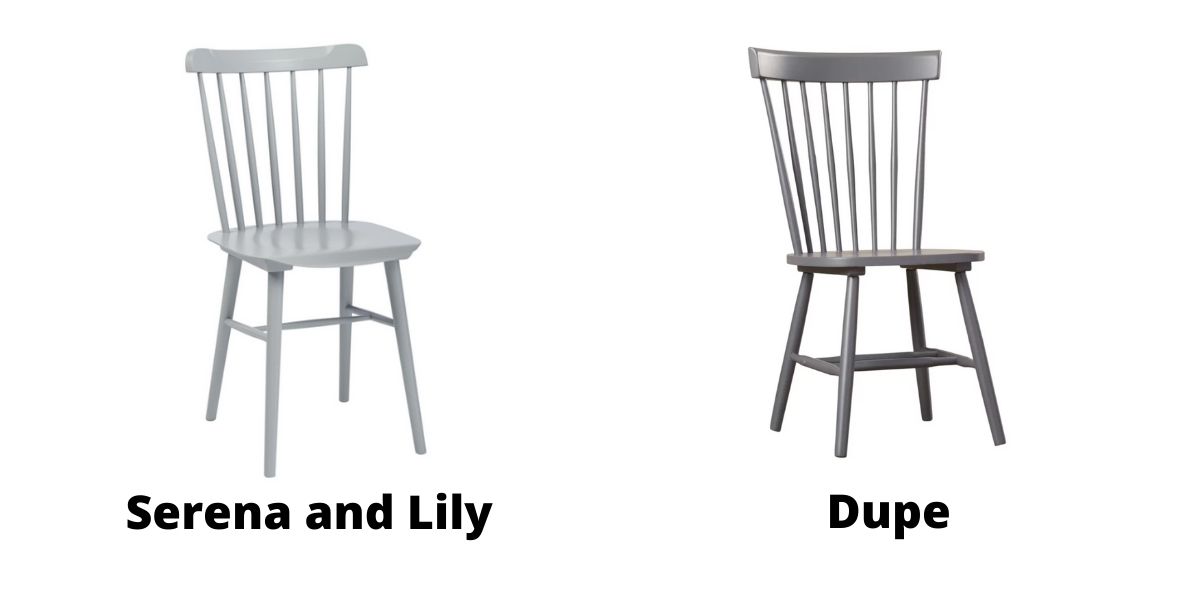 This is another great find where you get two chairs for a little more than price of one. Sold together, a set of 2 of the Wayfair option has a slightly taller back but the set is cheaper than 1 of the Tucker chairs.
It is also a darker color grey than the S&L Tucker, but very similar in design. These are the perfect simple dining chair that works with any style
Riviera Backless Counter Stool
The Riviera woven french bistro style beauties are a popular Serena & Lily purchase, but at $298 a piece they are certainly not within many budgets.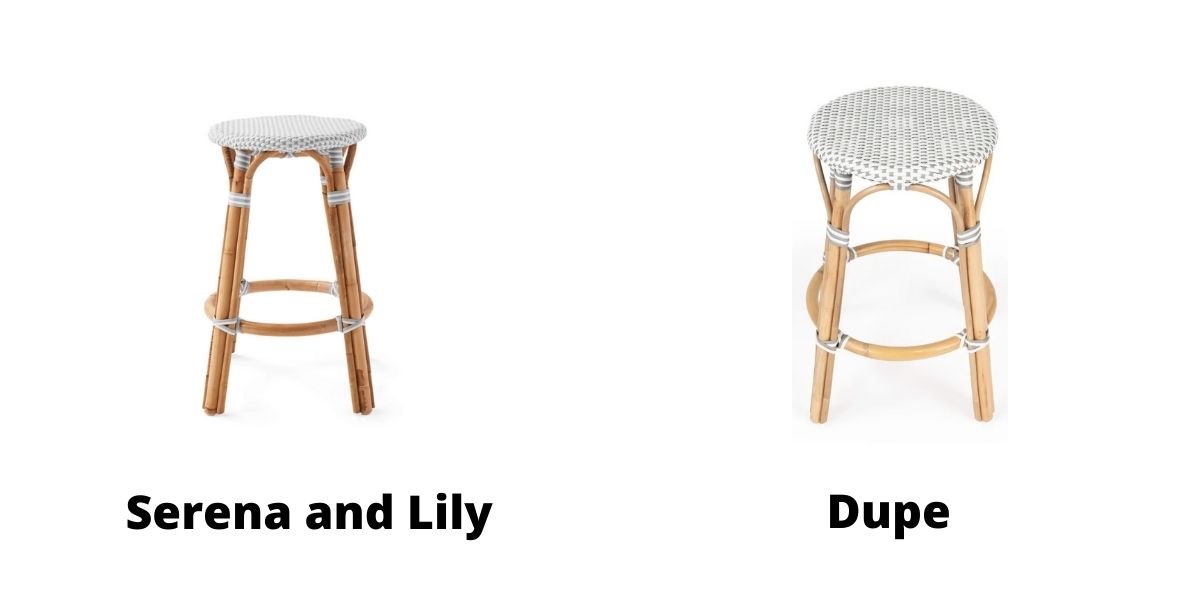 The Wayfair Alastair Bar & Counter Stool is very similar and at $129 a piece is a much more palatable price for most homeowners.
Seadrift Side Table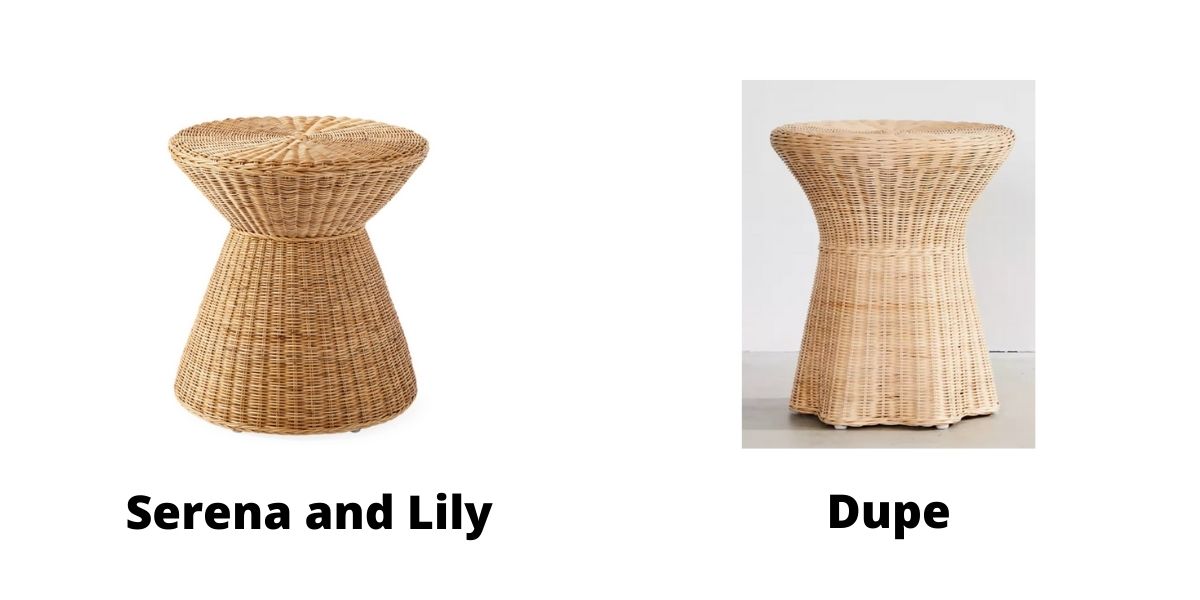 The Seadrift side table is so versatile, and brings a cozy warmth to any space. We love the handwoven wicker, and it can be easily moved wherever and whenever you need it.
I personally think the Urban Outfitters one has a little more character to it with its pinched base. Whether you want to use it as a side table or top it with decor and style it to fit your home, it's a winner in our book.
Bamileke Coffee Table (White)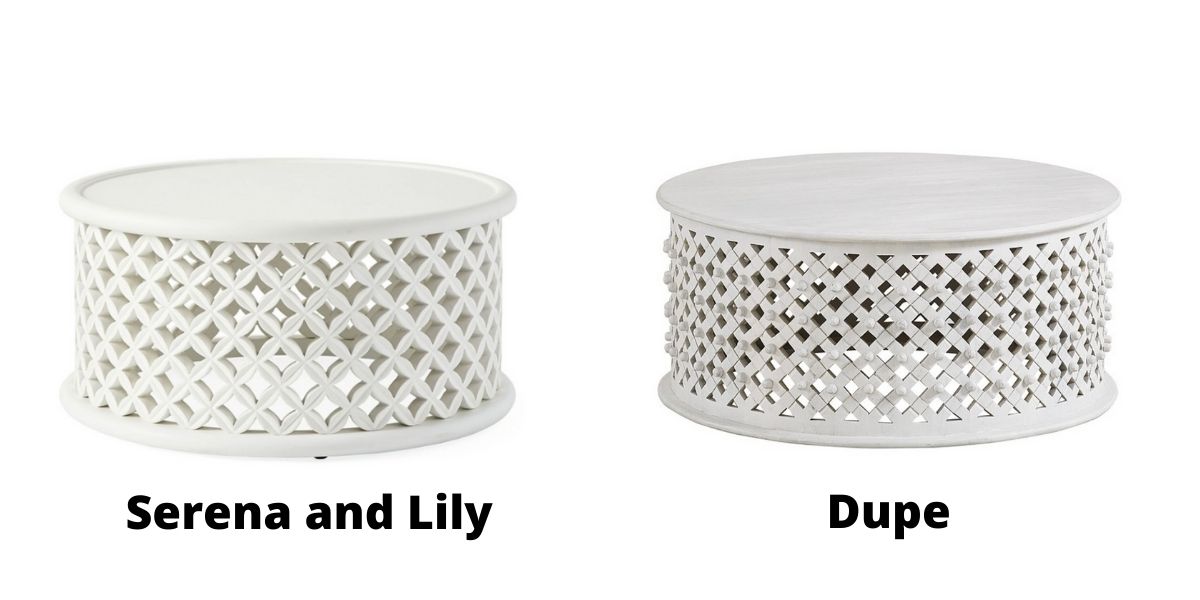 I love a drum style coffee table and the carved detail of the Bamileke is stunning. However, the price point is over $2,000.
The Ballard Designs Bornova drum coffee table gives you the same look for one-third of the S&L price!
Bamileke Coffee Table (Brown)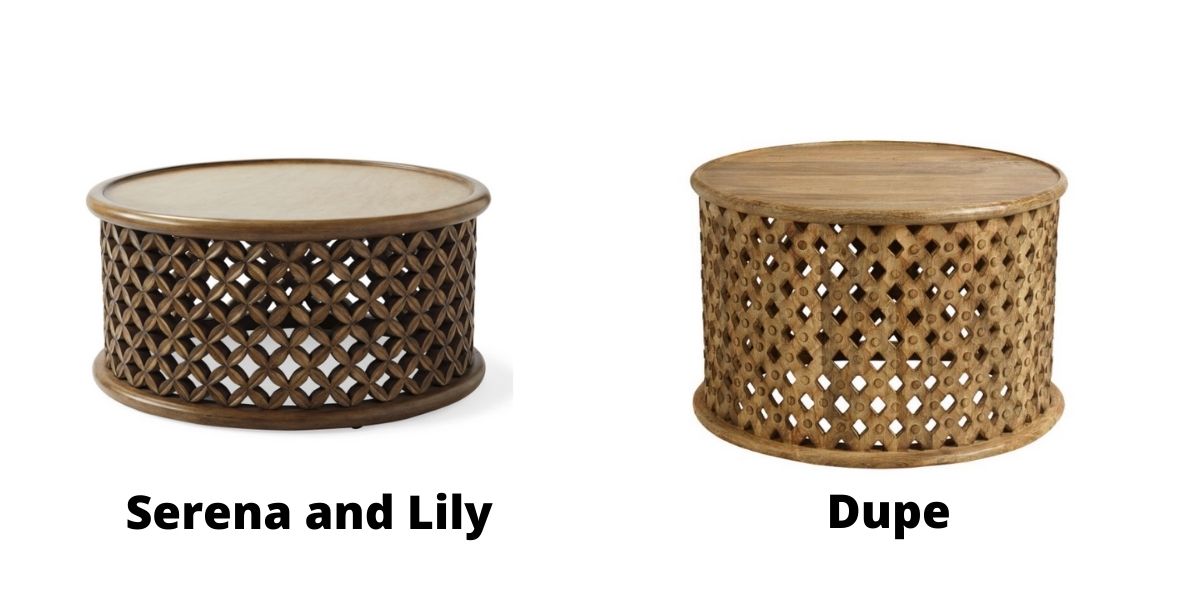 If you prefer the look of the Bamileke in brown, then you need to snap up this carved wood drum coffee table from World Market for only $350! I've seen it in person and it's really beautiful!
Anguilla Rattan Coffee Table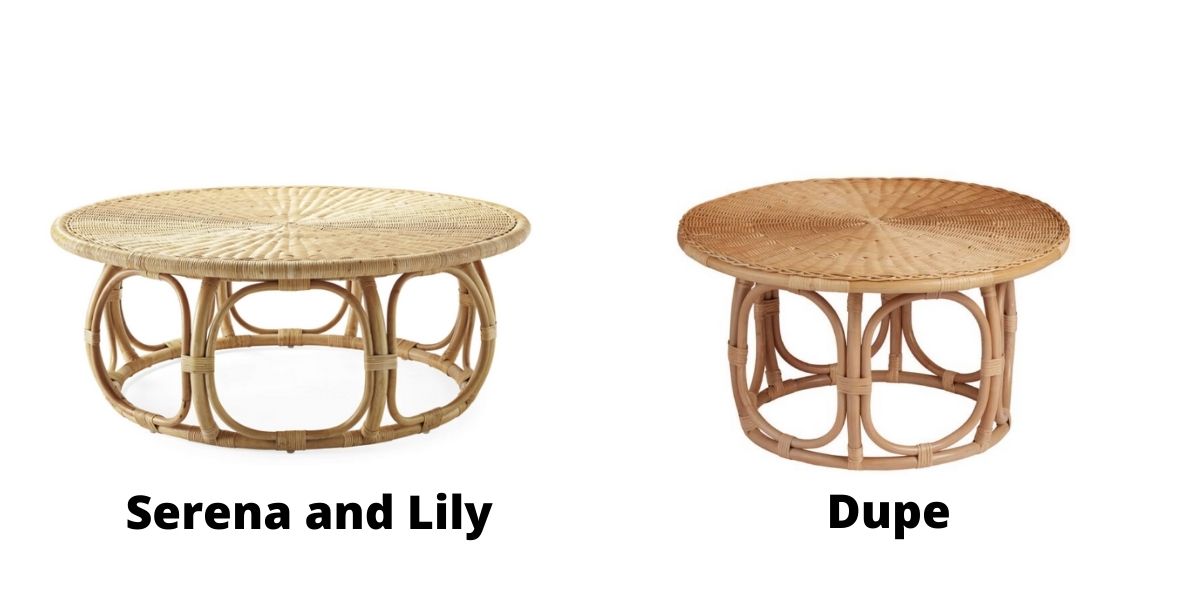 Rattan is in and this table has it going on! From the natural finish, it's playful textures and its fun tropical vibes, you will have to do a double take to see which one is the original for sure.
Both the Serena & Lily Anguilla and the World Market version are very similar and have a lot of the same details and only a few inches difference in height and slight difference in color.
Harbour Cane Daybed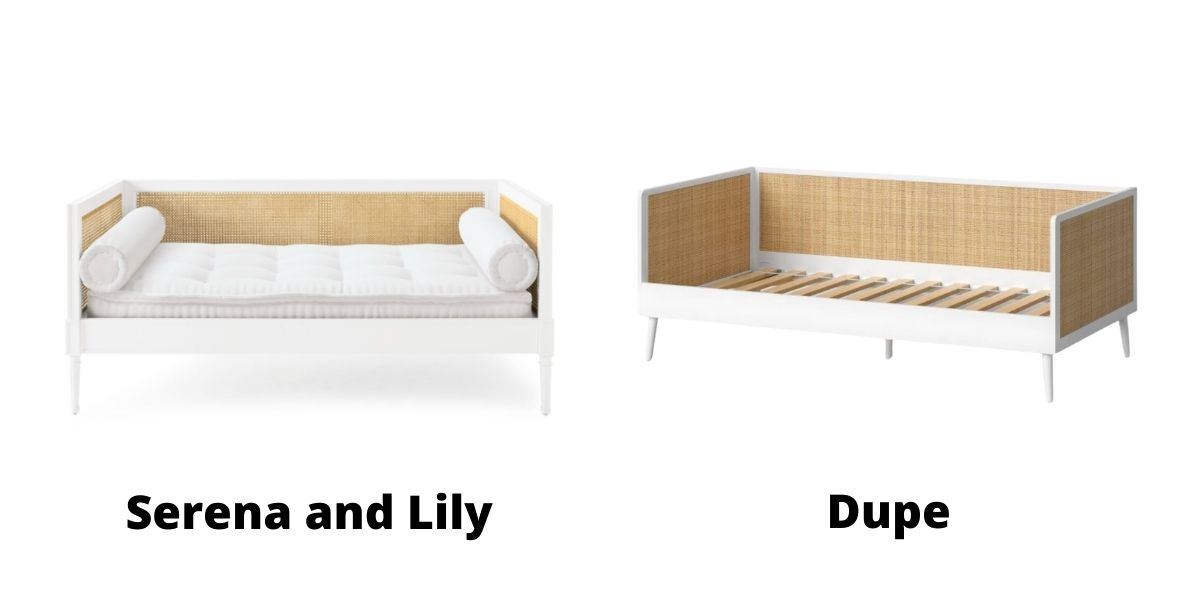 I have had my eye on the Harbour Cane Daybed for a long time, so I'm super excited to find a similar look at Target! Yes, you'll need to source a cushion and bolster pillows (but those are easy to come by!). I think for more than $2000 less than the Serena & Lily version, you'll have plenty of money left over to find what you need!
Edgewater Lounge Chair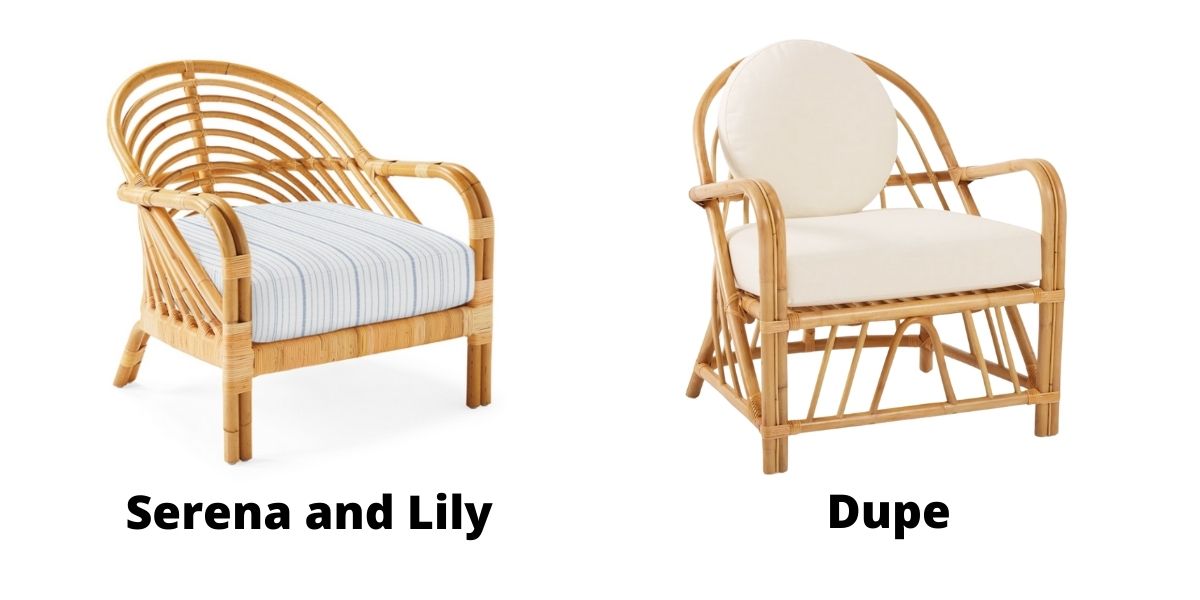 Islesboro Chair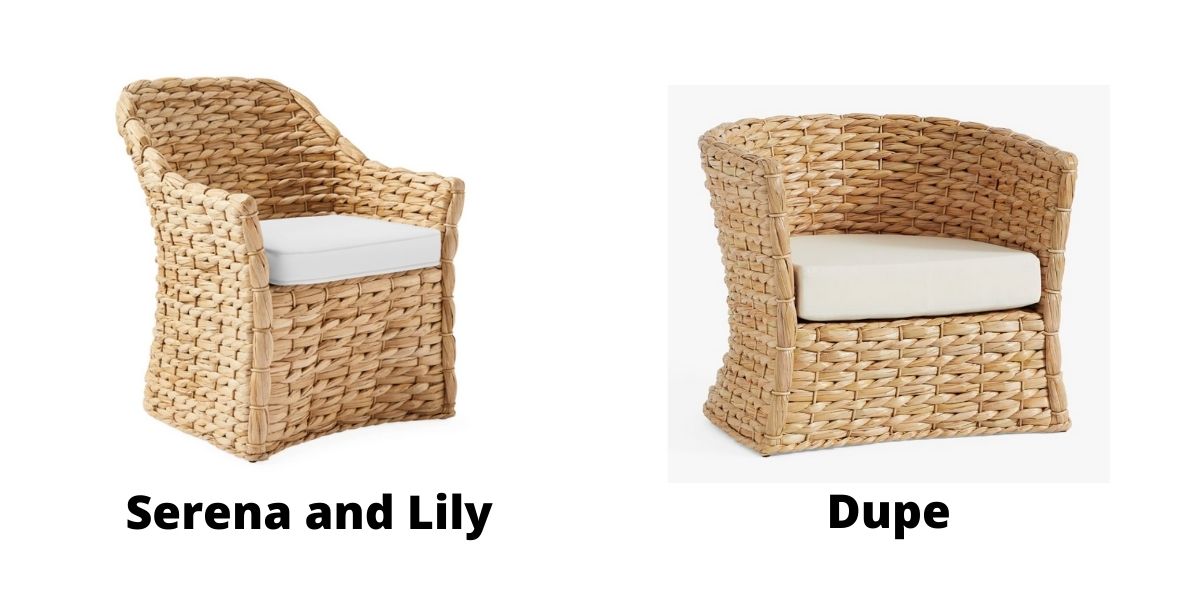 With similar curved lines, both these seagrass chairs would look pretty amazing on both ends of a dining table or as part of a sunroom conversation set!
Palm Pillow Cover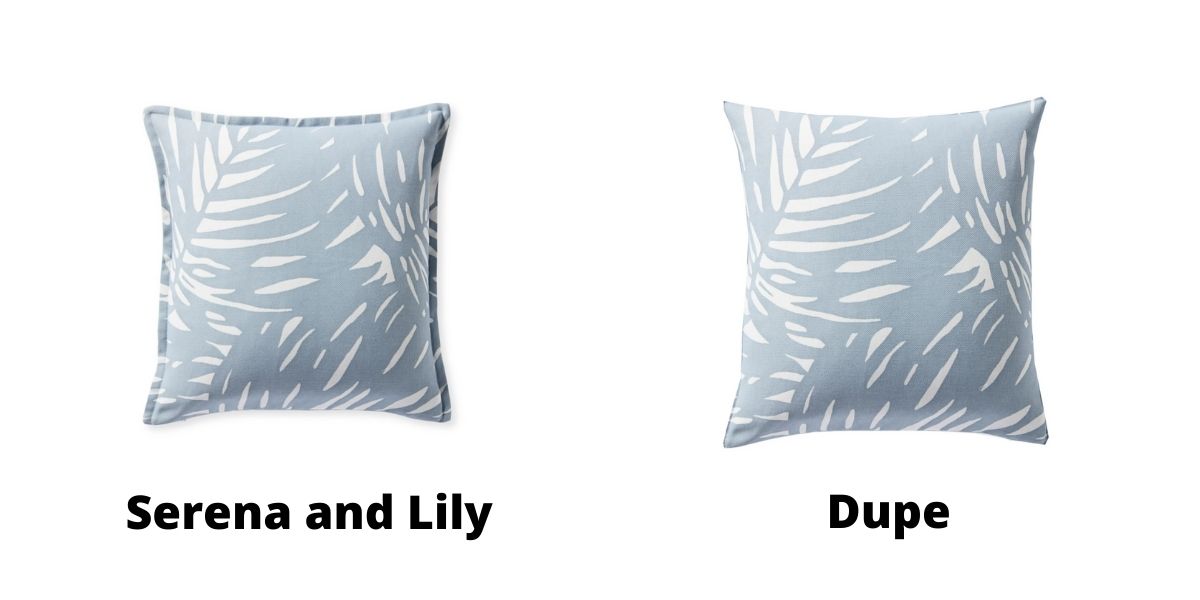 Bring a little fun tropical design to your decor with this gorgeous pillow cover. This pillow is an exact match to the S & L Palm pillow cover, and it comes in a variety of sizes. So you can customize what you need for your space!
You'll notice the only difference is how the edges of the pillow are sewed, but for the price difference, I think you won't mind!
Gingham Pillow Cover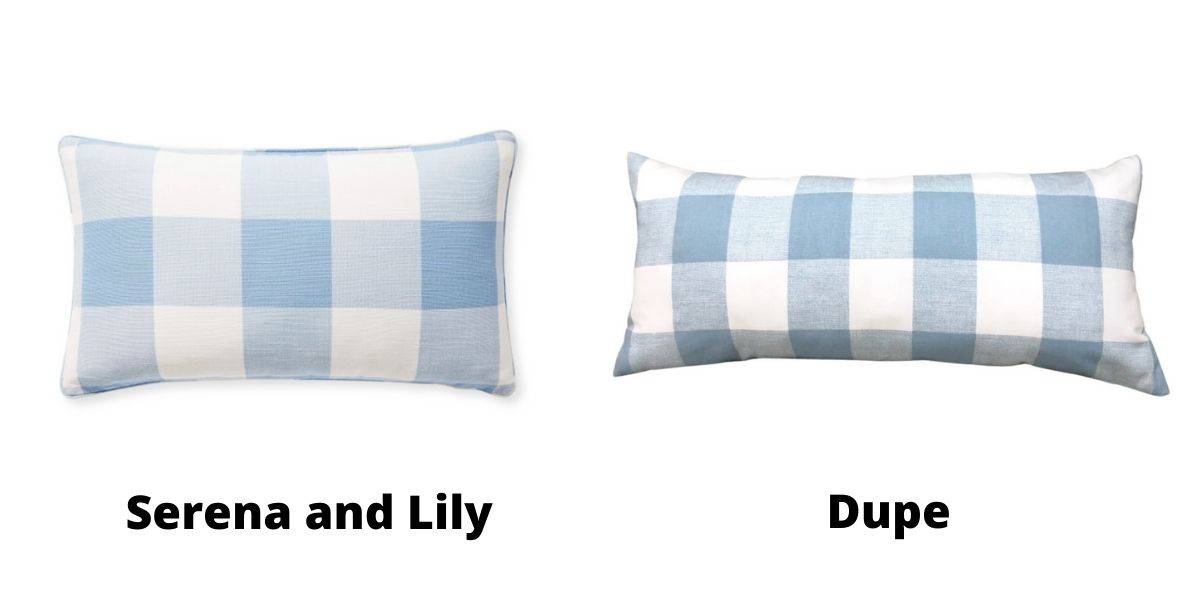 We love a good gingham patterned pillow. You can pair this pattern with florals, stripes, or even patterned pillow covers. Pillows are a decor staple, and you can have fun with designs and textures. They add a little charm to any space.
Montecito Pillow Cover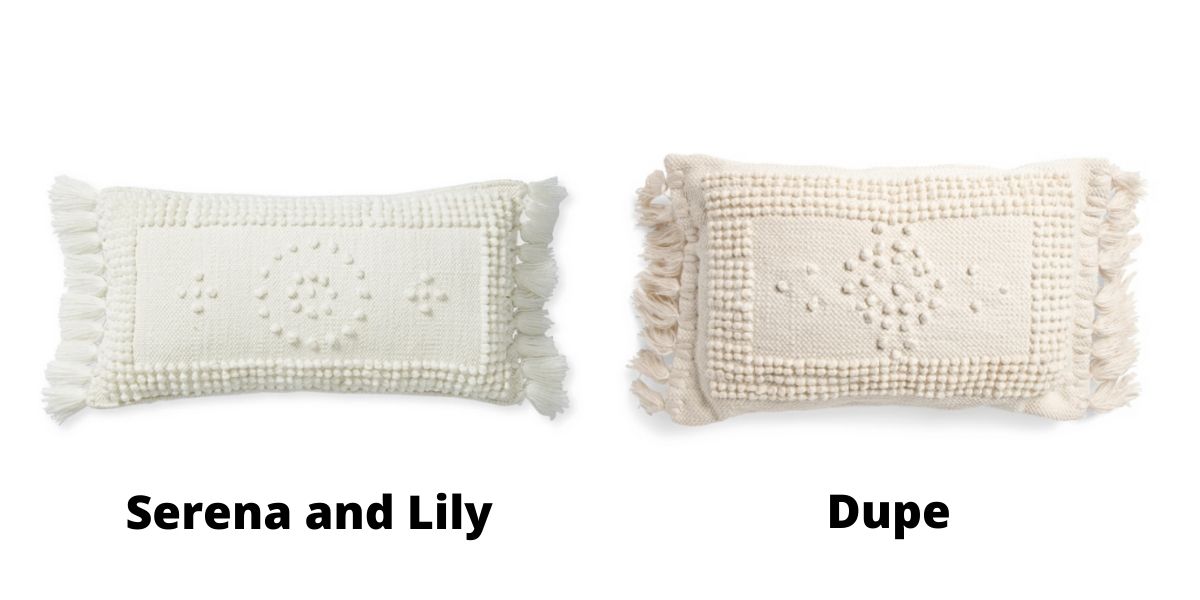 The TJ Maxx version for the Montecito pillow comes in and out of stock regularly, so keep an eye out. I bougth the dupe a few years ago at my local TJ Maxx store and I've been happy with the look (for a lot less!)
Beachcomber Cotton Throw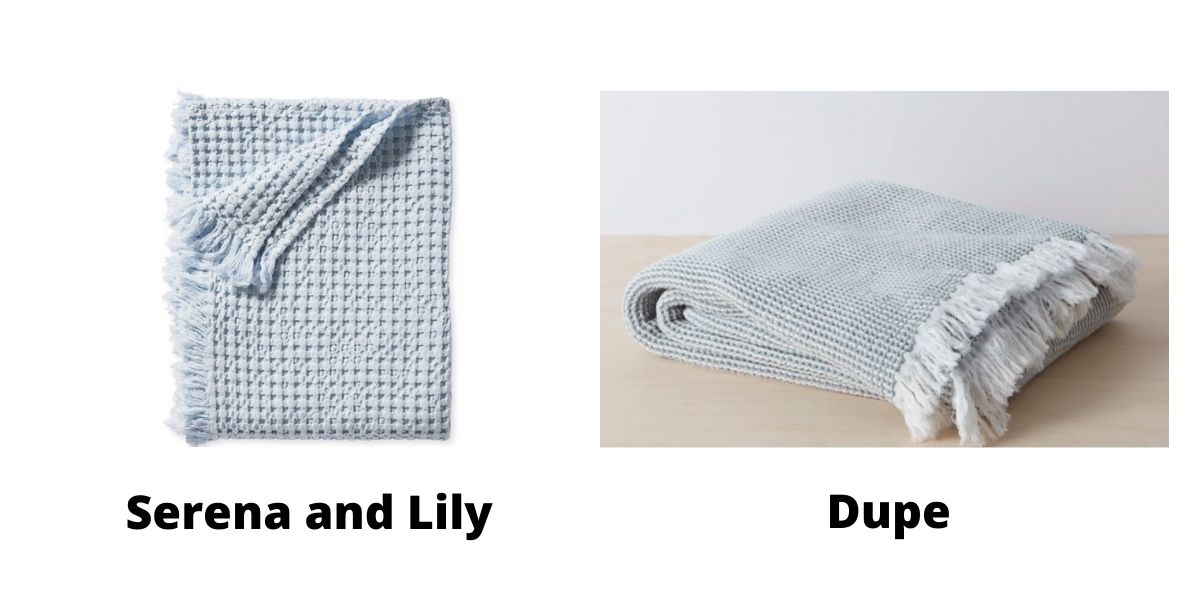 Having good throw blankets is a must in our home. Sometimes you just want to cuddle up, and read a good book. This blanket is almost spot on for its counterpart, the powdery blue Beachcomber Cotton Throw. It looks cozy with its fringe and waffle weave design. Get ready to cozy up on any chair or sofa in your home with this gorgeous blanket!
Wave Sheet Set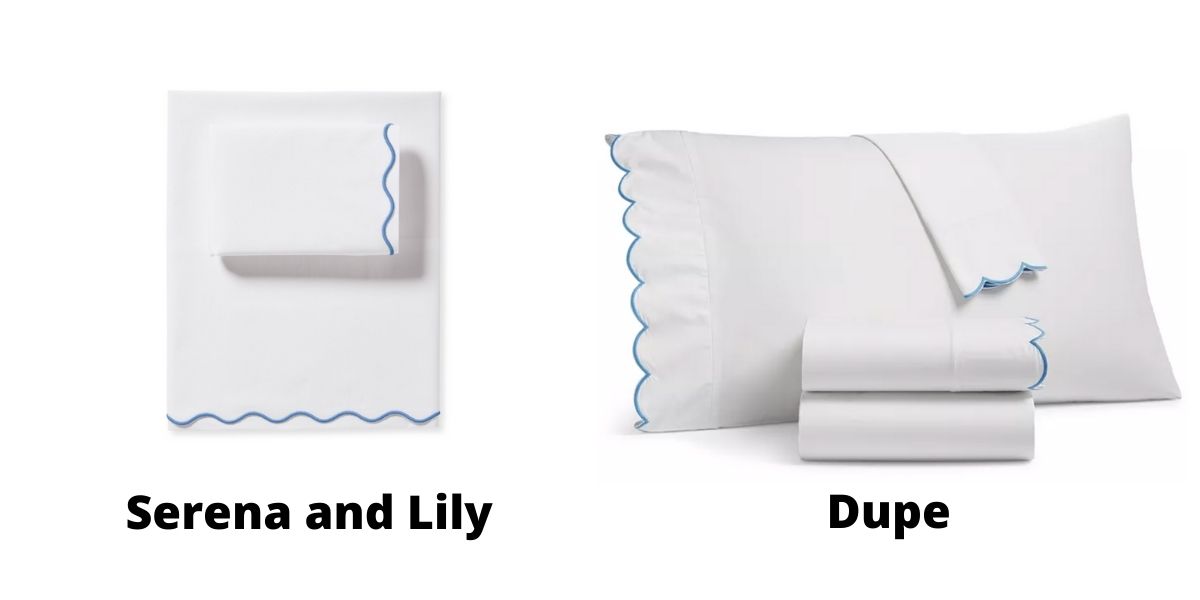 We saved the best one for last. This wave scalloped sheet set from Macy's will give you the luxury look of the S & L Wave Sheet Set for less than half the cost.
You will adore the 400 thread count 100% Egyptian cotton of this sheet et when you rest your head after a long day!
Other Posts You'll Like