A simple coastal inspired blue and white nursery for a baby boy. With furniture and accessories kept to a minimum, this small room feels much larger and brighter.
For baby boy number 4, I decided to give my second son's old nursery a fresh makeover.
Before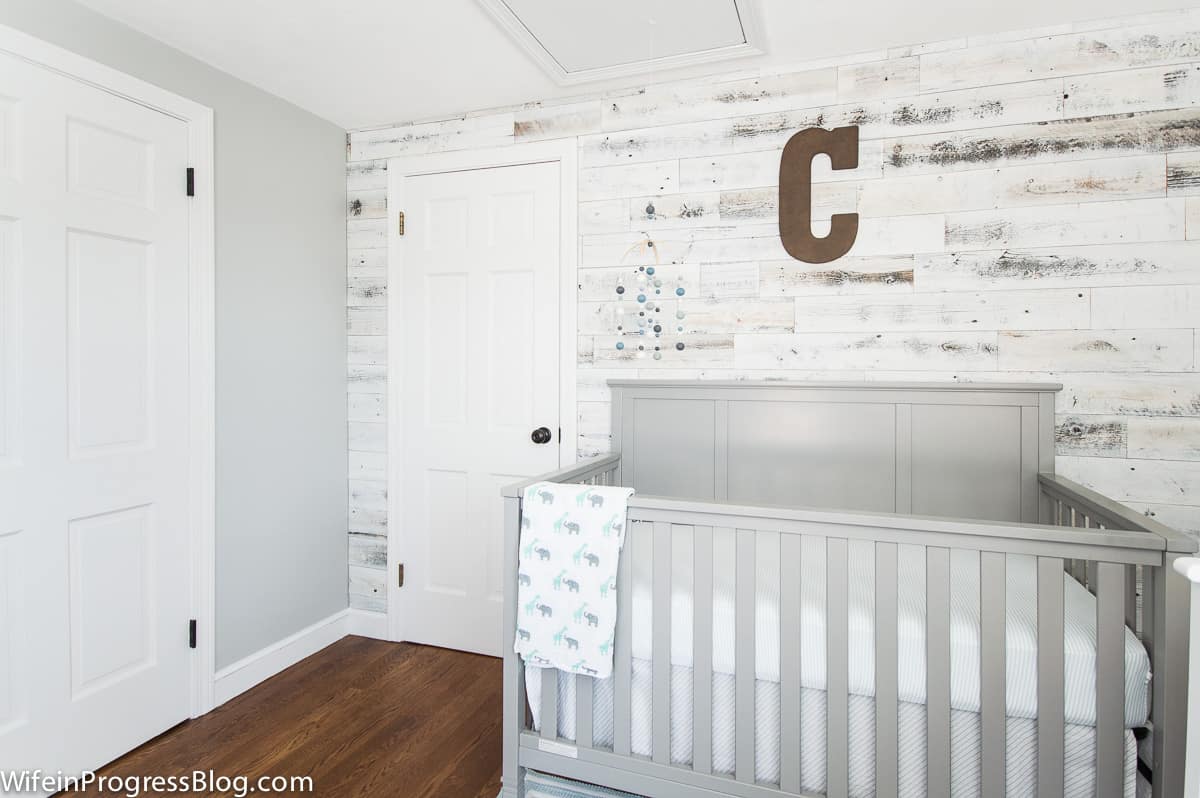 I actually debated whether to even do a new nursery for this baby (since this room had technically been made over back in 2017) but it didn't feel right having him be the only baby not to have had a room designed just for him.
Plus, the darker rustic style of this room wasn't to my taste anymore and I love an excuse for a room makeover!
The Design Plan
When I'm planning a room design, I always start with an inspiration piece. Sometimes it's a piece of art, sometimes it's a pillow or other decorative item.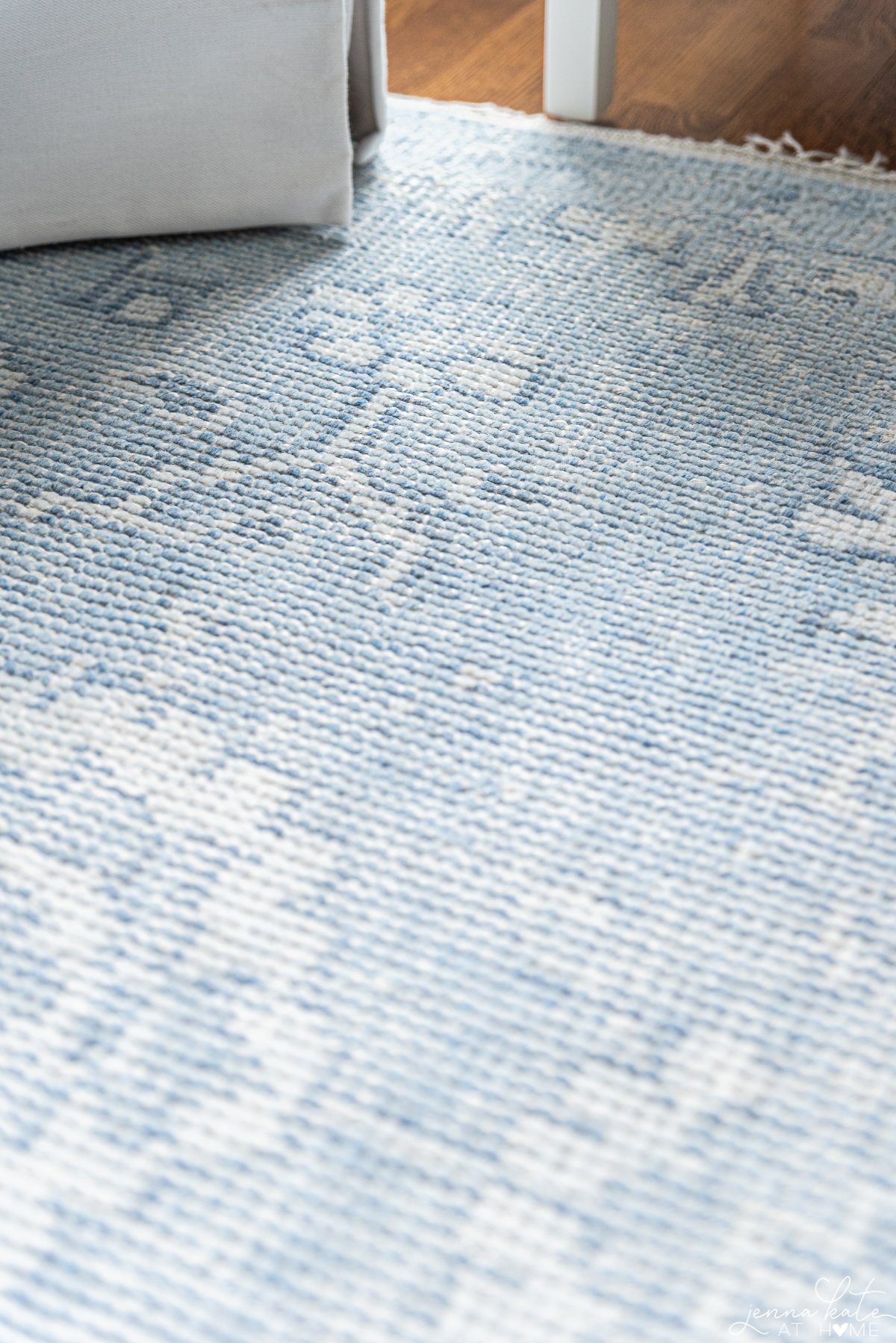 In this case, I started with the beautiful Hillsborough Area Rug from Serena & Lily and worked my design around that.
I've been lucky enough to work with them for gifted products on this nursery and a few other projects and I am obsessed with everything I've ever bought or been gifted from them.
The rug is of course absolutely beautiful in terms of the color and print, but it's also boasts a hand-knotted performance yarn, making it perfect for high traffic (or highly played-in!) spaces.
The rug is also really soft underfoot and really just set the tone for the entire nursery design.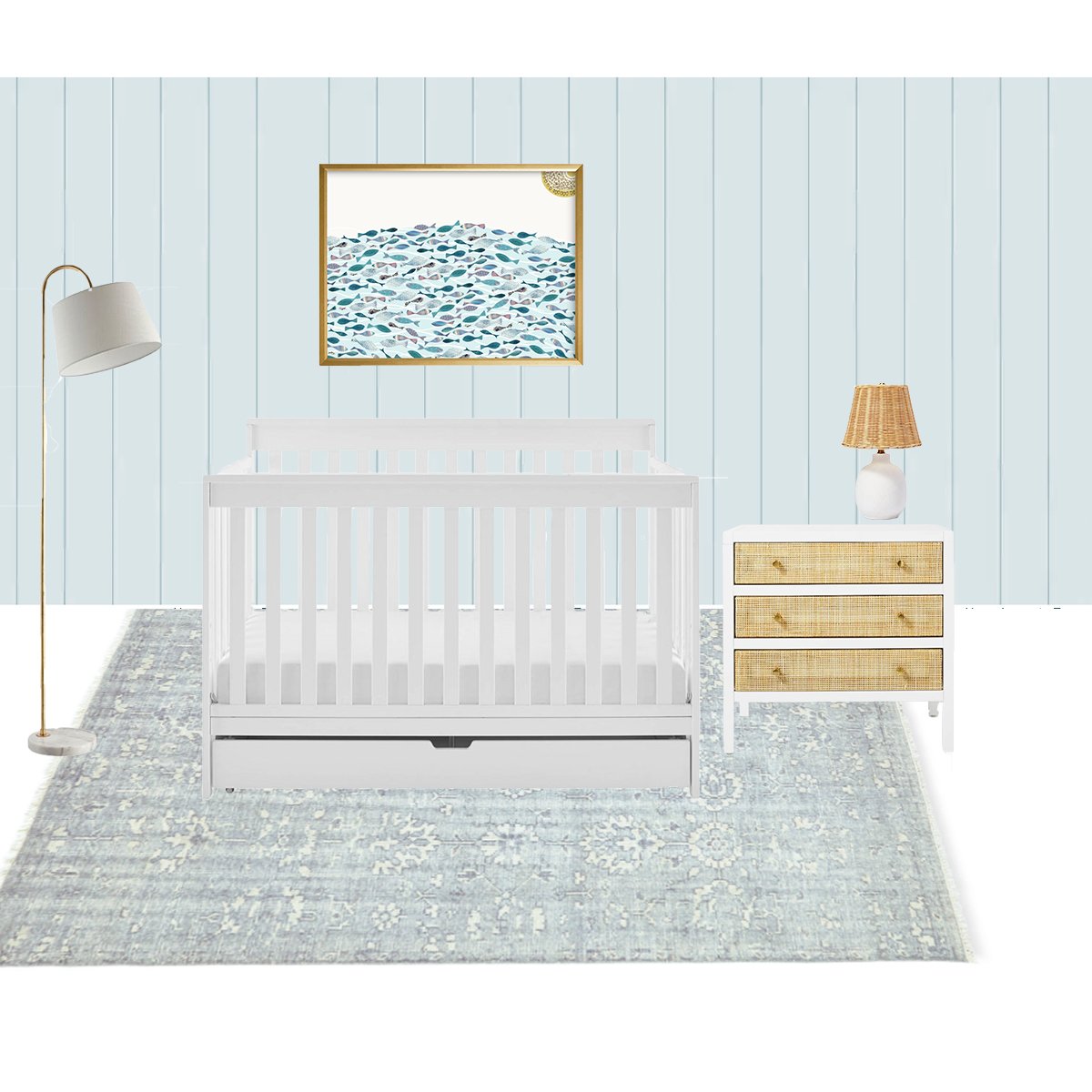 I also knew that I wanted to get rid of the reclaimed wood wall, but after trying to remove one piece, I knew it would be a massive undertaking to remove and possibly destroy all the drywall in the process.
Instead, I applied vertical shiplap directly over it and found the perfect paint color to match the soft blue in the rug.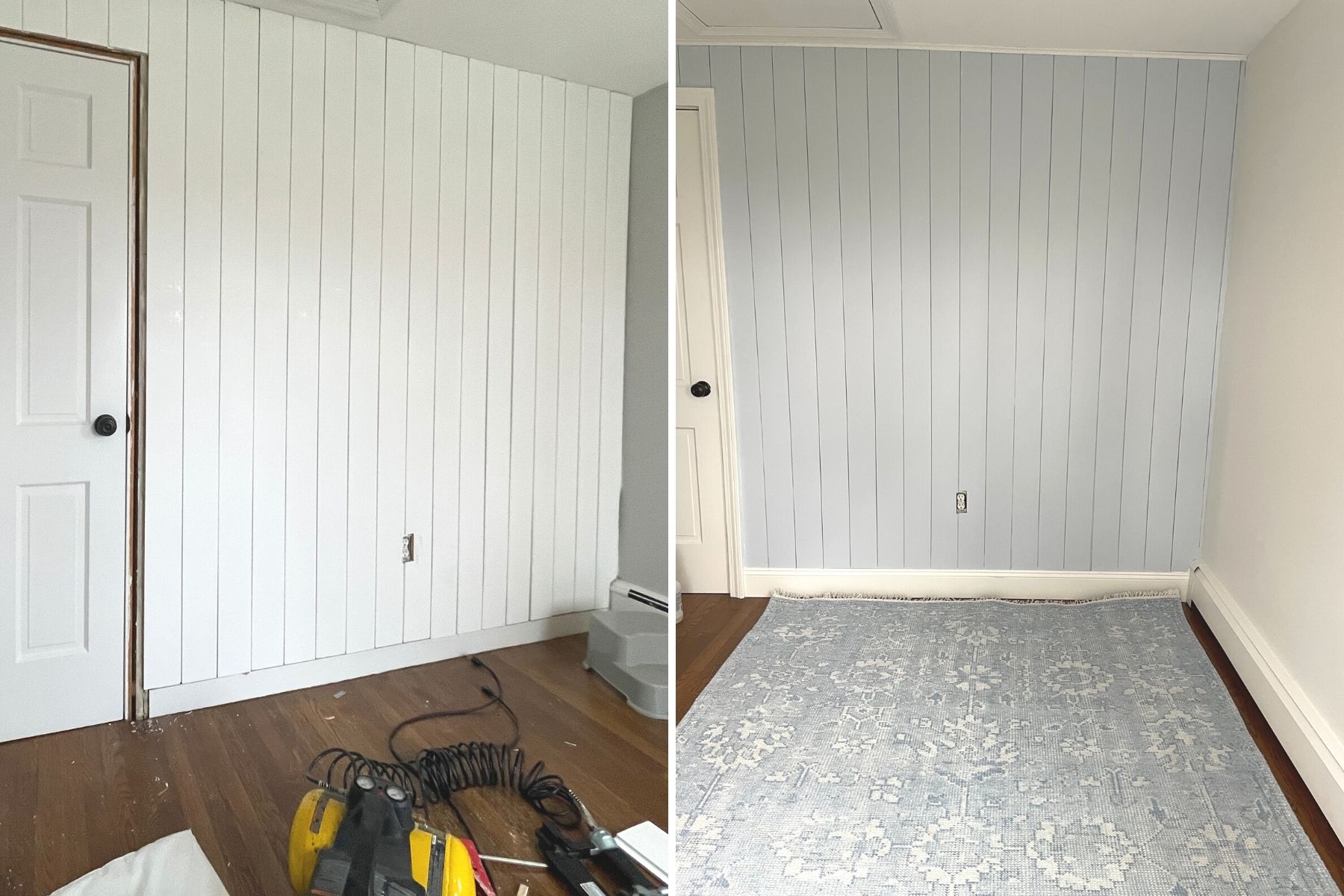 That was the hardest part of the project! And not difficult at all – the entire shiplap wall took me 2.5 hours (at 7 months pregnant) and then I just needed to nail up some new baseboards and paint everything.
Then I moved all the furniture and accessories into place, and this is how the new nursery looks:
The Nursery Reveal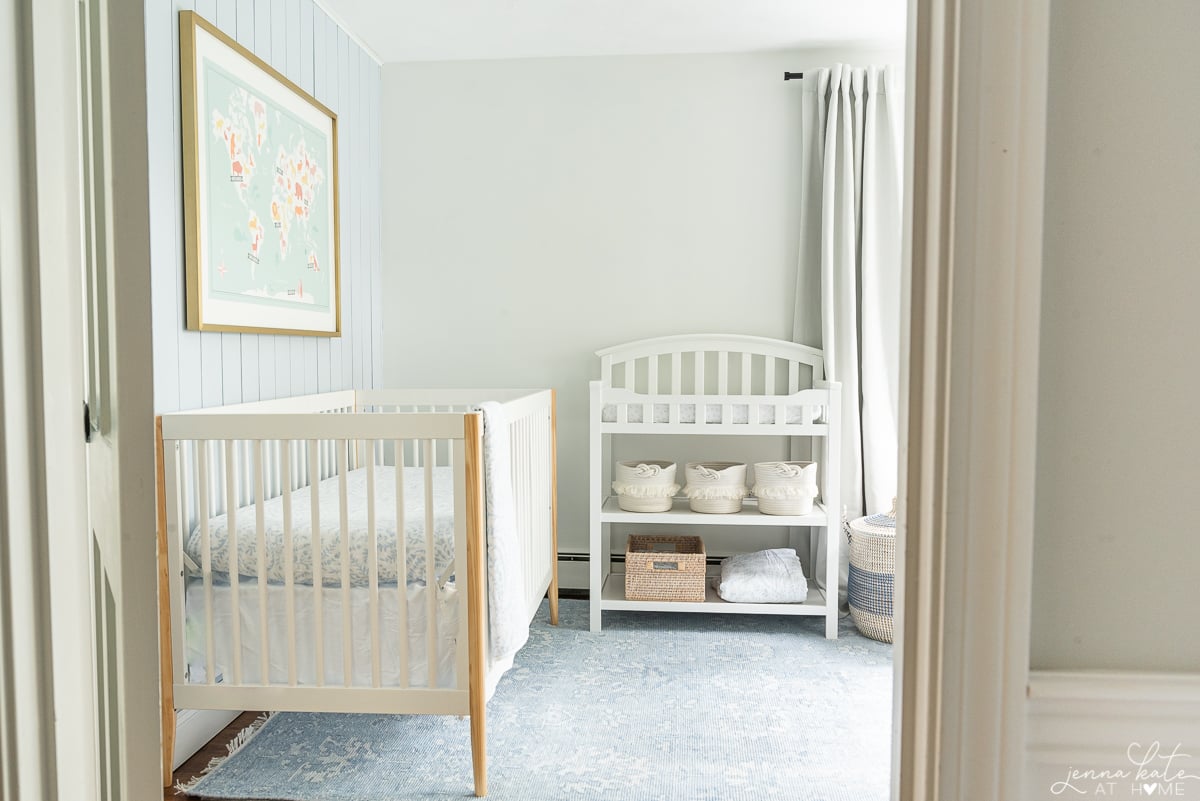 Note: This room is so small that it's almost impossible for me to get it all into one photo. This video that I shared on Instagram will give you a better idea of the layout!
Bringing in lots of white into the room made a huge difference in terms of bouncing light around this small space. Even though this room is south-west facing, so it gets great light all day long, it's small size and gray walls sucked in a lot of light.
The new brighter white walls, white furniture and bright blue accent wall really brighten it up and make it feel like a pretty coastal inspired nursery.
I chose to buy a new crib since my 2 year is still using his and will be for another while. Even though the baby will sleep in a bassinet in our bedroom for a few months, I like to have my kids start napping in their cribs from about 4 months on.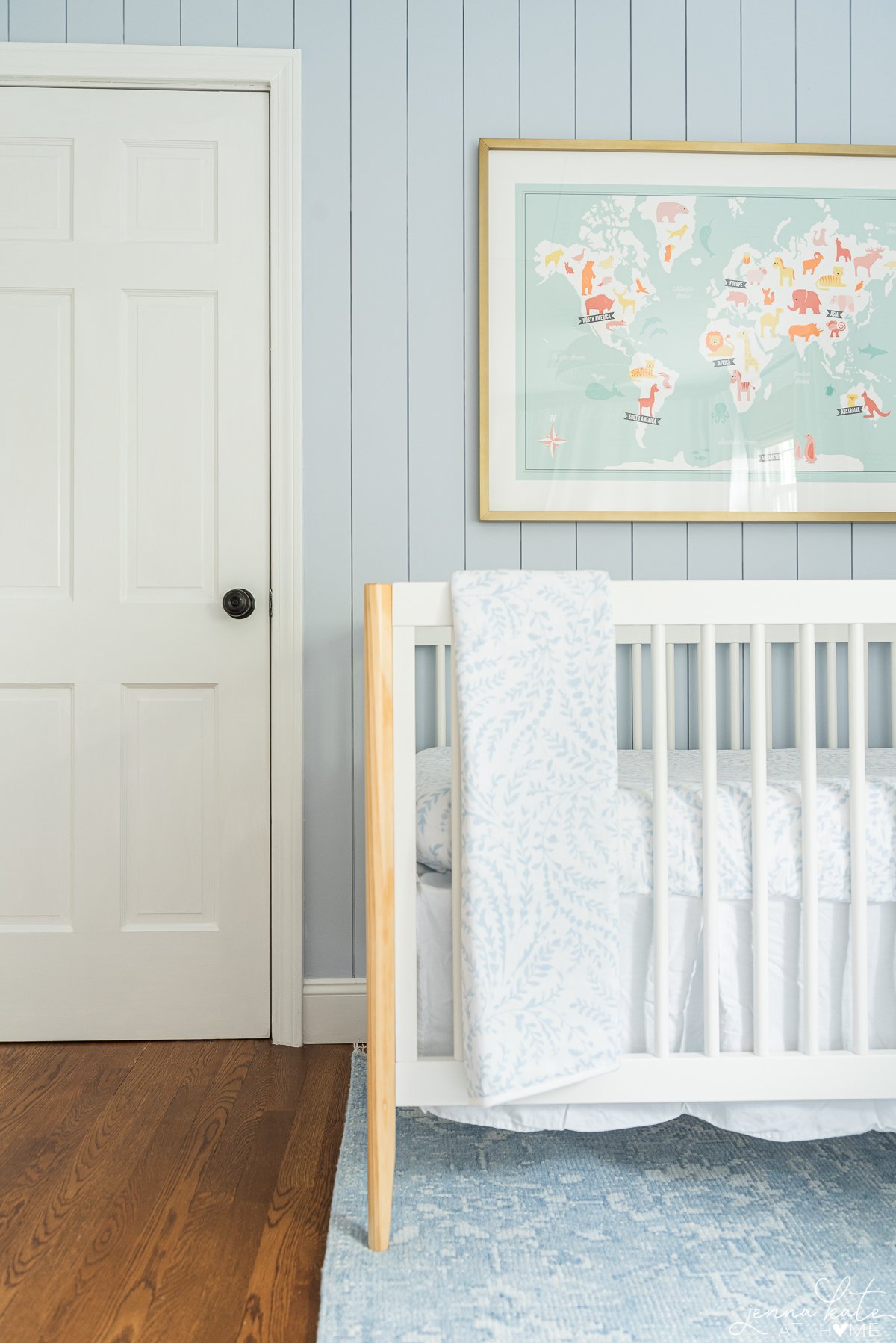 The crib has a simple white crib skirt and the prettiest fitted sheet for the mattress in the sky blue priano print from Serena and Lily. The fitted sheet was part of the Nursery Bundle that I chose and also included a muslin blanket and heavier quilt.
The print is so soft and pretty and would work for either a baby boy or baby girl.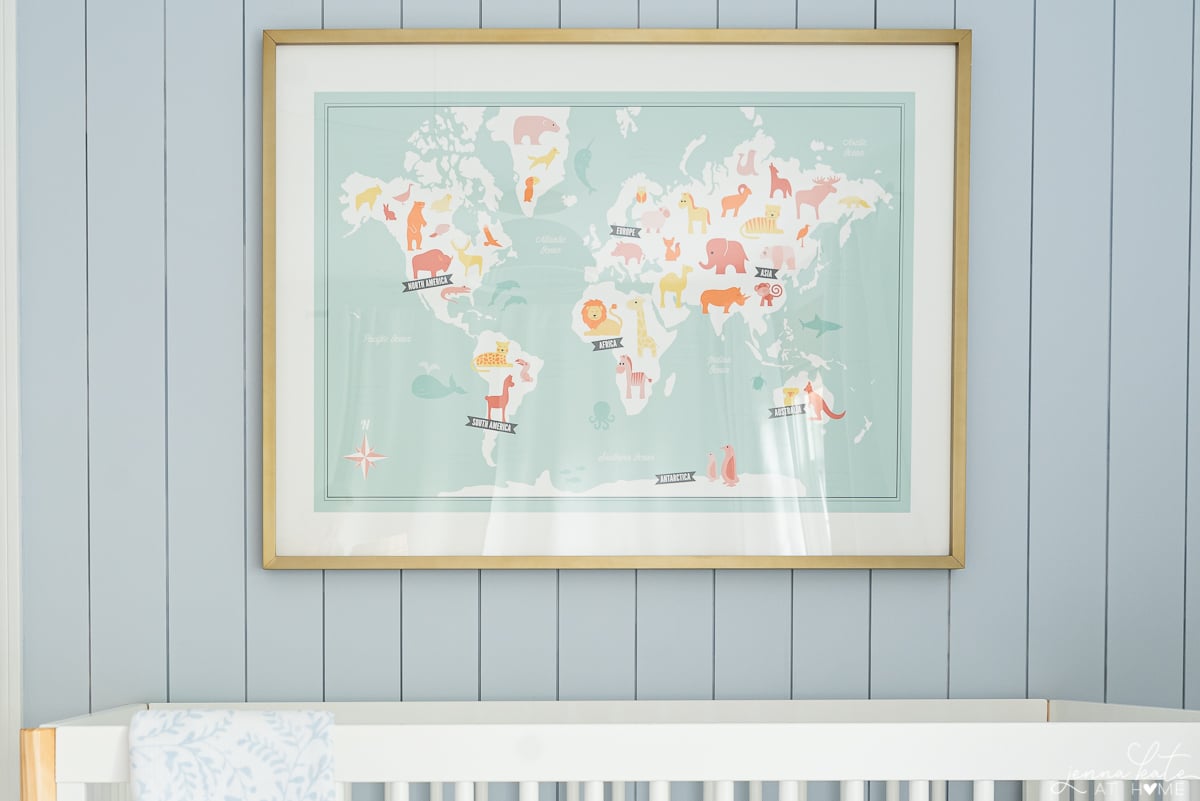 The animal world map art over the crib is the same that I purchased from Minted in 2017 when I was doing Conor's nursery. It's fun and colorful and adds a nice pop of color to break up the blue shiplap wall.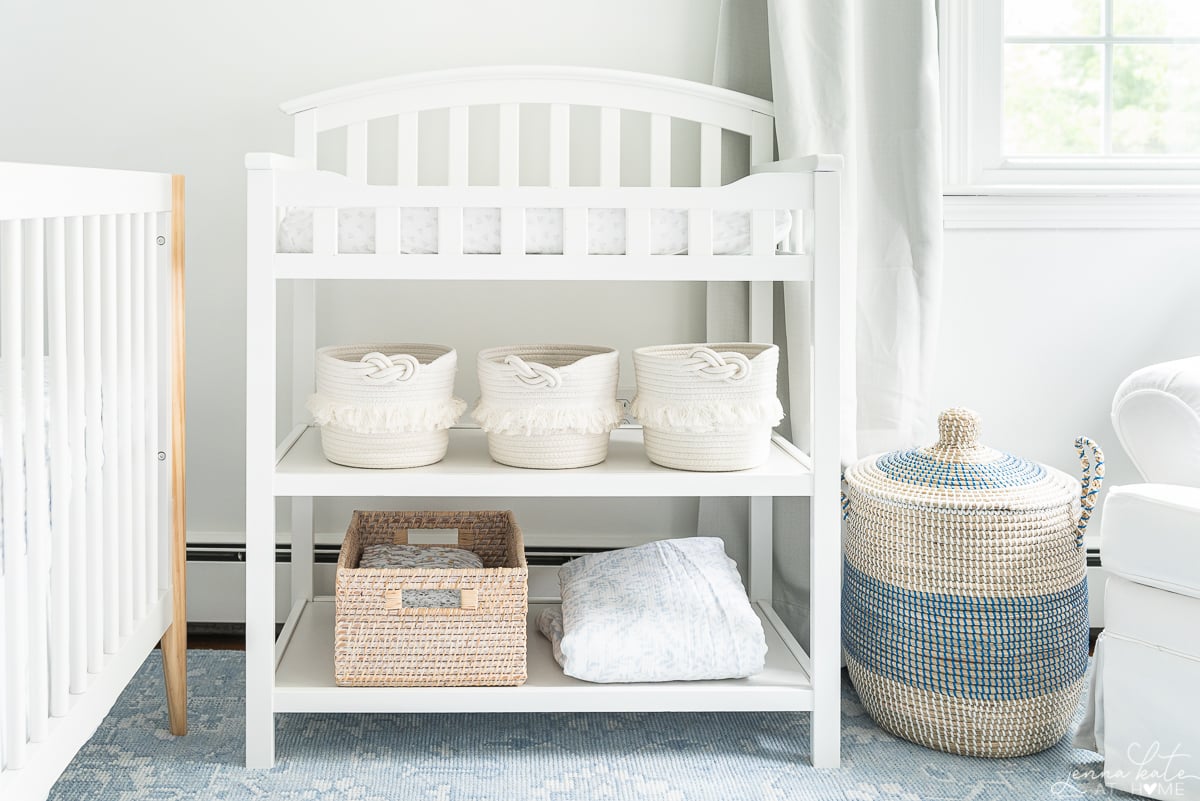 All the baby essentials are stored in baskets on the changing table and I chose the smallest size La Jolla basket from Serena & Lily for a laundry hamper.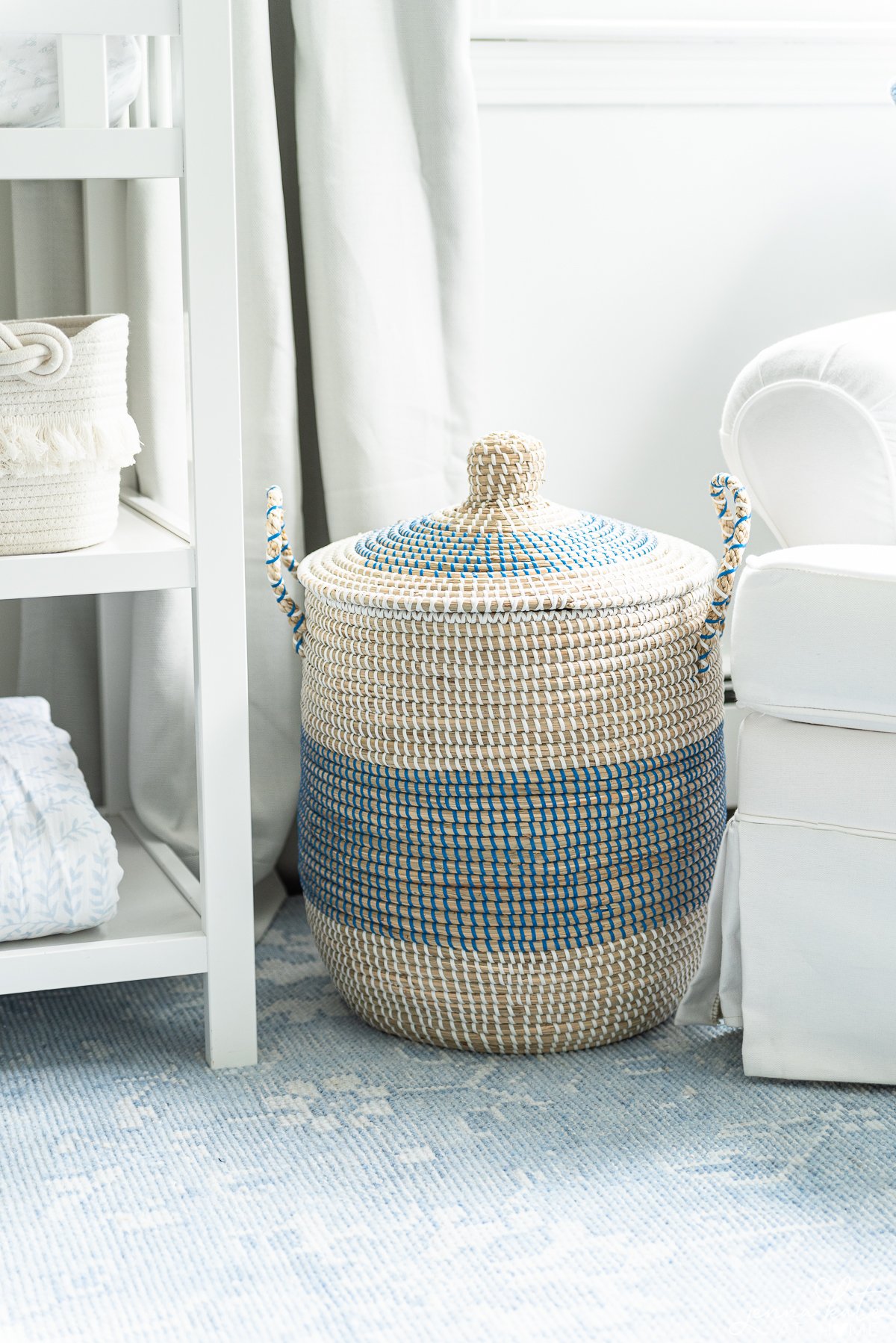 If you don't own one of these baskets, they are a must-have! I own all three sizes and use them for laundry, blankets and toys. They are so sturdy and look amazing, too!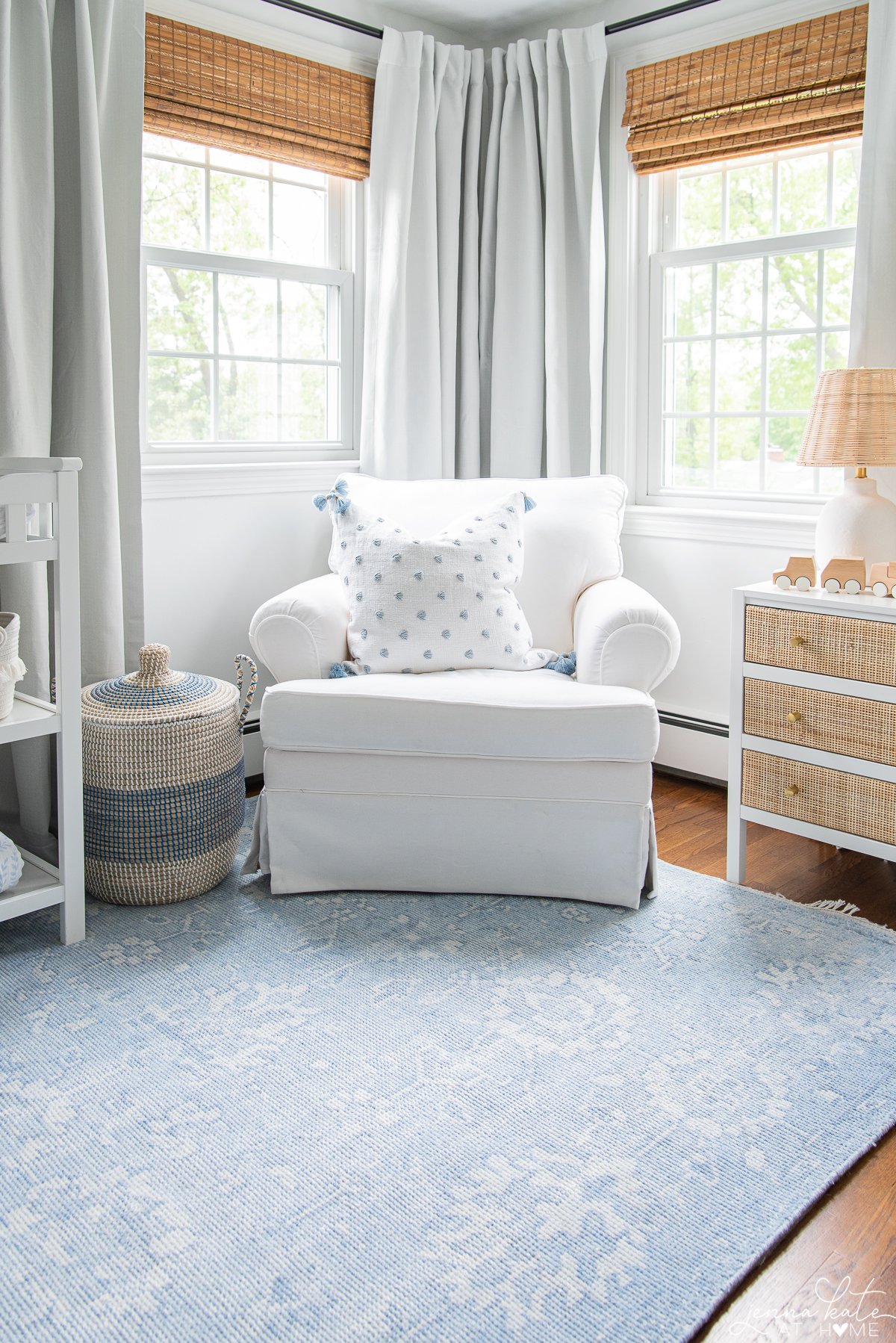 I used a corner connector for the curtain rods to make this awkward corner work for me and reused the white glider that was in Aidan's nursery. While the pretty East Beach pillow from Serena & Lily ties in the blue from the rug and the walls.
The curtains were an affordable Amazon find and are room darkening (not totally black out) but with the bamboo shades behind them, the room is very much blacked out.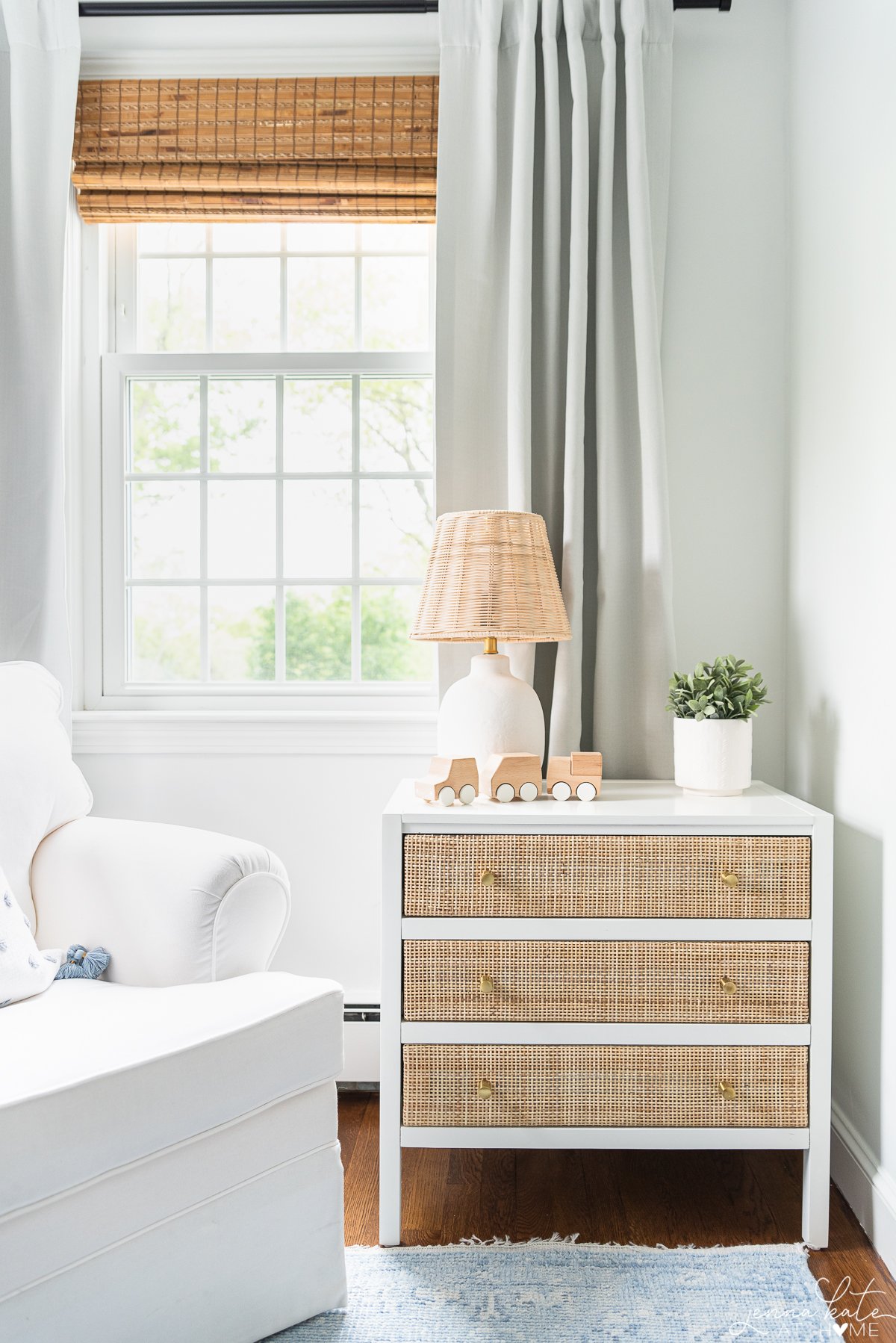 The nightstand with woven rattan drawers serves as extra storage, since a full size dresser is too big for the space.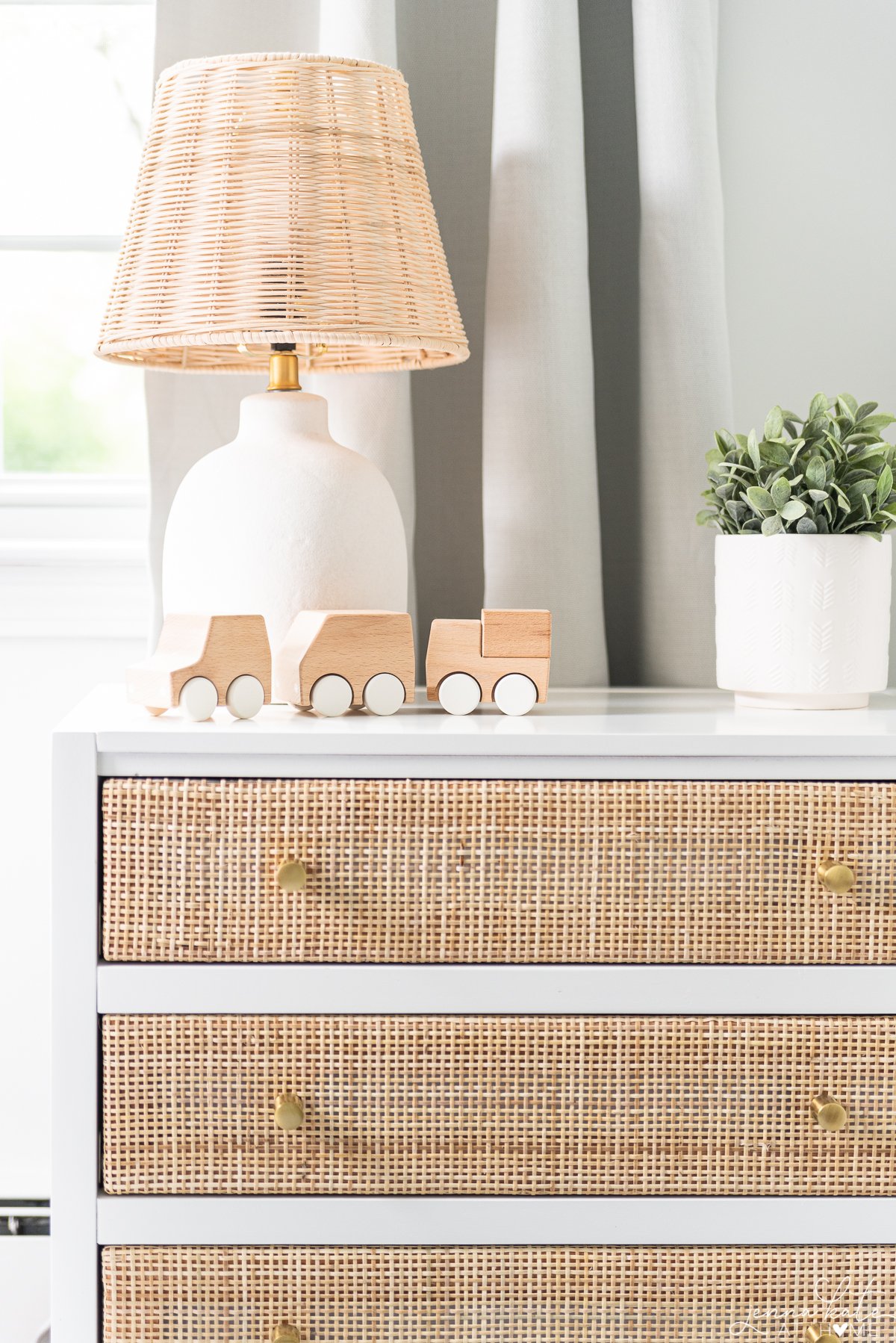 The rattan table lamp mirrors the wood tones from both the nightstand and the crib, and a darling wooden car set and faux plant adds a cute decorative touch without too much clutter.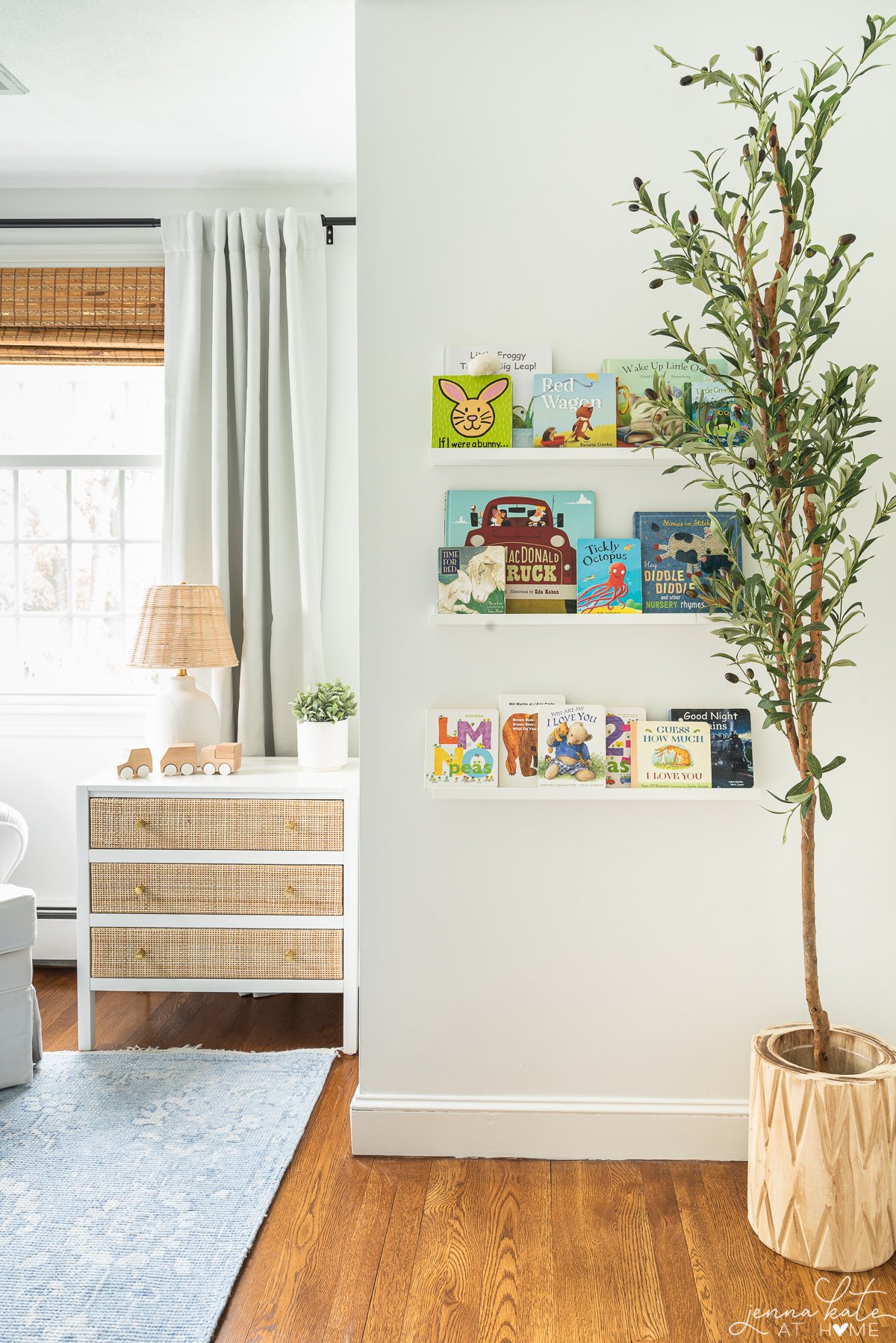 I added some book ledges to create to make the most of the vertical storage and a faux olive tree to bring some color and an organic element to the room.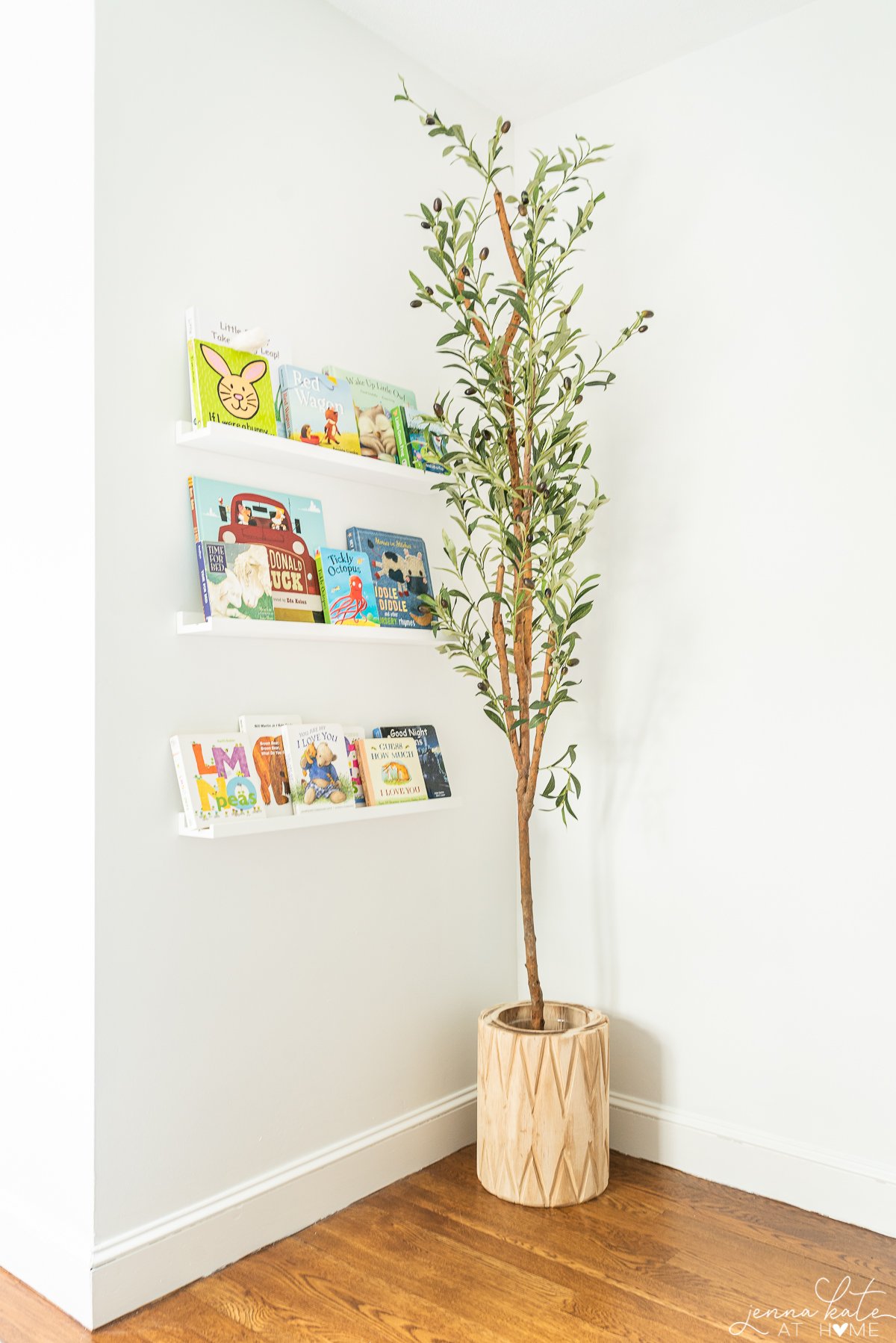 I had my electrician switch out the ceiling light while he was here and I love how the new scalloped light looks on our low ceilings.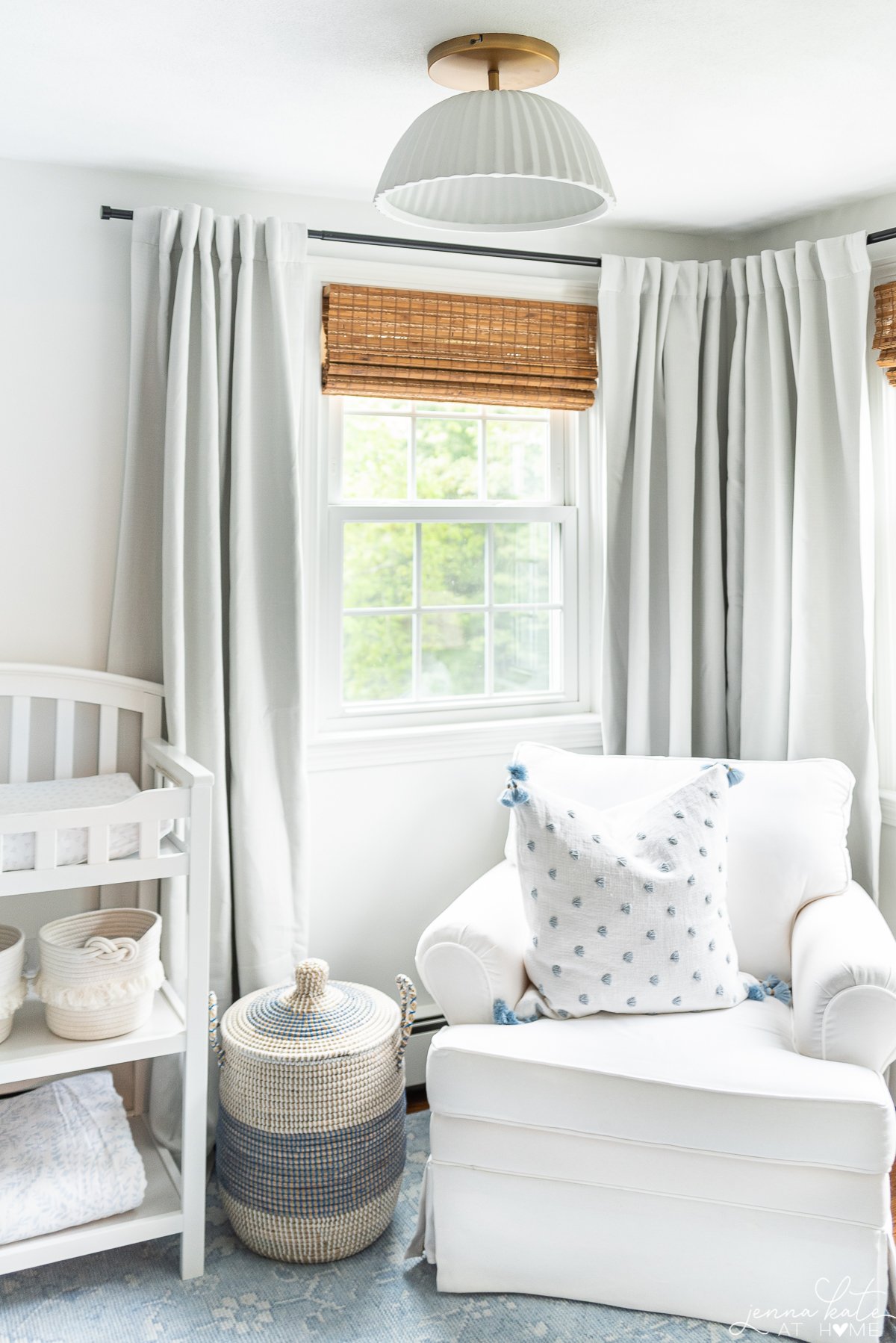 I hope you love our little boy's nursery as much as we do! I'm so excited to meet him in a few weeks and can't wait to spend more time in this beautiful little room!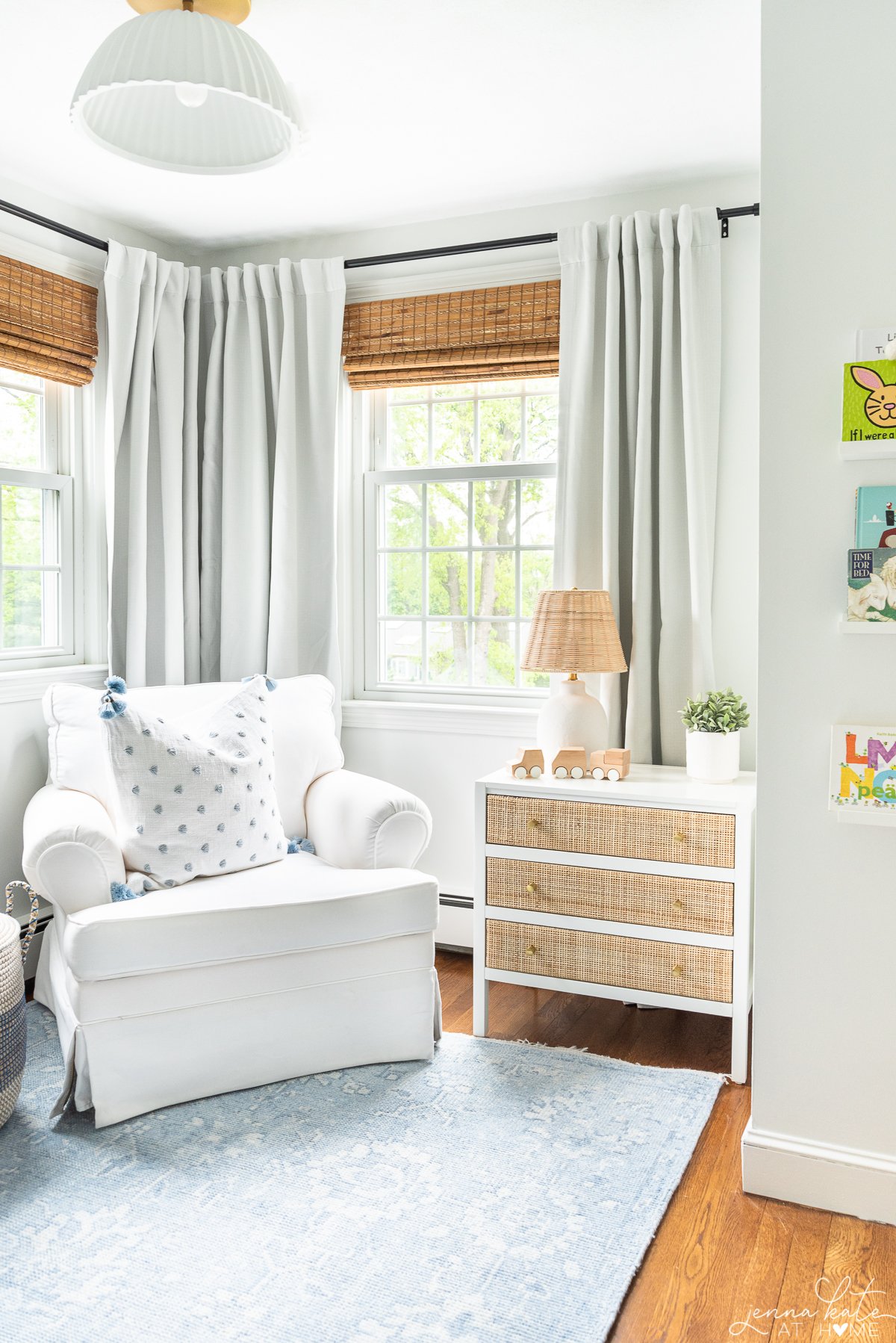 Full Source List
Walls: Pure White by Sherwin Williams and Sherwin Williams Mild Blue
Floors: White oak stained with Provincial
Rug: Serena & Lily
Crib: Delta Children
Crib Sheet: Serena & Lily
Crib Skirt: Amazon
Muslin blanket: Serena & Lily
Art over crib: Minted
Changing Table: Graco
White baskets: Target (no longer sold, similar here)
White glider: Wayfair (classic bleach white)
Pillow: Serena & Lily
Curtains: Amazon (color: Oyster)
Nightstand: Target
Lamp: Target
Faux Olive Tree: Home Depot
Book ledges: The Container Store (no longer sold, similar here)
Ceiling light: Target
More Room Makeovers…