This post may contain affiliate links | For further details, please read our privacy policy
Choosing a kitchen cabinet paint color is one of the many decisions you'll have to make when updating or remodeling a kitchen.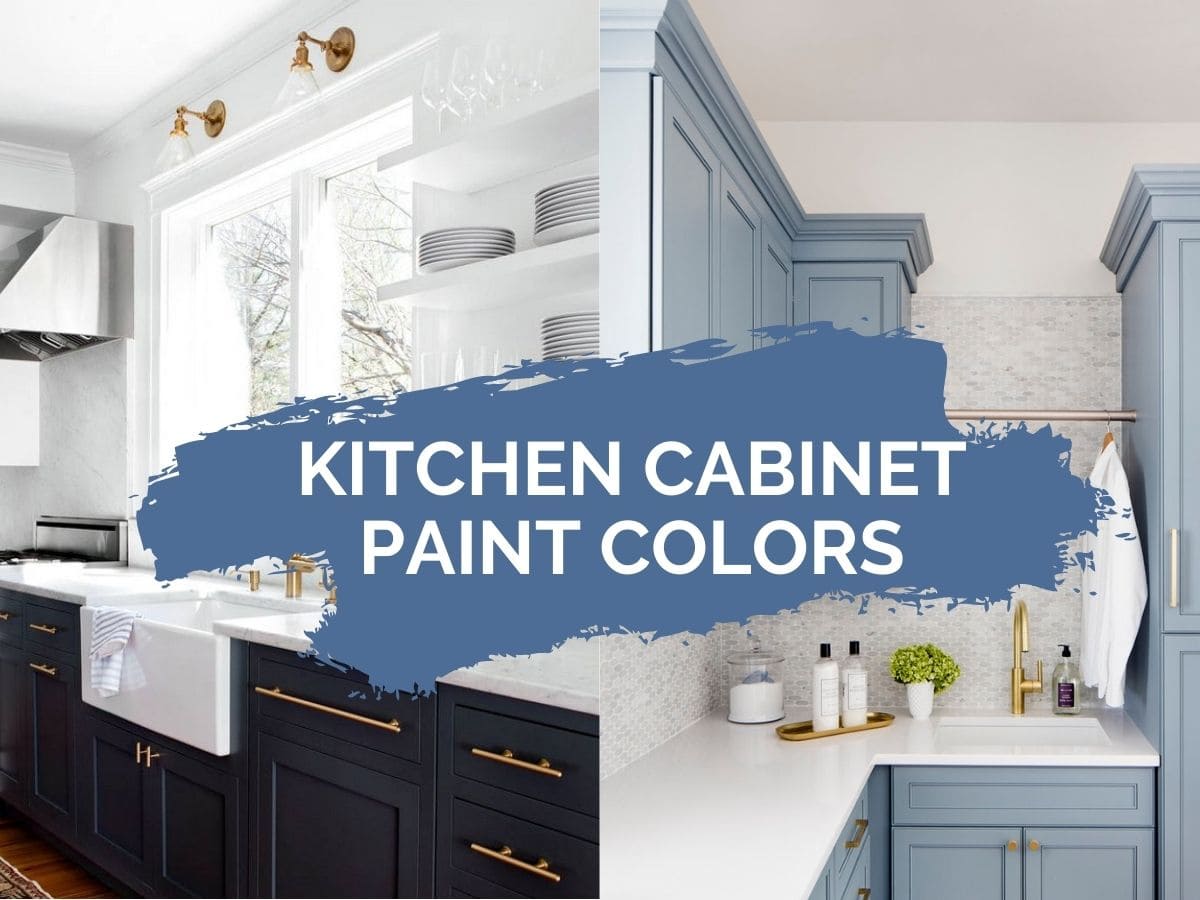 White is always a safe choice, but even then do you choose a cool white, warm white or pick a more neutral middle ground white?
If white is boring, think outside the box! You can stay in a saver zone with light grays and greiges, or really up the wow factor with a striking green, blue or black.
Whatever you ultimately decide on, don't let trends or others' opinions dissuade you from your vision! Your kitchen should mirror your personality and be a natural extension of how you've decorated the rest of your home.
With that in mind, here are my 10 favorite kitchen cabinet colors to help you choose a shade thats right for you and your space.
1. Sherwin Williams Pure White
Sherwin Williams Pure White is the shade you will want to choose if you are looking for a neutral white that works well with warm and cool color palettes.
It gives the look of bright white cabinets without feeling stark or cold. Pure White is great for a timeless, modern, elegant kitchen.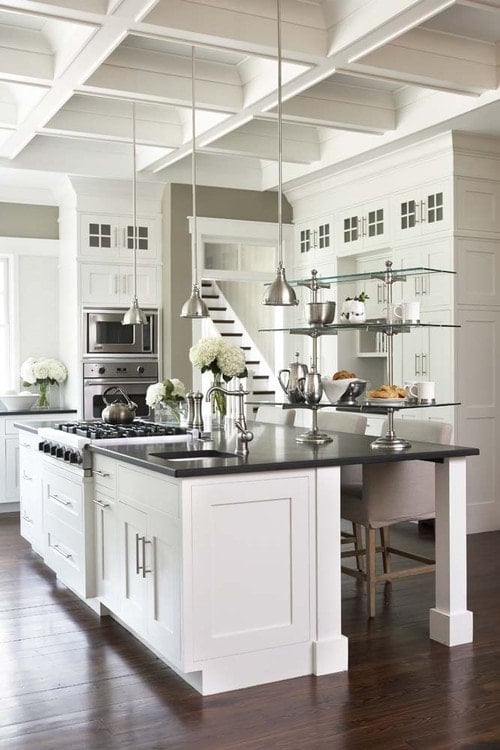 2. Sherwin Williams Alabaster
If you love white cabinets but want a warm and creamy white, then Sherwin Williams Alabaster may be the right choice for your cabinets.
If your existing kitchen or plans for a new kitchen include lots of warm wood or an overall warmer color palette, Alabaster will be the perfect choice for you.
It pairs beautifully with both brass and flat hardware, and works with all styles of cabinets and kitchen decor.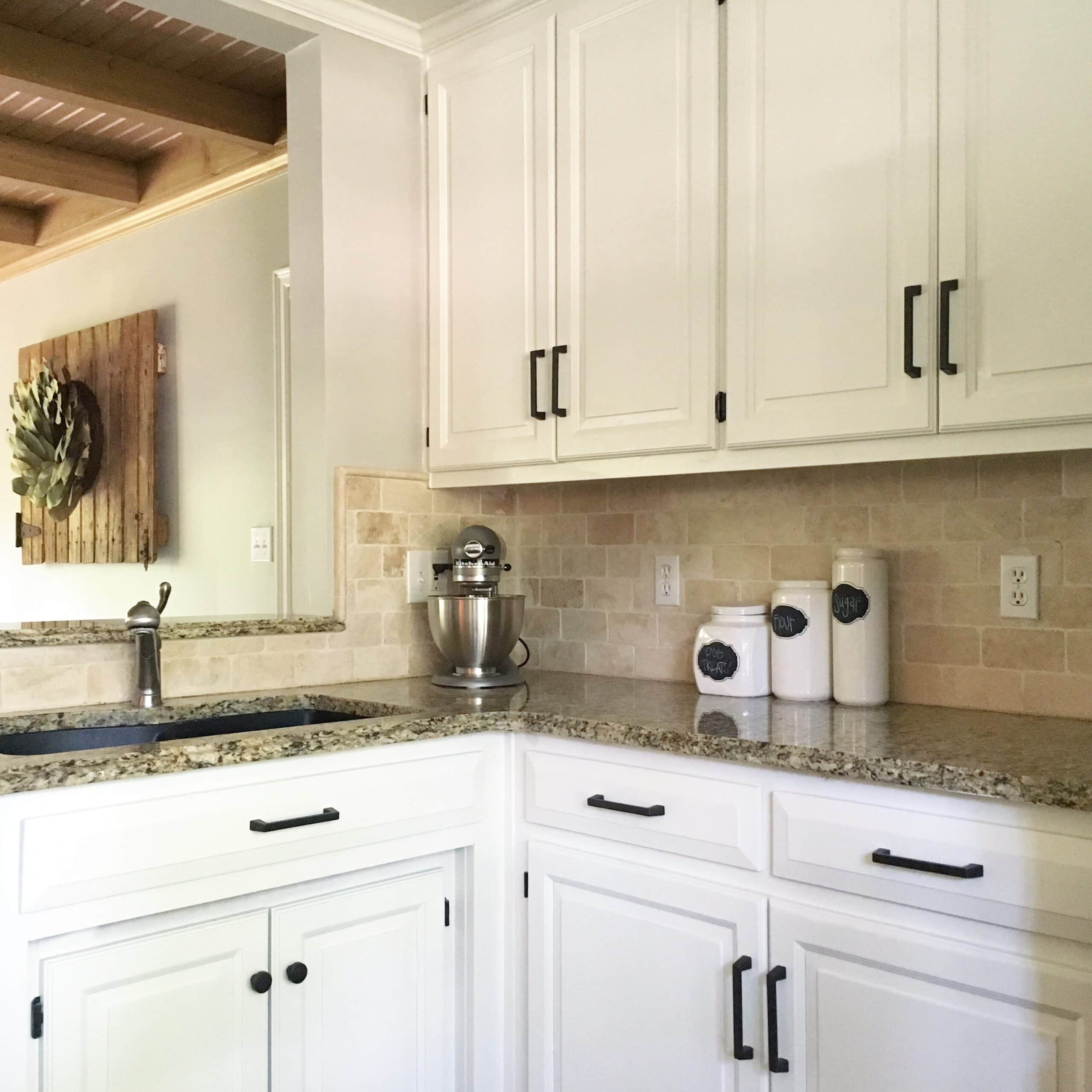 3. Sherwin William's Repose Gray
If you've read this blog for any length of time, you'll know that Repose Gray is my go to gray, thanks to its wonderful chameleon nature – it really is such a versatile shade of gray.
Repose Gray cabinets are on trend, but also look very classic thanks to the warmth in the gray. The color pairs well with both warm and cool tones color schemes, so it's quite unique in that respect.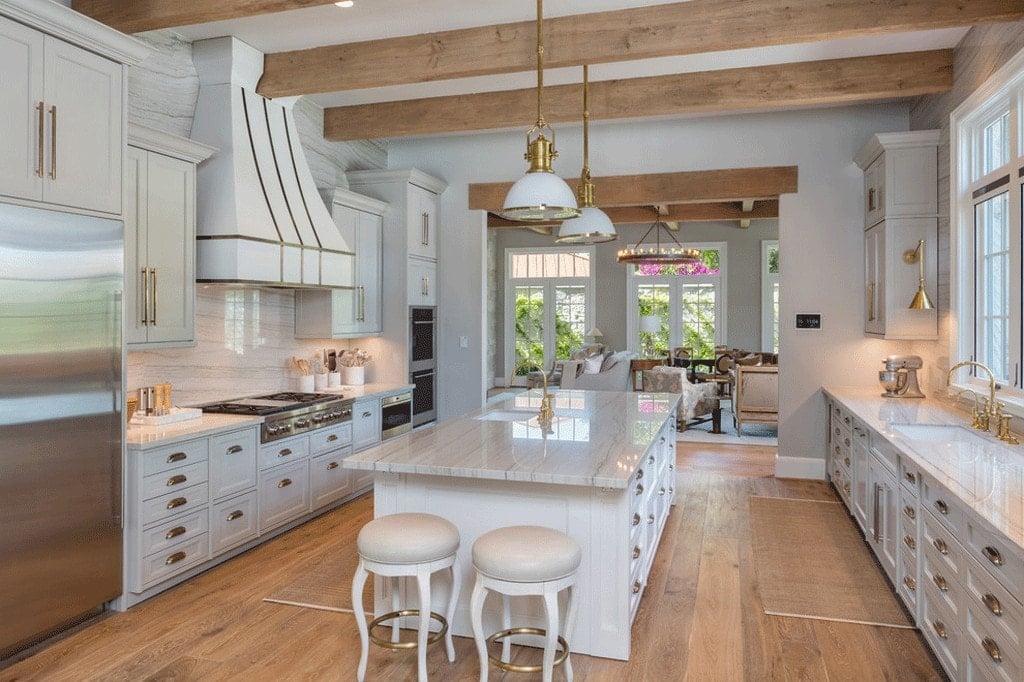 4. Benjamin Moore Revere Pewter
Another stunning greige paint choice for kitchen cabinets is Revere Pewter, a slightly warmer choice than Repose Gray, but again extremely versatile. It is also slightly darker, giving it a more depth of color.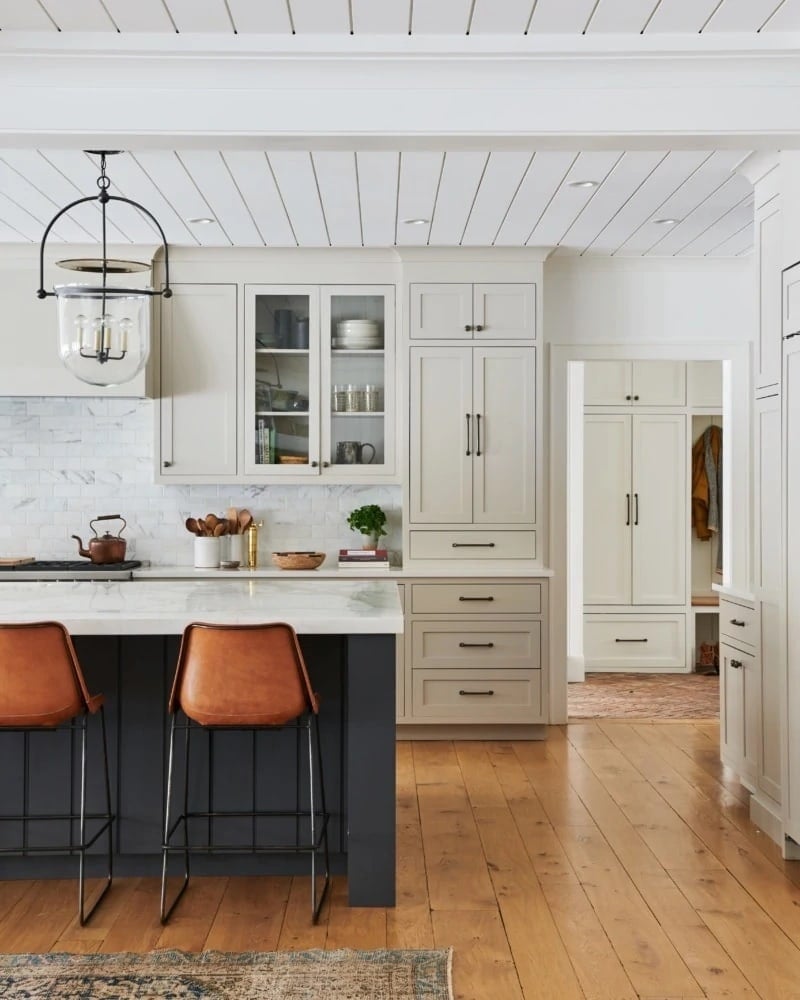 5. Benjamin Moore Chelsea Gray
Chelsea Gray is a stunning choice for a kitchen. I absolutely love this shade when paired with a combination of black and wood tones.
This is the perfect mid tone gray which will add luxury and earthiness to your kitchen. It's also an excellent choice for a contrasting kitchen island color.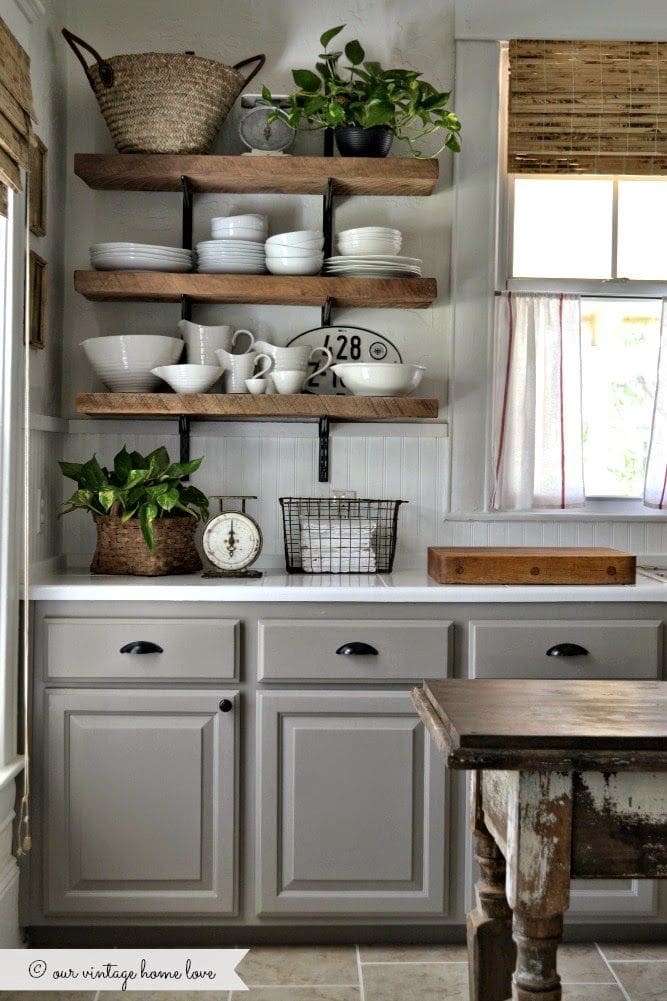 6. Benjamin Moore Van Courtland Blue
Van Courtland Blue is a stunning coastal blue with a slight grey undertone. This is a really pretty choice if you are on the search for a blue shade that is subtle but nods to that coastal feel.
It looks amazing paired with crisp whites and grays, but also works well alongside natural wood tones and warm brass.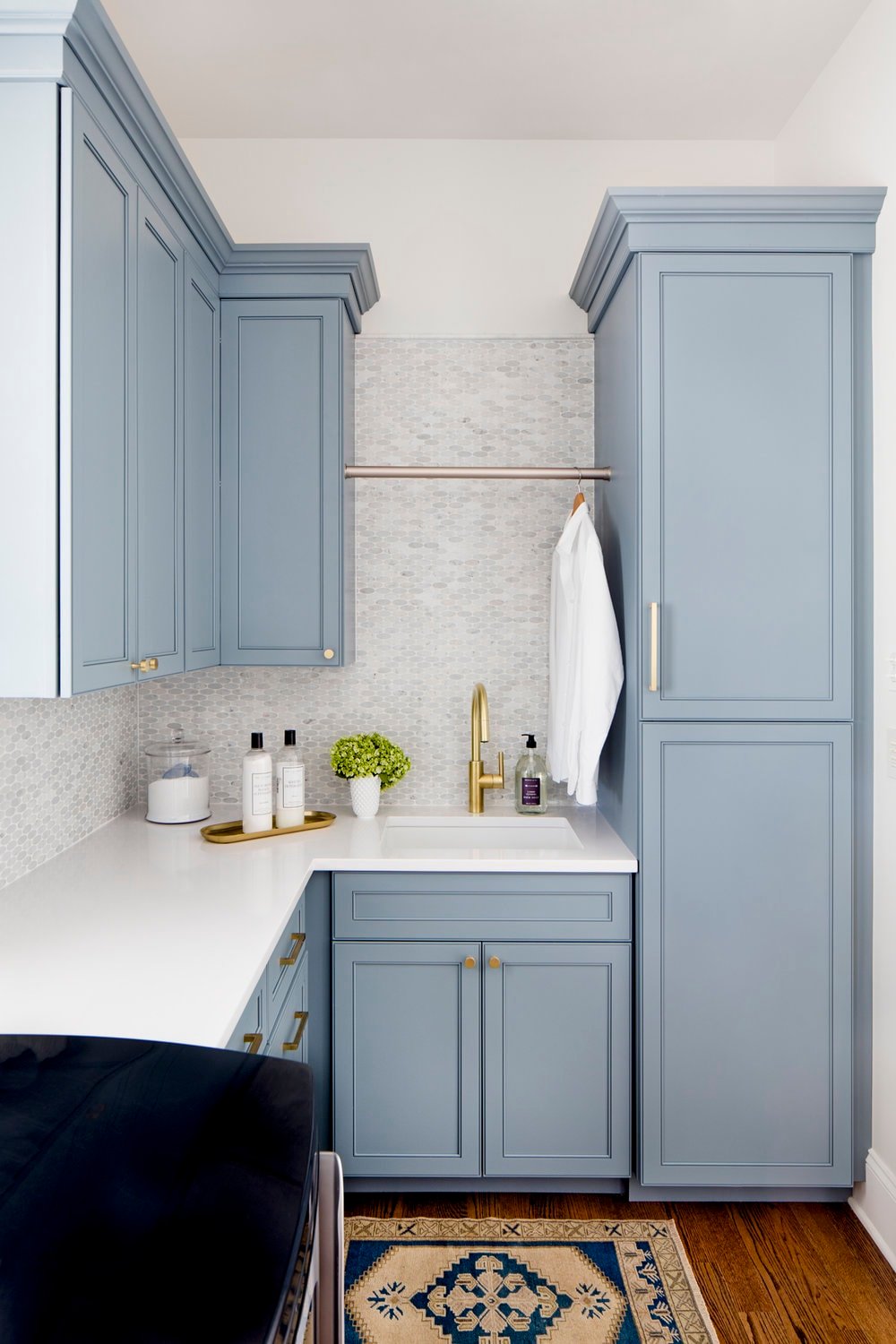 7. Benjamin Moore Boothbay Gray
Boothbay Gray is the color I chose for my pantry cabinets, and it's the prettiest shade of blue gray. The color changes depending on the light (it can even look a tiny bit green), but it mostly leans quite blue.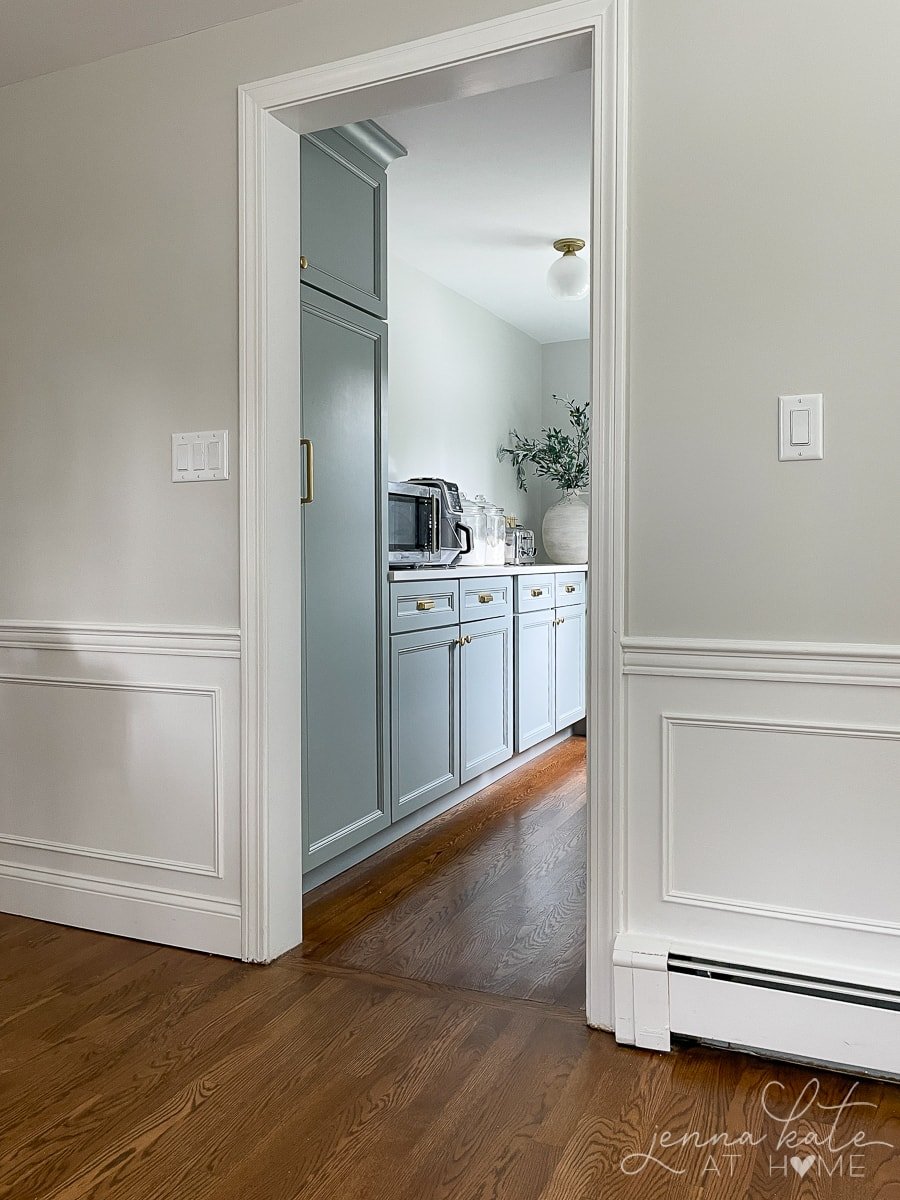 Naval is a classic choice if you are looking for a dark navy which is rich and luxurious. Naval will transform your kitchen and give it a timeless, nautical feel.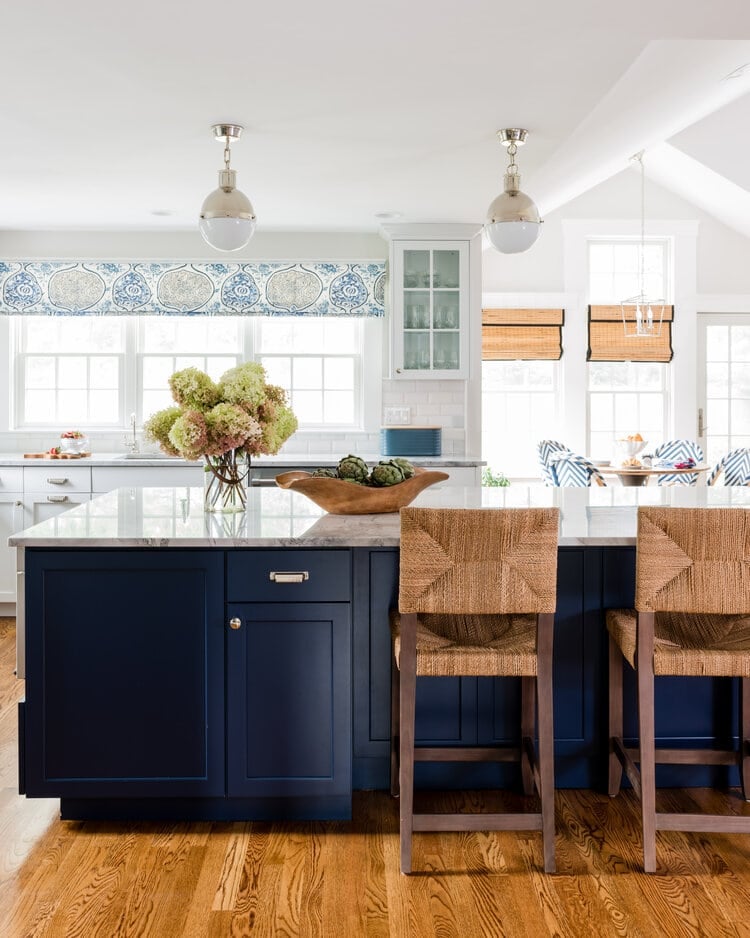 9. Sherwin Williams Pewter Green
Green is one of the most popular and trendiest colors of the year so it wouldn't be right not to include this gorgeous Pewter Green.
This is a dark, almost gray green which looks stunning against off whites and black tones. Pewter Green is a wonderful choice if you are looking for a color to revive your kitchen and bring it into this year.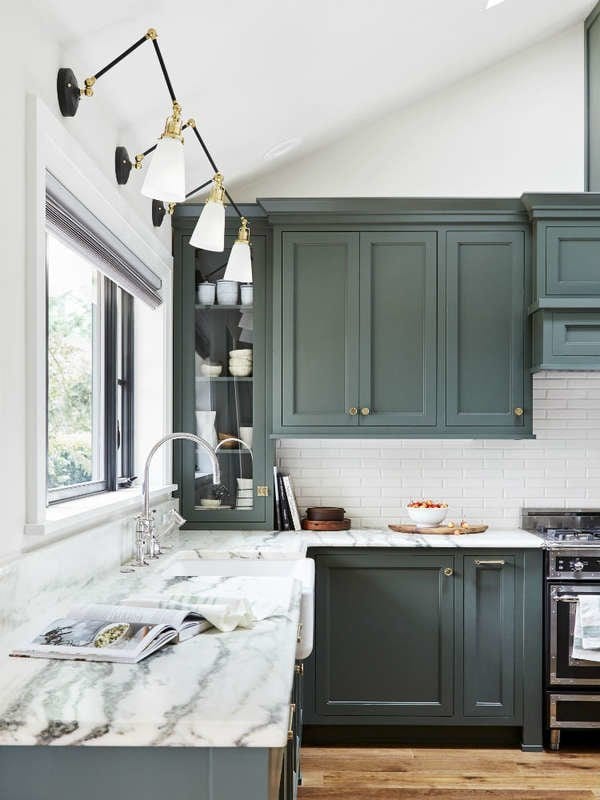 10. Sherwin Williams Peppercorn
There is something about dark grey that screams luxury and opulence, right? Peppercorn is a stunning paint color for kitchen cabinets.
In many ways it's such a versatile shade choice as it pairs with so many other colors well; think wood tones, whites, greens, even blues. This color has got you covered!
Peppercorn can slightly change color depending on the light – sometimes looking closer to black, sometimes a really deep blue gray and other times even a touch purple.
Definitely test it in your space before committing!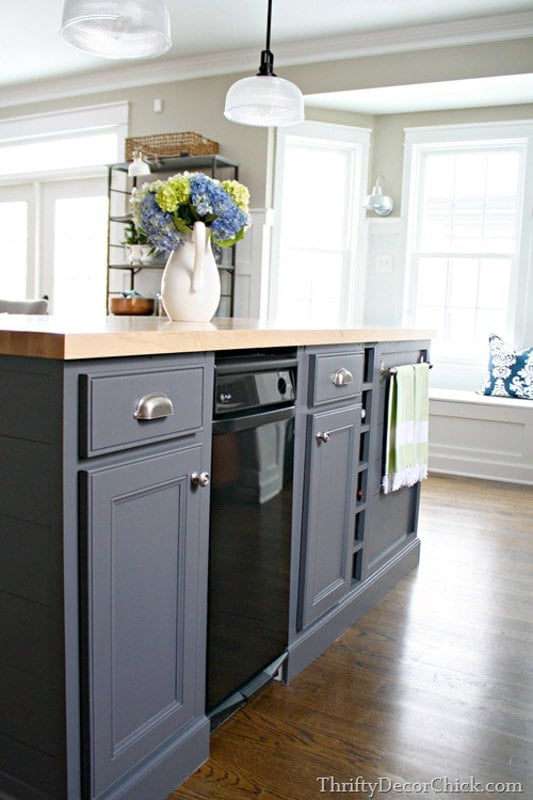 11. Benjamin Moore Char Brown
Certainly not for the faint hearted, Char Brown is a risky choice but a super fashionable one! This wonderful dark rich brown screams chocolate, right? This is going to be massive for this year – think earthy tones, greens and bringing the garden inside.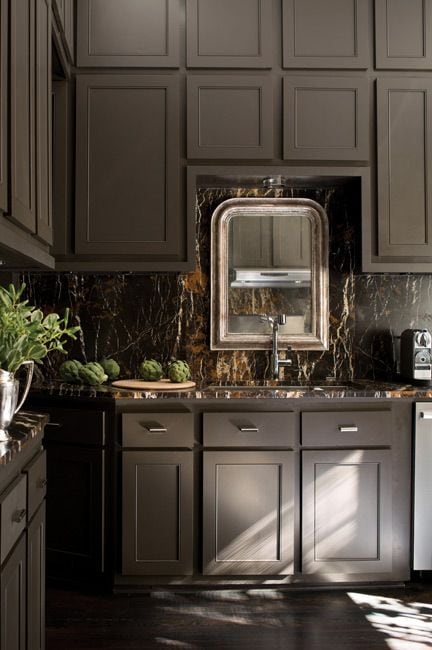 12. Sherwin Williams Tricorn Black
In the right kitchen, black cabinets and islands make for the most beautiful contrast, especially alongside bright white counters.
Your kitchen will need quite a lot of natural light to truly pull this modern look off. But when done right, I think such a striking color choice will actually stand the test of time.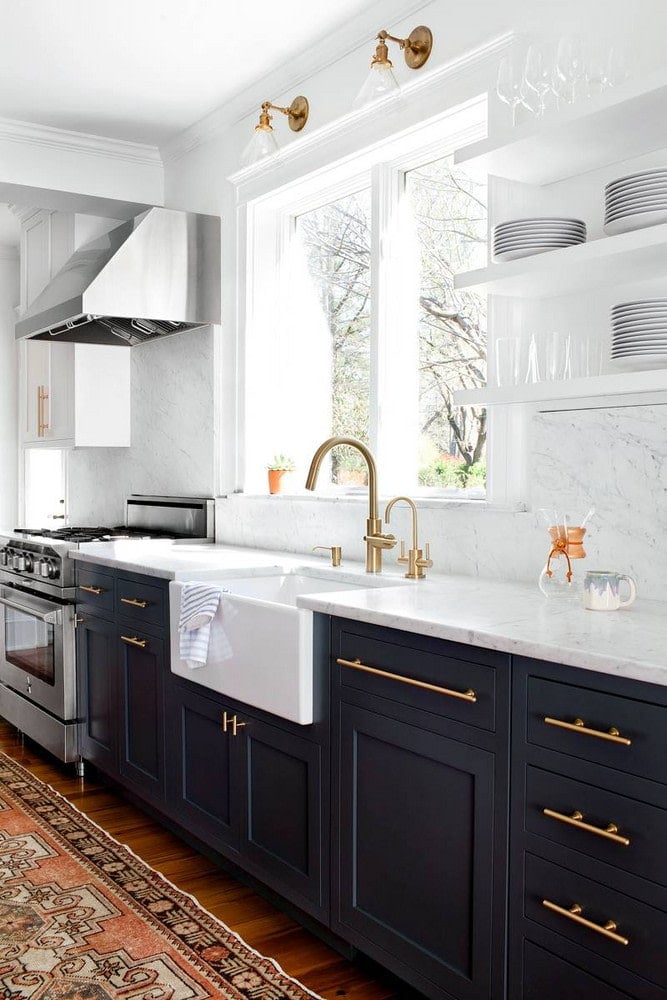 The Takeaway
Whatever your color choice, select a kitchen cabinet color that makes sense with the rest of your home, while keeping your personality in mind.
Whether you're remodeling from scratch or just itching to break out the paint, choose a color that you'll be able to love for years to come!
Don't Forget…
Don't forget – no matter what you've read or photos you've seen online, it's really important to sample paint colors in your home before committing!
Samplize provides real paint samples that are easy to move around your home, and cheaper than buying a gazillion paint pots! It's the only way I buy paint samples.
Use code JENNAK10 at checkout and get 10% off your order
Coupon entitles all customers to 10% off the entire order with no minimum purchase requirement. This is a one-time use coupon and it cannot be combined with other discounts.