Sherwin Williams Extra White is a popular bright white paint color for trim, cabinets, and walls. Read this paint color review to find out why its one of SW's most popular white colors and whether it's a good choice for your home.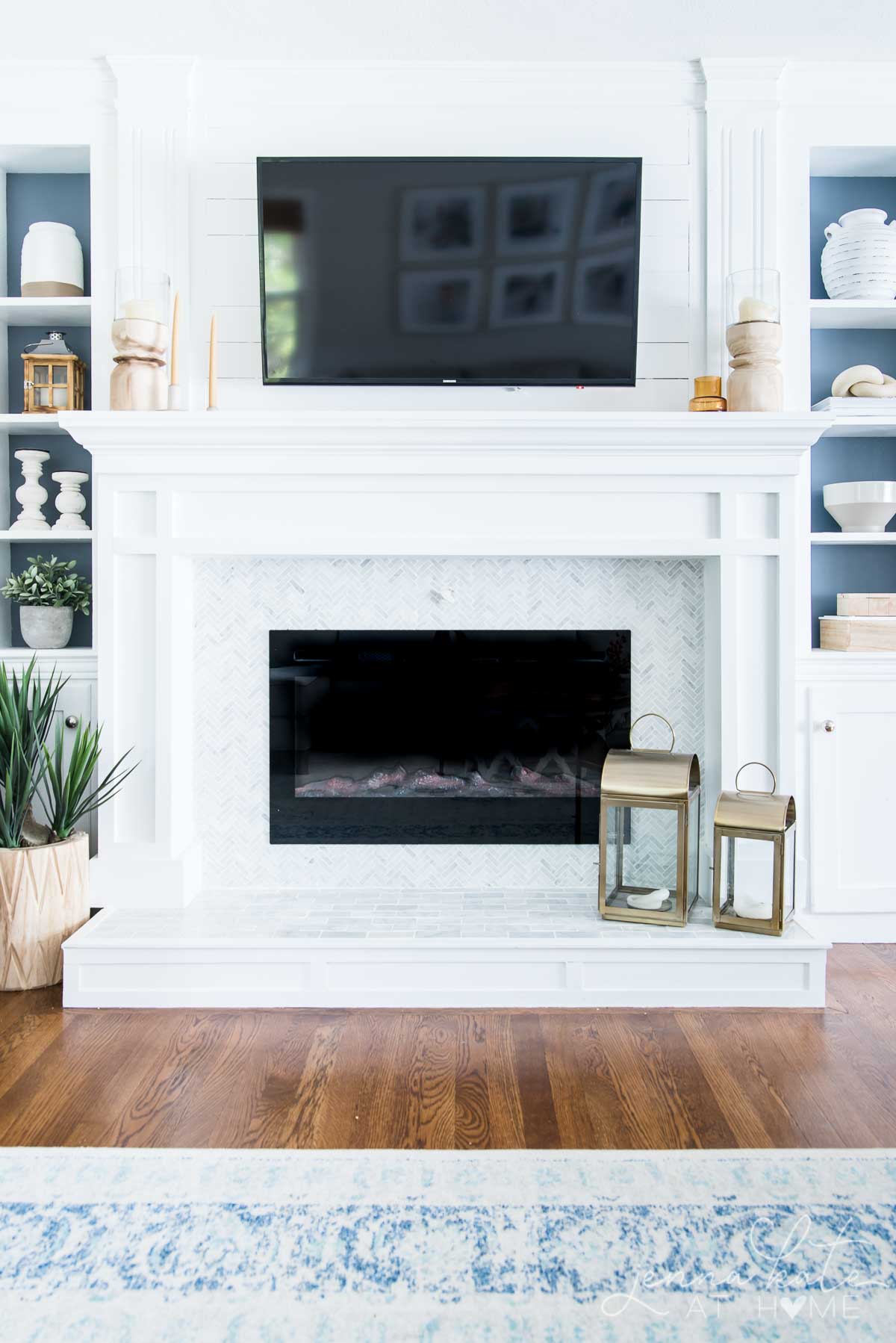 What Color is Extra White?
As the name suggests, Extra White (SW 7006) is one of Sherwin Williams' brightest whites.
Sherwin Williams claims Extra White is their "truest white", which is not technically true. They do, in fact, have a whiter-white – Sherwin Williams Highly Reflective White.
On interior walls, Extra White looks like a crisp white paint color with just enough softening thanks to its slight gray undertone.
What is The LRV of Extra White?
With an LRV of 86, it's pretty white, with only one other color, High Reflective White, being brighter (it has an LRV of 93). If you're looking for a slightly less bright white, then Pure White may be a good choice.
What's LRV? LRV, or Light Reflectance Value, is the number that refers to how light or dark a color is on a scale of 0-100. The closer the number is to 100, the lighter it is (white being the lightest). The closer the number is to 0, the darker it is (black).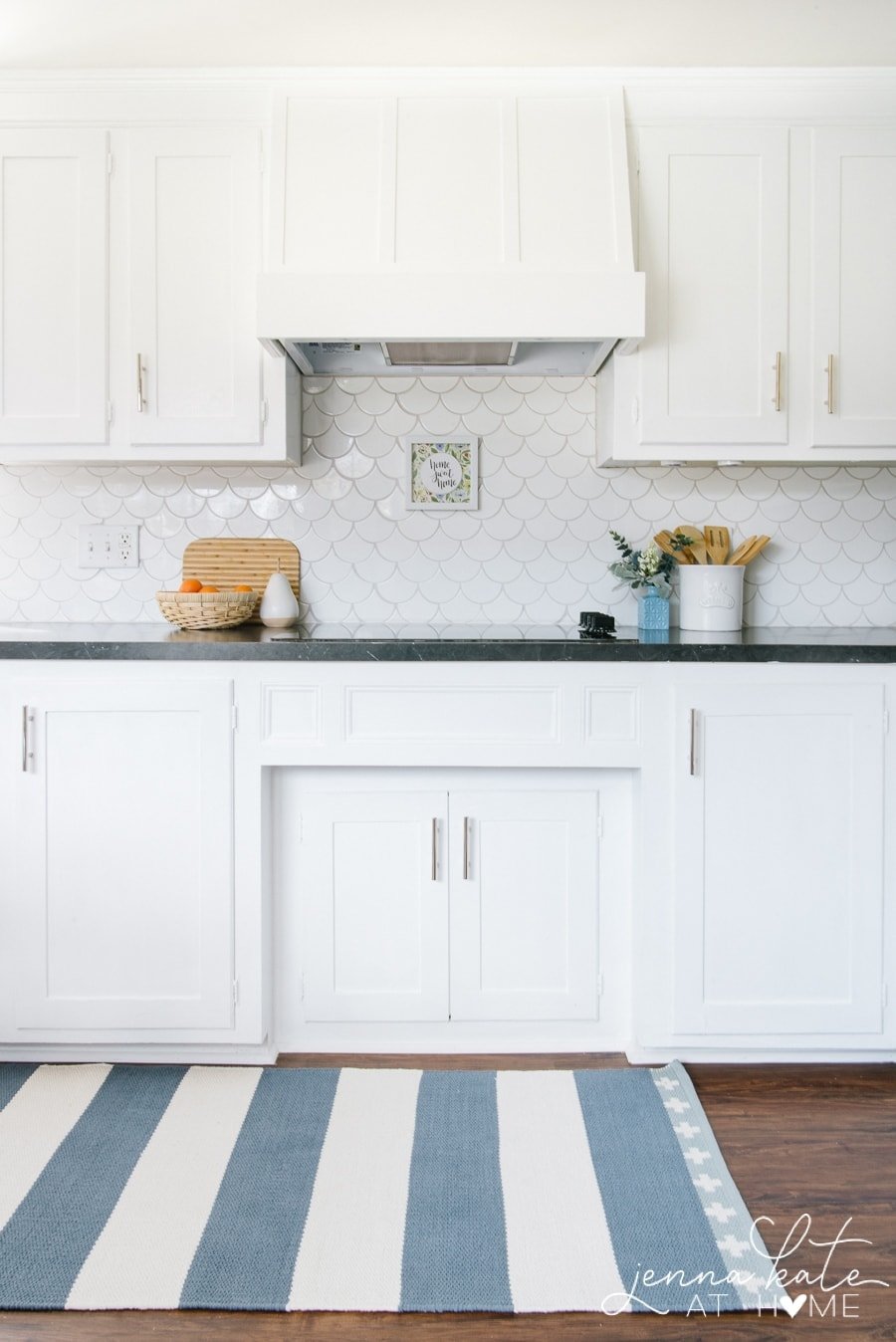 What are the Undertones of Extra White?
Like all white paint colors, Extra White has its own unique undertones. Extra White is a very bright white with a slight gray undertone. It looks great alongside a color palette of other cool colors like grays and blues.
Despite what the RGB values (238 / 239 / 234) suggest, in real life there is no apparent yellow undertone. It will always reads as a cool white with a slight gray or even slight blue undertone.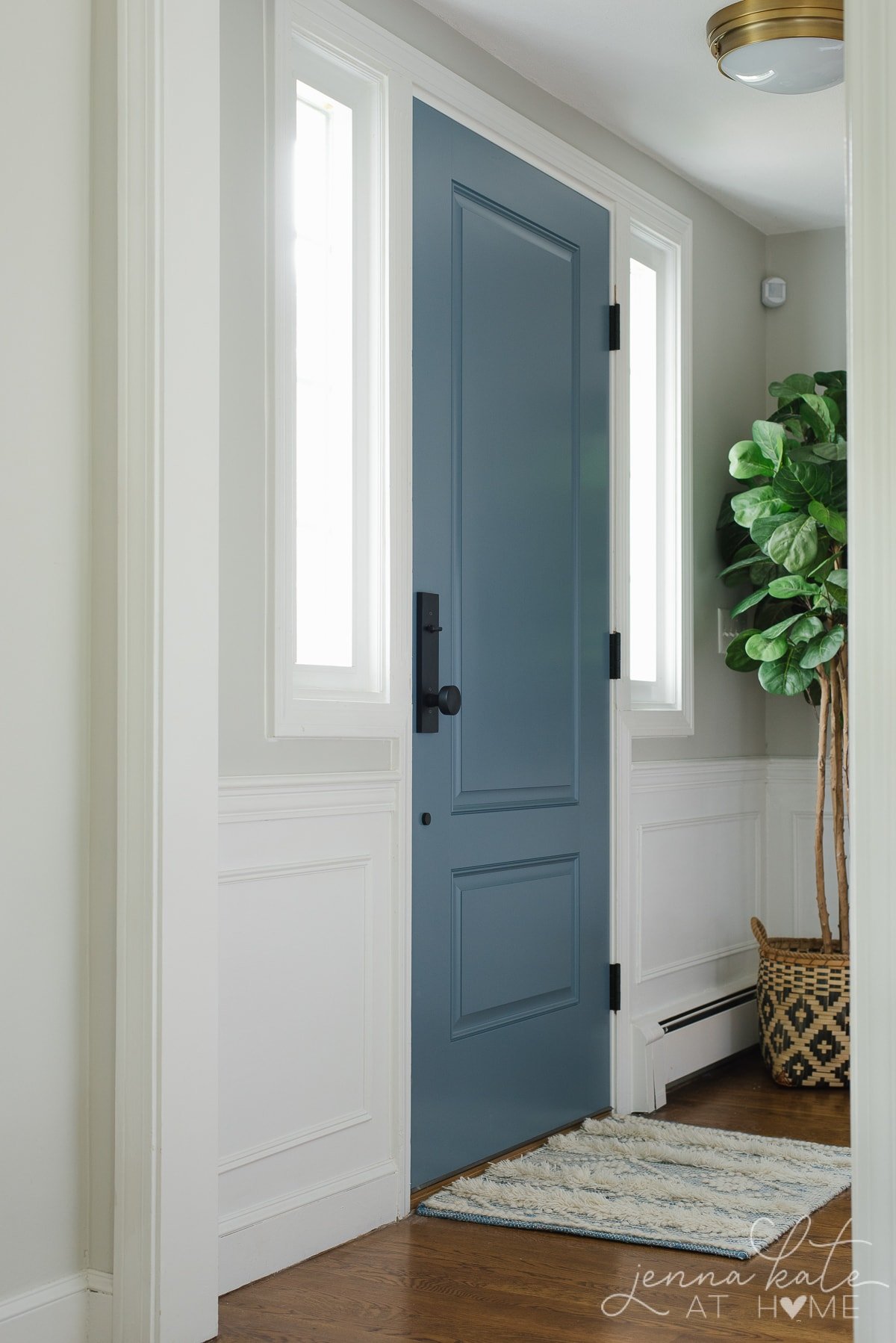 Is Sherwin Williams Extra White Cool or Warm?
Extra White is a slightly cool paint color.
Where to Use Extra White
Extra White is most commonly used for trim and ceilings, but I have seen it used on interior walls, too. If you favor a cool-toned color palette, you can use Extra White for the walls in different rooms of your home such as the living room, kitchen, dining room, bathrooms and bedrooms.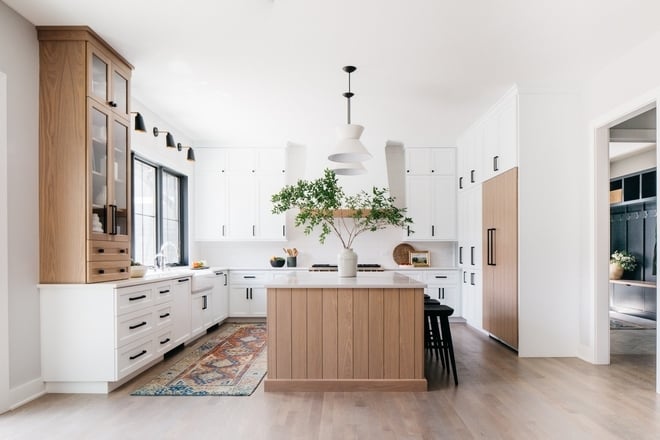 Is Extra White a Good Exterior Paint Color?
Extra White is also a great exterior paint color. While our siding came in a factory-finish white, Extra White is a perfect match (I know because I painted the trim around the front door and it matches perfectly!).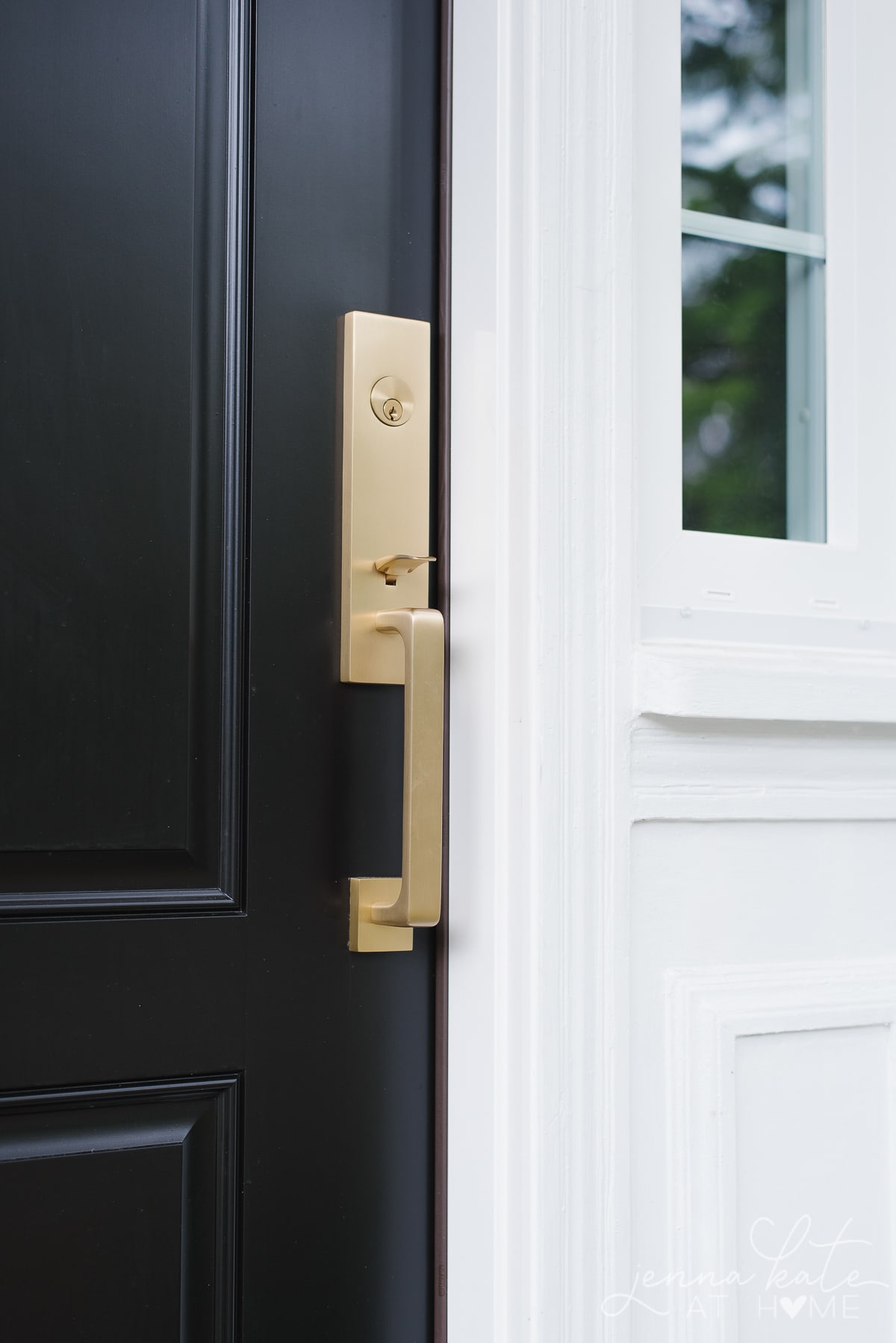 What is the Difference Between Sherwin Williams Pure White and Extra white?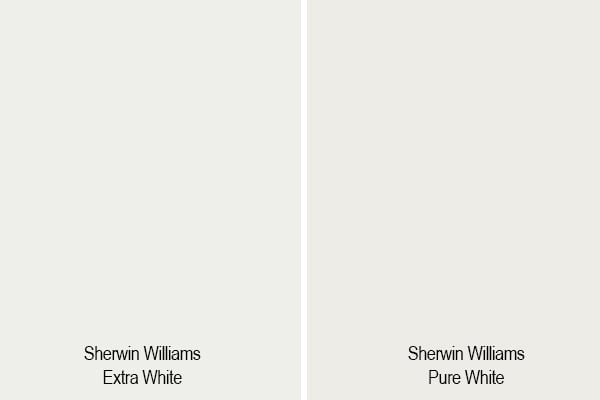 Extra White is only a bit brighter than Pure White, with an LRV of (86), although it comes across as brighter because it's a purer white, with slight blue undertones.
Pure White, is another popular Sherwin Williams color. It has an LRV of 84. It does not come across as a really bright, stark white. It has just enough softness to it (thanks to that little drop of gray and yellow) to stop it from being an in-your-face white.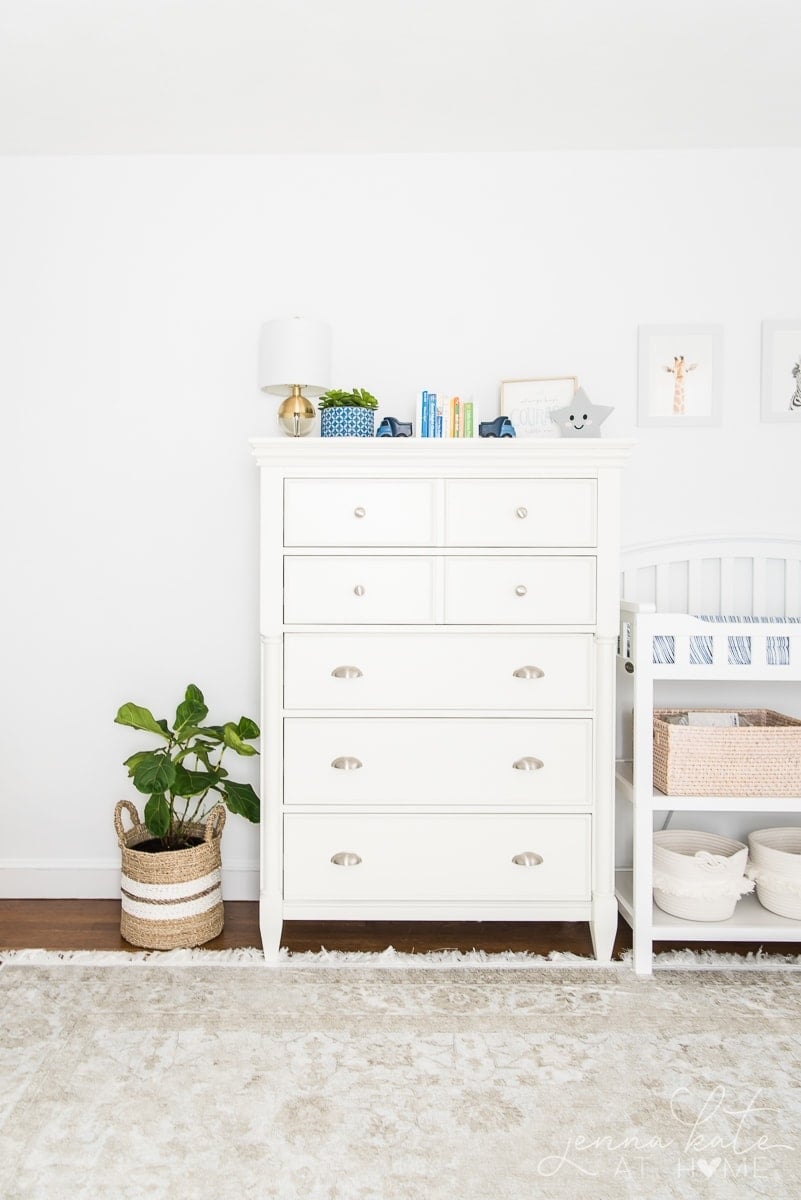 Pure White is a better choice if you have a mixture of warm and cool finishes. If you prefer only cool-toned finishes (grays, blues) then Extra White is a good choice. I would not pair Extra White with warmer wall colors like creams or beiges.
Is Sherwin Williams Extra White Better than Chantilly Lace?
Benjamin Moore Chantilly Lace is a more neutral white, with barely any discernible undertone. Extra White on the other hand, it a cool white. Chantilly Lace is a more versatile white that will work in most rooms to give you a bright white look.
While Extra White is beautiful, in north-facing rooms or ones that get cool morning or afternoon light, you may see that blue undertone creep in, especially if you've used the color on walls or cabinets.
SW Extra White vs Benjamin Moore Decorator's White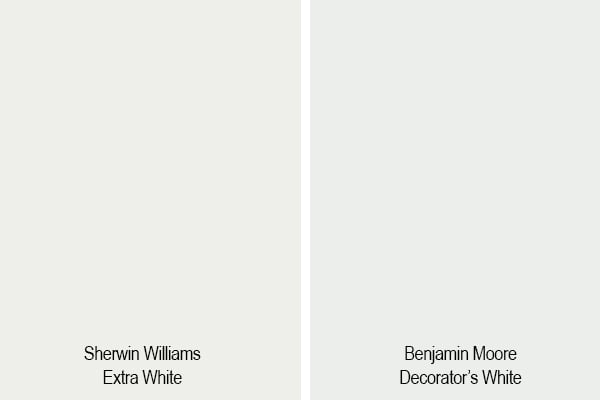 BM Decorator's White has a violet/gray undertone keeping it on the cool side similar to Extra White. However, with an LRV of 82.64 it's darker than Extra White. Similarly to Extra White, it's a limiting choice if you ever want to paint your walls a warmer color.
SW Extra White vs Sherwin Williams Alabaster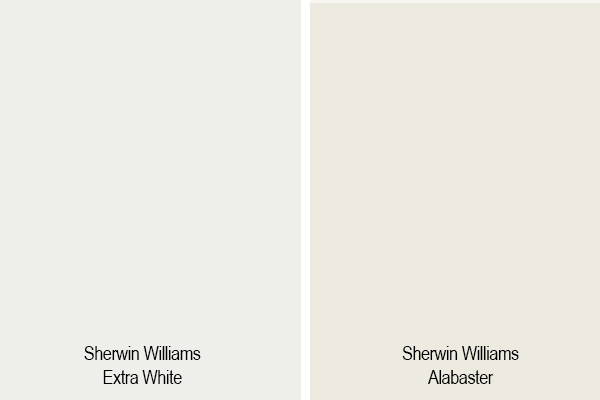 SW Alabaster is not a traditional bright white, and actually almost verges into off-white territory. It is a warm white with a soft gray undertone. If you're looking for a traditional white trim, Alabaster is not what you're looking for. And if you're thinking of painting your walls Alabaster and your trim Extra White, they will not look good together.
How Light Affects Extra White
How much light your room gets its very important when it comes to cooler colors.
Anyone who tells you that Extra White is not a cool white and instead has a slightly warm undertone, clearly has this paint color in a south facing room, and doesn't understand how light can completely change how a color looks.
A bright white color like Extra White will take on colors from both its surroundings and the light. So with sunny south-facing exposure, the coolness of Extra White will be imperceivable and it will come across as a beautiful neutral white.
Of course, it may also reflect the green out your window, the color of the furniture, the bright red throw you have draped over your couch. So keep that in mind.
Pairing Extra White with other paint colors that are overly warm, will bring out its blue undertone. If you keep the other paint colors cooler (grays, blues, greens), the blue undertone will be neutralized.
Coordinating Colors
Looking for a color scheme to go with Extra White? These colors will pair well:
SW Smoky Azurite
SW Ice Cube
SW Charcoal Blue
SW Rock Candy
SW Evergreen Fog
SW Serious Gray
SW Agreeable Gray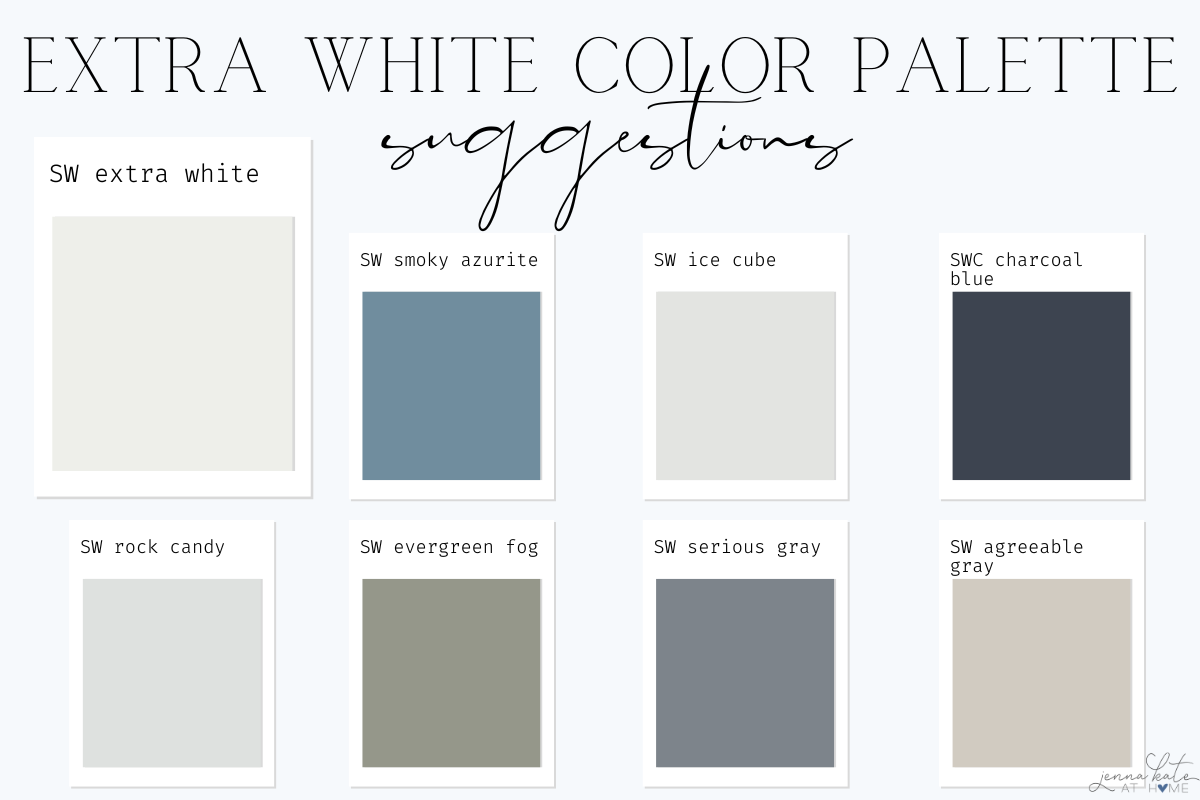 What White Trim Color Can I Use With Extra White Walls?
You have two options when dealing with already white walls – keep the trim the same shade of white in a different sheen, or paint them a brighter white with similar undertones.
For Extra White, the most popular option will be to also paint the trim Extra White, but do so in a satin or semi-gloss finish, versus the matte or eggshell on the walls. The extra sheen on the trim will make the color look lighter and offer just enough contrast between the wall and trim.
Another option is to use SW High Reflective White, which is considerably brighter and relatively neutral when it comes to undertones.
How To Know If SW Extra White Is Right For Your Home
As with any paint color, it's always important to sample them in your home first. The light coming into your room as well as the other colors in the space can greatly impact how a shade of white looks, in particular.
If you're only using Extra White as a trim color, I wouldn't stress too much. It's a beautiful trim color that works everywhere if you want a bright white look. It's when you start using it on cabinets or as a wall color, then you need to more carefully consider the light your room gets so that you can avoid the possibility of it looking a bit gray or blue.
If you've realized the cool undertones of SW Extra White won't be a good fit for your home, maybe warm whites would be a better option.
To Summarize:
Extra White (SW 7006) is among the brightest whites by Sherwin Williams; however, their "Highly Reflective White" is even brighter.
Extra White has a slight gray undertone, making it look like a soft bright white on interior walls.
The LRV (Light Reflectance Value) of Extra White is 86, indicating it's quite a bright white. LRV measures the lightness or darkness of a color on a 0-100 scale.
Common applications for Extra White are on trim, ceilings, and interior walls, especially in rooms like the living room, kitchen, and bathrooms.
Extra White is also suitable for exteriors, matching well with factory-finished white sidings.
Light affects Extra White's appearance. In south-facing rooms, it appears as a neutral white, but the color can change depending on light and surroundings. Pairing it with overly warm colors will enhance its blue undertone.
The best trim color to use with Extra White is also Extra White (in a different sheen) or High Reflective White.
For homeowners considering Extra White, it's essential to test samples in the intended space due to its sensitivity to light and surroundings. It's especially crucial if using it on cabinets or walls.
Don't Forget…
Don't forget – no matter what you've read or photos you've seen online, it's really important to sample paint colors in your home before committing!
Samplize provides real paint samples that are easy to move around your home, and cheaper than buying a gazillion paint pots! It's the only way I buy paint samples.
Use code JENNAK10 at checkout and get 10% off your order
Coupon entitles all customers to 10% off the entire order with no minimum purchase requirement. This is a one-time use coupon and it cannot be combined with other discounts.
Final Thoughts
If you are looking for a bright and modern white, then Sherwin Williams Extra White delivers that. It doesn't look stark, but definitely has a slight gray or blue undertone. It's not a flexible color that will work with warmer tones, so it's best suited to a cool color palette. If you think you might want to switch up your colors in the future, there are safer whites to choose.