This post may contain affiliate links | For further details, please read our privacy policy
Greek Villa by Sherwin Williams (SW 7551) is a warm-toned off-white paint that has deep beige undertones! It is the perfect option to give your home that neutral cozy welcoming feeling!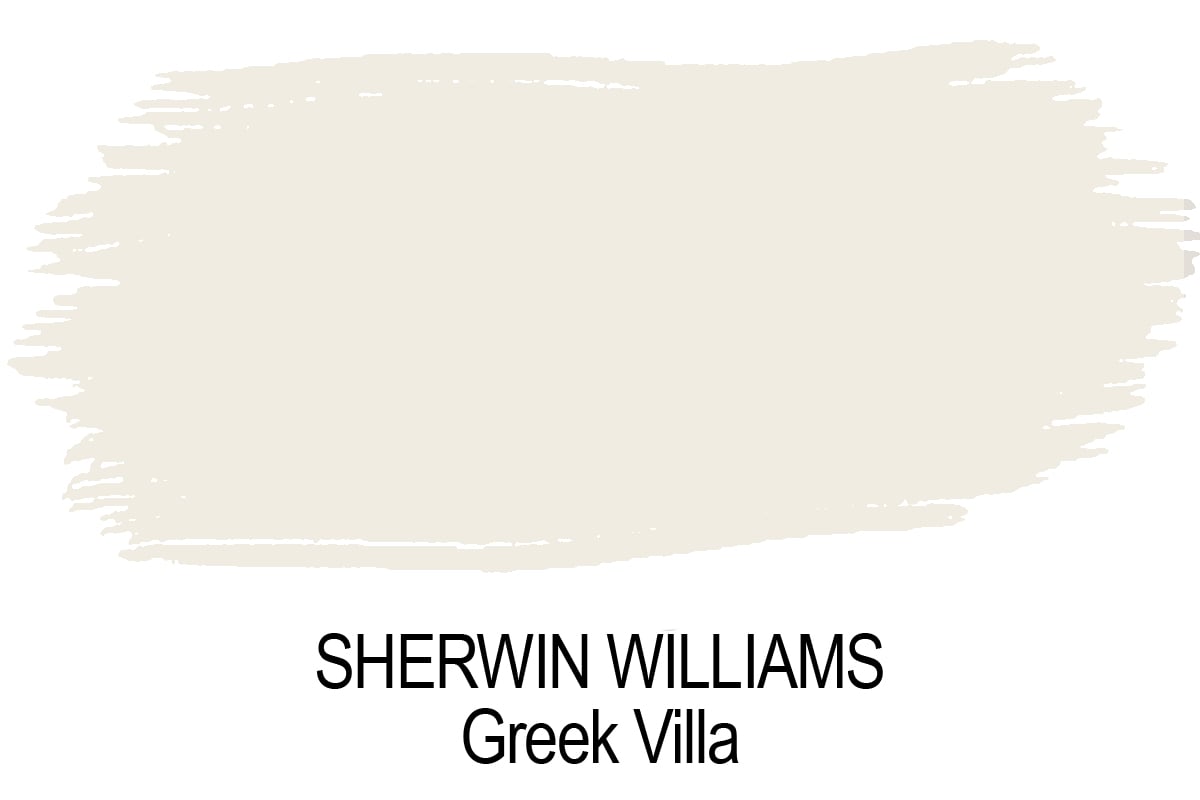 Sherwin Williams Greek Villa neutral paint color and has been listed among the top 50 paint colors! If you are looking for a creamier paint color in your home, this is a great choice.
What Color is Greek Villa?
Greek Villa is a creamy soft-white neutral paint color. It's a bright off-white, with a touch of warmth.
What is The LRV?
Light Reflectance Value (LRV) is an indicator of the amount of light that is reflected by a color when it is illuminated by a light source. A higher value (closer to 100) means that a color will reflect more light back at you and a lower value (closer to 0) means that a color will appear darker, or absorb more light.
Sherwin Williams Greek Villa has an LRV of 84. This means it is an extremely light-toned paint color.
Is it a Warm or Cool Color?
Sherwin Williams Greek Villa is a very cozy, warm toned, inviting, off-white color.
What Are The Undertones?
Greek Villa is a gorgeous subtle, creamy, soft off-white color. I wouldn't say it is a true white, it mostly has warm, slight, beige and subtle yellow undertones.
Real Room Examples
Using Greek Villa in your home can make your spaces feel bigger, and brighter, with a touch of warmth!
Natural light with Greek Villa will brighten your room and make the space look larger!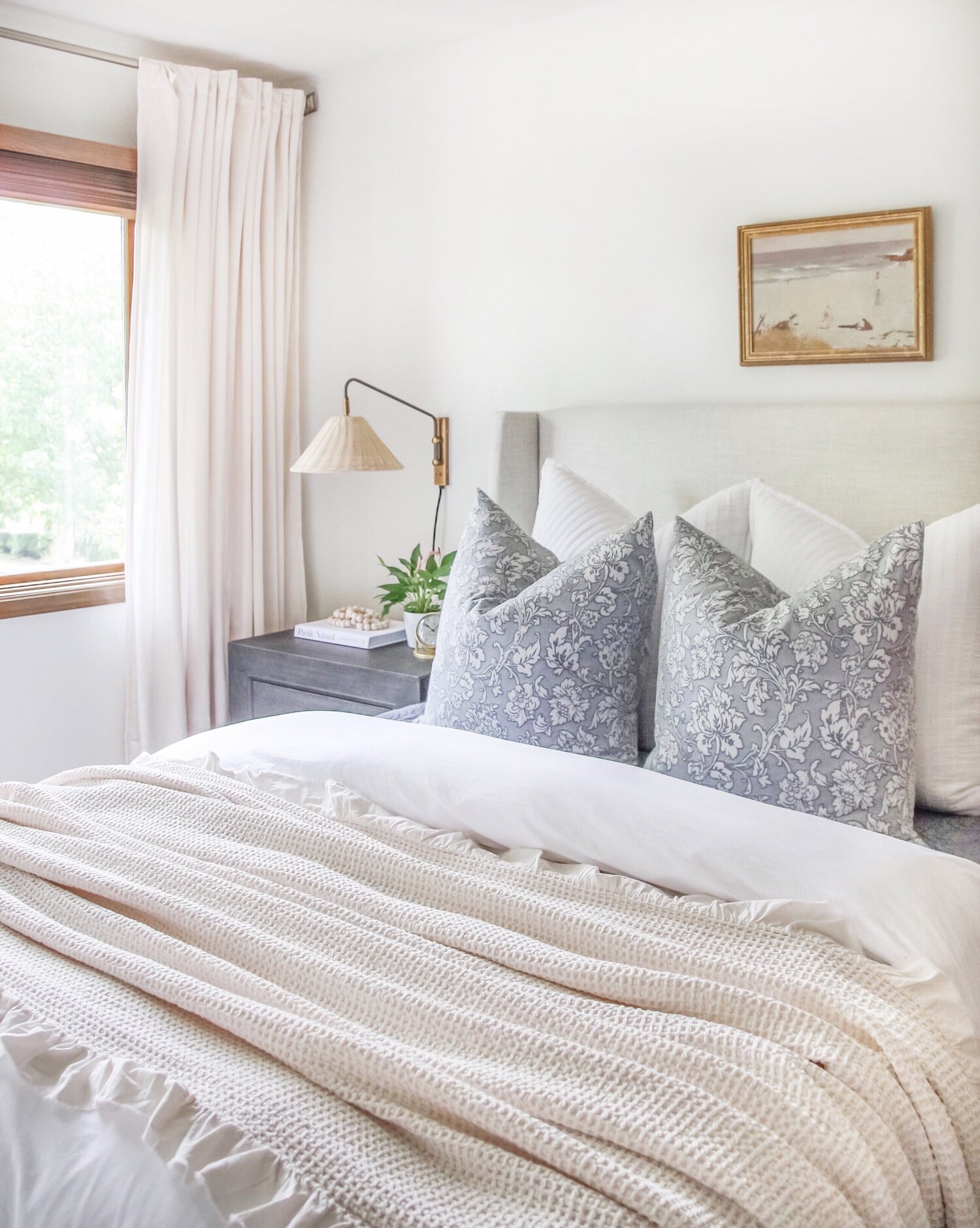 If your space doesn't have enough natural light, it will still look airy because this paint color has a high reflectivity.
By using this paint colors on trims and ceilings, it gives the appearance your space is taller.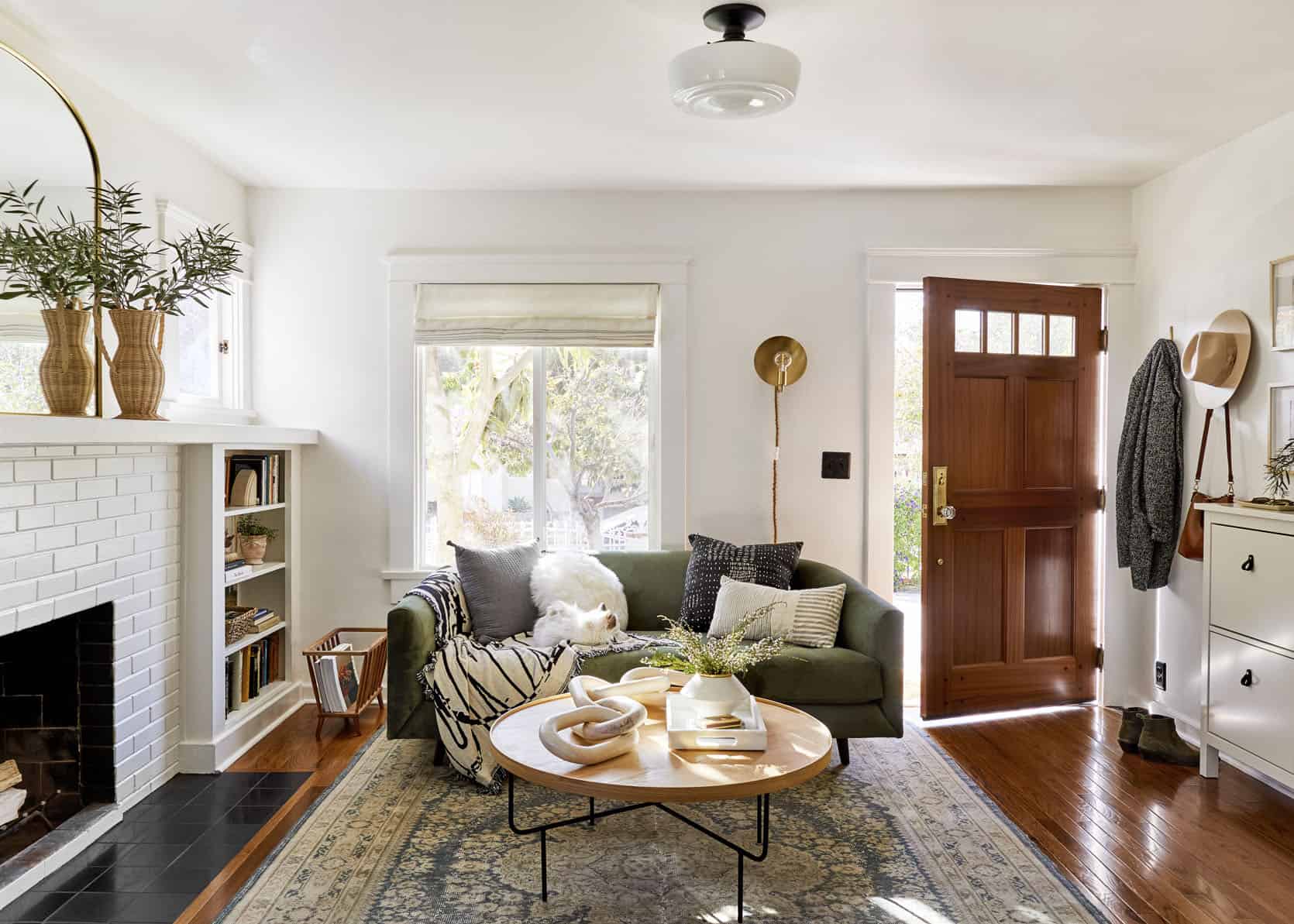 It also looks amazing on your walls, and fireplace brick!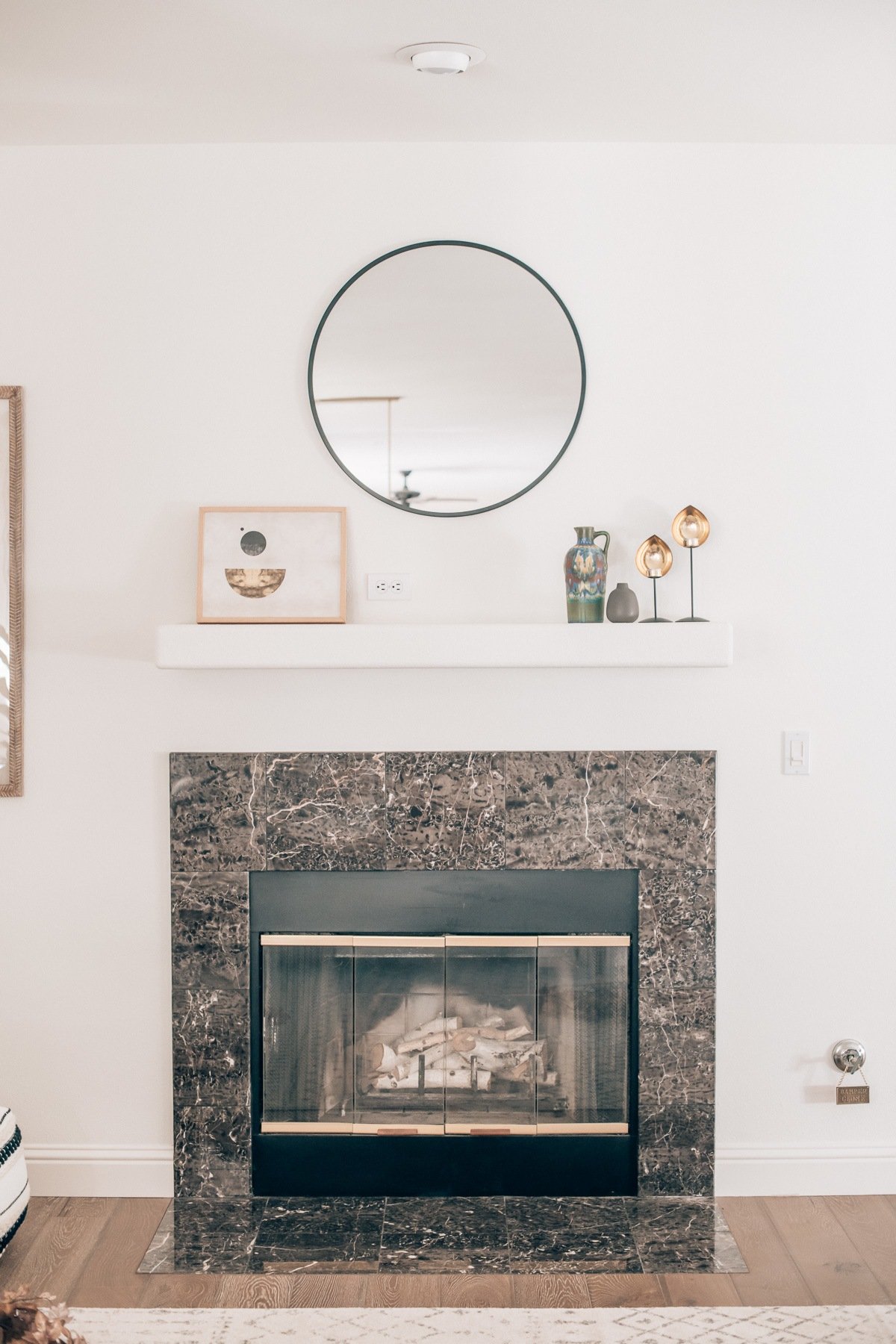 Even though this color is highly recommended for ceilings and trims, if you are looking for a warm soft trim look, you can also use it on exterior of your home.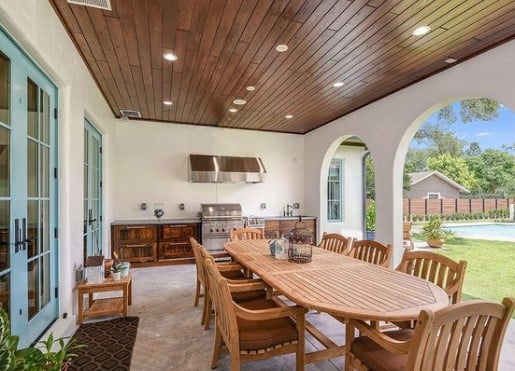 If I'm using this paint color on my walls, what white trim color will look best?
You could keep your trim Greek Villa, and use a semi-gloss paint to differentiate between the walls and trim.
However, if you want to showcase the wall's colors and warmth, I would go with SW Pure White for the trim. It's a bright white with just a smidge of warmth so it never looks cold. It looks great with all wall colors, but it's especially the correct choice if the wall color is already warm.
Would Greek Villa Work for Kitchen Cabinets?
Greek Villa would be a gorgeous color for your kitchen cabinets, if you are wanting a creamy look and not a super bright white.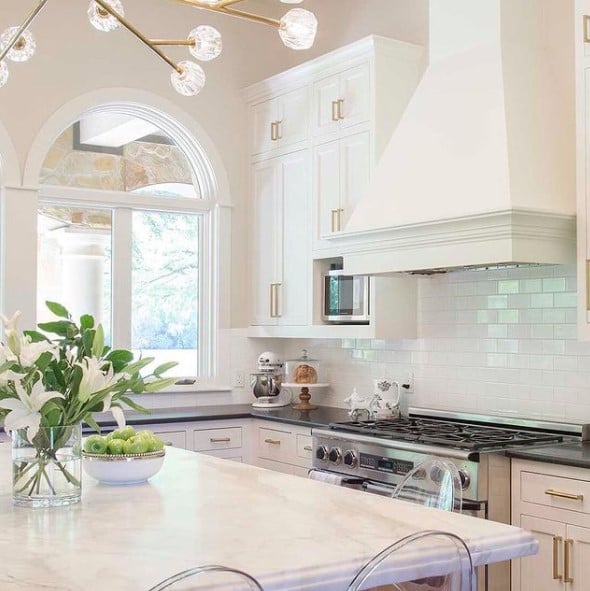 It looks beautiful with warm wood tones and brass hardware. I would definitely consider it for cabinets if I ever remodeled another kitchen.
Is Greek Villa Lighter Than Alabaster?
Both Greek Villa and Alabaster have grey and beige undertones. Greek Villa has is a bit warmer but also a smidge lighter than Alabaster, with fractionally less gray. Alabaster's LRV is 82 while Greek Villa is 84.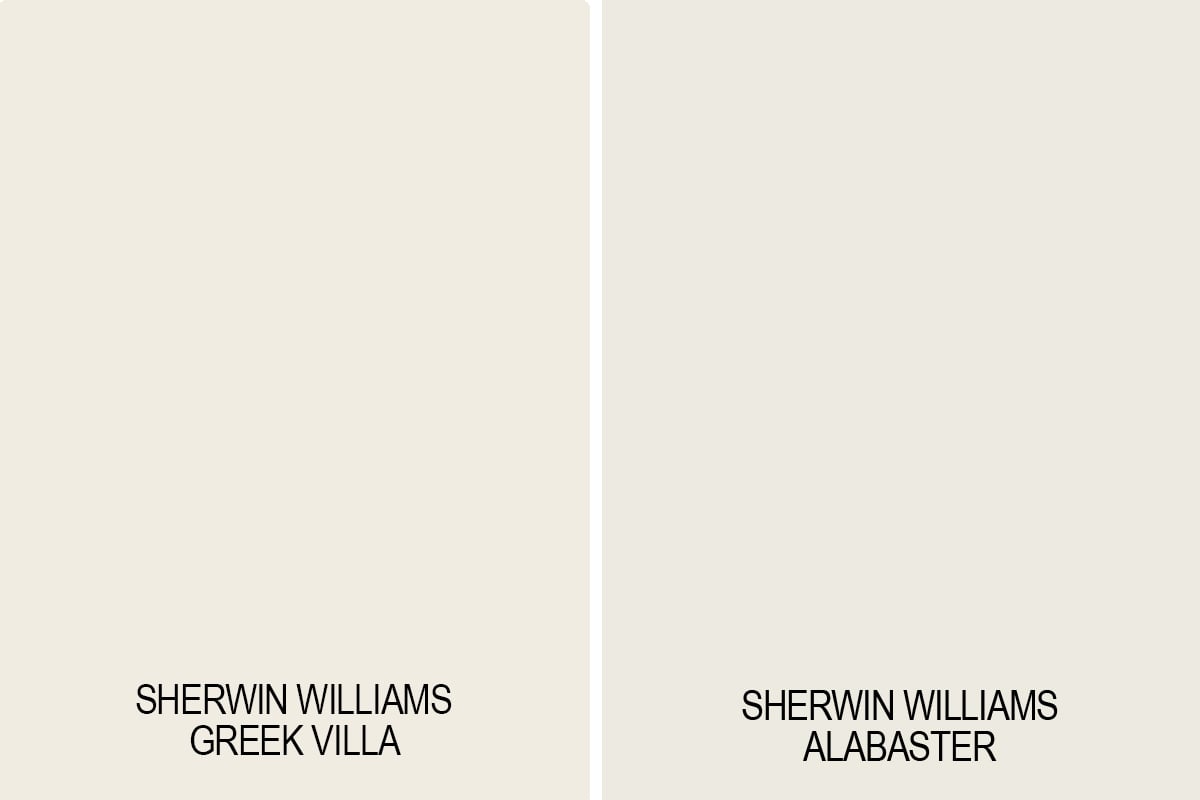 What Colors Coordinate Best With Greek Villa
It pairs nicely with lots of neutral accent colors such as whites, browns, and grays. looking to pair Greek Villa with other white paint colors? Some great options are Shoji White (SW 7042) and Alabaster (SW 7008).
Some amazing colors like Faded Flaxflower (SW 9146) and Gibraltar (SW 6257) add the perfect pop of color to pair with Greek Villa.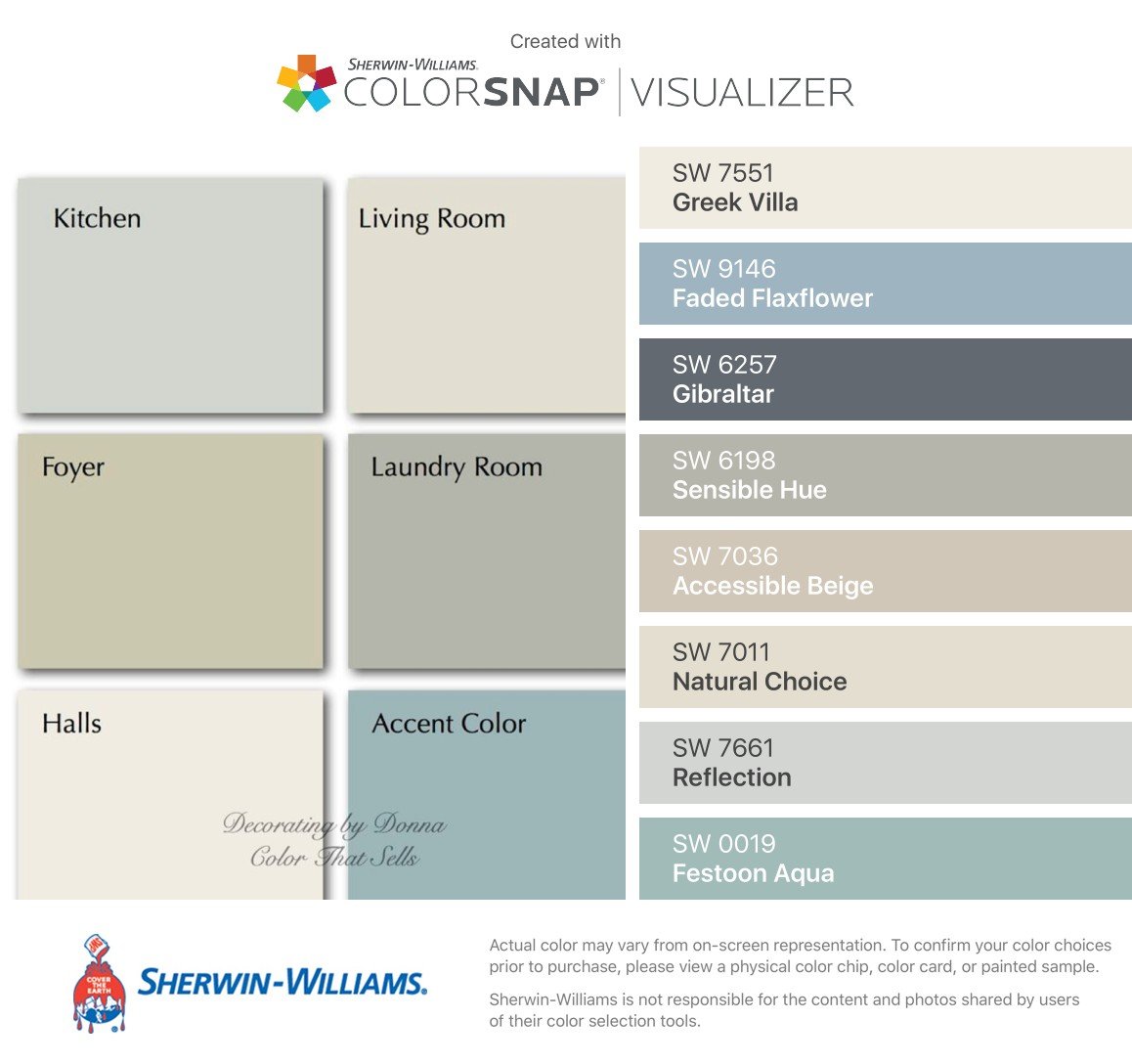 Final Thoughts
Sherwin Williams Greek Villa is the perfect soft-white neutral paint colors. It is so versatile, elegant, and timeless it could be used almost anywhere.
If you're looking for a gorgeous paint color that is light, and airy, Greek Villa should be on your shortlist!
Don't Forget…
Don't forget – no matter what you've read or photos you've seen online, it's really important to sample paint colors in your home before committing!
Samplize provides real paint samples that are easy to move around your home, and cheaper than buying a gazillion paint pots! It's the only way I buy paint samples.
Use code JENNAK10 at checkout and get 10% off your order
Coupon entitles all customers to 10% off the entire order with no minimum purchase requirement. This is a one-time use coupon and it cannot be combined with other discounts.