This post may contain affiliate links | For further details, please read our privacy policy
Rainwashed by Sherwin Williams (SW 6211) is like breathing in a fresh breath of ocean air! The greenish-blue undertones makes it a perfect versatile choice for a living room, bedroom, or even a bathroom.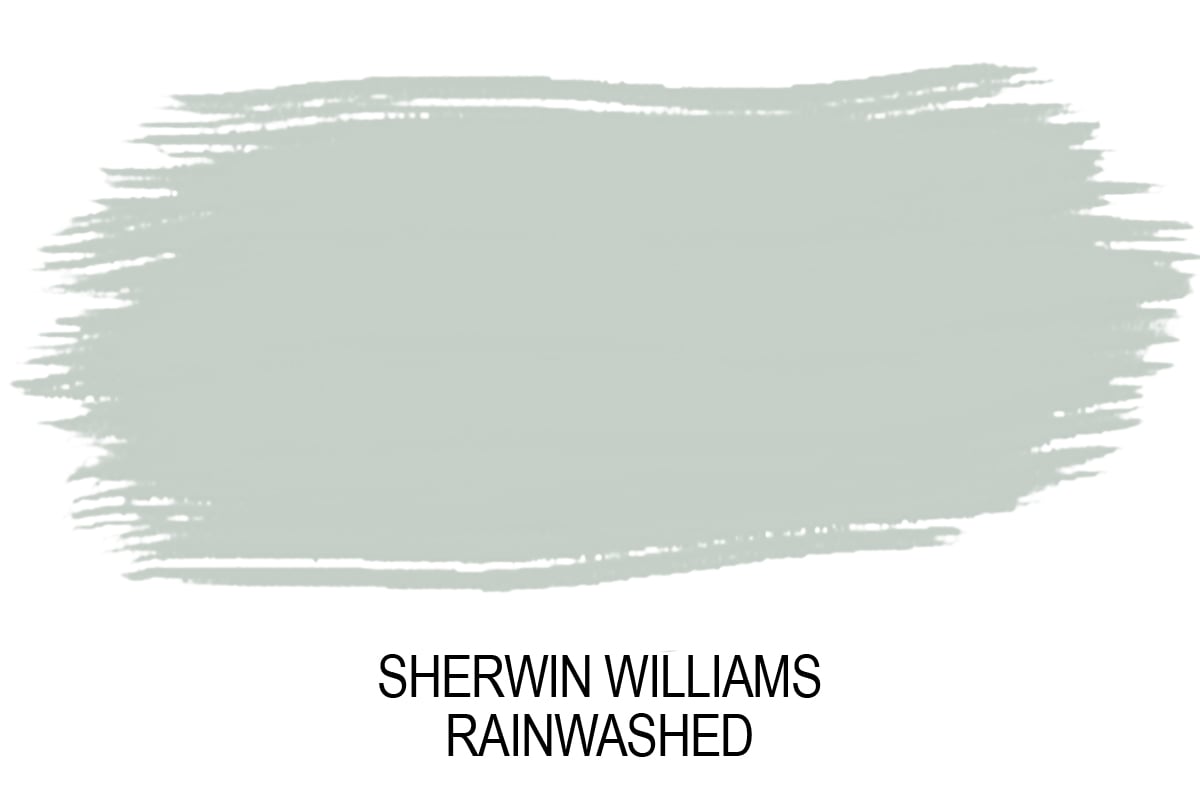 Sherwin Williams Rainwashed gives off a tranquil vibe that reminds you of a trip to the beach.
In this post, I want to explore this incredible paint color and share more of this pure and airy paint color.
What Color is Sherman Williams Rainwashed?
Rainwashed by Sherman Williams is a green paint color, that is not only gorgeous, it's also a very soothing color. It is a light-toned paint color, both muted and subtle.
Most blue paint colors will lean toward blue-purple or blue-green. Rainwashed is definitely blue green, but not teal.
Sherman Williams Rainwashed has enough color that it shifts more toward a green than a blue paint color.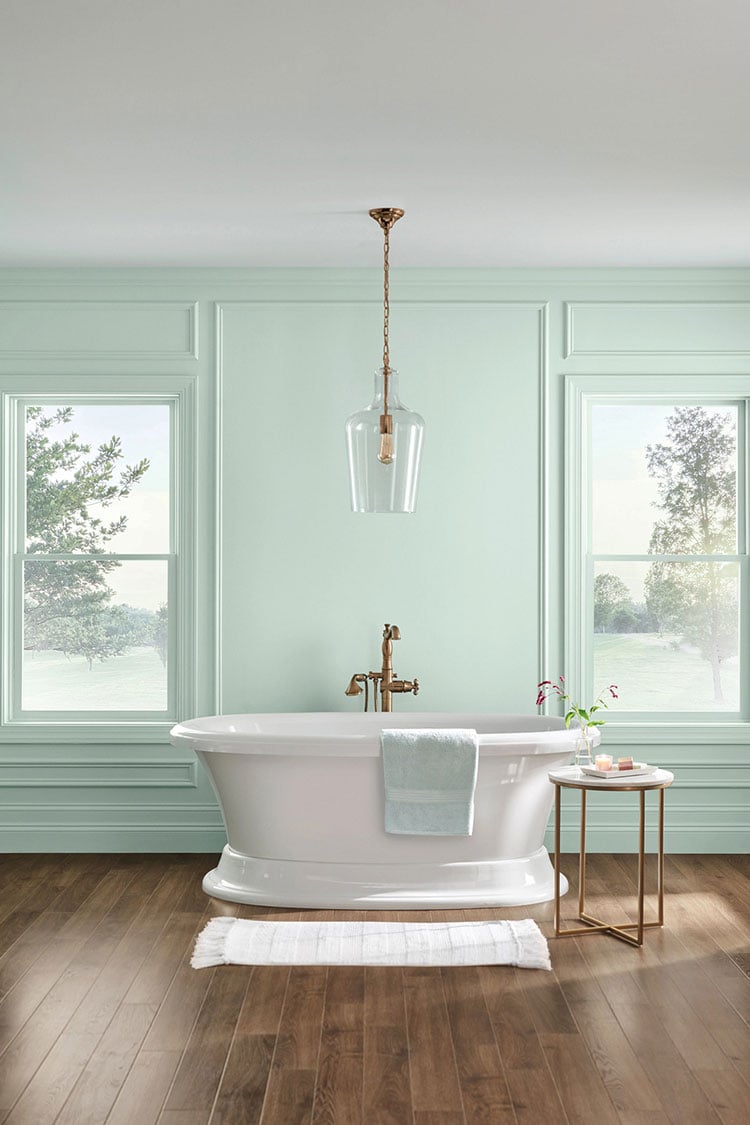 Although It does have some grey to it (which calms down color) this gives it a very organic look, perfect for a beach or coastal style home.
What is The LRV?
Light Reflectance Value (LRV) is an indicator of the amount of light that is reflected by a color when it is illuminated by a light source. A higher value (closer to 100) means that a color will reflect more light back at you and a lower value (closer to 0) means that a color will appear darker, or absorb more light.
Rainwashed has an LRV of 59 meaning it is a light depth paint color, not on the high end of the light range, it has more depth to it.
If you have a super bright room, it will hold it's color well. However, even in a dark room it is a pretty color and much stronger than gray. If your room receives a lot of natural light, it will look lighter than it is. A room that doesn't receive any natural light, it may appear darker.
Is it a Warm or Cool Color?
Rainwashed is definitely an extremely crisp cool paint color. Like most cool colors, it is soothing and makes a space feel larger than it is.
While it does have some gray in it, that takes a backseat leaving it more blue-green on your walls.
What Are The Undertones?
Rainwashed has undertones of blue, green, and gray. Sherwin Williams classifies it as a green paint color on their website.
It can lean toward blue-gray or green depending on the lighting and the decor it is paired with. Cooler light and lots of white will make the blue-gray more apparent, while warmer sunlight or incandescent lights will bring the green out.
Real Room Examples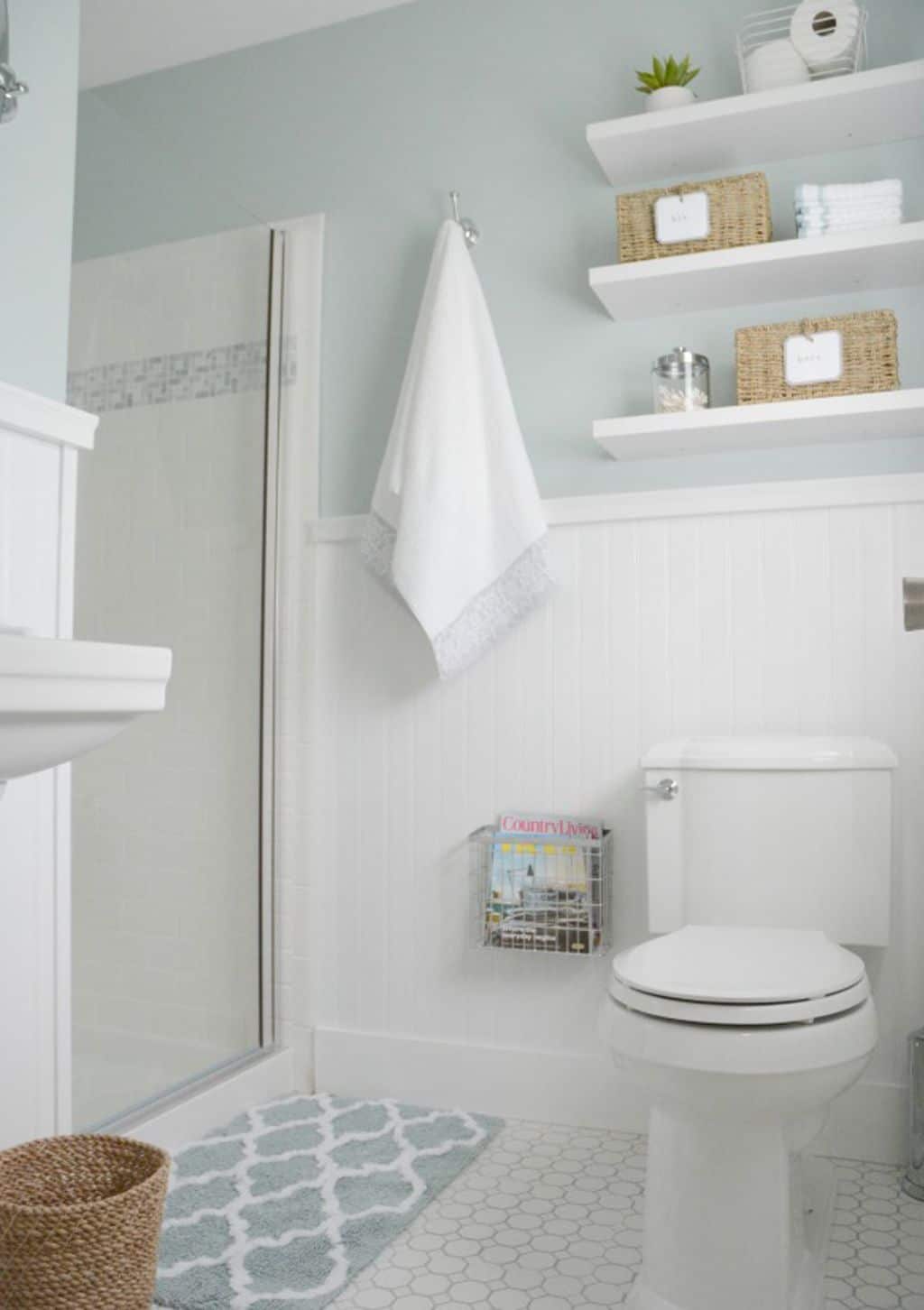 In the above image from Naptime Decorator, you can see how Rain Washed leans more into its blue-gray side, and less into the green.
Whereas in the photo below, the warmer light cast by the chandelier really brings out its green side.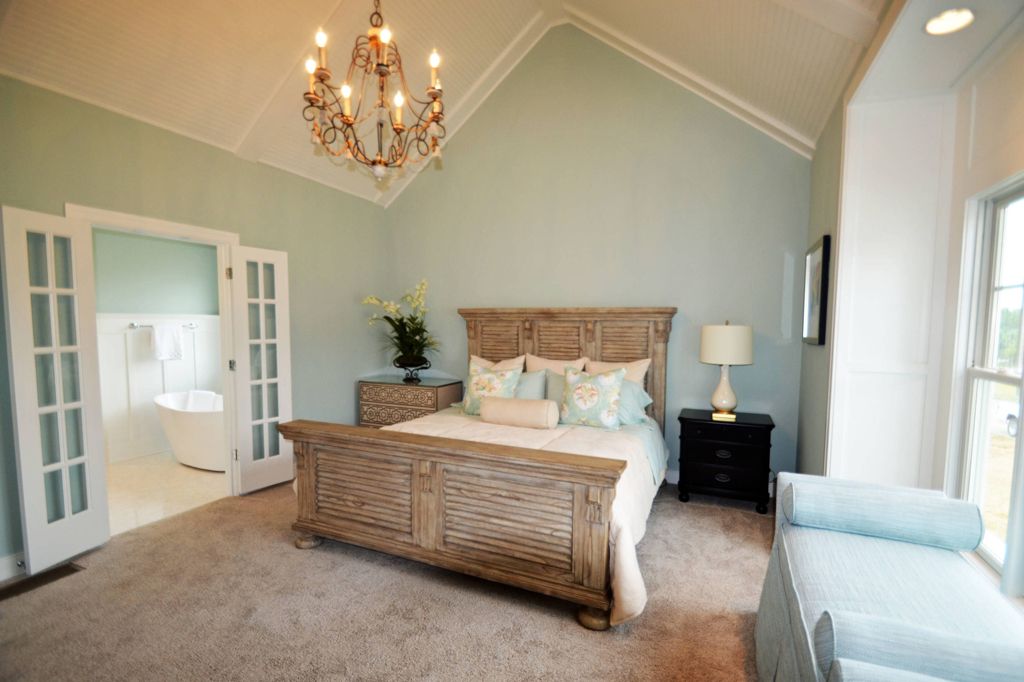 If I'm using this paint color on my walls, what white trim color will look best?
For trim, Sherman Williams Pure White is always a safe bet. It's a bright white with just a smidge of warmth so it never looks cold.
If you want a really bright, crisp white to make this wall color pop, then Sherwin Williams High Reflective White or Extra White would be great choices.
Where to Use Rainwashed in Your Home?
I find these types of soothing green paint colors lend themselves best to bathrooms and bedrooms. But you don't just have to use it on walls!
How beautiful is it on these bathroom cabinets?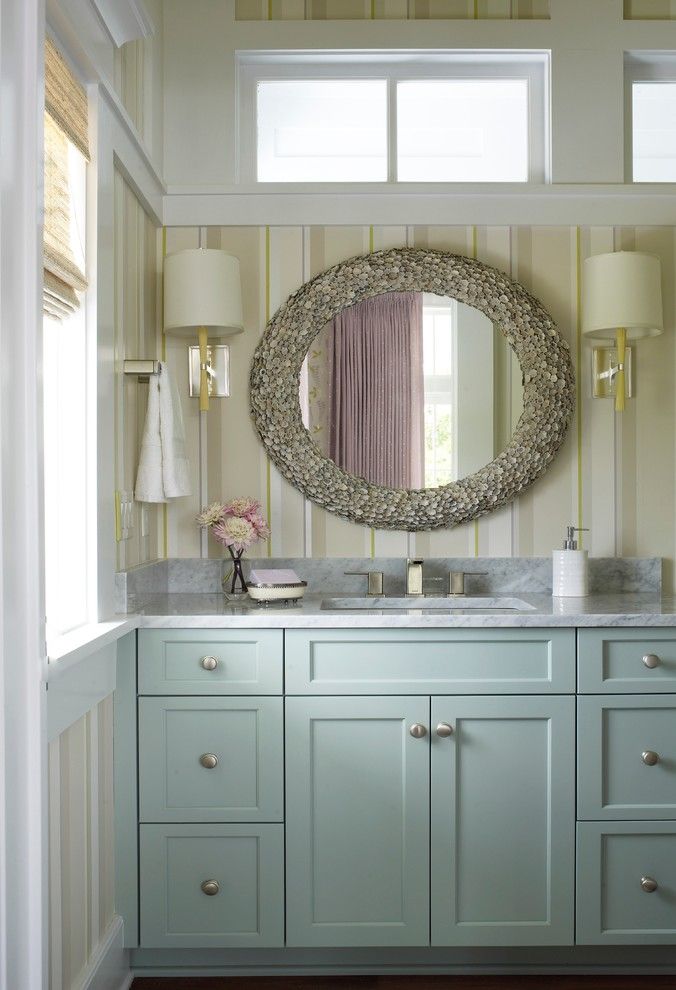 Rainwashed would be best suited in a west or south-facing room. when it mixes with the yellow of the natural light it will look like a pure green.
Sherman Williams Rainwashed works well with any interior design style. You can use it in a traditional, coastal, or even a contemporary style home, the possibilities are endless.
Sherwin Williams Rainwashed Vs. Sherwin Williams Sea Salt
Sea Salt and Rainwashed are very similar colors. On first glance they both are beautiful colors of blue green, but the amount of blue and green does differ between the two.
Sea Salt is green with blue undertones, and more grey, which makes it more muted. Rainwashed is blue with green undertones and will look more vibrant and colorful on your wall compared to Sea Salt.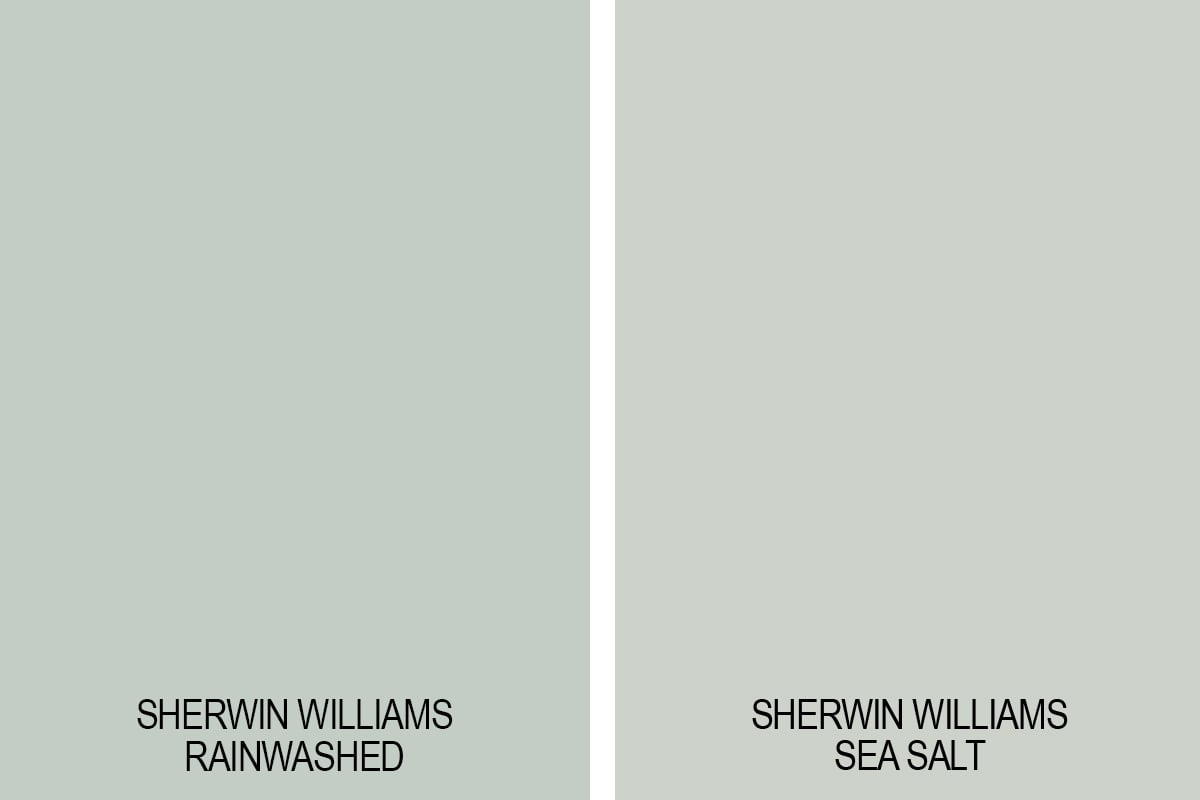 Can You Use Rainwashed On Exteriors of Your Home
Yes just keep in mind using Rainwashed on the exterior of a home will make the color look lighter than it is.
It is best suited as a color for a coastal style home, but would also make for a beautiful front door color if you just want a little pop of color.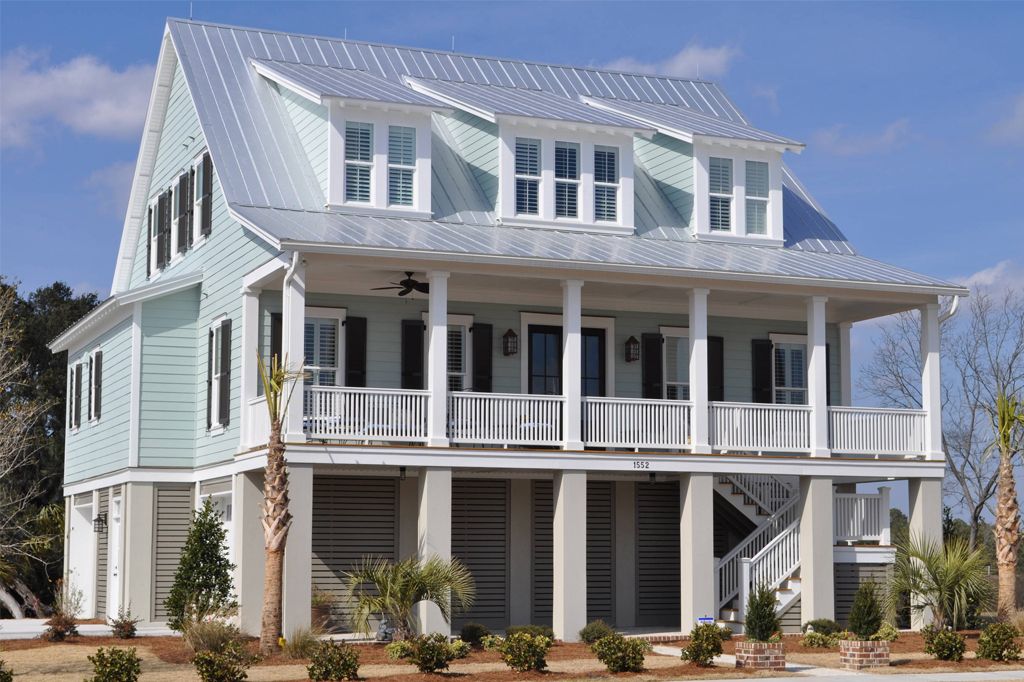 Final Thoughts
Sherman Williams Rainwashed is truly nature's bliss! We can see why it is one of Sherman Williams most popular paint colors. So soothing, relaxing, and tranquil!
This is the perfect light-toned paint color, that can easily add a pretty coastal, or spa-like vibe to any home.
Don't Forget…
Don't forget – no matter what you've read or photos you've seen online, it's really important to sample paint colors in your home before committing!
Samplize provides real paint samples that are easy to move around your home, and cheaper than buying a gazillion paint pots! It's the only way I buy paint samples.
Use code JENNAK10 at checkout and get 10% off your order
Coupon entitles all customers to 10% off the entire order with no minimum purchase requirement. This is a one-time use coupon and it cannot be combined with other discounts.