Sherwin Williams Alabaster SW 7008 is a lovely soft, creamy white. It verges almost on the territory of being off-white but is just light enough to still be considered white. It was Sherwin Williams' color of the year in 2016 and we see why it's a great option as a neutral color for your home.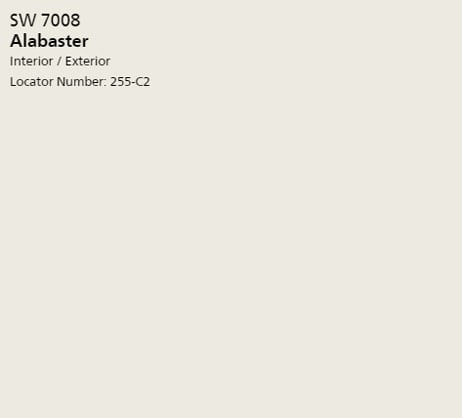 If you are looking for a warmer white (that verges on being an off-white) and that doesn't have any of the starkness or coldness of other whites, this may be the perfect choice for you!
Why is Sherwin Williams Alabaster So Popular?
Alabaster has been a popular shade of white for several years and shows no signs that it's going anywhere. It's a great choice for walls because it doesn't feel cold, but also an excellent choice for kitchen cabinets.
I love how the Sherwin Williams Director of Color Marketing describes it, "Alabaster is neither stark nor overly warm, but rather an understated and alluring hue of white."
I initially chose Alabaster as the white for new kitchen cabinets in our kitchen remodel, because the color worked so well with the warmer elements (brass and wood) that I incorporated and the grays and blues that I love to work with.
Ultimately, we ended up going with BM Simply White, but it was a close call.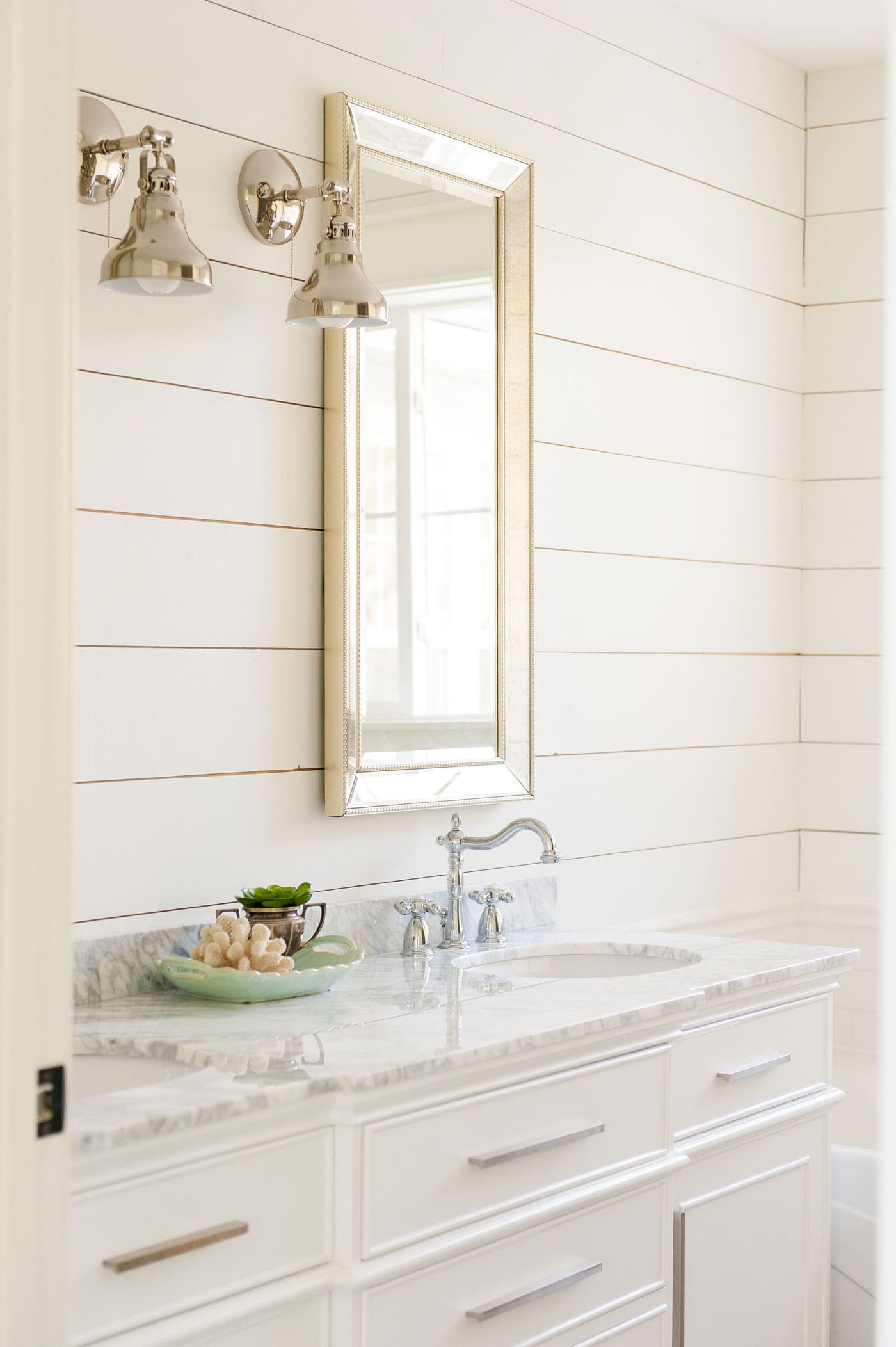 Skip the paint chips
Order a REAL paint sample
Paint chips are not an accurate gauge of any paint color, since they are a printed version of the color. Skip the paint chips and the messy pots of sample paint and get REAL paint peel-and-stick samples from Samplize.com.
Order today and get them delivered tomorrow!
What is Alabaster's LRV?
Alabaster has an LRV of 82, making it a white paint color, but one that feels like it's closer to an off-white. If you're looking for a fresh white, this is not the one for you.
As a reminder, LRV stands for Light Reflectance Value and it works on a scale of 0 – 100, with 0 being pure black and 100 being pure white.
Even though Alabaster has more depth of color to it than many other whites, it will appear soft and creamy, unless you pair it next to a brighter white like SW Extra White or SW Pure White which will make the creaminess more apparent.
Alabaster's Undertones
Alabaster is a lovely, creamy warm white paint color. It technically has yellow undertones, but not so much that it will look bright yellow, thanks to a neutral base that cools it down just enough.
If you want actual white walls, it's less white than perhaps what you may think of as "white" (if that makes sense!). In fact, even though it is white, it feels like it could be an off-white.
If you are looking for paint colors that are closer to true whites, I suggest looking at Benjamin Moore Chantilly Lace or for something slightly softer, Sherwin Williams Pure White.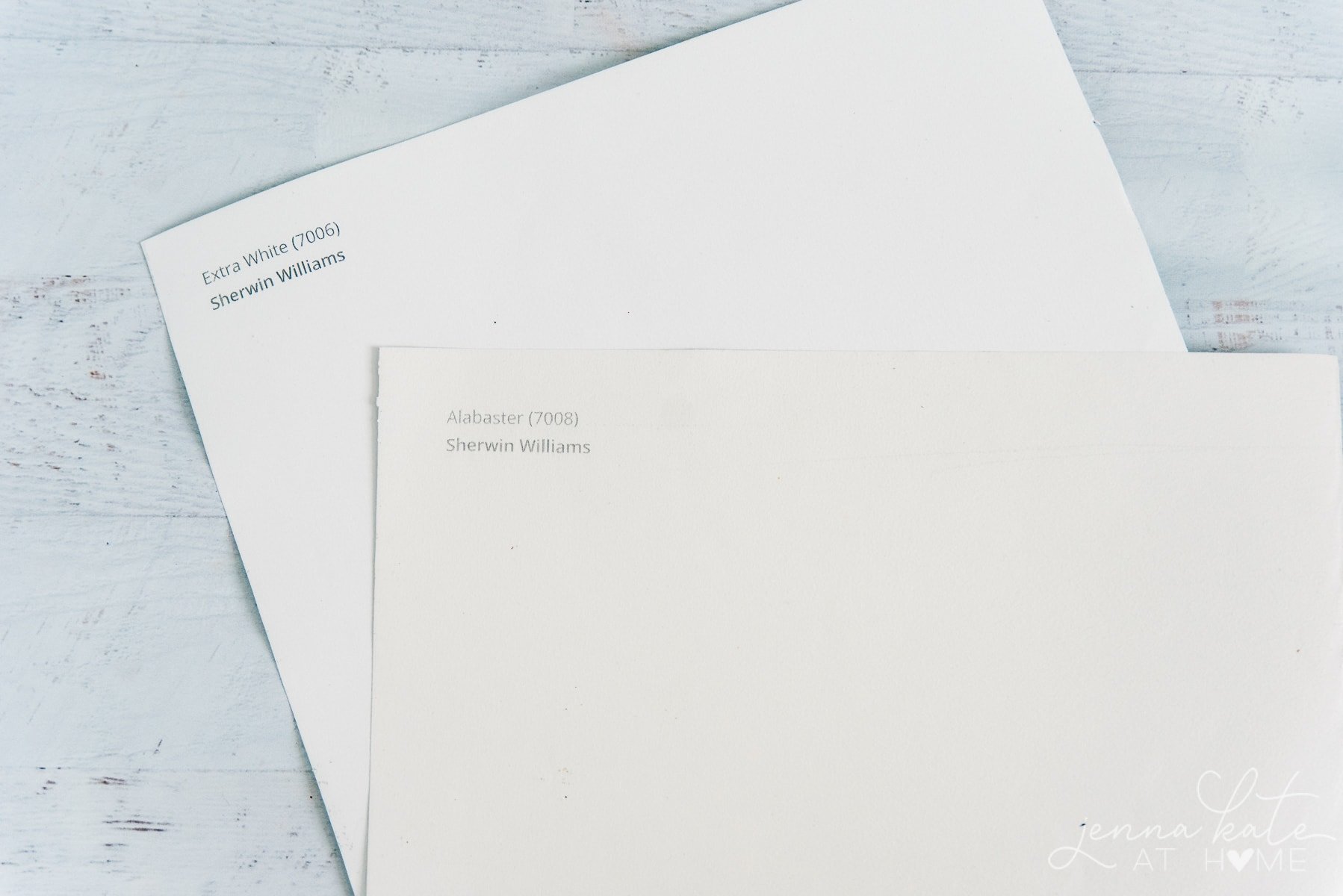 Is Alabaster a Warm or Cool Paint Color?
Alabaster is warm paint color but it does have a slightly gray base that stops it from feeling too yellow.
Sherwin Williams Alabaster vs Pure White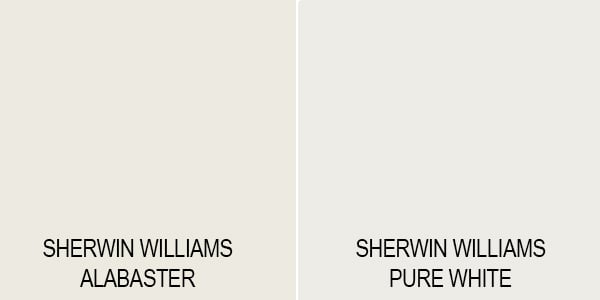 While both Alabaster and Pure White are warm white paint colors, Alabaster is a creamy white, while Pure White is a brighter white with just a slightly warm undertone and a smidge of gray to tone it down.
Alabaster has an LRV of 82, while Pure White has an LRV of 84 making it a brighter shade of white.
Sherwin Williams Alabaster vs Sherwin Williams Greek Villa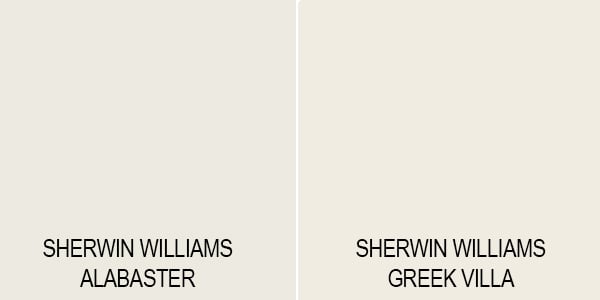 Greek Villa is slightly whiter than Alabaster, with an LRV of 84 (compared to Alabaster's 82).
The biggest difference between Alabaster and Greek Villa is their respective undertones: Alabaster is a creamy white with a neutral gray undertone, while Greek Villa has a slight greige undertone. However, Greek Villa looks "cleaner" (fewer visible undertones) and it just comes across as a soft warm white.
While Greek Villa is gaining in popularity, Alabaster still remains more popular overall.
Sherwin Williams Alabaster vs Benjamin White Dove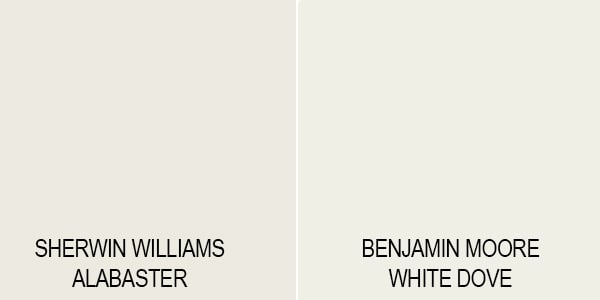 Alabaster has a bit more warmth to it than Benjamin Moore White Dove (another popular choice for a warmer white), but both have an LRV of 83 (although previously the LRV of White Dove was stated at 85!).
Looking at the comparison above, you can see how Alabaster has a warmer neutral base that calms it down, while White Dove also has a neutral base, it is just a bit lighter in color.
White Dove is one of the most popular white paint colors for both walls and trim and is a more versatile choice than Alabaster.
Sherwin Williams Alabaster vs Benjamin Moore Simply White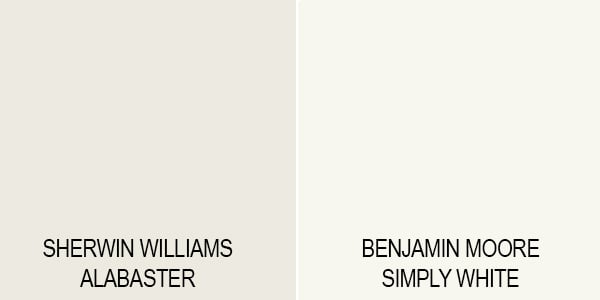 Alabaster is not quite as yellow as BM Simply White, making it a better choice in many situations. While BM Simply White is very popular, most people don't realize just how yellow it can look in the wrong lighting conditions.
Since Alabaster has a neutral undertone alongside its yellow base, the yellow never becomes too overwhelming. Since Simply White does not have that neutral color to calm it down, the yellow can really come to the fore.
With that being said, Alabaster has more depth of color than Simply White, whose LRV is 91.7, making it a much brighter white.
What White Trim Color Looks Best With Alabaster?
If you have no intentions of painting your walls white and instead just want to paint your trim with Alabaster, go ahead, just know that it pairs best with warm wall color. Blues and cool-toned grays need not apply.
As for trim and doors, while it may not be as popular as BM White Dove, it still makes for a beautiful warm white color. Caveat: Just make sure doesn't meet a "truer" white anywhere along the way!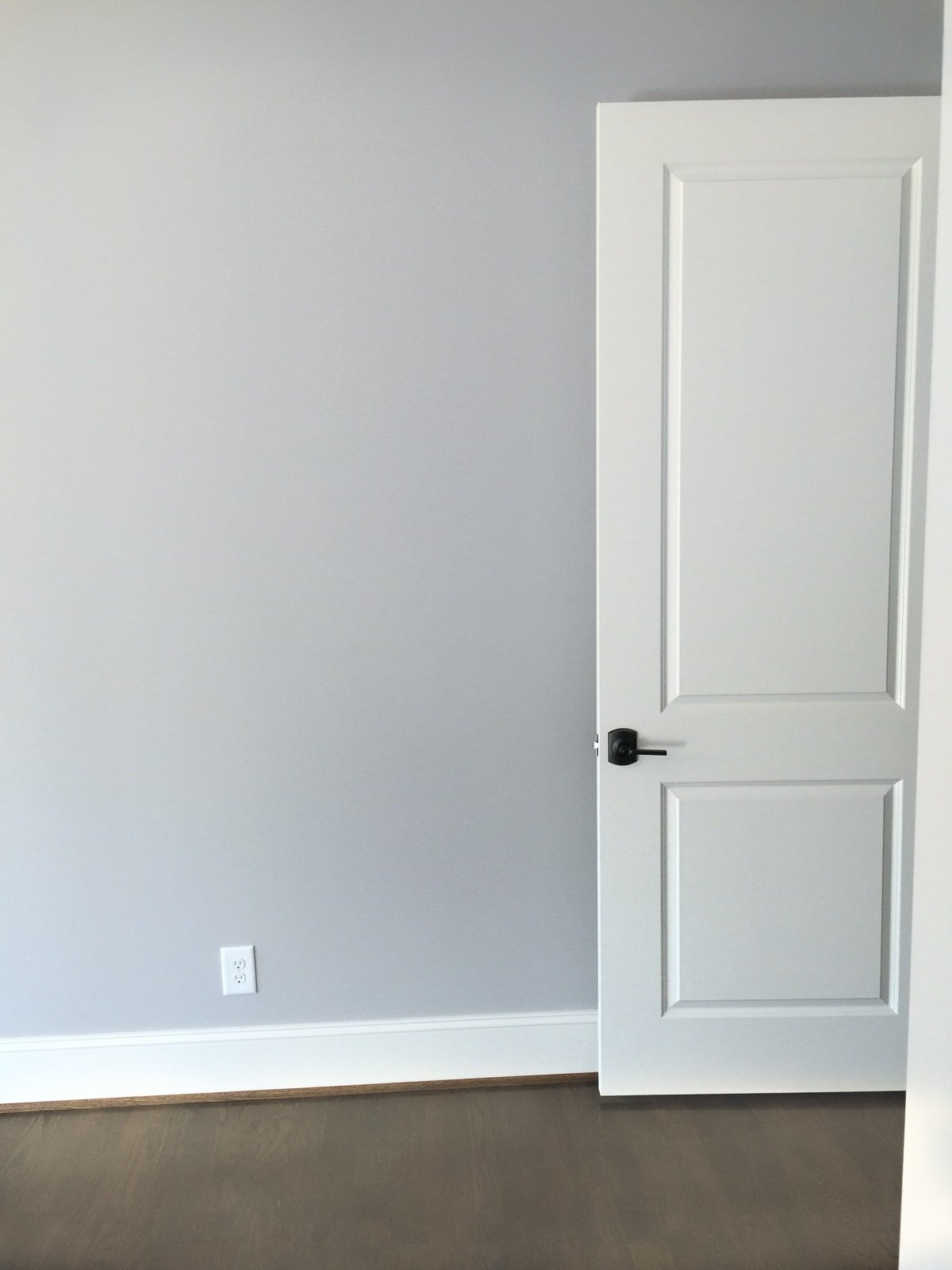 If you are planning on using Alabaster on your walls, the easiest way to pick a trim color that will match is to use the same paint color but in a different sheen. For example, eggshell on the walls and satin or semi-gloss on the trim.
The higher sheen will reflect more light, making the color appear lighter, but you don't have to worry about any weird undertones coming out. This is my personal preference.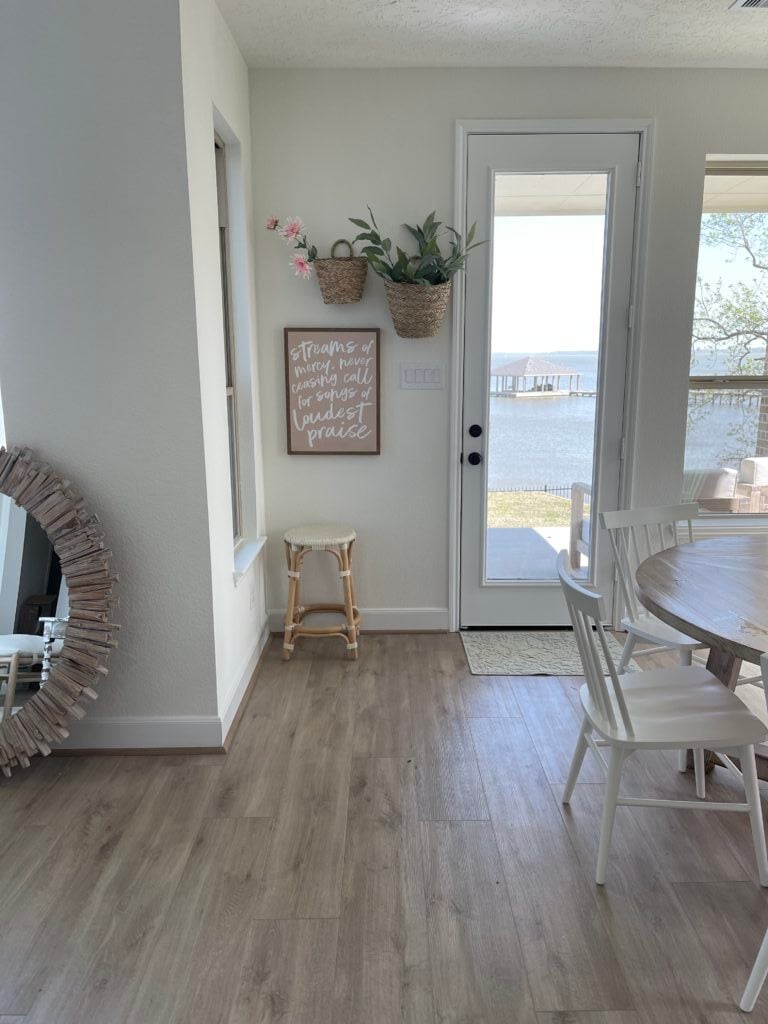 In the photo above, you can see the creaminess of the Alabaster walls against the bright white trim (SW Extra White). These are not two colors I would ever pair together, as Extra White only plays nicely with cool colors.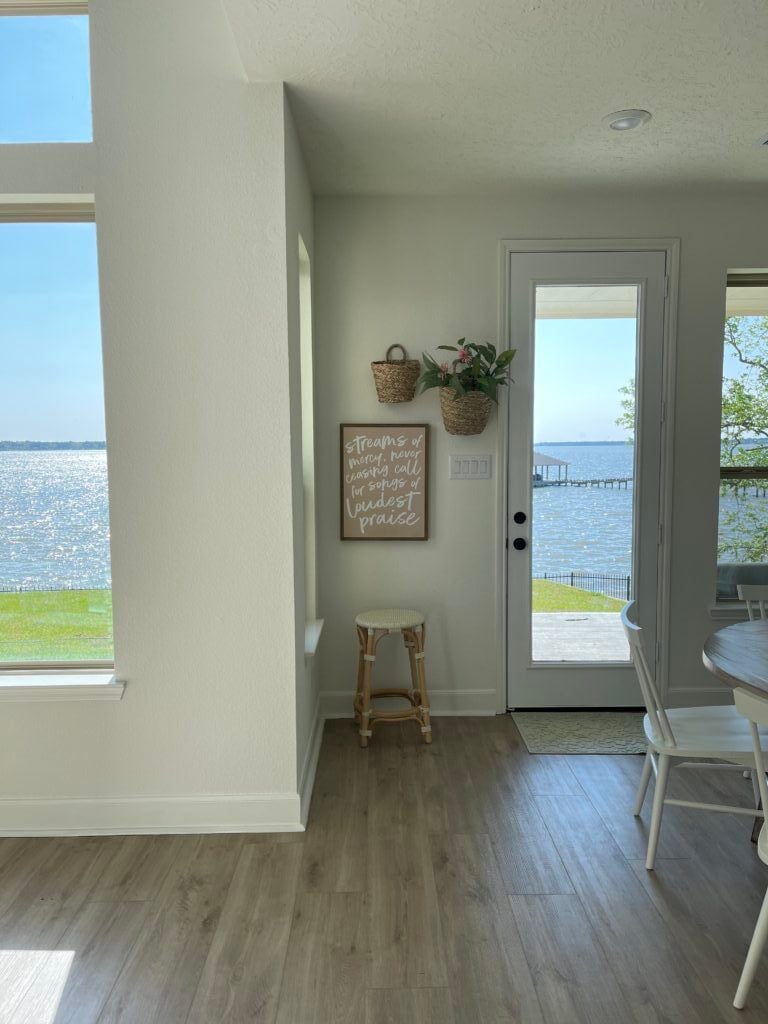 Now here's the same space, but now with the trim painted in Alabaster. You can see how the color looks significantly less yellow and now just looks soft and creamy.
If you really want to highlight the creamy side of Alabaster and not focus on it being a white, you could try pairing it with SW Pure White. In this case, it will make Alabaster look like a cream color on your wall and your trim will be bright white.
See Alabaster Used in Real Spaces
Living Rooms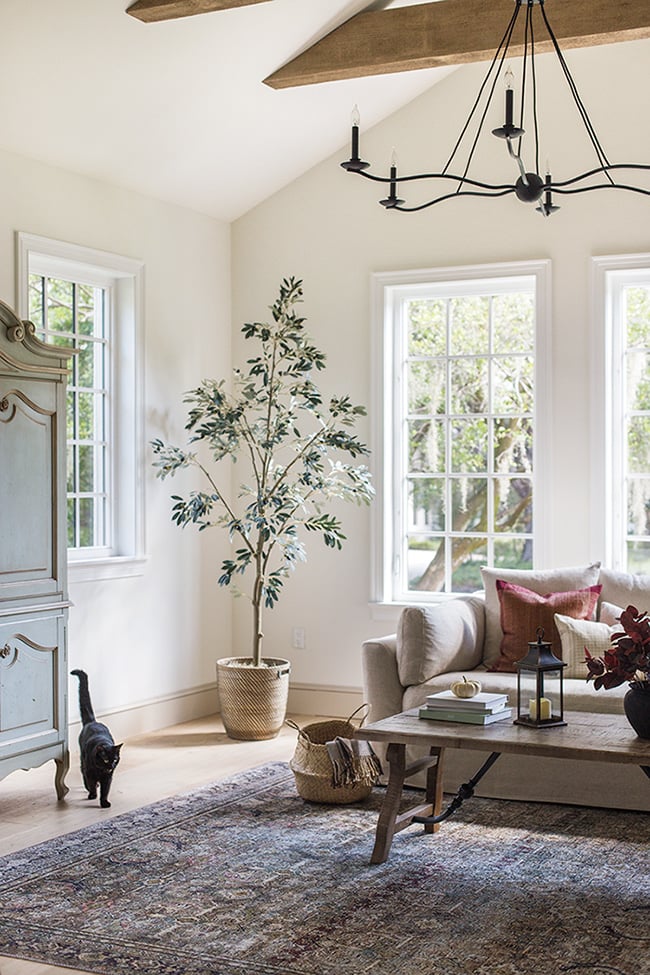 In this space, notice how Jenna Sue chose to use Alabaster on her living room walls, but conversely chose contrasting baseboards, alongside a cooler white color for the window trim and ceilings. This is a perfect example of making the walls appear much creamier, and less "white" than if it was all the same color.
Kitchens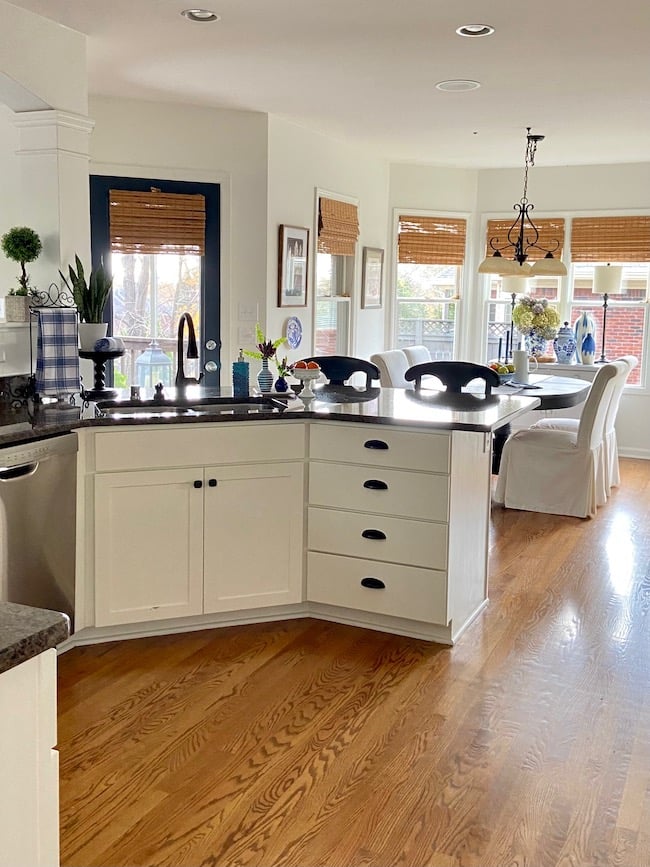 Bedrooms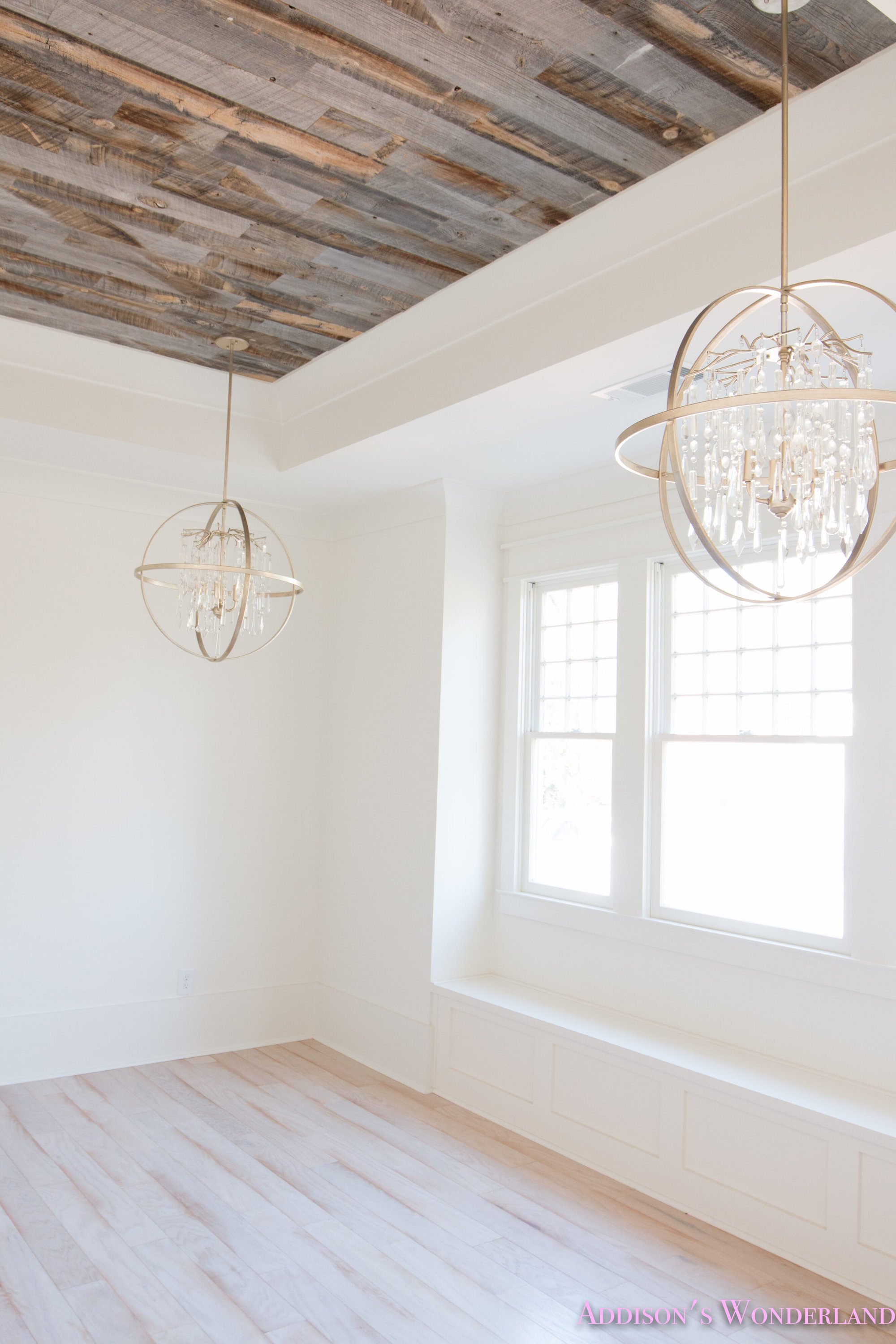 Bathroom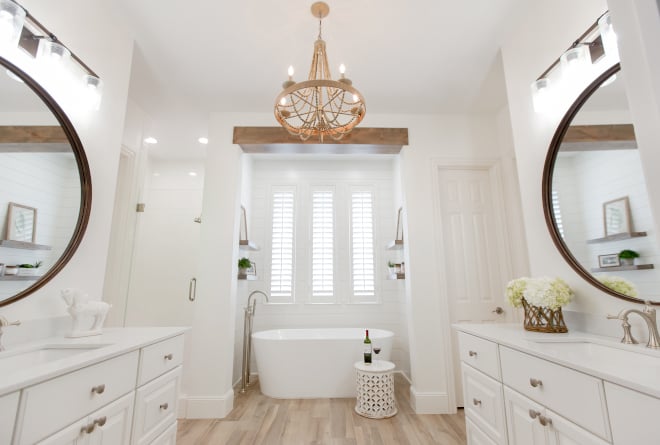 The above bathroom features Sherwin Williams Sea Salt walls with SW Alabaster used as the vanity color.
Alabaster Exterior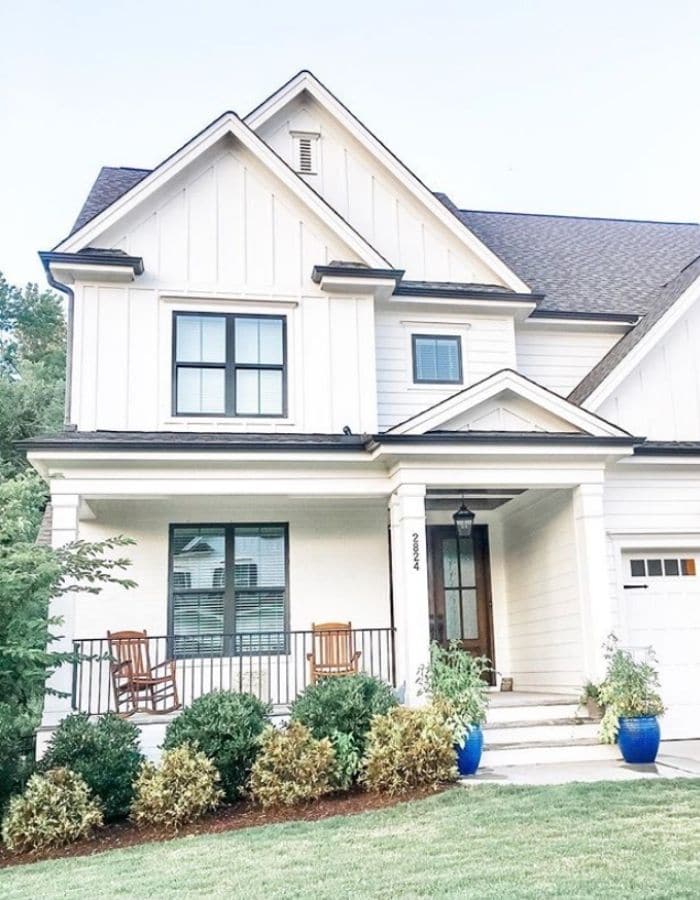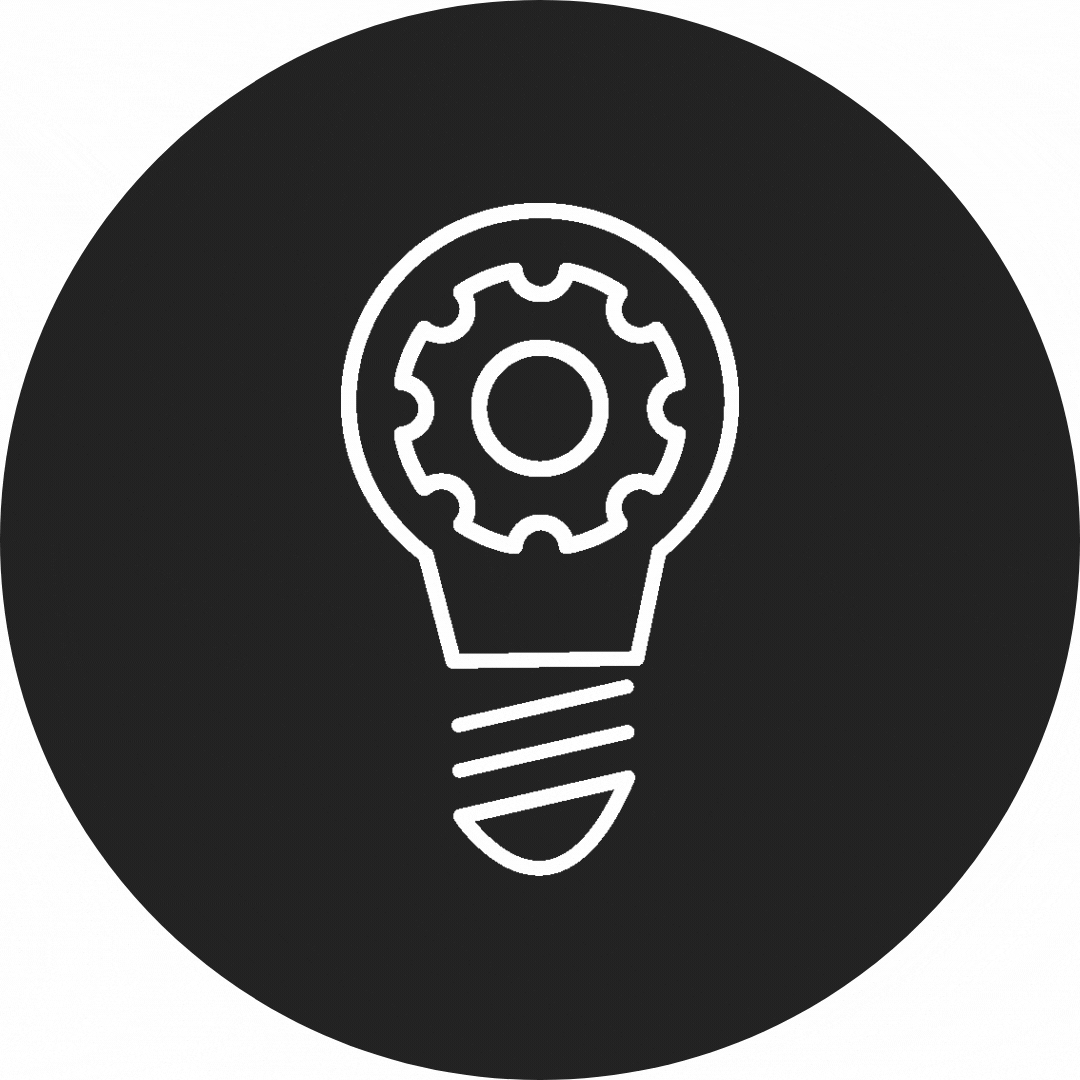 Frequently Asked Questions
Final Thoughts on Sherwin Williams Alabaster White as a Paint Color
Choosing a white paint color for your trim or walls can be challenging, but Alabaster is a good choice for anyone who thinks they want white but also wants to keep a cozy, warm feeling in their space. It's one of the most popular white paint colors for good reason!
Alabaster feels fresh and modern, without being too bright or stark, and works particularly well alongside greige paint colors and lighter-toned woods.
Don't Forget…
Don't forget – no matter what you've read or photos you've seen online, it's really important to sample paint colors in your home before committing!
Samplize provides real paint samples that are easy to move around your home, and cheaper than buying a gazillion paint pots! It's the only way I buy paint samples.
Use code JENNAK10 at checkout and get 10% off your order
Coupon entitles all customers to 10% off the entire order with no minimum purchase requirement. This is a one-time use coupon and it cannot be combined with other discounts.