Decorator's White (CC-20) is a popular white paint color, with a slight hint of cool gray. However, it's not the whitest white on the market! It is a versatile choice for many different facets of a home. Use it to soften up your space without being too bright.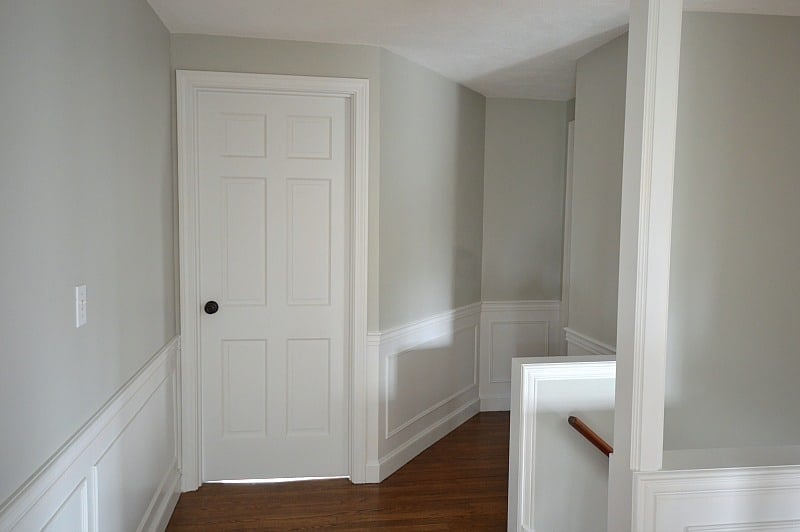 What Color is Benjamin Moore Decorator's White?
Decorator's White (CC-20) is one of Benjamin Moore's most sought after white paint colors that features a cool undertone and a slight hint of grey. It is lovely shade of white that works well for trim, wainscoting and doors.
Many designers love the modern feel and ability to use it as an open space floor plan interior paint color. With an LTV of 84.6, it's not the brightest white available, but it is a great option for a more subtle feel. It's easily climbing it's way to the top of the best white paint colors list.
Is Benjamin Moore Decorator's White Warm or Cool?
Benjamin Moore Decorator's White is definitely a COOL toned paint color. Since it has hints of grey, in certain lighting it may reflect green, purple, or blue hues which are considered a part of the cooler color family. We'll talk more about these shades later in the post.
When side by side compared to an even brighter white, the cool undertones might be more evident. However, at first glance and to the naked eye, you may even mistake this color for a pure white.
What is the LRV of Decorator's White?
Light Reflectance Value (LRV) is an indicator of the amount of light that is reflected by a color when it is illuminated by a light source. A higher value (closer to 100) means that a color will reflect more light back at you and a lower value (closer to 0) means that a color will appear darker, or absorb more light.
Decorator's White has an LRV of 84.6, making it a pretty bright white, but almost borderline off-white. In contrast, Sherwin Williams Extra White has an LRV of 86 and Benjamin Moore Chantilly Lace has an LRV of 92.
Is Decorator's White Too White?
No! This is exactly the reason why I originally chose Decorator's White for all the trim, doors and wainscoting in my house.
Benjamin Moore Decorator's White is a soft white paint color that leans cool because of its slight gray undertone. This undertone stops it from being overly bright and white and adds the perfect amount of softness.
What are Decorator's White Undertones?
As I previously mentioned, because of the bit of gray in Decorator's White, it can pick up some different colors such as purple, green, and blue undertones in certain lighting.
They only show up considerably under extreme environmental conditions, so just be mindful of your surroundings when using this paint color.
How Does Light Affect Decorator's White?
How much light your room gets is very important when it comes to cooler colors and this one is no different! If your home has an abundance of really bright light (the vast majority of homes do not fall into this category) than you may want to consider a slightly warmer white, like Benjamin Moore Simply White or their popular White Dove.
North-facing rooms may bring out more of the blue undertones. On the contrary, south facing rooms may appear softer but not quite hit a creamy status.
If your room is east facing with warm morning light and cool afternoons, you may experience a bit of the undertones shining through until midday in which the appearance shifts to a much softer white until sunset.
Western exposure may be reversed with a soft white until midday in which the afternoon presents the blue, green, or purple undertone. Again, this will depend on how your windows are laid out and how much sun your room receives.
Where Can I Use Decorator's White?
I've read other blog posts that suggest that Decorator's White is not a good entire house choice for trim. I have to say that I disagree. Having had it in our entire home for the first 3 years, I've had beautiful results that worked in the cooler light on the east and west sides of our home as well as the sunnier exposures.
However, I agree that it would not be the best choice as a whole house white if you're also planning to paint walls and cabinets this color, as the gray undertone may be limiting.
How Does Decorator's White Look on Trim?
Decorator's White is a nice choice for trim color and base moldings because it won't look cold and stark, no matter what wall color or room exposure it is paired with.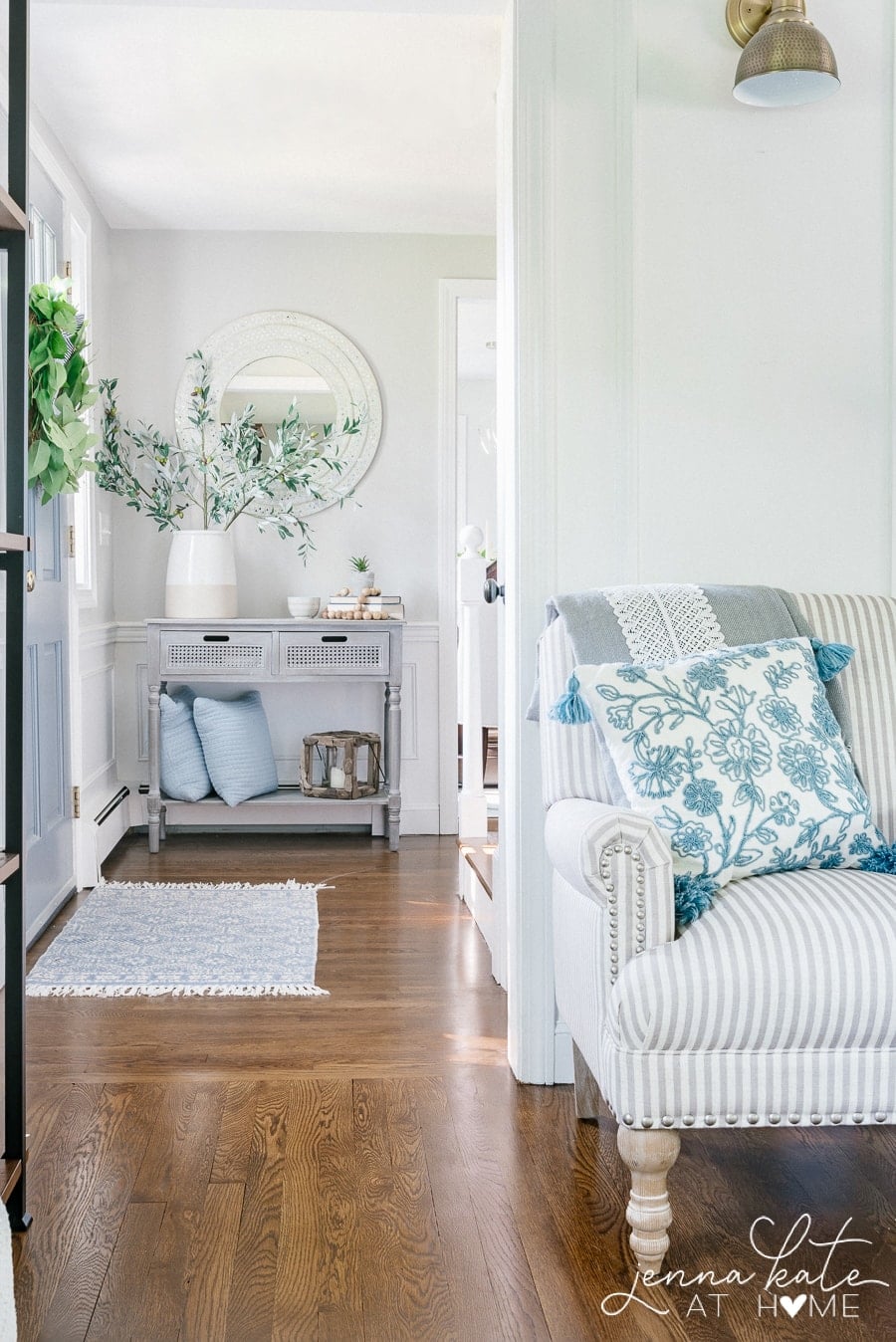 However, put it against a brighter, starker white like Sherwin Williams Extra White or Benjamin Moore's Super White and you will instantly see that slight gray undertone coming out.
In fact, next to a very bright white like that, it looks like a dirty white! Don't worry, it doesn't ever look dirty under normal circumstances, just when you see it side by side like that. Overall, I've found it a great trim color for most homes!
How does Decorator's White Look on Both Walls and Trim?
If you're going for bright white walls and need a trim to coordinate, I'll let you in on a designer secret – use the same paint color but use matte or slight sheen of eggshell on the walls and satin or semi-gloss for the trim details.
Because of the difference in sheen, it won't look like the same color but you won't have to worry about weird undertones! And if you're painting the ceilings, use a flat paint which will complete your all over white look and help hide imperfections.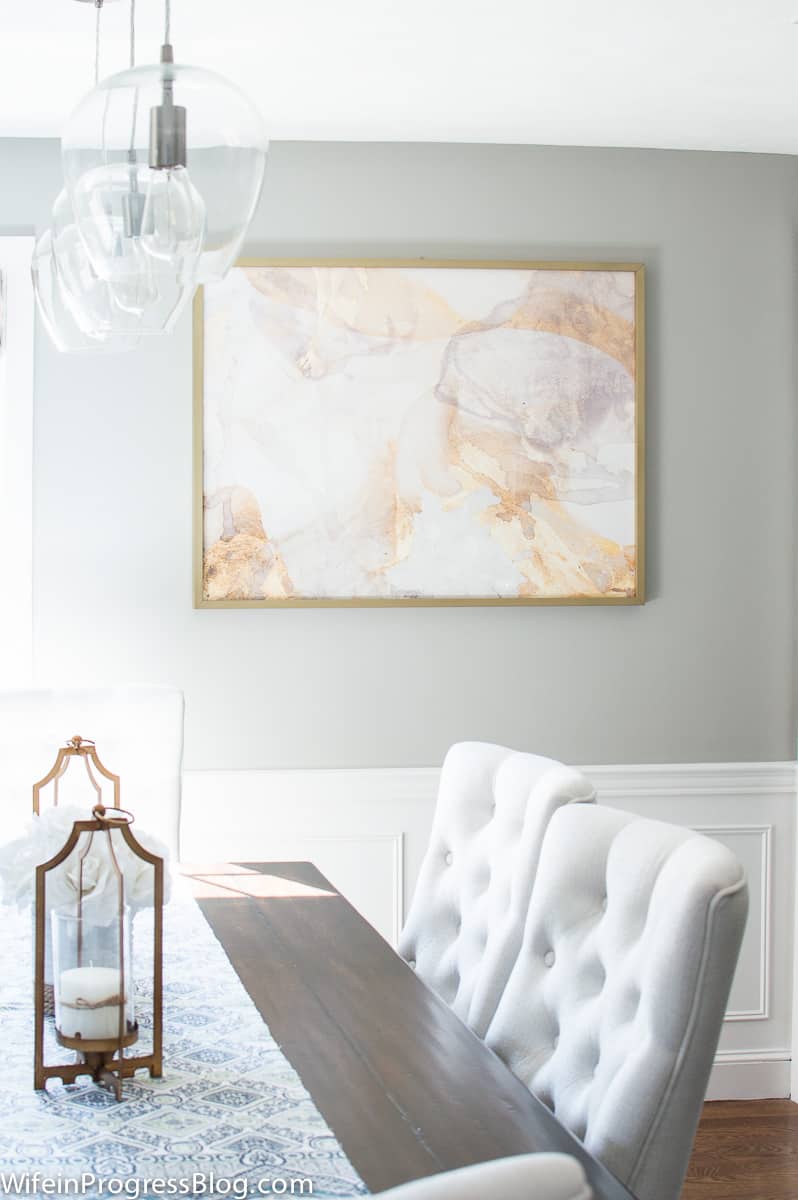 Is Benjamin Moore Decorator's White Good for Kitchen Cabinets?
Again, I've had good experiences with this color and think it would be great choice for both kitchen and bathroom cabinets for a clean, fresh look, AS LONG as you don't try to introduce warm colors into the mix.
You'll want to paint your walls, and ceiling and trim the same color for consistency, and stick with a cool-toned color palette.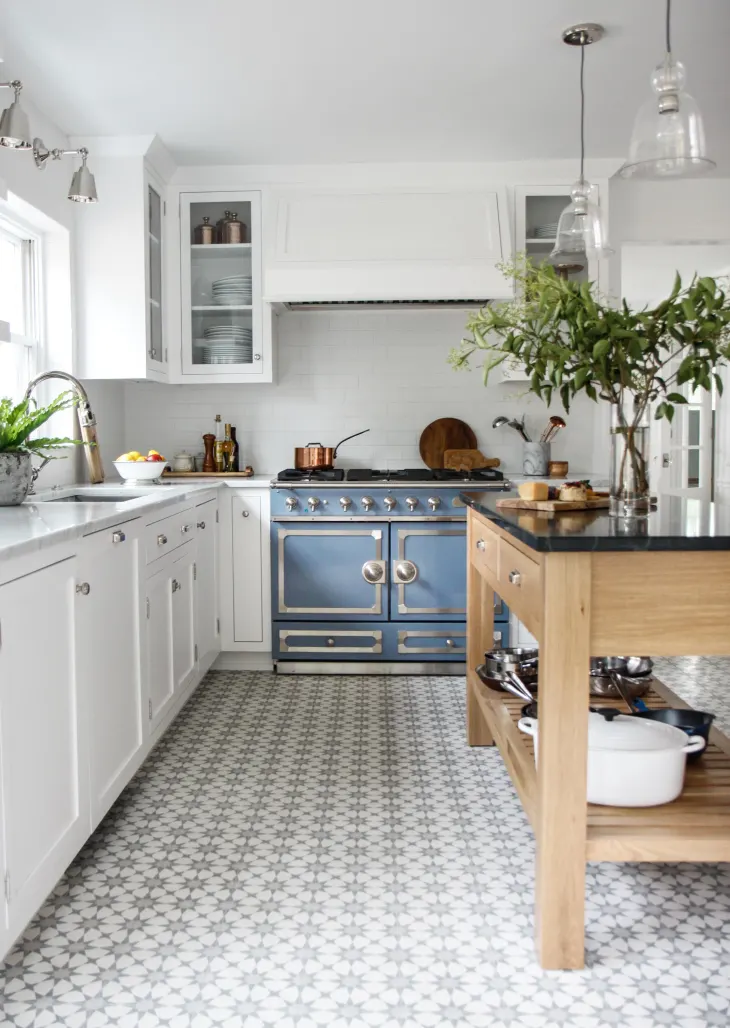 How is Benjamin Moore Decorator's White on the Exterior of Your Home?
This cool white paint color makes a great exterior color for your trim or siding, especially if you are pairing it with other similar undertones. A light grey house would look absolutely spectacular with Benjamin Moore Decorator's White as the accent on the trim and siding.
Just remember, if your windows or other trim pieces are pure white you'll see a slight shift between the different whites. Depending on the look you are going for, this might not be your favorite combination. Otherwise, paint away!
What Paint Colors Look Good With Decorator's White?
Decorator's White looks great paired against shades of gray, greige as well as blue undertoned colors. These all pull out the natural undertones and elements of the paint color.
Some complimentary colors that look great paired with Decorator's White include SW Repose Gray, SW Mindful Gray, BM Stonington Gray, Behr Light French Gray and SW Naval. I would steer clear of pairing it with any brighter whites, unless you want to make it look dingy.
Decorator's White vs BM White OC-151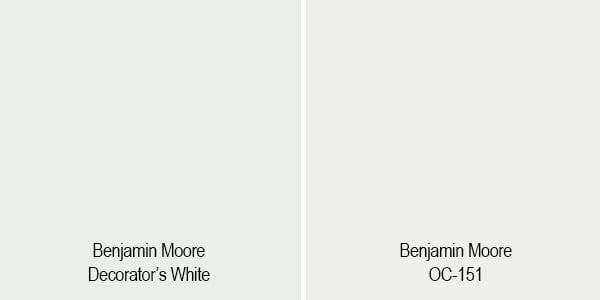 Benjamin Moore White has an LRV of 83.56 which means it will reflect a lot of light—this is close to Decorator's White's 84.6.
Both cool whites can achieve great depth of color based on the lighting in your room. Either white paint color will give you the soft, fresh look you're looking for in your home.  
Decorator's White vs White Dove OC-17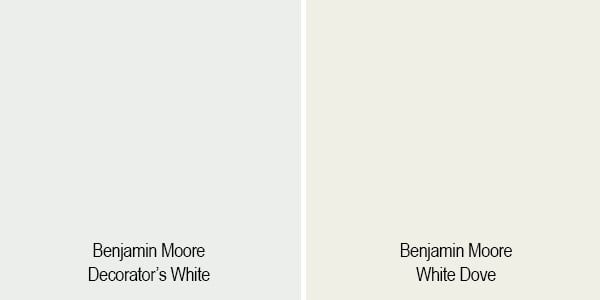 If you'd like a warm white with very neutral gray undertones, BM White Dove might be a good option. It has an LRV of 83.16, so slightly darker than Decorator's White.
The main difference is the cozy feel and inviting ambiance White Dove creates versus the crispy and cool feel of Decorator's White.
In addition, you can pair warm and cool colors with White Dove while Decorator's White tends to project best with cool tones only.
Decorator's White vs Cloud White OC-130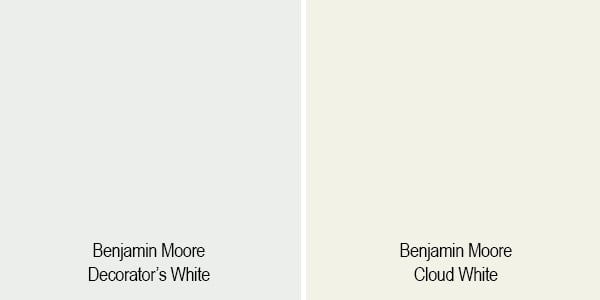 Cloud White has an LRV of 85.05 with a touch of warmth. It's also another great warm white so perfect in spaces you want to look creamy and cozy!
Be aware though that this shade may have slight yellow undertones so look best on north facing sides of the home. This will emphasize the warmth of the space.
Decorator's White vs Simply White – OC 117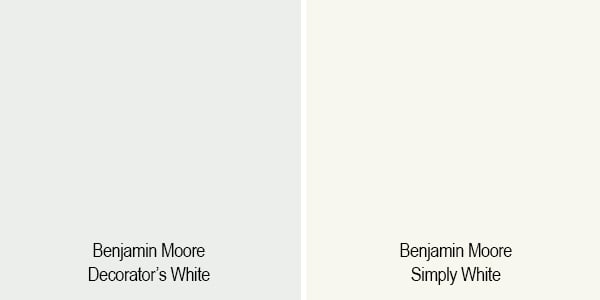 With an LRV of 89.52, Simply White is considerably brighter than Decorator's White. However, its creamy undertone means it can cast a yellow hue under incandescent light and in low light situations.
As loved as Simply White is, it's actually one of my least favorite colors for whole-house trim and doors, because it can lean so warm and creamy. However, in the right house I have to admit it can be pretty.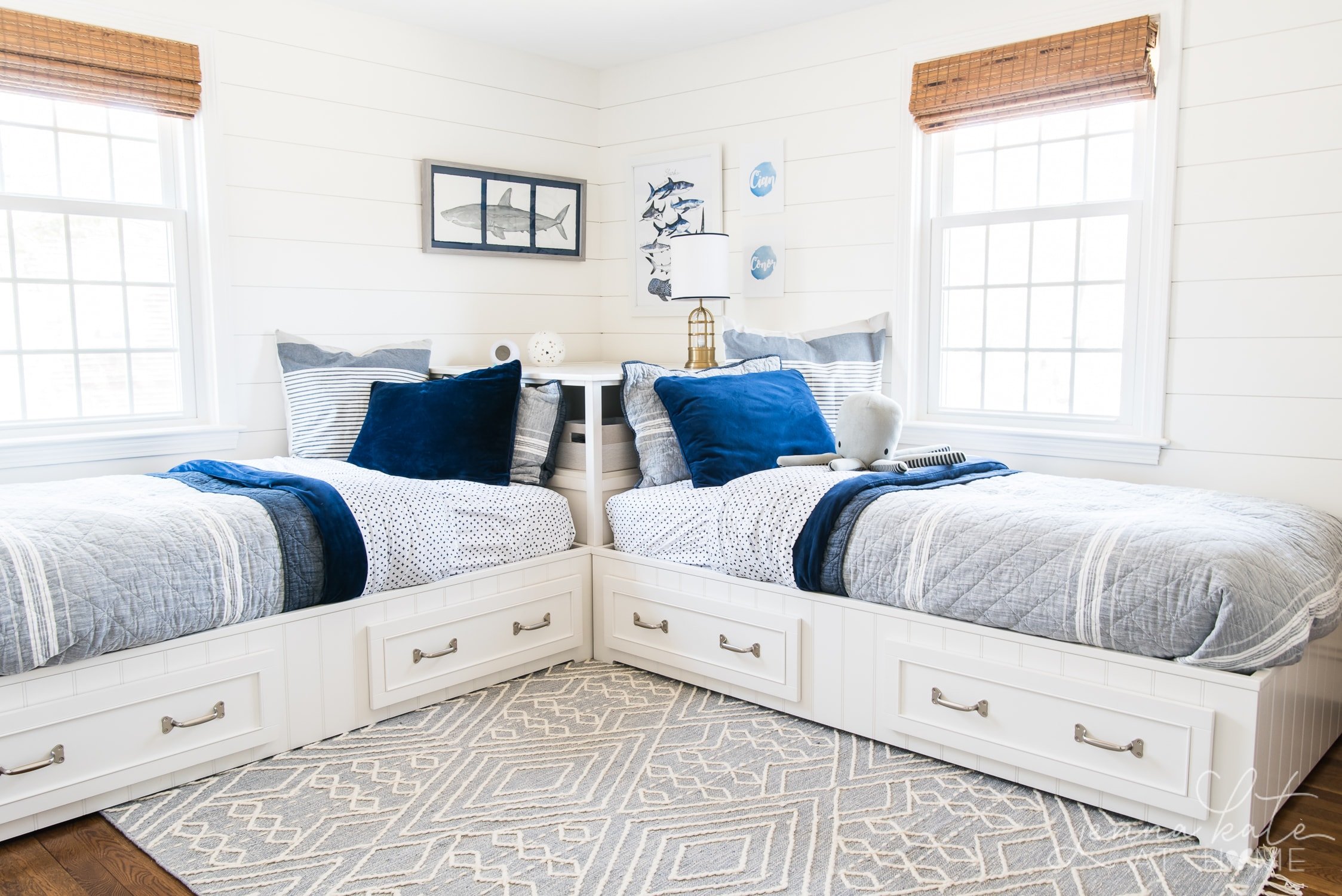 Decorator's White vs Chantilly Lace – OC 65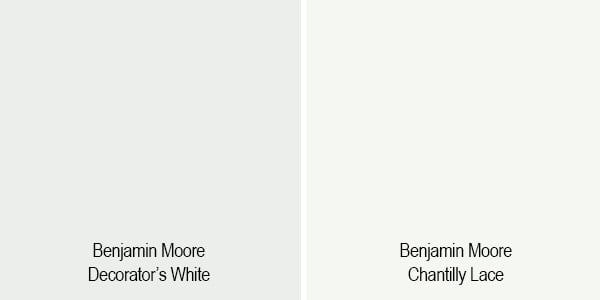 If you are looking for a clean, bright white without that slight gray undertone, Chantilly Lace is the perfect choice.
With an LRV of 92, it is a lot brighter than Decorator's White, which has an LRV of 84. In fact, Chantilly Lace is considered to be Benjamin Moore's brightest white.
They are both slightly cool shades of white, but Chantilly Lace is a little more neutral since it doesn't have as much gray in the undertone. Instead, it can lean the tiniest bit blue in cool light and settle into a soft white (but creamy or yellow) in warm light.
Because of its high LRV, Chantilly Lace is susceptible to being influenced by colors around it. For instance, if you have a lot of blue in the room, it may reflect back some of that color. If outside your window is filled with greenery, some of that may become apparent — especially if you're using it as a wall color.
Decorator's White vs Sherwin Williams Extra White SW-7006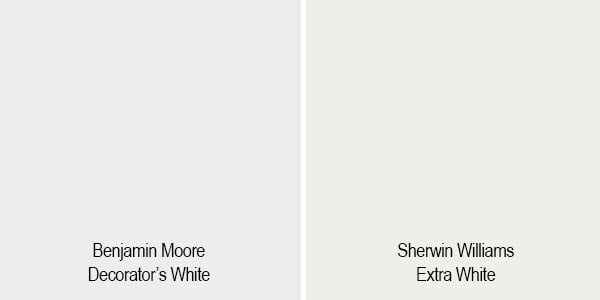 As I have discussed, Decorator's White is a clean, bright white color with grey undertones. Sherwin William's Extra White has a hint of blue rather than a drop of gray but is otherwise very similar.
Extra White has an LRV of almost 86, so is a bit brighter than the 83 LRV of Decorator's White.
Decorator's White vs Sherwin Williams Pure White SW- 7021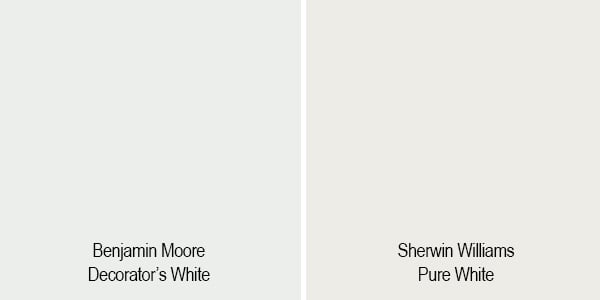 Sherwin Williams Pure White is very similar to Decorator's White by Benjamin Moore.It has a warm undertone with a drop of gray to cool it down. Besides the additional warmth. it's relatively similar in tone of Decorator's White. The LRV range is also almost the same.
The key difference is the warmth found in Sherwin Williams Pure White that is not found in Decorator's White. Decorator's White is strictly a cool toned color. Depending on your geographical location and existing paint colors, this may help sway you one way or the other!
Final Thoughts
If you are looking for a cooler white that isnt overly bright or stark, then Benjamin Moore's Decorator's White is a great paint color to consider.
Whether you decide to use it on trim, doors and moldings or just as a wall color, remember that this is a color that works best alongside other similarly cool-toned colors.
Don't Forget…
Don't forget – no matter what you've read or photos you've seen online, it's really important to sample paint colors in your home before committing!
Samplize provides real paint samples that are easy to move around your home, and cheaper than buying a gazillion paint pots! It's the only way I buy paint samples.
Use code JENNAK10 at checkout and get 10% off your order
Coupon entitles all customers to 10% off the entire order with no minimum purchase requirement. This is a one-time use coupon and it cannot be combined with other discounts.