This post may contain affiliate links | For further details, please read our privacy policy
A warm, neutral paint color, Amazing Gray by Sherwin Williams (SW 7044) is a saturated shade that's perfect showcase in rooms that get a lot of natural light.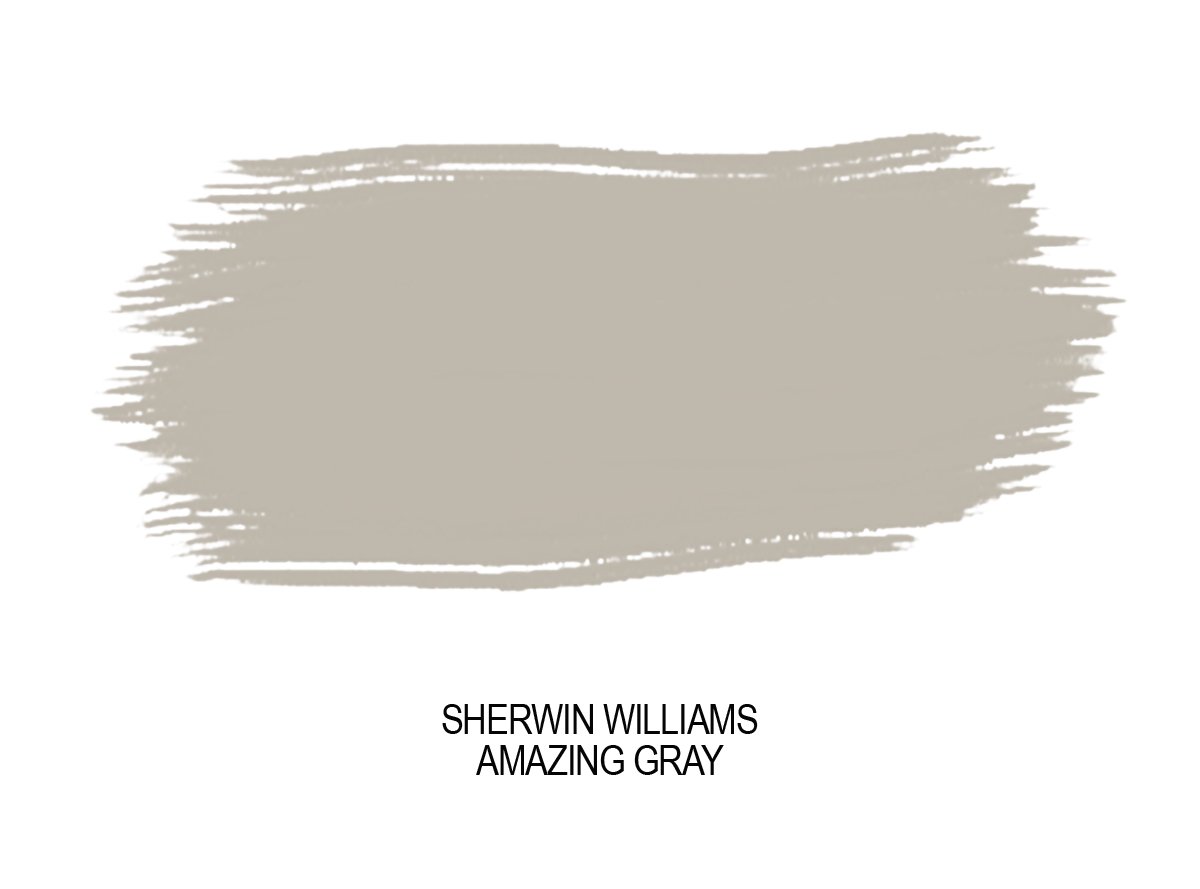 In this post, I want to explore this incredible paint color, as well as showcase it next to other popular warm grays and greiges to see how it stacks up.
What Color is Sherwin Williams Amazing Gray?
Amazing Gray is a warm greige paint color, with a perfect balance of both grey and beige.
If you're looking for a great color that can marry both the warmth of greige and the cool side of grey, Amazing Gray is a great choice.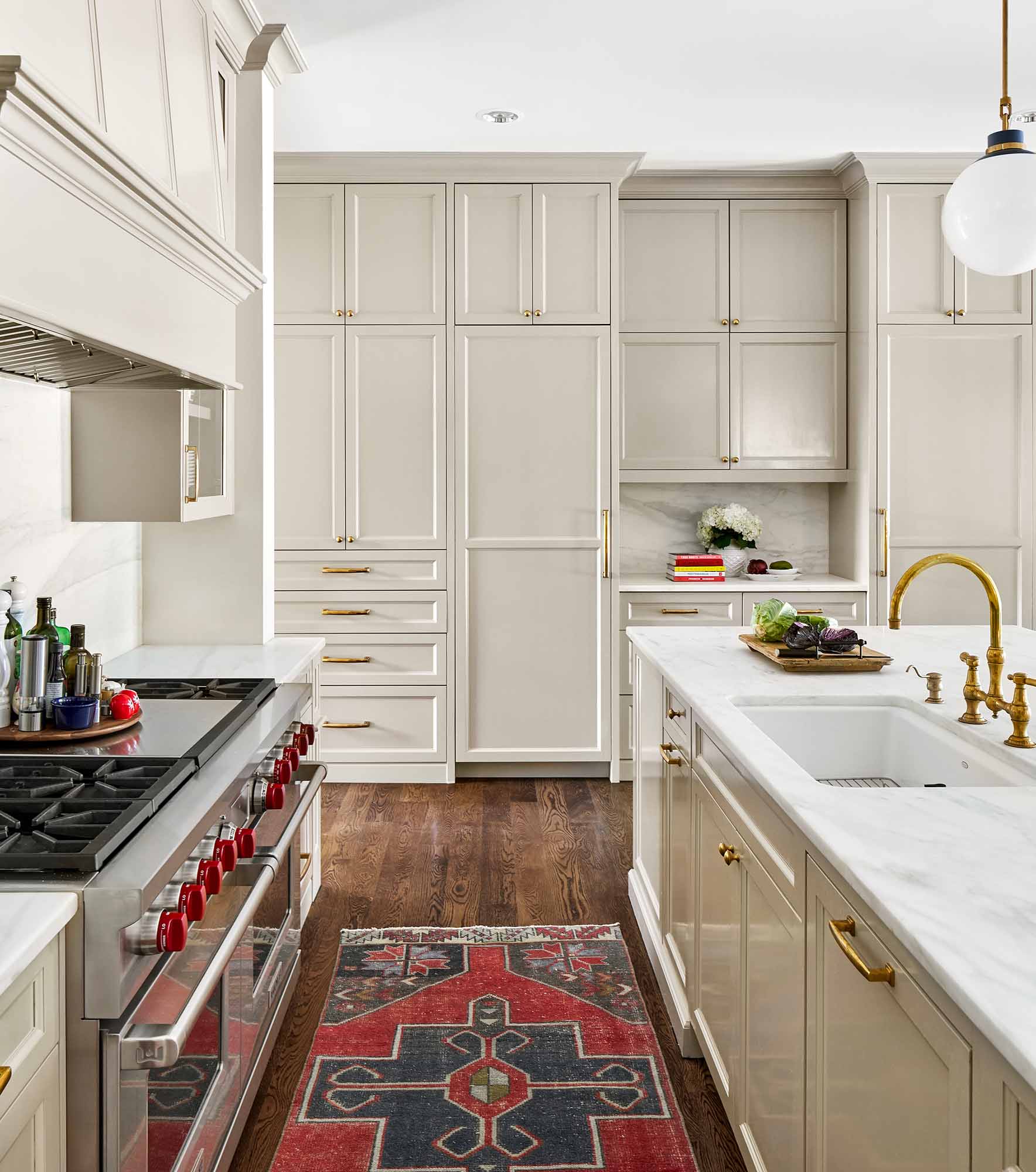 Amazing Gray falls between Worldly Gray and Intellectual Gray on the Sherwin Williams color deck.
What is The LRV?
Light Reflectance Value (LRV) is an indicator of the amount of light that is reflected by a color when it is illuminated by a light source.
A higher value (closer to 100) means that a color will reflect more light back at you and a lower value (closer to 0) means that a color will appear darker, or absorb more light.
Amazing Gray is a medium toned color, with an LRV of 47. A color on this end of the LRV spectrum will provide good contrast against white trim, but it may feel too dark in north facing rooms or those with poor natural light.
There are many greiges that would be a good choice as a whole house color, but this would not be my first choice. It does best in well lit spaces like kitchens, living rooms, or bedrooms with large windows.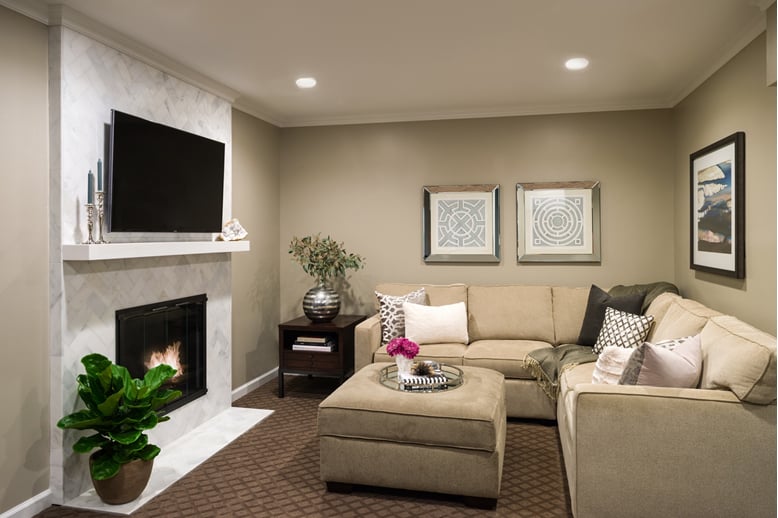 In this basement space (above) you can see how dark Amazing Gray looks with no natural light. It falls firmly into its beige undertone, and actually looks very tan.
Is it a Warm or Cool Color?
Amazing Gray is most definitely a warm color. It's in the greige paint color family and not quite as warm as beige, but it's not a true grey either.
In areas without windows or much natural light, Amazing Gray will very much lean more beige than grey.
In contrast, if your room has huge windows and is filled with natural light, this color will show more of its gray side.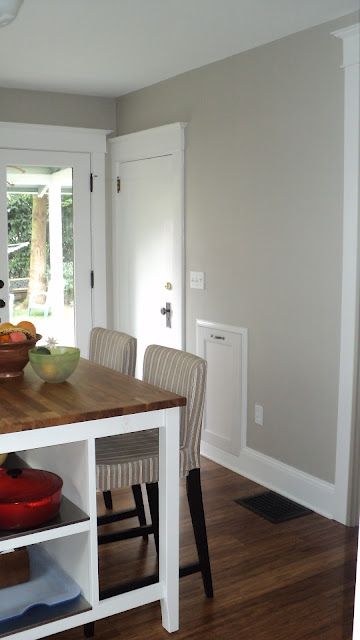 What Are The Undertones?
Since Amazing Gray is technically a greige paint color, it has strong beige undertones, but it also has a bit of green, similar to other popular greige paint colors, like Benjamin Moore Revere Pewter.
If I'm using this paint color on my walls, what white trim color will look best?
For trim, Sherwin Williams Pure White is a safe bet. It's a bright white with just a smidge of warmth so it never looks too cold.
It looks great with all wall colors, but it's especially a great choice when the wall color has warmth to it.
For a brighter white, Sherwin Williams Extra White will really provide that pop of contrast between the wall color and trim.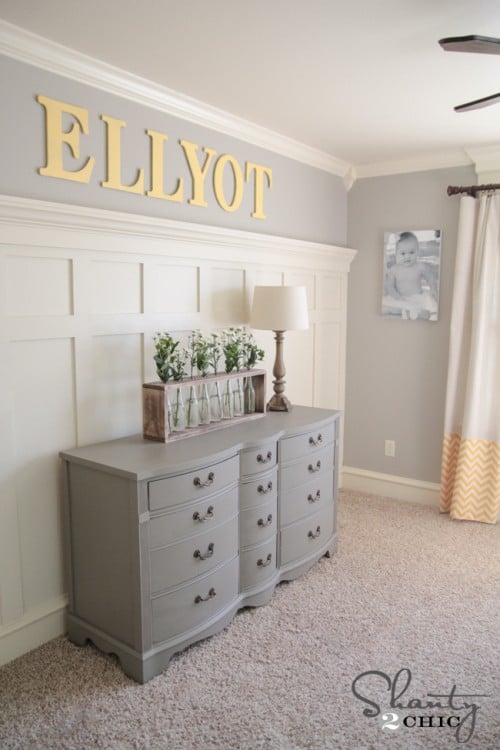 If you want a softer overall look, a creamier white like Sherwin Williams Antique White or SW Alabaster looks really beautiful.
Coordinating Paint Colors for Sherwin Williams Amazing Gray
Amazing Gray is a versatile color that can go well with many coordinating shades.
Because of its tan and green undertones, this paint color looks great with any whites, creams, medium to deep blues, and light pink or blush shades.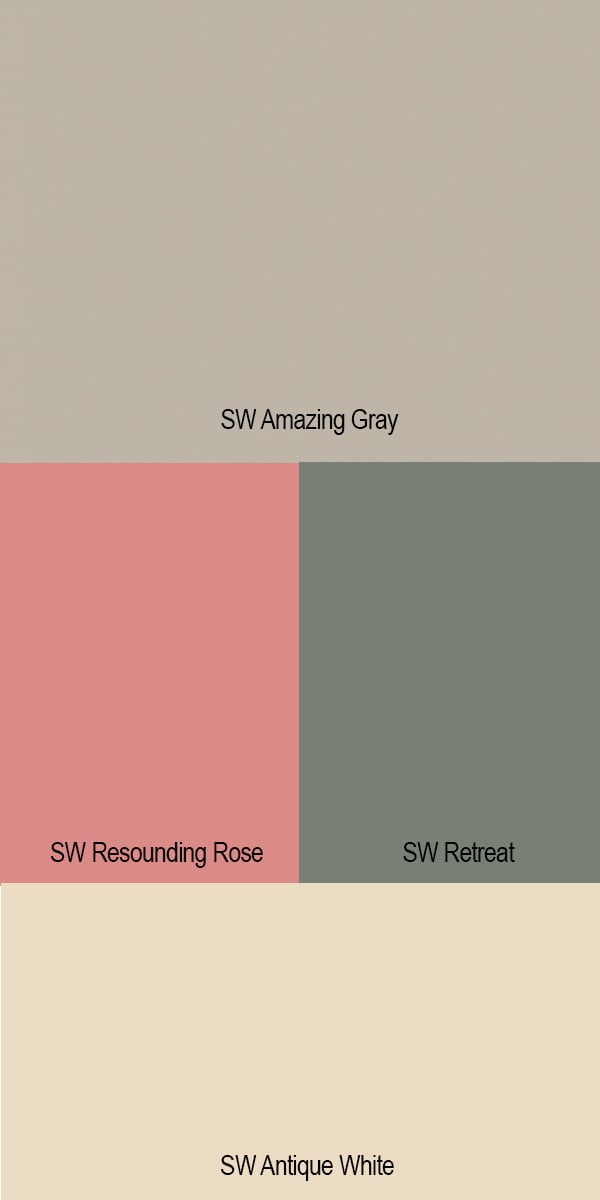 I personally love the soft look of pairing it with creamy whites, like Sherwin Williams Antique White or Sherwin Williams Shoji White.
If you are looking for a bolder pop of color, try pairing it with earth-toned colors like deep green and browns. This will pull out some of the green and brown undertones.
If you plan on using it for a house exterior, Urbane Bronze may be a good choice for the shutters and trim.
Sherwin Williams Amazing Gray vs. Sherwin Williams Agreeable Gray
One of Sherwin Williams' top greige paint colors is Agreeable Gray. So how does this compare to Sherwin Williams Amazing Gray?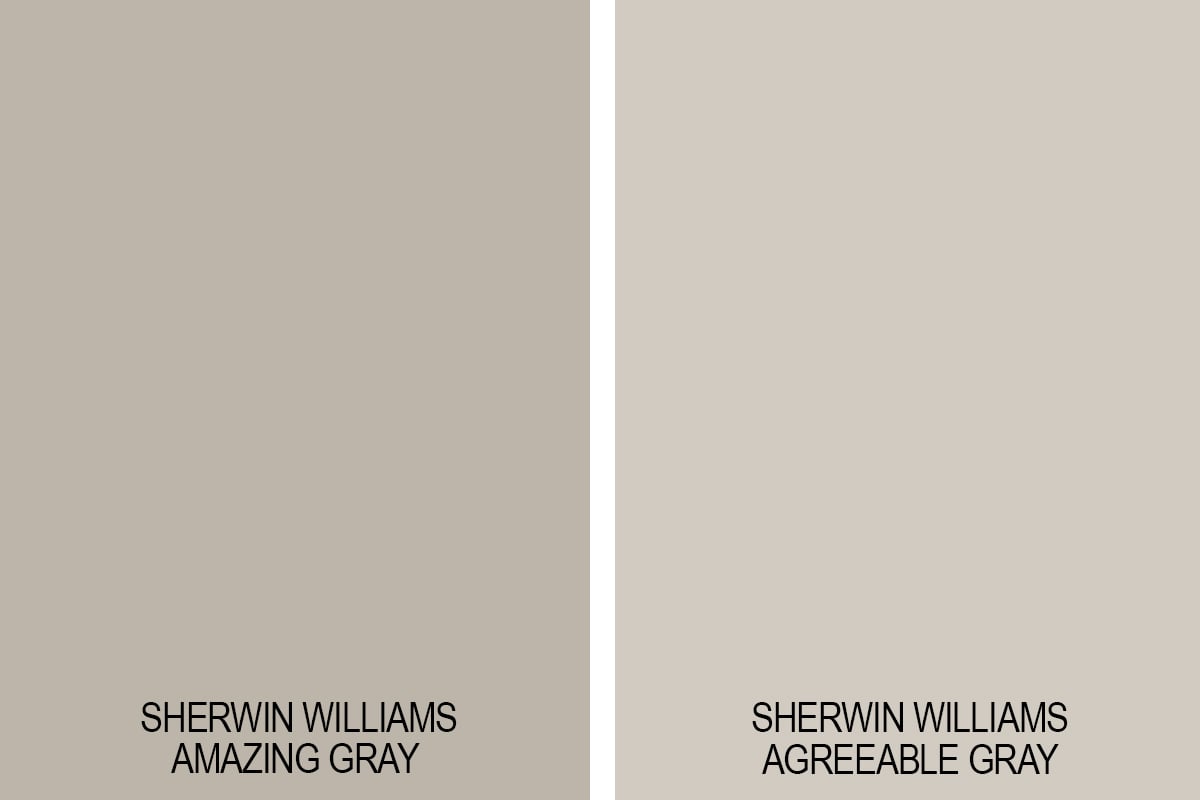 Agreeable Gray has an LRV of 62 which means it's going to read a lot lighter in a room than Amazing Gray, with its LRV of 47.
While Amazing Gray may not be best if you don't have a lot of natural lighting, Agreeable Gray is a great all-around paint color that works great in any space.
While also a greige paint color, in darker rooms or in the shadows, Agreeable can lean more into its gray side while a brighter, well lit room will make the beige undertones more pronounced.
If you're looking for a lighter paint color that still has good depth of color, Agreeable Gray is a good choice. If you want a more saturated look, and less of the "light and airy", then Amazing Gray may work for you.
Sherwin Williams Amazing Gray vs. Sherwin Williams Repose Gray
Both Amazing Gray and Repose gray are both beautiful and versatile. Repose gray has an LRV of 58 and to me, it looks just like its name suggests, very serene and peaceful.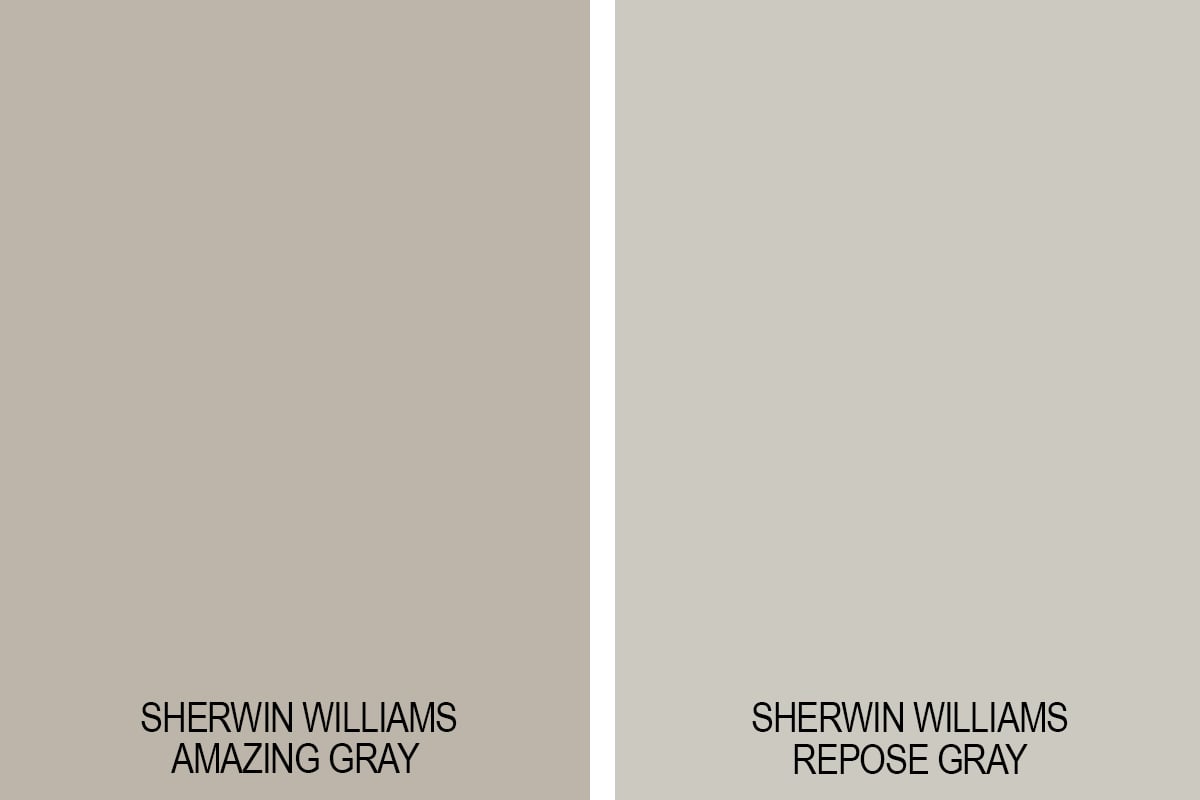 In comparison to Amazing Gray, Repose Gray is considered more of a warm gray paint color, rather than a true greige.
Amazing Gray looks a lot warmer, whereas Repose Gray feels less pigmented, and closer the gray side of things.
Final Thoughts
Sherwin Williams Amazing Gray is a  medium toned greige paint color. It is a good paint color choice for rooms where you want good contrast against white trim.
It's important for the room to have good natural light so as the paint colors doesn't fall too much into the beige/tan spectrum.
For this reason, it's not a good choice as a whole house paint color as it can be too dark in some lighting conditions.
Don't Forget To Always Use Real Paint Samples!
Don't forget – no matter what you've read or photos you've seen online, it's really important to sample paint colors in your home before committing!
Samplize provides real paint samples that are easy to move around your home, and cheaper than buying a gazillion paint pots! It's the only way I buy paint samples.
Use code JENNAK10 at checkout and get 10% off your order
Coupon entitles all customers to 10% off the entire order with no minimum purchase requirement. This is a one-time use coupon and it cannot be combined with other discounts.