This makeover has been several months in the making but it's officially done before baby's arrival! I'm currently 37 weeks pregnant and can barely walk so being able to check this off the list and finally say it's done has been amazing.
A full source list is included at the bottom of the post as well as "shop the post" images throughout.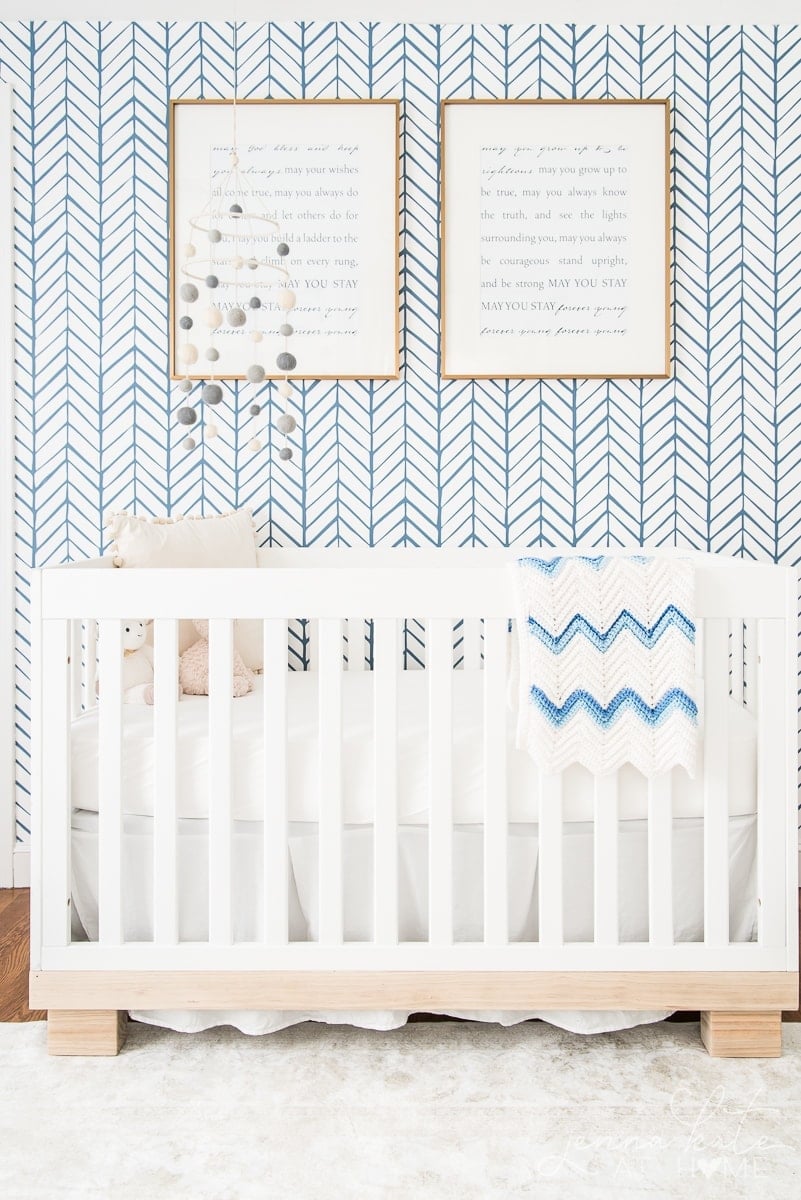 If you've been following the progress on Instagram (I've shared everything since the beginning!) you'll know that the inspiration for this nursery started with this pretty blue and white wallpaper from Serena & Lily.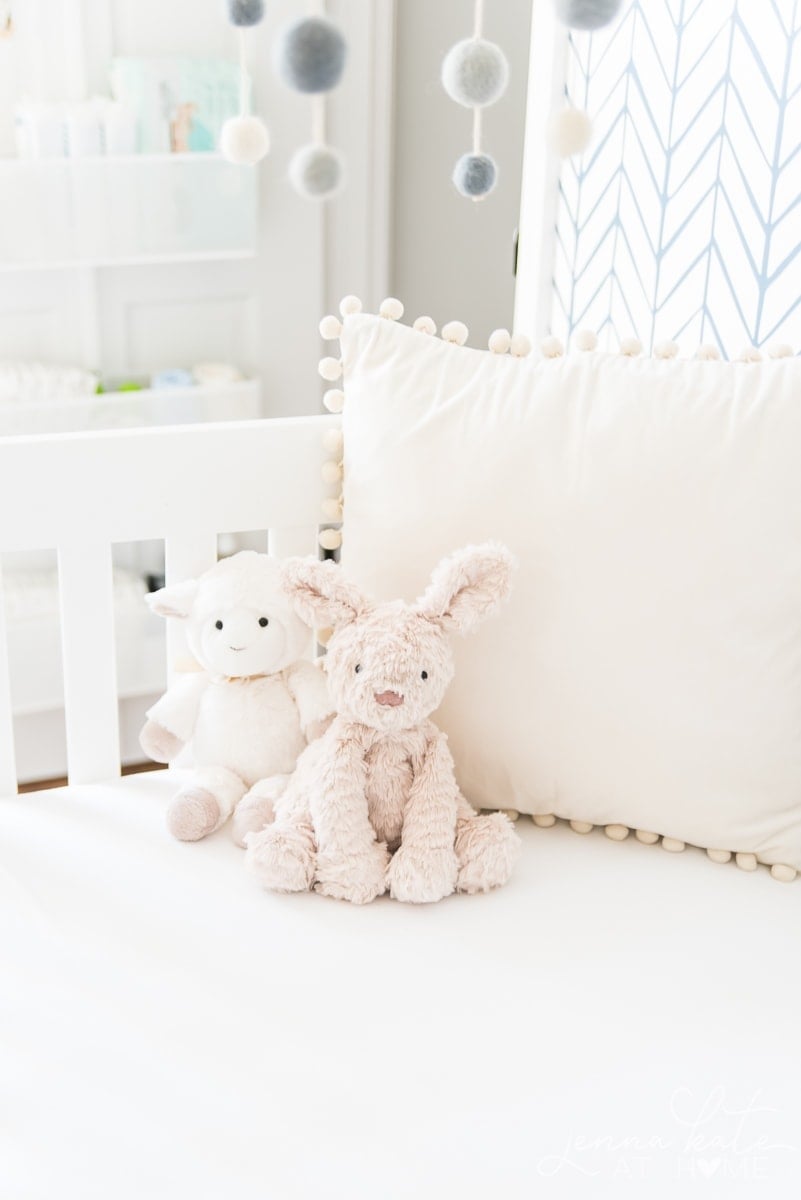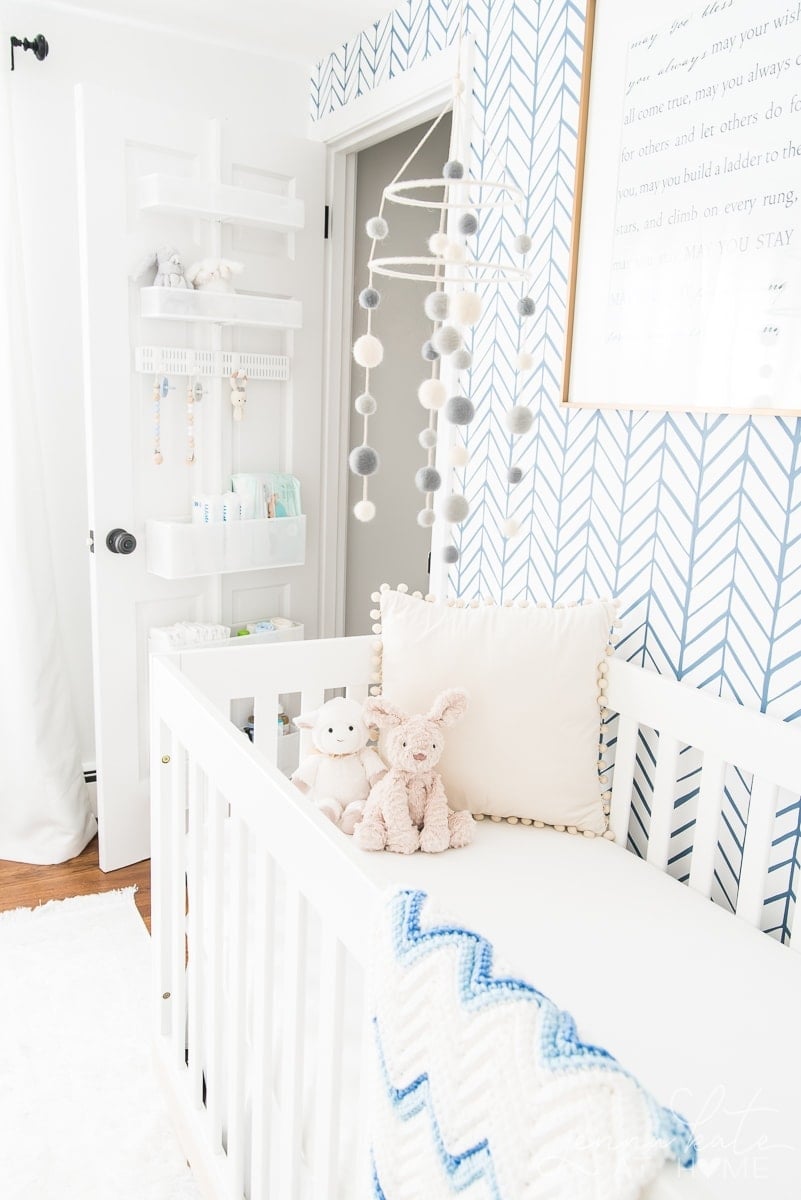 From there, I knew I wanted to keep everything else very simple and clean. Since this room gets amazing light all day long, I decided that white with touches of natural wood was the way to go.
I've wanted a bright white room for the longest time and this is for the sure the perfect room for it. I instantly knew that my favorite Sherwin Williams white would be perfect alongside the accent wall.
The baby's crib is the same one Cian used until he was three and transitioned to a big boy bed. It was originally mahogany along the bottom, so I sanded the finish off to get the natural wood look that I wanted. It was a quick project that saved me having to buy a crib to match (not that I would have!).
RELATED: How to Hang Wallpaper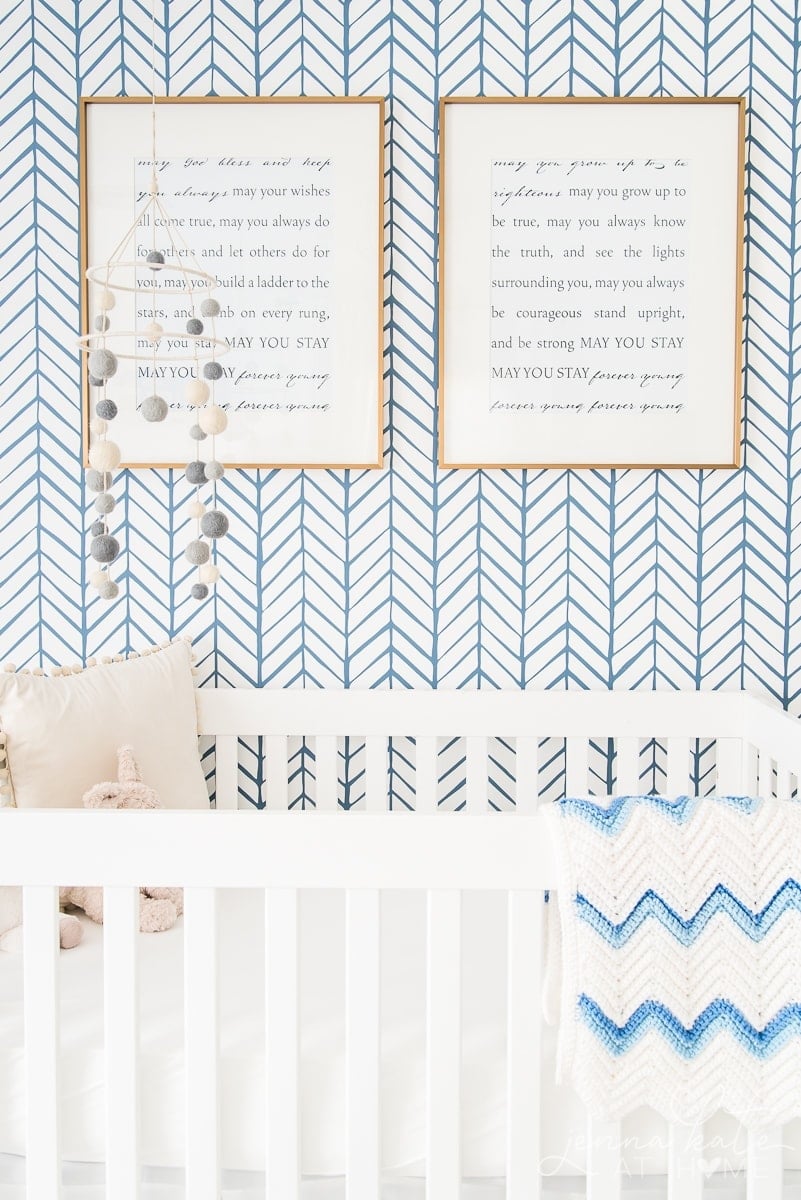 How amazing are these framed prints? They are actually the lyrics from Bob Dylan's "Forever Young" and are so sweet and touching when you think about them in relation to a new life. I can't take credit for the idea, as I was inspired by Kelley Nan's beautiful gender neutral nursery. While I did chose different lyrics, the idea as well as the frames used are from her. I had the prints custom designed by this Etsy Shop and split over two prints. I couldn't be happier with how they turned out!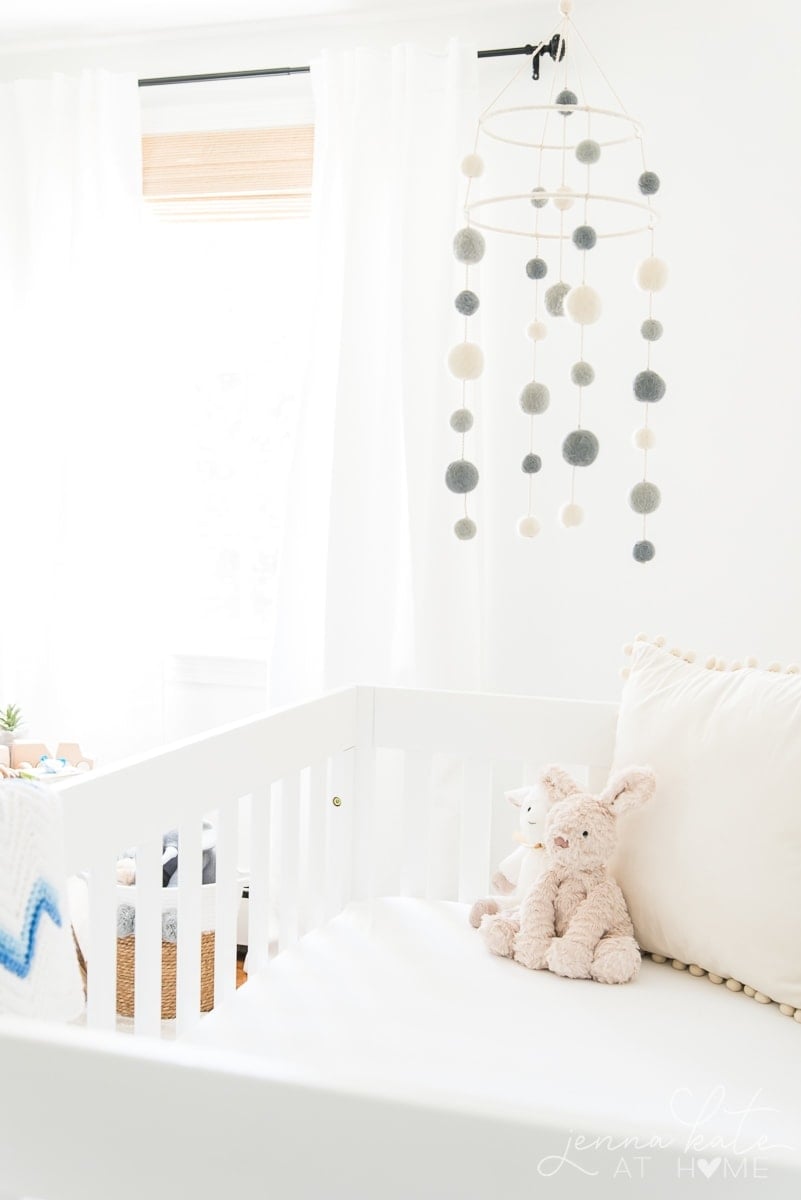 The bedding is very simple and keeping to my white theme – white crib skirt, white sheet and a neutral crib mobile from Pehr Designs. Don't worry – the stuffed animals and throw pillow are only for decoration. When baby starts sleeping in here for real, they'll be removed!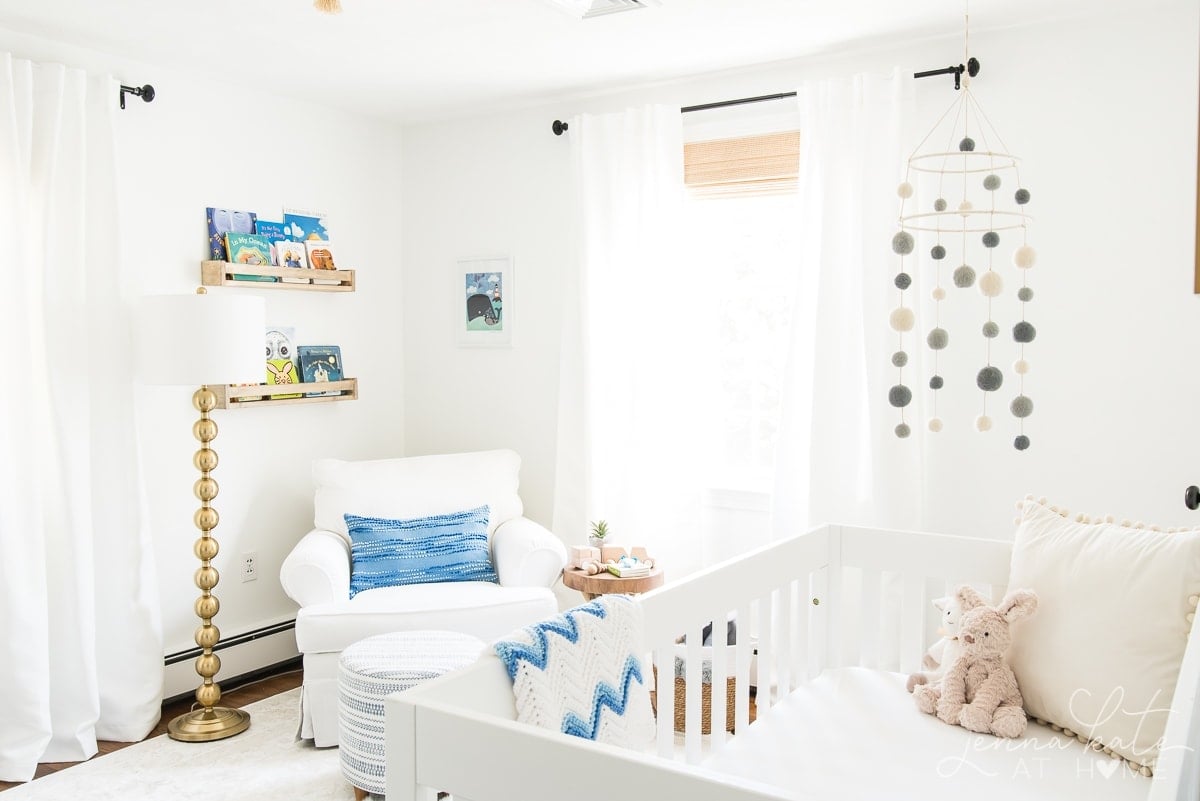 Looking across the room, you can see more of the natural wood paired with the new white glider. If you are looking for a glider, I highly recommend this one. It was custom made through Wayfair and comes in a huge variety of colors. It's really comfortable and just as good quality as others that I've seen for twice the price. While the white does make me a little nervous, it's what I wanted and I did scotch-guard it to hopefully keep the stains at bay.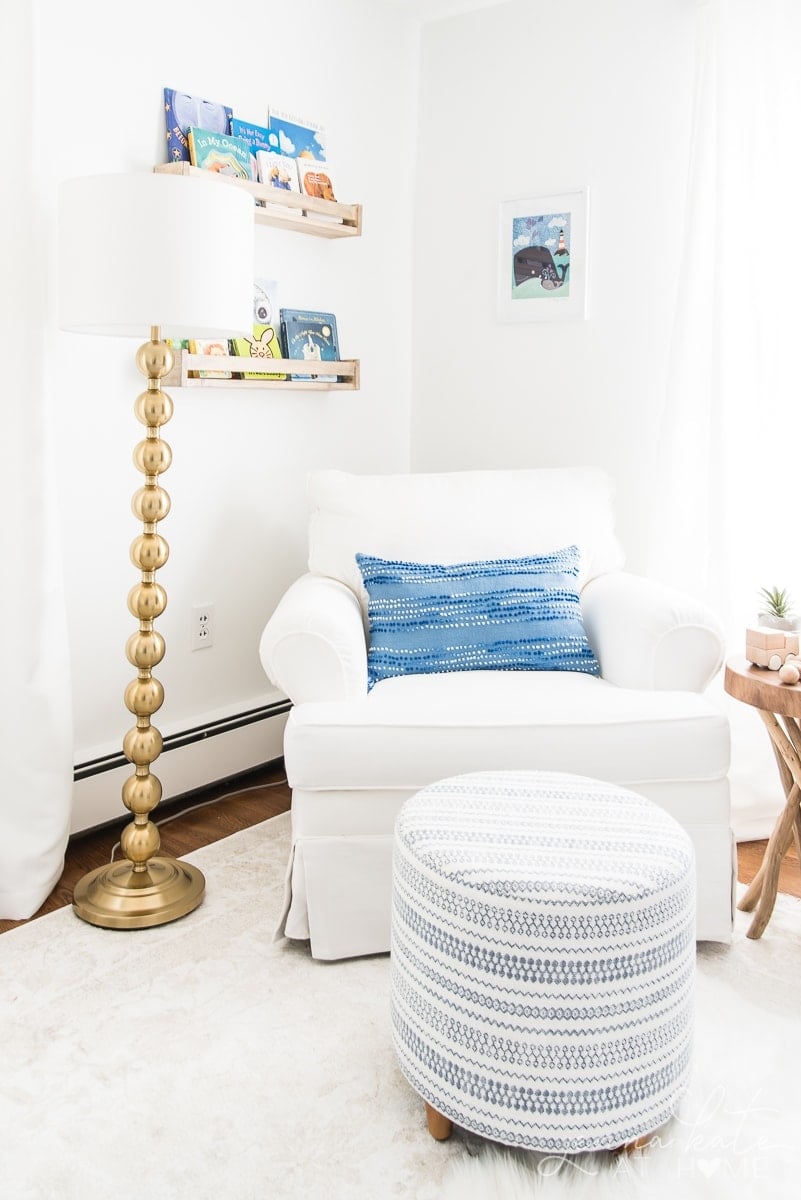 The gold floor lamp is actually one of my favorite purchases for the room. I found it on Amazon for less than $100. It's sturdy and just really beautiful!
The round footstool was actually the very first thing I purchased for the nursery (knowing that whatever wallpaper I decided on would be blue and white, too) and is from Target.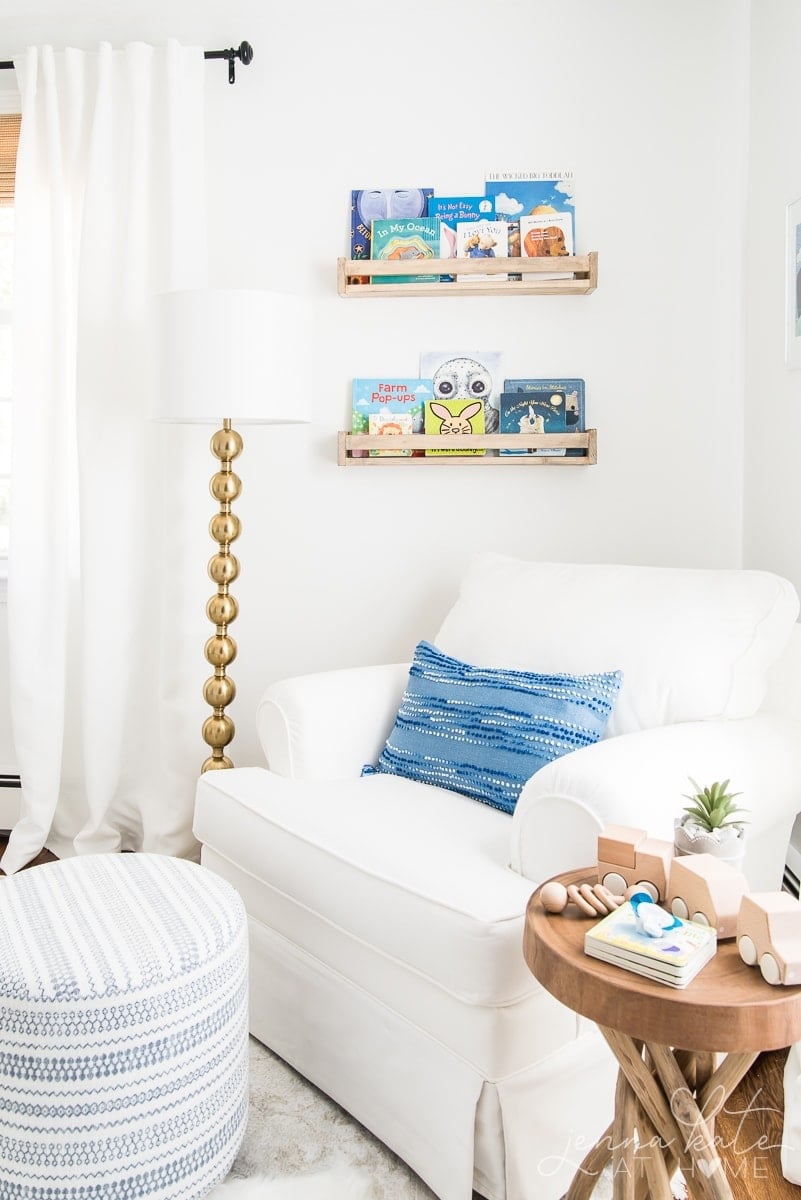 More natural wood in both the toys and side table as well as the DIY book ledges that I built a few weeks ago. I need to do a tutorial on them for you because they only took me 30 minutes to make!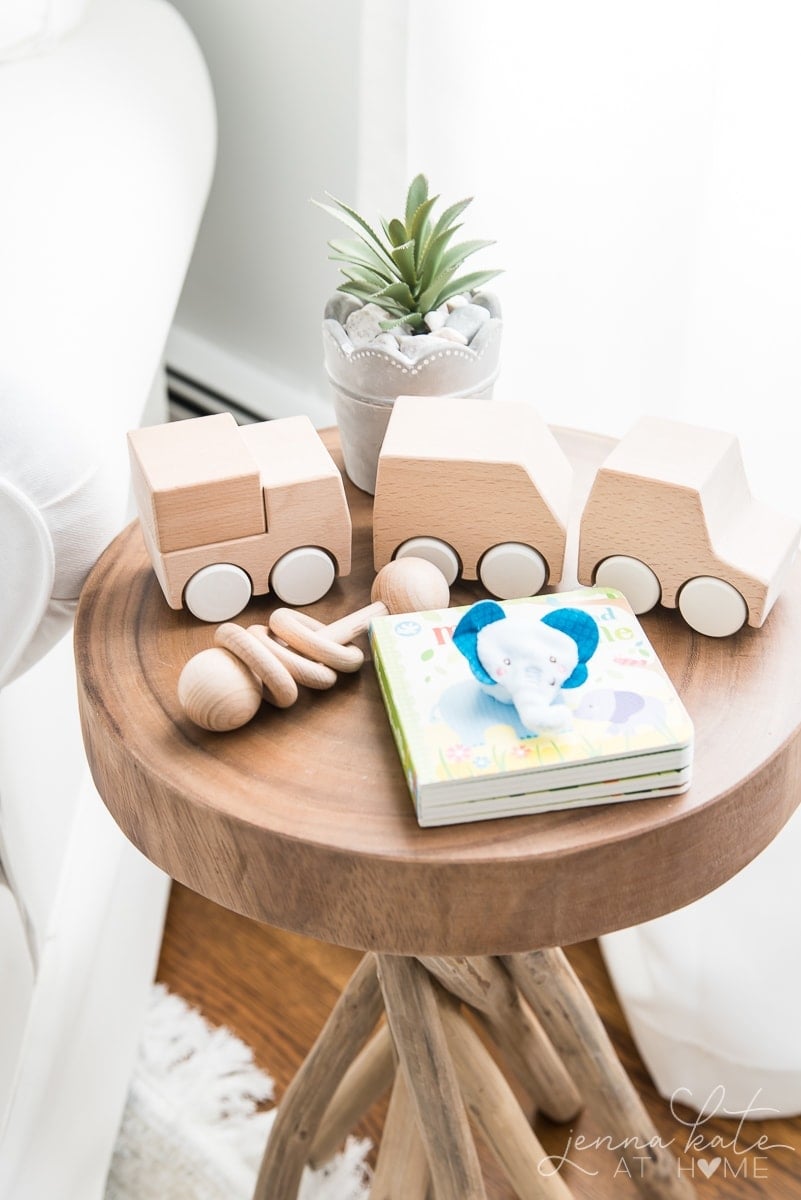 I came across this little basket at Target a few weeks ago and had to have it. The pom poms had me instantly!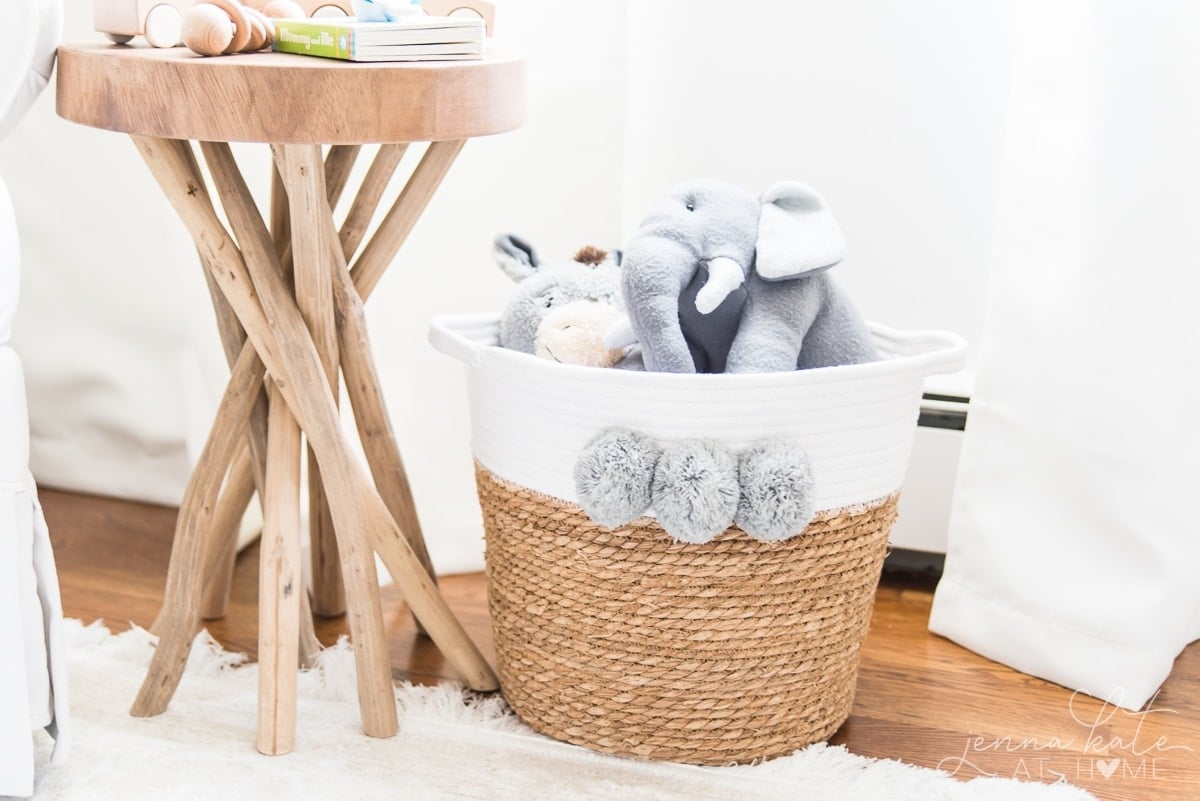 On the opposite side of the room, I kept the dresser that was originally in the guest room. It's completely empty right now since the baby's closet system has more than enough store. But eventually, I'm sure it will get used.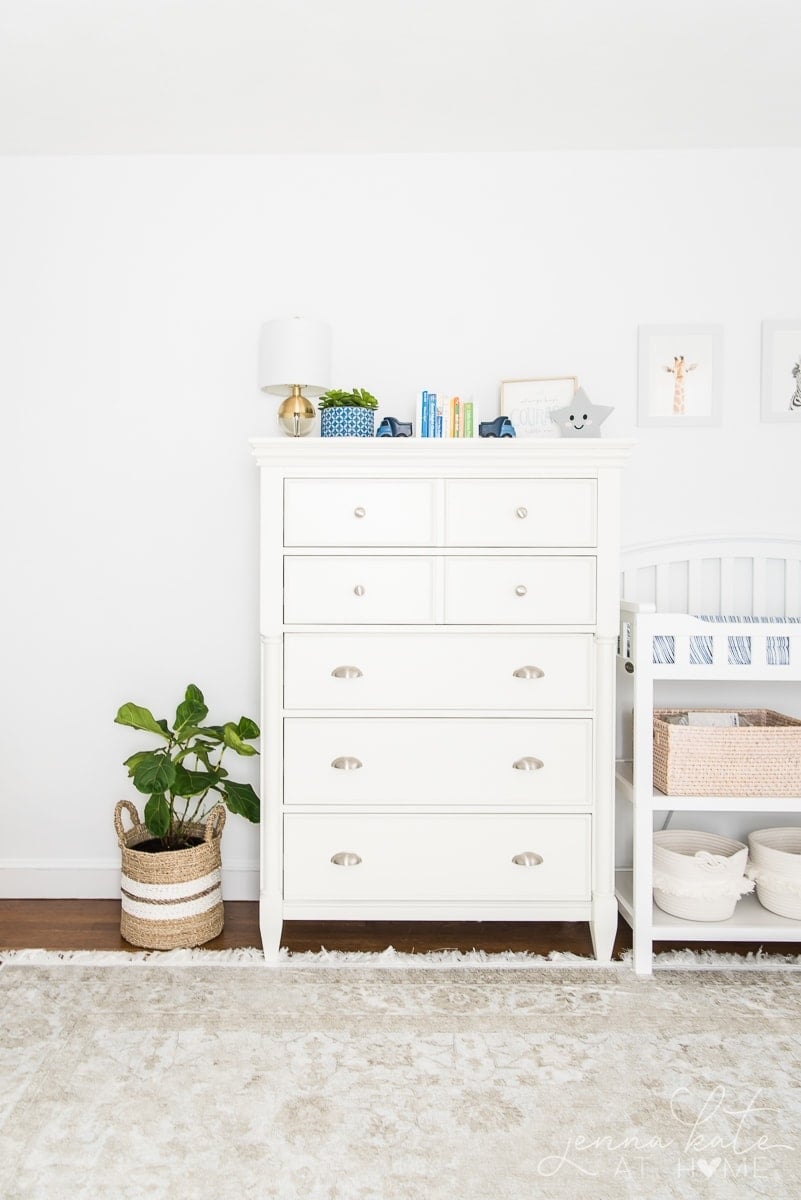 I also brought the changing table that used to be in Conor's room in here and just purchased a new changing mat cover and new baskets to store diapers and wipes.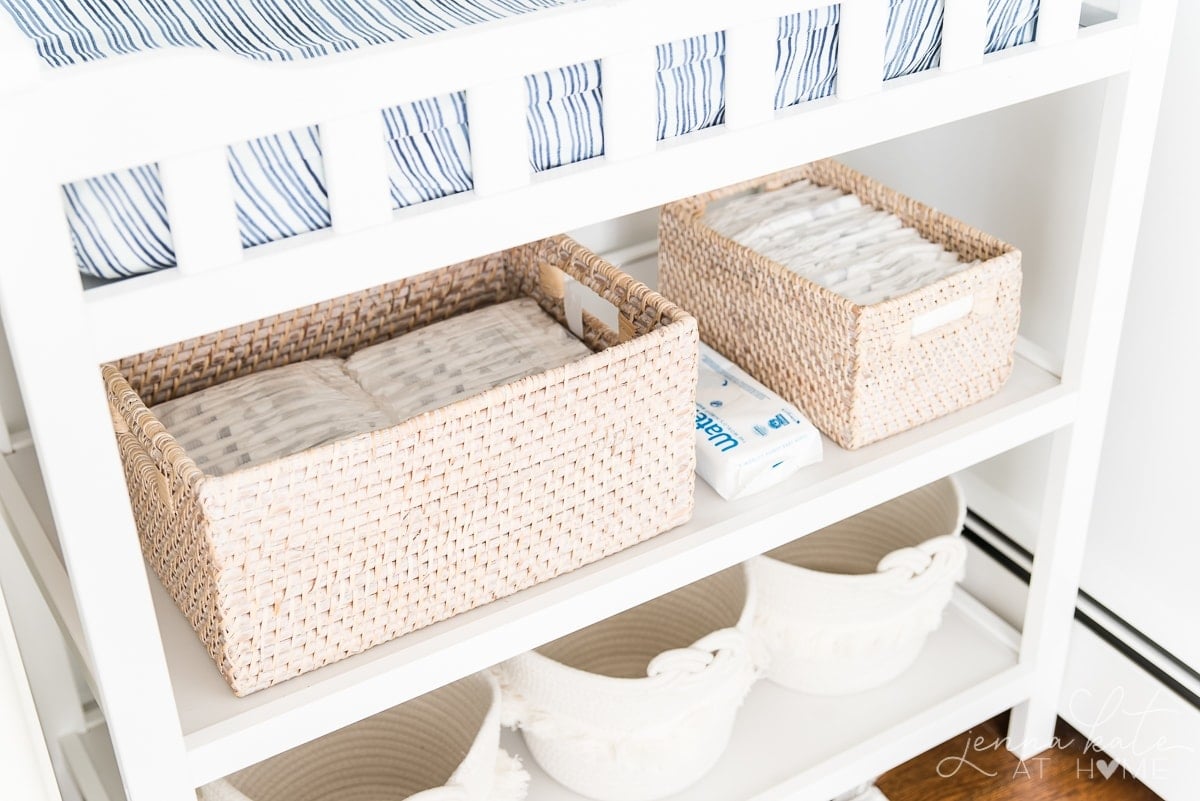 The animal prints were in Cian's room in our first house and I was so happy to bring them out again. They are adorable and really perfect for a nursery!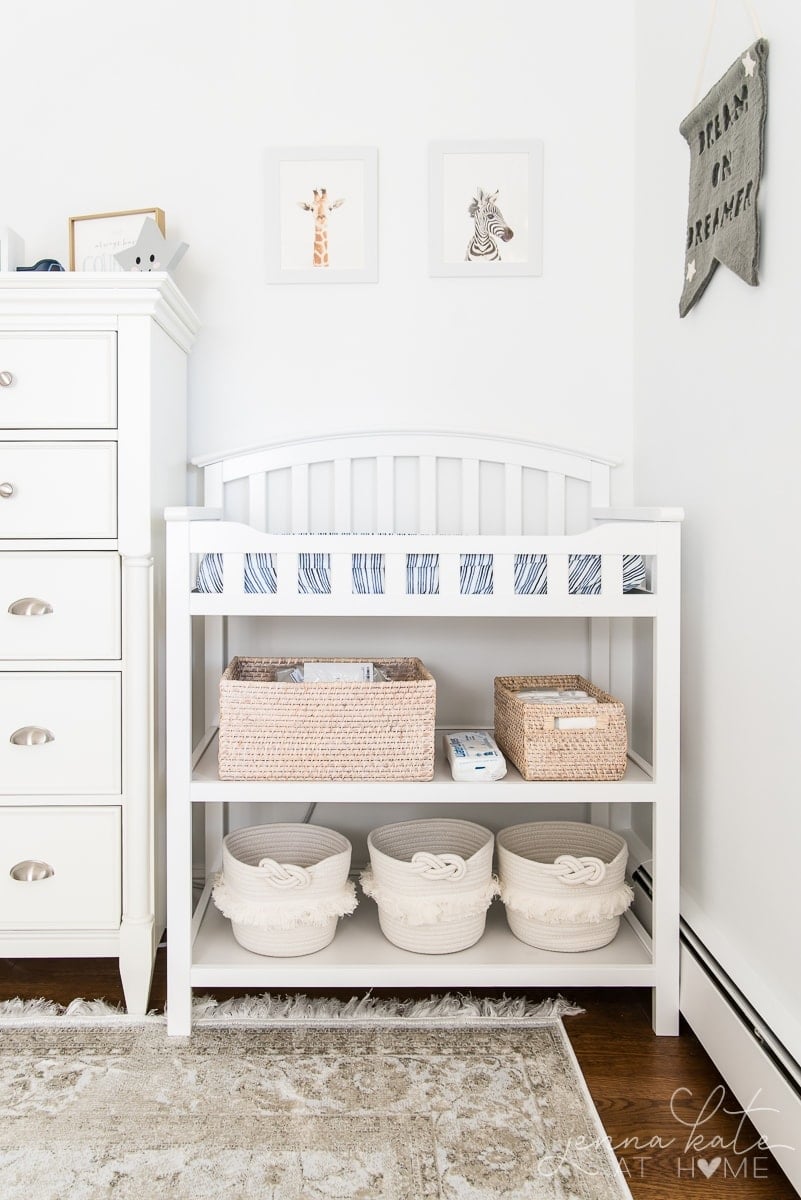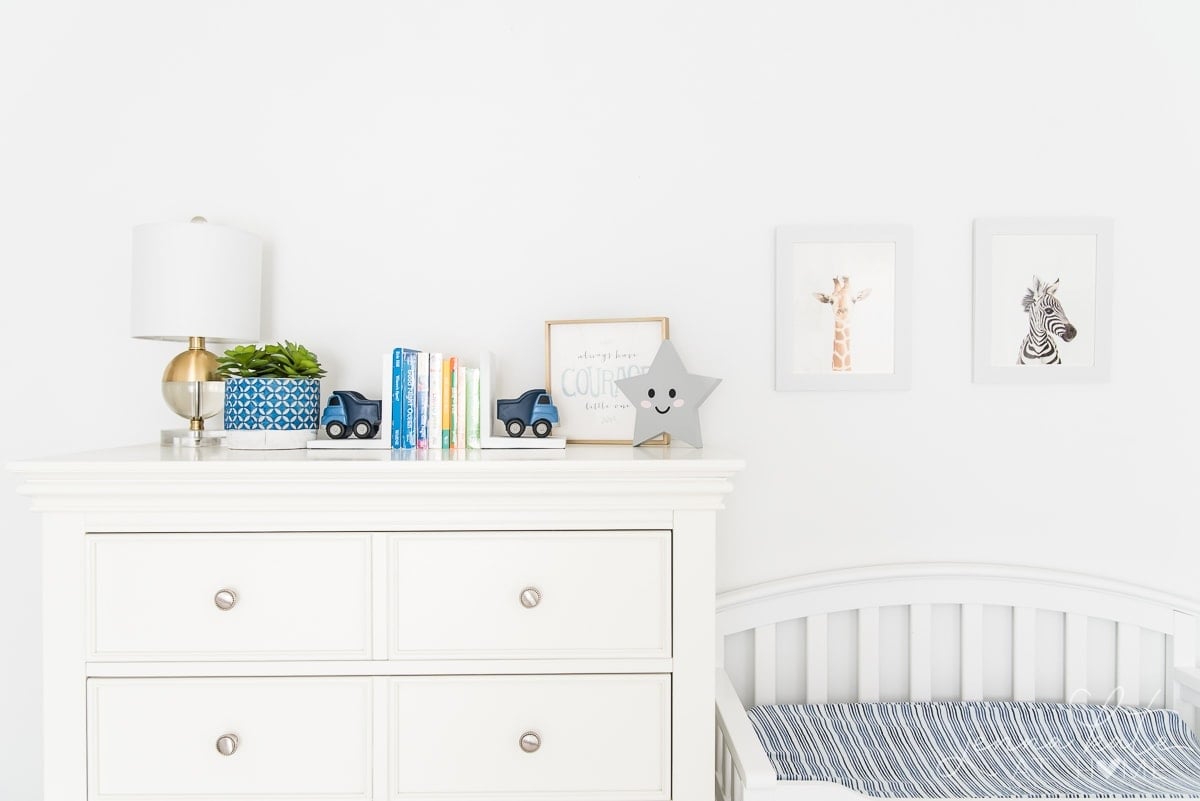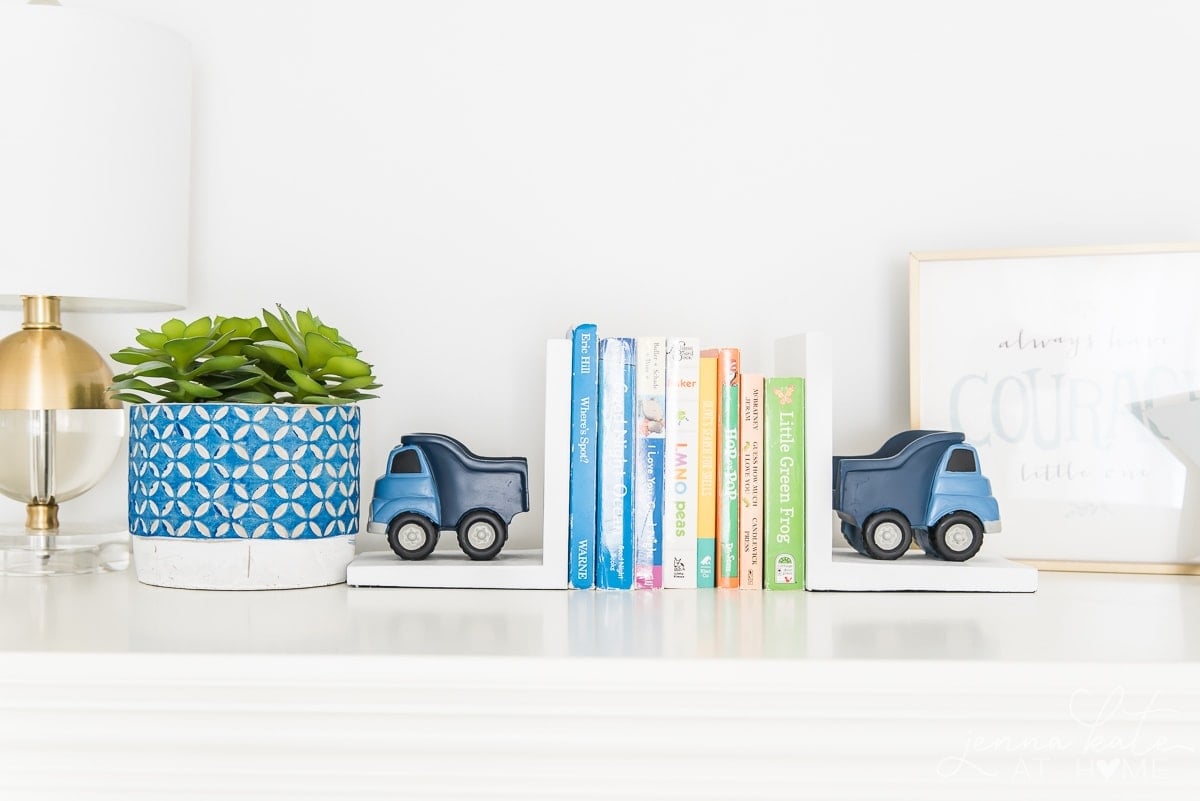 I stole the little lamp from my office because it tied all the gold touches together perfectly but it was originally a HomeGoods find.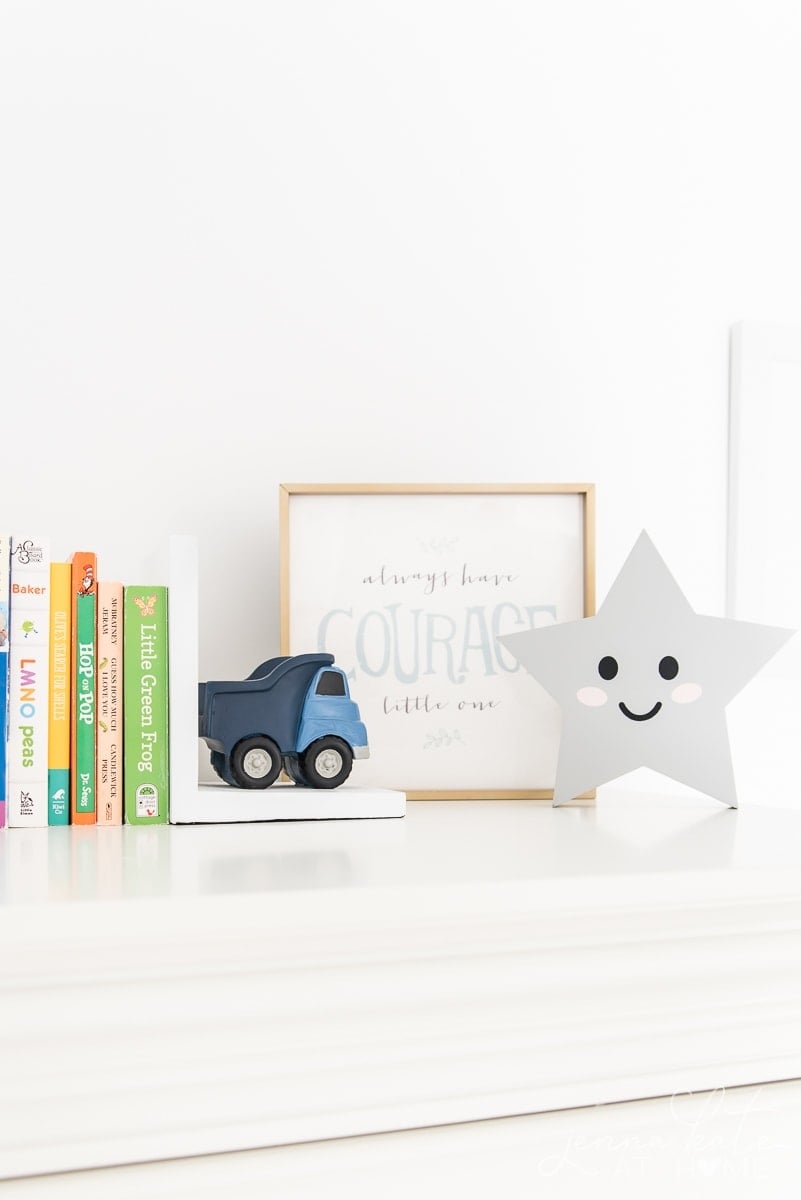 And finally, the light fixture. I spent more on this that I usually would – but I did get it on sale for 30% off. Saying that, I would buy it again in a second. We have 7.5 foot ceilings up here so flushmounts are essential and this one is the perfect size, style and color.
RELATED: Organized Baby's Closet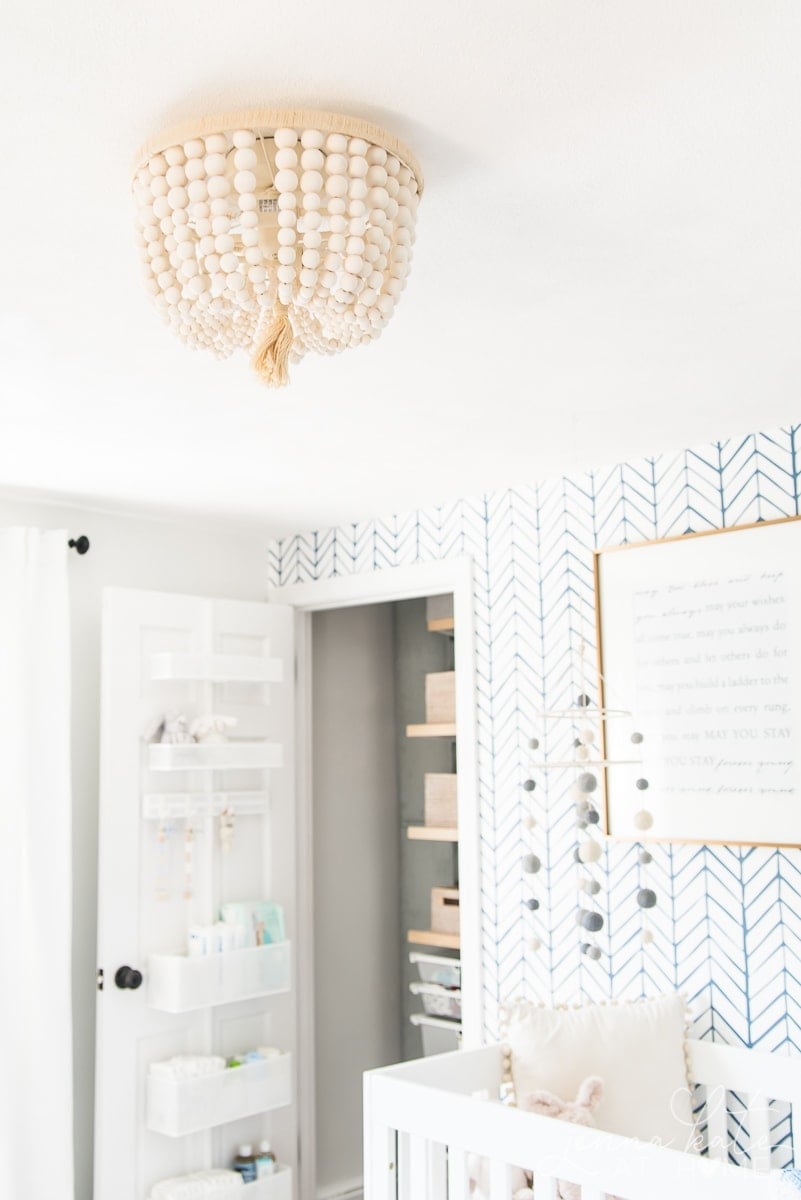 So what do you think? I can't believe how this room has transformed! It's so light and bright…and I'm a little jealous that it's not mine! My vision came to life exactly how I wanted. But for now, I'm just patiently waiting for my little man to arrive so that we can hang out in here :-)
NURSERY SOURCE LIST (click on picture for more info)
Wall color: Sherwin Williams Pure White in matte finish
Trim: Sherwin Williams Pure White in satin finish