Simple winter table decor can spruce up your bare dining room, adding warmth and a touch of the outdoors with items you already have.
The Christmas tree is finally down and the last remaining holiday decorations have been lovingly packed away.
Winter can be a tricky decorating season once the festive holiday celebrations are over. You find yourself caught up in a flurry of decluttering, leaving your home a sad, empty void.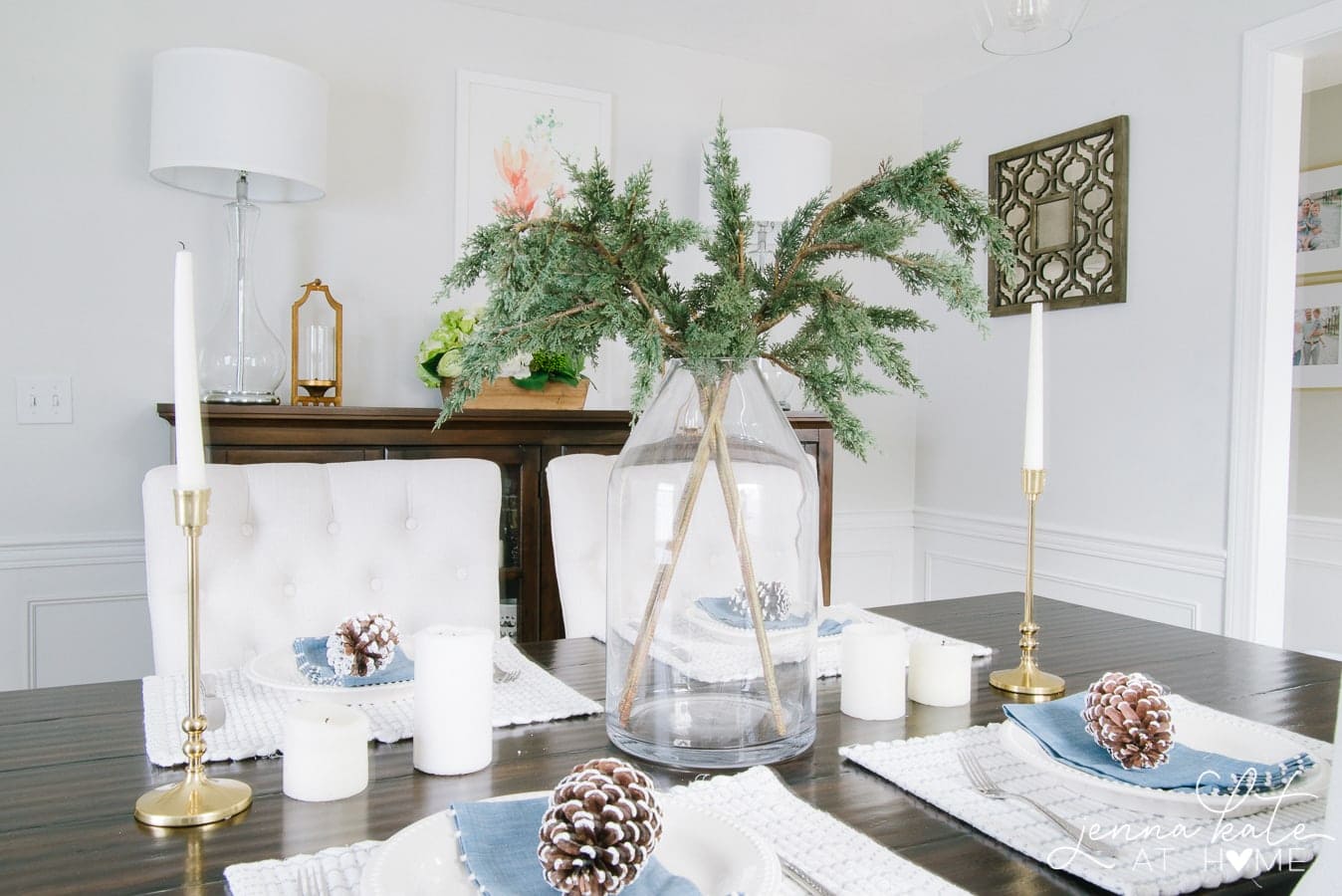 Resist the calling of a décor hibernation! Just because Christmas is over, doesn't mean your home has to take a break from looking its best. Transitioning from Christmas to winter decor doesn't have to be a challenge. There are simple ways to achieve a soft, pretty winter scape that won't chill your mood or leave your dining room looking barren!
Winter Tablescape
Using some post-holiday items already on hand, with a few edits, you can create a fresh, post-holiday vibe and a seamless transition to January.
Take a look at my simple winter table decor that I've put together below. You'll never know, at first glance, that some are leftovers from my holiday collection! This is perfect for an Apres-Ski themed dinner party or a gorgeous winter tablescape for your family.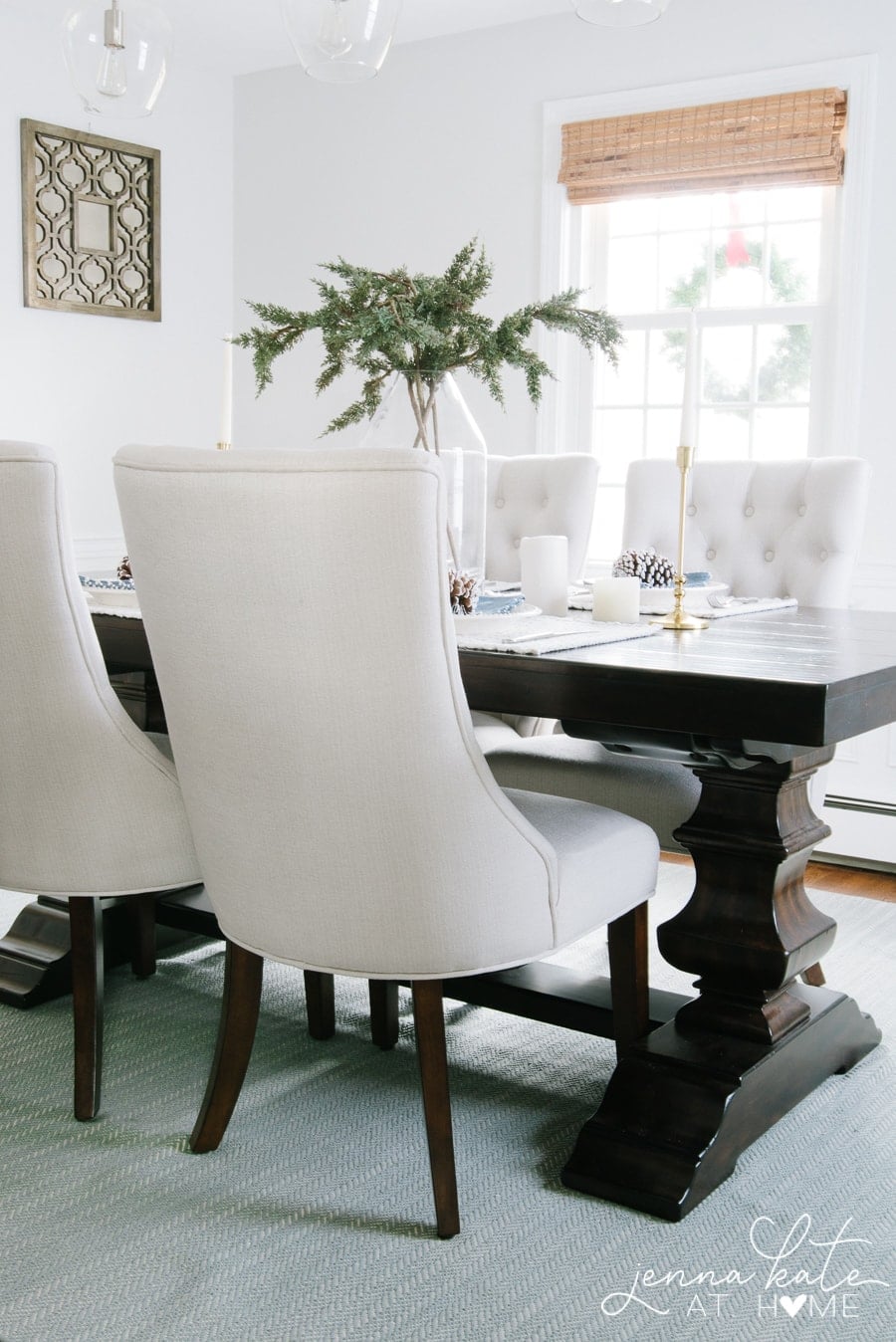 Christmas can be overwhelming. You shouldn't feel guilty about wanting to get rid of the Christmas decor and start with a clean slate. Embrace it! You can create a bright and airy look to your dining room with minimal effort.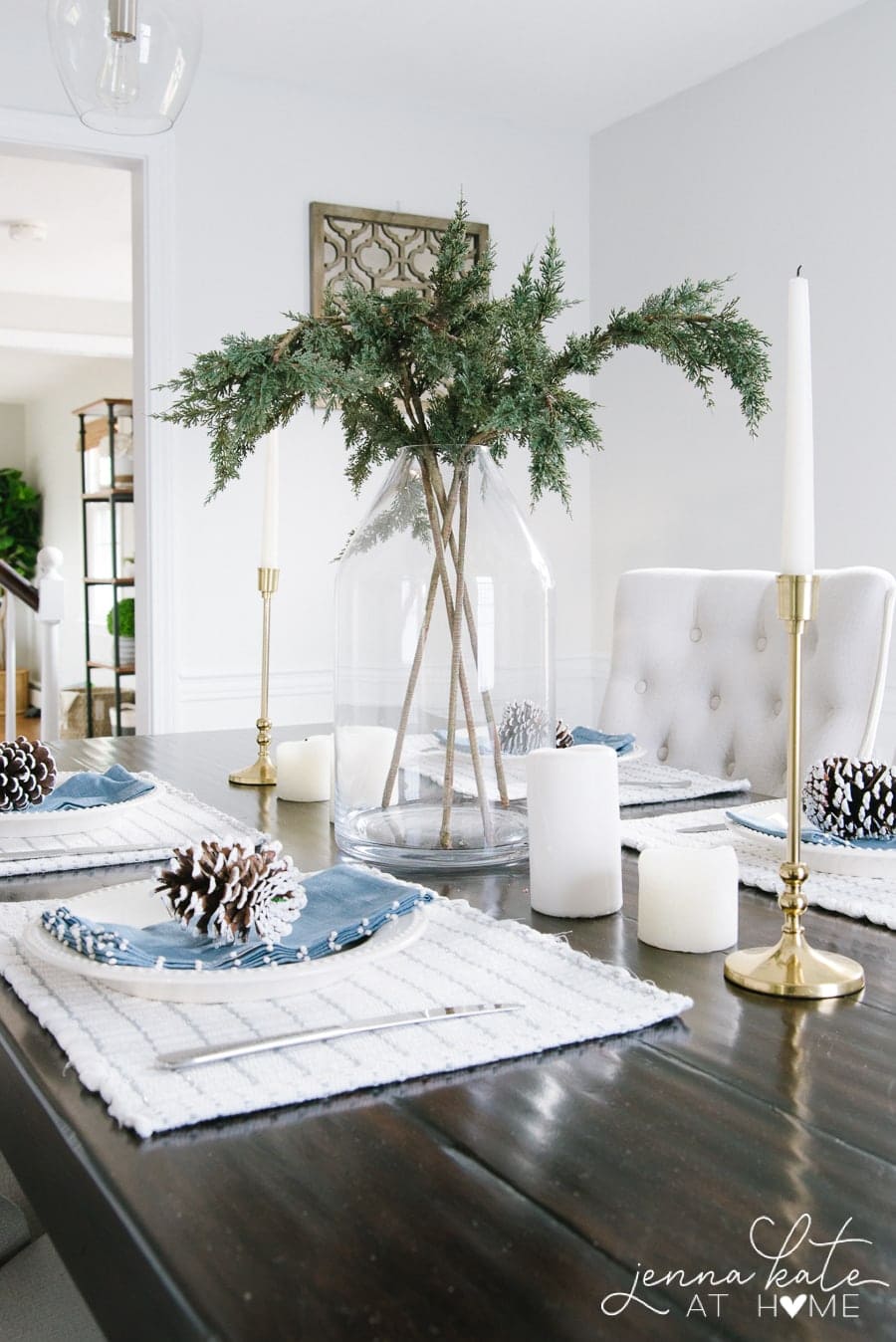 Make Your Winter Decor Appeal to the Senses
This winter table décor is simple but still leaves an impression. And the pieces were easy to find. I took some holiday greenery from the entryway and placed them in a light, oversized vase.
Choose a container that does not cast shadows or obstruct your view of your dinner companions. I complemented this centerpiece with white candles and brass candlesticks that I found on clearance at H&M.
The pine cones from my Christmas Tablescape are brought to life here, showcased against the soft white placemats and blue napkins.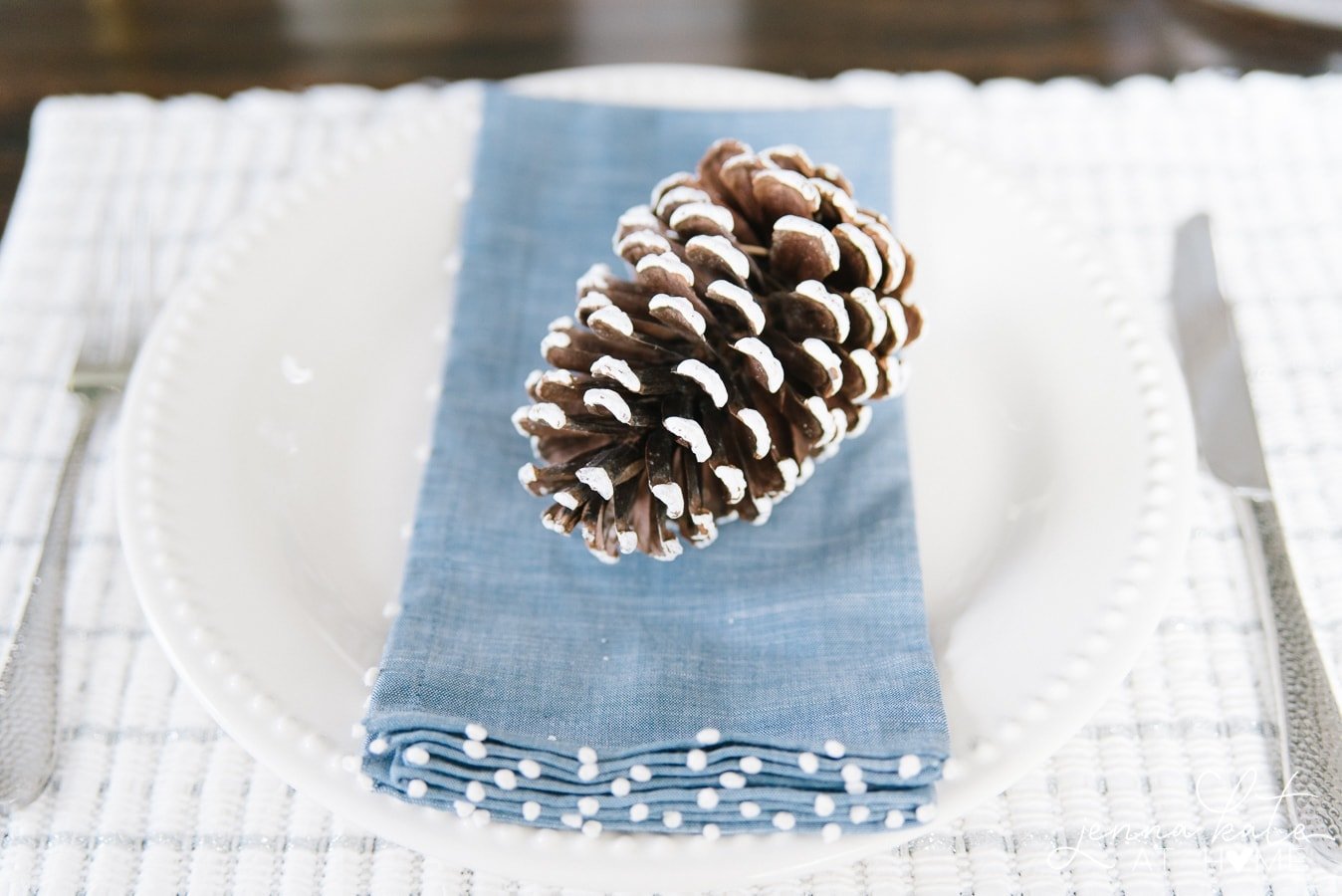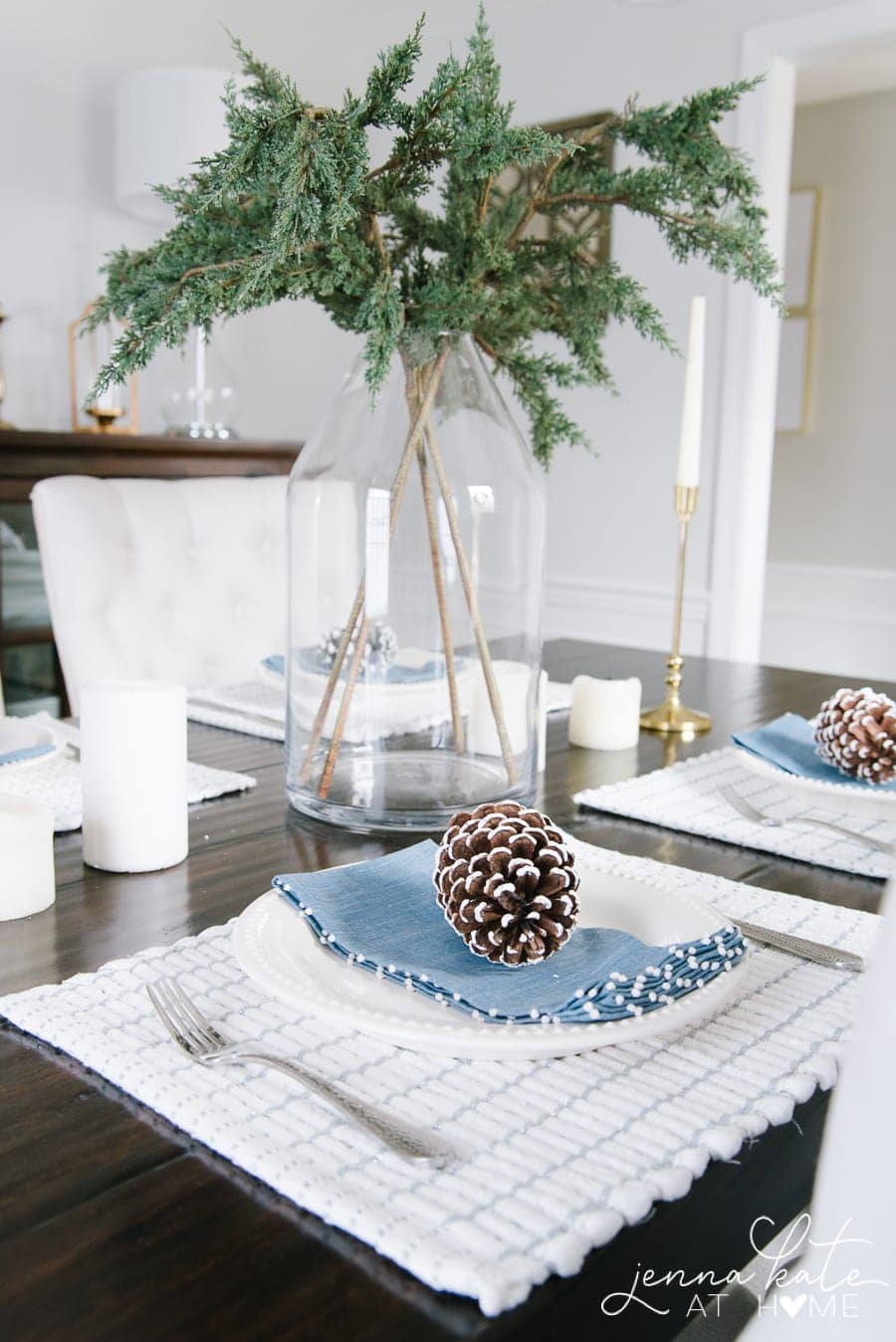 You might think that a monochromatic look in the wintertime could be flat and uninspired but the natural elements such as the greenery and pinecones add huge visual appeal and charm.
To me, this room evokes brisk walk on a snowy winter day. And that's a good thing!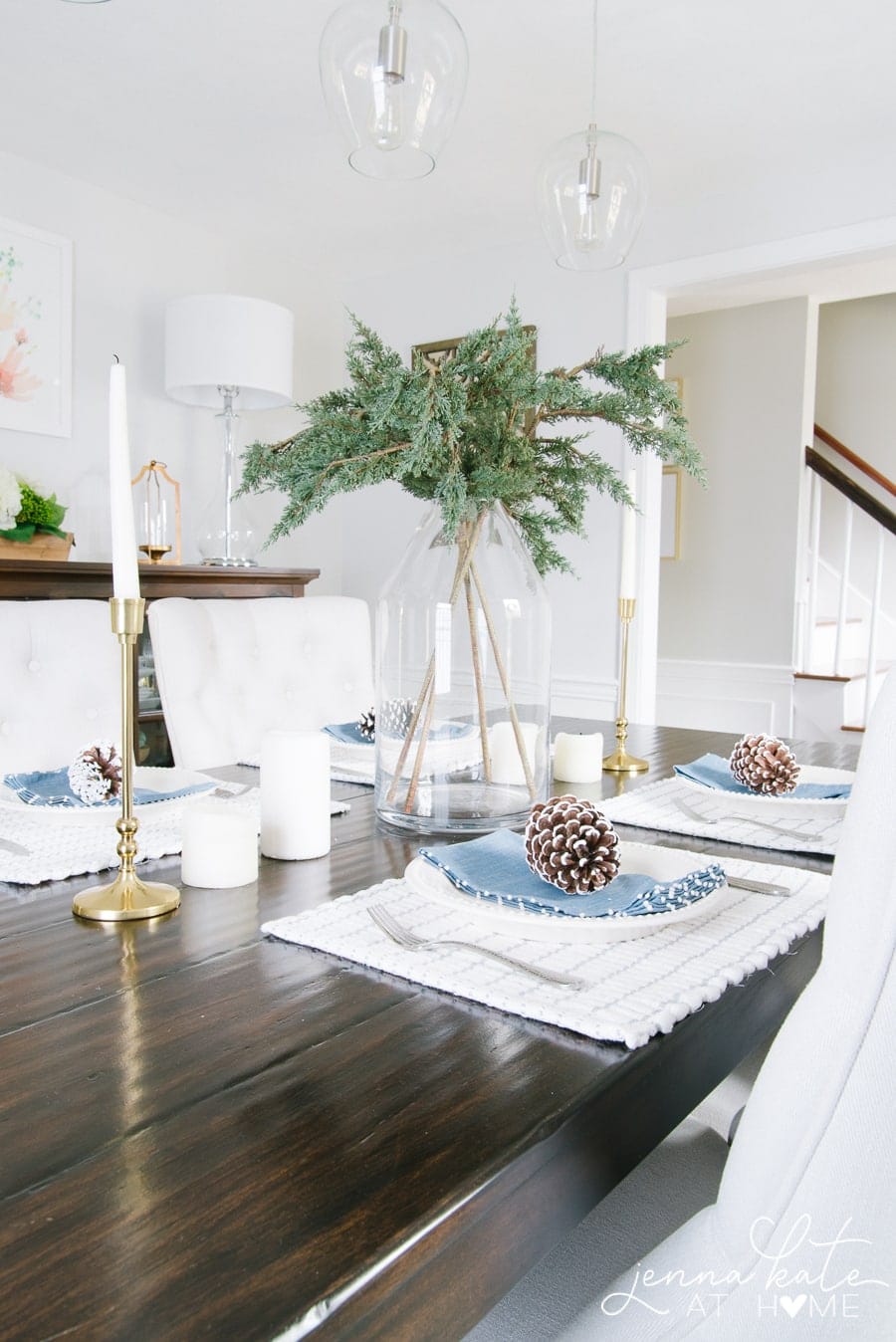 Paint Yourself a New Year
If you're really in need of a change, consider a new paint color to brighten the room.
I repainted my dining room from Sherwin Williams Mindful Gray to a very light gray, Benjamin Moore Paper White. I adore this new shade – it was exactly what I had in mind for this space.
If you're looking for other paint ideas, check out my post about the best greige paint colors that are perfect to update your home for the New Year!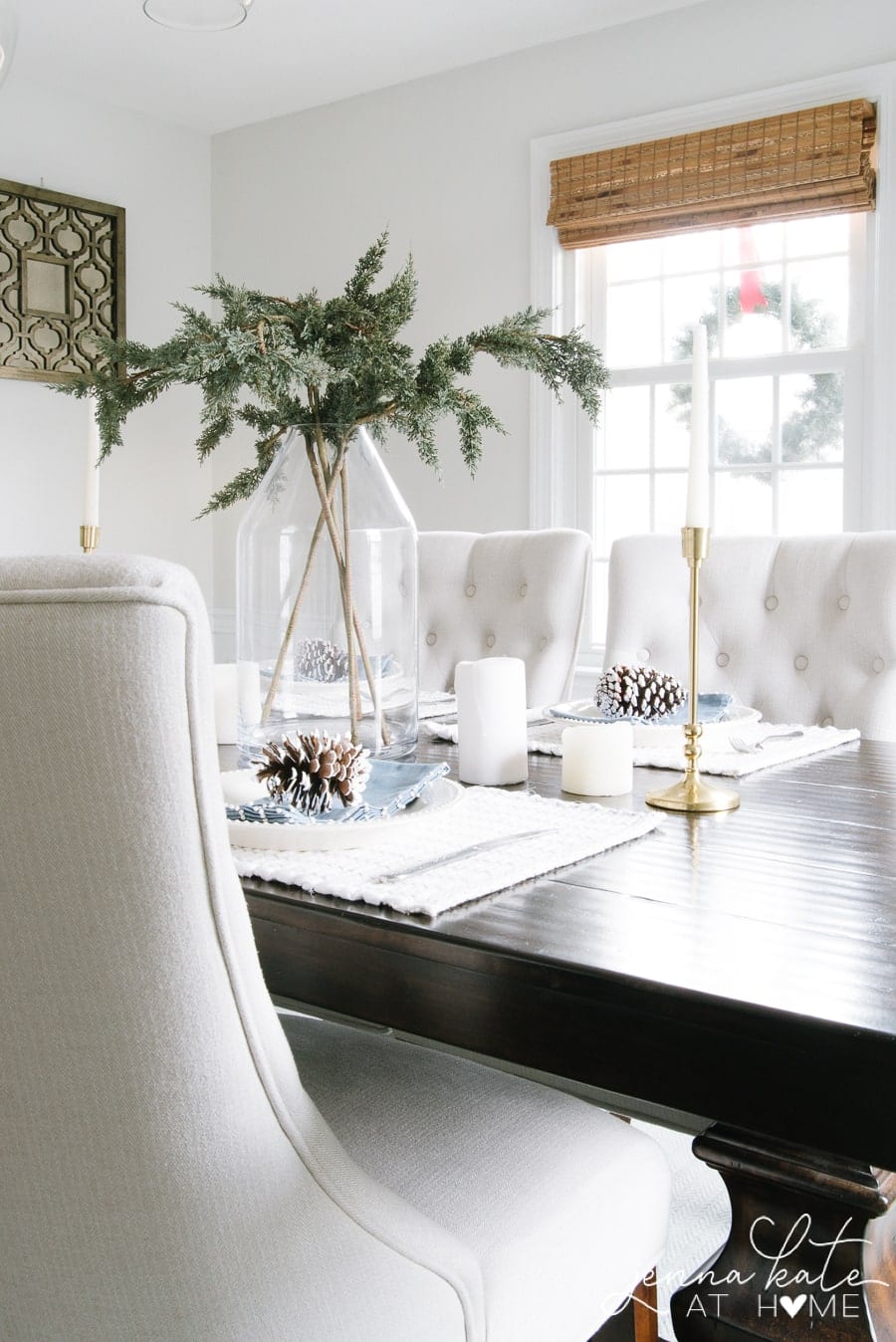 I'm excited to keep this simple winter decor here for the remainder of the season and I hope it inspires you as you figure out your decor post-holidays.