I'm so excited to be back with more Christmas decor to share with you.
I previously shared my living room decorated for Christmas here but since the fireplace remodel is now finished, it looks a bit different so I thought I would share again. I'm also sharing a few simple touches that we added to our master bedroom.
Anyway, less chat from me, let's take a look!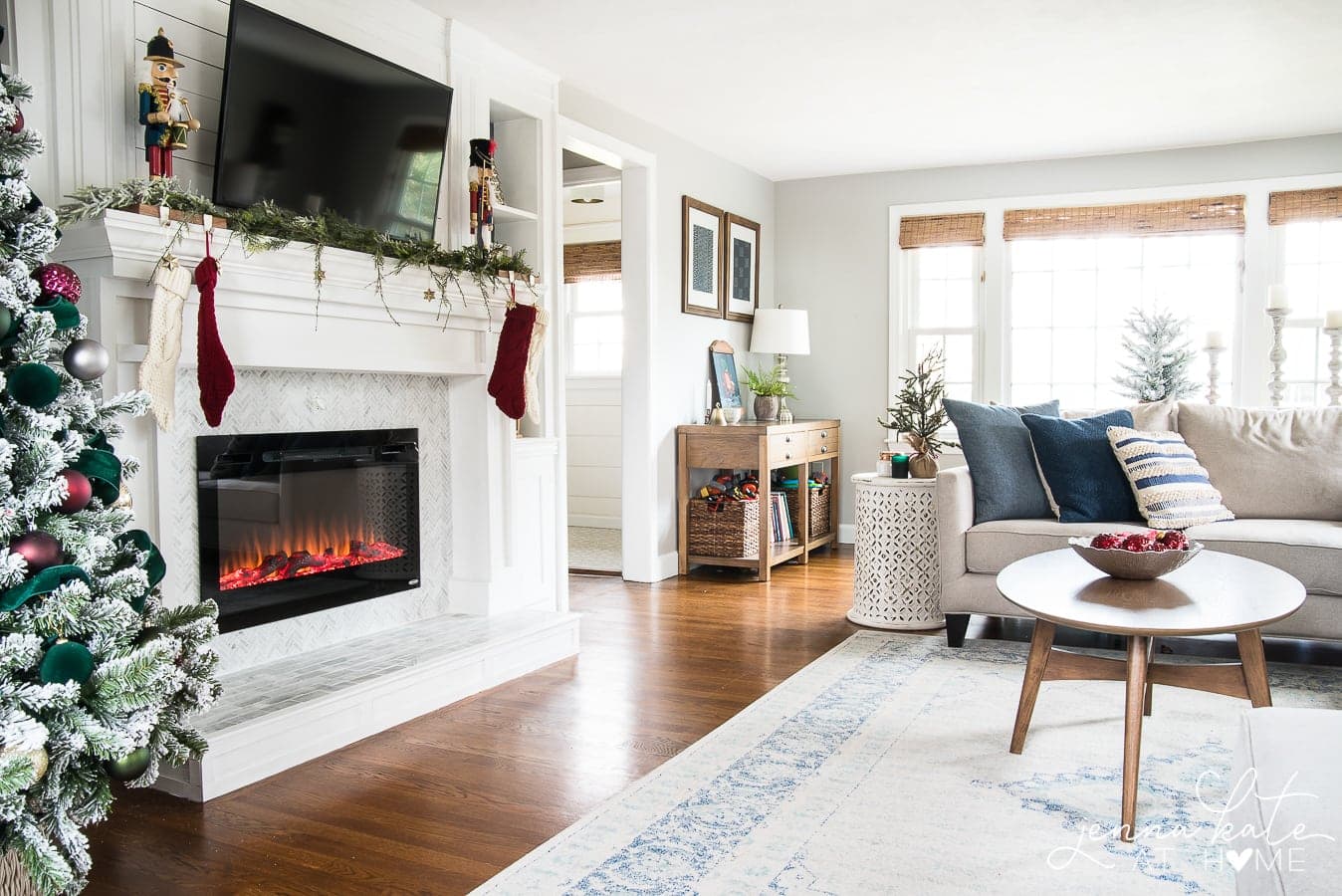 Easy, Simple & Elegant Christmas Decorating Ideas
I think it's safe to say that the new fireplace has really transformed the living room, right? It suddenly feels so elegant in here! The electric fireplace is quite realistic and adds the perfect warm glow for this time of the year. Ambience is everything at Christmas!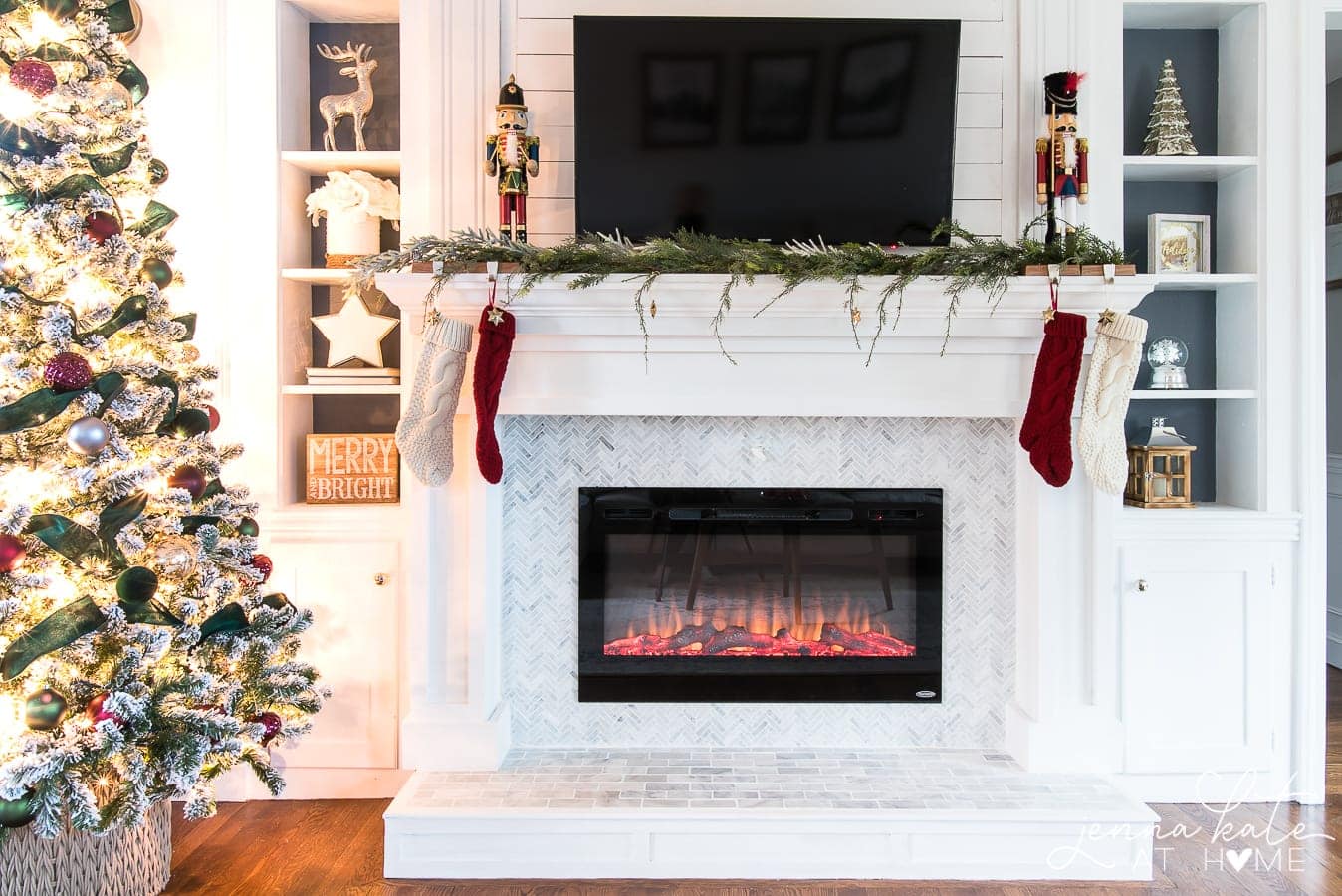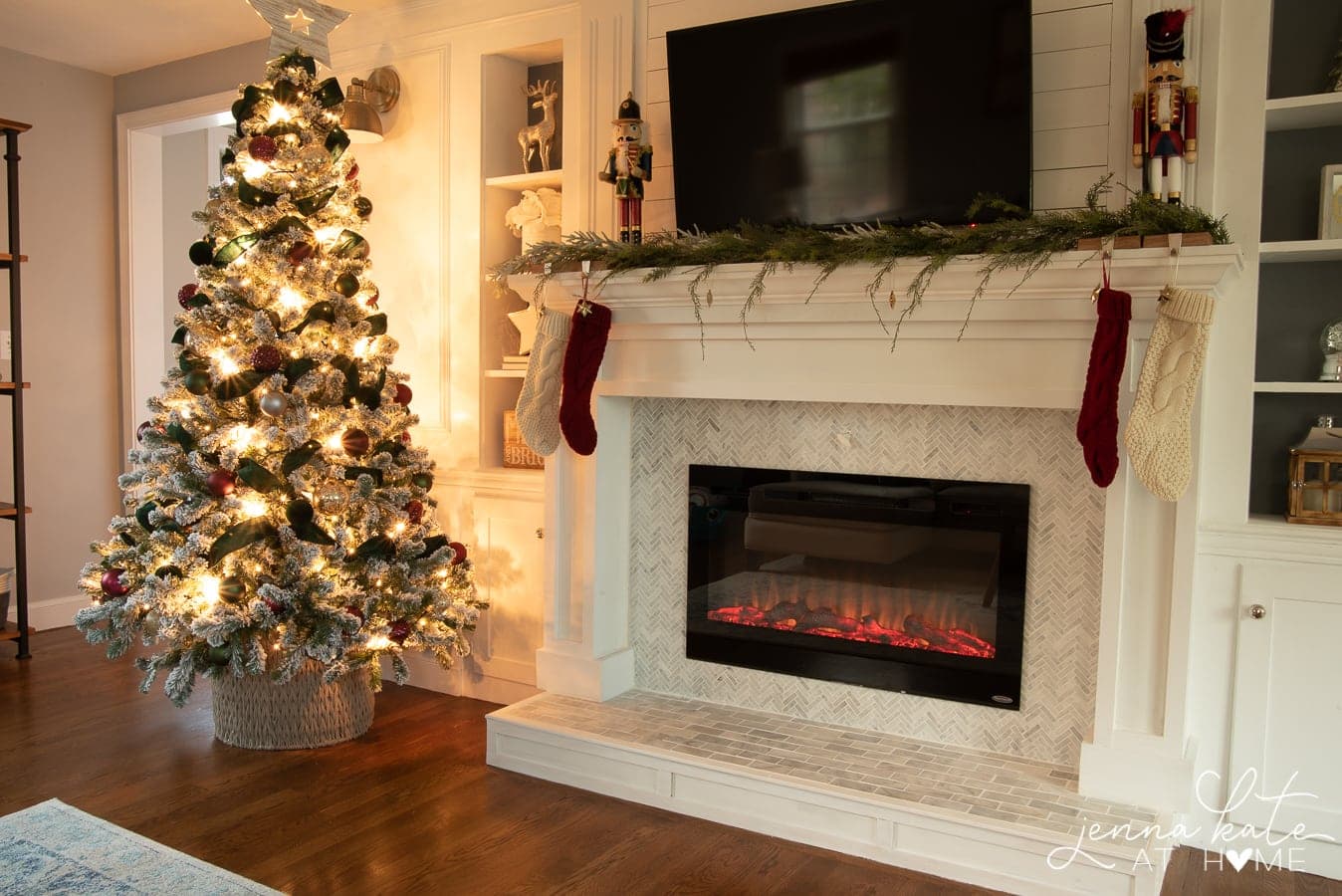 That warm glow late at night is just everything!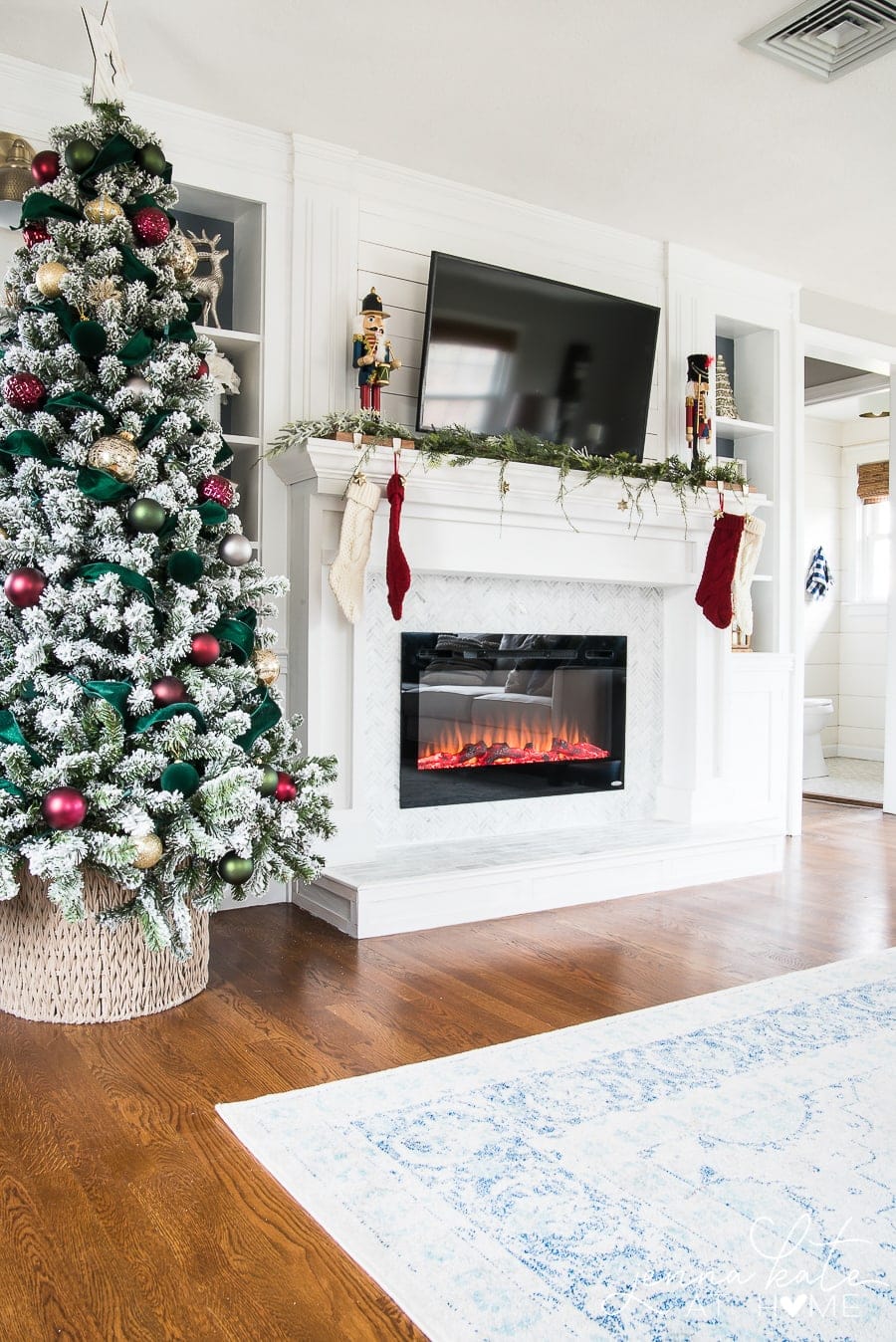 I removed the fake presents from around the Christmas tree and popped the tree into a basket. Not only does it help keep all the flocking off the ground but the cleaner look is so pleasing to me.  I just can't deal with clutter right now for some reason. (Maybe I'm going crazy or maybe I'm turning into my mother!?!)
---
Other Simple Christmas Decorating Ideas You May Like
---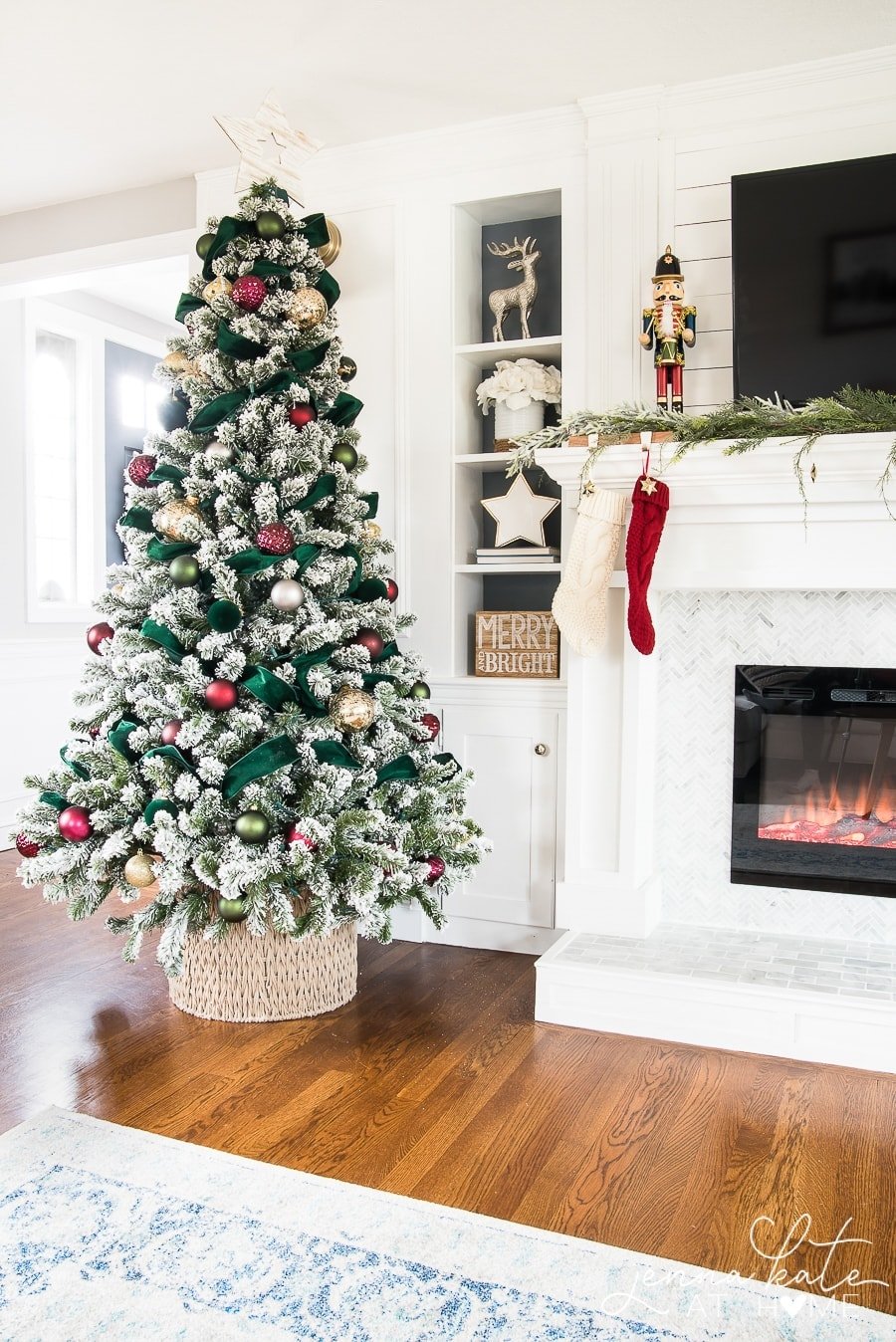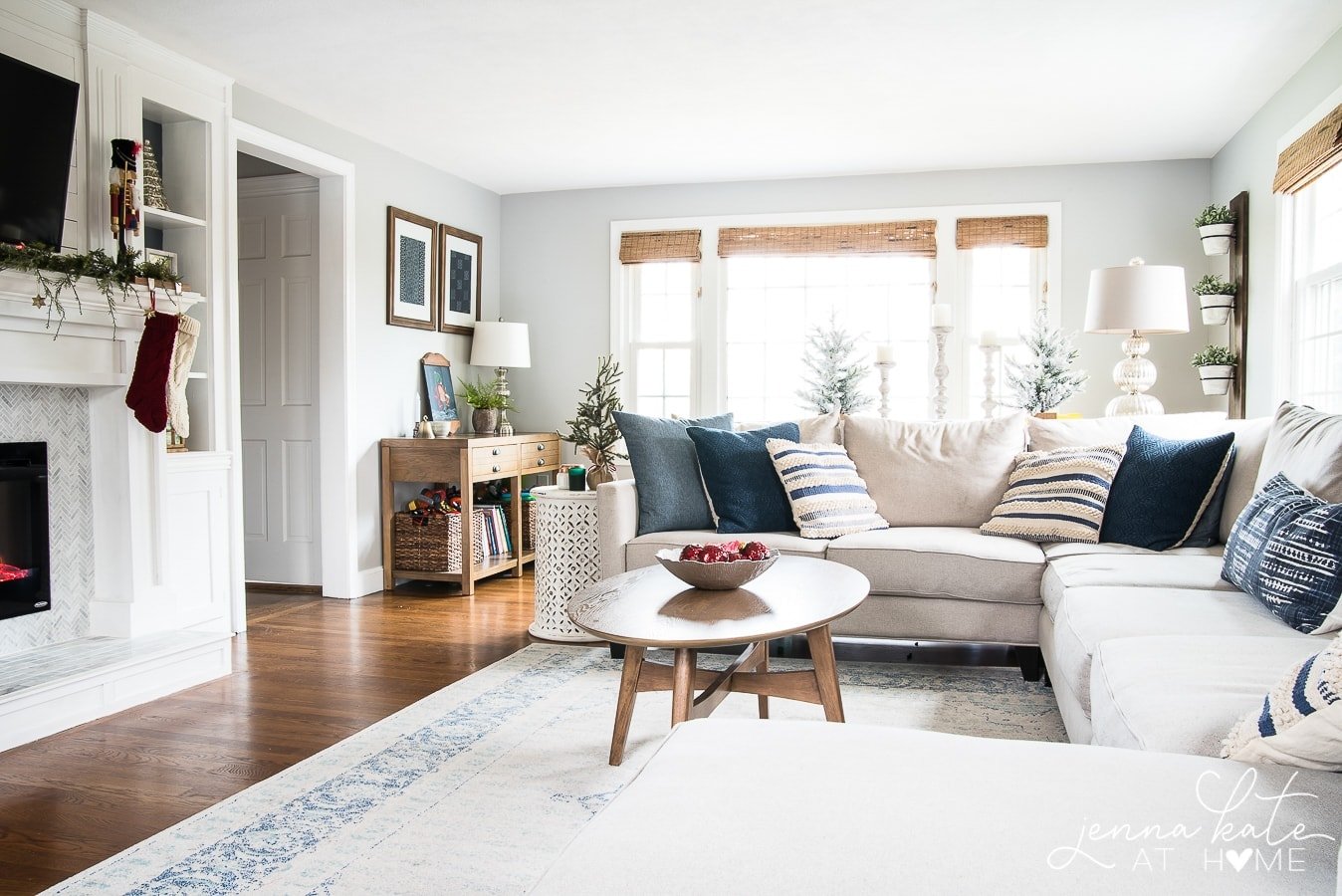 You may also have spotted a few new additions including the console table in the back left corner, the white round side table and our lighter rug. I'm really loving the overall lighter, brighter vibe in here. I feel like I've finally nailed this room! On another note – you may also have spotted the fact that someone left to door to the powder room open (I blame my 4 year old). I only noticed it right this moment, so apologies for the unsolicited toilet shot!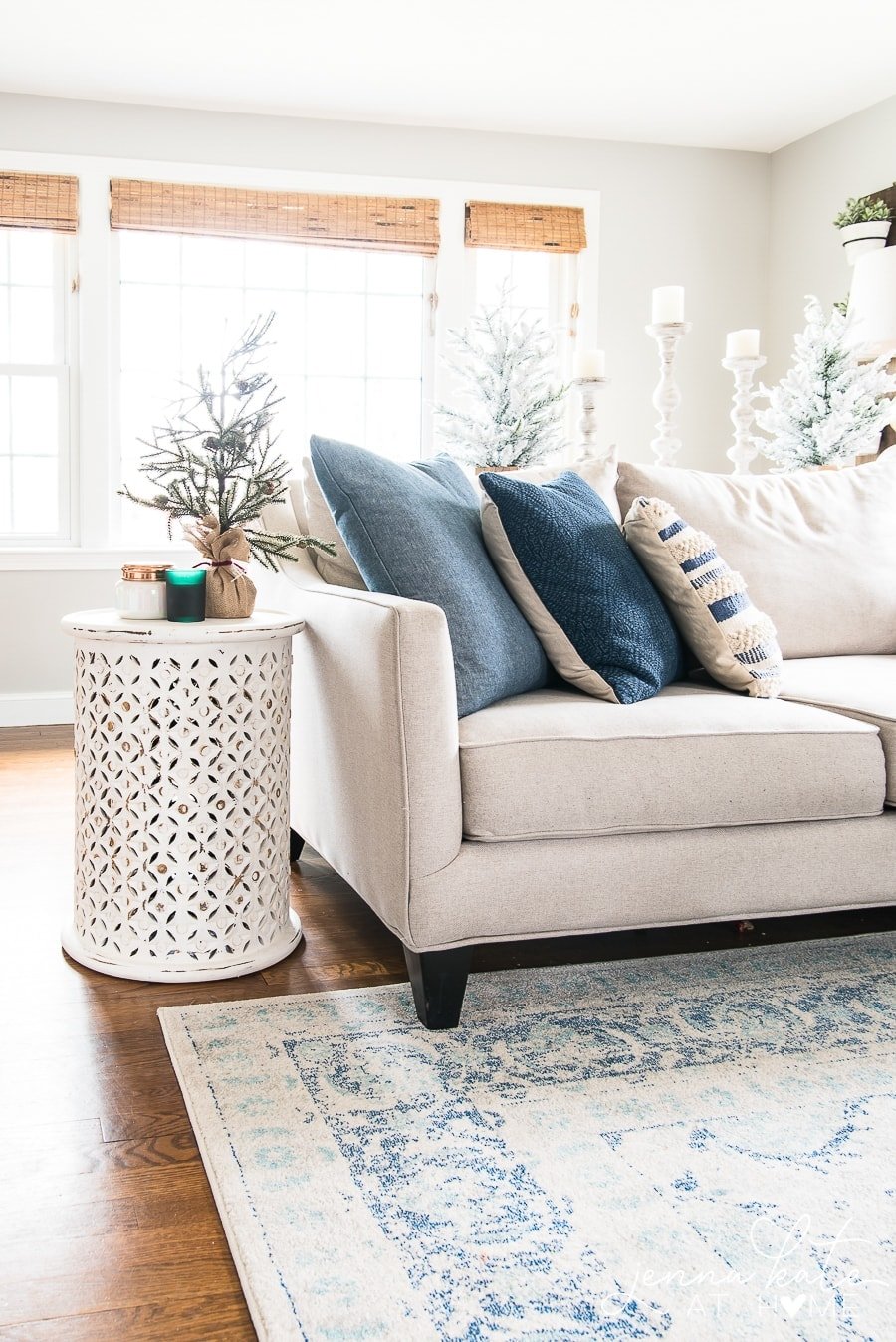 I've kept the decor minimal and simple to reflect the clean look I've been craving. Apart from the mantel wall, there's only a few mini Christmas trees here and there. I did however switch out the photo frames that are usually on the couch for these pretty prints that I ordered online and had printed up.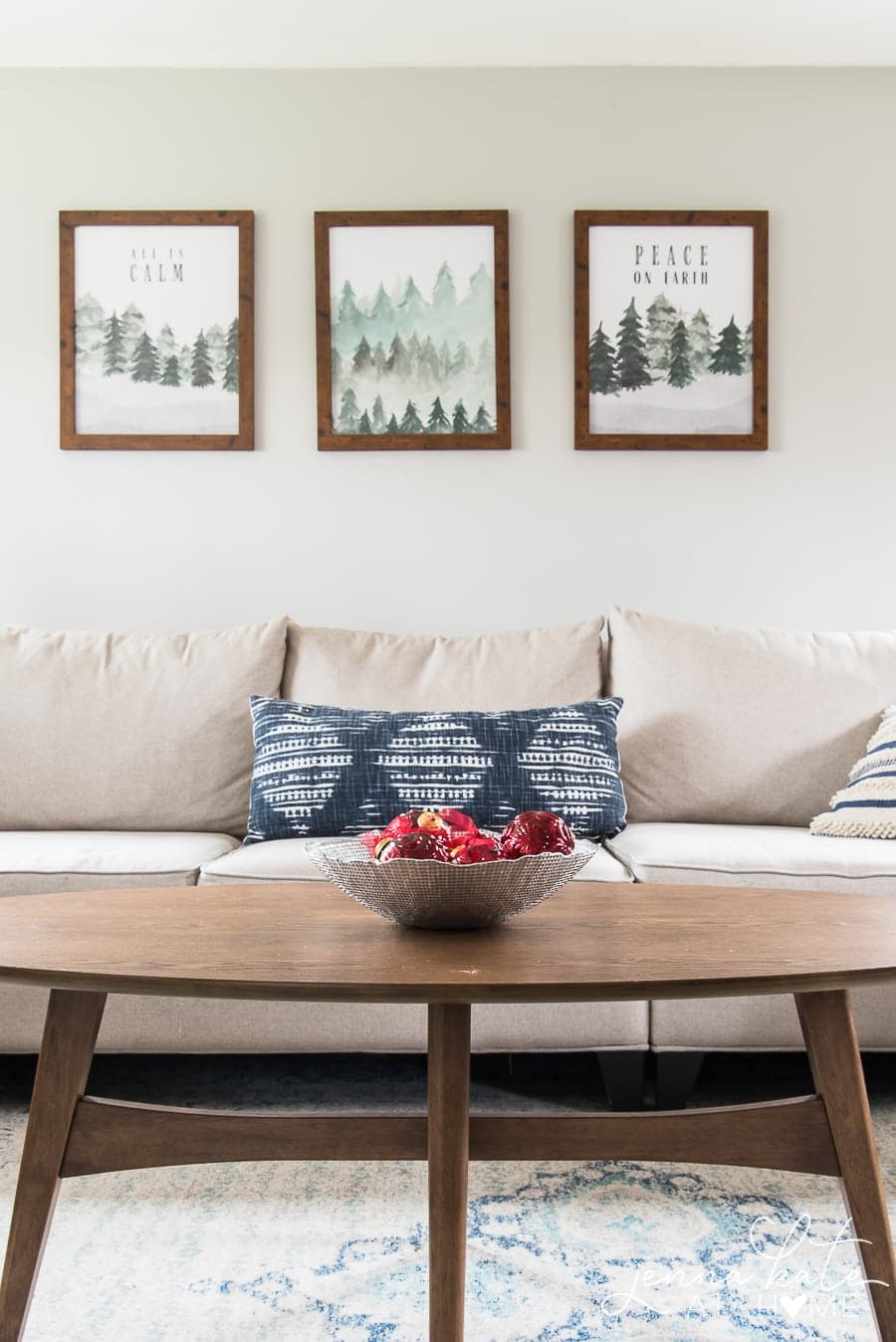 Around the corner, the front entryway is looking festive but again, I took the easy route to decorate.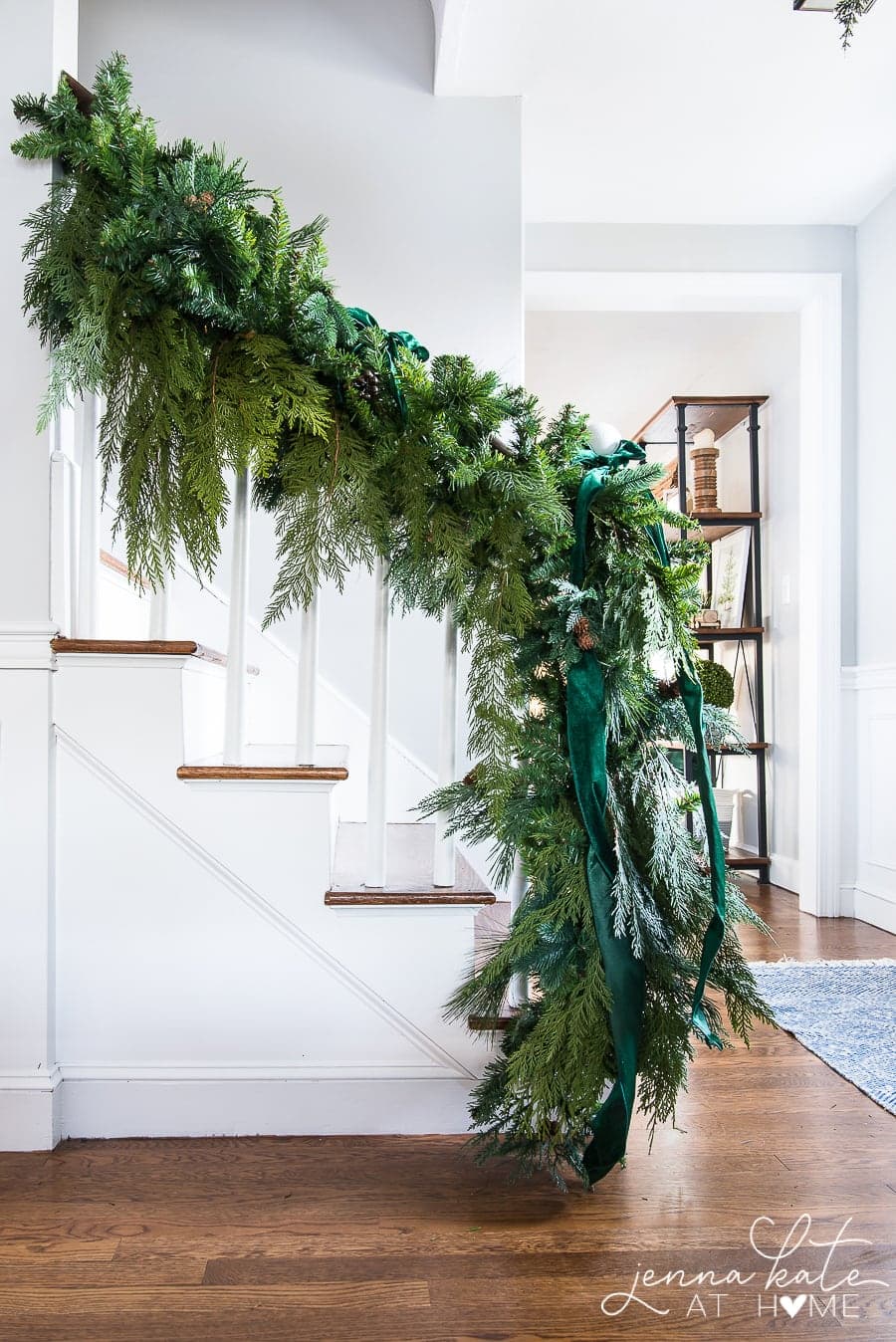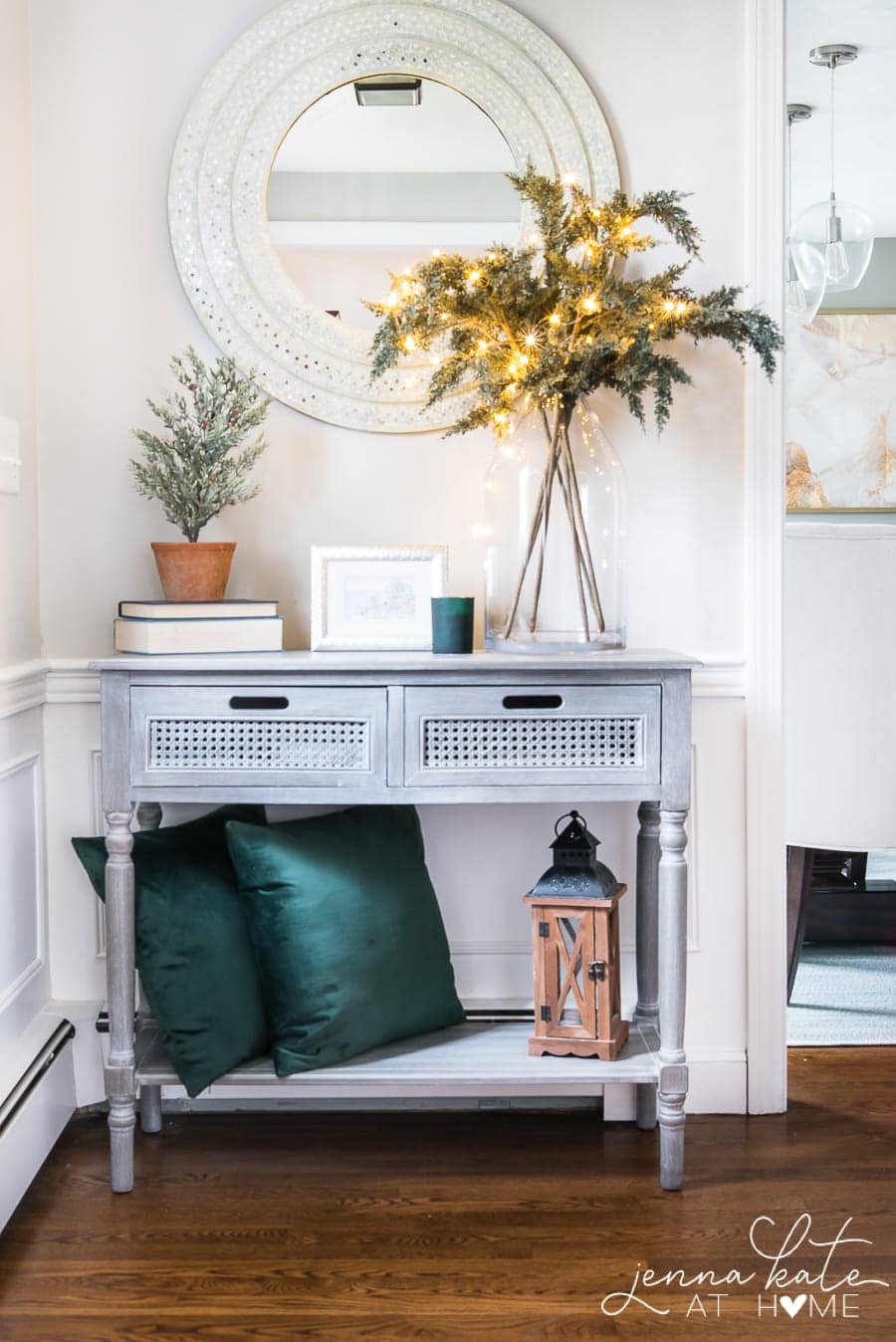 I shared the tutorial for this semi-DIY garland in my IG Stories if you want to make your own. But the gist of it is this: faux garland with real cedar pieces stuck in. Easy but elegant! The ribbon is the same dark green velvet that I used on the Christmas tree and it's from Michael's.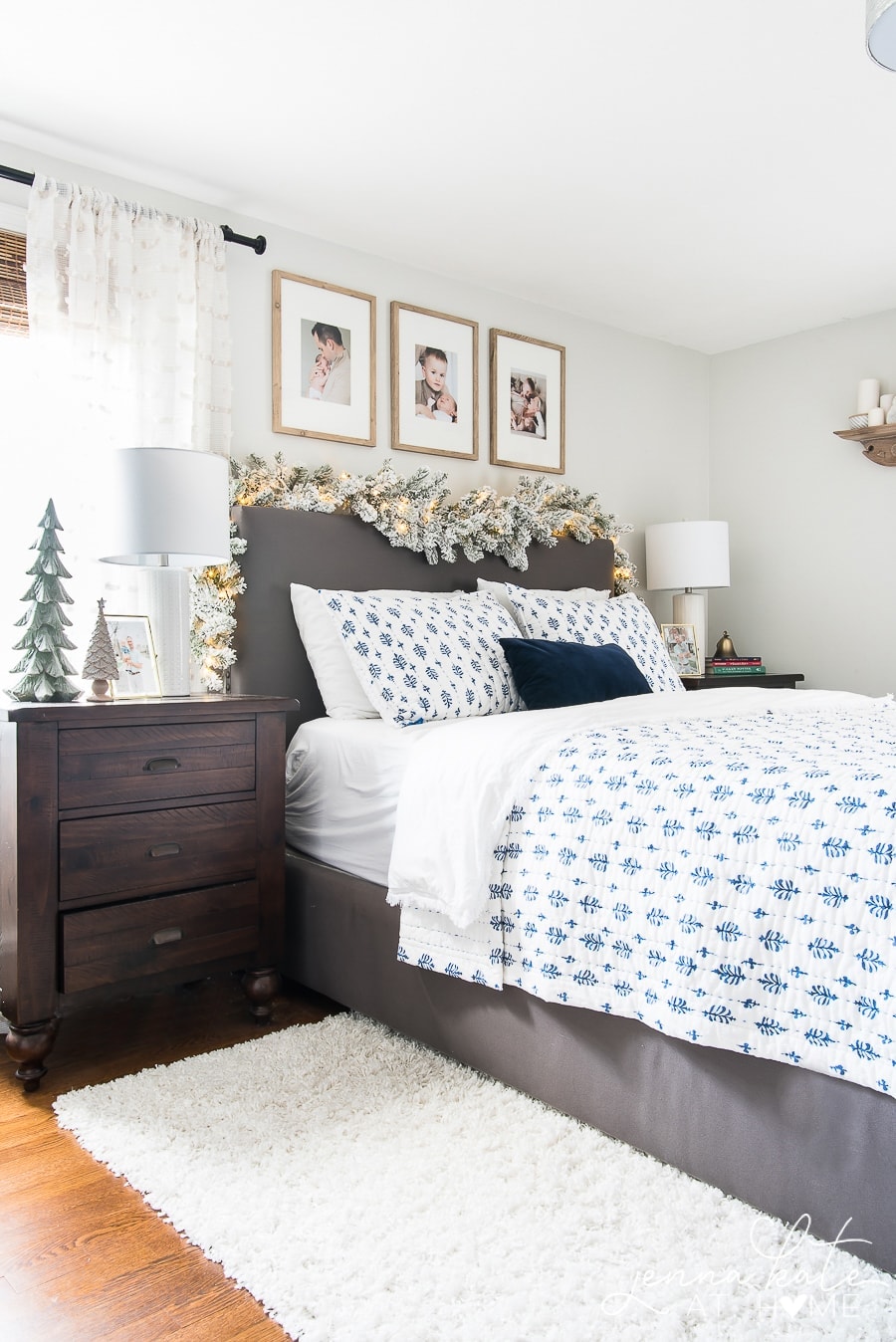 Similarly, our bedroom's Christmas decor is simply but elegant. It was easy to do since all I did was put the garland over the bed and more two little ceramic Christmas trees on the nightstand. I kind of think it's perfect, though. I don't want too much extra stuff in my bedroom, anyway.