This post may contain affiliate links | For further details, please read our privacy policy
Picking the right paint color for your home doesn't need to require a degree. With these simple tips, you'll learn how to pick the right color every time.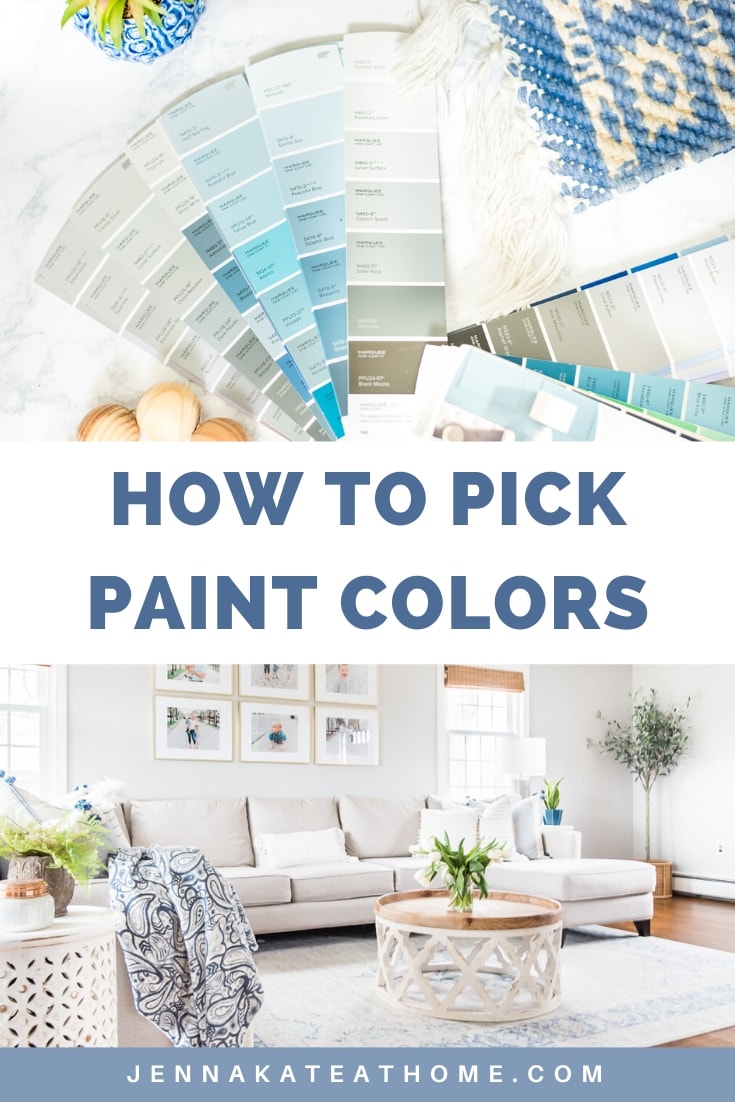 If you are starting from scratch with a new build , then you may be lucky enough to have the option to start by choosing your paint colors before purchasing anything for you home. If you can do this – awesome! Pick a neutral color that you can flow throughout your house so that when it comes time to purchase couches and other expensive items, everything will work together nicely.
If, like the vast majority of us, you have to work with what's already there – I suggest picking an inspiration item for your decorating plan, taking stock of permanent fixtures in your space (i.e. oak kitchen cabinets) and THEN work on choosing your paint color.
How Do I Know What Colors Will Work in My Home?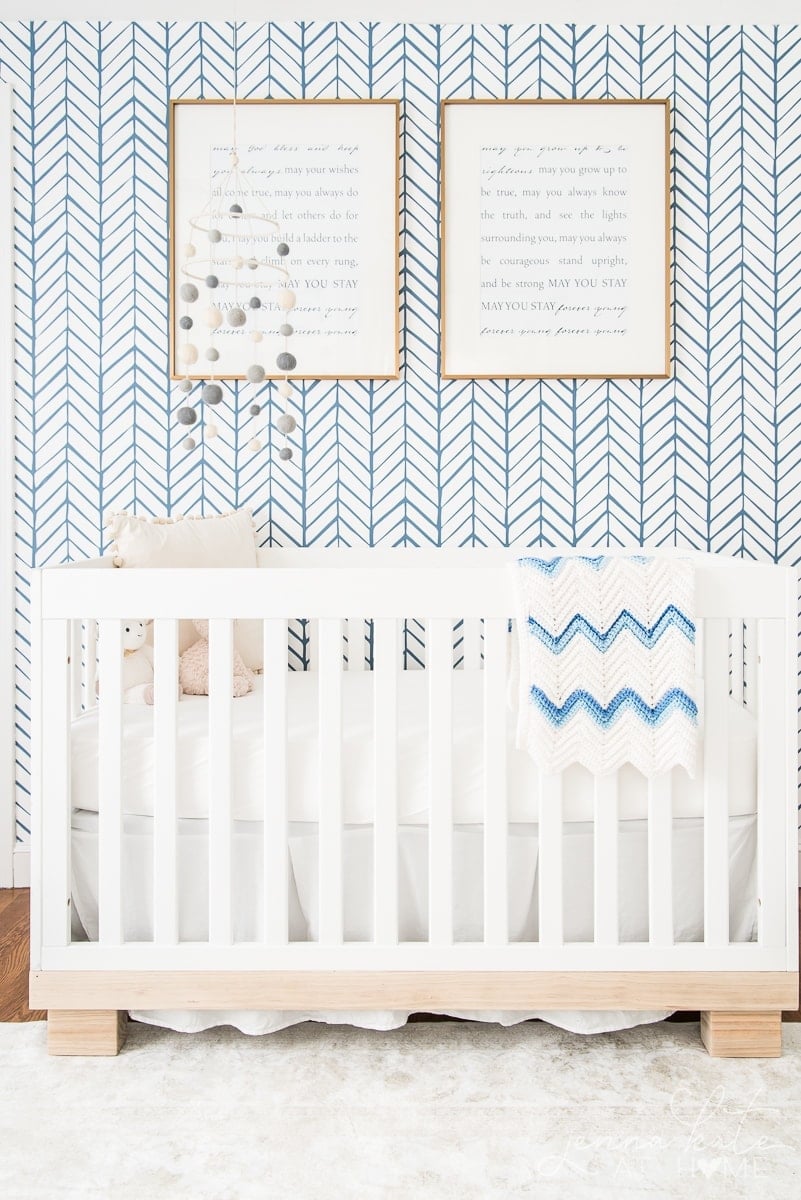 The inspiration for my son's nursery was this pretty blue and white wallpaper. If I had started with the paint color on the walls first, I probably wouldn't have realized that they needed to be white (I'm usually a gray walls kinda girl!).
Because I had such a graphic element in this room, picking the paint color afterwards was also essential to stop the room from looking too busy.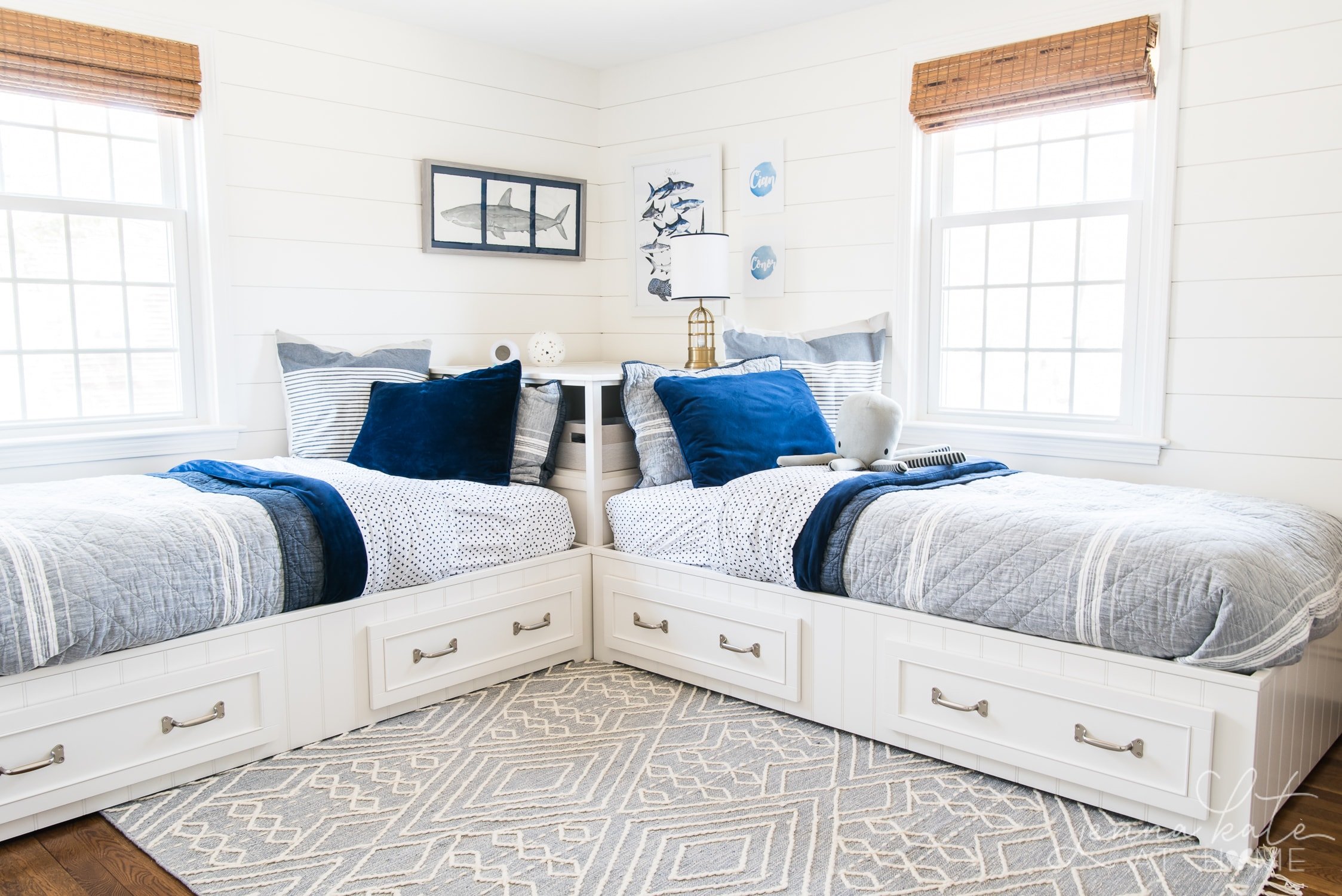 In my older boys' shared bedroom, I started with the navy blue duvet covers and worked my design around them. They became my "pop of color" and I kept everything else simple, clean and neutral so that they remained the focal point.
Are you seeing a common thread in my home, yet? It's blue! Blue is my accent color or "pop of color" depending on the room. It's my main color to decorate with, in varying degrees, but it's never on the wall. I could do an accent wall but keeping the walls neutrals means it's easy for me to switch up the color scheme of a room should I choose to do so in the future.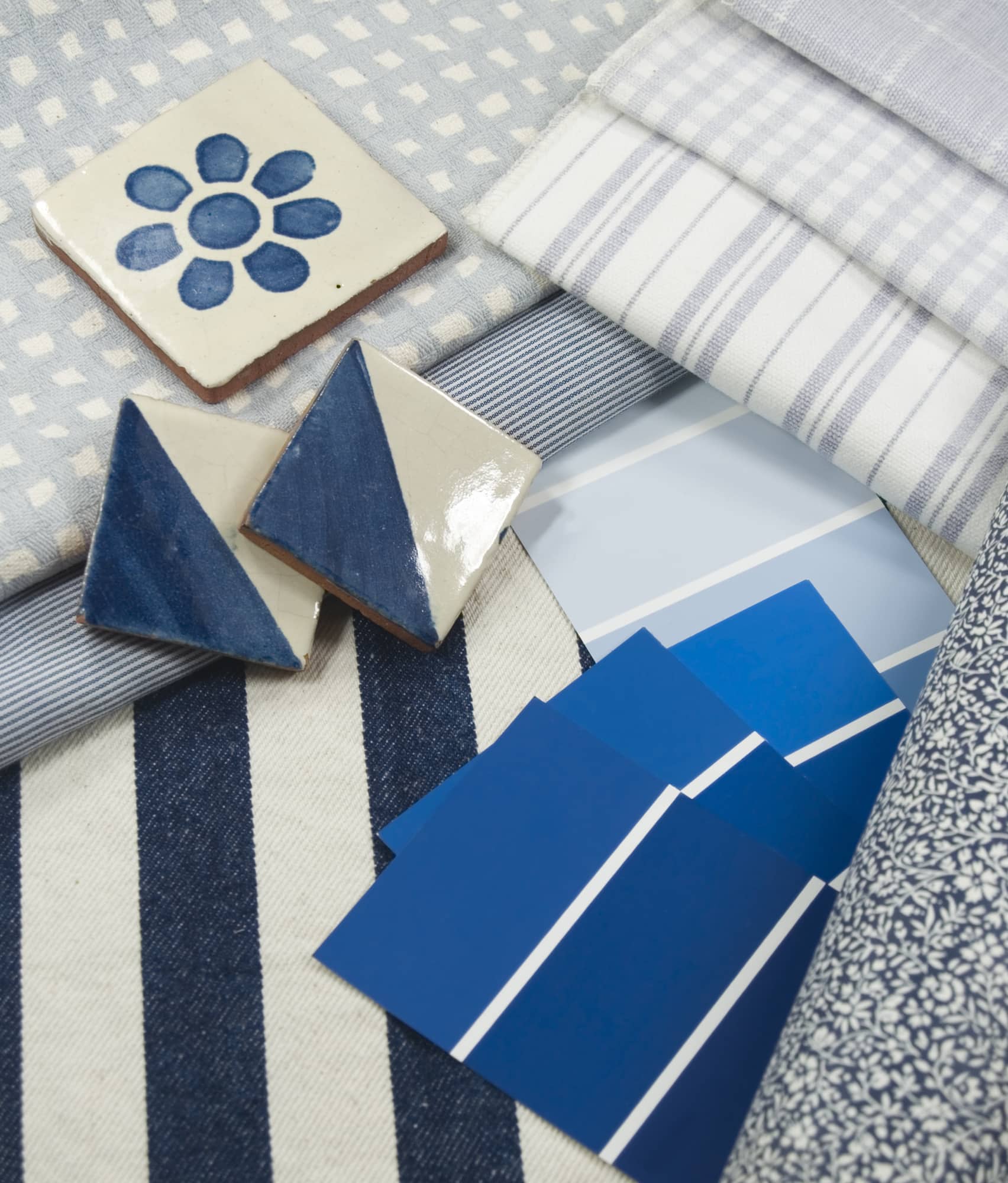 Whether it's the rug, the couch or even a throw pillow – pick something as your starting point and find a paint color that will work with it. Using this method of inspiration is a sure fire way to stop "analysis paralysis" when deciding on a paint color that you'll love and that will work in your home.
How To Pick Paint Colors
While the colors you choose for your home are a personal choice, understanding how colors work – and how they will work in your home and with your furniture and fixtures – will save you a lot of stress and wasted money in the long run.
The best way to narrow down what colors you want to use on your walls and as part of your decor, is to look in your closet. What colors are you typically drawn to? My closet is full of blues, grays and whites. I rarely ever stray from those colors! It's not intentional. Those are just the colors I love. And they are reflected in my home (and business branding, too!).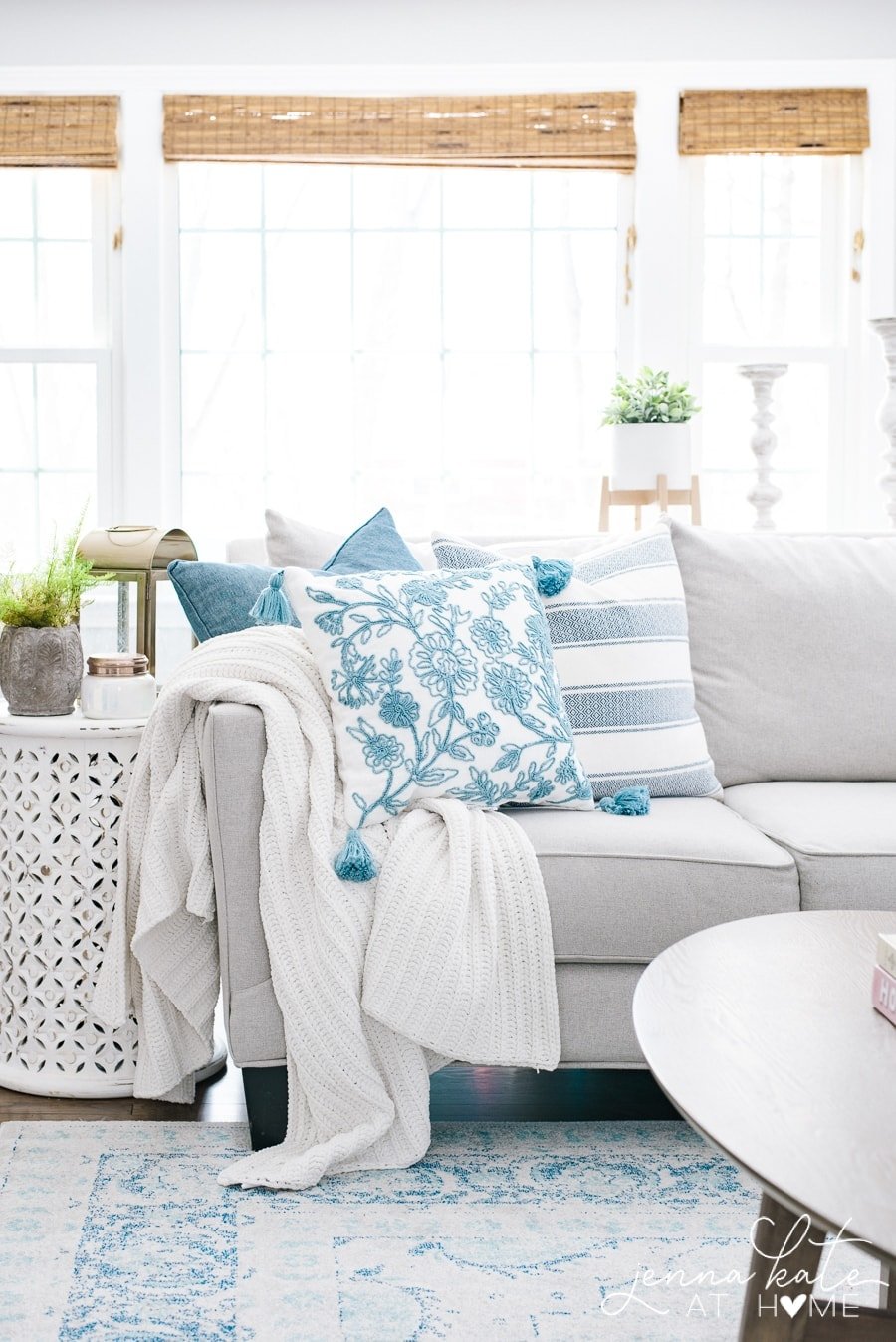 Identifying your colors and using them throughout your home will ensure that your personality and style is evident.
I've written a whole other post about Choosing a Whole House Color Palette that delves into this topic a little more and explains why sticking to a neutral color palette for the majority of your home is a good idea.
Why Do Paint Colors Look Different on the Wall?
Paint chips are a printed representation of the paint color and do not always 100% accurately reflect the final color. Additionally, paint colors will look different depending on the time of day and the aspect of the room. A west-facing room won't have much sunlight in the morning, making the paint color appear cooler. Conversely, the same room will have lots of warm afternoon light that will bring out the warmth in a color.
How to Understand Paint Undertones
Unless you're dealing with white, black or pure gray, every color has an undertone.
I've found that the easiest way to figure out the undertone of a color is to look at the darkest color on the color card.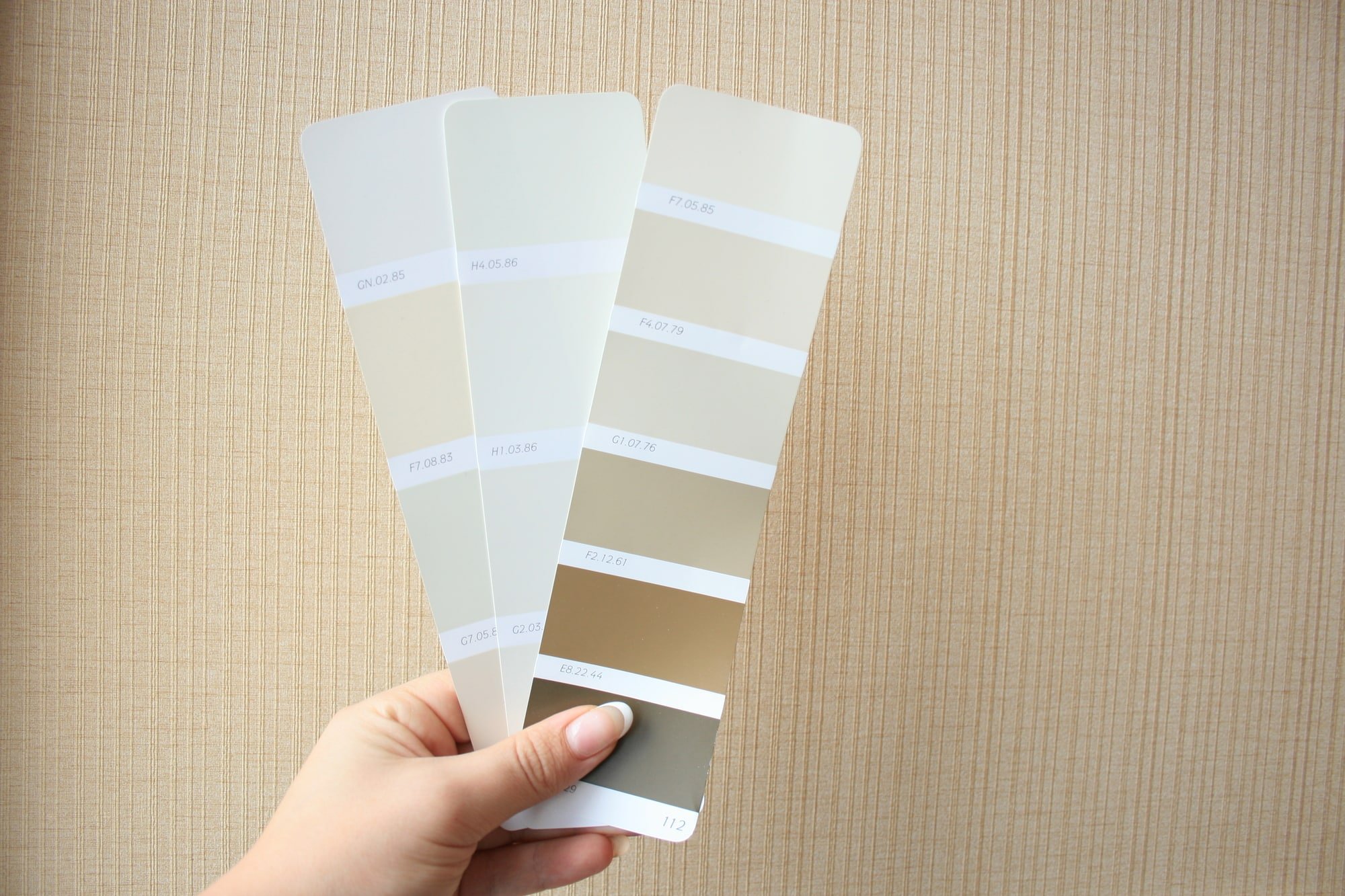 Take a look at the paint chip above. See how the darkest shade is brown? That shows that the lighter shades will have brown undertones, making them true beiges. Even when dealing with the lightest color on a color card, pay attention to the undertone. You can be sure that during at least one point of the day, that undertone will become apparent.
Why Does Gray Paint Look Blue on the Wall?
All paint colors have undertones, and gray is no different. Gray undertones range from yellow and purple to green and blue. If the shade of gray you chose has even a faint blue undertone and your room receives cooler light, the blue undertone may become evident.
For those of you that particularly struggle with picking grays: If you want a cool gray, look for a bluer undertone. If you want a true gray, look for a black undertone and if you want a warmer gray, look for a brown undertone.
Related: The Best Gray Paint Colors For Your Home
Which Paint Sheen to Choose
As a general rule, matte or eggshell for walls and satin or semi-gloss for trim and doors. I've written an entire post dedicate to this topic, which also discusses why paint sheen can make colors look slightly different.
RELATED: An In-depth Look at How To Pick The Right Paint Sheen
Always Test Paint Colors in Your Home Before Committing
It's important to always buy samples of the paint colors you are considering. So as not to spend a fortune on samples, narrow down your choices to 2 – 3, and get samples for those.
Paint the colors on some white poster board and move it around the room during different points of the day to see how the color changes. Take note of any undertones that you don't think you can live with!
Not only that, but paint a swatch near your white trim and hold your painted poster board next to your couch, wood furniture or anything else that has a strong undertone that might affect the paint color.
Don't Forget To Always Use Real Paint Samples!
Don't forget – no matter what you've read or photos you've seen online, it's really important to sample paint colors in your home before committing!
Samplize provides real paint samples that are easy to move around your home, and cheaper than buying a gazillion paint pots! It's the only way I buy paint samples.
Use code JENNAK10 at checkout and get 10% off your order
Coupon entitles all customers to 10% off the entire order with no minimum purchase requirement. This is a one-time use coupon and it cannot be combined with other discounts.
How Accurate is Paint Color Matching?
Typically, paint color matching is about 90% accurate. Since paint brands typically have a slight variation to their base tint, there will inevitably be a slight difference in the final color. If you are color matching and painting an entire wall, the difference is usually imperceptible. However, if you're touching up a spot and used a different brand previously, you may very well notice the difference.
Final Thoughts
Armed with all this information, you're going to be well on your way to picking the perfect paint color for your home. Remember, it's your home and you want it to be a reflection of you – not what someone else thinks is you. Enjoy the process and don't overthink it. Remember to narrow down your choices from the paint chips and buy samples. If you are going to be picking one color for your entire house, err on the side of simple and neutral. It will look timeless and classic. It's much easier to change out accessories than have to repaint your entire home.