Do you have a bookcase but you're having trouble styling it like you see in all those beautiful home decor magazines and catalogs? Today I'm sharing some tips to show just how easy it is to get a professional looking styled bookcase. If you stick to a few simple rules, you'll be a pro stylist in no time!
I'm starting with this industrial style bookcase. It's tall and narrow and fits perfectly against this wall in my living room. I particularly like the height as it draws the eye upward creating the illusion of height in the space.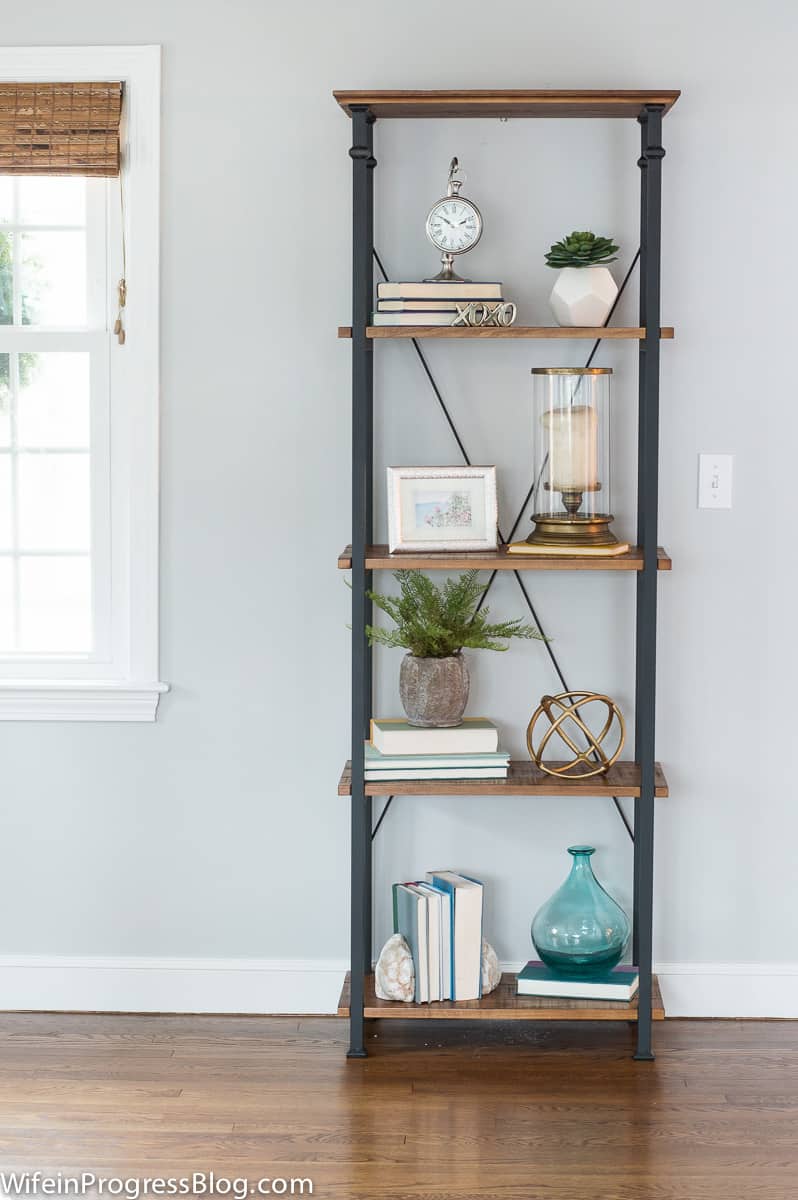 What You'll Need to Style a Beautiful Bookcase
A bookcase that you love
A variety of objects in different shapes, heights and textures. Think tall, small, round (orbs) or spiky (urchins or plants)
Books (to add height where needed)
Some Basic Rules I Like to Follow
The Rule of 3
Arranging items in groups of three (or any odd number, even one) will always produce a look that is pleasing to the eye (with 3 being the most pleasing). This is a great rule to follow if you're not comfortable with styling but feel free to break the rule sometimes. In this instance, I did not necessarily stick with this guideline because the bookcase is so narrow; I chose mostly groupings of 2.
Variation of Height, Shape and Texture
In your groupings, be sure to always include one taller object and also try to vary the textures and shapes of the objects. Height can also be achieved by stacking books and placing objects directly on top.
Creating Balance
For a bookcase like this where there are multiple shelves at different levels, you want to alternate the side with the taller object in order to maintain balance and create symmetry.
How I Styled This Bookcase
Take a look at this animated version that depicts the different stages I went through to achieve this look:
You can see that the first thing I did was to place my taller items. I created balance by alternating the side they are on. I immediately knew that my plant and clock would not have enough vertical height so I placed some stacked books beneath them.
One of my favorite tips for decorating with books is to face the pages out, instead of the spines. Then you don't need to worry about crazy colorful spines or spines that don't match. Or, if you generally decorate with Harry Potter books like I do, you may not want people to know that :-)
The next step is to add objects in a variety of shapes and textures that complement the other items. You will probably need to play around with this until you find a look that you like. My goal is usually to create as much variety as possible. If I already have a round or cylindrical object, the object next to it is more likely to be angular in nature or spiky (like an urchin or plant)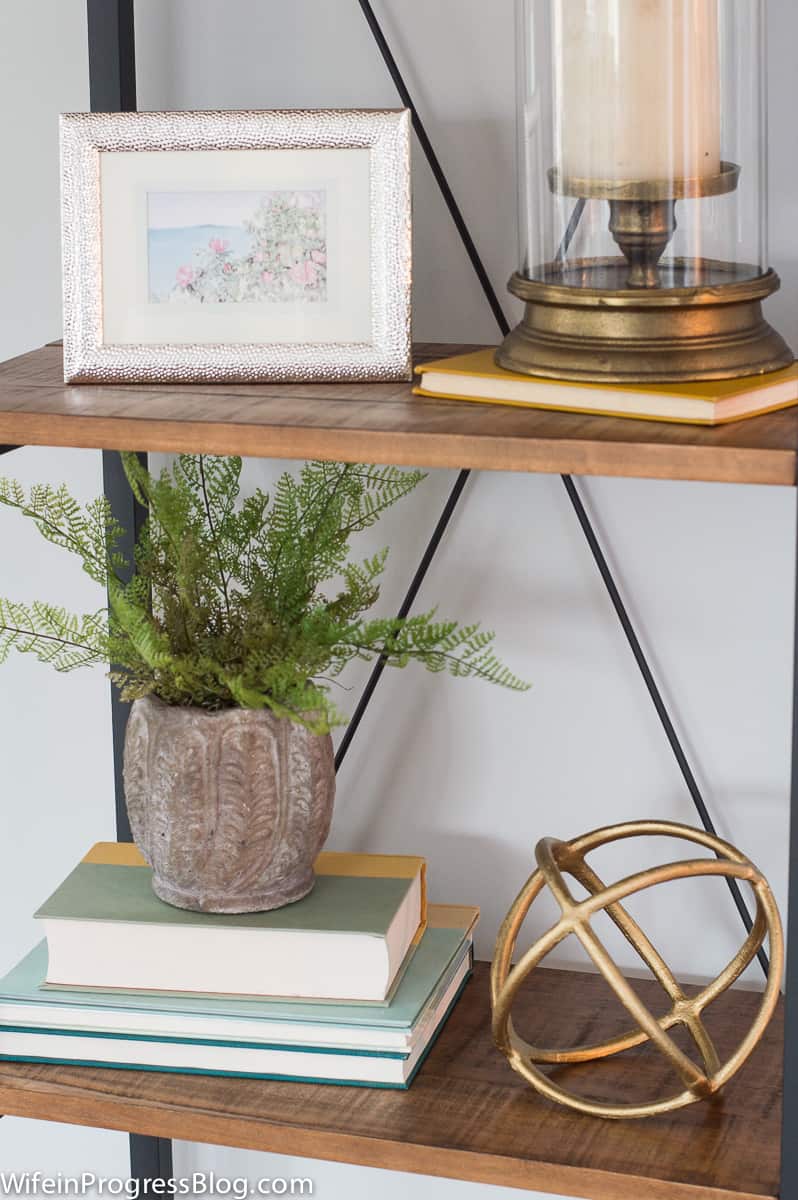 The final step is to tweak! Sometimes, this means I will slightly angle items inwards, turn books and boxes at an angle or layer in smaller objects like this "xoxo" sign.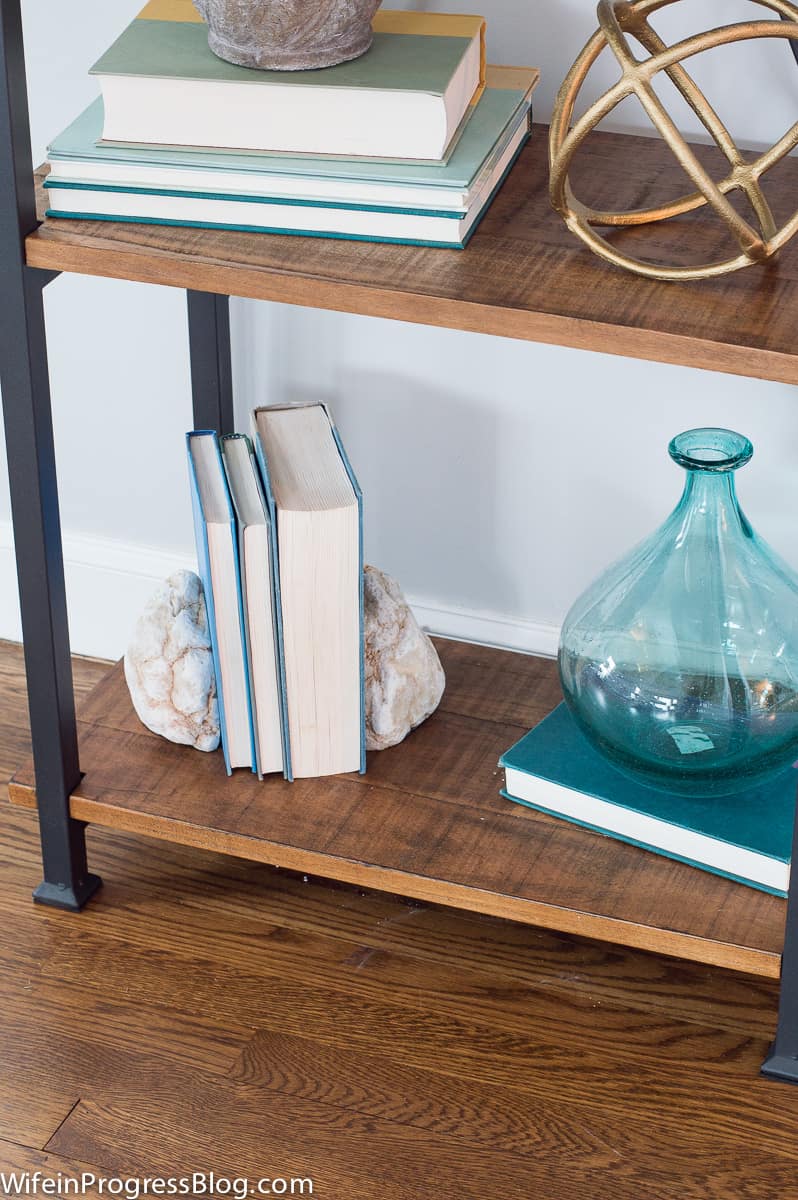 Once you've got the hang of those few basic principles, there are endless possibilities to how you can style your bookcases. Here are a few examples of other ways I decorated the same piece of furniture: