This post may contain affiliate links | For further details, please read our privacy policy
Benjamin Moore Kendall Charcoal is the dark slate gray of your dreams. Its moody elegance makes it the perfect choice for an accent wall, to add dramatic flair to cabinets and built-ins, or even to paint the exterior of your house or even as a front door color.

What Color is Kendall Charcoal
Kendall Charcoal is a dark slate gray with a slight green undertone. It has an LRV of 13, which it's not quite black but definitely in the dark gray category. For reference, LRV means light reflectance value. A value of 0 is pure black, while 100 is pure white.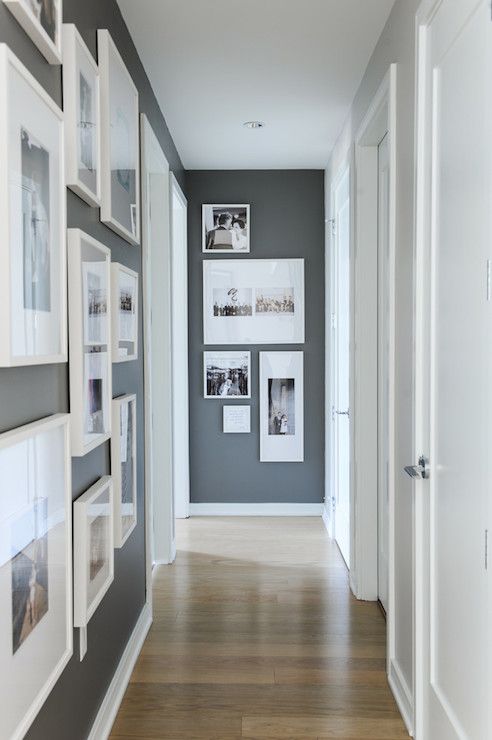 It's such a beautiful paint color when paired with lots of white. It feels fresh, modern and cozy despite being such a dark color.
Undertones
Like I previously mentioned, it has a tiny bit of a green undertone that stops it from feeling cold. Since it's a dark gray, I wouldn't exactly call it a warm color, but it does sway slightly that way.
Like all warm undertones, the green will become slightly more obvious in really bright rooms with warm south facing light, but I wouldn't be overly concerned about it. Your room will not ever look green! In darker rooms, or areas with northern exposure, it will always look like a deep slate gray.
What Colors Coordinate with Kendall Charcoal
Kendall Charcoal is a great color for an accent wall, doors, cabinets, any sort of built-ins or even a statement fireplace. It also makes for a show stopping exterior color (on the right house!). It coordinates really well with colors with a little bit of warmth to them – warm whites, greiges, beiges and taupes.
If you are looking for white trim paint to coordinate, Sherwin Williams Pure White, Benjamin Moore Oxford White or Benjamin Moore White Dove are great choices.
If you're using it as an accent wall color, I would keep the other three walls simple with a slightly warm white like White Dove or even
Kendall Charcoal vs Chelsea Gray
Benjamin Moore Chelsea Gray is substantially lighter than Kendall Charcoal, with an LRV of 23 versus Kendal Charcoal's 13. I would consider it a medium-to-dark gray as opposed to dark gray like Kendall Charcoal. In southern exposure, it can look quite warm, whereas Kendall Charcoal is so dark that it will never have that issue.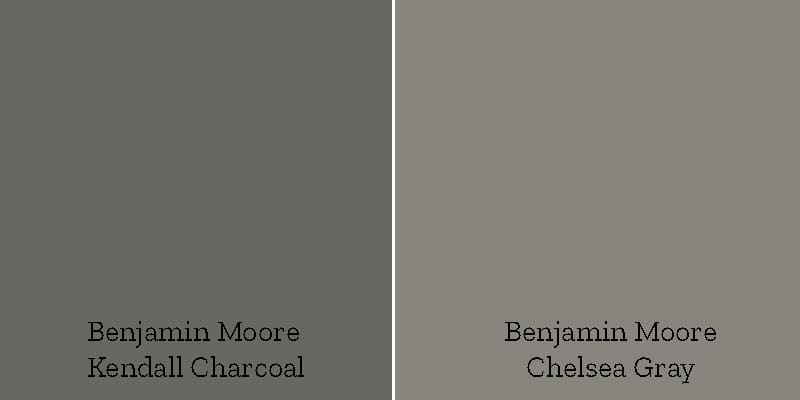 Depending on the room and lighting conditions, Chelsea Gray's warmer yellow/green undertone can become evident. It has also been know to sway a tiny bit blue or purple, depending on other colors in the room.
Kendall Charcoal vs Peppercorn
Sherwin Williams Peppercorn is another incredibly popular dark slate gray that I see used a lot to accent woodwork and cabinetry.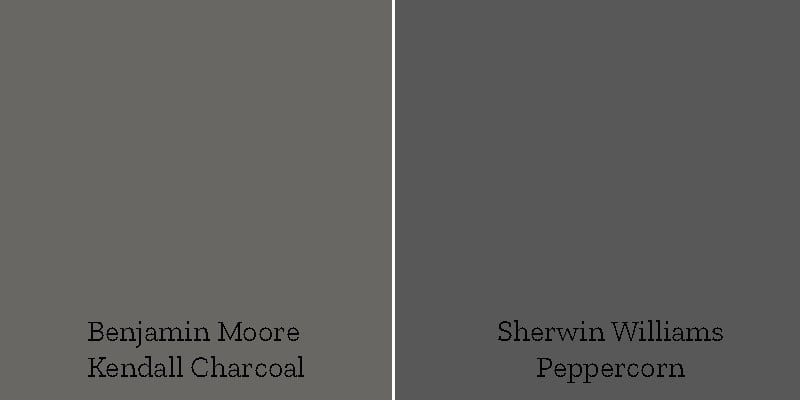 Peppercorn is just a smidge darker than Kendall Charcoal, with an LRV of 10. It does however have a tendency to pick up undertones of purple or blue, making it a cooler color. It's not "cold" but any means, but slightly cool. In the comparison above, you can see how Kendall Charcoal is a warmer color, and how it makes Peppercorn pull a tiny bit purple.
Peppercorn is also an incredibly versatile dark gray and pairs well with many other colors, particularly cooler ones.
Kendall Charcoal vs Grizzle Gray
Grizzle Gray has a strong blue-green undertone, that you can really notice next to Kendall Charcoal. So much so, that Kendall Charcoal looks much closer to a warmer brown undertone.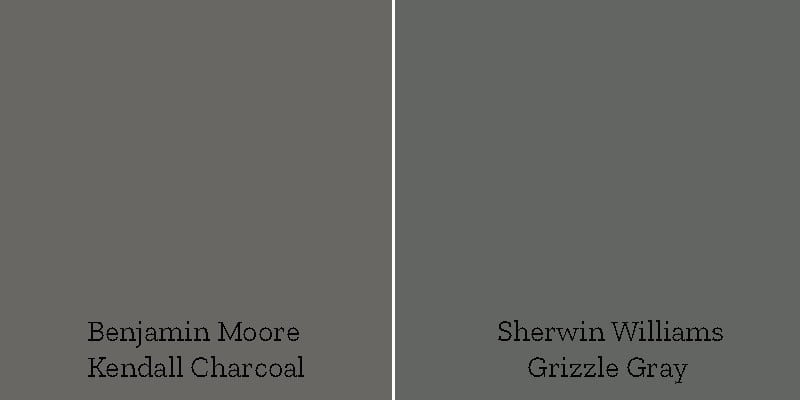 Pairing a warmer and cooler color together like this really helps you to see the undertones in each, and why pairing warm and cool colors together doesn't work unless you really know what you're doing!
Final Thoughts
Whether you want to add a bold punch of color to a wall or kitchen island, or add luxury to the exterior of your home, Kendall Charcoal may just be the right color for you!
Don't Forget To Always Use Real Paint Samples!
Don't forget – no matter what you've read or photos you've seen online, it's really important to sample paint colors in your home before committing!
Samplize provides real paint samples that are easy to move around your home, and cheaper than buying a gazillion paint pots! It's the only way I buy paint samples.
Use code JENNAK10 at checkout and get 10% off your order
Coupon entitles all customers to 10% off the entire order with no minimum purchase requirement. This is a one-time use coupon and it cannot be combined with other discounts.
Other Paint Colors