This post may contain affiliate links | For further details, please read our privacy policy
Learn more about Sherwin Williams Mindful Gray, including its undertones, how it compares to other popular grays, Repose Gray and Agreeable Gray, as well as color palettes that it works best with.

You already know that most of my home is painted with Sherwin Williams Repose Gray and Benjamin Moore Stonington Gray. But one color that I frequently get asked about is the paint color in our dining room.
Those of you who have noted that it looks darker than the Repose Gray in the adjoining hallway are in fact, right. Our dining room is actually painted Sherwin Williams Mindful Gray, which is the next darkest shade on the same color card as Repose Gray.
Mindful Gray Undertones
Mindful Gray is a warm gray, with a green and sometimes taupe, undertone. The taupe is more evident in Repose Gray, while the green is more evident in Mindful Gray.
In a room dark room with not a lot of natural light, or a room with a lot of dark furniture, the green will become more apparent.
If you are using this paint color in a light-filled room, it will certainly look more like a warm gray.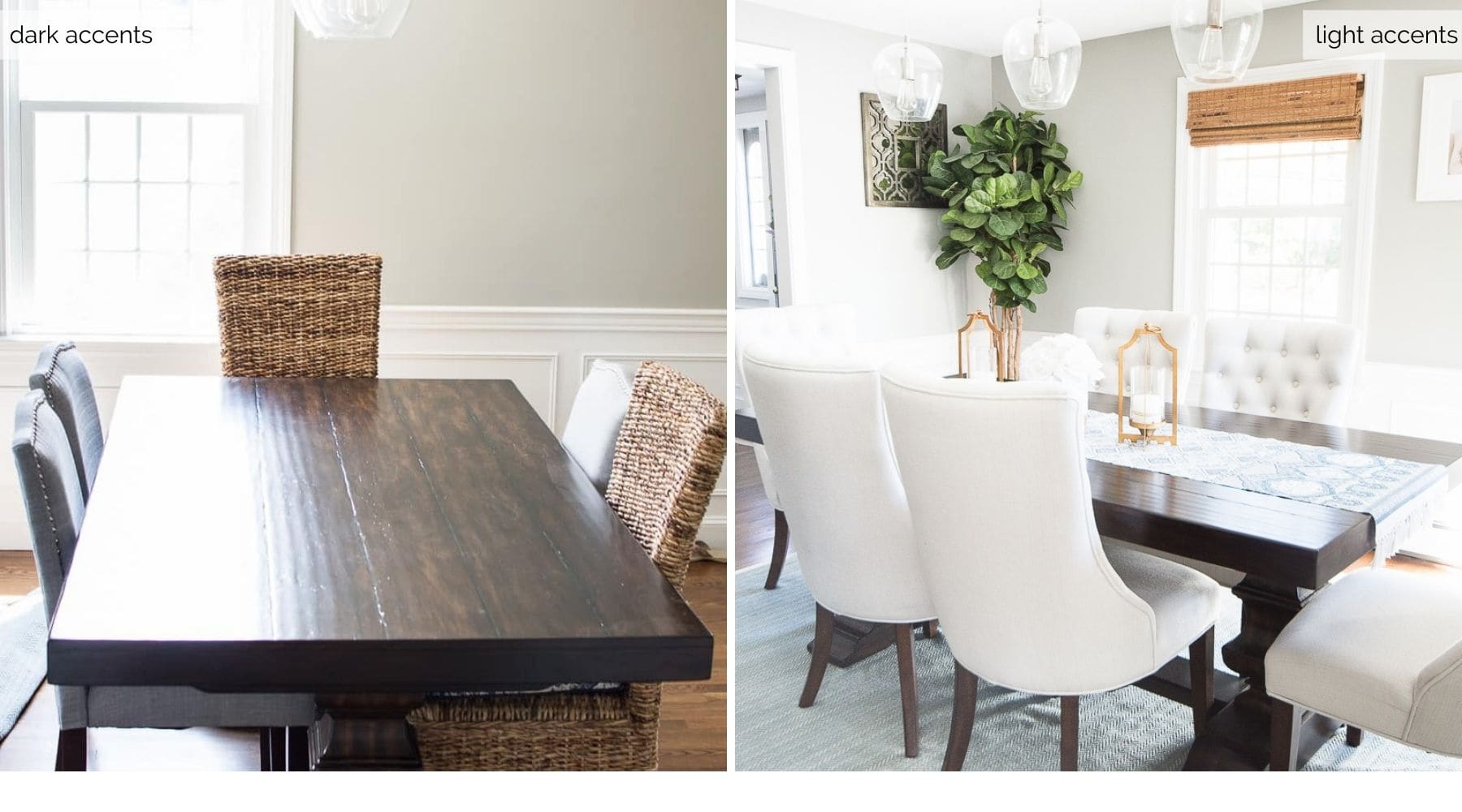 The above photo demonstrates my point. This is the same room, paint Mindful Gray. On the left, all the furniture is brown and it clearly brings out a green undertone on the back wall. On the right side of the photo, the chairs have been switched out for lighter ones, and a light colored rug has been added, which has eliminated the green undertone from the paint color.
These photos were also taken at different times of the day, from a room that is east-facing: so it gets nice morning light, but's dark all afternoon. The darker photo was taken late in the day, while the brighter version was taken in the morning. Again, highlighting the importance of light when deciding on a paint color.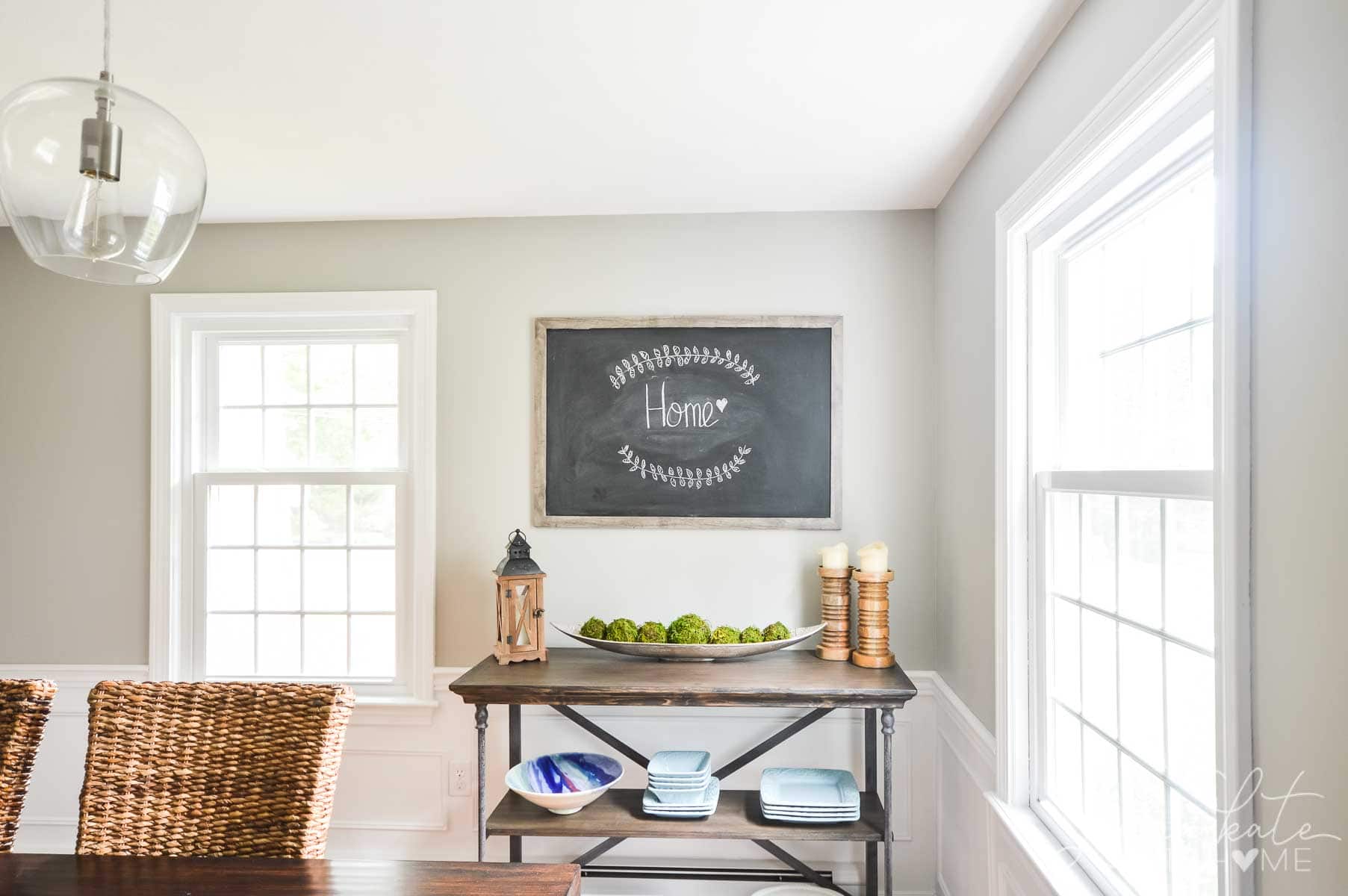 Look closely at this photo. The left side of the image is clearly darker, and the green undertone is apparent. Whereas in the top right hand side, it's getting lovely natural light and looks closer to a neutral gray.
RELATED: The Best Paint Colors For Dark Rooms
Not only understanding undertones, but how they can be highlighted or reduced based on your furnishings (or even what's outside the window) is important when selecting a paint color. I've had many people tell me that Mindful Gray has no undertones, that it's the perfect saturated warm gray, but it's simply not true for every situation.
Mindful Gray vs Repose Gray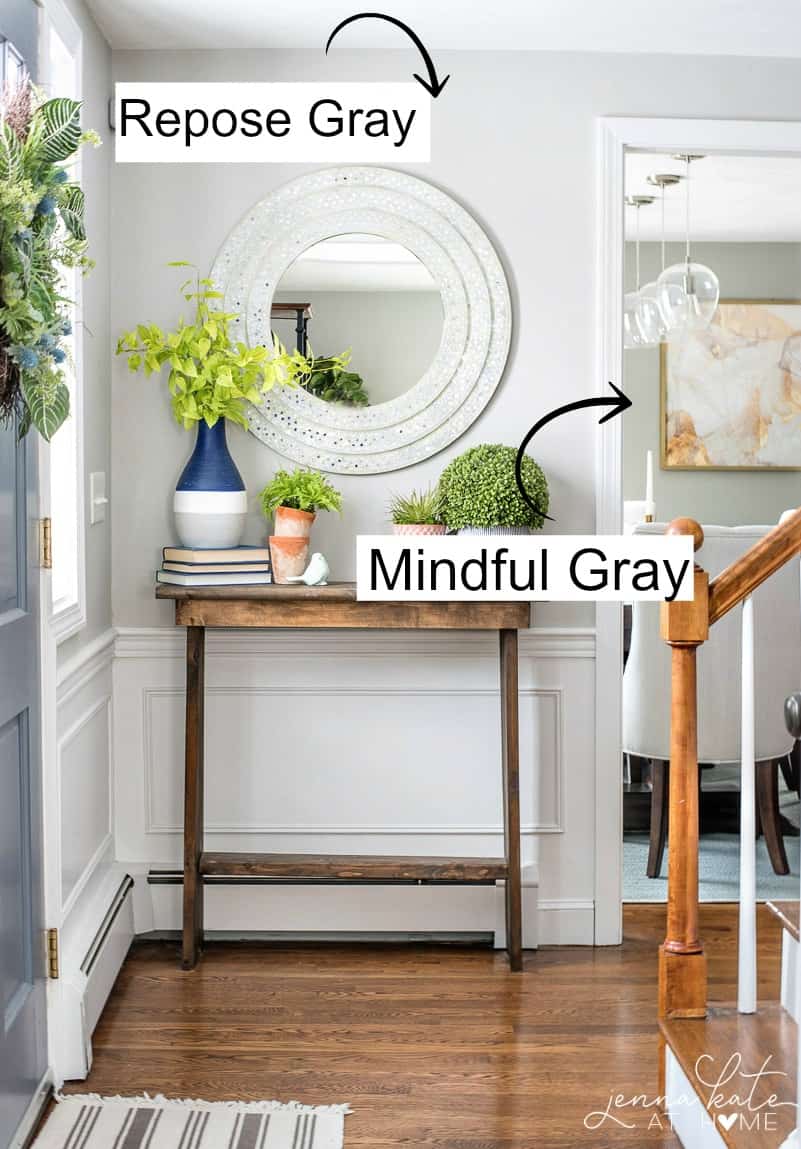 If you are considering these two paint colors for your home, again, please consider your furnishings and other nearby colors.
Like I previously mentioned, lots of wood tones will bring out a strong green undertone in Mindful Gray but less so in Repose Gray.
I would consider Mindful Gray a medium-tone gray while Repose Gray is a medium to light gray with a warm undertone.
Repose Gray is actually my all-time favorite gray because it never feels cold, even in a room with a lot of cool white and cold light. While we have only used Mindful Gray in our dining room, our kitchen, entryway and landing are all painted Repose Gray.
Mindful Gray vs Agreeable Gray
If you are looking for a gray that's got about the same depth as Mindful Gray but without so much of the green undertone, Sherwin Williams' Agreeable Gray might be a better bet for you.
It's a bit warmer than Mindful Gray, and can switch between being a "warm gray" or "greige" depending on the light. Besides that, it doesn't have any funky undertones that you might be wary of, so it's a great whole-house choice.
In fact, Agreeable Gray is regularly hailed as one of the best warm grays or greige paint colors out there.
Where to Avoid Using it
Personally, I do not love Mindful Gray in a darker spaces. If your room is east-facing, you will find that the paint color looks beautiful in morning like but a bit dark and muddy in the afternoon. Vice versa will apply in a western-exposure room, and a north facing room may feel a bit too dark throughout the day.
If your room benefits from multiple exposures, or primarily warm light, you really see how beautiful this paint color can be.
Ultimately, we repainted our East facing dining room in a much lighter color, Benjamin Moore Paper White, which has completely lightened and brightened the space, no matter what time of day it is.
Final Thoughts
Hopefully if you've been struggling to figure out if Sherwin Williams Mindful Gray is for you then this post will have been of some help to you! Remember to consider the possibility of a green undertone showing if you are painting a dark with with dark wood furnishings. By keeping the trim a bright white, and most of the surrounding furnishings lighter, you should be able to diminish most of that green.
If, on the other hand, you're dealing with a light-filled room, you should not have any issues at all, and Mindful Gray will appear as a lovely warm gray.
Don't Forget To Always Use Real Paint Samples!
Don't forget – no matter what you've read or photos you've seen online, it's really important to sample paint colors in your home before committing!
Samplize provides real paint samples that are easy to move around your home, and cheaper than buying a gazillion paint pots! It's the only way I buy paint samples.
Use code JENNAK10 at checkout and get 10% off your order
Coupon entitles all customers to 10% off the entire order with no minimum purchase requirement. This is a one-time use coupon and it cannot be combined with other discounts.