This post may contain affiliate links | For further details, please read our privacy policy
Sage green paint colors are great to add to your home design to elevate your space in a calm and inviting way. It's the new neutral color that warms up your room without overwhelming the different colors you already are decorating with.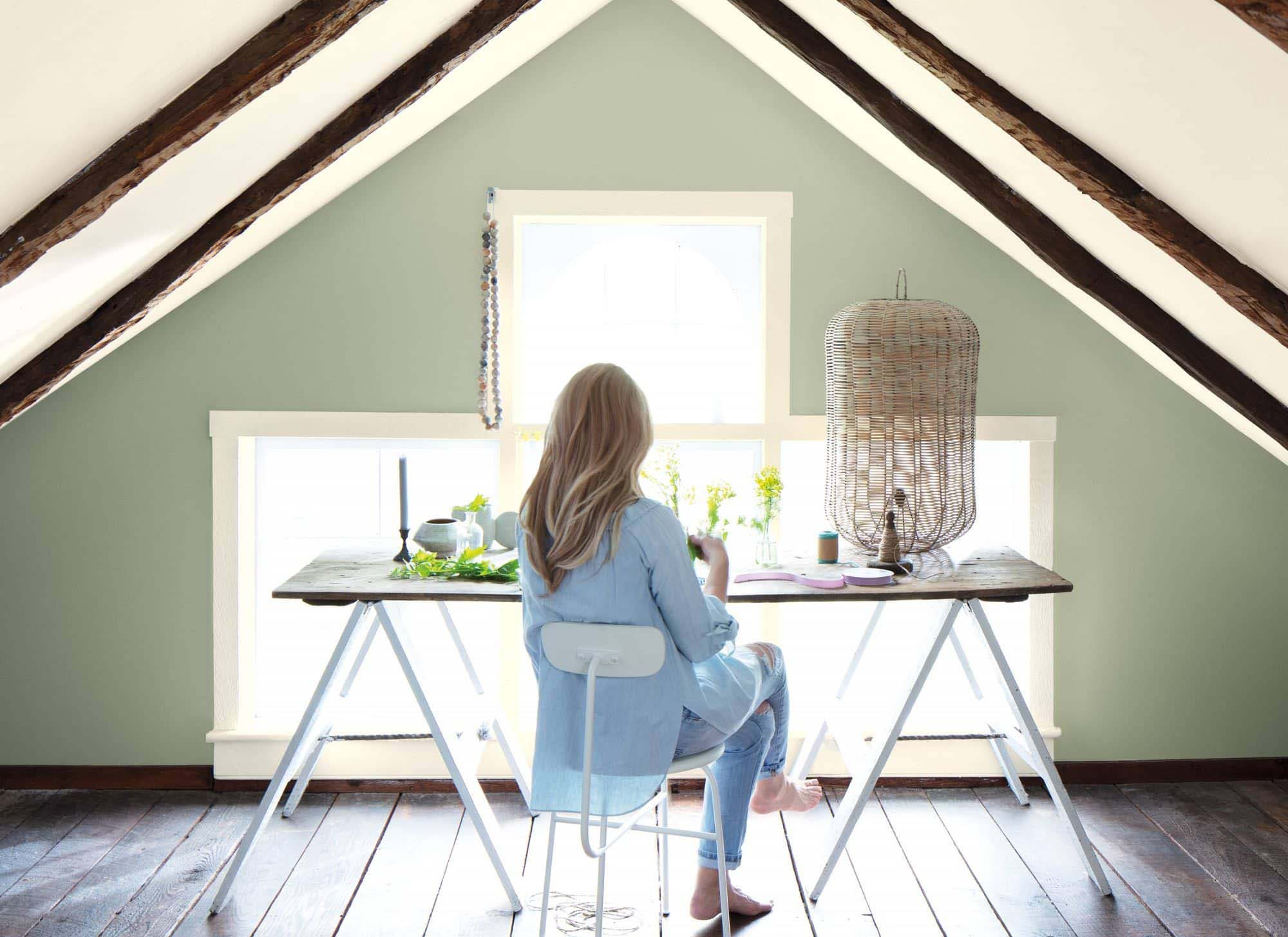 I'm sharing 15 of the best sage green paint colors to use and why sage green is such a gentle timeless accent color to add to your home. I'm sticking to my 2 favorite paint brands – Sherwin Williams and Benjamin Moore which are easily accessible to most people. Let's elevate the sterile white and grey pallets we've been using with a cozy touch of sage green!
Why is Sage Green So Popular?
Similar to everyone's favorite cool grey tones and deep gem tones of the past, sage green is the newest paint trend. This tranquil shade brings a soothing feeling thanks to its warm earthy tones.
Just like fashion is cyclical, so are paint trends. After years of using grey and white, we have all been looking for a warm hue to bring back some life into our homes.
Is Sage Green Warm or Cool Color?
Based solely on color theory, sage green would be classified as a cool tone since green is a cool color. However, depending on the amount of yellow (warm tone) or blue (cool tone) added to it, it will pull one way or the other.
Before selecting the sage green you want to use and painting a wall, decide whether you want a warm or cool accent in your space. Warmer green tones work best with lots of wood and warm whites. They even pair well with honey oak cabinets and trim. Cooler greens on the other hand, pair well with cooler-toned whites and grays.
Where to Use Sage Green Paint Colors
Sage green is a soft and gentle accent color. It can be a great timeless accent to use in your kitchen, living room, bathroom, bedroom, and even in a nursery.
Sage Green could be the perfect shade to paint your cabinetry to make a bold statement in your kitchen or on a piece of furniture. Want sage green walls? You can even go all out for a bold look and paint all the walls of your room or opt for an accent wall.
One of my favorite combinations is adding sage green with warm metal tones such as brass for a vintage vibe. Honestly, sage green is such a versatile color, it can be used in any of your room designs.
Does Sage Green go with everything?
In short, yes. There are several options that will fit with your home already. Sage green is an effortless neutral color that can blend with just about any existing decor style you have.
If you have darker accents, such as black, sage green can warm up your home.
If you have more muted tans, sage green can bring some balance to your neutrals and add some design interest.
If you have an existing green color palette, introducing sage green can be a great way to compliment and execute an elevated monochromatic vibe.
How to pick the right Sage Green shade?
It's important to know the LRV (light reflectance value) of the shade you are picking. This helps you determine if it's the perfect choice for small spaces or darker spaces.
Each room in your home has different light depending on the time of day, which is why it's important to test swatches and observe them throughout the day to be sure it's the best place for that color.
Also, determine what undertones you want. Are you looking for cool tones, yellow undertones, or blue undertones? Below you will find a breakdown of each color with the LRV and undertone to make an easy choice.
What are the most popular sage green paint colors?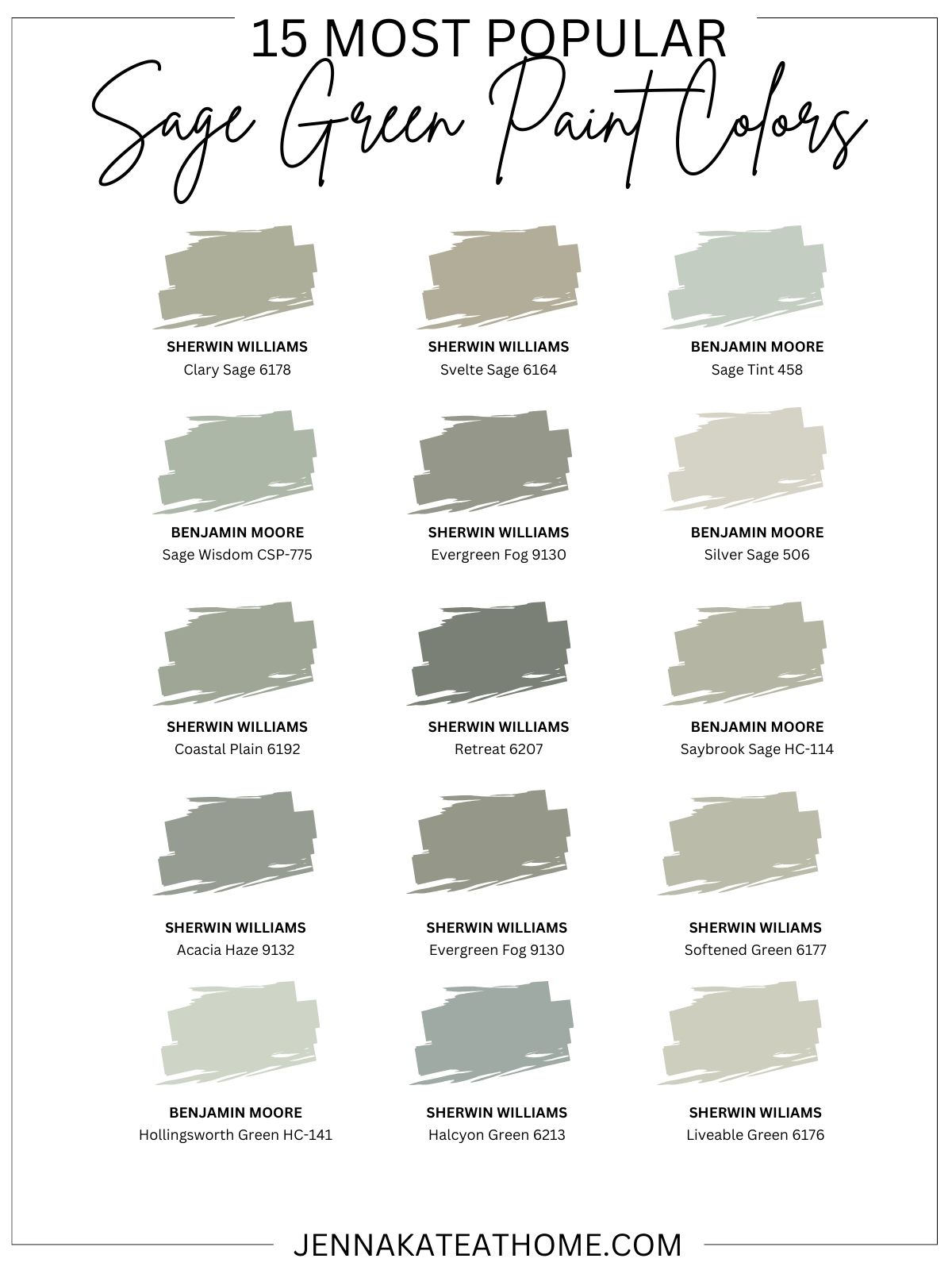 Clary Sage (SW 6178)
Svelte Sage (SW 6164)
Sage Tint (BM 458)
Sage Wisdom (BM CSP-775)
Evergreen Fog (SW 9130)
Silver Sage (BM 506)
Coastal Plain (SW 6192)
Retreat (SW 6207)
Saybrook Sage (BM HC-114)
Acacia Haze (SW 9132)
Evergreen Fog (SW 9130)
Softened Green (SW 6177)
Hollingsworth Green (BM HC-141)
Halcyon Green (SW 6213)
Liveable Green (SW 6176)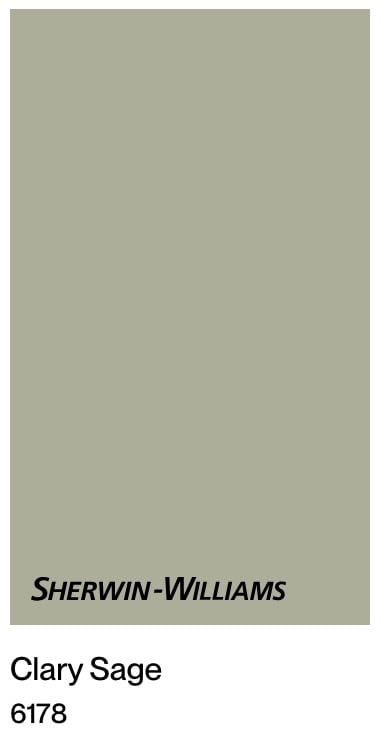 1. Sherwin Williams Clary Sage 6178
LRV: 41
SW Clary Sage has a slight yellow undertone bringing a warm glow to accent for your home. It's an earthy herbal tone that will bring a sense of calm to your design.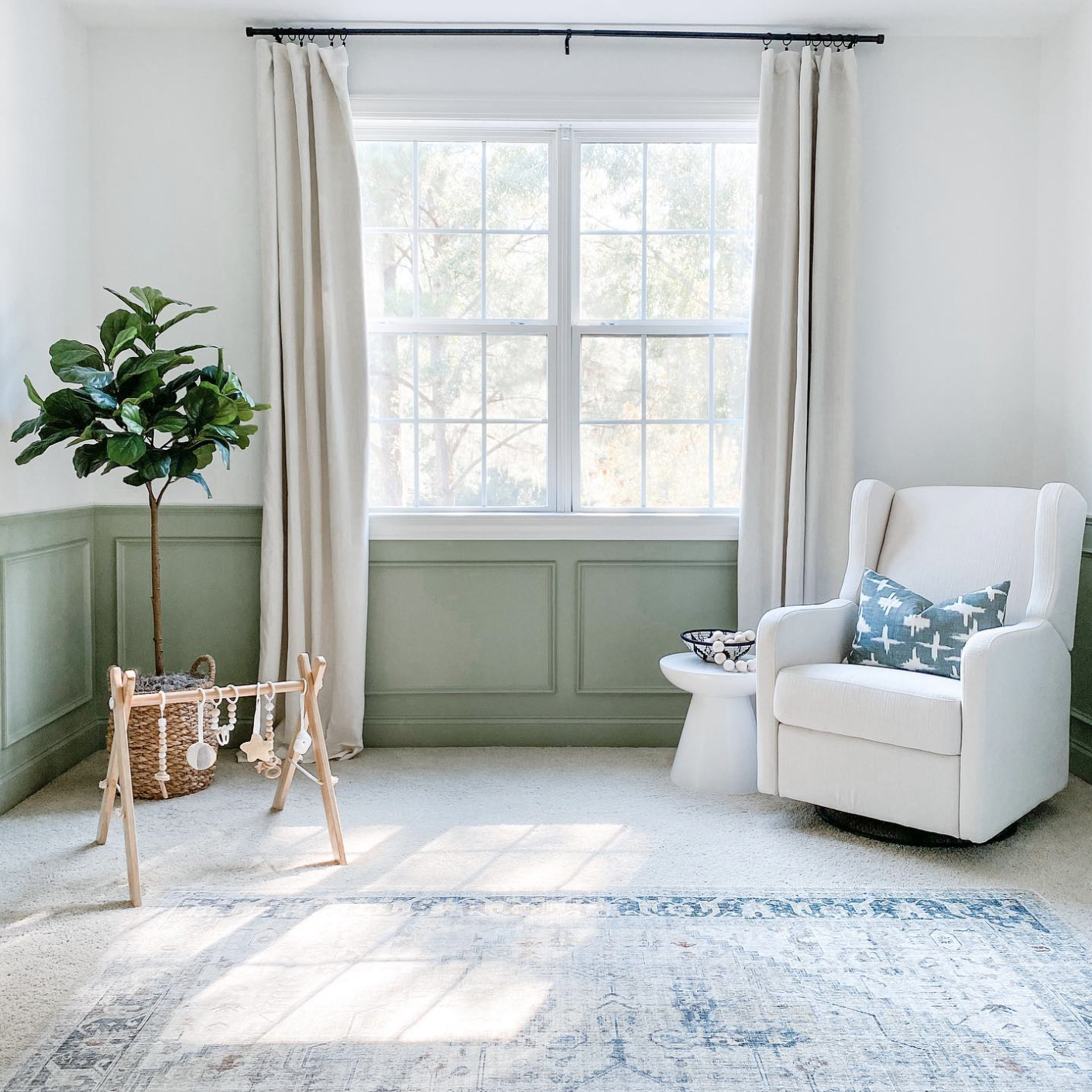 I love how KASL Design Co. used Sherwin Williams Clary Sage as an accent in this nursery. Using it as an accent color on the board and batten adds dimension without making the design too dark.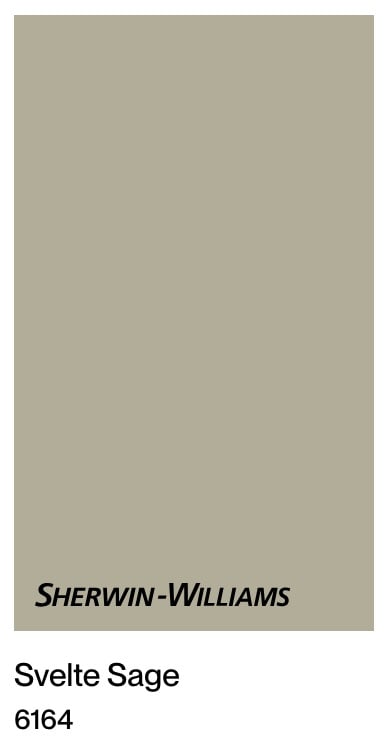 2. Sherwin Williams Svelte Sage
LRV: 41
SW Svelte Sage (SW-6164) is a yellow-based sage green with gray undertones. This makes it a great neutral for cool-toned rooms or accents. It has a more earthy green than some of the other sage paint colors.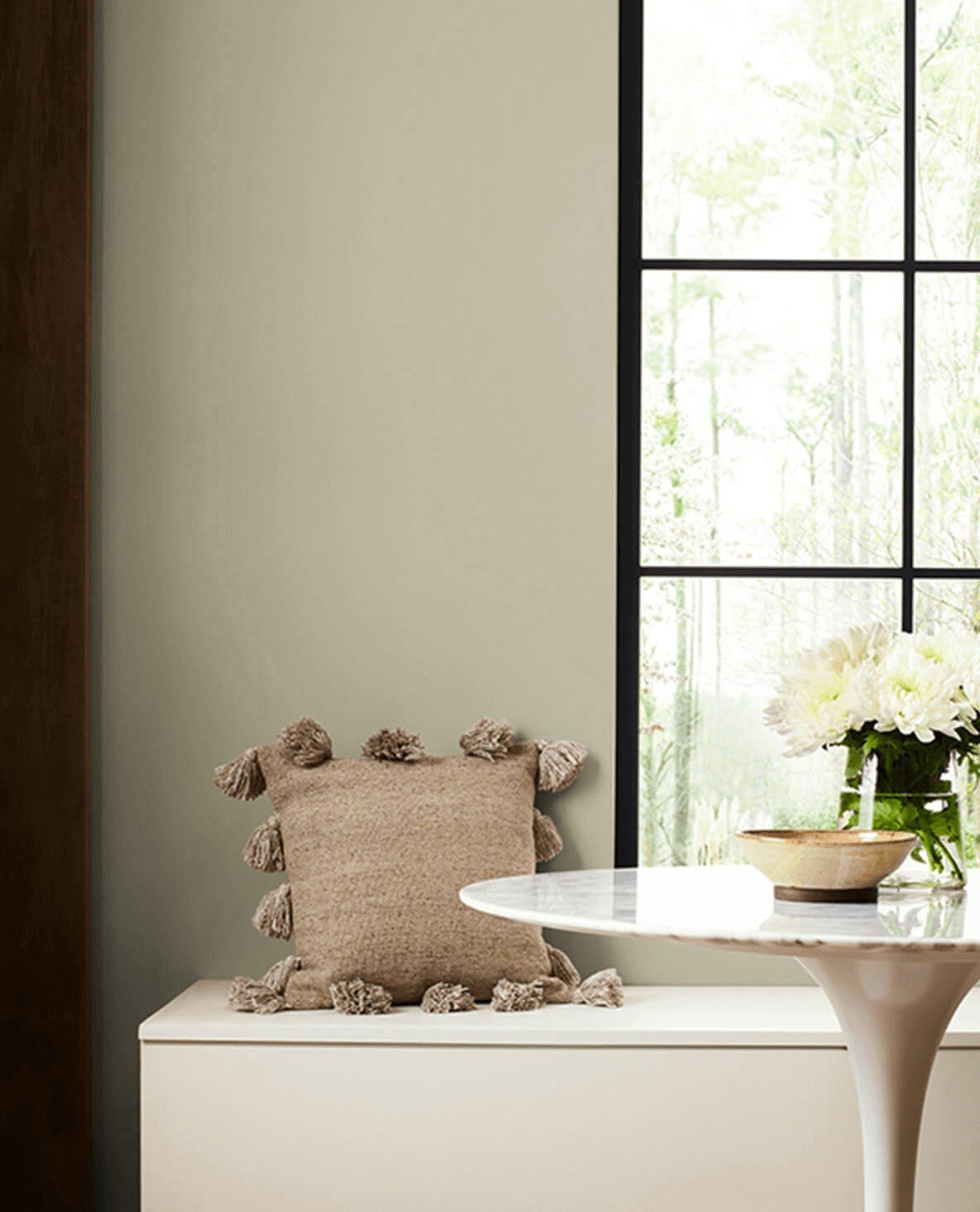 As you can see in this design by Sherwin Williams, the undertone has warm earthy tones which are perfect if you have a space in your home you're trying to warm up. The black window trim is cool but next to the Svelte Sage, it warms right up.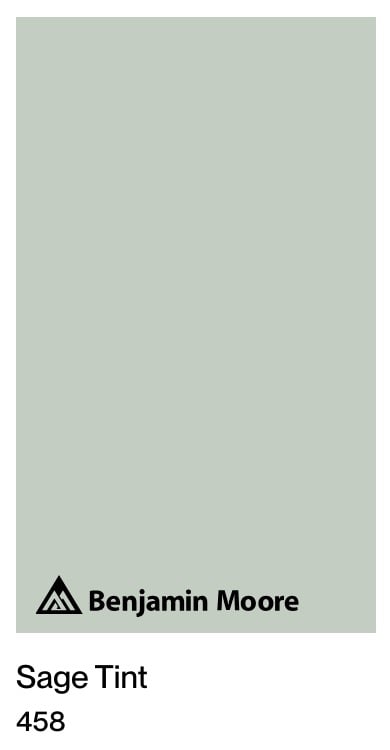 3. Benjamin Moore Sage Tint
LRV: 57.85
BM Sage Tint (458) is a subtle blend of green, grey, and blue. This may not be what you initially think of when you think of sage, but this cooler version works beautifully with crisp whites to warm up a coastal color scheme.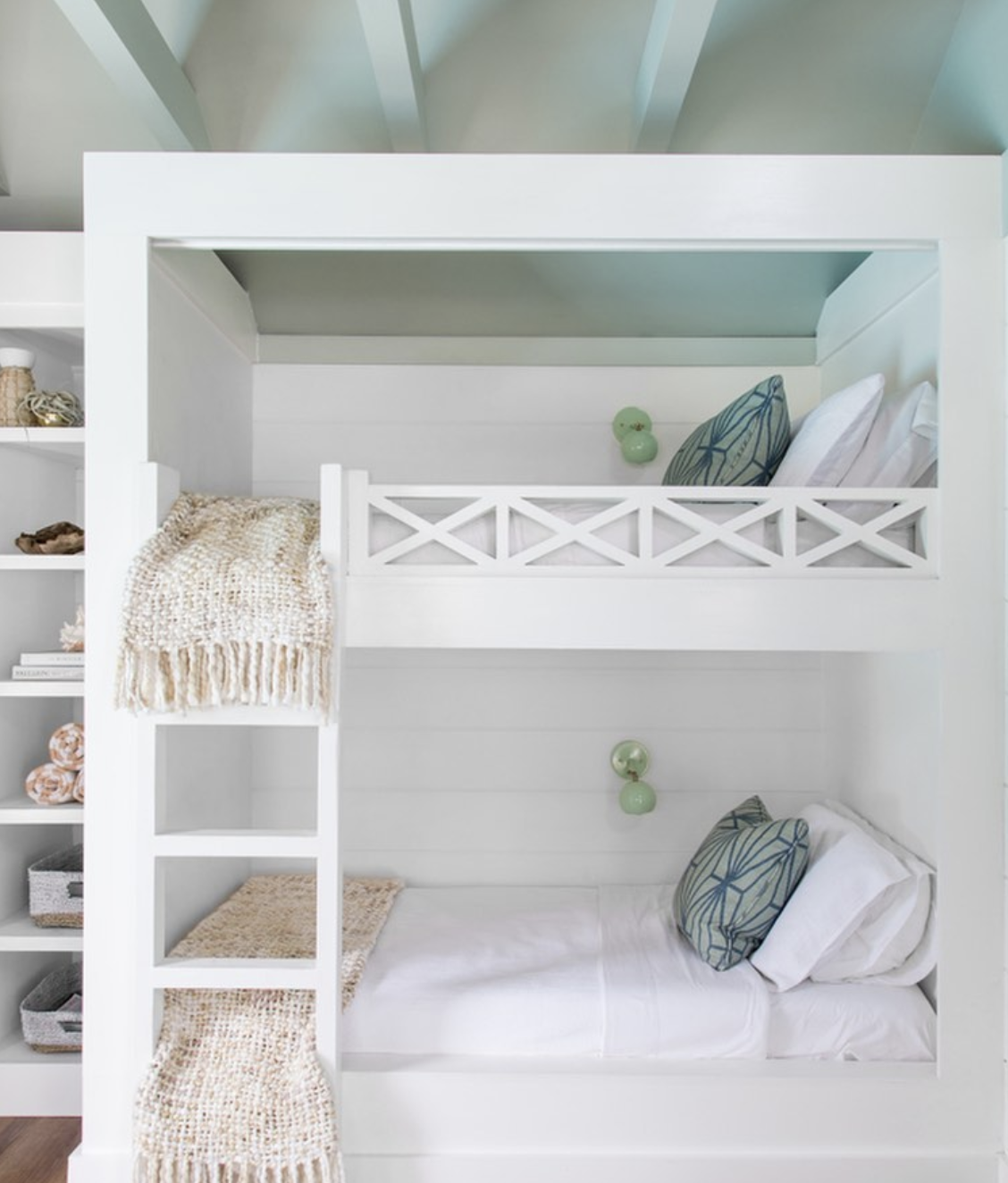 Sage Tint was used as a ceiling accent color in this beautifully designed children's room photographed by Raquel Langworthy Photography.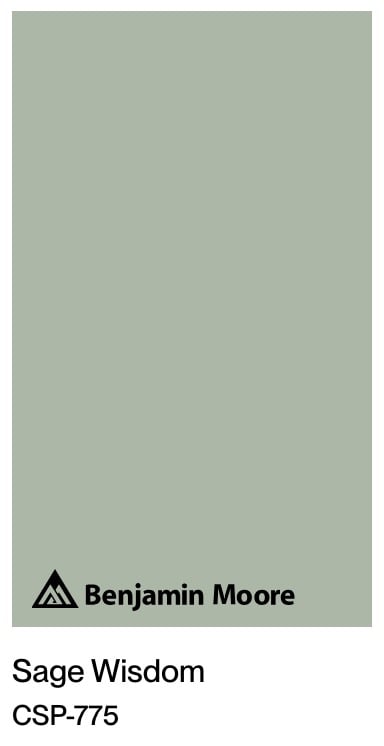 4. Benjamin Moore Sage Wisdom
LRV: 43.98
BM Sage Wisdom (CSP-775) is a bold green that can be used as a statement or feature.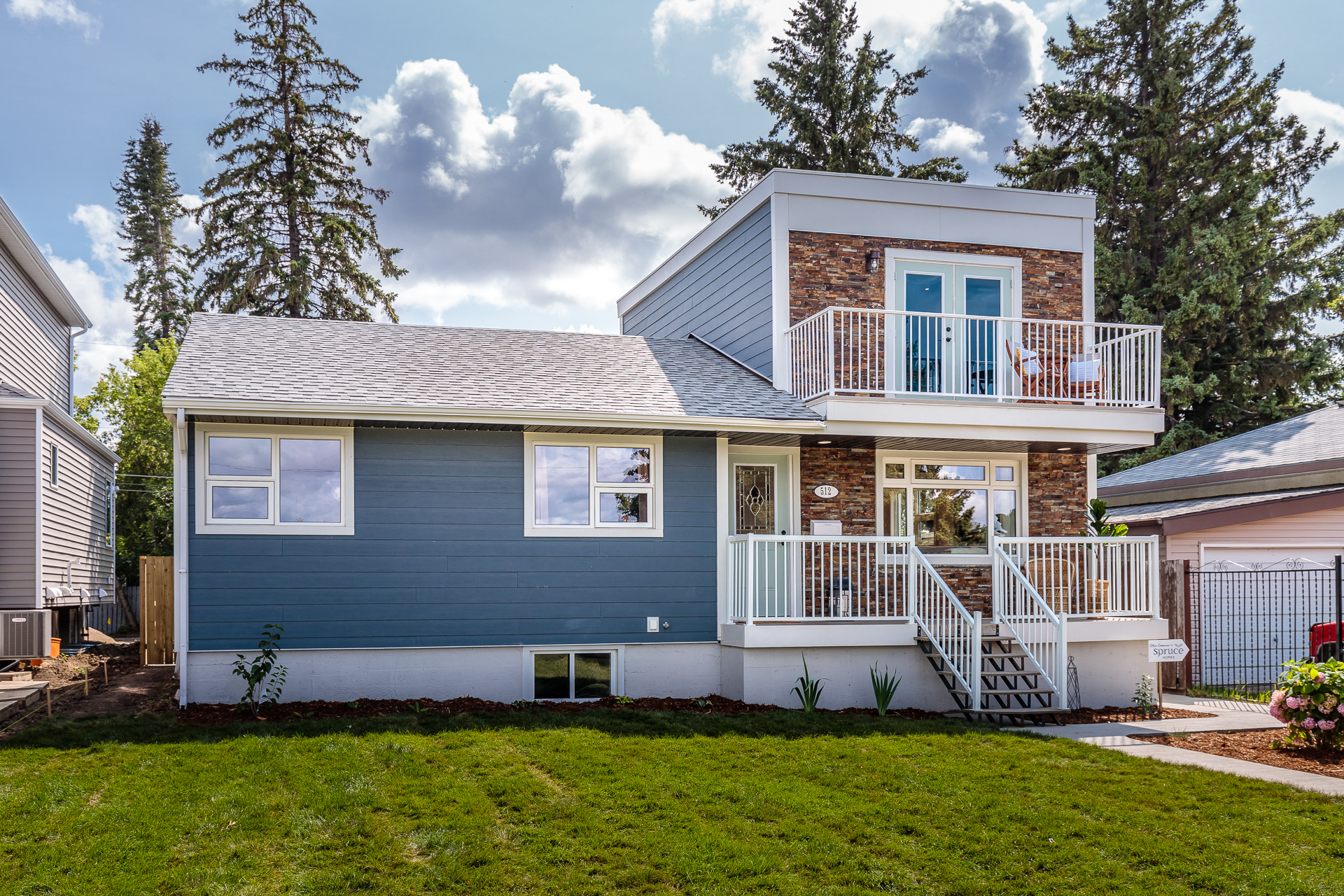 Spruce Homes used Sage Wisdom as the front door color and I am swooning. It's a beautiful statement while staying in a neutral color pallet.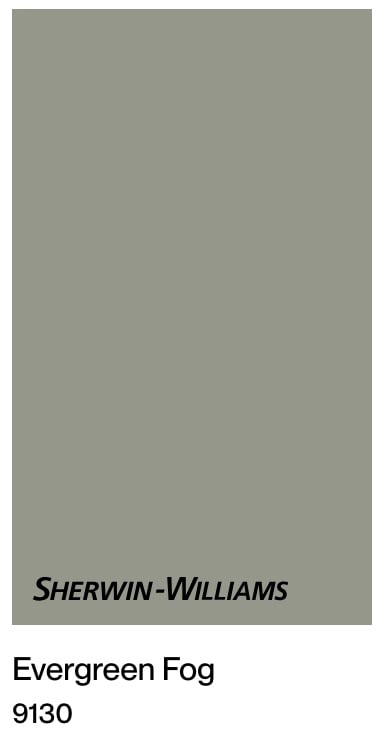 5. Sherwin Williams Evergreen Fog
LRV: 30
Evergreen Fog (SW-9130) has an elevated grey tone to it. Its base is blue so it will be more of a cool-toned sage green. It is one of the deeper shades of sage green.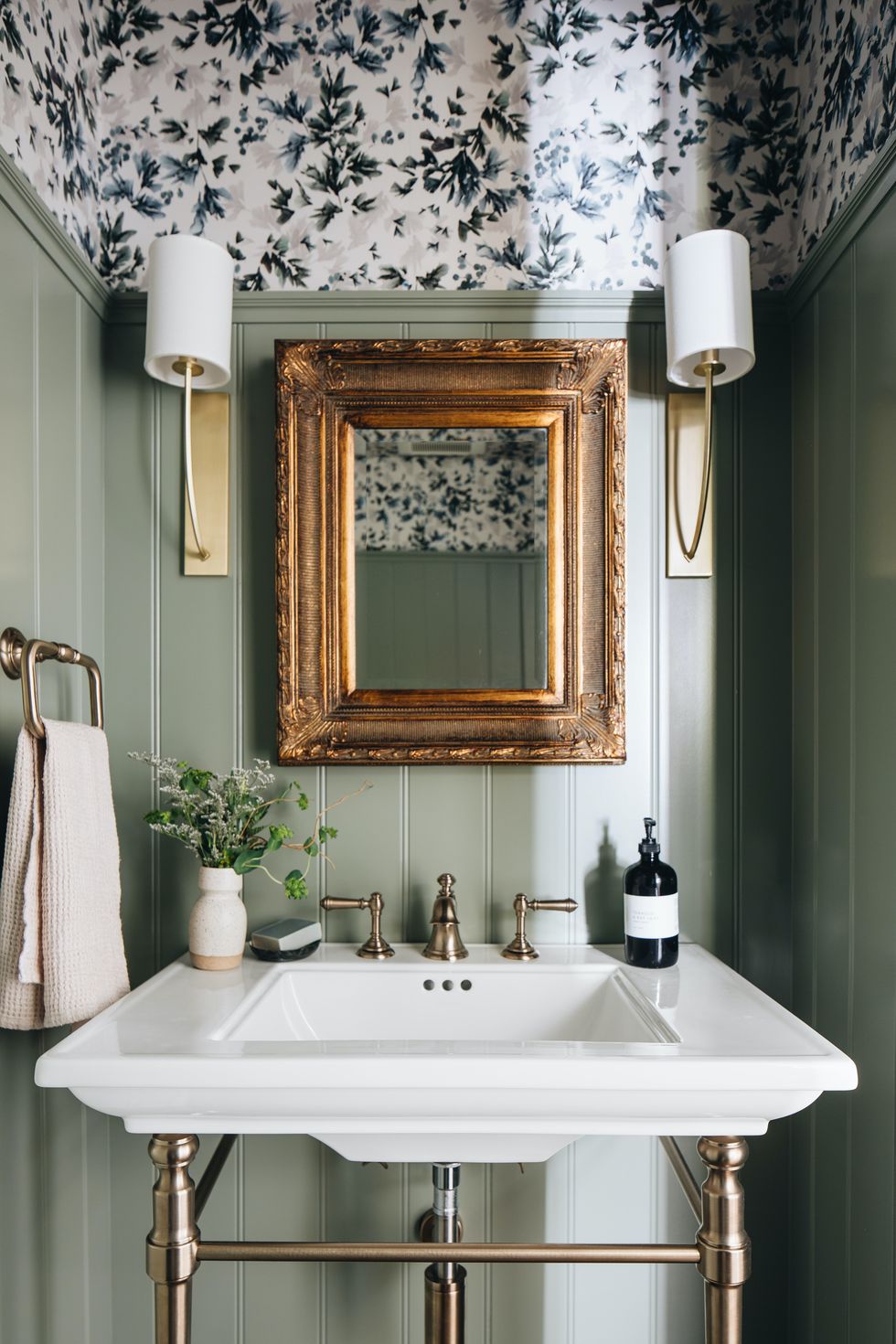 Jean Stoffer Design used Evergreen Fog in this powder room design on the board and batten, and paired it with a stunning moody flora wallpaper and brass accents.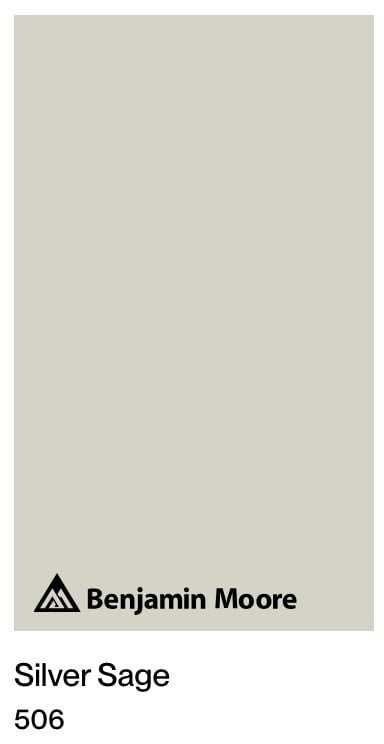 6. Benjamin Moore Silver Sage
LRV: 63.26
BM Silver Sage (506) is a grey-toned color option. This is a great color to pick if you want to switch out your grey accent color in your design, or if you're just dipping your toes into the world of green.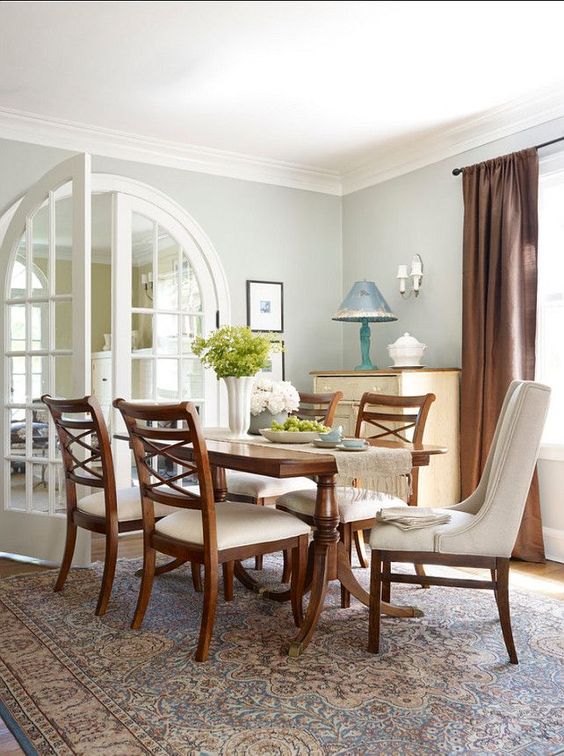 I love the neutral tone the Silver Sage gives this dining room from Home Bunch. It makes painting a neutral color for a full room exciting without being overpowering.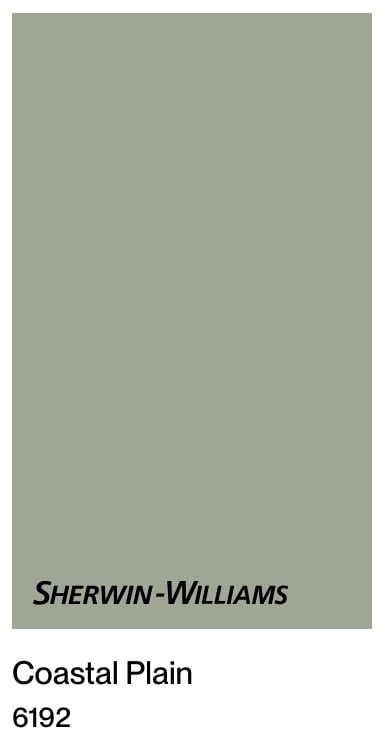 7. Sherwin Williams Coastal Plain
LRV: 37
SW Coastal Plain (SW-6192) has a blue-green undertone which makes it a great versatile option for creating a calm and relaxing feeling in your space.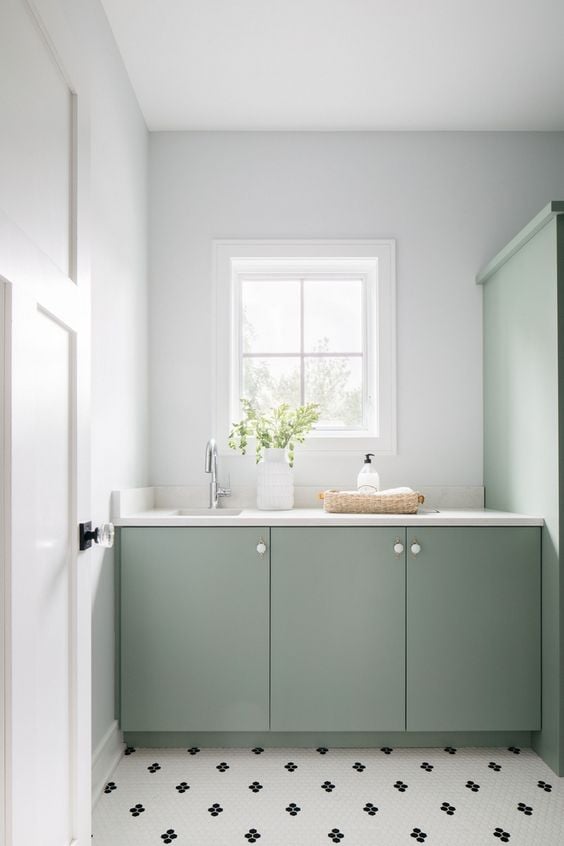 As you can see, Coastal Plain was a great accent color even in a laundry room as featured on Home Bunch. The white walls, white floors, white cabinet hardware and chrome faucet give this room a much more coastal feeling than you would get if it were paired with warmer brass accents.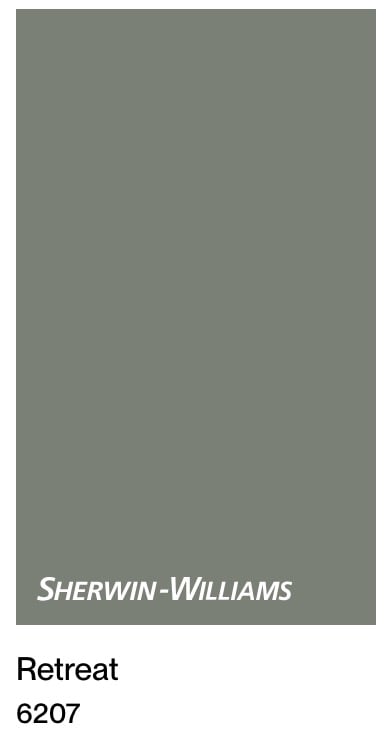 8. Sherwin Williams Retreat
LRV: 21
SW Retreat (6207) is a muted grey-green paint color. It is one of the darker greens that remains really popular. Retreat offers depth to designs without being a heavy color. Its's a great option instead of a black or charcoal grey to keep your design brighter.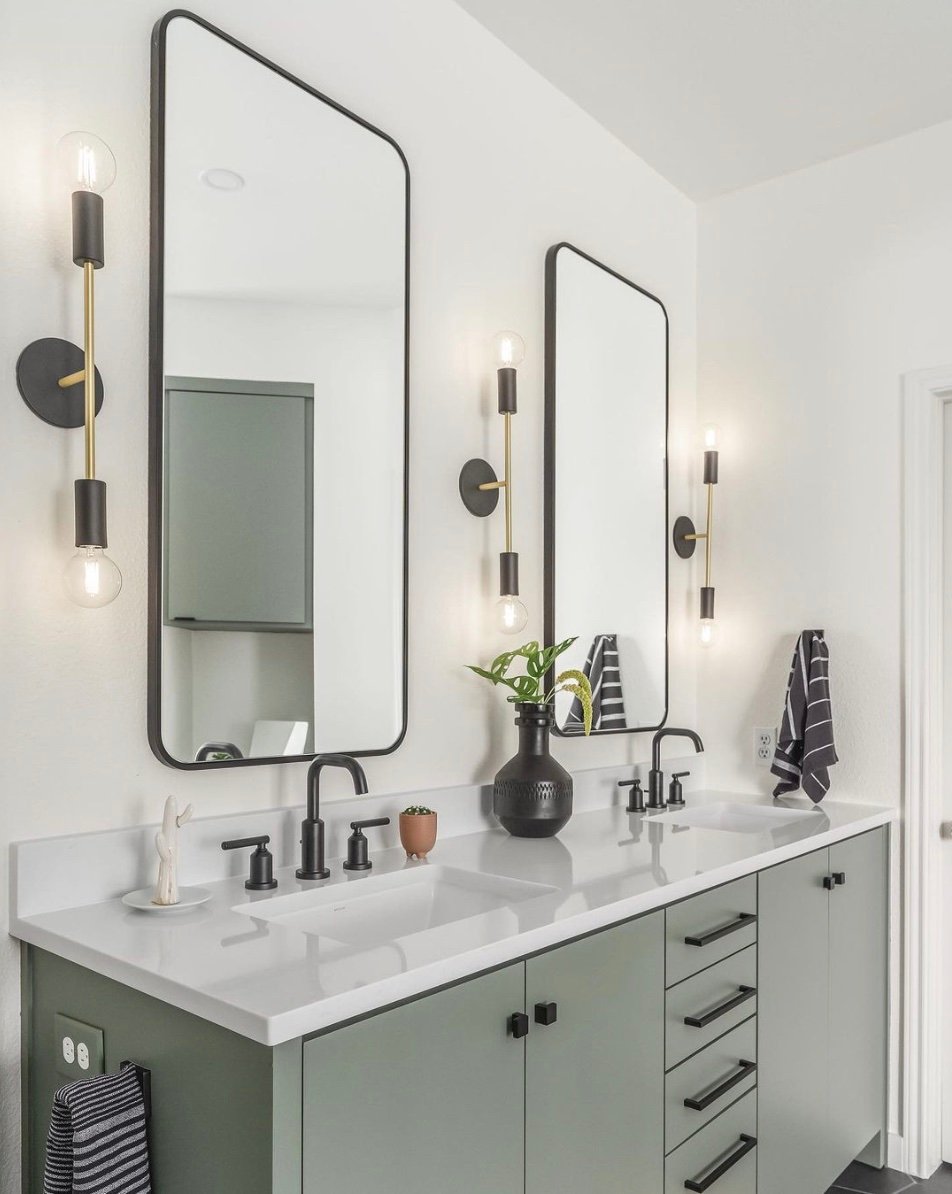 As you can see with these bathroom cabinets done by Macfarland Painting, SW Retreat was a great option to compliment the black fixtures in the bathroom and not cause the design to be too dark in a small space. It's the color on the cabinets that truly makes the space feel expensive.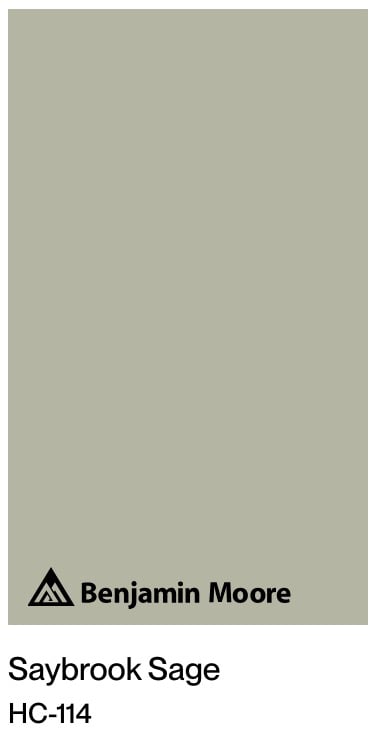 9. Benjamin Moore Saybrook Sage
LRV: 45.46
BM Saybrook Sage HC-114 is a grey-toned green that makes a versatile accent color.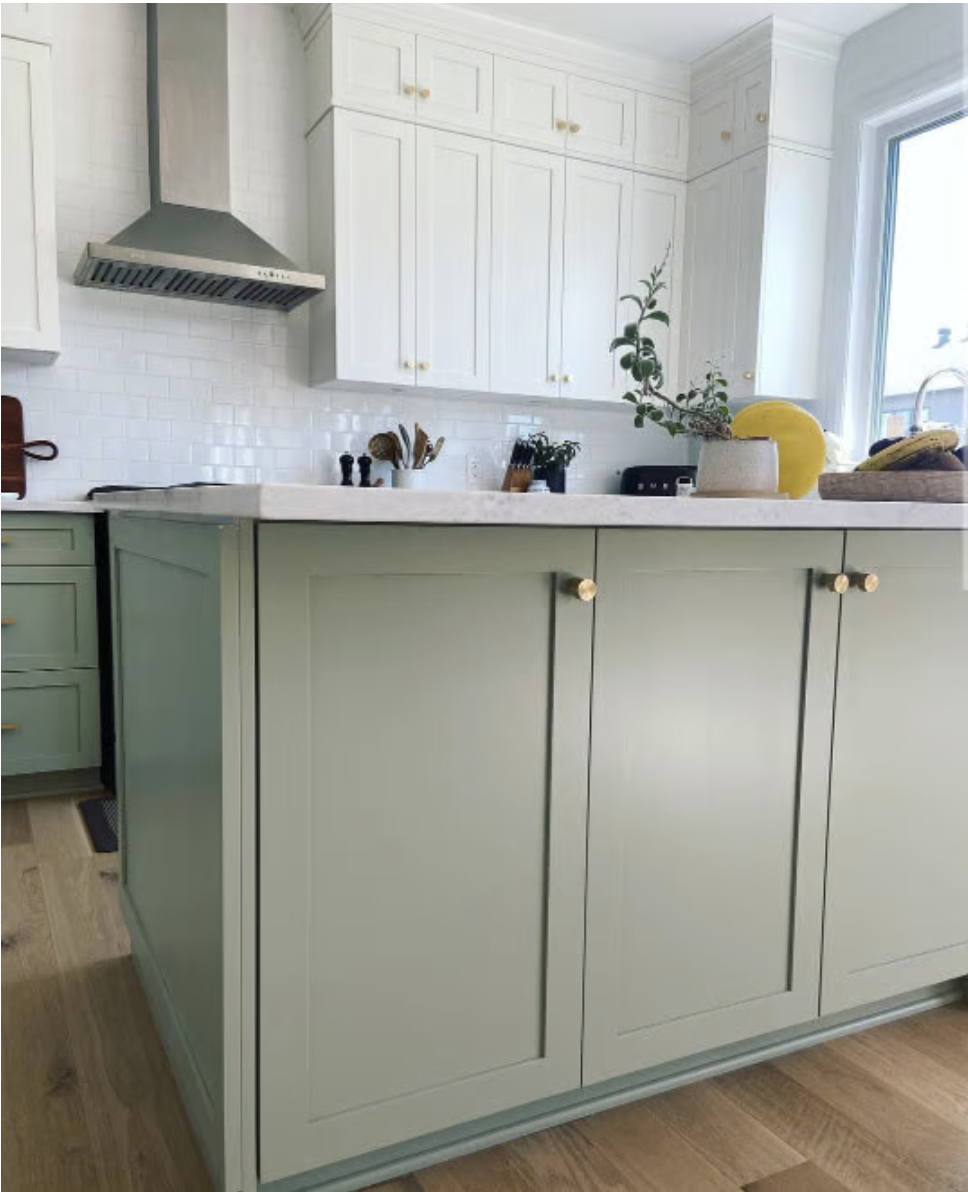 Saybrook Sage looks stunning on these cabinets in this kitchen design by Alicia Heweitt Interiors. The warm green cabinet paired with the white uppers and brass hardware creates such a warm and inviting kitchen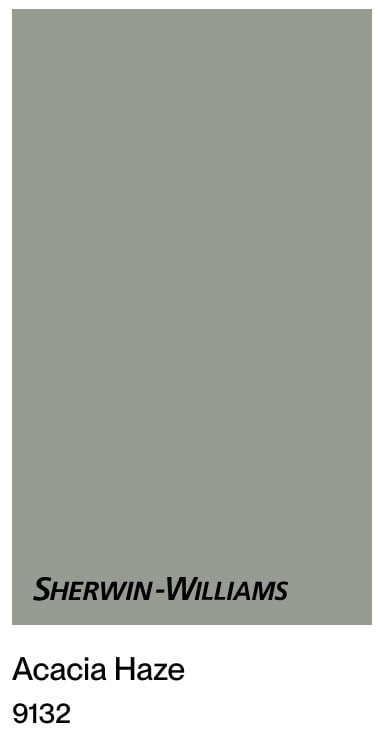 10. Sherwin Williams Acacia Haze
LRV: 32
Acacia Haze (SW-9132) is a true blue undertone green, with slight hint of gray. It creates great depth to the design without being too dark.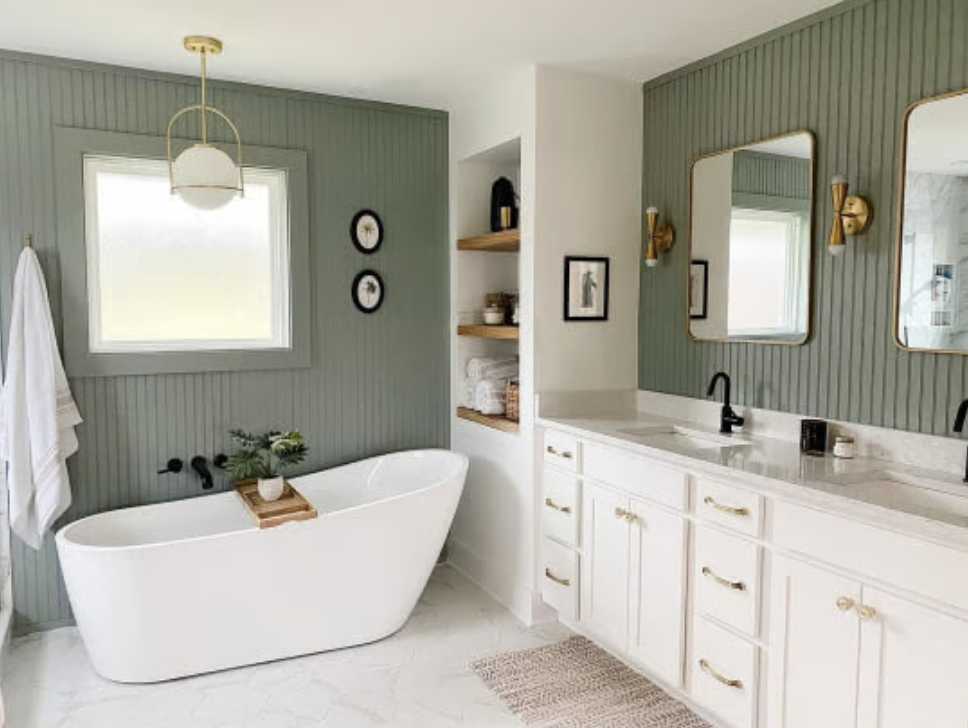 Instead of tile, Silo Hill used beadboard throughout this bathroom and painted it Acaccia Haze. The brass tones and warm woods pair so beautifully with this soft gray green, and the little touch of black adds the perfect amount of contrast.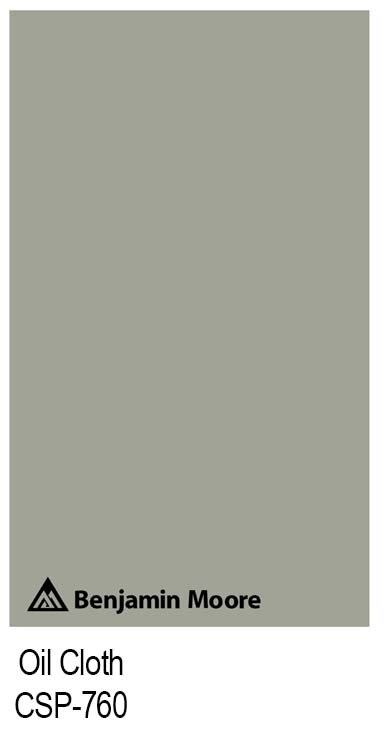 11. Benjamin Moore Oil Cloth
LRV: 35
Oil Cloth (CSP-760) is a dark gray-green paint color. This makes it a complex and rich color, offering both the serenity of gray and the depth of green. It's a sophisticated choice that brings an organic, earthy feel to spaces.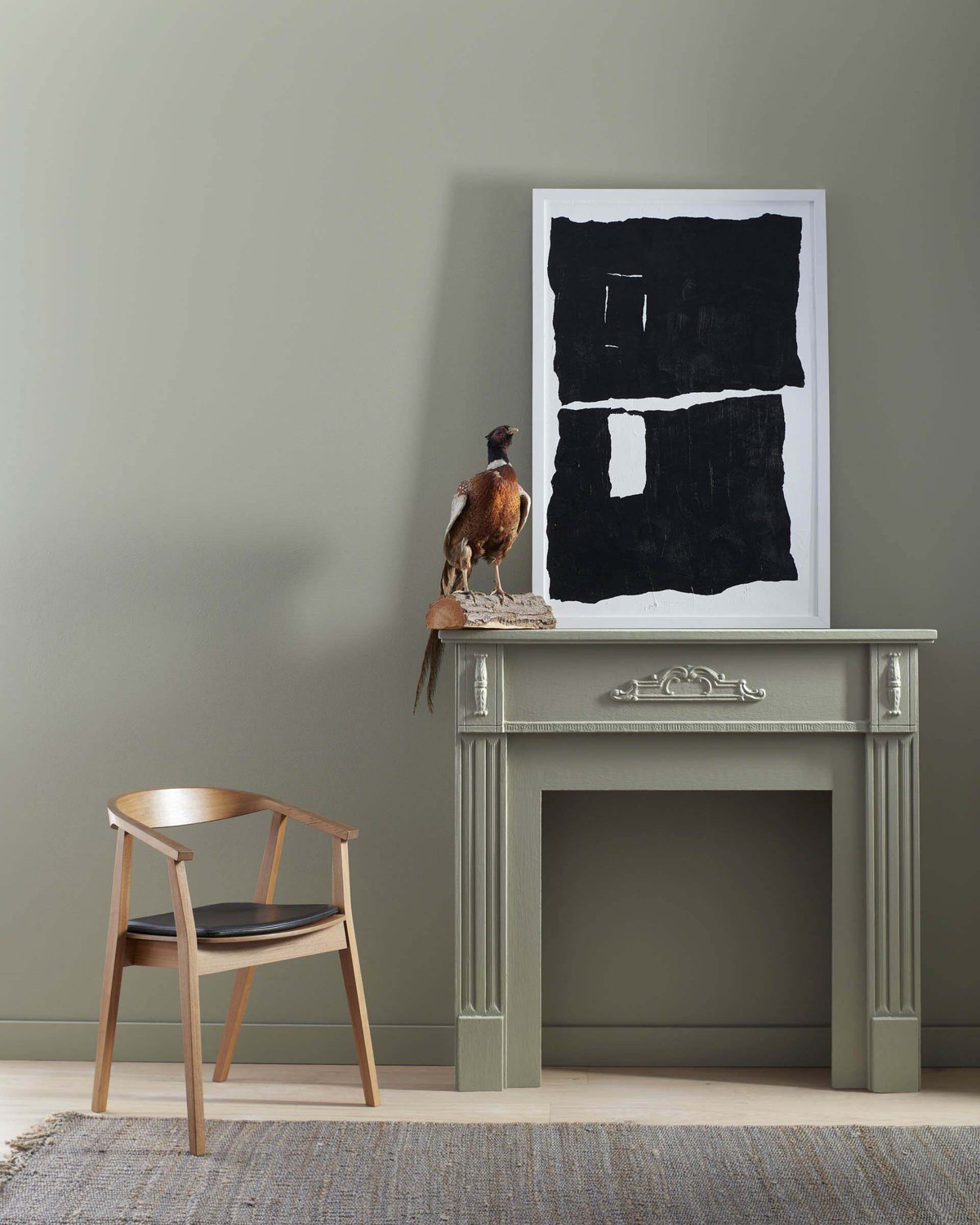 This accent wall that SMC Living created for her entryway pairs Evergreen Fog with white walls in her entryway. It adds color and contrast to this little nook without overwhelming the space, and the wooden bench and black frames tie the whole palette together.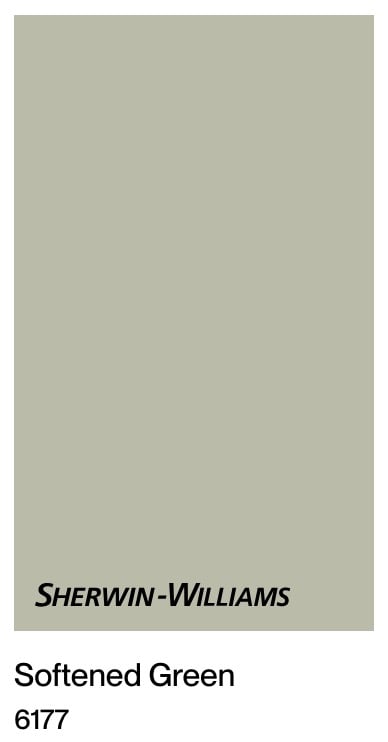 12. Sherwin Williams Softened Green
LRV: 49
Softened Green (SW-6177) has a light grey undertone. It's a great muted-hued color option for a more neutral palette.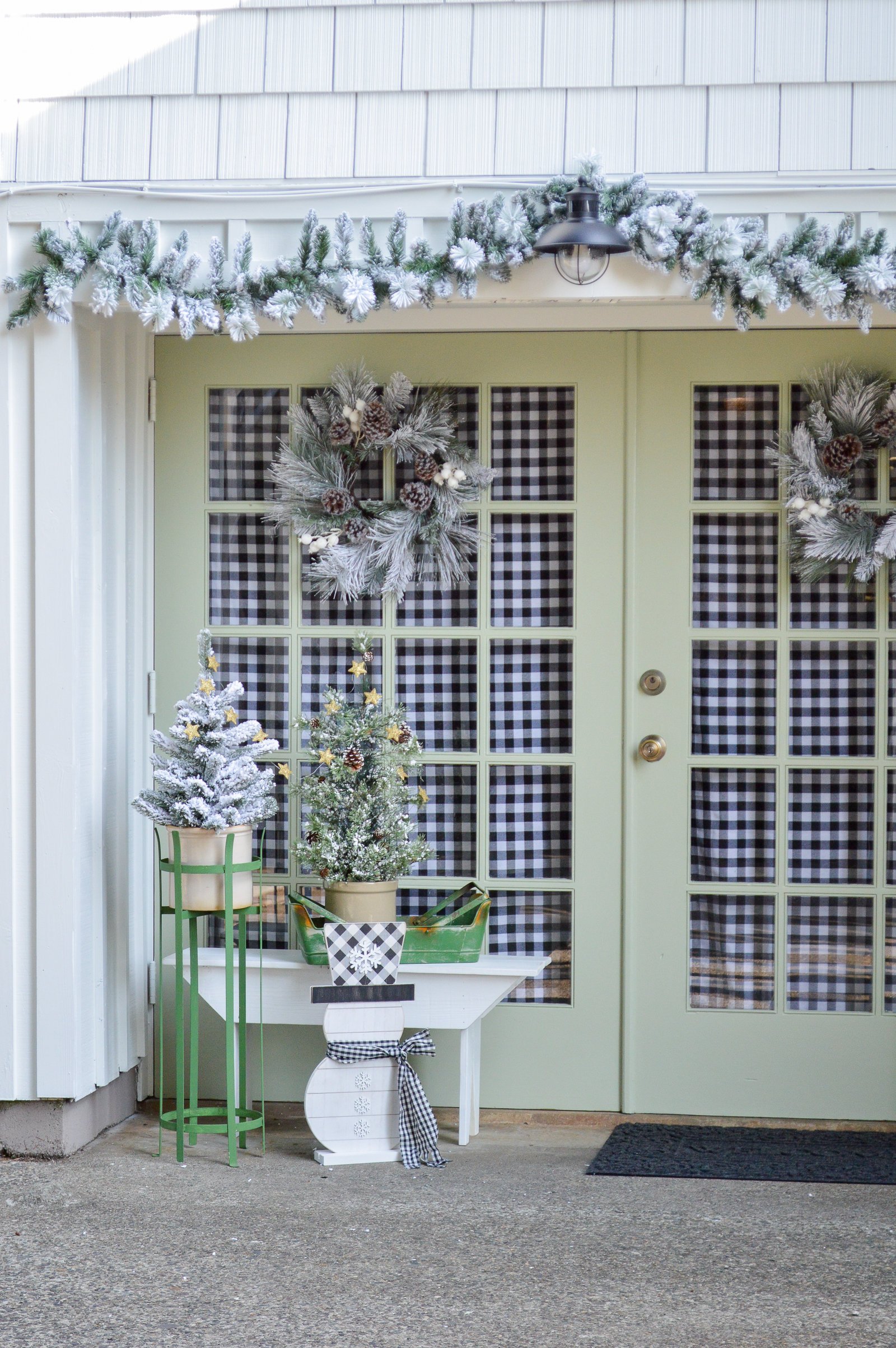 As you can see, Softened Green it makes for a great accent color, even for an exterior door as shown in this project by Fox Hollow Cottage.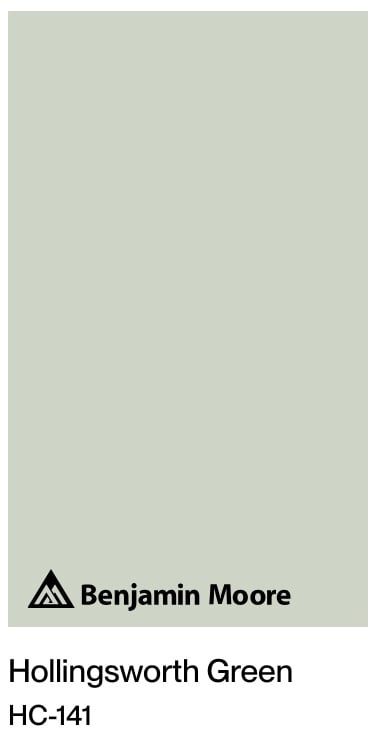 13. Benjamin Moore Hollingsworth Green
LRV: 63.25
BM Hollingsworth Green (HC-141) is a mixture of green, blue, and grey resulting in a muted light sage. It reflects a lot of light and can be used as a replacement for white in your design.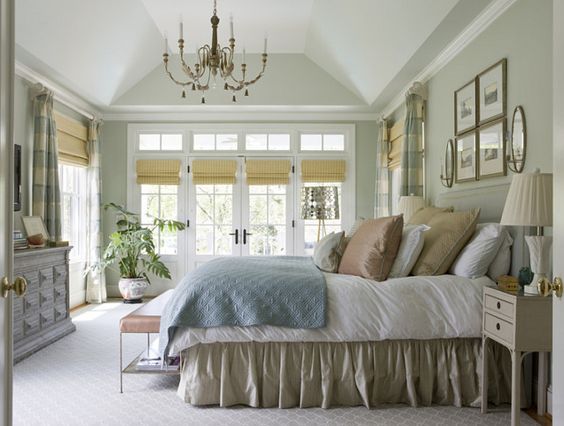 It makes for an amazing calm bedroom such as this design found from Home Bunch.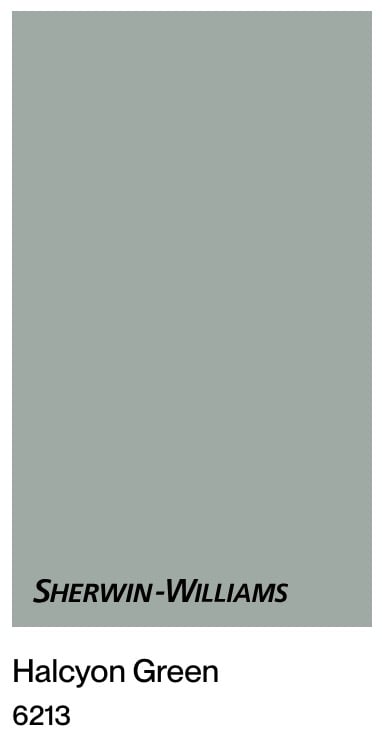 14. Sherwin Williams Halcyon Green
LRV: 39
SW Halcyon Green (SW-6213) is a deep cool toned paint that will bring depth and a sense of calm to your design.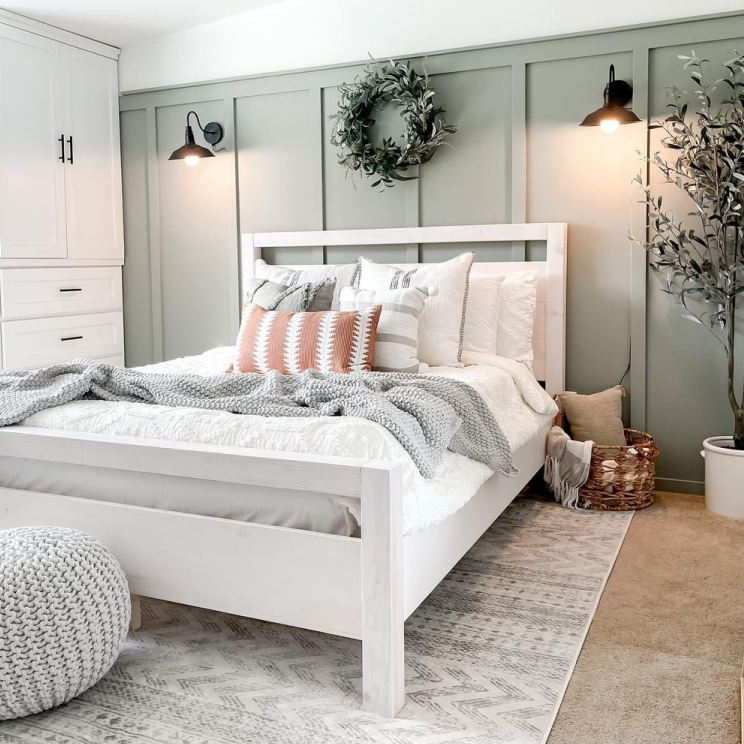 I love how Halcyon Green looks in this finished bedroom by House to Home DIY Design. It creates a soft, modern coastal vibe that exudes calmness and relaxation.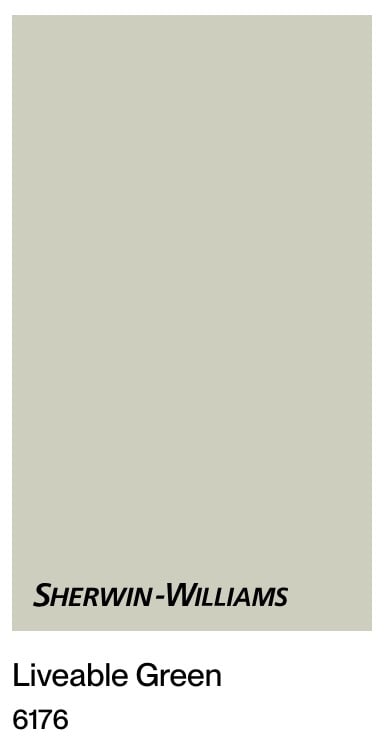 15. Sherwin Williams Liveable Green
LRV: 61
SW Liveable Green (SW- 6176) has a warm yellow-grey undertone making it a softer green to use in your designs.
How sweet is Liveable Green in this nursery done by Sposa Design LLC? It pairs perfectly with the muted wallpaper.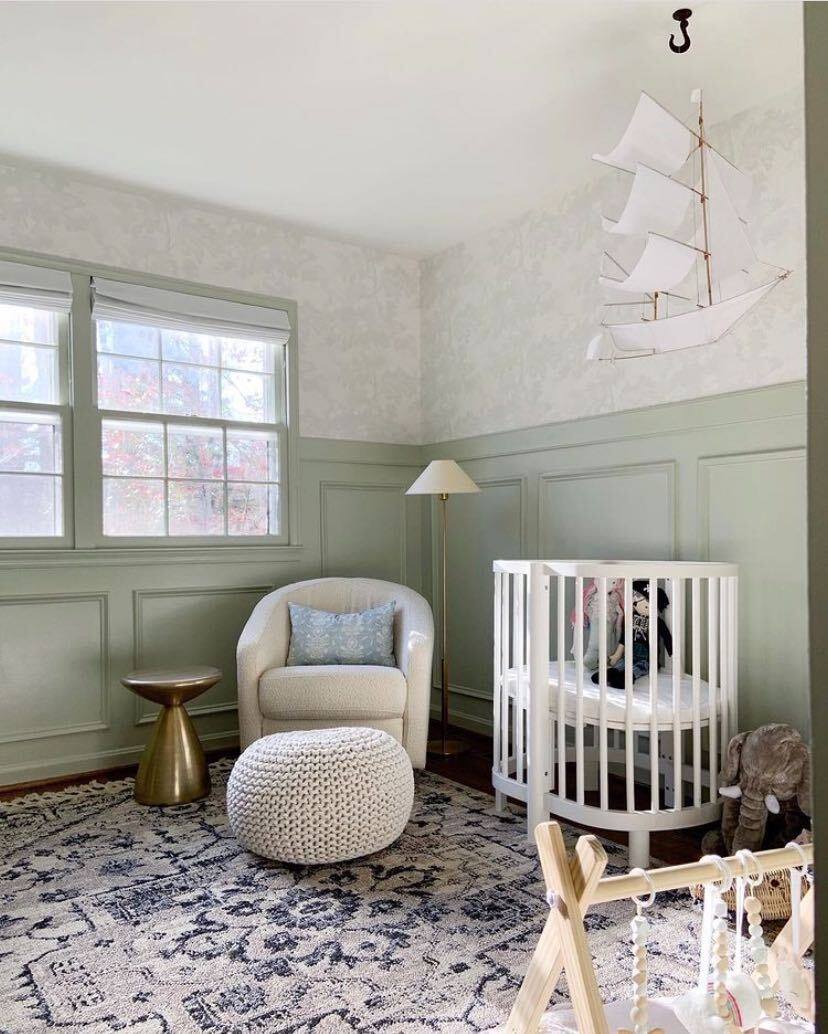 What Other Colors Go With Sage Green?
There are many colors and color palettes that sage green pairs well with. Here are some great choices for your own home whether it's for exterior paint choices or interior walls.
Navy and Sage Green
Black and Sage Green
Cream and Sage Green
Charcoal Grey and Sage Green
Blush and Sage Green
Wood Tones and Sage Green (Sherwin Williams Perfect Khaki, Sherwin Williams Llama Wool)
Light blue and Sage Green
Brown and Sage Green
What Trim Colors Work With Sage Green?
When painting trim, you want to pick a color that compliments sage green but doesn't distract from it. Picking a neutral white or warm white is the perfect way to accent the sage green without taking away from its beautiful statement.
For exteriors, you can be a bit bolder and pick a dark trim for accents on windows and door frames such as a deep forest green or even black. Interior, it's better to pick a more subtle trim color to not overwhelm your design.
Best Sage Green Paint Color for Kitchen Cabinets?
The best sage green to pick is one that is muted. The goal is to create a calm background to your kitchen and allow your kitchen cabinets to be a feature in your full design, but not be the total focal point.
Saybrook Sage by Benjamin Moore and Retreat by Sherwin Williams are two of my favorite sage green paint colors for cabinets. These paint colors would be great for the lower cabinets to add depth to your design with white cabinets on top to keep your design bright.
Sage Green Color Palette
Using SW Clary Sage as the basis for this color palette, you can see how I included similarly green and gray toned colors that will work as a whole hose color scheme, with a warm white such as SW Alabaster as the trim and door color.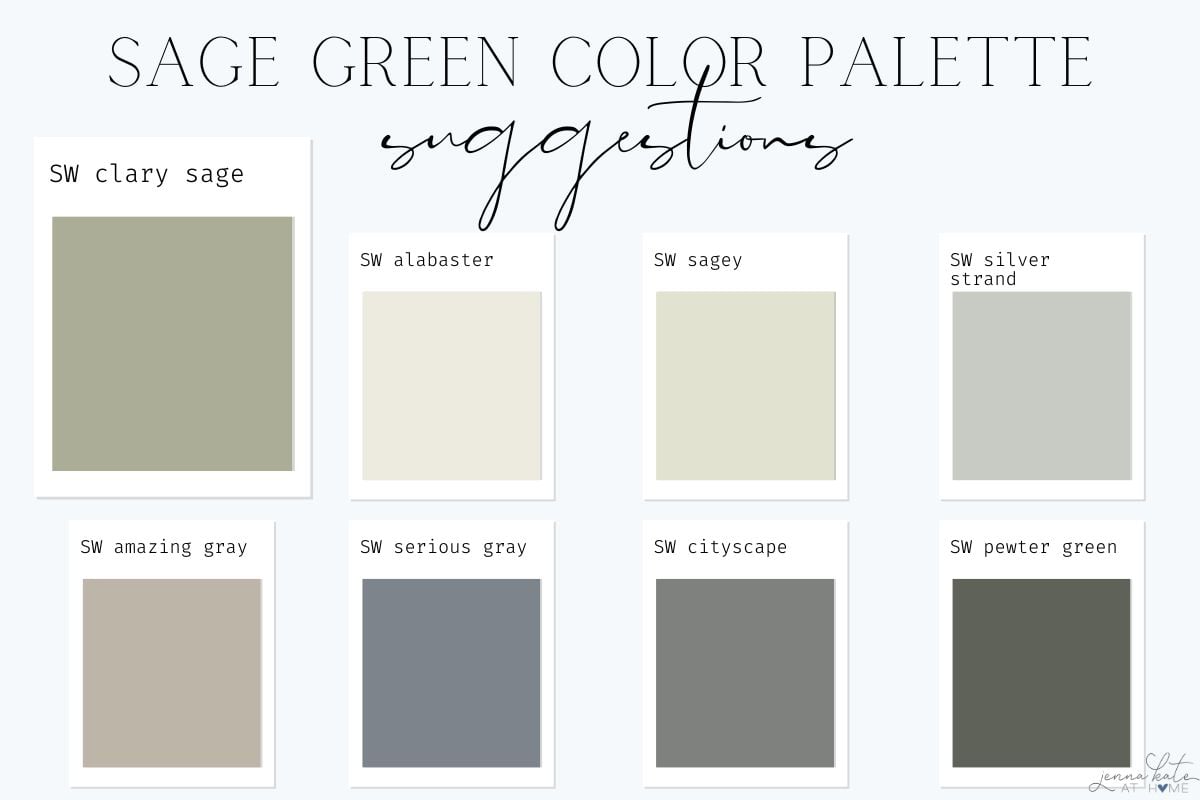 Don't Forget…
Don't forget – no matter what you've read or photos you've seen online, it's really important to sample paint colors in your home before committing!
Samplize provides real paint samples that are easy to move around your home, and cheaper than buying a gazillion paint pots! It's the only way I buy paint samples.
Use code JENNAK10 at checkout and get 10% off your order
Coupon entitles all customers to 10% off the entire order with no minimum purchase requirement. This is a one-time use coupon and it cannot be combined with other discounts.
Final Thoughts
So, is sage green the perfect color for you? Out of these 15 sage green paint color ideas, I am sure you will find one that fits your goals in your design. Whether you are updating a bathroom, transforming your bedroom to a calm retreat, or adding depth to your kitchen, adding sage green will add so much!