Alpaca by Sherwin Williams (SW 7022) is a greige neutral paint color that is a bit warmer than a traditional gray, leaning toward more of a taupe color with strong undertones.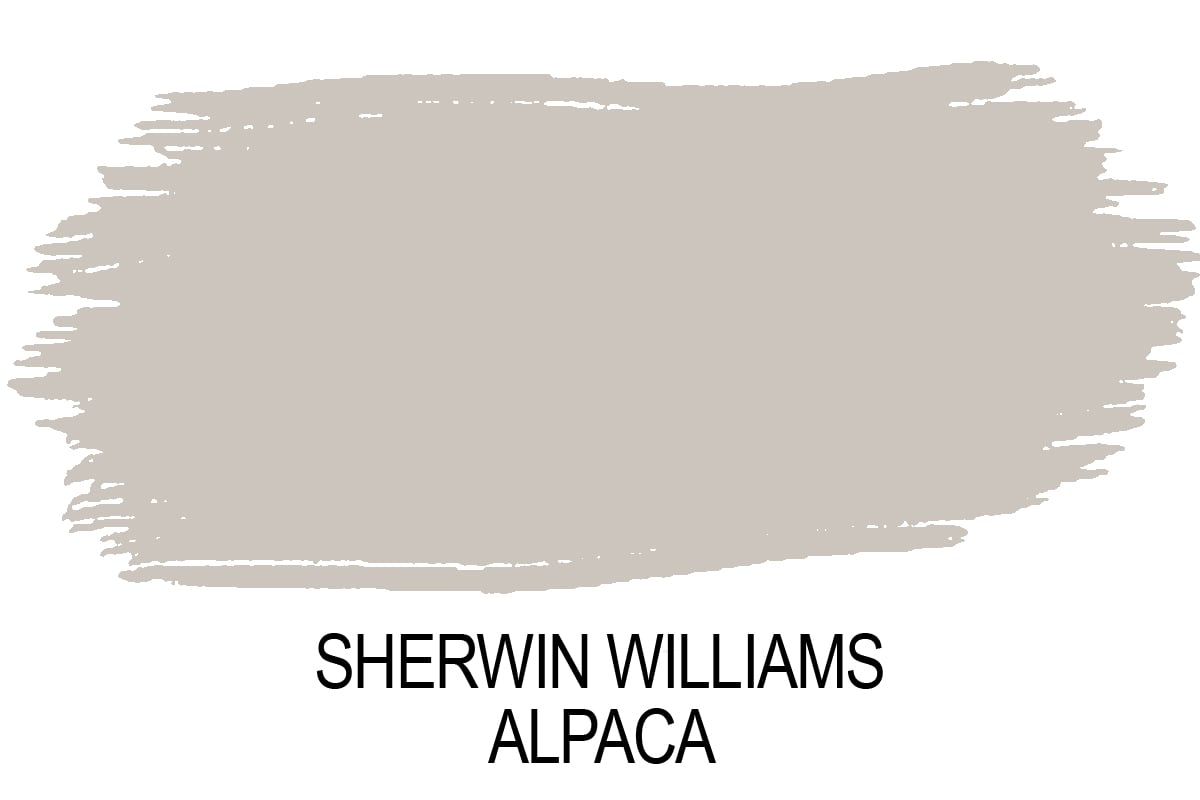 Sherwin Williams alpaca can definitely be a confusing color. You may be asking is it gray, beige, or greige? Let's dive into more details about this chameleon color.
What Color is Alpaca?
This isn't your average gray or taupe color, let's go with a griege as a safe bet. With an LRV of 57 this color is considered a light paint color. Referred to as a color chameleon and even a color ninja, this color has a bit more going on underneath the surface.
It is a bit warmer than a traditional gray, leaning toward more of a taupe color with strong undertones.
What is The LRV?
Light Reflectance Value (LRV) is an indicator of the amount of light that is reflected by a color when it is illuminated by a light source. A higher value (closer to 100) means that a color will reflect more light back at you and a lower value (closer to 0) means that a color will appear darker, or absorb more light.
This paint color has an LRV of 57. With an LRV of 57 this puts Alpaca on the lower end of the light range.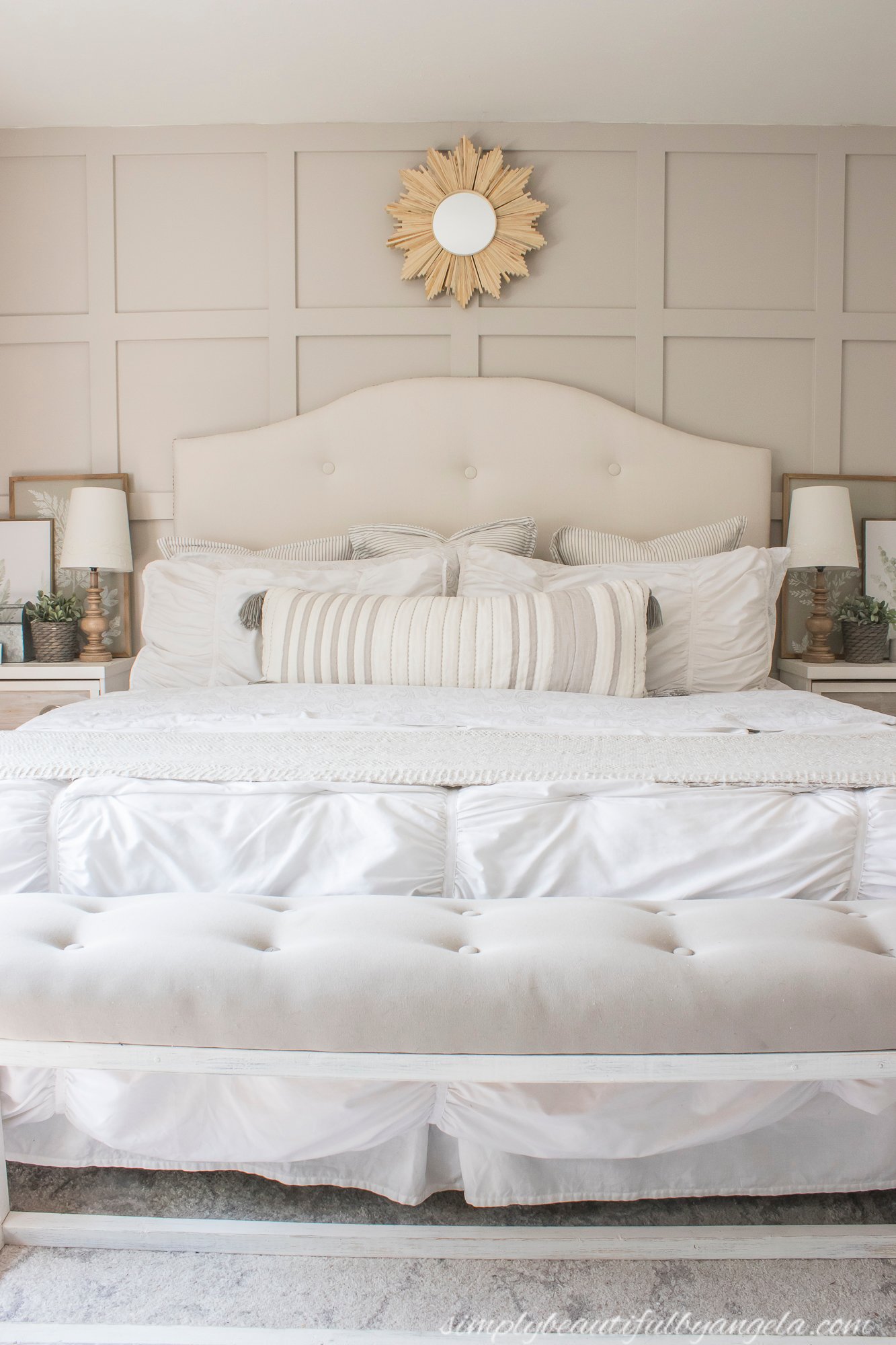 Is it a Warm or Cool Color?
This can be a little difficult to answer, because different factors can change the appearance of this color. Sherwin Williams Alpaca is mostly a warm paint color. You can see the warm brown undertones although it can read slightly more gray and cool depending on the lighting.
What Are The Undertones?
Depending on the circumstances you can see brown, taupe, and even violet undertones. Again the chameleon nature of this color can come out depending on the lighting environment.
In a south facing room you will see the warmth shine through, and it can tend to look more taupe than gray. In a north facing room you will see more cool gray undertones, but you can still feel the warmth.
Light can play a huge role in how neutral paint colors actually end up looking in a space. Hidden colors can peek through depending on windows, natural light, and artificial light in your space.
With its brown undertones Alpaca comes across as a warmer color. What can throw you off is the purple undertones.
If these undertones don't bother you then Alpaca may be the perfect color for you. If these undertones are an issue do your homework before committing.
On another note, another very popular color, Repose Gray also has a slight purple undertone, but I've never heard anyone complain about it! So don't let the purple scare you off before you've sampled the color in your own home.
Real Room Examples
Here are some examples of Alpaca in different spaces so you can get an idea of how it looks. Most neutral paint colors can be used in a wide array of spaces.
Most often you will see it be the main color in a room like living room, bedrooms, bathrooms, and kitchens.
Bathroom
You can see that with all the brown in this bathroom, Alpaca worked well this space.
It adds the perfect amount of warmth to the space, and the white trim adds a crispness needed to brighten the space.
The taupe (and slightly purple/violet) undertone is quite apparent in this space.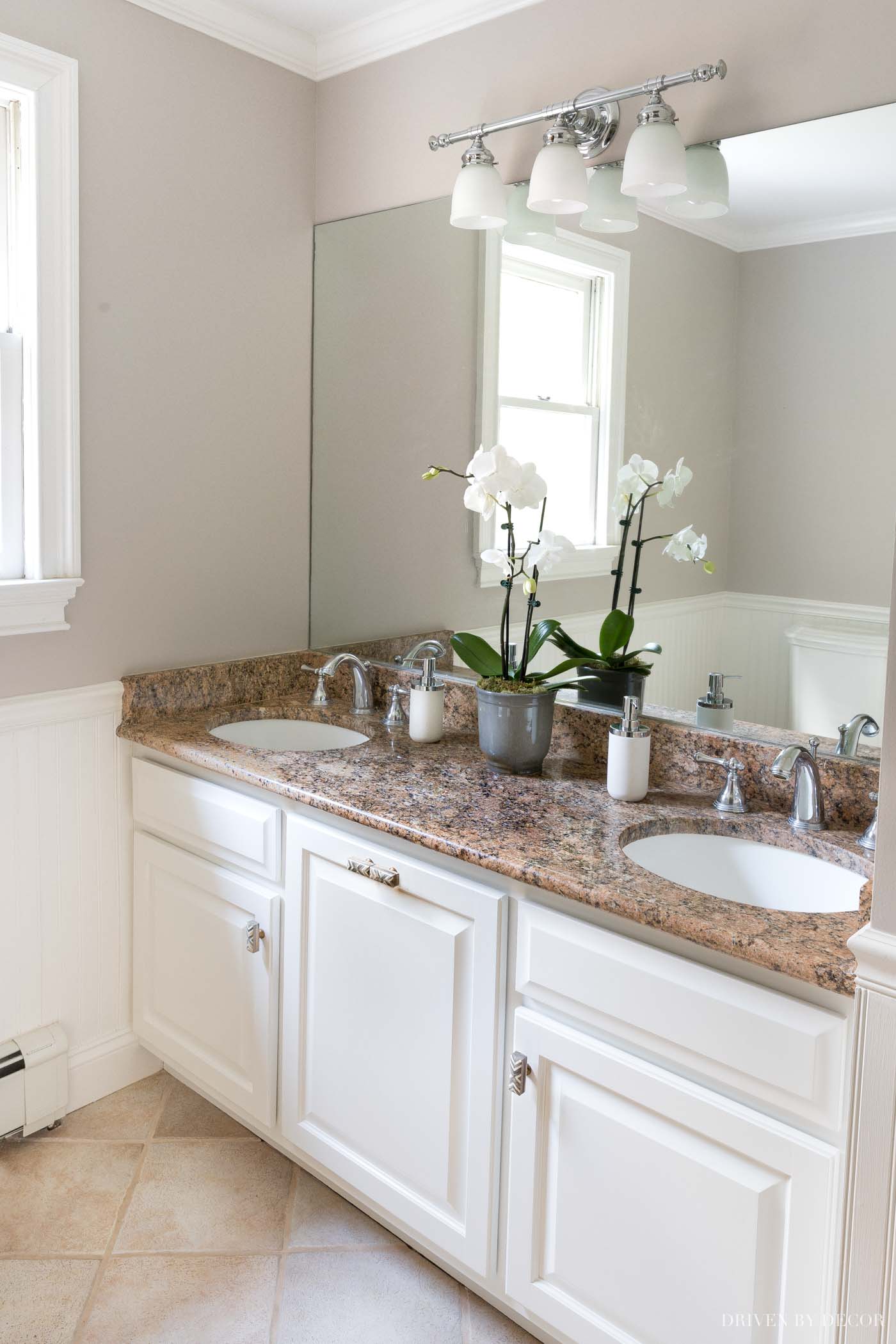 Nursery
With all this natural light it really brightens up the paint color. You see less brown and taupe and more of a warmer gray, neutral color.
This goes to show the decor and lighting plays a huge role in the result of this color in your spaces.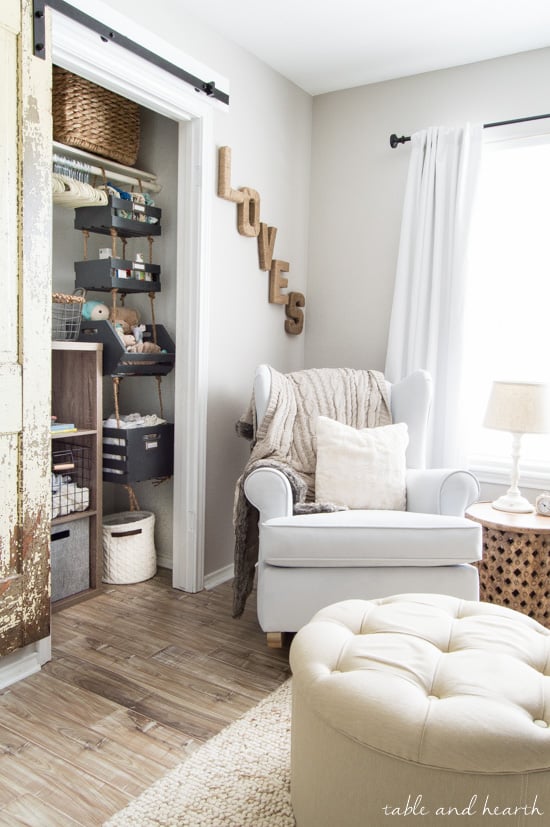 Living Room
Pop goes the violet undertones in this space. With the darker decor and violet chairs and accents you can see more of the violet undertones shine through. It plays our more taupe than gray in this space.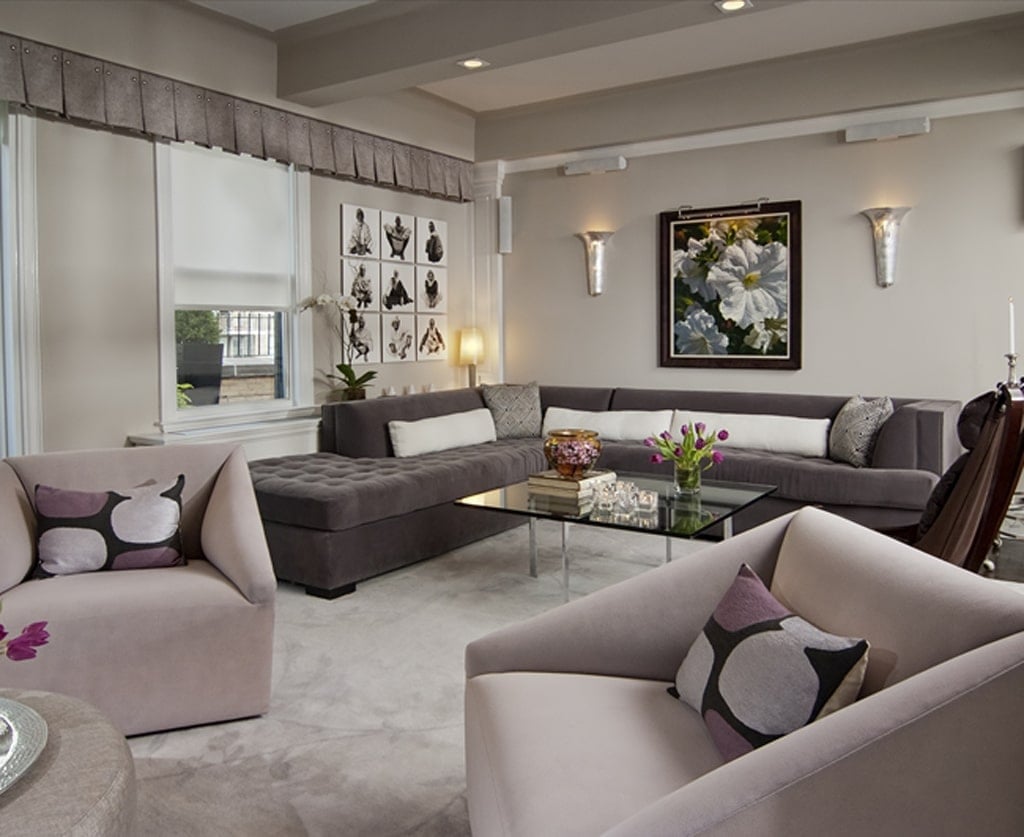 If I'm using this paint color on my walls, what white trim color will look best?
Sherwin Williams Pure White is always a safe choice as it works with both cool and warm wall colors.
For a really bright, crisp white that's on the cool side, SW Extra White is also an awesome choice.
Sherwin Williams Alpaca vs. Agreeable Gray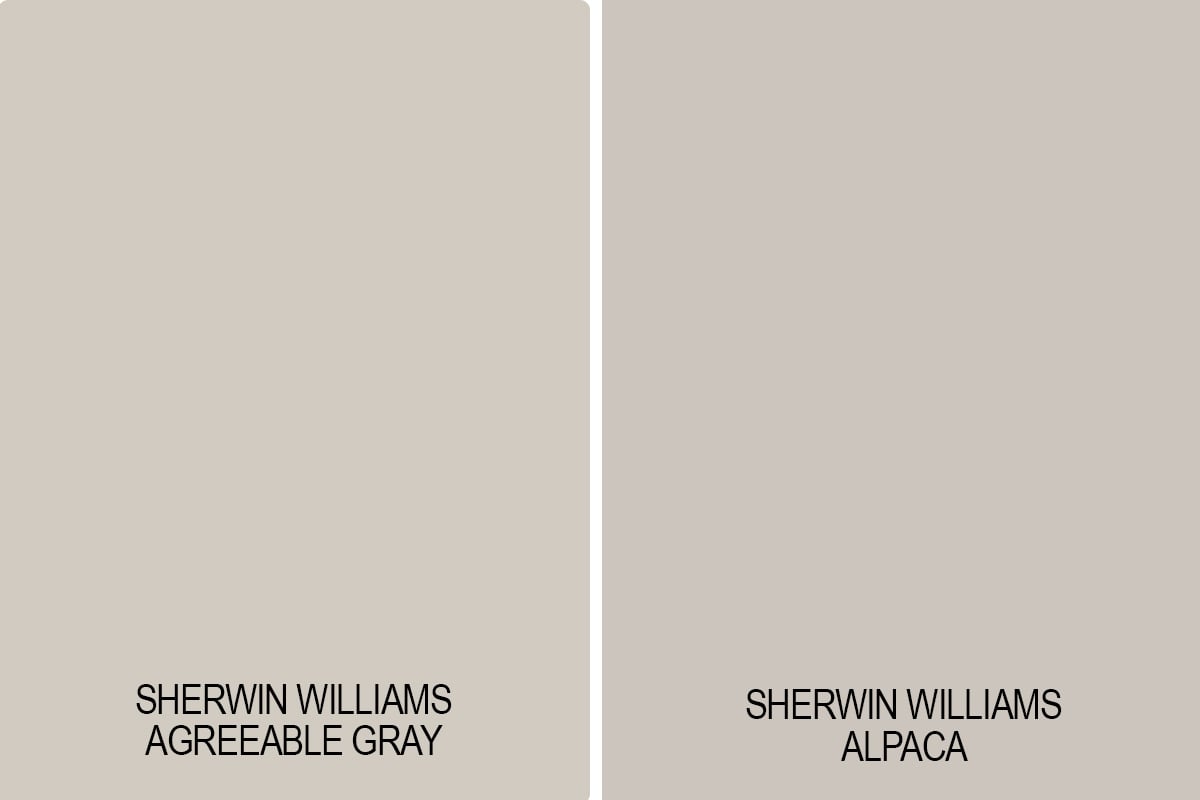 These two paint colors are very similar, however you can see when placed next to each other, that Agreeable Gray is more of a greige and Alpaca has more brown and taupe in it.
Agreeable gray has an LRV of 60, which means it's a brighter color than Alpaca, but they are quite similar in terms of depth of color.
Final Thoughts
Sherwin Williams Alpaca sure is a tricky color to work with. So many factors are in play when it comes to using this paint color. Whether it is lighting or decor, you can end up with a completely different looking paint color.
So play it safe, do you homework and sample this color in your spaces, to ensure you are happy with the choice you make.
Don't Forget…
Don't forget – no matter what you've read or photos you've seen online, it's really important to sample paint colors in your home before committing!
Samplize provides real paint samples that are easy to move around your home, and cheaper than buying a gazillion paint pots! It's the only way I buy paint samples.
Use code JENNAK10 at checkout and get 10% off your order
Coupon entitles all customers to 10% off the entire order with no minimum purchase requirement. This is a one-time use coupon and it cannot be combined with other discounts.